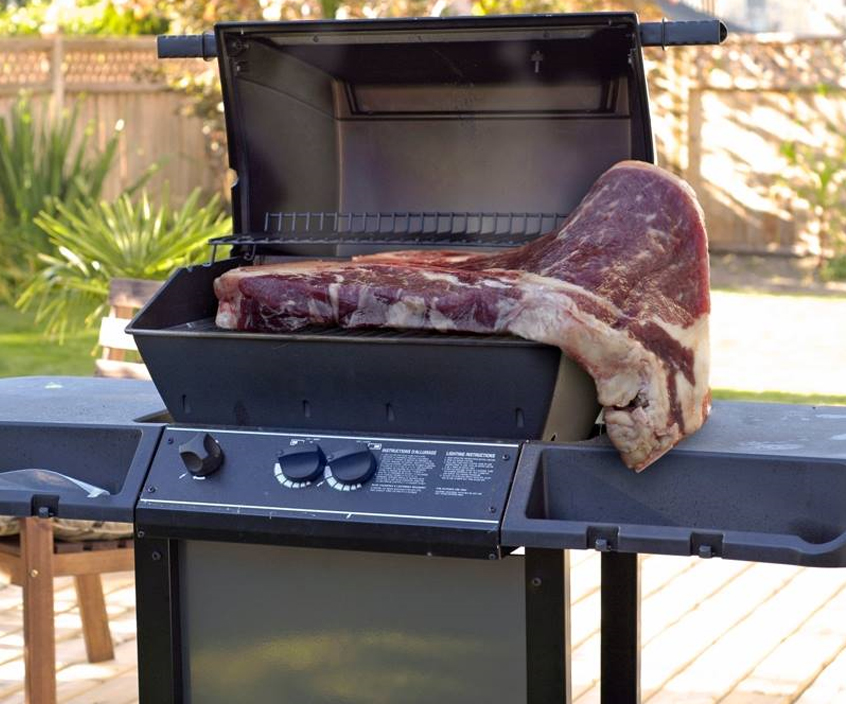 They say "everything's bigger in Texas", but not thats not all. Texas is also home to some of the weirdest and wackiest things we've ever seen. From horses at the drive thru to the world's largest pair of cowboy boots and much, much more. Whether you're from Texas, have visited recently or only heard stories, this fun and interesting list of photos is sure to entertain. Starting with some funny and ironic things spotted by travelers in the state, and then later some of the more wild and crazy moments ever captured on camera in Texas. Keep on till the end, where things get really interesting. We hope you enjoy!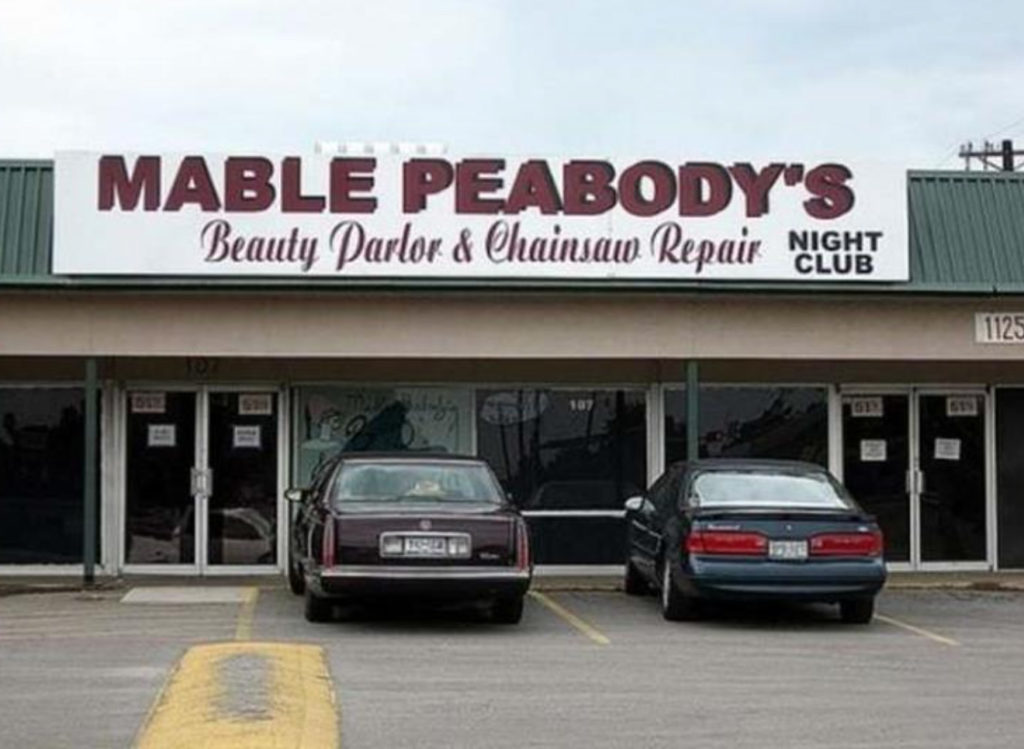 Only in Texas can you find Mabel Peabody's Beauty Parlor and Chainsaw Repair. Oh, and night club. What's the weirdest company combination you've ever heard of? Is it this right here? Only in Texas!
Quick Texas Fact: Dr Pepper was invented in Texas in 1885.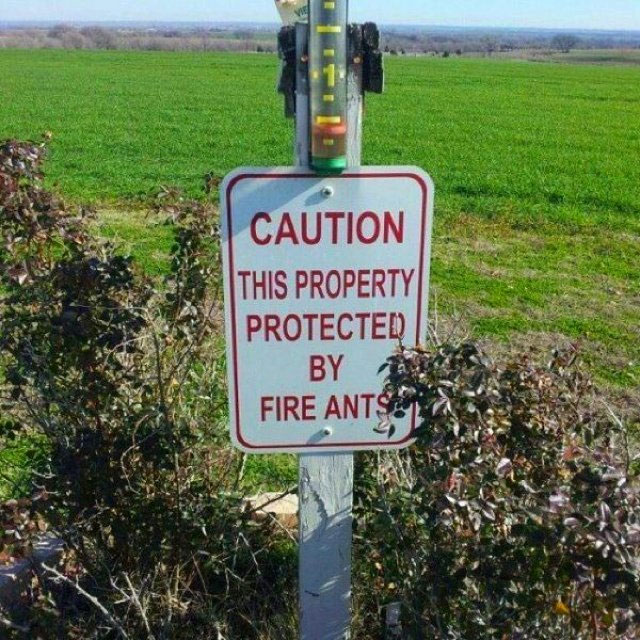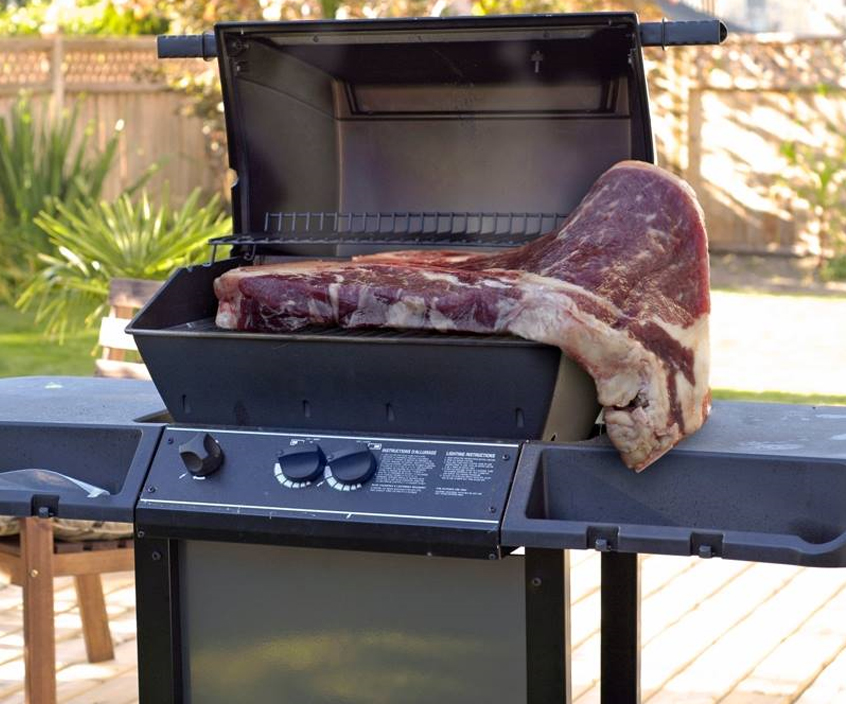 For everyone else, they might think this steak looks enormous. For Texans, this is average size.
Quick Texas Fact: The Big Texan Steak Ranch has "free" 72oz Steak Dinners. If you finish the meal, you get a refund, and if you don't, you are down $72.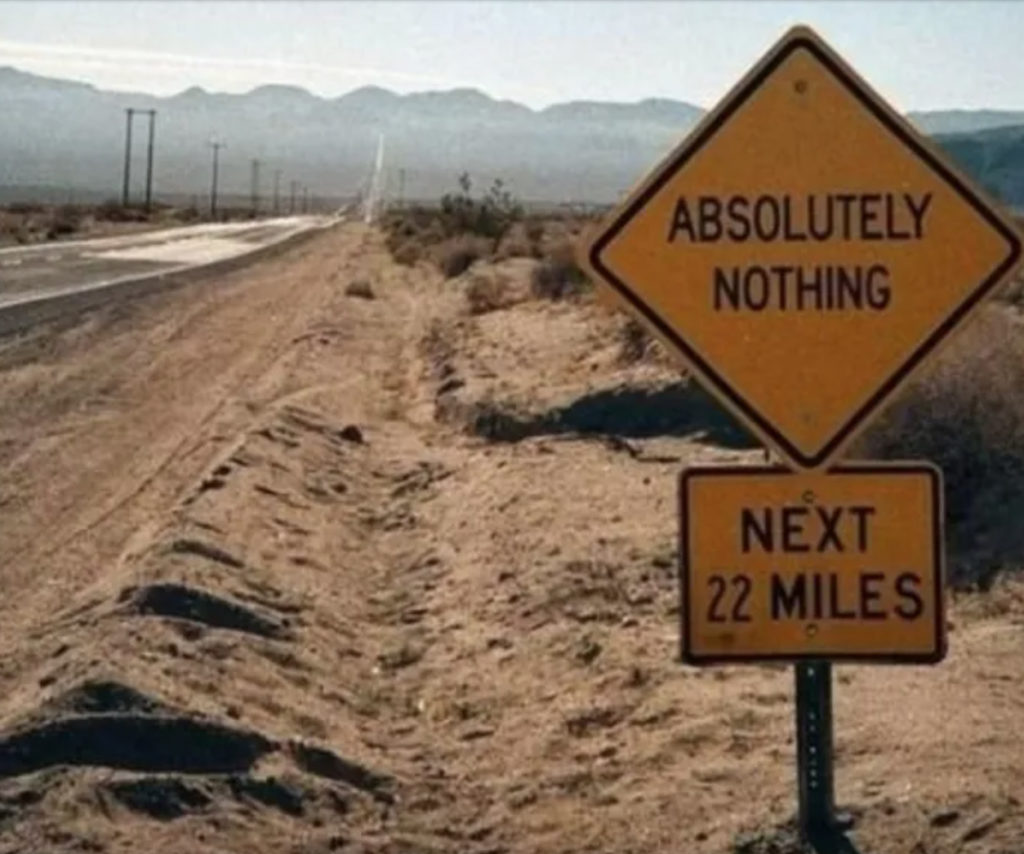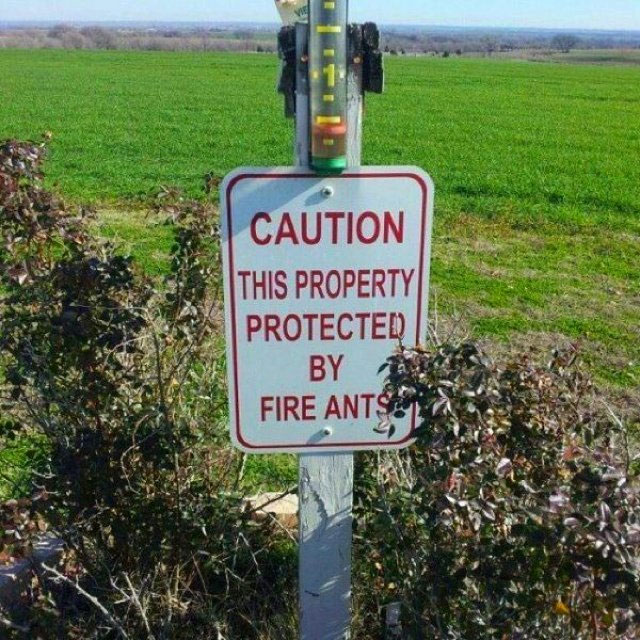 Texas has an issue with red imported fire ants. Somehow, they got introduced to the state in the 1950s and have been relentless ever since. They can even spread faster with their ability to link their bodies together to make rafts on the water.
Quick Texas Fact: Red imported fire ants have displaced a lot of native species of fire ants in the state. The Solenopsis geminata is the most common native species encountered in Texas.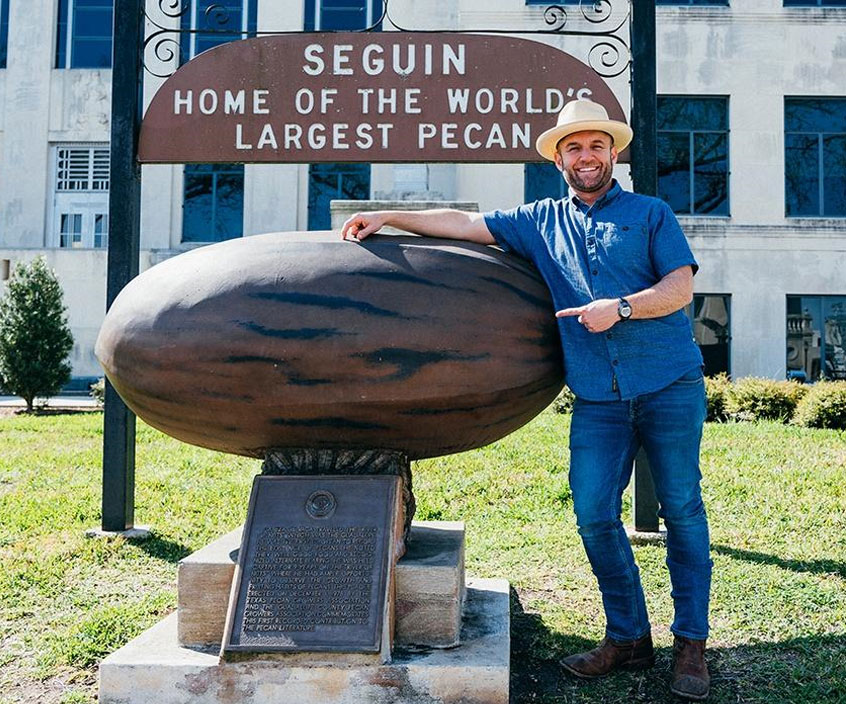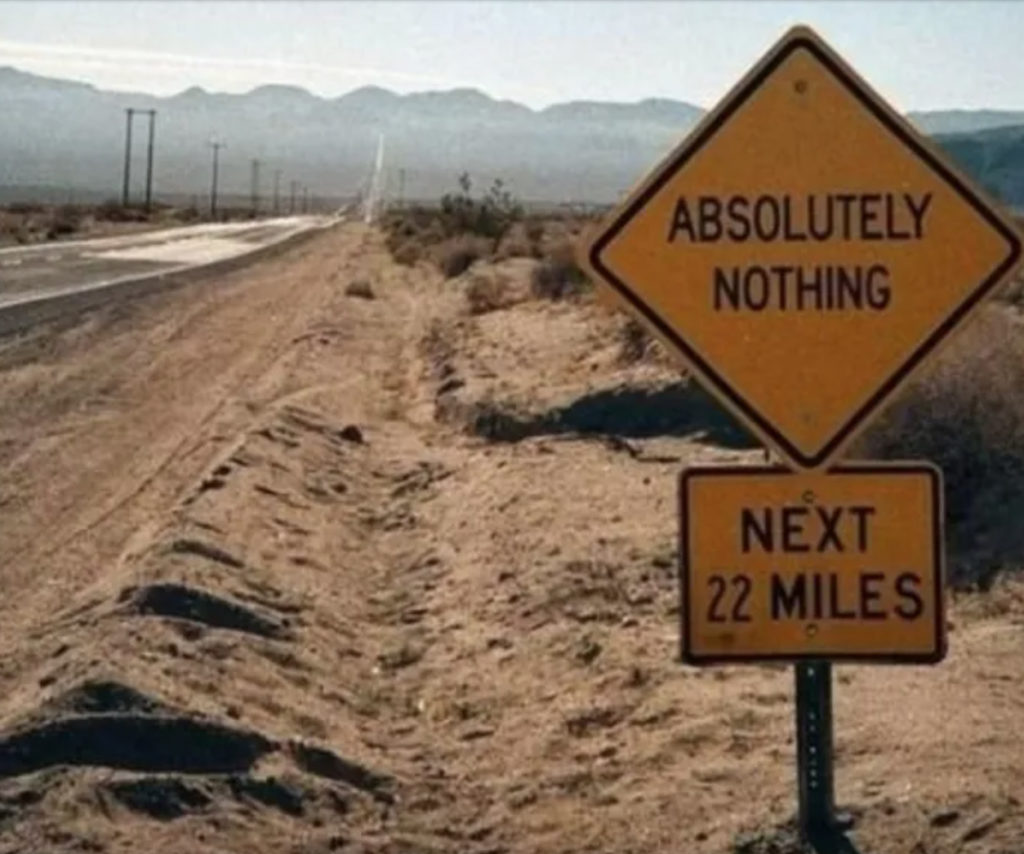 Only in Texas will you find seemingly endless roads with absolutely to look at. There's even signs to warn you. Like this one. "Absolutely Nothing – Next 22 Miles"
Quick Texas Fact: The fastest road in the United States is located in Austin.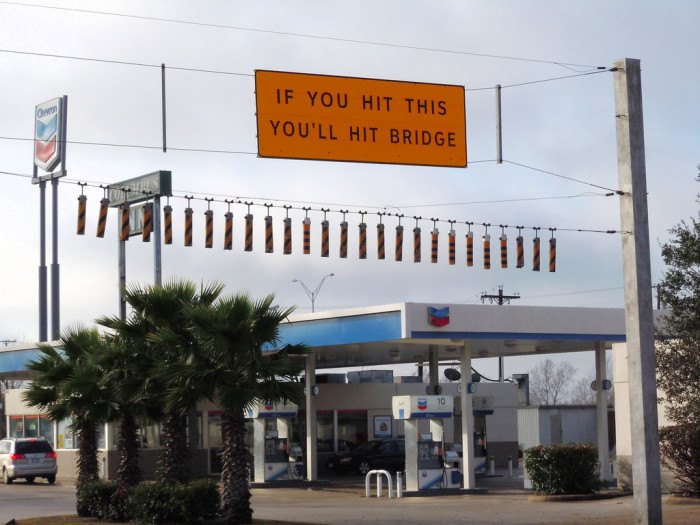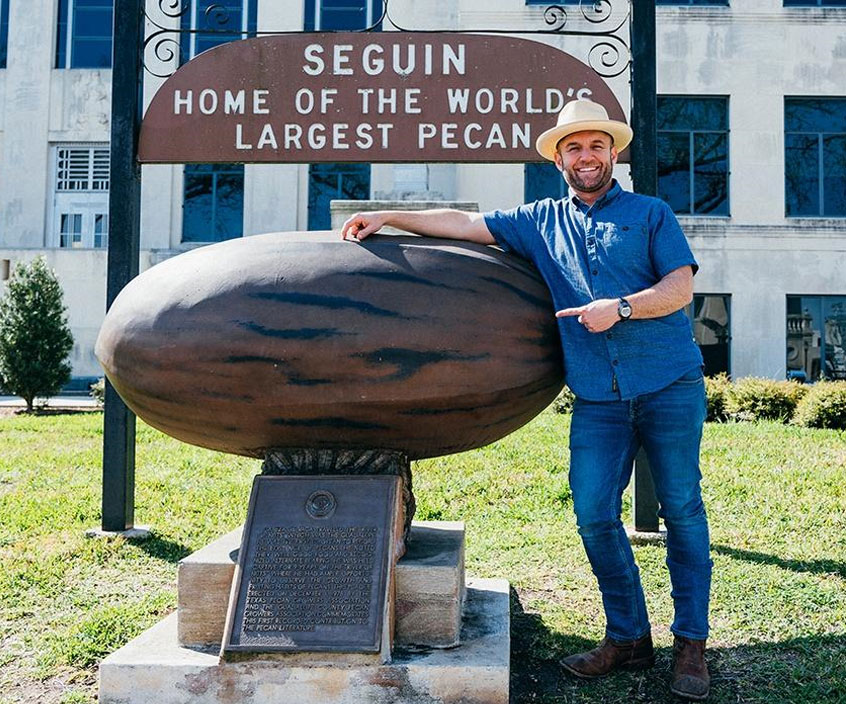 Well, this story is nuts. A dentist built this Pecan replica in 1962. Bringing much attention to the town, it now sits in front of Seguin, Texas city hall. So, if you ever visit Seguin, take a picture.
Quick Texas Fact: A larger pecan replica was erected in Brunswick, Missouri, but Seguin would not let them take the title and built an even more giant Pecan in 2005 that was 10-ft. long and 5 ft. wide.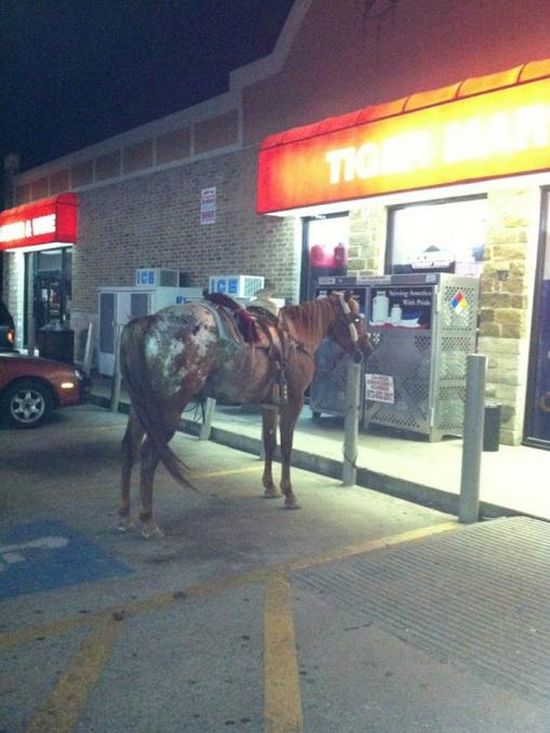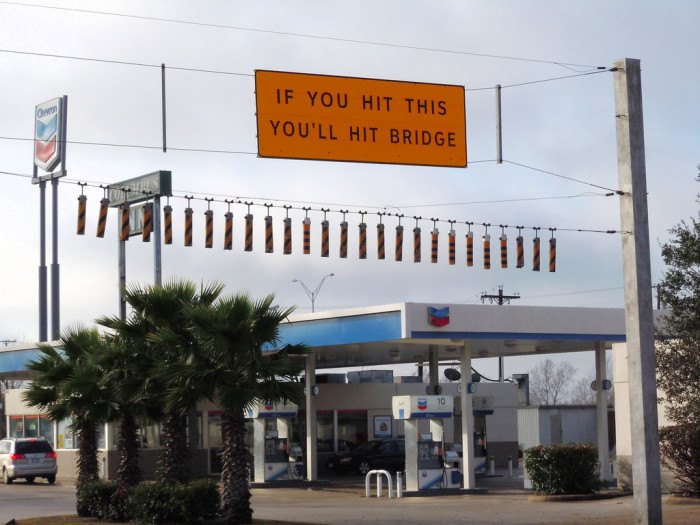 Most Texans are straight forward and honest. Like this sign. "If you hit this you'll hit the bridge". Don't say we didn't warn you.
Quick Texas Fact: The Texas flag's designer is unknown.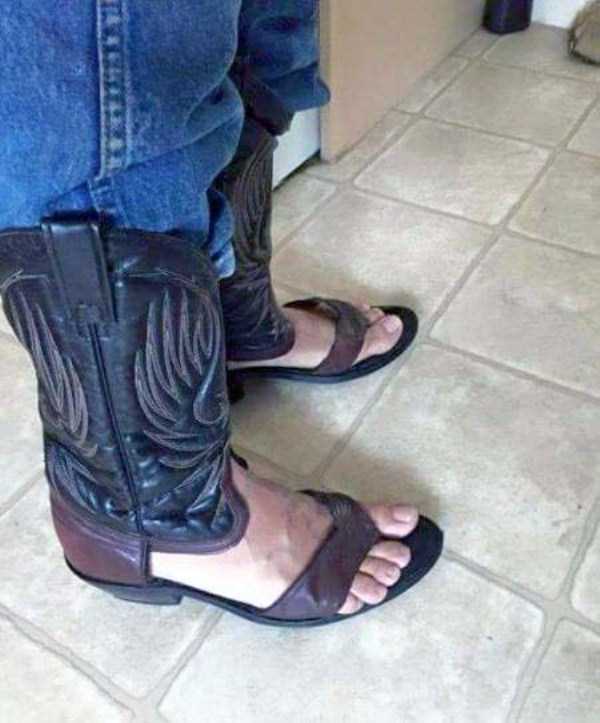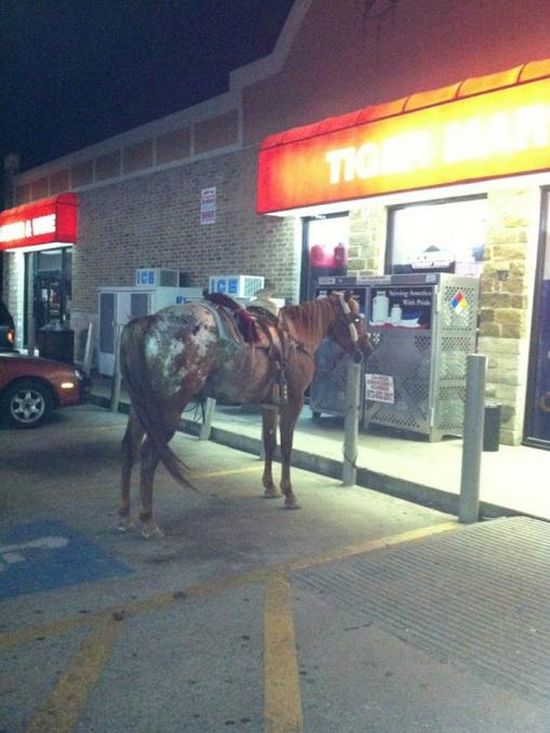 Only in Texas will you find a horse waiting outside of a gas station. What's something you see everyday in Texas that other states would be surprised by?
Quick Texas Fact: Bugs Bunny's catchphrase "What's Up, Doc?" originated in Dallas.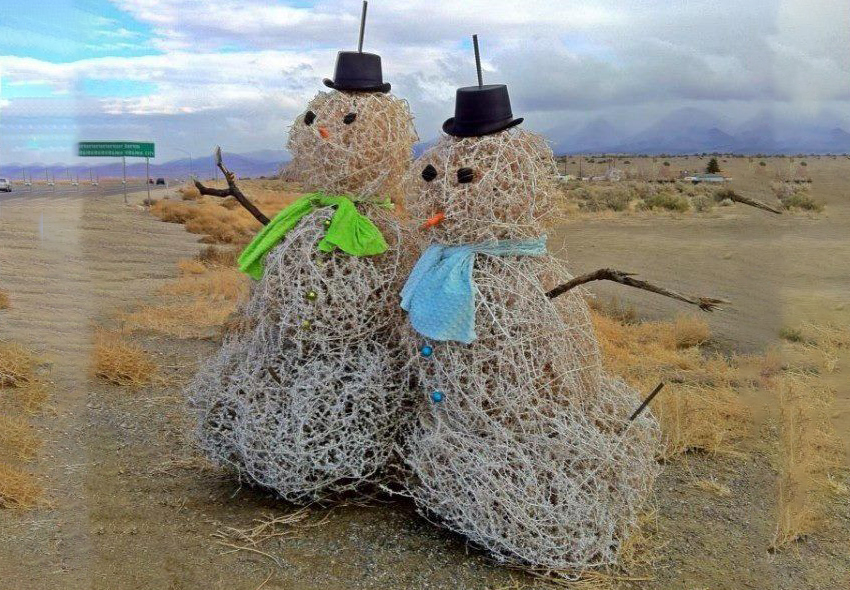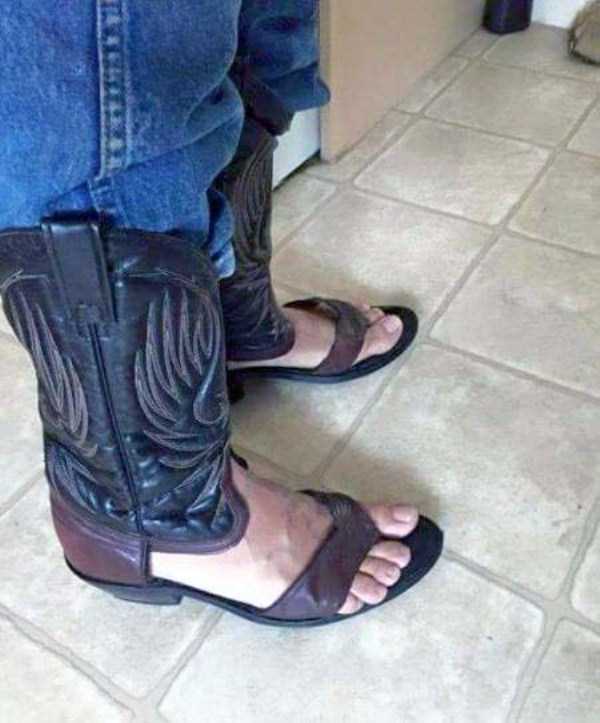 Does anyone have a good name for these? Boots + Sandals = Bandals? Look, it's hot in Texas and these are cool.
Quick Texas Fact: Less than 10% of Texas' land area is desert.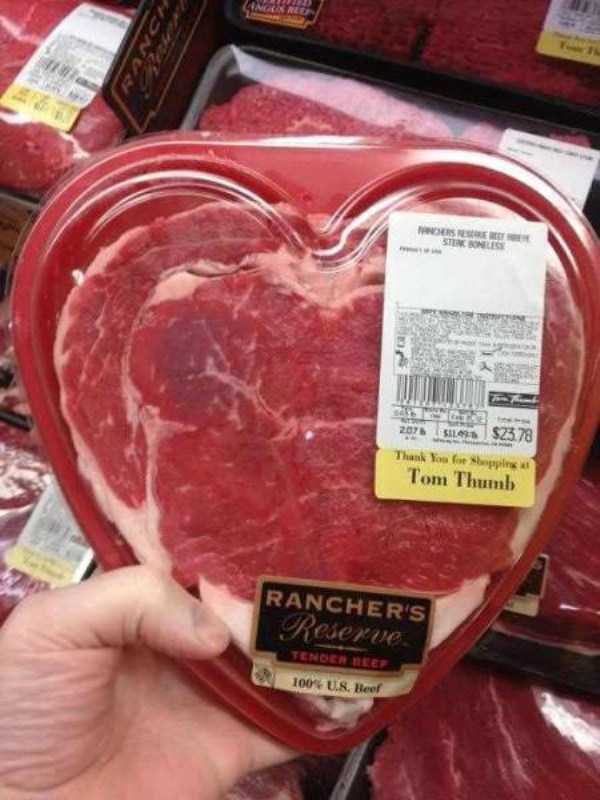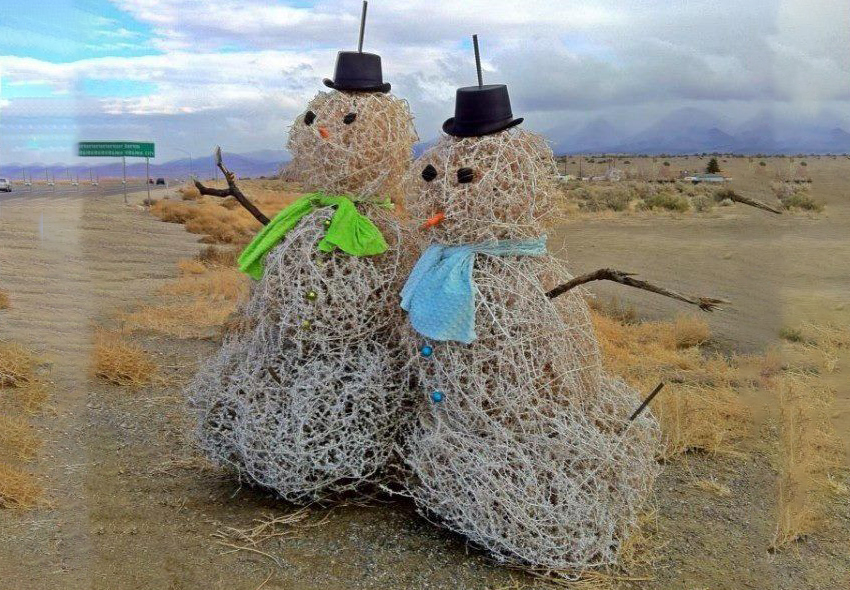 No snow? No problem. In Texas, you can make tumbleweed men.
Quick Texas Fact: The name Texas has originated from the word taysha, which means "friends" in the Caddo (Native American) language.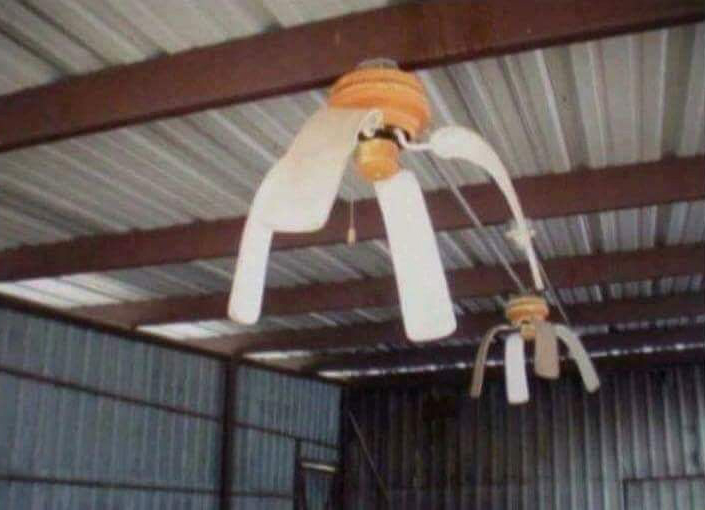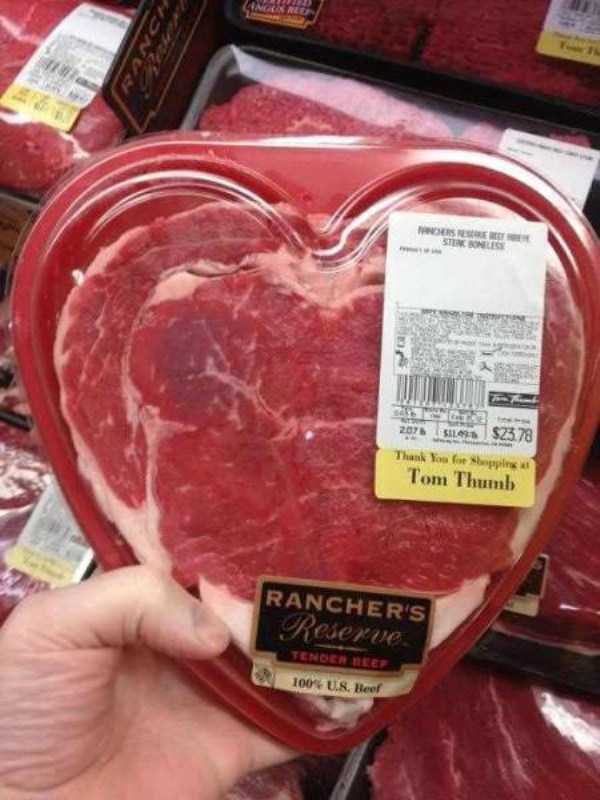 There's tender love and there's tender beef. The best news – you don't have to choose. Get this best of both worlds with the Texas sized, heart shaped steak!
Quick Texas Fact: Texas is 790 miles long and 660 miles wide at its most distant points.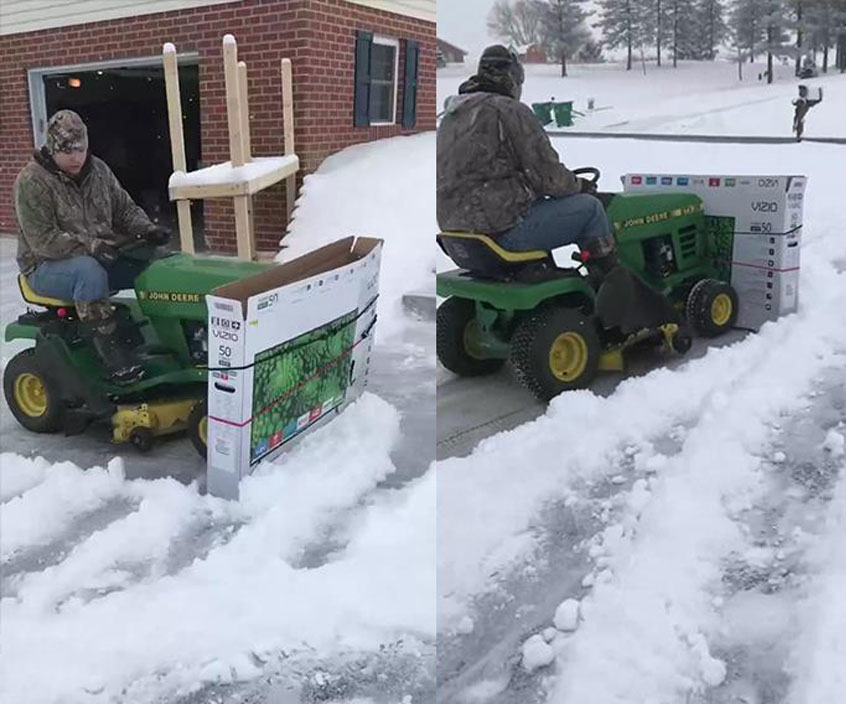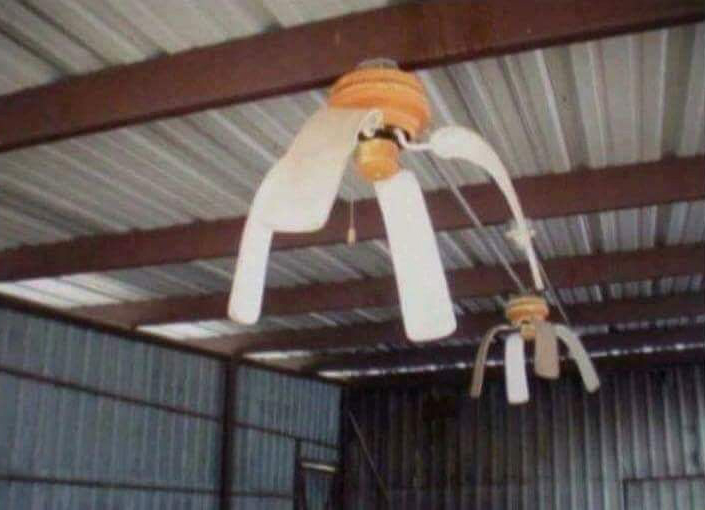 Here's the best way to explain Texas to someone who's never been there.
Quick Texas Fact: Caddo Lake is the only natural lake in the state.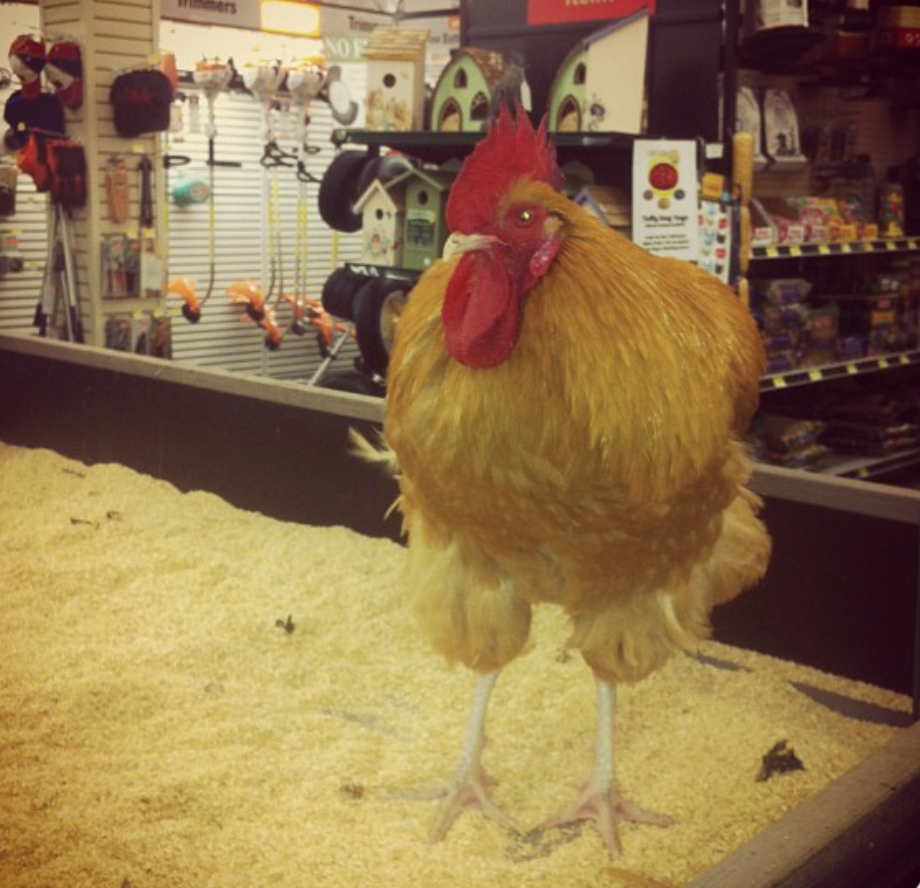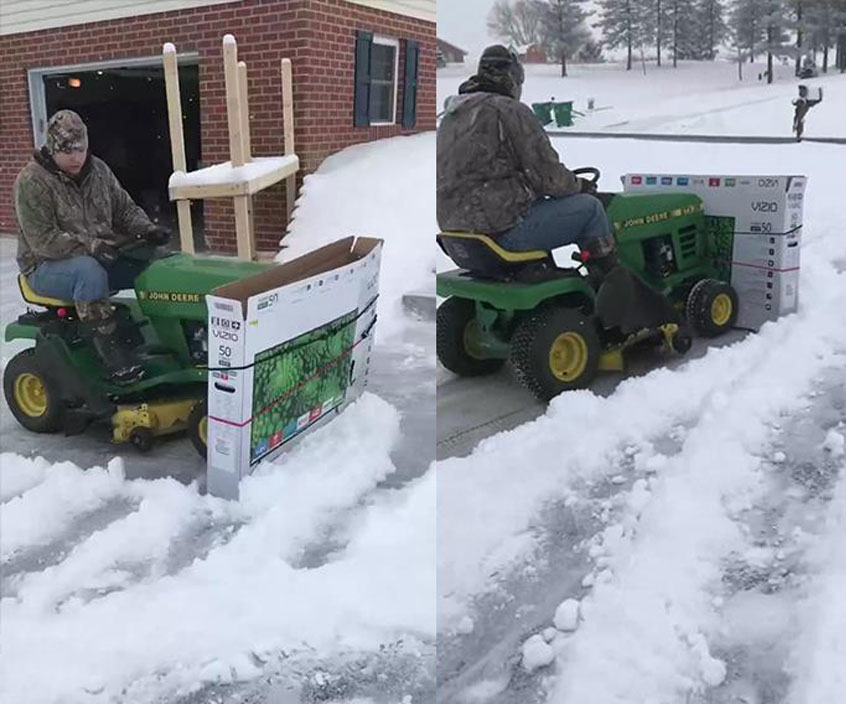 Snow is uncommon in several parts of Texas. When times get rough, Texans get innovative. Who knew a TV box would make for such a good snowplow.
Quick Texas Fact: A historic snowstorm hit Texas in 1956. In a single day, the town of Vega received 61 inches of snow, and Plainview got swamped with 24 inches.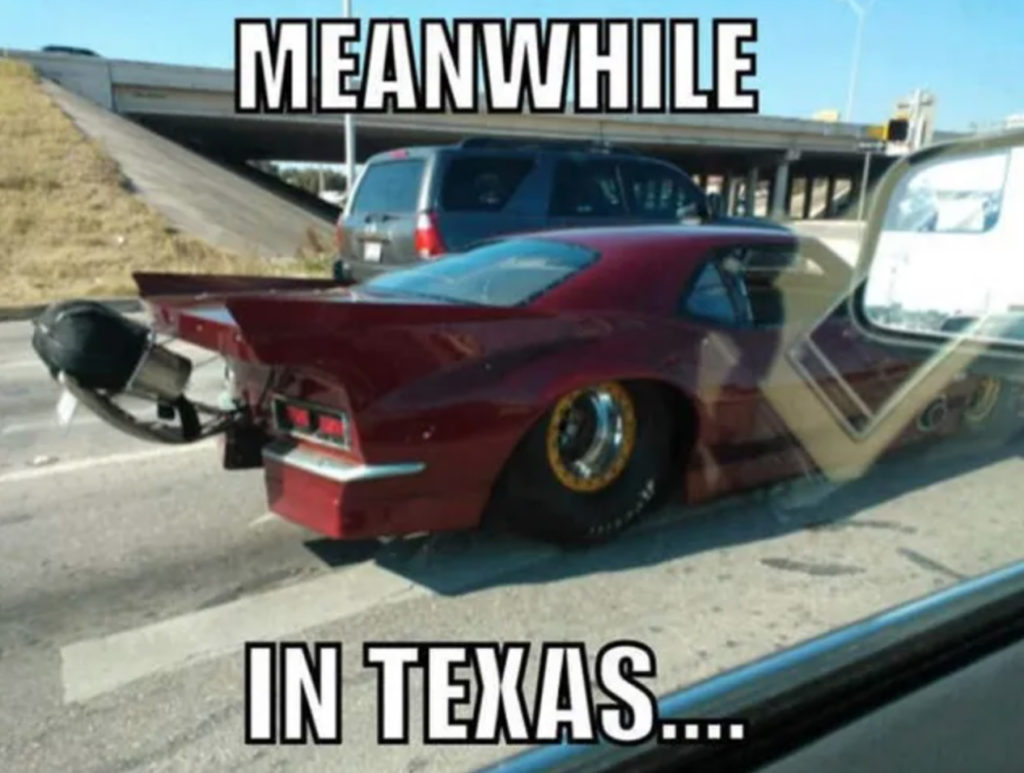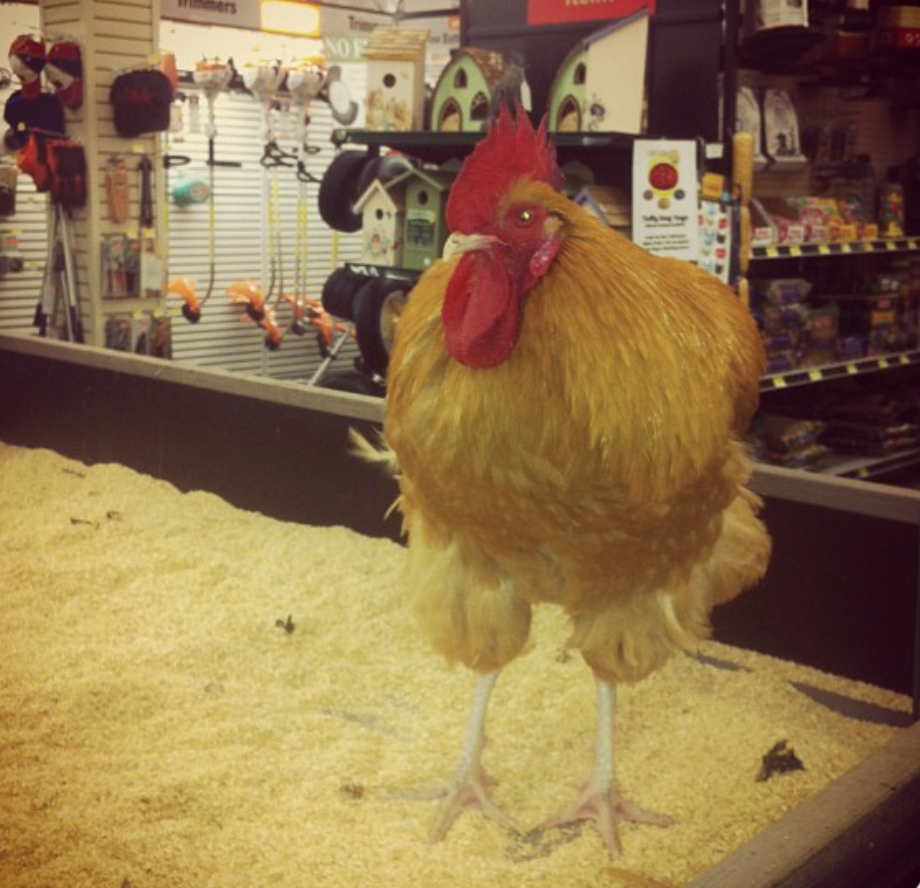 How about this True Value hardware store that has its own rooster as a store mascot. Only in Texas…
Quick Texas Fact: Jalapeno pepper jelly originated in Lake Jackson and was first marketed in 1978.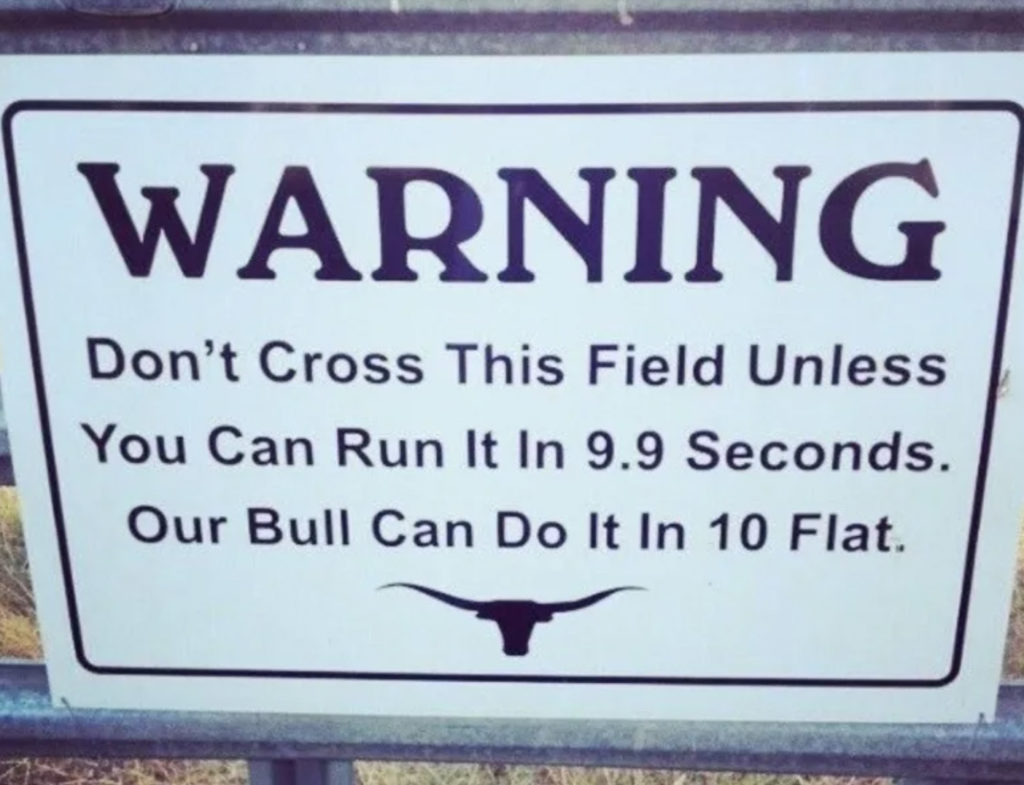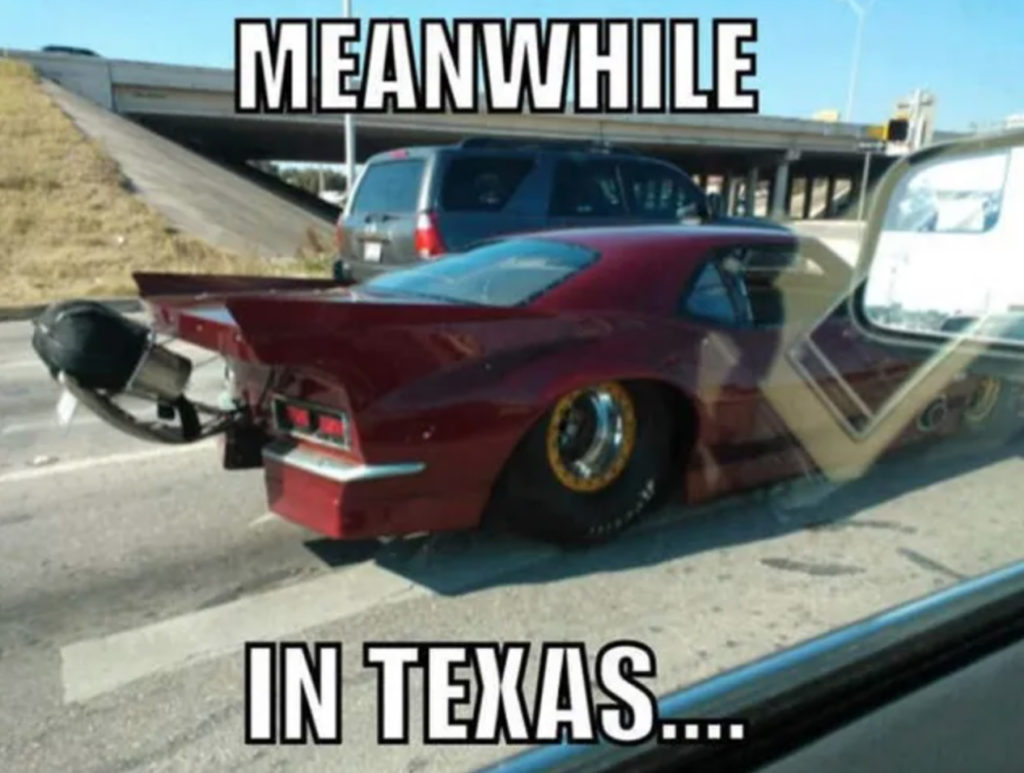 Only in Texas will you look over in traffic and see a car capable of going 0-60 in less than 2 seconds.
Quick Texas Fact: The first suspension bridge in the United States was the Waco Bridge. Built in 1870 and still in use today as a pedestrian crossing of the Brazos River.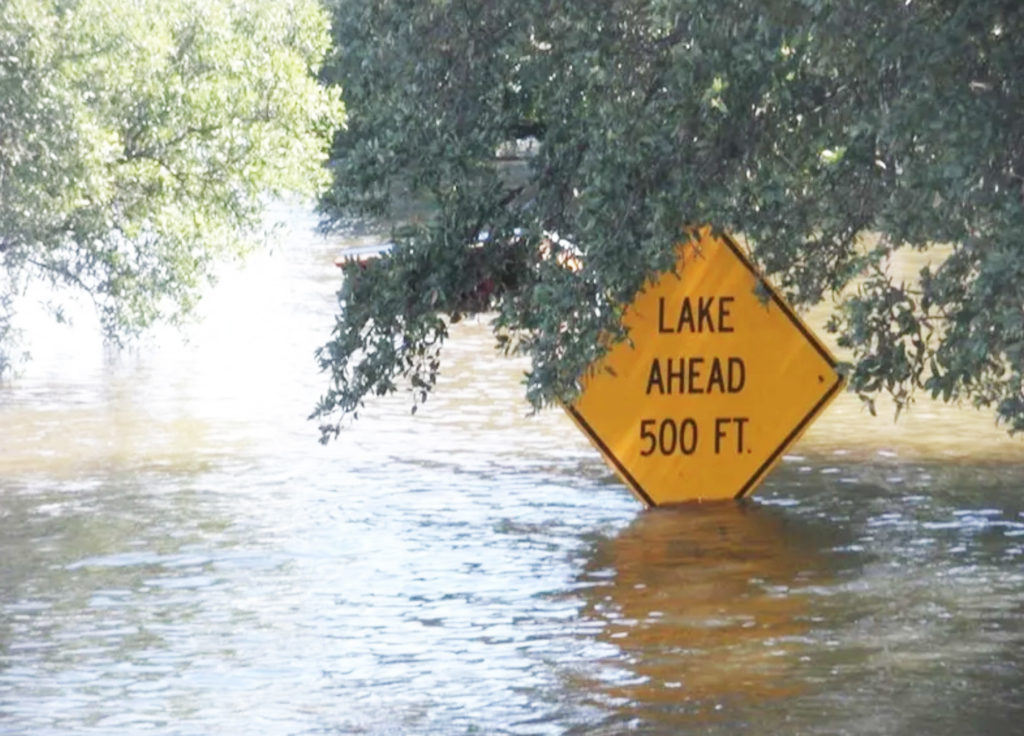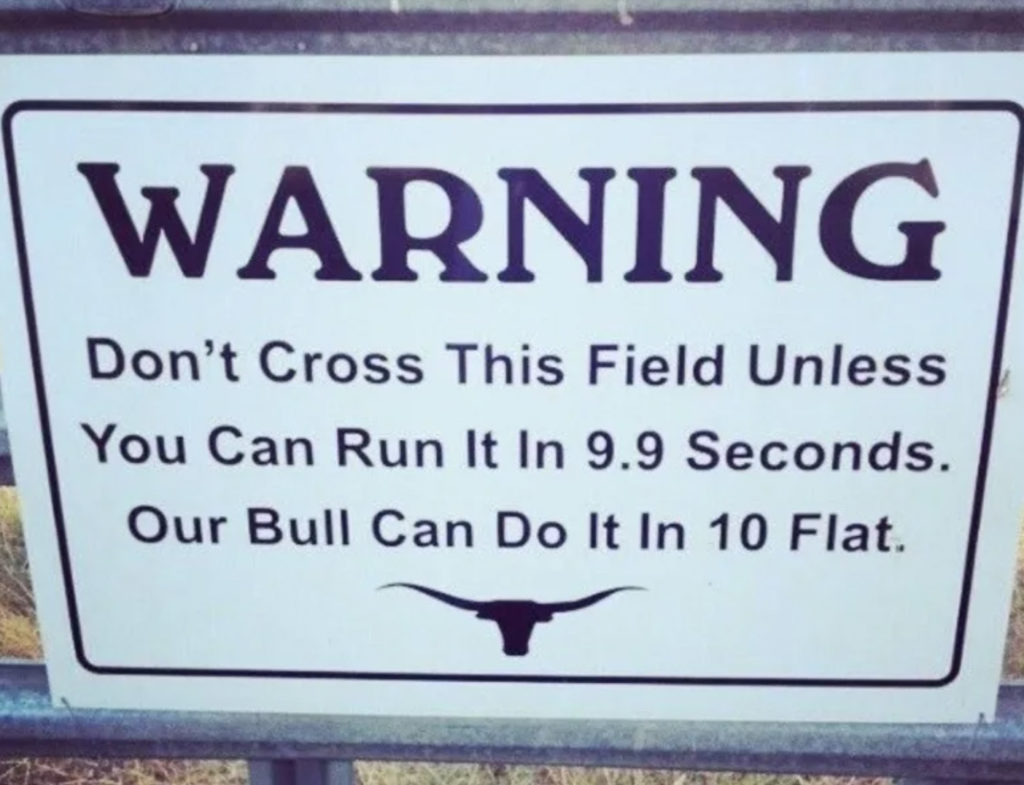 Texas is not short on cattle. The largest cattle inventory ever recorded in Texas was in 1975 at 16.6 million head.
Quick Texas Fact: The first word spoken from the moon on July 20, 1969 was Houston.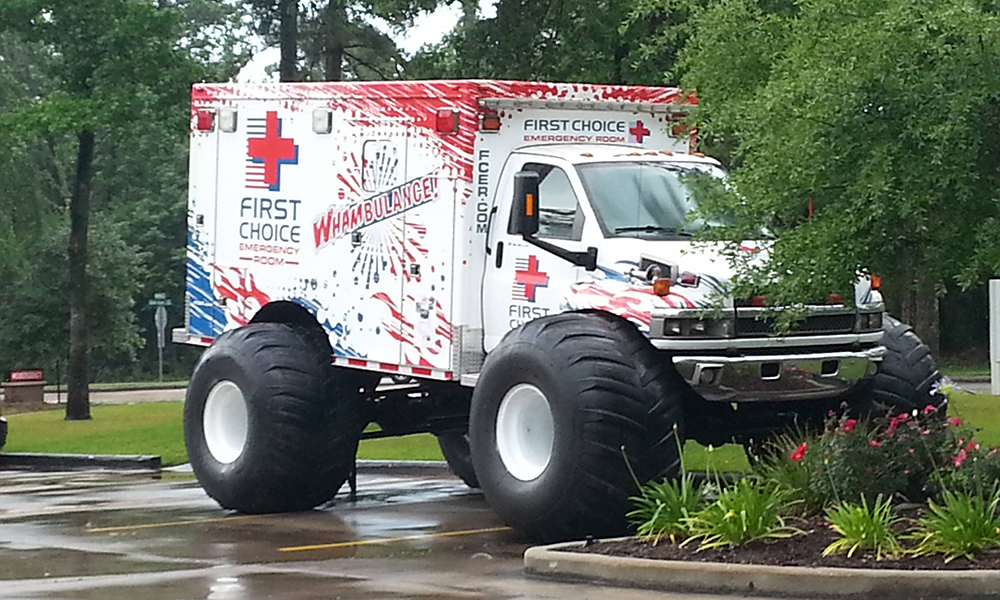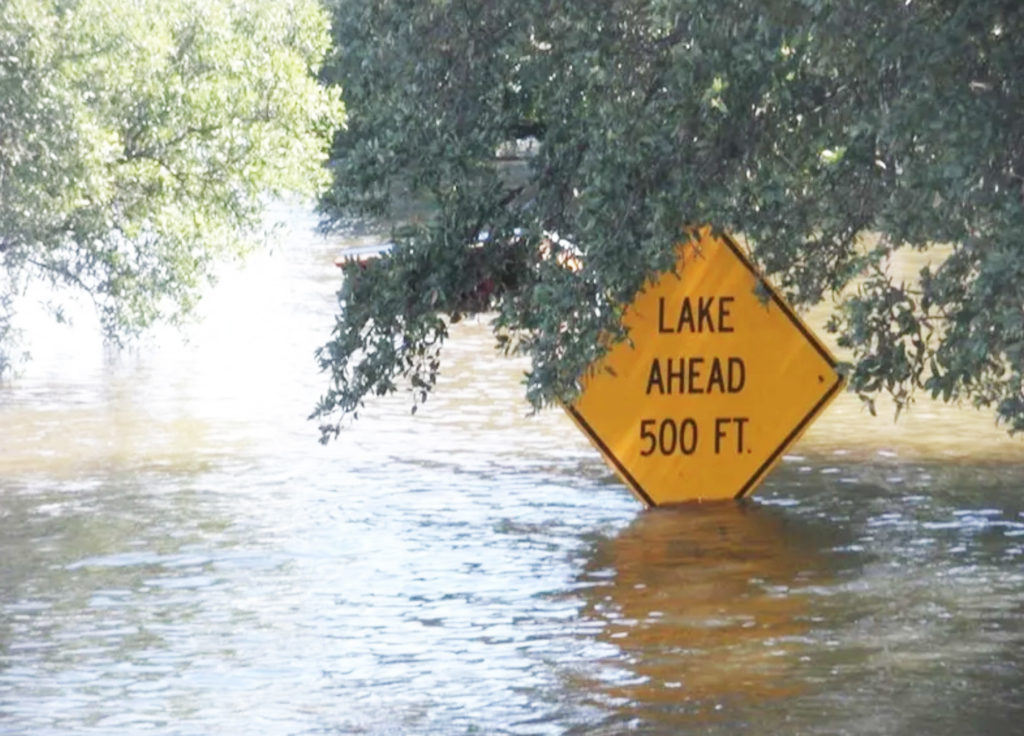 Yep. Welcome to Texas. Average yearly rainfall in West Texas is less than 8 inches while in East Texas it exceed 56 inches.
Quick Texas Fact: More land is farmed in Texas than in any other state.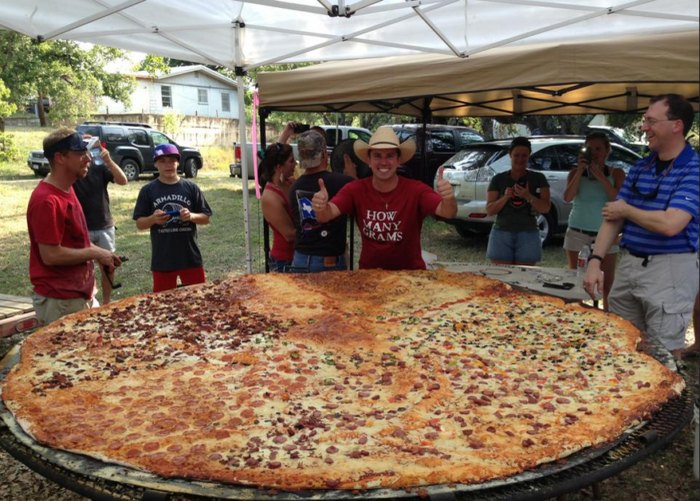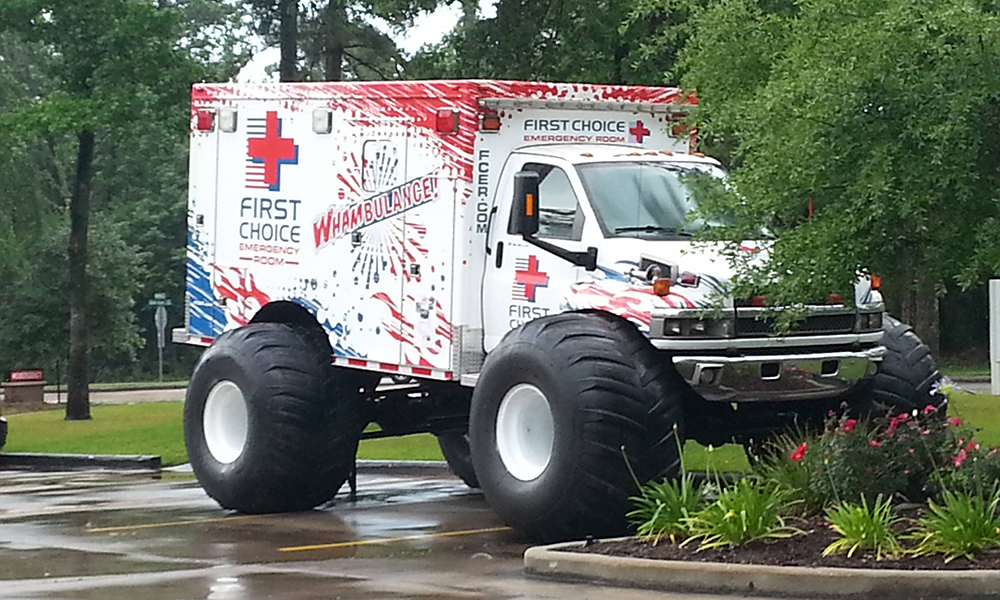 Only in Texas will you find a Whambulance, first choice emergency room. Practically speaking, this looks like it could go anywhere.
Quick Texas Fact: Speaking of snacks, Frank Liberto introduced stadium nachos to the world in 1976 at a Texas Rangers baseball game. He found out that if you dilute cheese sauce with water and jalapeno juice, you can easily make the sauce go through a pump. Thus, the famous nachos style was born.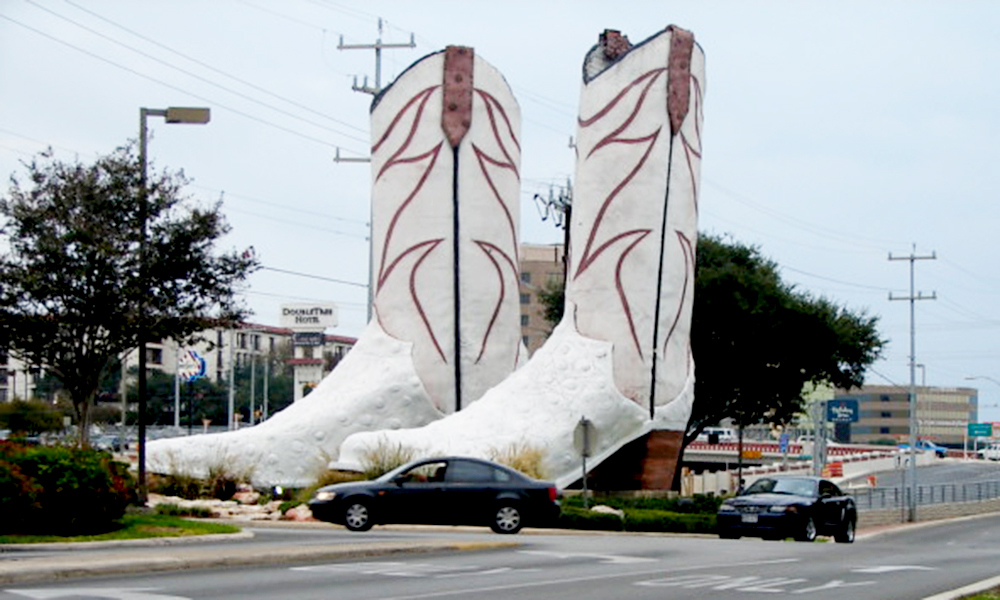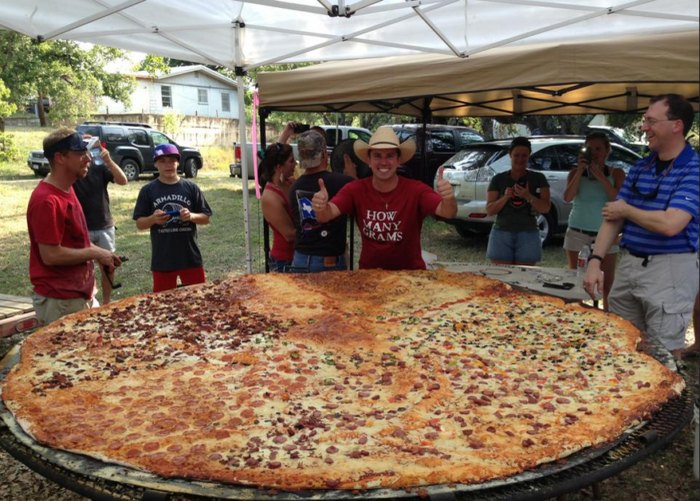 People say, "everything is bigger in Texas." There is definitely some truth in that from the state's geographical size to population. The saying can also be easily applied to food. Have you had a pizza Texas-style before?
Quick Texas Fact: Big Lou's Pizza, a restaurant in San Antonio, claims to make the largest pizzas in Texas. You can get sizes ranging from 10 inches to 62 inches. If you visit, definitely come in hungry.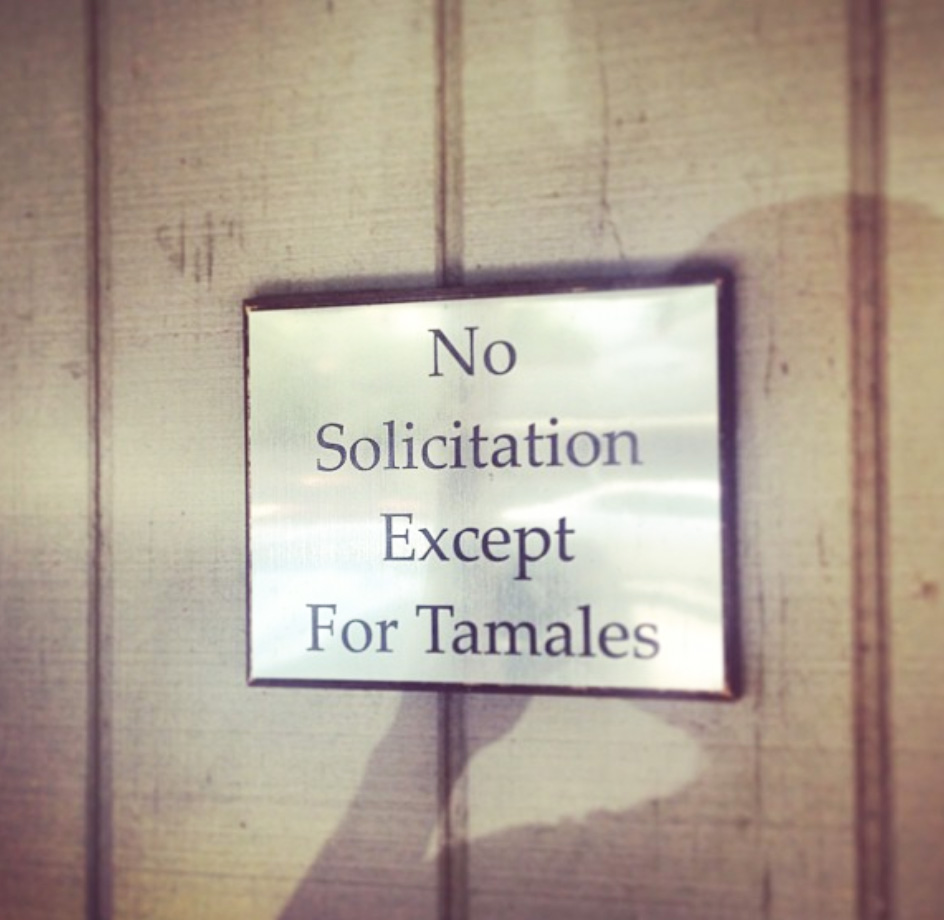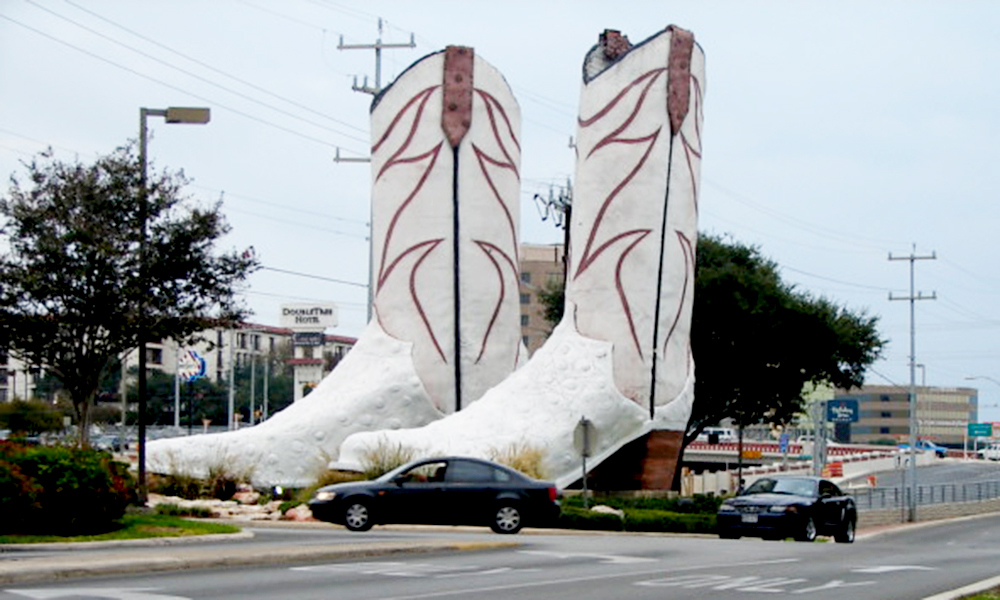 Only in Texas will you find these giant ostrich skin cowboy boots.
Quick Texas Fact: Texas is larger than any country in Europe. But you probably already knew that.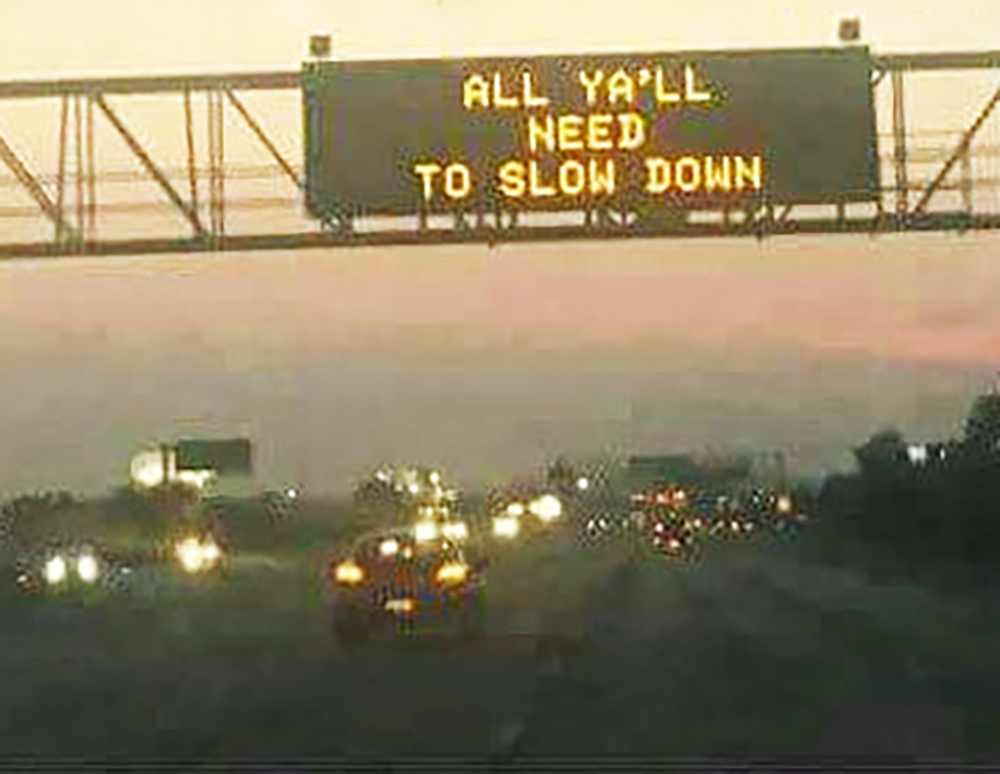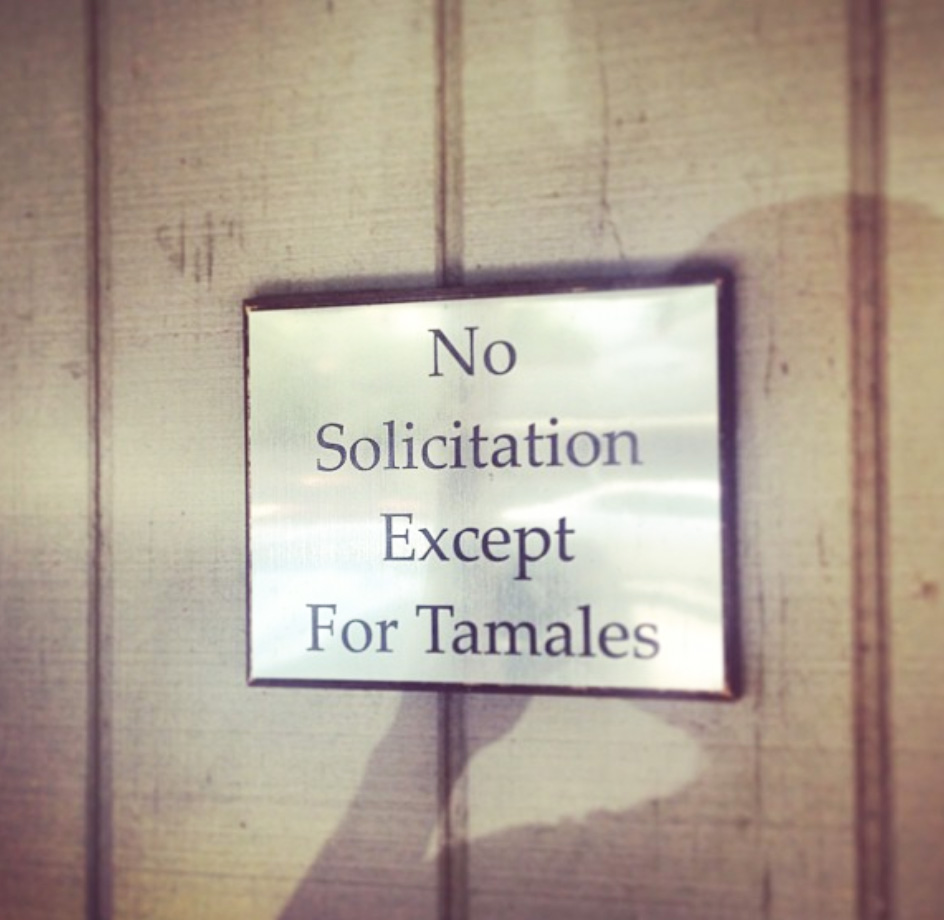 Texans like their privacy. No solicitations. Except for tamales. Of course.
Quick Texas Fact: Texas has the world's largest rose garden. It contains 38,000 rose bushes representing 500 varieties of roses set in a 22-acre garden.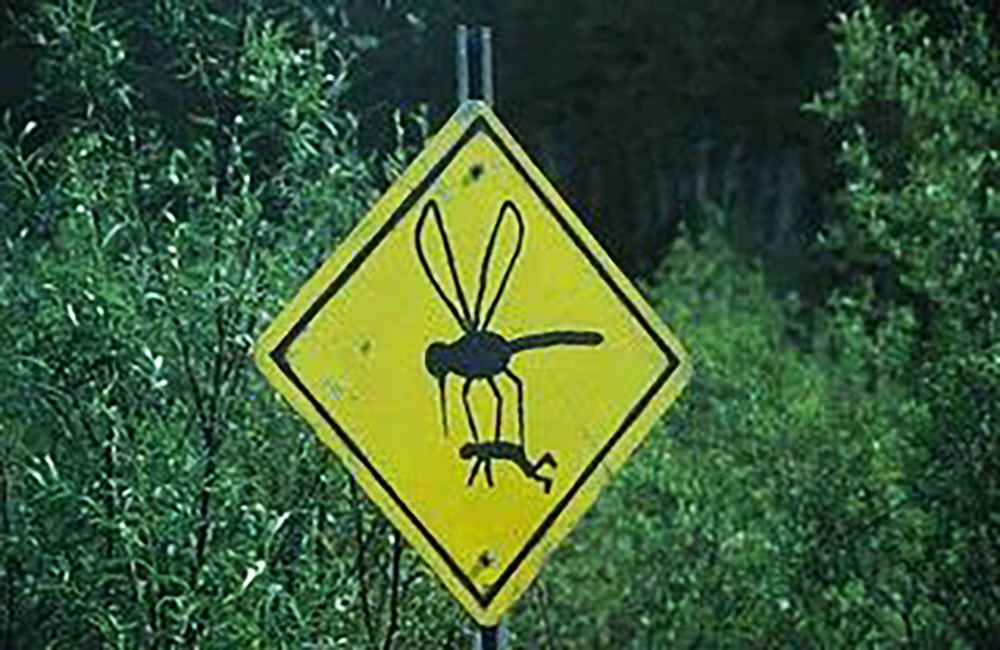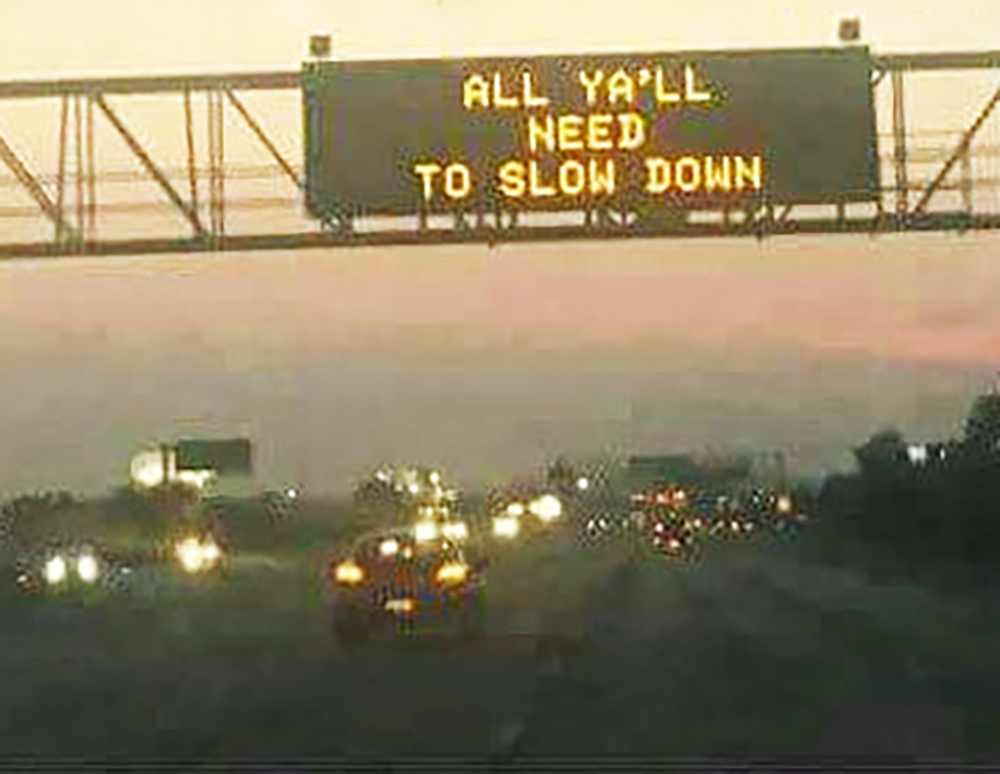 Only in Texas! These funny Texas photos had us belly laughing! How about this photo from the interstate? "All ya'll need to slow down".
Quick Texas Fact: A time capsule in Texas contains a passbook to a bank account expected to be worth $1 quadrillion by the time it opens in 2968.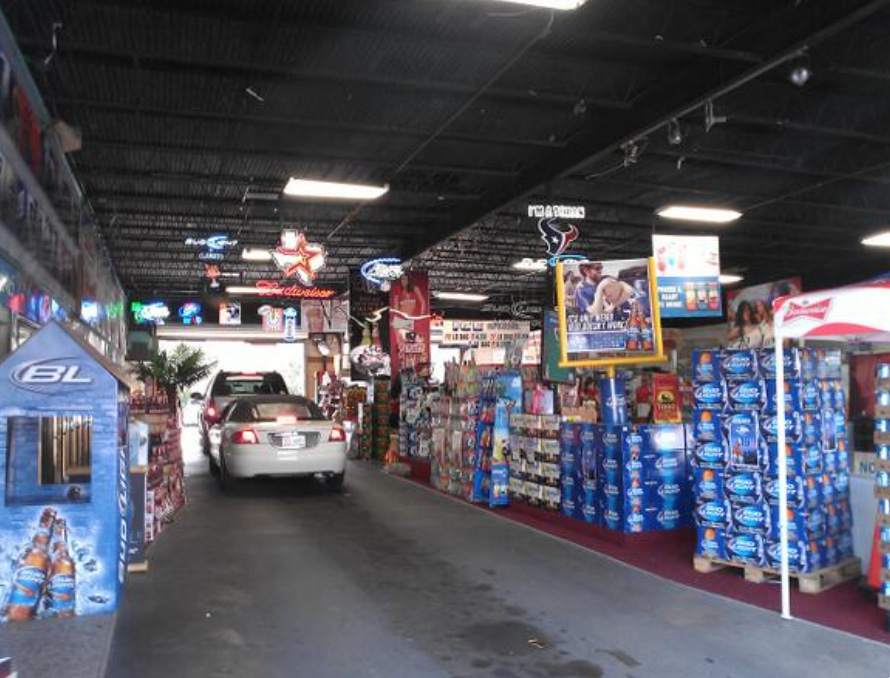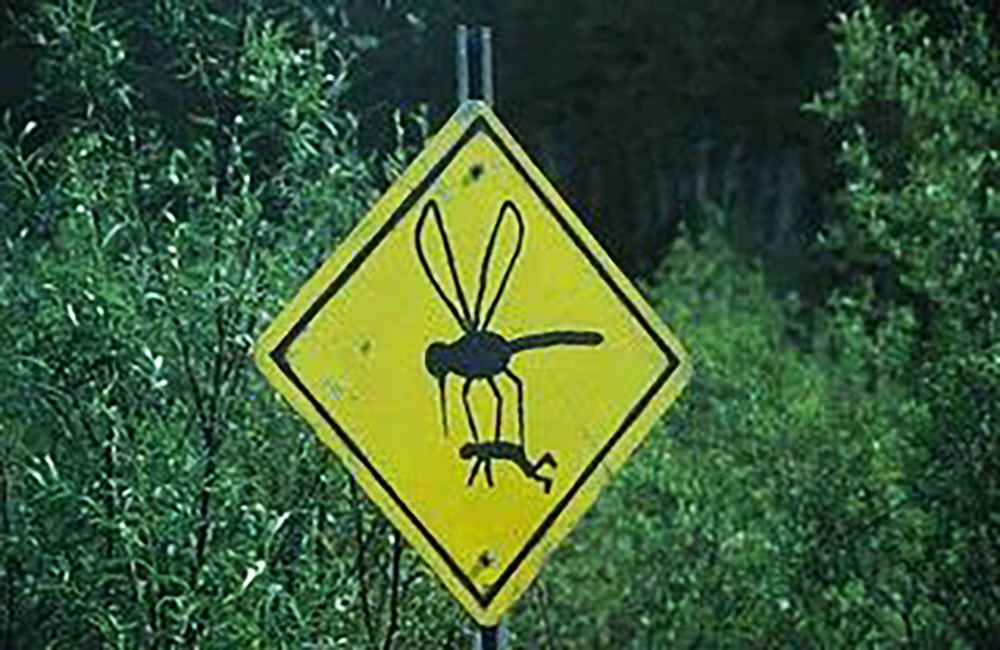 Only in Texas will you find mosquitos capable of carrying off a full grown man.
Quick Texas Fact: There are more than 80 kinds of mosquitoes in Texas!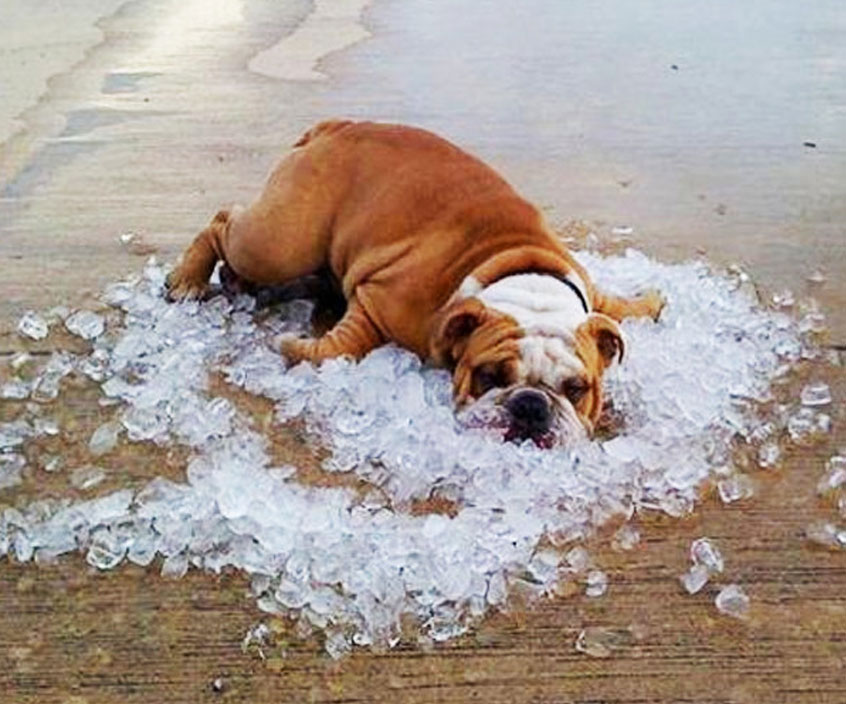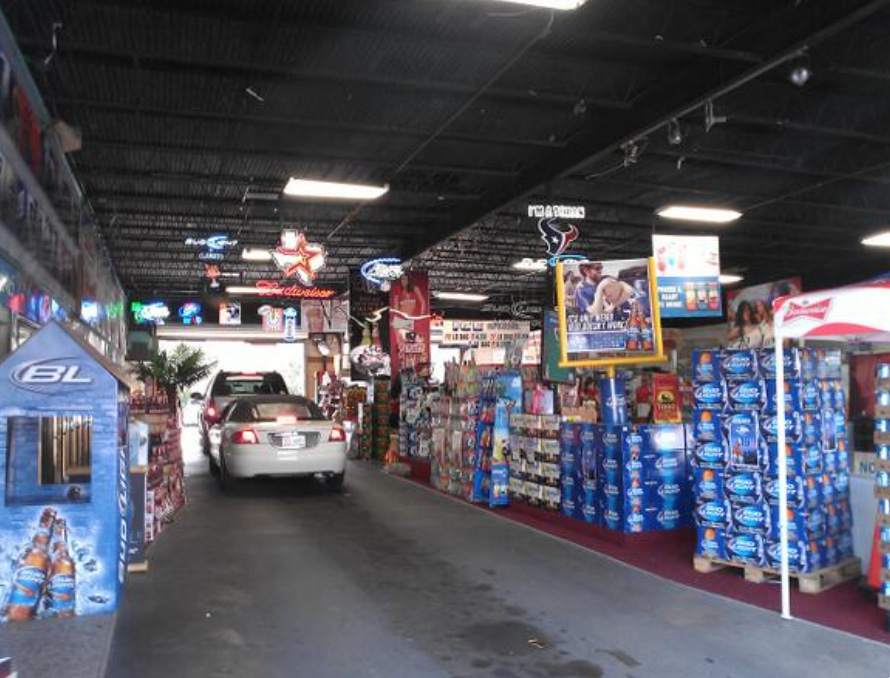 Only in Texas will you find a full drive through liquor store. Like this one in Houston.
Quick Texas Fact: Laredo is the world's largest inland port.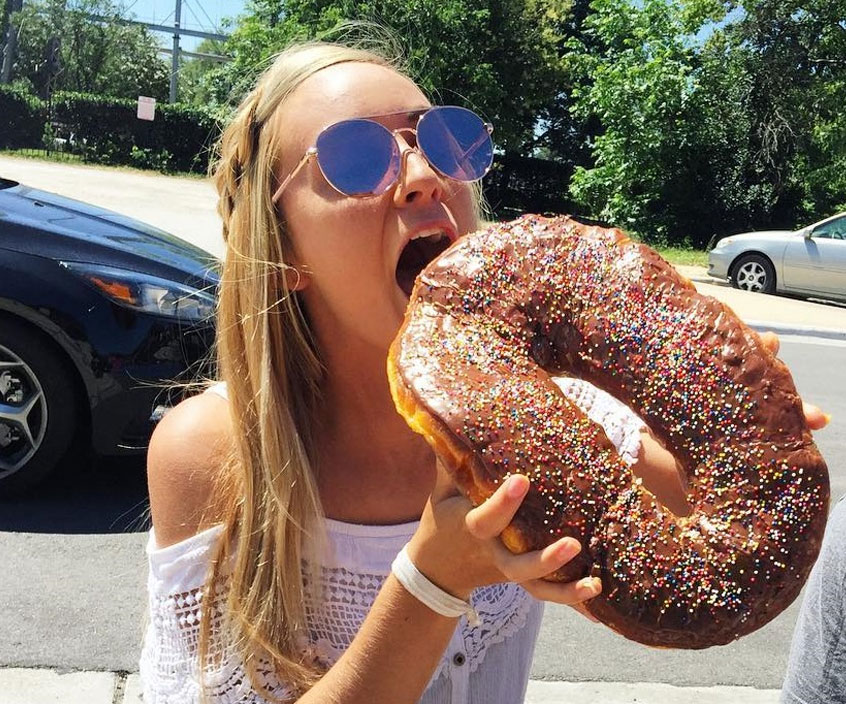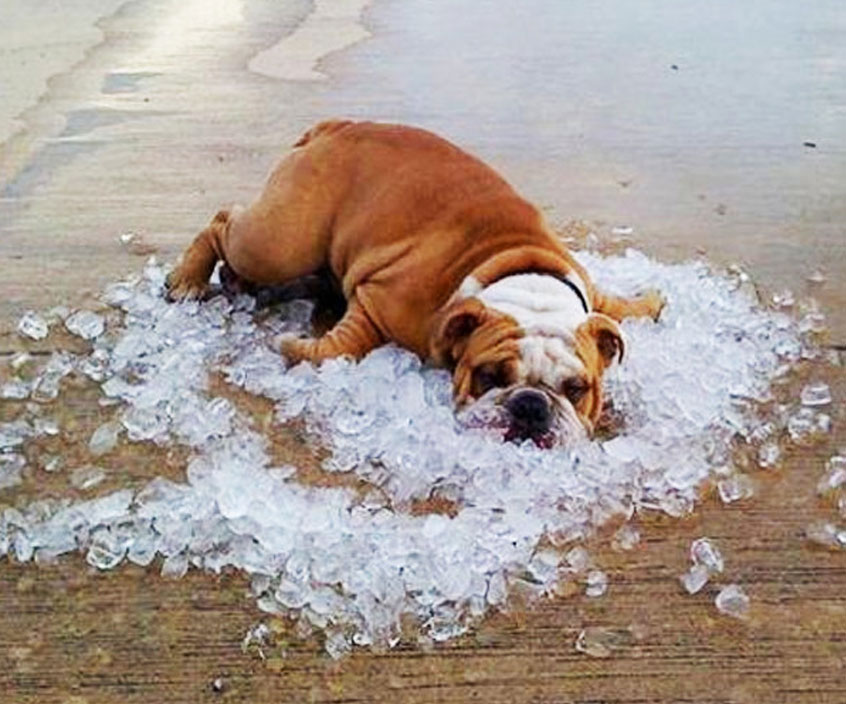 This dog is not having a good time. Luckily it has plenty of ice to cool down. We are guessing someone took this picture in July, which is generally the state's warmest month.
Quick Texas Fact: The highest recorded temperature, thus far in Texas history, was in 1980 at 113°F. *phew*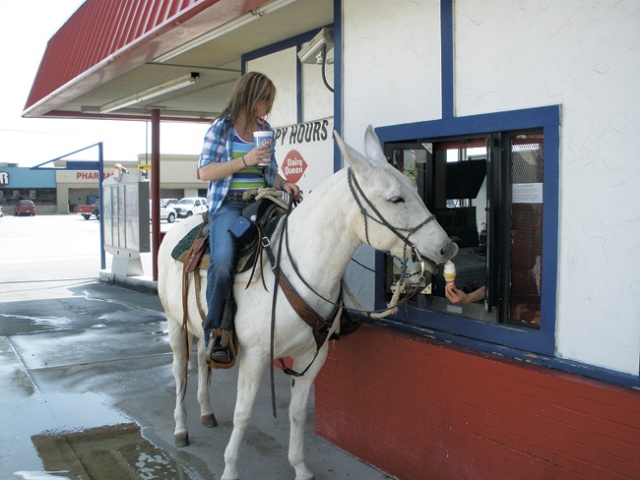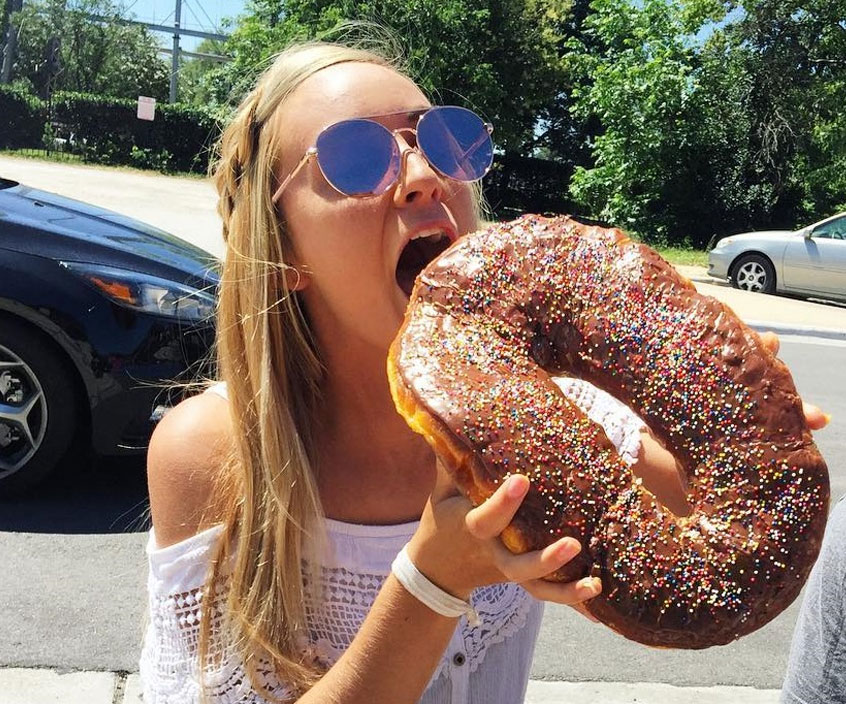 Round Rock Donuts, a restaurant located near north Austin, has some of the biggest donuts in Texas. The best part is they are only $8.
Quick Texas Fact: Round Rock Donuts opened its doors in 1926. The donuts do not use baking powder but rather a yeast-raised recipe requiring the donuts to be hand-rolled cut, fried, and iced.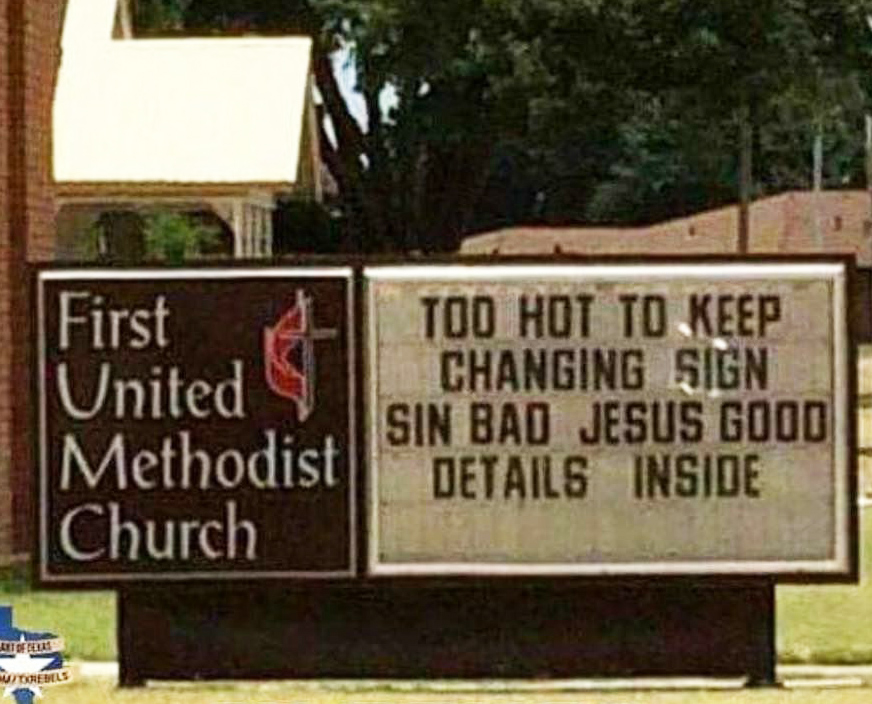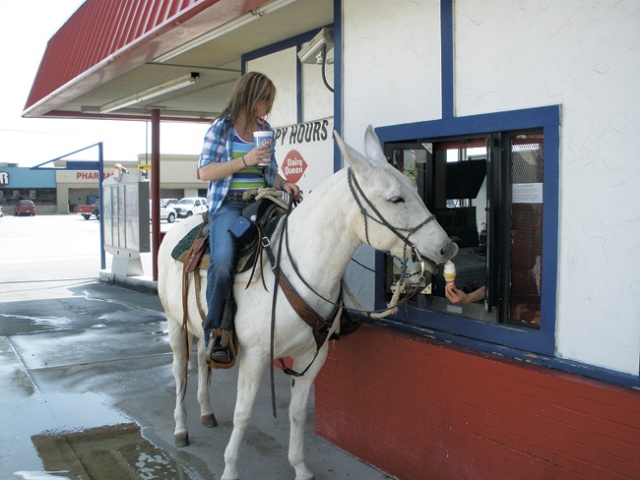 Only in Texas will find a horse stopping by the Dairy Queen drive through for a quick ice cream treat. That's one way to beat the Texas heat.
Quick Texas Fact: King Ranch, located in Kingsville, is larger than the state of Rhode Island.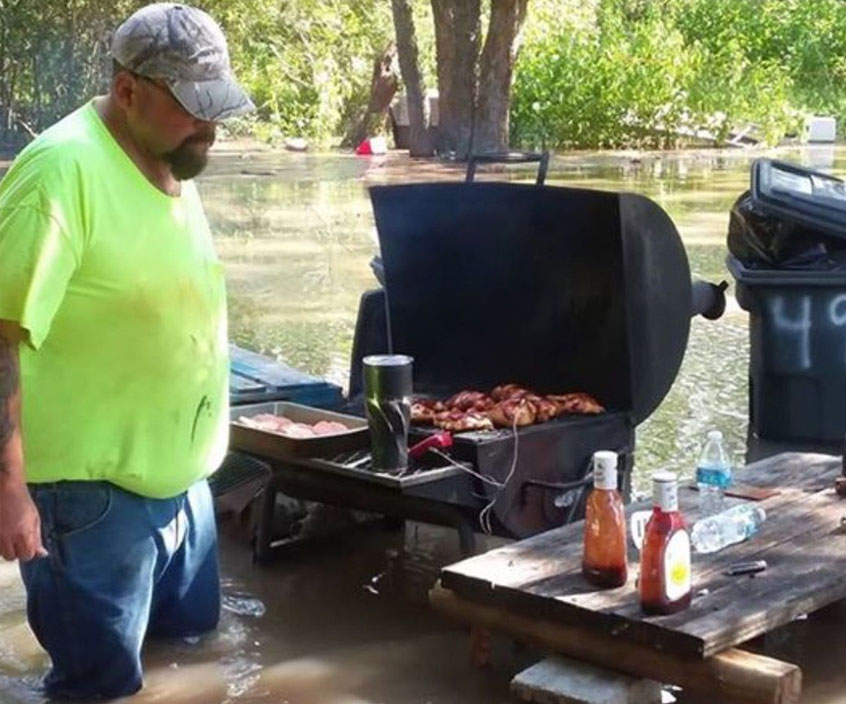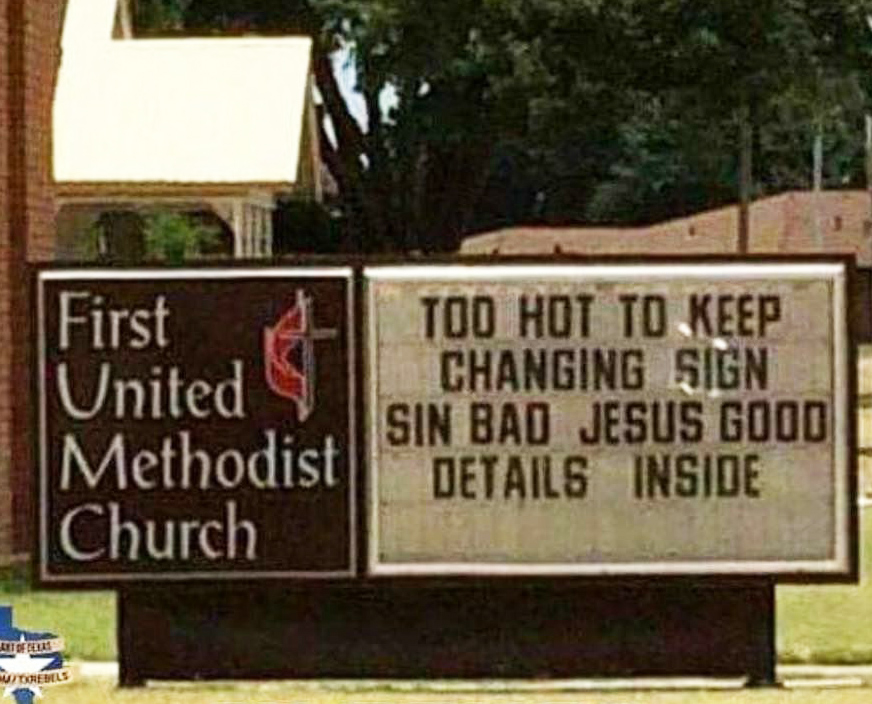 Only in Texas will it too hot for the Churches to change their road signs. Like this one. "Too Hot to Keep Changing Sign – Sin Bad Jesus Good – Details Inside"
Quick Texas Fact: The Texas State Capitol is taller than the US Capitol.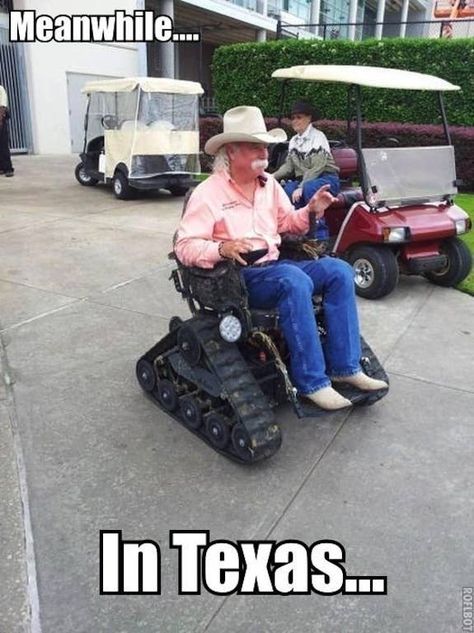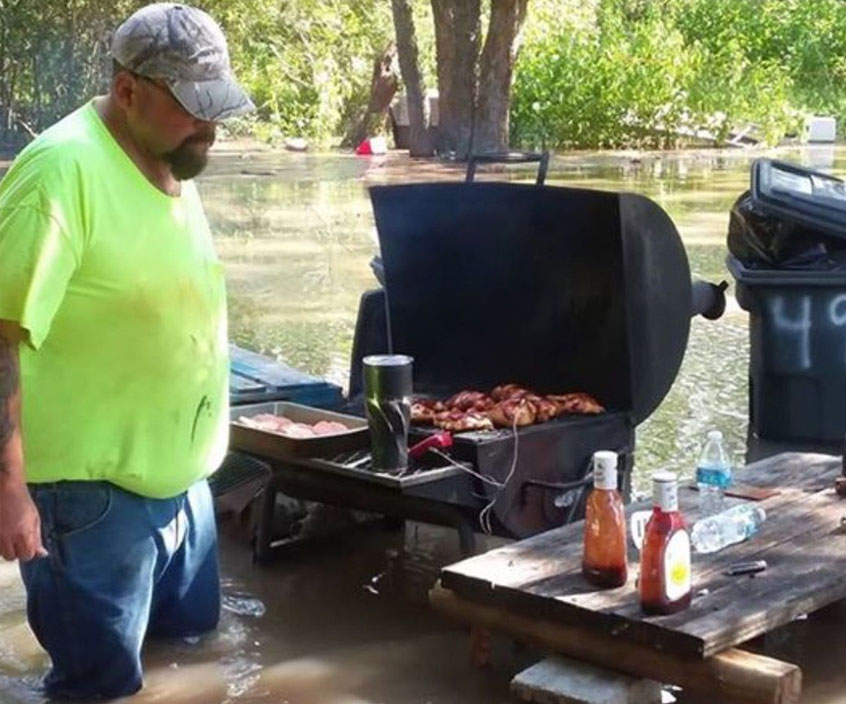 Not even a hurricane can stop a good old-fashioned Texas barbecue.
Quick Texas Fact: As of September 2020, a total of 64 hurricanes have been recorded in Texas since 1851.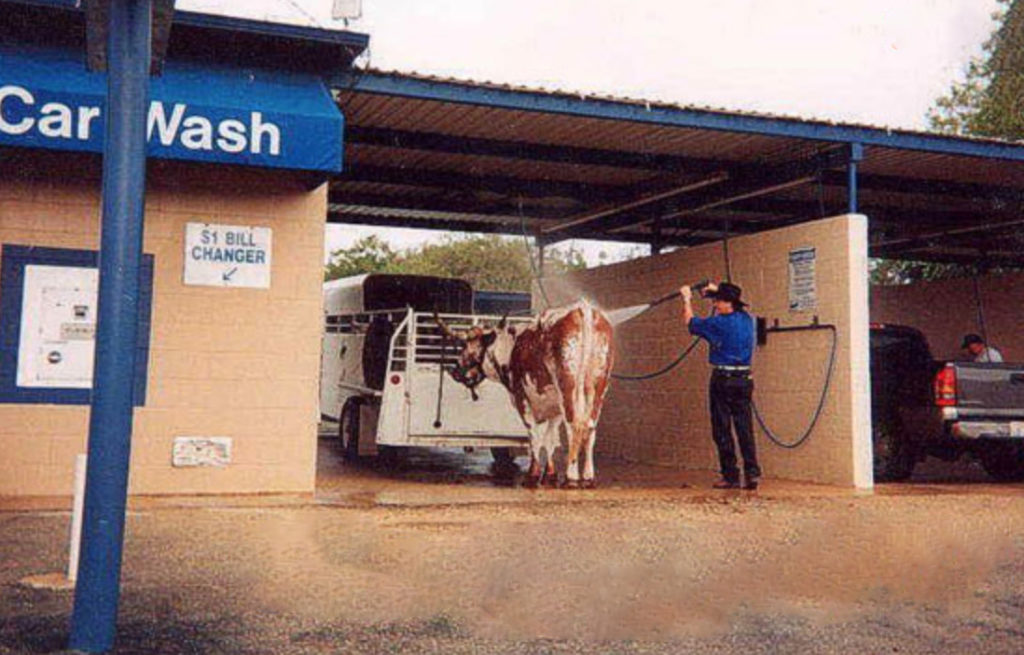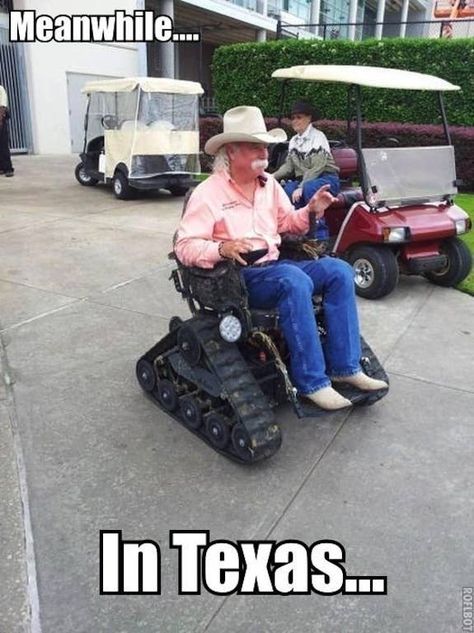 Texans know how to get around all terrains. Like this guy. Hat. Check. Boots. Check. Really cool all terrain wheel chain – check!
Quick Texas Fact: The Six Flags Over Texas theme park is named for the six countries that have ruled over Texas.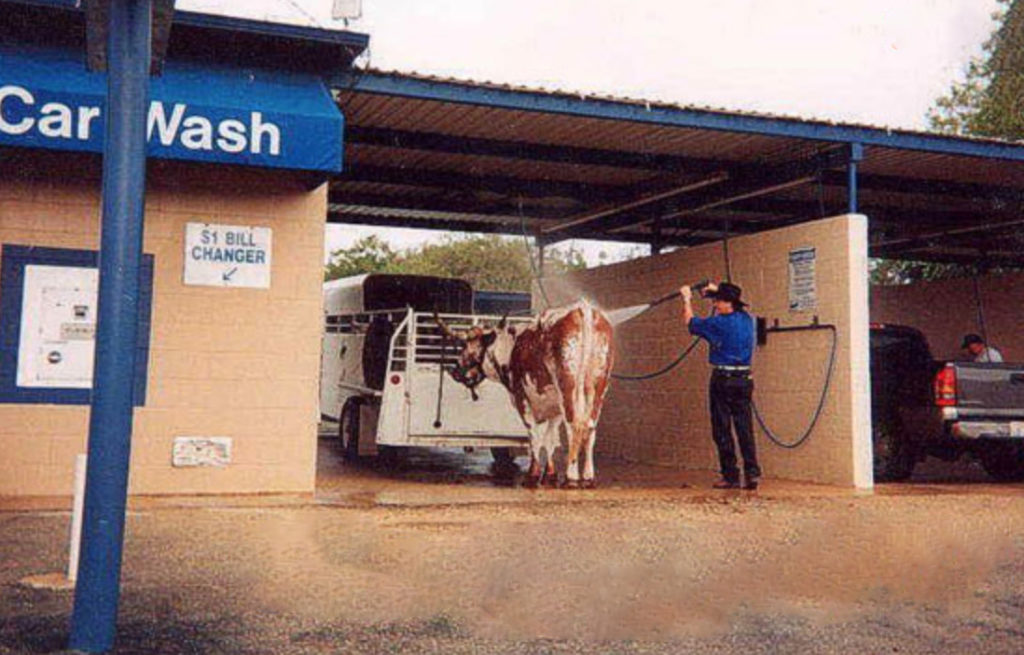 Only in Texas will you find a guy washing his cow at the car wash. That's one lucky cow!
Quick Texas Fact: Austin is considered the live music capital of the world.
For the record, we are genuinely sincere when we say nothing shows Texas pride quite like growing a mullet and shaving the state's map on the side of your head. Bravo, good sir!
Quick Texas Fact: The state flower of Texas is the bluebonnet. The decision was made in 1901, with the bluebonnet defeating the cotton boll and the prickly pear cactus as possible choices.
Many texans love their beer and they love to buy in bulk. Like this guy. Stocking up on Natural Light for the long weekend.
Quick Texas Fact: Amarillo is considered the "Helium Capital of the World."
Humor so good it can only be Texas.
Quick Texas Fact: The armadillo is the official state mammal.
Ever seen a cow motorcycle? If not, maybe you should visit Texas!
Quick Texas Fact: The first frozen margarita machine was invented in Dallas.
Over 5 million. That's how many deer there are in Texas. Thoughts on this road sign?
Quick Texas Fact: Texas has experienced the most number of tornadoes since 1950. On average, Texas experiences 120 tornadoes a year.
We know this guy is probably doing his job to get the statue put up, but seriously don't mess with Big Tex like that.
Quick Texas Fact: Big Tex is a giant 55-foot statue and cultural icon of the State Fair of Texas in Dallas. It was constructed in 1952. A new one was built in 2013 after a fire burned down the original the previous year.
If you've seen Texas Chainsaw Massacre, you already know that picking up hitchhikers in the state is a red flag.
Quick Texas Fact: Texas has the highest prison population in the U.S.A, with around 154,479 inmates as of 2021.
This Texas man just needed to grab a couple of groceries before coming home.
Quick Texas Fact: According to a Fox News article from 2016, the most popular beer in Texas is Corona and Atrial Rubicite.
It's not every day you see Texas gets hit by a hurricane. It's also not every day when you see a cowboy riding down a flooded street with a rainbow unicorn raft holding a state flag.
Quick Texas Fact: It's probably obvious, but Texas is referred to as the "Lone Star State" because the name pays homage to the Lone Star Flag, which they adopted in 1836 after gaining independence from Mexico.
Texas native artist Bob "Daddy-O" Wade built these 40-foot tall boots in Washington D.C. on an empty lot near the white house in 1979. A property management company bought the temporary display in 1980 and moved the boots to San Antonio's North Star Mall.
Quick Texas Fact: Bob "Daddy-O" Wade became renowned for making oversized sculptures of Texas symbols. One of his most famous works was a giant iguana statue that sat on top of New York City's Lone Star Café from 1978 to 1989.
In 2017, during Hurricane Harvey, 25-30 percent of Harris County was submerged. The man on the raft seems to have adapted quickly to the changing conditions.
Quick Texas Fact: In case you didn't know, the Longhorns (representing the University of Texas at Austin) have won six NCAA baseball national championships 1949, 1950, 1975, 1983, 2002, and 2005.
The Texas-sized donut requires the same amount of dough as a dozen regular-sized donuts. These delicacies are about 14 inches wide! Wow!
Up next: Funny Texas photos continues…
How about this massive hat?
Up next: Funny Texas photos continues…
Only in Texas!
Up next: Funny Texas photos continues…
Only in Texas will you be welcomed with beer, guns and hot sauce in one stop! What do you think this sign is missing? Beef jerky?
Up next: Funny Texas photos continues…
Only in Texas will you find this revolver mailbox.