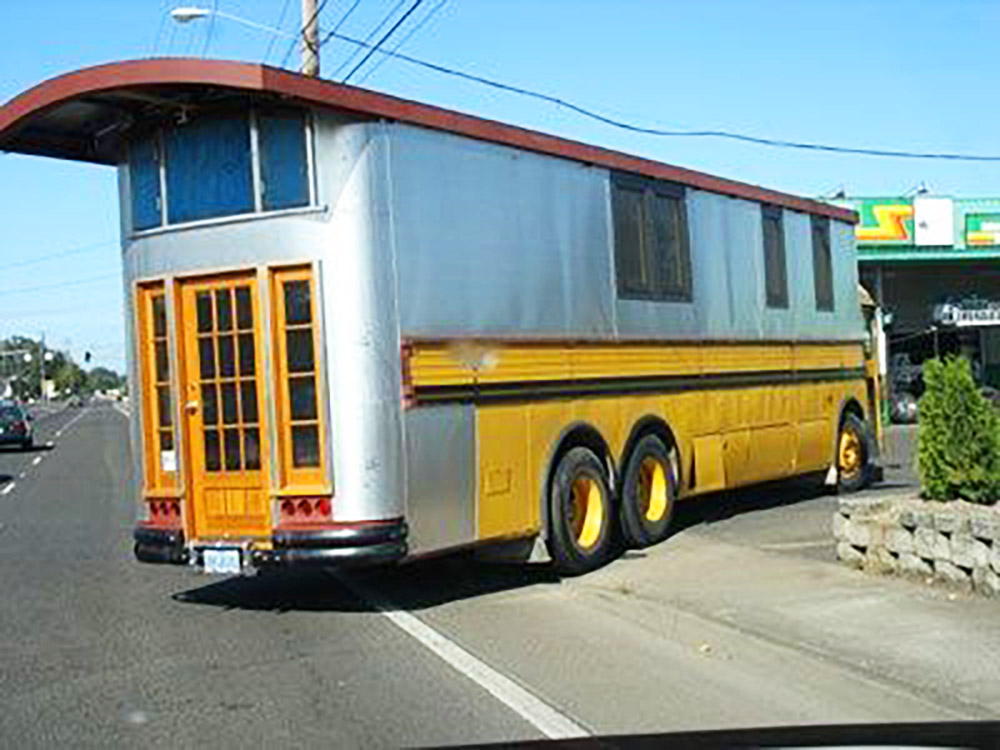 Have you ever wanted to hit the open road and travel the country in style? Shortly after the production of the Ford model T started in 1908, within 2 years came the first motorized campers. In the 1930's people started to upgrade their RV's to make their travels much more comfortable. Buying or building a motorhome is a good start, but it is not enough to stand out. Driving something absolutely bizarre will separate you from the rest. We have compiled some ridiculous motor homes you will love. Many are custom others are factory-made. In any case, we guarantee most people haven't seen RVs quite like the ones on this list. So, get ready for the awesomeness and absurdity below.
Monster Truck RV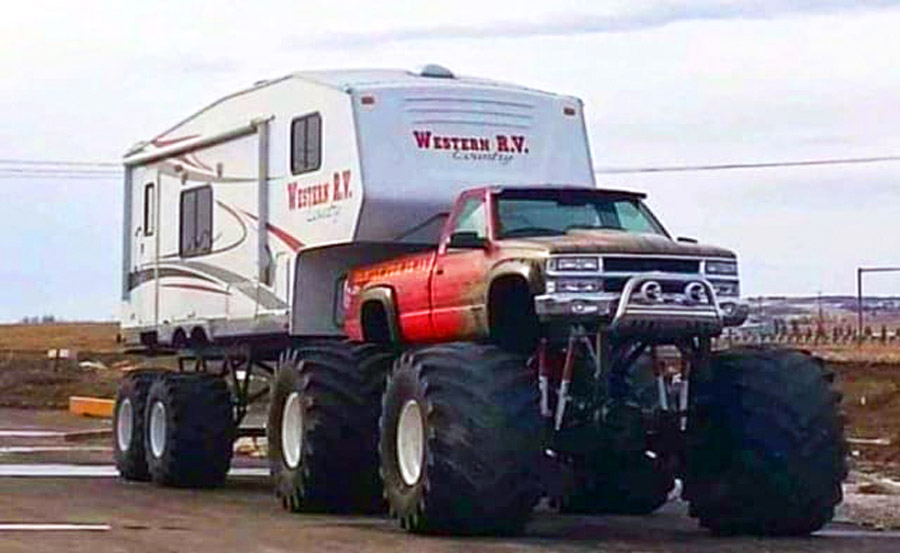 This Monster Truck/RV combo seems like the perfect blend for the ultimate outdoors trip. It may take several fill ups, but this truck and RV combo could get you anywhere you want to go. Even the most remote locations on Earth are reachable in this ultimate off-road machine. It may cost more than your average RV trip, but it would be loads of fun at the end of it.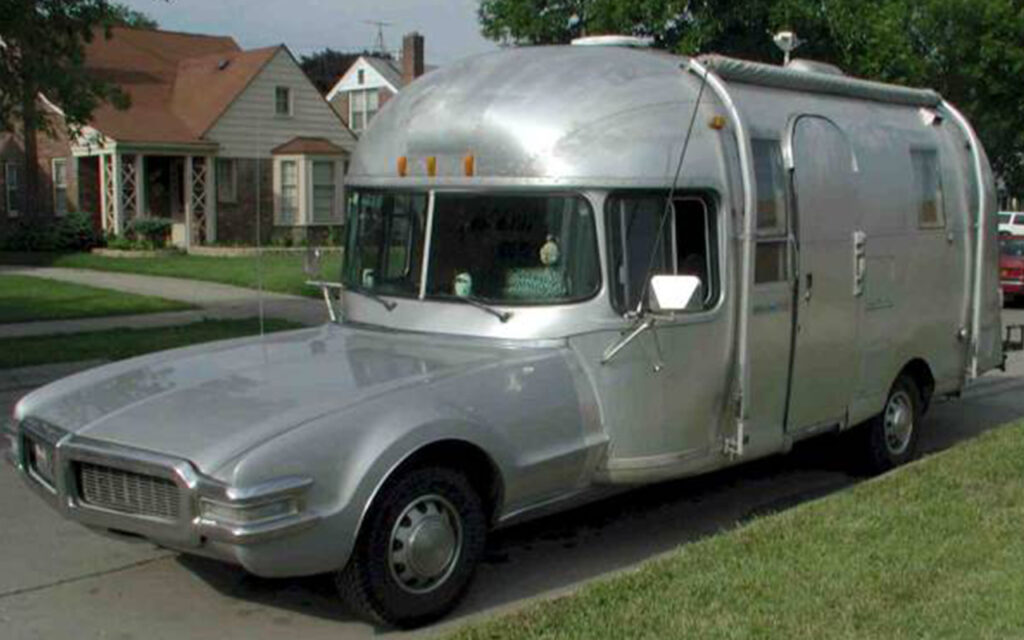 Custom School Bus Motorhome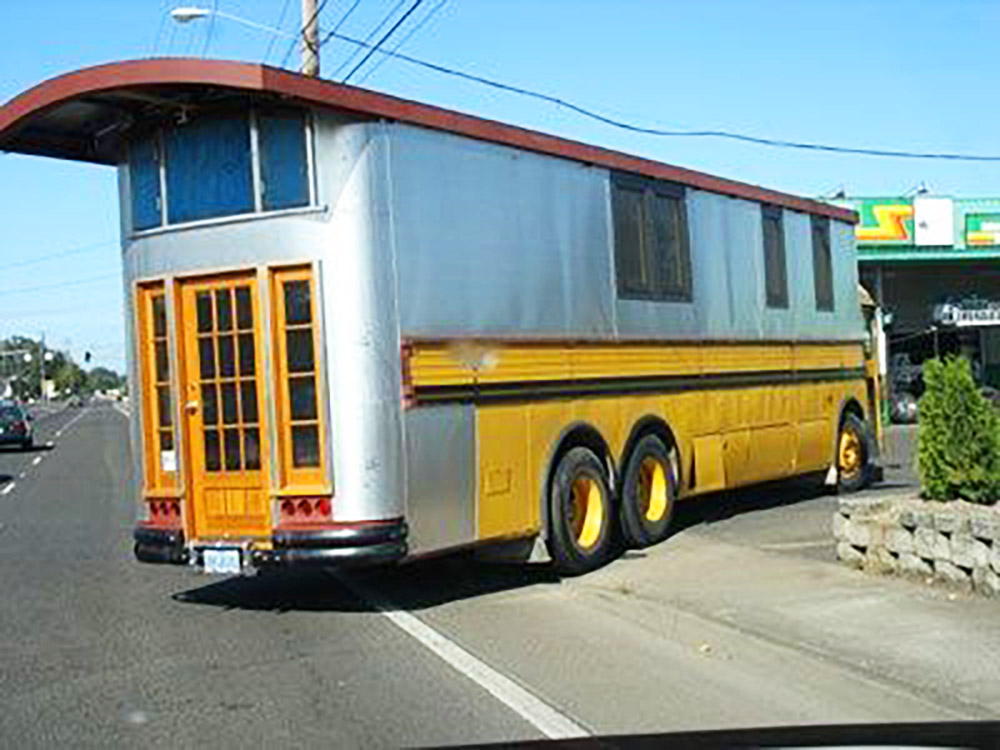 We could not find much information on the people who made this, but they clearly created this motorhome using a Crown Supercoach from the 1960s. The creators raised the roof using metal and cutting part of the bus. We imagine it is pretty spacious inside. On the back, the person also included giant windows and doors. It makes us wonder what other conversions they did inside. Perhaps they left the bus seats, but we could not see that happening with all the work done on the exterior.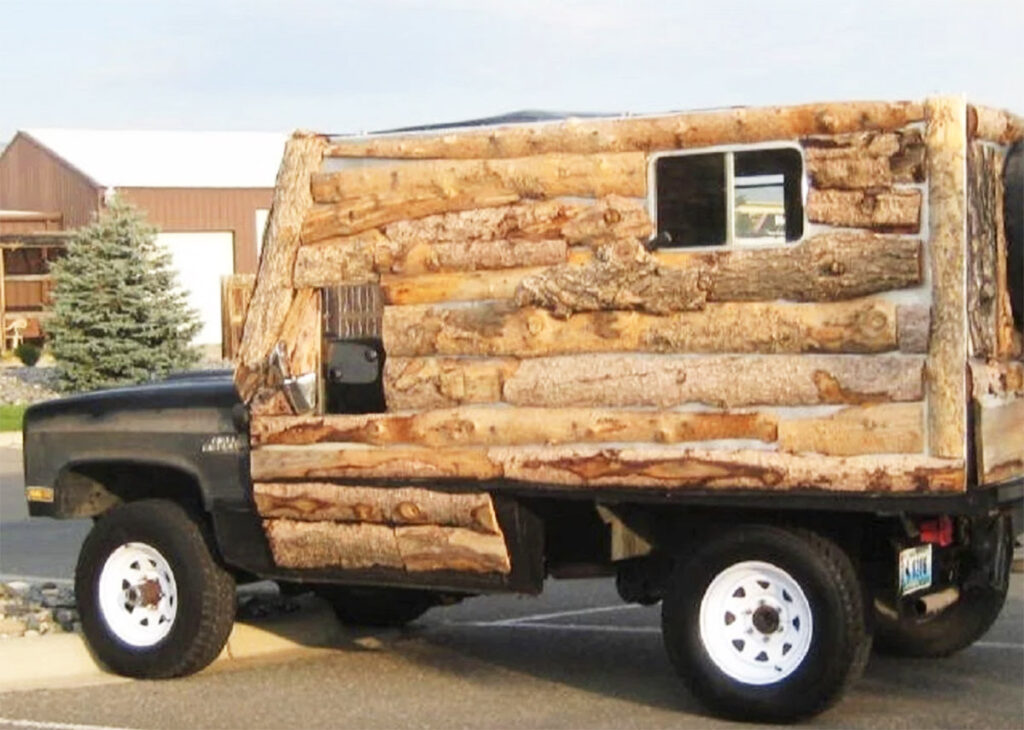 Old School Car RV Conversion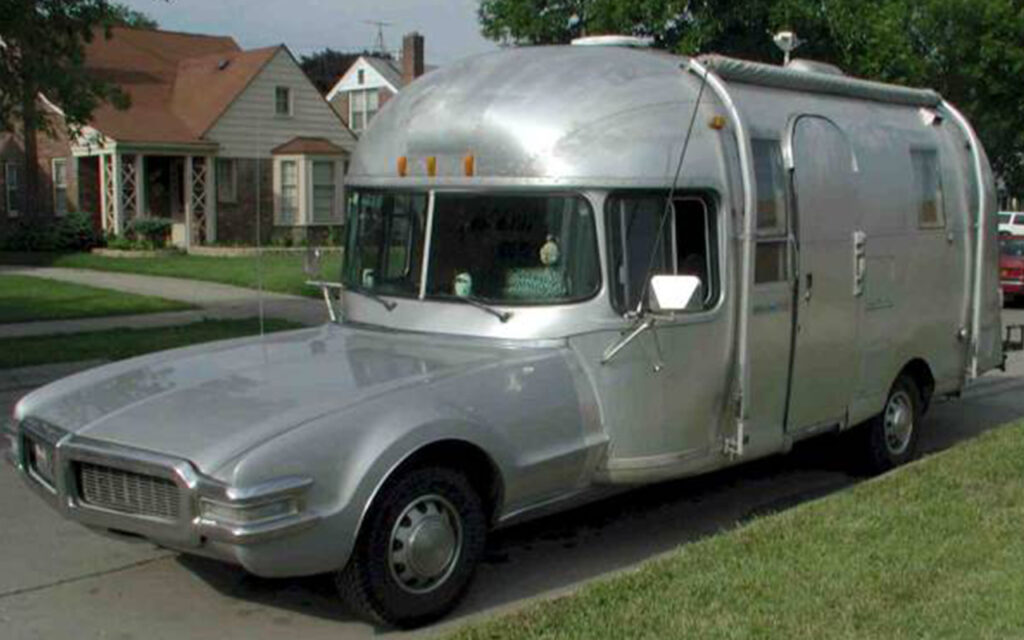 This is the most beautiful fusion of a classic gray 1960s camper and classic 1960s car that we have ever seen. Obviously, they kept the original driver seat of the vehicle for this silver bullet wonder. Judging by the wheelbase, it looks like they kept the whole car frame intact too. It doesn't look like they skipped any detail to make this dream come true.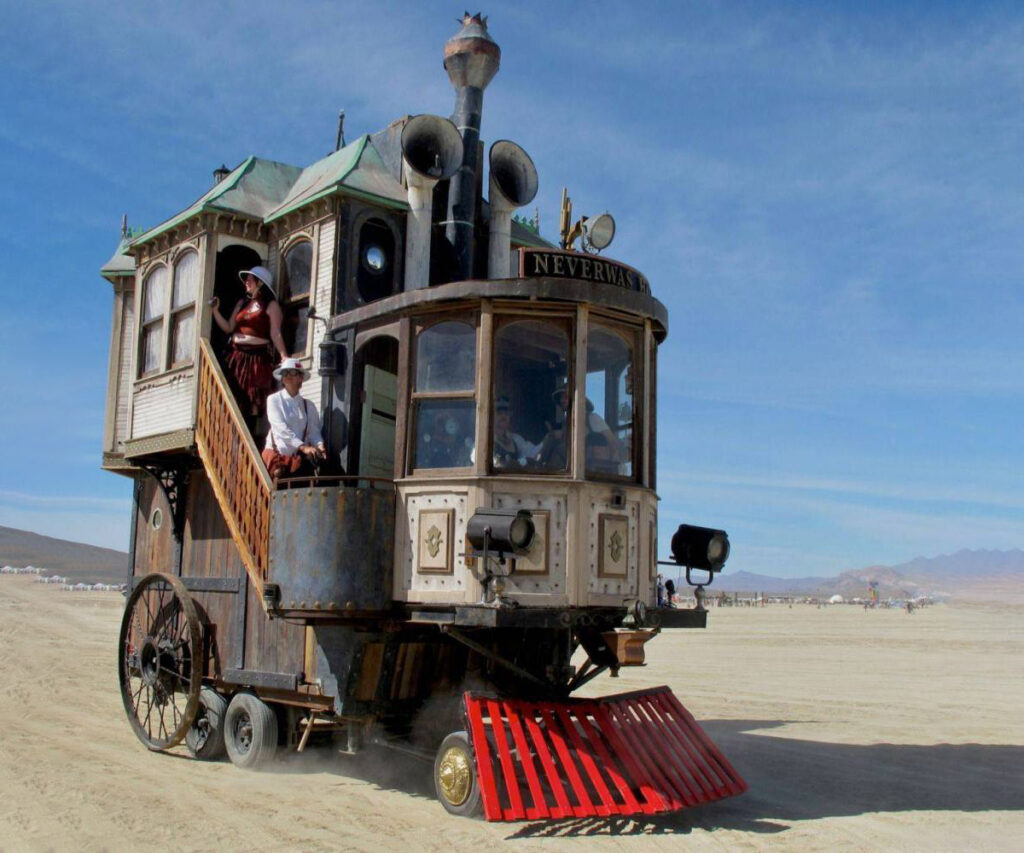 Custom Log Home Truck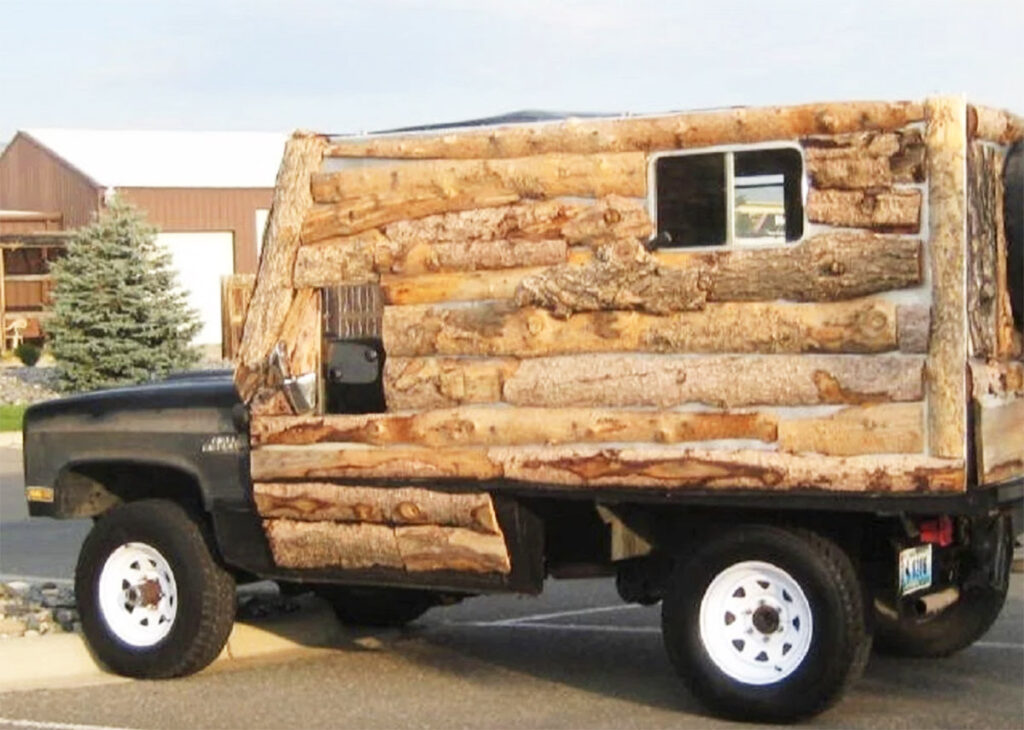 Someone took this picture in Cody, Wyoming. It appears this driver converted his truck into a log cabin camper. We can dig that. We are not sure the colors of the wood mesh with the rest of the vehicle, but we see what they were going for with the choice of aesthetic. As far as space goes, we'd like to think there is enough for a small room perfect for some traveling. The only part we could see being an issue is looking behind the vehicle. We hope the side mirrors are long.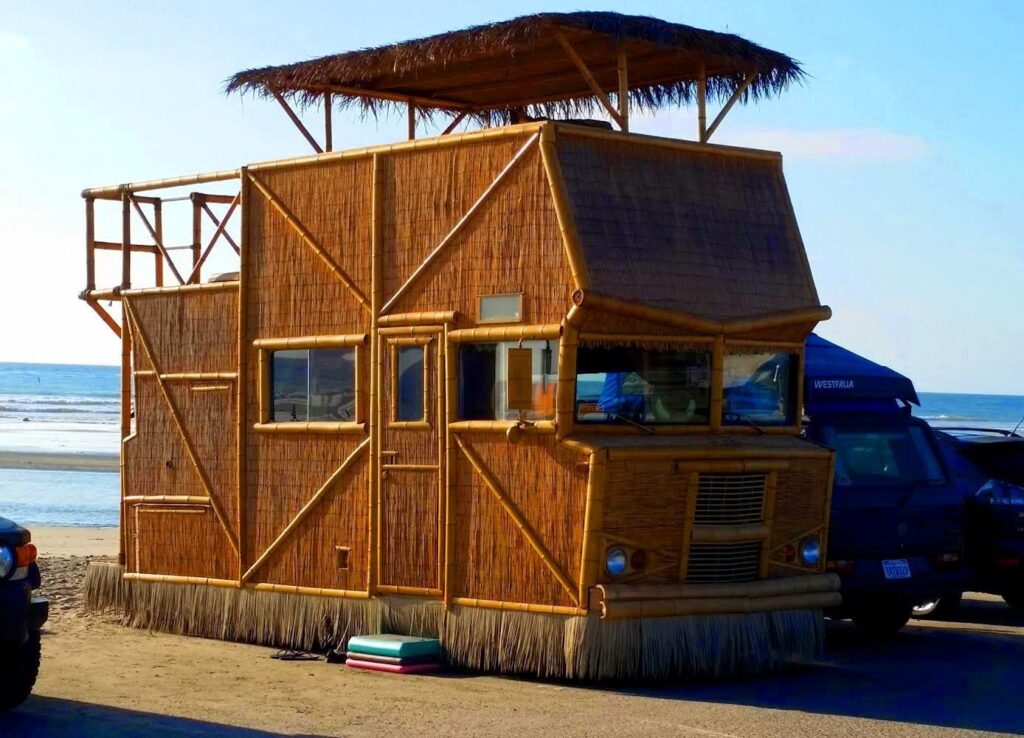 Steam Train RV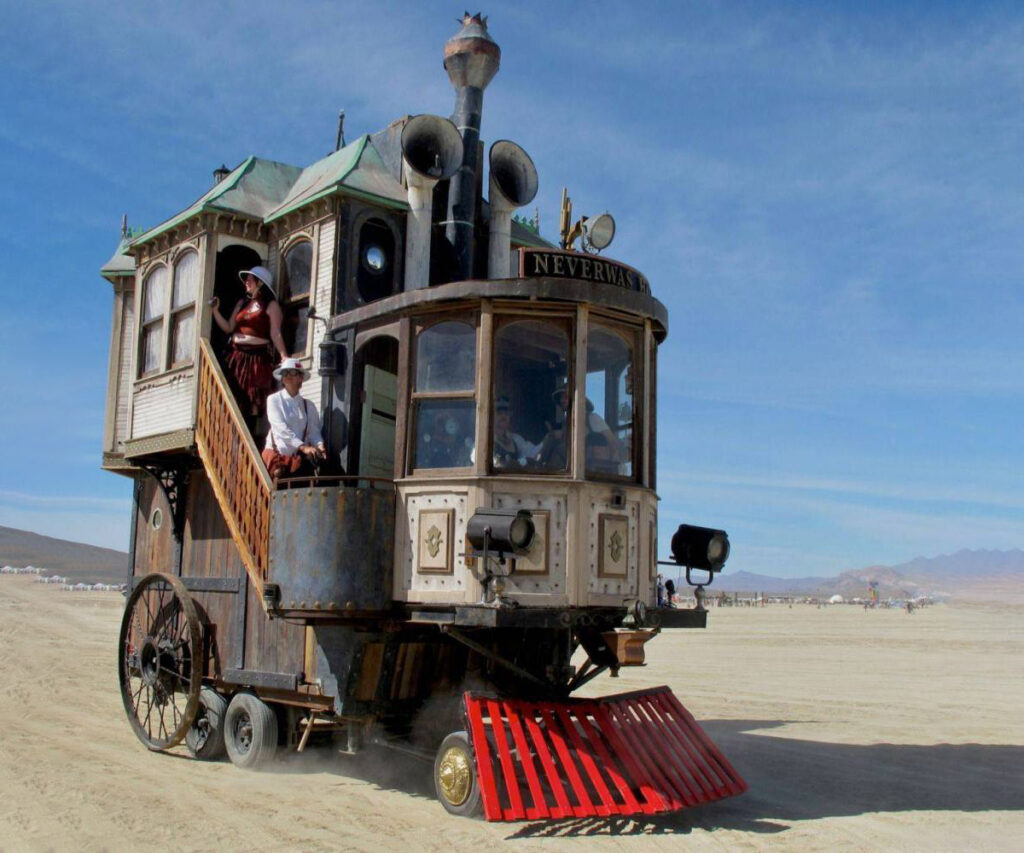 Now we're getting pretty crazy. This gives new meaning to a double-decker motorhome. Obviously influenced by the steampunk style, the creators included a lot of pipes and gave it a steam locomotive appearance. The motorhome would fit well in some music festivals. This motorhome could have also played scenes in the movie " Wild Wild West". It definitely looks the part.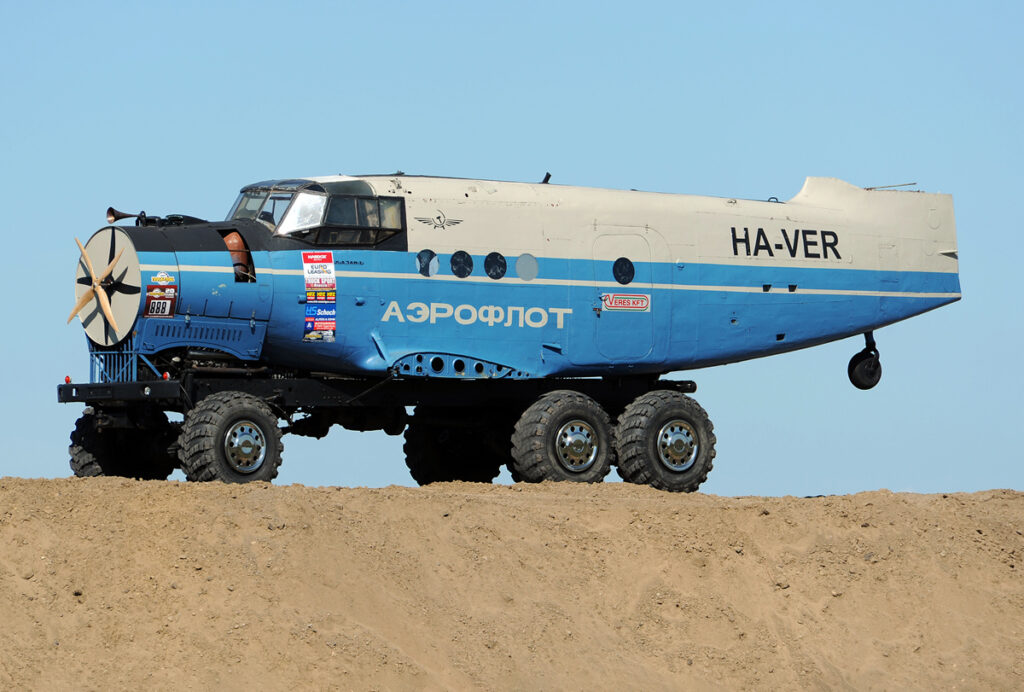 Tiki RV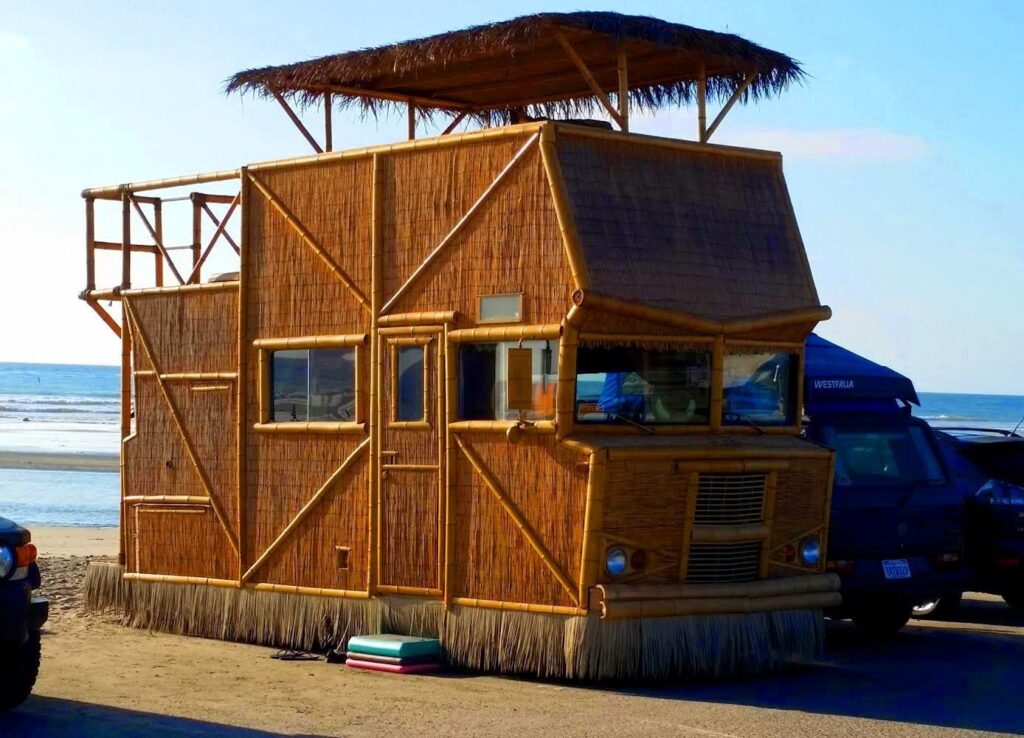 If only Gilligan and the skipper knew what they were doing, they could have gotten the professor to build this thing and just drive across the ocean. This is the height of Tiki hut glory, and well worth any three hour tour to gain admission inside. Cleverly outfitted, that's not wood, but metal painted to look the part. The thick bamboo pipes are molded fiberglass, while the fringe is made of plastic.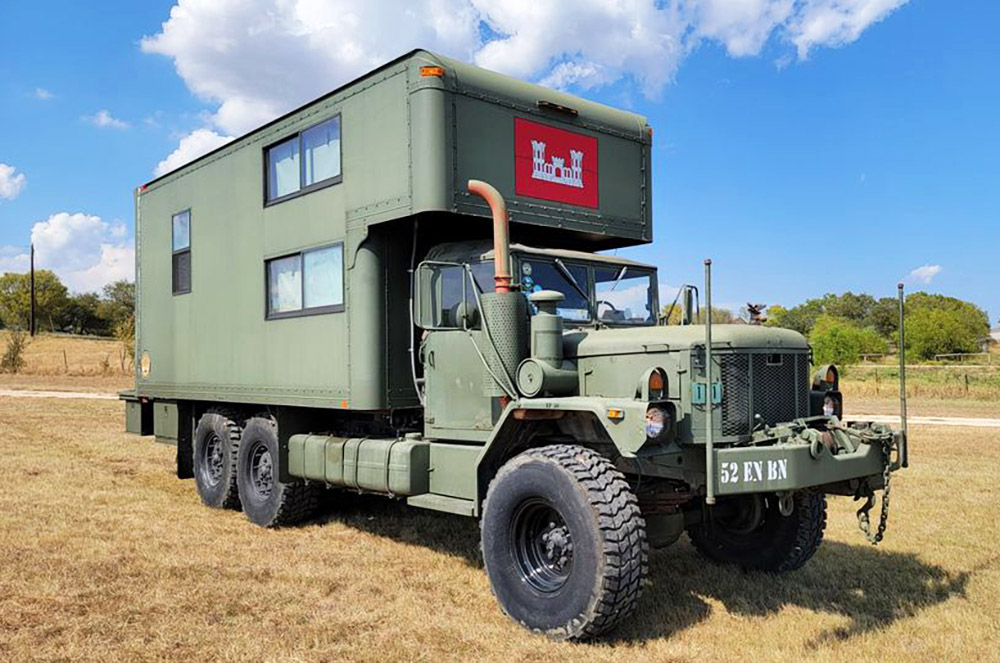 Airplane RV Conversion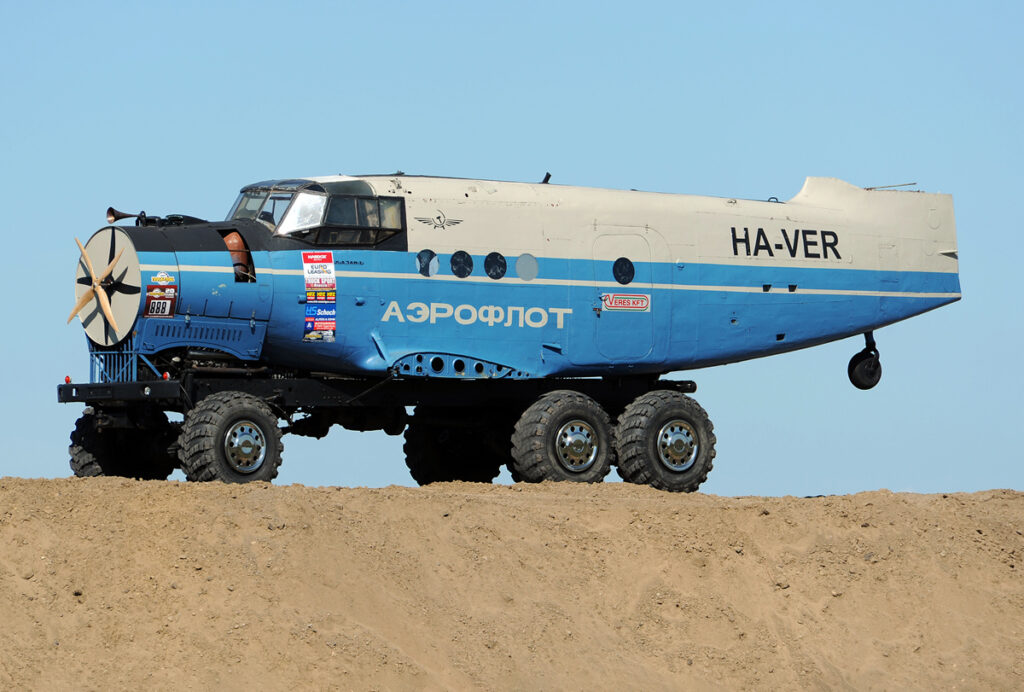 This blending of an airplane and motorhome brings a big truck to an even bigger plane fuselage. If you like camping, this definitely looks like the motorhome that can take you anywhere you could imagine. We could definitely see ourselves taking this RV to some very remote locations to get the best camping experiences ever. If they would have left the wings on and added a bigger engine, you might have been able to fly to your camp ground.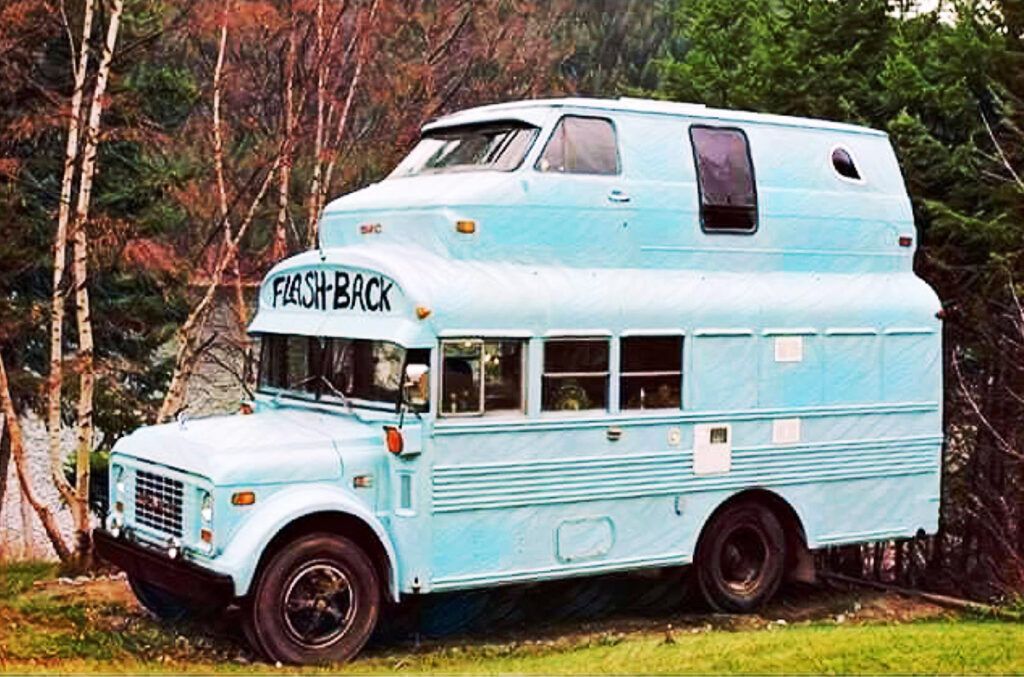 Military RV Conversion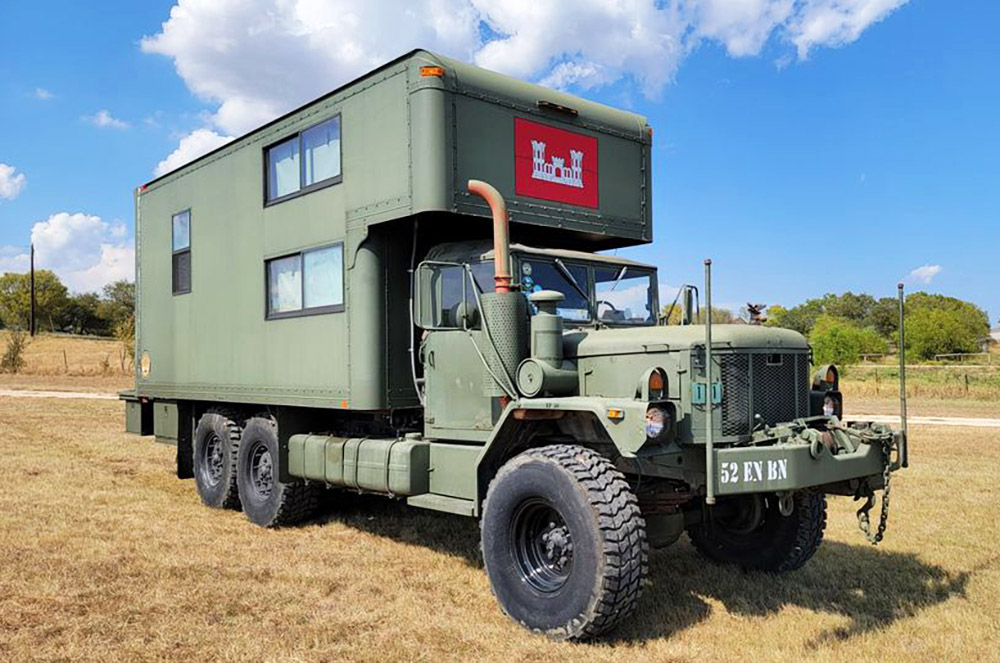 This motorhome used to be a military 1993 AM General M36A3. The vehicle was a medical or radio rig. Someone who purchased it had the bright idea of turning it into a camper, and we have to say the final result is excellent. The modifications include a porch, bunk beds, a bathroom, a fully equipped kitchen, and a living area. Also, the interiors have a nice wood look similar to the cabin. We are entirely jealous of this sweet ride and wish we had the conversion skills to make something this epic.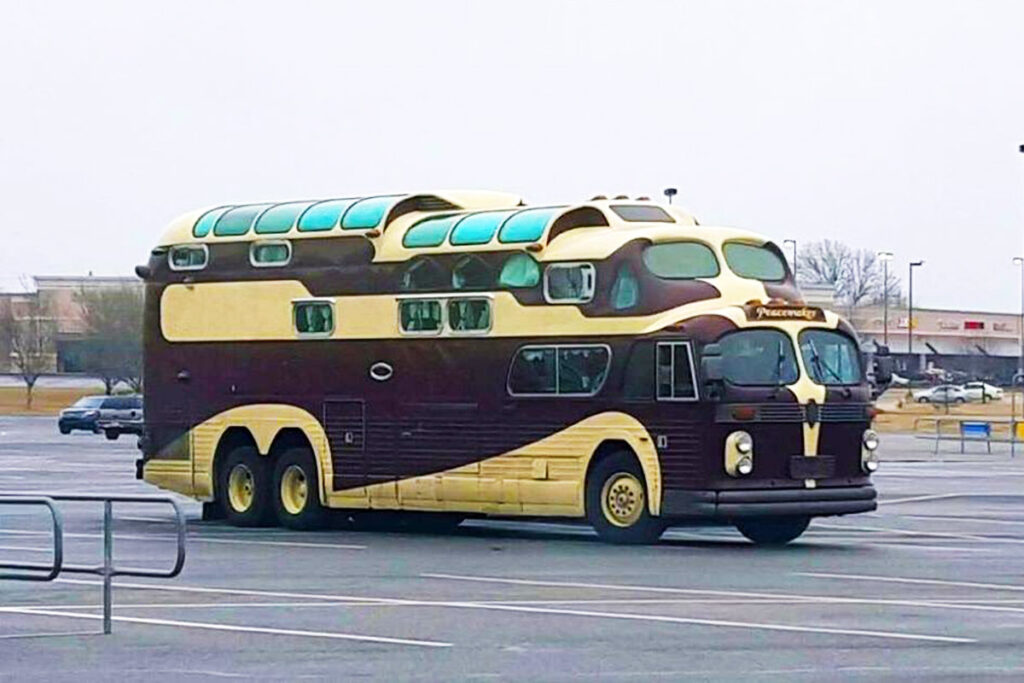 School Bus / Van Combo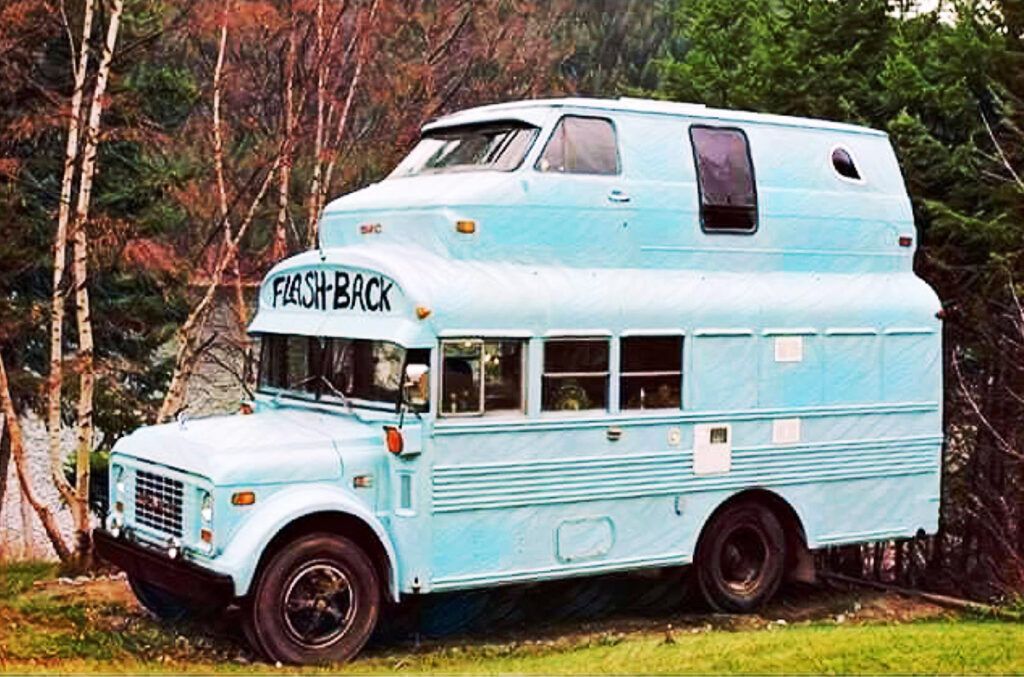 This is a fantastic-looking Skoolie. It appears the designers wanted something unique and combined a minibus with a GMC Vandura. They gave the outside a light blue paint job. We would be curious to see the inside. They also called it "Flash Back." We are not sure why. We suppose there is some retro or vintage feel to the motorhome. In any case, we bet it is a blast to drive around and not so big where it would be a hassle.
Twelve Tribes Motorhomes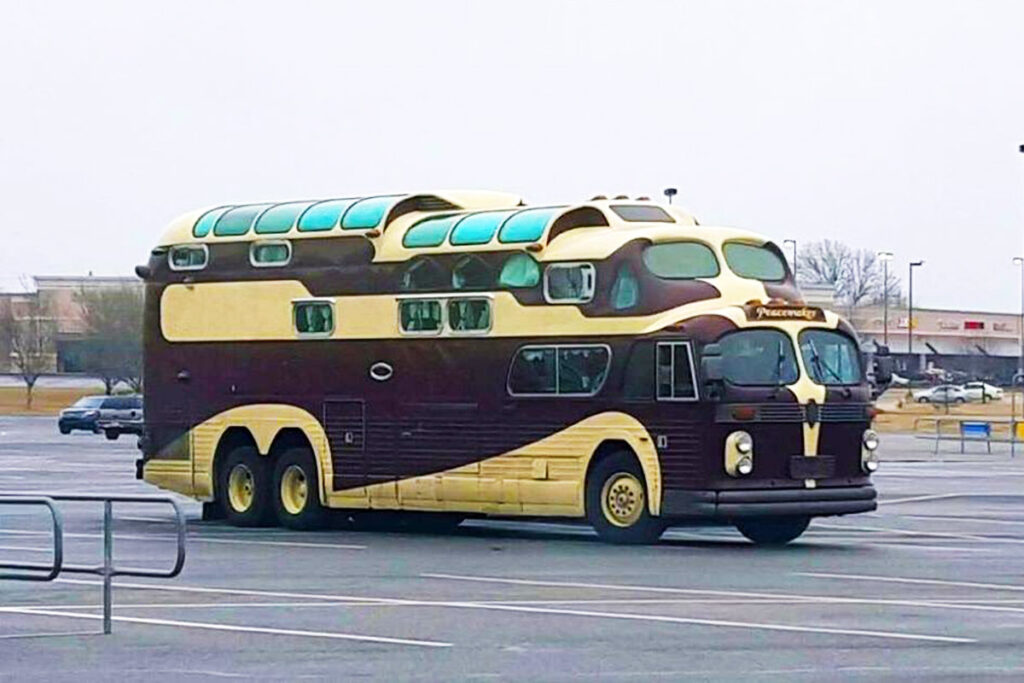 A group called the "Twelve Tribes" created this motorhome in 2005 named "Peacemaker." They made it using a 1955 GMC Scenicruiser and a 1949 General American Aerocoach. Under the hood, the tribes included a Detroit 60 engine and an automatic transmission. They have a second bus, too, also named "Peacemaker," crafted from a 1961 GMC motorcoach and 1950 Aerocoach. Inside both motorhomes, cedar covers the ceiling and walls. The group takes the bus to events around the United States and offers refuge and first aid.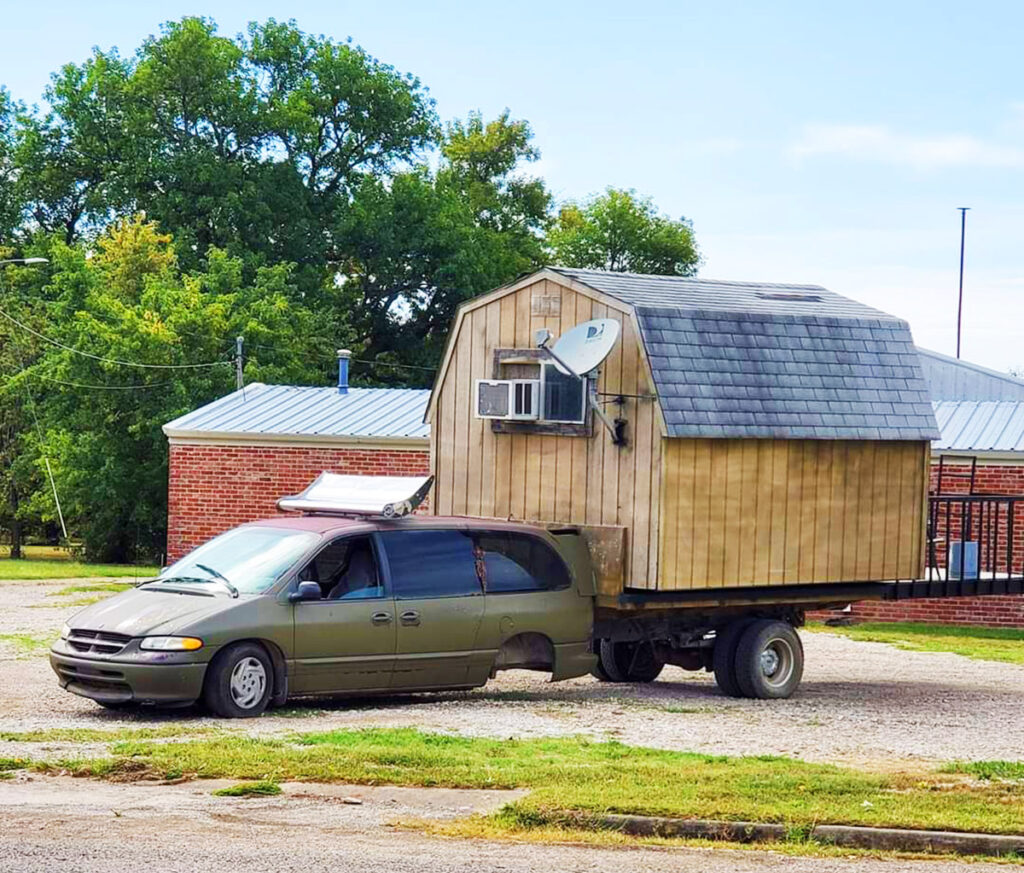 Old School Car Camper Top
This is a camper on a 1950s Chevy Sedan. Personally, we would be scared to place something so big on such a classic vehicle. But hey, who are we to judge. The camper looks compact and light, so maybe the issues with the car carrying it might be minor. We also guarantee everyone who sees this parked or driving by will want to stare and get pictures. Heck, someone posting it is probably how we found it. Maybe everyone hoping to get some online viewership should put a camper on their vintage car too.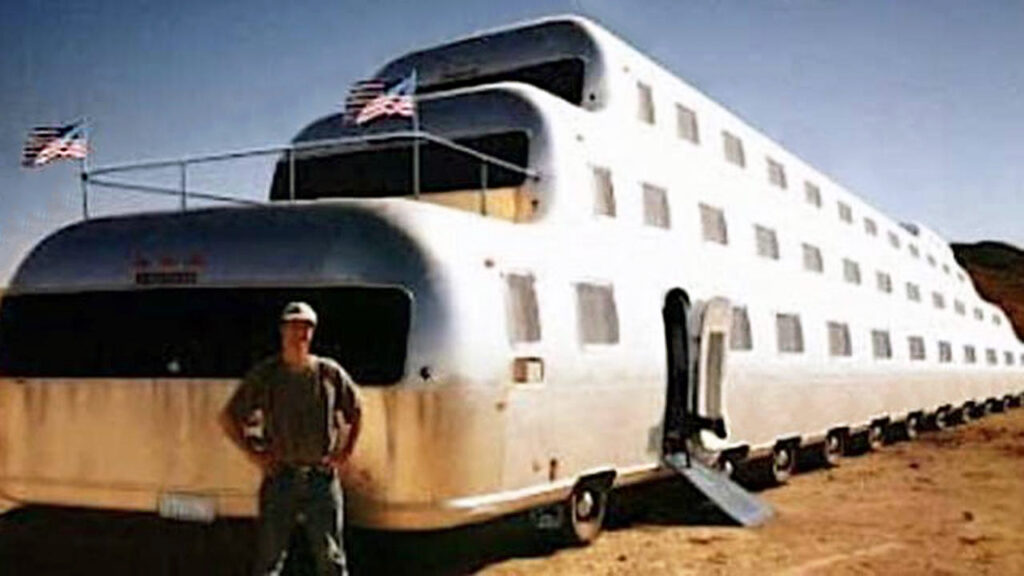 One Of A Kind Van House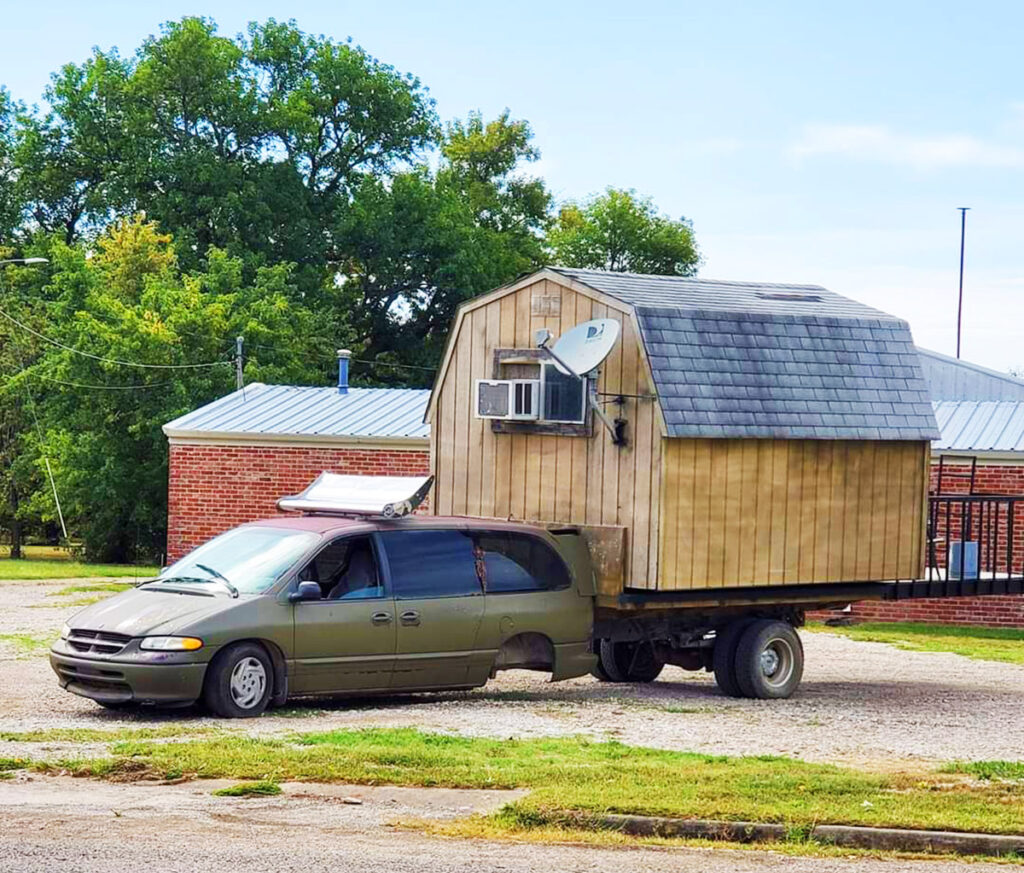 Okay, we know this motorhome is ridiculous, but we also think it is highly innovative. A shed on a trailer for a cheap motorhome is pretty clever. We also see that it has Satellite TV and air conditioning; we can't beat that. We just hope it does not roll around a lot when moving. We noticed that the wheel on the van is missing, and it looks like the car is expanding into the shed. We do not know how well that setup works. We just thought we'd point it out.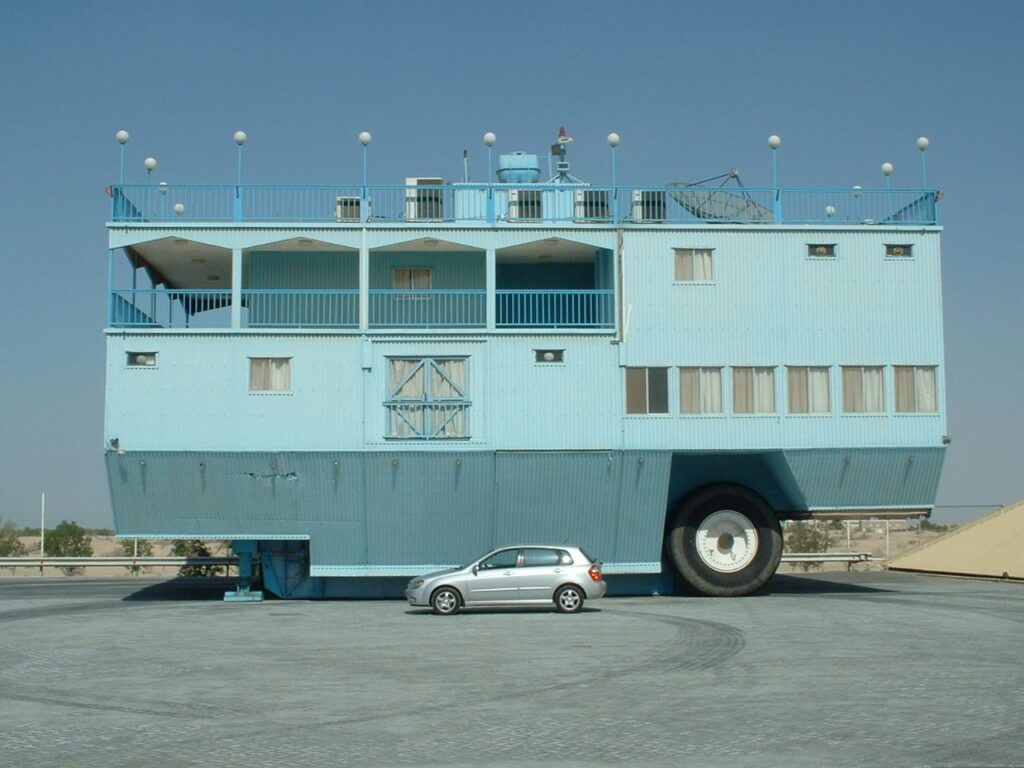 Triple Decker Train RV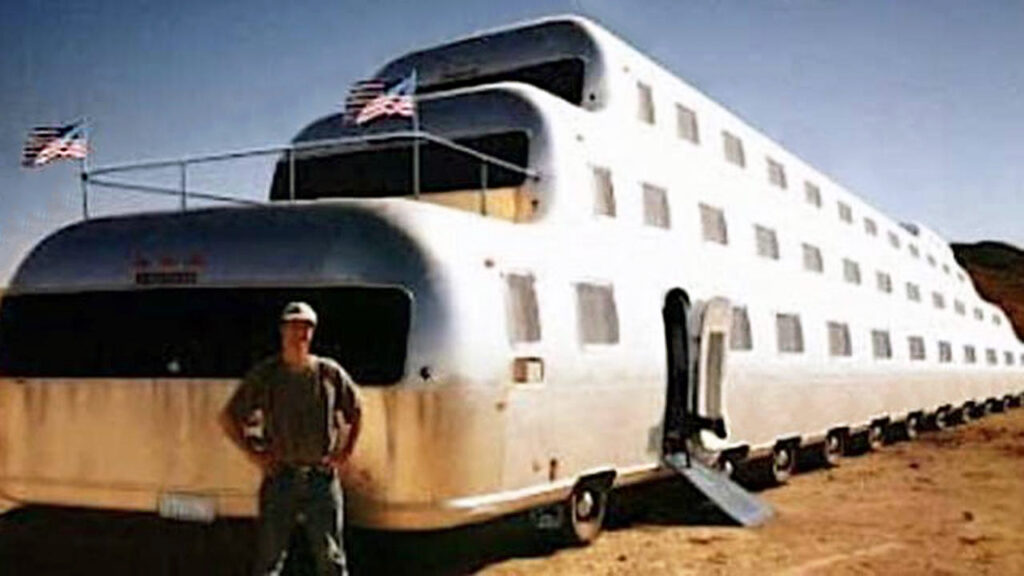 Now, this is a unique concept for a motorhome, a triple-decker RV with 24 wheels. We wonder how much it would weigh and whether those wheels would support it? Thankfully a Silverado is pulling it. I fully believe a Silverado could tug this behemoth or even something more extensive. It would definitely make for a great family getaway for the entire family.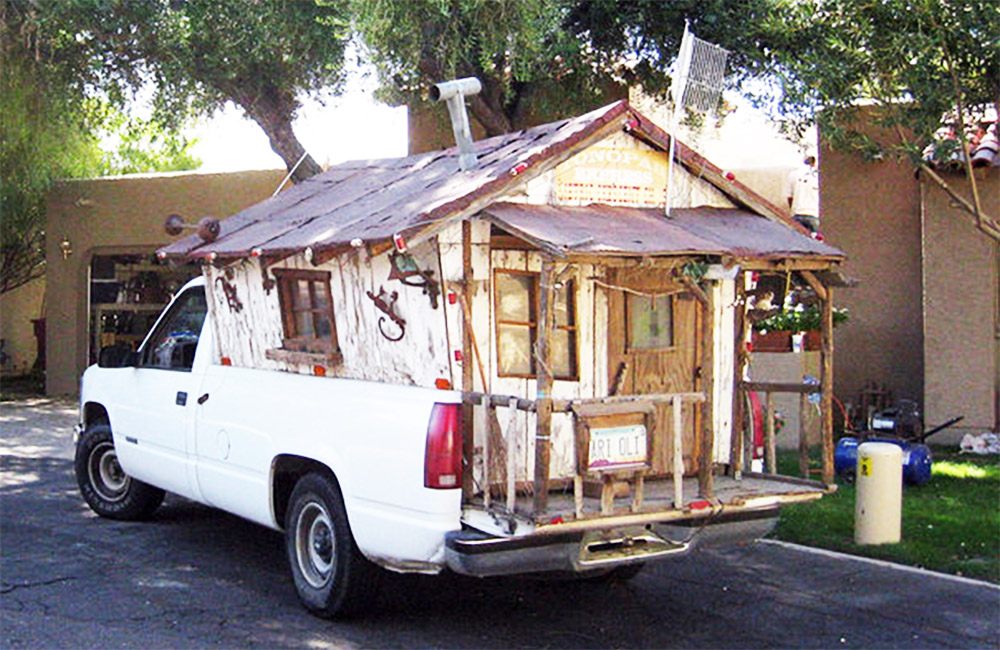 Massive Construction RV Conversion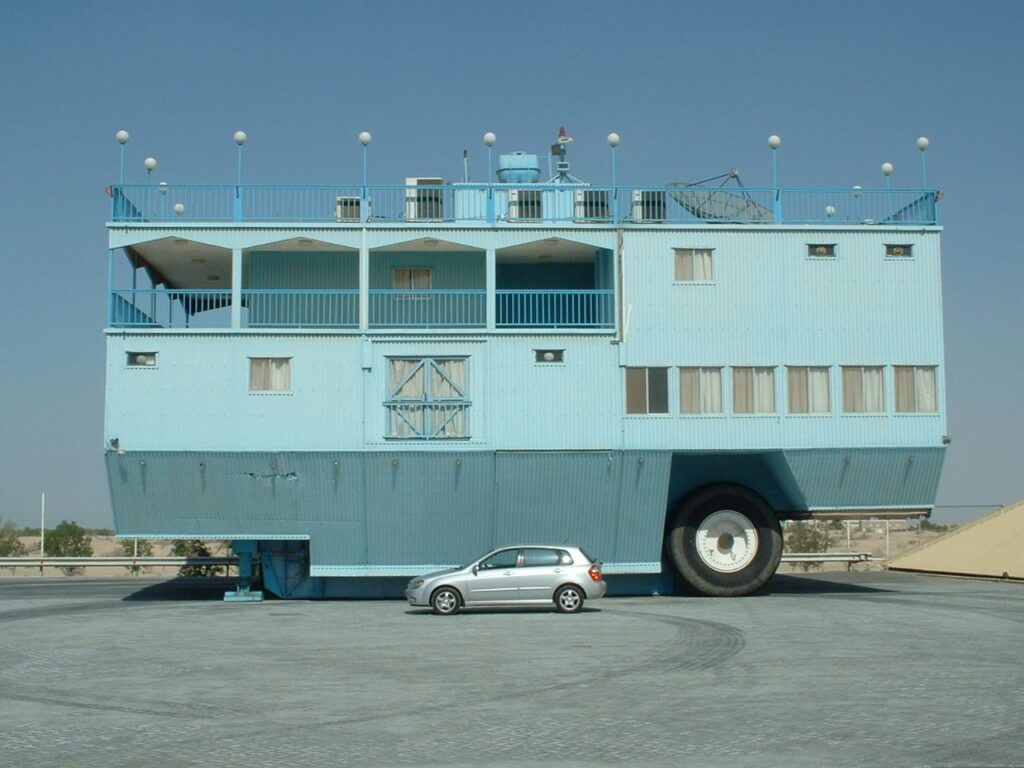 This giant trailer is owned by Sheikh Hamad bin Hamdan Al Nahyan. It is part of his collection. If anyone wants to see it, the motor home is located at the Emirates National Auto Museum near Abu Dhabi at the United Arab Emirates. One would think that the bottom of this massive Motorhome would be the garage to store the car.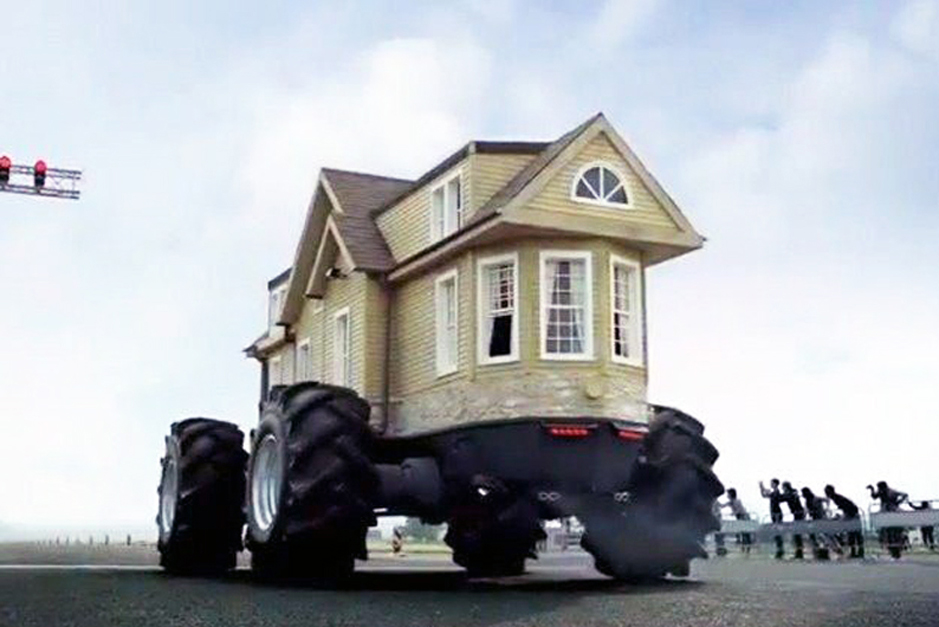 Little House In The Truck Bed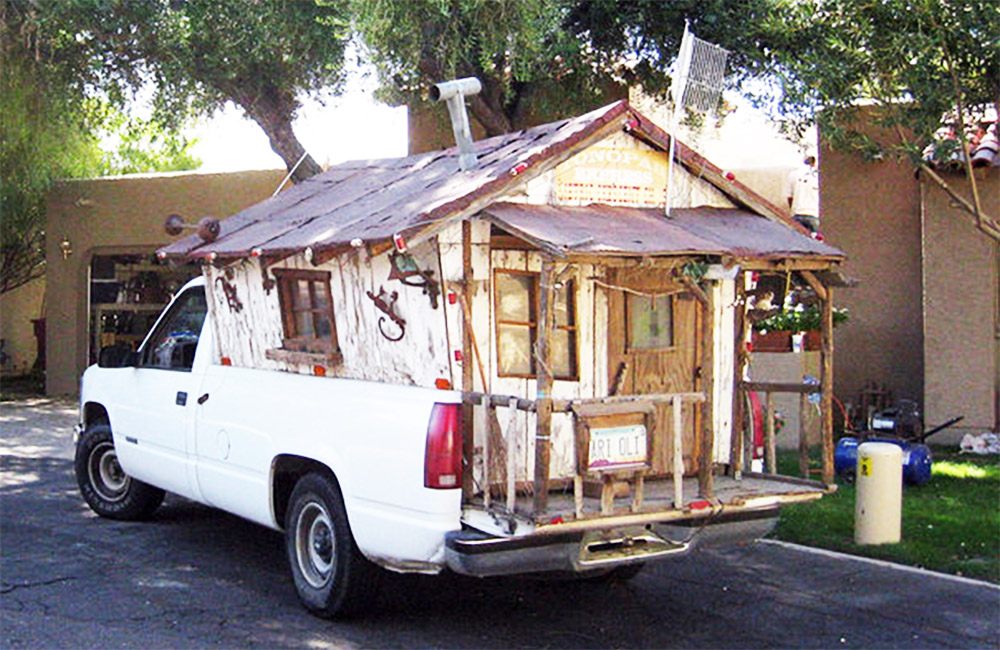 This motorhome probably won't win any home safety inspections. However, we do not expect much from a house built inside a truck bed. Still, the user has windows and a porch. Pull it up next to a lake, and now the driver has a perfect fish shack. Still, we might be a little cautious if we slept inside this motorhome. We hope they used light material if someone is inside and the whole thing collapses on them, mitigating the damage. We suggest when making a custom building, perhaps use measurements.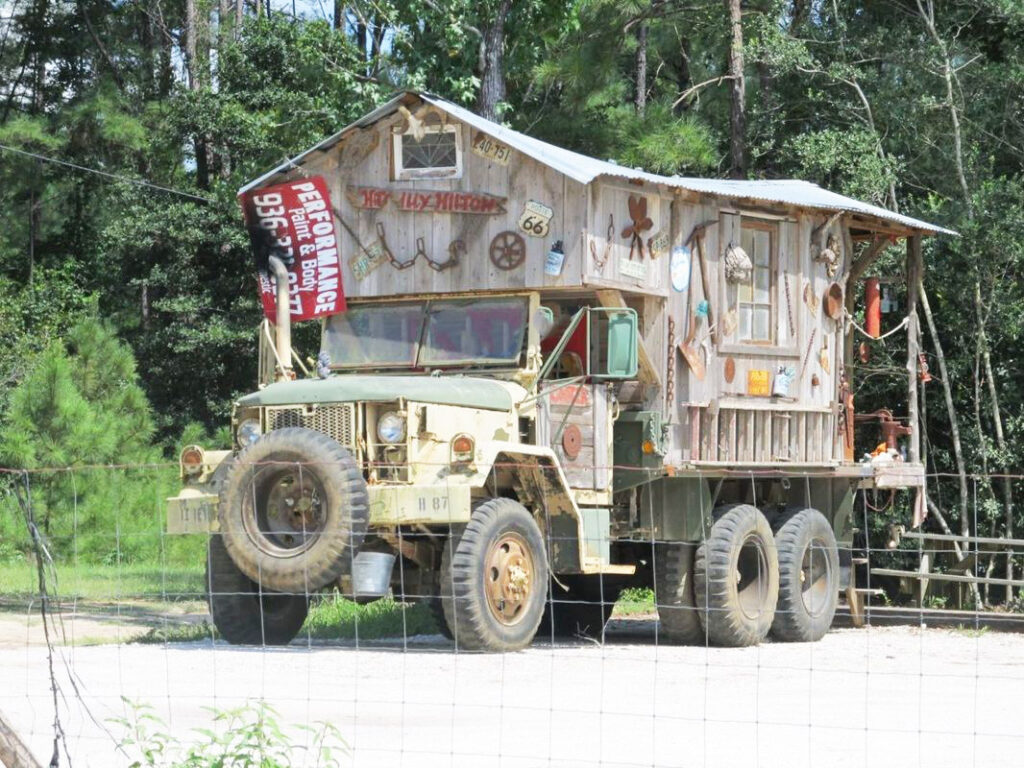 Monster Truck Home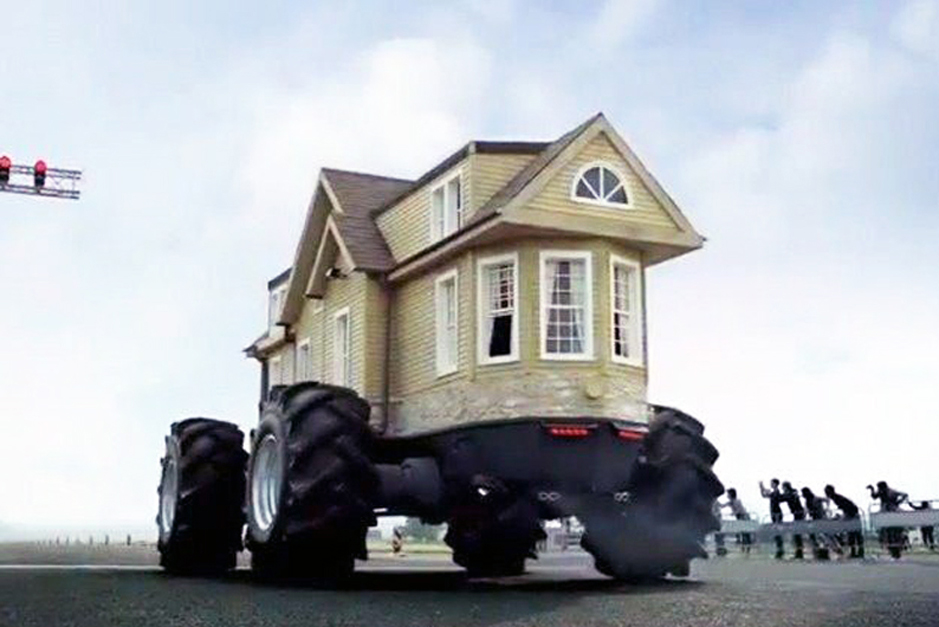 Talk about a house on wheels. The people who have this ride own the home; they also own the road. Just look at the enormity of those tires; they are the size of small trailers. We can see why everyone wants to get a picture. This takes the phrase " A home is where you make it" to a whole new level.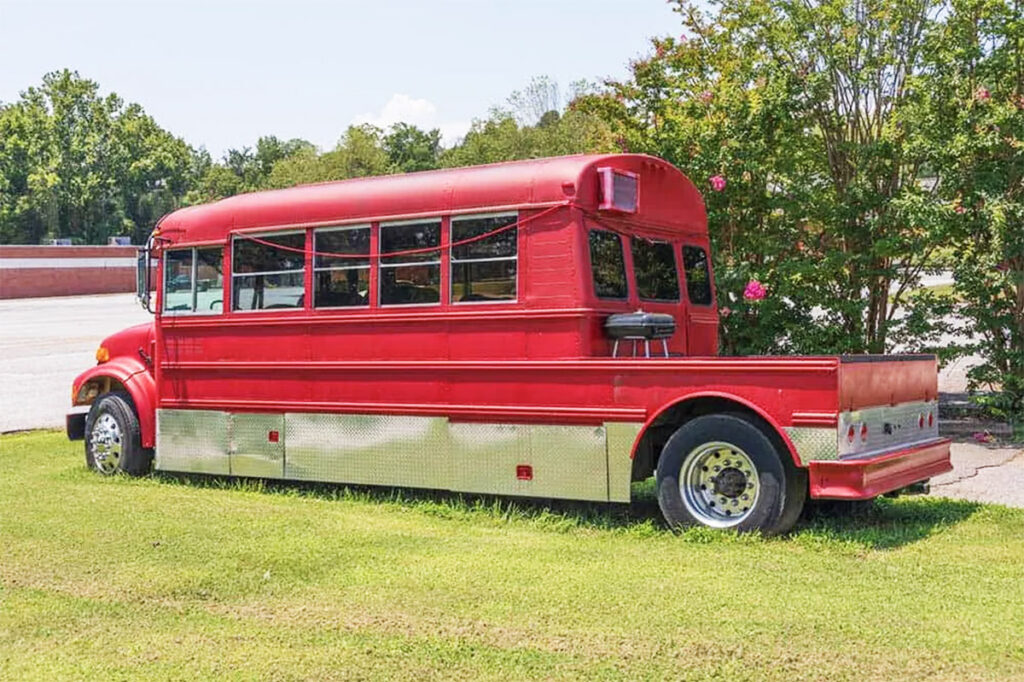 Hillbilly Hilton Military Truck Conversion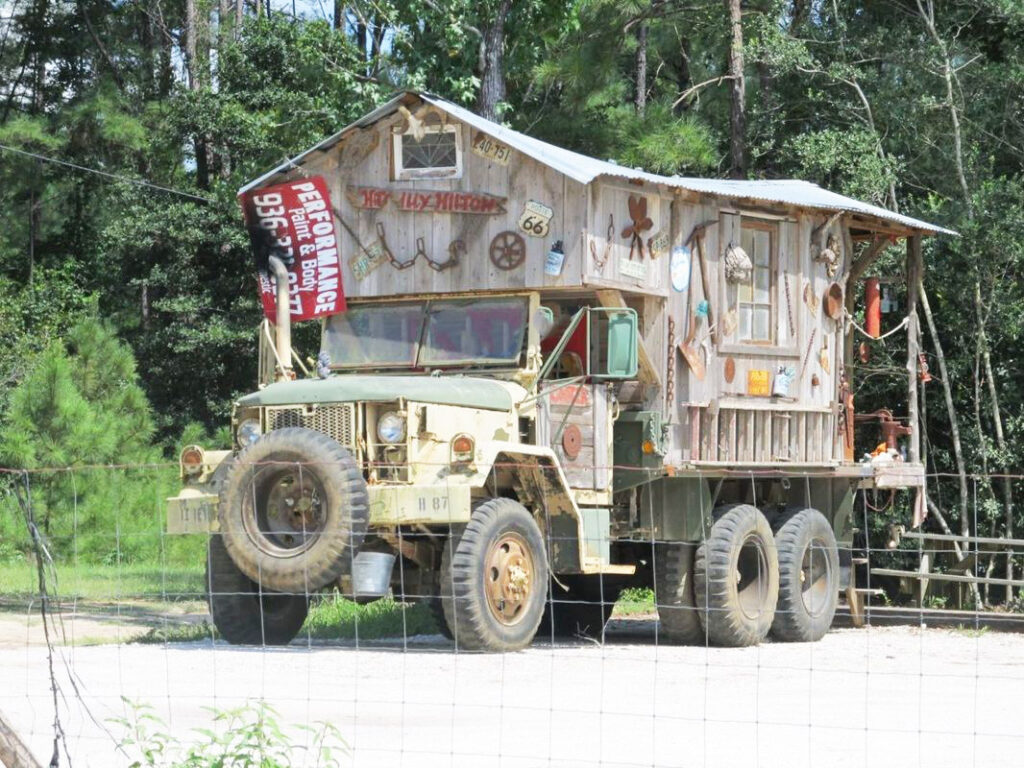 This beauty called the "Hillbilly Hilton" belongs to Brent Scott. He is a restaurant owner of Family Tree Recipes Café in Magnolia, Texas. He constructed this RV using a 1968 Rio Deuce. His wife talked him into buying it from a friend of his. Scott says he used lumber and parts from a junkyard to convert the vehicle. Inside he equipped it with a bathroom, dining room, kitchen, and a bed. He even entered it into the Houston Art Parade in 2011. Scott parked the Hillbilly Hilton outside the café to draw more people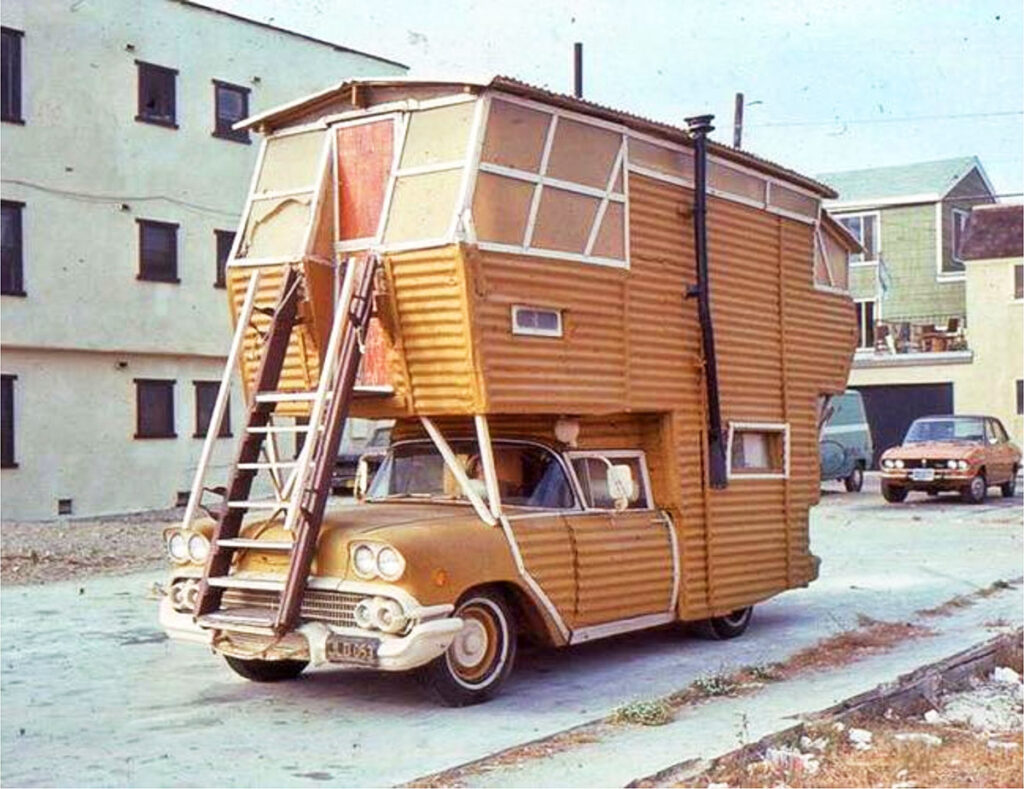 School Bus With A Porch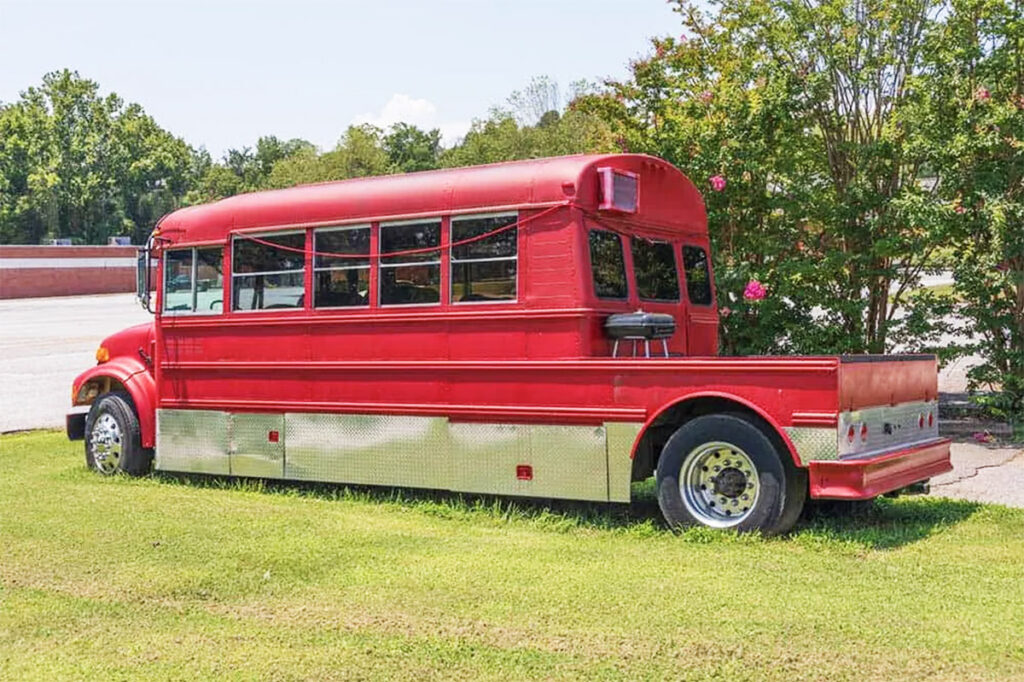 This person transformed an old school bus into an RV with a "back porch" and a red paint job. It looks like they extended the back, perhaps with parts of a pickup truck. This motorhome would be fun at a park where they could grill some delicious burgers and hotdogs. We are not sure if the grill is attached to the porch or stays inside when the vehicle is in motion, but it would make for a very good weekend.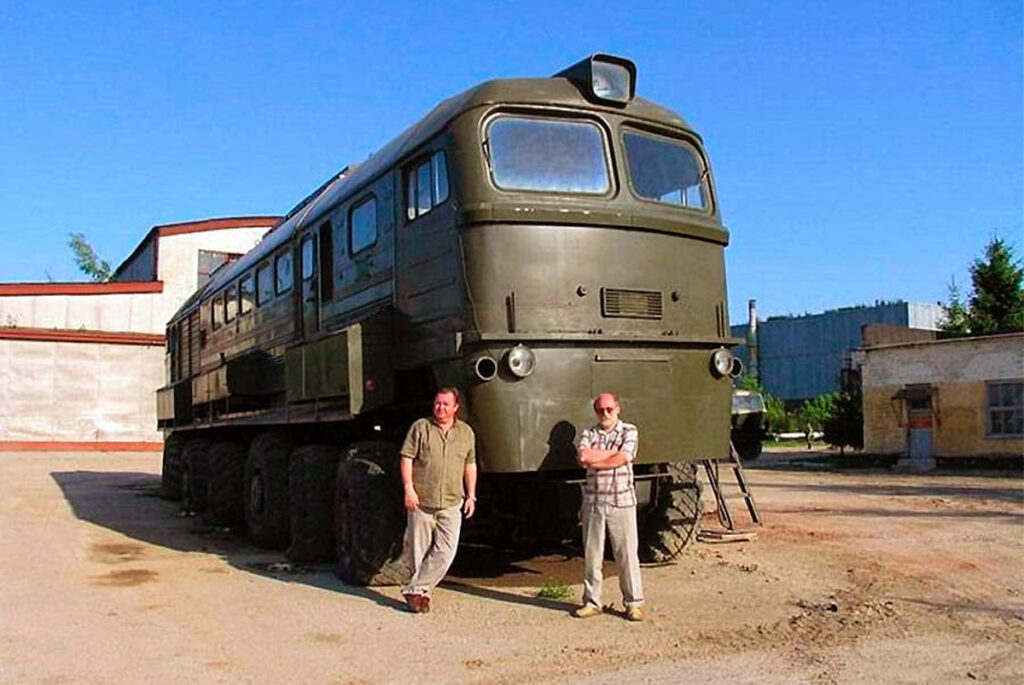 RV On An Old Car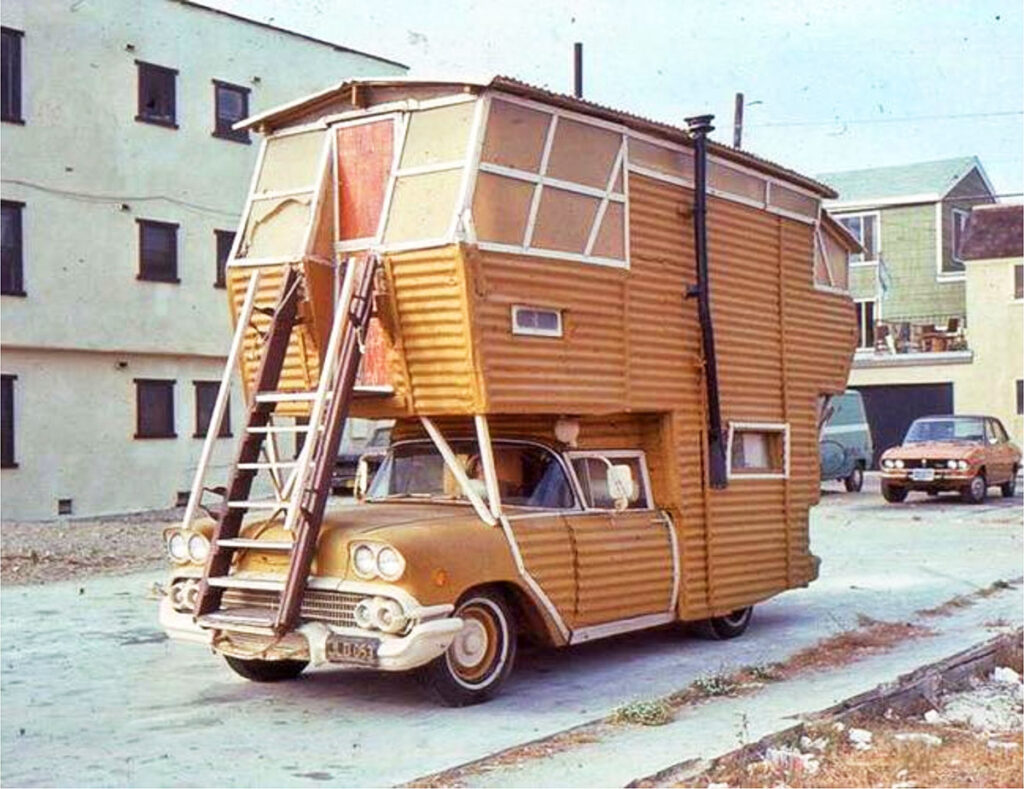 With this one, it looks like someone wanted the comfort of a cabin on the go. Underneath the structure, people will see a 1958 Chevrolet Impala. The designer made the motorhome a double-decker with multiple rooms and a wood finish on the outside. That could not be an easy feat, but we can't help but worry that a gust of wind might not knock the camper over. The weight distribution might not be stable, and a ladder might obstruct the driver's view.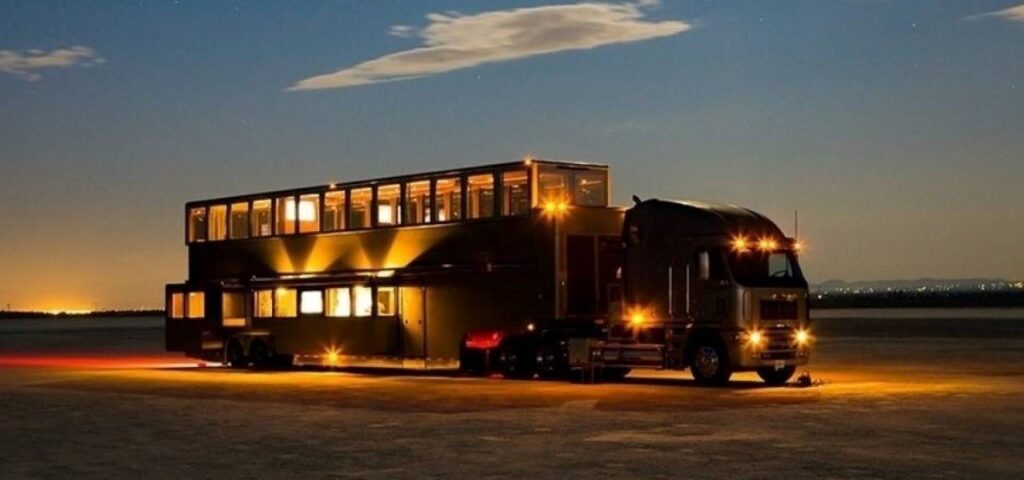 Military Train Motorhome Conversion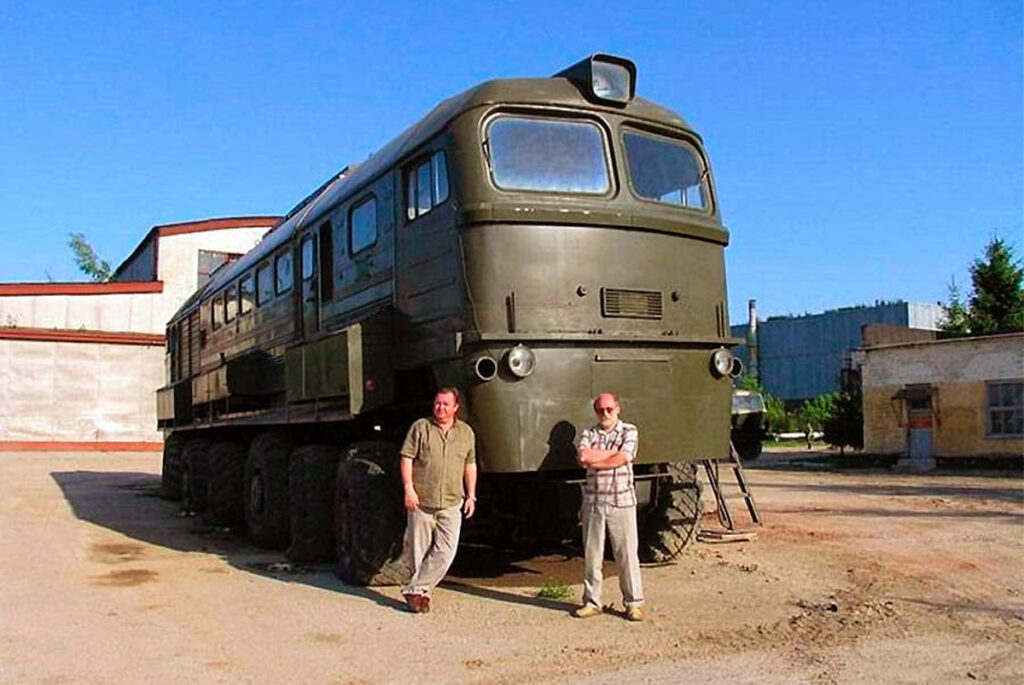 This Soviet off-road motorhome looks like it could survive a zombie apocalypse. Maybe it was used for military officers to get better sleep while at war or just to serve as an awesome movie truck to battle zombies. Either way this is another cool blend of a train and truck. One that almost anybody would enjoy to take out for the weekend.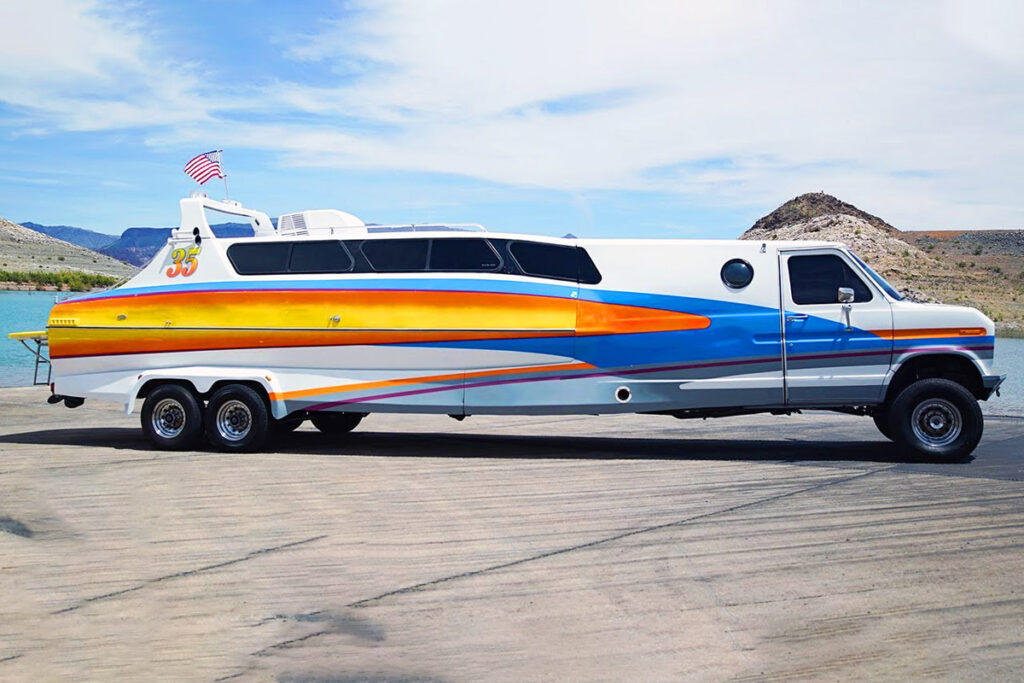 Luxury Mansion On Wheels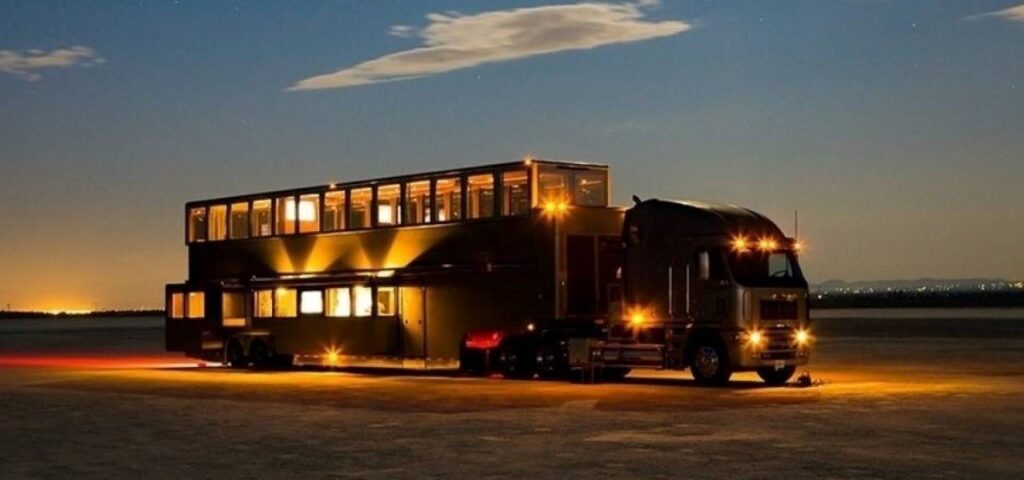 This is one of the most giant commercial RVs someone can purchase. It is a trailer made by Anderson Mobile Estates. The company has made RVs for Will Smith, Simon Cowell, and Ashton Kutcher. If you want to upgrade them further, you can get additional golf simulators or a garage.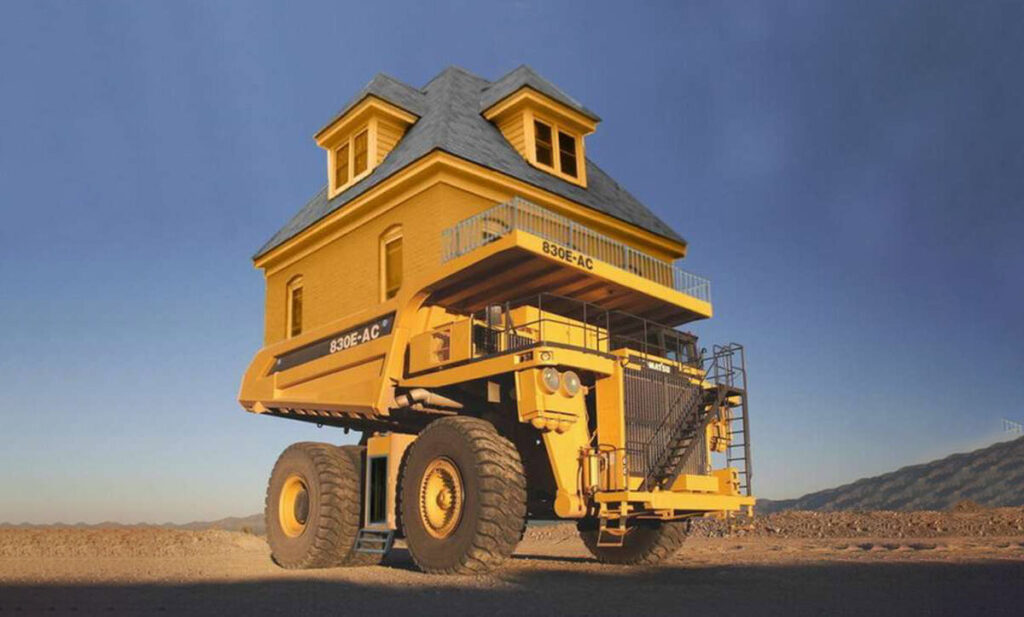 Boat Van Motorhome Conversion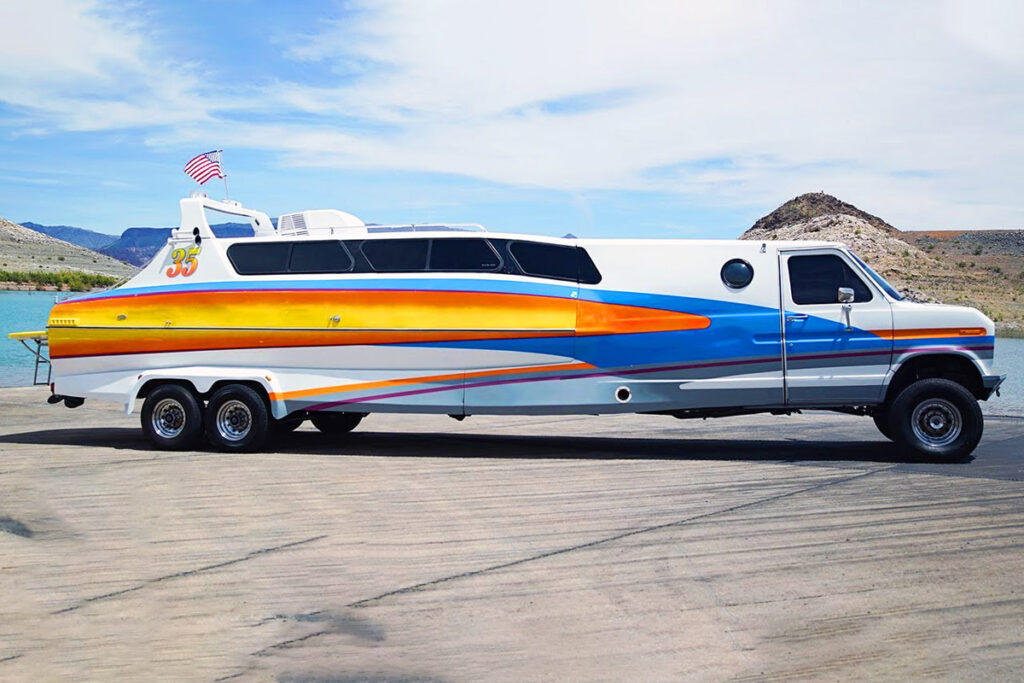 The 'Boaterhome' is an uncommon truck/boat that is based on the Ford Econoline van. It started off as just a concept that became a dream come true. This 'Boaterhome' can go 100 mph on land and 40 mph on water. We know, it seems too good to be true; but the creator of this awesome boat RV made it possible. It does not stop there, he is now working on a new boat/RV concept that will house a smart boat that can be controlled by your phone.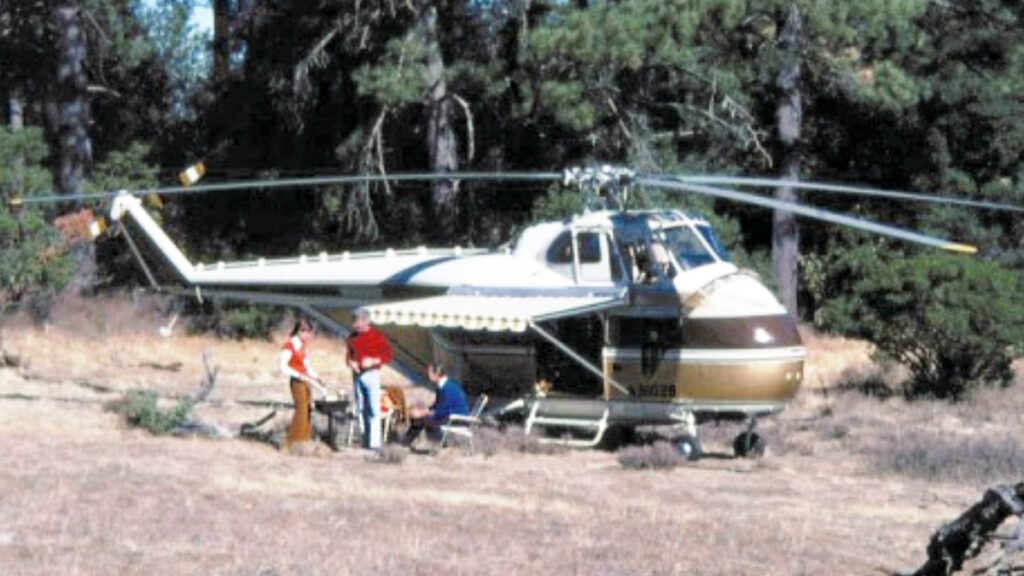 Komatsu Construction Motorhome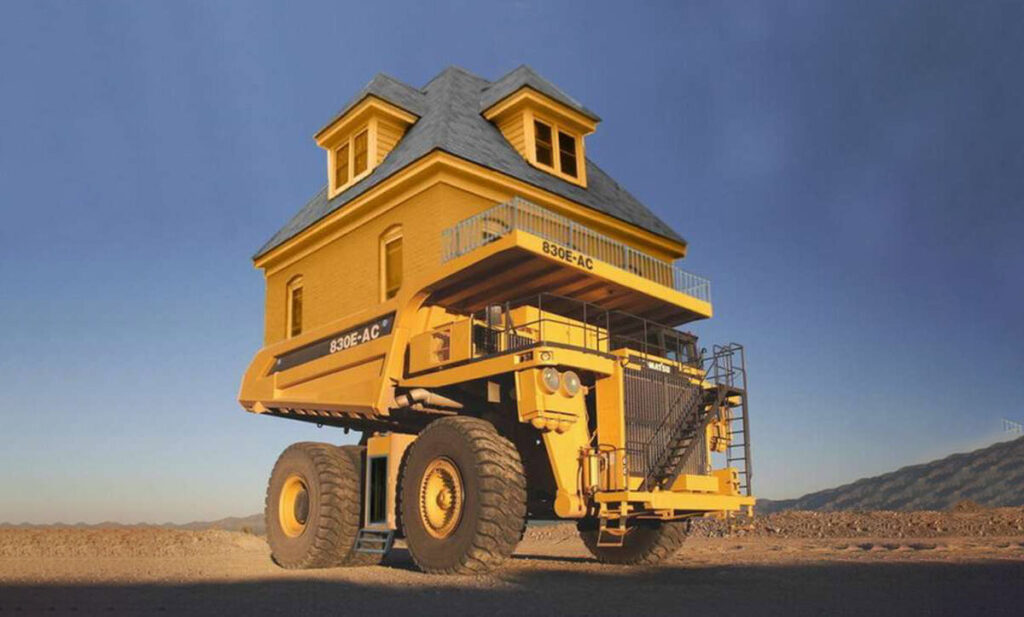 This is a haul truck constructed by Komatsu America Corporation in Peoria, Illinois. The Komatsu 830E has a capacity of 255 short tons. If someone saw this monster on the road, it would be daunting. Now imagine a house attached to it; wow. If nothing else, it would undoubtedly be spacious given the size.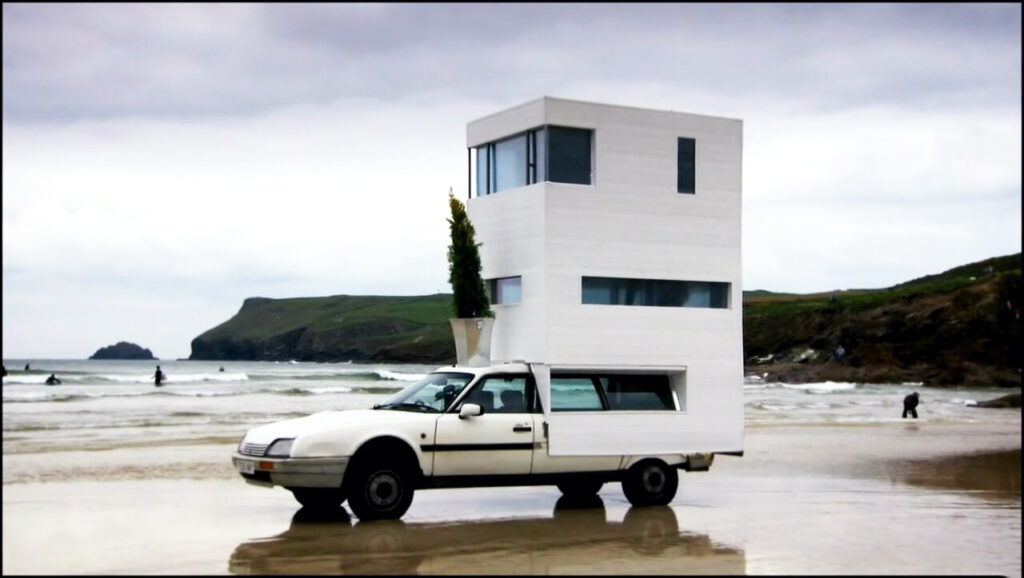 Helicopter Motorhome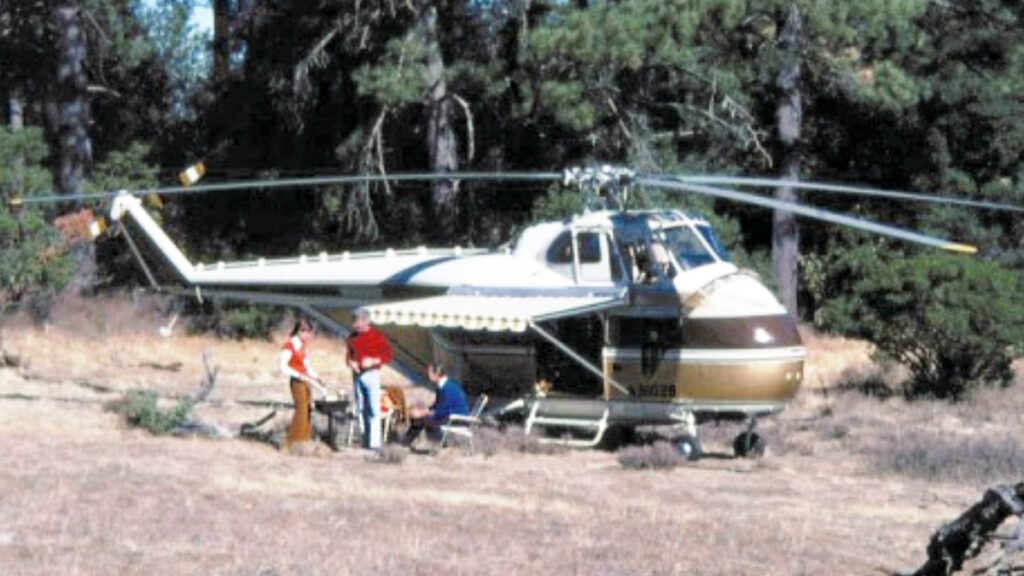 That is a functioning helicopter motor home. In the late 1970s, Winnebago sold and marketed this RV as the Heli-Home. They teamed up with Orlando Helicopter Airways and received a fleet of Sikorsky S-55s that they converted. These Heli-homes came equipped with everything to make them comfortable, including a bathroom, shower, kitchen, etc. The price was incredibly steep to buy. However, Winnebago offered rentals for ten grand.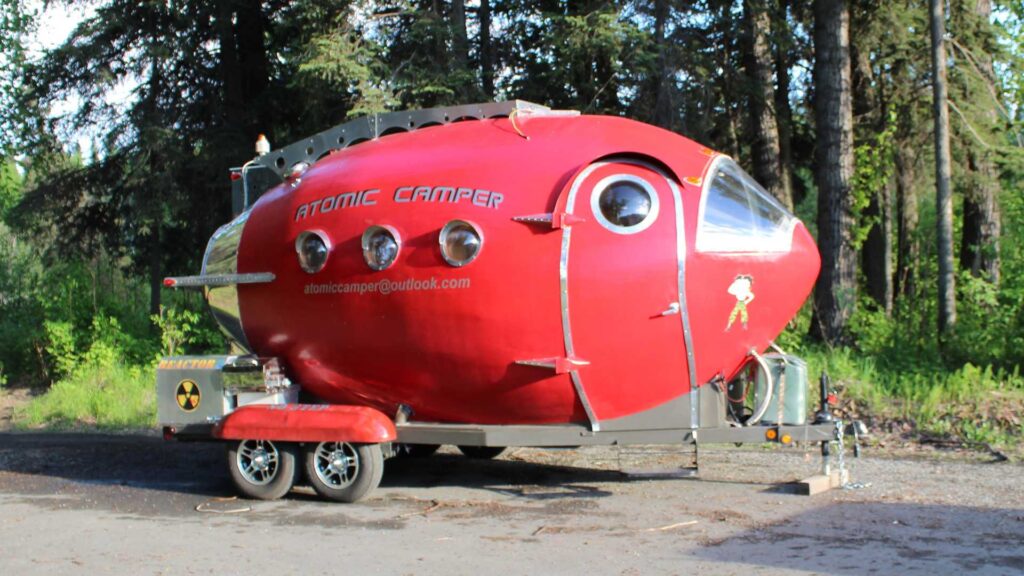 Interesting Project Car RV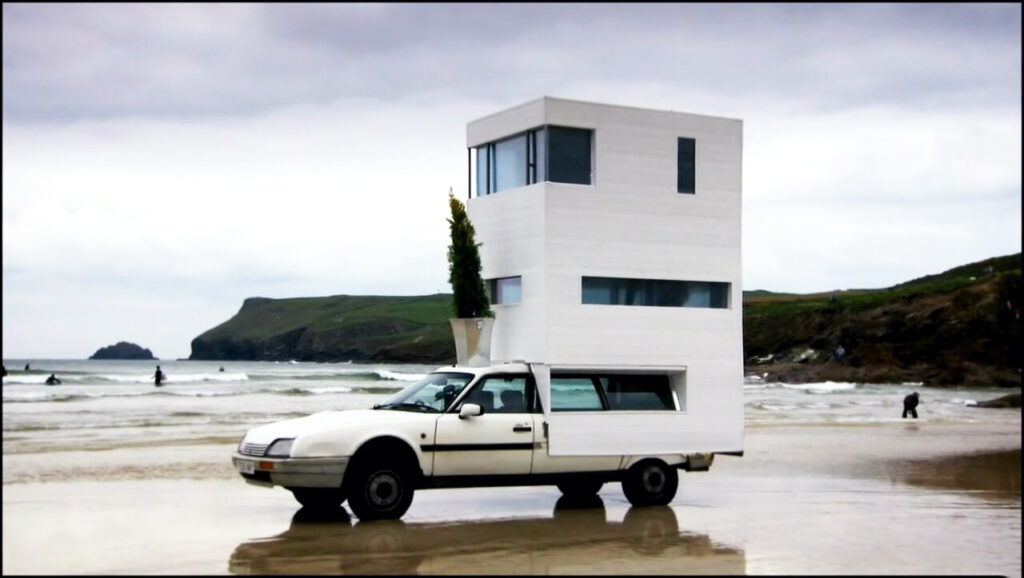 This silly modern looking motorhome, was designed and built by Jeremy Clarkson as a trial for an episode of Top Gear. This three story RV had a kitchen area in the lower level, Japanese contemplation are in the middle level, and a sleeping area in the top level. As nice as this motorhome looks, it ended up being a major flop. It was very top heavy and the wind blew it over.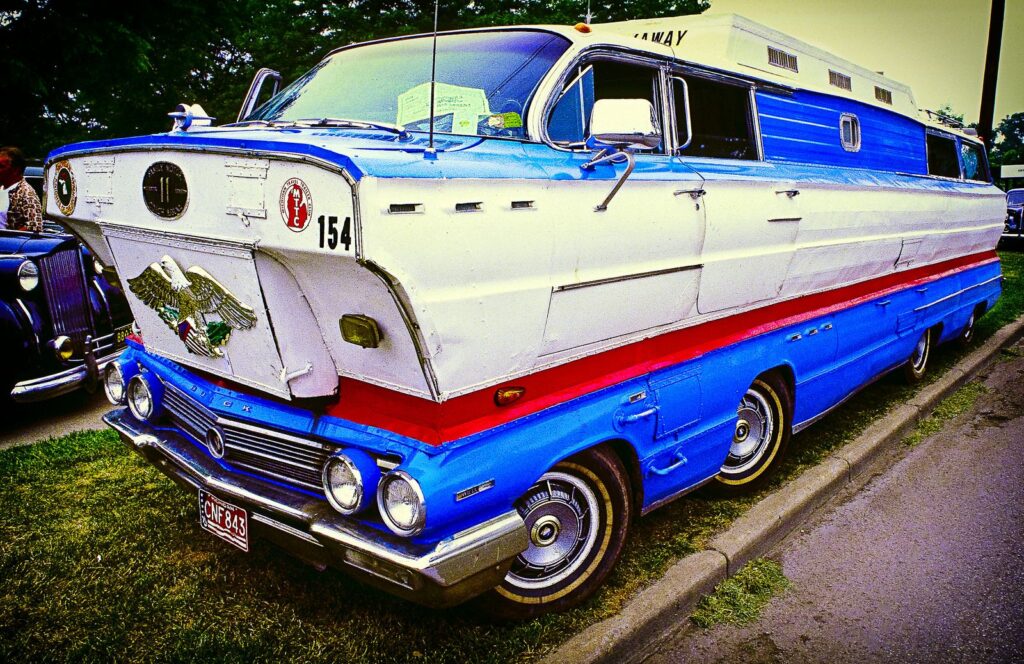 Space Ship Camper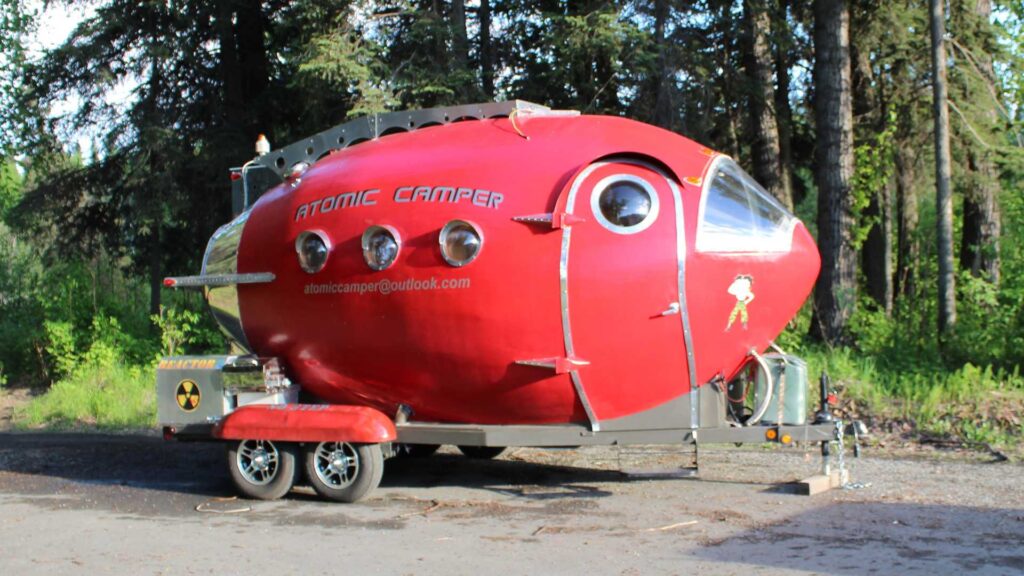 Alaskan resident Bill Guernsey made this at his home while recovering from a plane crash injury. This RV looks like something out of a 1950s B-movie and comes equipped with a kitchen, shower, and bathroom. Guernsey said that the theme is a reflection of growing up in the Cold War. He used bentwood, paper-mache, and glass fiber for the ribs.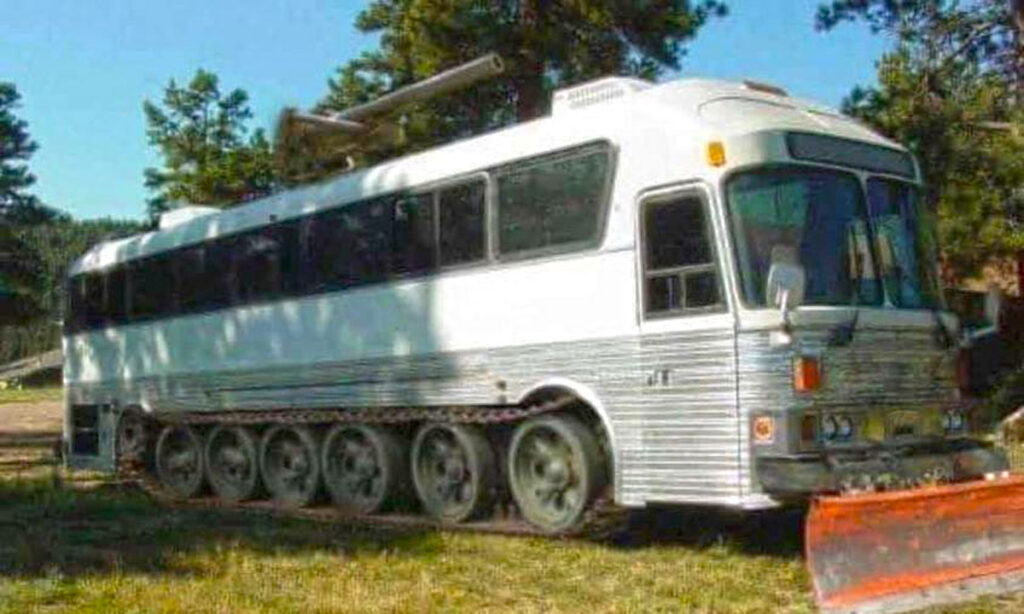 Buick To Motorhome Conversion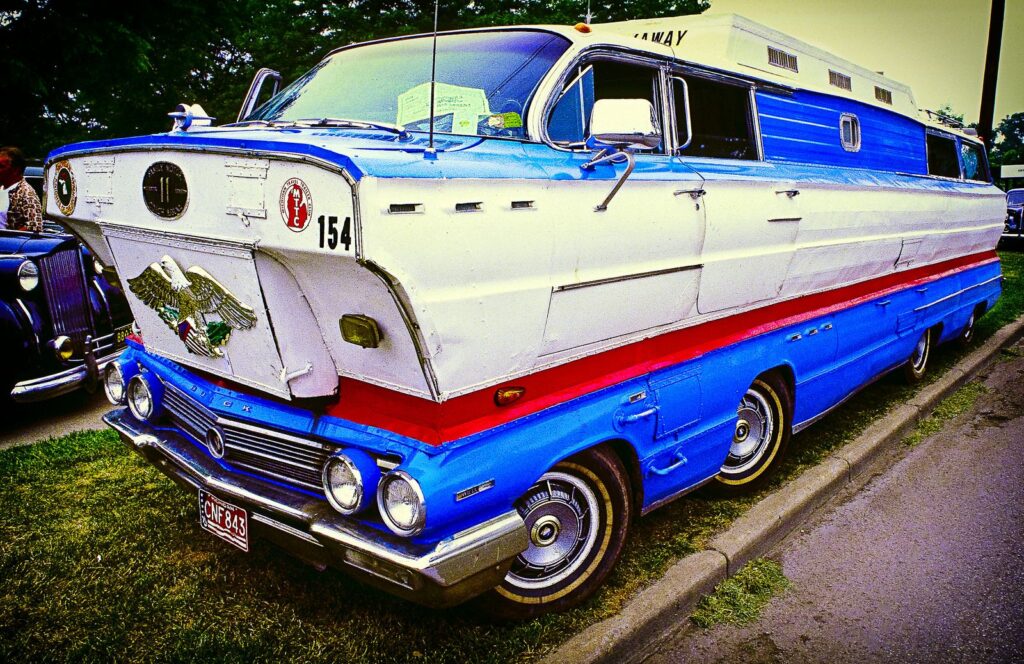 This vehicle is named "ShamRockAway." J. Dennis McGuire constructed this eight-wheeled Buick motorhome when he was 69 and retired. McGuire was always an RV enthusiast, and Buicks were his favorite car, so the combination makes perfect sense. When people asked "why" he built it, he said, "why not."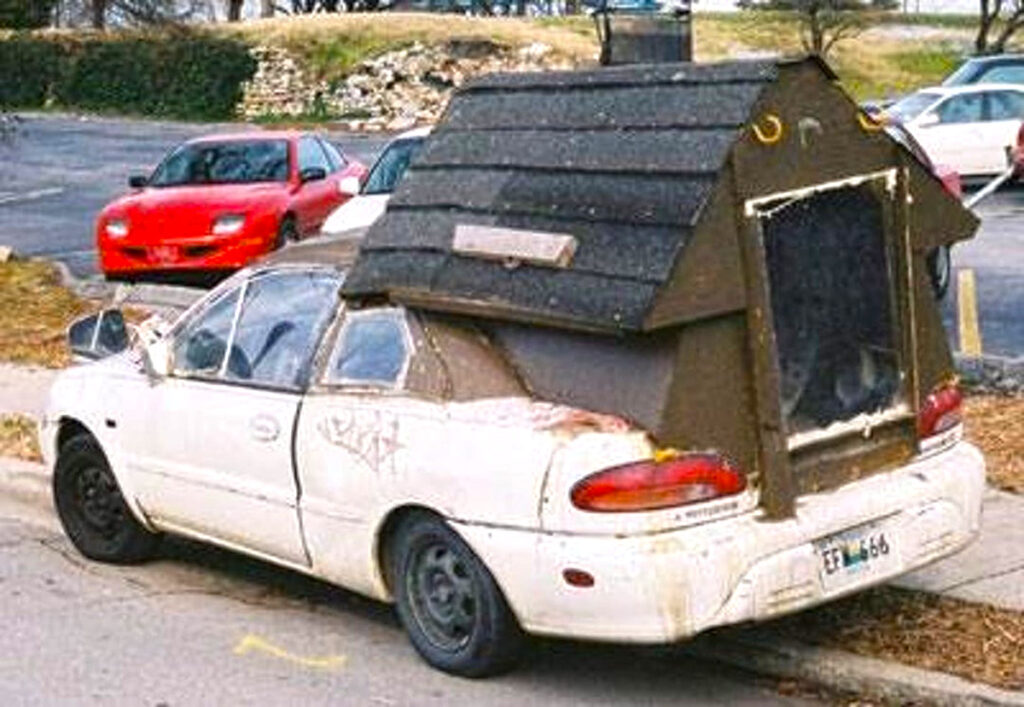 Commercial Bus Motorhome Tank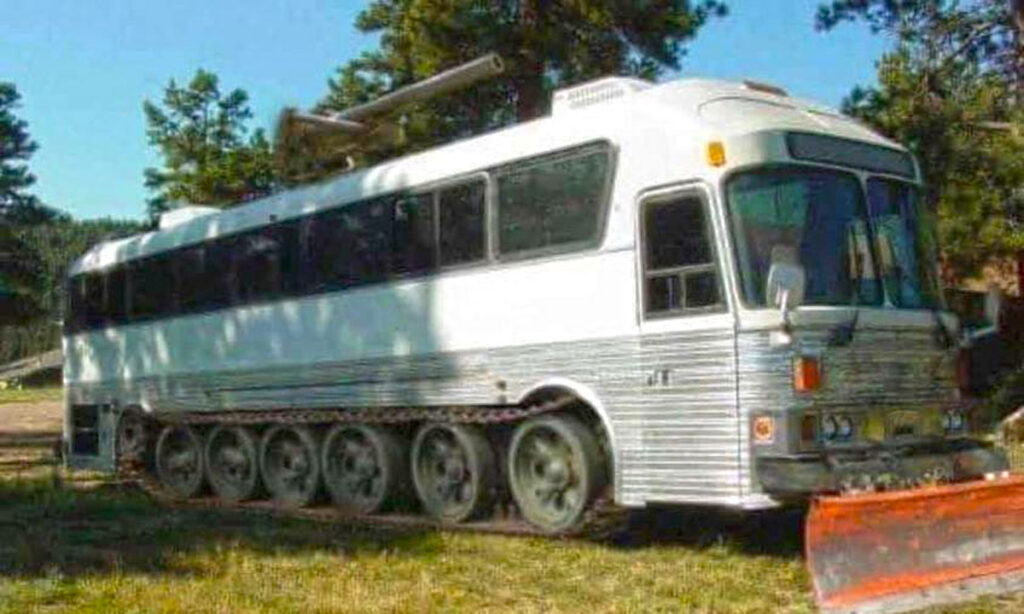 This RV is anything but recreational. It looks to be much more tactical in nature. If you didn't notice, it is subtly outfitted with a nice mortar shell gun to do maximum damage, and a bulldozer/shovel head/snowplow head at the front. So, whether you're looking to have an exciting night out on the town, or take over the world, this is what we would call a primary go to vehicle.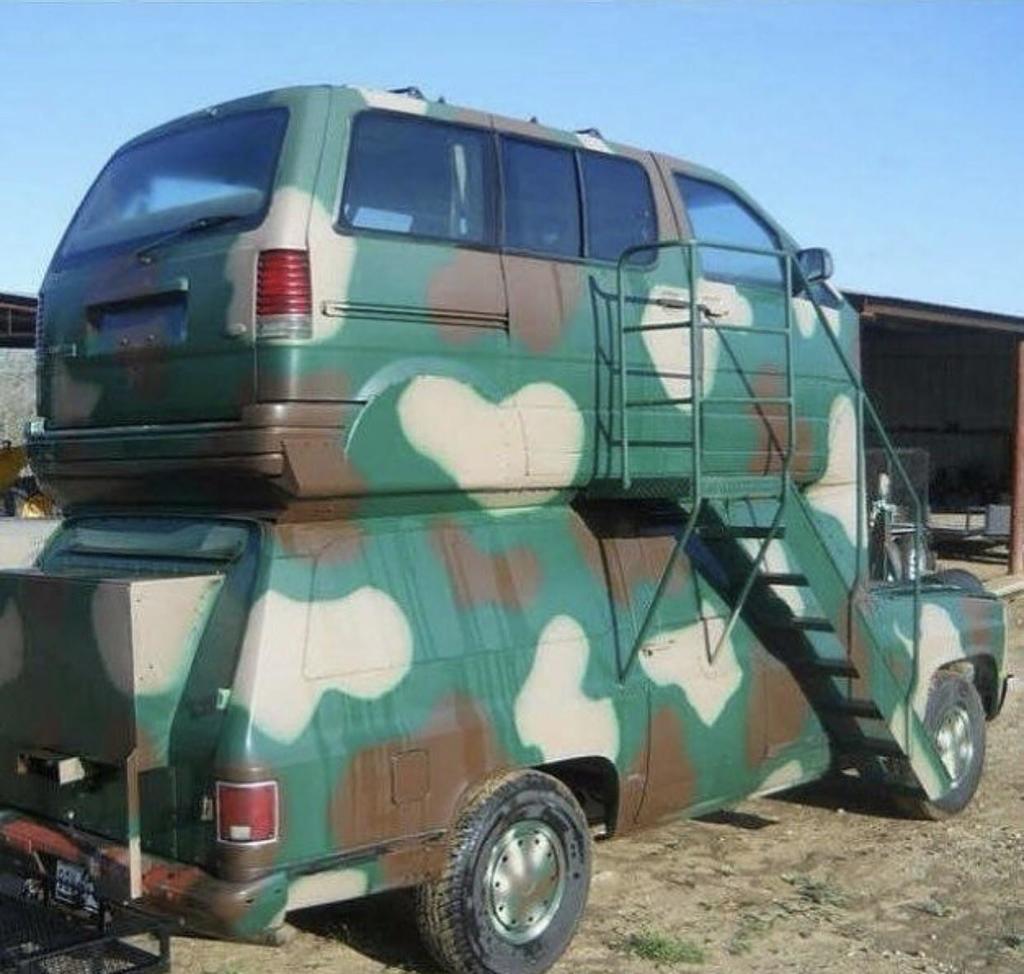 Car Trunk Motorhome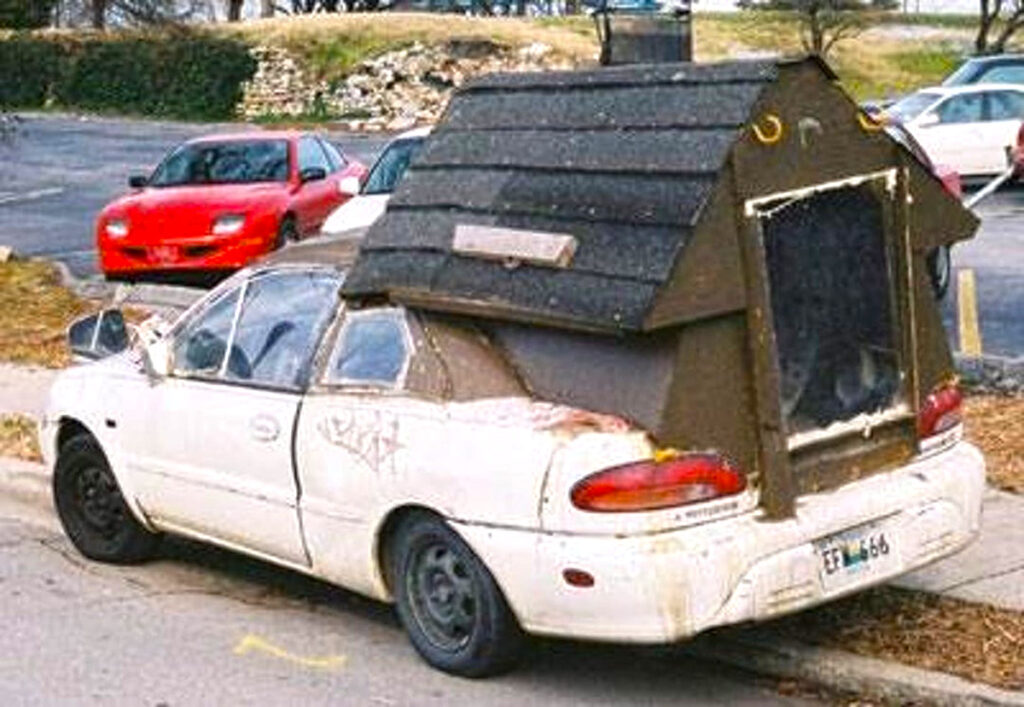 So, if anyone is desperate to own an RV but doesn't have a lot of money, there are solutions such as cutting off the end of your car and using wood around the house to build a rear cabin. Honestly, it looks a shed crashed on the car. But, hey, whatever gets the job done.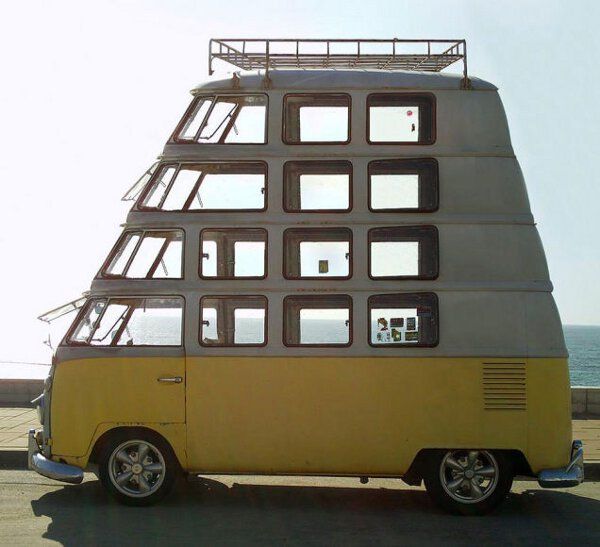 Van / Truck Combo RV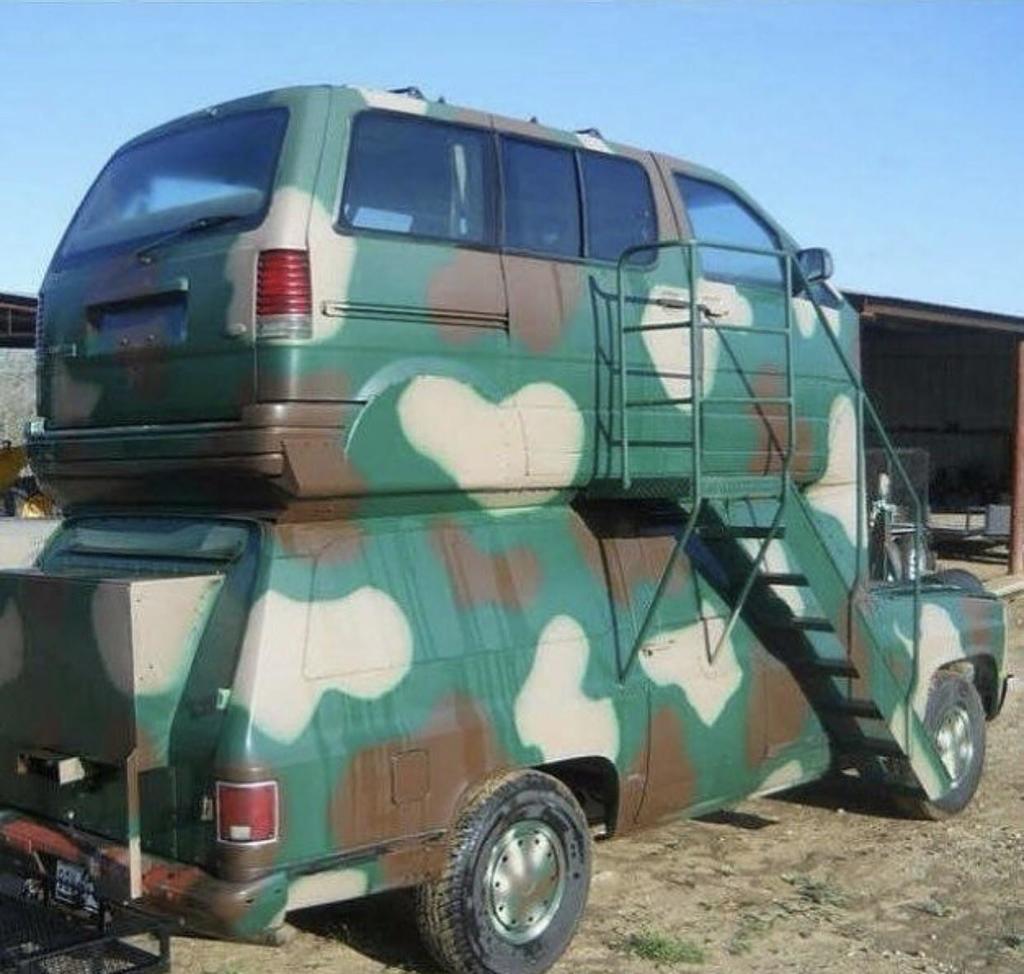 It looks like this conversion was created to keep work and sleep separate. They wanted to create a vehicle that you could work all day in, than go up stairs to go to sleep. Maybe the camo is so it can also be used as a mobile hunting blind. Either way, we love the creativity and simplicity in this conversion.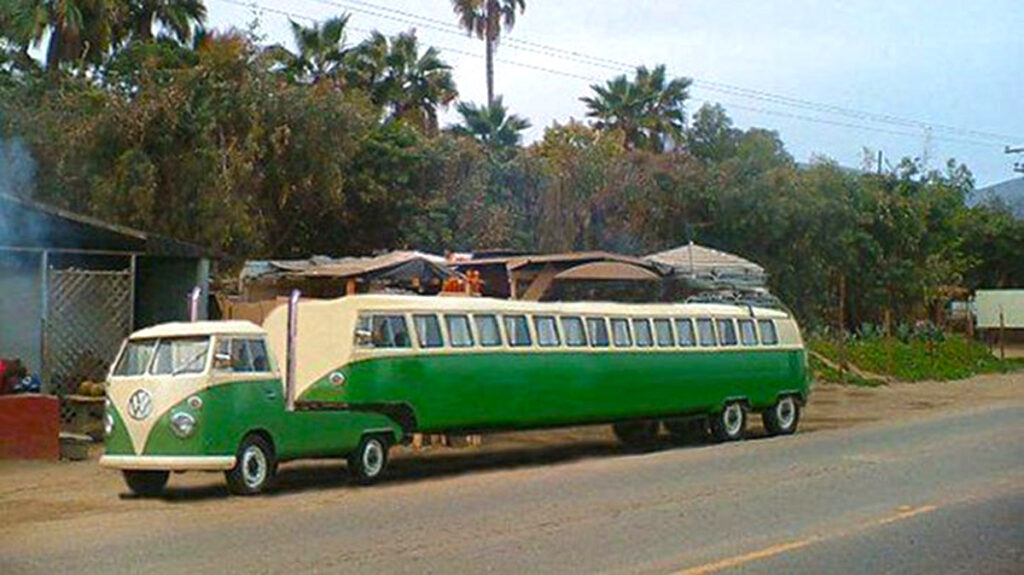 Quadruple Decker Motorhome Van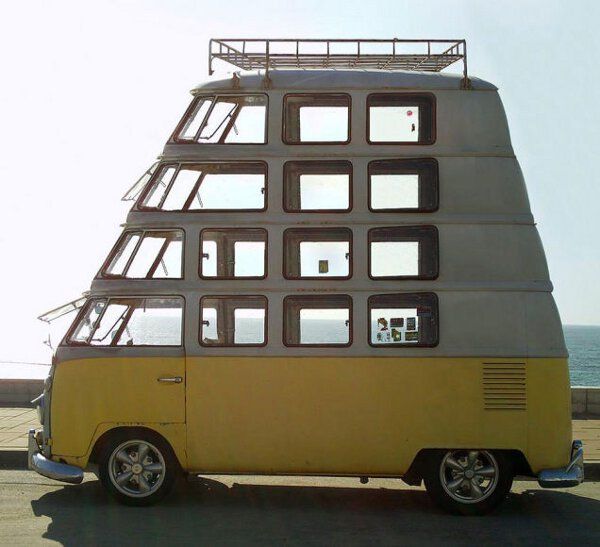 This conversion probably started as just wanting to gain a little more head room to stand up in the van. After they got finished with that, they decided that wanted more space for friends or pets so they kept adding and adding to finally create this odd but cool RV conversion.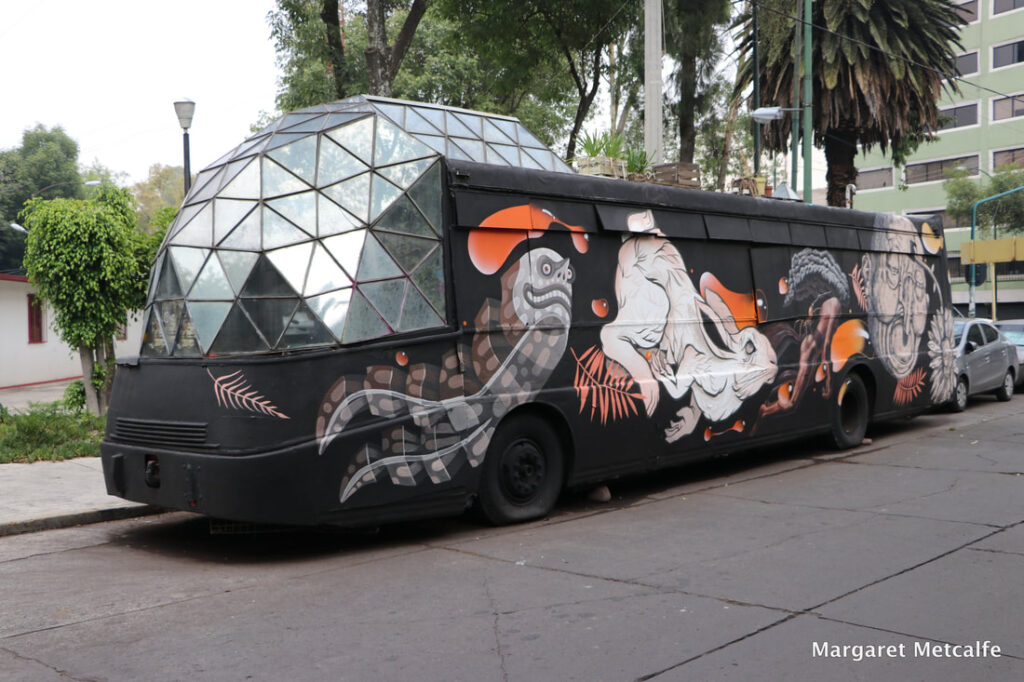 Extended Motorhome Van Trailer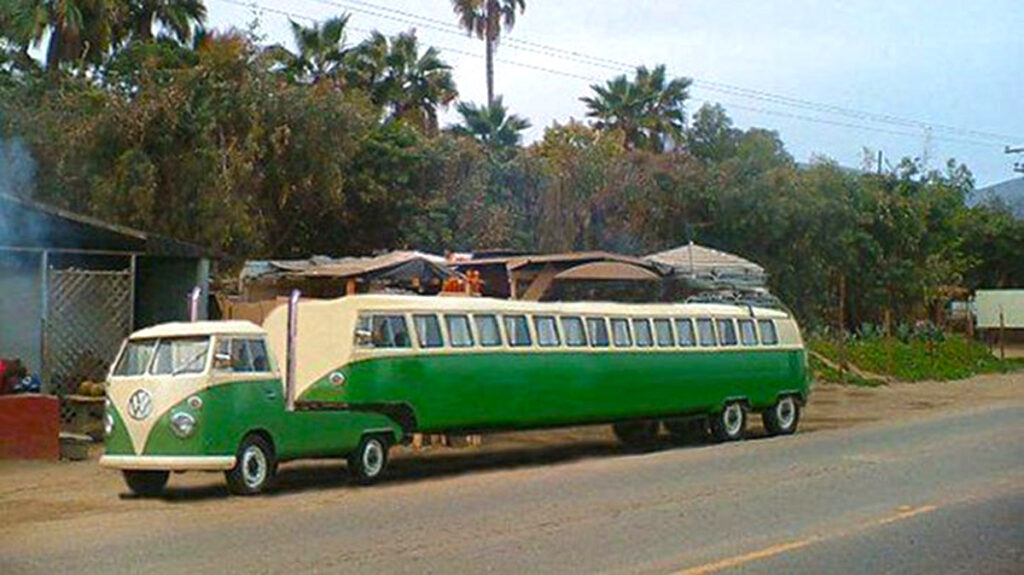 Okay, so we are pretty sure you won't find this rolling off the line anytime soon at your recreational vehicle assembly plant. We wonder how many Volkswagen minibuses were used to put this RV together? It seems like maybe six or seven at least. Yet true to form, it stays with miniubus tradition… its a diesel.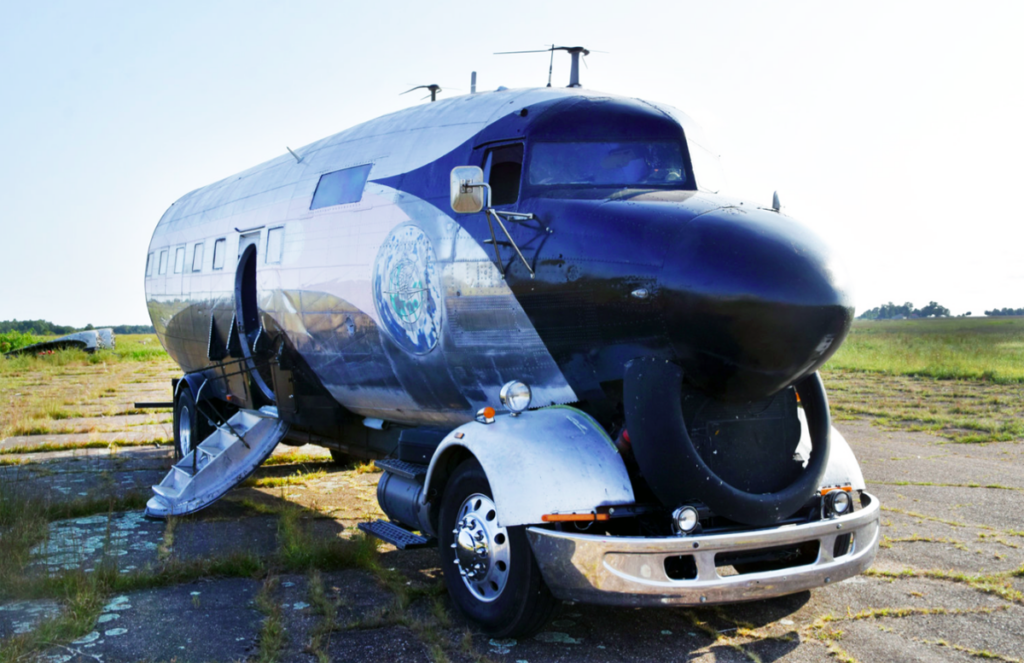 Artful Dome Motorhome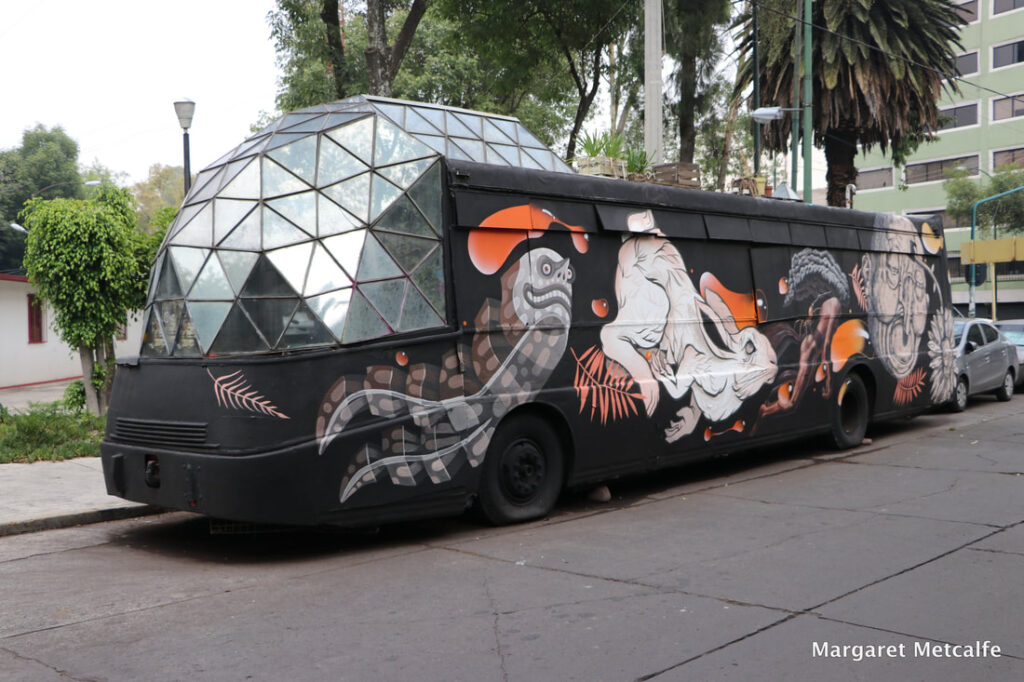 We don't have much to say about this one, except it is gorgeously bonkers. From the dome window to the wacky paint job, a lot is going on. Why does it look like everyone is sniffing each other on the side? Who knows, but great art makes you think.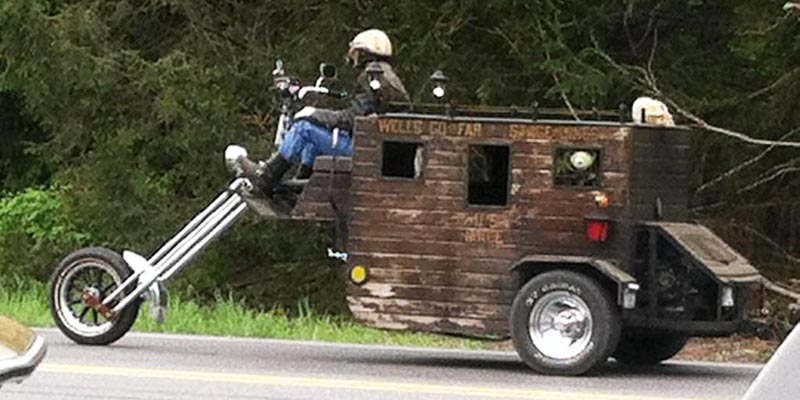 Airplane / Truck Motorhome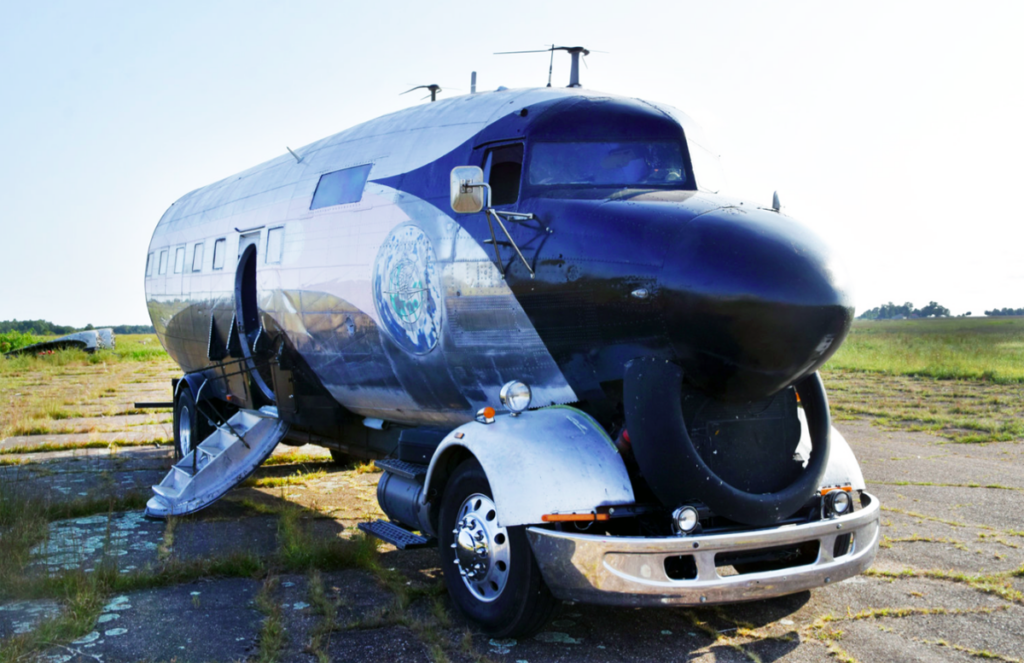 Gino Lucci and his son Giacinto Lucci travel around the country selling old airplane parts. To Giacinto's surprise, he came across three discarded DC3s at an airport. One they purchased, they turned into an RV using a spare delivery truck they owned. They gave the finished motorhome the name "Fabulous Flamingo."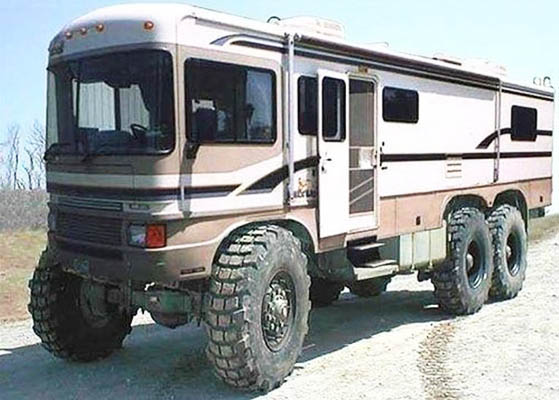 Trike Motorhome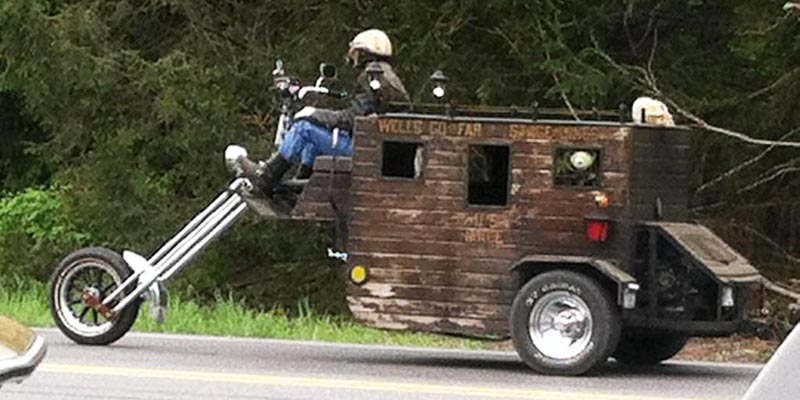 And here we have a nifty little play on words (notice the "well go far" instead of "wells fargo") on the side that calls back to the old stagecoach days. Trade out the driver's biker boots and helmet for a cowboy hat and spurs; and the motorcycle steering for reins and a horse, and you could almost picture this recreational vehicle rolling through the Wild West.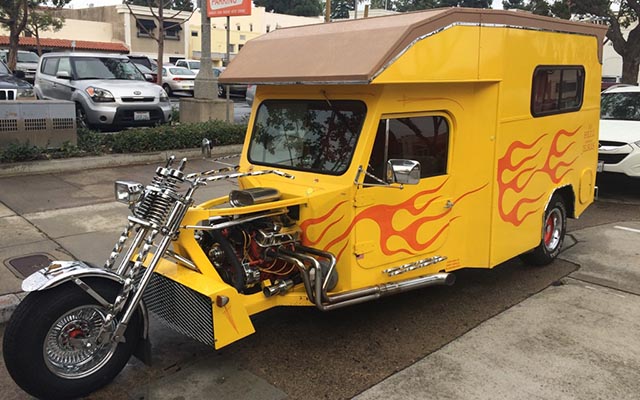 Motorhome Ultimate Off-Roader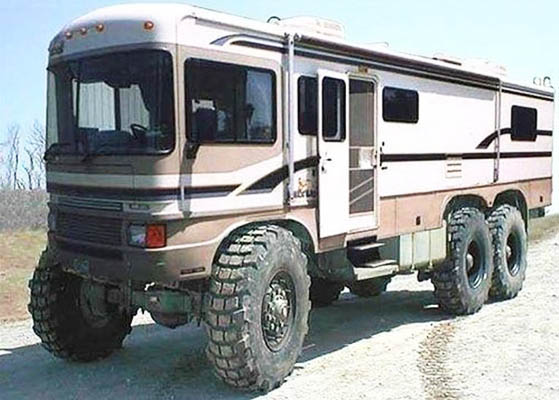 What happens when your marriage hits the skids and your wife skips town with a boyfriend half your age? This picture, that's what. If this motor home doesn't scream midlife crisis, I don't know what does. The tires are bigger than most 18 wheelers, and it looks like the frame has been reworked a bit, too. A lot of effort went into this RV, that's for sure.
I just can't decide if it's because of a midlife crisis, or perhaps it is the creation of somebody who knows something we don't. They could be preparing to go off grid permanently by the looks of it! All of that to say, if you happen to see this RV rolling through your neighborhood, make friends with this guy. He could come in handy during a fallout and will be able to identify when your wife has a mid life crisis and leaves you to drown your sorrows away!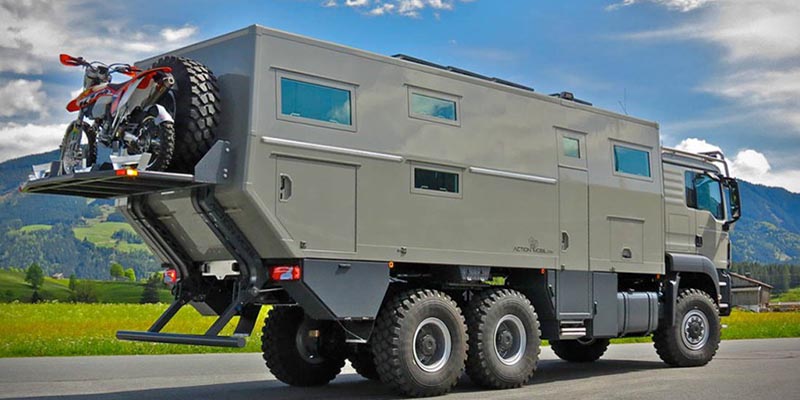 Trike RV Conversion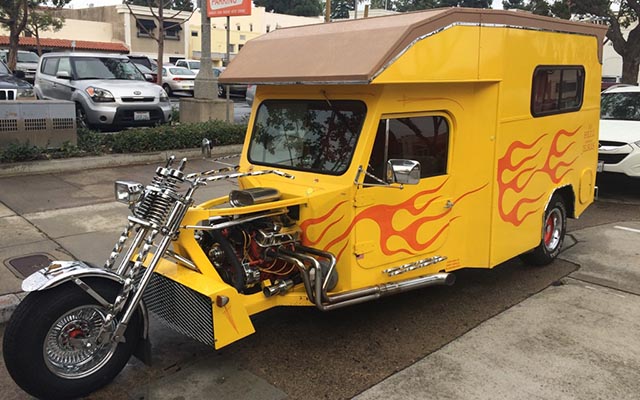 A few things about this motorhome/motorbike/camping thingy. For starters, I bet you can get really good insurance rates, since it is classified as a three wheel vehicle. Secondly, I'm sure every kid in the neighborhood is enthralled by those flames on the side, but your wife or girlfriend… not so much. Third, are those handlebars on the front, really? That's right, look close and it appears as if there are handlebars on the front.
Where do you sit, though? Obviously inside, but how do you steer this contraption then? I'm guessing there's a steering wheel and the handlebars are for show, which makes it a kick in the head when you're driving down the road and make a sharp right turn (where's the driver, ha ha!). Evidently this guy knows Jesus. In that case the handlebars makes sense. He must be the copilot. I wonder if he's impressed by the snazzy exhaust and flames as well?
The Go Anywhere RV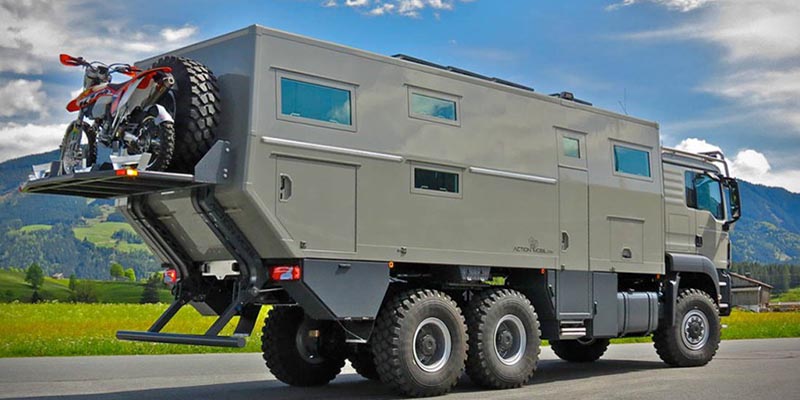 If you're not really sure whether or not this classifies as a recreational vehicle, join the club. As a guy, it definitely does. I could take this thing out for a few months into the wilderness, over to the beach, or even enemy territory if Uncle Sam deemed it necessary. By the looks of this thing it appears to be bulletproof. It's sturdy for sure. You could run over more than a few things with this if need be. Then you could pop the window down and hold back the enemy four days in the comfort and serenity of this monster motor home.
We have the Aussies to say thanks for this. This is their version of an extreme all-terrain RV monster truck. It's called the Action Mobile Global XRS 7200. I would say it lives up to its name. And when you're done? Well, simply radio in the satcom for self-destruct and speed away on your Kawasaki 500 cc dirt bike. Those Mission Impossible movies would have nothing on you, except Tom Cruise who gets 20 million per film, but other than that they would have nothing on you!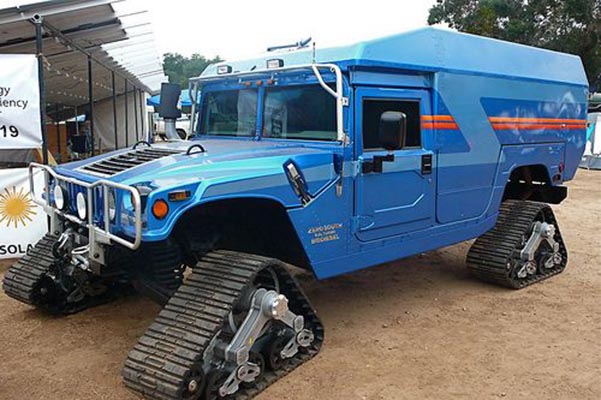 Panther Rescue Vehicle
If this looks like some motor home of the future, it's not. It's just another innovative, state of the art rescue vehicle thought up by Spirit Design. This is one of their panther rescue vehicles. The recreational vehicles are designed to do everything from operate like a fire truck, remove debris like a backhoe or bulldozer, and perform other search and rescue functions. It looks impressive because it is.
Spear design is known for thinking out-of-the-box and coming up with state-of-the-art rescue vehicles crafted in true RV fashion. If this were your motor home, you wouldn't need much else. The Panther can navigate some of the most uneven terrain, and is specifically designed to get you in and out of tricky situations. It is globally recognized as a leader in the industry, and a go-to for those who need a first class piece of equipment that looks good, and operates even better!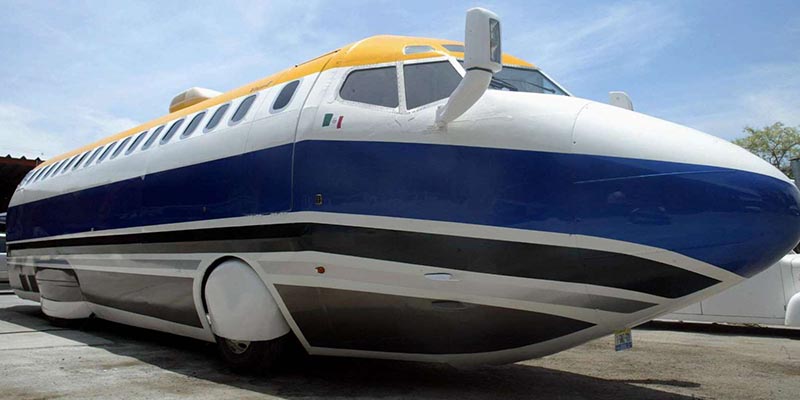 Ultimate Hummer Camper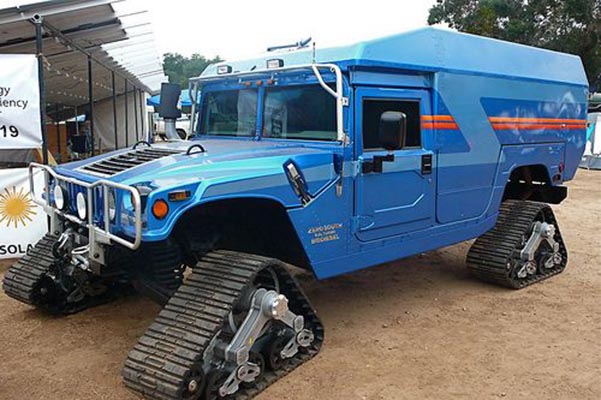 This motorhome is what we might call an oxymoron. Take a look and immediately you think Hummer. Hummers are known for guzzling gas and big tires, which this one certainly is lacking. That's okay, though, the lack of four wheels is overcompensated by the addition of four tank-like treads. This thing can navigate just about any terrain and is certainly made for the rough and tumble that lies beyond what a standard Hummer is built for.
It was a custom build by the team at Southern Motors in an attempt to create the ultimate camping vehicle, and it looks like the guys succeeded, surpassing expectations. So what makes it an oxymoron then? Simple. It runs on bio diesel. This is the BFG (big friendly giant) of the environmentally friendly camping world. It may look rough and harsh, but it's only impact on the environment will be the terrain it navigates.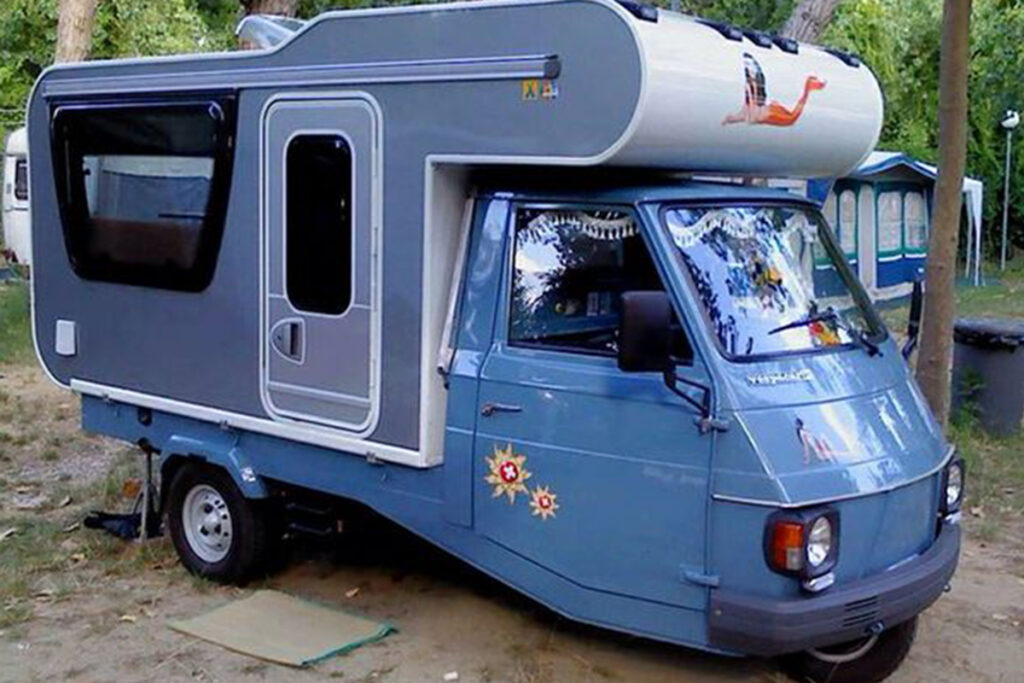 Being 727 Motorhome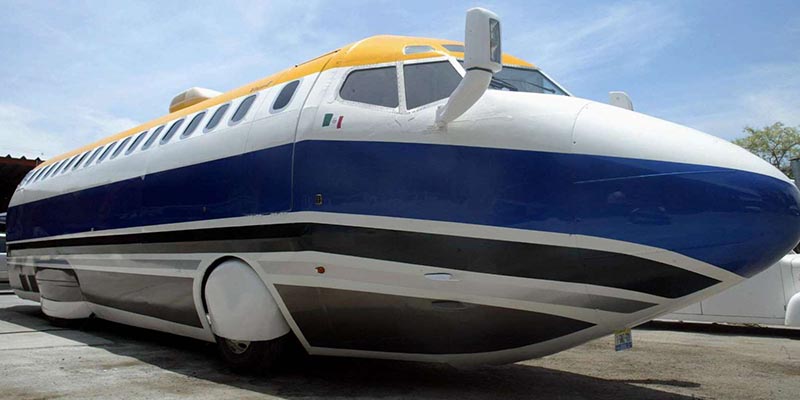 This RV is the ultimate party bus. Looking at things like this makes you jealous of your own prom night. Back then, we had limousines with neon rope lighting as the main flair. Our main source of entertainment during the evening's festivities was popping our head out the top of the sunroof, or rolling down the main window between the driver and ourselves to pester him. We didn't have this. This custom-designed limo was made to resemble a Boeing 727.
It's decked out, too. It features a dance floor, sunken living room, big-screen TV, fog machine and a full nonalcoholic bar. As for space, you can cram 49 of your best friends or family into this ultimate party machine. So what does it take to pull off a 53 foot non-flying airplane? It's pretty simple actually. All you need is a Mercedes bus chassis. Fill in the details from that point and you eventually end up with a 727 limousine bus.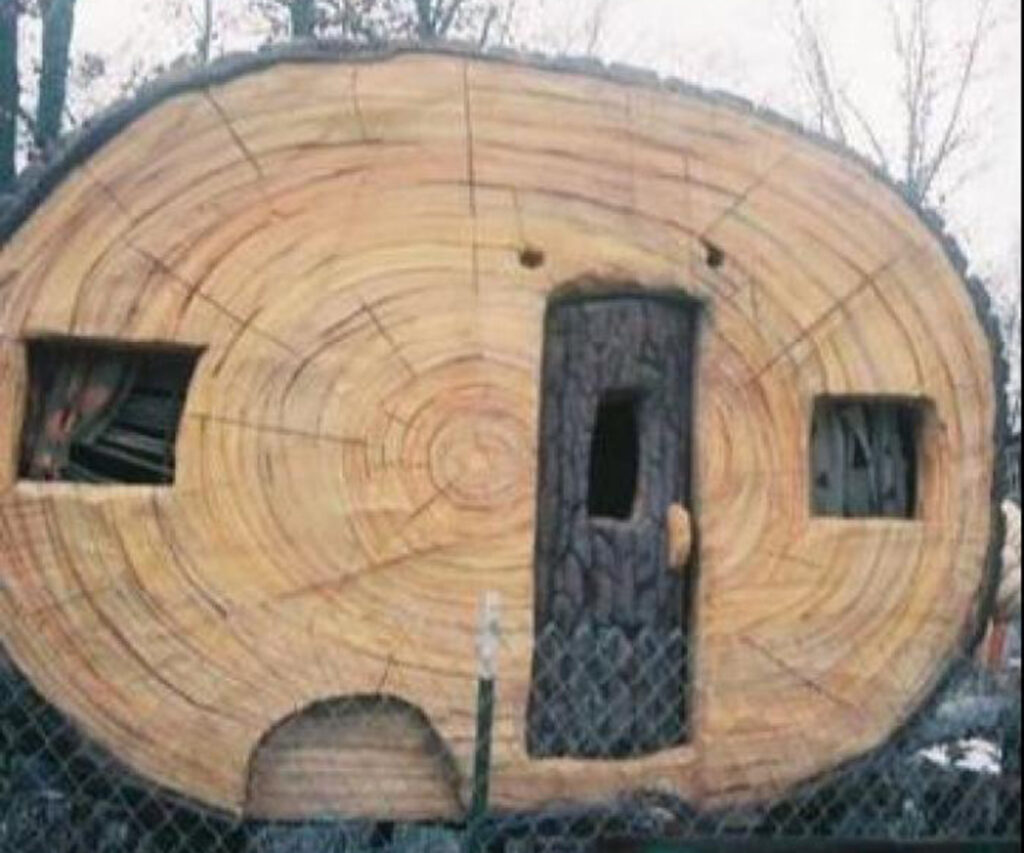 3 Wheeled Camper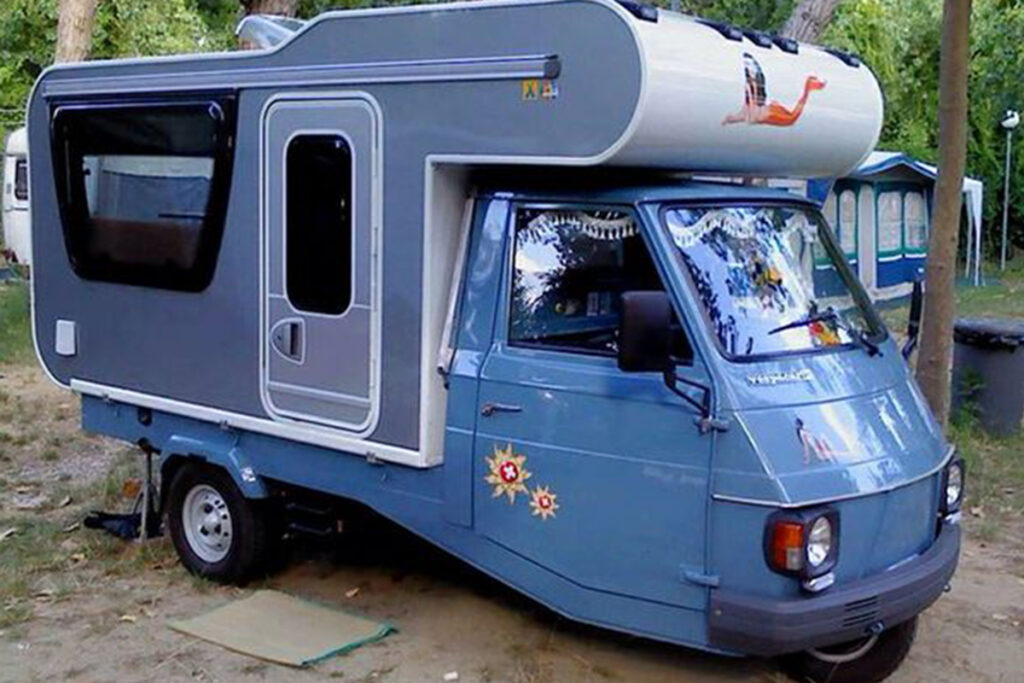 This is a 3 Wheeled RV. The RV is a home on the go, it also holds its balance.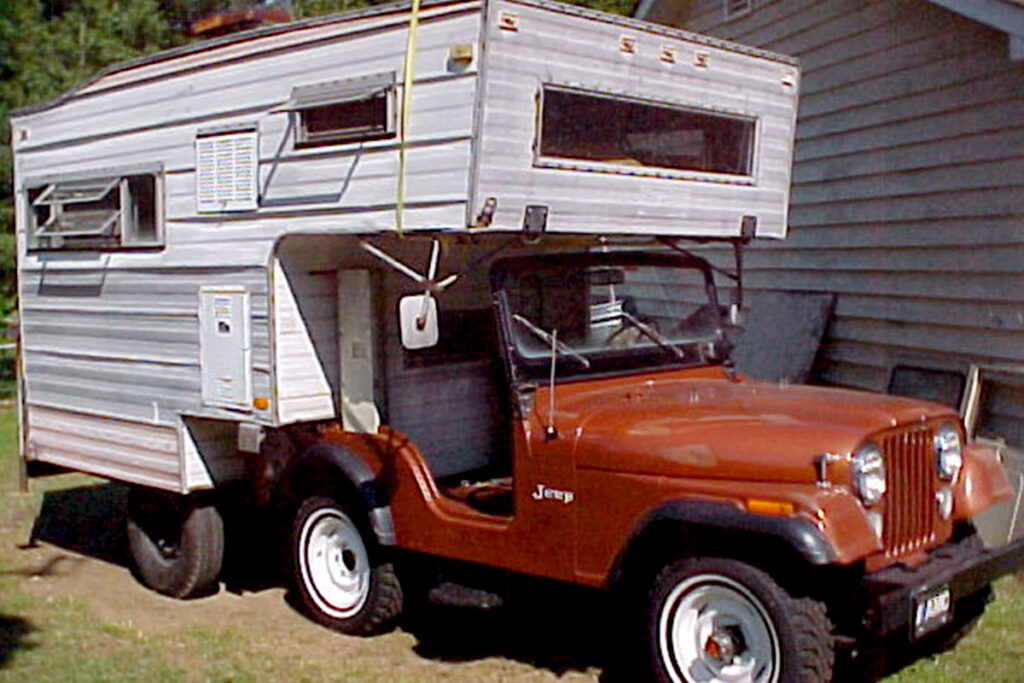 Log Cabin On Wheels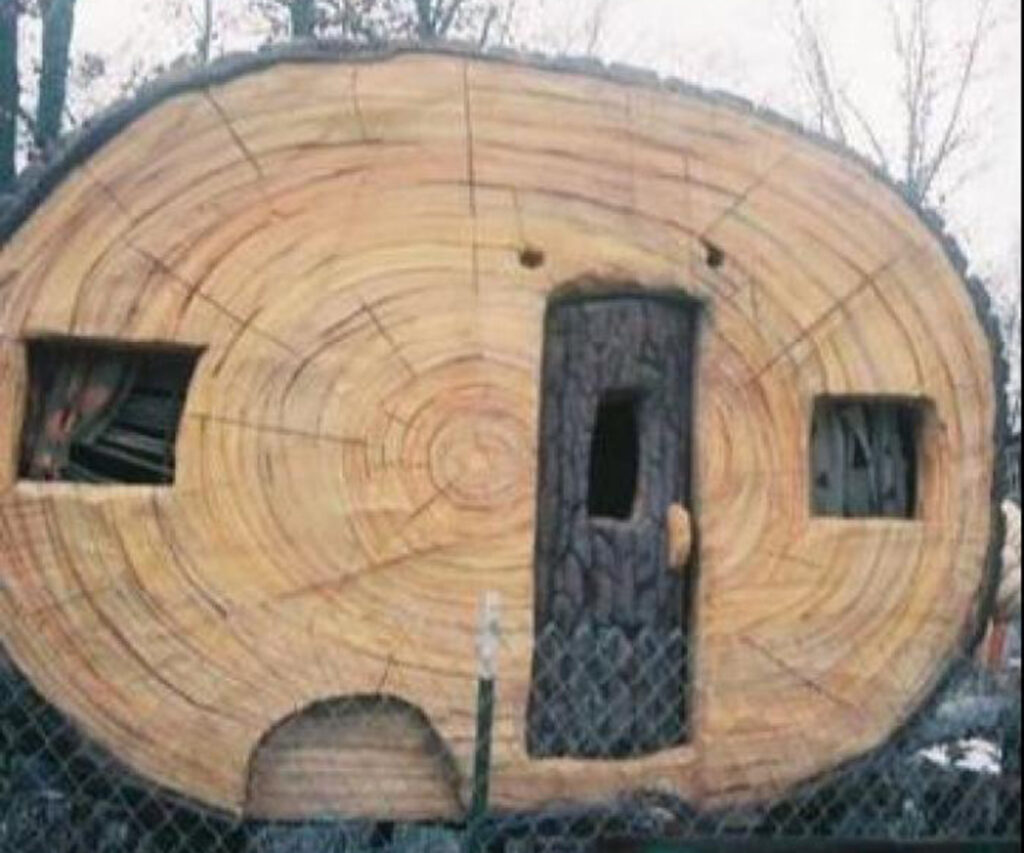 This is a literal Log Cabin RV. Some folks are jealous of squirrels living inside trees, now they can own this RV.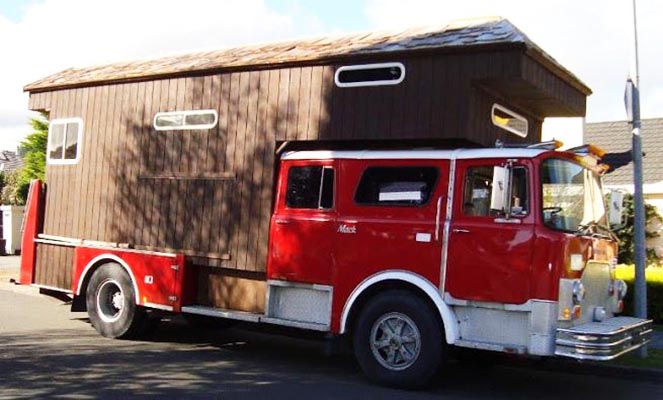 Jeep Camper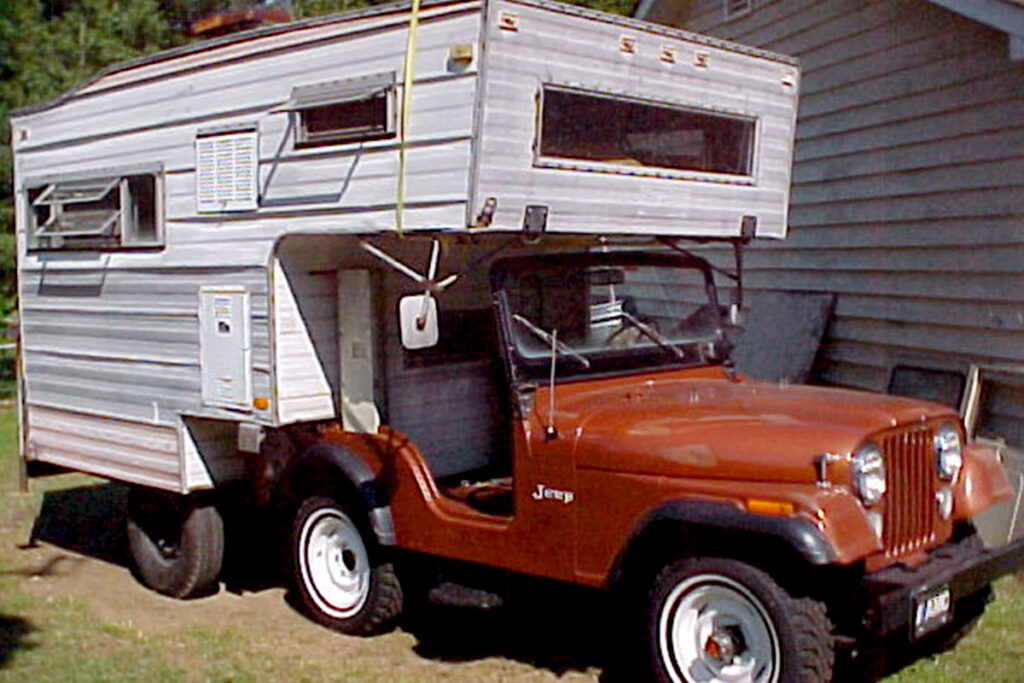 The best part of owning a Jeep is being able to live in the back of it. Bring this Jeep RV to the next Jeep meet.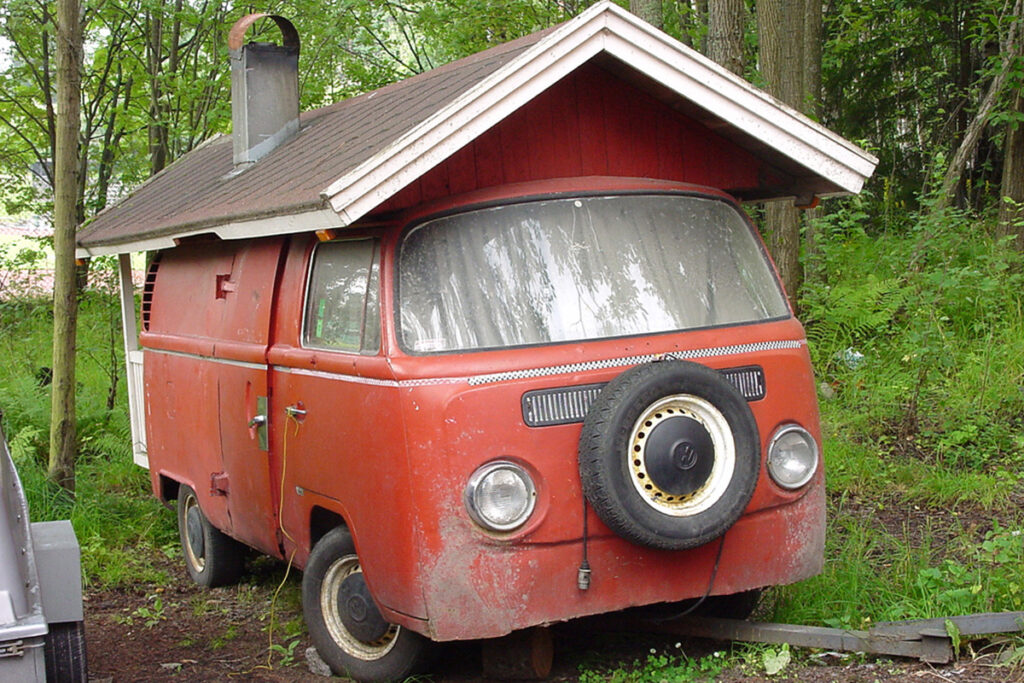 Firehouse Motorhome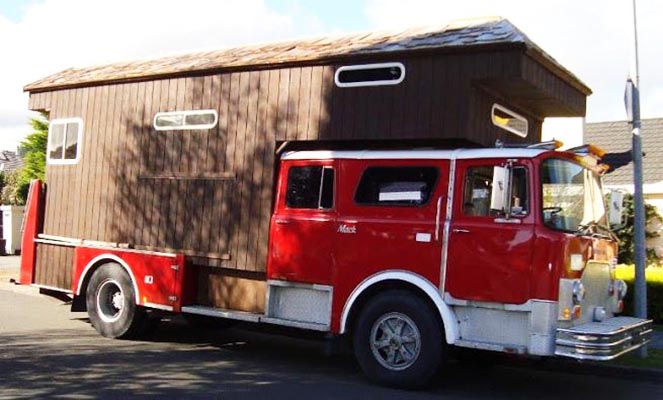 This ridiculous motorhome is a great way to kill two birds with one stone, so to speak. Instead of firemen slogging away their time at the firehouse, waiting for the inevitable bell to ring so they can spring into action, why not just create a humble abode aboard your firetruck and have the best of both worlds? It seems like the best idea, right? Well, almost.
The only problem is if you look closely you will notice there are no fire hoses to speak of. And the sirens? Nada. They are absent as well. I'm no expert, but those two items are pretty necessary should a fire break out. There is a nice Mac emblem on the side, however, so at least you can look the part. But what good would that do? Its safe to say in this instance, if anything is on fire in the vicinity, don't call these guys. They're tucked inside playing Xbox.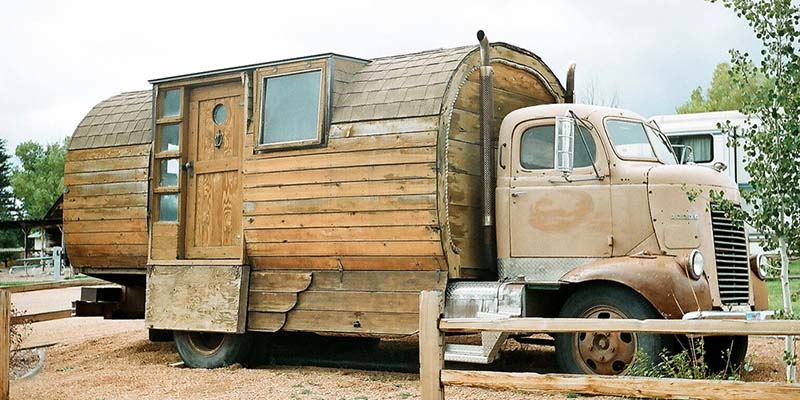 Van / Home Conversion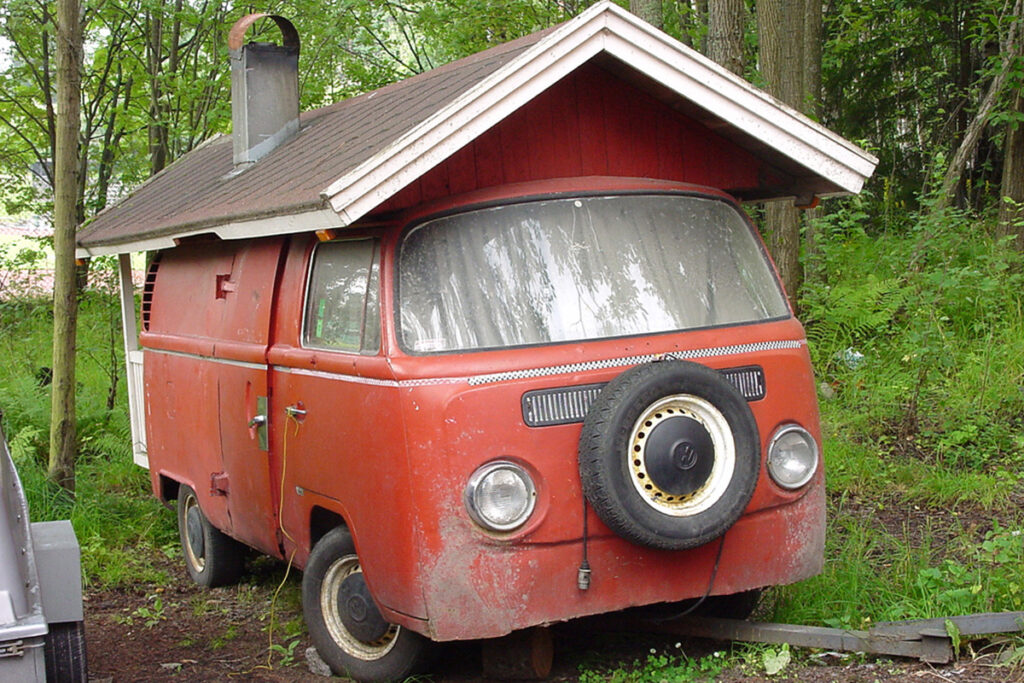 Sometimes you have to get creative to live the RV life. Someone installed a roof and chimney to their vintage VW Camper.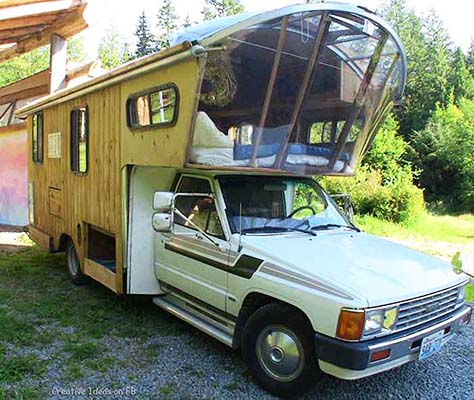 Log / Truck Motorhome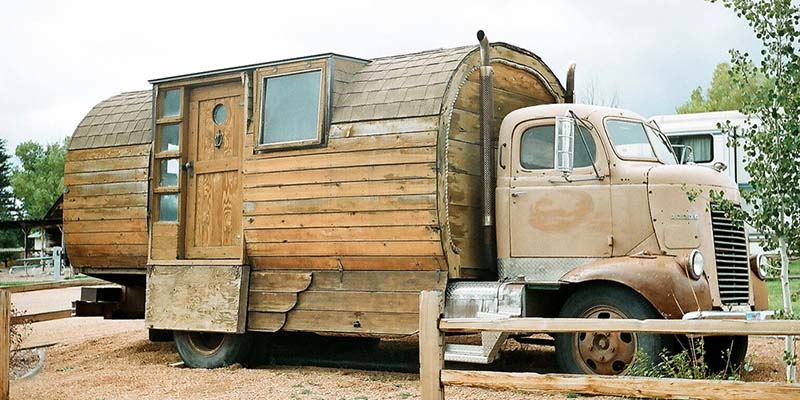 There was an old lady that lived in a shoe, until one day she upgraded to this motorhome-esque contraption. Maybe her husband died and she finally collected life insurance; who am I to say? She upgraded though. Not in a shoe anymore. Come on, you have to admit that it does look pretty sweet. Somebody did great detail work on the door and window, and the shingles look solid. Using an old produce 1950s delivery truck only serves to complement the nostalgia even more so.
The wood covering echoes the old wooden sides and bed of the delivery truck. It rounds out the piece and helps it all come together and make sense. If only we can get inside, I wonder what we would find. Maybe a state-of-the-art living space, or a minimalist paradise with crates and boxes to service tables and chairs. We may never know that, but we do know this one thing, if this RV ever gets termites, the parties over.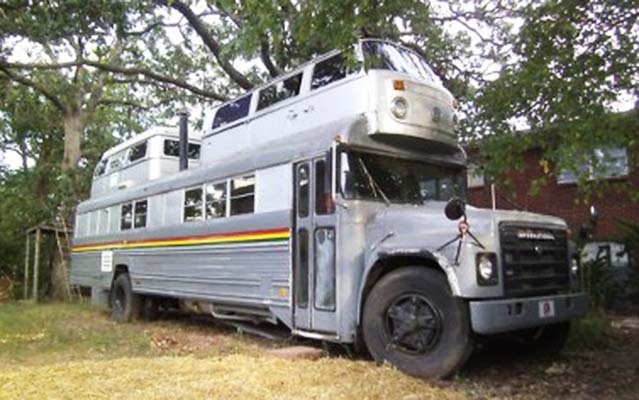 Custom Mini-Truck Motorhome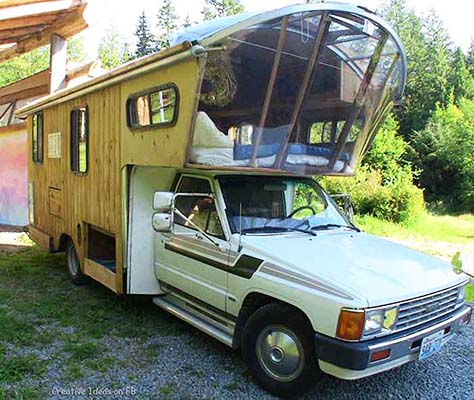 Frank Lloyd Wright would be almost proud of this Winnebago. I'm sure the owner had good intentions at heart, but I bet the passengers would appreciate a bit more privacy while traveling. Heck, for that matter, I bet anybody sleeping in that thing at night would. I'm not game on the whole world, including mother nature herself, seeing me while I sleep.
Plus, all of that open viewing kind of puts a damper on any wife or girlfriend activities, if you know what I mean. I thought you would. You are an intelligent RV reader. No, the only thing we would be able to do is paint the exterior a different color other than that horrible tan, and perhaps manually unwind the awning so we could sit in the shade… at night… doing nothing. Grrrrr! If this one gets you frustrated, keep going. The next two will blow your mind. What the owner accomplished is just plain awesome!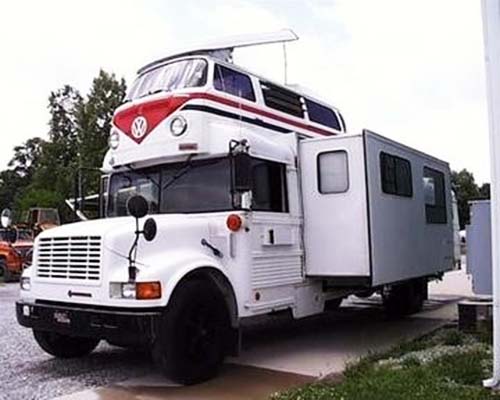 School Bus / Van Trio Motorhome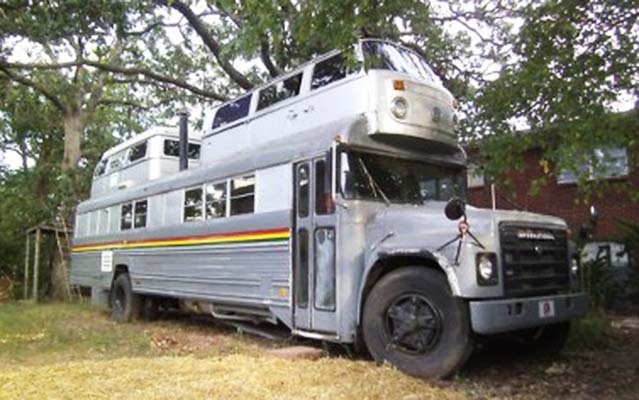 This one probably tops out the ridiculous category, but it also tops out the awesome category as well. I mean let's be honest, where else can you see three buses in one. Two VW buses stacked neatly on top of a run-of-the-mill school bus, then painted silver with attention given to some stylish striping on the sides, it just doesn't get any better than that. Unless, I was in the first grade and this was my school bus. That would be a milestone life event for sure.
For that matter, I wonder if they need a bus driver for this thing. I'll be happy to fill in and take the RV out for a while to stretch its legs. So long as none of my passengers open the VW doors up top, we should be good to go. If you think this one is cool, though, wait to you see the next one!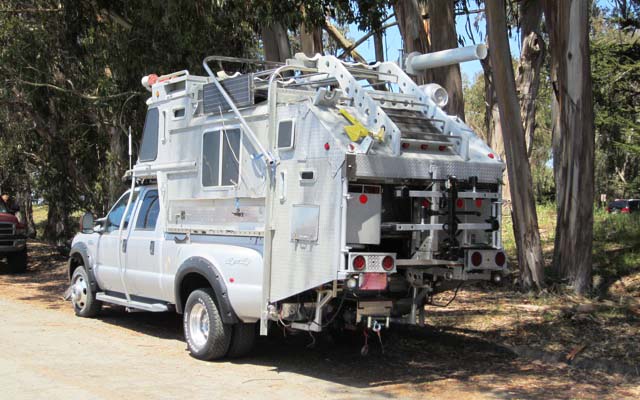 Slide-Out School Bus / Van RV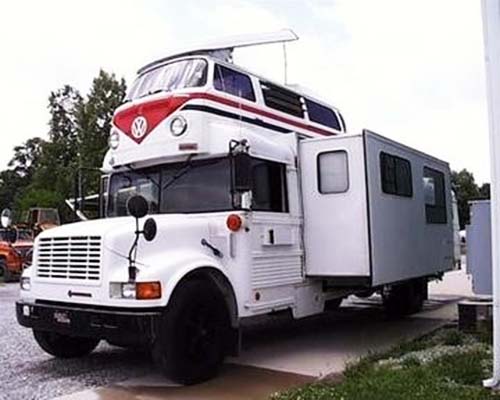 What did I tell you? Bam! Just like that! Here we have another one. It's slightly modified as far as custom motorhomes-with-VW-buses-stacked-on-top-go, but you still see a few trademarks recognizable from the previous picture. The number of VW buses has been shortened to one for this amazing creation, and most notably, there is a side slider kick out which you normally expect to find on higher end luxury RVs.
To say it is clever would be an understatement. To say it's genius would be well served. But the last motorhome accomplished with design, this one steps forward with style. Very patriotic and red white and blue, what could be finer than cruising down America's roadways in this thing for the 4th of July! Maybe lighting up some sparklers and hanging them out the window while you set off roman candles from the VW bus up top; but other than that, nothing could be better.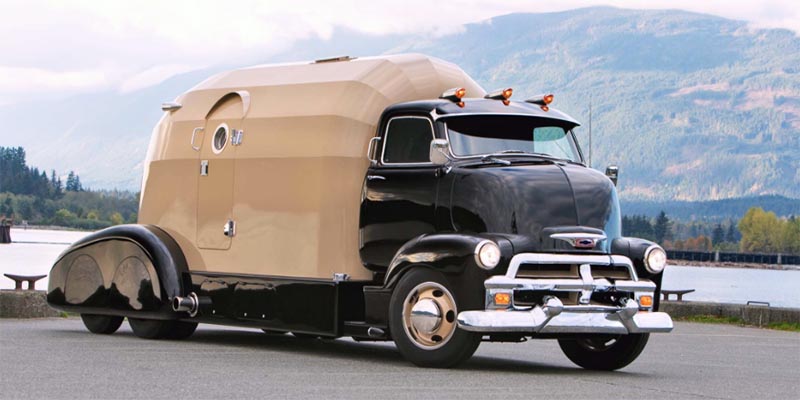 Ultimate Overland Camper Truck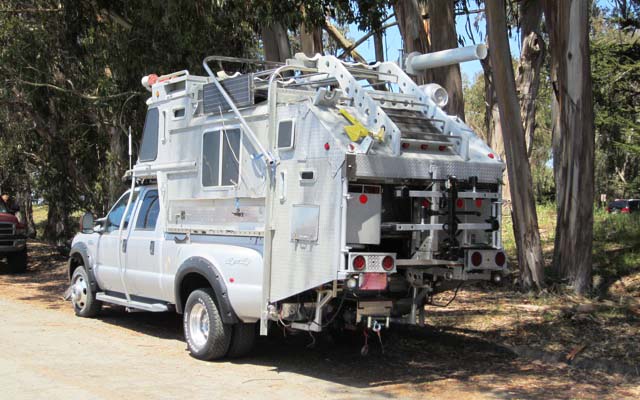 So I'm not exactly sure what this is exactly, but it is ridiculously cool as far as RVs are concerned. It looks to be outfitted with various things you might need if there were say and end of the world event. The solar panel up top will probably put out just enough juice to keep your laptop charged for 30 minutes or so, while the intriguing ladder system mounted to the top and back of the vehicle is more intriguing than anything.
However, it is definitely designed to pull a few overnight stays as evidenced by the window mounted on the side of the living space. Yes, you would have to sensually sleep in the bed of your truck or that nice overhead space above your truck, but you could probably survive there for a while if need be. Plus, the big bonus is this; your command and control central is a dooley! So whatever you need to get in and out of, you most certainly can. I would give this one a rating of A+ for the guys, and a solid C- for the ladies. It is quite clever, though.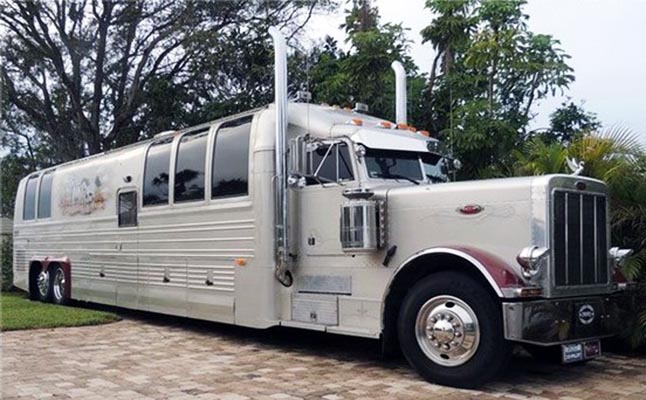 Classic Older Truck Motorhome Conversion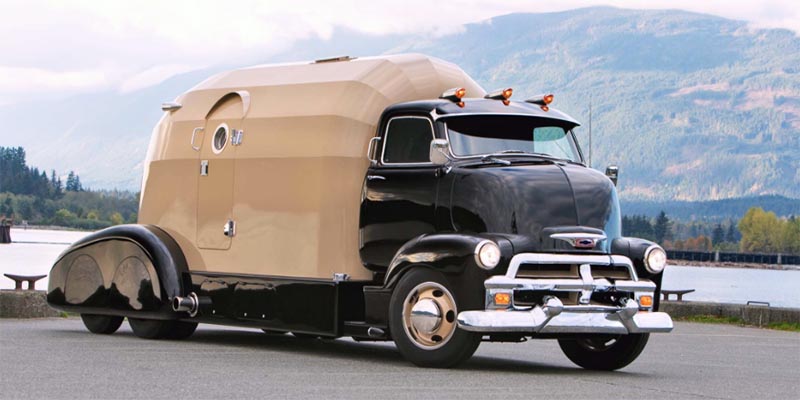 There are many things we could say about this motorhome, but ridiculous certainly isn't one of them. This thing is pure eye candy. It's bone structure is solid. You can recognize the 1954 Chevrolet COE truck for sure. However, the trailer is a throwback to the Bowlus Road Chief RVs from the 1930s. This creation was built by Russ Moen, who wanted a truly custom motorhome. Yet the really cool part about this RV is that it didn't cost hundreds of thousands of dollars.
Russ reached out to friends, including a local boat builder to fabricate the airplane inspired RV trailer, rather than an aircraft designer. He also enlisted the help of other friends and local shop mechanics. The end result is what you see here. What you can't see are the teak and marble floors inside, as well as the cherry and birch cabinets. It's a true beauty, and he has earned the right to show it off for sure!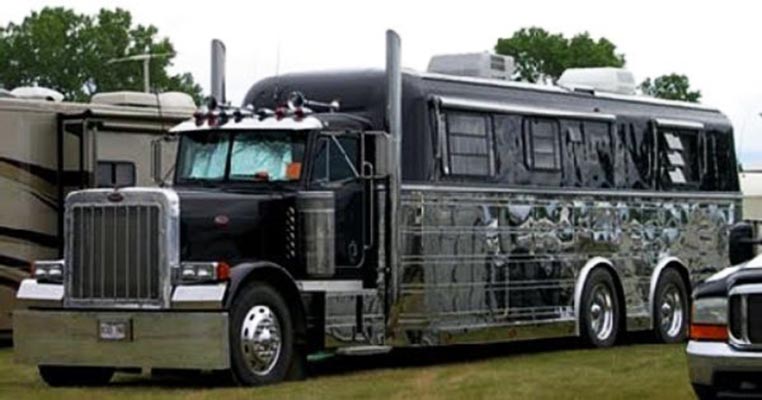 Semi-Truck Motorhome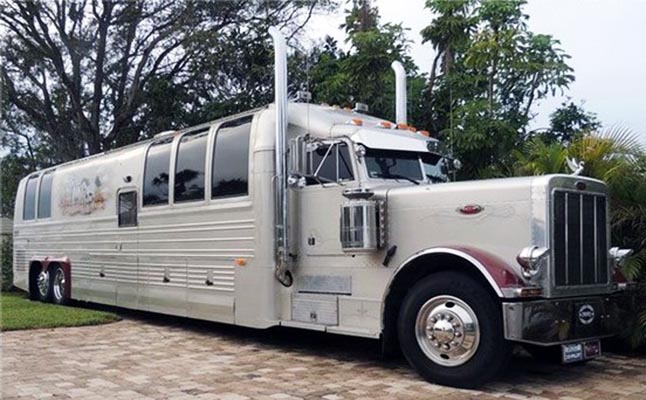 This ridiculous camping motorhome is a beautiful marriage of a standard semi truck and a tour bus. It's called the Kingsley coach and has gotten more than its fair share of acclaim, both on the Internet and in the campgrounds. Rather than being known as a motorhome, it's known as the world's first class of Toterhome. Yet look close and you will find yourself scratching your head a bit.
If you know anything about this semi and the bus, you have to wonder where the engine is. Did they let the semi engine do all the work and keep that house upfront, or is the Kingsley coach driven by an engine in the back of the bus? We can't say for sure, but we are impressed either way. This thing would certainly be a boss on any campground. Good luck rolling that beast in and out of there, though. That's a lot of metal to move!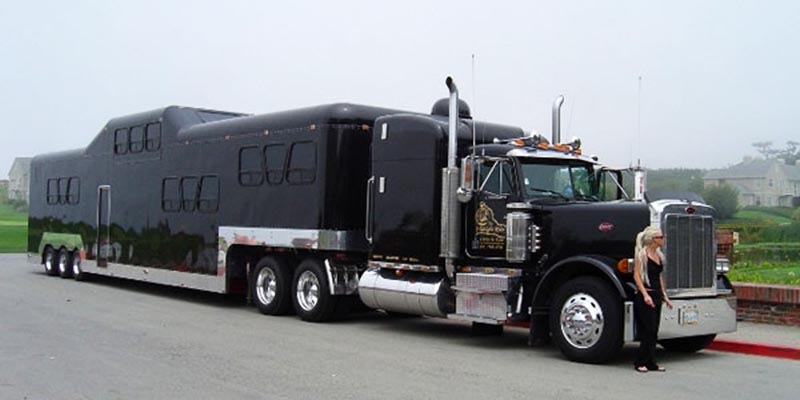 Semi-Truck Motorhome Conversion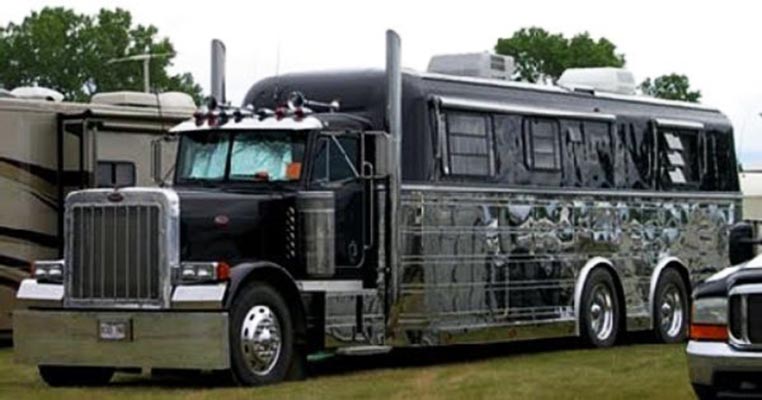 Here is another recreational vehicle similar to the Kingsley coach, but look a bit closer. Yes, it's still a ridiculous marriage between a semi and a motorhome, however this one is a real marriage between just that. The back end of the vehicle is not a tour bus. It's an actual RV. This means we know the engine is housed upfront, and produces plenty of power to move the motorhome from point A to point B. It just makes you wonder how creations like this came to be?
I mean really, did somebody get fed up with spending time in their sleeper cab and decide to indulge themselves a bit? Maybe it's the flipside of the coin. Rather than leave their work, they can take their work, and their family, anywhere they go. Who's to say, we don't know, that's for sure. Yet this RV still tops the book as one of the most awesomely ridiculous things we have yet to see.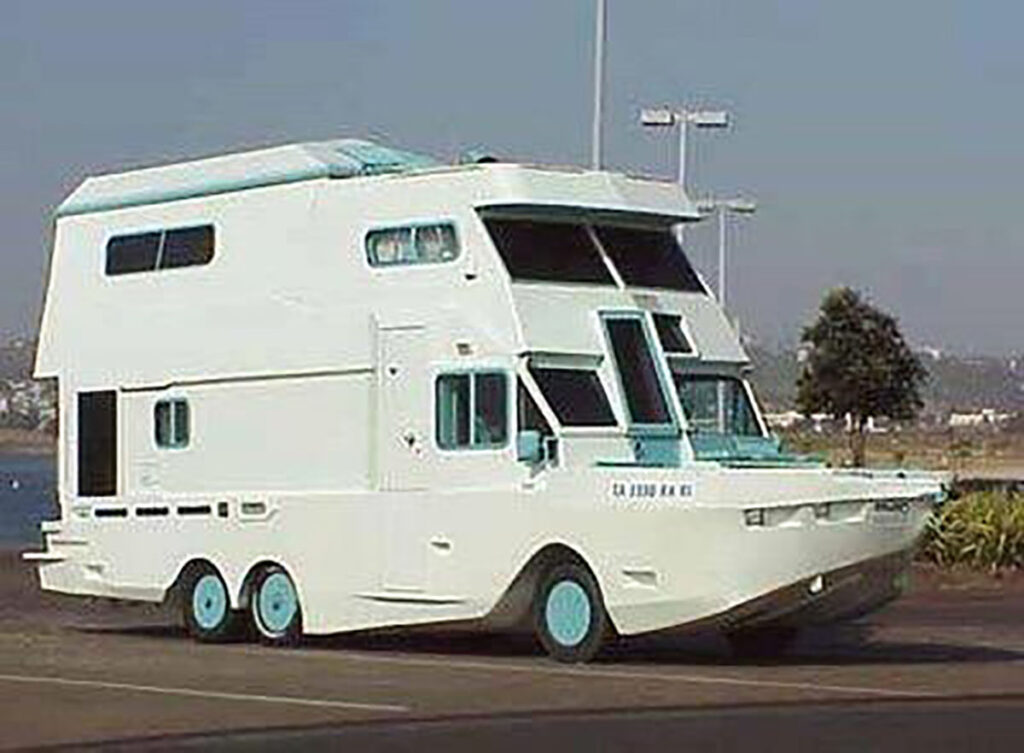 Semi- Truck Trailer RV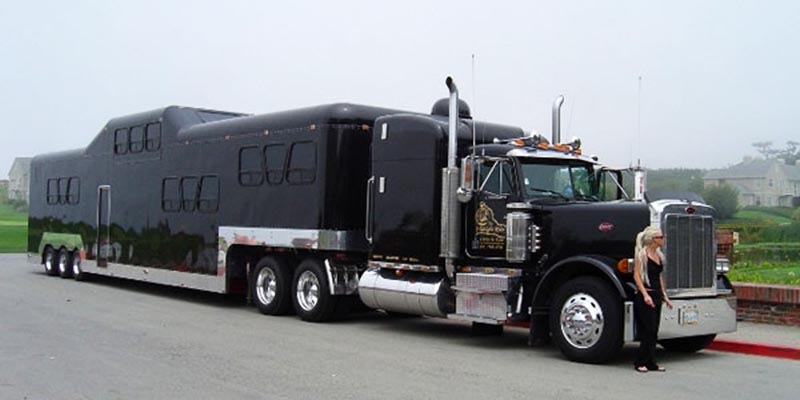 Now, I can't speak as to whether or not the girl pictured in the photo comes with this tricked out limousine, but I can tell you a few things about the limousine itself. For starters, you're looking at one tricked out, Peterbilt semi, equipped with a ridiculously large double size sleeper cab. If that wasn't enough, rather than haul, this one hauls people in style. Midnight Rider just happens to be one of the world's heaviest limousines.
It is 70 feet long and weighs approximately 25 tons. You can find it in the tractor-trailer limousine section of the Guinness Book of World Records. Interesting things about this limo… it was fabricated 90% in house. It also features H frame stainless steel construction and over 1,400 quality welds to keep it together. The interior is modeled after an old Pullman railroad car, so expect to cruise around in 1870s style when you book this limo for the evening. It's pretty steep, $1,000 per hour, but does include a five person crew!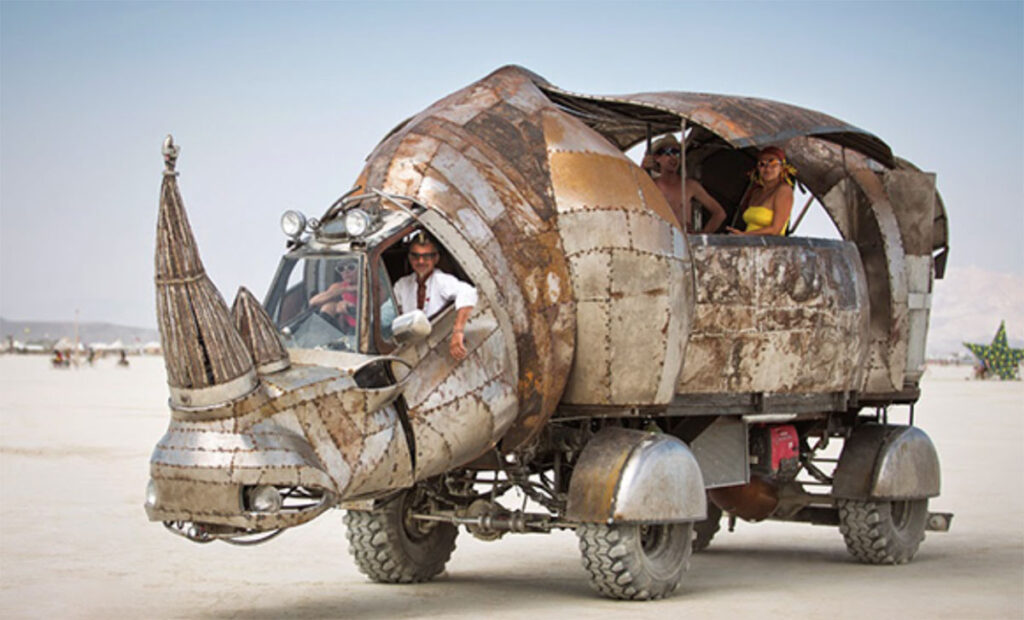 Amphibious Motorhome Car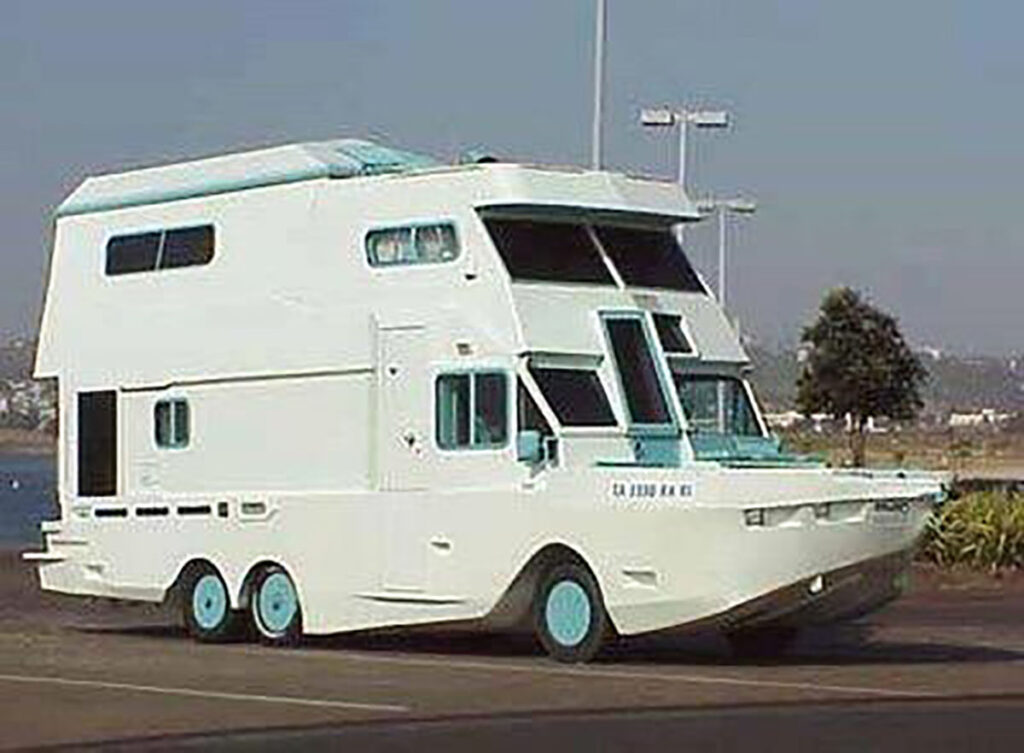 Let's call this a floater home rather than a motor home. You may laugh but this is actually brilliant.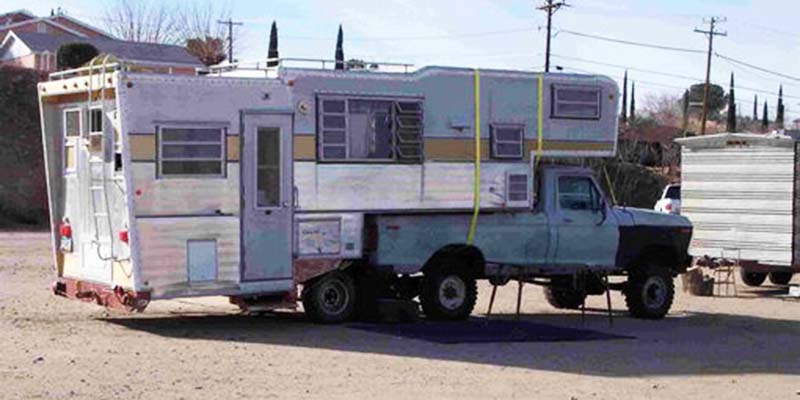 Rhino Motorhome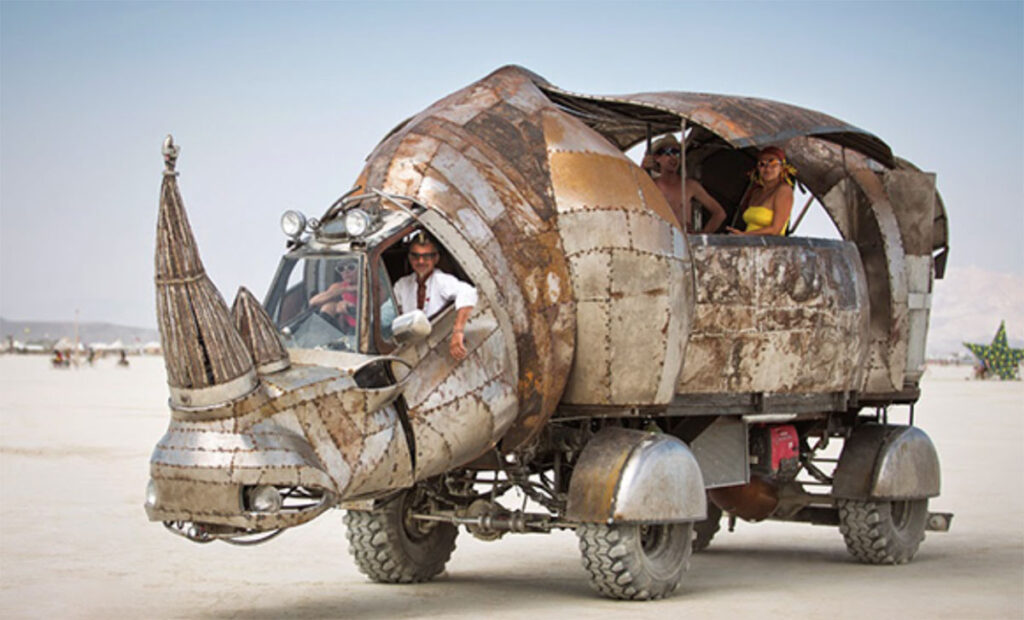 This "motorhome" was apparently spotted at Burning Man. If this is on the road it's going to turn some heads.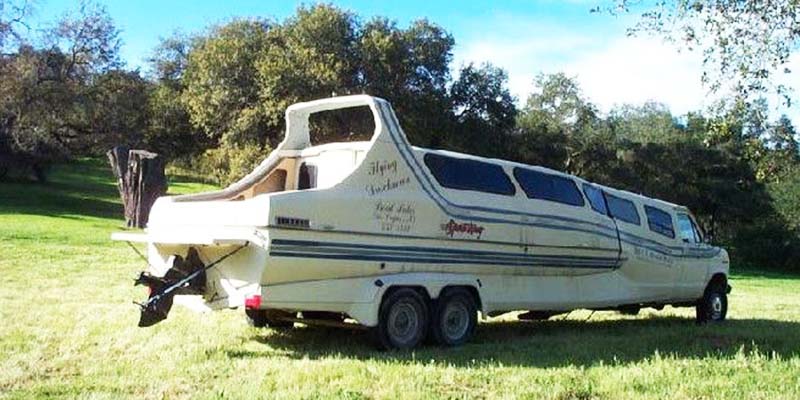 Custom Camper Truck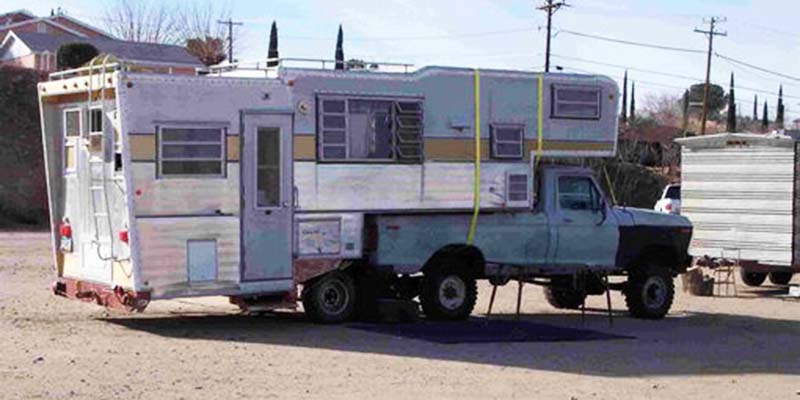 The question here is how many different components were involved in making this, motorhome, and I use that term loosely. This looks like one of those bad creations you would make out of Legos and scrap before ever considering it as worthwhile, even at the age of four or five. However, this enterprising individual decided that they should go for it, and they did.
They made their very own customized RV… if you can qualify it is as such. They took a pick up truck, mounted a trailer camper on top, then modified a pop-up travel trailer and welded it all together (we assume they welded it at least). There could even be a 4th component in there, too, I'm not sure just yet. It's weird, the more you stare at this, the more of an enigma it becomes. It's absolutely fascinating. Furthermore, keep going. This trip ain't over yet!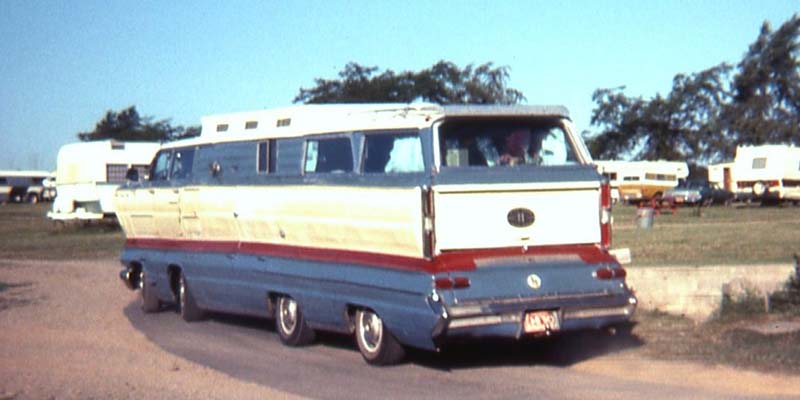 Custom Boat Motorhome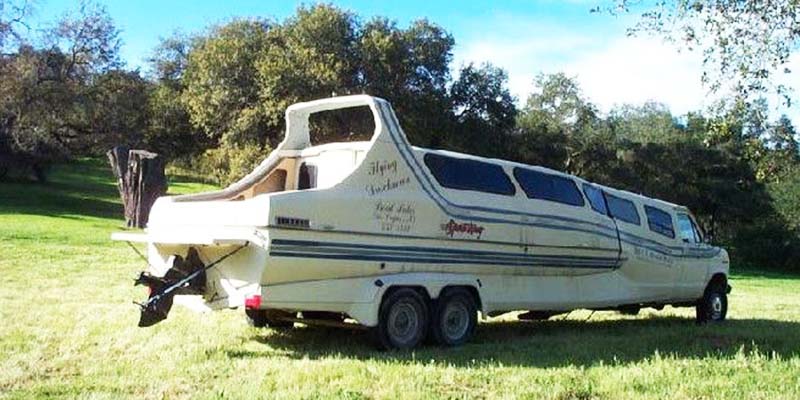 When I figure out exactly how this one works, I'll let you know. It seems like the owner of this motorhome couldn't decide if they wanted a truck, limousine, RV, or boat. It also seems that if you were this bipolar doing all of them at once is an option. He has plenty of horsepower for both land and sea, that's for sure. I never knew that to be the case, but knowing so now opens up several new horizons for me in other areas of my life.
So excuse me while I go knock on this guys boat/truck/motorhome thingy and ask him if I can ride/boat across the land with him while we talk about the finer things of life. I'm going to assume that list is fairly short, but we will talk still. Of course, that's all we will be doing because nobody else will dare set foot inside such a monstrosity.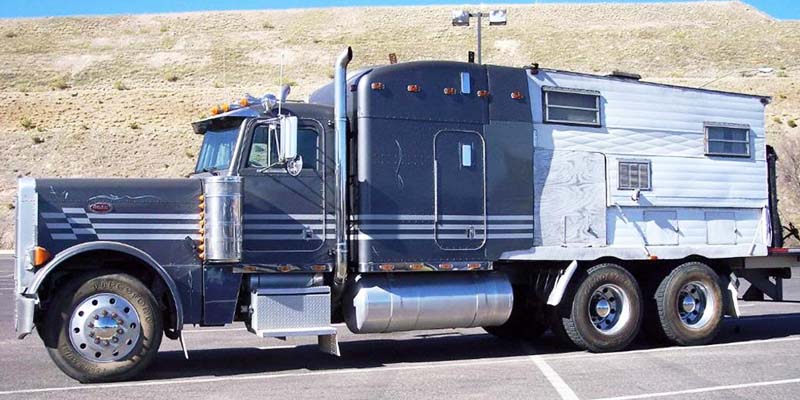 Buick Inspired Motorhome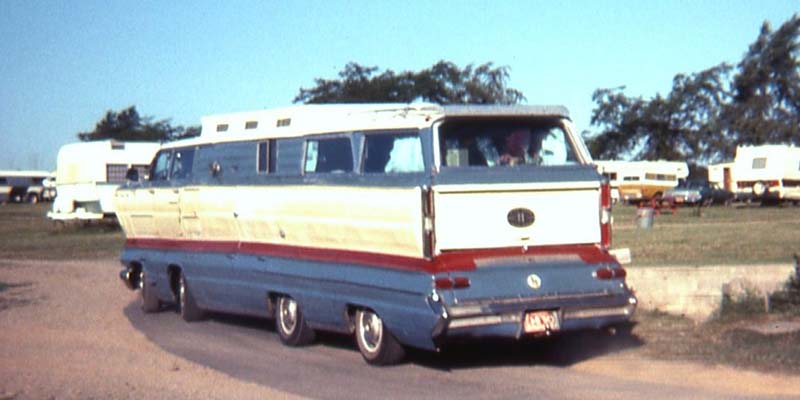 The next time someone asks you how to bury a hearse, show them this RV as your answer. It seems like you have a mish mash of several ideas going on here, in a 1962 Buick frame of mind. At least three old Buicks were used to make this wonderful motorhome. Then, when they were all put together, the end result resembles a large metal casket for a hearse! It's only fitting though, right?
I mean after all the years of carrying the dead around it has to take a toll on you. When it does, what do you do? If you are a person you can't just sit there. No, the show must go wine. You reincarnate yourself as a double stacked 1962 confused Buick RV and maintain present course until you find your lot at the RV campground. Either that or until someone dies, then you have to drive away and it's back to business as usual. Such is life, such is death.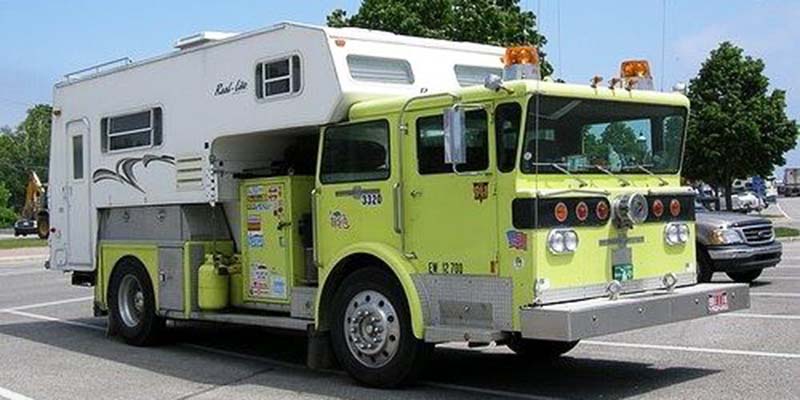 Semi-Truck Camper Conversion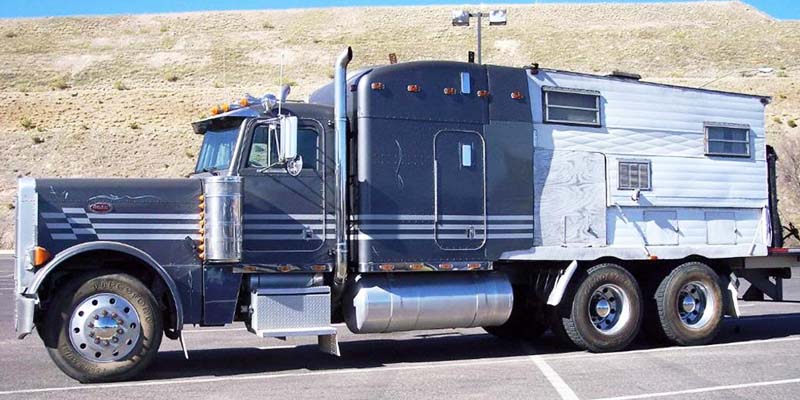 First there was Pac-Man, then Pac-Man Junior. Next there was Donkey Kong, then Donkey Kong Junior. Then there was the Kingsley coach truck limousine we ran into way back at RV #10, and now this version… The Kingsley Junior, as we like to call it anyway. If your truck fails to pass inspections for hauling freight, then I guess this is always an option. And while the truck might appear cartoonish and small, you still wouldn't want to mess with it.
Let's be honest, that's a Peterbilt semi truck as evidenced by the badge on the side. This means this recreational vehicle can certainly run over you and whoever makes it mad. And I'm quite sure it would have no problem doing it whatsoever. So make all the jokes you want to about this super extended sleeper cab wonder, just make them out of ear shot and you should walk away unscathed.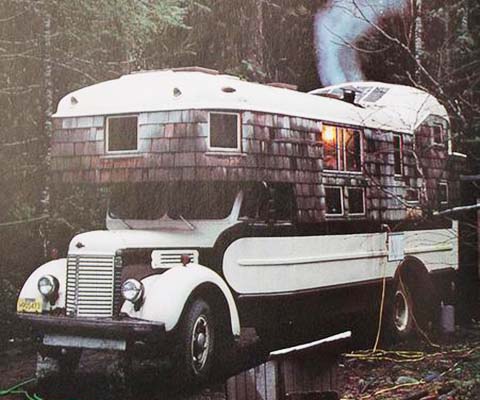 Fire Truck Camper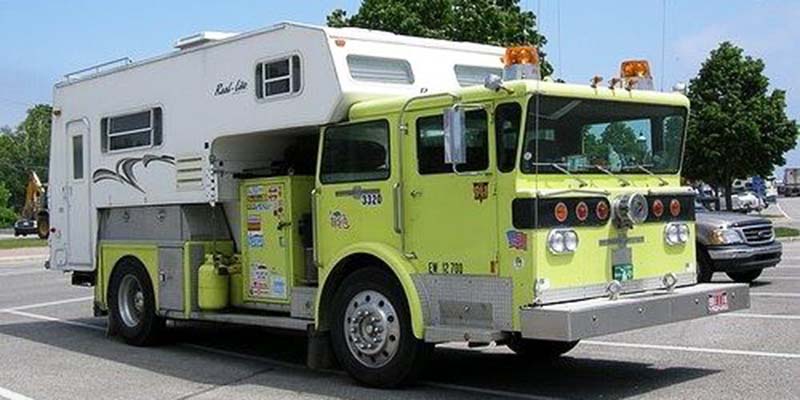 Another firetruck motorcoach. While this RV certainly is an improvement over the previous one we saw, it still lacks the hose and siren needed to get the job done. However, the two yellow lights are still intact as well as the front light smack in the center of the vehicle. Why you would want to do this to a fire truck, we don't know. Maybe it's a way to carry the other firemen around in style while in route to an active situation.
It could be a conversation piece for the local community. Yet, more likely, this RV was birthed out of love by a fireman who is truly married to his job. It doesn't get more passionate than this guys, nor does it get more awesome. Don't kid yourself, you would love to take that thing out for a spin and take notice of everyone noticing you and your fiery RV.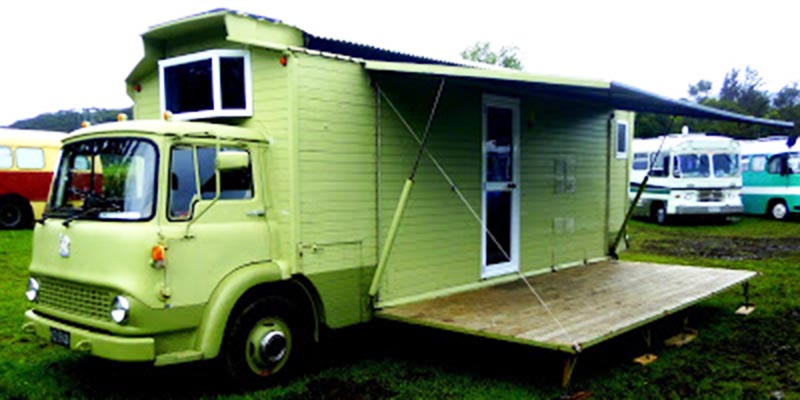 Custom Bus Wooded RV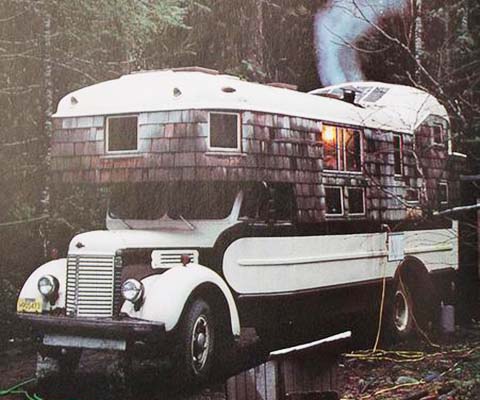 This. There's so much we can say about this. This is awesome. It's pretty incredible. It's an RV wonder for the record books. So you want to go camping? No problem! Simply fire up your Rolls-Royce inspired bus/camper motorhome and head off toward your wooded RV camping pad of choice. Once you are safely located on the lot, fire up the wood burning stove inside and get dinner going. Once people can identify the smell and the source, the vehicle will draw them in. And that's how you make instant camping friends.
Who could resist? It's one of the most beautifully spectacular designs we have seen! The cedar shake shingles on the side are the icing on the cake for the whole contraption. It creates a camping vehicle that is classy, woodsy and stylish all the same. It looks like something James Bond would take on vacation, the Sean Connery James Bond, not Daniel Craig.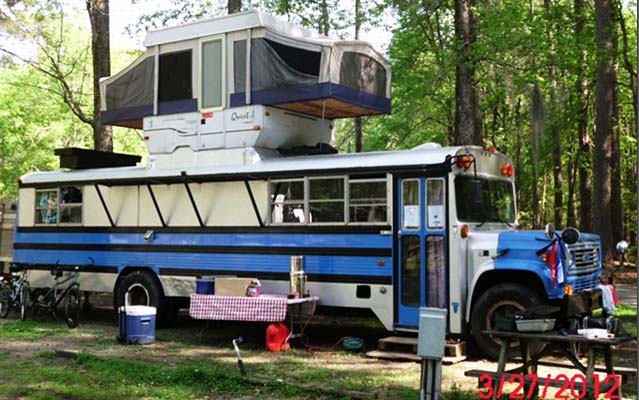 Custom Patio RV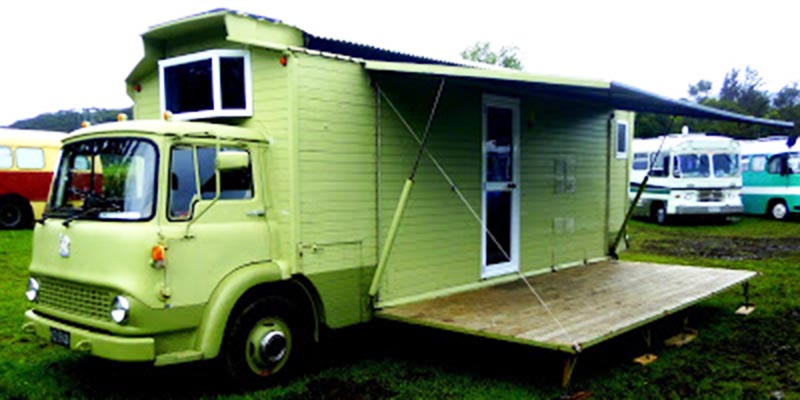 This is perhaps the best tiny house you have ever seen. The best part, all you have to do is find a local campground and hook up. That always seem to be the sticking spot for me when it came to tiny houses. Sure, they are much like living in an RV, only a little more dressed out. However, you have to find a place to permanently park it. With this one, you simply hook up the "flying tortoise", as this truck is known, to the motor home pad and you are camping in style!
I have to say, I wouldn't mind this when needed. Maybe it's the green paint that evokes a bit of nostalgia, or the sweet drop-down porch and pop up awning. Whatever it is, this individual certainly did a fantastic job. One of the best marriages of classic truck and RV to speak of. Wait until you see the next one though. It is probably the best one of all!
Pop-Up Camper Bus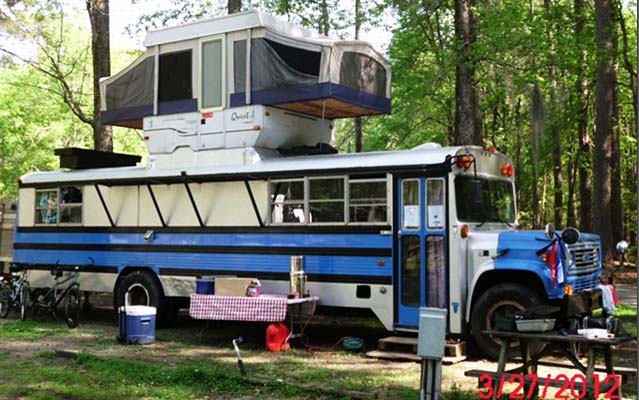 She said I could go to the government liquidation auction and I returned with this awesome RV, complete with a pop-up camper mounted to the top. And that's how the fight started… as the story goes. I bet they didn't fight long though because this is just plain awesome. Think about it. If she gets mad at him she can kick him out of the house for months at a time and he'll be fine. He has all of the living space one could hope for, and an extra room up top in case he doesn't feel like cleaning up for a few days, or just wants to experience college dorm life all over again. All kidding aside though, this RV concoction is pretty stinking awesome, and we have seen a lot of stinking awesome RVs on this list.
It just shows how creative we are as people, and how clever we can be with spare parts. One man's junk might be another man's treasure, or one man's junk could be parts for another person's dream RV. You never know until you try, just like the guy in number 21!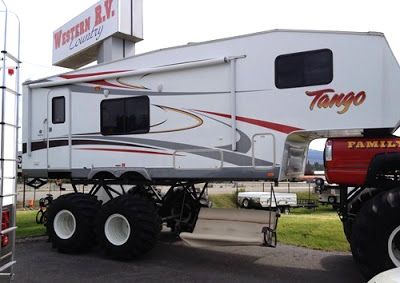 Woody Trailer Camper
The perfect setup for those who love to fish. This is technically a camper but it's so cool it gets a pass.
Extreme Off Roading RV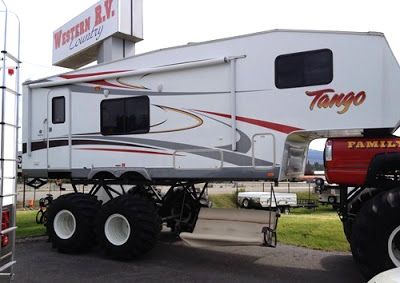 You never know when you need to take your motorhome off-roading and when you do, you'll wish you had this mud-ready RV. Notice the mention of 'Family' on the side of the truck. Nothing says family like a trip into the unknown in a tricked-out camper.
Well that wraps it up. We hope you enjoyed this massive list of 30 ridiculous motorhomes. Always remember that some of the best trips happen on the road and that a good motorhome, RV or camper is an excellent way to make some memories. If you enjoyed this list please share it with your friends.