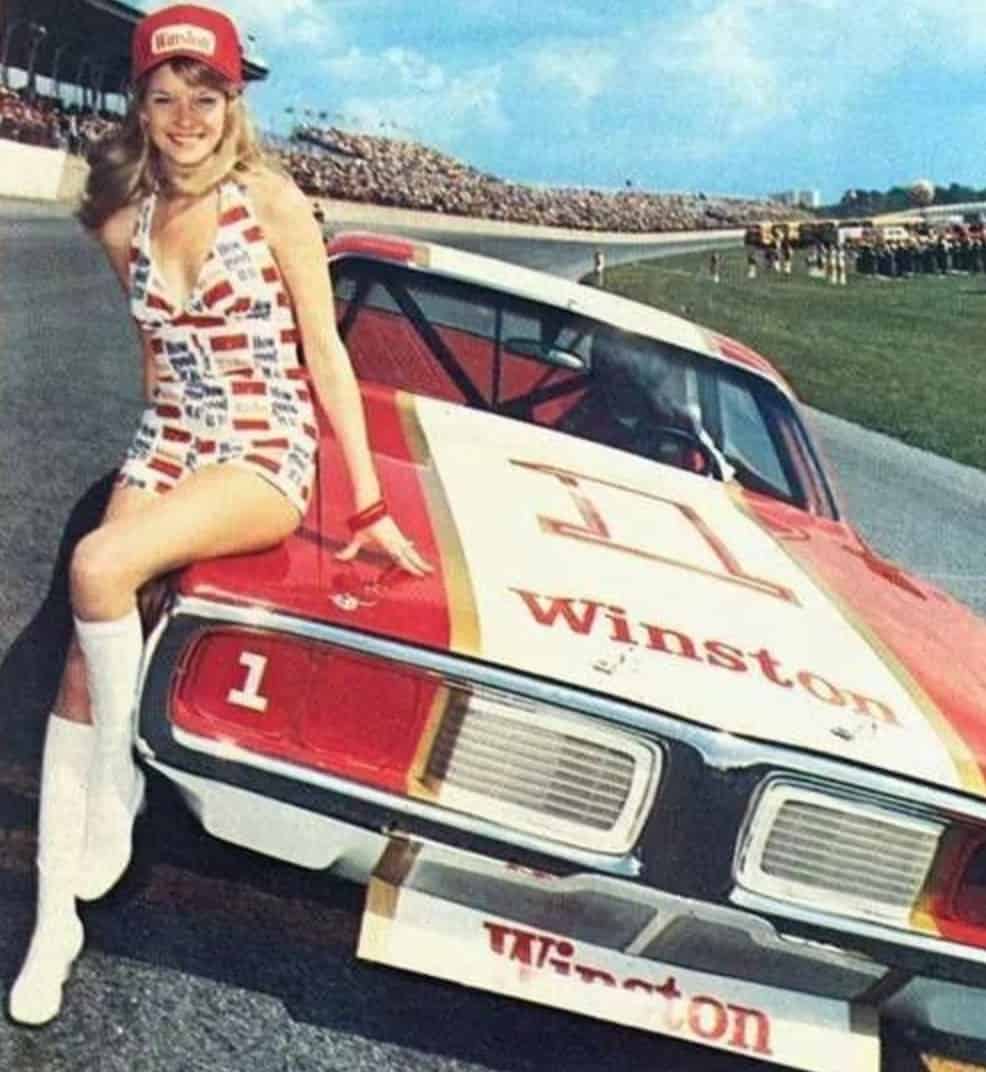 Back when racing was racing, not politics and team sport, these images were taken – unapologetically. Some might call them classic, vintage, antique, whatever you want to call them – we call them awesome. From Dale Earnhardt's first Daytona win, to the first lade of drag racing, to Richard Petty or Marketing in NASCAR. One thing is for certain. These are some of the most amazing images ever taken from the glory days of racing. See some of your favorite racers and cool pics from the winner's spoils. They just get better and better as they go on! So without further ado, please check out all of these amazing photos and let us know which ones are your favorites. We hope you enjoy!
Dale Earnhardt Wins His First Daytona 500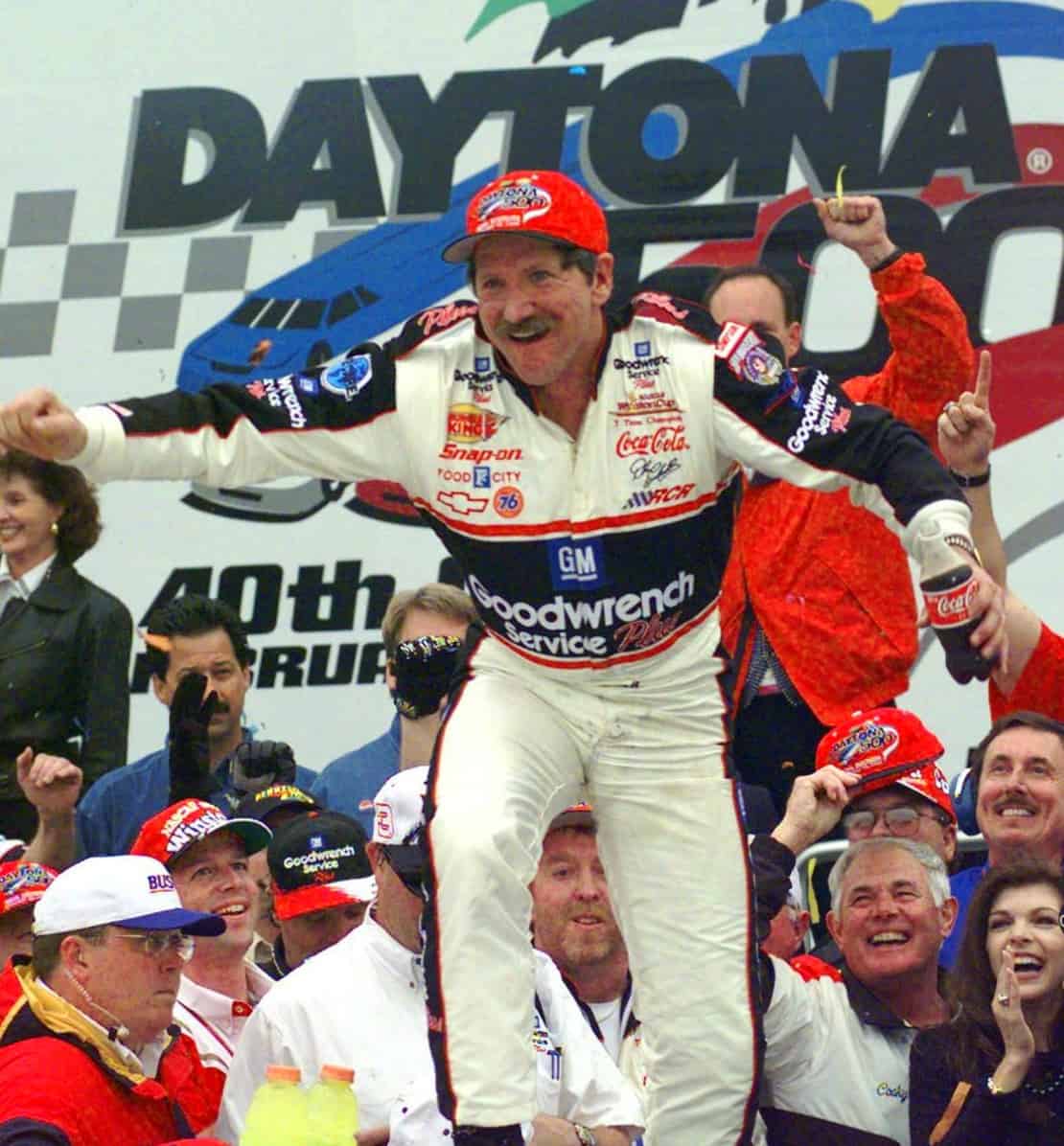 One of the greatest racers of all time, Dale Earnhardt is an icon. He's won all over the country but none were more special to watch than his victory at Daytona in 1998. His untimely death shook the world of NASCAR, but the elation seen on his face here is what we'll always remember about him. It was his first Daytona 500 victory and he died three years later, during the final lap of the 2001 Daytona 500.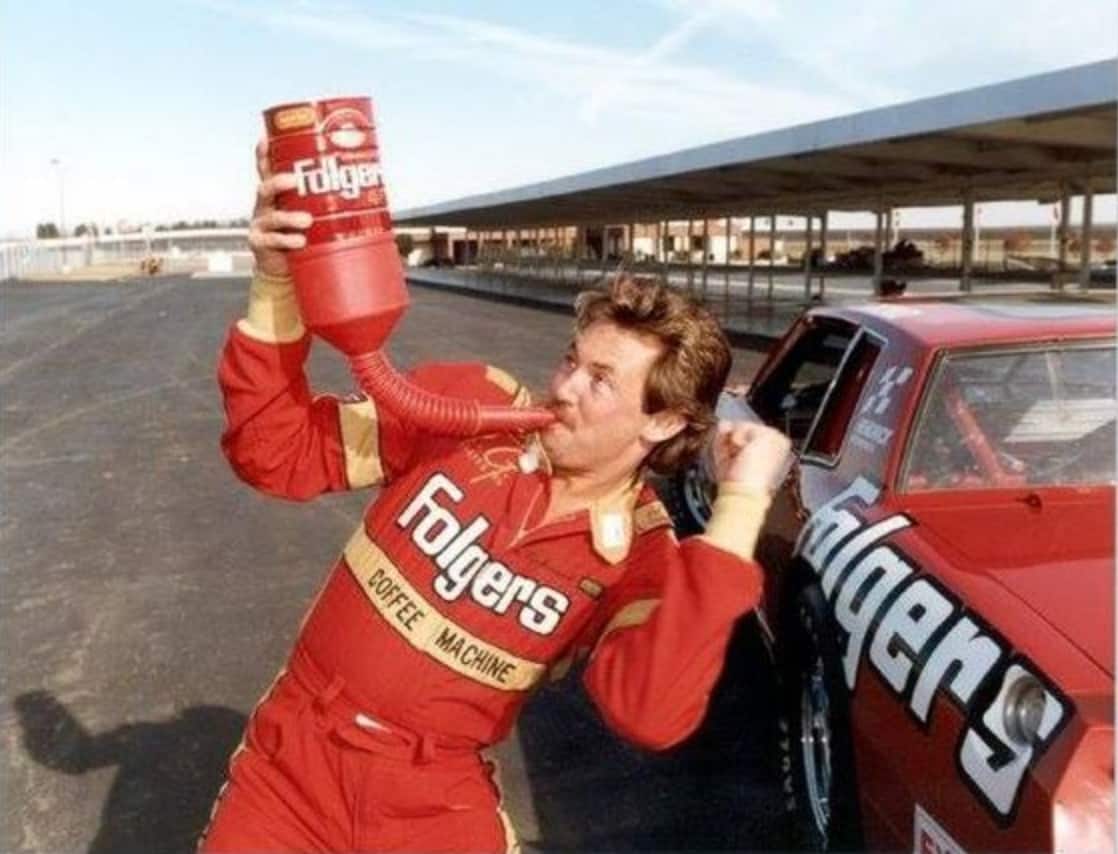 Winston Cup Series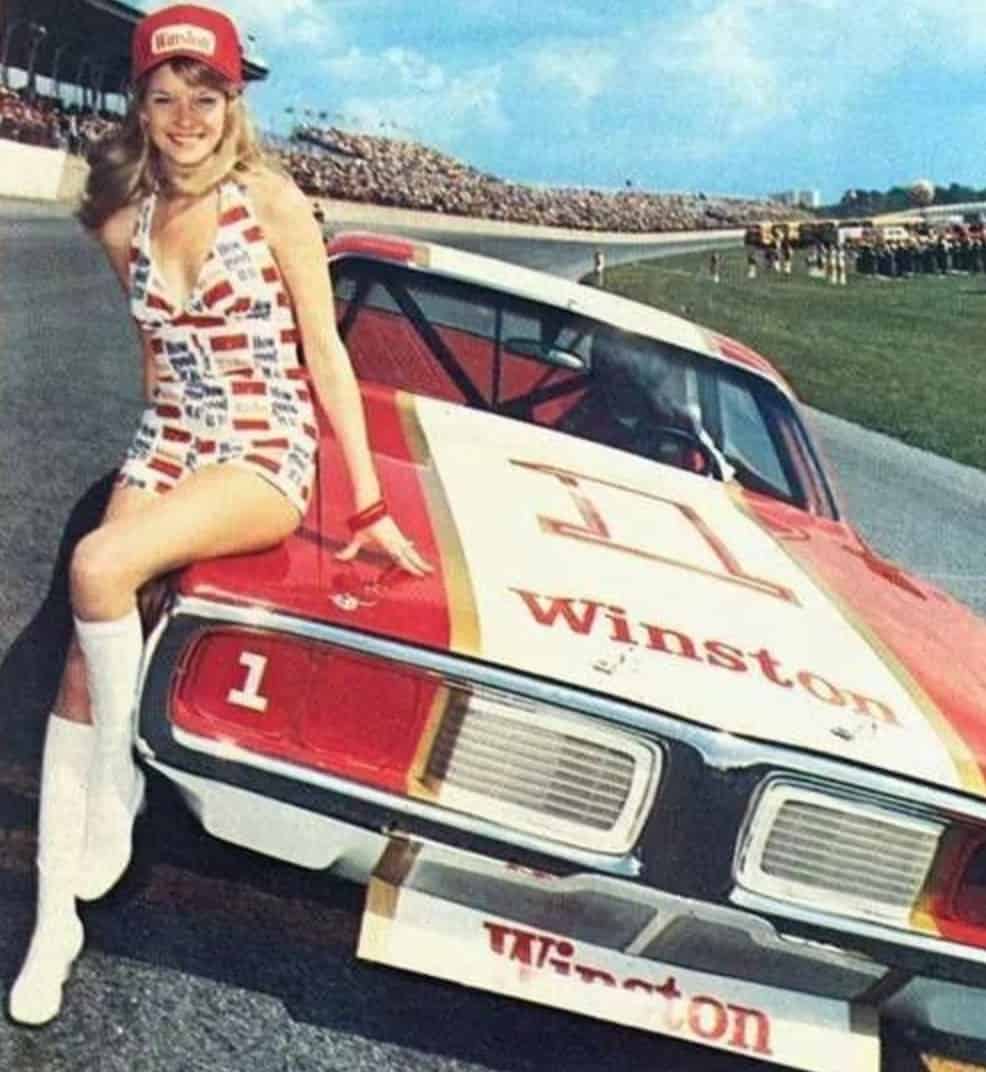 The sport of NASCAR may have never had better days then when racers chased the Winston Cup. From 1971-2003, the Winston Cup represented the glory days of racing. Richard Petty's and then Dale Earnhardt's stardom, alongside television broadcasts, put the Winston Cup into every home across the country in the 1970s. However, people were worried that a cigarette brand as the main sponsor was a bad look for NASCAR. This led to the name being changed the NEXTEL Cup, then the Sprint Cup, and now the series is called the Monster Energy Series.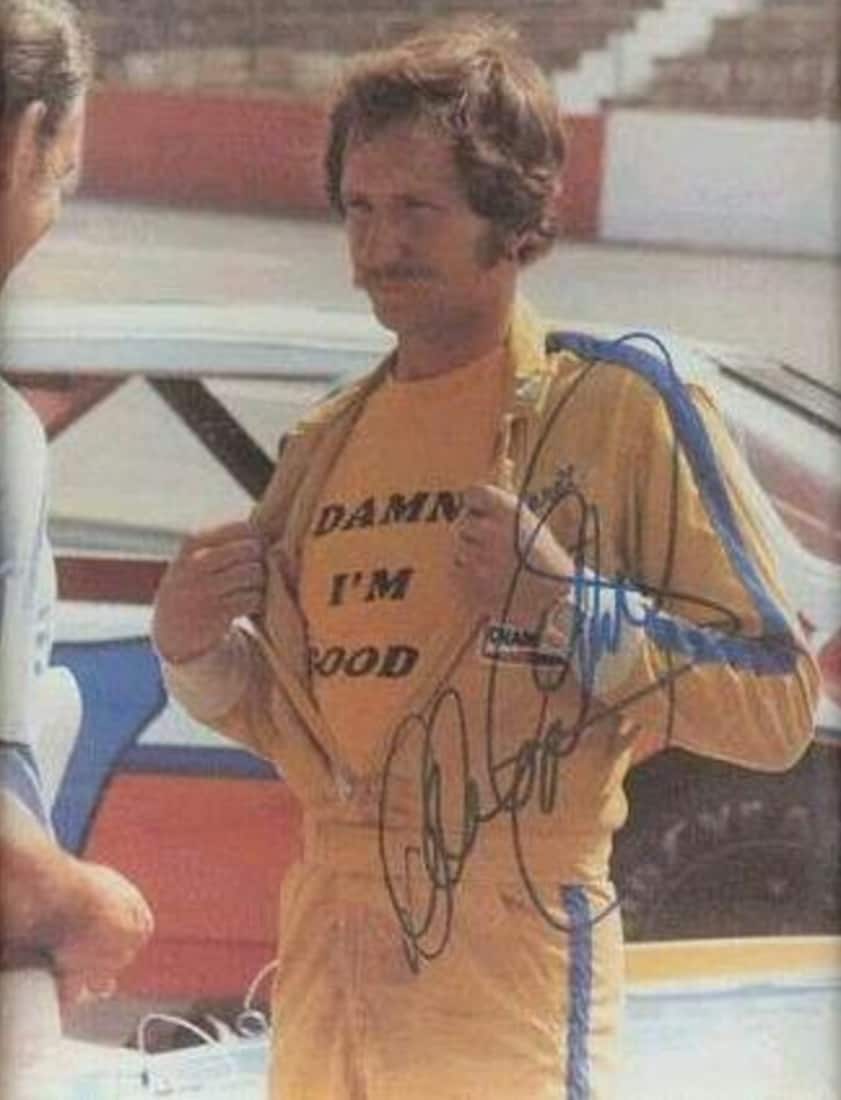 Coffee Machine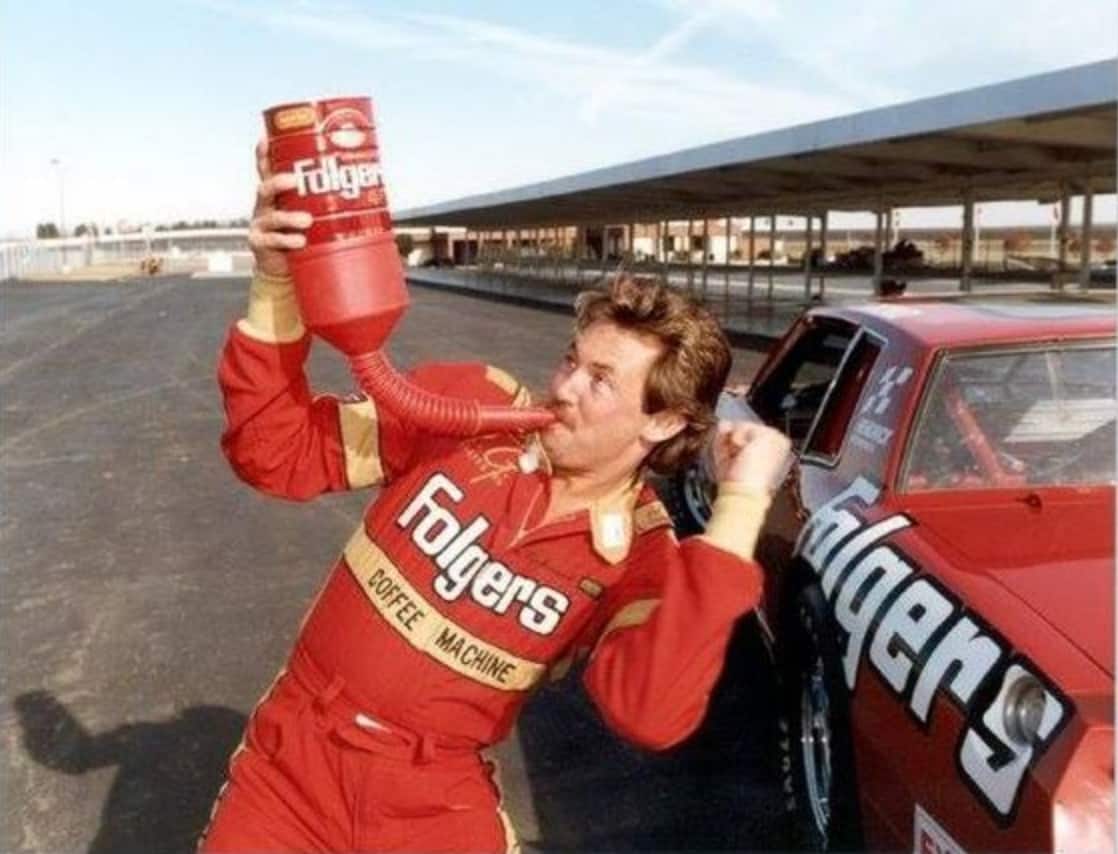 Tim Richmond was an American race car driver from Ohio. He was sponsored by Folgers. He was an IndyCar racer before becoming a NASCAR staple. Richmond was a pioneer because he changed from open wheel racing to NASCAR stock cars full-time. Since doing so, many have followed in his path. He won the 1980 Indianapolis 500 Rookie of the Year award and had 13 victories during eight NASCAR seasons.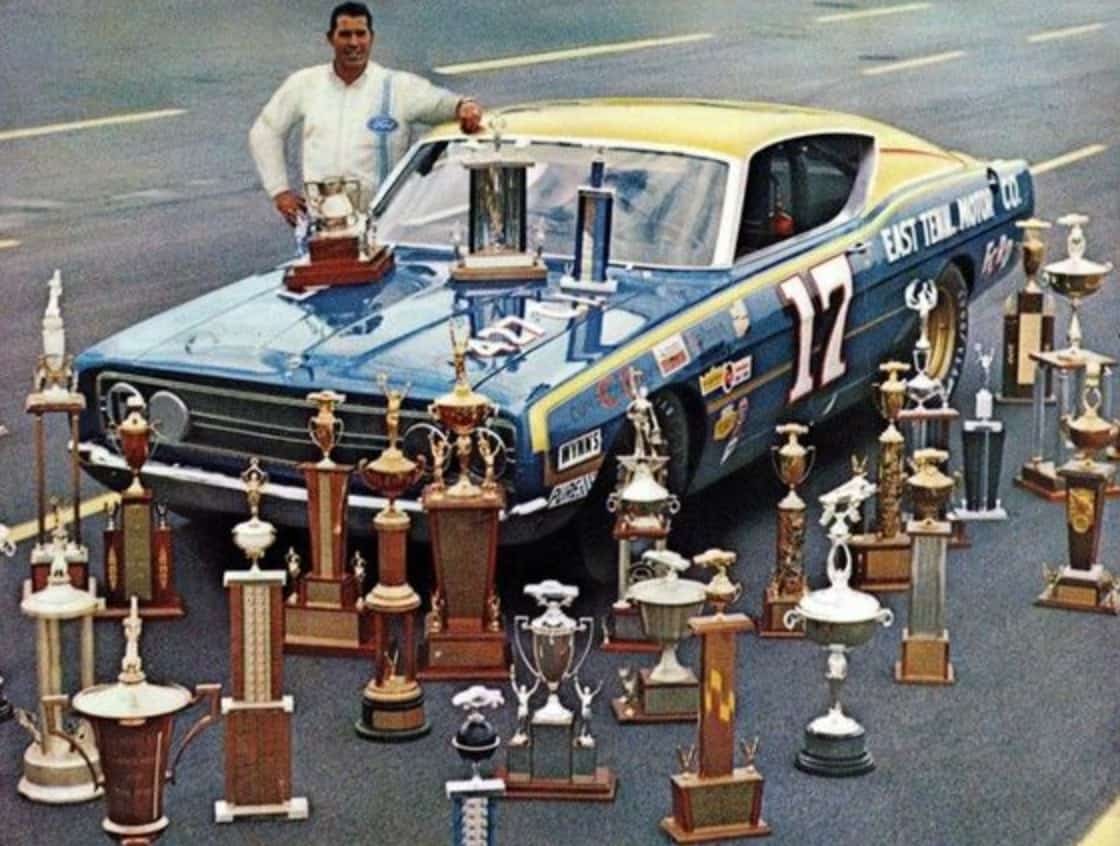 He's Not Wrong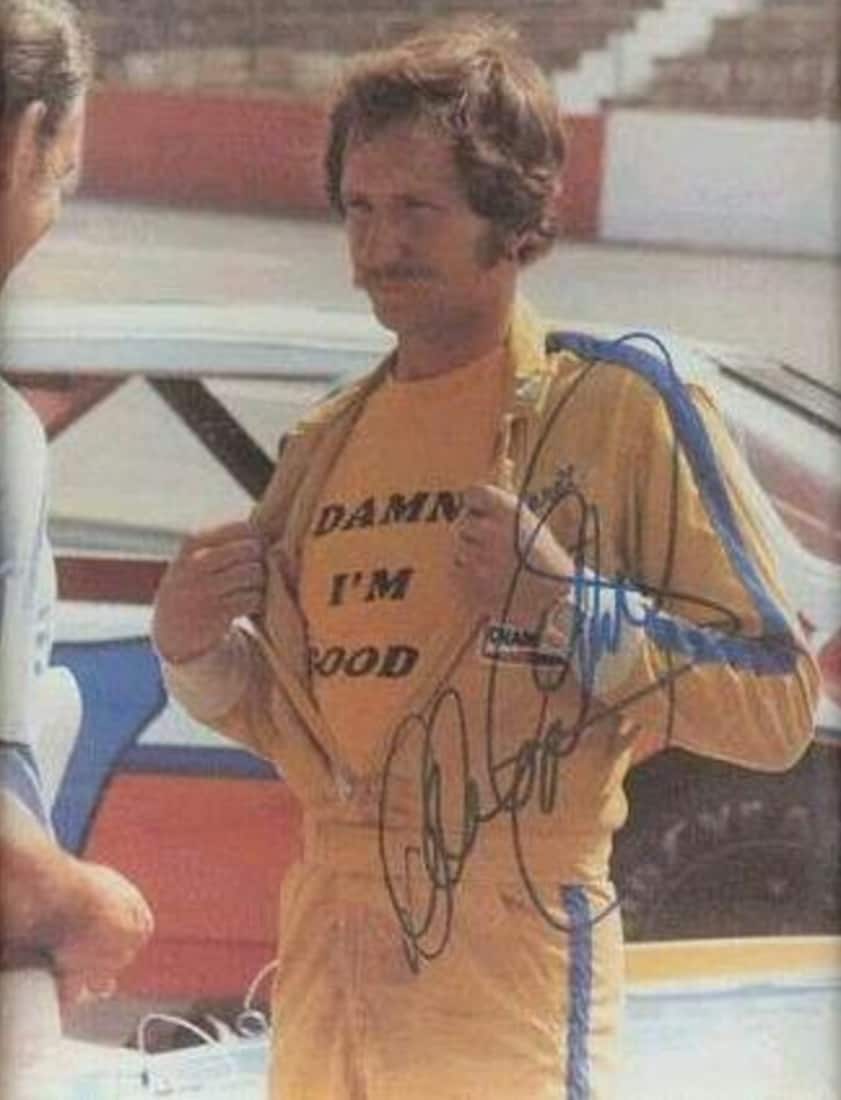 Dale Earnhardt wasn't cocky, but he definitely knew how good he was and how much natural talent he had. His 'Wins List' is longer than most racers' career starts! Dale started racing professionally in 1975 in the World 600 as a part of the Winston Cup Series (which he won 7 times). He continued racing until his tragic death in 2001.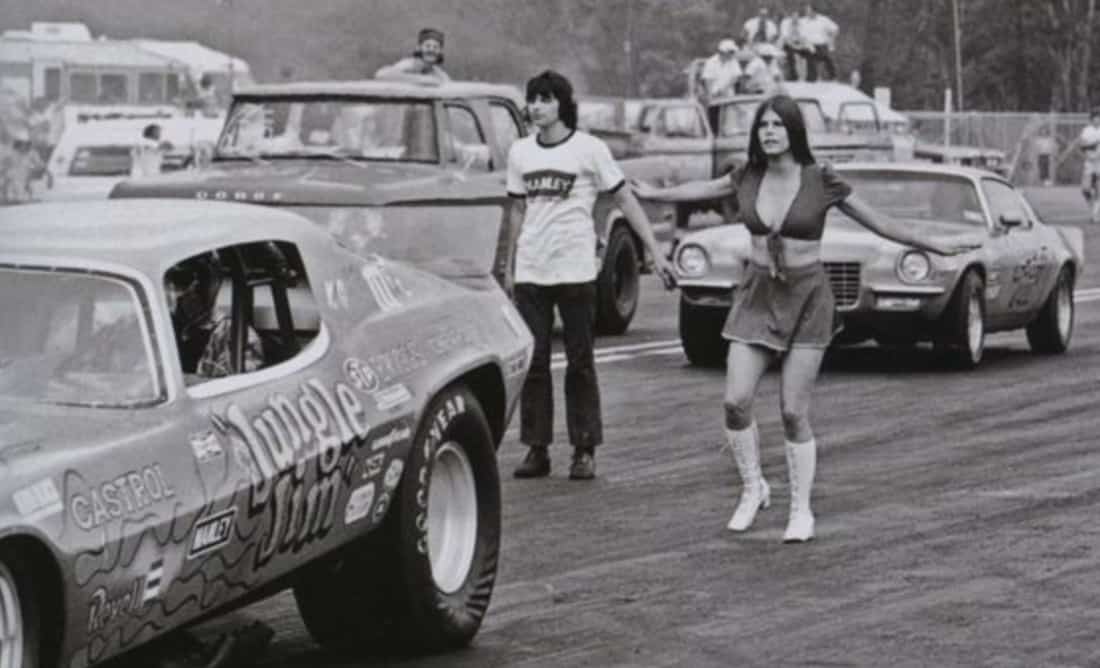 Victory Lane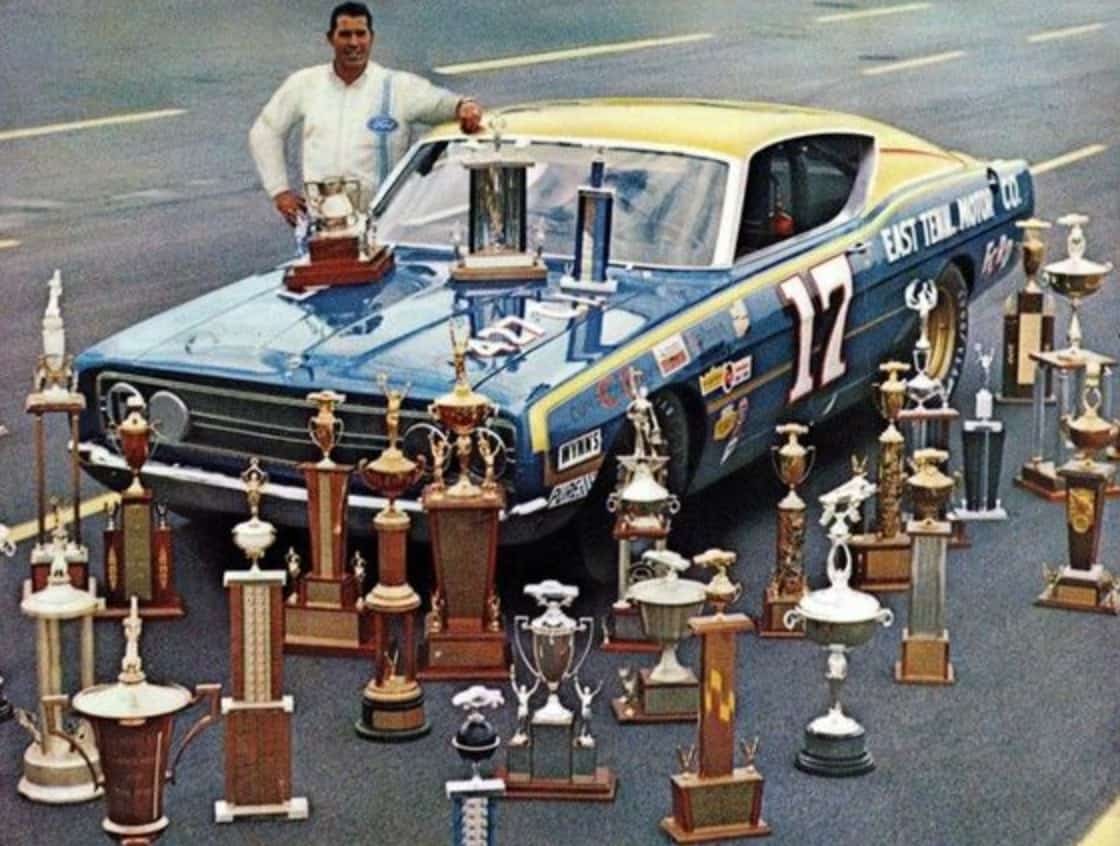 Here's David Pearson with his hardware. If you can't tell…he won a lot of races and series. Including but not limited to: 1966, 1968, 1969 Grand National Series Champion, 1976 Daytona 500 Winner, 1976, 1977, 1979 Southern 500 Winner, 1961, 1974, 1976 World 600 Winner, 1972, 1973, 1974 Winston 500 Winner, NASCAR Triple Crown Winner (1976), Led Winston Cup Series in wins in 1966, 1968, 1973, and 1976, Led Winston Cup Series in poles in 1964, 1968, 1973, 1974, 1975, and 1976, 1960 Grand National Series Rookie of the Year. Pearson was named one of NASCAR's 50 Greatest Drivers (1998).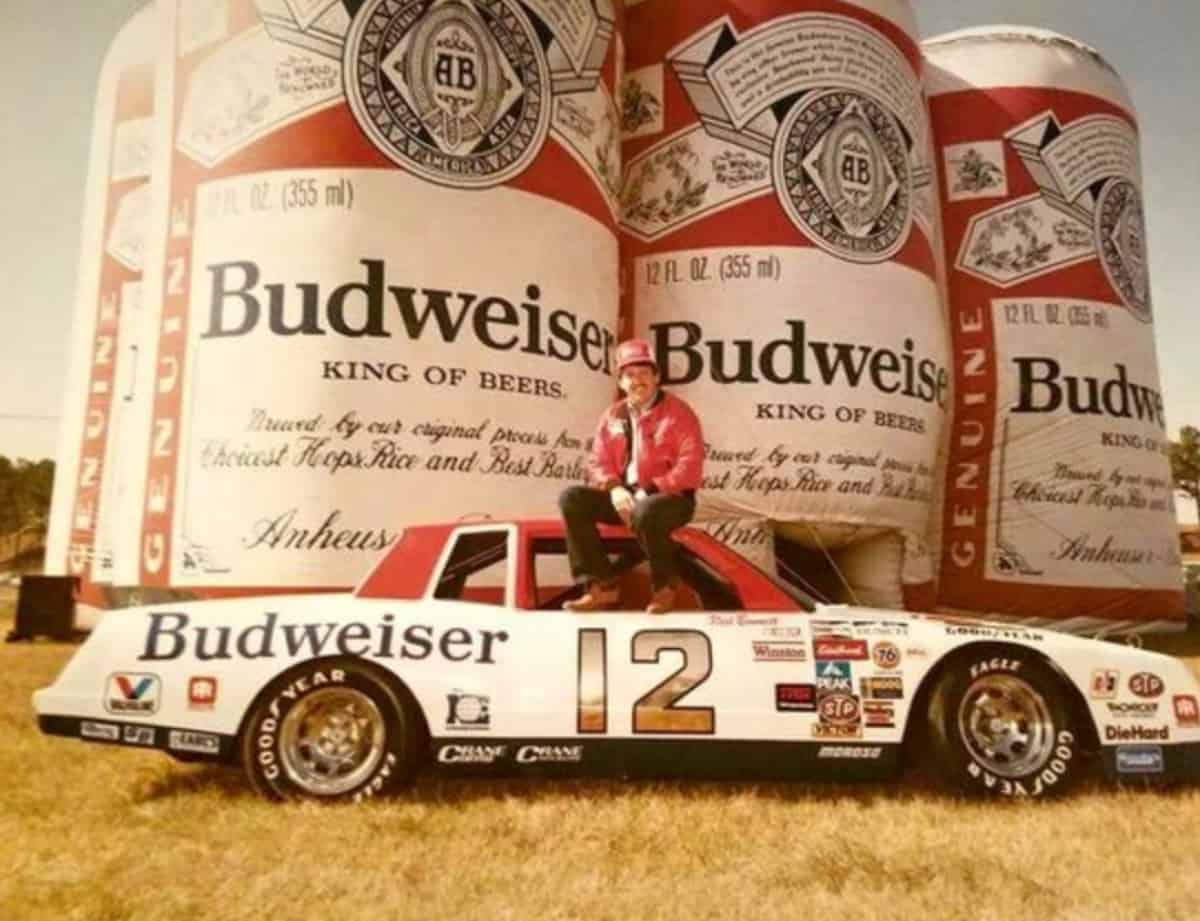 Jungle Jim and Jungle Pam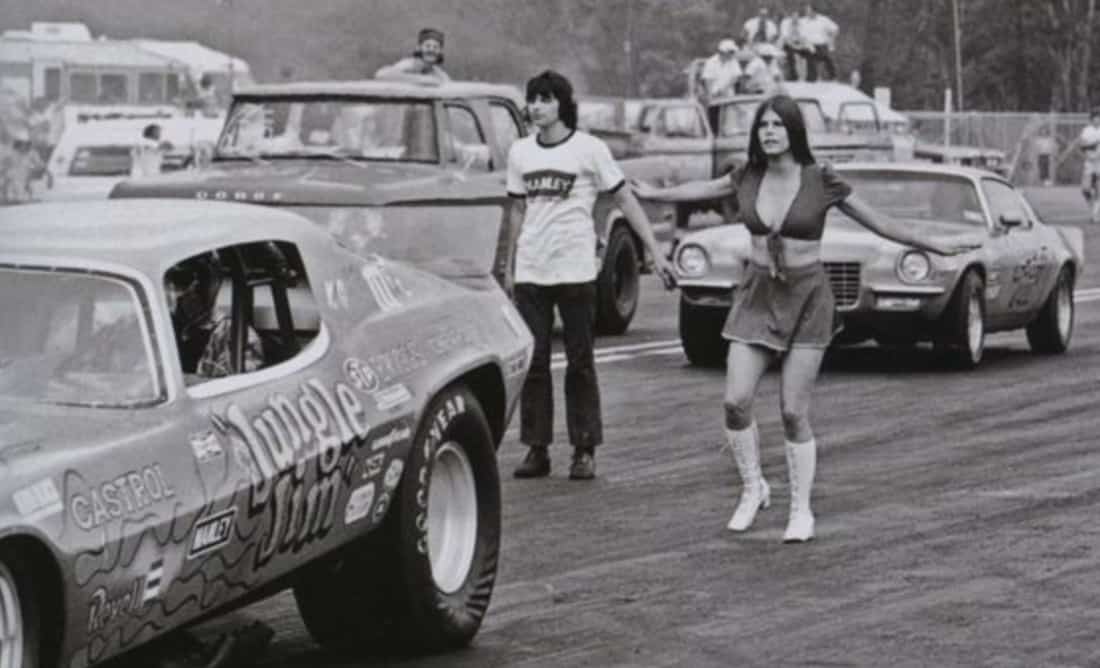 What a classic duo! "Jungle Jim" Liberman was a drag car racer who gained notoriety for winning races, but also for going over 100mph in reverse after races. He was almost always seen with his sidekick and promoter, "Jungle Pam" Hardy. Jungle Pam made a name for herself with her looks, outfits, personality and effective promoting techniques. As far as one-two punches go in the world of racing – Jungle Jim and Jungle Pam are up there.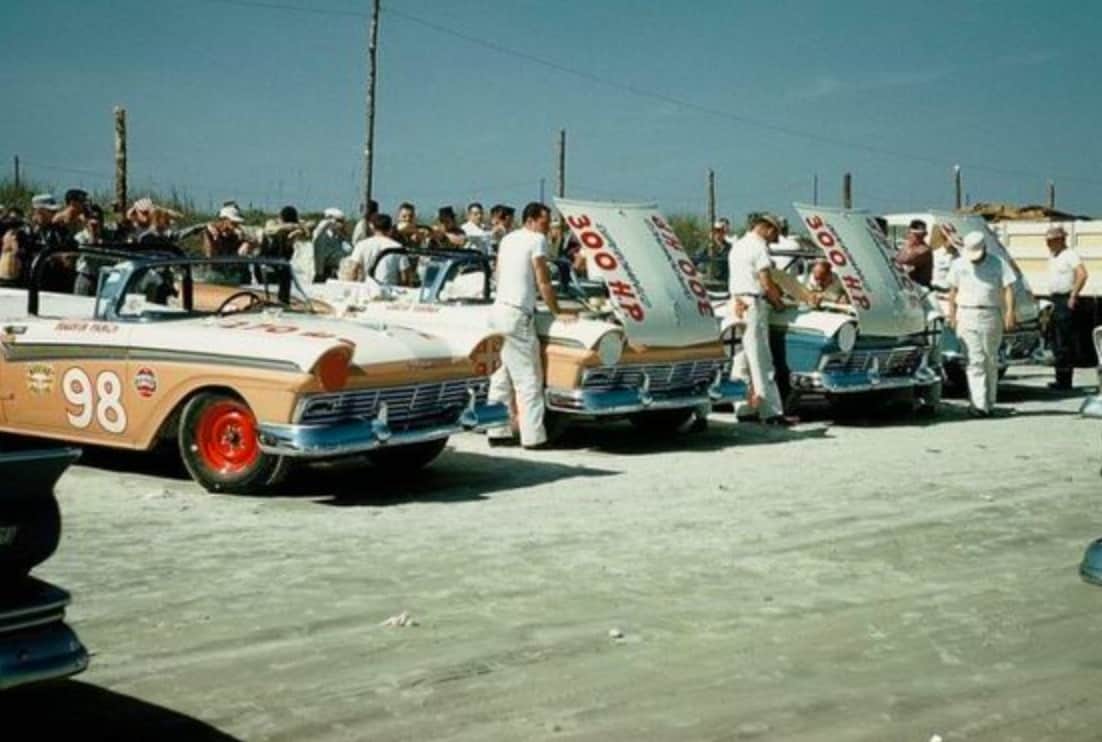 That's A Big 'Ole Six-Pack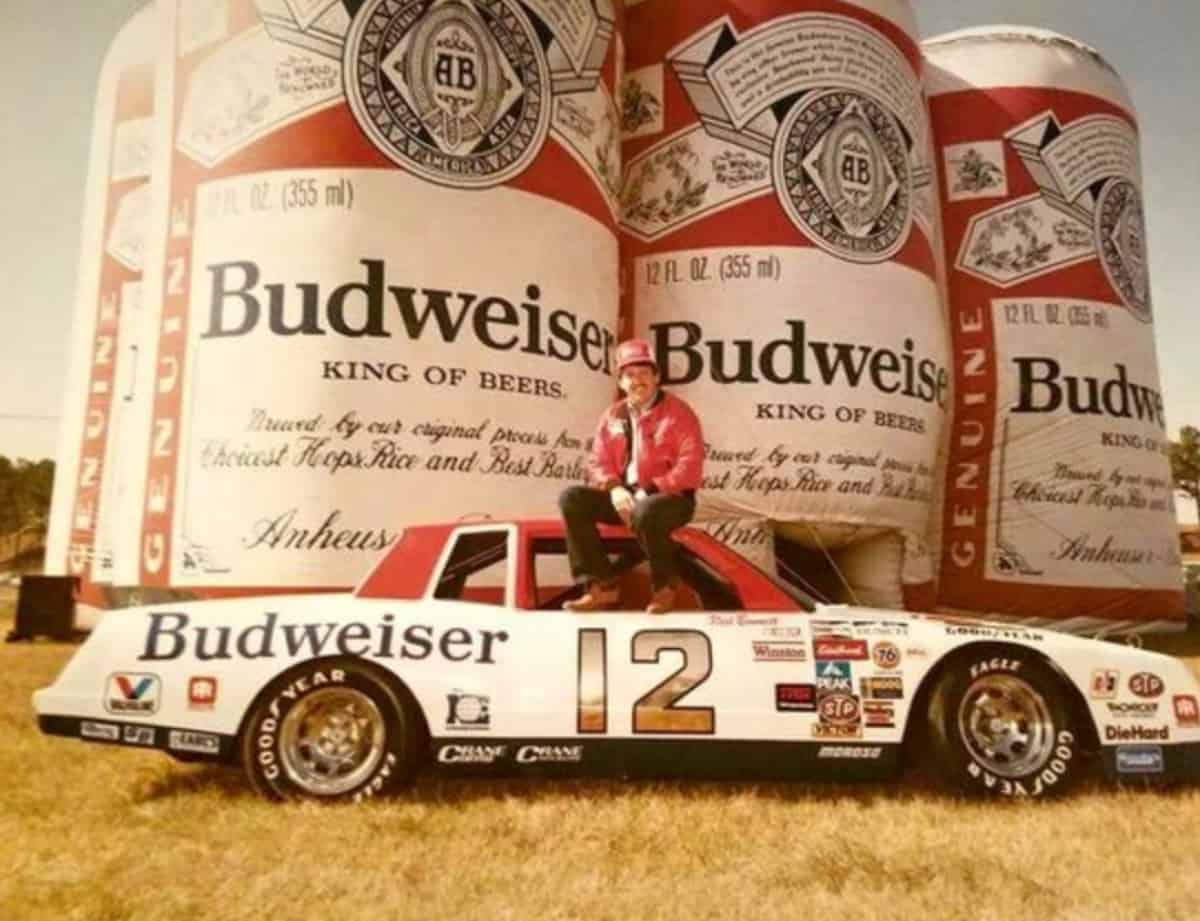 One thing we love about the glory days of racing was that every new marketing ploy was just that…new. Including massive inflatable beer six-packs. This picture shows Neil Bonnett sitting on his stock car and smiling at the camera for the Budweiser ad. He was one of NASCAR's 50 Greatest Driver's in the 1998 season. Many marketing photos were taken that year, but this one stood out among them all.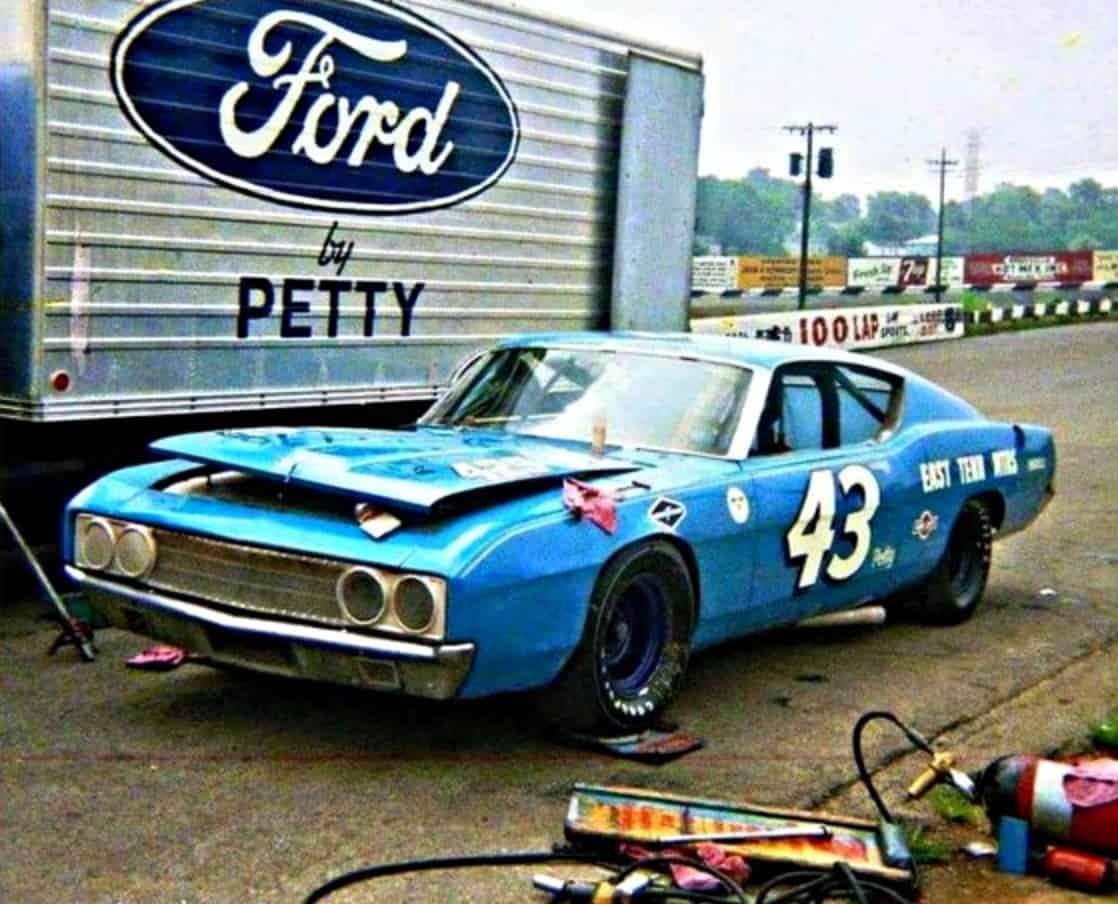 1957 Ford Fairlanes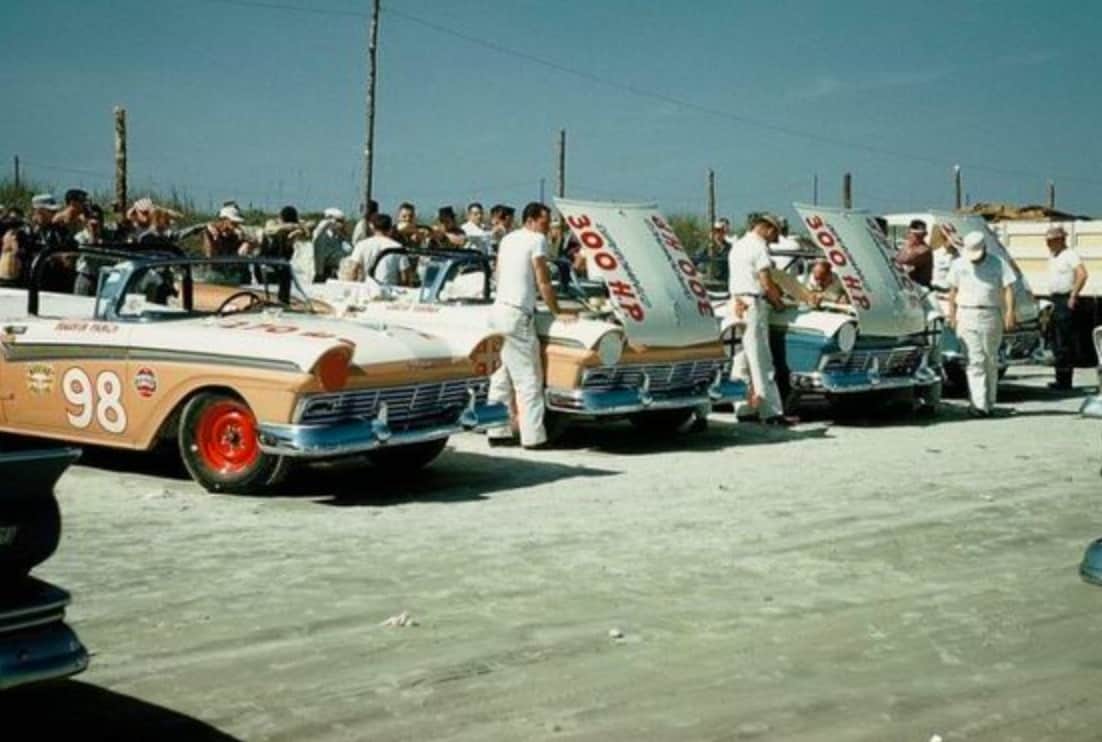 Roofless NASCAR was a beautiful thing. Seeing these 1957 Ford Fairlanes lined up and strutting their stuff brings back memories of how stock car racing began. These awesome vehicles included top-of-the-line power from a supercharged 312 CID (5.1 L) Thunderbird Special engine. As you can see on the hoods in the image above, that engine was capable of cranking out 300 hp. We love this image from the glory days of racing.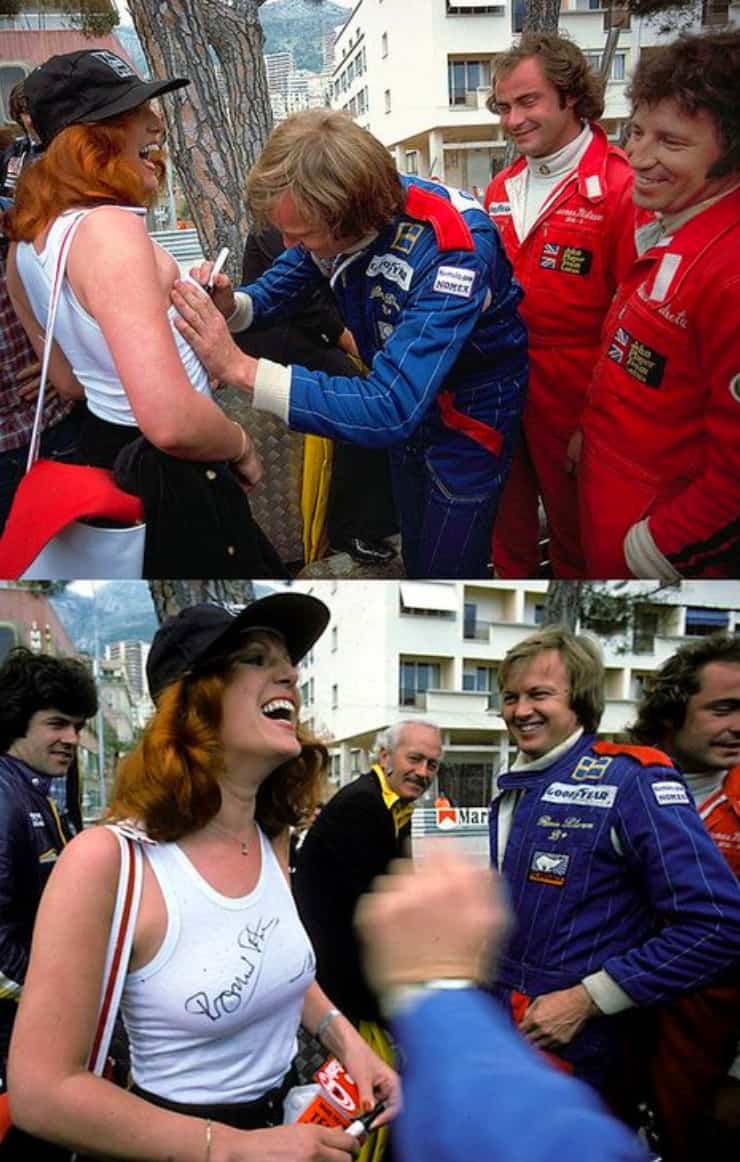 Richard Petty and a Ford?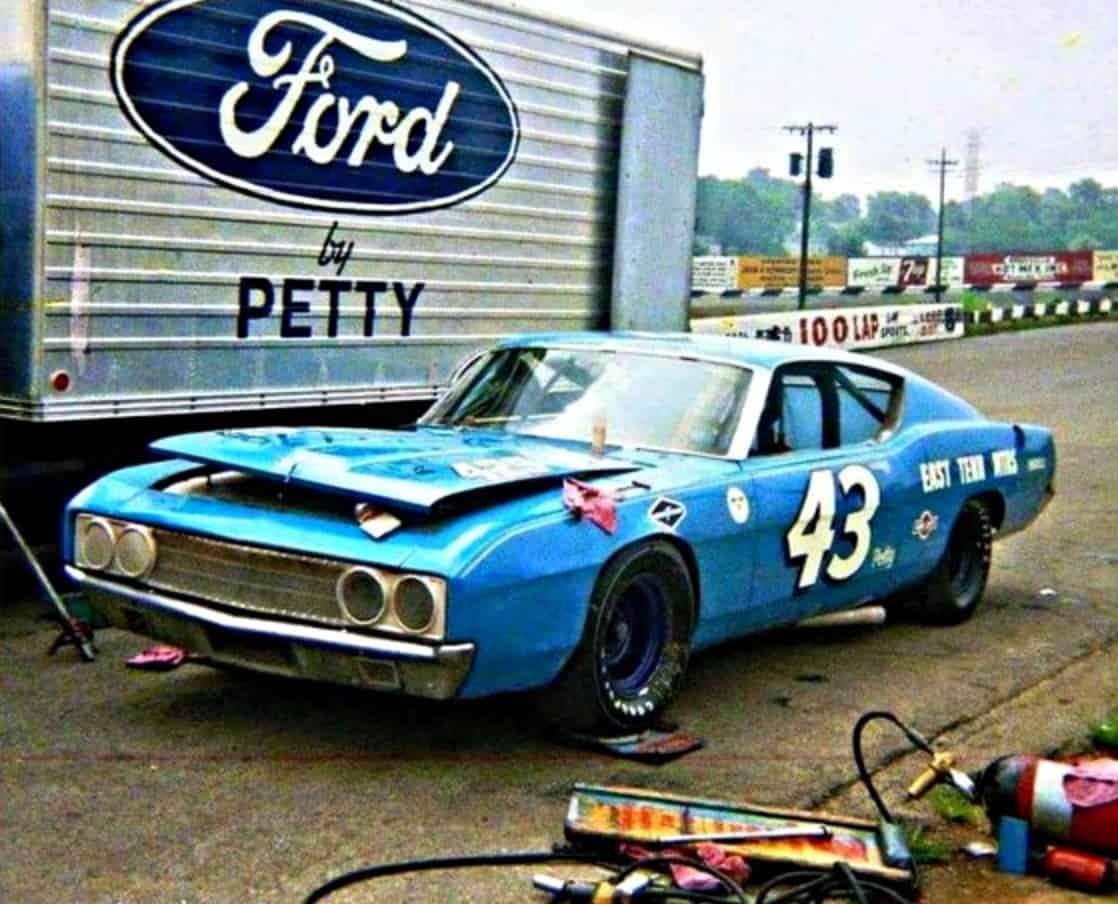 "The King" and Plymouth race cars were synonymous. Richard Petty practically made the brand famous, racing in Plymouth's all his life – except for one year. When the Dodge created the supercharged Daytona, Petty asked if Plymouth would create anything as fast as the Daytona in response. They didn't. They assumed Petty would never leave Plymouth. But in 1969, Richard Petty inked a deal with Ford. And that Petty Blue #43 above is the one year that Petty did not race a Plymouth.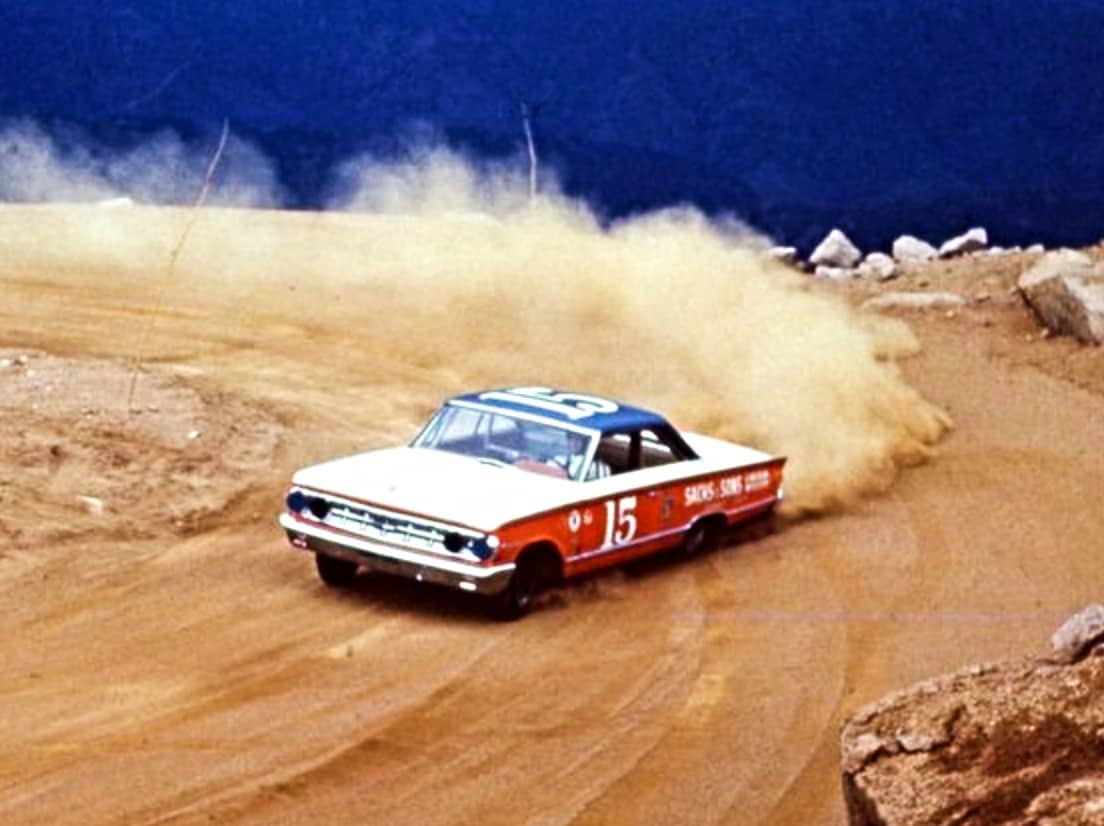 Can I Get Your Autograph?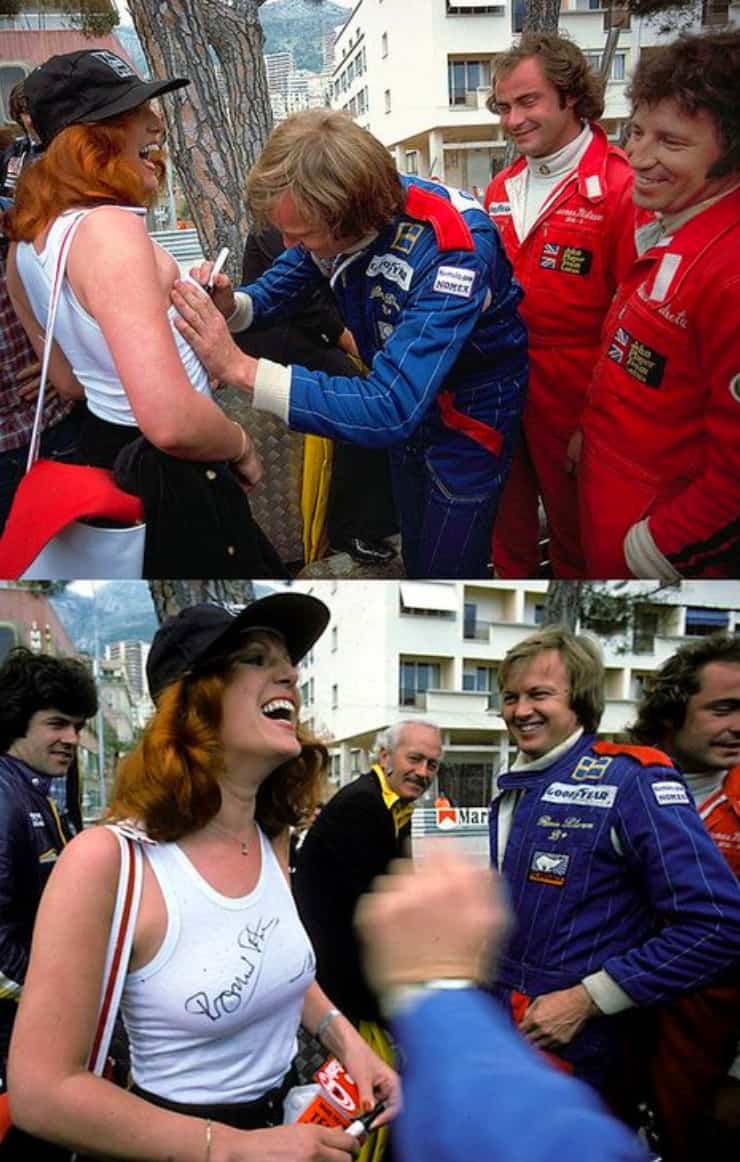 Ronnie Peterson was a Swedish racing driver. Known by the nickname 'SuperSwede', he was a two-time runner-up in the FIA Formula One World Drivers' Championship. Peterson began his motor racing career in kart racing, traditionally the discipline where the majority of race drivers begin their careers in open-wheel racing. He had a great sense of humor and was a fan favorite – as seen here.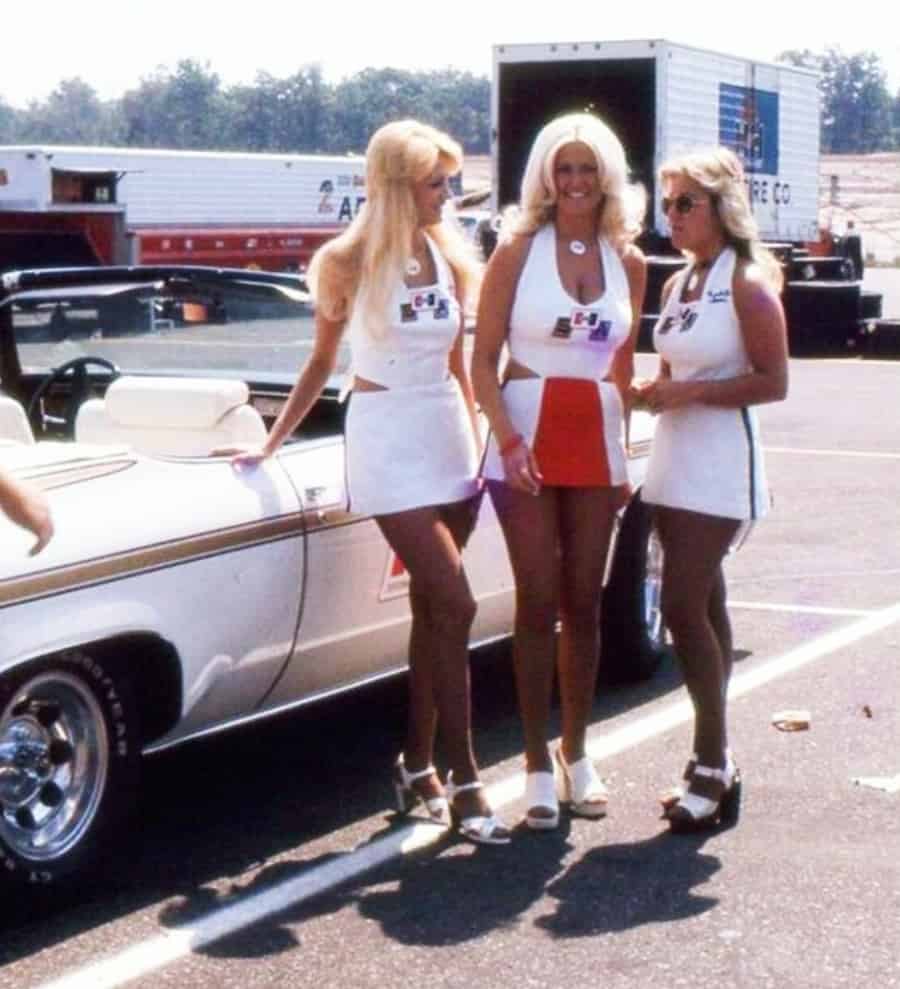 The Race To The Clouds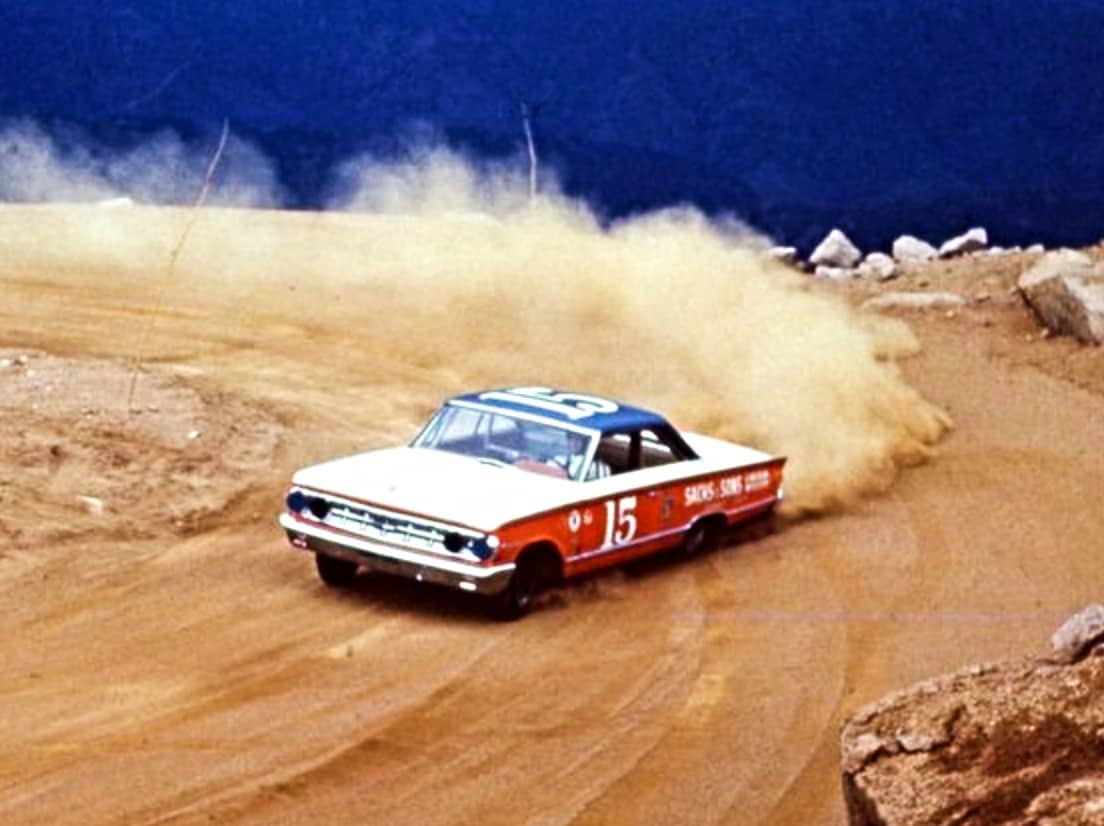 The annual Pikes Peak Hill Climb is a legendary race. The race is a 12.42-mile long uphill climb to the summit of Pikes Peak in Colorado. It climbs 4,700 feet on roads graded at an average of 7%. The image shown above is Parnelli Jones in his red, white, and blue Mercury. Jones won his class that year, 1963, in that Mercury. The first race was in 1916 and it continues to this day.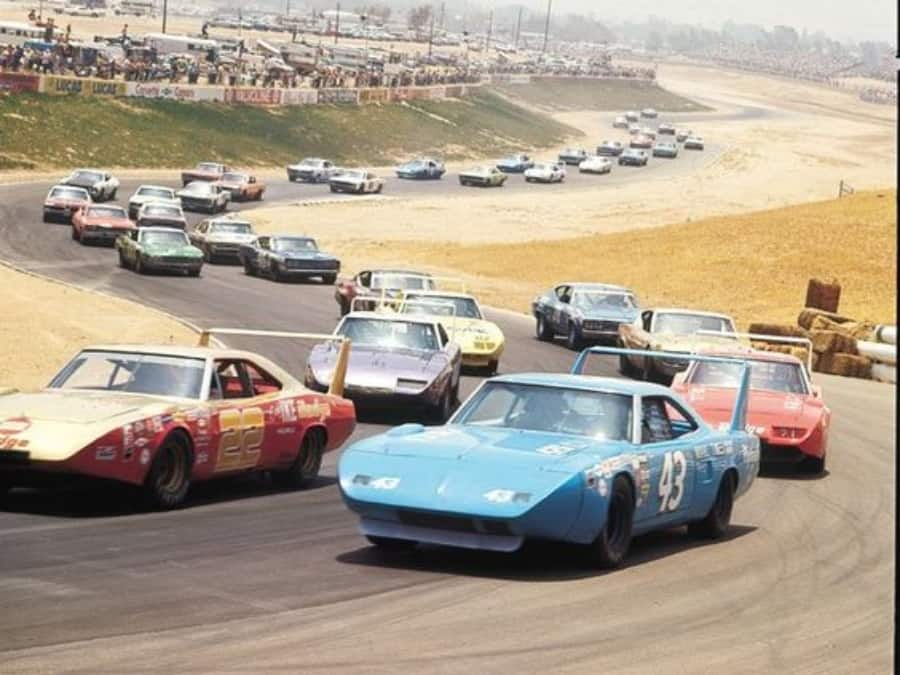 Linda Vaughn and the Hurst-ettes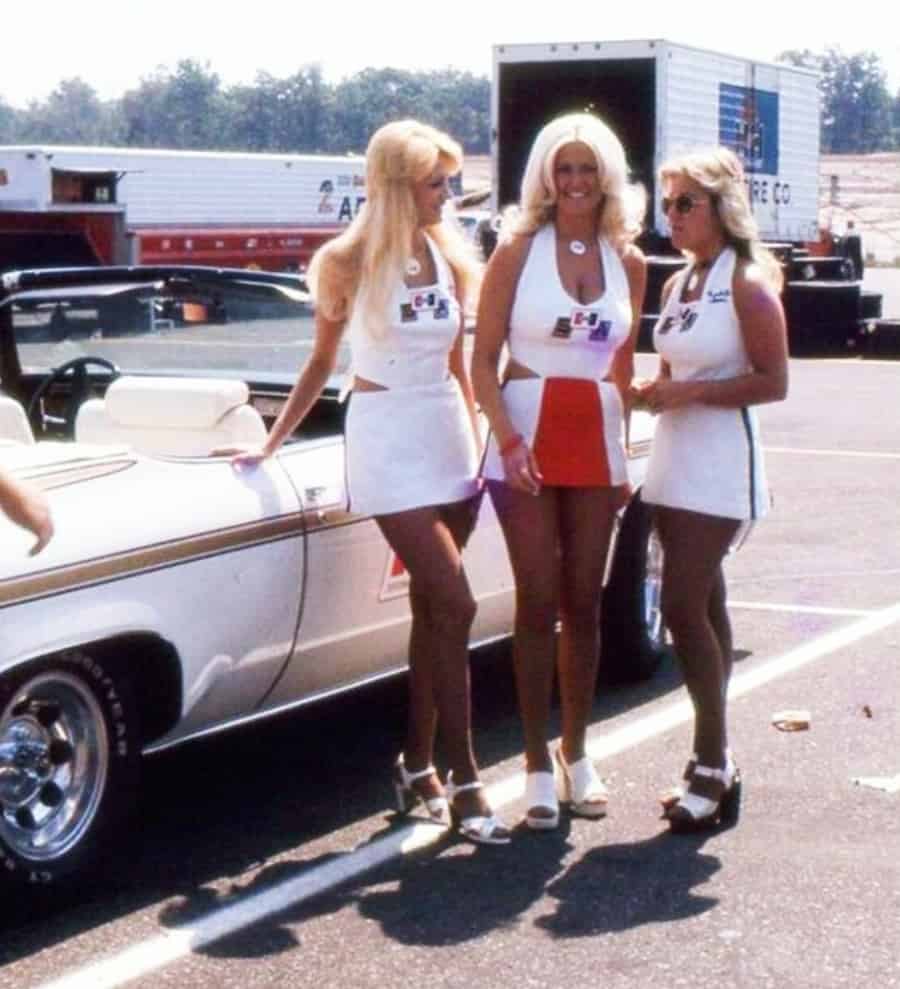 Miss Hurst Golden Shifter. That's the position that Linda Vaughn, pictured above with her Hurst-ettes, held in the 60s and 70s. Miss Hurst Golden Shifter was essentially a spokeswoman for George Hurst – a engineer and race car marketer. Linda Vaughn was the second-ever Miss Hurst Golden Shifter, but by far the most memorable and always a crowd favorite at any event.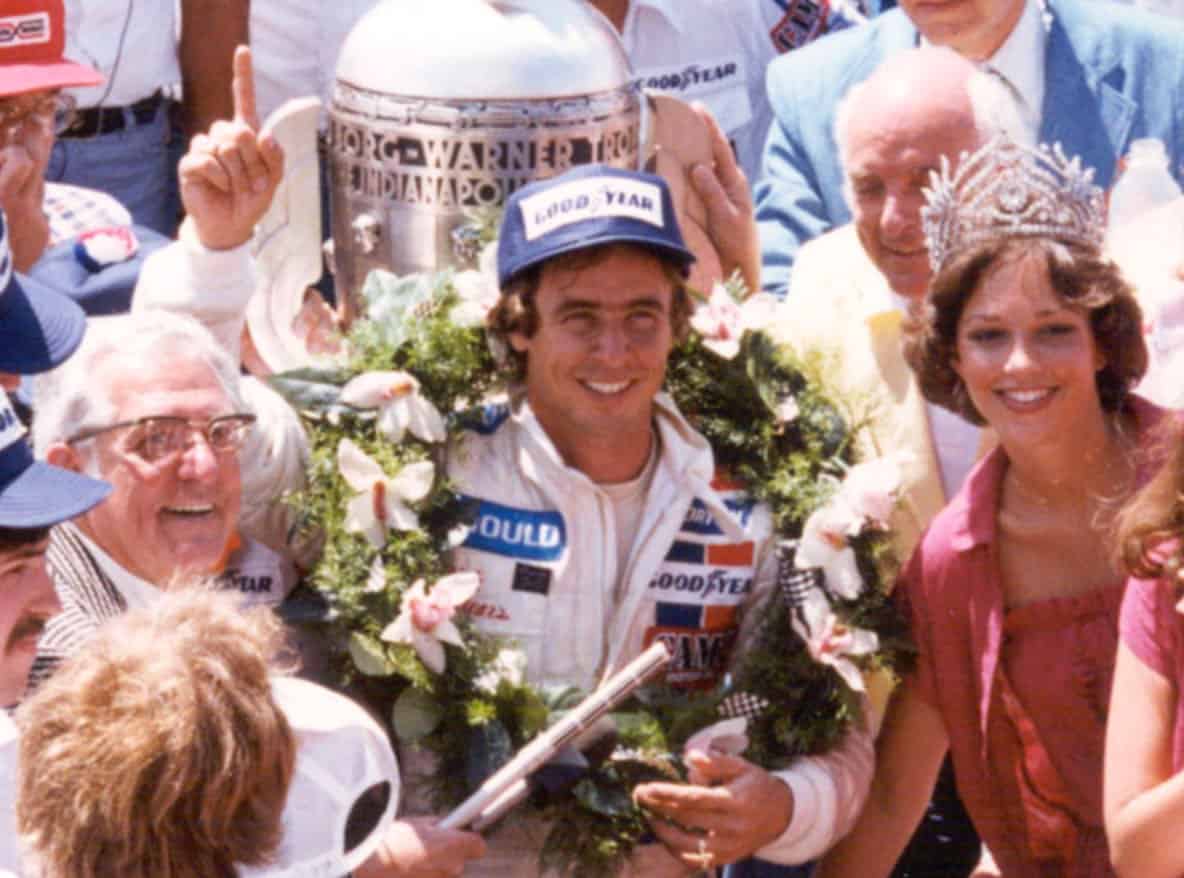 Big Wings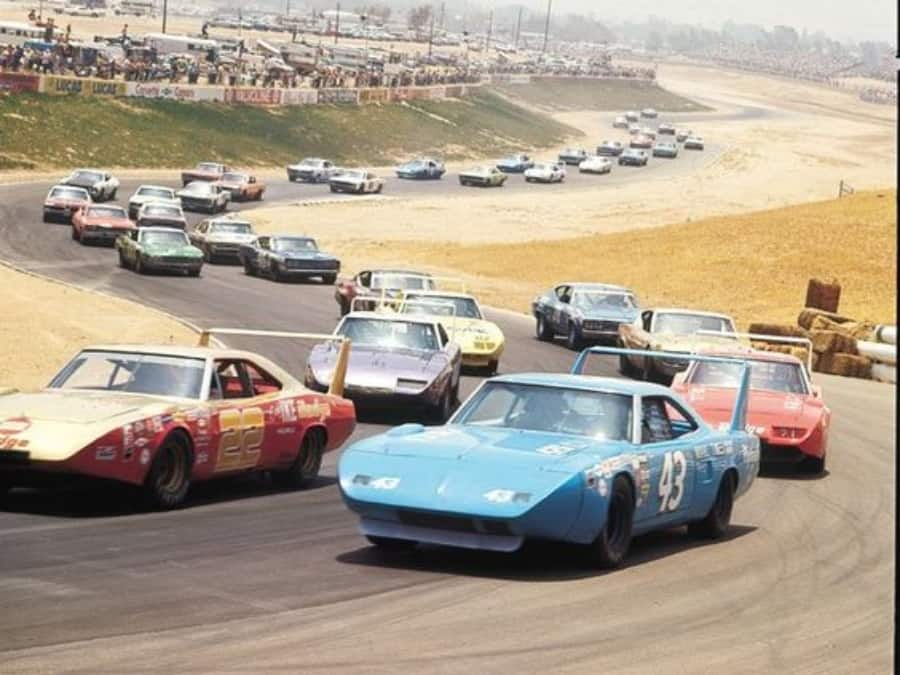 Huge Wings, as far as the eye can see. Well, at least in the top 5 slots. Leading the pack is Richard Petty in his famous Petty Blue Superbird, but Bobby Allison in his Dodge Daytona is right alongside of him in the number 22 car. Between the Daytona and the Superbird, big wings were almost mandatory for drivers in 1970. What an image!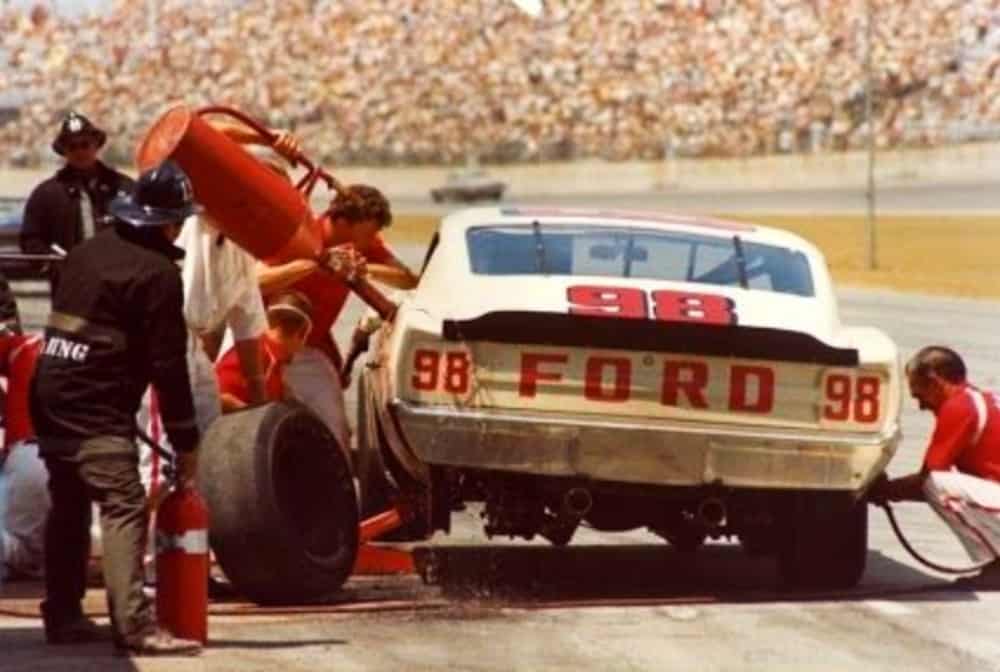 First Bottle of Milk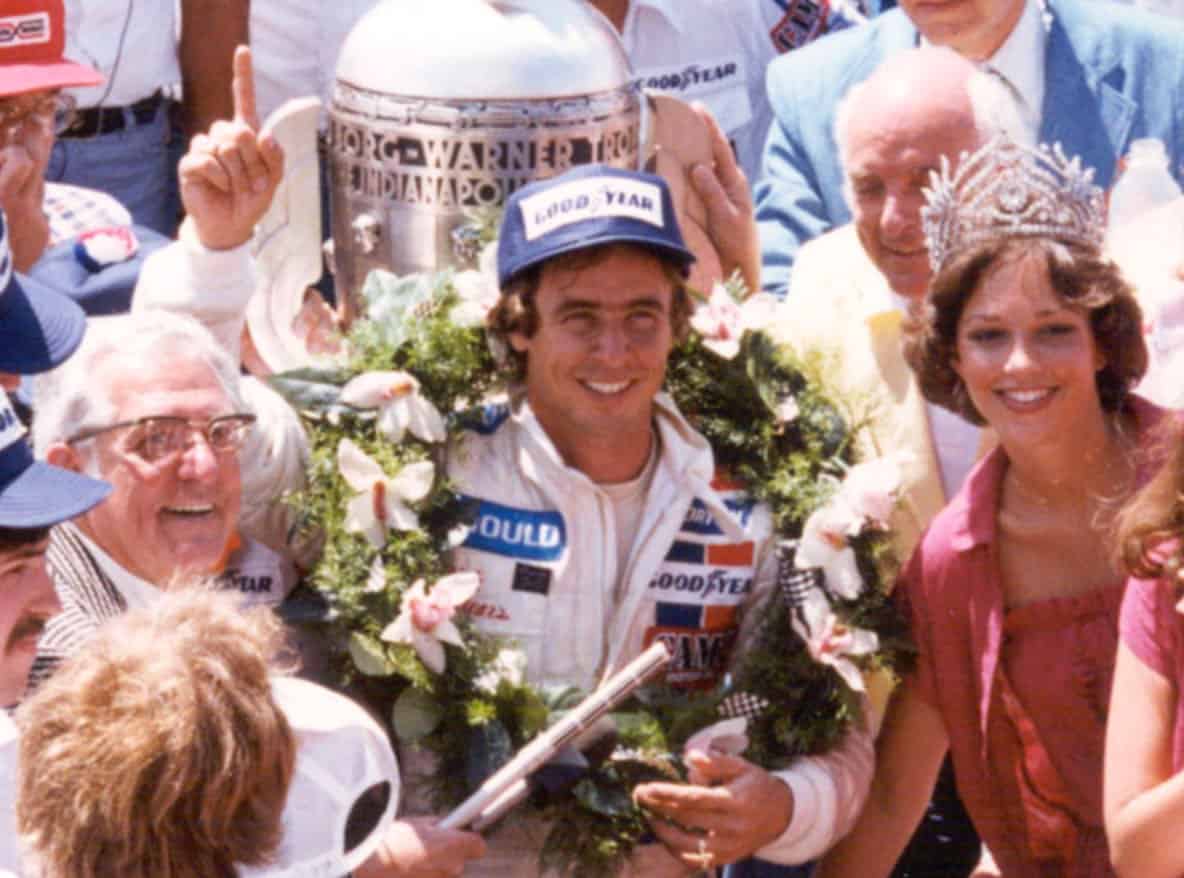 Roger Penske's second Indianapolis 500 win as a car owner came at the hands of this man, Rick Mears. Rick has tattooed his place in history as one of only three men to win the Indianapolis 500 four times. This race, in 1979, was his first Indy 500 victory and it came in his second year of racing professionally. His other three wins came in 1984, 1988 and 1991. He's been inducted into the International Motorsports Hall of Fame. Mears retired in 1992.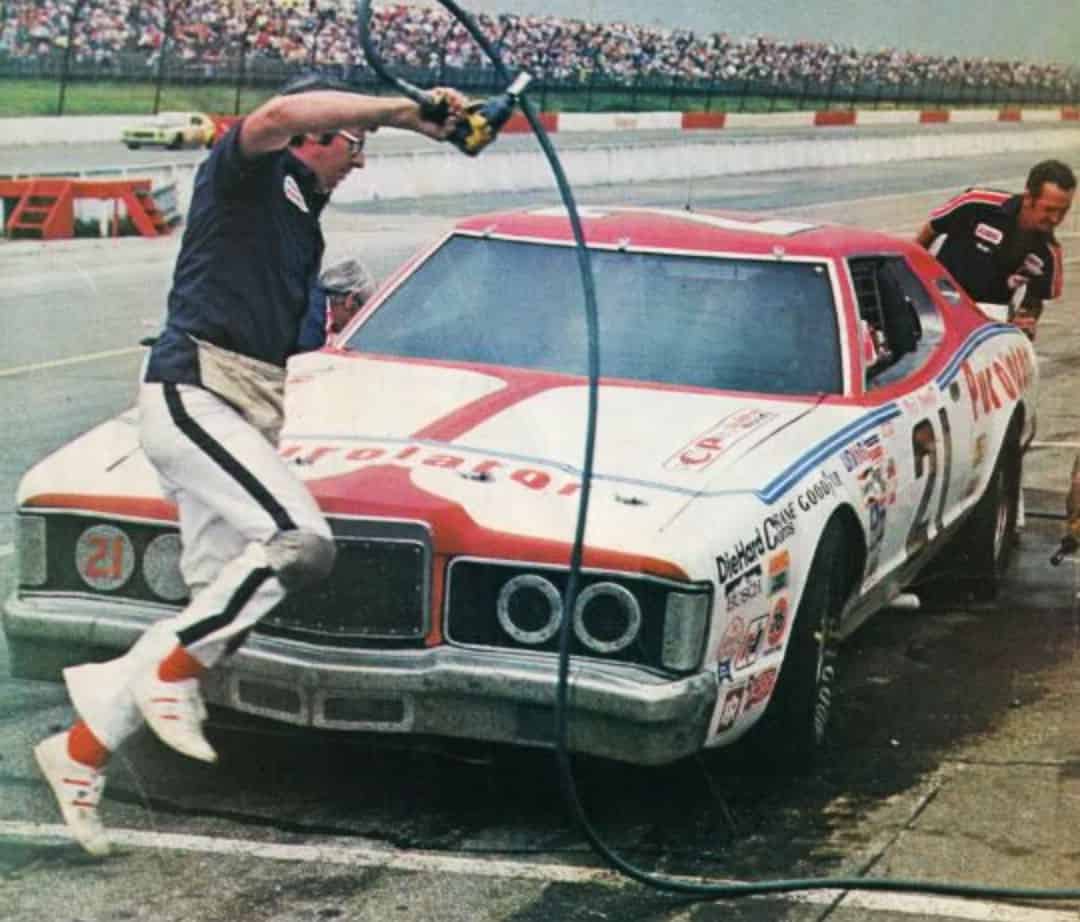 Brought to You By Lee Roy Yarbrough's Pit Crew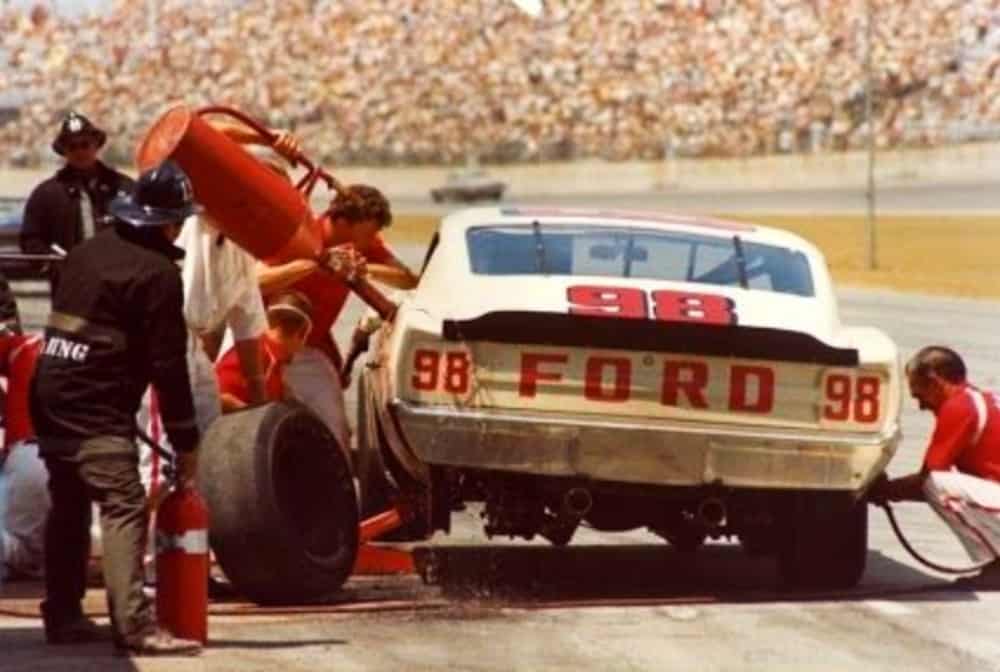 The 1969 NASCAR No. 98 Ford Torino Talladega you see here was first to cross the finish line at the Daytona 500 in 1969. Pit crews play an integral part of any victory, and this was no exception. Lee Roy Yarbrough's pit crew is seen here changing left side tires and fueling the legendary Ford Torino Talladega. Working in the pit is a dangerous job, but these guys always made it look easy!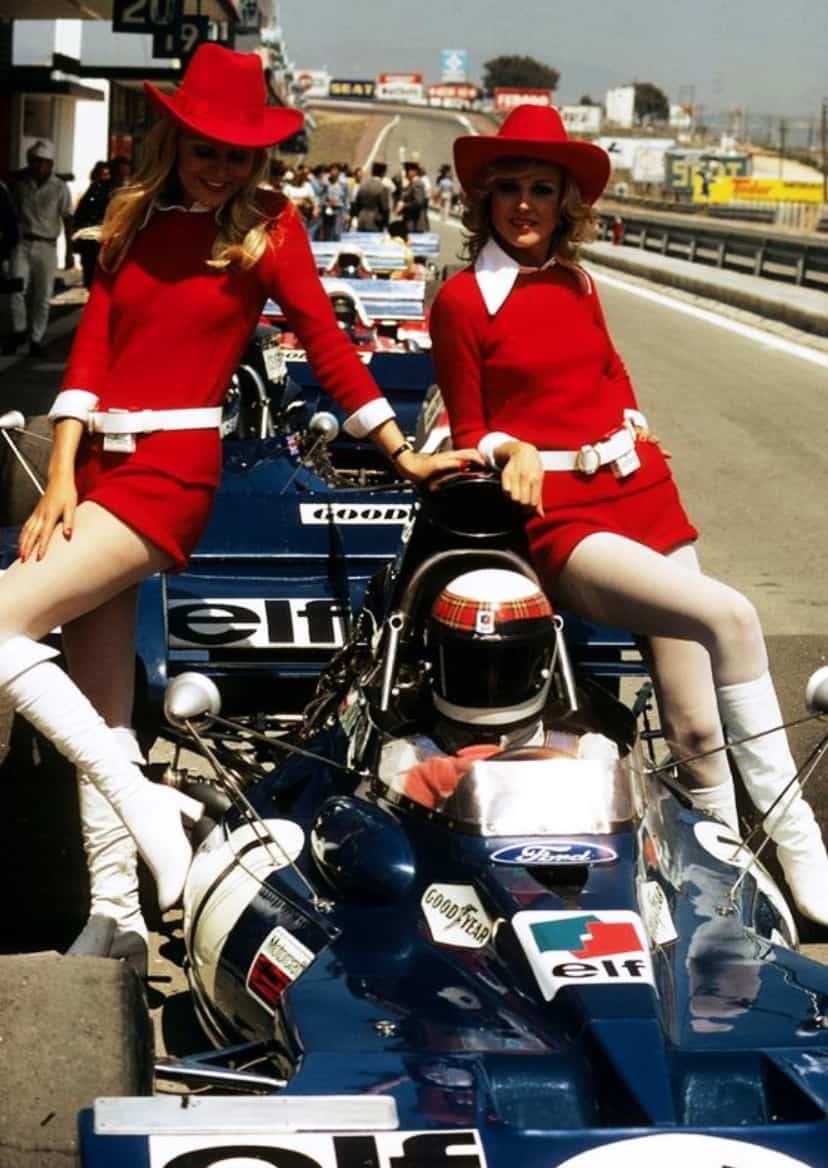 Wood Brothers Pit Neil Bonnett At Pocono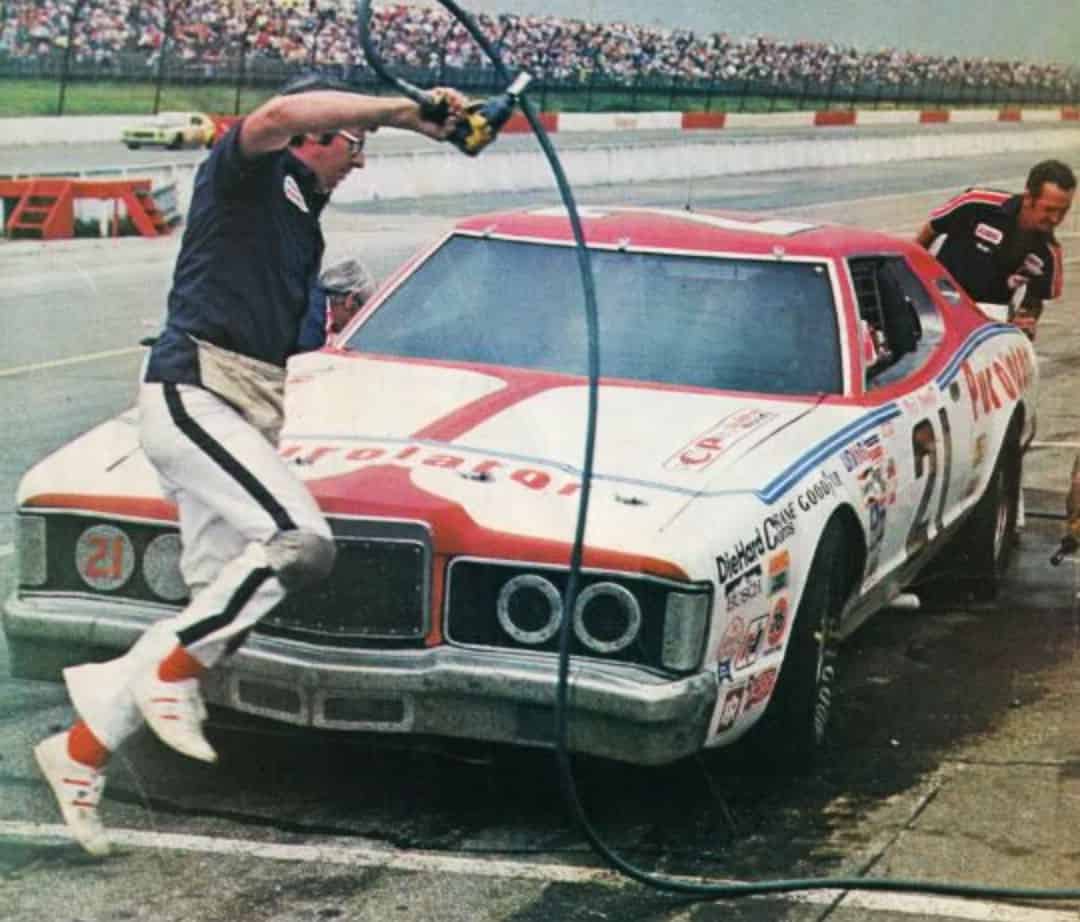 The 1980 Coco-Cola 500, held at Pocono Raceway, was an all-time thriller. Over the final 56 laps, Buddy Baker and Neil Bonnett exchanged the lead 19 times. Bonnett took the lead with four laps to go and never looked back. The Wood Brothers (seen above) are the longest continually operating Monster Energy Series Cup team, and played a large part in so many legendary drivers' careers. Also. This 1980 No. 21 Mercury Cougar was among the last cars that Bonnett, or anyone in NASCAR, raced with a 115-inch wheelbase. The next season, all cars were downsized to 110 inches to better line up with production car standard.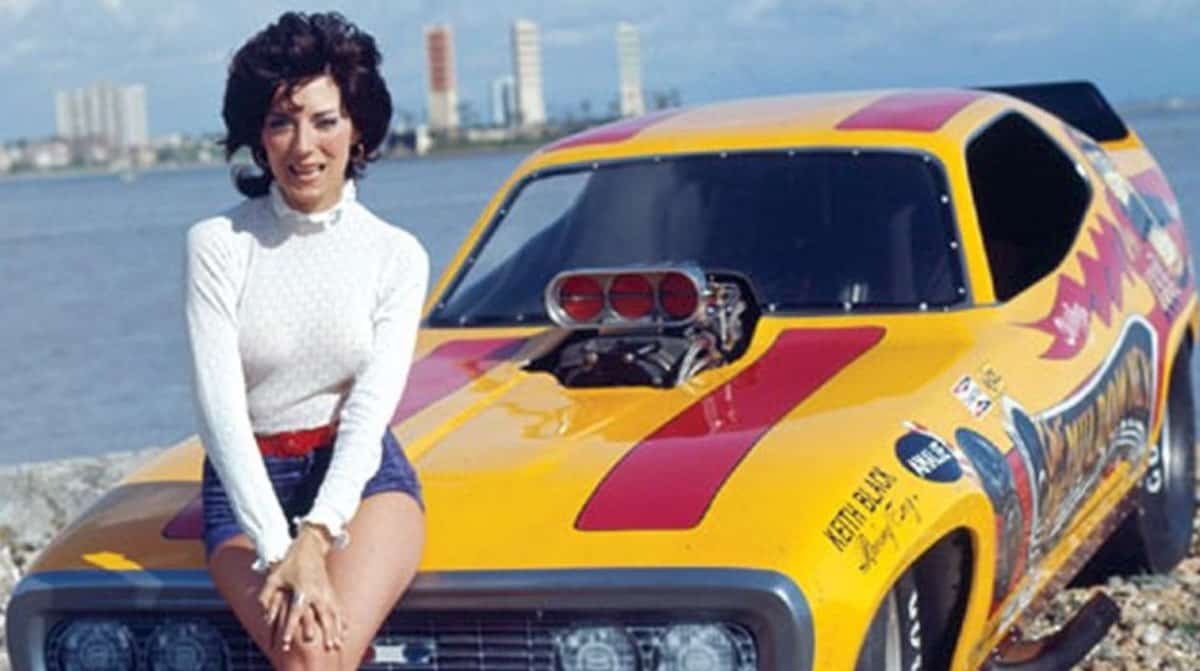 Good Company for Jackie Stewart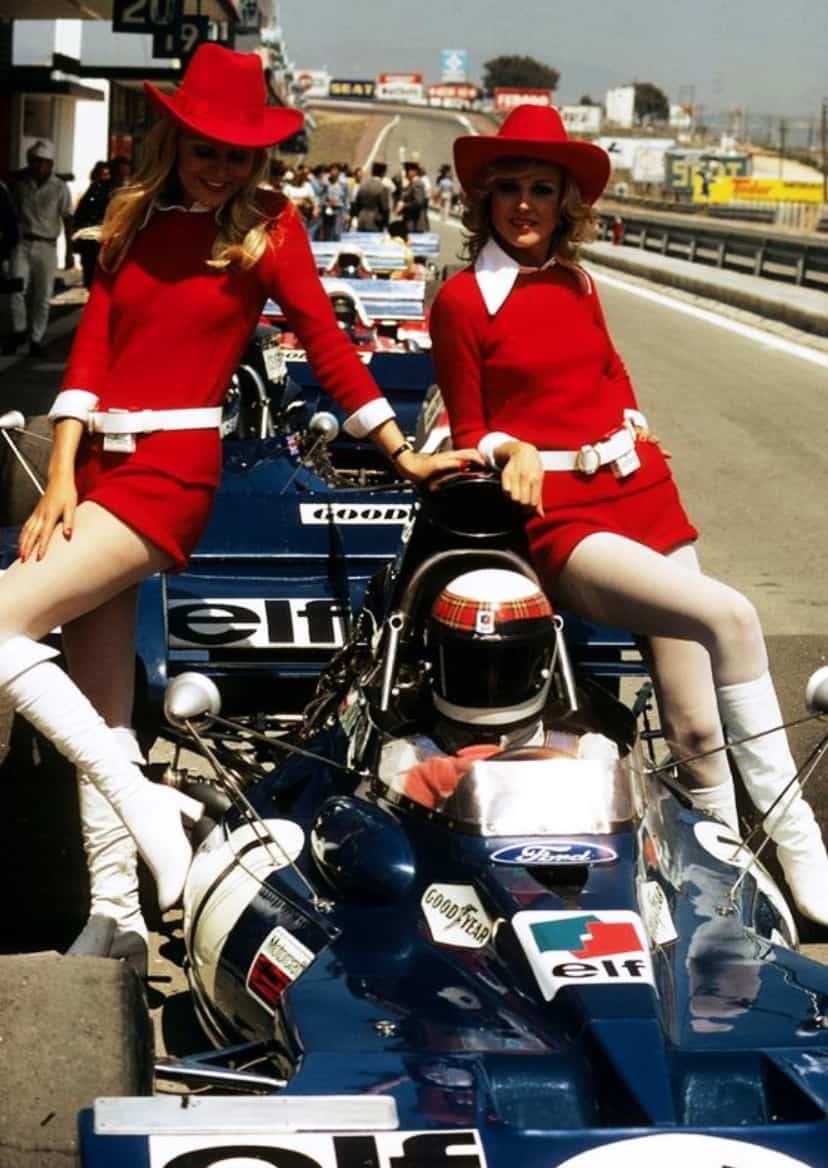 Driven by Jackie Stewart, the Tyrell 003 Formula One racing car debuted at the 1971 Spanish Grand Prix and won at the first attempt. Tyrrell 003 and Stewart took advantage as Lotus and Ferrari struggled during 1971; they won six races while Stewart claimed his second World Championship. Seen here with a couple of promotional models, you get a little taste of the classic vibes that was race car driving in the 1970s!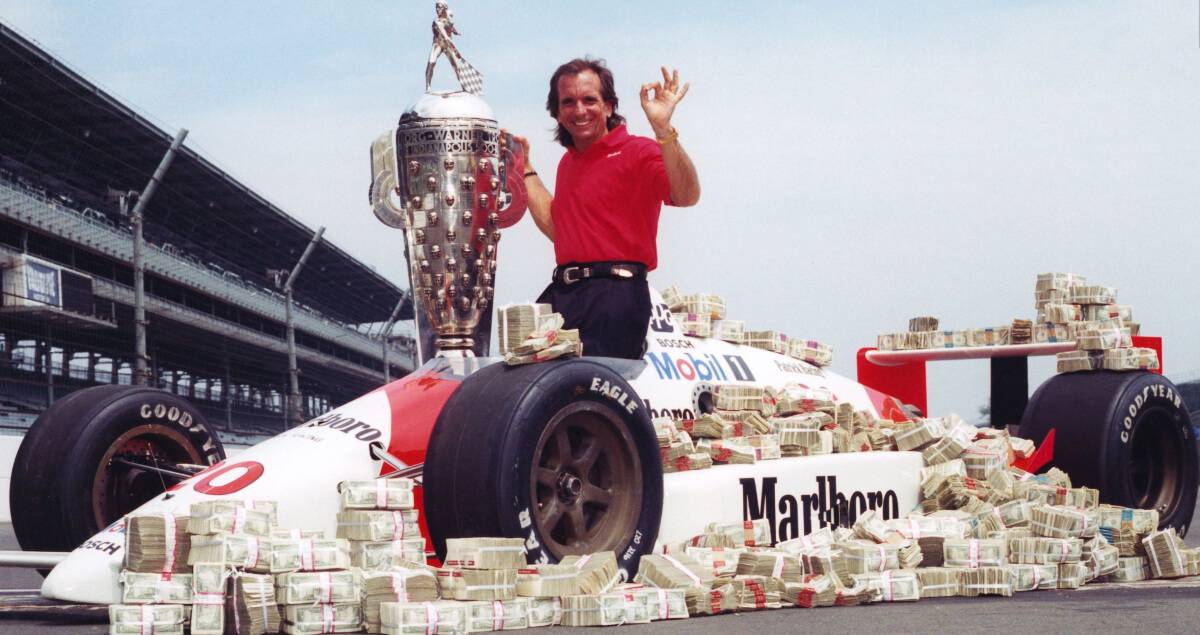 First Lady of Drag Racing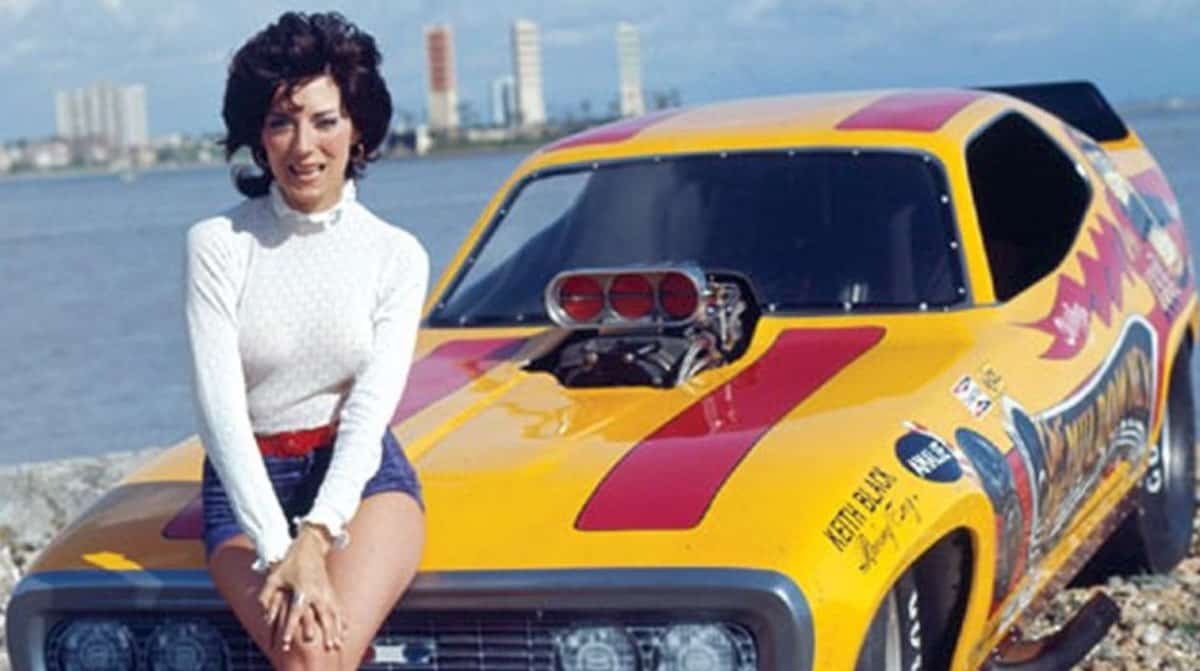 She began drag racing in 1965, becoming the first woman ever to do so under license by the National Hot Rod Association. In 1973 she graduated to the highest category the sport of drag racing offered: Top Fuel. By dominating at the 1976 Spring Nationals, she earned her first NHRA Professional win; the first for a woman ever.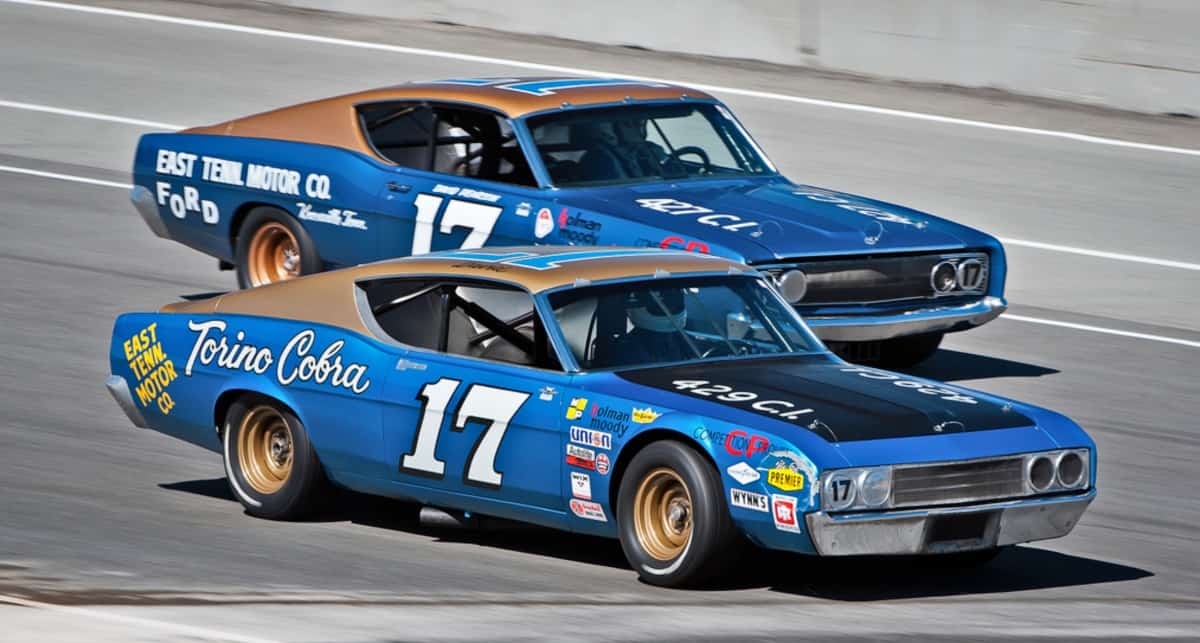 Pocket Change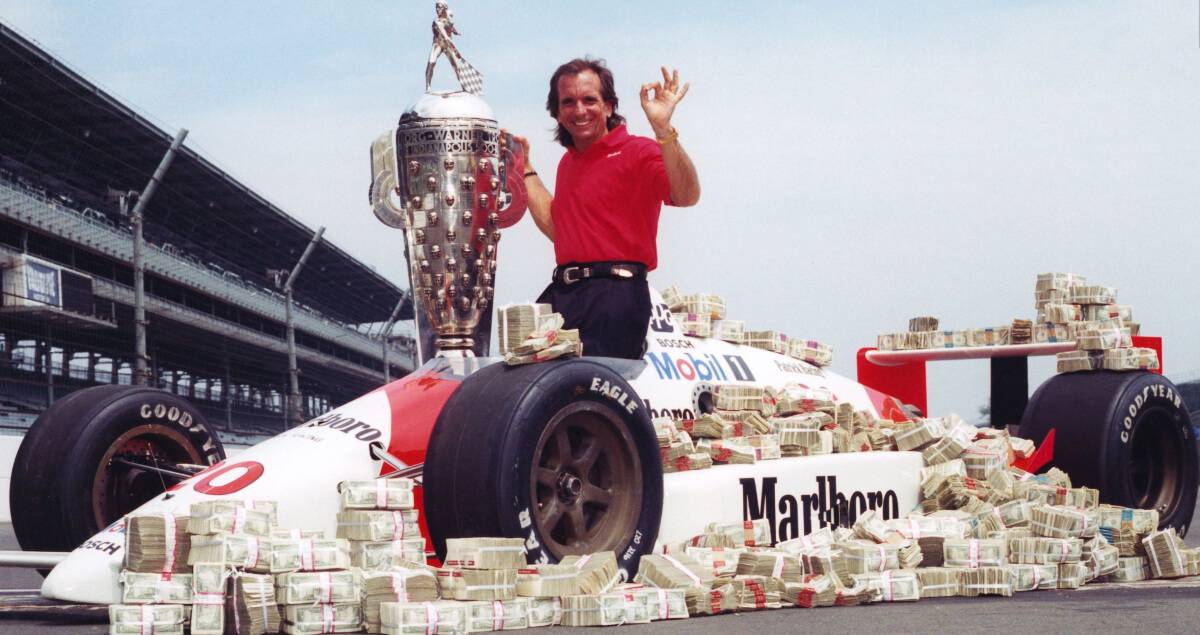 Emerson Fittipaldi is living a whirlwind of a journey. He came out of nowhere during his rookie season to win the 1970 United States Grand Prix, in addition to two Formula One World Driver's Cup's. He had a disappointing back half of a ten-year career, but after retiring from Formula One in 1980 he made a comeback in the U.S. with the Indy Car series. He won two Indianapolis 500's and then officially retired in 1996.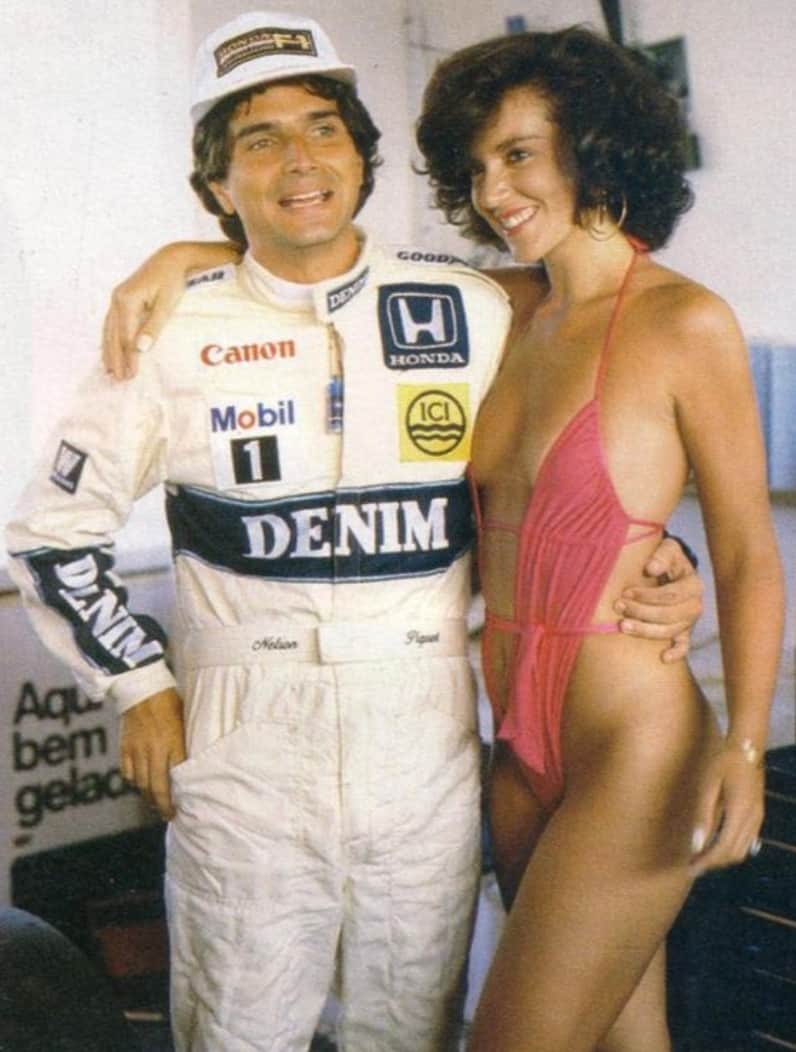 Seeing Double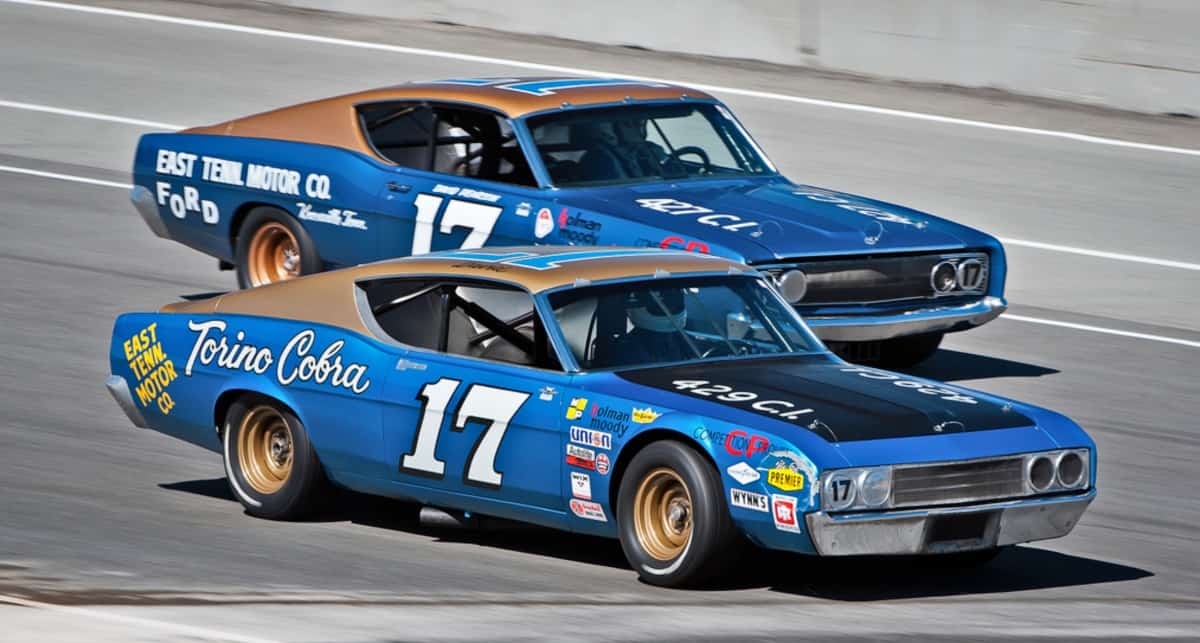 So close, but yet so far. These beautiful racers look nearly identical but aren't quite the same. The one in front is a 1968 Ford Torino Cobra and the one in the rear is a 1969 Ford Torino Talladega. Both are rocking the same paint scheme and the classic East Tennessee Motor Co. logos on the rear fenders. They are very much the same except the Talladega is shaped even more aerodynamically than its predecessor, the '68 Torino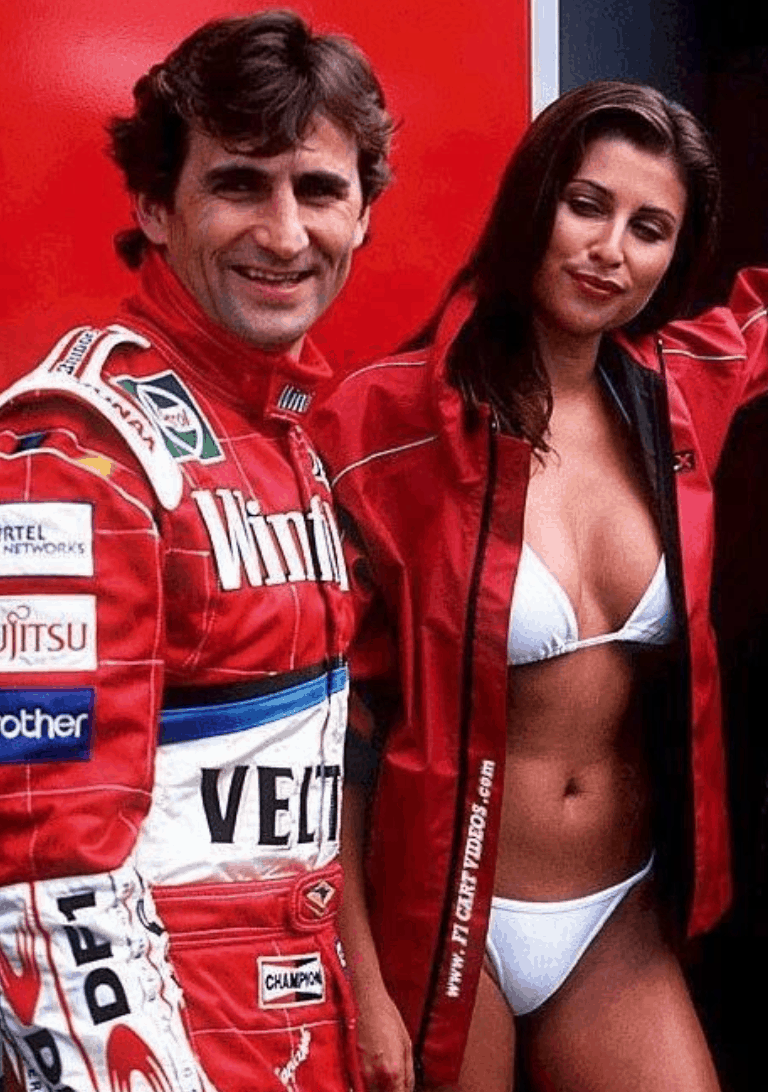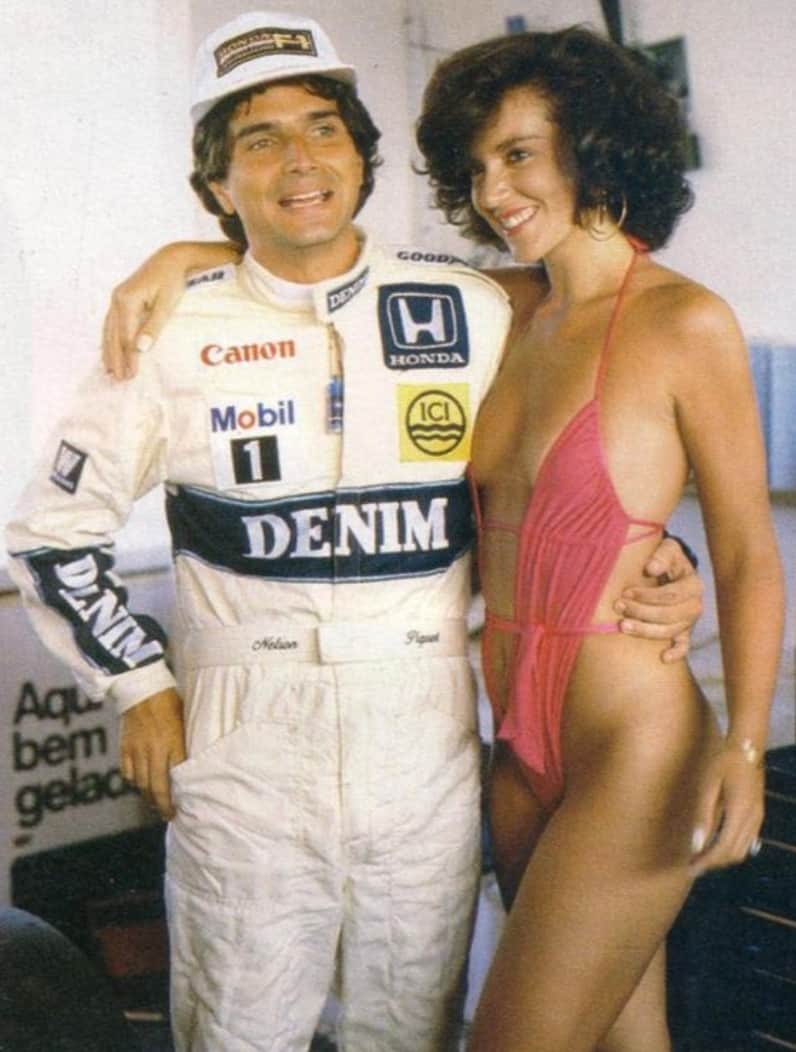 Nelson Piquet won the 1986 Brazilian Grand Prix, and has this lovely photo to prove it. Believe it or not, Piquet had a brief career in tennis before losing interest in the sport. From there, he took up karting. However, he hid his identity to prevent his father discovering his hobby. By the time his family found out, he was winning races!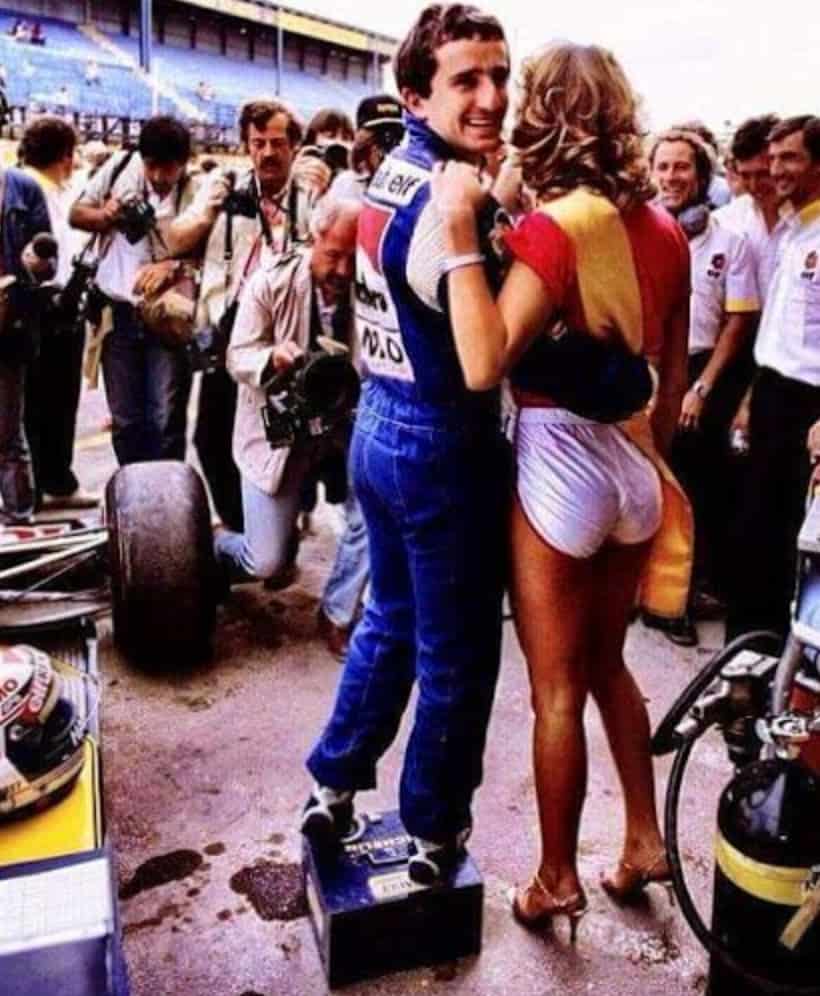 Alessandro Zanardi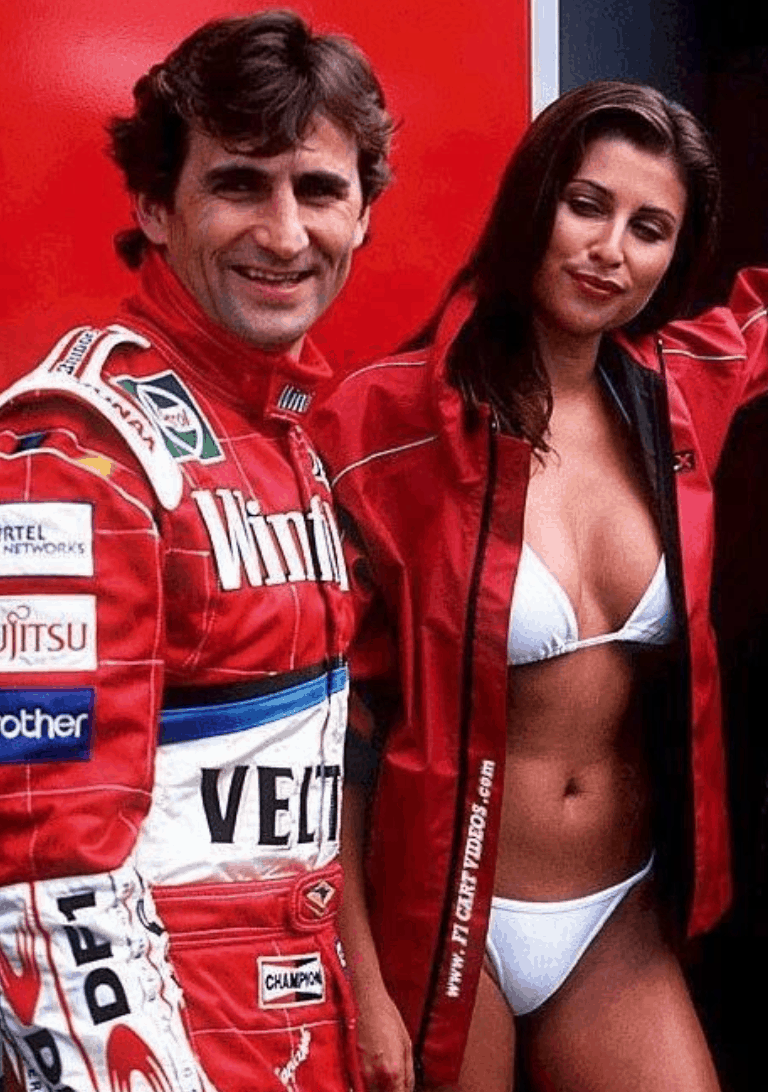 An Italian racing legend turned champion hand-cyclist, Alessandro Zanardi is shown here after one of his Formula 1 races. Zanardi raced all over the world, and he's won several races. In 2001, he was involved in a major accident that resulted in the amputation of both of his legs, ending his open-wheeled racing career. But not his athletic career. He's an Olympic paracyclist for Italy.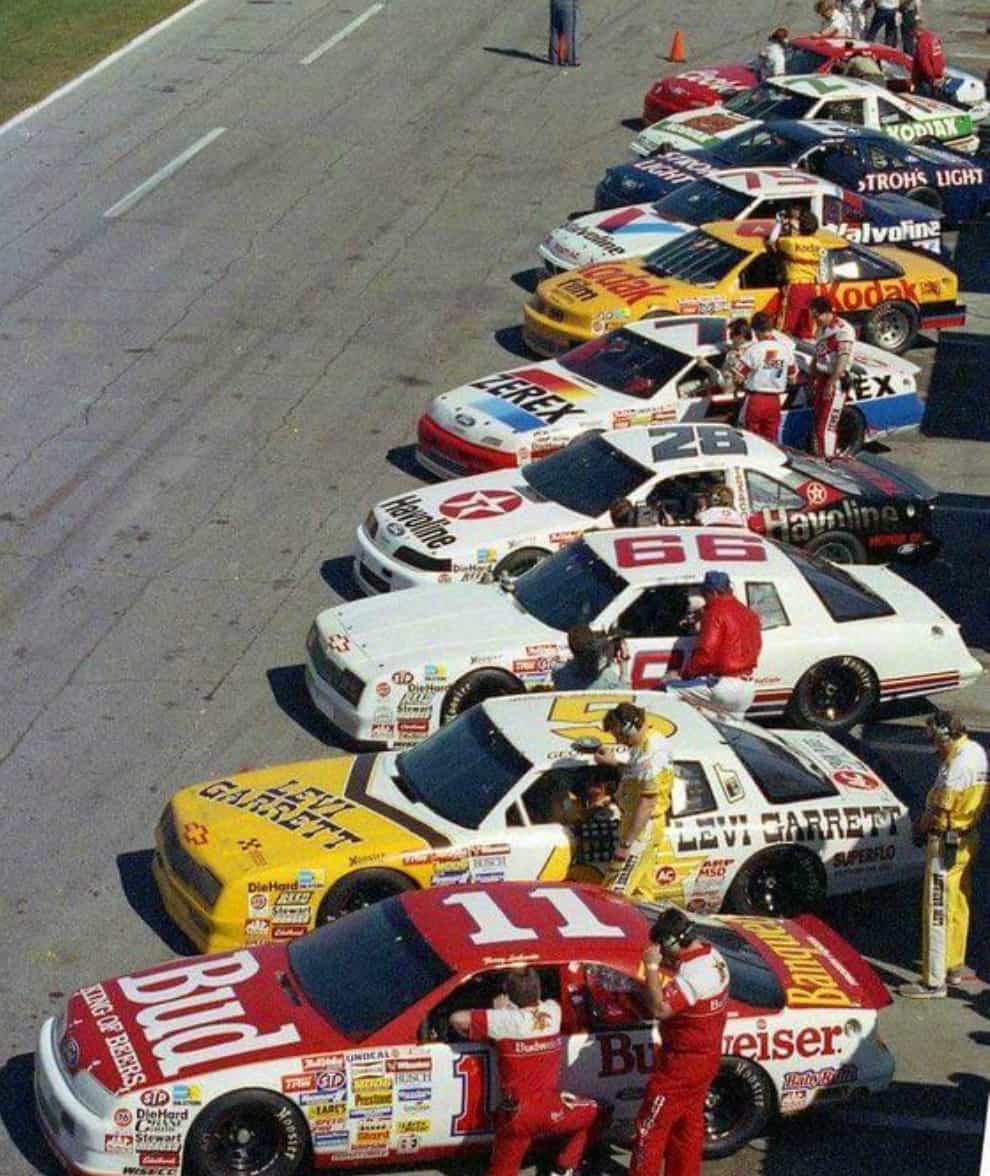 Grid Girls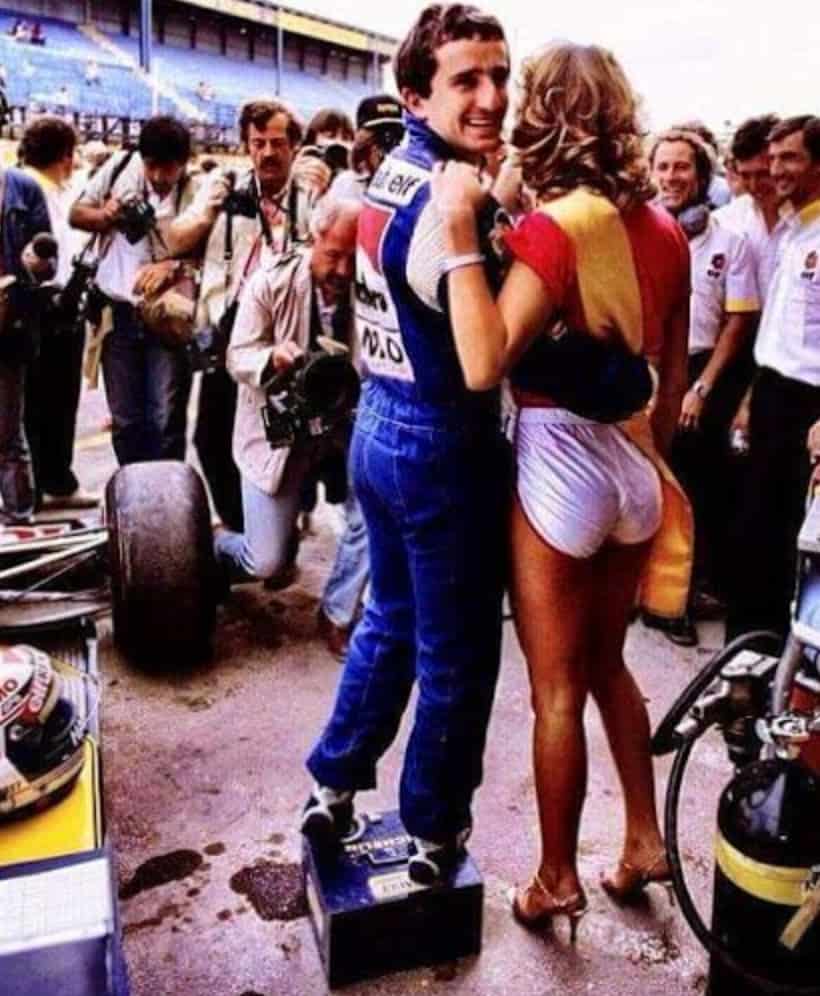 Grid Girls have long been a part of Formula 1 and Indy Car racing, especially in the 1980s when this photo was taken. Grid Girls are promotional models that tend to look great right next to a 'Marlboro' or 'Winston' logo on the winning driver's chest. This photo is an all-time classic – you can see the driver is aware of how awkward the situation is since the Grid Girl is four five inches taller than him!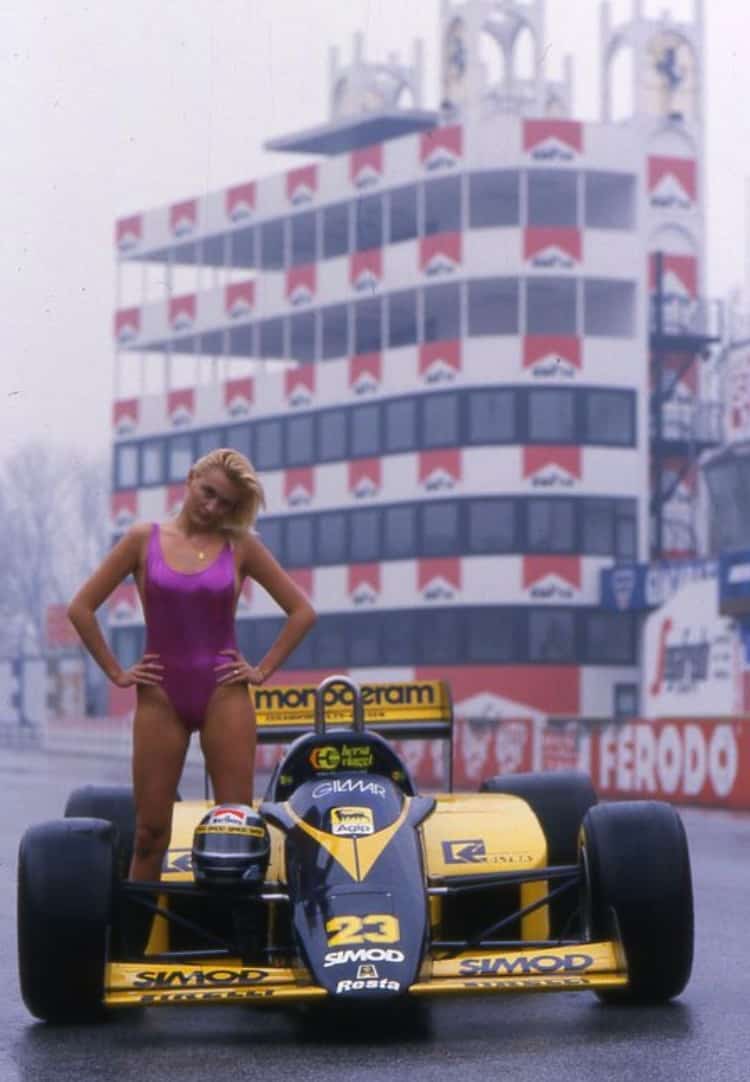 Blast From The Past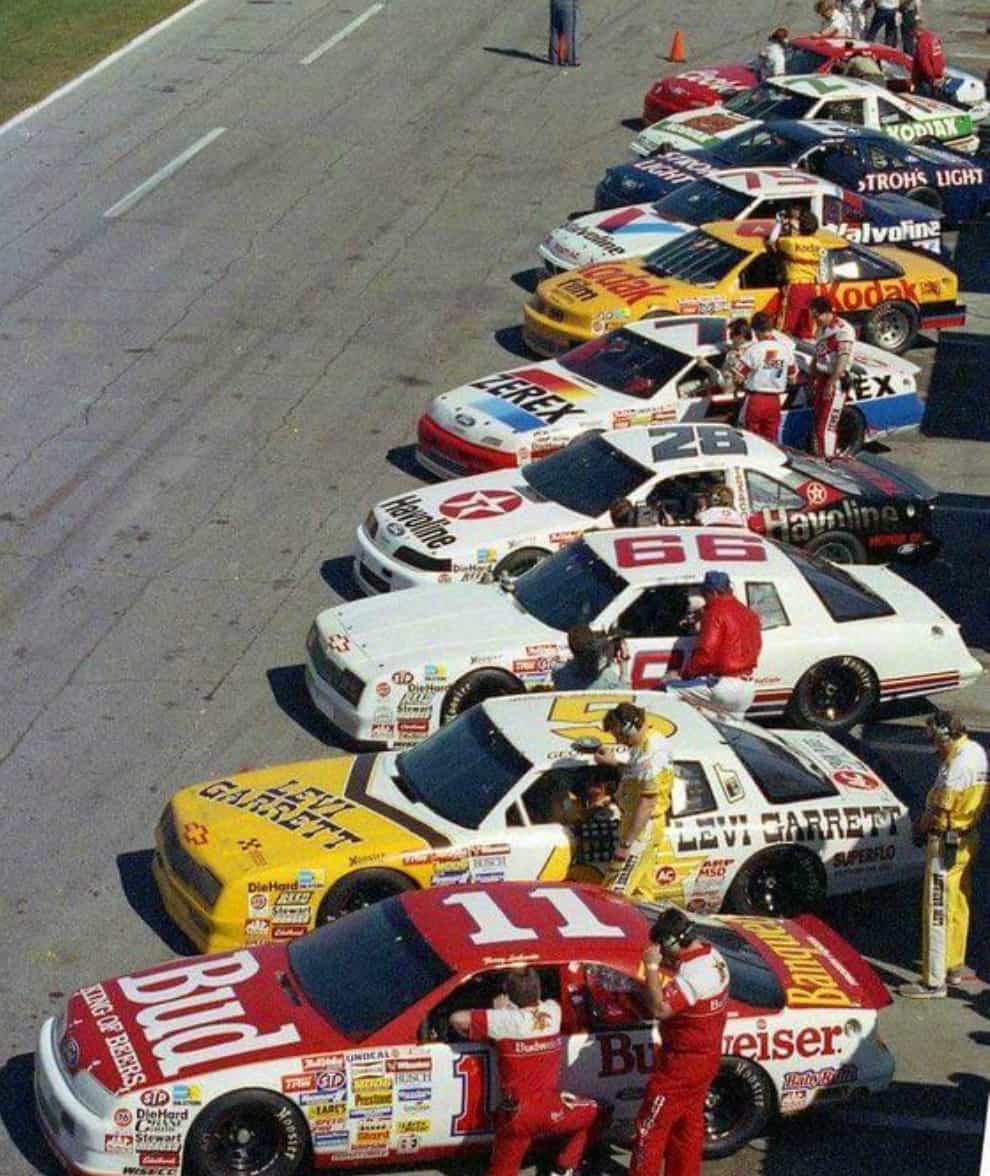 What a laundry list of classic sponsors. You just don't hear these names much anymore. Kodiak, Strohs Light, Havoline, Kodak, Zerex, Levi Garrett and even promotion-less stock car. These legends of the sport all lined up are bringing us a serious longing for the vintage, glory days of NASCAR.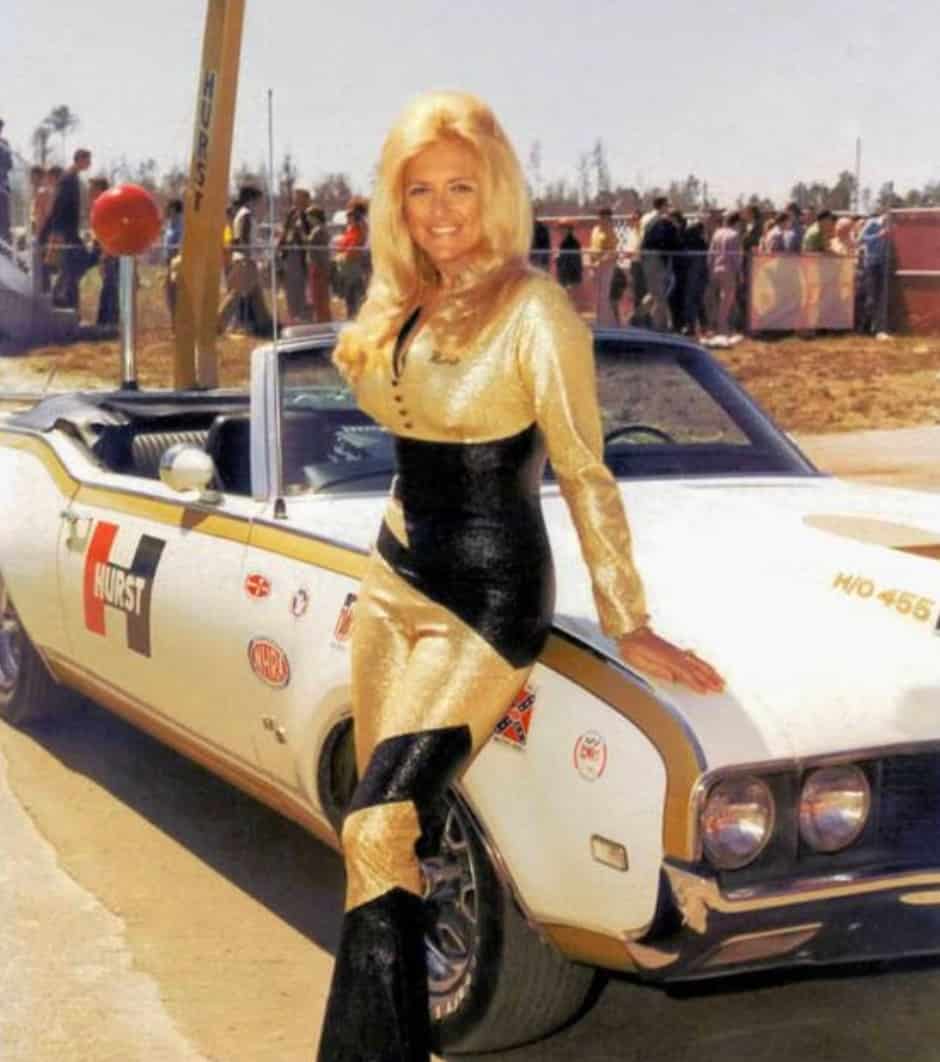 Minardi M186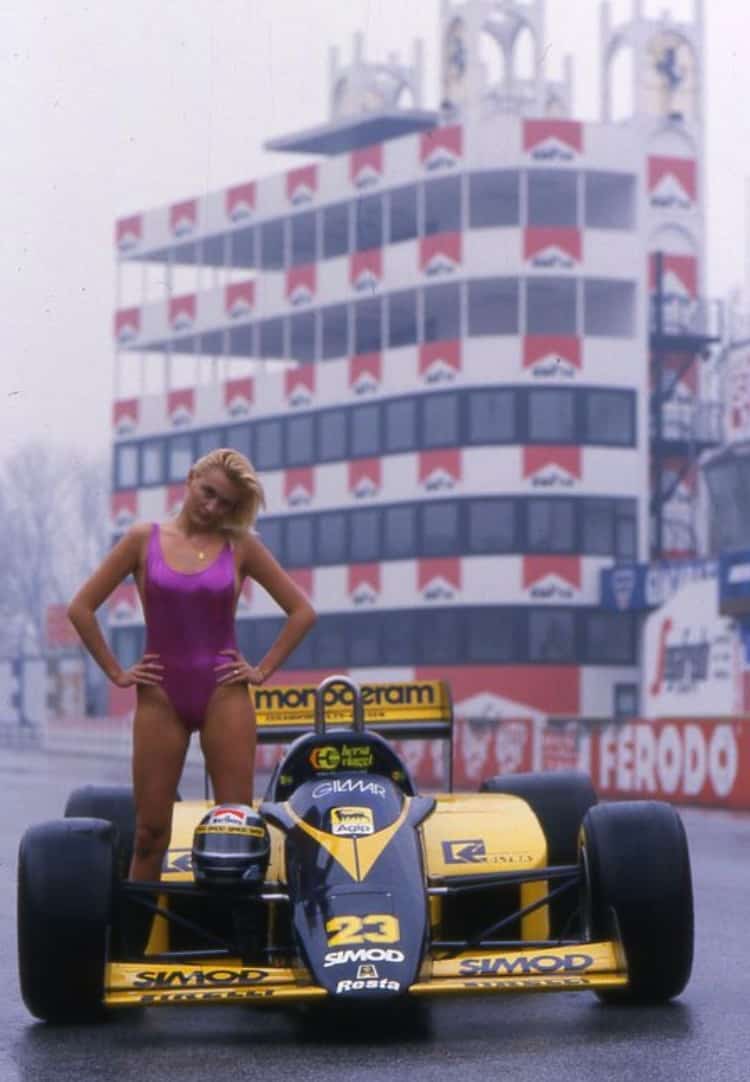 An unreliable race car, but a classic image! What you're looking at is the Minardi M186, designed by Giacomo Caliri for Team Minardi. It only finished one race in 1986, the year it was designed for, and Andrea de Cesaris raced it. The M186 has a Motori Moderni 615-90 1,499 cc turbo V6 engine. It's lone race was the 1986 Formula One World Championship.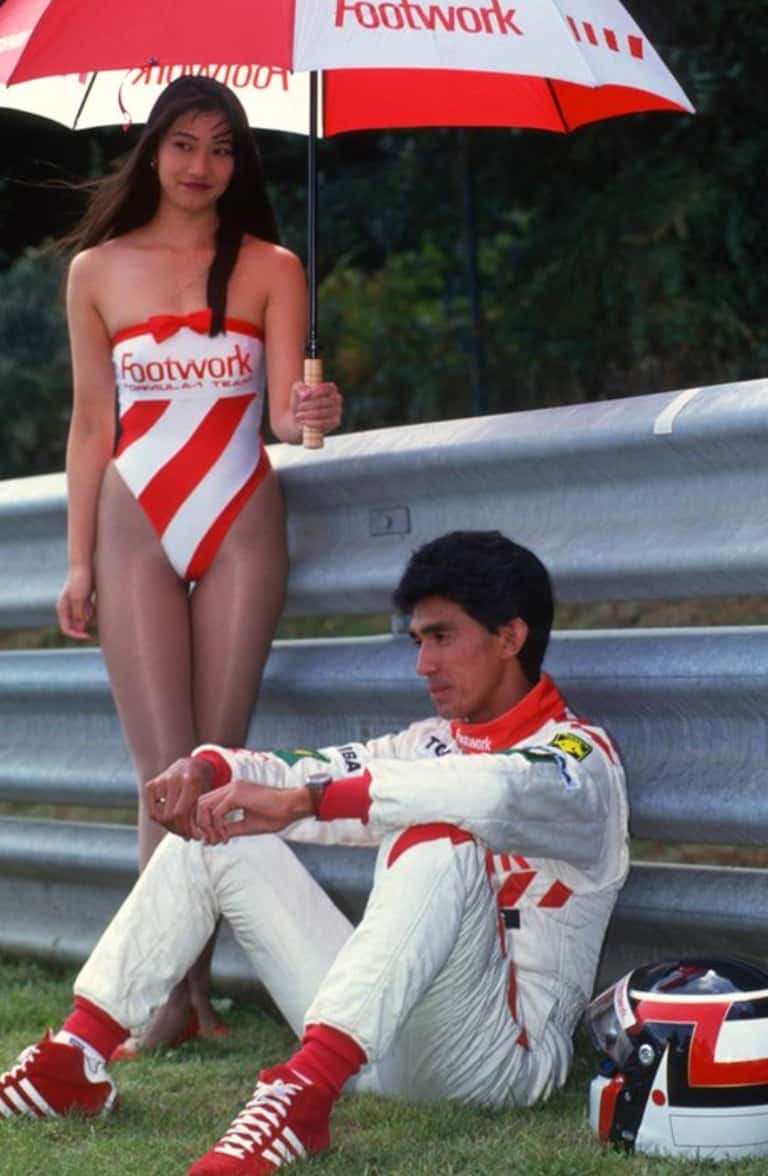 Hurst Performance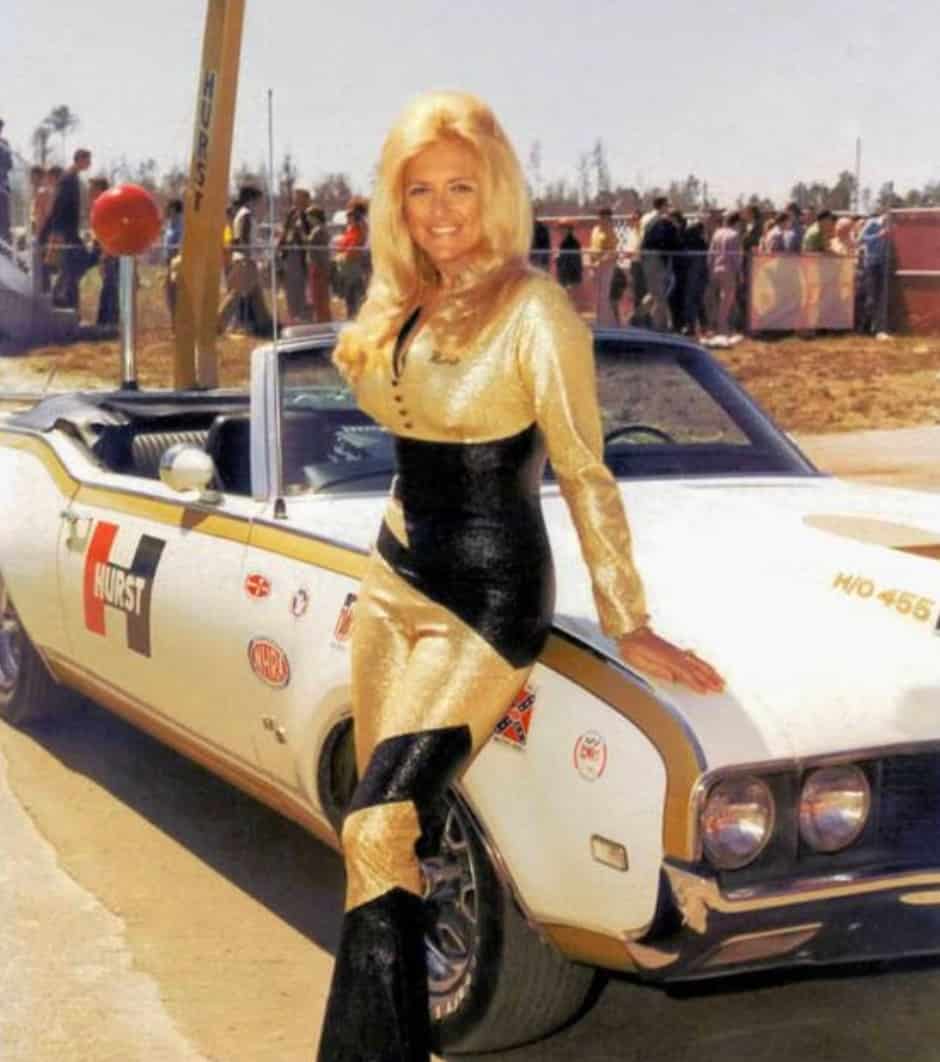 We've already discussed Ms. Vaughn as the Miss Hurst Golden Shifter, and the legend she became. But let's talk about Hurst Performance, Inc. Hurst was created in Warminster Township, Pennsylvania. The company manufactured and marketed products for enhancing the performance of automobiles – especially muscle cars and cars used in drag, street and stock racing. It began in 1958 and was bought in 1970. A subsidiary of the company still exists in a small capacity today.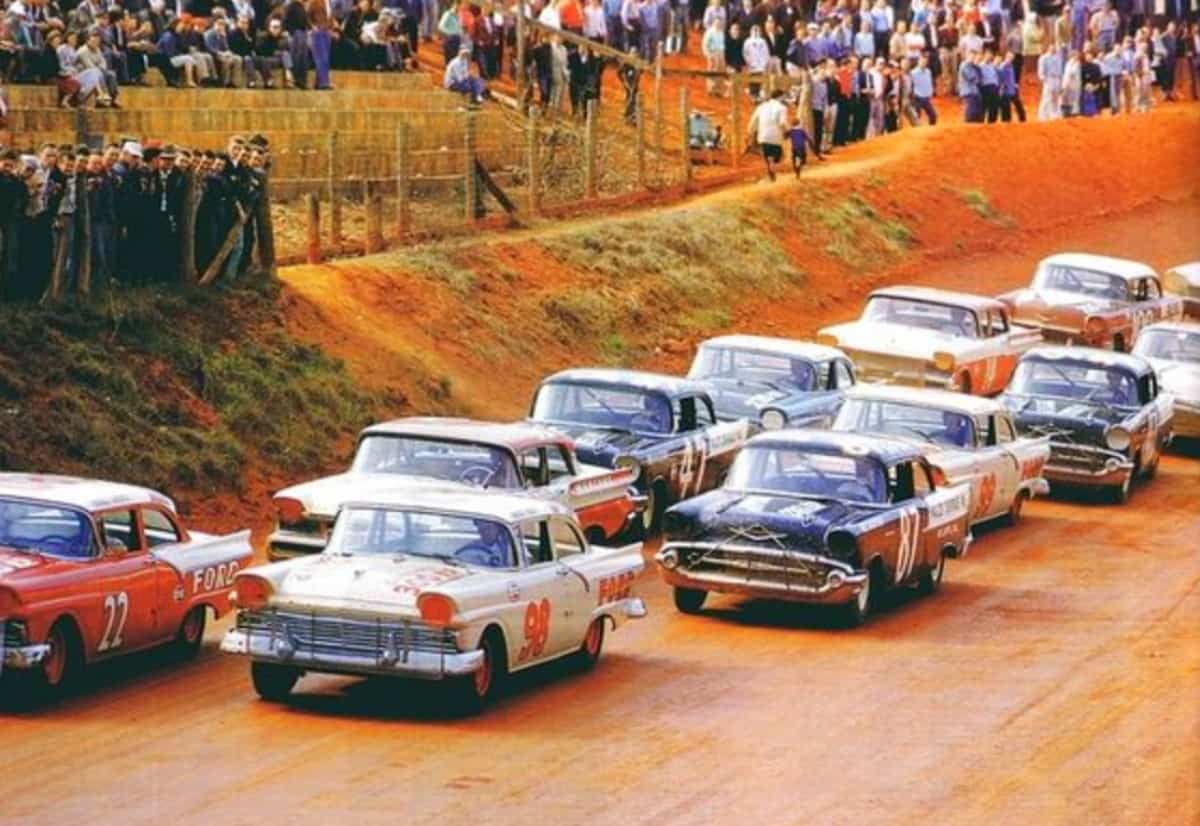 Folks on Every Continent Love To Race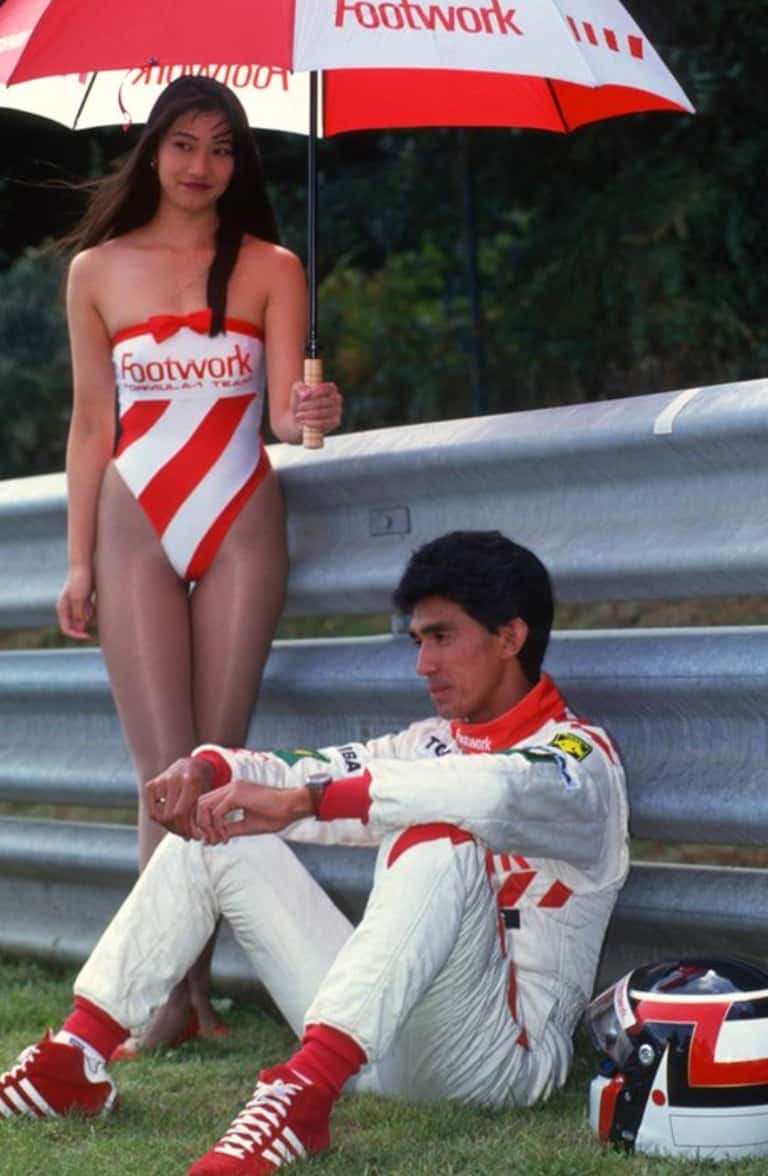 USA isn't the only place for speed. This image, taken in Belgium, of legendary F1 racer Aguri Suzuki shows him before the 1992 Formula One World Championship. Suzuki wasn't an all-time great – he participated in 88 Formula One Grands Prix, and his highest finish was 3rd place at the 1990 Japanese Grand Prix. But the image still speaks volumes about racing in the 20th century!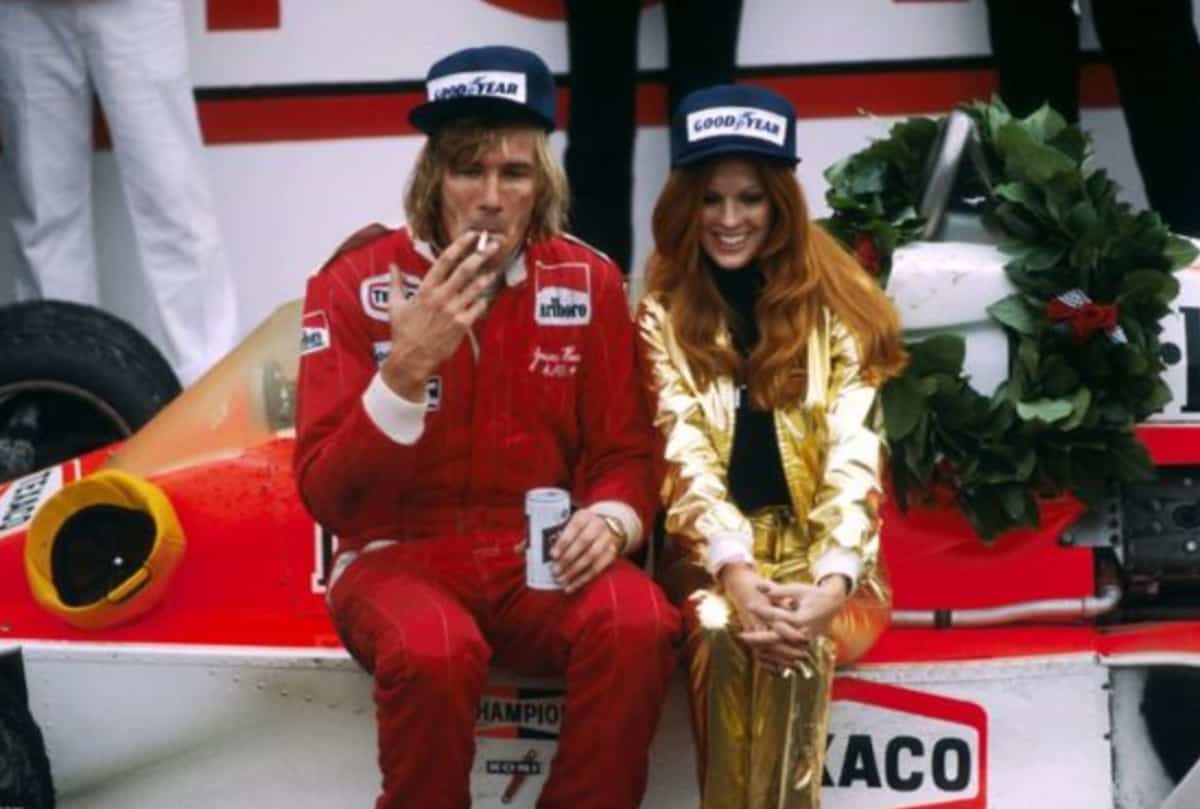 The Golden Days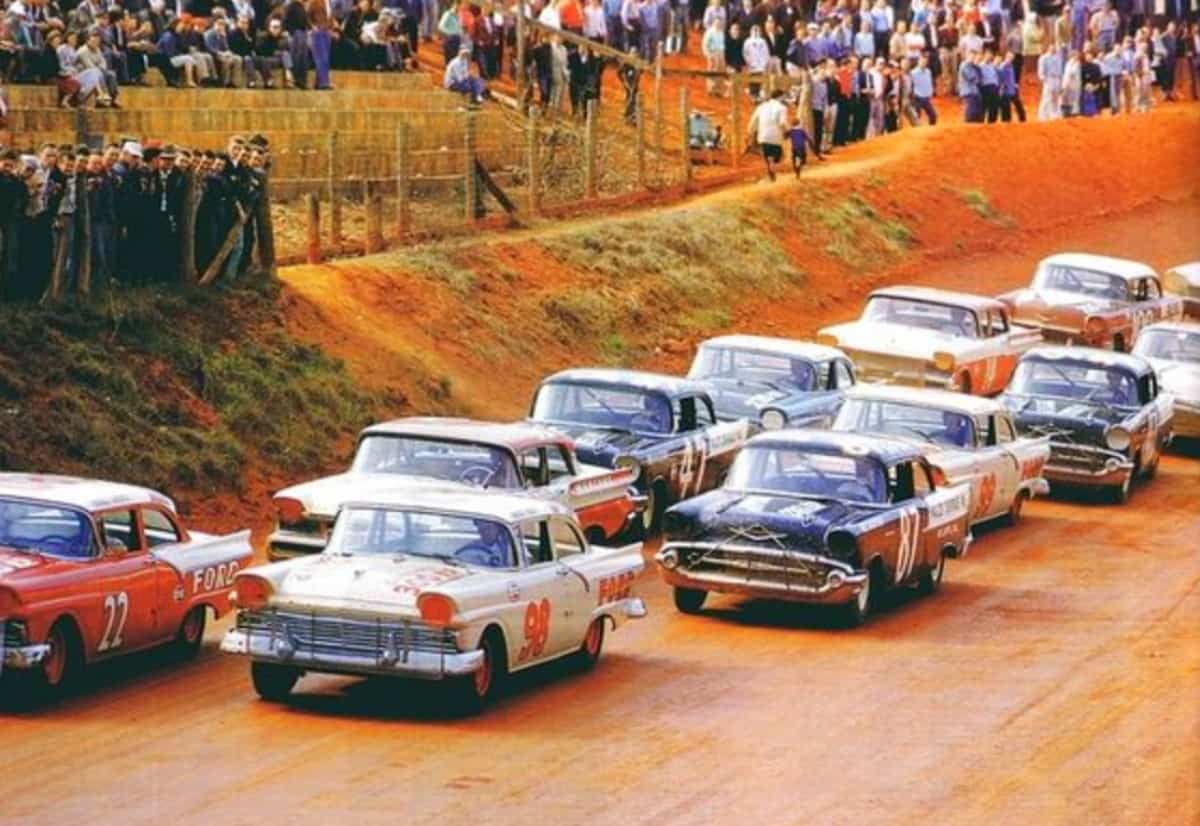 Back when a grass and dirt bank was plenty good enough for the audience and the only sign of sponsorship was a name and number on the vehicle. These were the days that started it all. NASCAR has humble roots in American culture, and images like this make that apparent. People have been racing in one way or another as long as we've been on Earth, and the 1950's were no exception!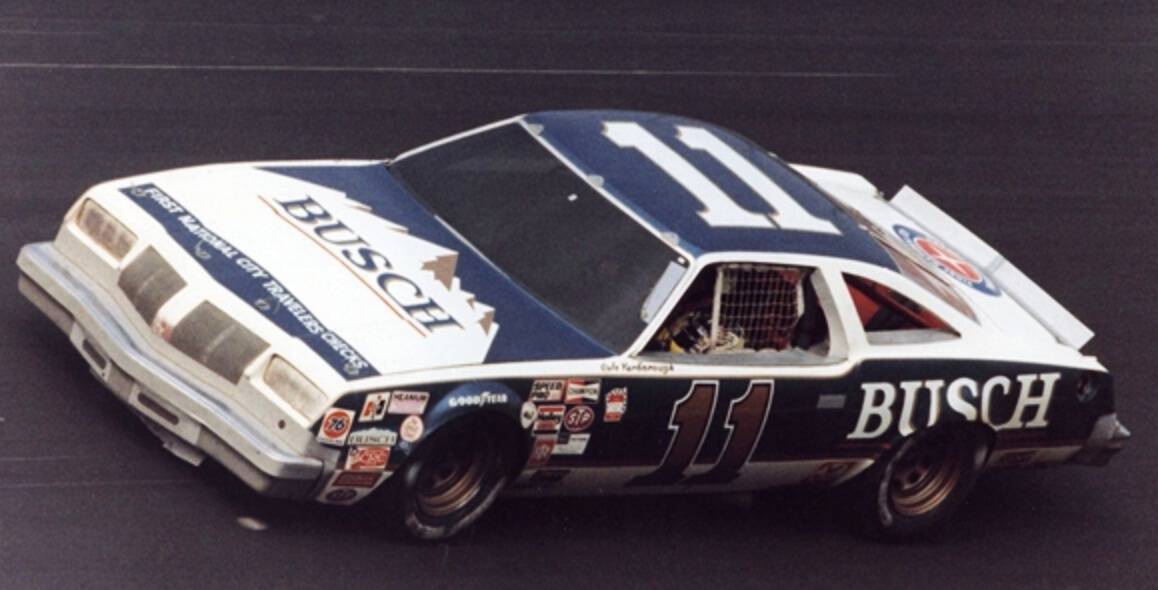 "Hunt The Shunt"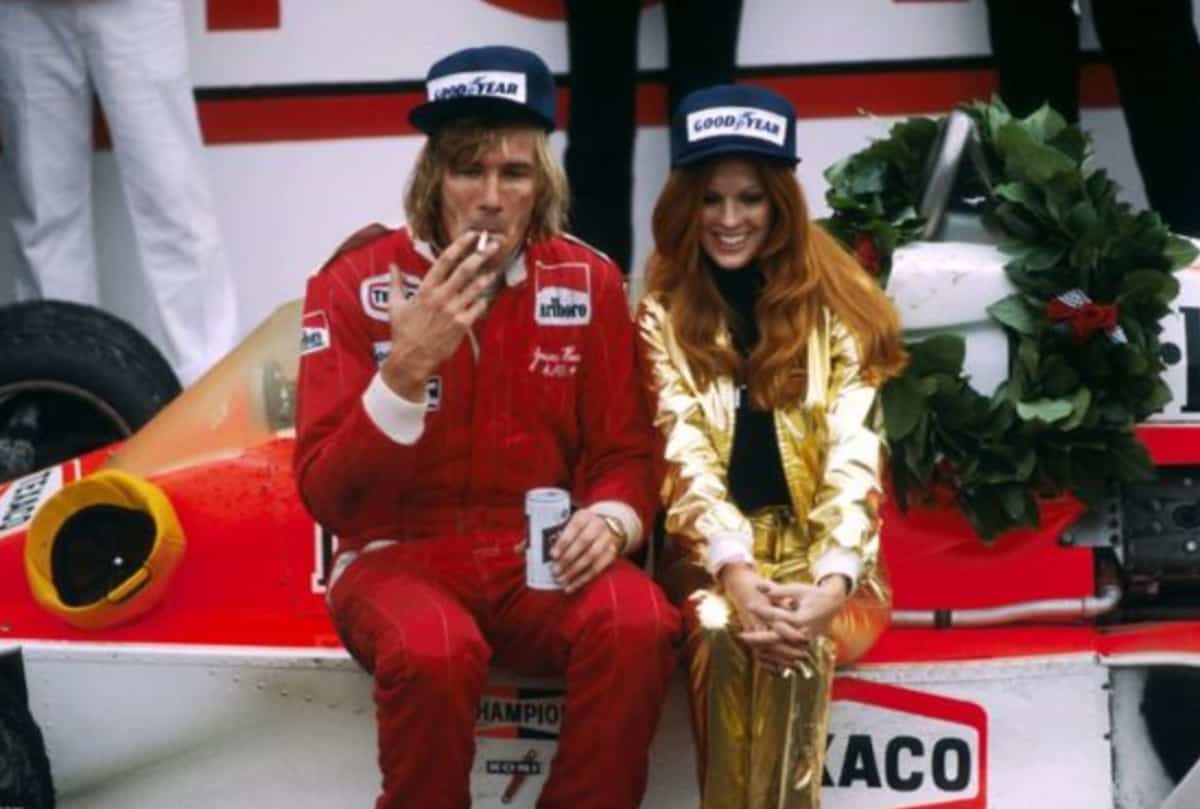 Hailing from England, James Hunt was a well-known figure in F1 racing for his talent but also rock-star looks and personality. He won the 1976 Formula One World Championship before retiring in 1979. He also won the Dutch Grand Prix as well as the Japan Grand Prix, in addition to others.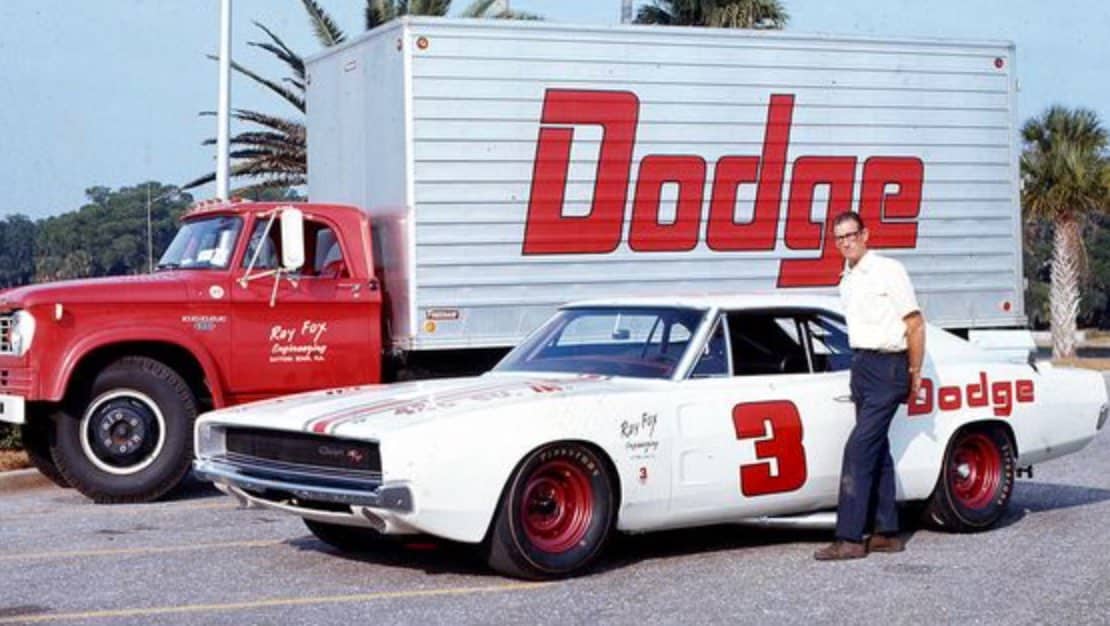 No. 11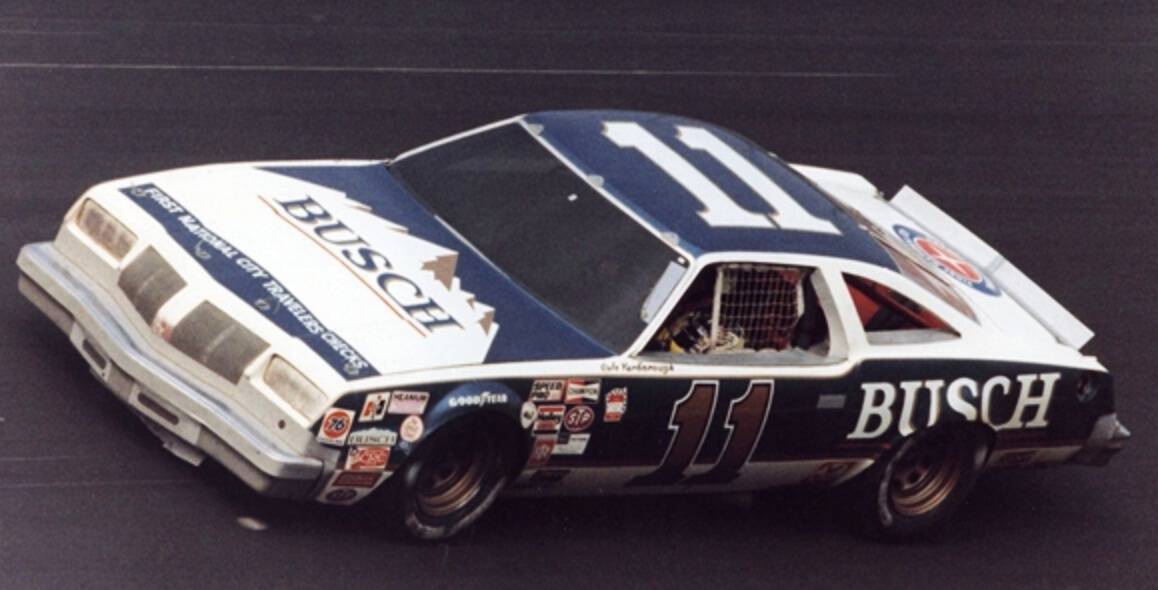 An entire page could be written on this driver's wins and accolades. We'll keep it simple in saying that Cale Yarborough in the Blue and White No. 11 is icon of NASCAR. He has the sixth-most wins in Monster Energy Series (formerly Winston Cup Series, among others) history including three Winston Cup Series championships, four Daytona 500's, and three years straight of being named National Motorsports Press Association's Driver of the Year.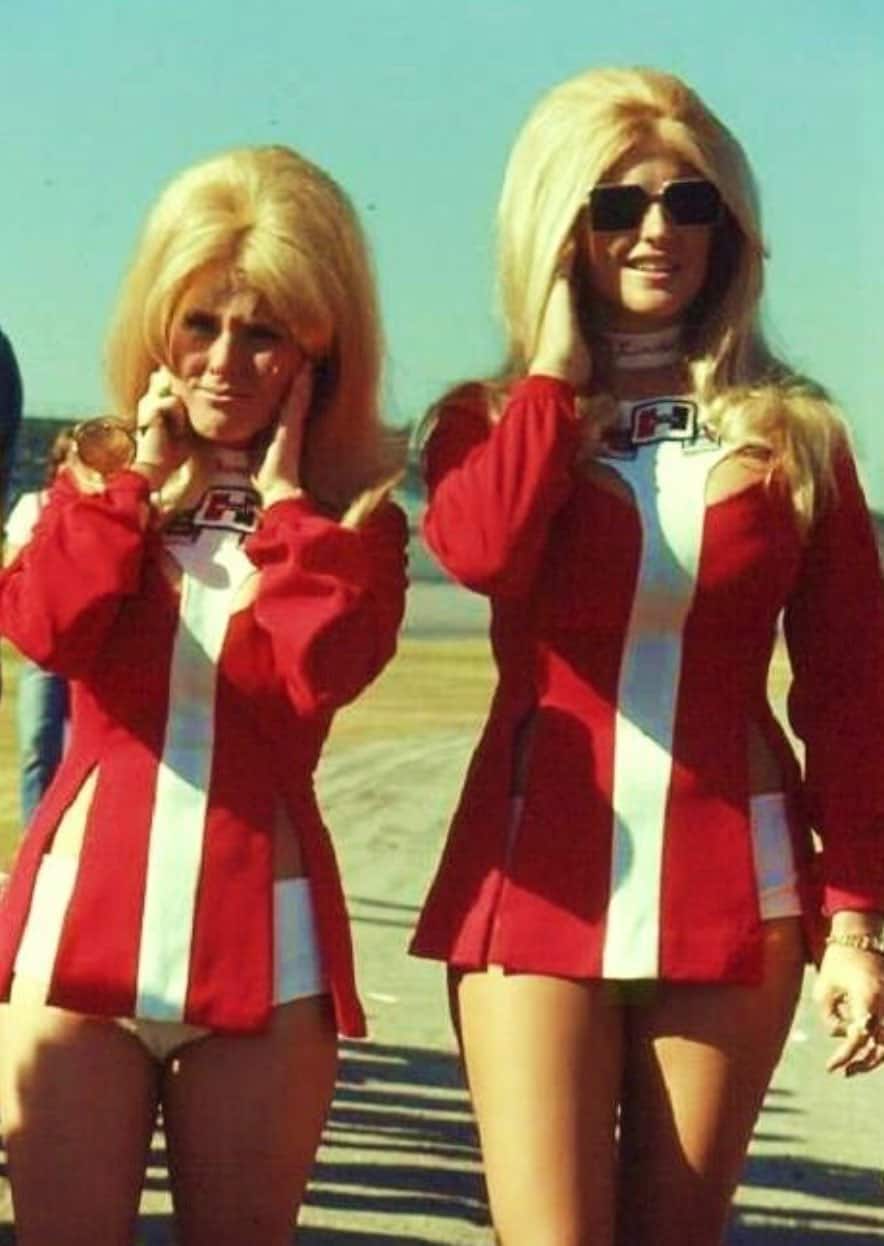 Ray Fox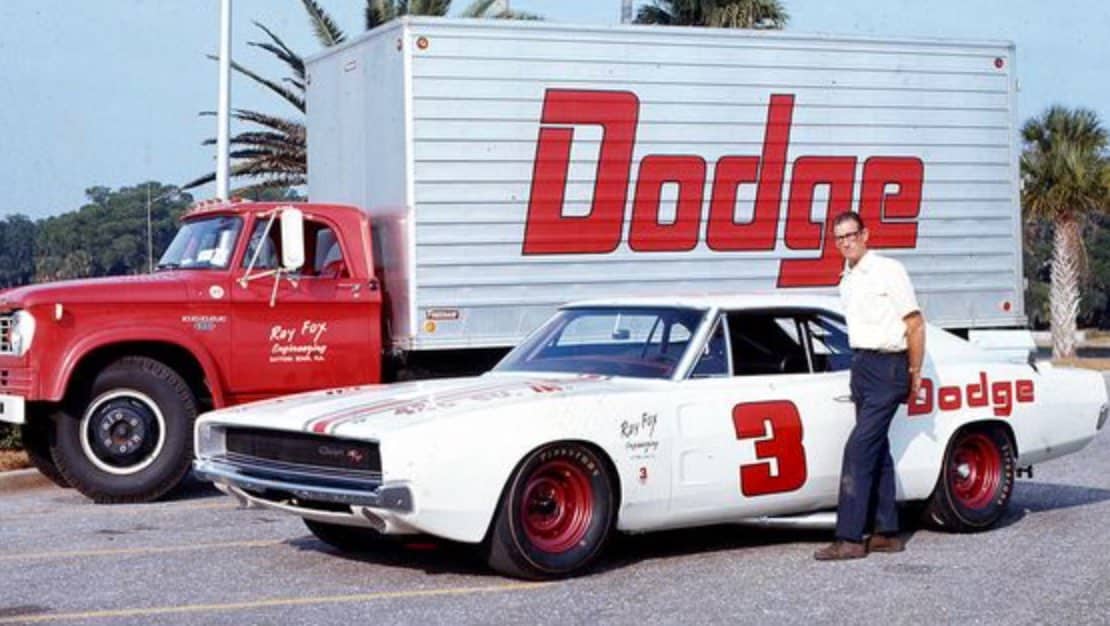 Ray Fox never crossed the finish line at Daytona, but his cars sure did. Fox was a legendary engine builder and car owner, and later an engine inspector for NASCAR. Drivers who have gotten behind the wheel of one of Ray Fox's race cars is a laundry list of who's who in NASCAR. In 2003, Fox was inducted in the International Motorsports Hall of Fame.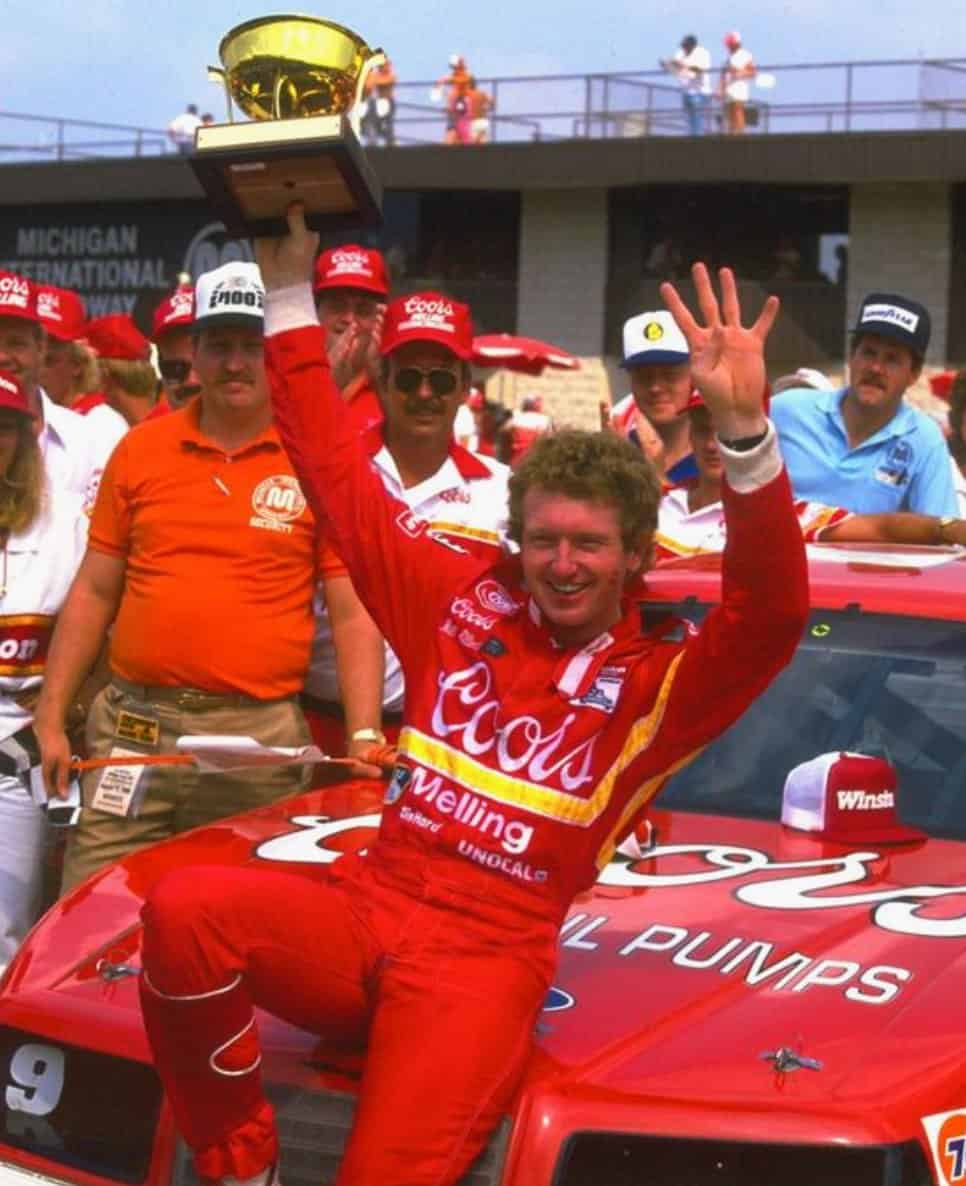 1969 Daytona 500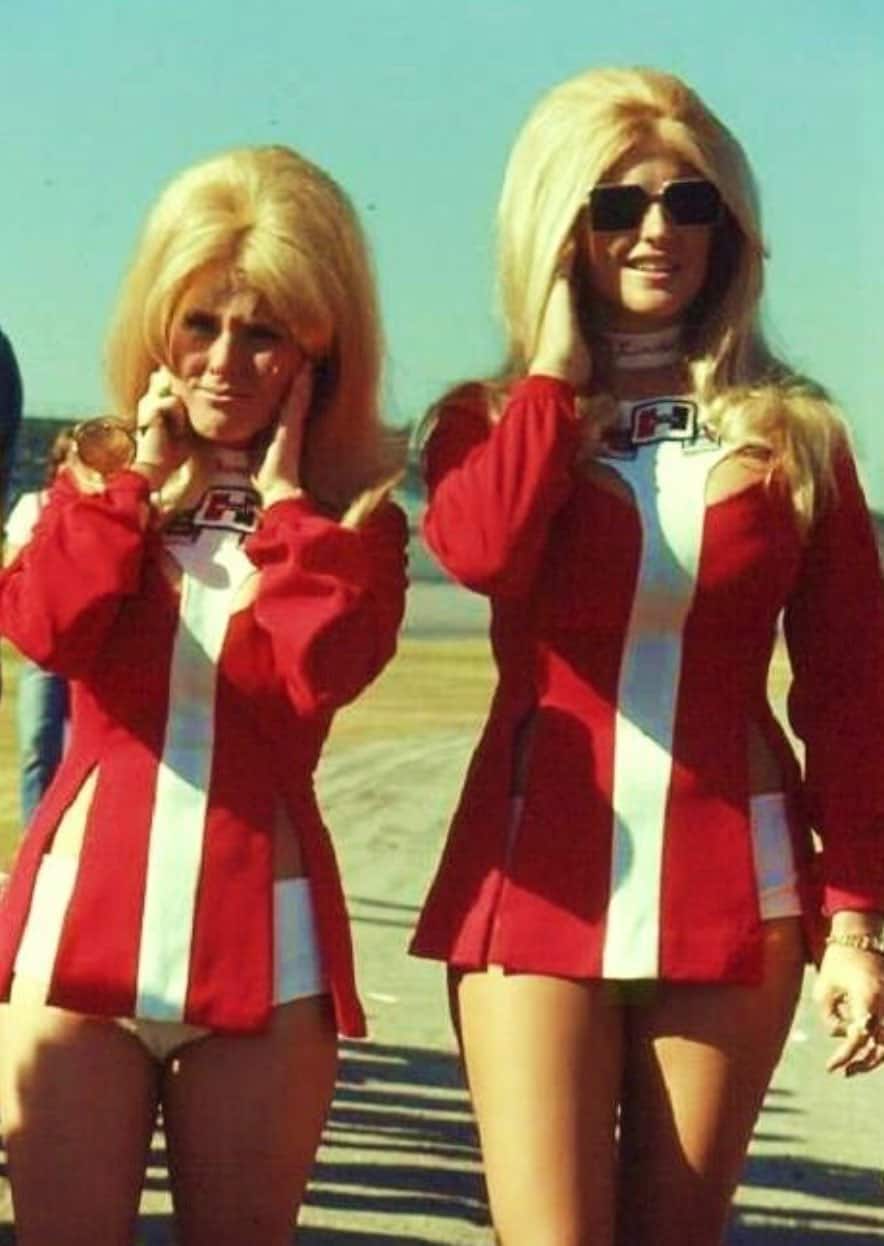 The year was 1969 and NASCAR was on the cusp of a cultural boom. Back then, you never knew who you might see at a race and the apparel one promotional models were equally a toss-up. These two models are pictured at the 1969 Daytona 500. LeeRoy Yarbrough won that race in his legendary No. 98 Ford Torino Talladega. Tragically, that may have been one of the last things LeeRoy remembers. An accident in 1970 left him with severe memory issues which left him with difficulty remembering much of his day-today life from 1970 onward.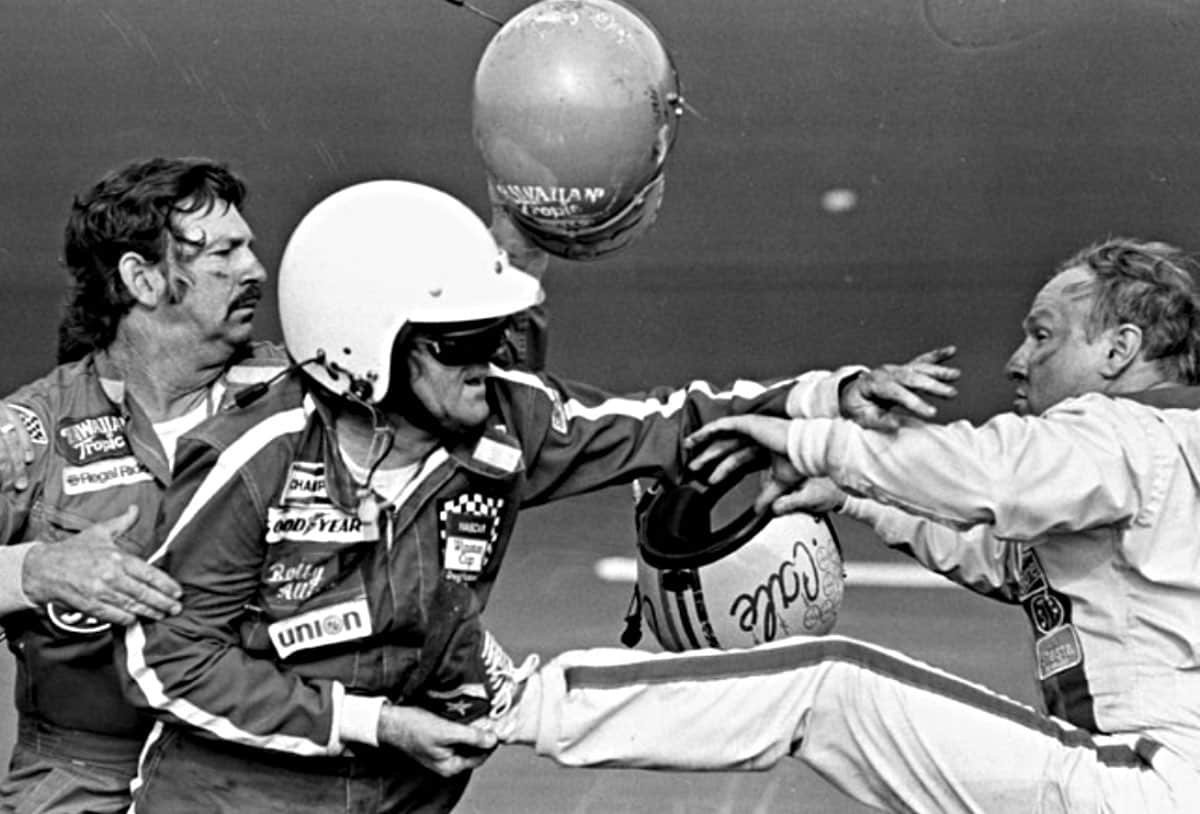 1986 Champion Spark Plug 400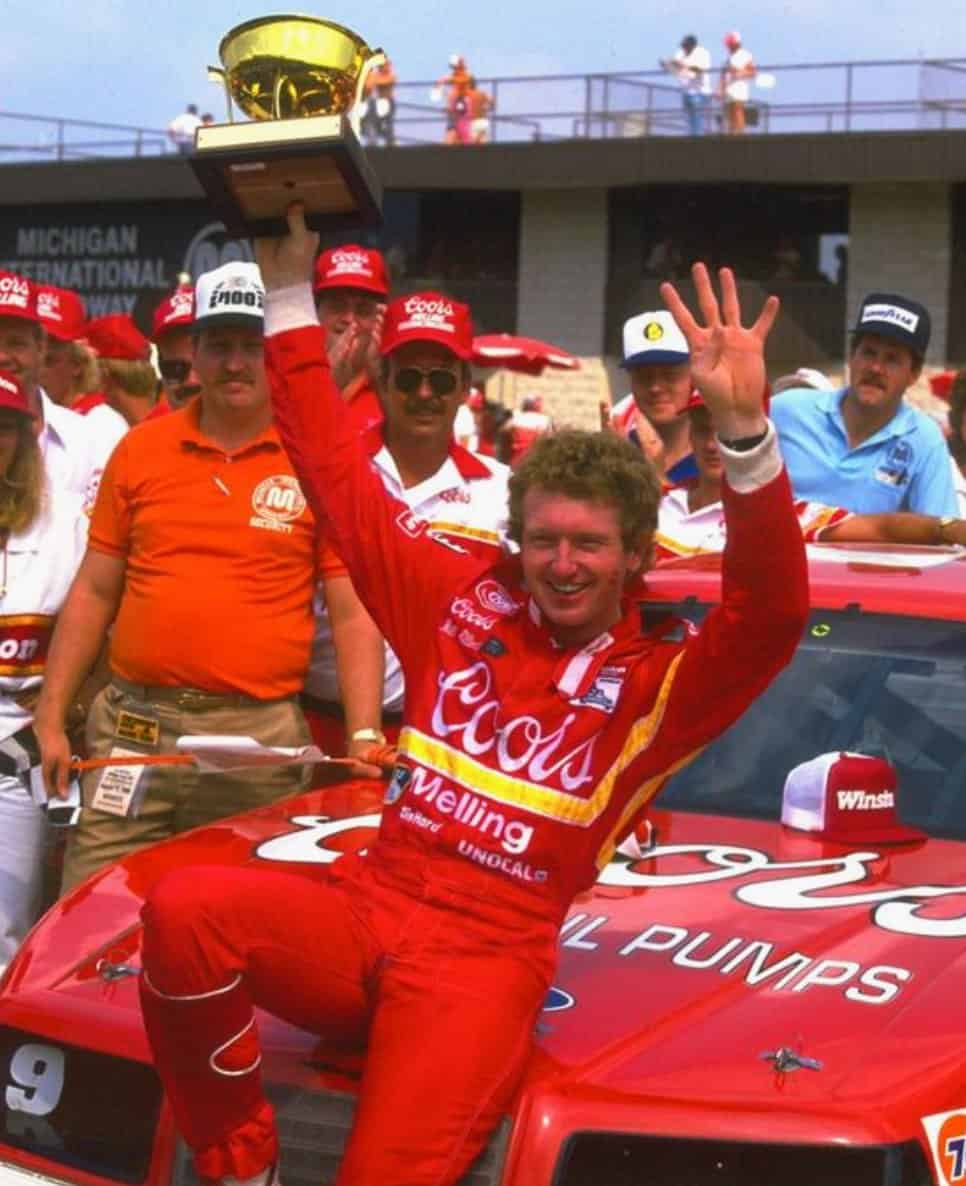 This classic image of legendary racer Bill Elliott was taken moments after winning his fourth straight Champion Spark Plug 400 at Michigan International Speedway. Bill Elliot started racing professionally in 1976, and didn't retire until 2012. He won 44 races over his 36-year career in 828 total races. He's donned a lot of colors for a lot of different owners – but the red Coors No. 9 will always be legendary to his fans!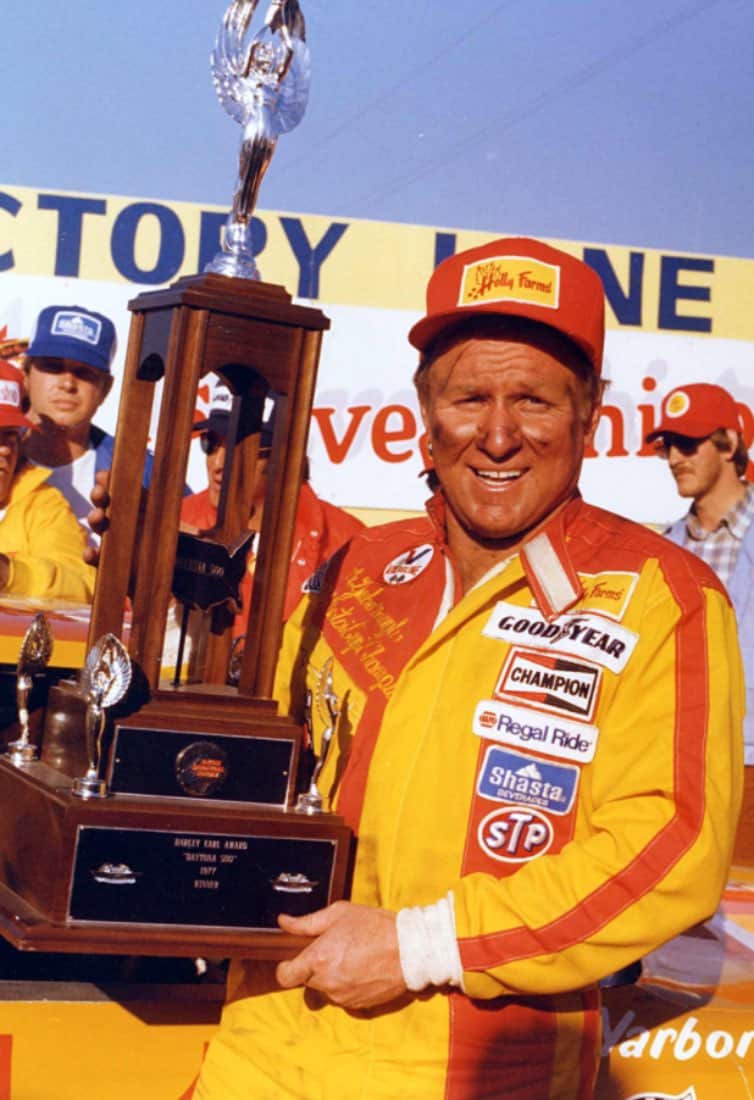 The Fight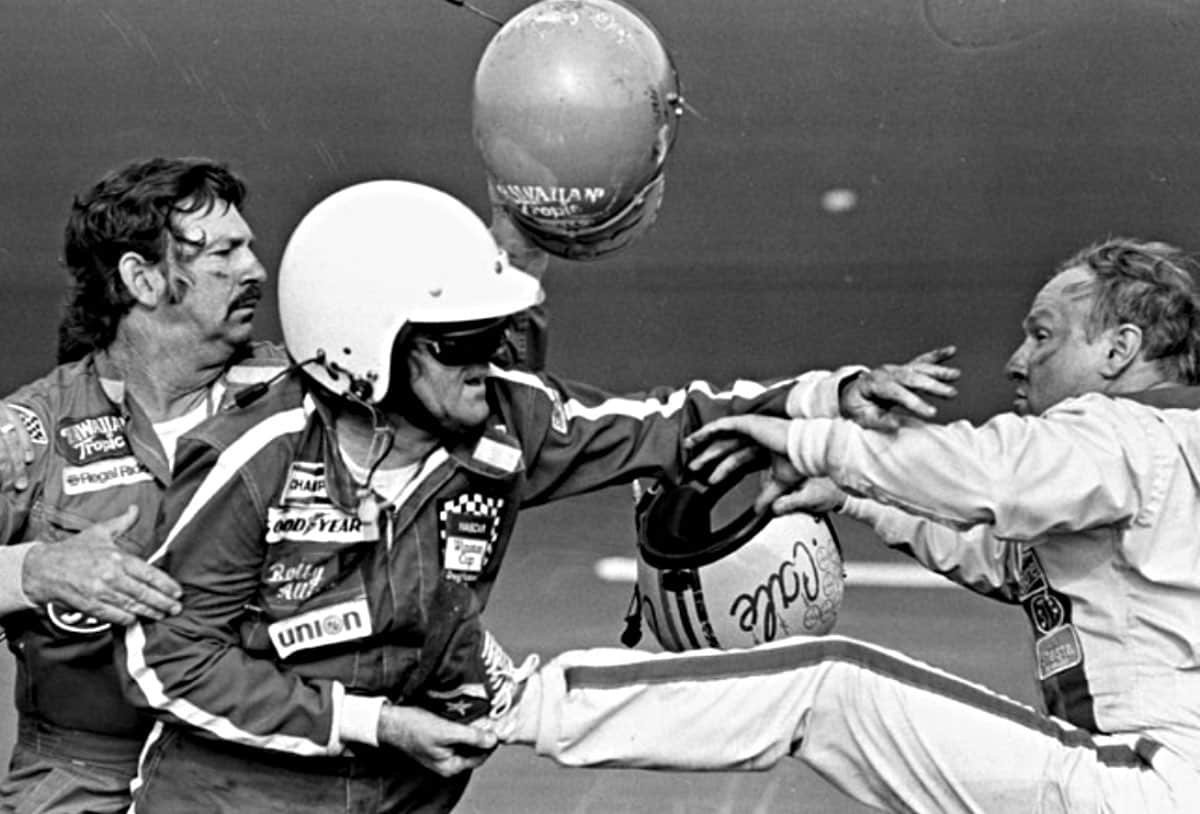 Cale Yarborough, on the right of the image, was coming off three straight seasons of winning the Winston Cup – a feat no one had ever accomplished before and only Jimmie Johnson has accomplished since. Tensions were high amongst all the drivers to knock off the champ. Well, at the Daytona 500 in the 1979 season, those tensions overflowed. Yarborough and Donnie Allison were bumping cars all race long, with Yarborough intending to slingshot him at the end. But neither racer won, and both drivers (alongside Donnie's brother, Bobby) took matters into their own hands, literally. That fight did a lot of the popularity of NASCAR in homes across America.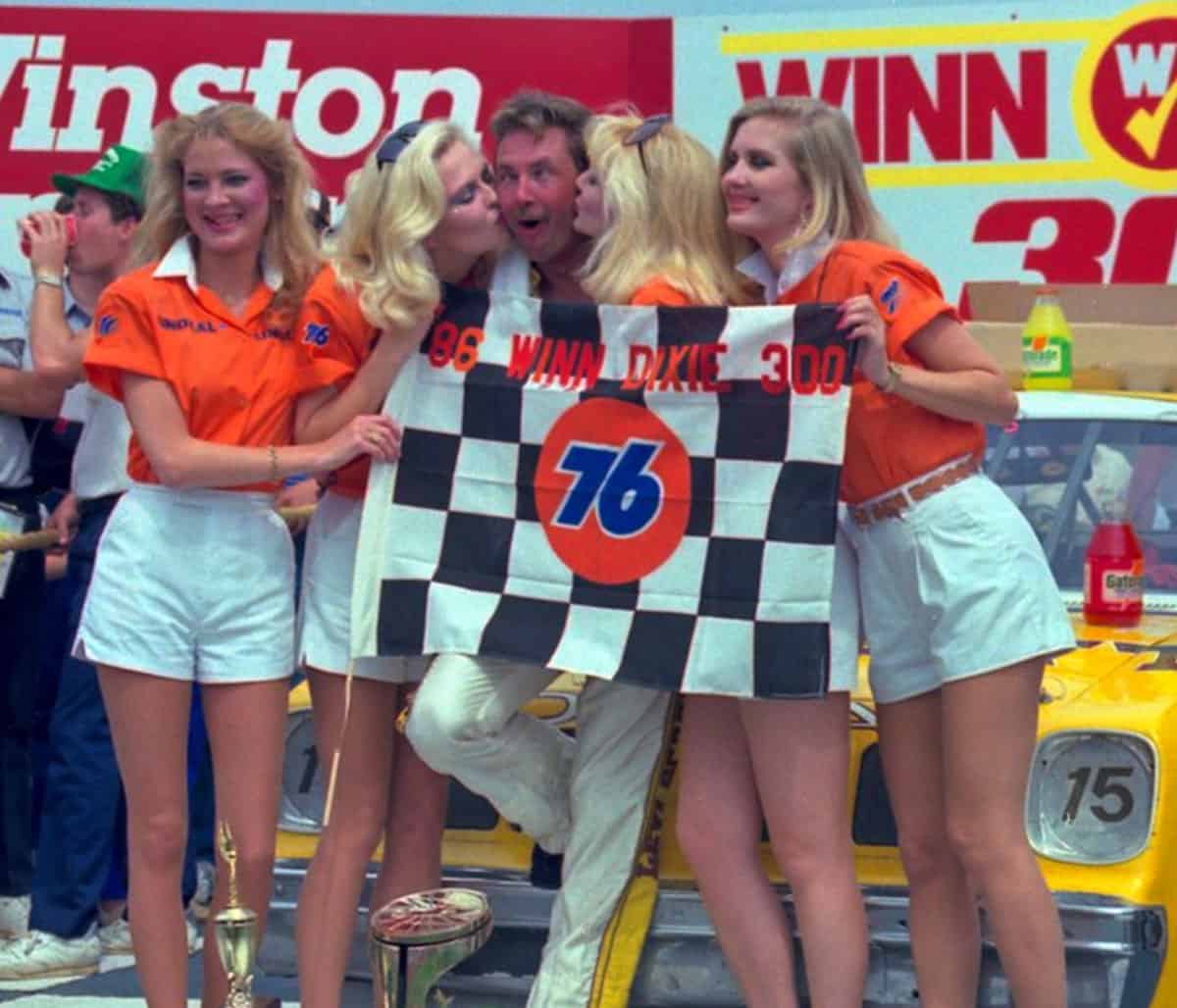 History of the Daytona 500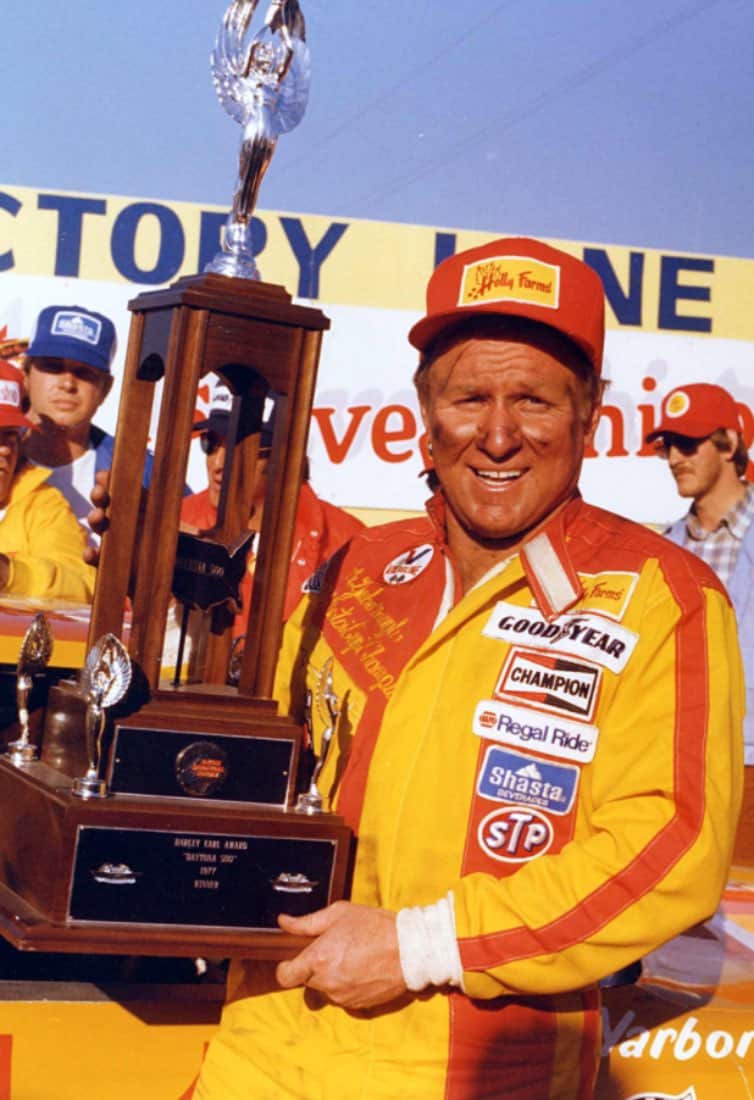 Ever since 1959, drivers and fans have descended upon Daytona, Florida for "The Great American Race" – the Daytona 500. It's been run continuously since then, and serves as the opening race for the NASCAR season every year since 1982. Daytona Beach Road Course is the reason racing is so big in that section of Florida. The Daytona 500 is a continuation of the racing tradition and history that surrounds the city of Daytona. Richard Petty won the most, with seven. Cale Yarborough, seen above, won four.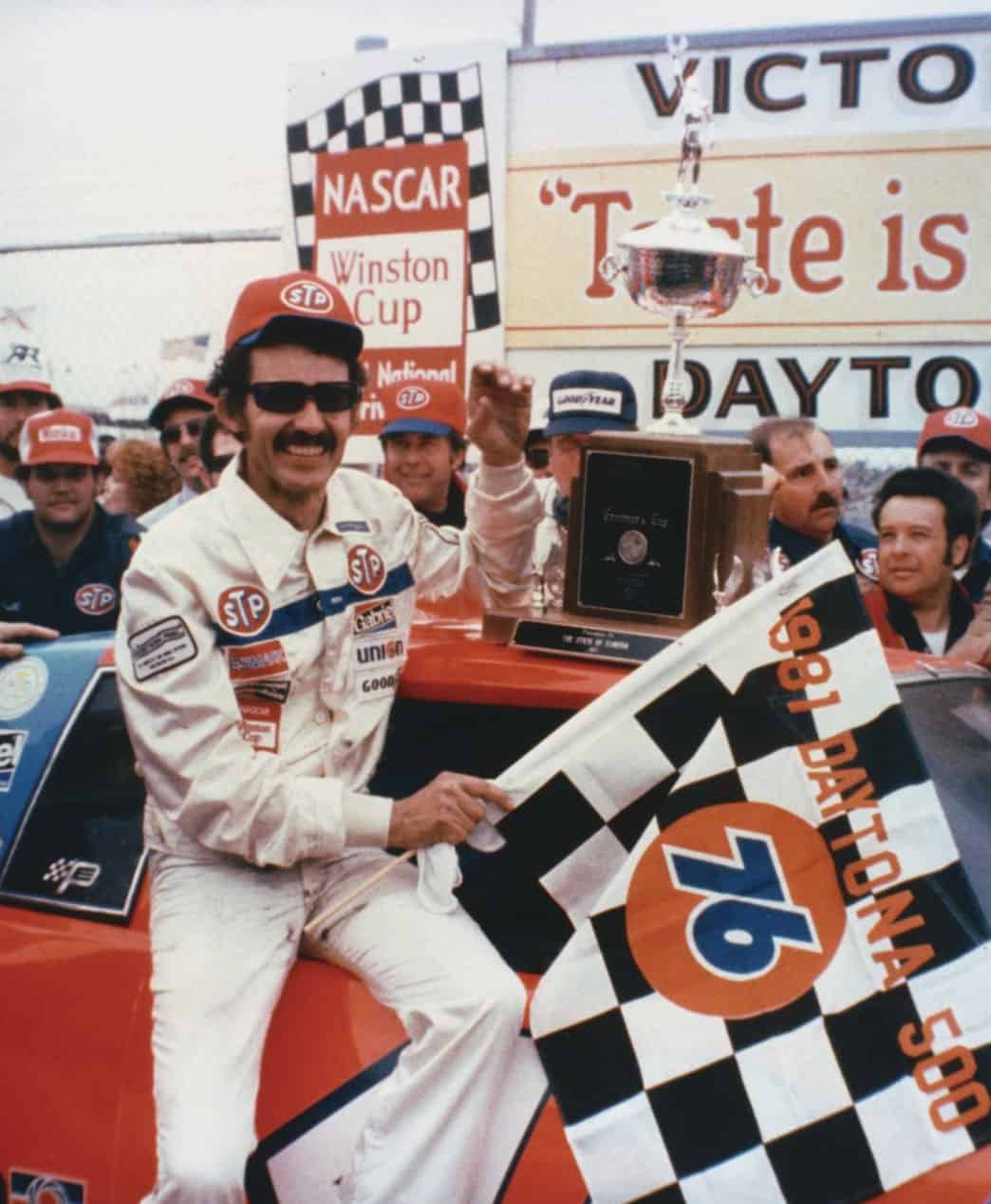 Always A Good Time When You Win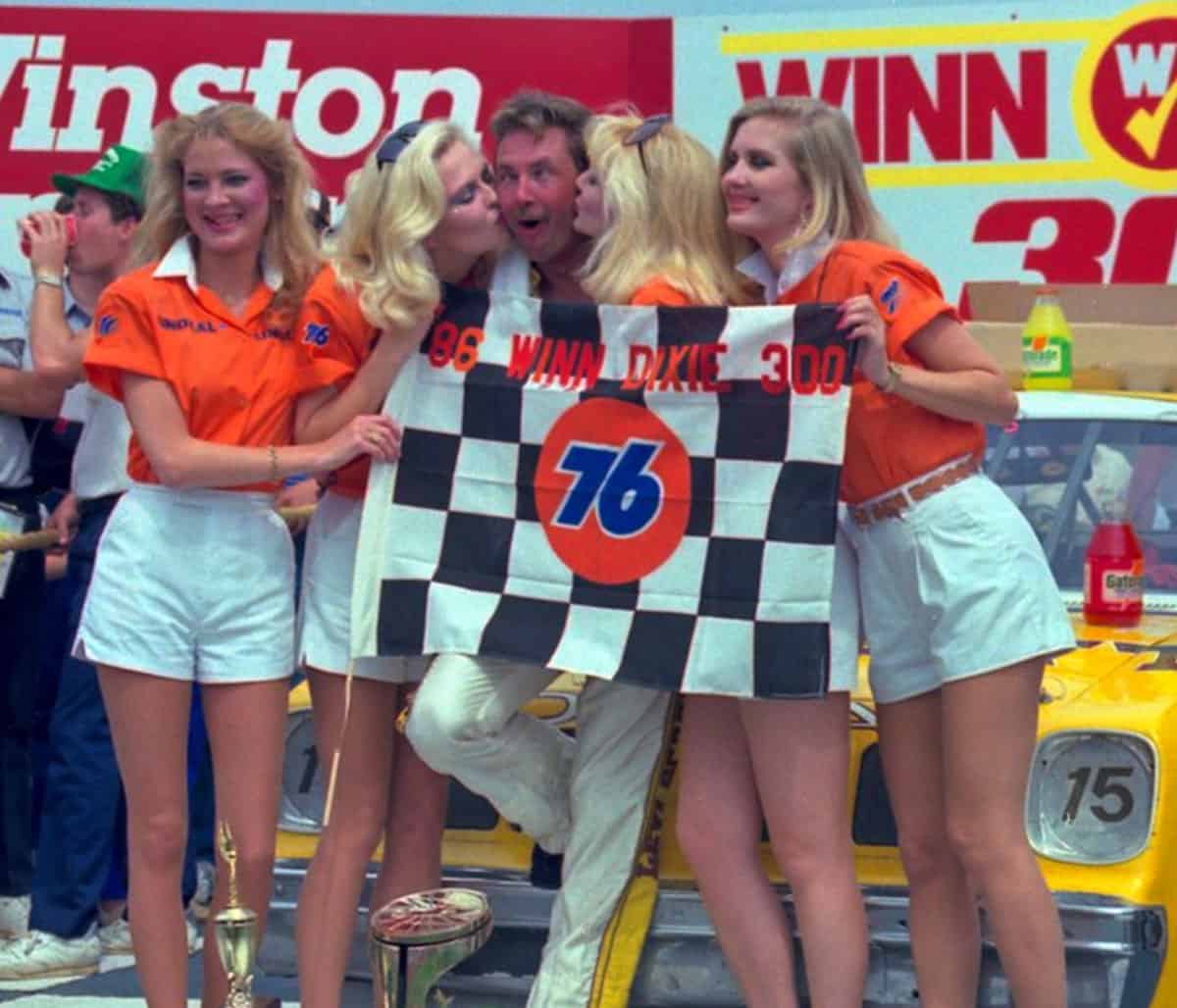 Tim Richmond, in the Levi Garrett No. 15 Pontiac owned by Rick Hendrick, wins the 1986 Winn Dixie 300. The track at Charlotte Motor Speedway outside of Concord, North Carolina is 1.5 mile track that pits drivers against each other for 200 laps. Richmond beat out runner-up, Brett Bodine, by 37 seconds and finished the race in 2 hours and eight minutes. After all that hard work, it must've been nice to enjoy the elation after a victory.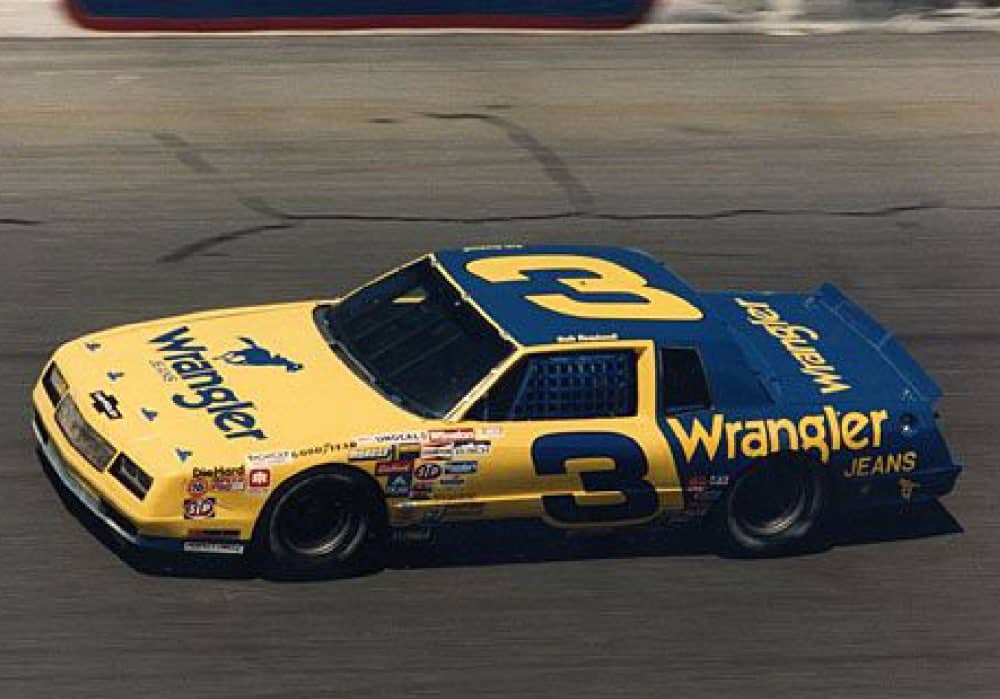 Petty Gets His Last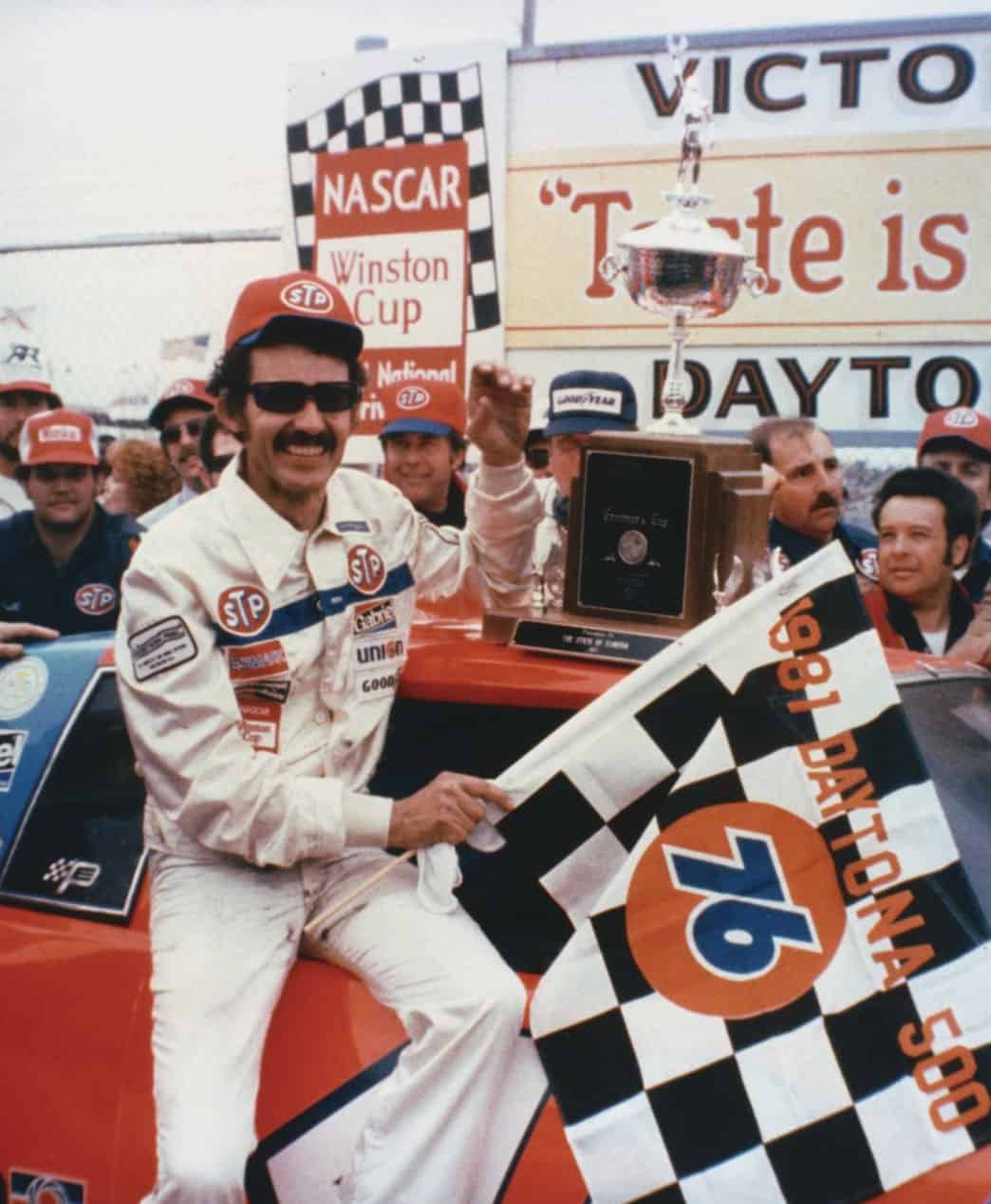 The last of his astonishing seven Daytona 500 victories was a thriller. Bobby Allison, Neil Bonnett and Buddy Baker traded the lead back and forth all race long. That is until Richard Petty took the lead for the first time of the race in the 174th lap. Once he was in first, he didn't give it up. He edged out Bobby Allison by 3.5 seconds (as well as Buddy Baker, Ricky Rudd and Dale Earnhardt) to earn the last of his victories as Daytona.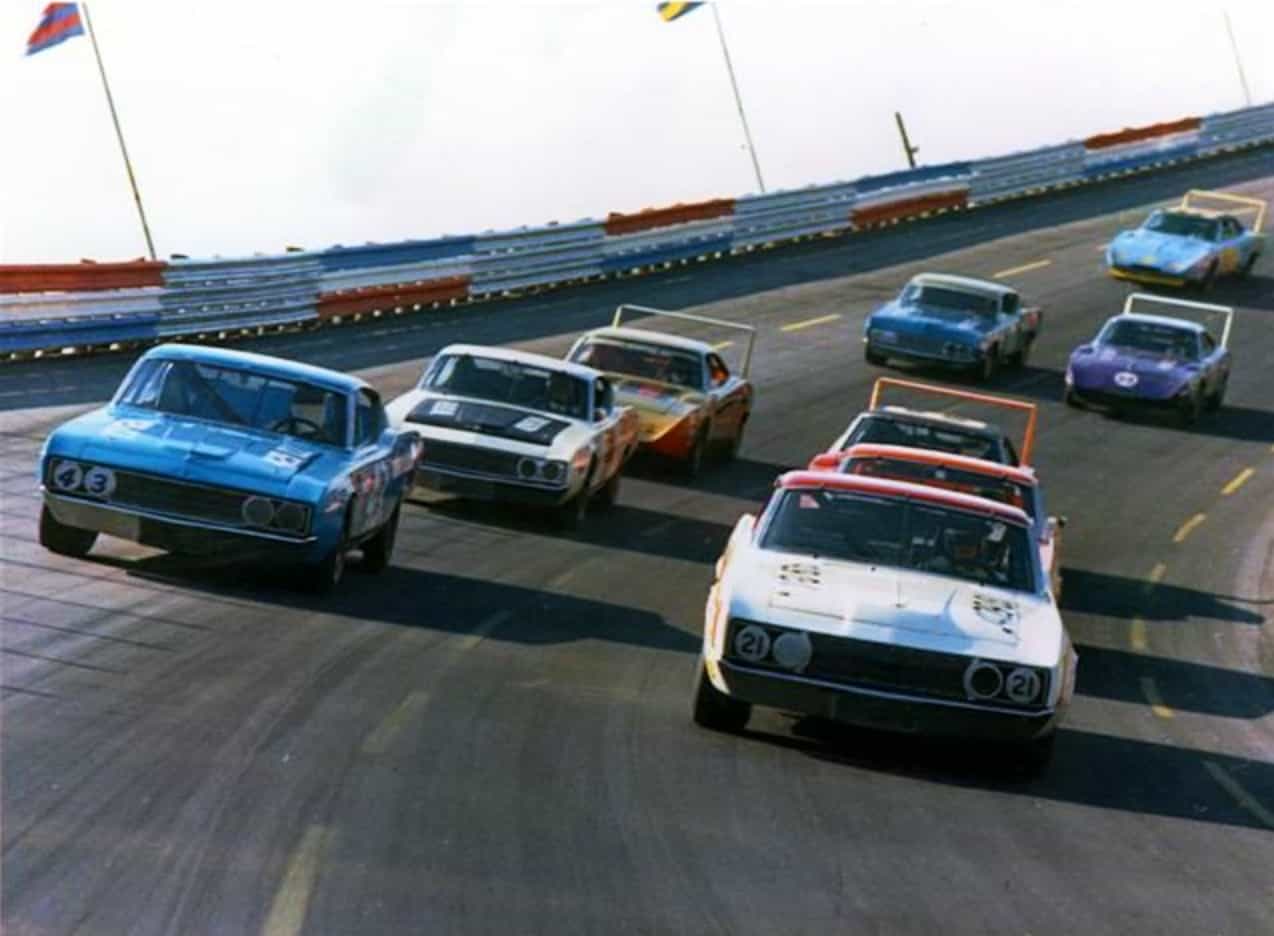 1986 Wrangler Jeans No. 3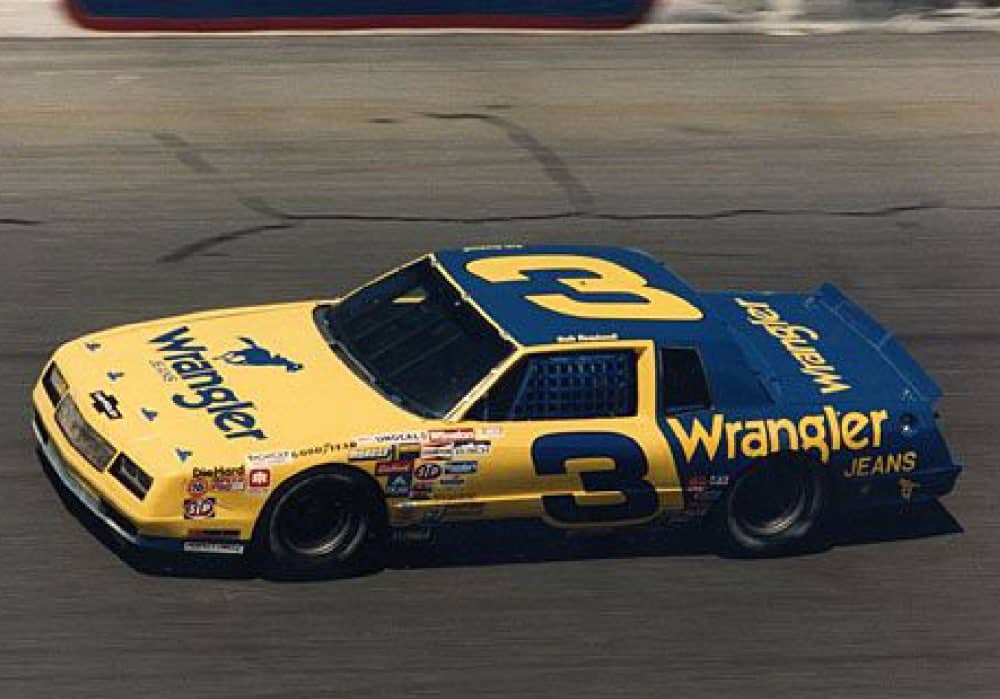 Dale Earnhardt accomplished a lot in this classic NASCAR machine. The 1983-1986 Ford Thunderbirds dominated the sport to the point that something had to be done. Chevrolet and GM took their Monte Carlo and added a 25-degree slope of three-sided glass in the rear, from the roof to the trunk in production models. They made precisely 200 – the number NASCAR mandated for public consumption before it could be utilized in NASCAR. Earnhardt won the 1986 and 1987 Winston Cup Series Championship in this bad boy.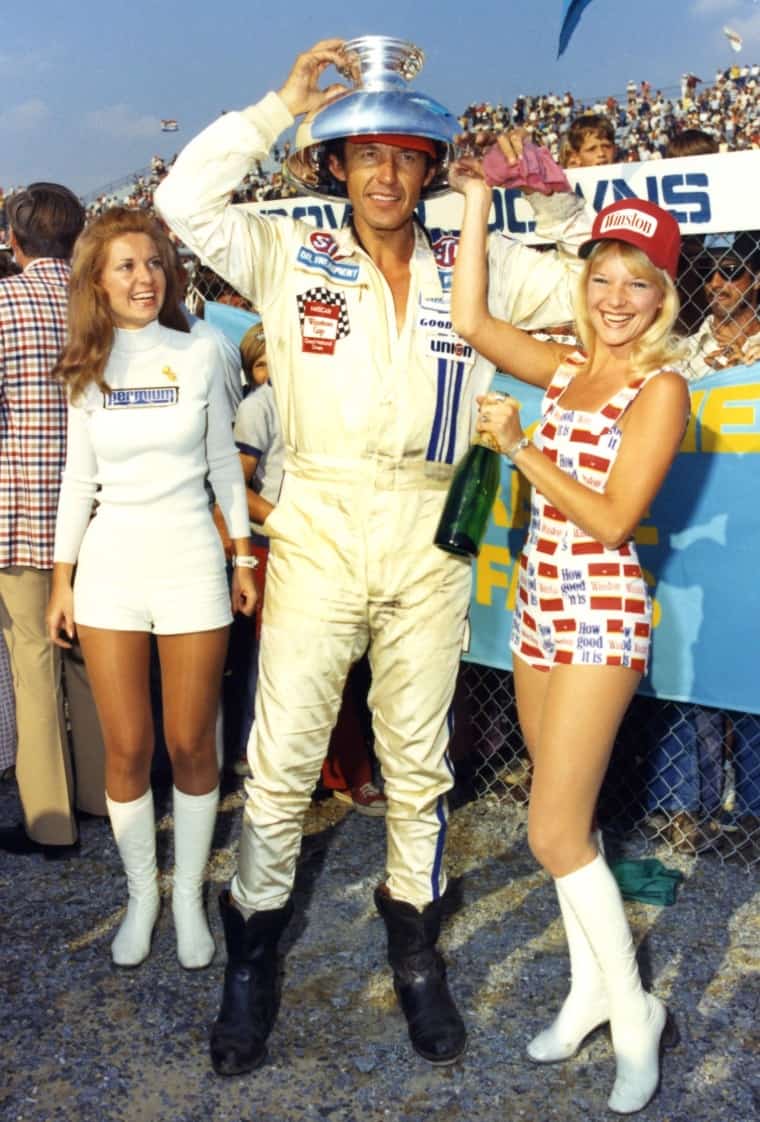 Amazing Stats from an Amazing Year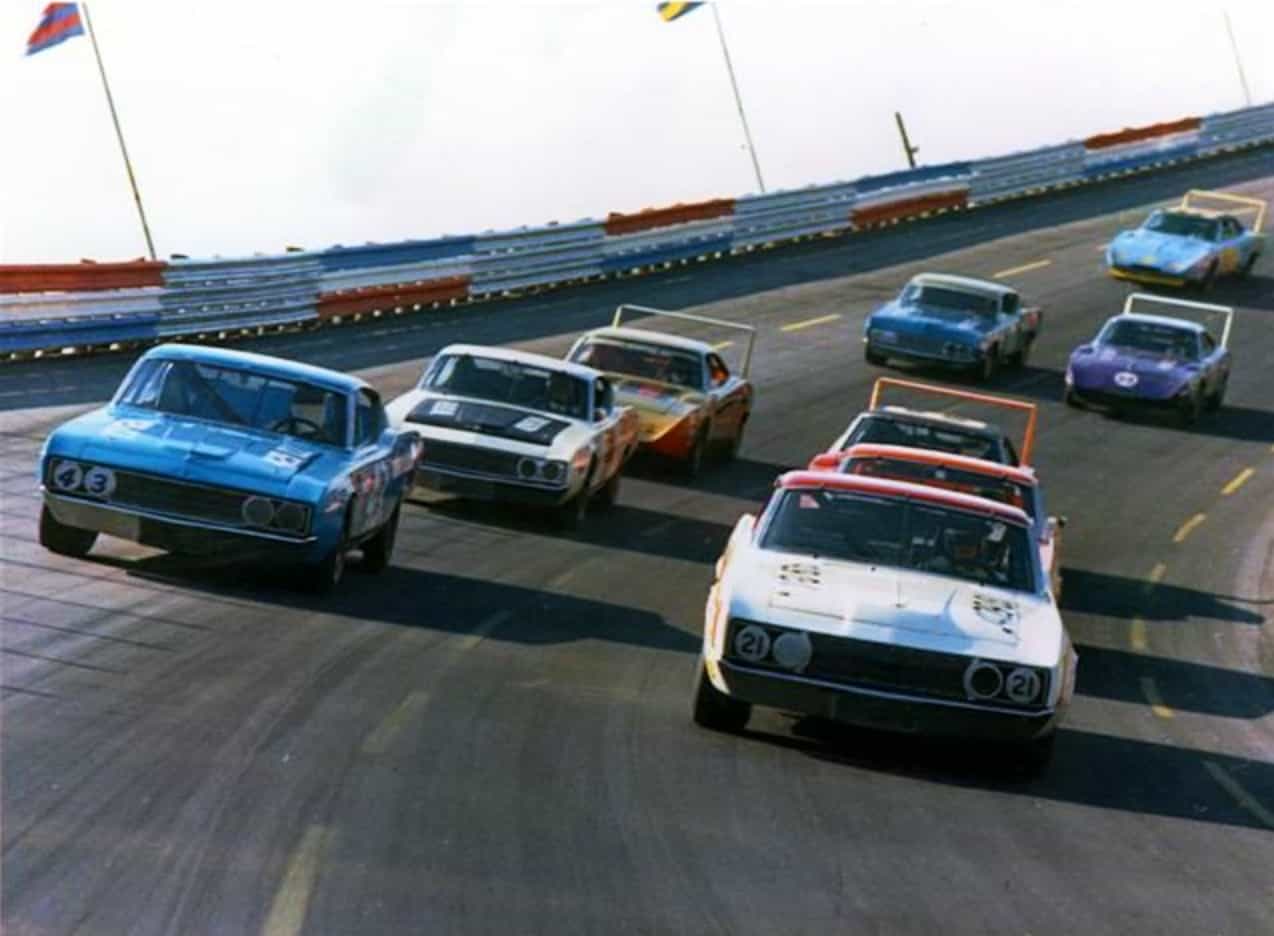 The 1968 season is essentially just a list of the greatest drivers on vintage NASCAR. Bobby Allison won the first race of the year at Macon, followed by Petty at Daytona. David Pearson and Richard petty each won 16 races that year. 16! Cale Yarbrough won five times, as well. Buddy Baker, LeeRoy Yarbrough, Bobby Isaac, Donnie Allison, Dan Gurney, and Charlie Glotzbach are the other drivers who won that year. In 49 races, only 10 drivers won because of complete domination from Pearson and Petty.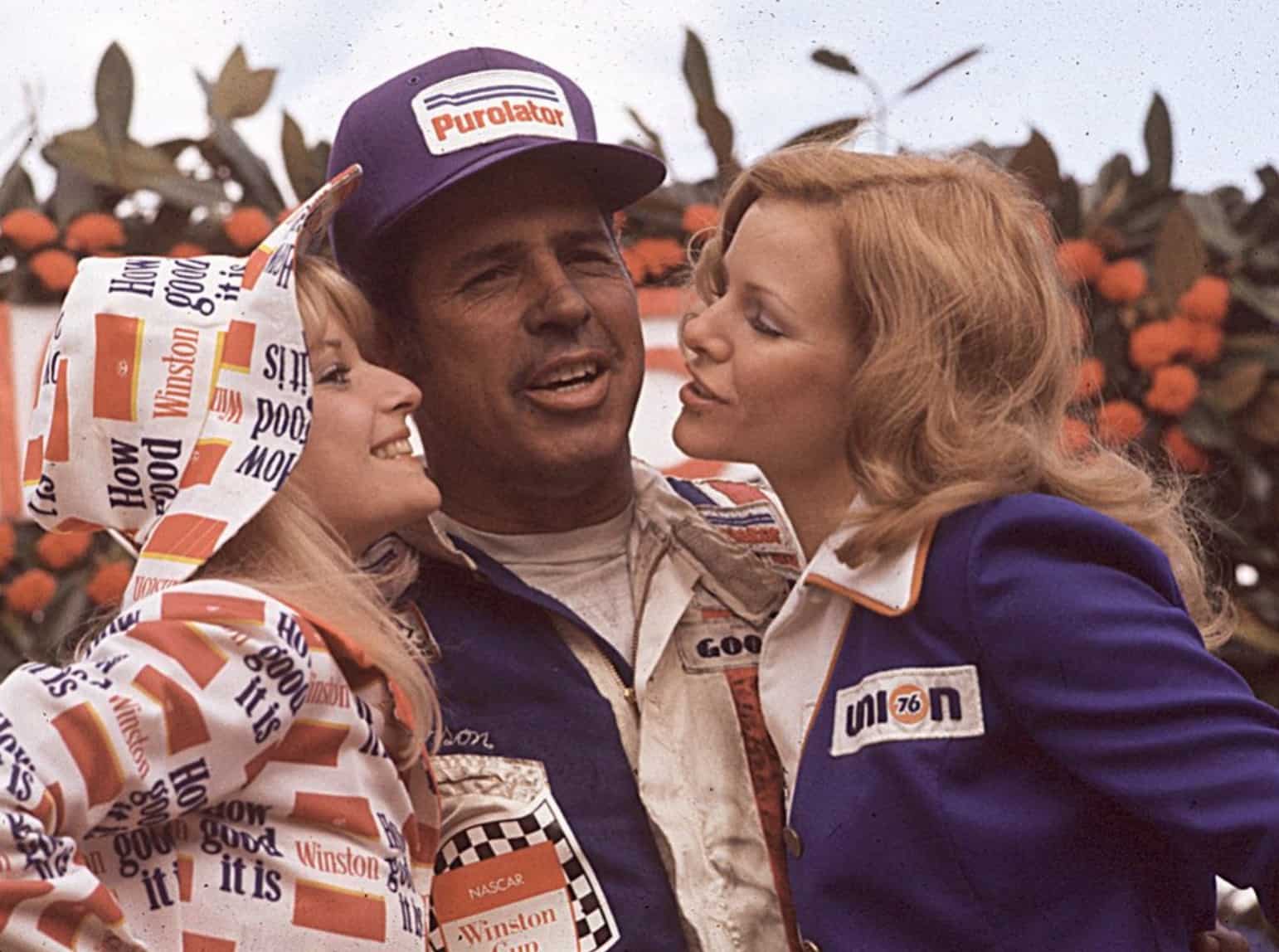 Domination at Dover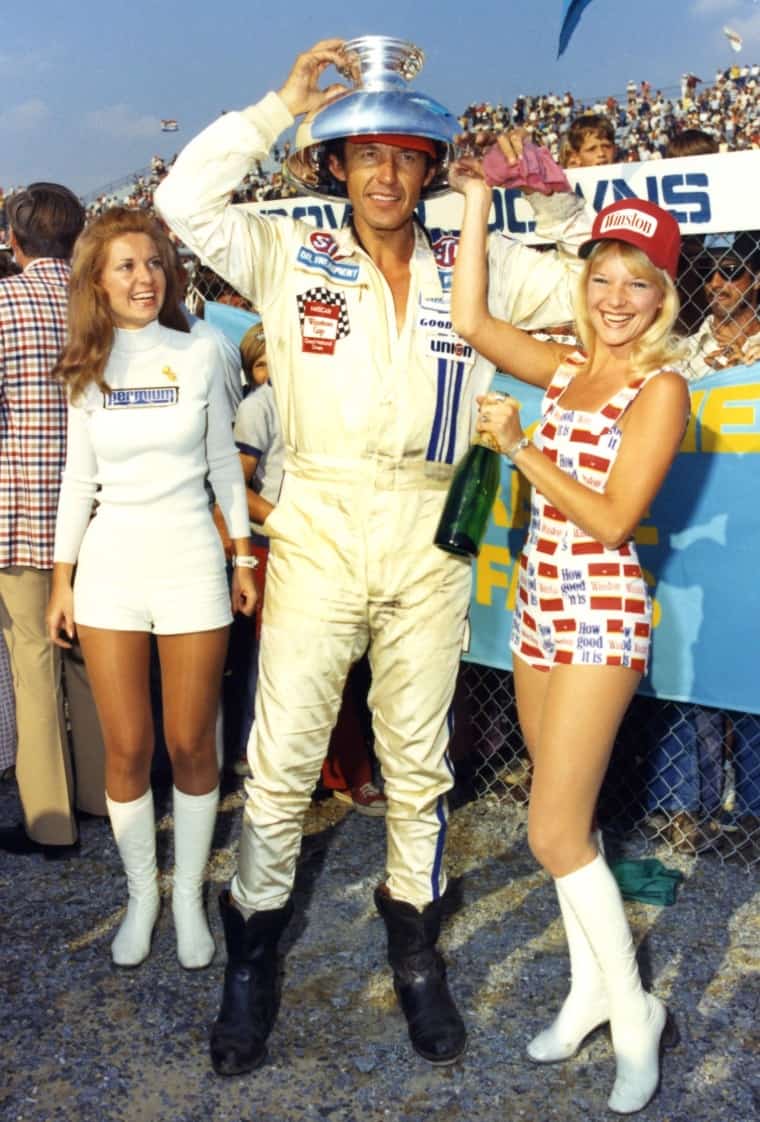 We know we just discussed Petty's domination during 1968, but we're going to continue to talk about it. This time, it's 1974 NASCAR race at Dover. Five drivers led 9 laps, and one driver led 491 laps. Richard Petty never came close to losing this one. And his all-smiles demeanor after the victory here with the Winston promotional model (in slide No. 2) after the race.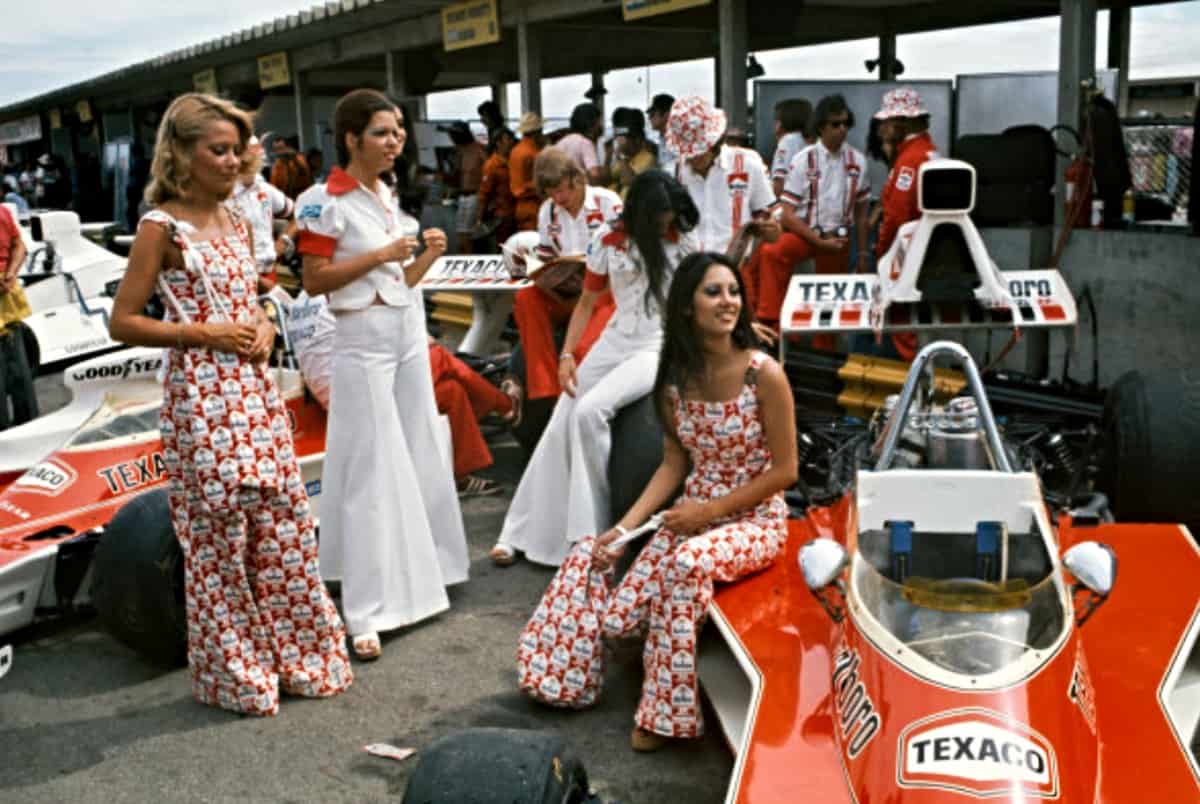 Back to Pearson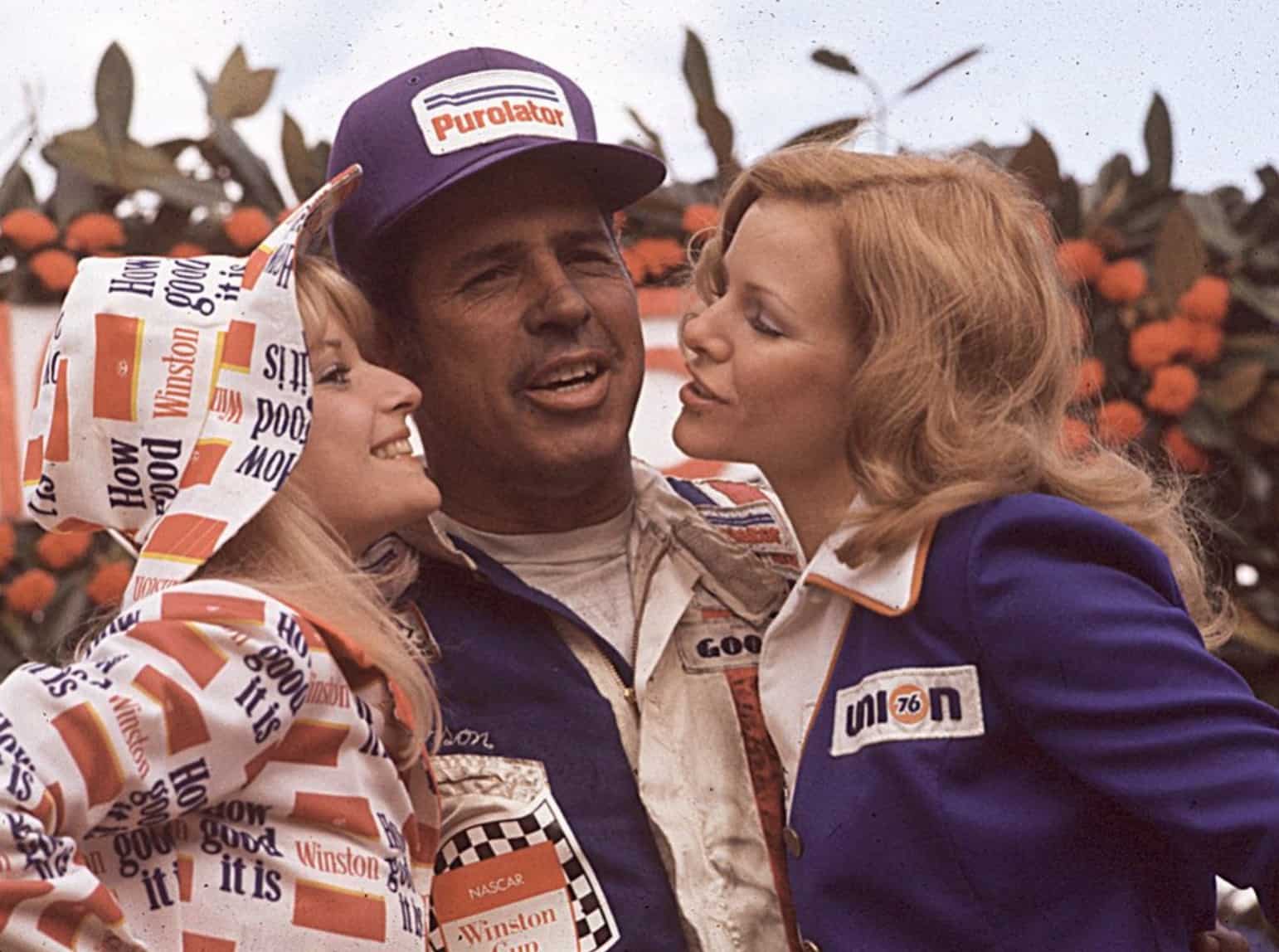 Not to be outdone, Pearson enjoyed plenty of time in the winner's circle during the 1974 season as well. This photo was taken after the 1974 Firecracker 400 at Daytona. Pearson let several other driver's trade leads all race long before duking it out with Petty over the last few laps. Pearson came out on top and got to enjoy the spoils of victory.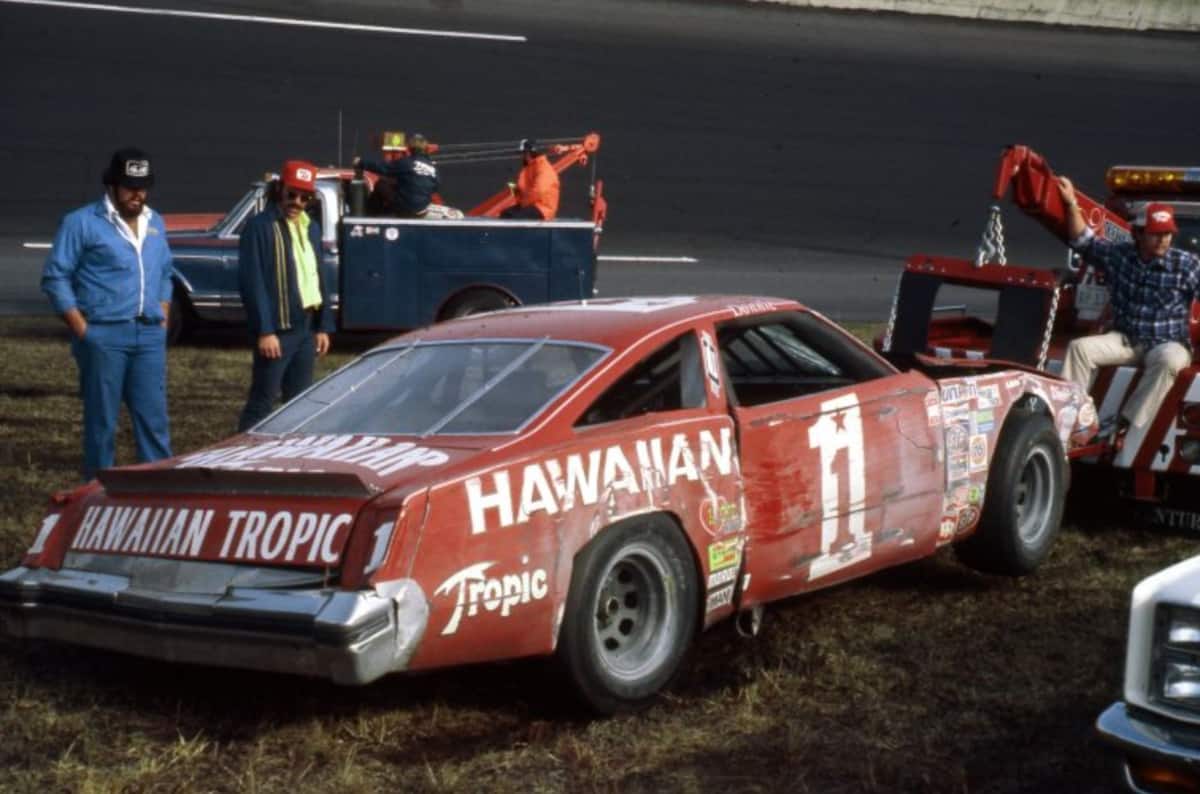 Marlboro Models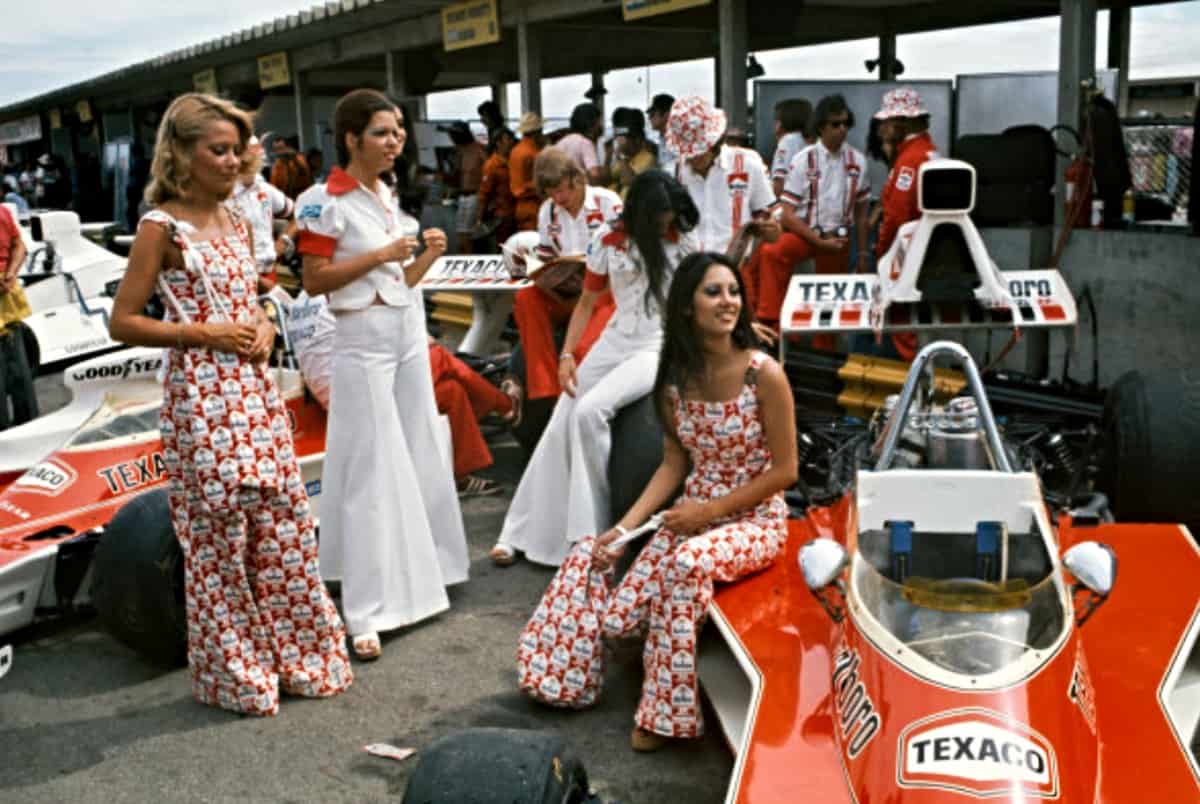 The 1974 Brazilian Grand Prix, Emerson Fittipaldi won the race for Marlboro Team Texaco. The 4.9-mile Interlagos circuit at Sao Paulo was conquered by Fittipaldi in 1 hour and 24 minutes and 37 seconds. He beat out the second-place competitor, Clay Regazzoni, by 13 seconds. Fittipaldi also had the fastest qualifying time. The first race at the Sao Paolo track was in 1972, and the course record was set in 1979 by Jacques Laffite.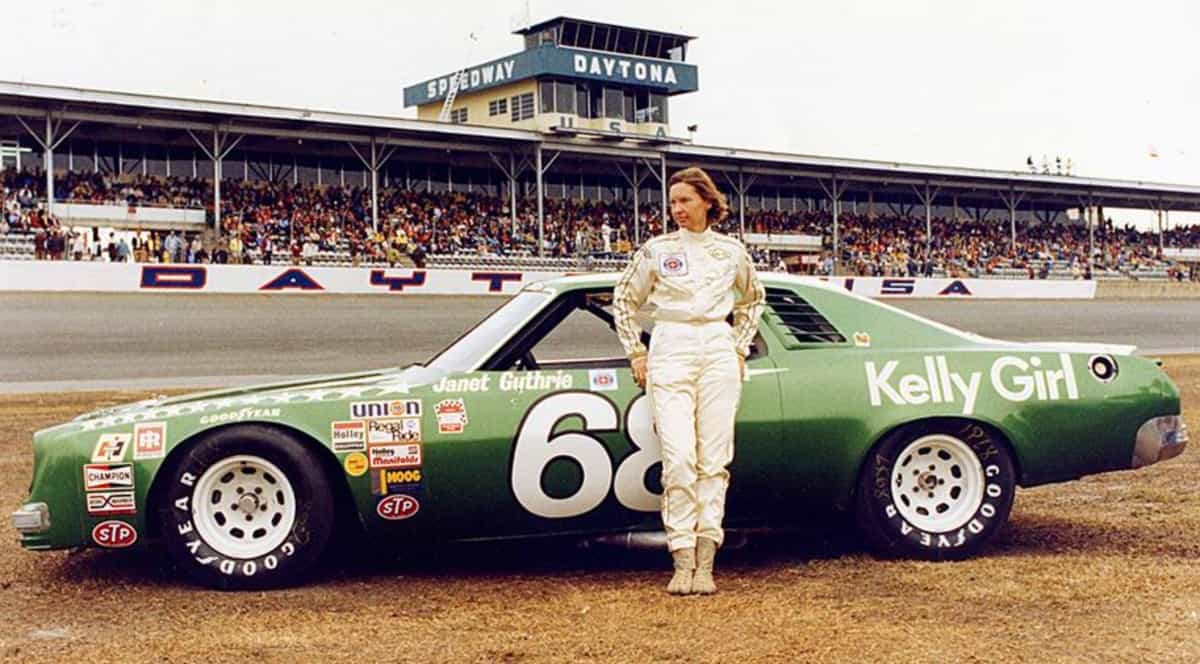 Hawaiin Tropic No. 1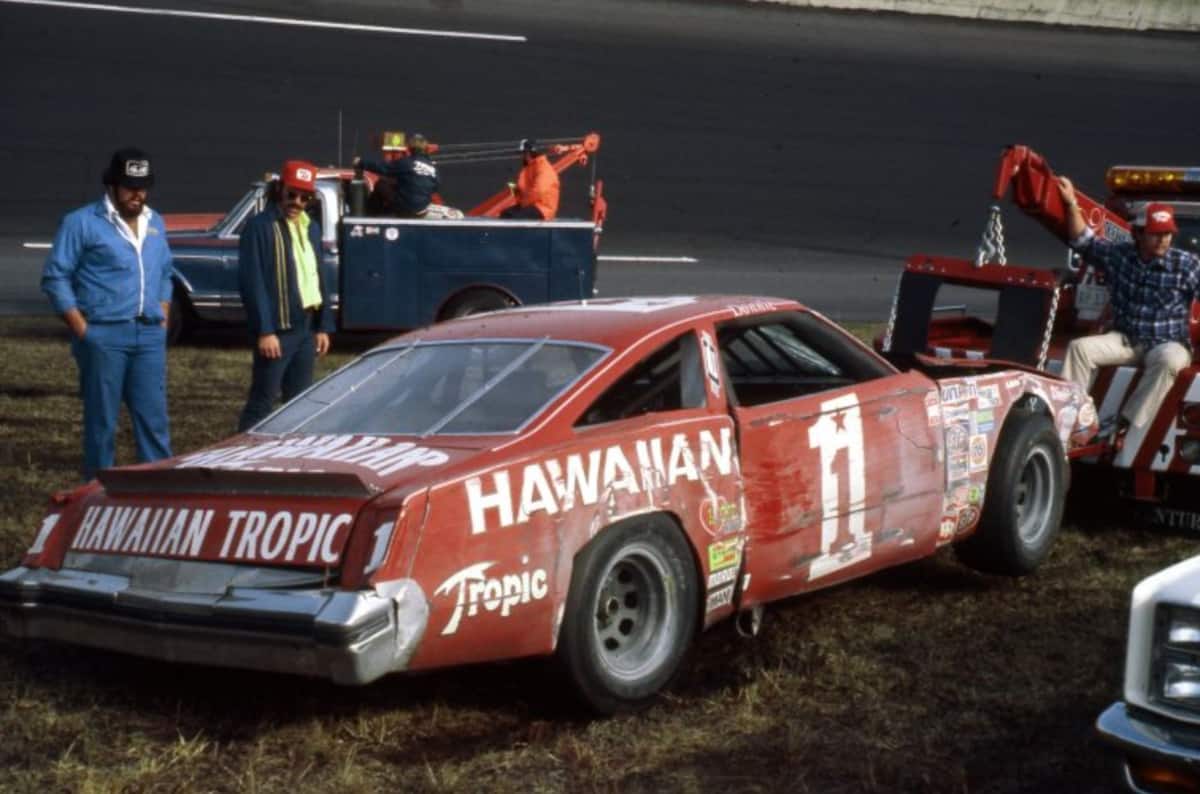 Remember the image of Cale Yarborough taking on both the Allison brothers earlier in this list? Well this is one of the reasons they got to the point of fighting. Yarborough bumped Donnie Allison all race long, until Allison eventually crashed on the last lap of the 1979 Daytona 500. Allison's Hawaiin Tropic No. 1 had to be towed off the infield, no wonder there was a fight!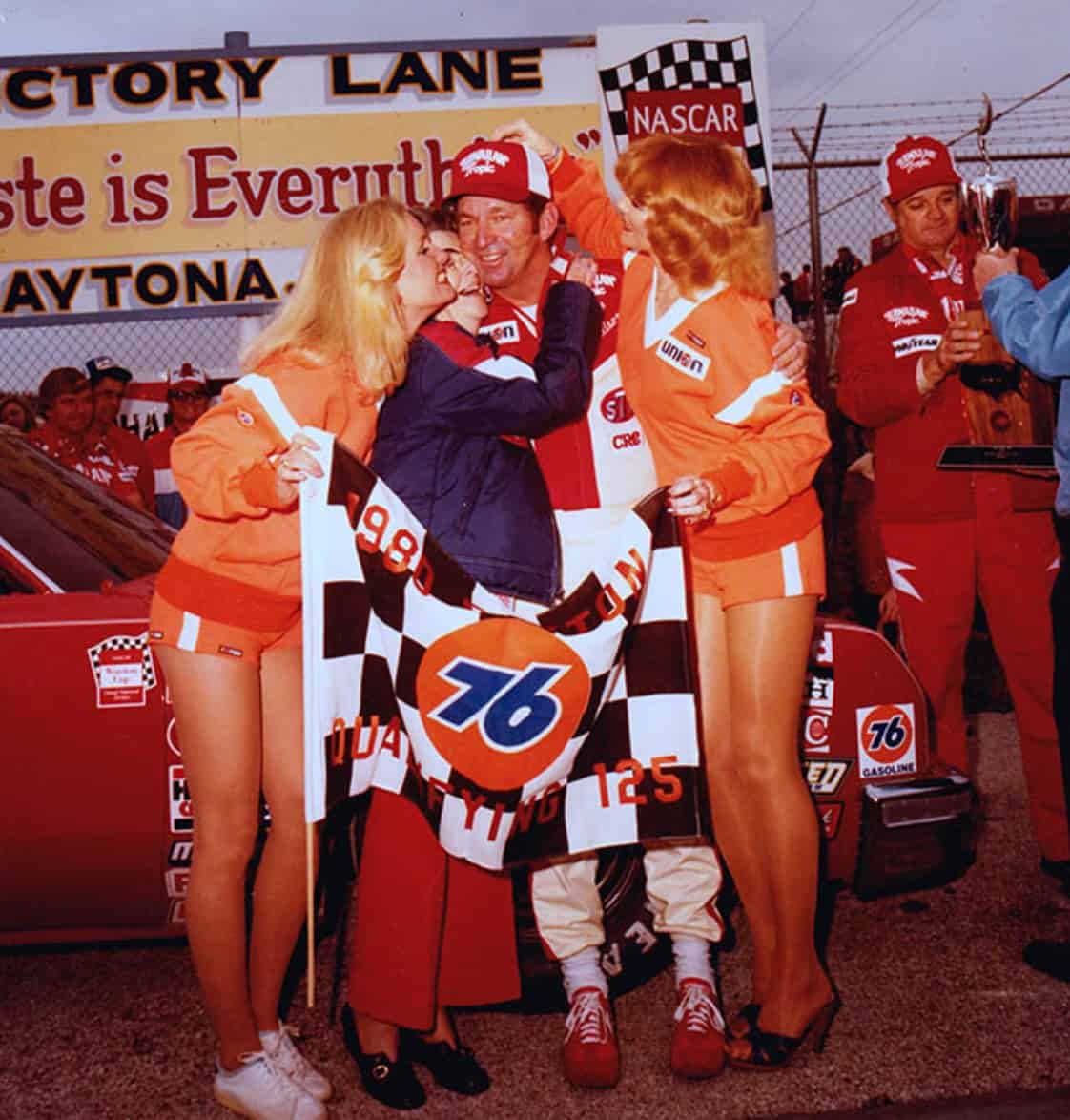 Kelly Girl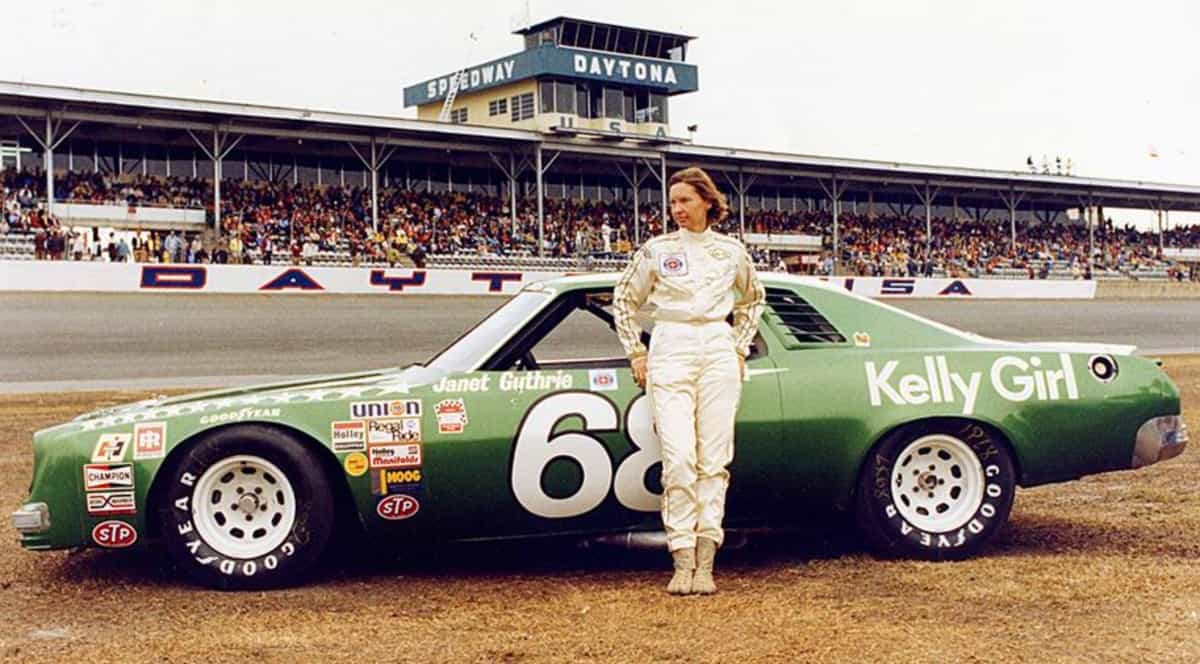 Janet Guthrie is a woman of many firsts. First woman to race in the Indianapolis 500, first woman to race in the Daytona 500 and first woman to lead a lap in the Winston Cup Series. She racked up five top-10 finishes over her four-year NASCAR career, in 33 races. She's been inducted into both the International Women's Sports Hall of Fame and in the International Motorsports Hall of Fame.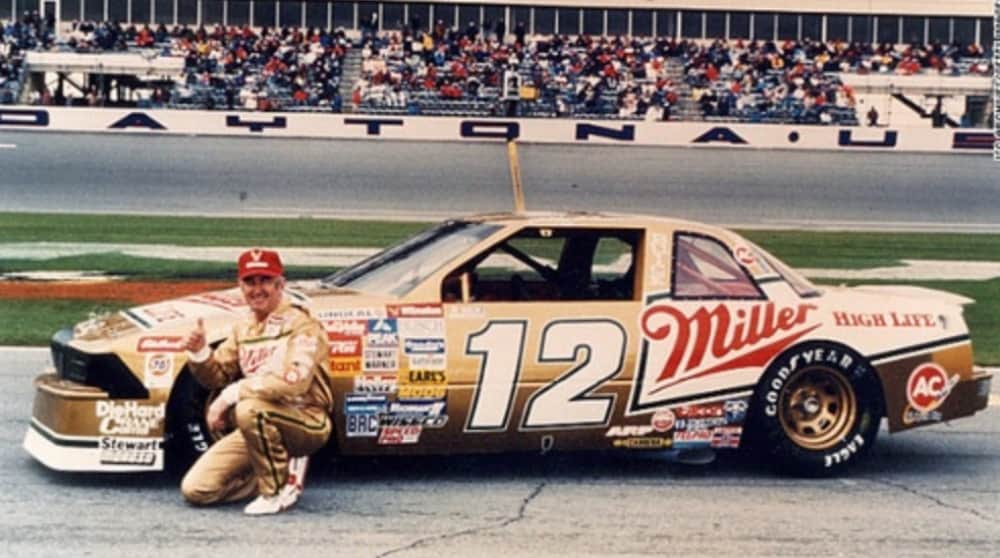 Donnie Allison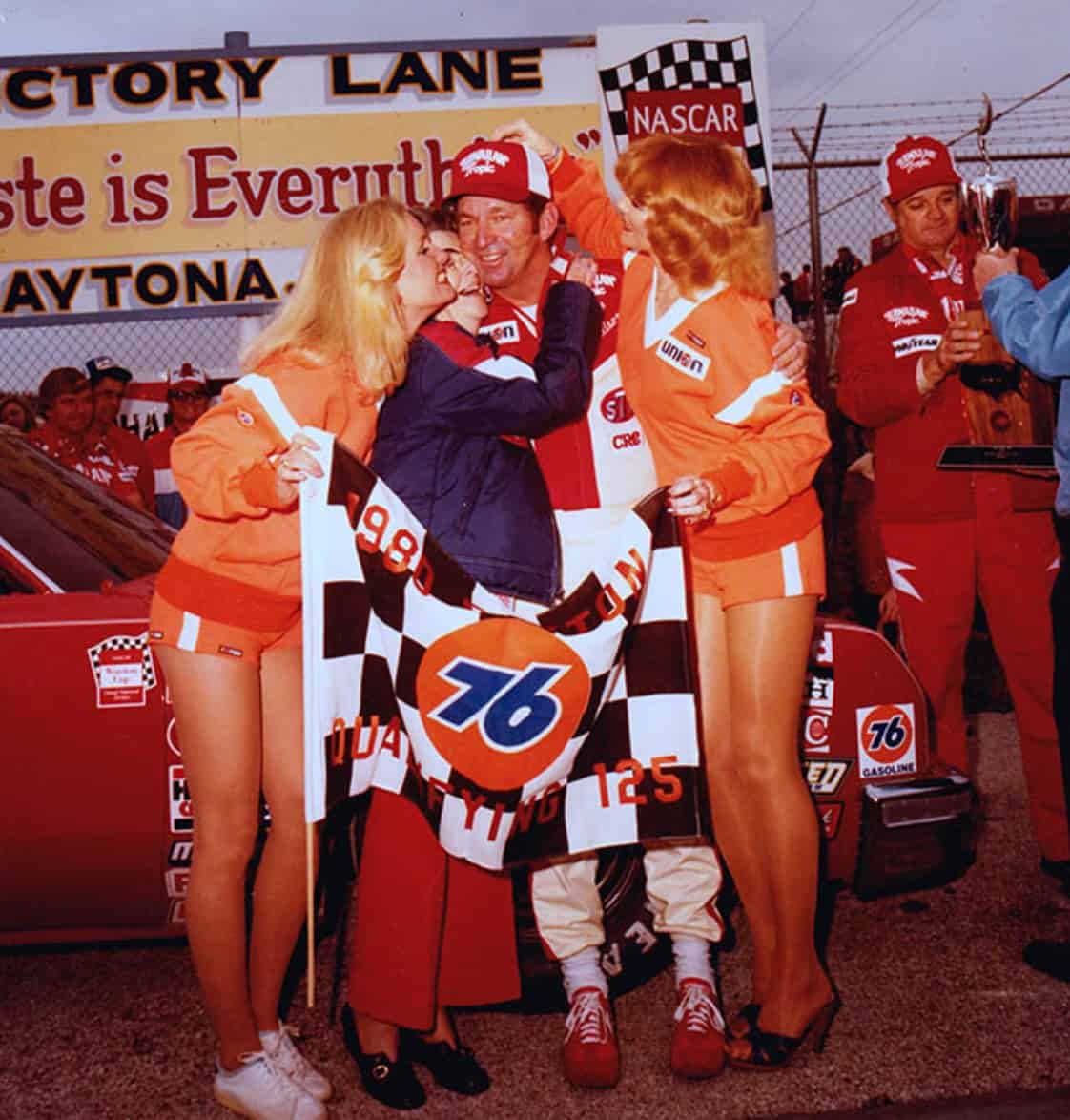 Racing professionally across three decades, Donnie Allison is a staple of the vintage days of NASCAR. He's seen here celebrating after posting the highest qualifying time in the 1980 Daytona 500. However Buddy Baker won the real race, with Allison finishing seventh. Donnie Allison won 10 races in 242 professional starts. He was the 1967 Winston Cup Series Rookie of the Year.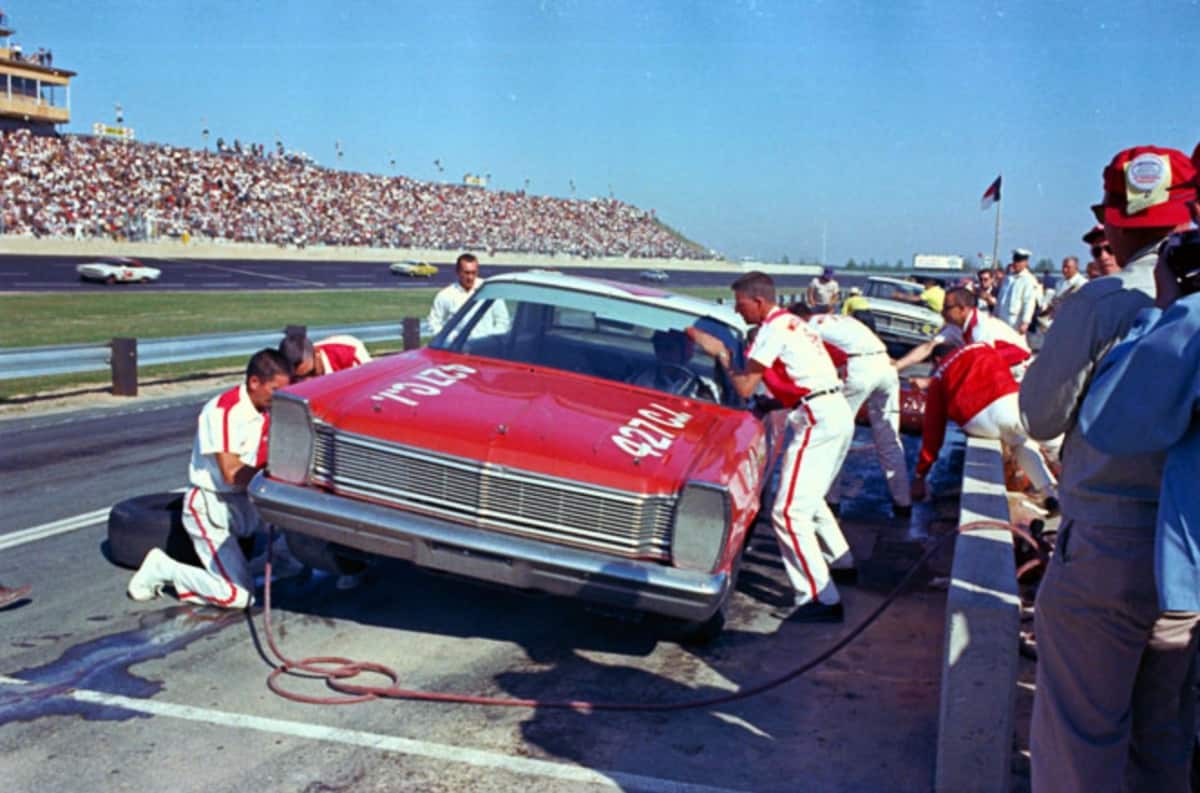 Bobby Allison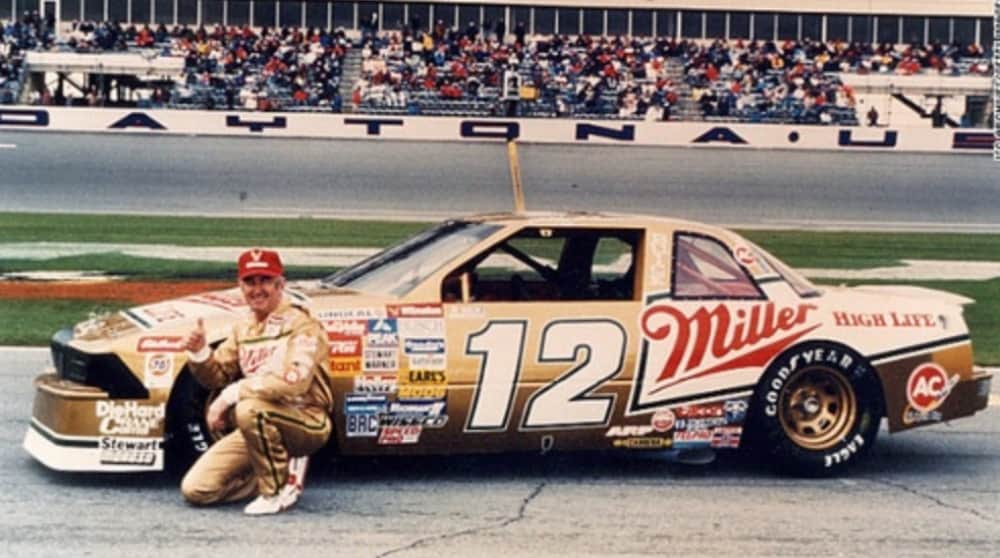 His first race was the 1961 Daytona 500 and his last win was at the 1988 Daytona 500, he retired from NASCAR at the end of that season. He raced 718 times over that span, racking up 84 wins – three of them coming at the Daytona 500. Bobby is seen here with his famous No. 12 Miller High Life Buick after winning the 1988 Daytona 500.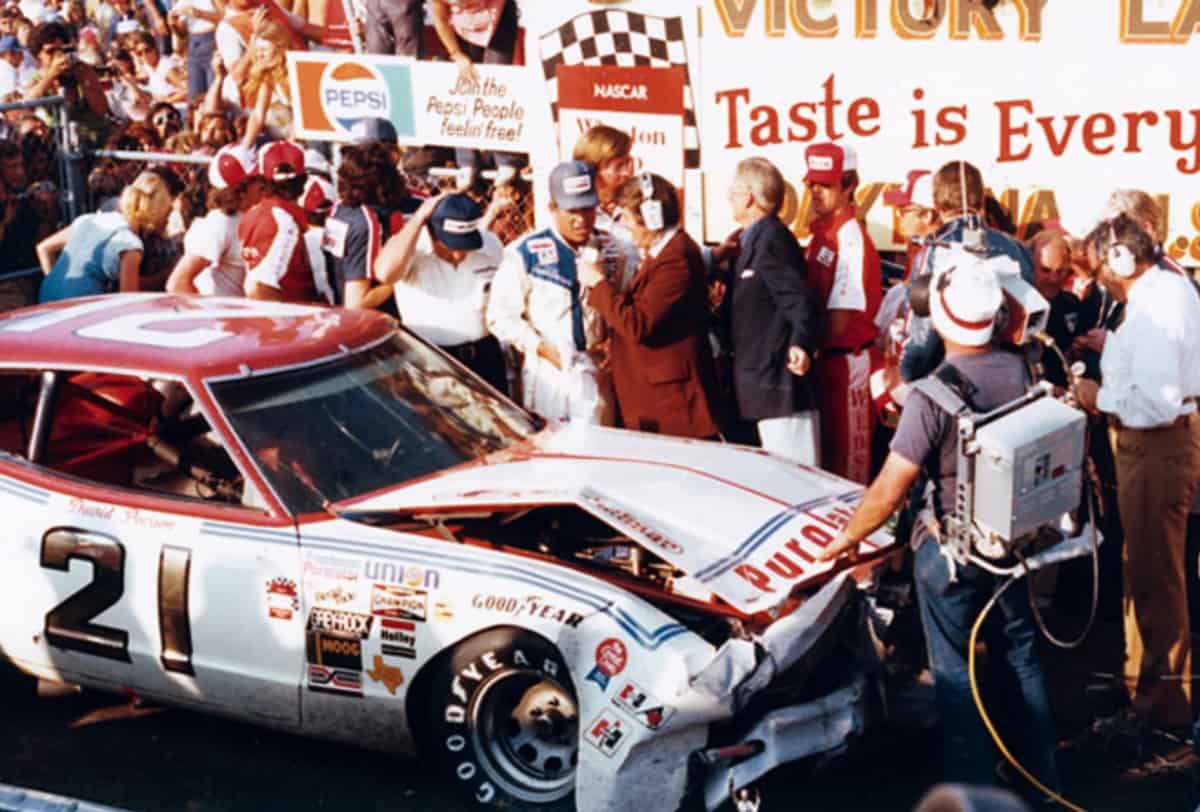 The Wood Brothers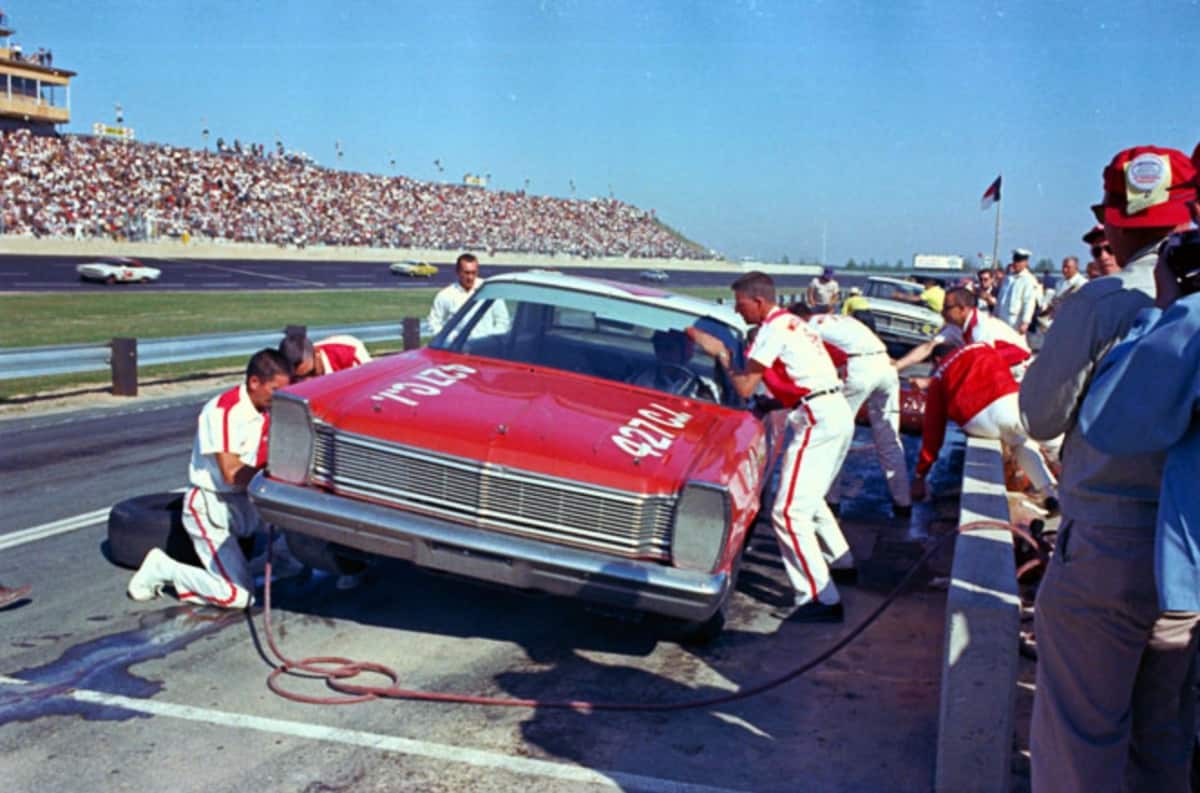 Glen and Leonard Wood changed the scope of NASCAR forever, and in many different ways. But one specific way was how they really honed in on the concept of the 'pit stop'. These two driver/engineers and their team knocked minutes off what used to be a maintenance stop where the drivers may get out of the vehicle and stretch their legs. Now, coordinated, meticulous effort resulted in a pit stop lasting seconds, not minutes.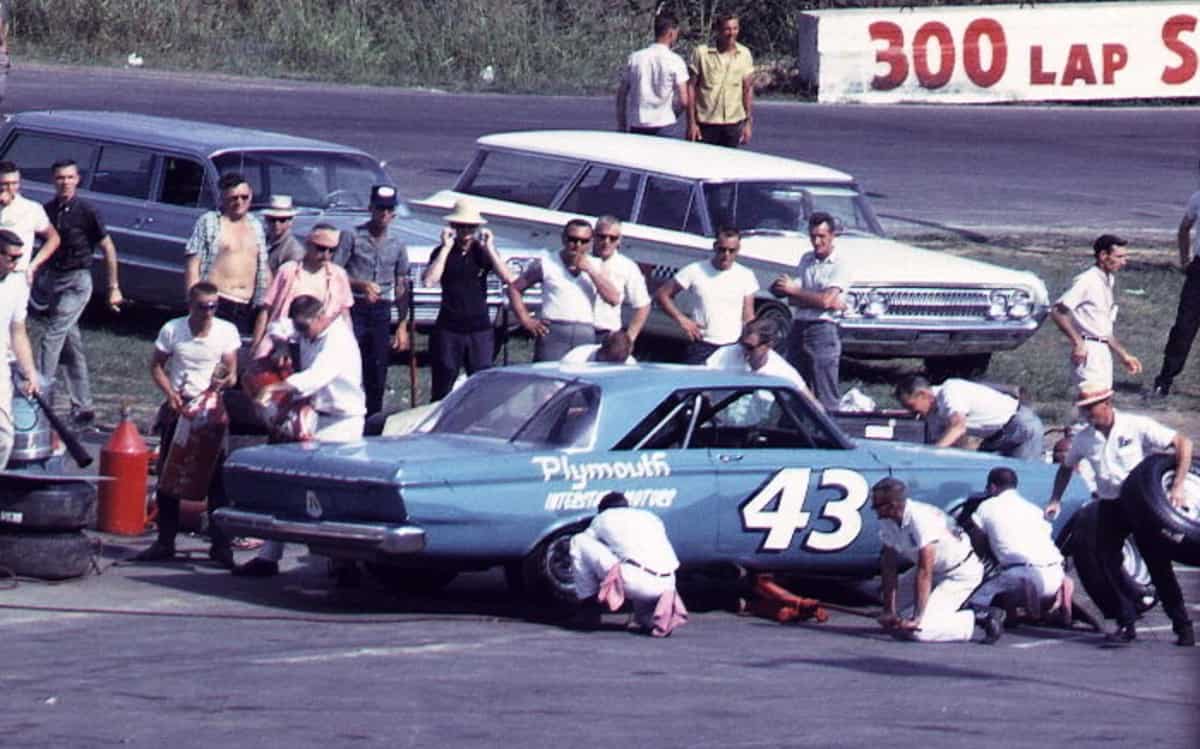 What A Finish!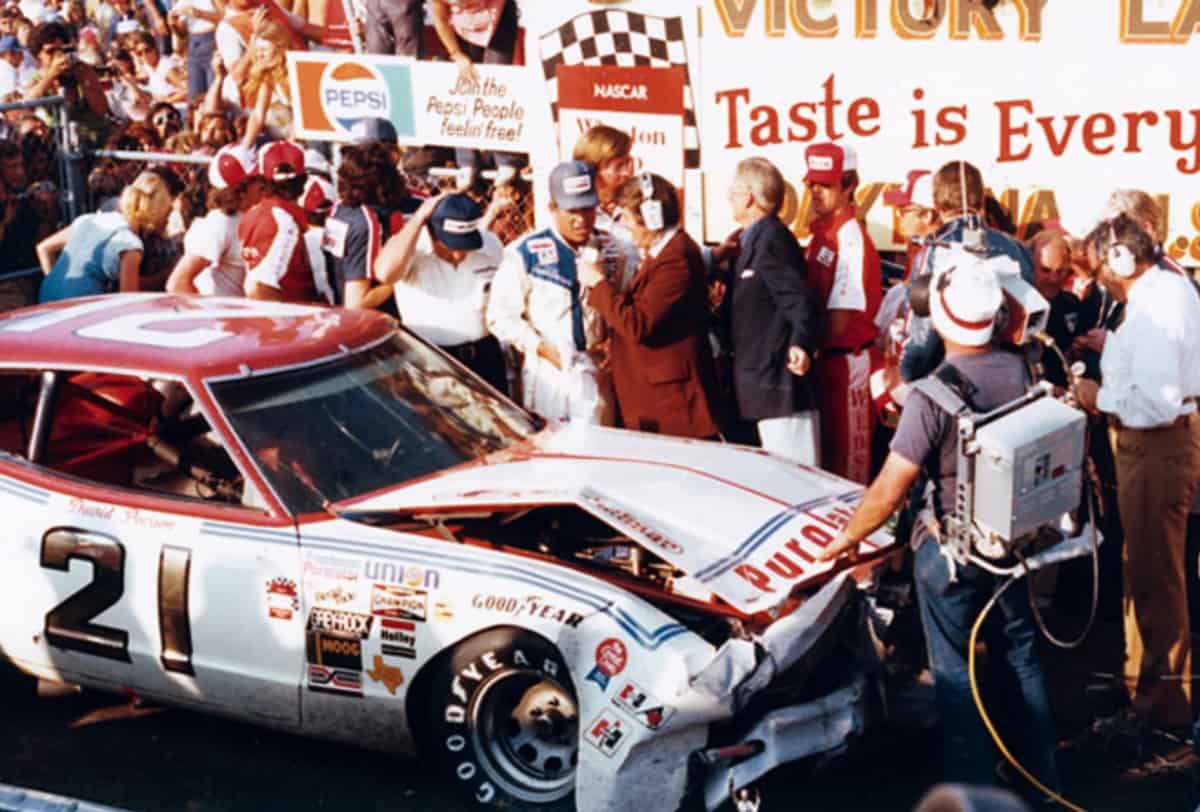 The finale to the 1976 Dayton 500 was one of the most mesmerizing of all time. Another classic battle between Richard Petty and David Pearson came down to the wire (nothing new there). After Petty and Pearson bump and grinded all through the final lap, the pair spun out – Petty on the infield, not moving and Pearson's Purolator No. 21 limping across the finish line. This image is the banged up car sitting in Victory Lane!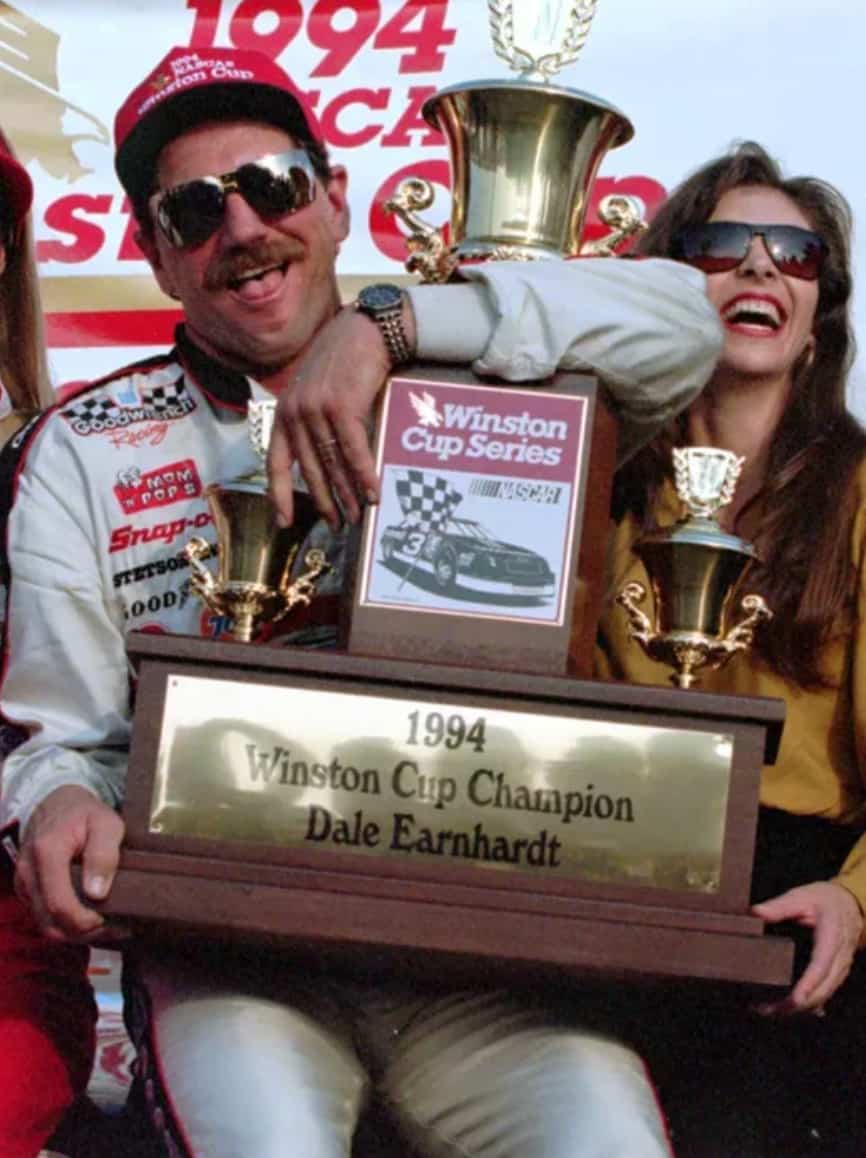 Pit Stop for The King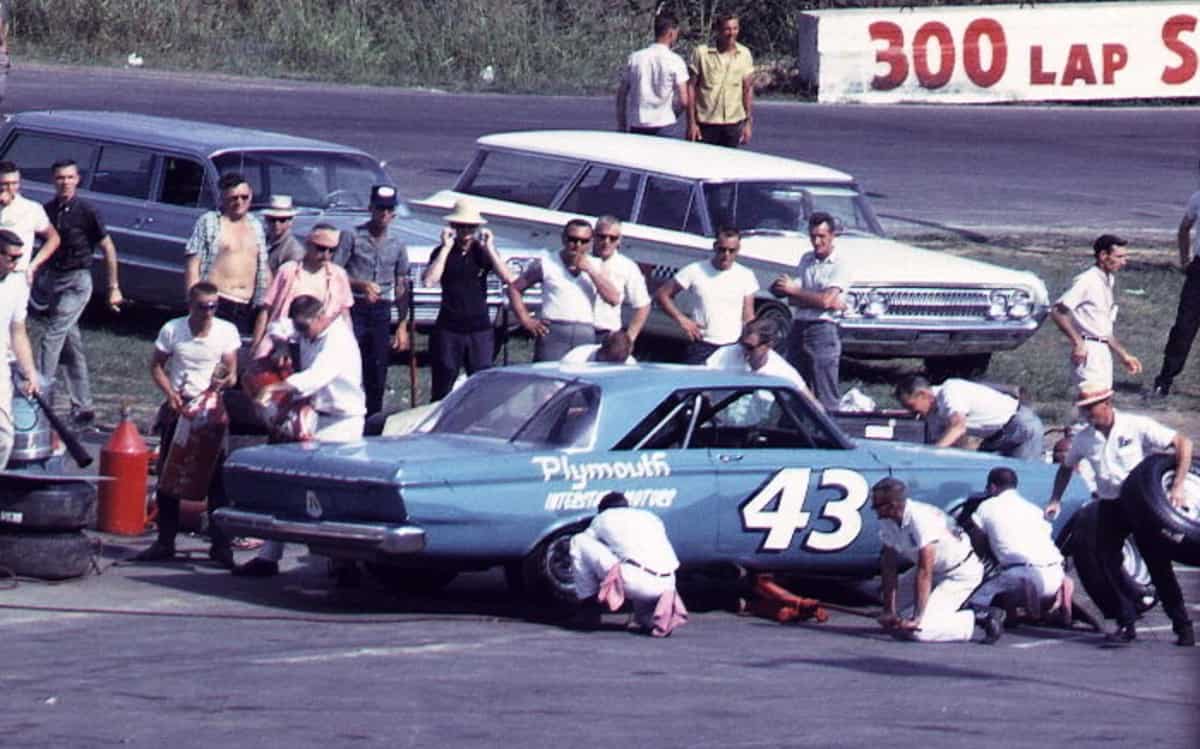 Back when the pit crew just pulled their car's onto pit line like it was any old parking lot is when Richard Petty started winning races. His career began in 1958, and ended in 1992 – what a career! That's racing across four decades! He racked up 200 wins, 555 top-5's, and 712 top-10's en route to his over $8.5 million career earnings. There's a reason he's The King!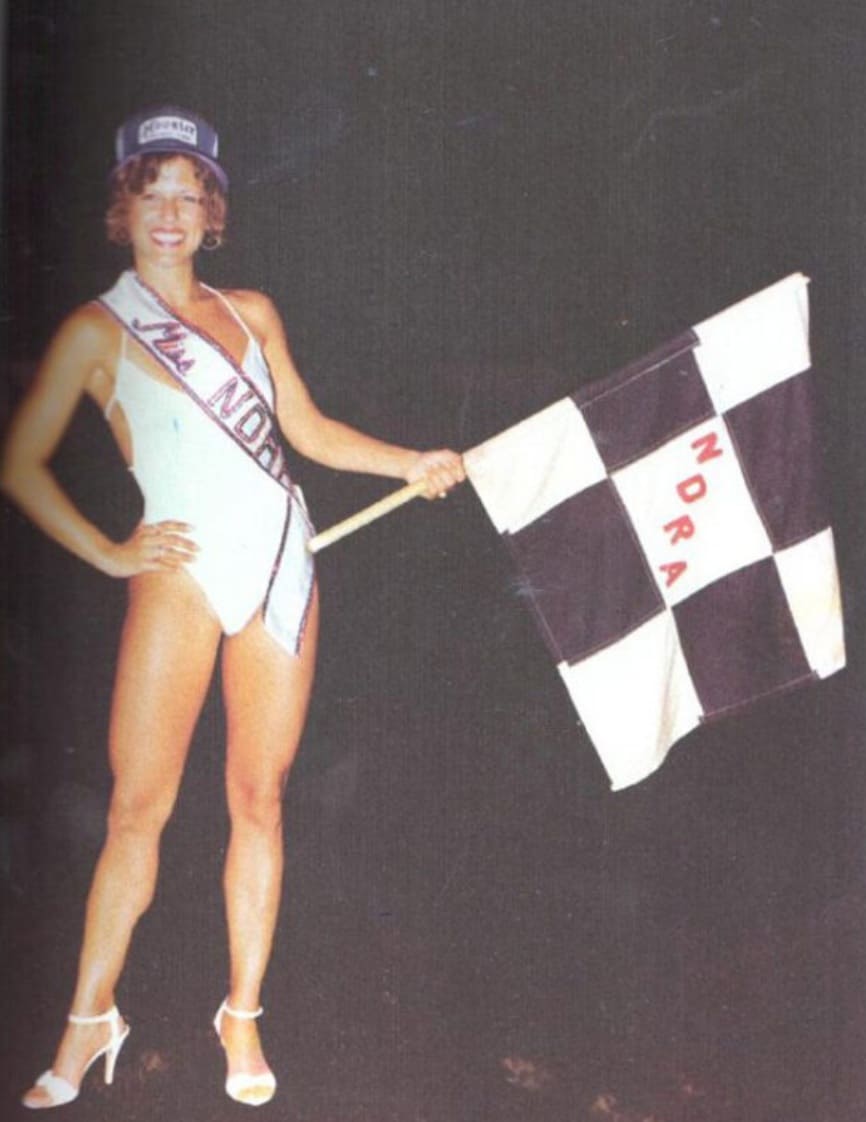 Go Dale!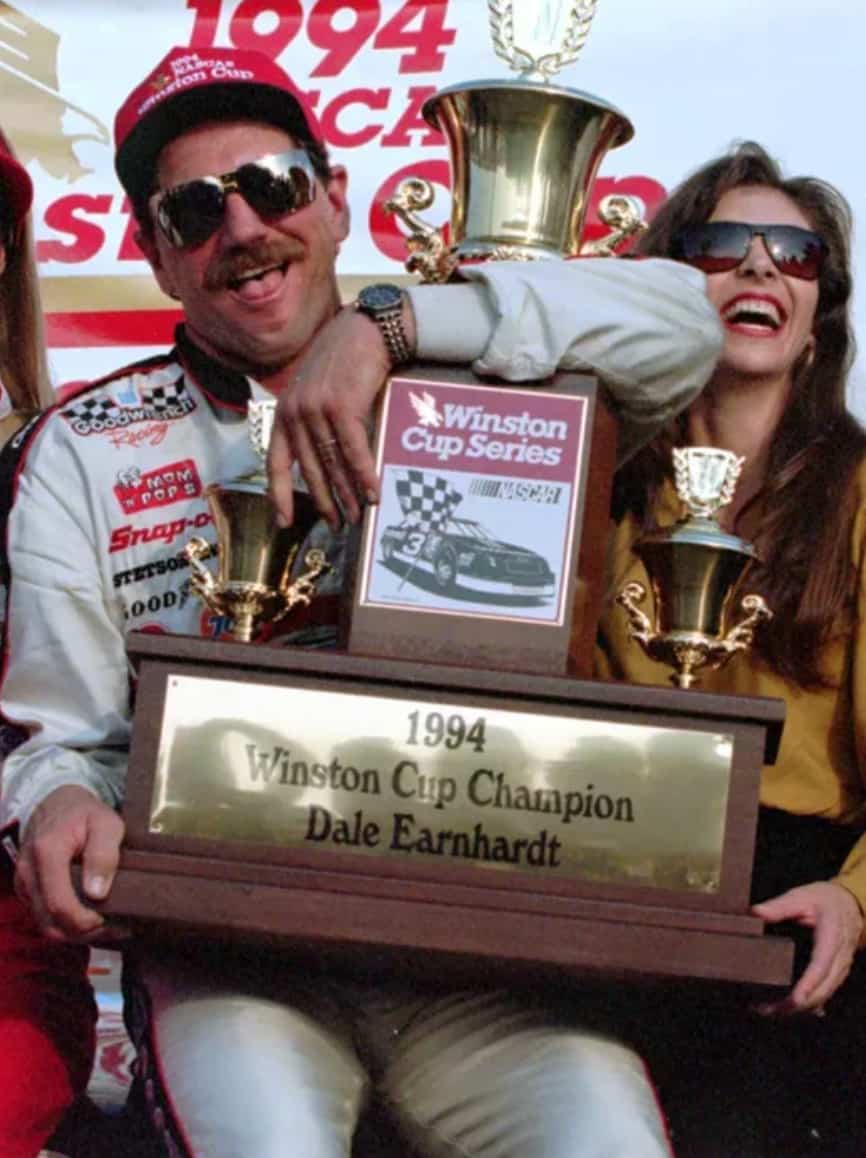 Okay, 1994 might not necessarily be the "glory days" of NASCAR, but this picture is about as good as it gets. Dale Earnhardt is seen here after being named the Winston Series Cup Champion in 1994. In his 27-year career, he amassed 76 wins in 676 races. He won seven Winston Cups over his career.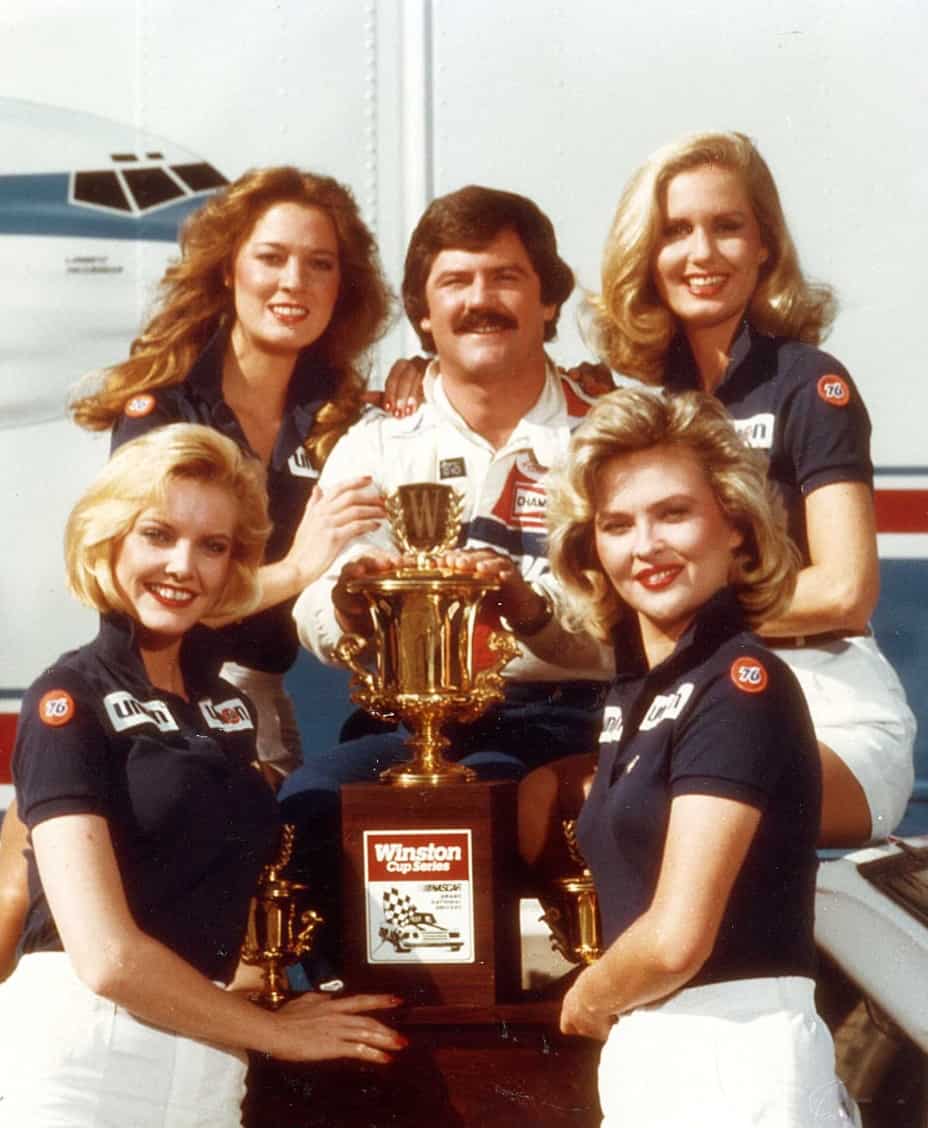 Miss NDRA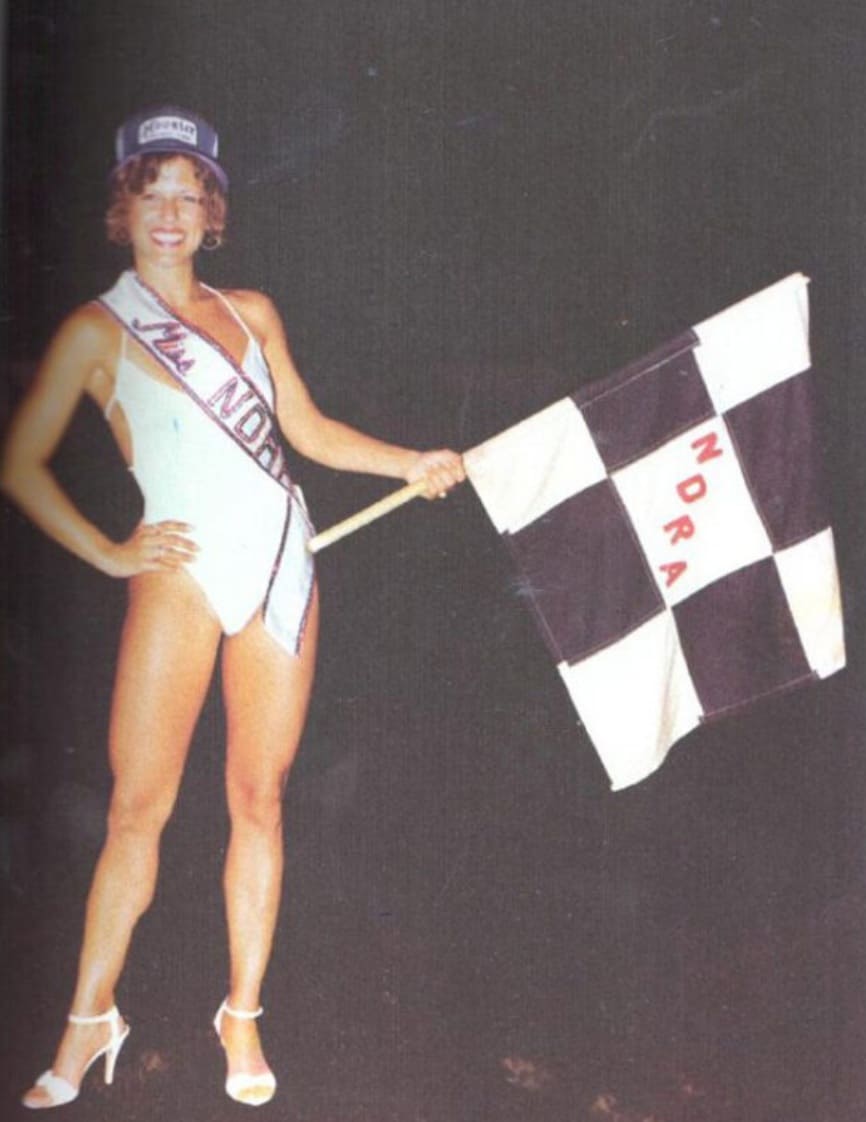 Eva Taylor, pictured above, was the first-ever Miss NDRA (National Drag Racing Association). She was working in a restaurant when NDRA Promotor Robert Smalley came into the restaurant and asked if she wanted to hand out the trophy that weekend at the races. In an interview later, she wrote: I said "sure what does it pay?' They told me and I said I'd be there Saturday night. So off I went not knowing who they were." Taylor served in that position for two years.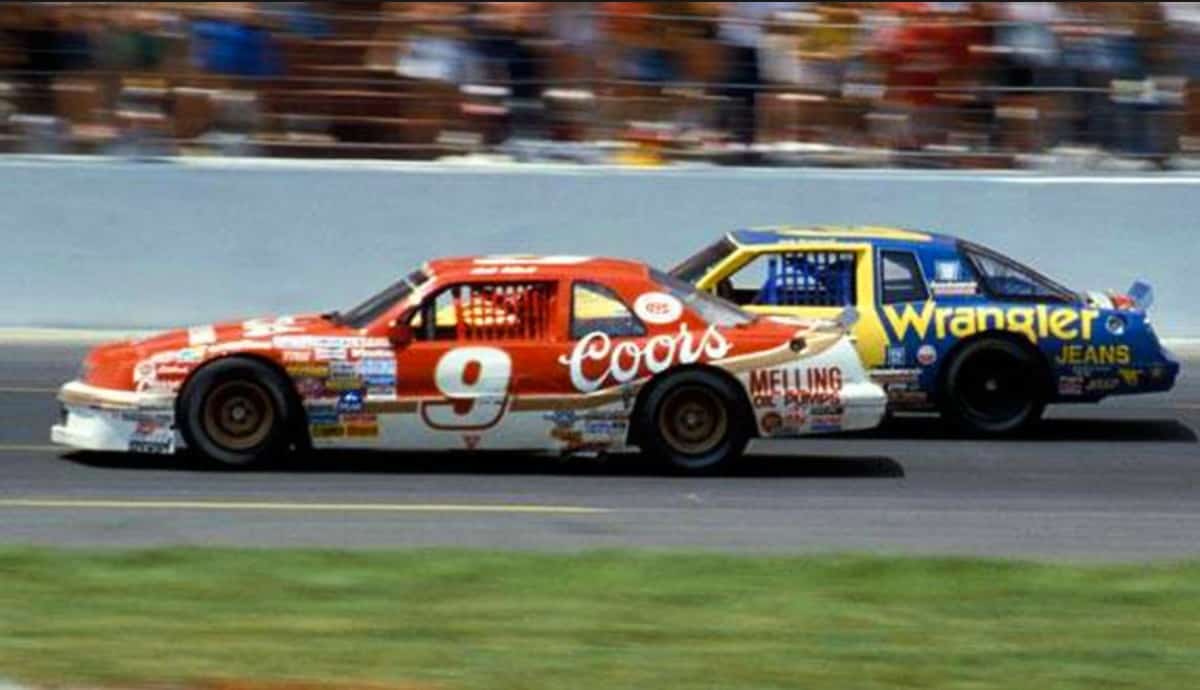 Terry Labonte's Magical 1984 Season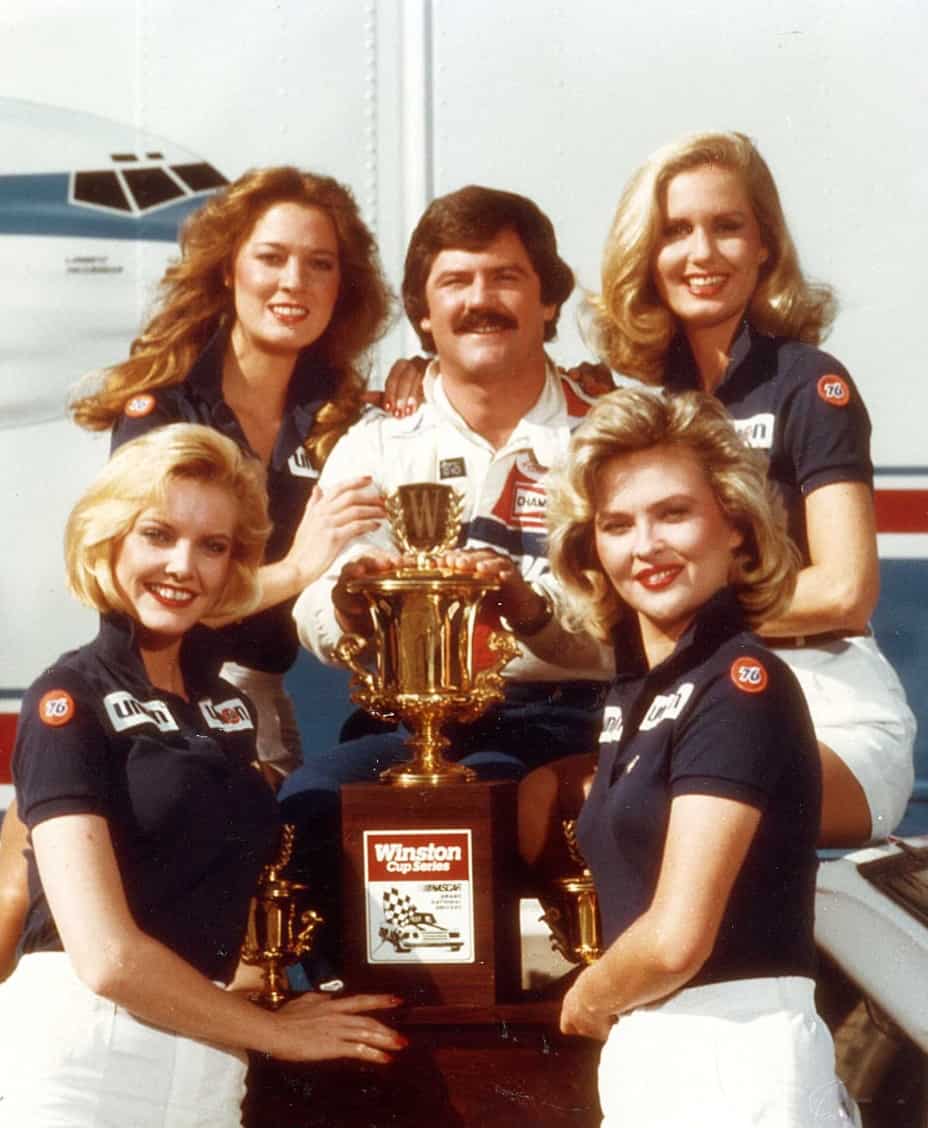 The only driver up until this point to win the Cup but not earn any superspeedway points, Terry Labonte had a magical 1984. He started off slow at Daytona, but then rattled off six straight top-10 finishes in a row. He then won at Riverside and Bristol before putting up a good showing at the final race of the year, 3rd place at Riverside, to win the Winston Cup Series.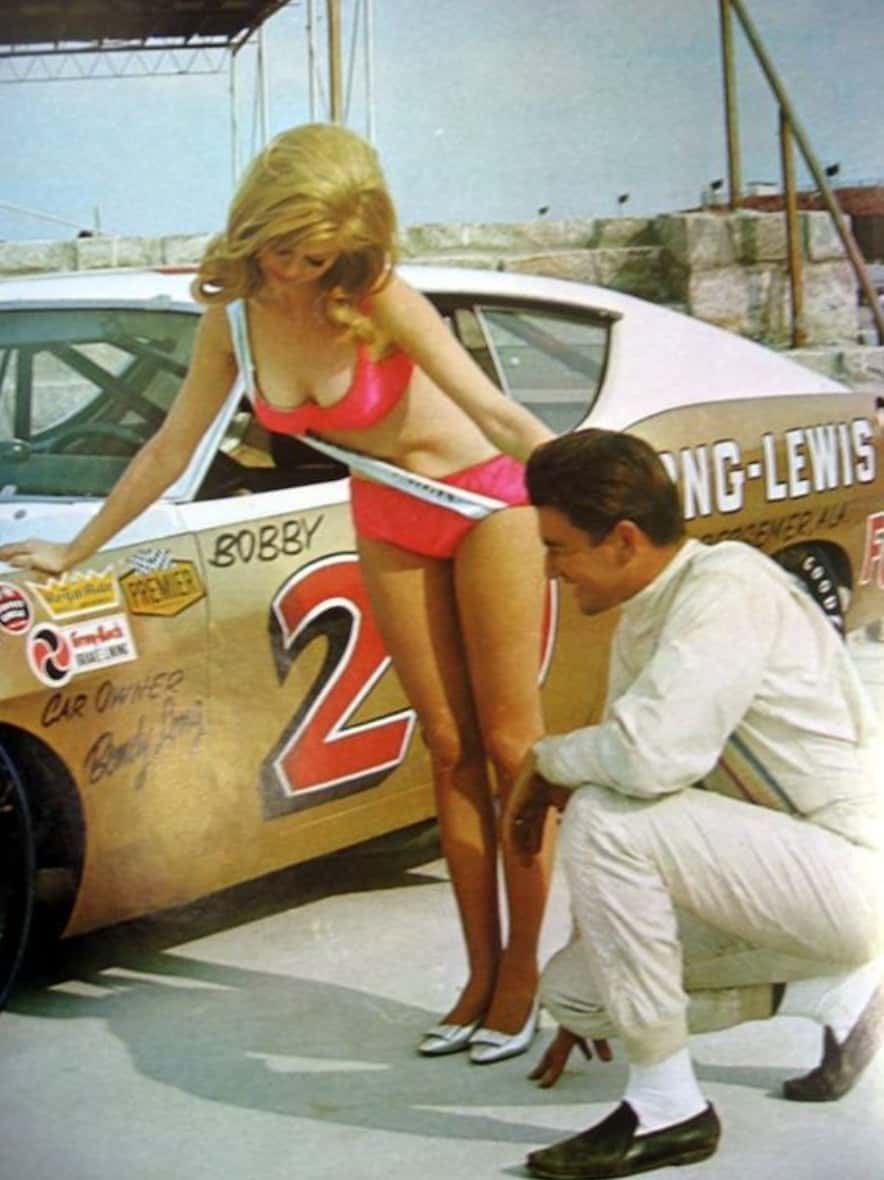 Pass In The Grass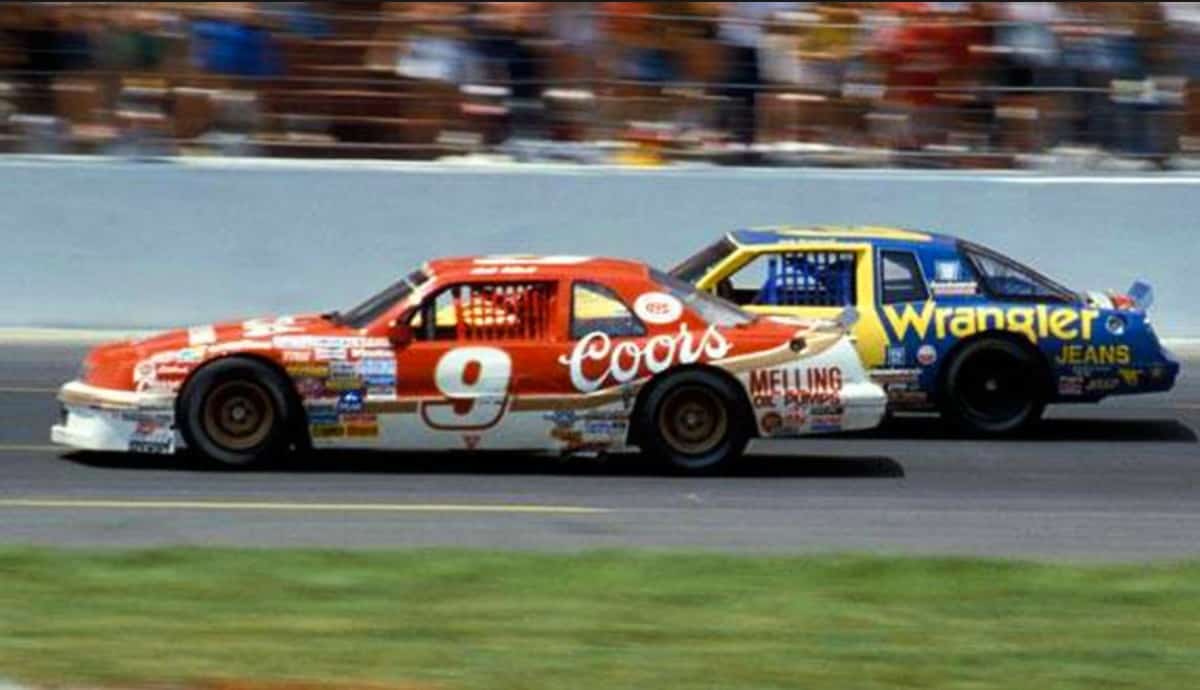 In 1987, "The Winston" featured an All-Star Race that cam down to the wire, and still gets brought up to this day. Bill Elliott, in the faster, red No. 9 and Dale Earnhardt, fighting for his life in the yell and blue No. 3, traded blows in the final 10 laps. On the final couple of laps, Elliott and Earnhardt were bumping constantly and Elliott sent Earnhardt down into the grass. Earnhardt miraculously maintained speed and jumped back in the race right where he was – in the lead. So technically, no "Pass" occurred. But it was still a legendary moment in the glory days of NASCAR.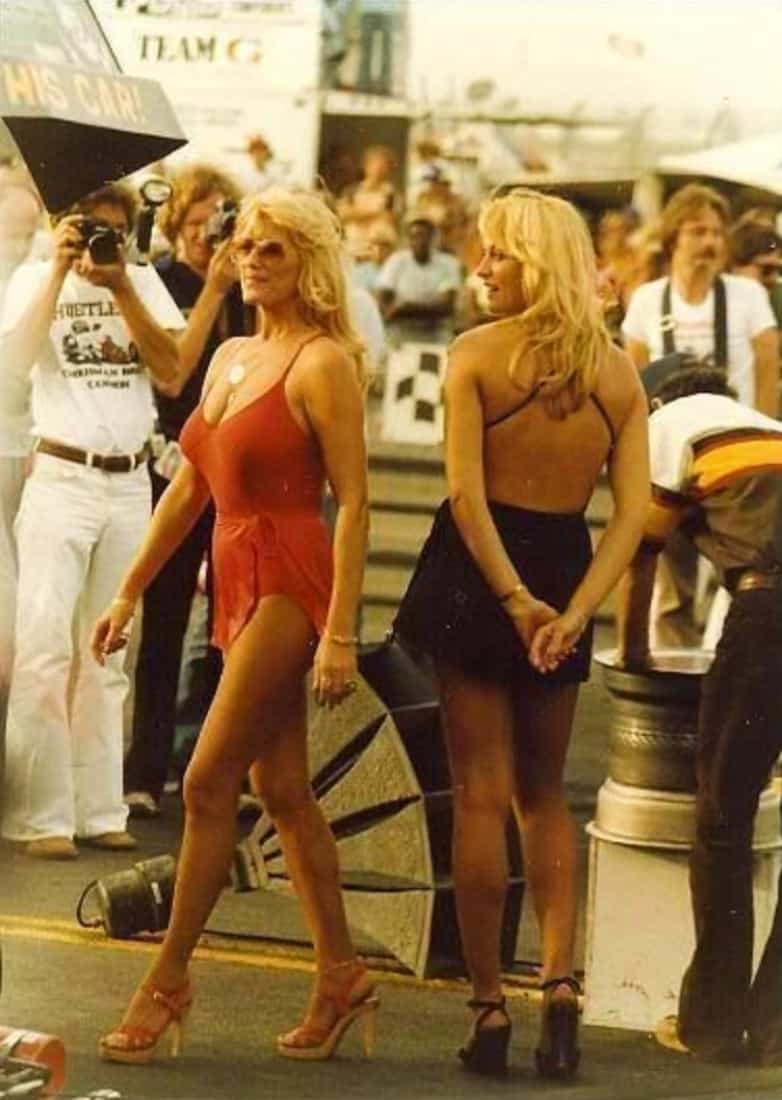 The Importance of Properly Inflated Tires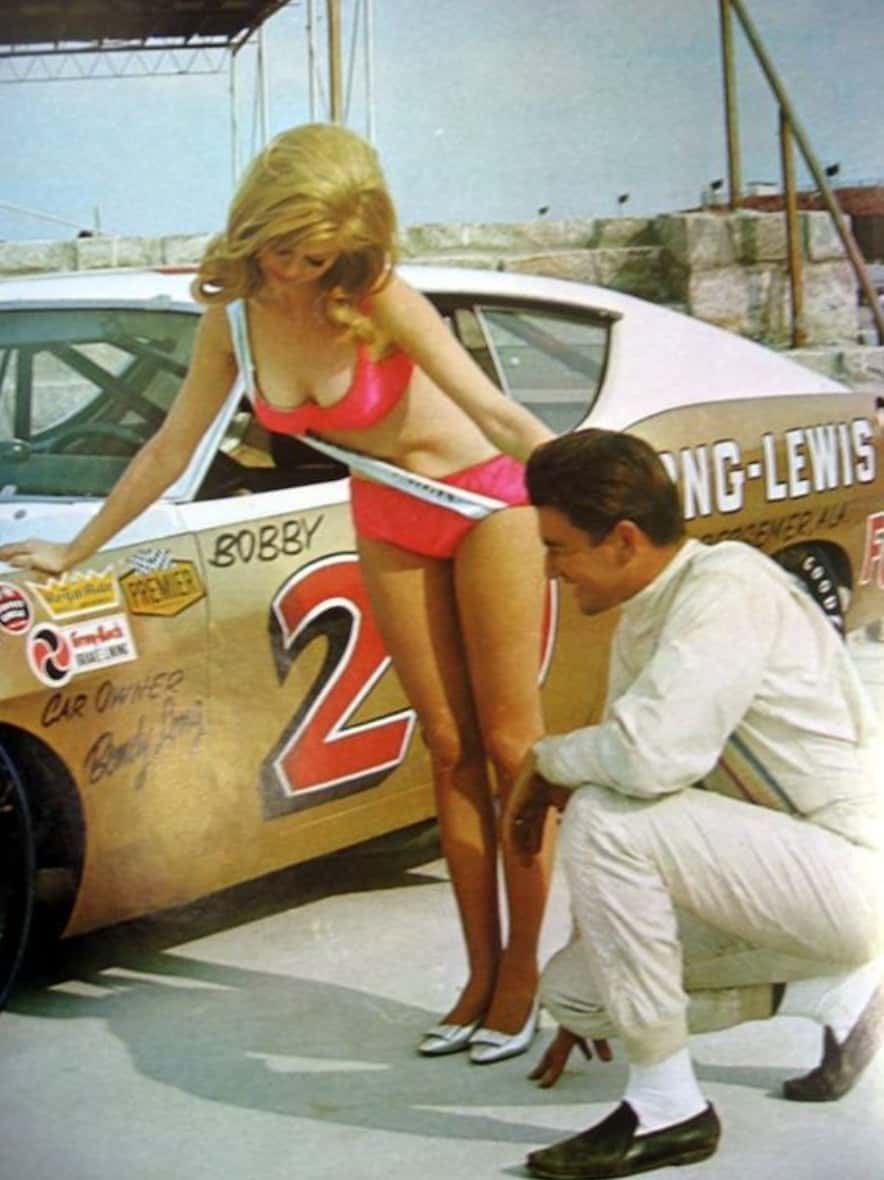 Tire pressure is no joke. This image, captured in 1968, shows legendary driver Bobby Allison and a trophy girl discussing tires. Allison won two races that year, but finished in the top-five 18 times! He earned a little over $52,000 that year, which translates to about $385,000 in today's dollars.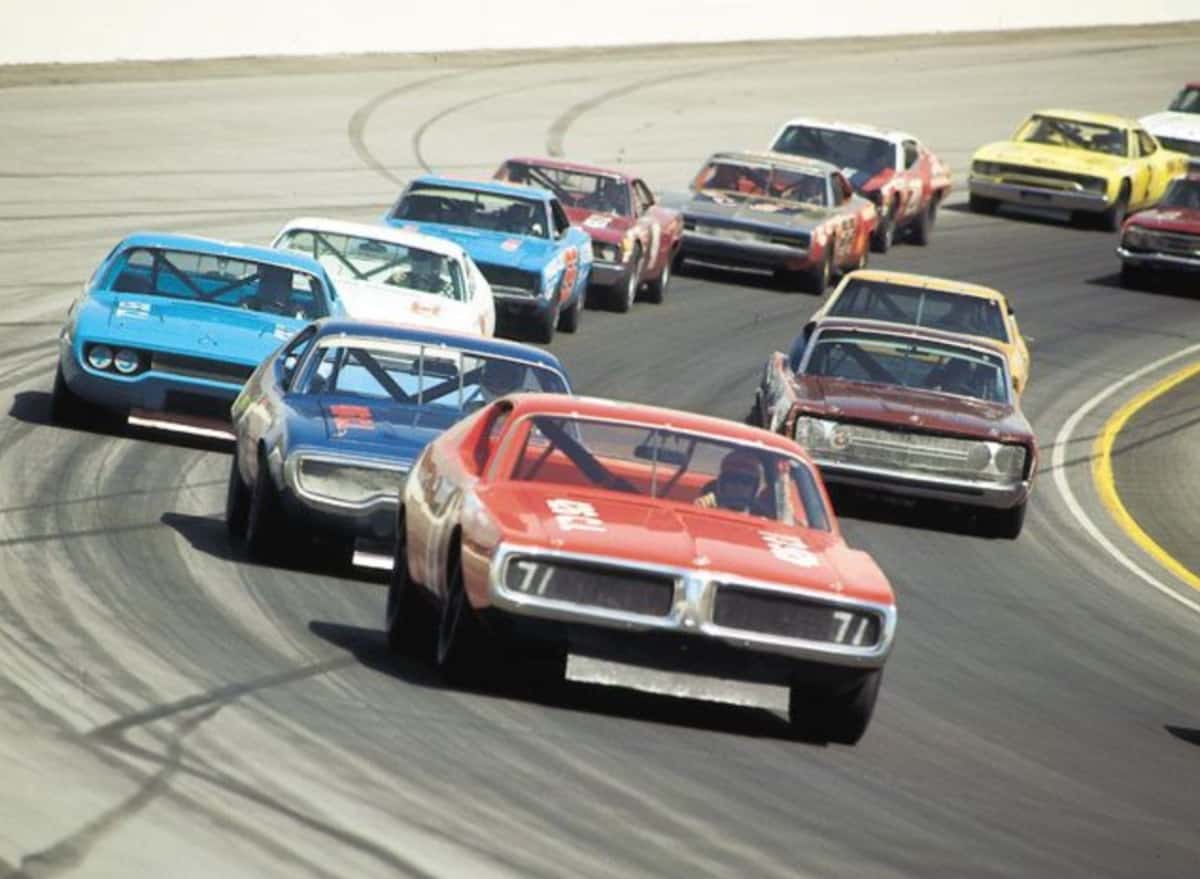 From Promotional Model to Movie Star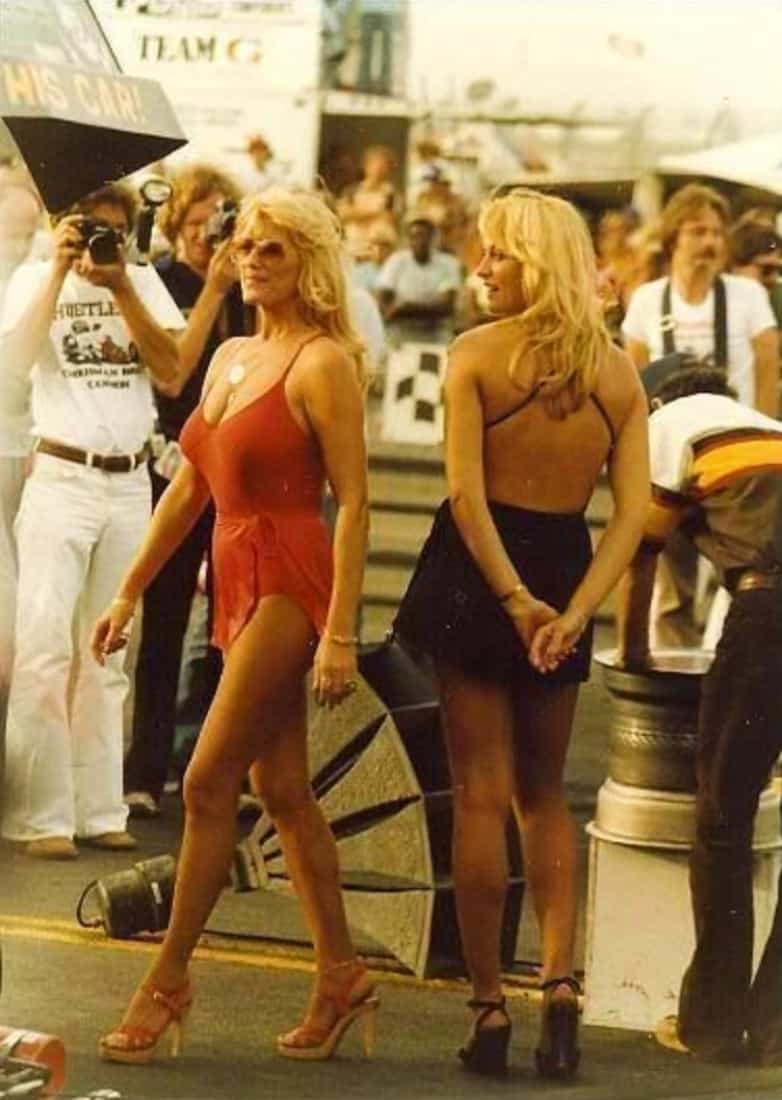 Lind Vaughn is one of the best known racing models of all time. He work as Miss Hurst Golden Shifter won her over in the hearts of many race fans. But once she gained steady fame in that field, Hollywood came calling. Vaughn has played and starred in The Gumball Rally, Burnout, and Stroker Ace – alongside Burt Reynolds. What a career for the woman!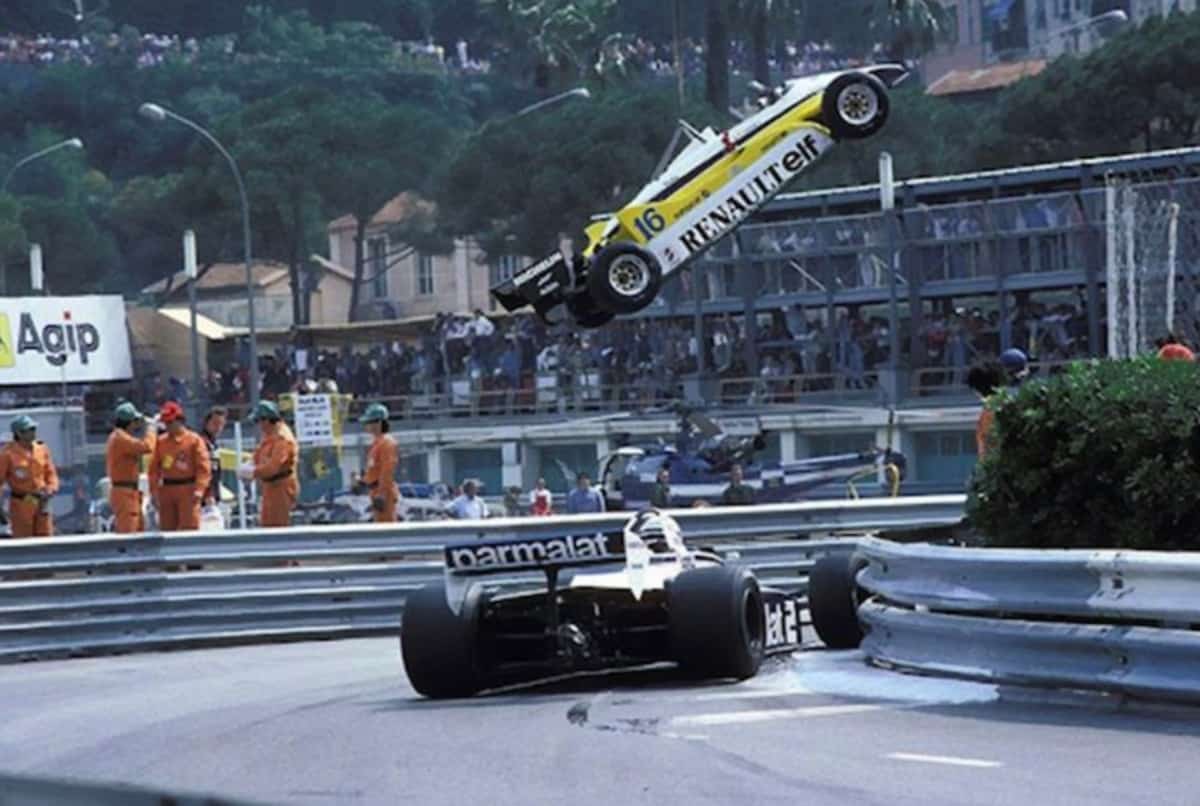 1971 NASCAR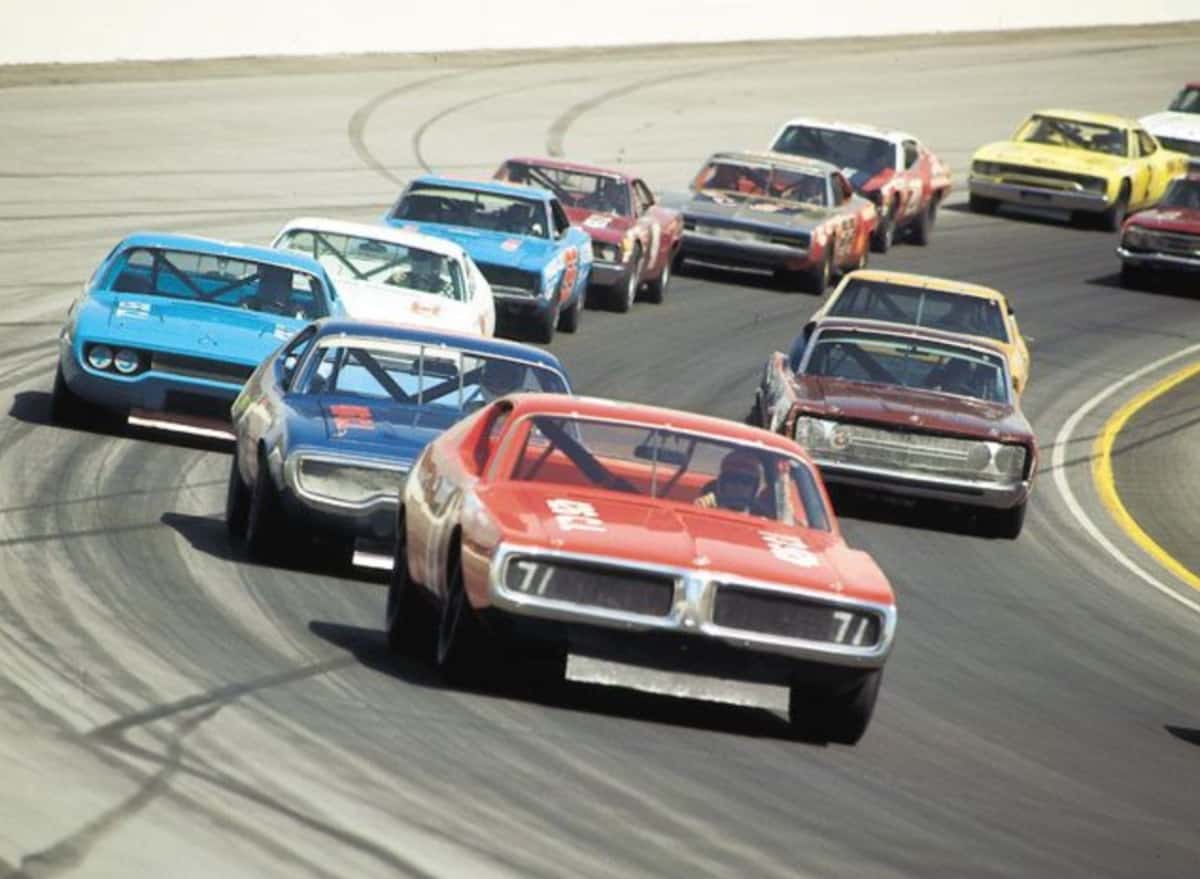 Quite possibly Richard Petty's best year as a driver. The man dominated the field at every turn, winning an astonishing 21 times that year. There were only 48 races! You can see Petty's blue Plymouth a couple spots back of Bobby Isaac in the No. 71 car. Petty finished in the top-10 in 41 out of 48 races, what a statistic and what a legend.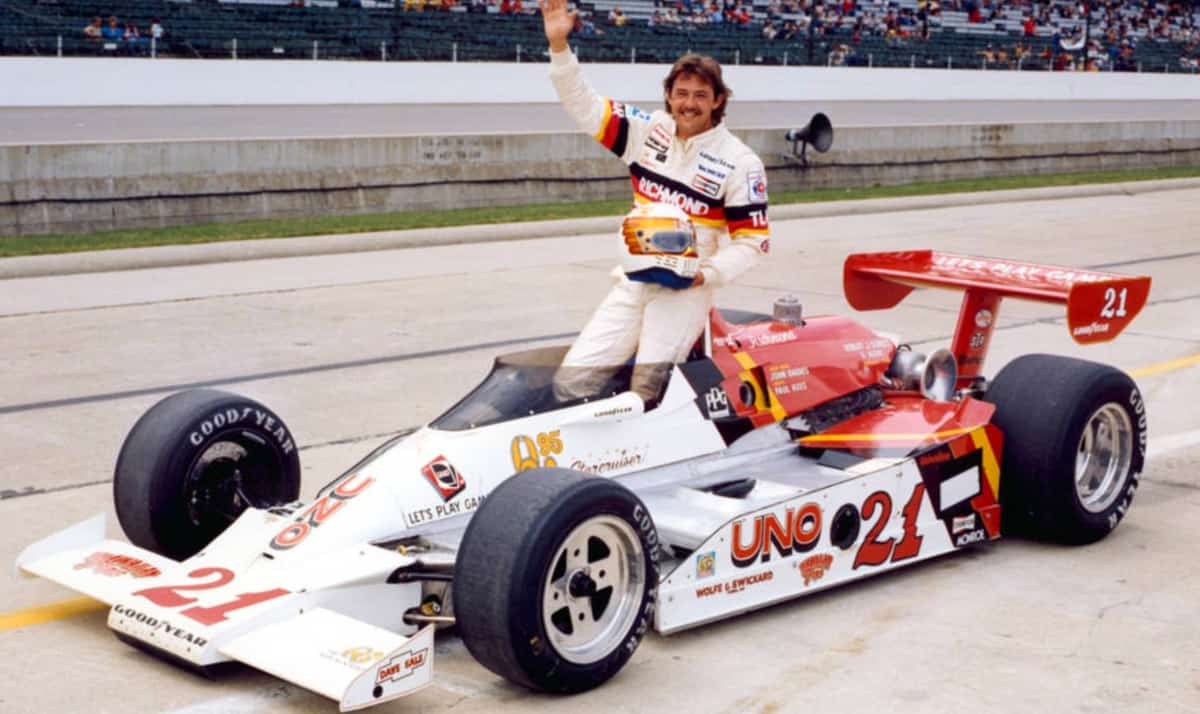 Up, Up, and Away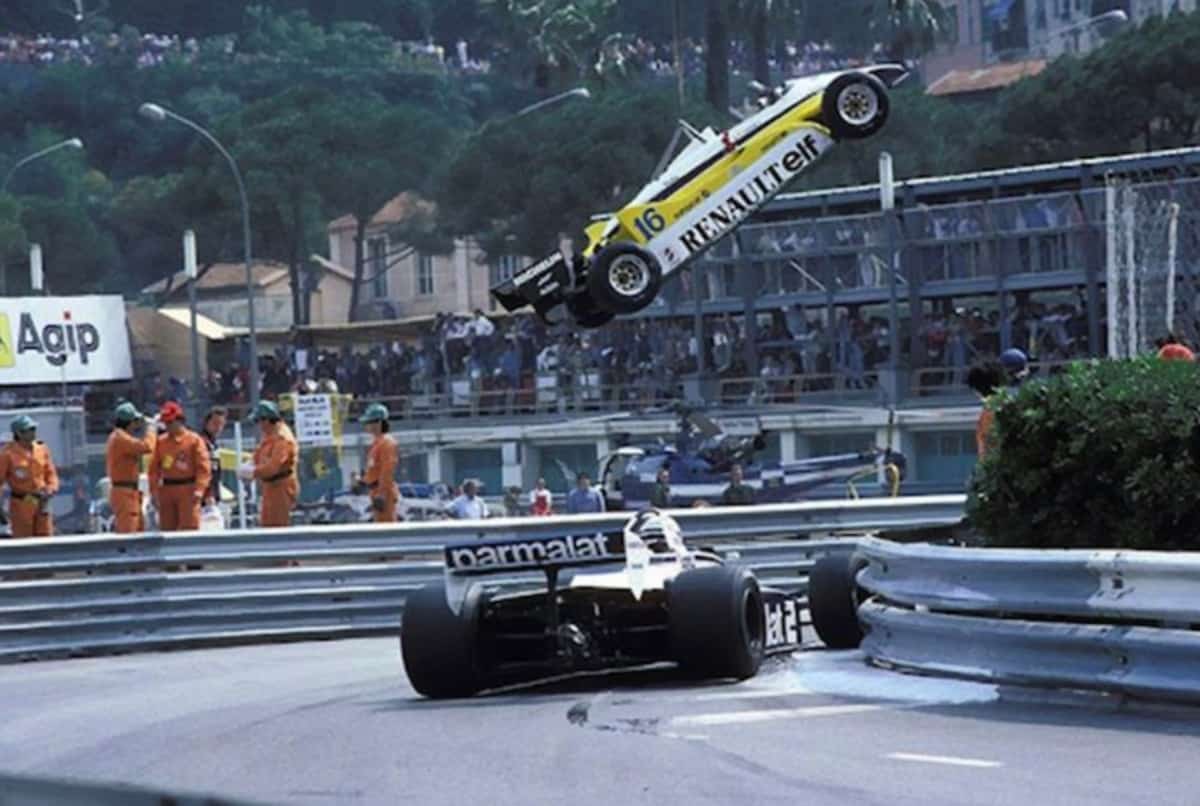 What you're seeing here is the Renault RE30 Formula 1 race car. Renault F1 is a longstanding Formula 1 team; they've been in the game for since 1977. This image was taken during the 1982 season. The RE30 was an excellent car that year, but couldn't prove its reliability in the long run. Rene Arnoux and Alain Prost were two of the more successful drivers to get behind the wheel of the Renault RE30.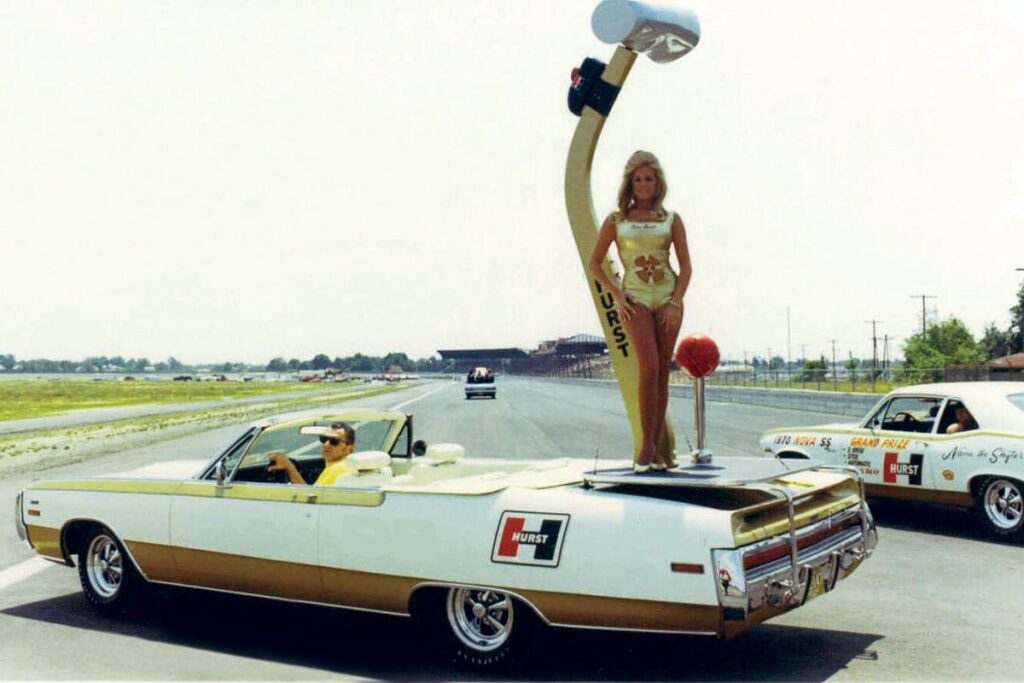 Familiar Face in an Indy Car?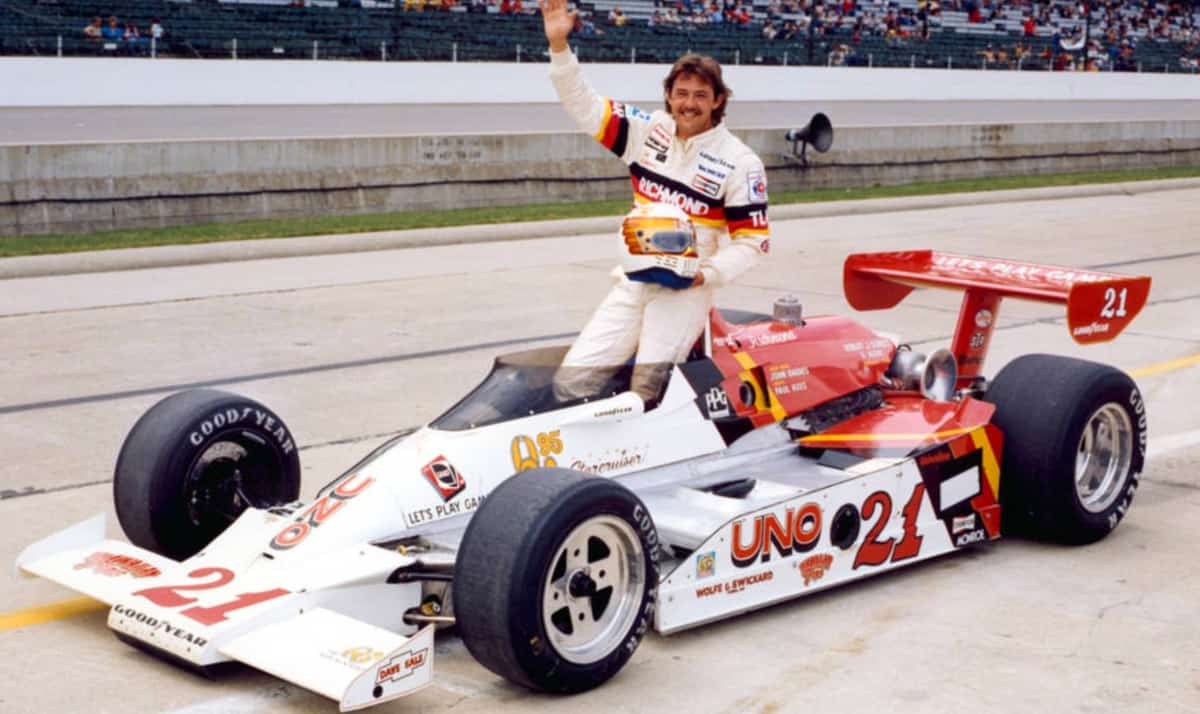 That seems out of place, doesn't it? Tim Richmond was a movie star in a driver's body. He never met a camera he didn't love, or one that didn't love him. He was as prolific and talented a driver as anybody back in the glory days of NASCAR, where he had a decorated career. But he also dipped his toes into Indy Car racing, even winning the 1980 Rookie of the Year in the Indianapolis 500.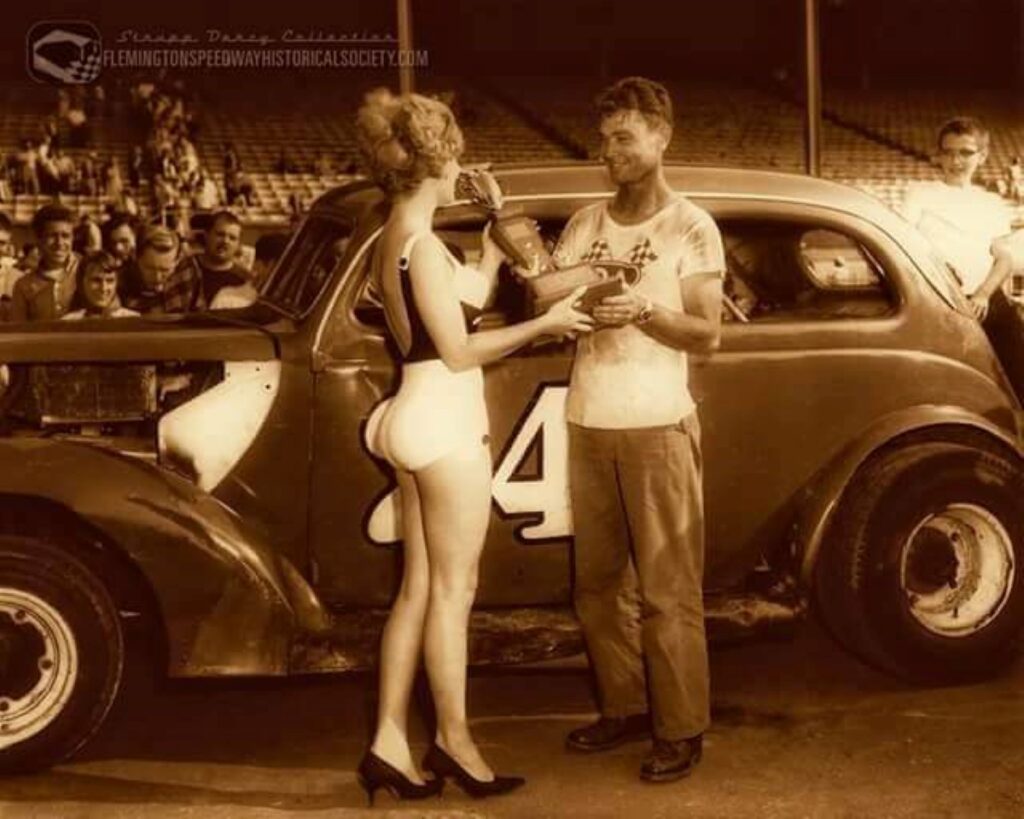 The First Lady Of Racing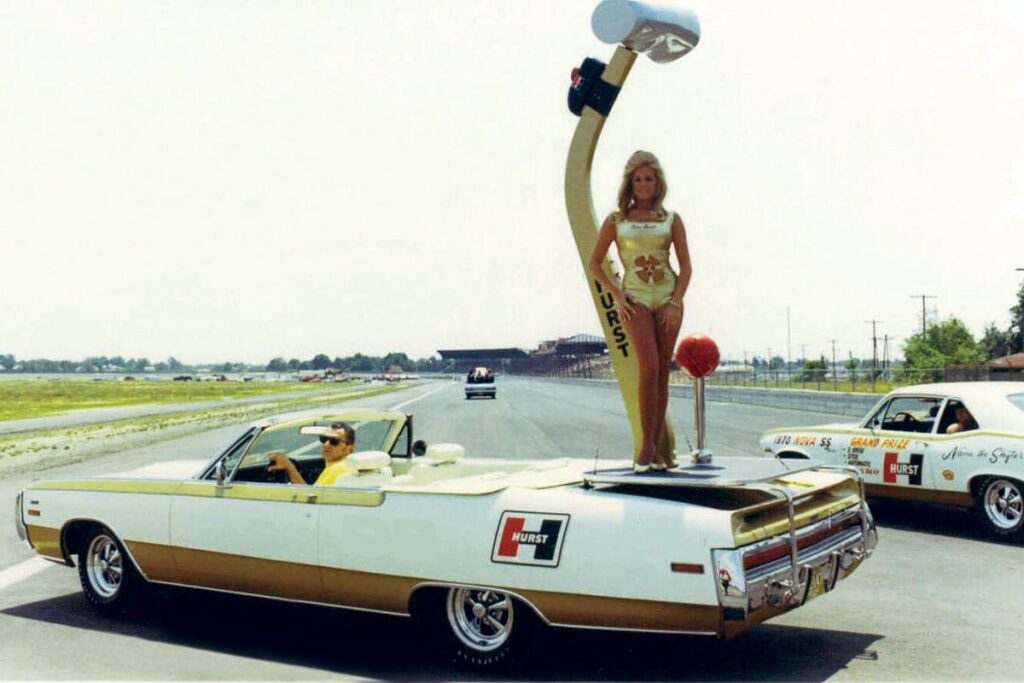 In 1976 it was purchased from that man's estate by Steve McCloud, a famous Mopar collector who owned the first 1955 Chrysler 300 ever produced. After McCloud's purchase, the car seldom made appearances, only showing up for the occasional Hurst reunion shows in the late '80s and '90s. As for the woman on the car. Some may know her as the first lady of racing, others know her as Linda Vaughn.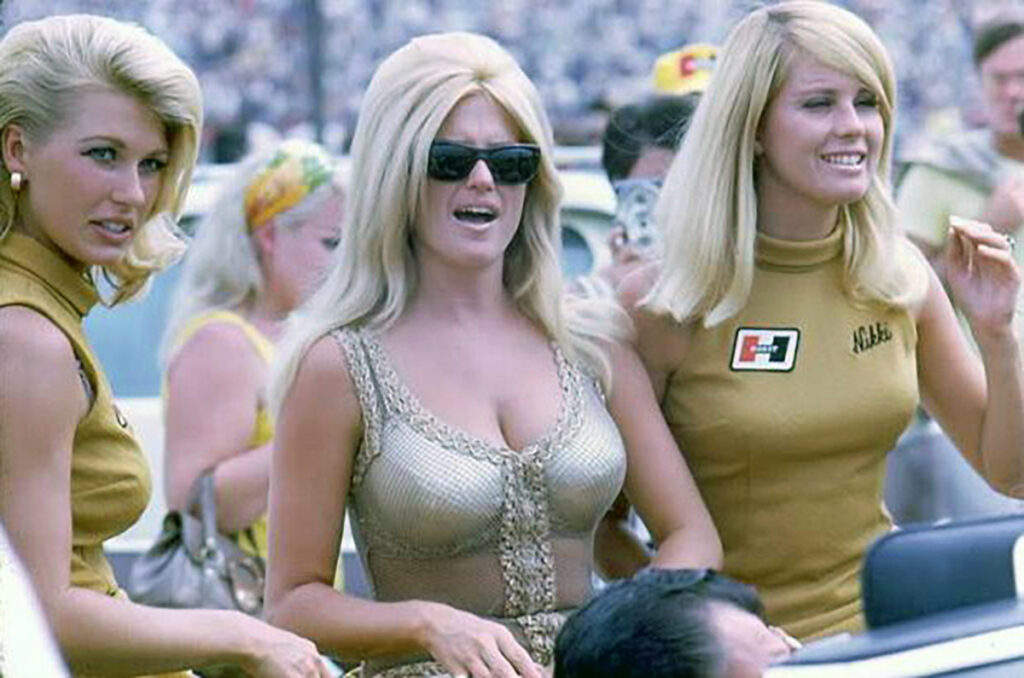 Flemington Speedway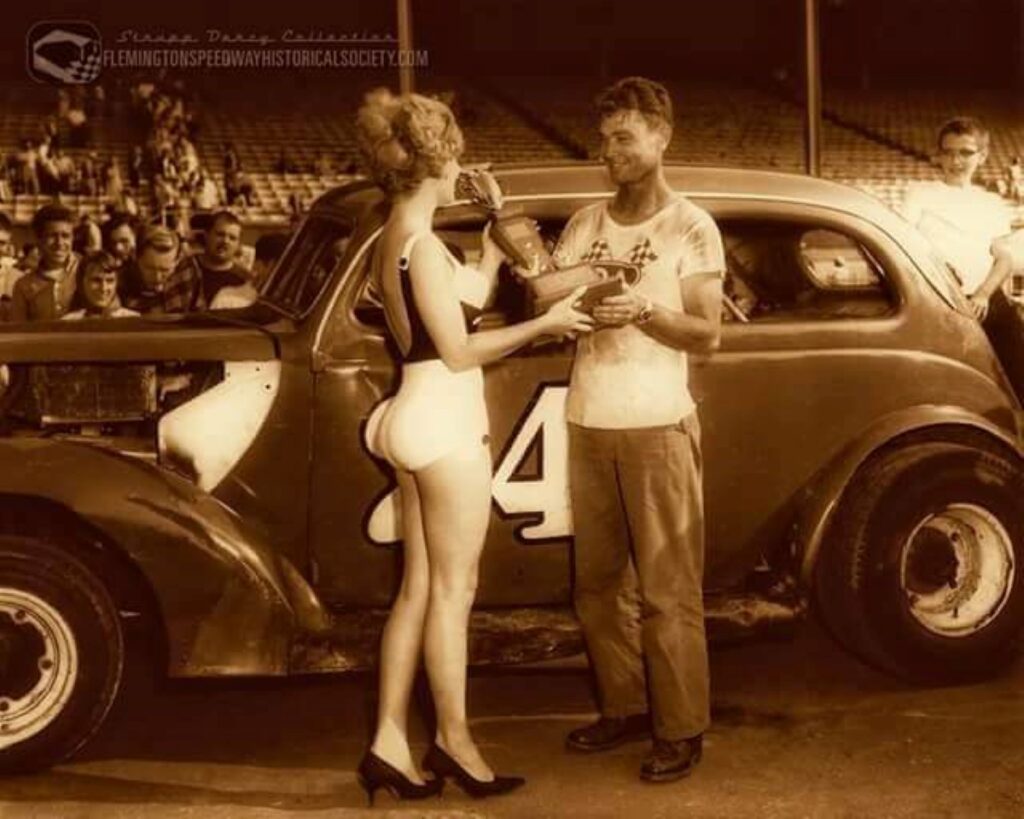 The mission of Flemington Speedway Historical Society (FSHS) is to preserve, protect, and document the faces, the names, the actions and events, that form the history of the Flemington Fairgrounds and Speedway.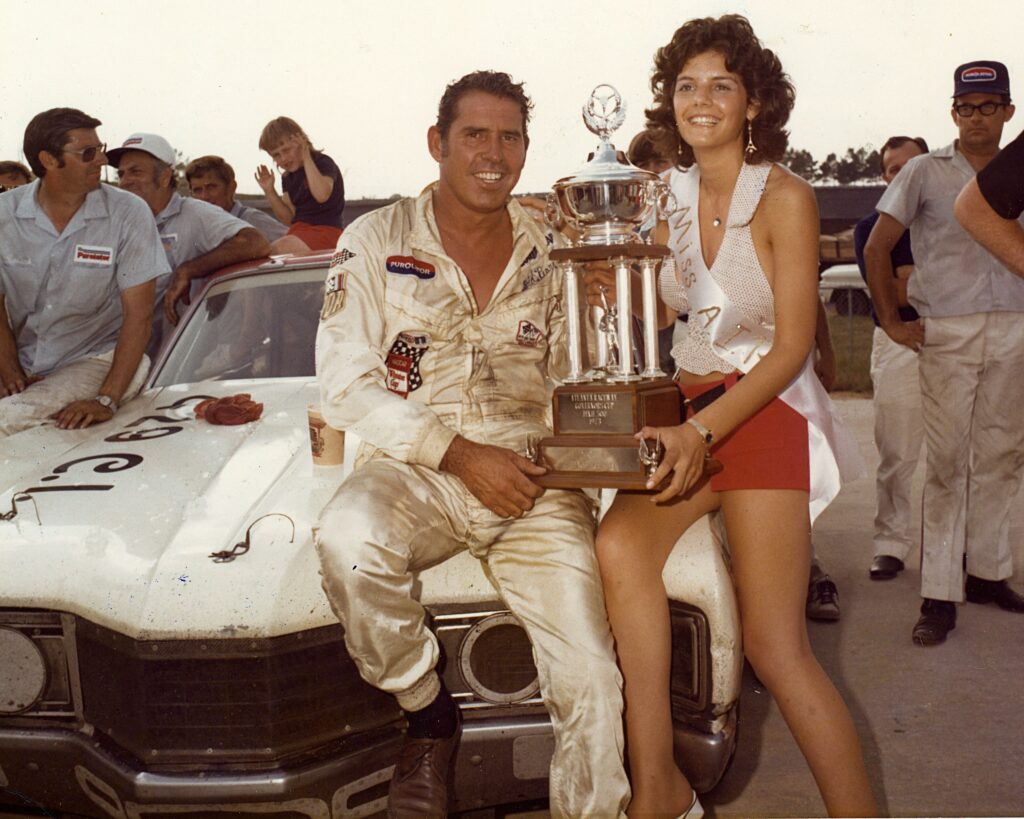 Linda Vaughn ( Miss Hurst Gold Shifter)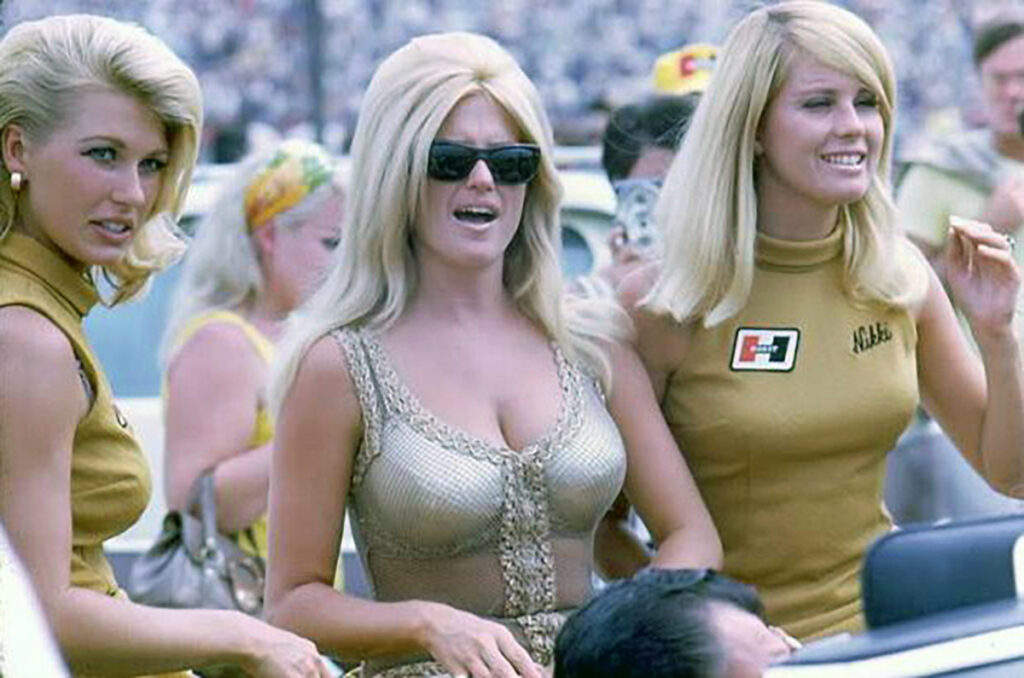 At the close of that gig, she met George Hurst, won the contest to become Miss Hurst Golden Shifter and the rest, as they say, is history. This collection of photos shows Vaughn in full bombshell mode during the 1960s and early 1970s. She became one of the world's best known spokes models and to this day, her name conjures the instant image of Hurst. Hit the link below to see Linda Vaughn in all her glory! We should mention that Linda is still very active today and remains one of the most gracious, kind people we've had the chance to introduce ourselves to as weenie media dudes.
David Pearson And His No.21 Car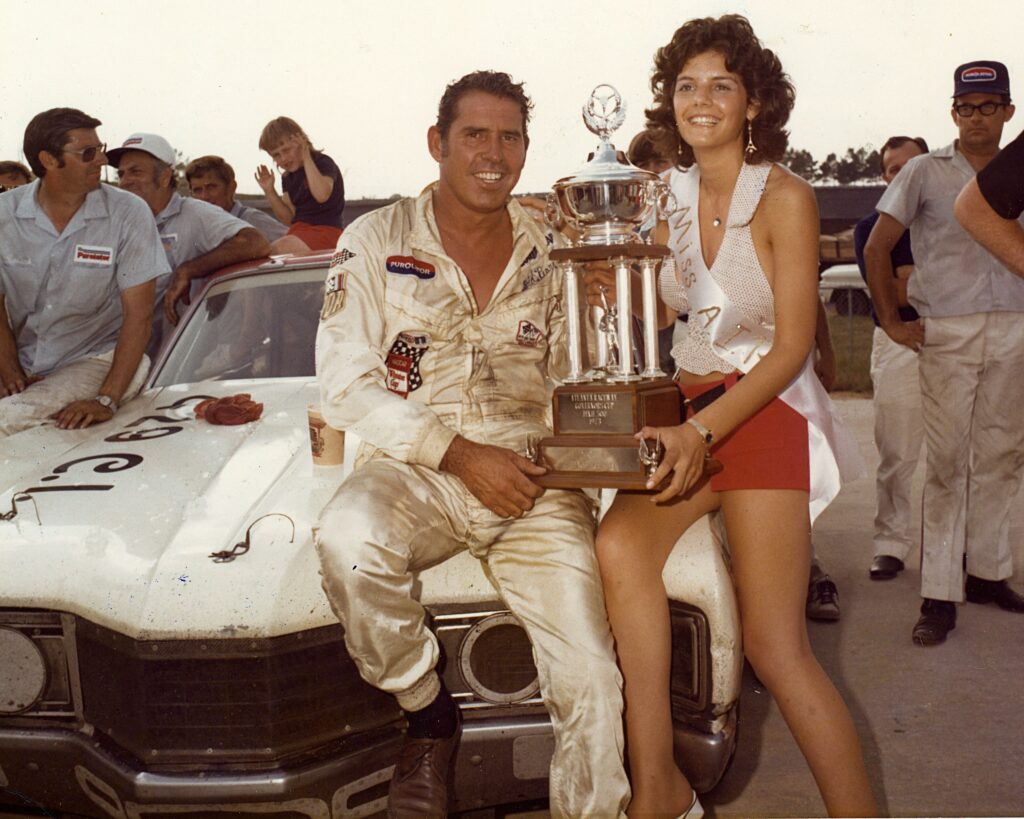 David Pearson was a race car driver from 1960 to 1986 where he was most notably seen driving the No.21 Mercury for Woods Brothers Racing. Pearson's racing career was comparable of the great Richard Petty as they accounted for 63 first and second places finishes. Pearson had the slight edge with 105 wins in 574 starts while Petty had 200 wins in 1,184 starts.