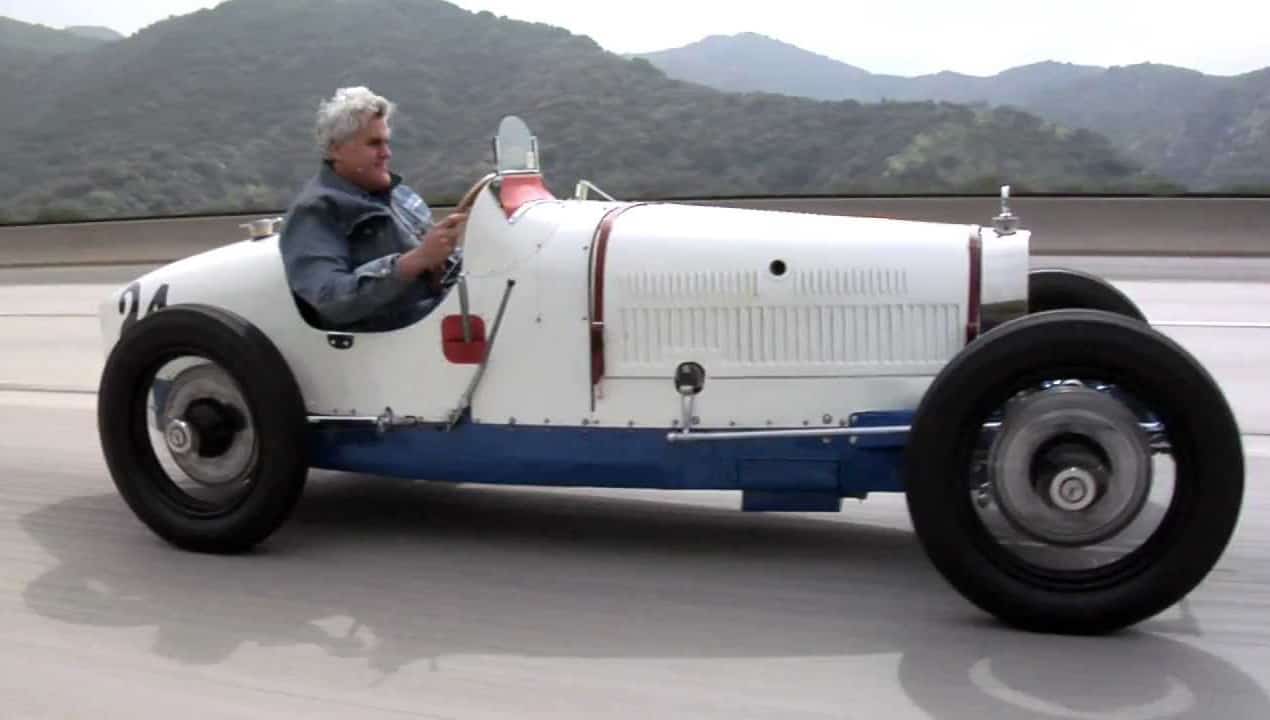 If there is anything that we know about famous television star Jay Leno outside of his TV career, he loves cars. It's a huge passion for him. Leno pours a significant amount of time and money into automobiles. He's got some ridiculous, classic, and expensive rides, with many being ultra-rare. Given all of his vehicles, we narrowed it down. Here are the 50 top cars in Jay Leno's Garage!
1981 DeLorean DMC-12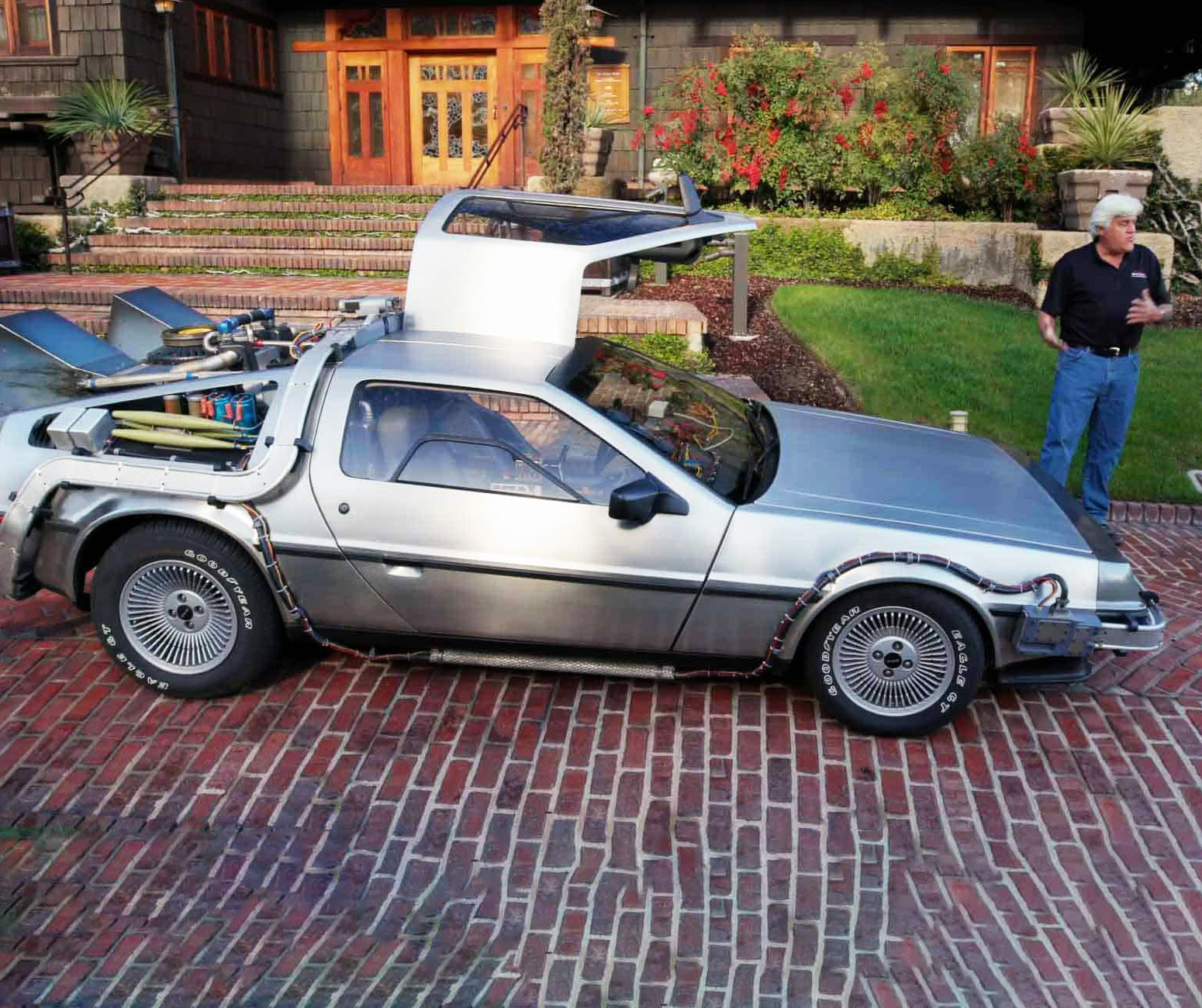 Yep, this is the original DeLorean from Back to the Future. Interestingly enough, movie execs scrapped the Ford Mustang in favor the 1981 DeLorean, even though they were offered a sizable check. And to think, if this car was not chosen, we could be looking at a time traveling Hotpoint refrigerator.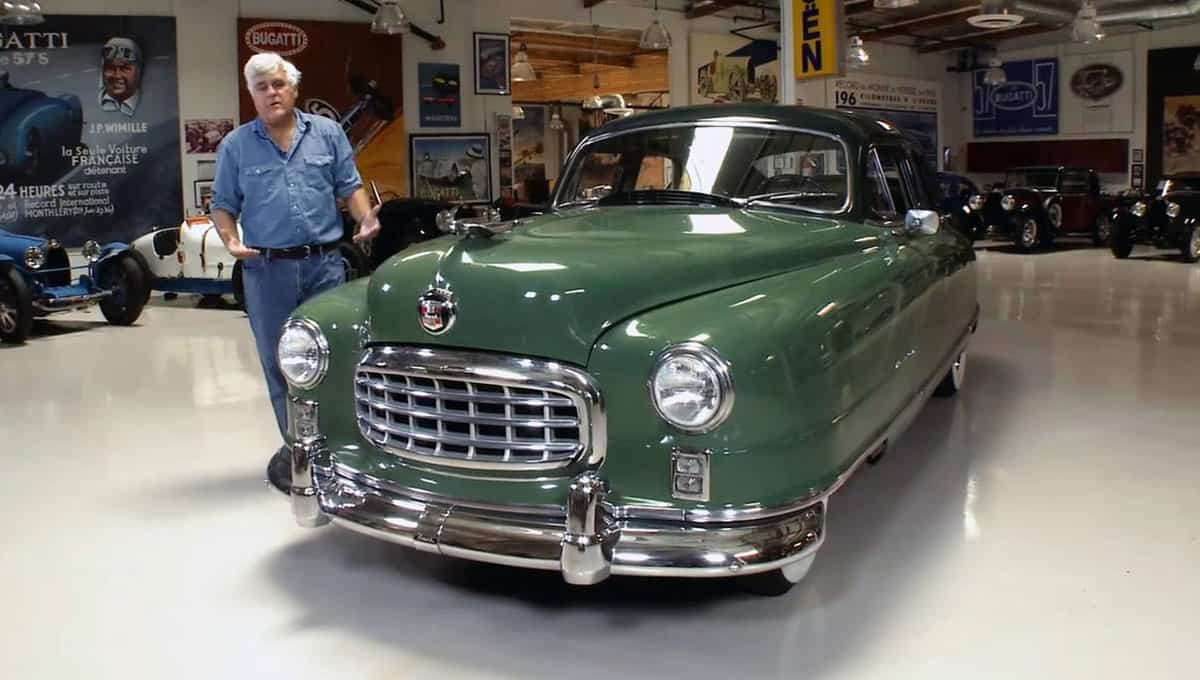 1928 Bugatti Type 37A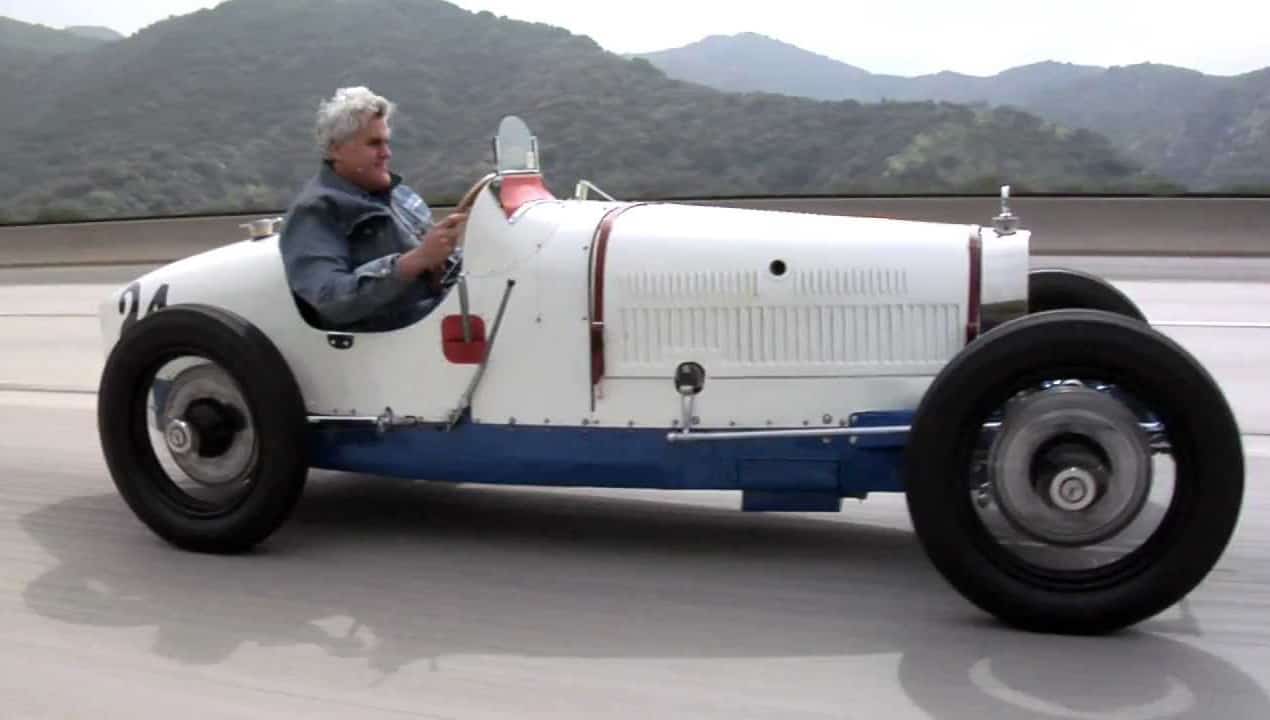 Don't let the age of this classic fool you. This almost 100-year-old vehicle can easily do 100 mph on the San Fernando Valley highway. Maybe it has something to do with the flywheel to gearbox driveshaft that will chew up your shoe if left to its own devices.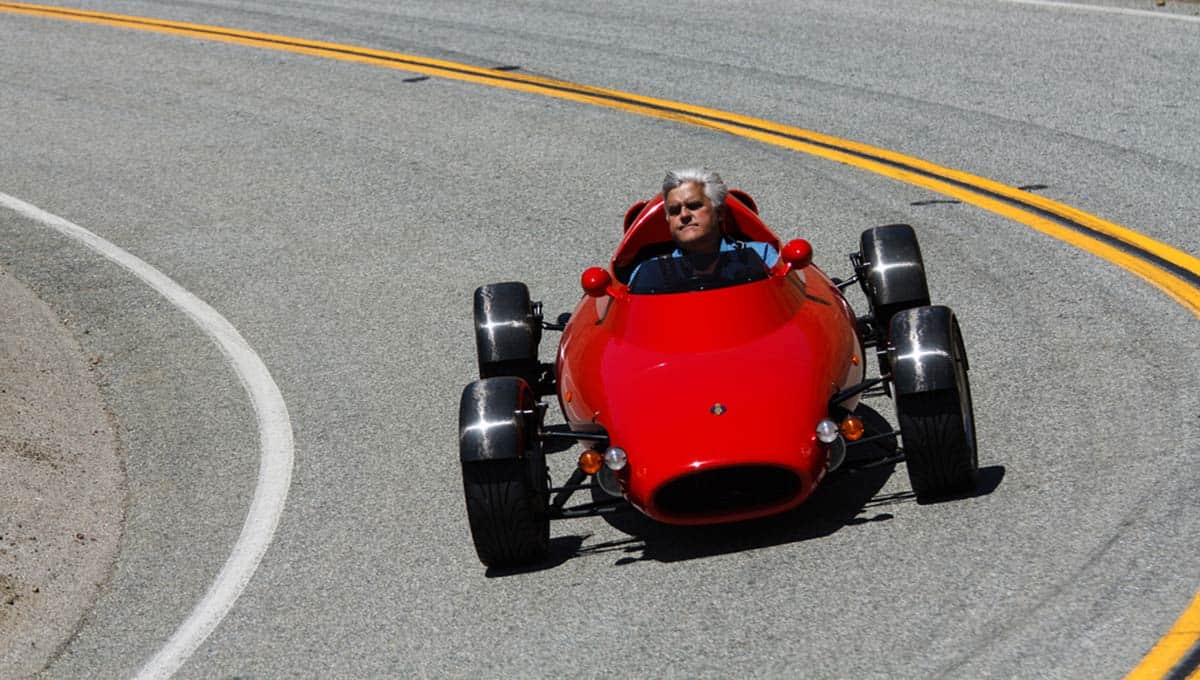 1950 Nash Ambassador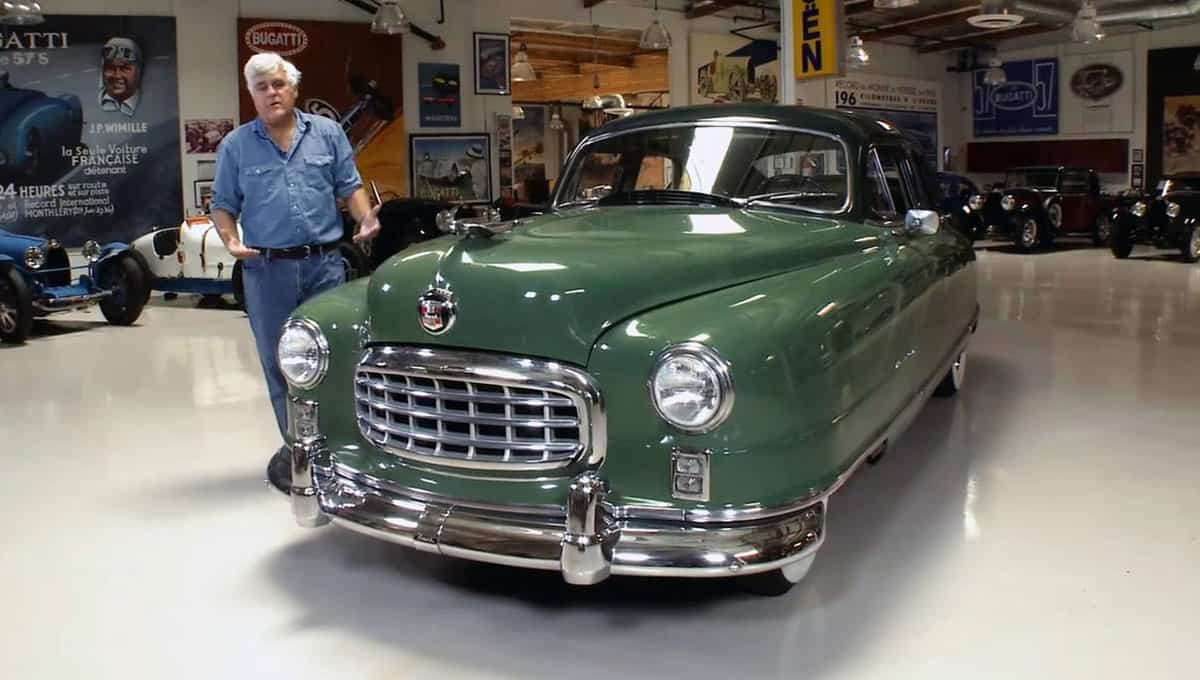 The coolest thing about this 1950 Nash Ambassador is it's all original and unrestored. It features classic select-o-matic start, ultramatic transmission and weather eye (a revolutionary AC system). However, if you owned one in the 50s, dads probably would not let you date their daughter.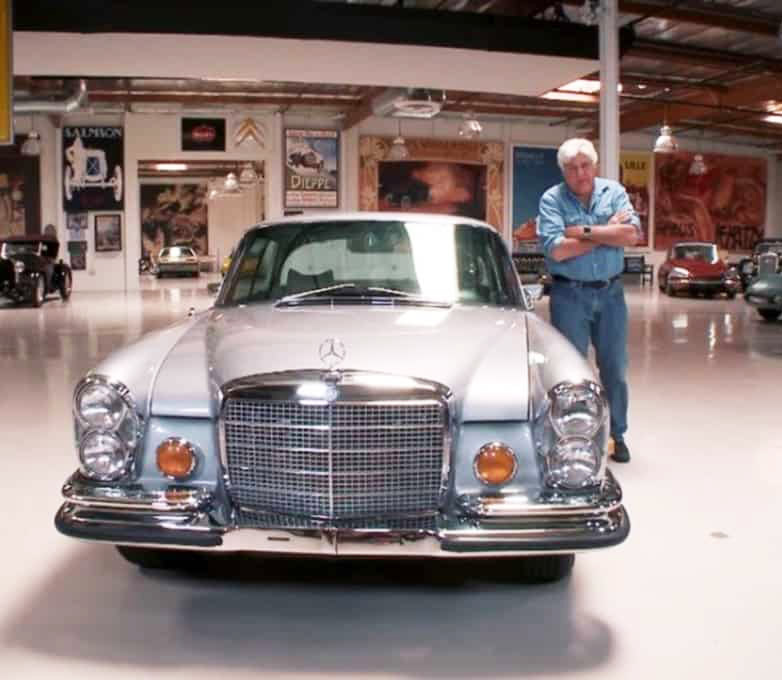 1993 LCC Rocket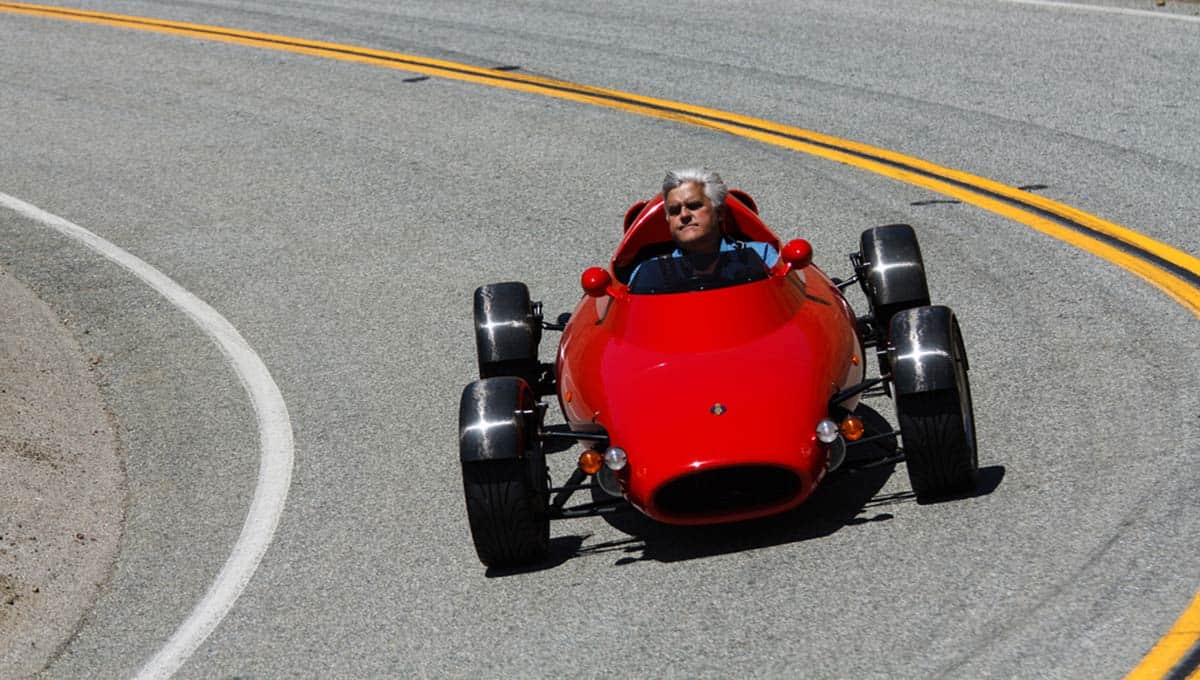 If you look close in L.A. traffic, you might spot the 1993 LC Rocket. This is one of the few cars Jay Leno actually takes out on the open road. It only weighs 850 pounds and is powered by a 1000cc Yamaha engine at either 143 or 165 horsepower.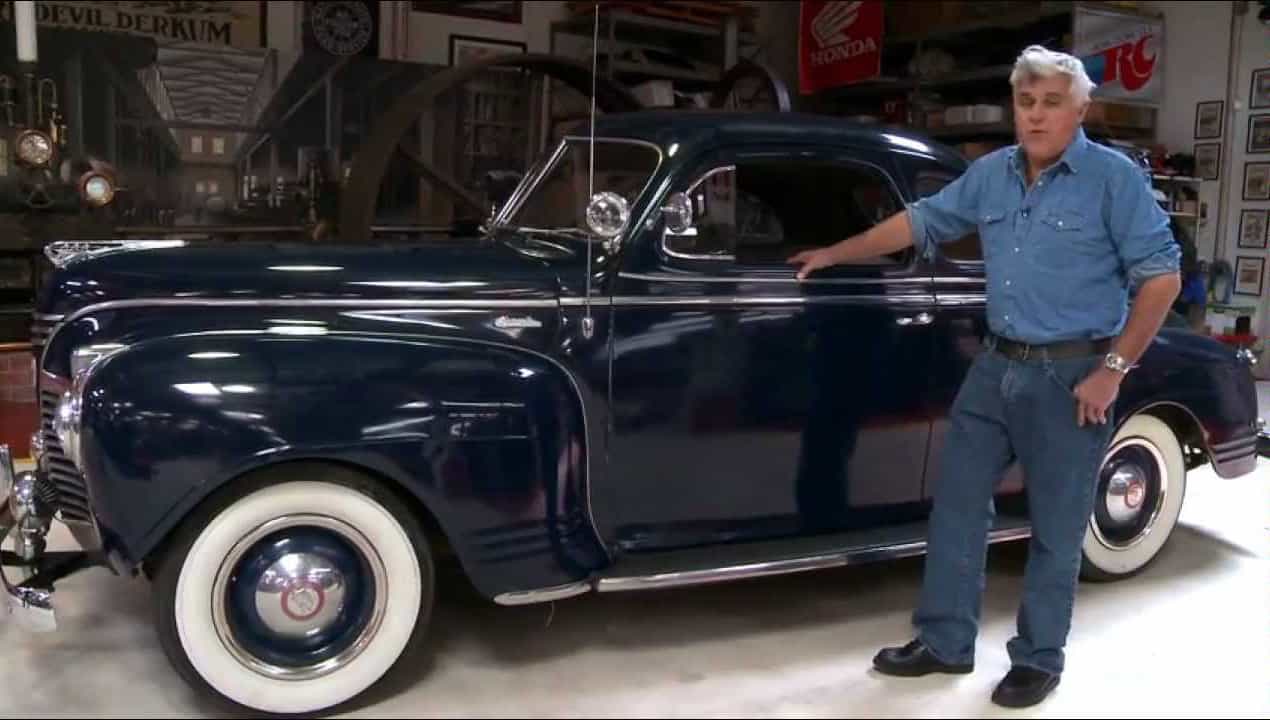 1971 Mercedes Benz 280SE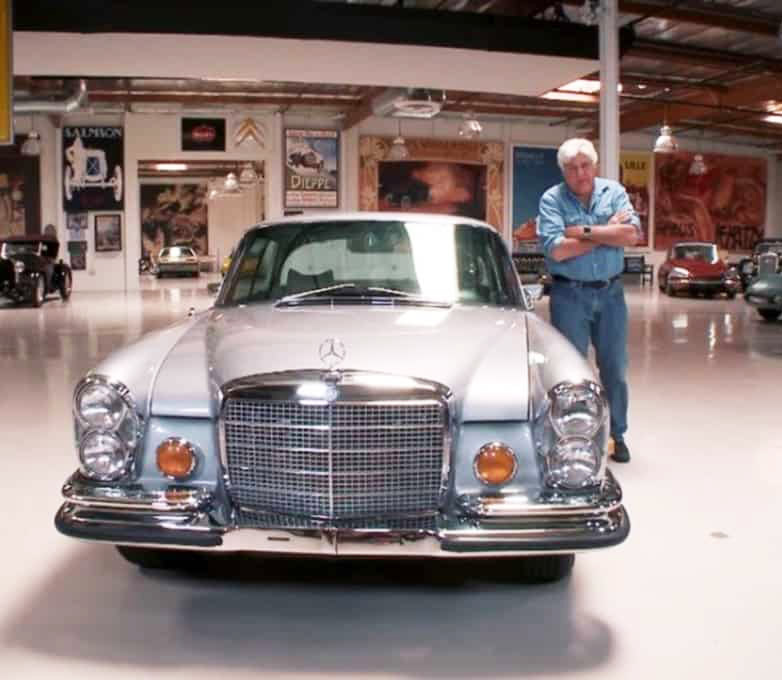 Jay used to work at a Mercedes dealership so it is no surprise one should end up in his garage. This one-owner beauty came to Jay's garage via Las Vegas. The 3.5-liter coupe has 82,000 original miles, bad rubber seals, woodwork and a cracked windshield before Jay completely restored it.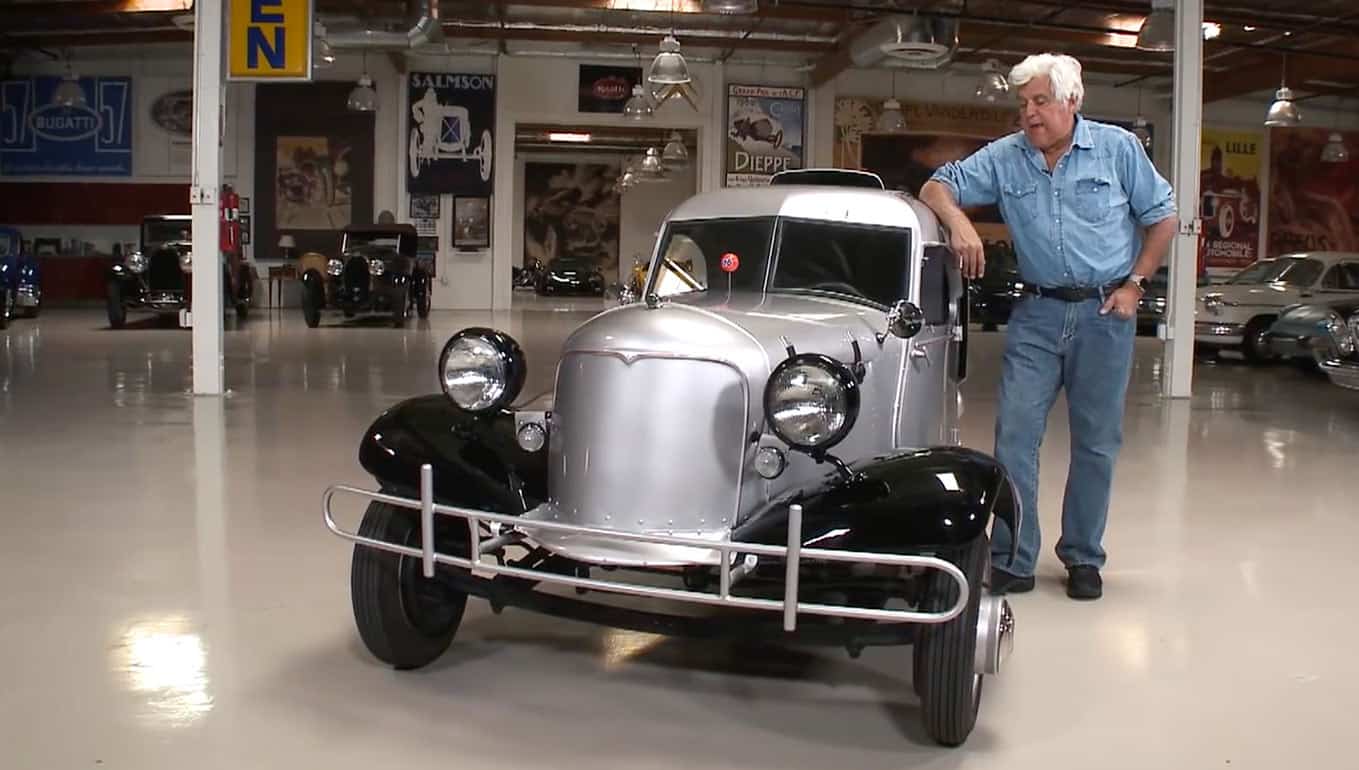 1941 Plymouth Special Deluxe Business Coupe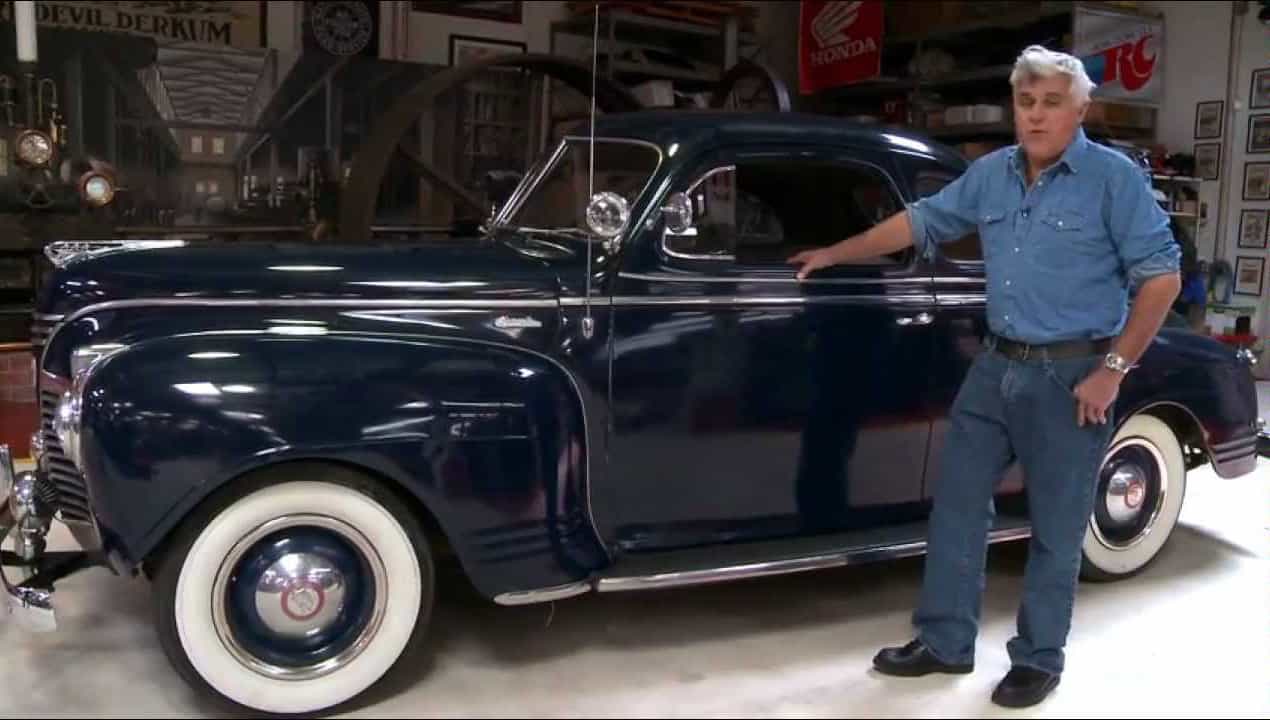 Though it is touted as original and unrestored, there have been a few paint touch ups and tire changes. However, this car comes from when power steering and brakes did not exist. It took pure muscle to drive these beasts.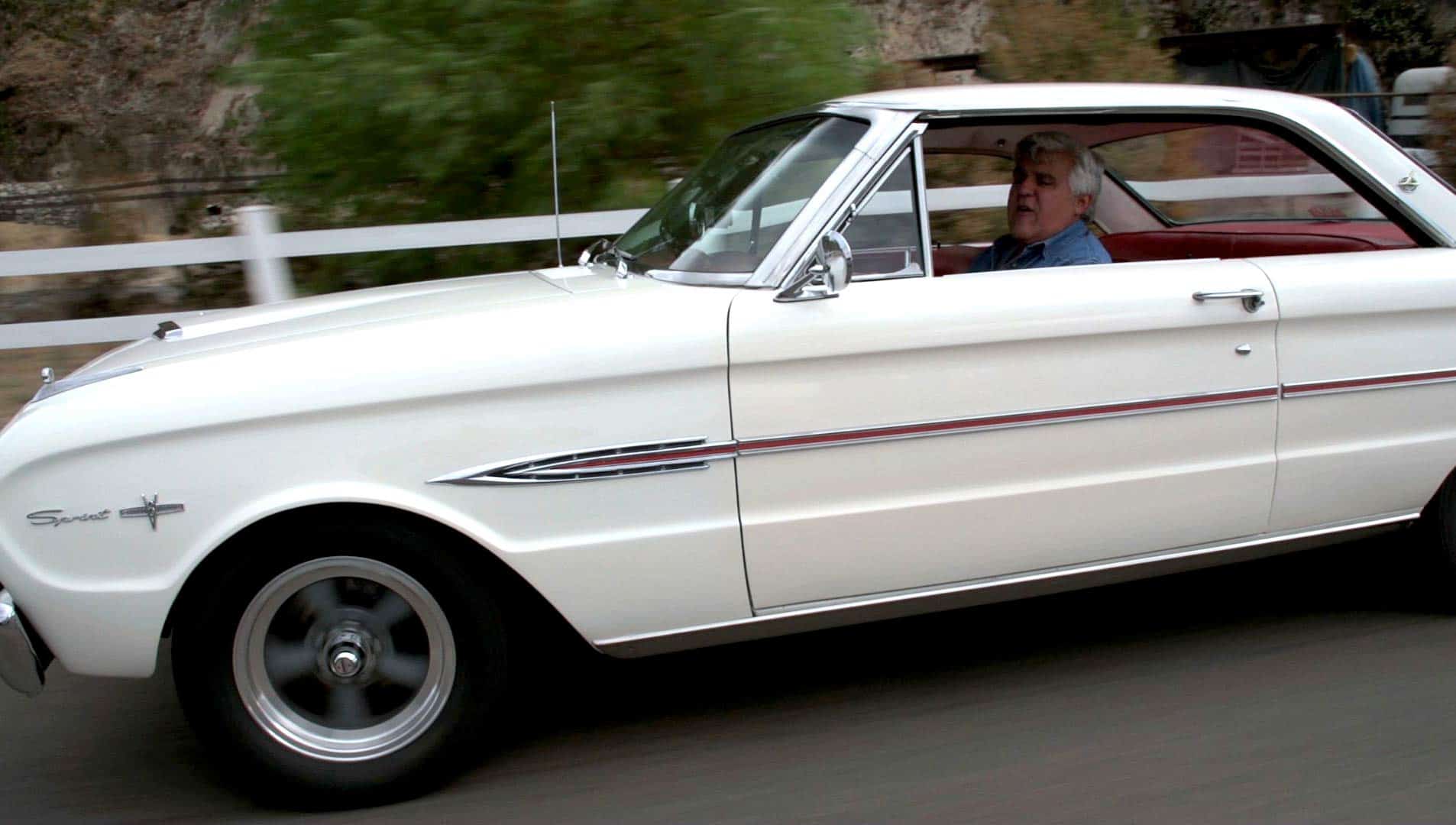 1931 Shotwell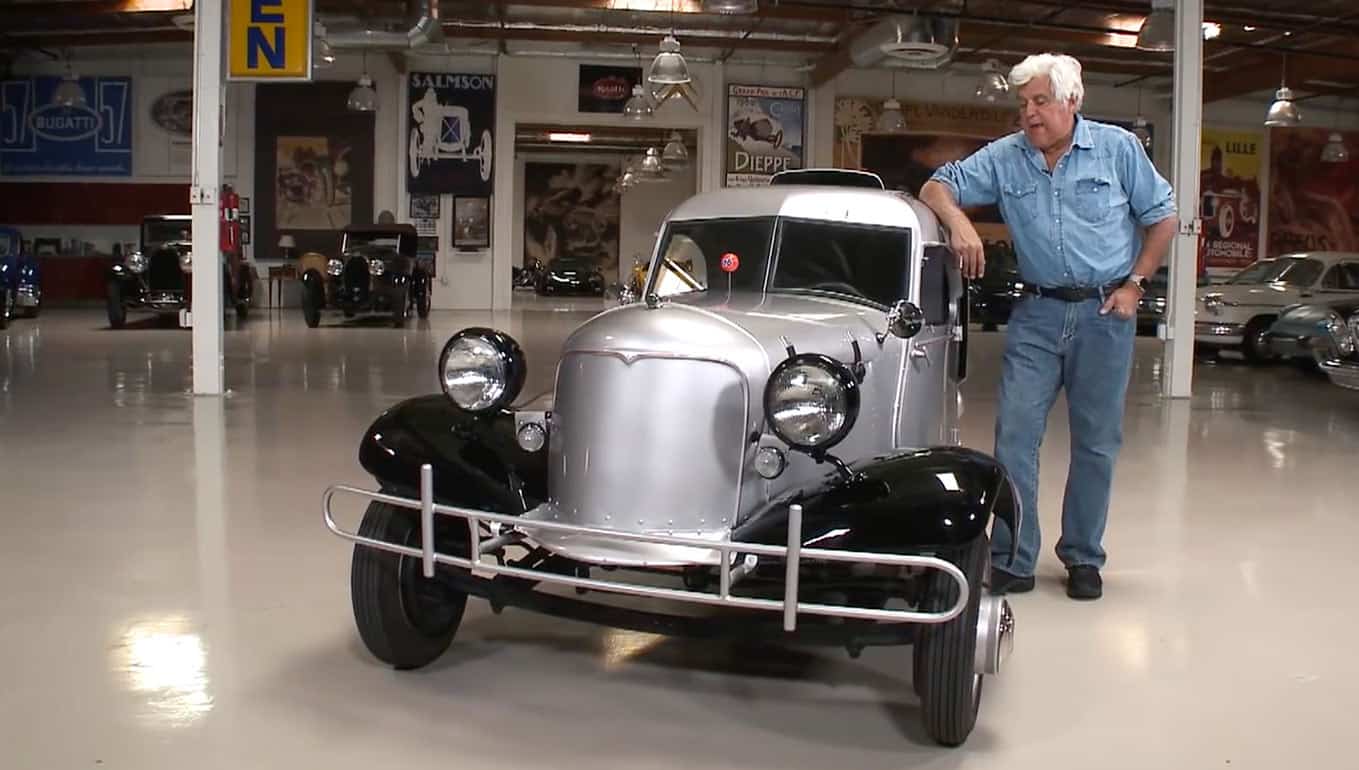 You are looking at a three-wheeled vehicle invented by a 17-year-old and it can chew up the road. Bob Shotwell built the entire car in his garage and its powered by a 4 cylinder cool air Indian motorcycle engine; wow.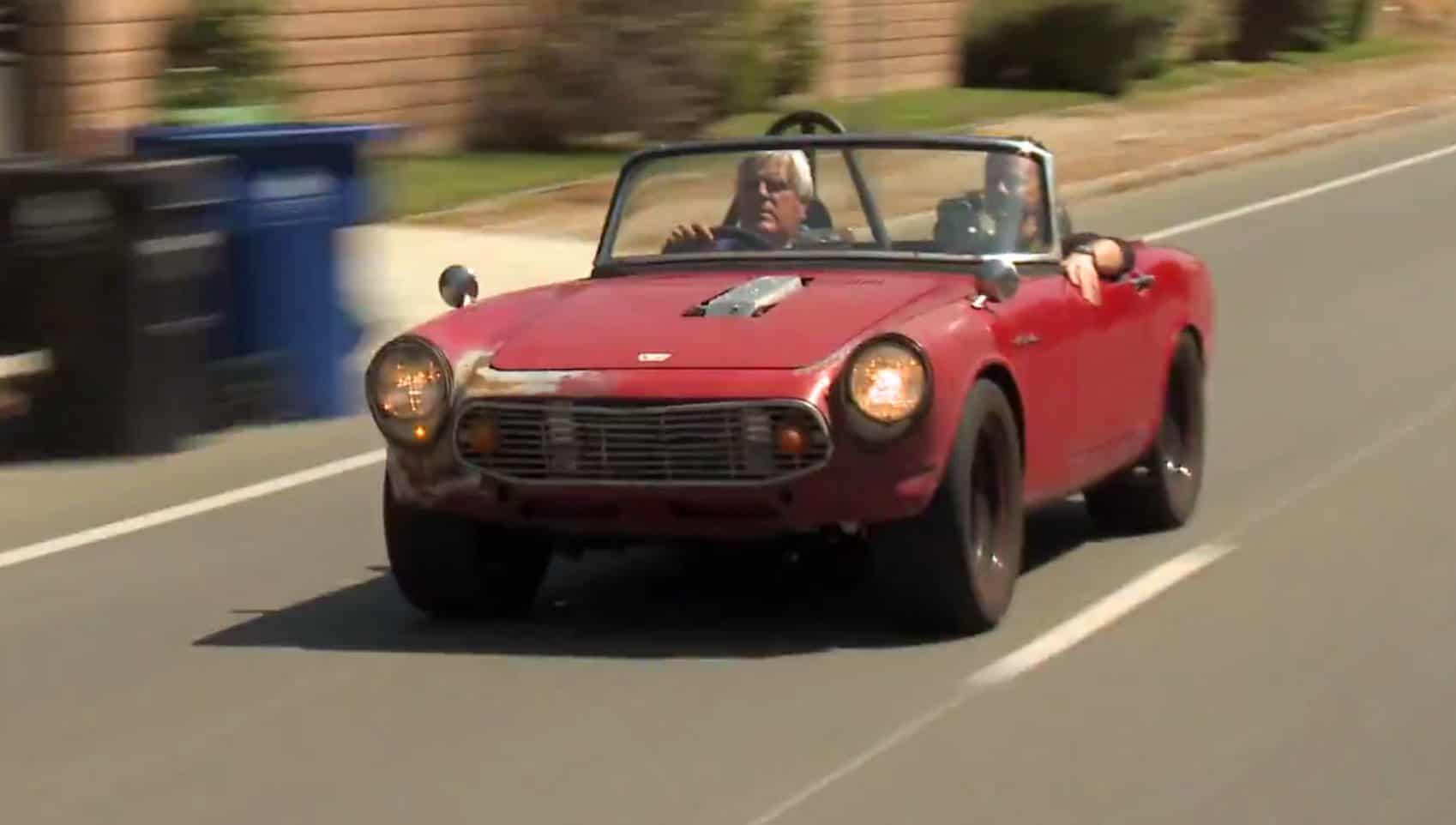 1963 Ford Falcon Sprint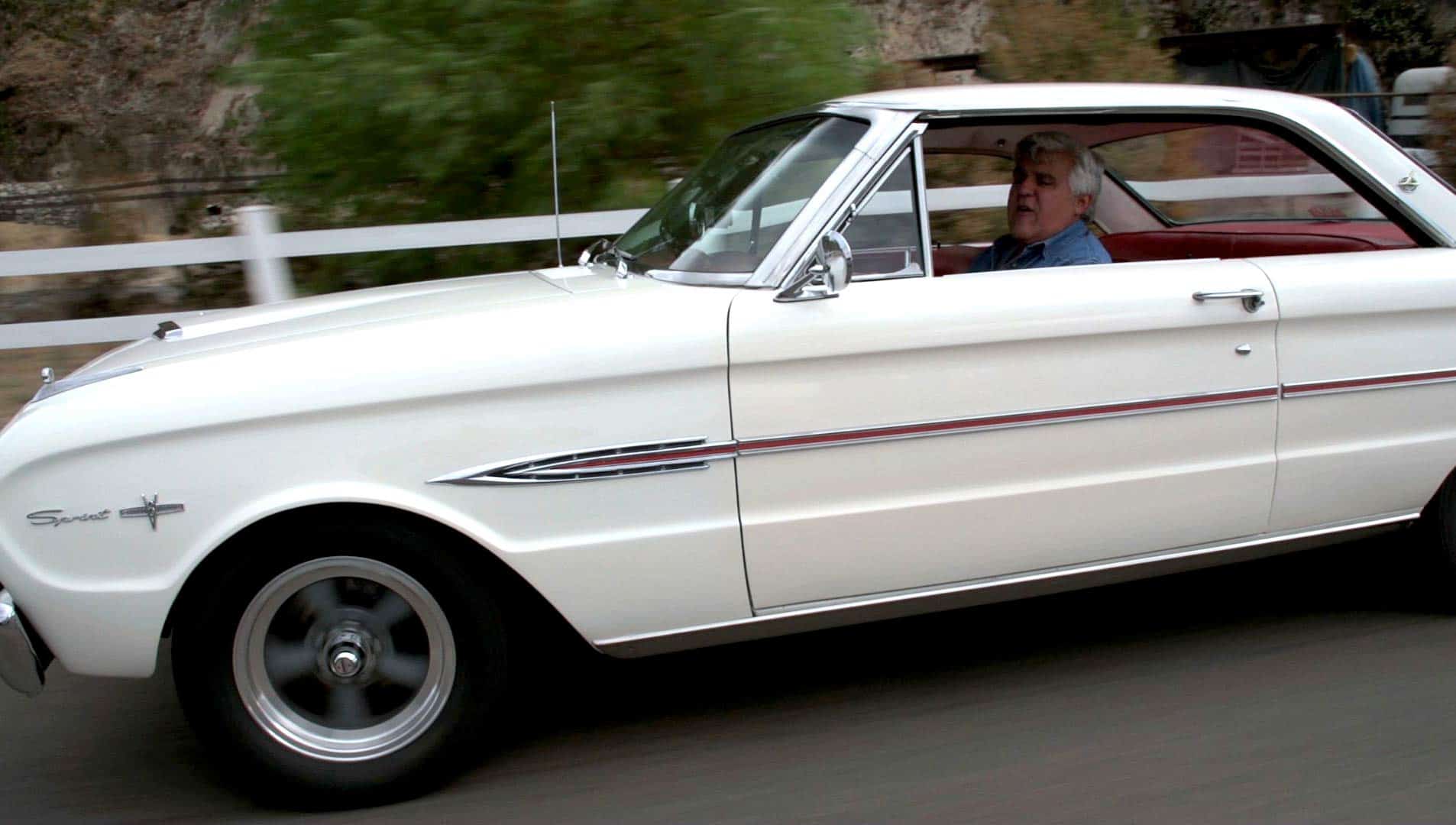 Tuck a 260 cubic inch v8 engine in a small car and you are left with Leno's 1963 Falcon Sprint. Leno also worked at a Ford dealership for a while as a teenager, where he developed an affinity for the Falcon.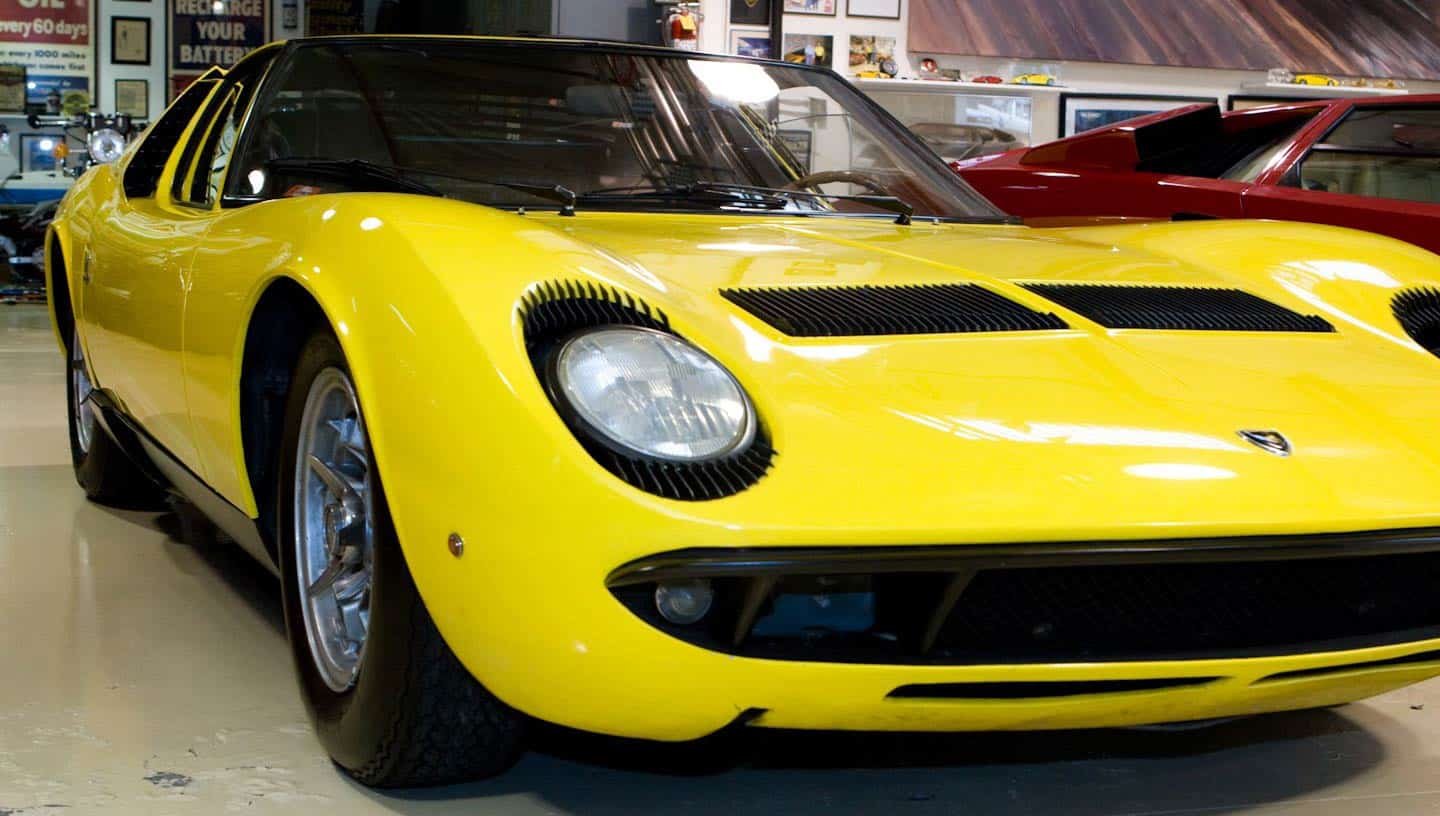 1964 Honda S600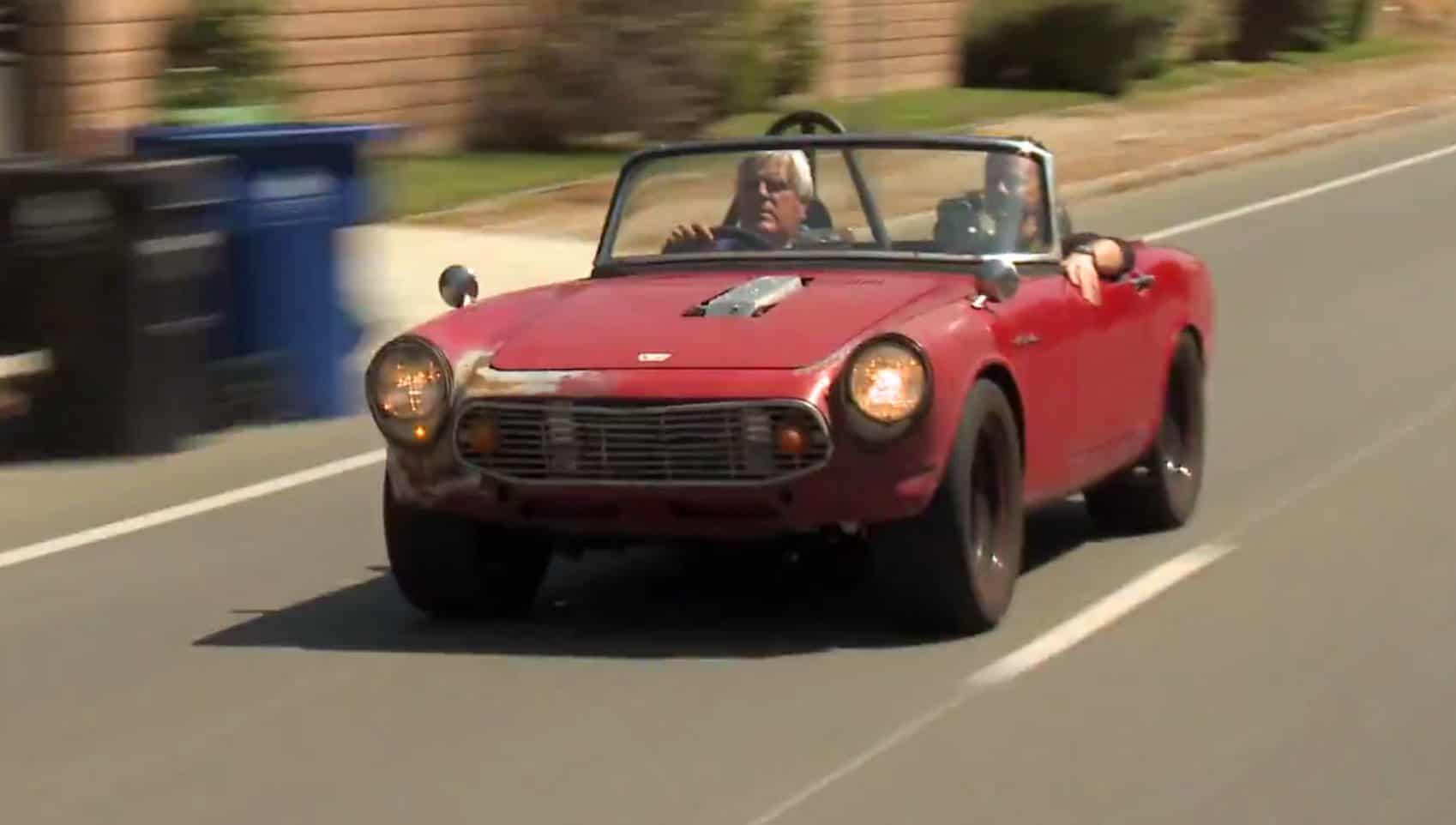 If you are looking for a small engine with a motorcycle-inspired engine and drive chain model, the 1964 Honda S600 is the answer. During the 1960s it was thought to be out of place on the highway among all of the muscle cars cruising around.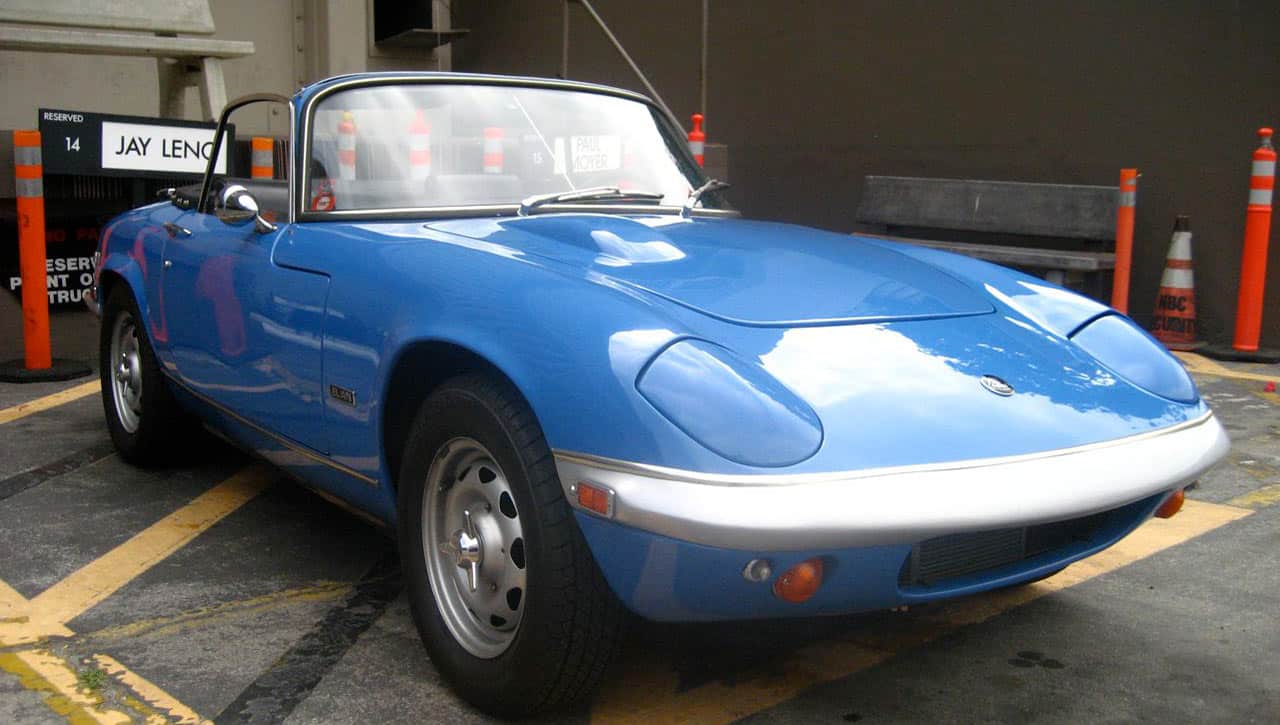 1967 Miura P400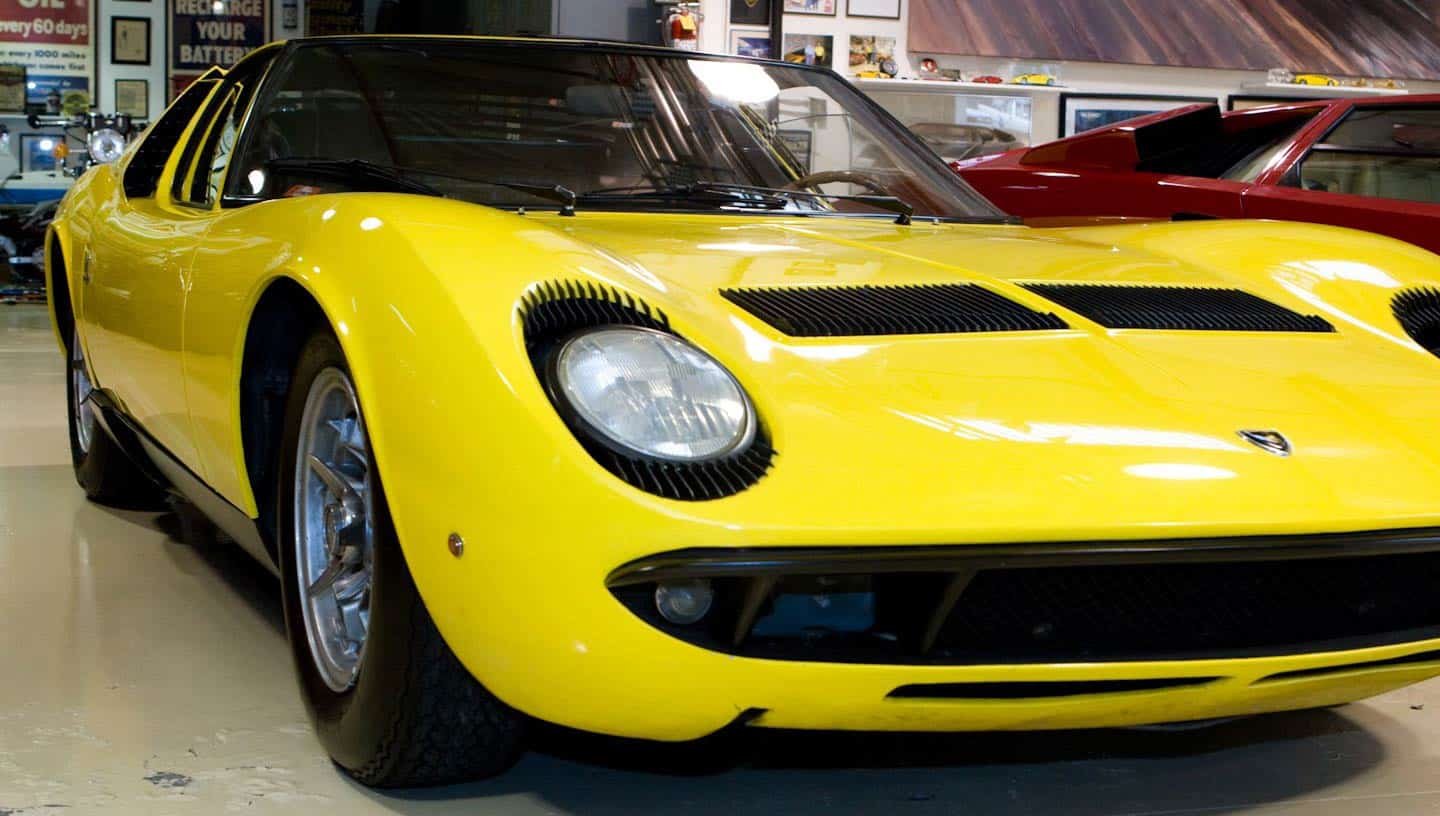 Do you know who owned this Italian sports car before Jay Leno? If you guessed Dean Martin you would be correct. This was the first vehicle given the name "supercar" which resulted in Ferrari stepping up its game. Some competition never hurt anyone.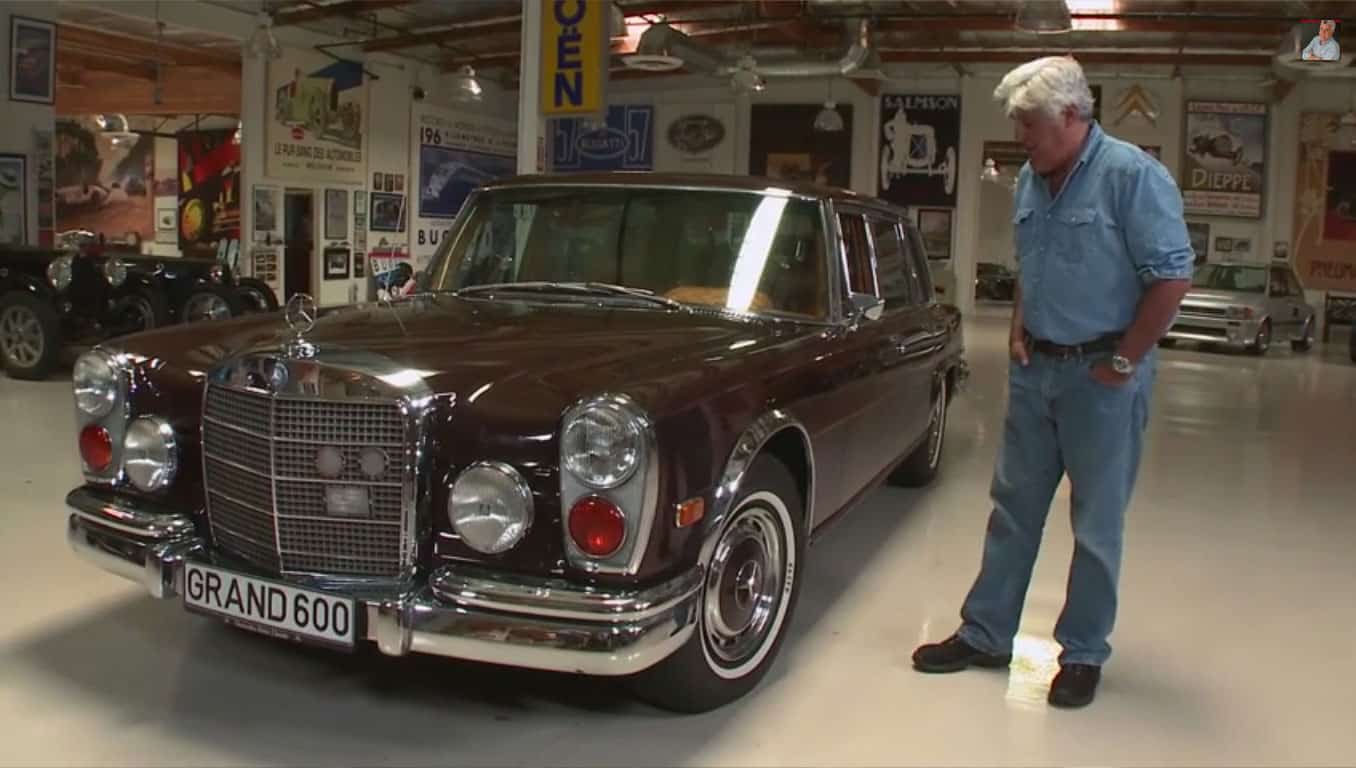 1969 Lotus Elan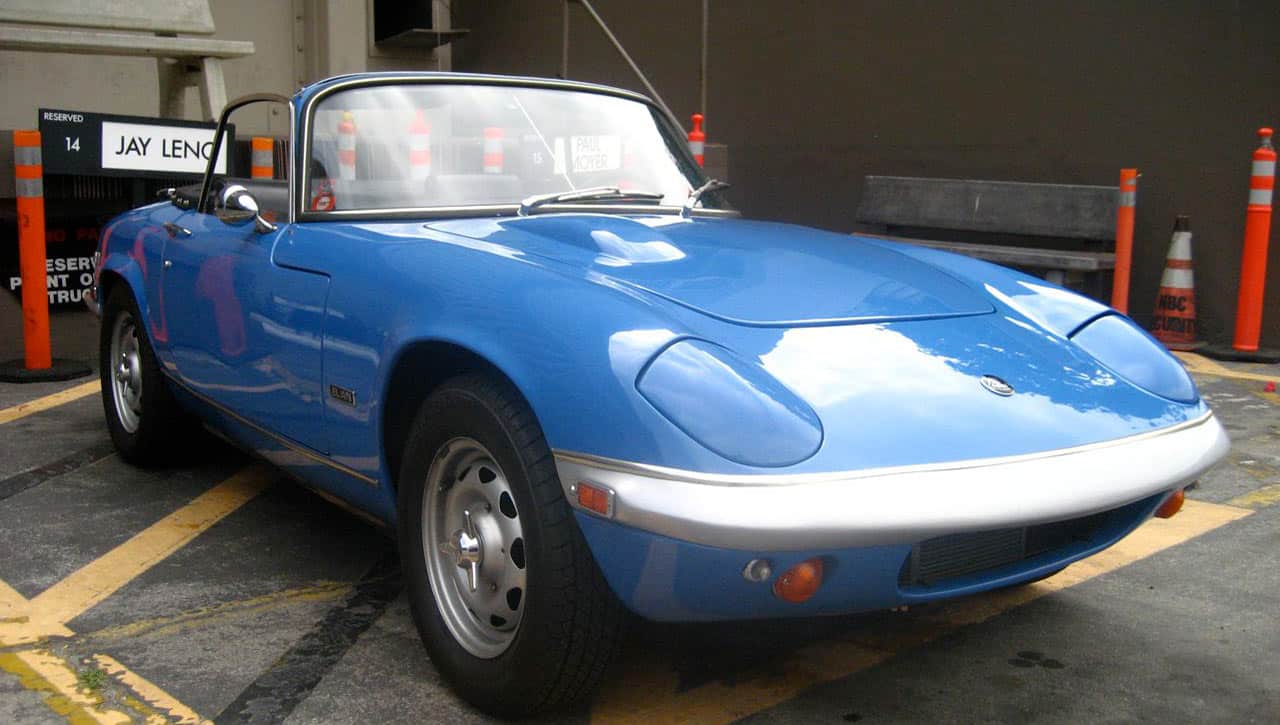 Taken from a mechanically ugly, inside horrific state to its current pristine condition took 18 months. Jay is quoted during the project (2013-2014) as saying they wanted to create the ultimate Lotus. They did so while remaining true to form since the Lotus features no electrical parts.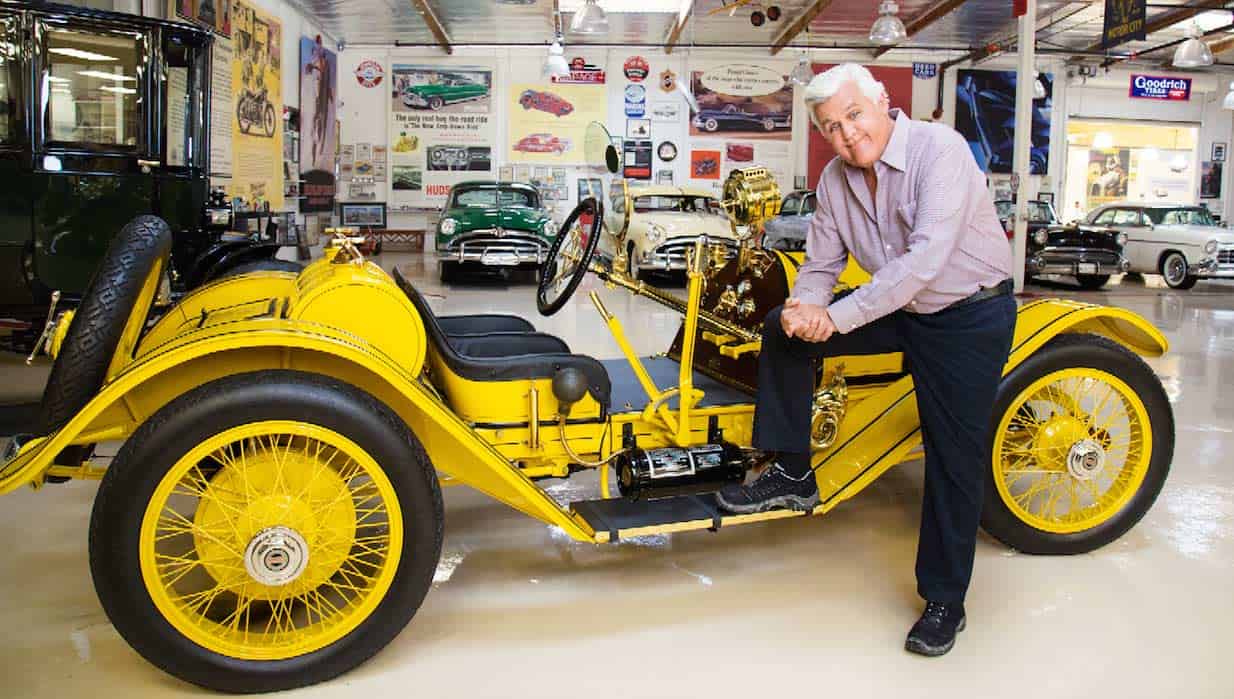 1972 Mercedes 600 Kompressor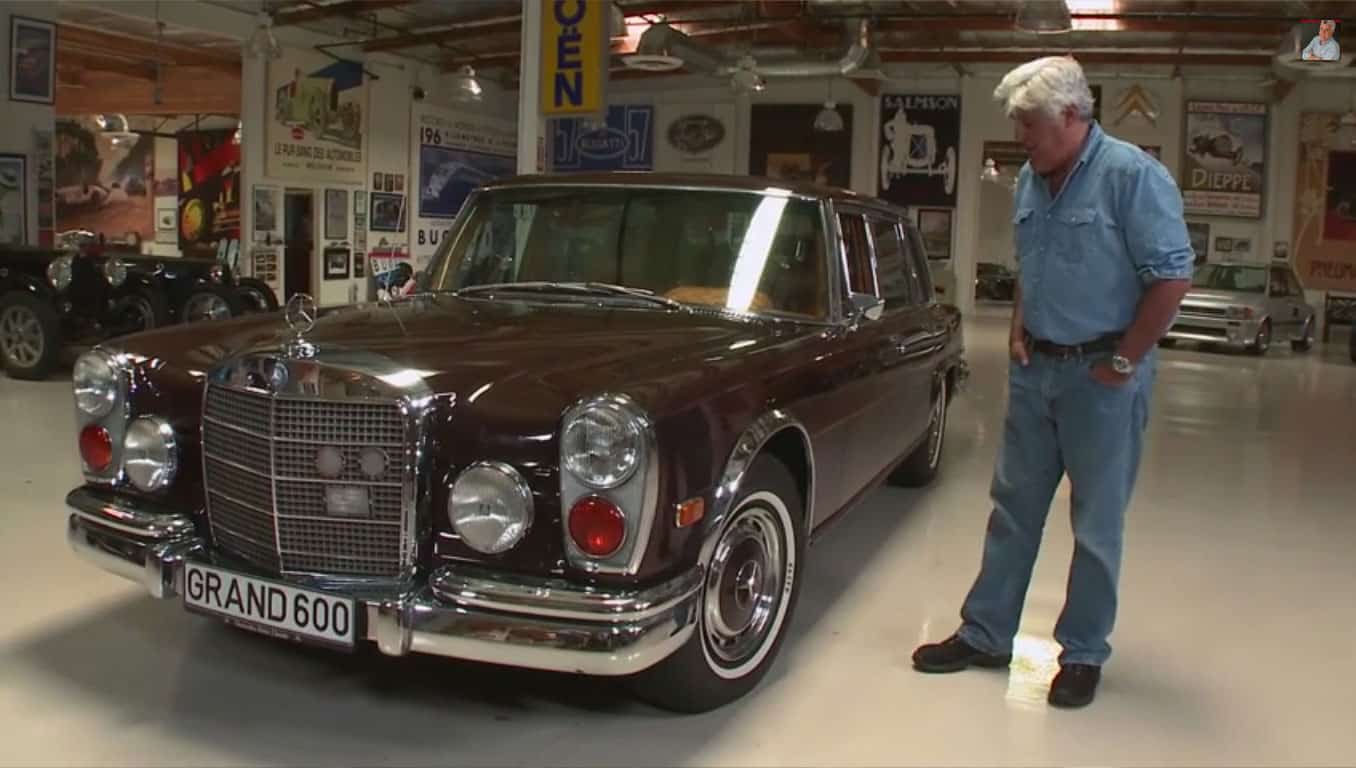 Known as the grandfather of the S Class, these things are a beast to maintain. The reason is just about everything in the vehicle operates off of a hydraulic-based system, even the windows. When they break, owners are required to shell out $11,500 to replace them.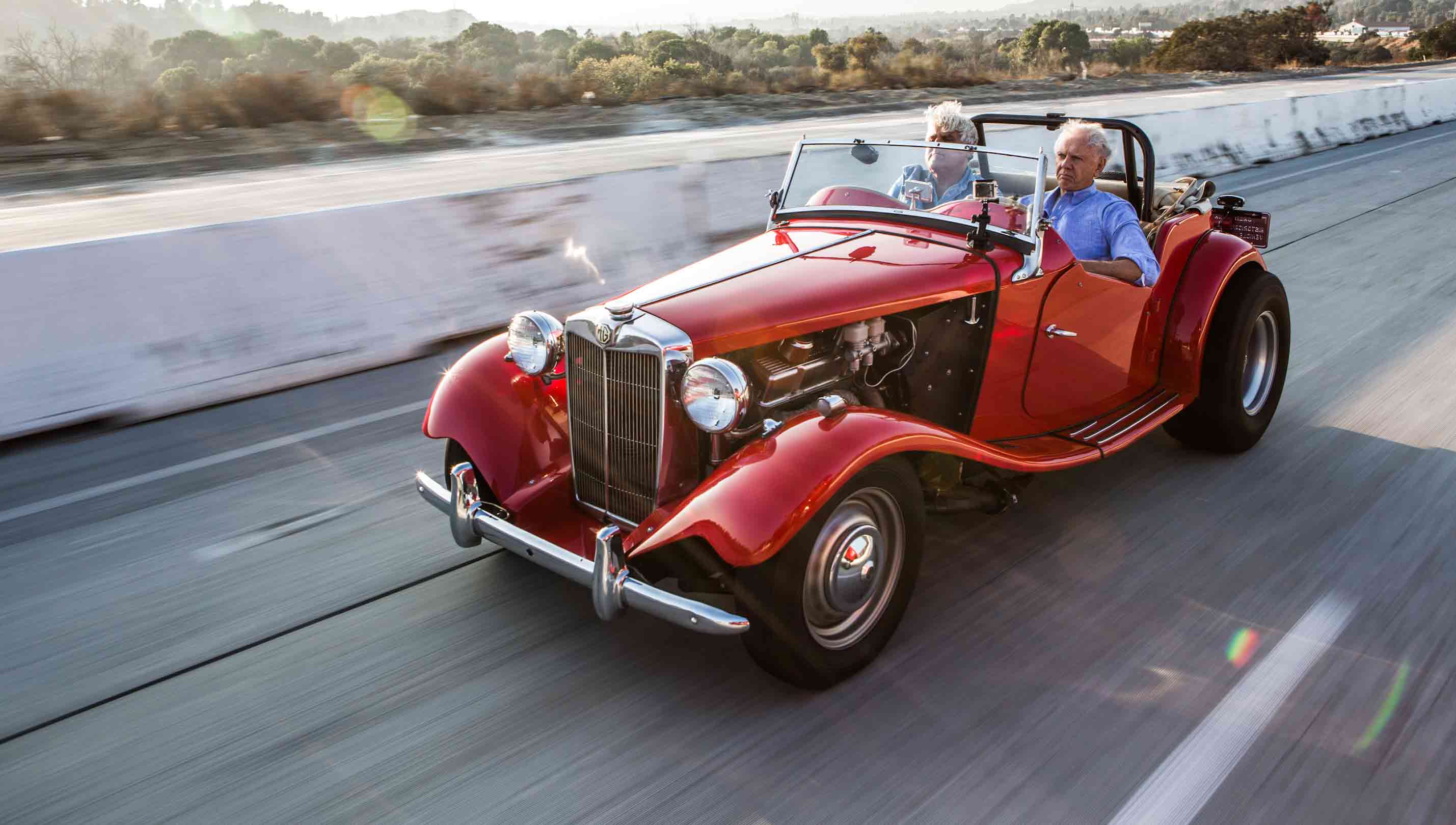 1913 Mercer Raceabout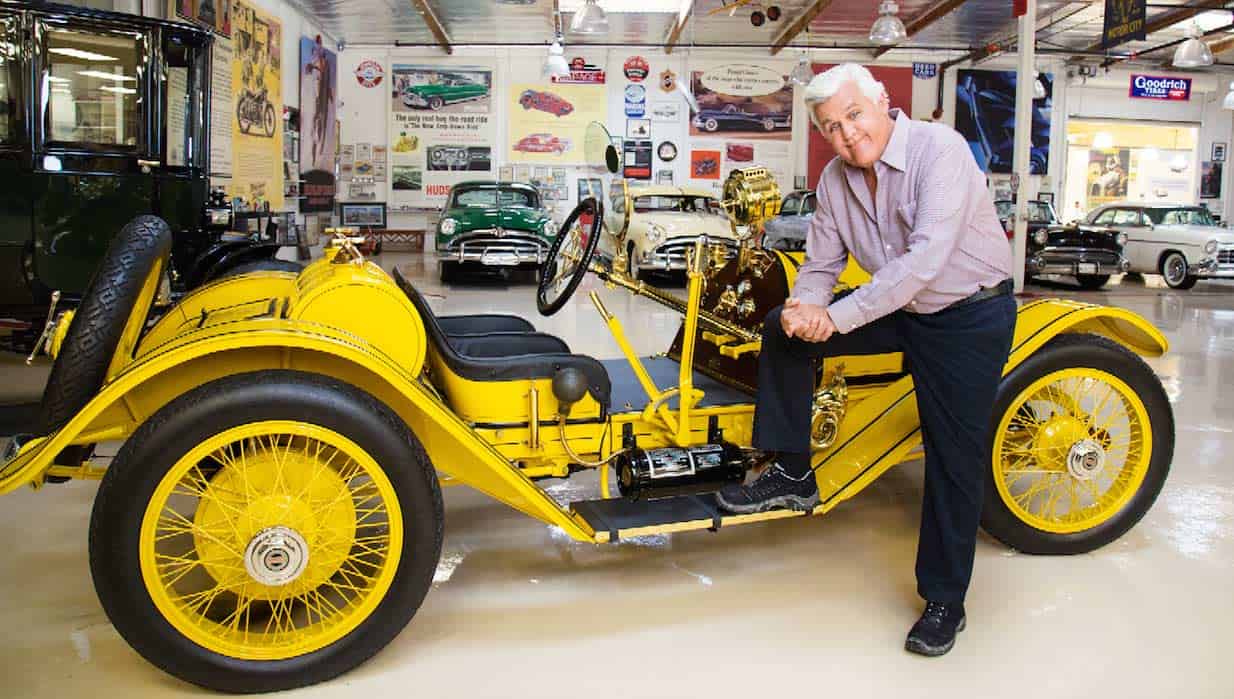 Don't let the tractor like disguise of the Mercer Raceabout fool you. Its little 4.8 liters 4 cylinder engine could still clock 100 mph on the open road. As such, it was a popular pre-World War I sports car for wealthy bachelors.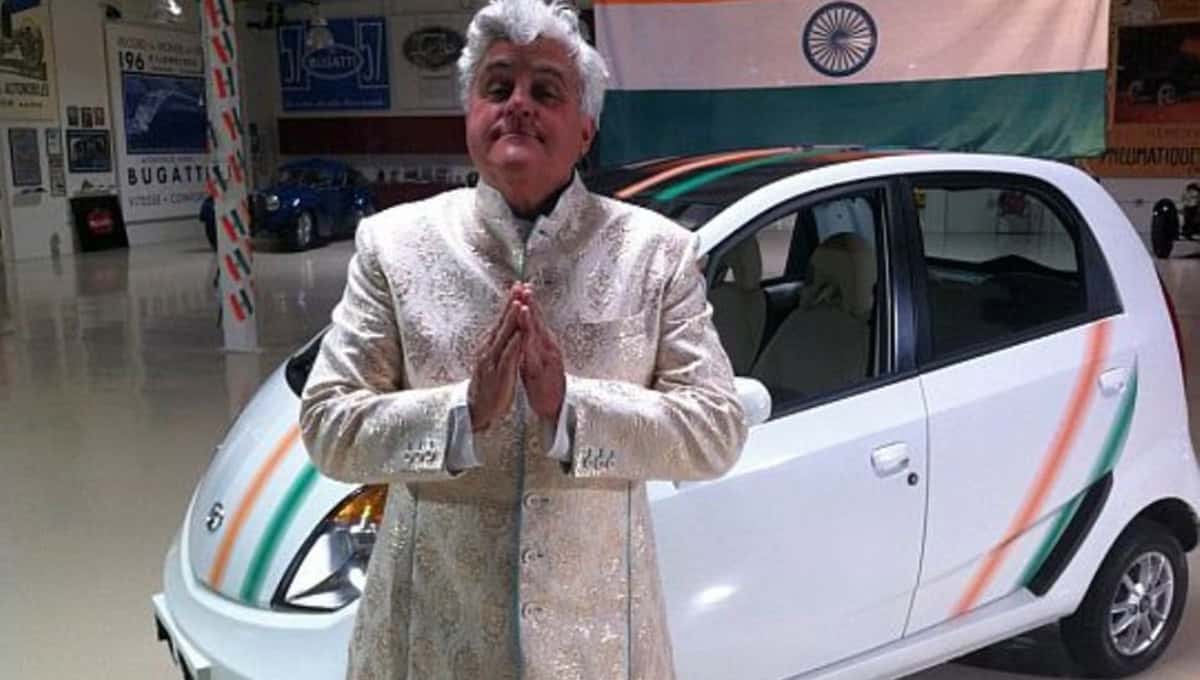 1952 MG TD Hot Rod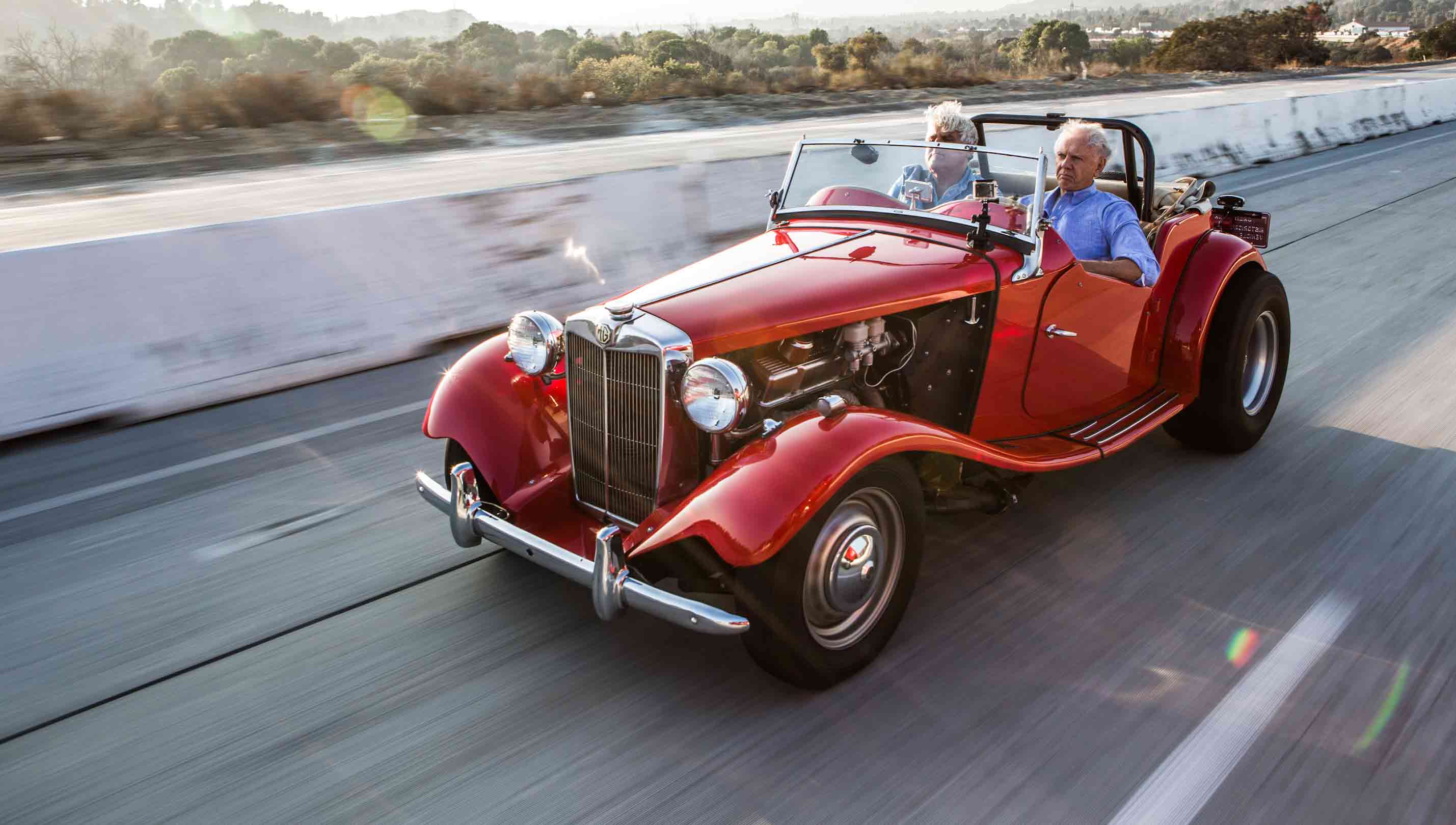 Here is a best in disguise for sure if you know how to read the cues. The rear tires of this 1952 MG are HUGE! It probably has something to do with the upgrade from stock 48 horsepower to 340 horsepower. WOW!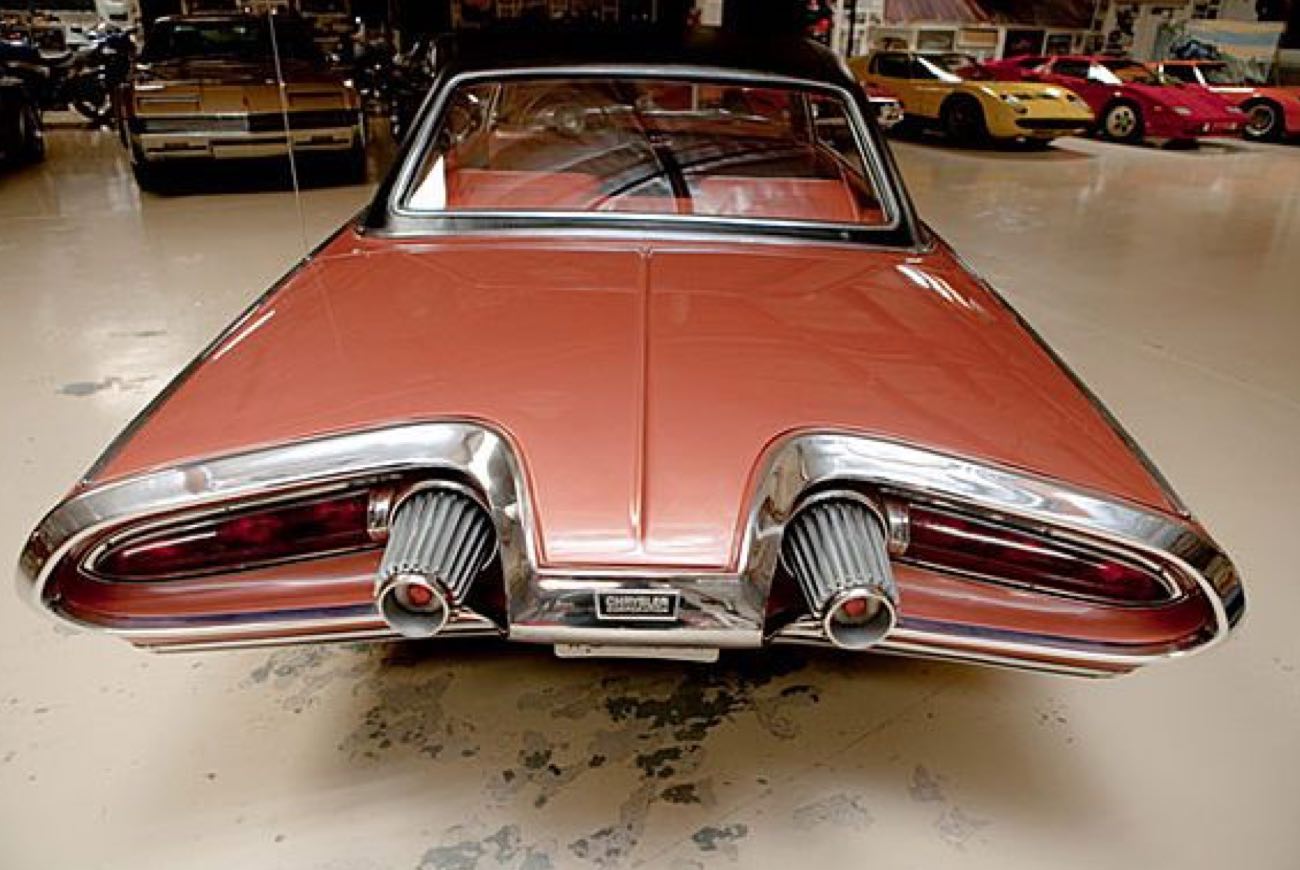 2012 Tata Nano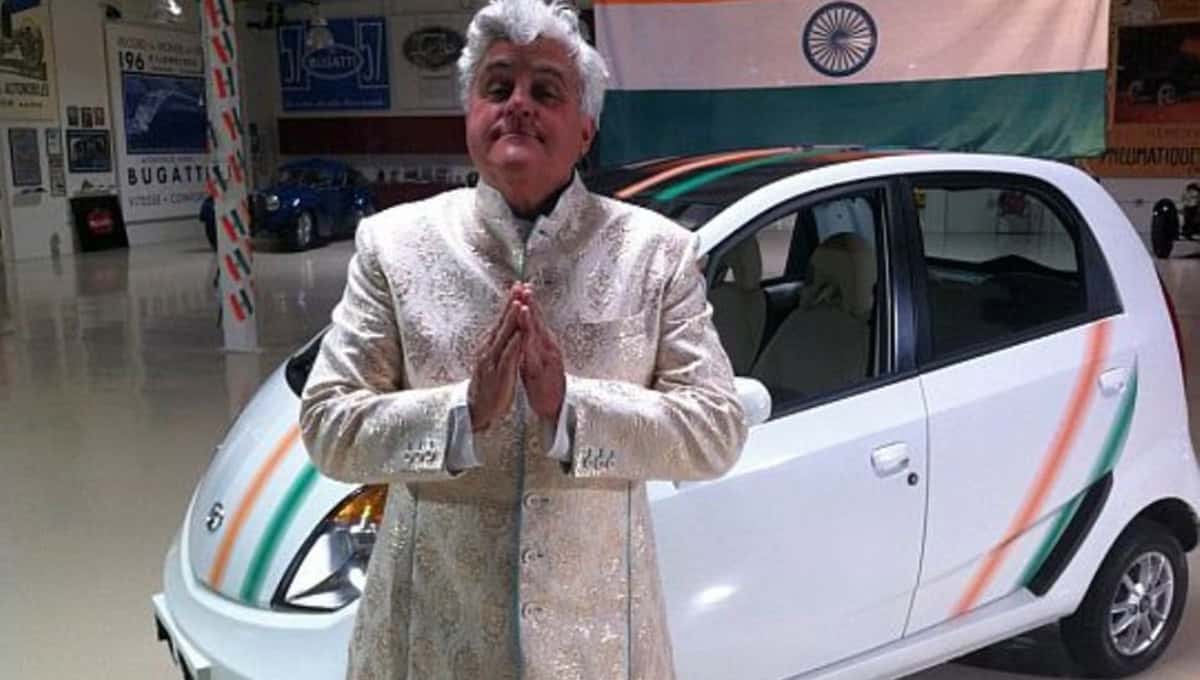 What is known as the world's cheapest car (~$3,400) now has a home in Jay Leno's garage. The little 624cc powered car produces a whopping 38 horsepower. Yet, Jay's version is considered to be top of the line with items like alloy wheels.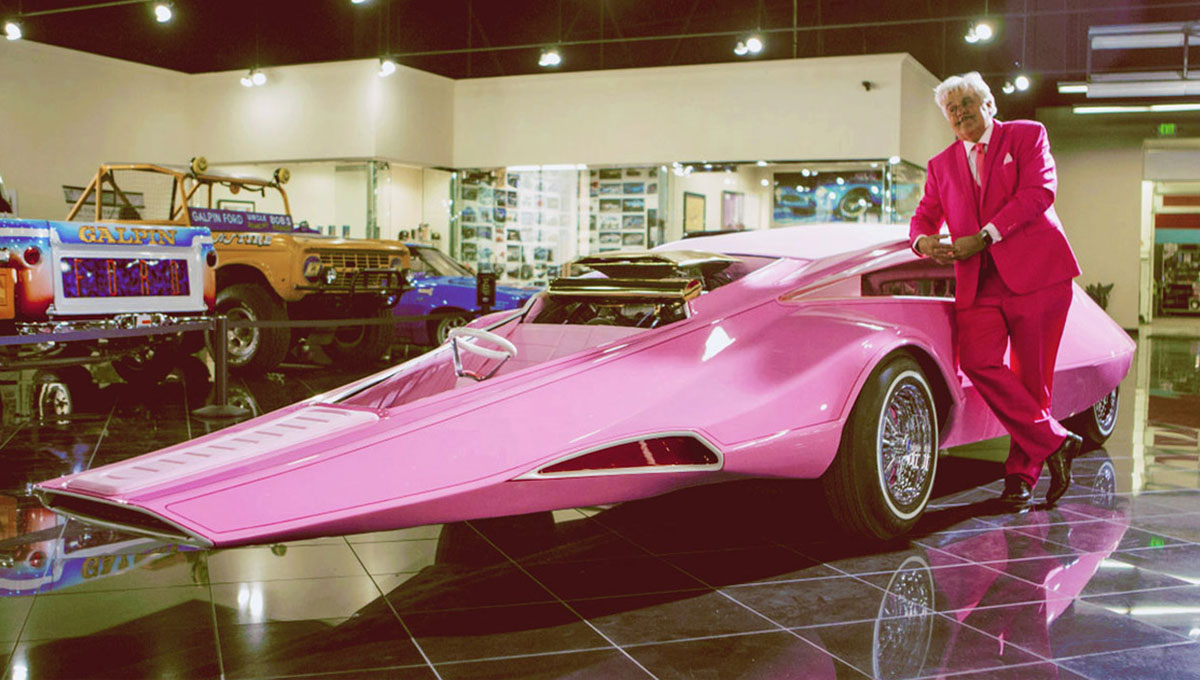 Chrysler Turbine Car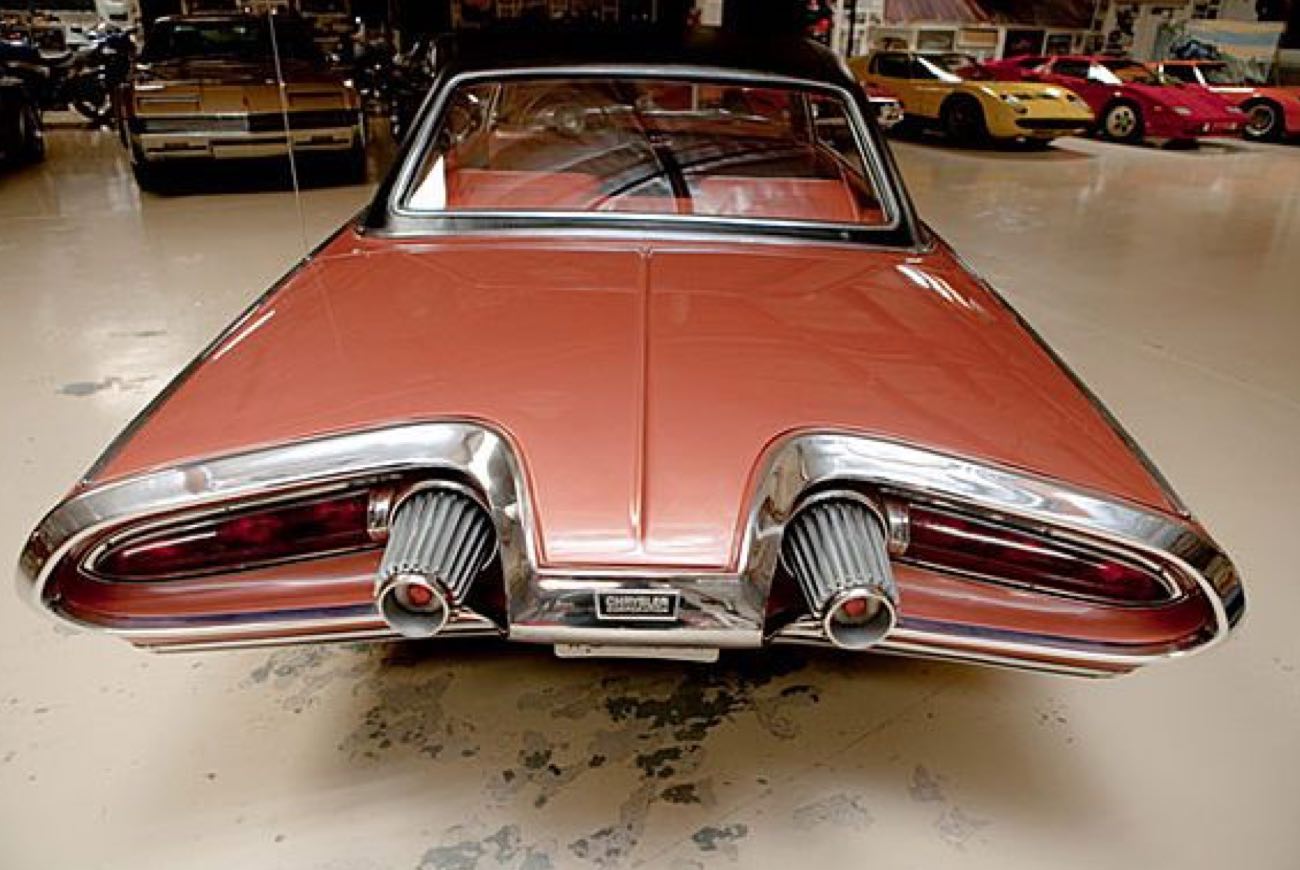 Chrysler made 55 Turbine Cars from 1963-to 1964. The vehicle was part of their turbine engine program. A three-year user program began where the company gave cars to drivers to see if there were any significant problems. After it ended, Chrysler reclaimed and destroyed most of the vehicles.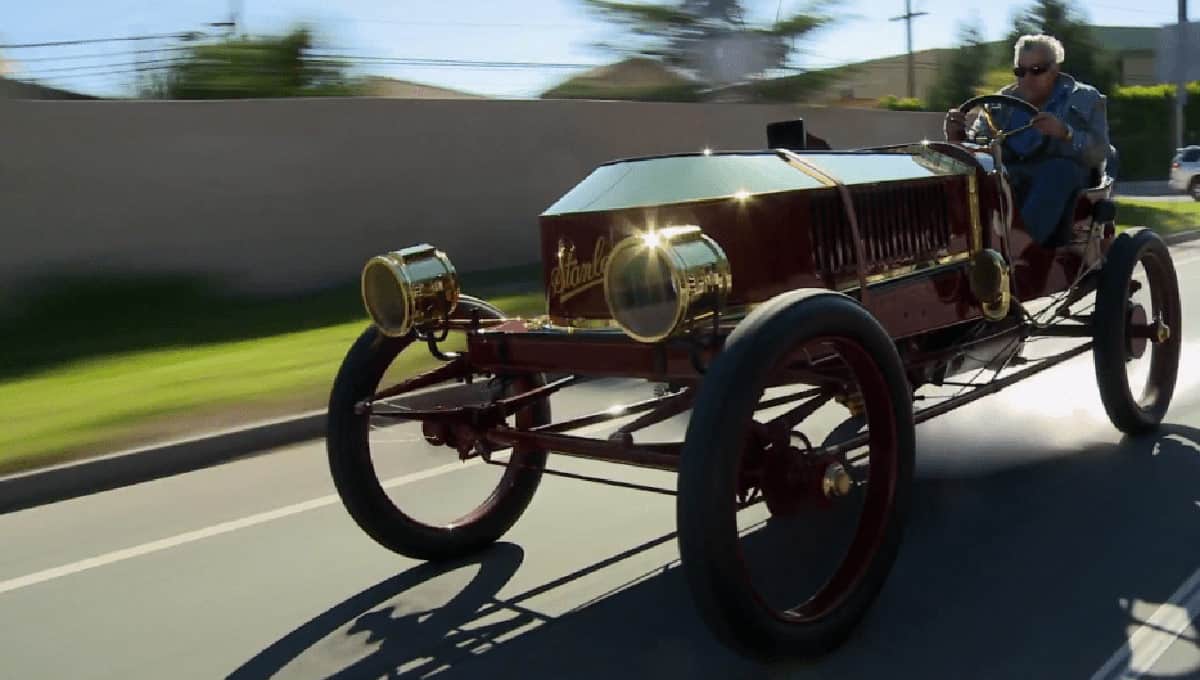 The Panthermobile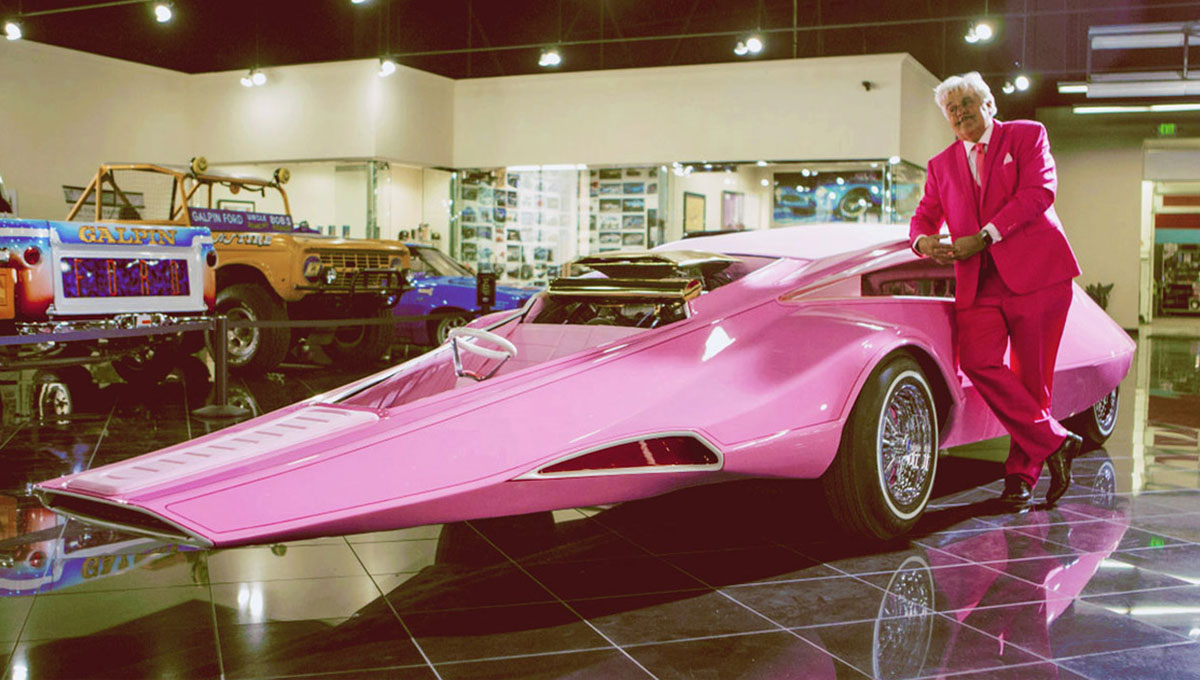 The Panthermobile was featured on "Jay Leno's Garage." Custom car builder Ed Newton designed the vehicle for the title sequence of the animated TV series "The Pink Panther" in 1969. It cost around $100,000 to build and used an Oldsmobile Toronado chassis.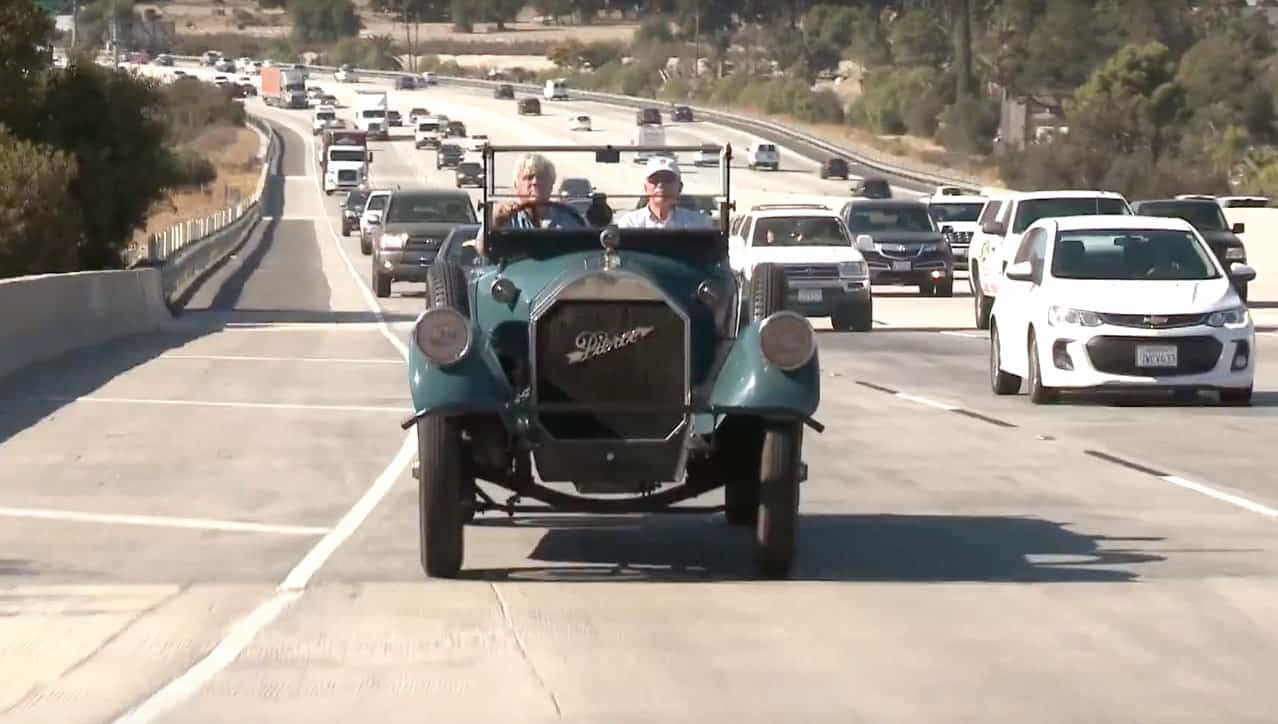 1906 Stanley Steamer Vanderbilt Cup Racer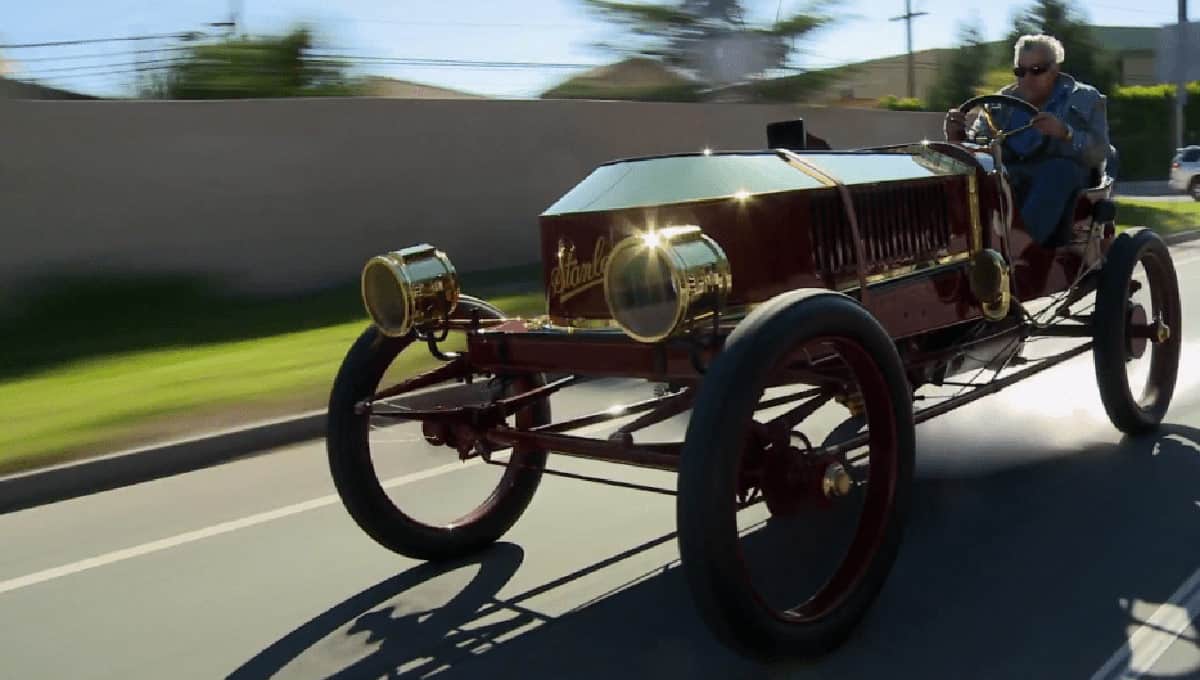 It's no secret Jay loves steam-powered vehicles. After a complete failure in 2007, the Steamer was rebuilt and came back better than ever with several mods for improvement. For instance, the manual brakes were replaced the manual drum brakes with hydraulic drum brakes from a Jaguar XK120.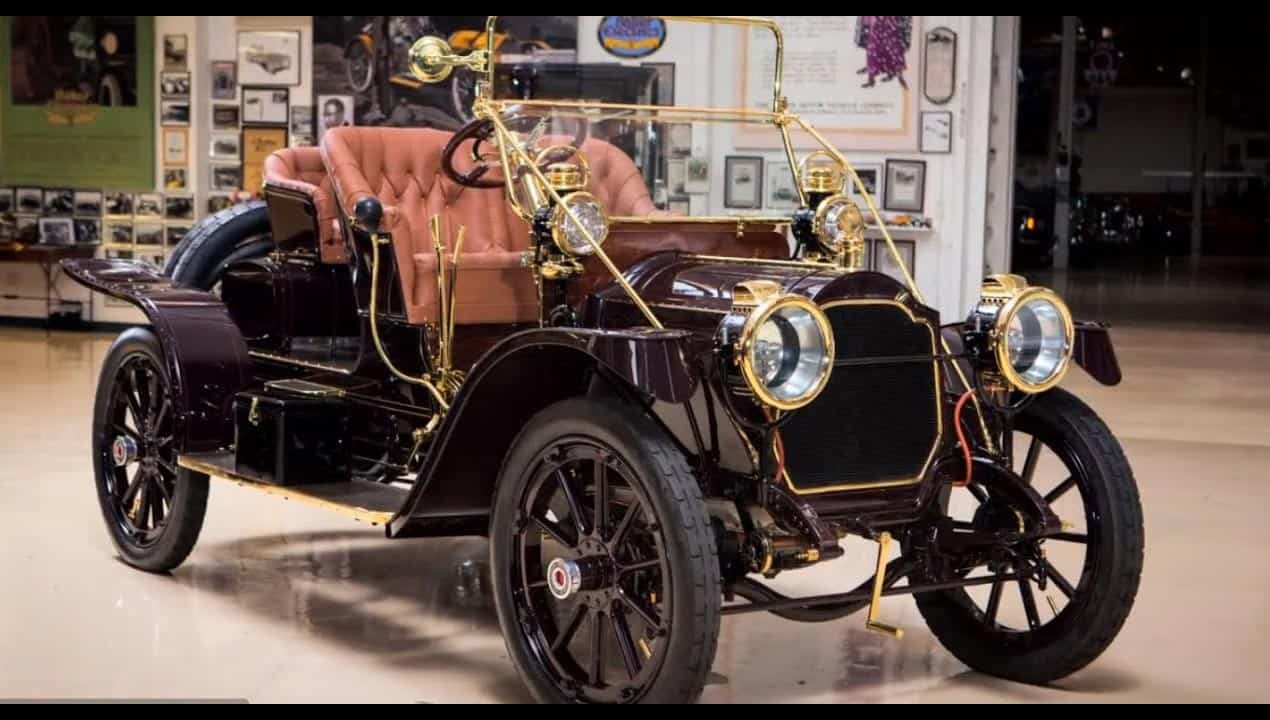 1918 Pierce Arrow Model 66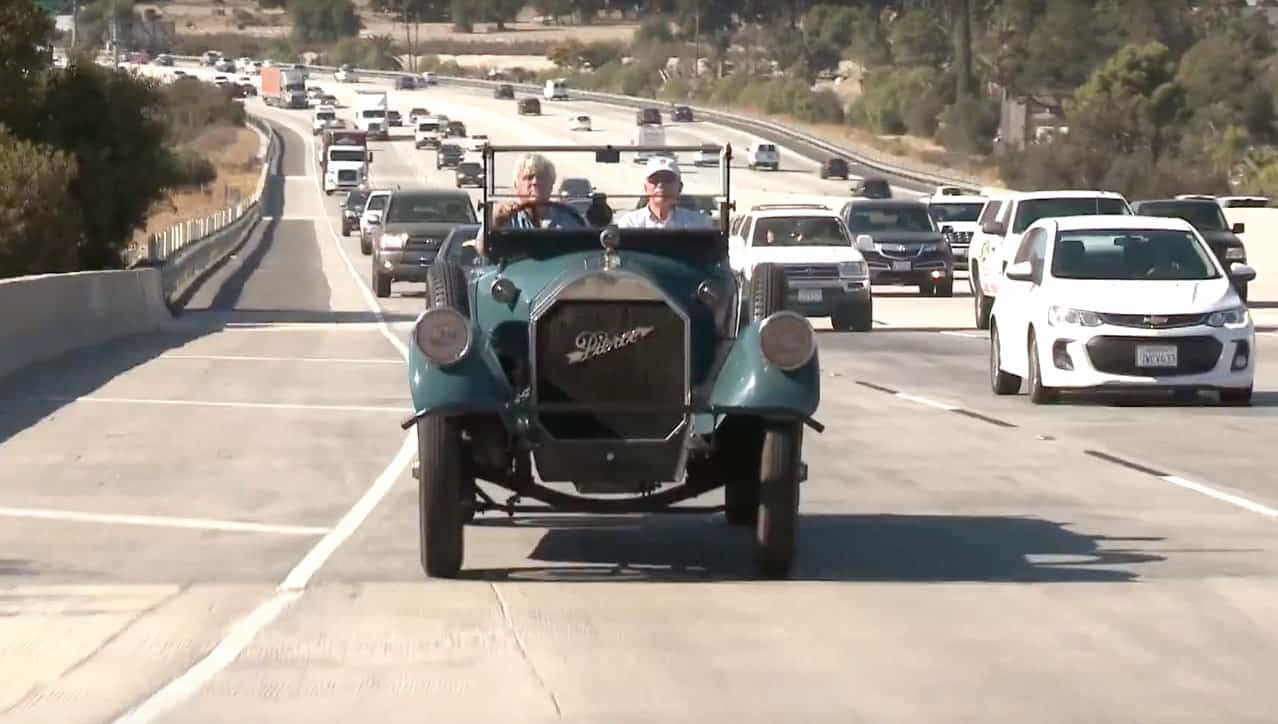 This was the last example to come rolling off the production line in 1916 and features a 14 liter inline v-6. Leno's Pierce, like so many of his vehicles, remains unrestored. He drives this 100-year-old beauty around California all the time.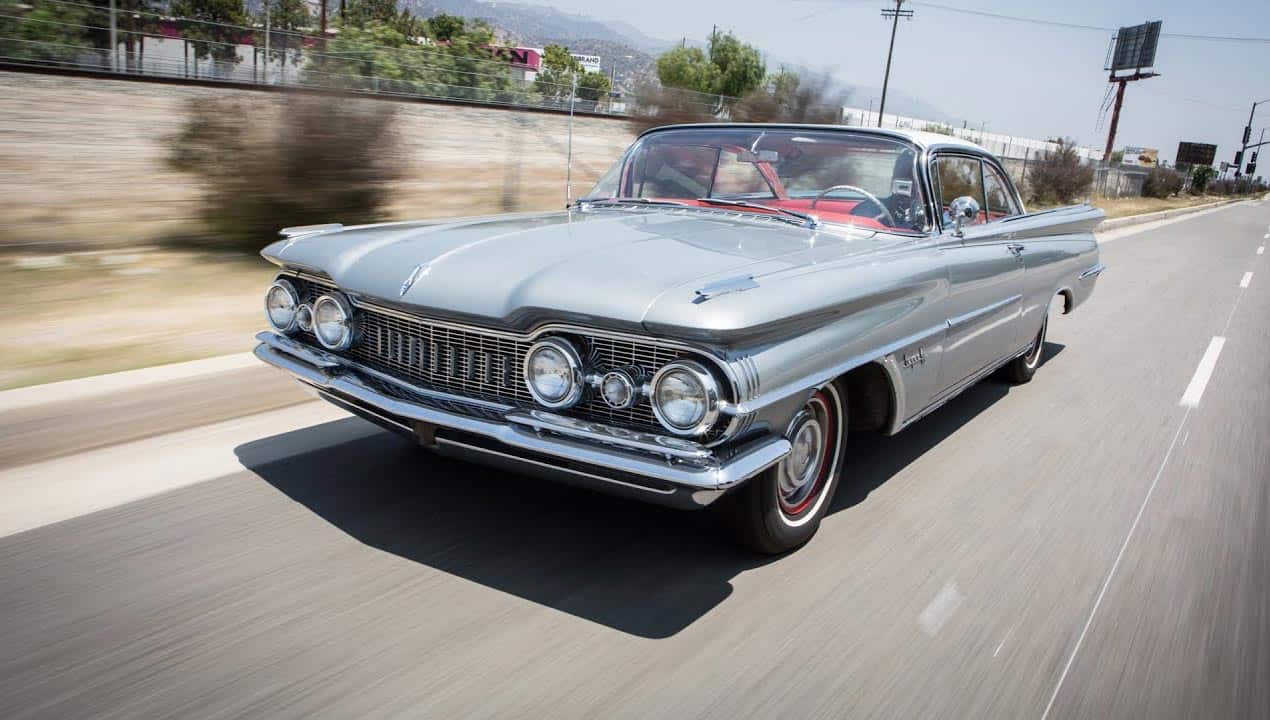 1911 Packard Model 18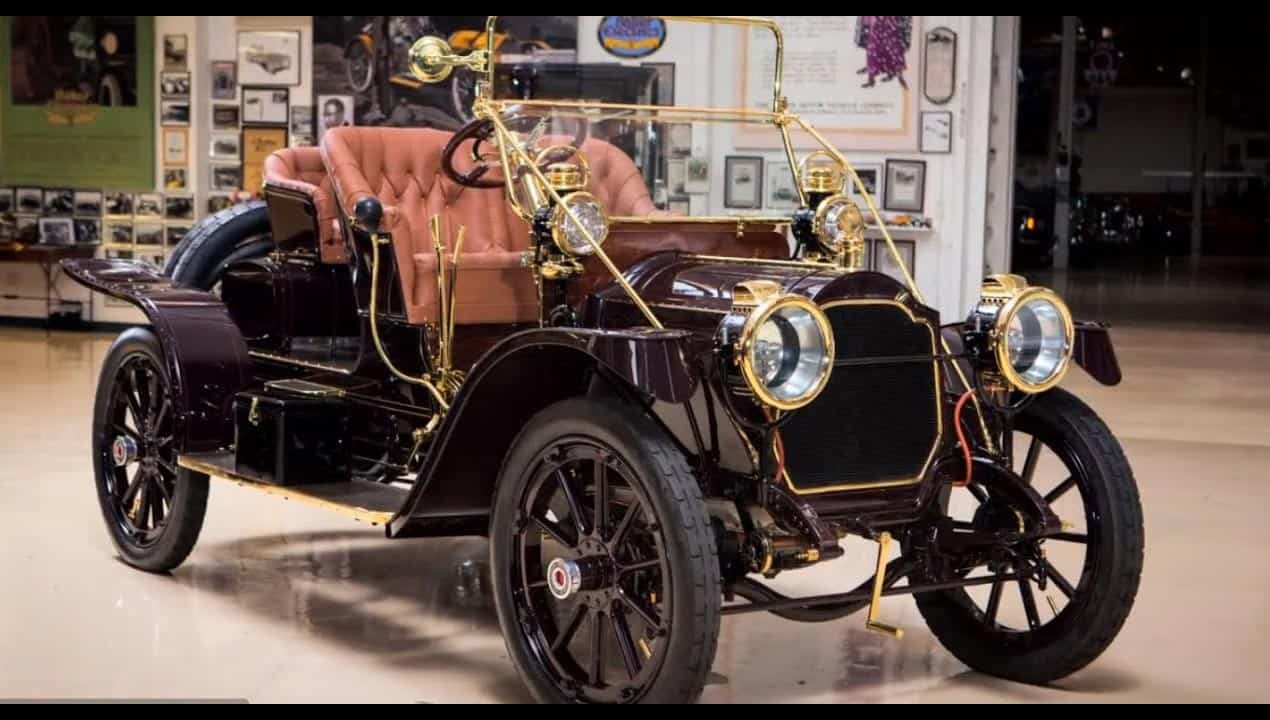 The difference between Jay's 1911 Packard Model 18 and a 1932 Packard Bell involves one thing, human production. His 1911 is a pre-assembly line production, a time when cars needed human hands to produce them. This automobile produces a top speed of 60 mph.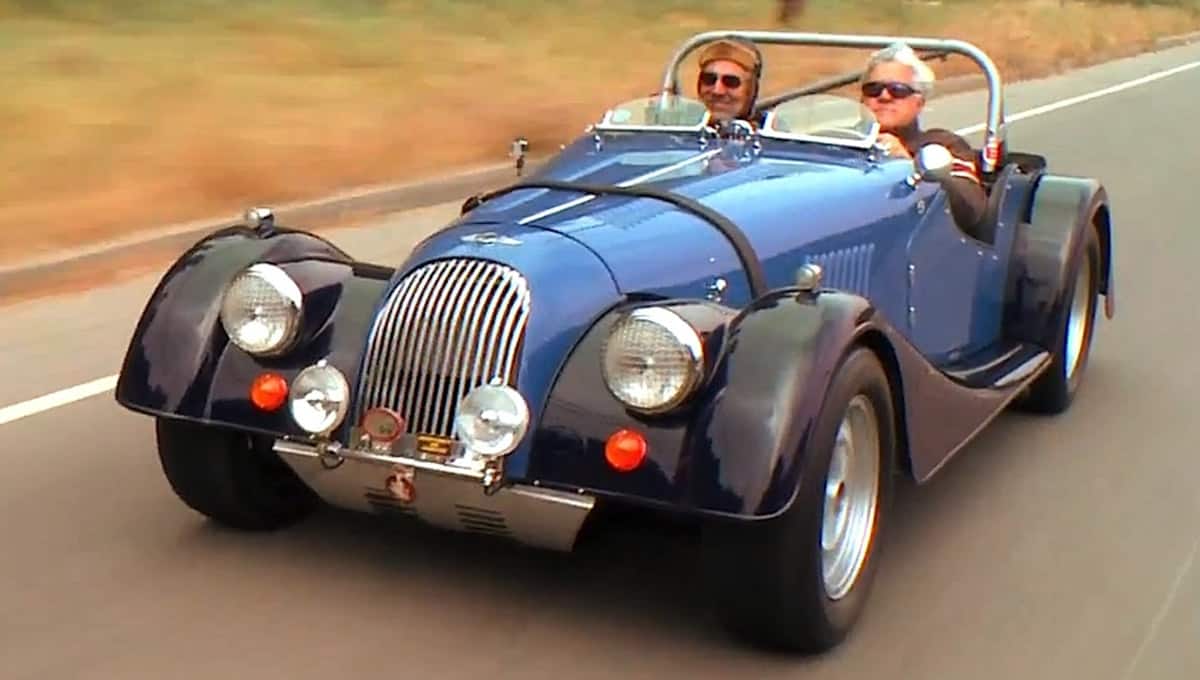 1959 Oldsmobile Super 88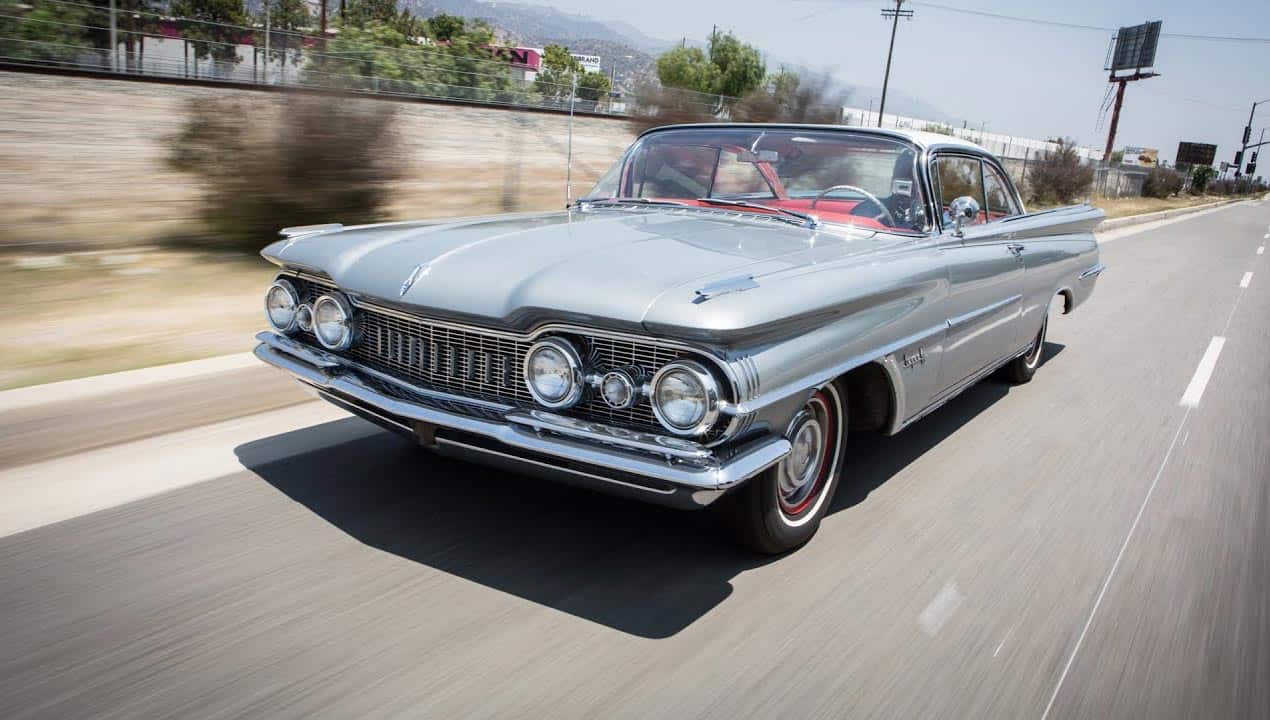 Big, loud and monstrous, the Olds 88 has a 315 horsepower 314 cubic inch v-8 engine that lets out a roar going down the street. The extra-large trunk and stylized tail lights make this Leno classic the king of the garage.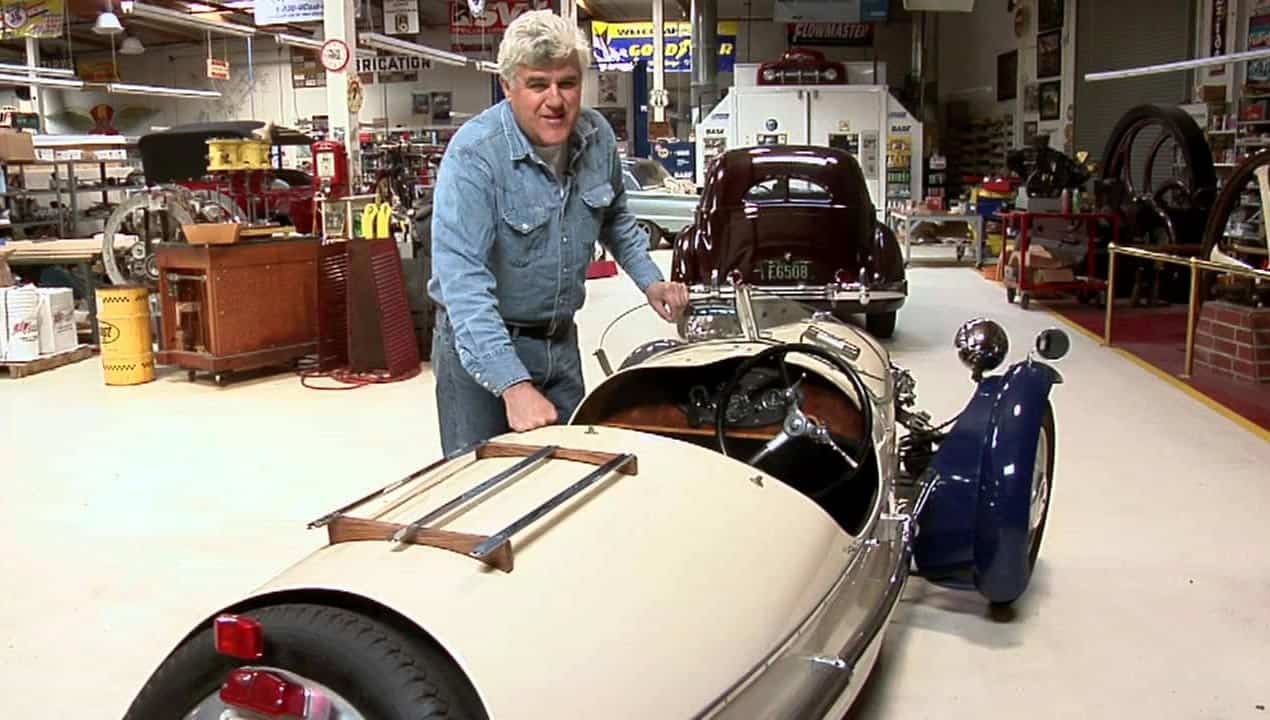 2011 Morgan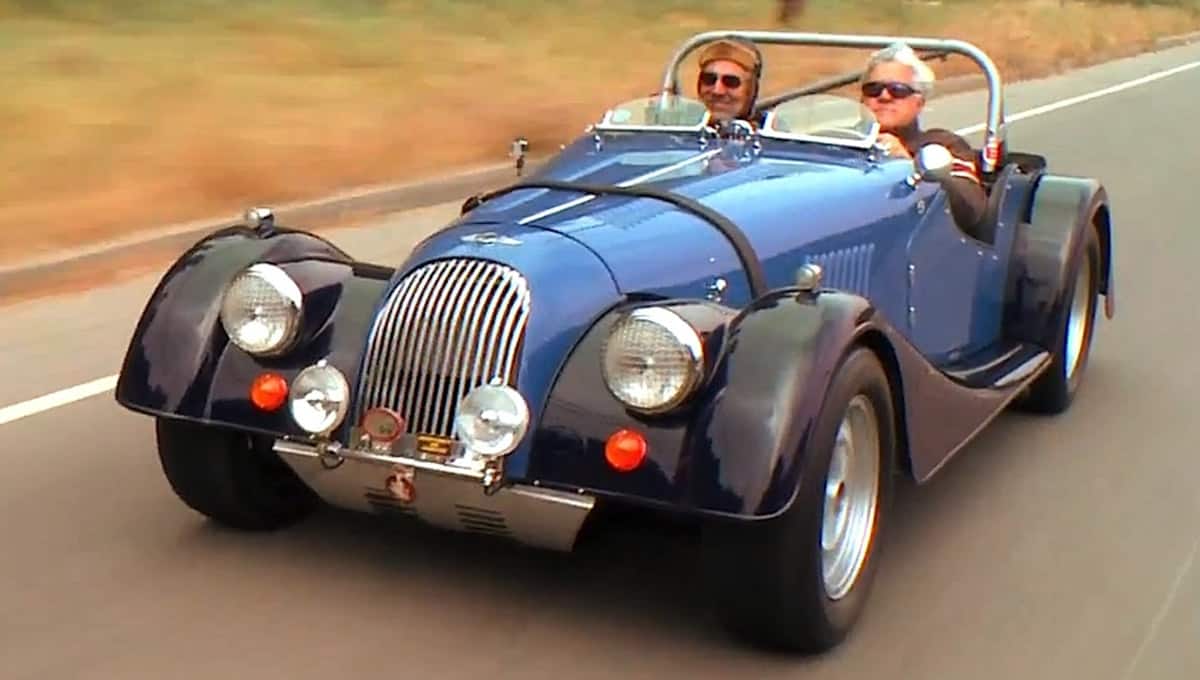 Form 1910-1952, the three-wheeled Morgan was quite popular. However, after being production silent for half a century, they came back to life (this is a 2011 model). Jay loves them because they have build flexibility since they are classified as a motorcycle.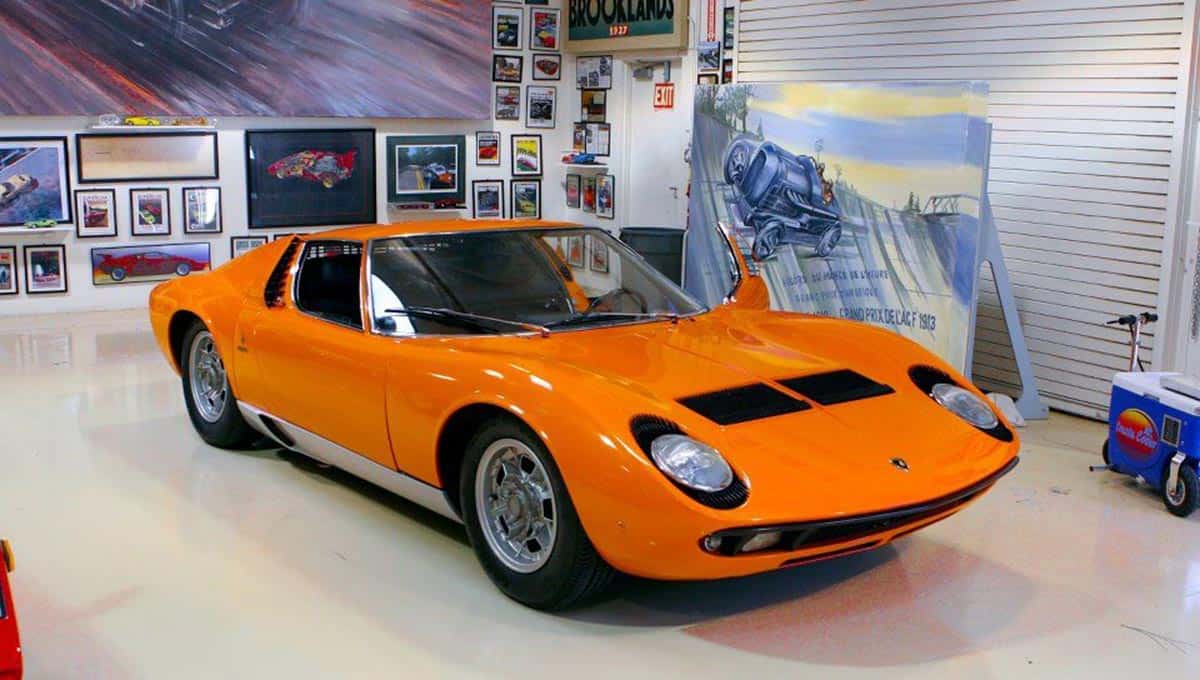 1932 Morgan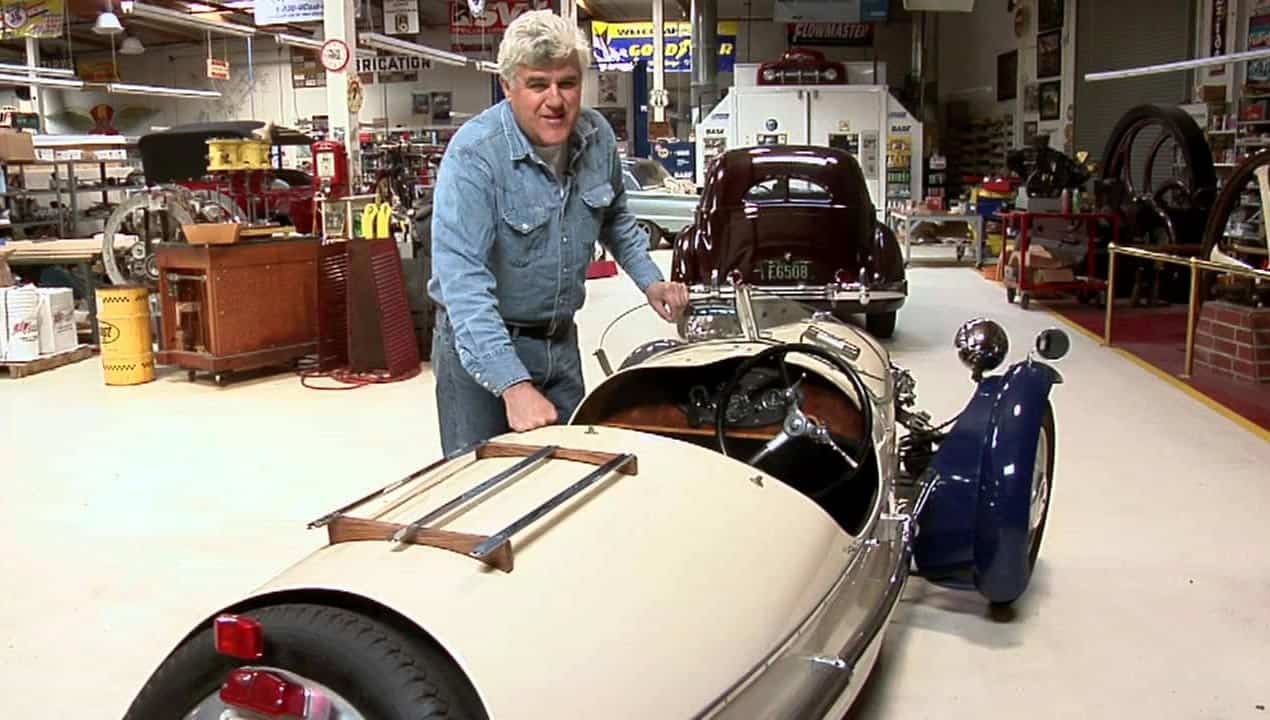 Here we see Jay in one of the original three-wheeled Morgan bikes. The Morgan engine is water cooled, using a thermosiphon instead of a fan. If that sounds familiar its because the Model T ford uses the same type of cooling system.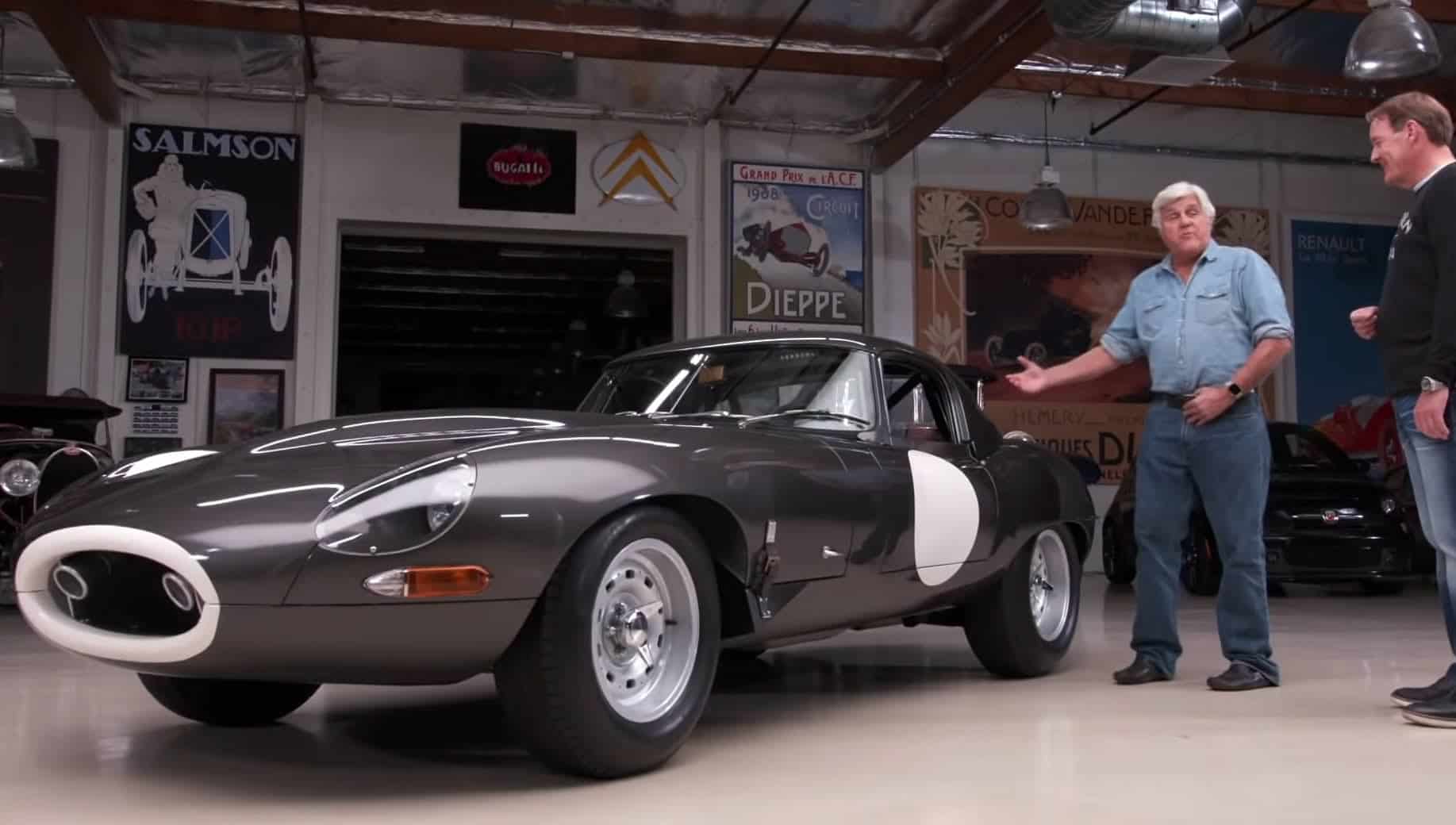 1969 Miura S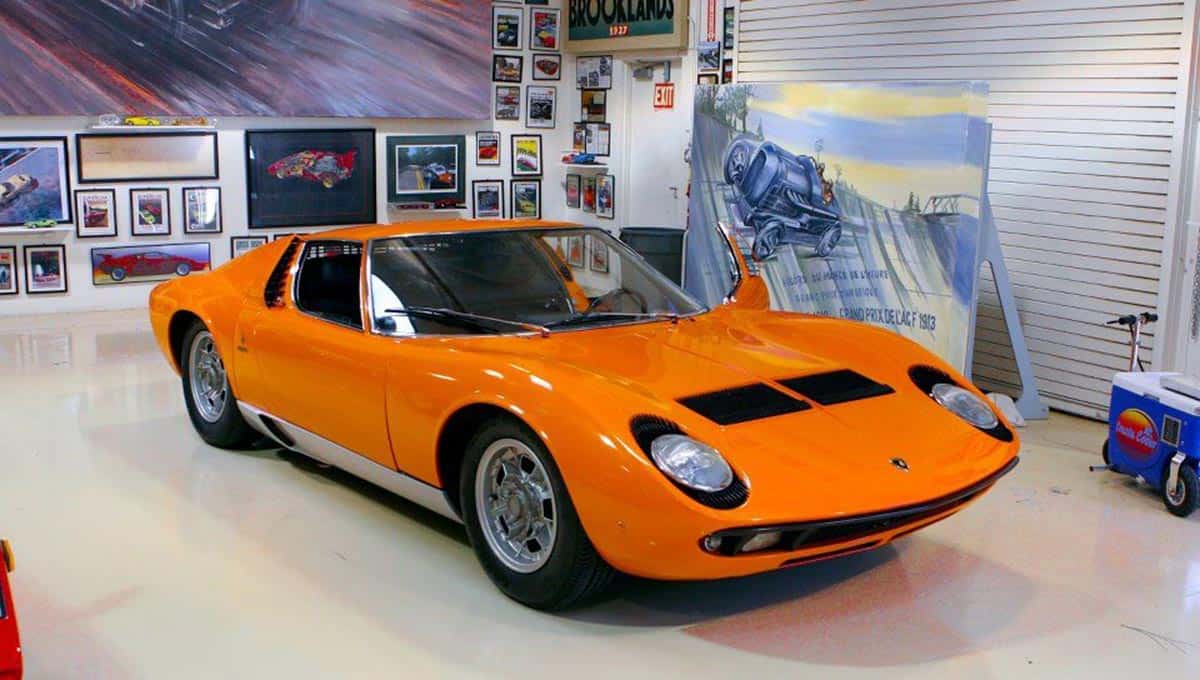 This 1969 Lamborghini Miura S isn't just your average everyday Italian supercar. It is thought to be one of the most beautiful designs ever created by the Bertone Design House. It features a 4-liter v8 engine pushing out 370-375 horsepower.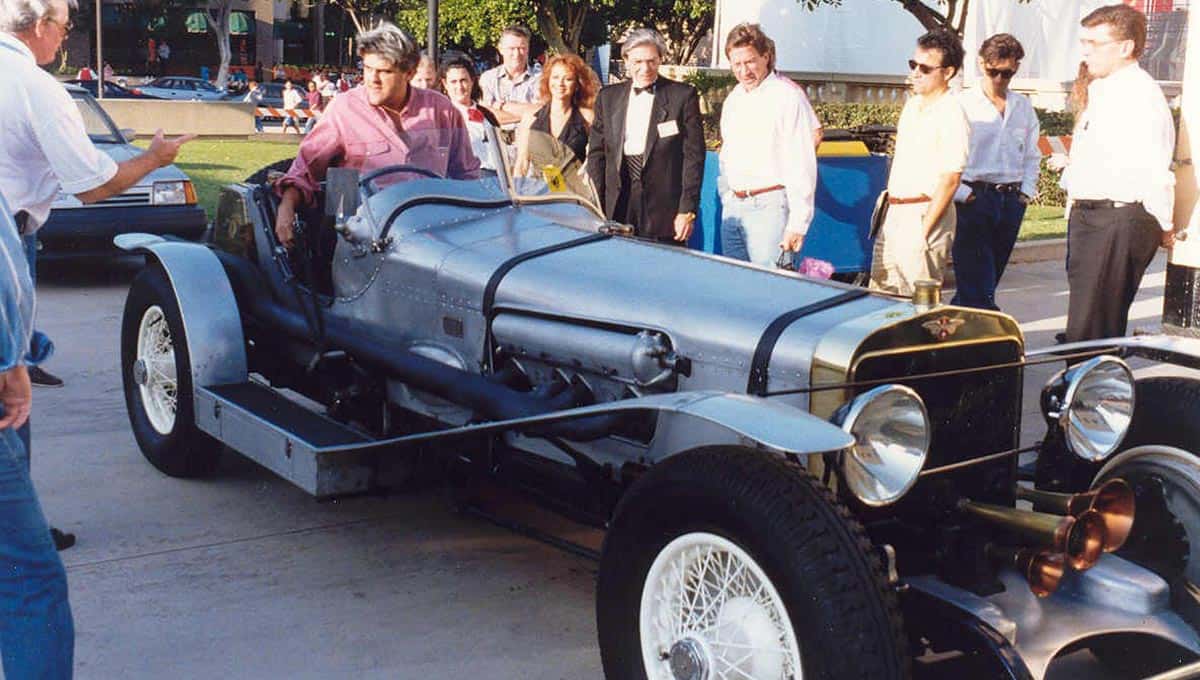 1963 Jaguar E-Type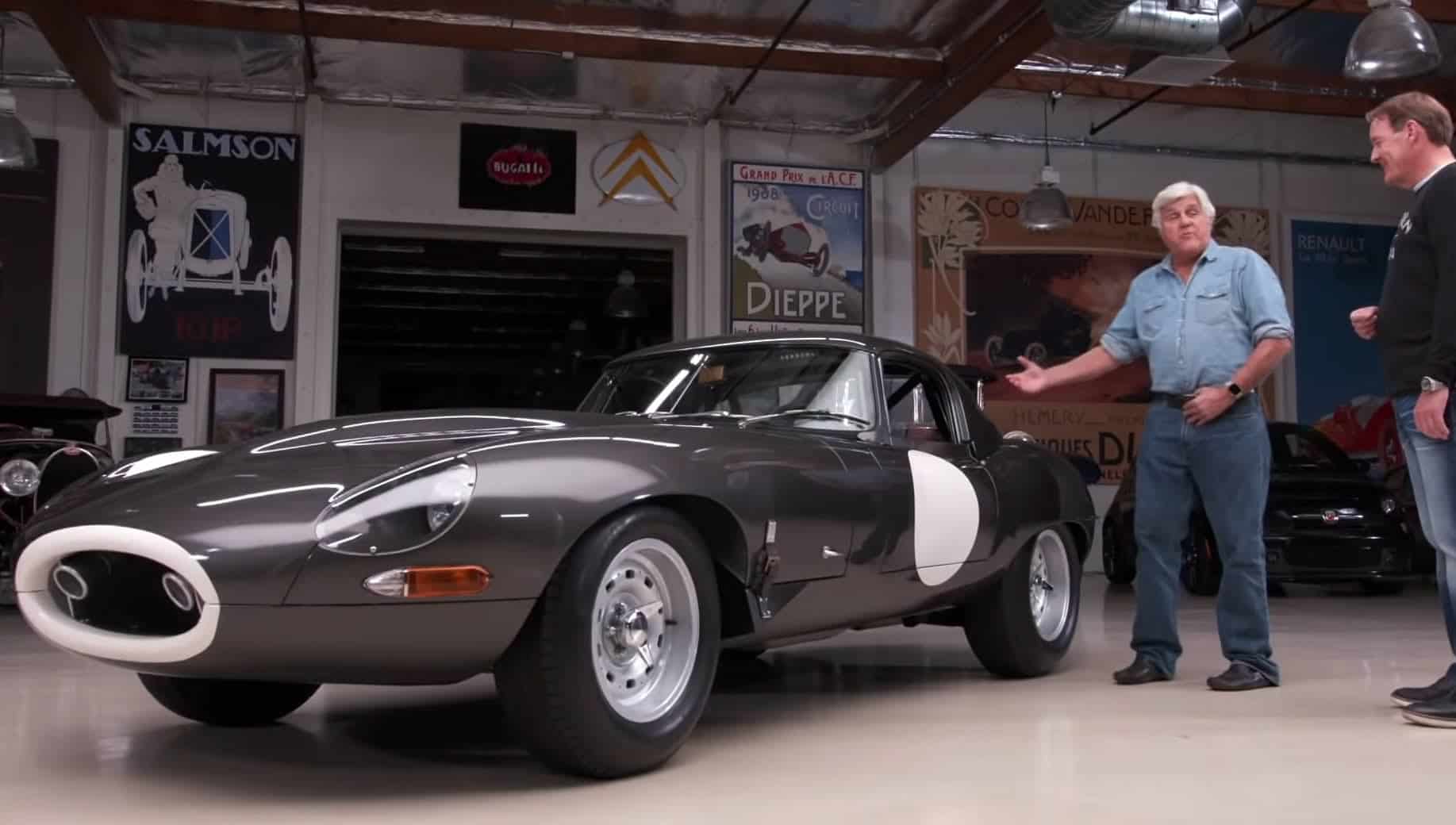 This is perhaps one of Britain's most iconic sports cars. However, Leno's car is a bit lighter since the body panels have been replaced with aluminum. The total restoration took 3,000 hours and resulted in a car that weighs only 2,200 pounds.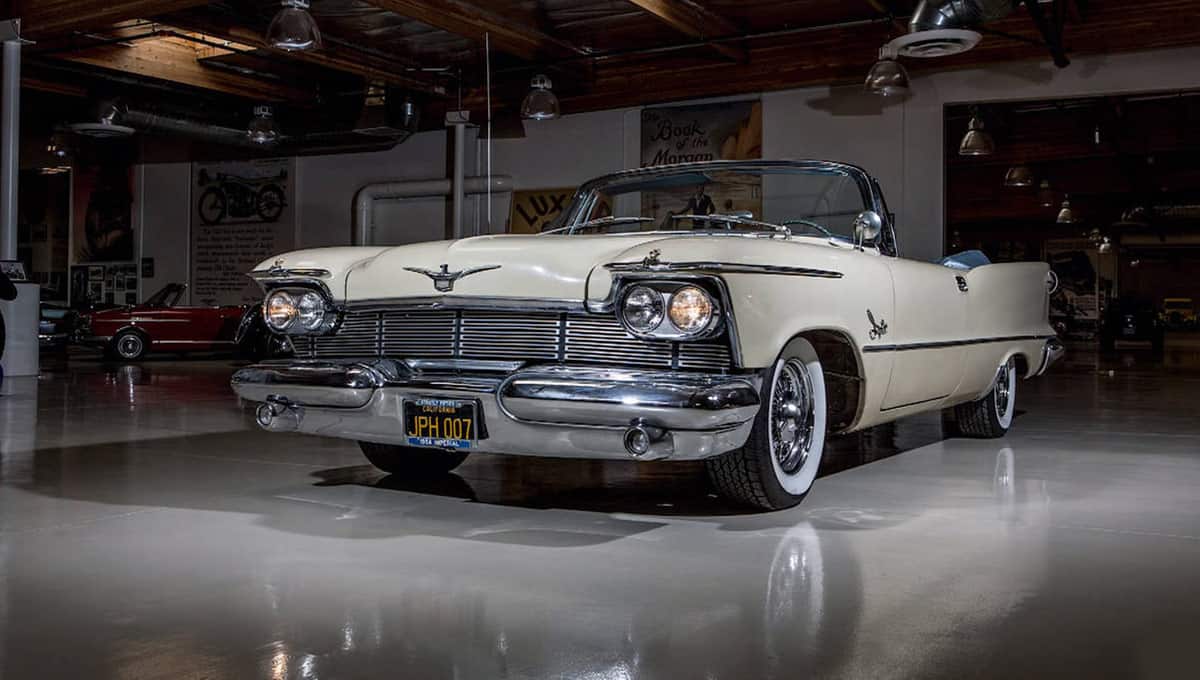 1915 Hispano-Suiza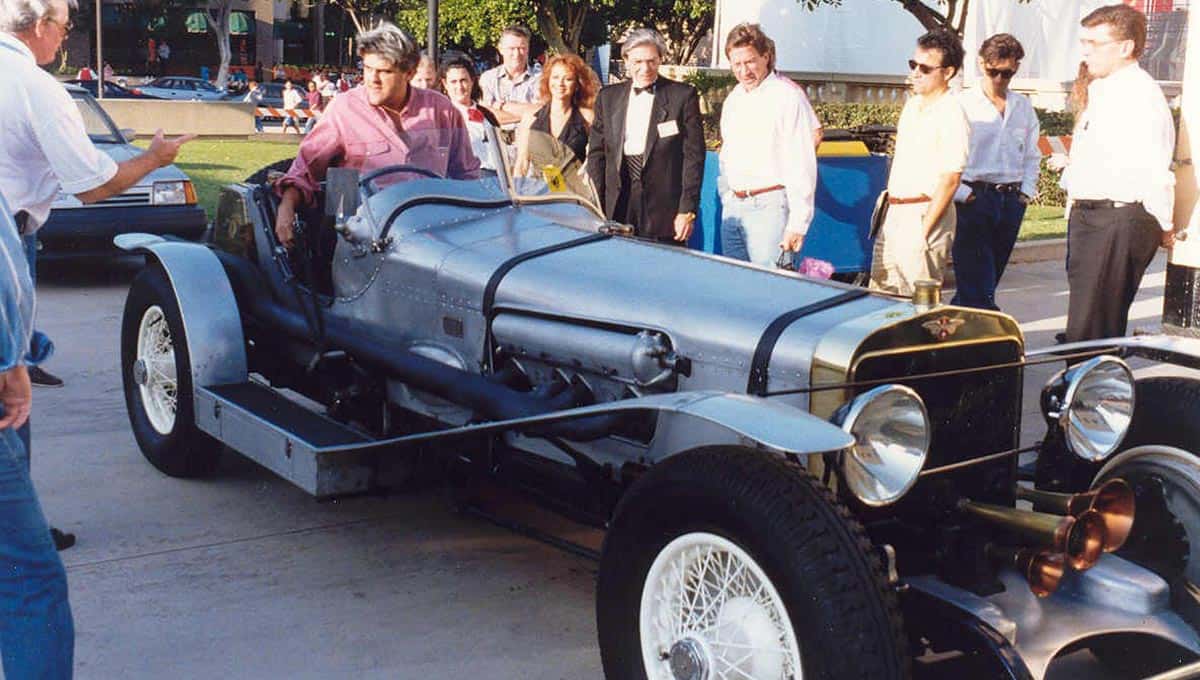 So you want a pre-war car with an aircraft engine you say? Leno's 1915 Hispano-Suiza answers in an eclectic manner with its gearbox taken from a 1919 bus and the inclusion of a 18.6-liter engine that generates 300 horsepower. Incredible.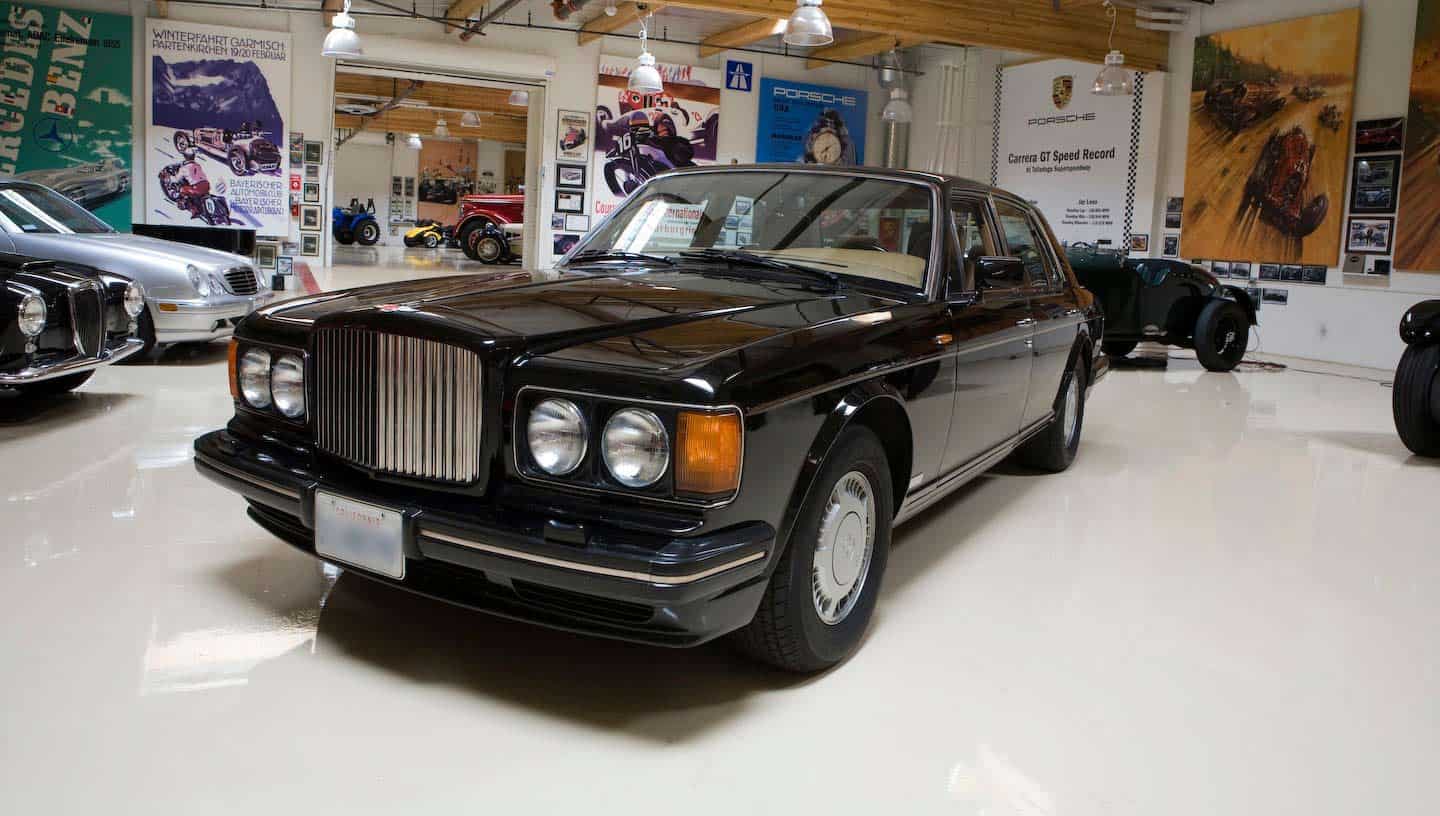 1958 Imperial Convertible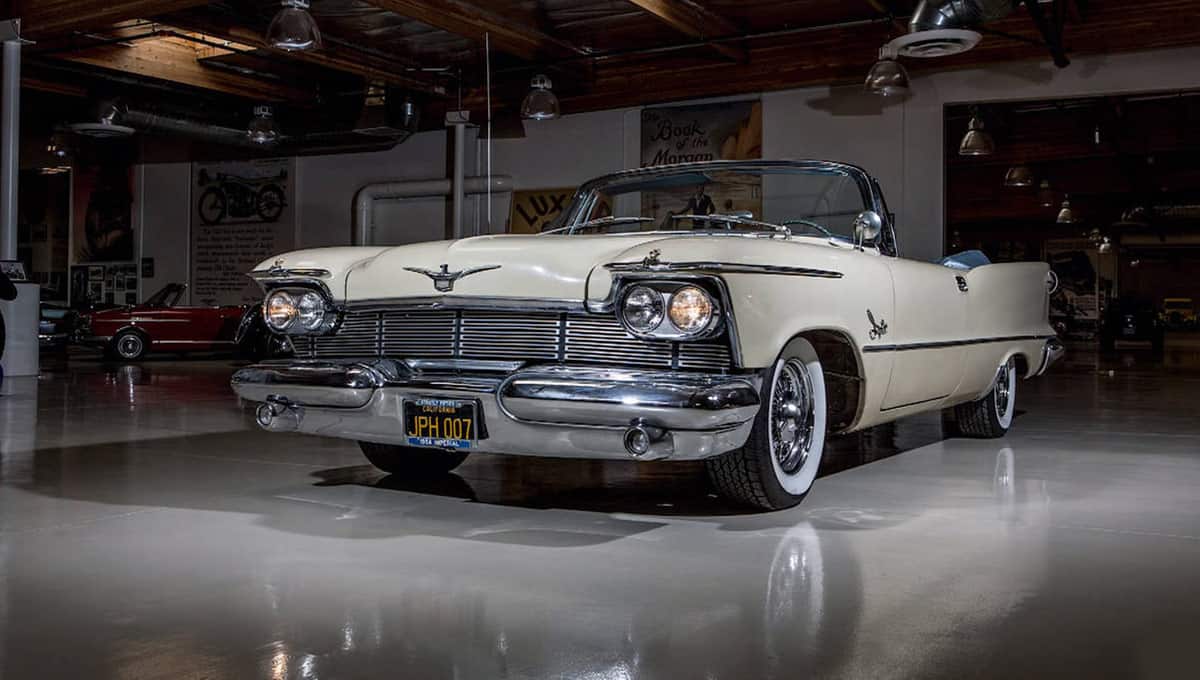 Jay's Imperial Convertible is one massive vehicle (one of the largest you could purchase in 1958). The car was known for its decidedly forward look, as well as the massive 392 Hemi under the hood. From 1955 to 1958, the Imperial would grow to weigh 5,600 pounds.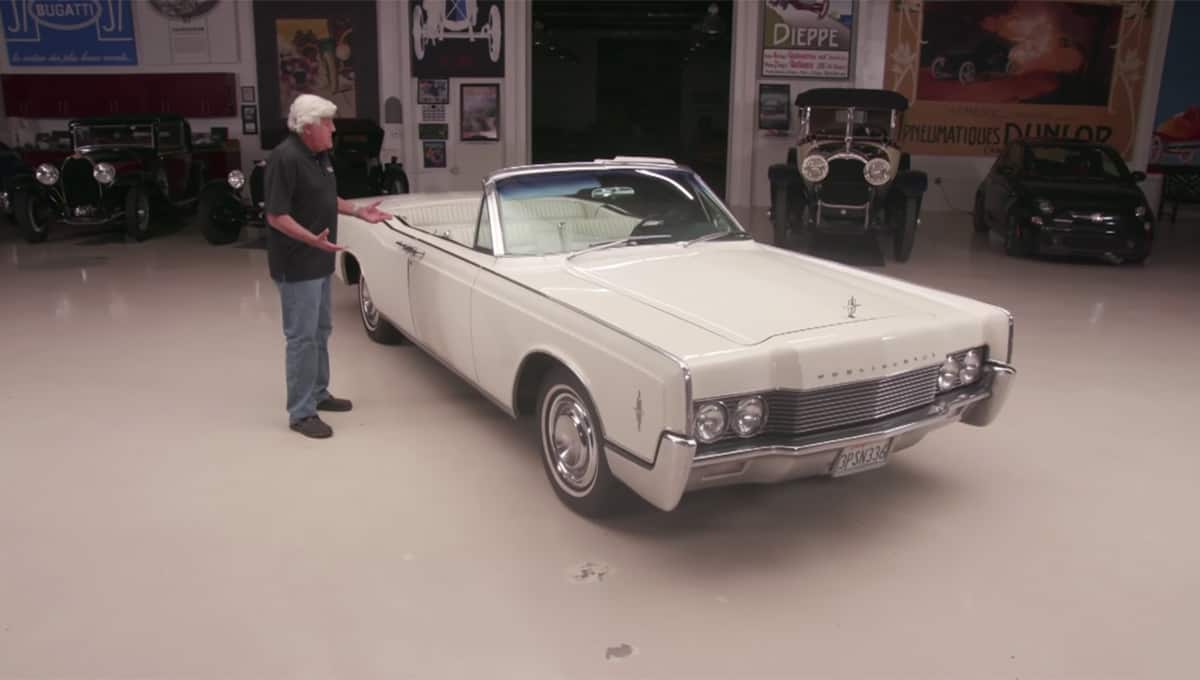 1989 Bentley Turbo R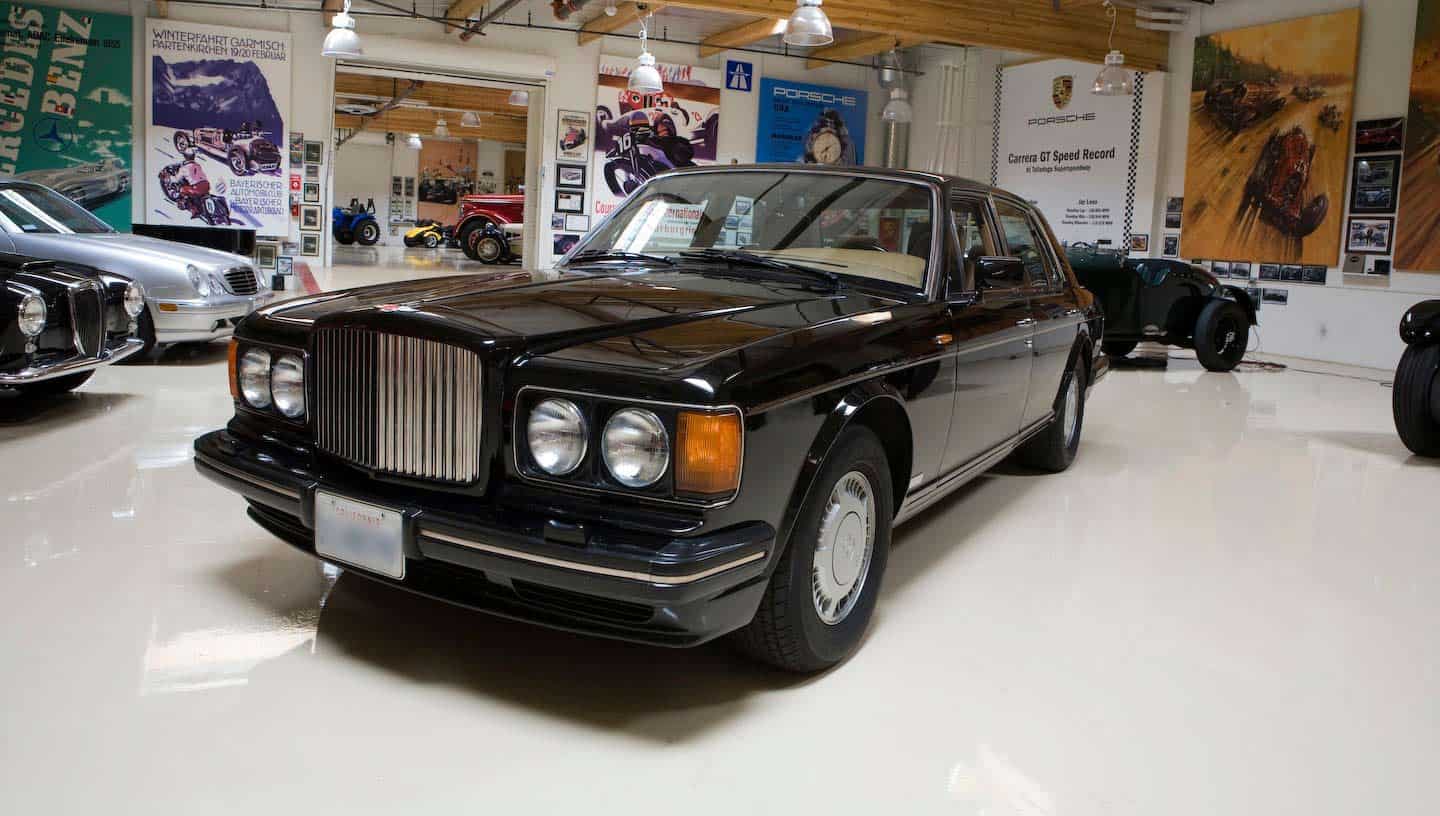 The 1989 Bentley Turbo R originally debuted at the Geneva Auto Show in 1985 before making it across the pond to the states in 1988. It was a four-door sedan with a top speed of 145mph coming from its 6.75-liter beastly v-8 engine.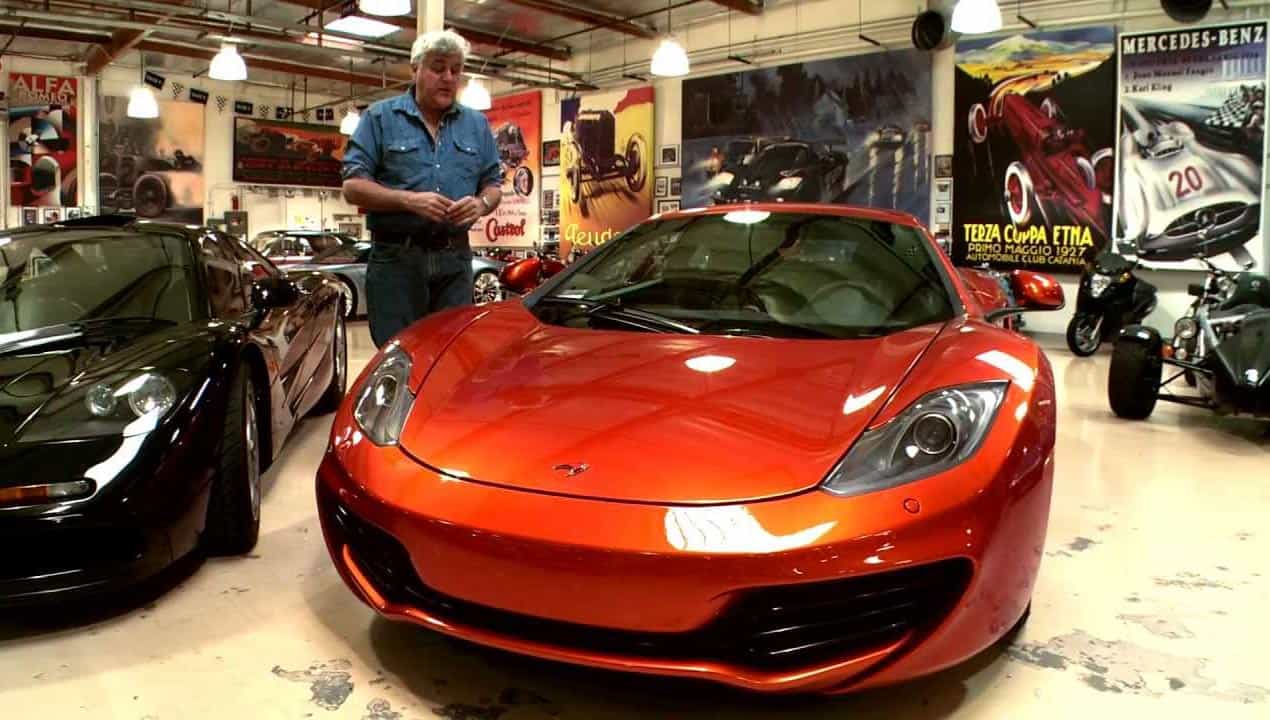 1966 Lincoln Continental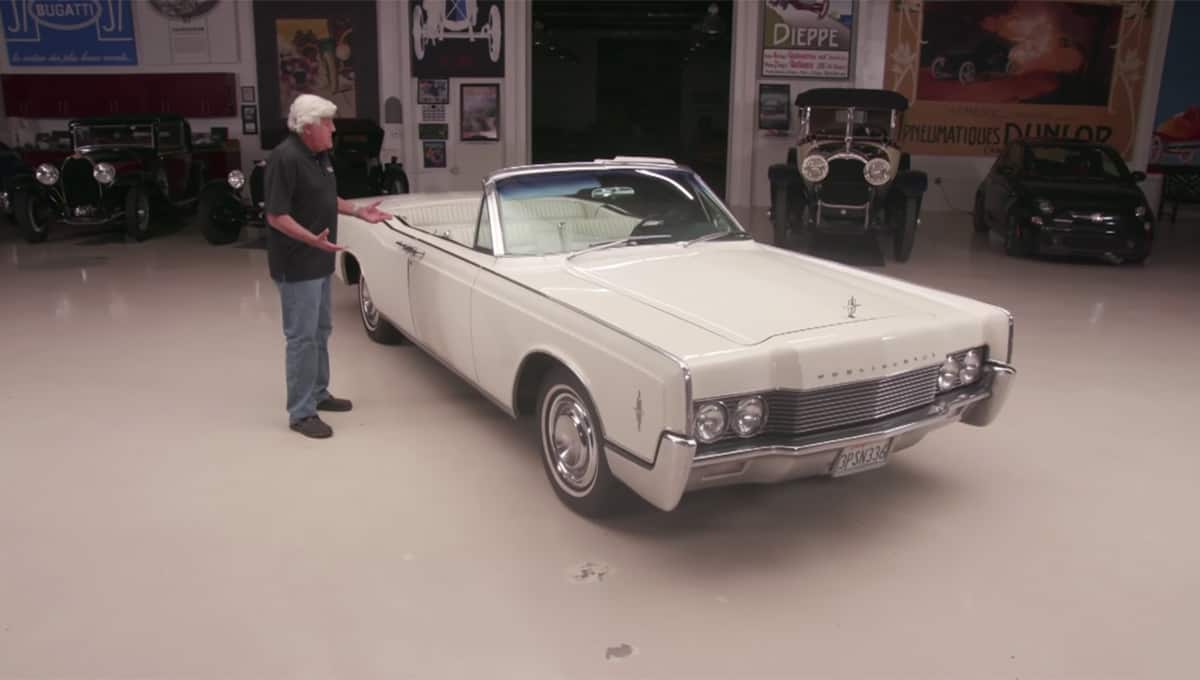 Leno loves this car because it is all original and only has a few scrapes and dings that keep it from reaching immaculate status. One of only 21,347 convertibles ever made, it is a true show stopper. Gear heads will love the 462 cu inch v-8.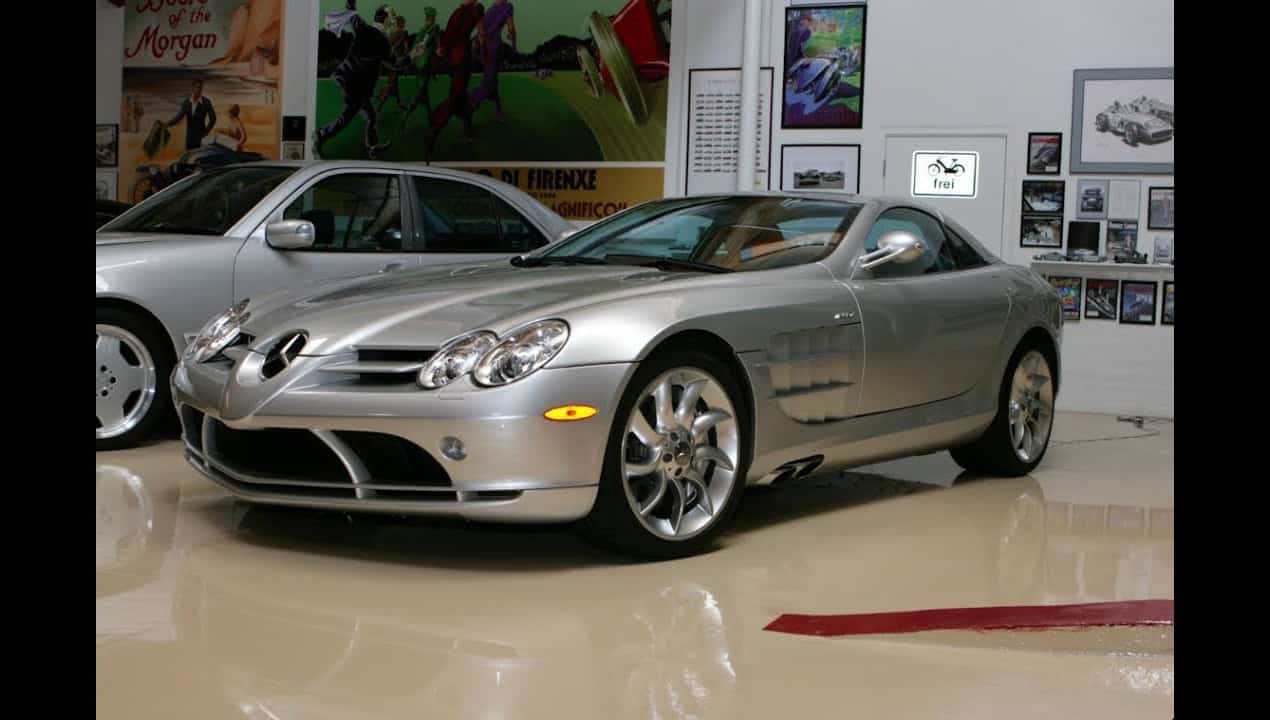 2012 McLaren MP4-12C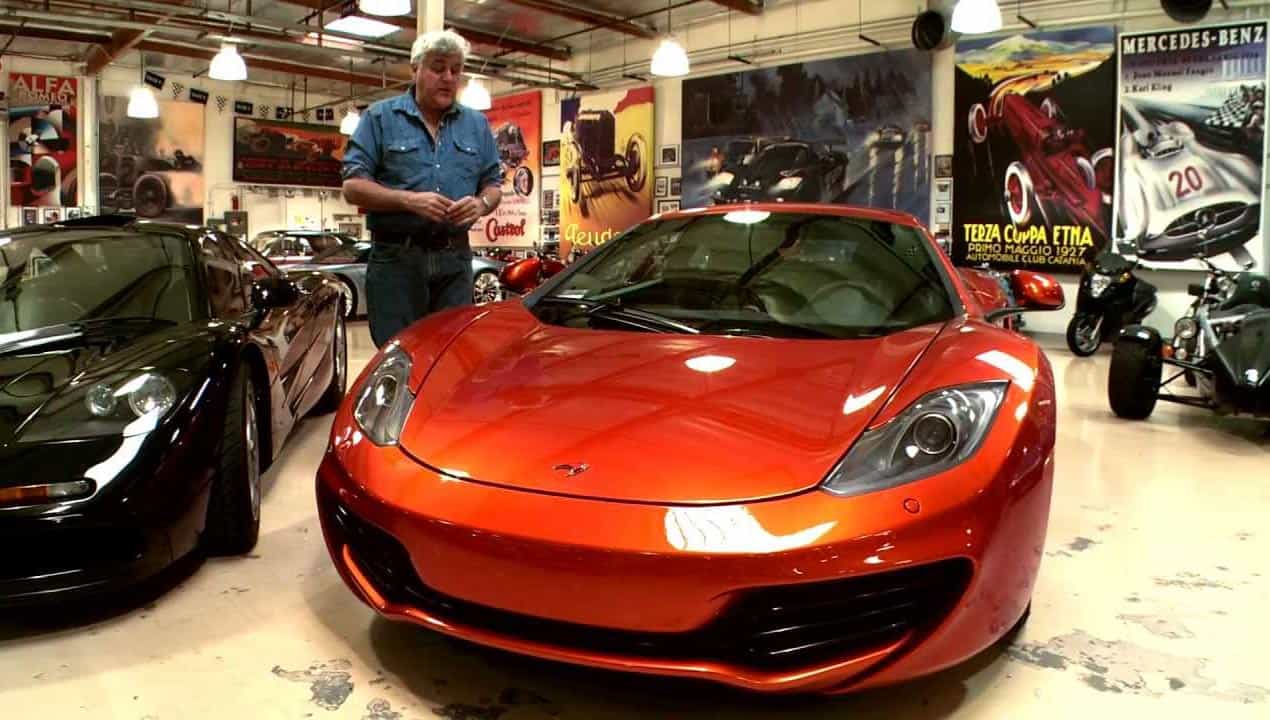 When Jay first got the McLaren, he went nuts, and for good reason. When they built one for him he was invited across the pond for a test drive around the track and fell in love. The car has a "normal" mode driving in towns.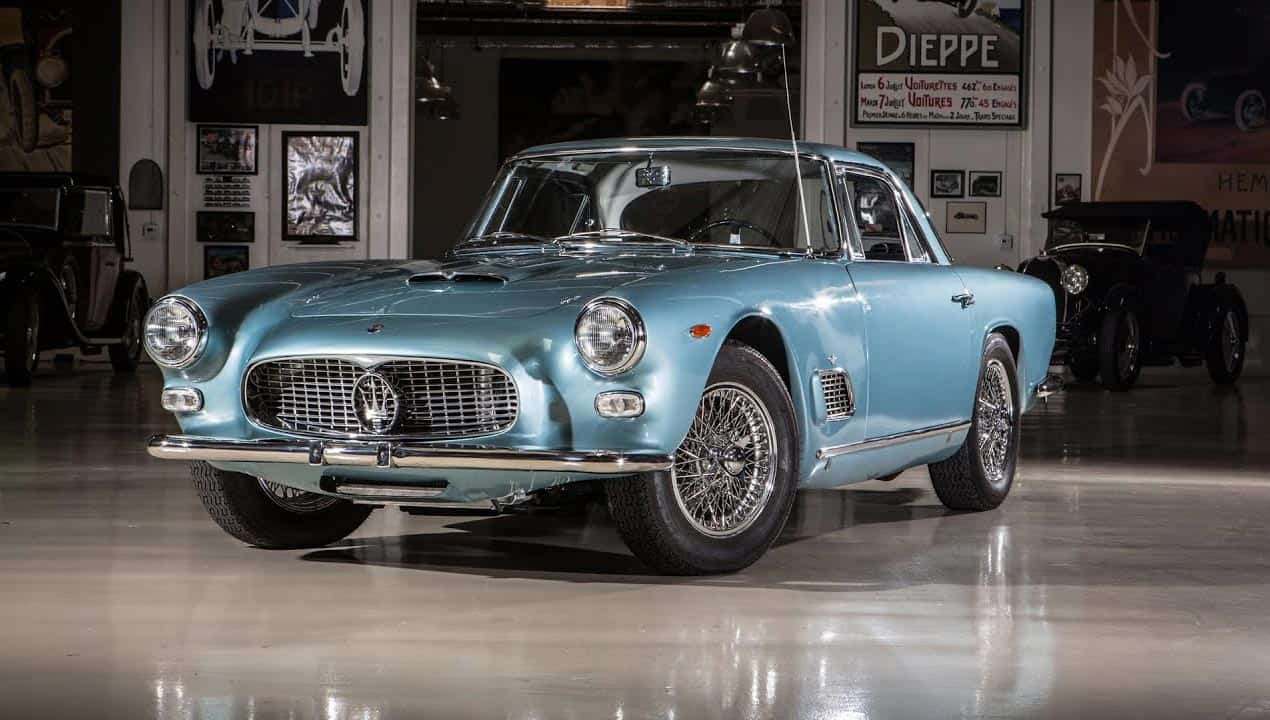 2010 Mercedes SLR McLaren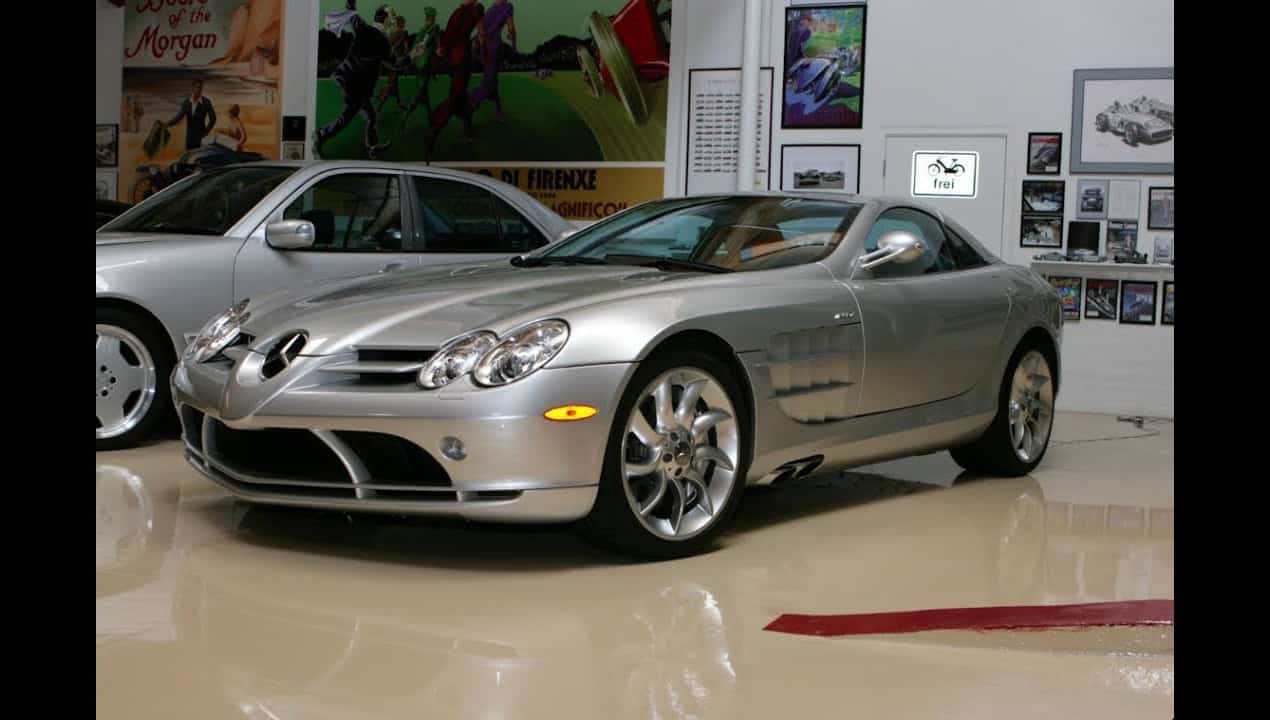 Jay happens to be the first owner of this particular model McLaren SLR. It also happens to be the fastest sports car he has ever driven (beating out the Porsche model by 3-4 miles per hour). He was invited to a race track in Spain to test drive it!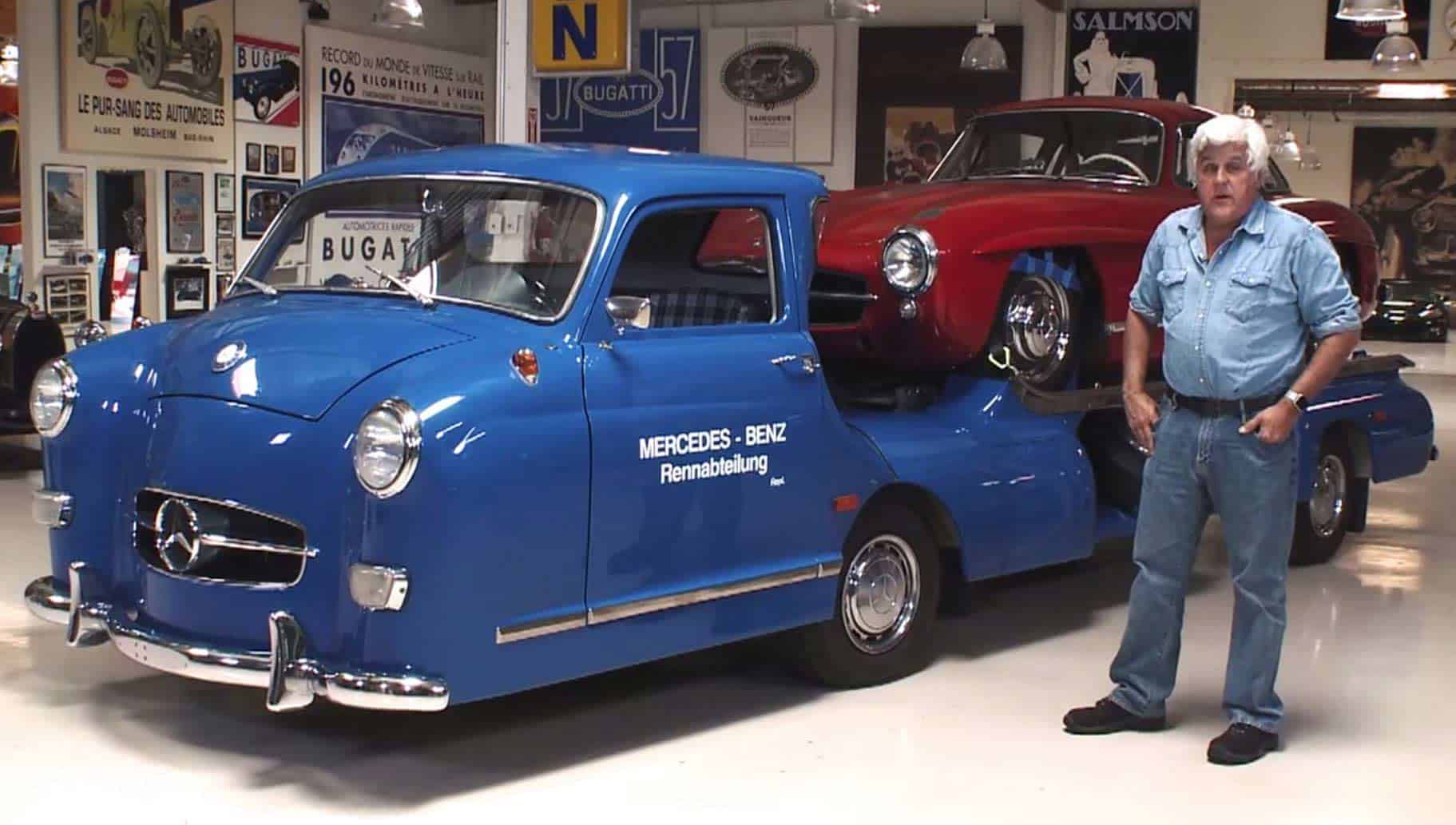 1962 Maserati 3500 GTi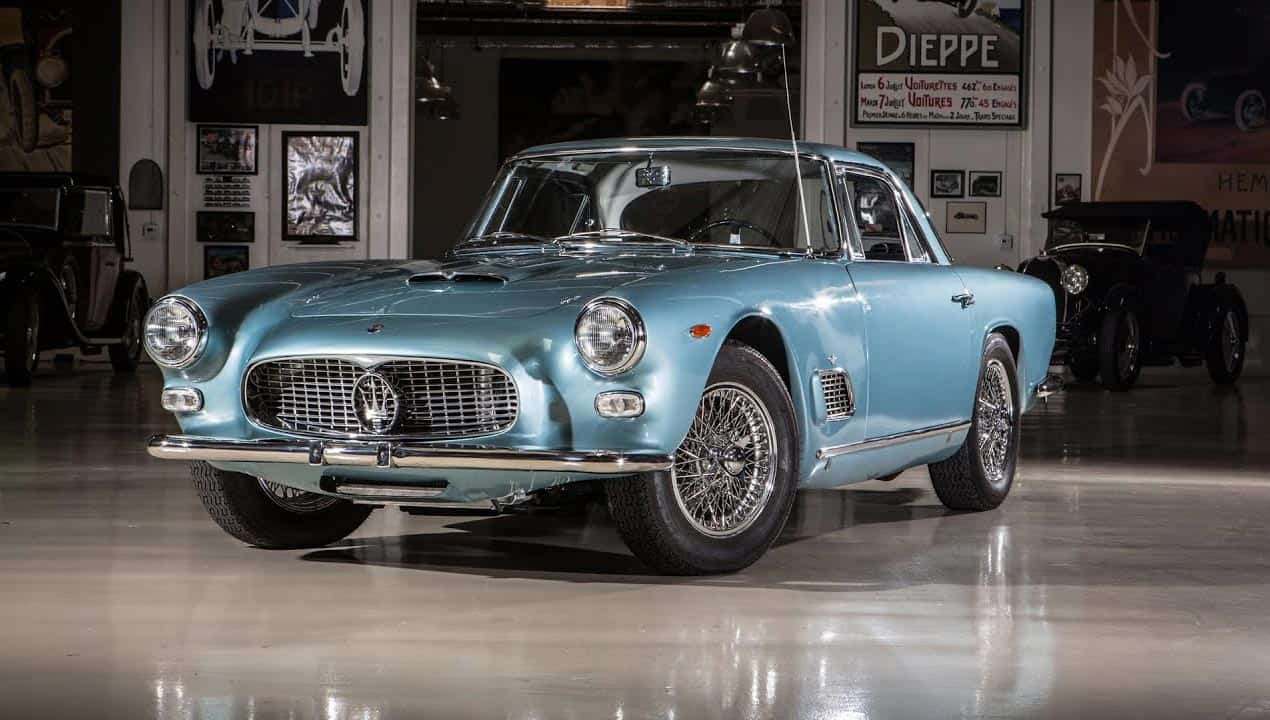 While searching for an Aston Martin DB5, Leno came across this Maserati in a storage locker. He purchased it for $25,000 with the odometer showing almost 100,000 miles. Surprisingly, the engine fired strongly on all cylinders so the v-6 never had to be rebuilt!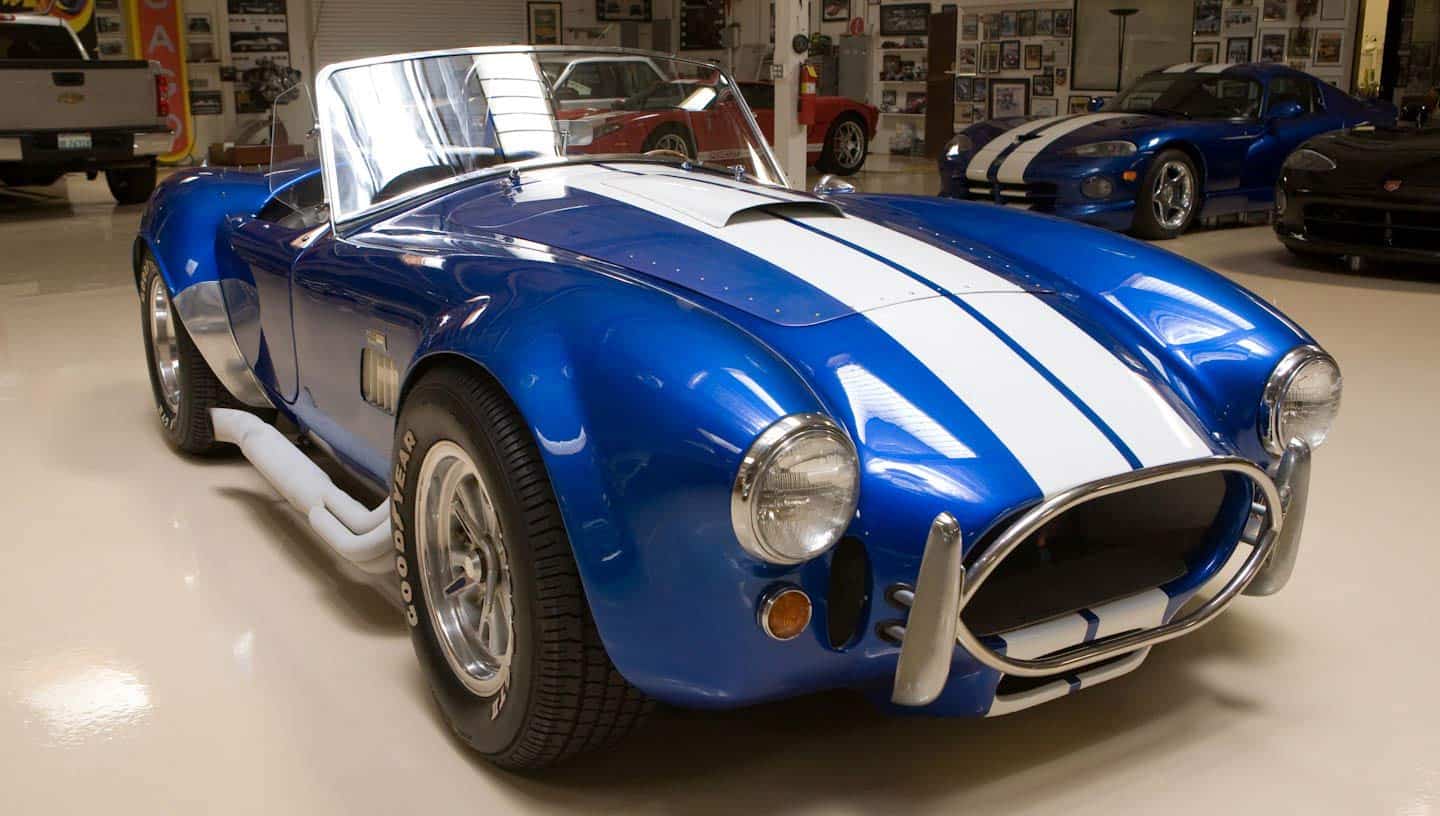 1950 Mercedes Transporter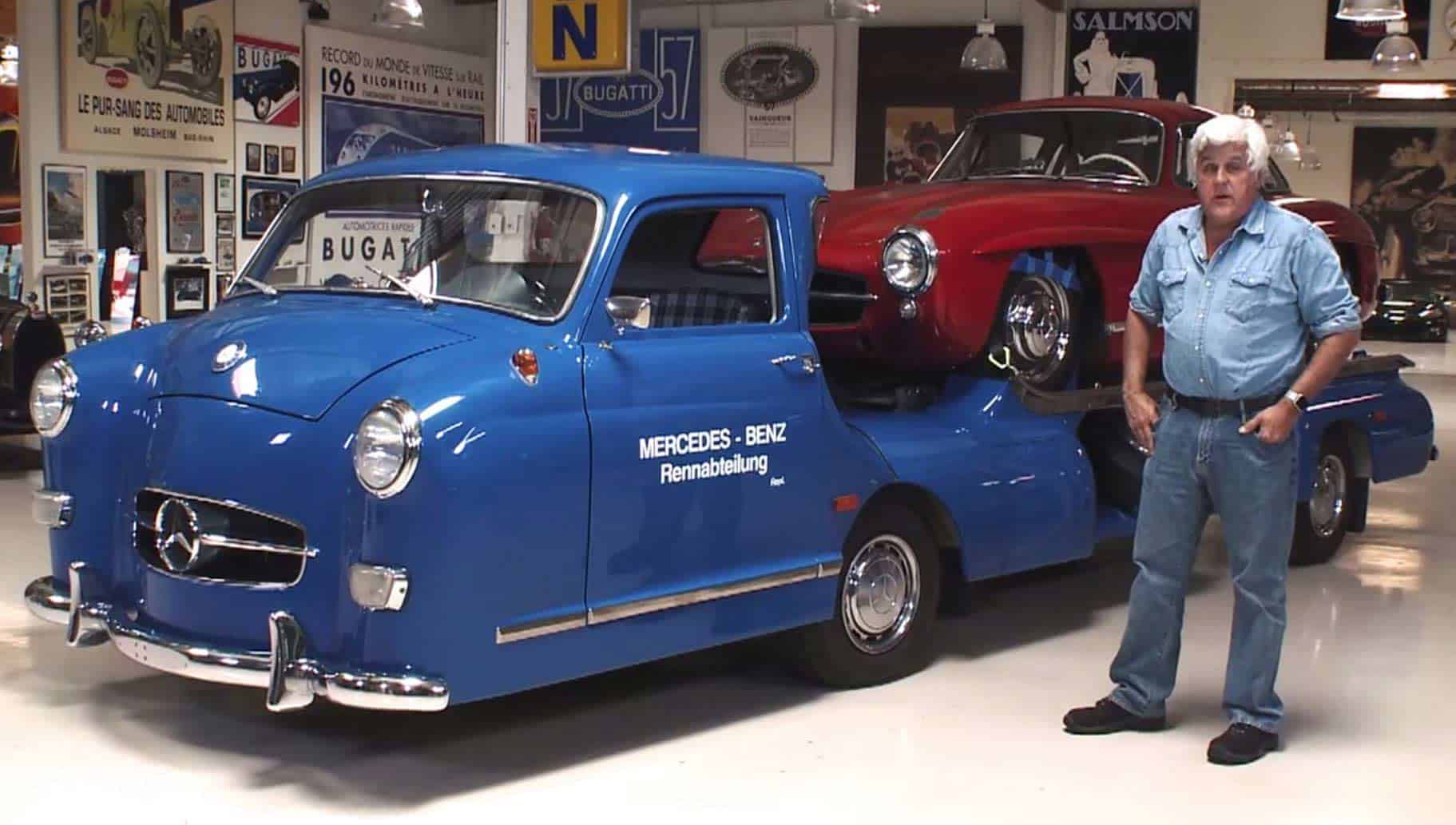 This vehicle takes cab forward to a whole new level. However, could you imagine going 106 mph behind the wheel? It was a purposeful move by the Mercedes race team who used the truck to transport race vehicles back to headquarters for tune-ups between races.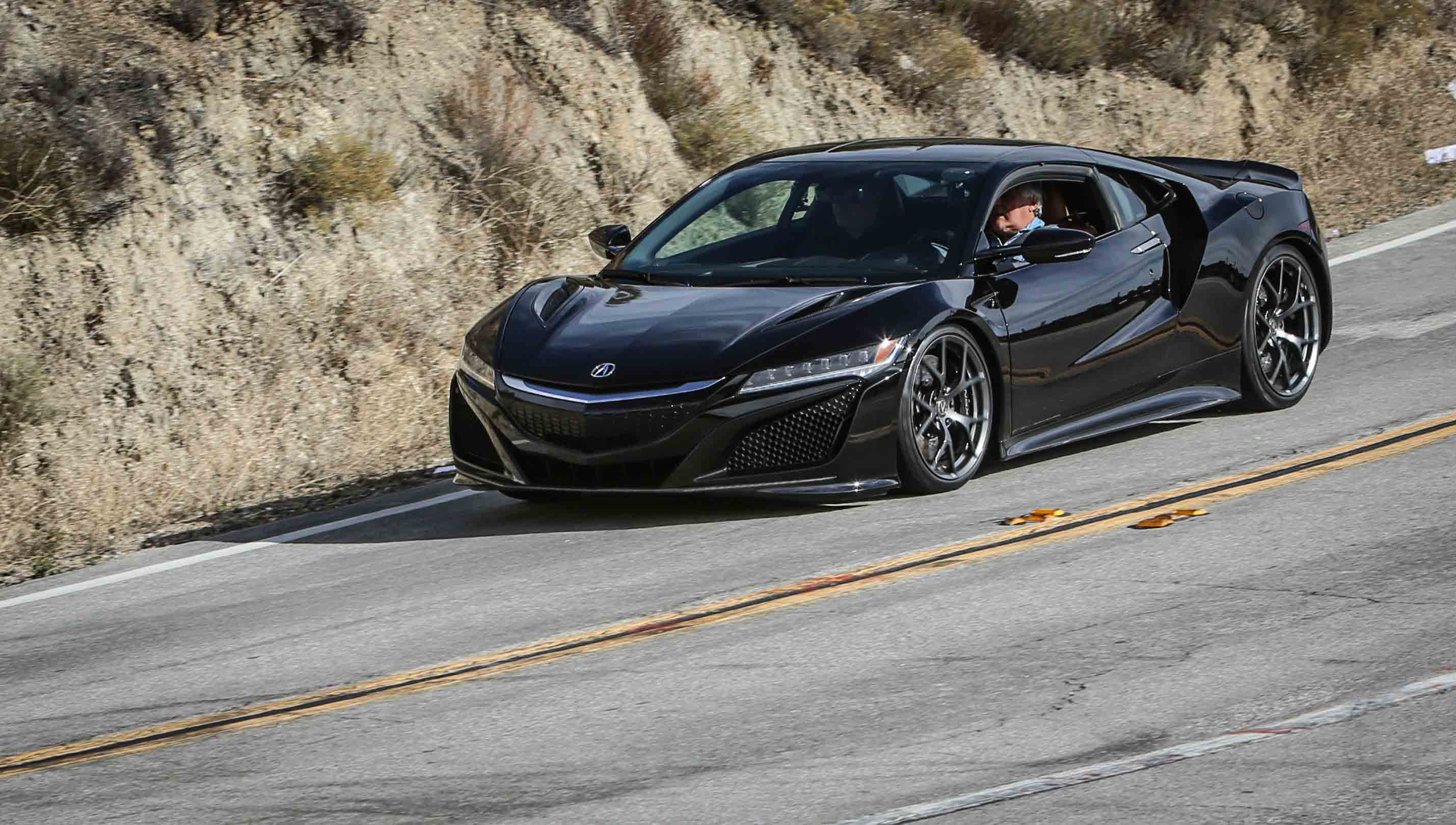 427 Shelby Cobra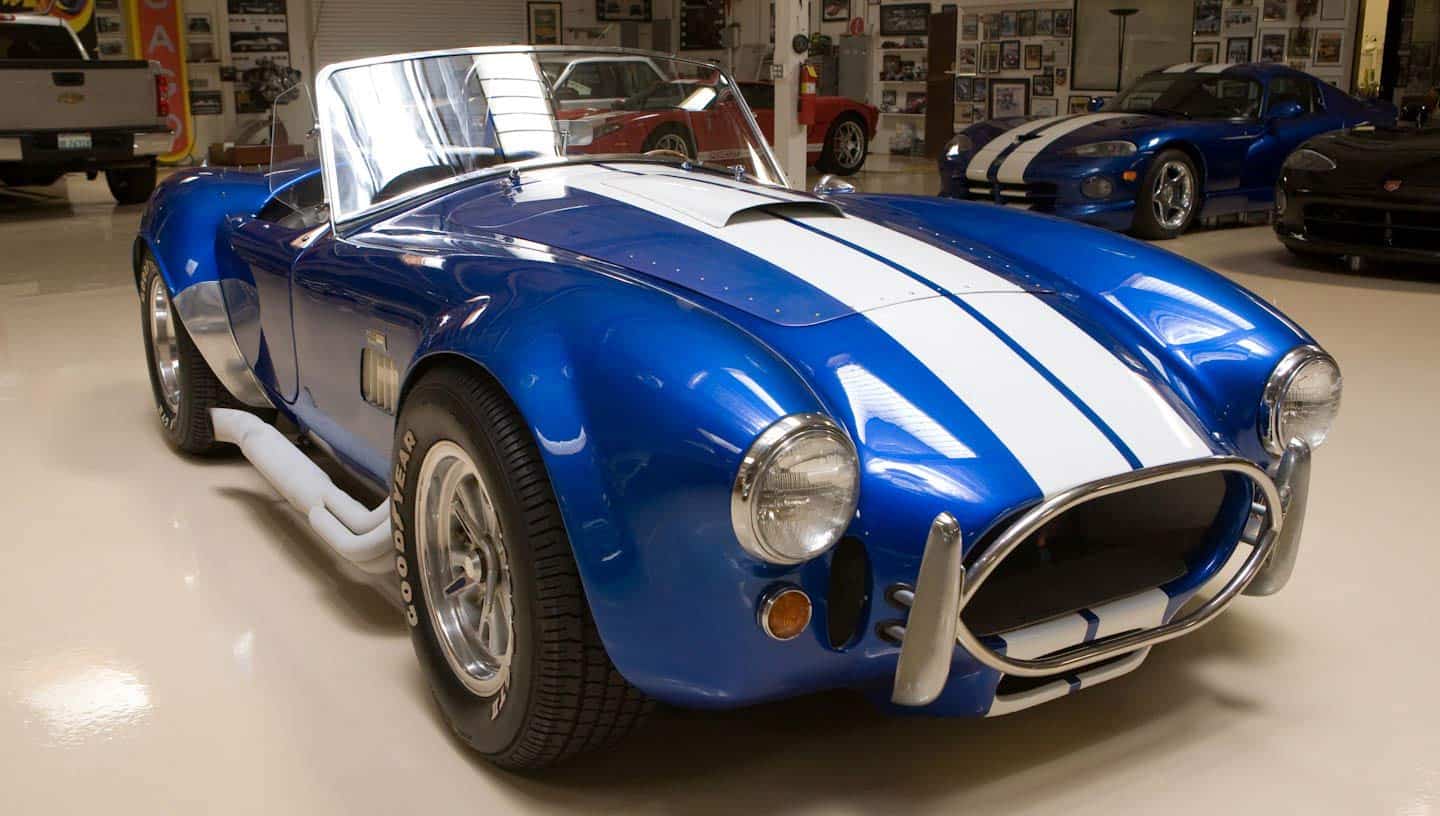 This car is an obvious favorite of his and the crowds that flock to street lights for him to sign autographs until the light turns green. However, it is perhaps best to know for its race match up a couple of years ago with an all-electric Tesla!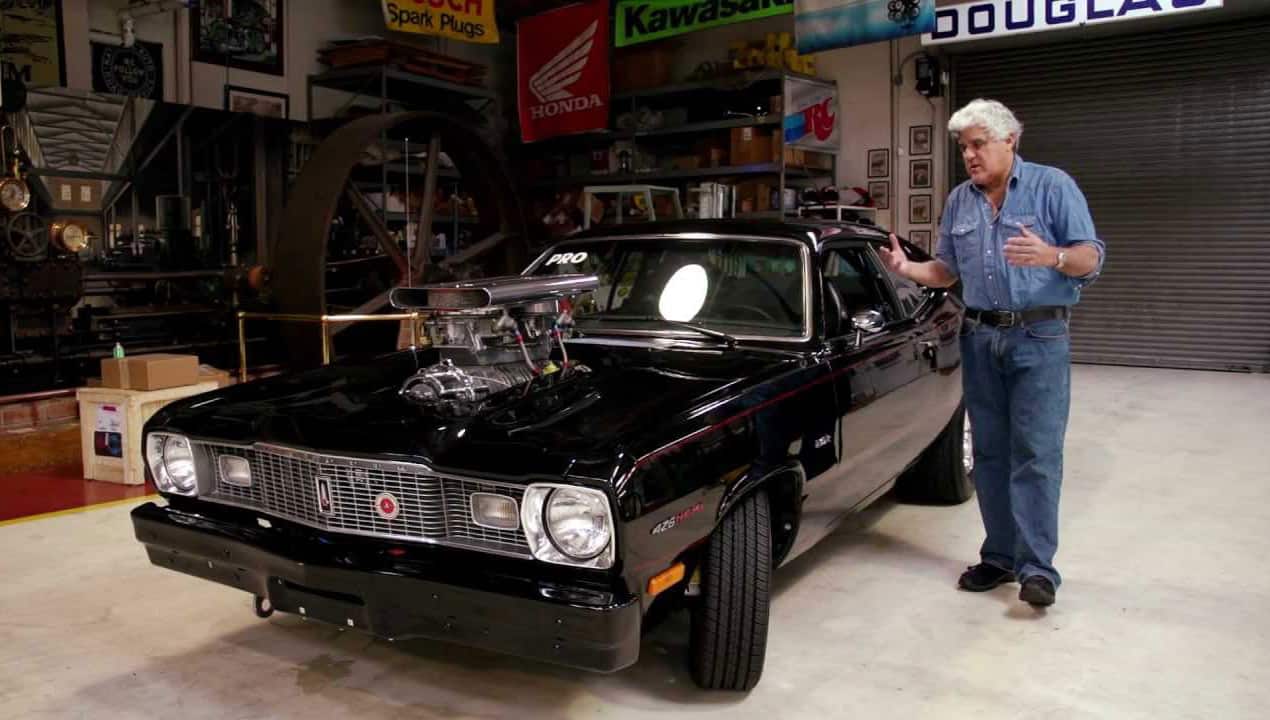 2017 Acura NSX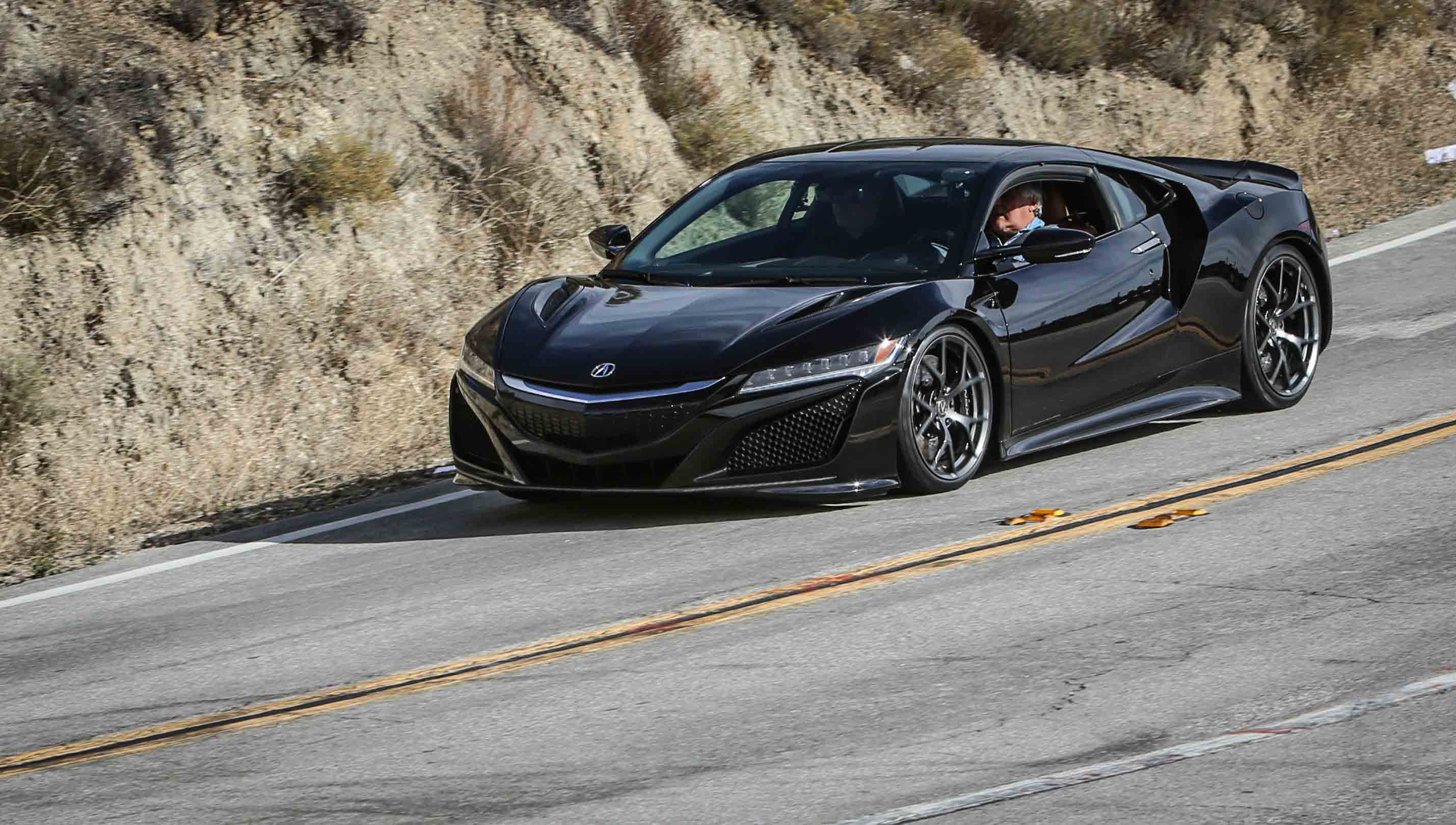 This is one of the few hybrid supercars to join Jay's garage. The hybrid engine pumps out an impressive 573 horsepower. It also features a hybrid all-wheel-drive system which is very similar to the Porsche 918 Spyder. We are down with that.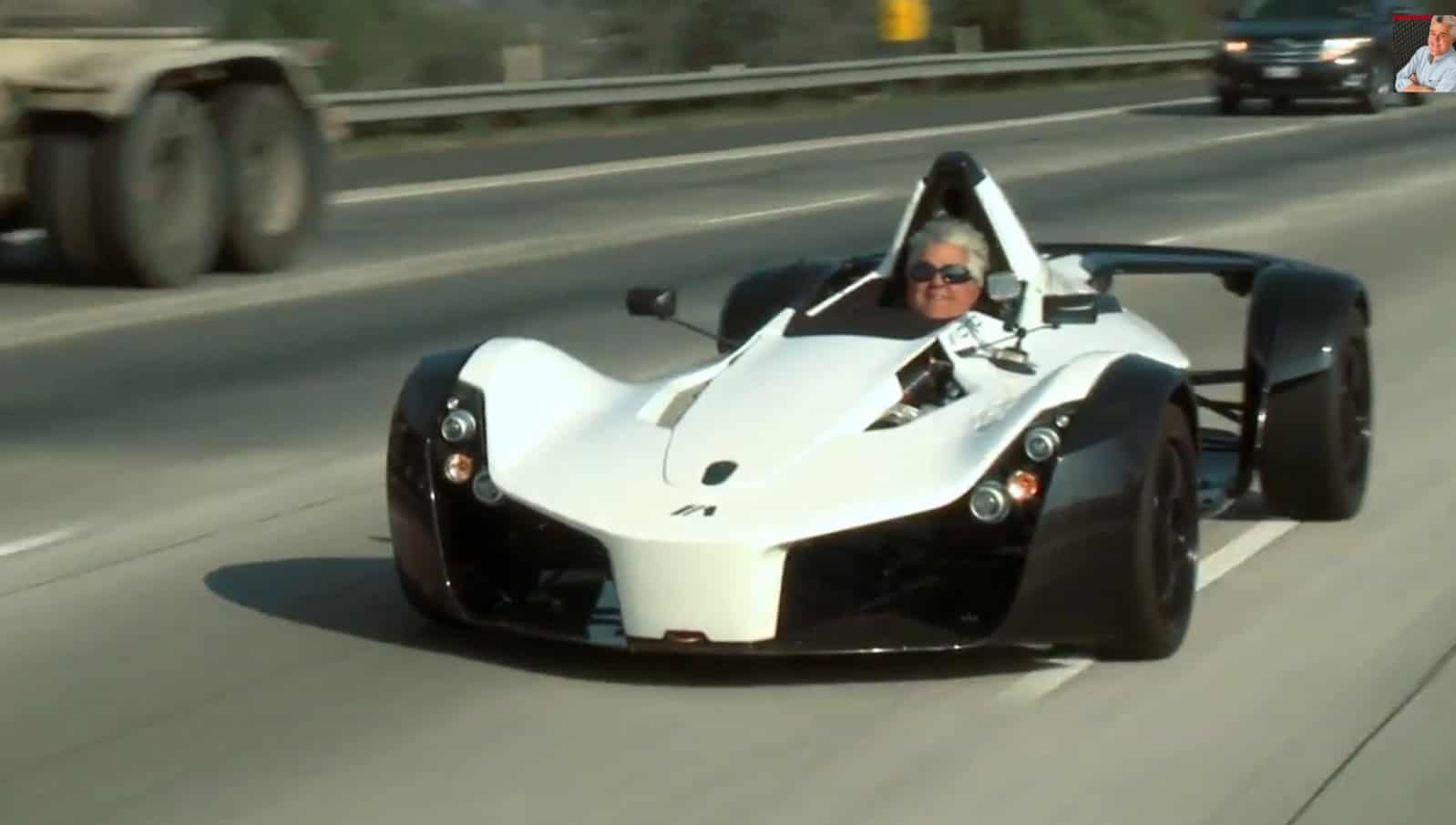 1975 Plymouth Duster Hemi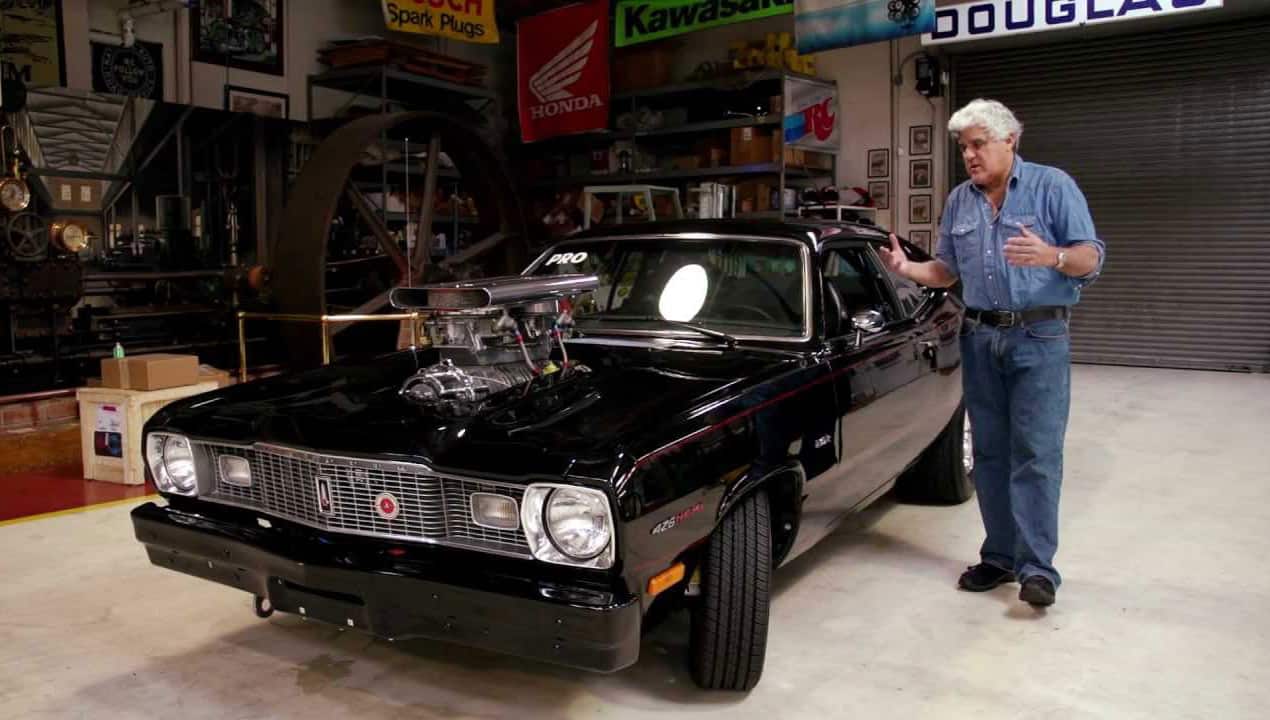 With 1,000 horses under the hood, this car is a sight to behold. The original 426 v-8 was stuffed into the body of Duster. It was the creation of Paul Annunziata after he won $10,000 from a first-time lottery play.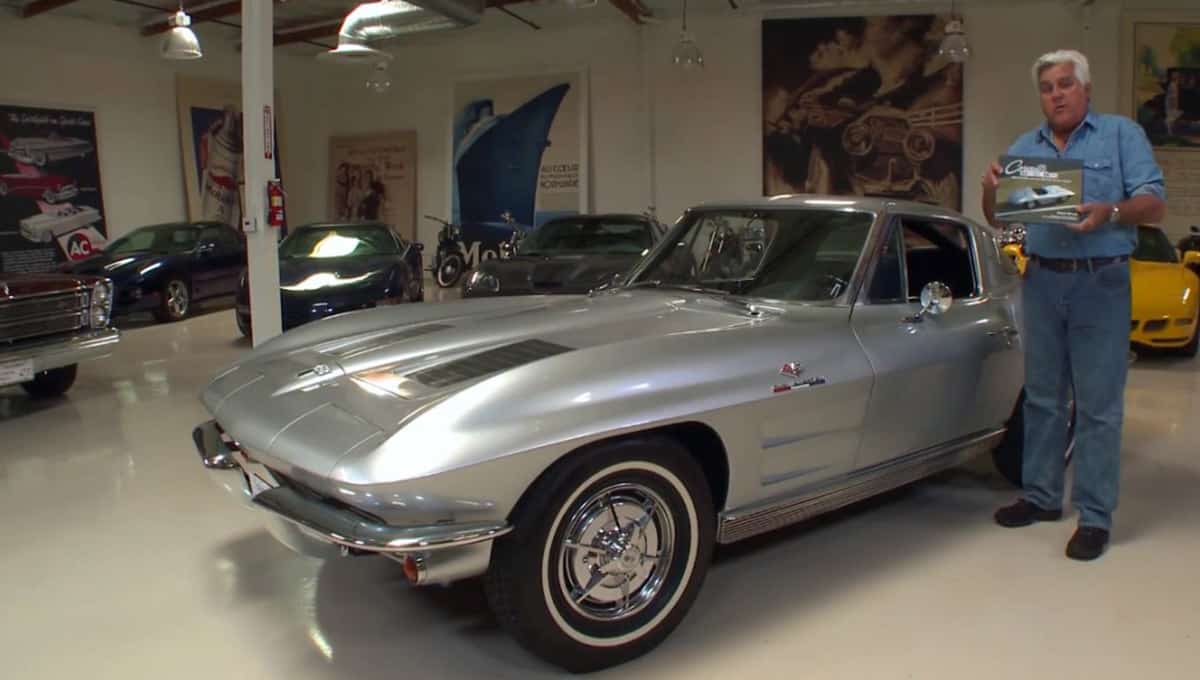 2015 BAC Mono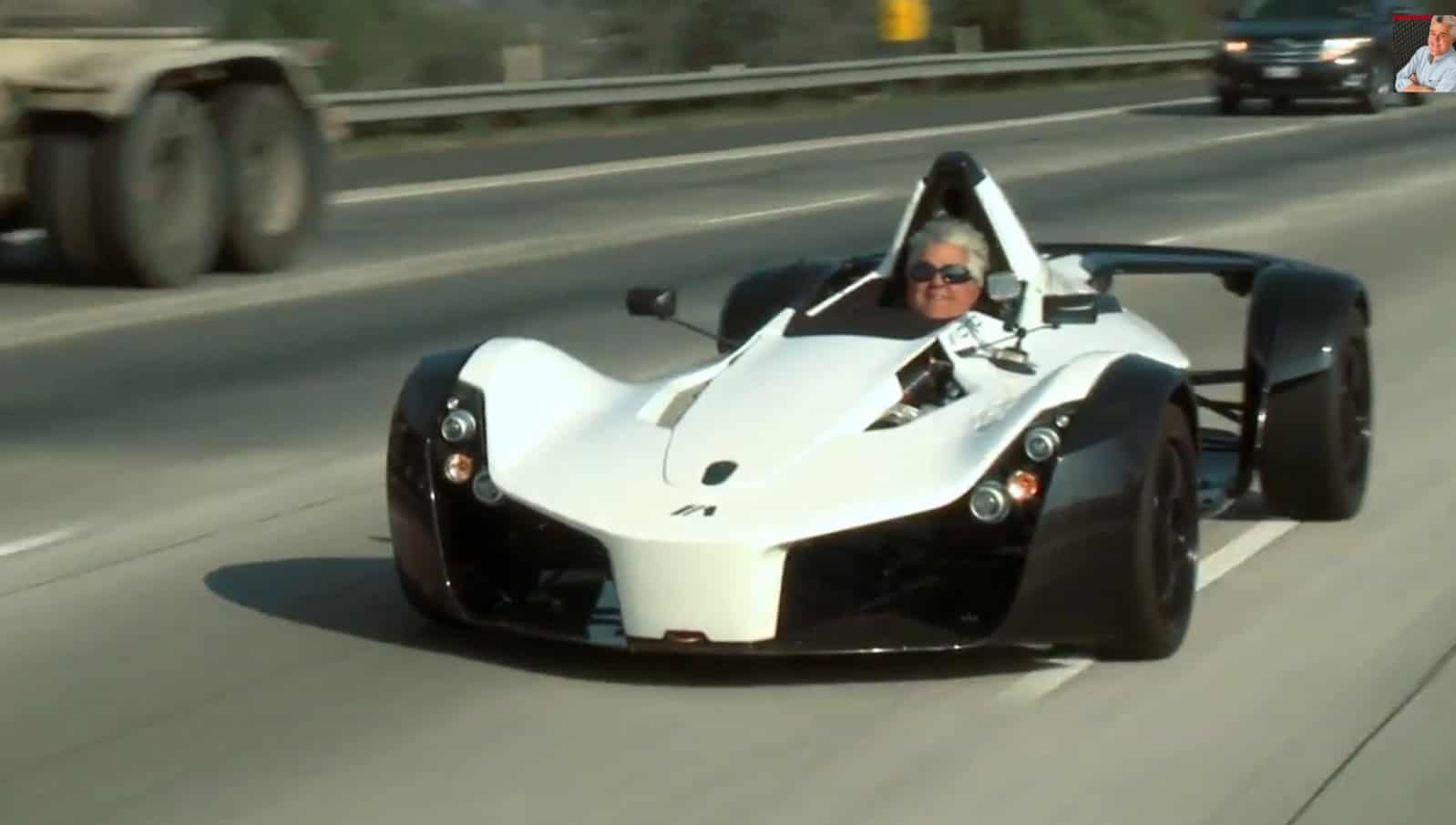 What do you do when you want a Formula-style race car added to your collection? Snag the 2015 BAC MONO and tear up the road. Made for pure driving enjoyment, it includes one seat, pushrod suspension, a carbon chassis, and 280 horsepower!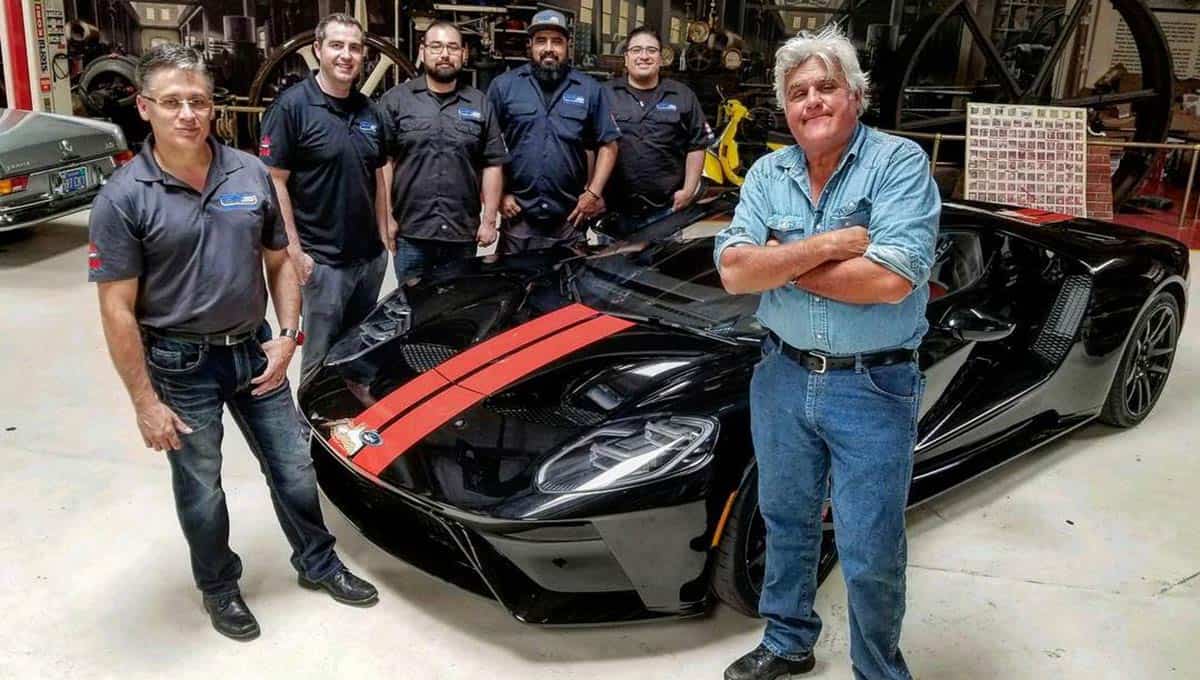 1963 Corvette Split-Window Coupe Fuelie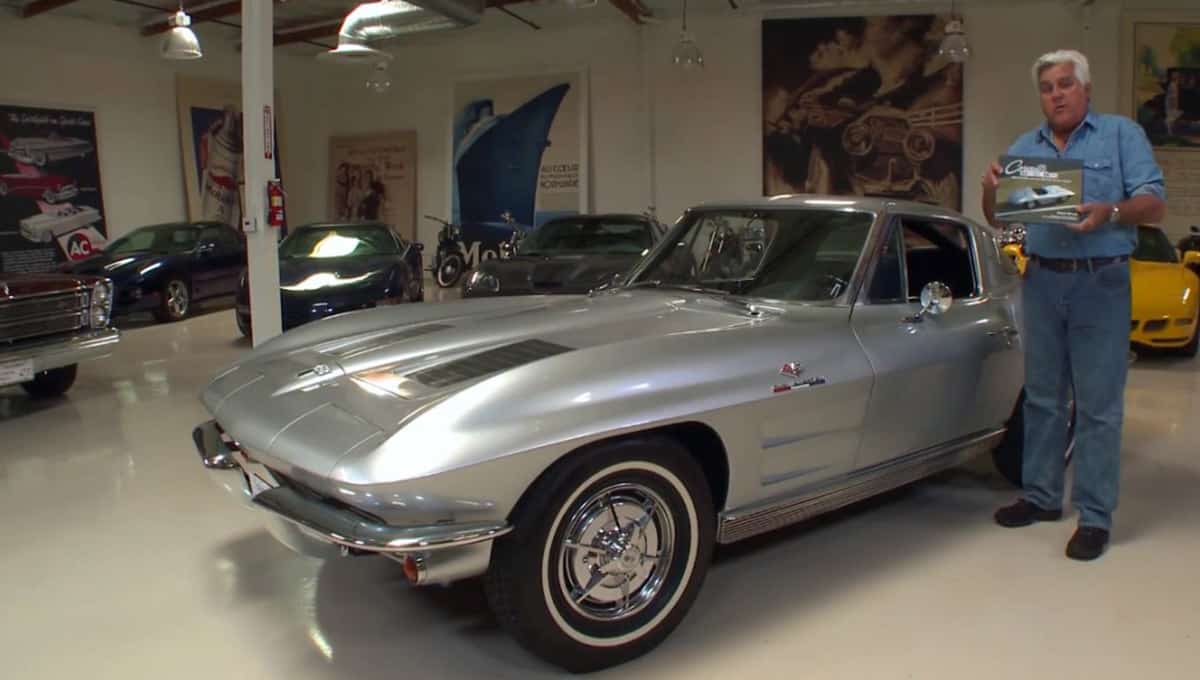 The signature iconic split window is a dead giveaway to the identity of Jay's 1963 Corvette Coup Fuelie. However, a true Corvette enthusiast will also know the hood, wheel covers, mirrors, and screws are also 1963 only items. We wish we owned this one.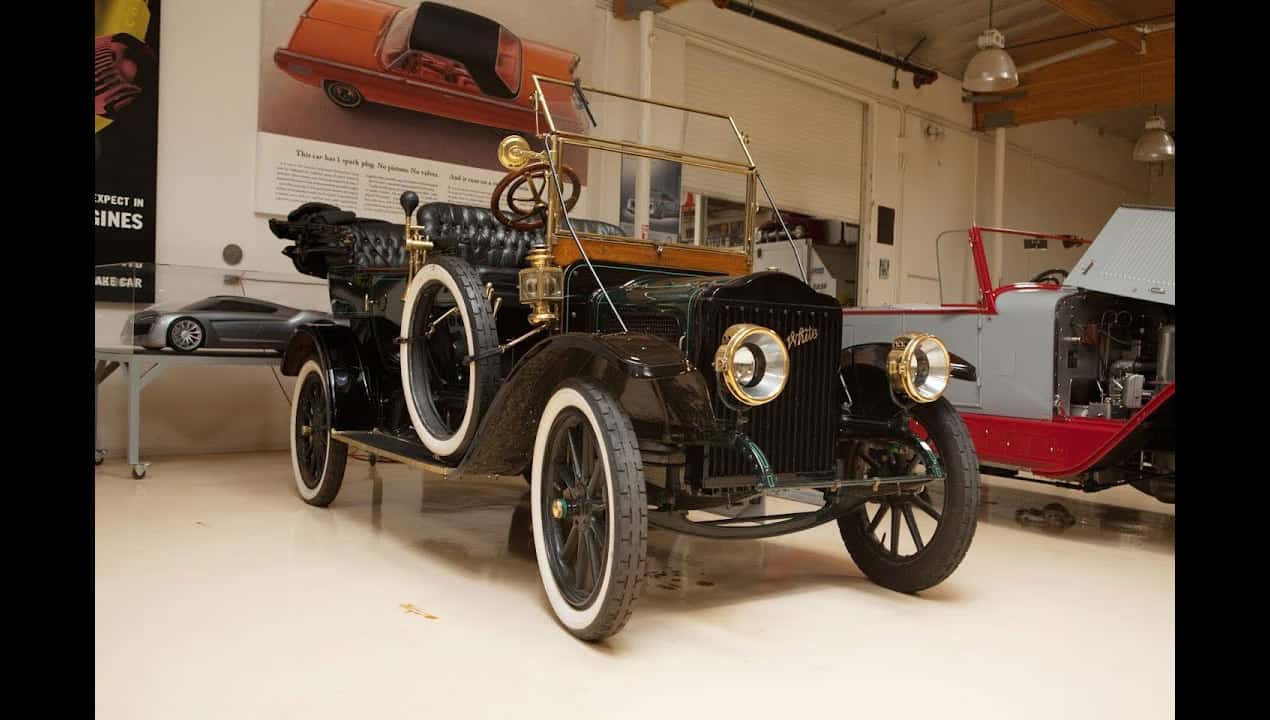 2017 Ford GT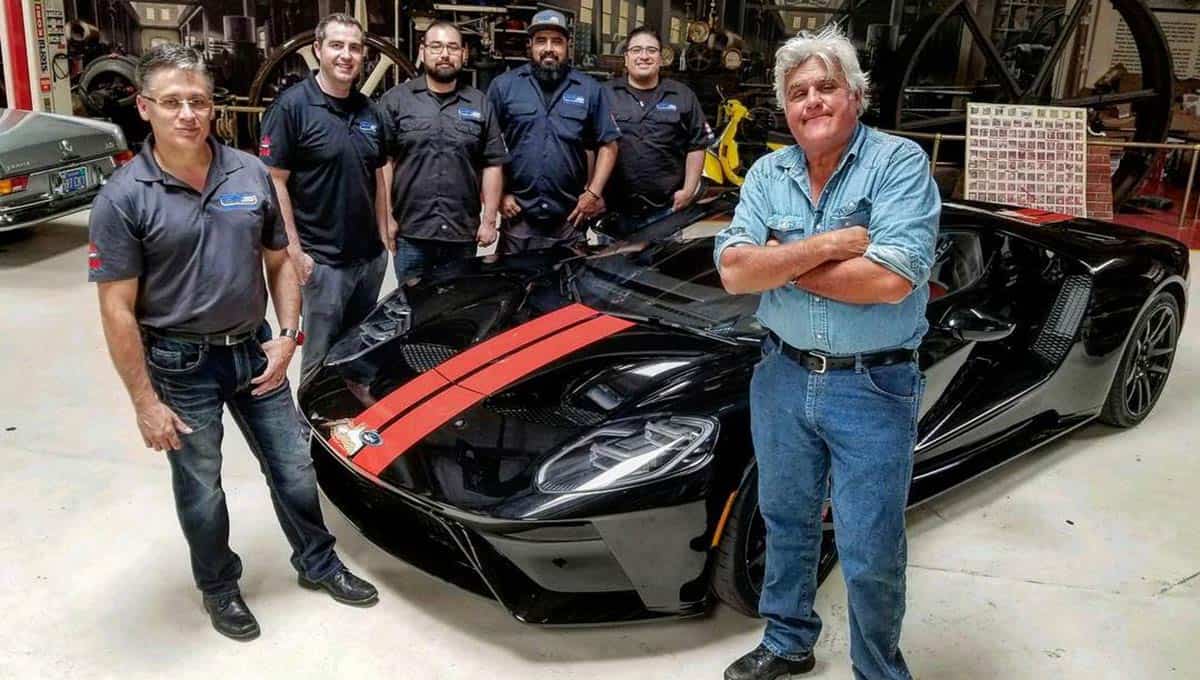 Since it debuted at the 2015 Detroit Auto Show, Jay wanted this car. However, he had to go through the intensive application process just like everyone else despite his longtime connections to Ford. Yet, even he didn't get the optional $10,000 titanium exhaust system.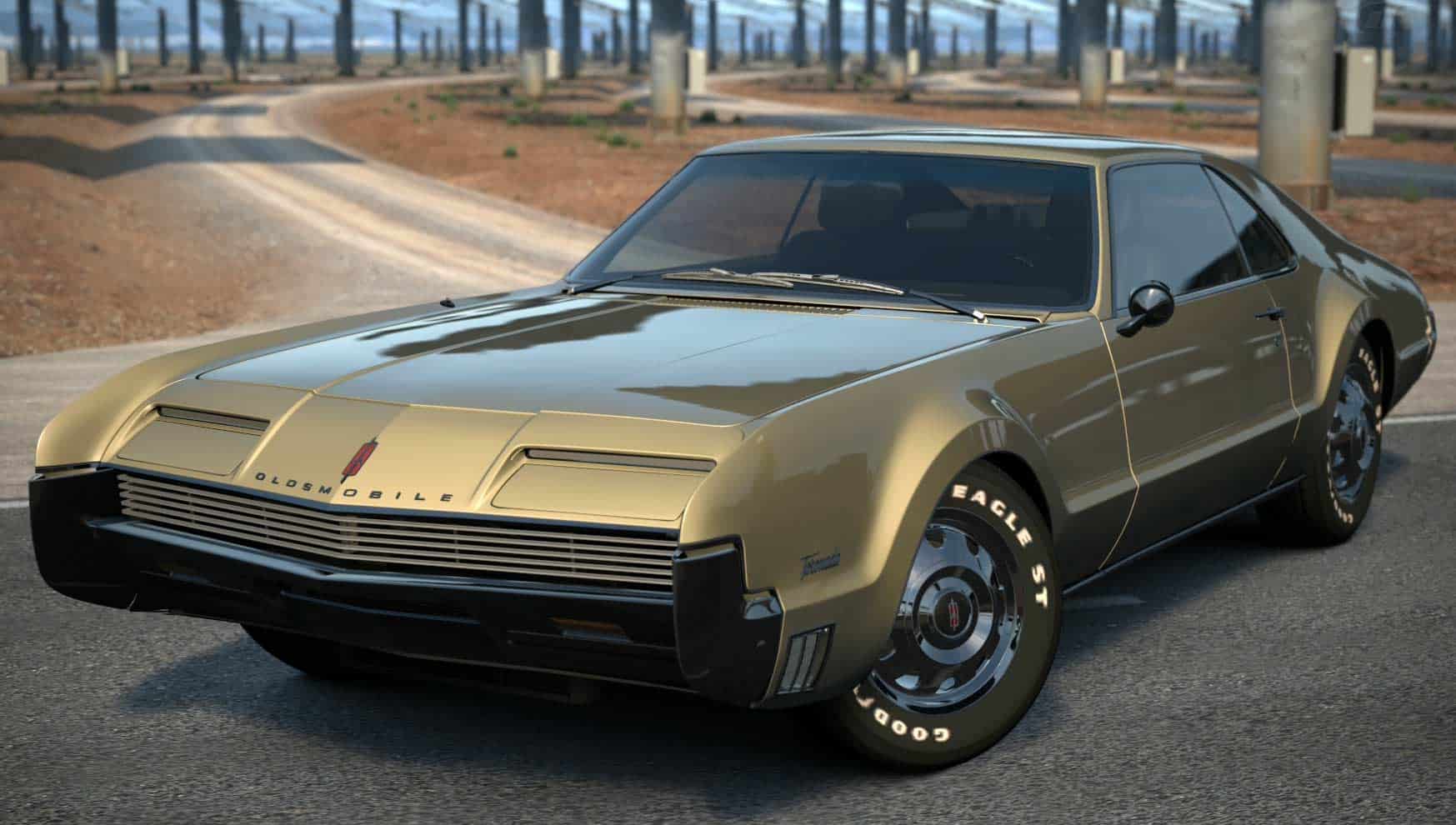 1910 White Steam Car Model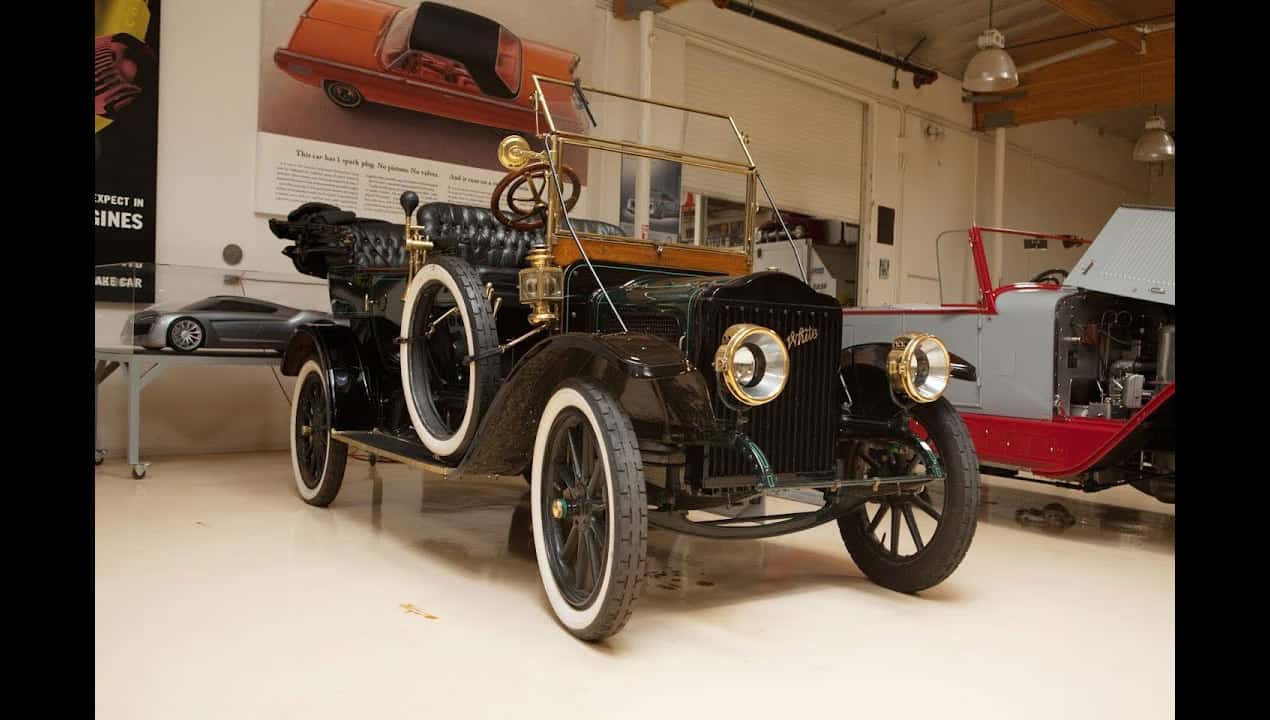 Jay bought this beauty from an individual who had it since 1960. A lot of the parts needed attention because in order for steam cars to work properly there must be no leaks. Jay's team refabricated an entirely new burner plate to get the car moving again.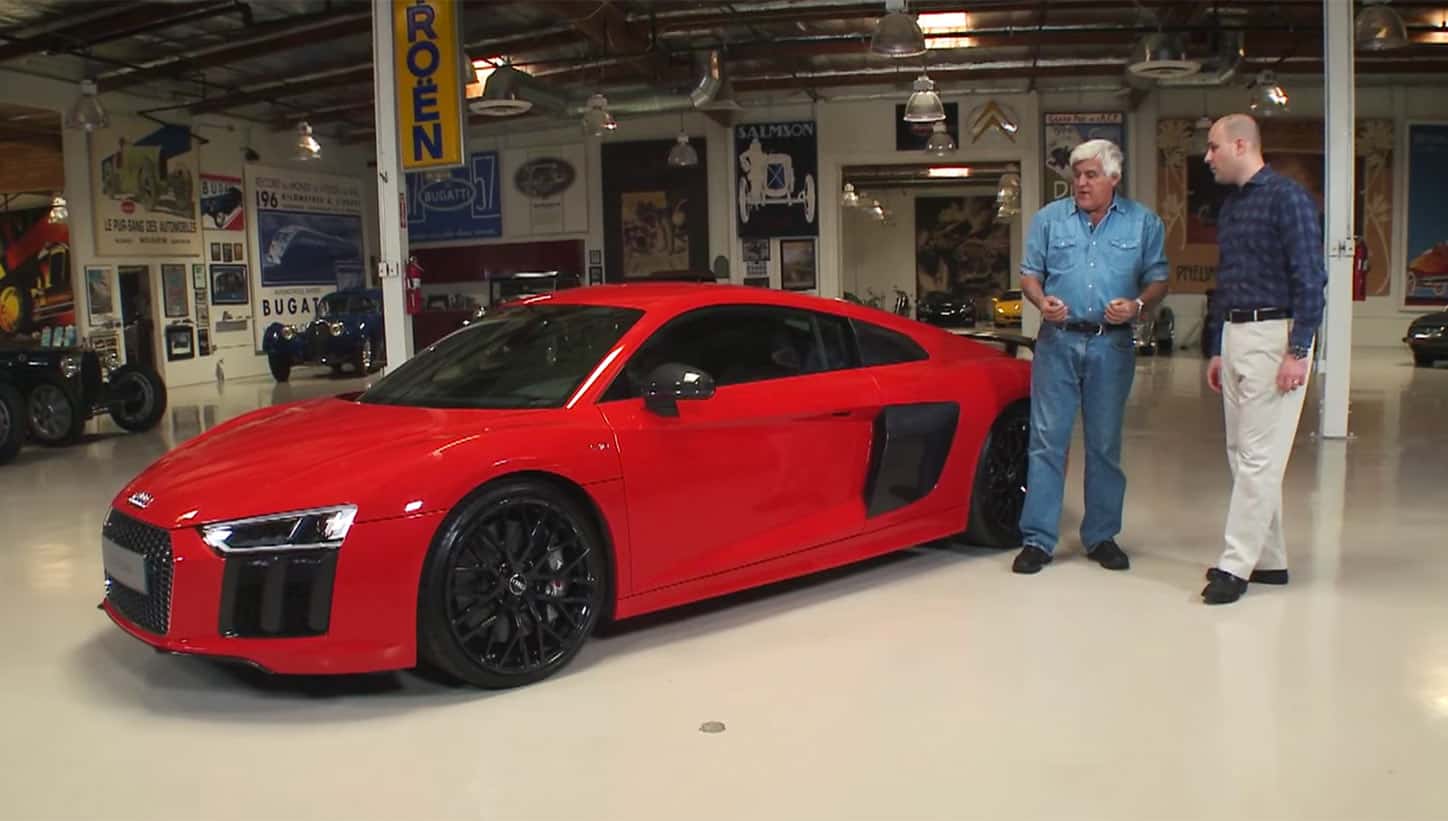 1966 Oldsmobile Toronado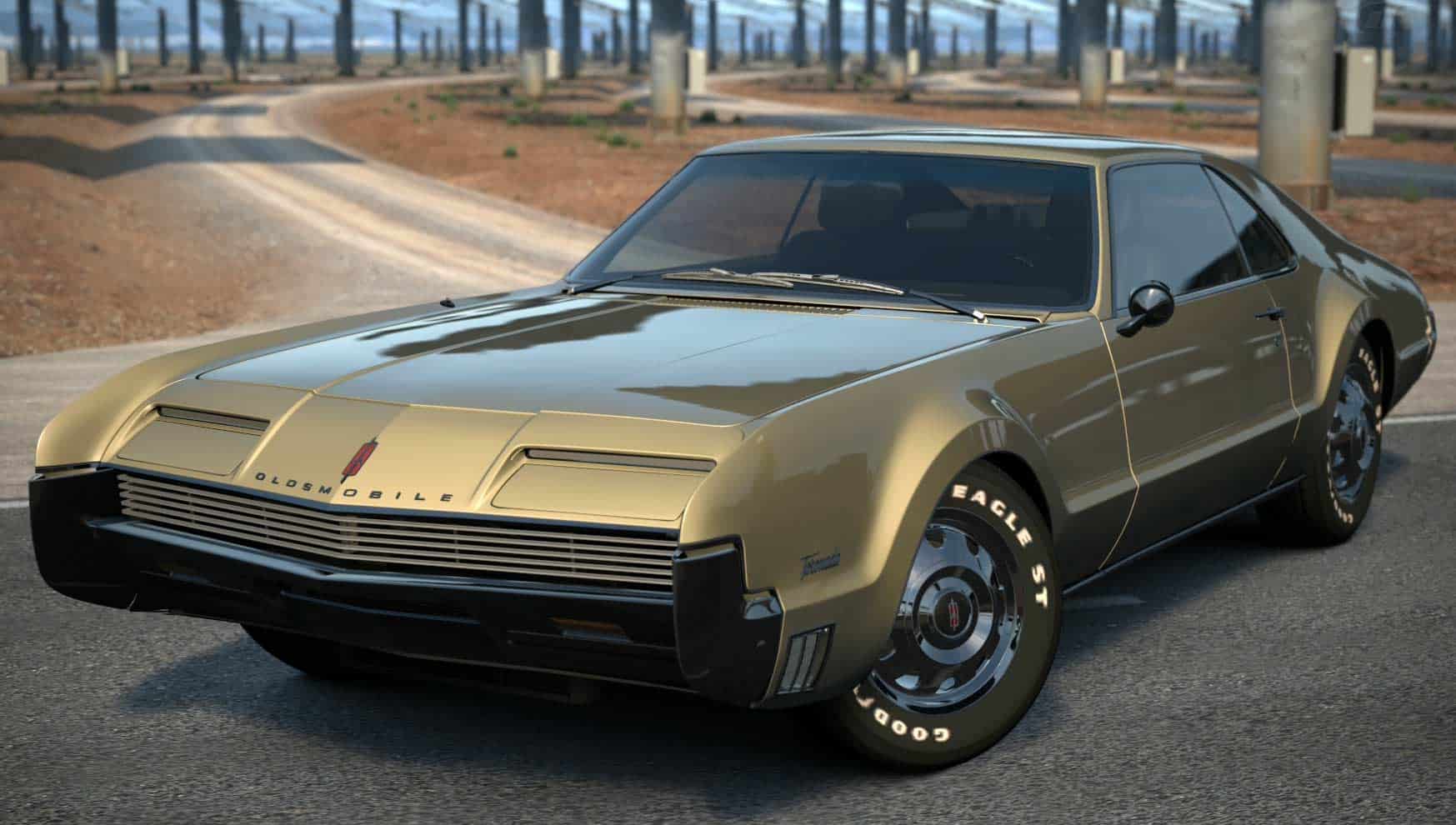 Combine a 7 liter overhead valve 8 cylinder engine for 385 horsepower and 135 mph of pure speed to get the '66 Oldsmobile Toronado. Jay customized his replacing front bench seating with bucket seats to make room for the chassis torque driveline tunnel.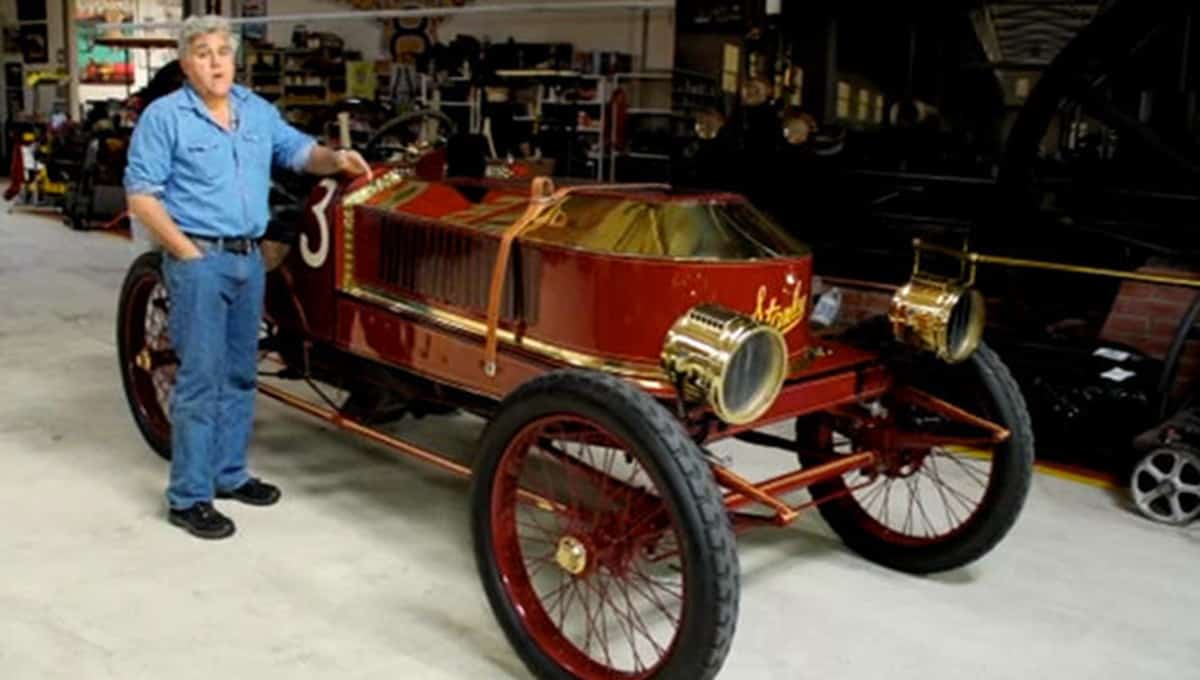 2017 Audi R8 Spyder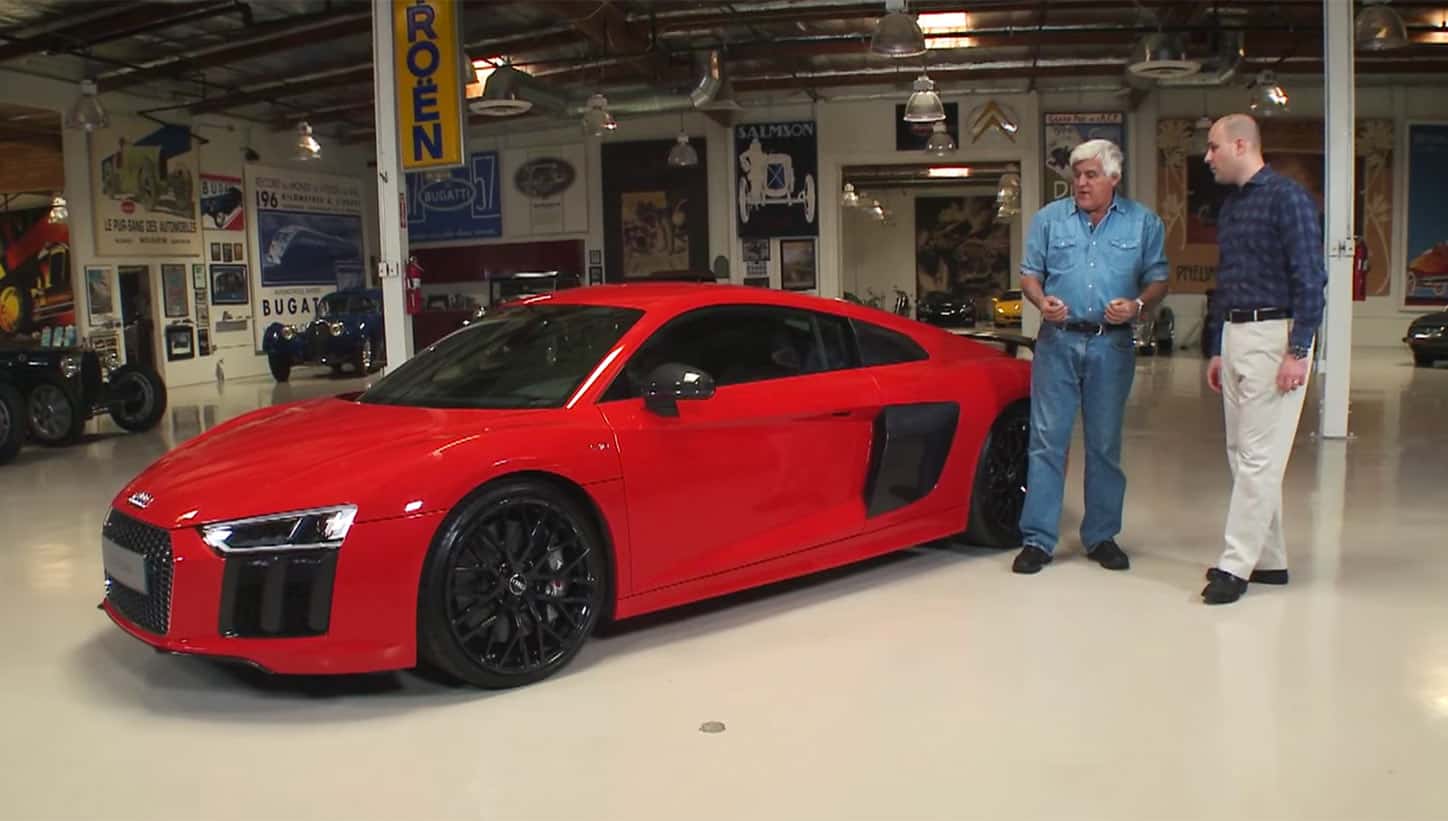 This particular Audi is unique for a couple of reasons. Production skipped form 2015 to 2017 where the Spyder was brought back with a large v-10 engine. Also, the Spyder only comes with an automatic transmission. However, it is 7 speed to help distribute the incredible 610 hp.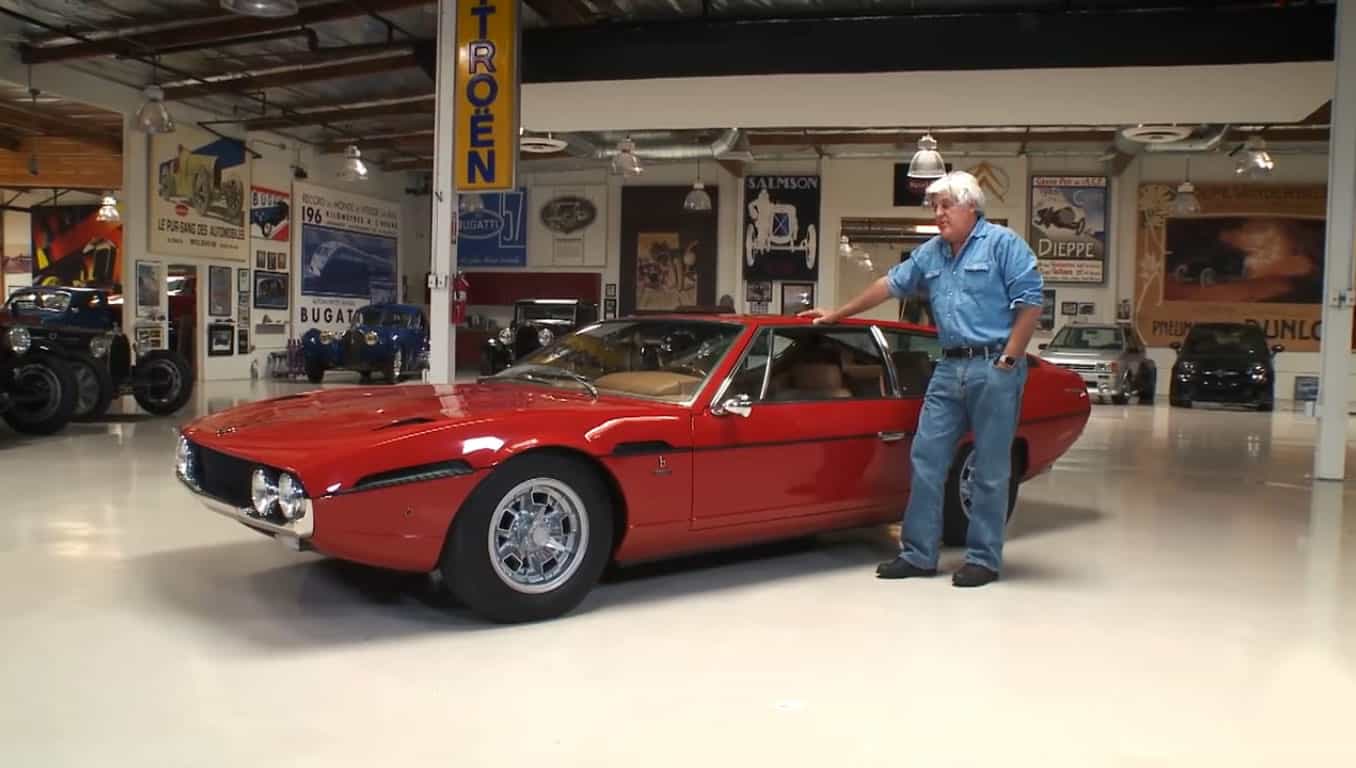 1909 Stanley Steamer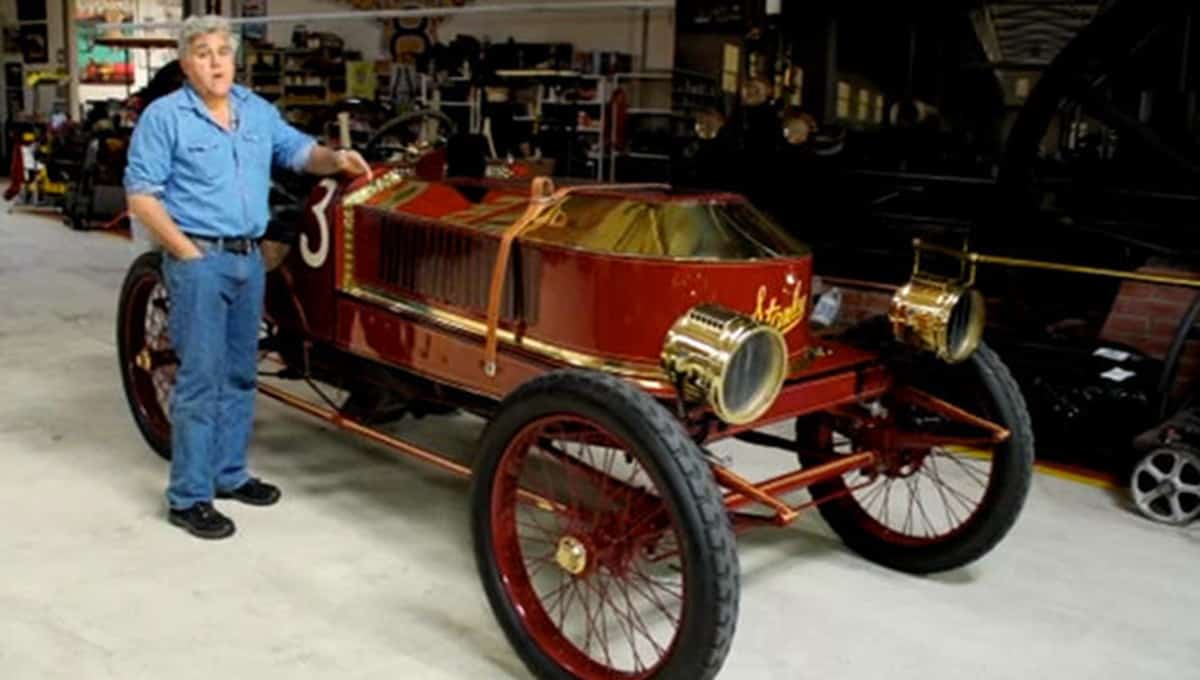 The 1909 Stanley Steamer is by far one of Jay's rarest vehicles. A closer look reveals the car is entirely made of wood (except for the metal hood). The vehicle works very similar to your home's hot water heater and takes about 20 minutes to get it up and moving.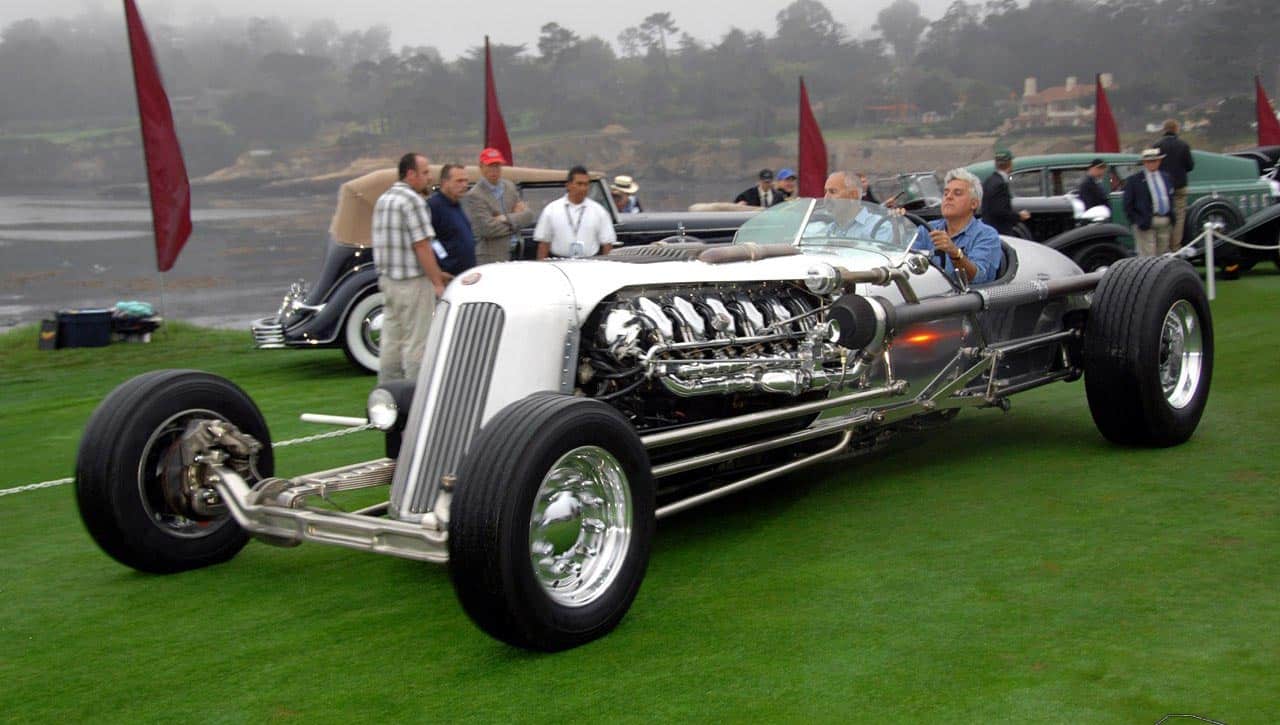 1969 Lamborghini Espada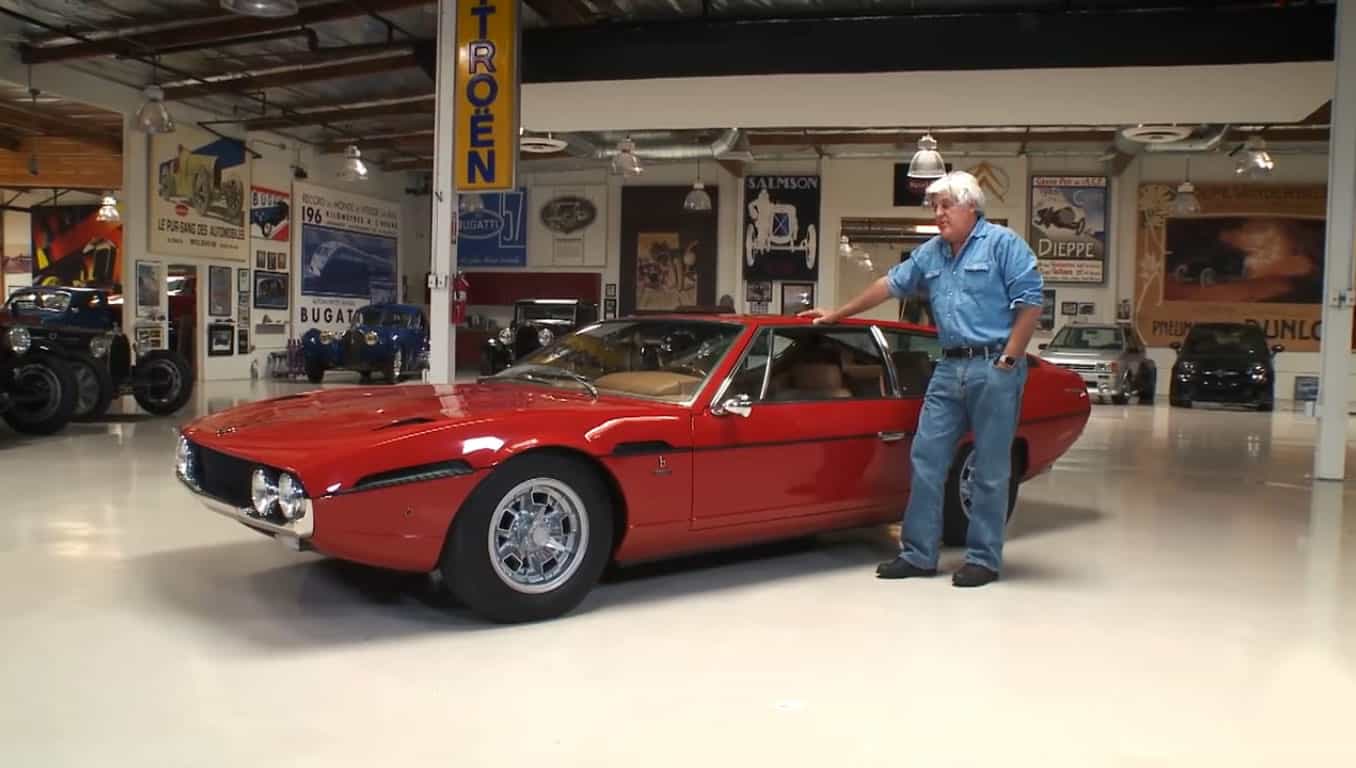 At some point, this 1969 Lamborghini Espada was Jay's only car. It now has somewhere north of 100k miles on it. The 1969 Espada was part of Series I. A 240 in Lamborghini V12 engine powered the vehicle. The engine has a rating of 325hp.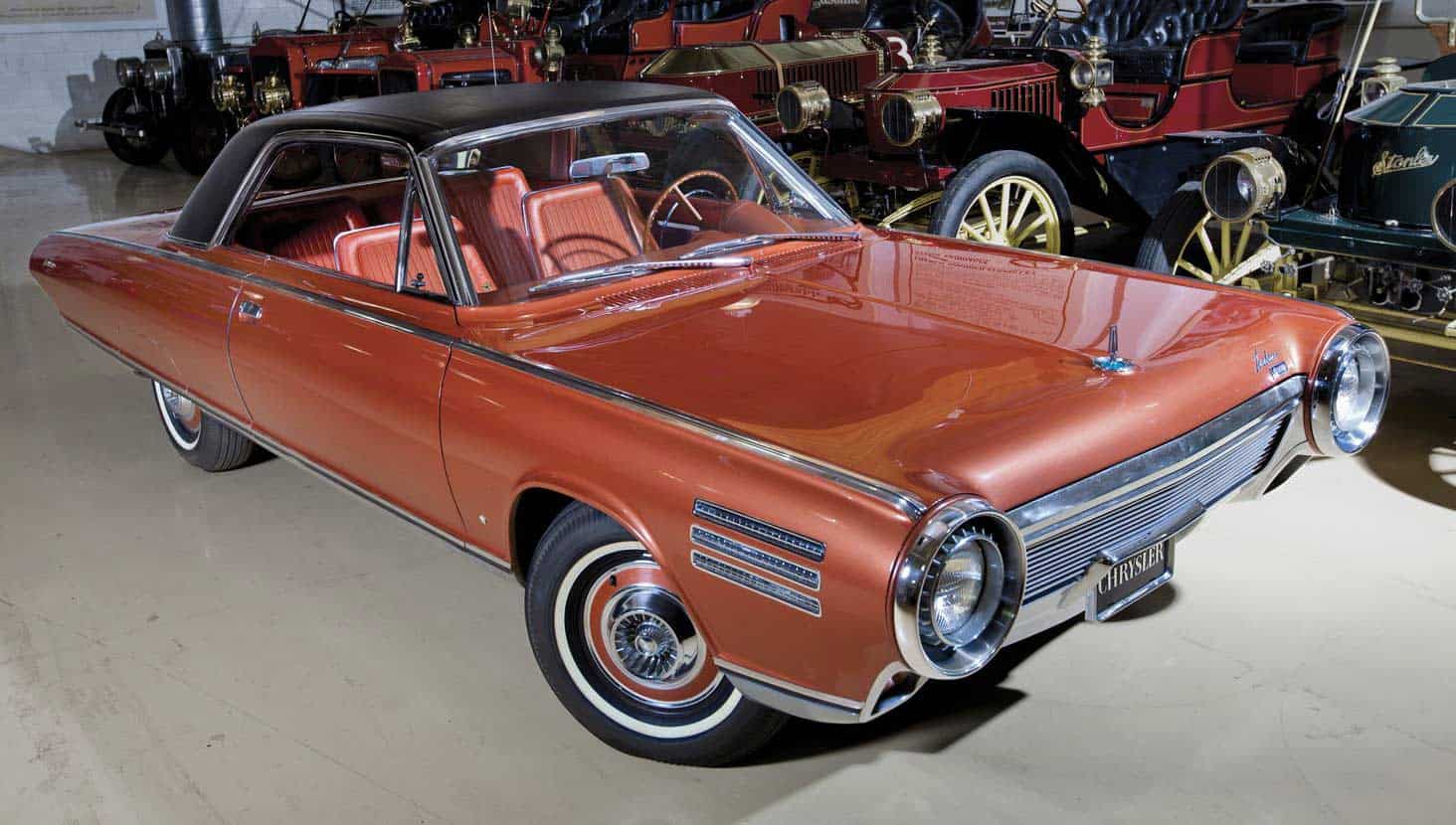 Blastolene Special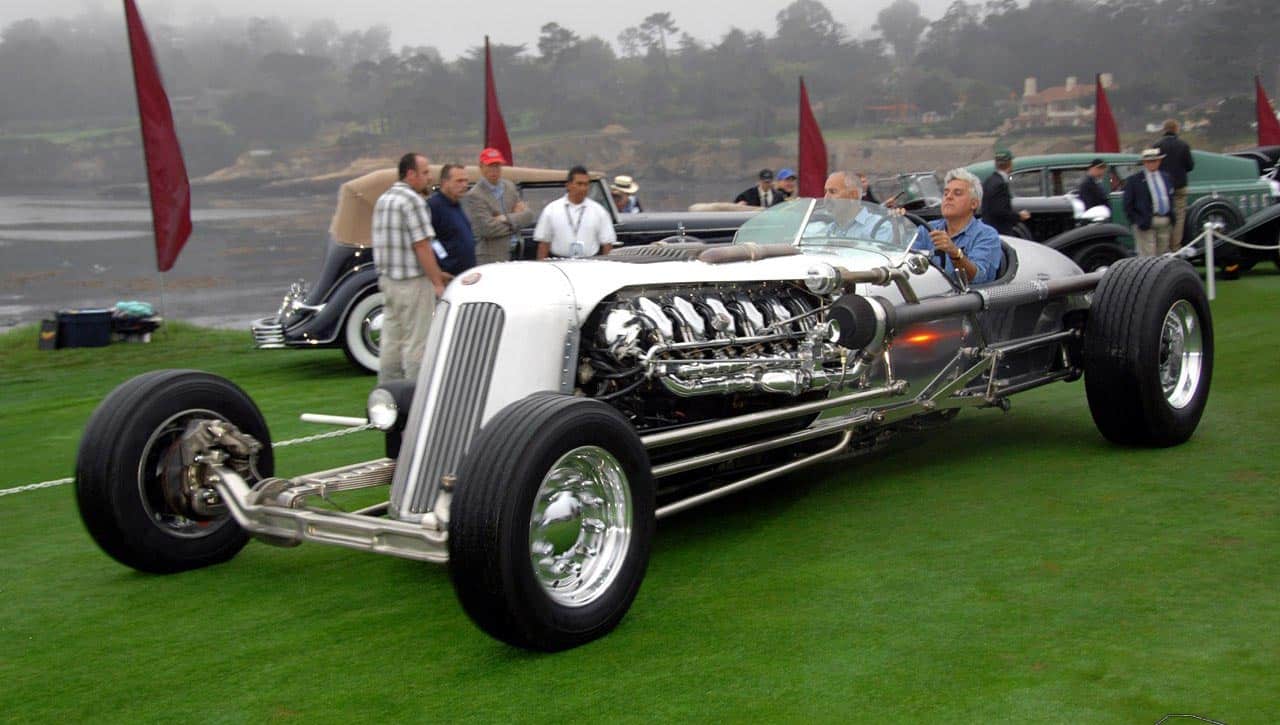 The Blastolene Special is one of the more famous conversions by auto enthusiast Randy Grubb. You wouldn't know it, but the car had a former life as an M47 Patton Tank! As such, it has a 190-inch wheelbase and weighs a healthy 8,500 pounds (4 1/2 tons, yikes).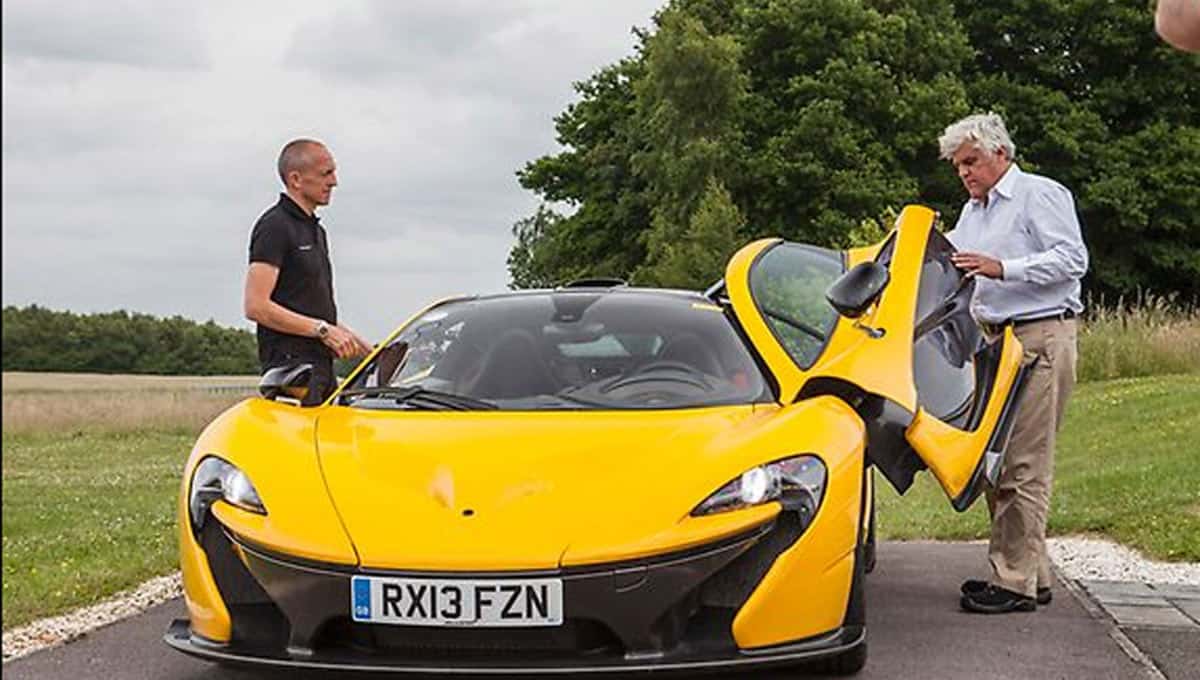 1963 Chrysler Turbine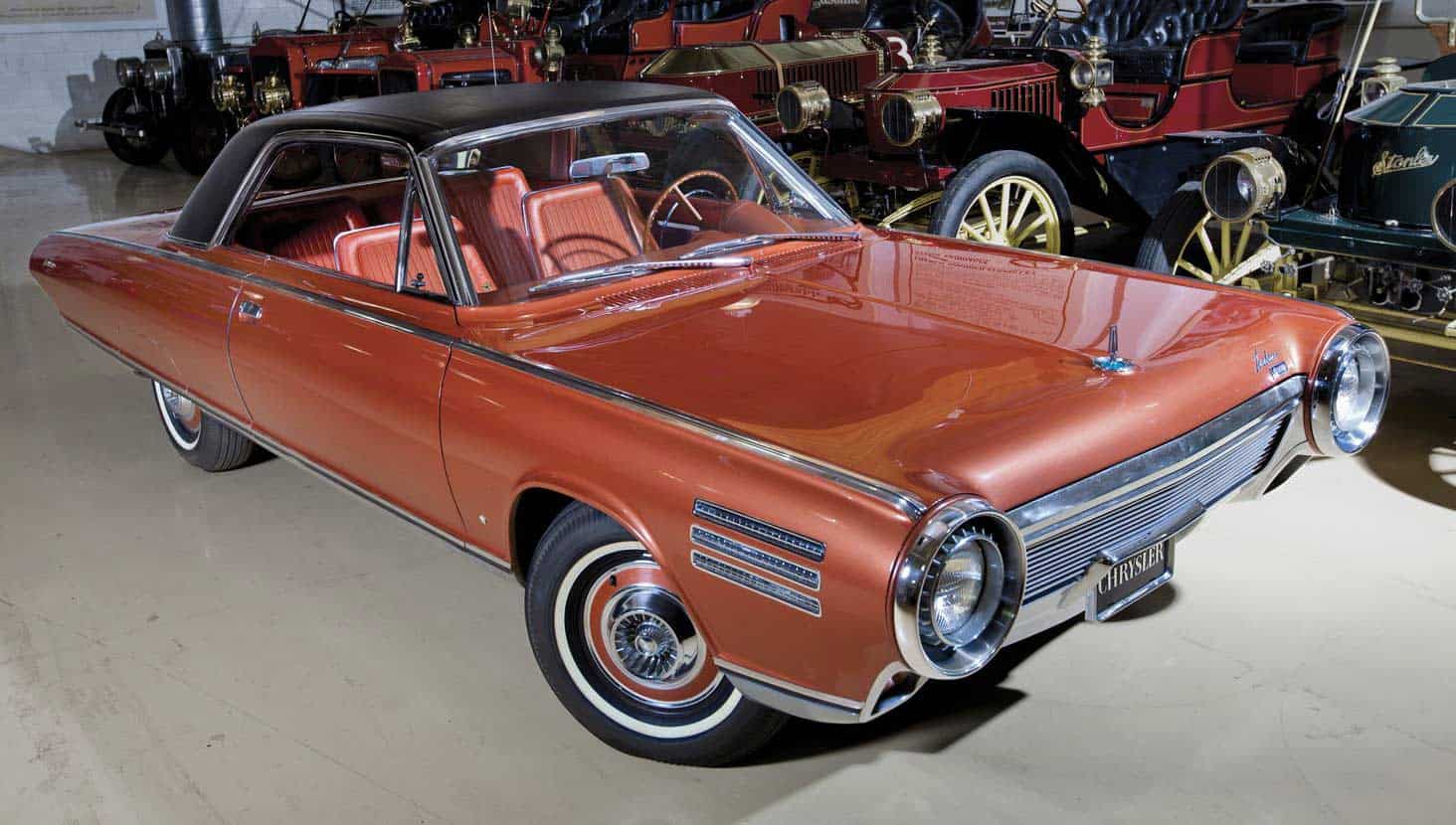 The 1964 World's Fair in New York City featured this car. The turbine on the back made a nice noise, but ultimately drivers were turned off because the car used hard to find diesel instead of leaded gas because it would erode the turbine fins.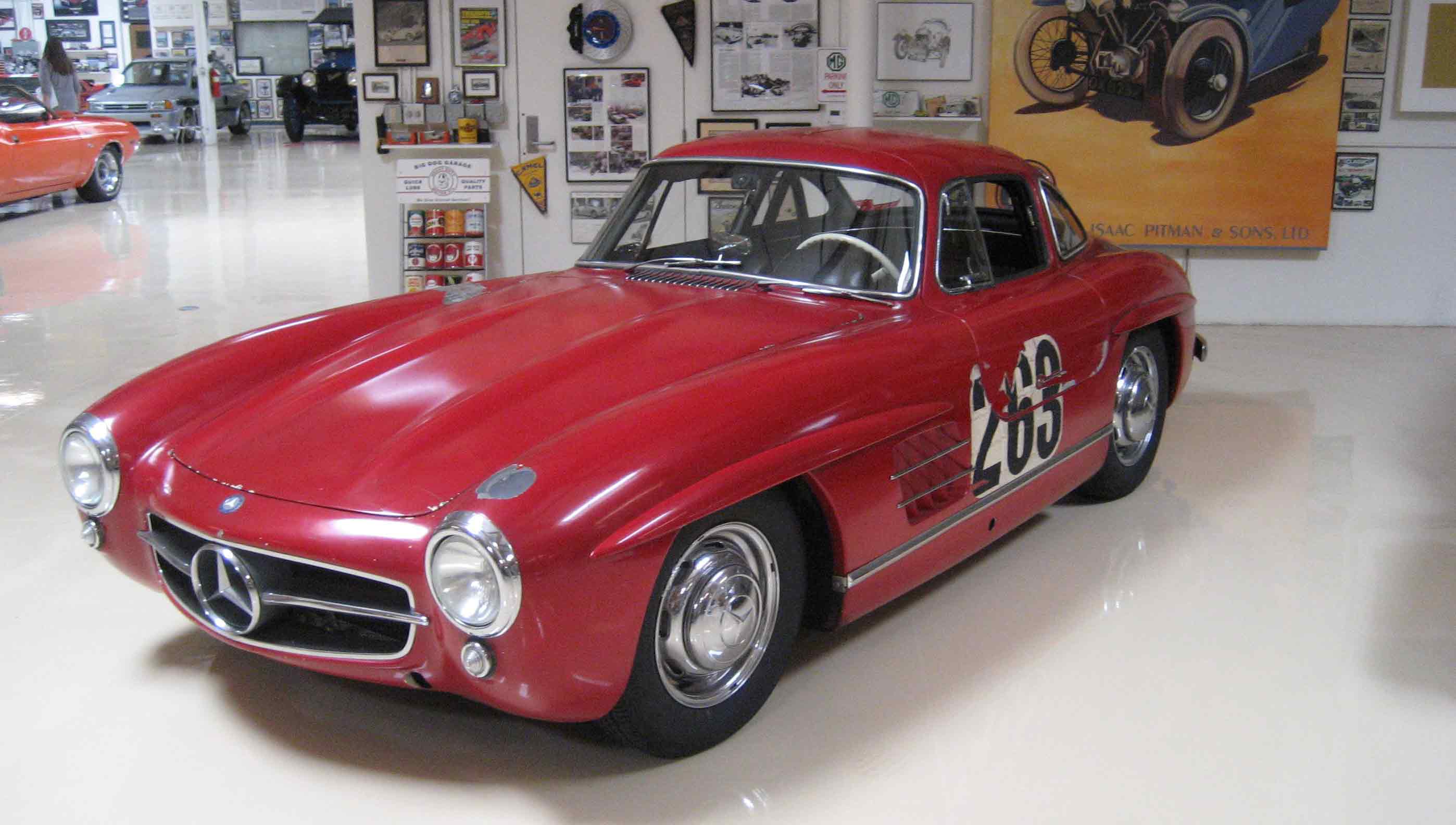 2014 McLaren P1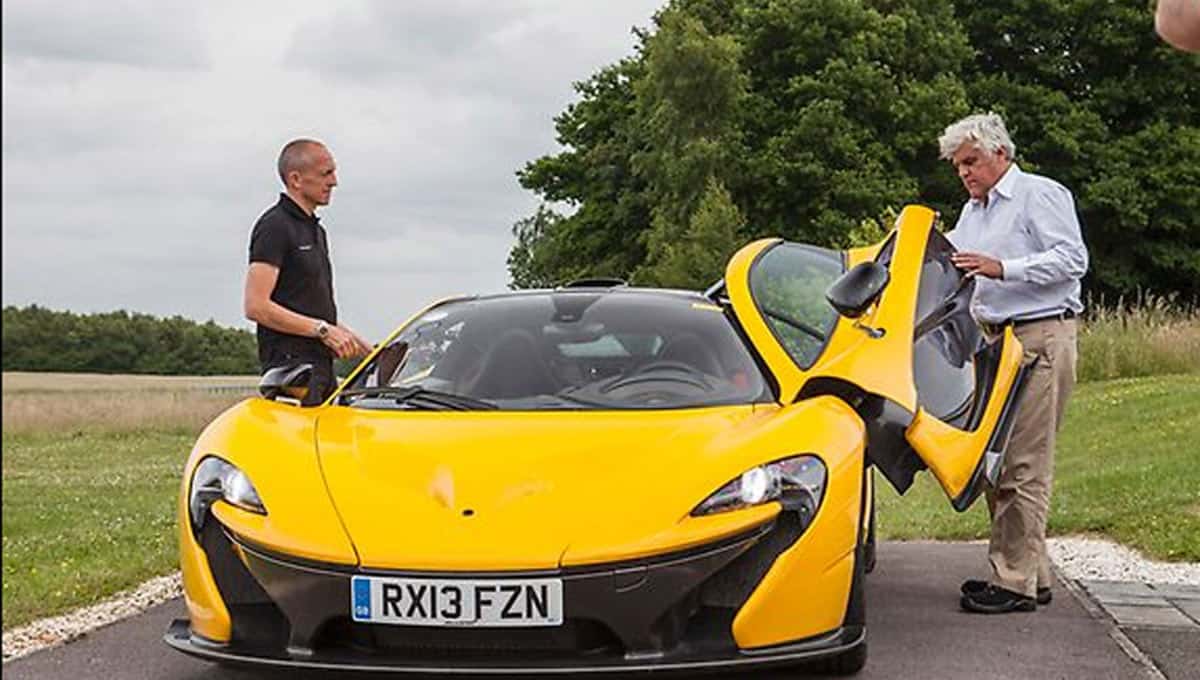 Jay was the first person to score the 2014 McLaren P1 in the United States at least. This particular McLaren features hybrid drive technology and has an electronic speed governor at 217 mph. It also possesses much of the forward technology borrowed from McLaren's Formula 1 racing program.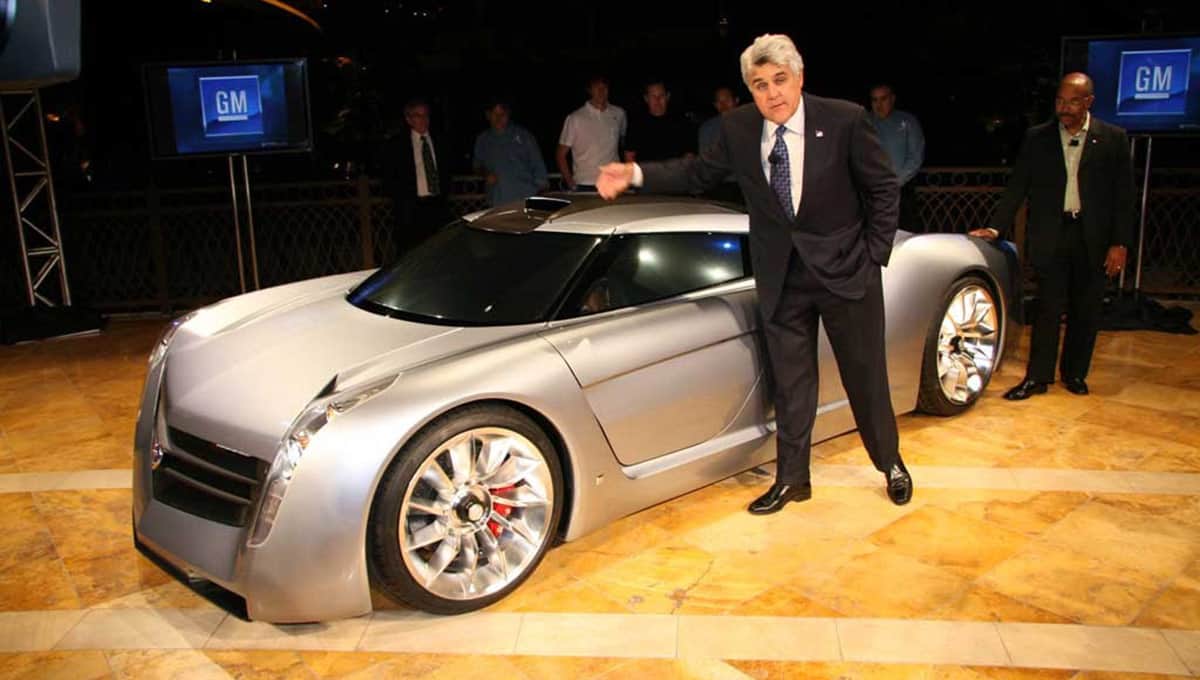 1955 Mercedes 300SL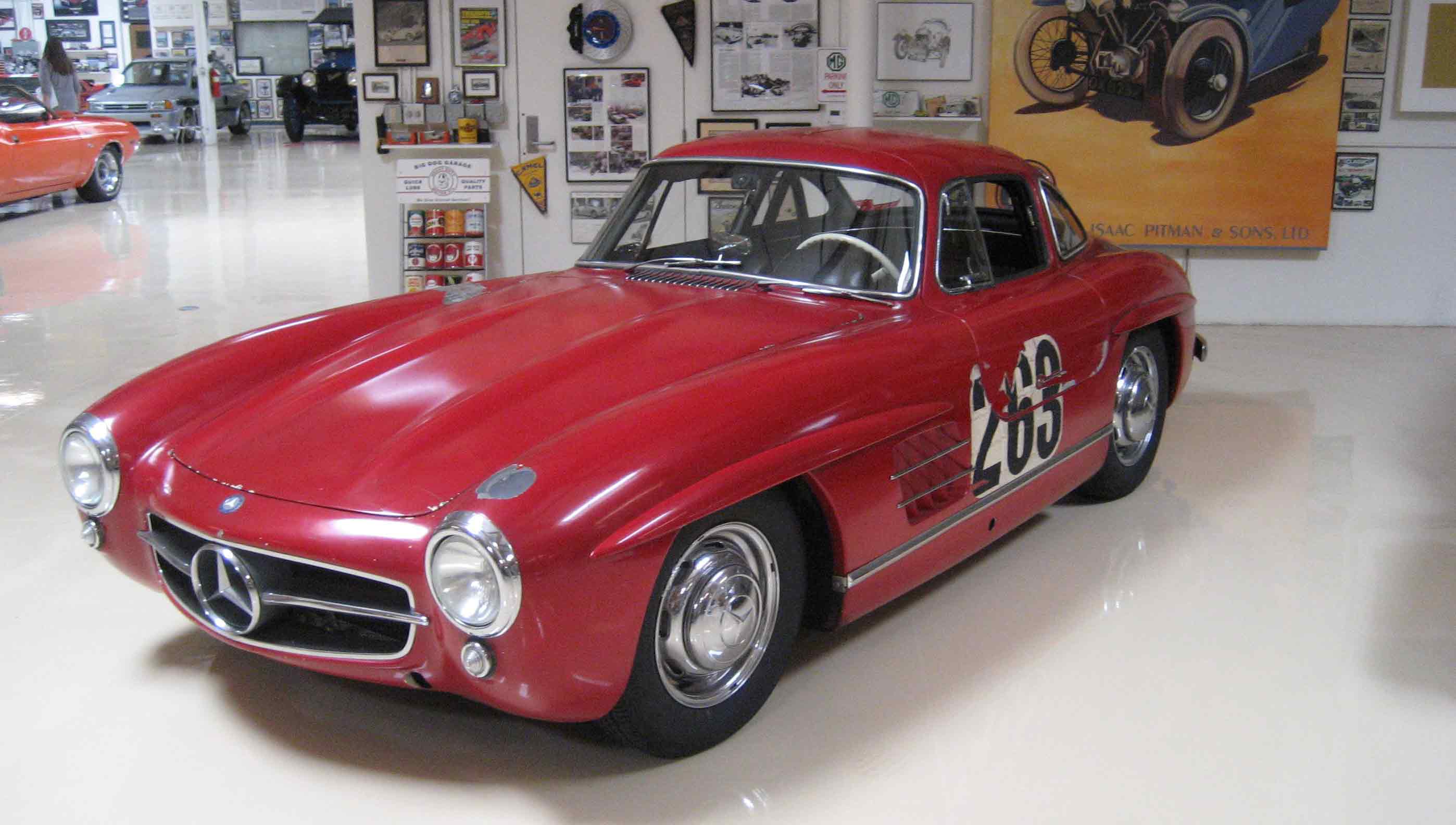 This was a forward-thinking vehicle with fully independent suspension, a tubular frame, fuel injection, and gullwing doors. Jay's crew tuned up the engine and left the interior and exterior alone. This way he says he could pull up to fast food restaurants and not worry if someone leans against it.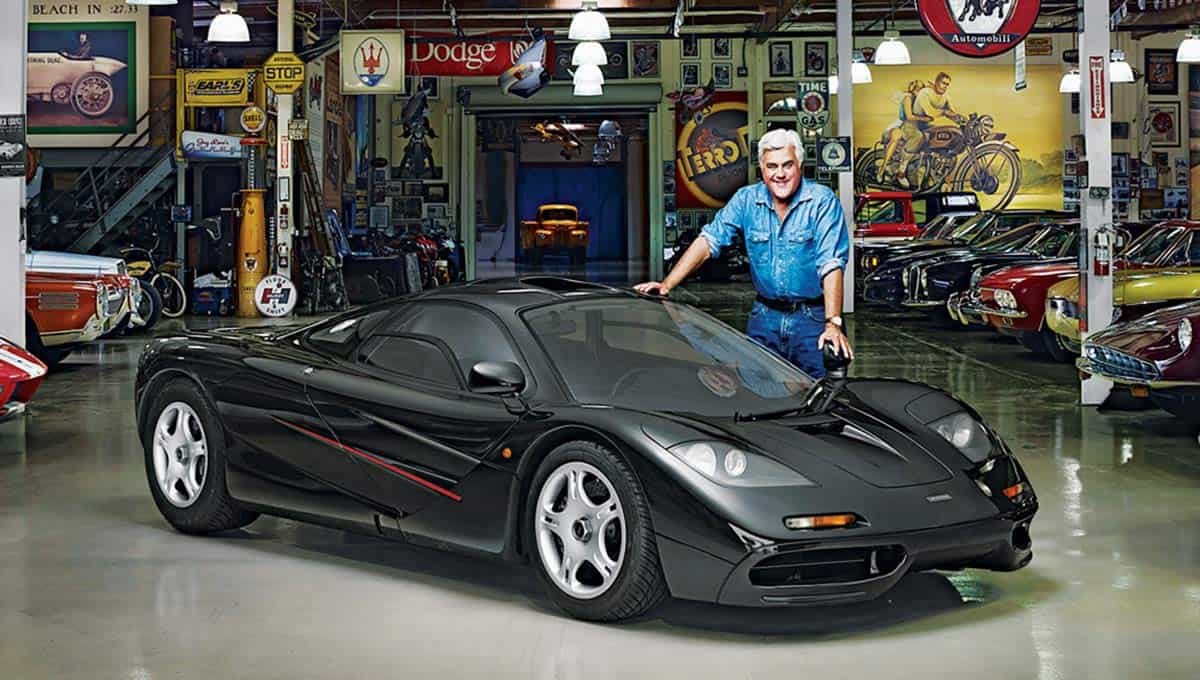 2006 GM EcoJet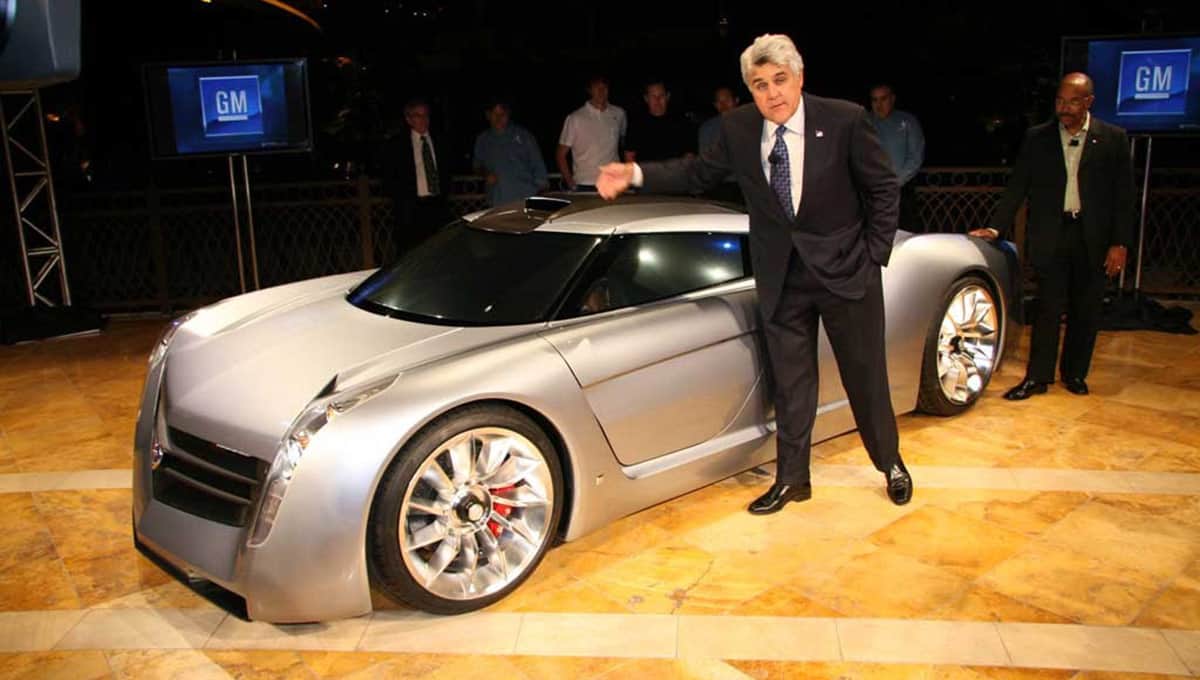 The 2006 GM EcoJet made an appearance at the 2006 SEMA Auto Show in Las Vegas as a concept car powered by a jet turbine engine, fed by biodiesel. The turbine powered car runs an impressive 150 mph. It is definitely a neat idea.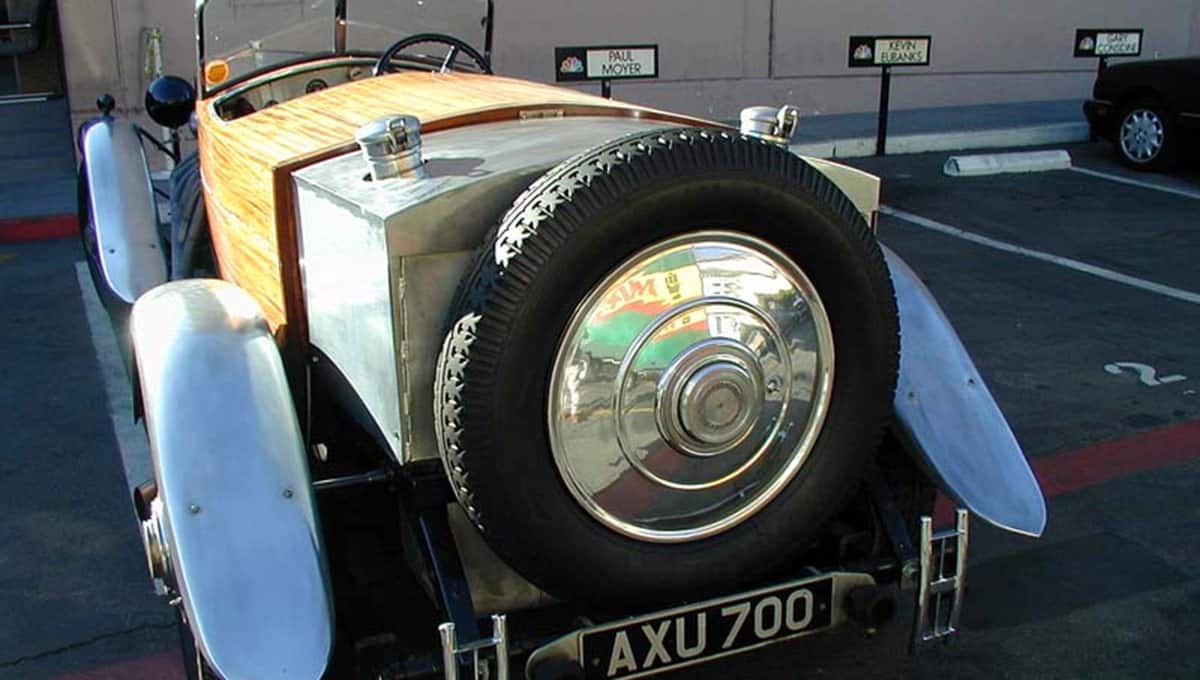 1994 McLaren F1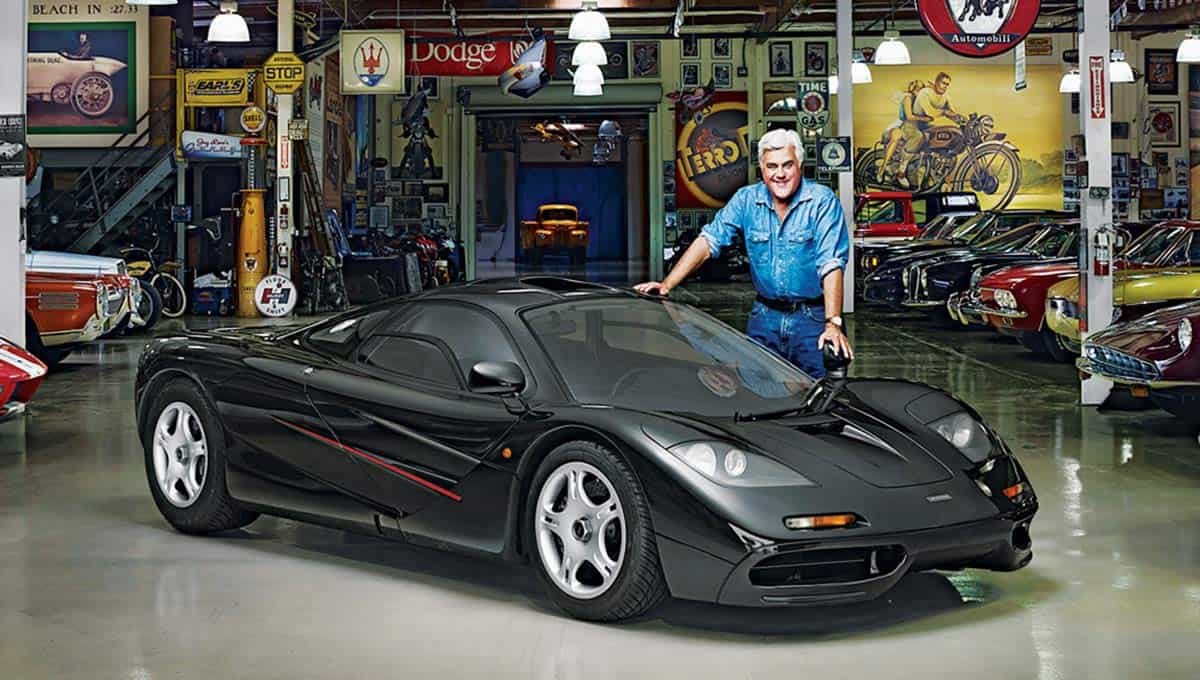 What is your 1994 vehicle worth, if you had to guess? Well, Jay's McLaren F1 is reportedly worth a cool $12 million. He says that while he doesn't have a favorite car, this is the first one he would try to save in a disaster.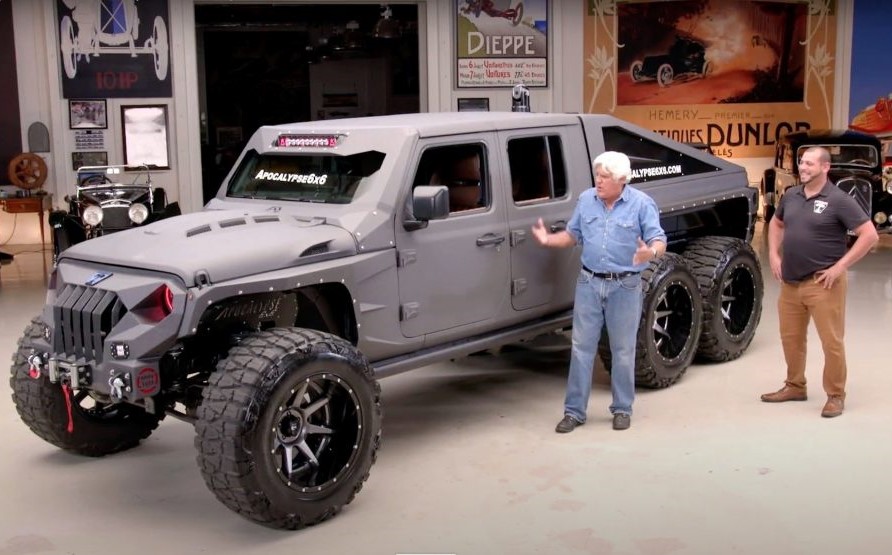 1934 Rolls-Royce Phantom II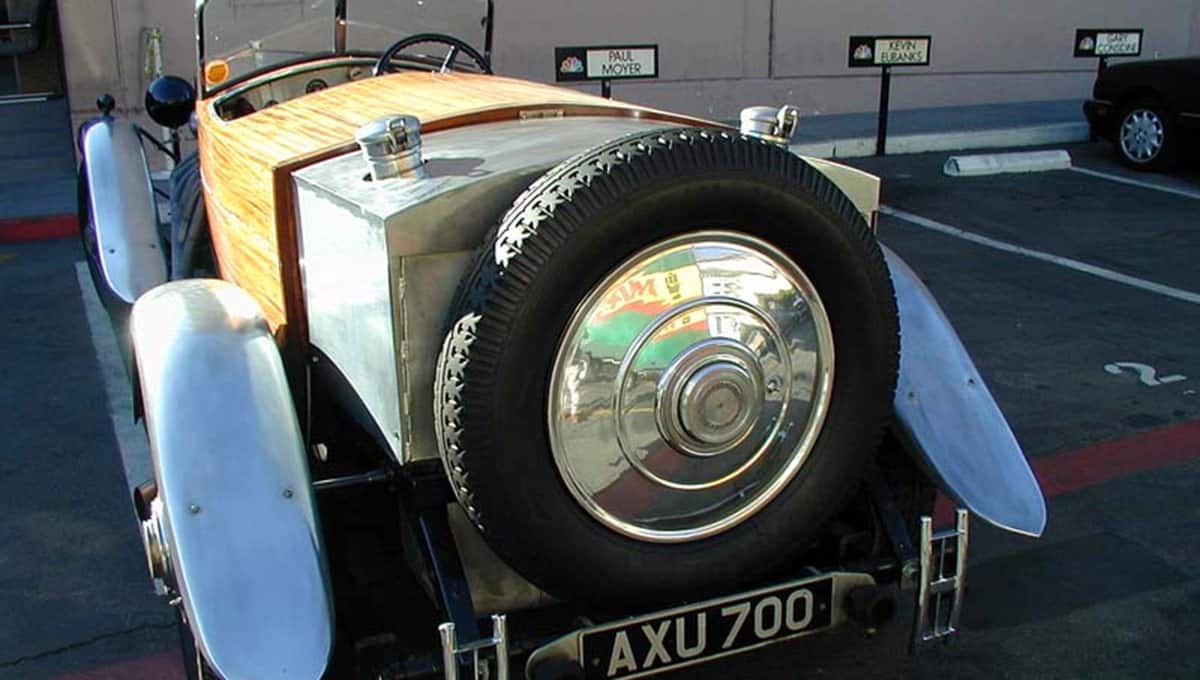 You are looking at a 1934 Rolls Royce with 1,000 horsepower. Seems like the Merlin v-12 engine really might be magical after all. Oh yeah, and don't forget the 1,806 pounds of torque produced by that beast. That is amazing.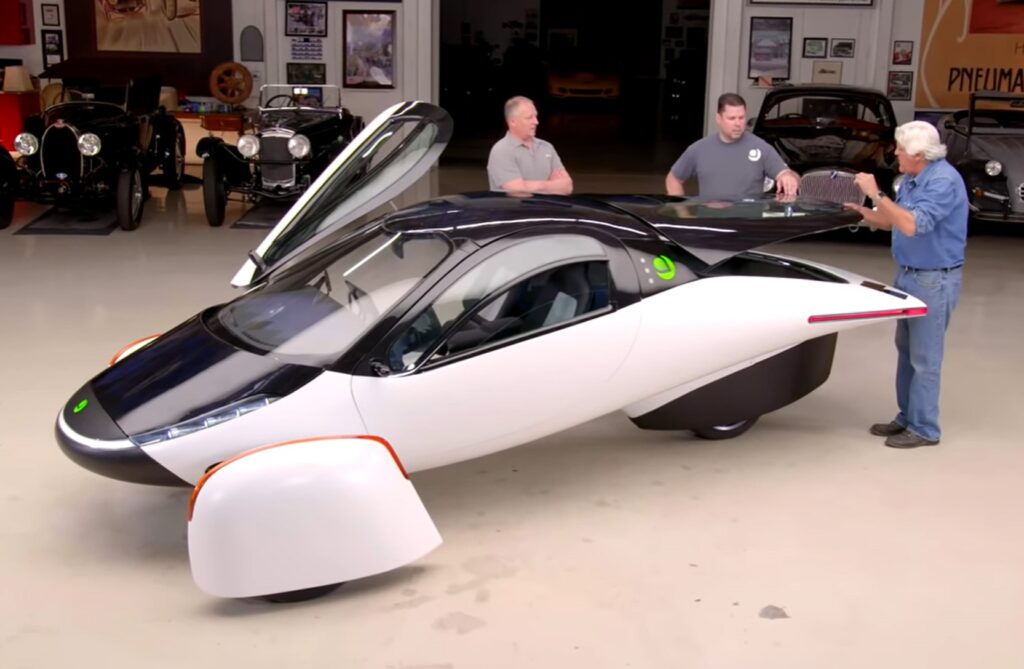 6×6 Jeep Wrangler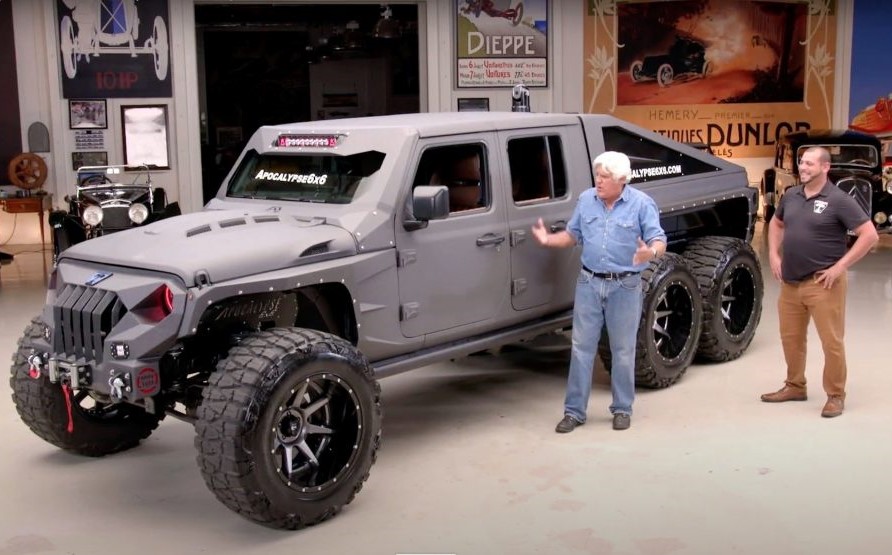 This mammoth of a jeep is a custom 6×6 jeep wrangler that can tackle any terrain you throw at it. This jeep isn't just a cool looking jeep, it also has an upgraded engine to help it move all that extra weight that was added with the third axle.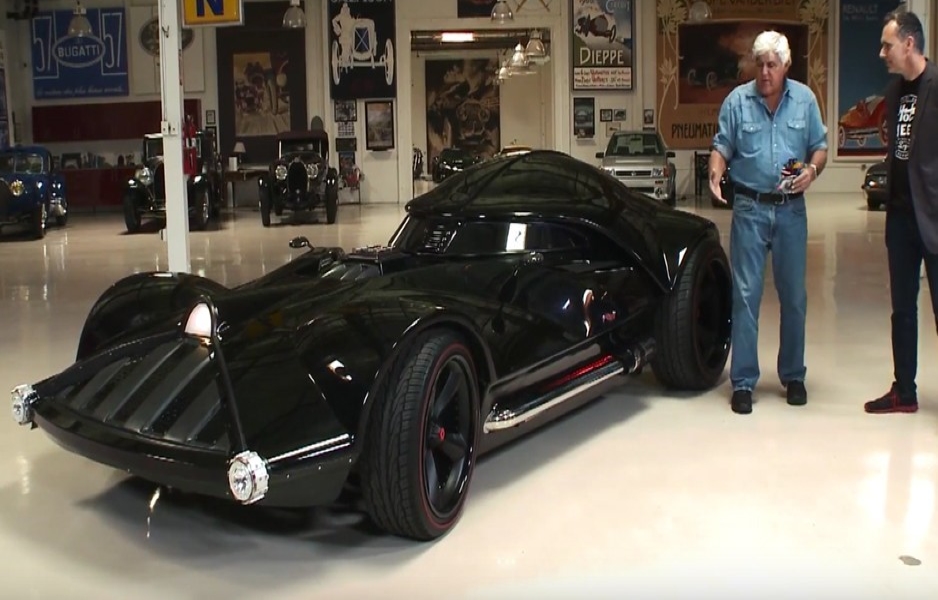 1934 Rolls-Royce Phantom II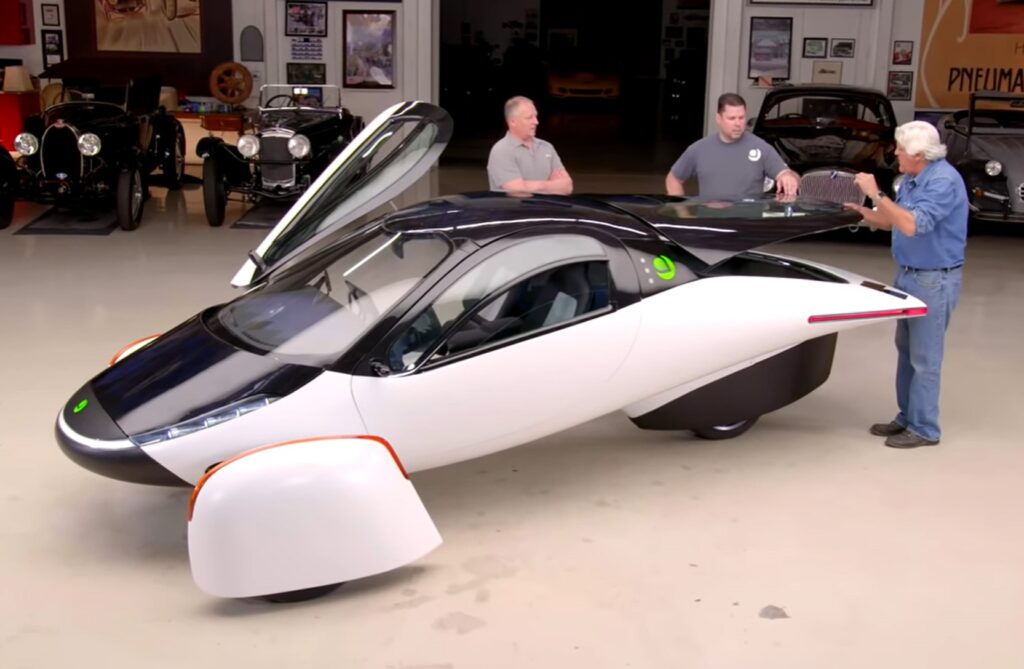 This vehicle is made by a company called Aptera. They designed this car to be able to maximize the efficiency of charging from solar, so you can get up to 40 miles of range just from solar power alone. It also has multiple options for batteries that allow you to store up to 1,000 miles of range from a single charge.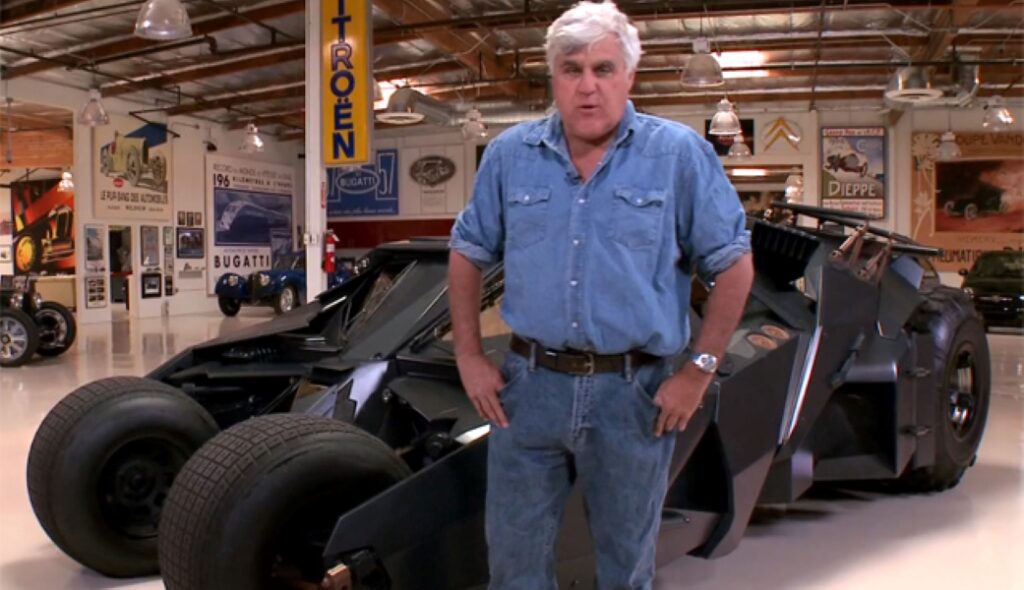 Darth Vader Car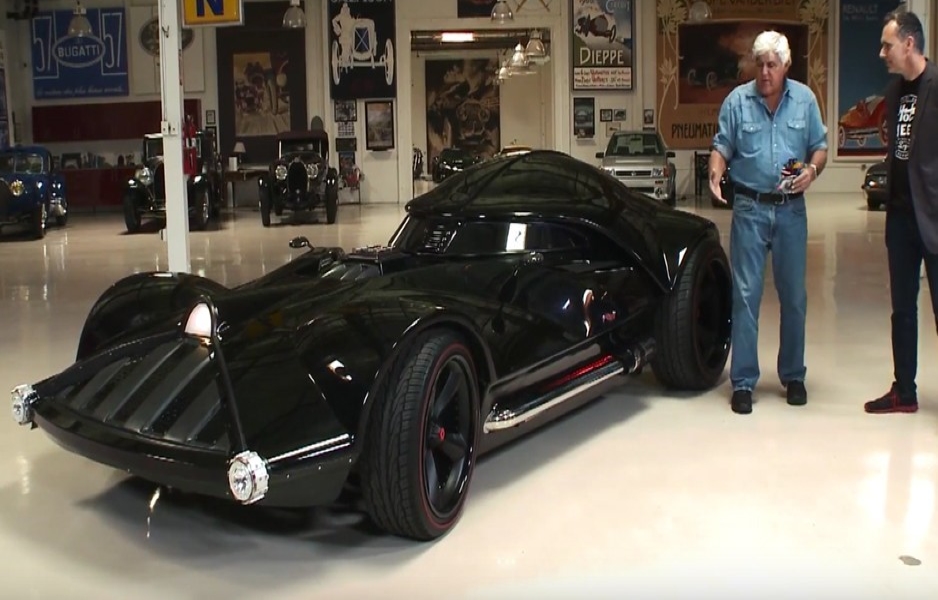 This crazy custom car was based off the Chevy Corvette chassis. Hot wheels designed this car specifically for Jay Leno from a personal request of his. It is definitely a very cool design for a car that Jay Leno is probably thrilled with the outcome.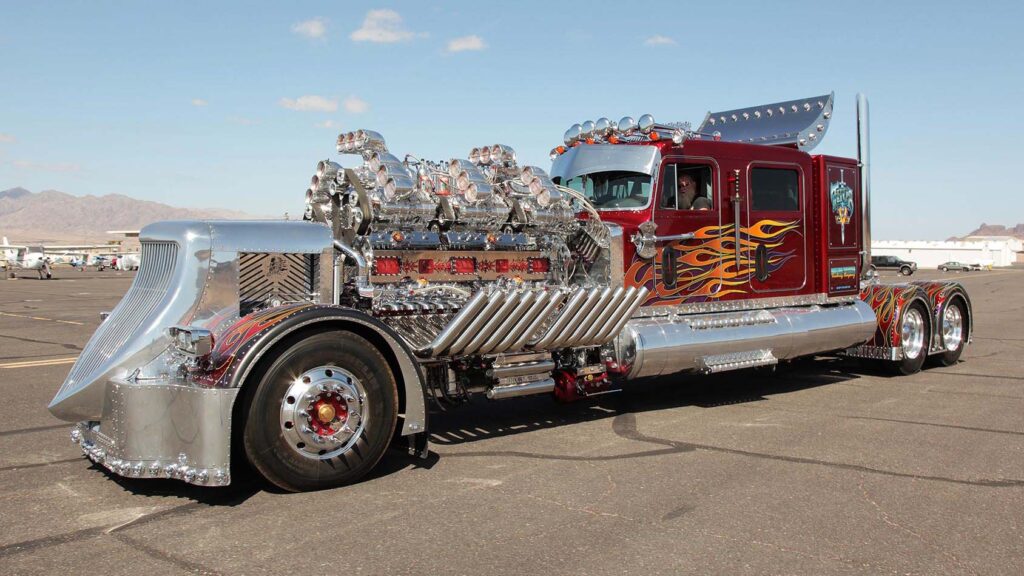 Leno's Batmobile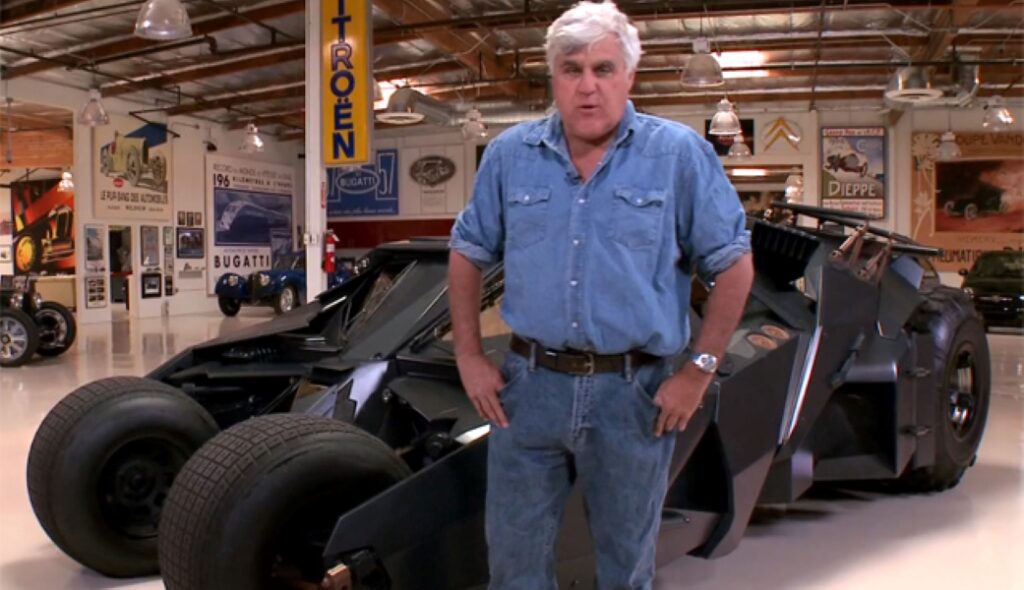 As we all know, Leno is one of the greatest enthusiast of cars and collecting every kind of vehicle he can. Which brings us to Leno getting his hands on the Batmobile from Christopher Nolan's Batman movies. This vehicle is reportedly able to get up to nearly 90mph.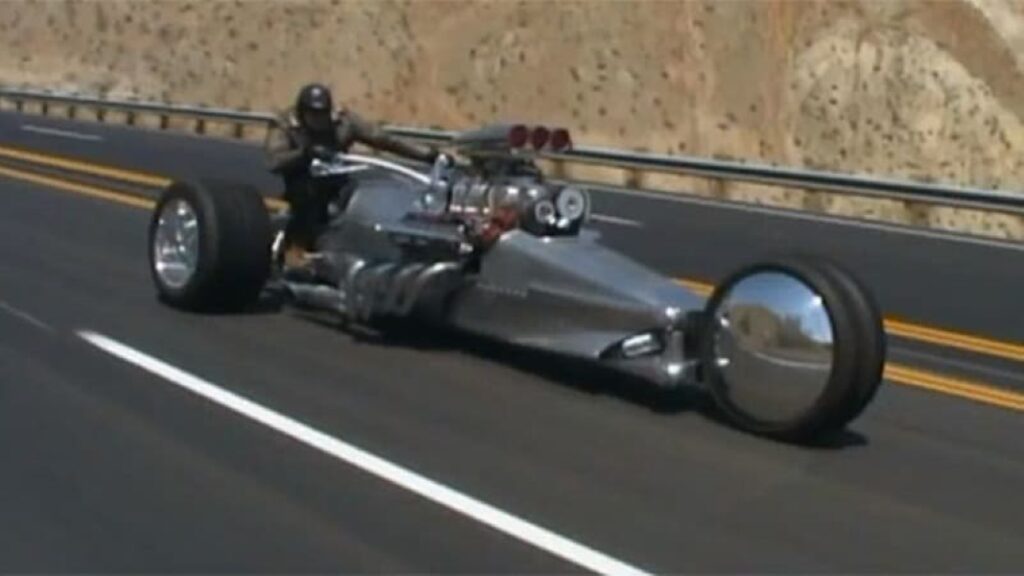 EcoJet Concept Car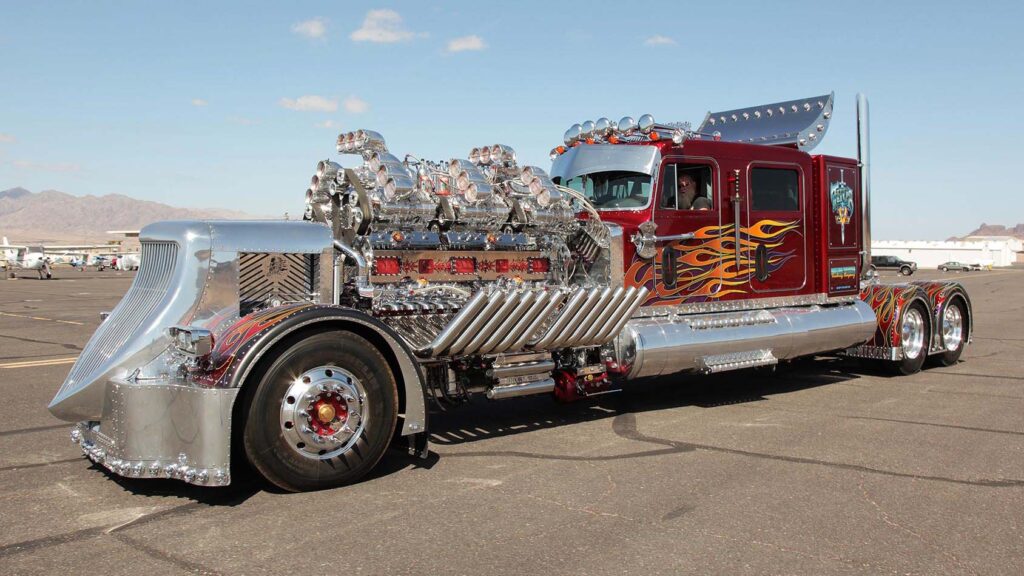 You are looking at Thor24, this truck was a custom build that sold for over $13 million. The heart of this truck is two V-12 14.0 liter Detroit Diesel engines that claim nearly 4,000 horsepower and a top speed of nearly 130 mph thanks to the 12 superchargers.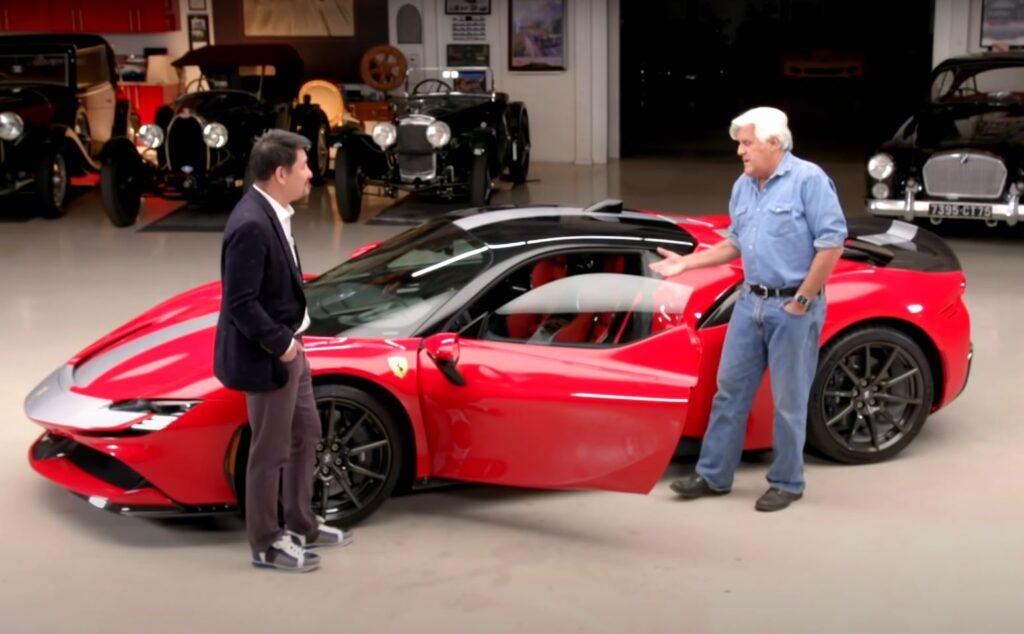 Frogman Rocket 2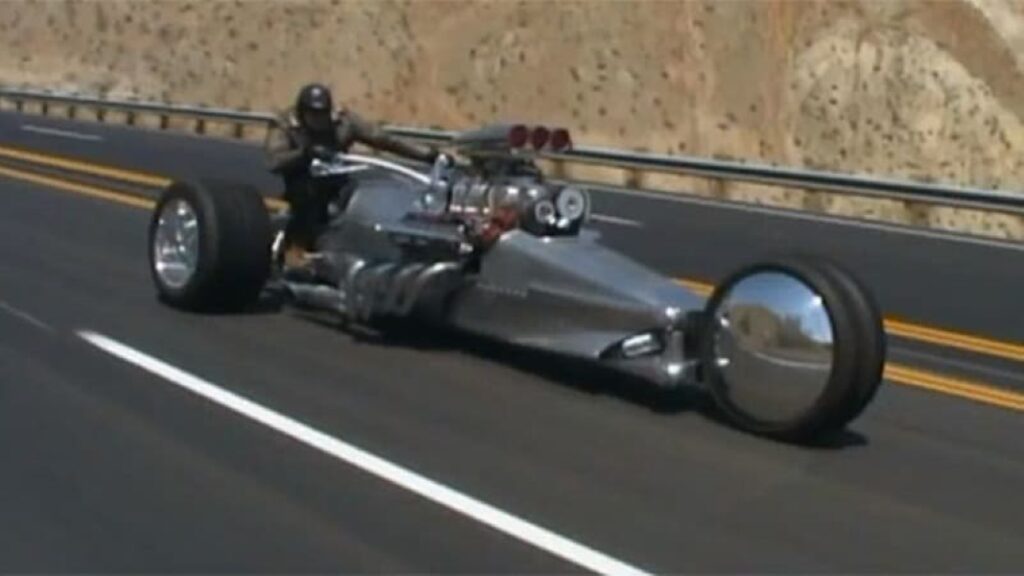 This 1,000 hp hemi powered trike doesn't need much of an introduction. One cool thing about this trike is that you don't even need special fuel to run it. They designed it to run off regular old 91 octane fuel and it will get up to 100 mph in roughly 4 seconds.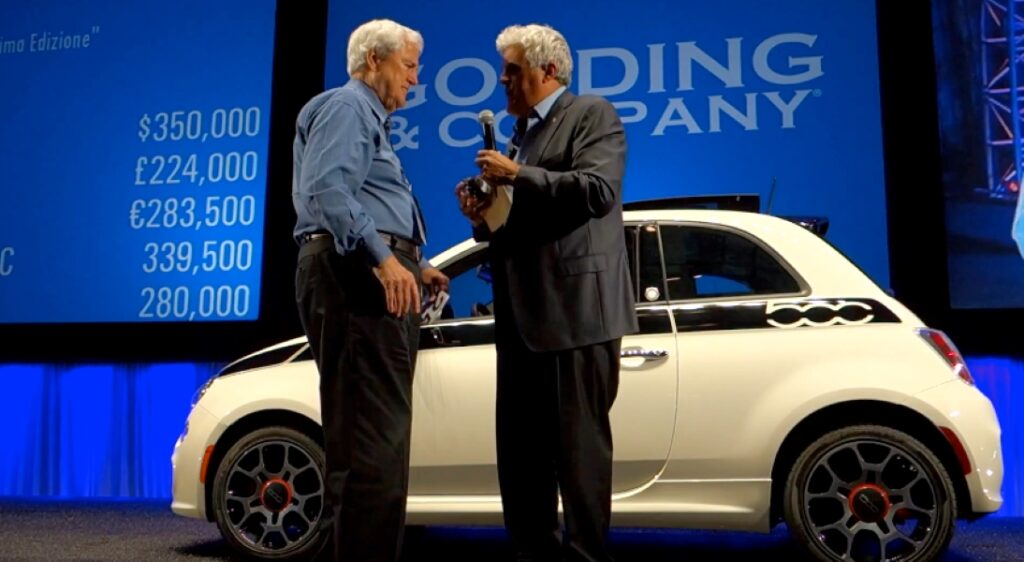 Ferrari SF90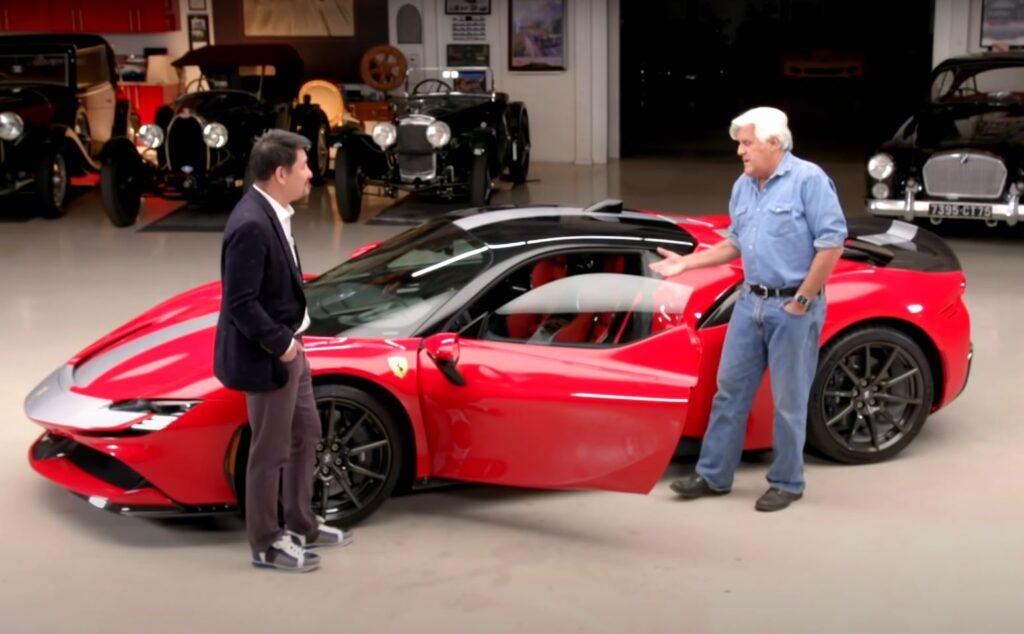 Even though Jay Leno has talked about the Ferrari SF90 on his show, he will never buy a Ferrari. From what he has told reporters, he does not like Ferrari's approach to their customers of needing to prove you can afford the car by completing tasks they want you to do instead of letting you just pay for the car and be done.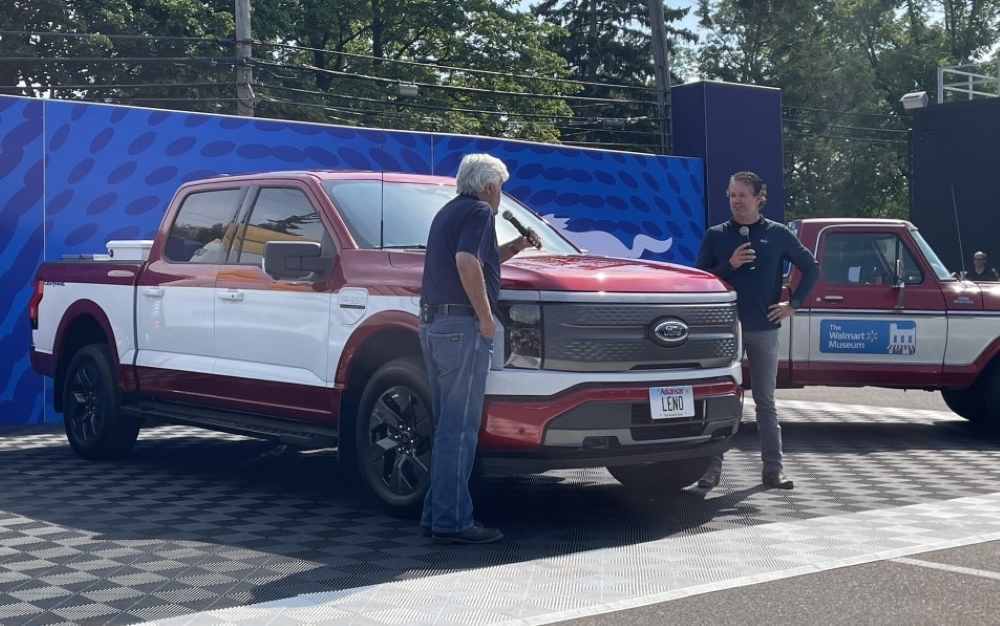 Fiat 500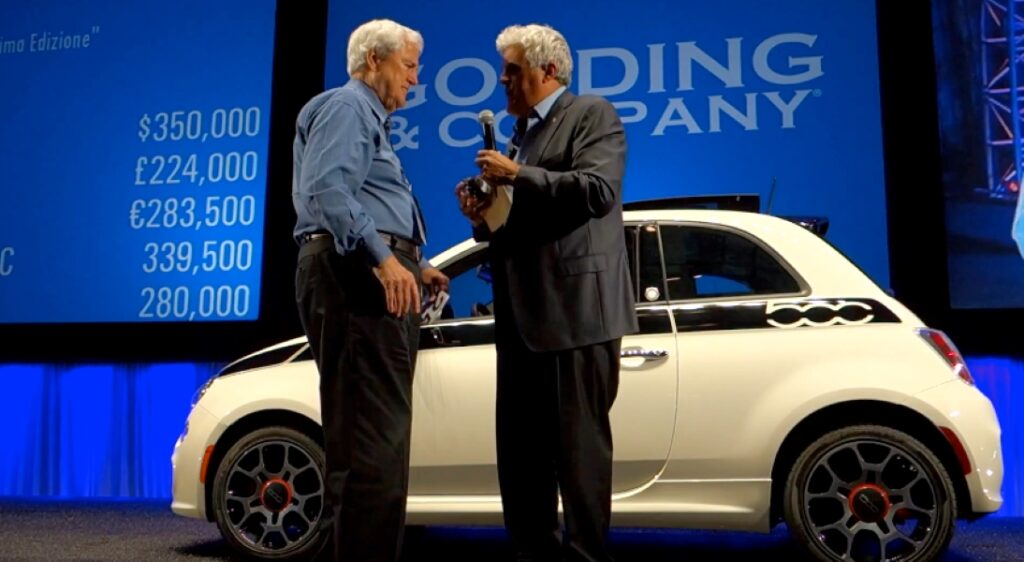 It is no surprise that Jay Leno has some connections in the automotive industry. Well it definitely shows with this one a he was able to get a hold of the 2nd Fiat 500 produced. The first one went to the owner of Fiat, soo to be in line right behind the owner makes a huge statement to his recognition in the automotive world.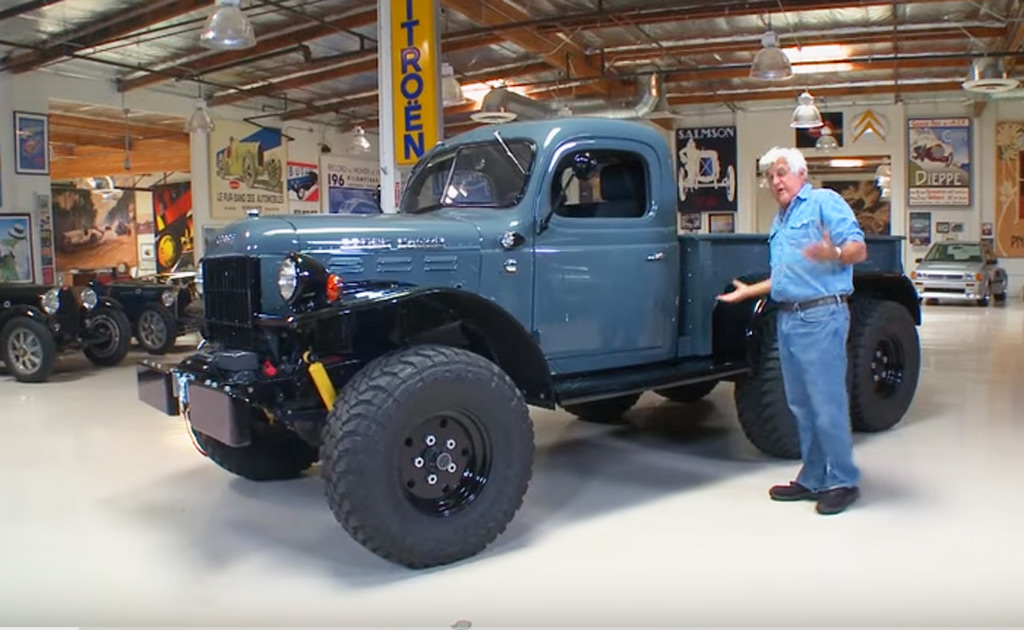 Leno's F150 Lightning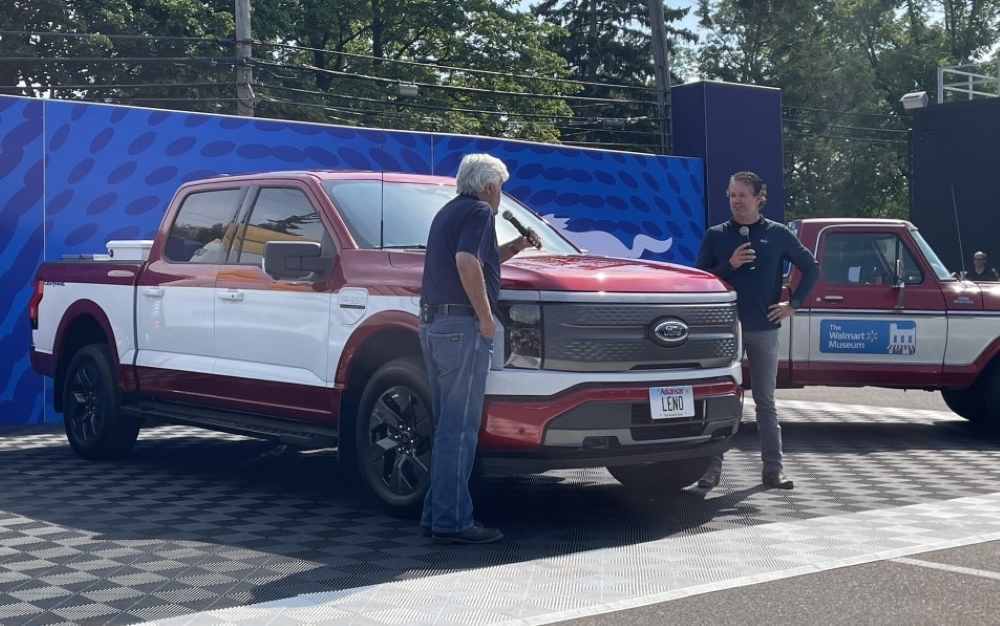 Jay Leno got with Ford to create this one of a kind throw back paint job on the new F150 Lightning. The idea came from the original CEO of Walmart, Sam Walton's 1979 Ford F150 with a two-tone red and white paint job.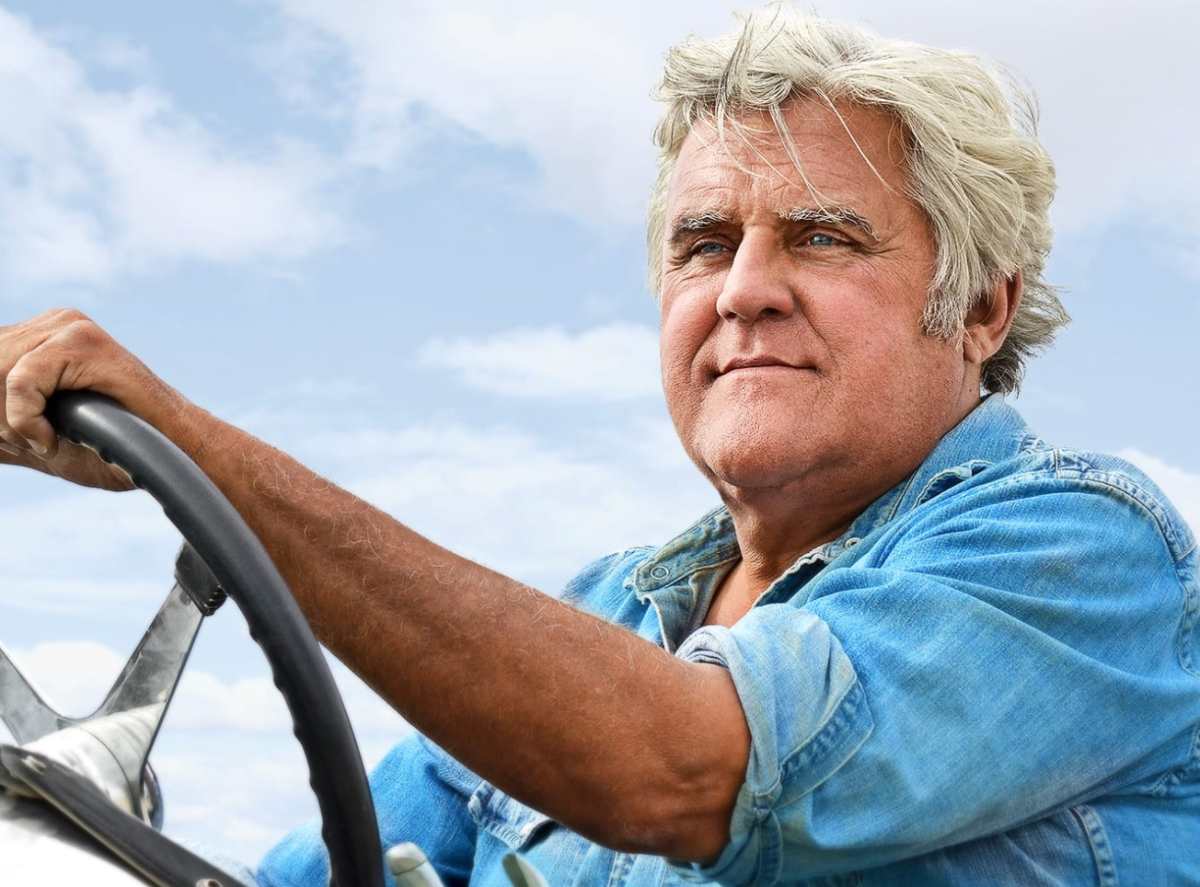 6X6 Dodge Power Wagon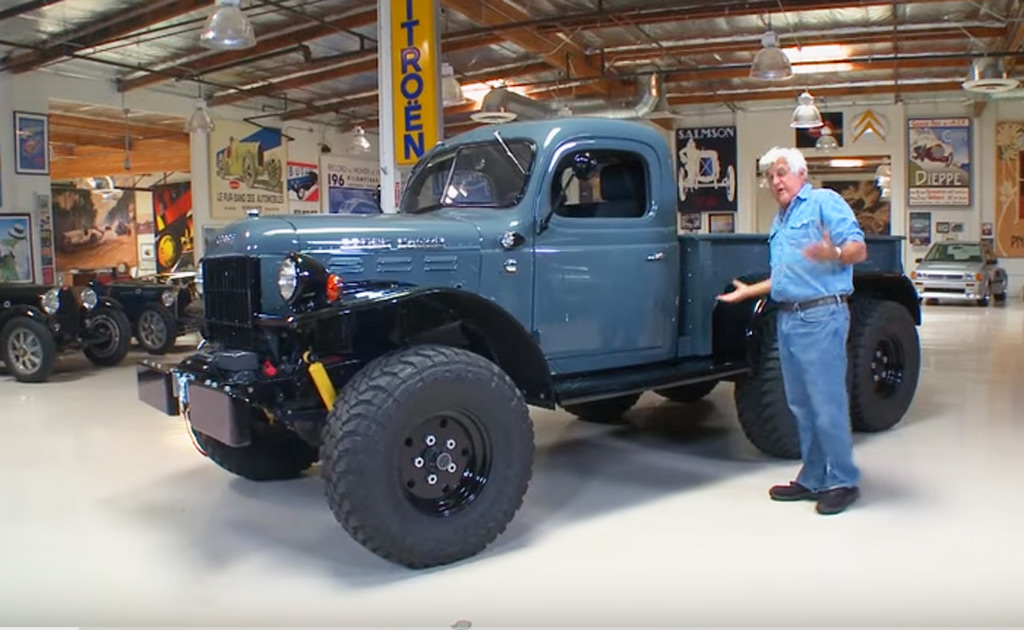 This wild 6×6 Dodge Power Wagon was a tribute to its WW2 history. There are many different configurations for the Power Wagon through the years and even started out as a troop transporter for the military.
Check Out "Jay Leno's Garage"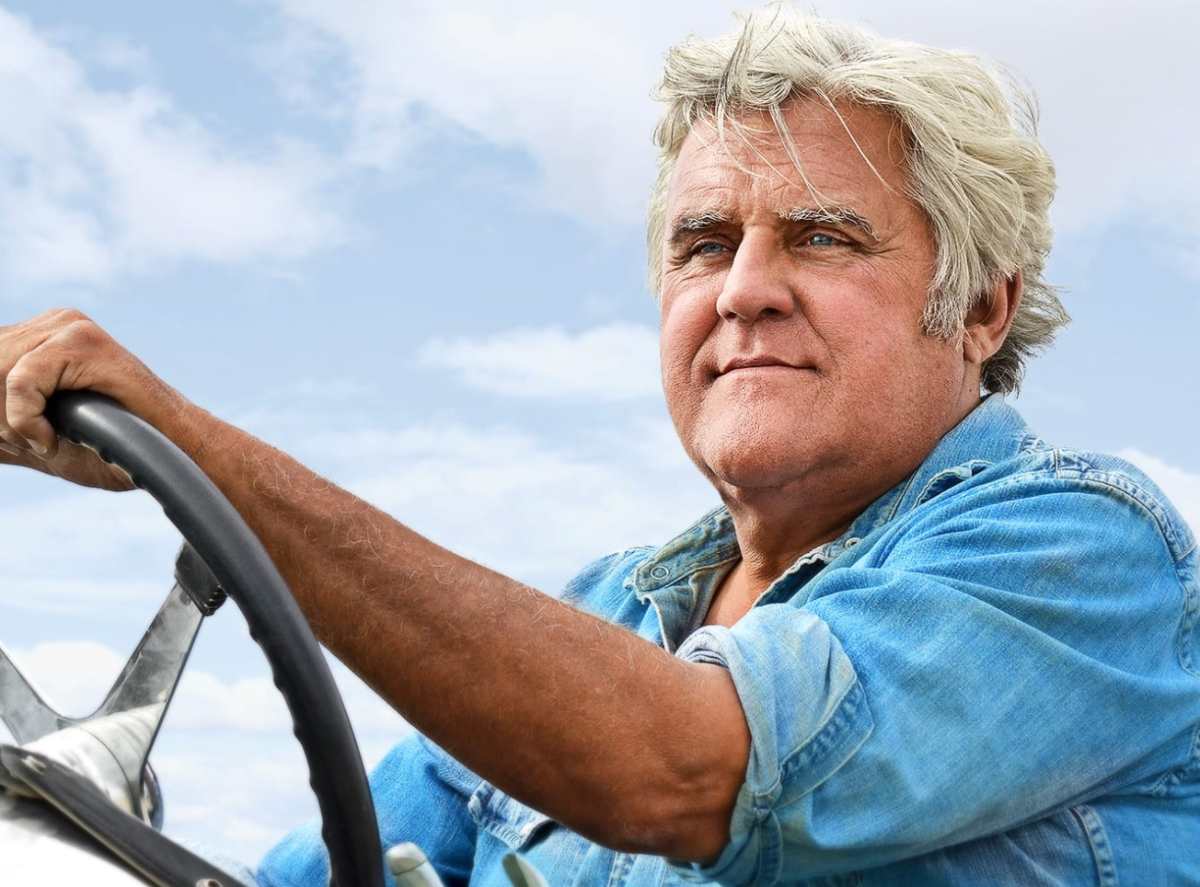 "Jay Leno's Garage" is the appropriately-titled television series that Leno hosts as he takes you, the viewer, through his massive collection. Leno owns upwards of 275 vehicles; wow. Some are plain as can be, and others are sporty and classic.