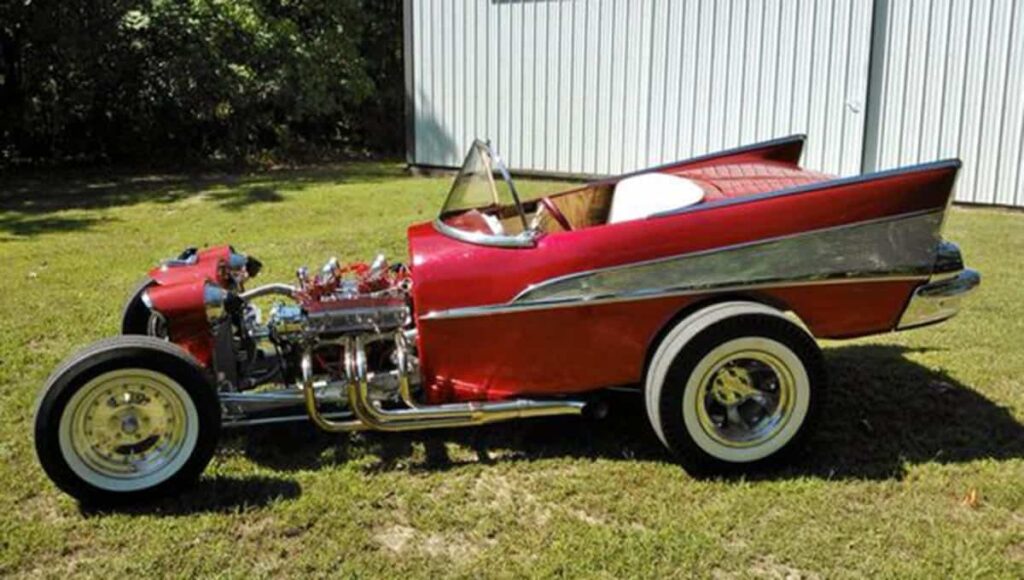 Rat rods are a special breed, and they're not for everyone. These cars are powerful and wild. It takes a special imagination to design these cars and elite mechanical skills to build them. We've filled this entire article with mind bogging rat rod photographs and as many backstories as we could find. Even major rat rod fans will be sure to see cars they've never seen before. Some of which are packing 1000+ HP and better handling than some modern cars off the factory line. We believe anyone will enjoy this article so much that they will be sure to share it with others. So without further ado, here are some of the cool rat rod photos we could find. Please enjoy.
1925 Duesenberg 8 Speedway Roadster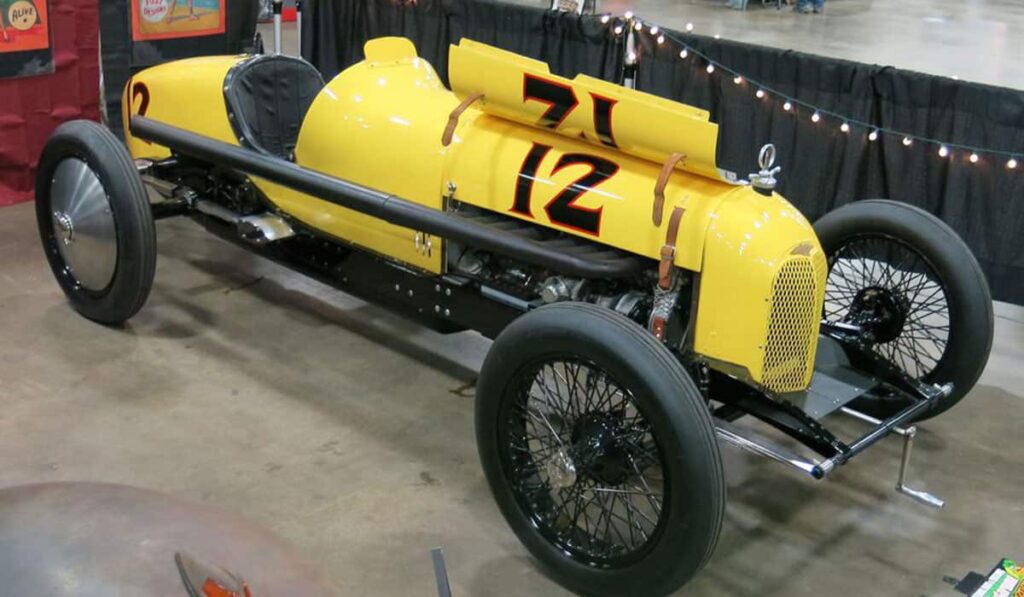 Built by the Duesenberg brothers in 1925, it was given to driver Peter DePaolo, who zoomed his way to victory at the Indy 500, setting a new average speed record of 101.13 miles per hour, which held up for seven years. The engine measured 121.3 cubic inches with a supercharger thrown in that could produce 225 horsepower. This car was on the auction block and expected to fetch $200,000-$275,000, but blew that estimate out of the water, going for a cool $352,000.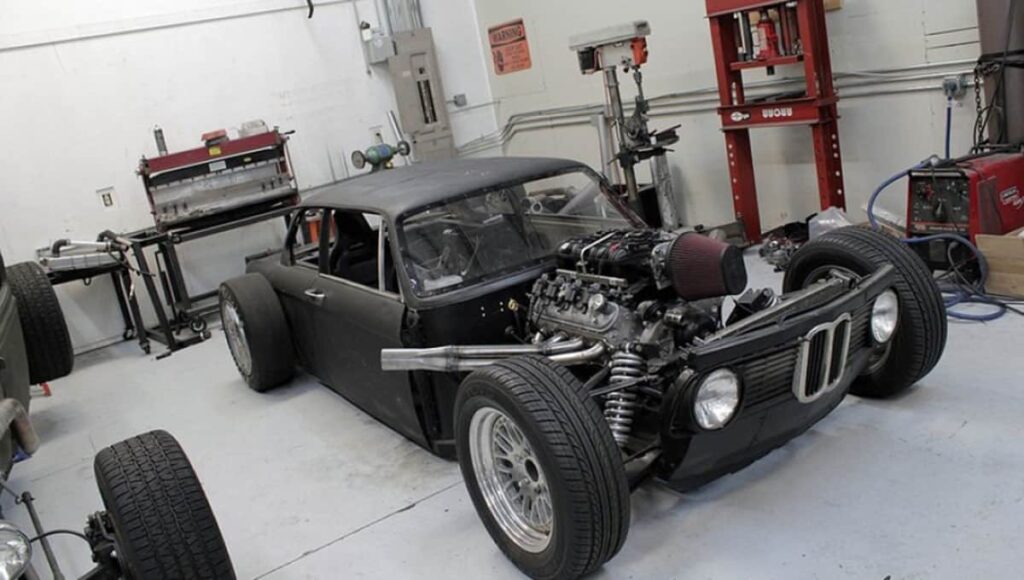 Winged Rod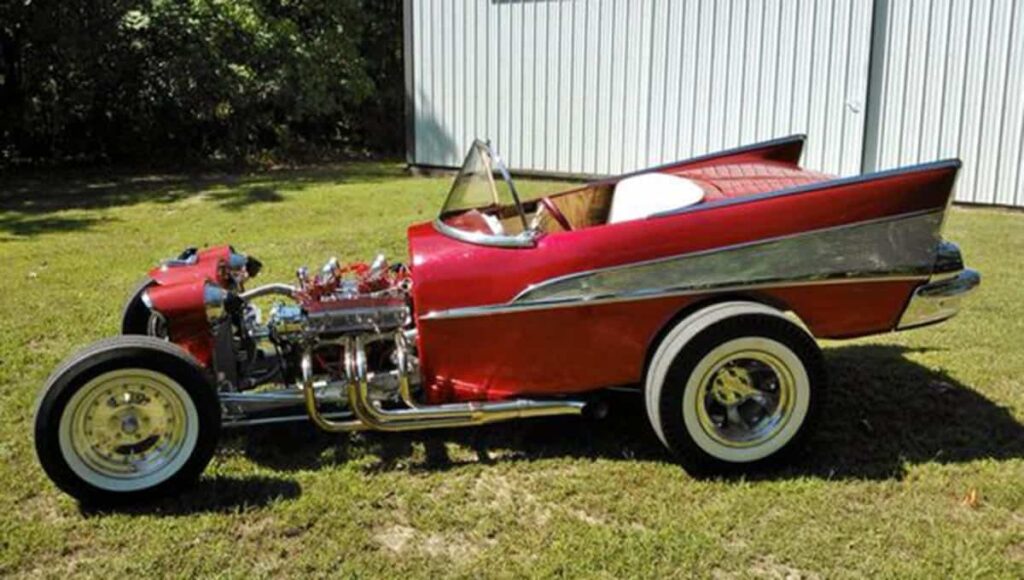 By now everyone probably noticed that half of this car is missing. That's when they realize it's not a car at all, but a wild rat rod. With the front one third giving off the look of a classic hot rod, this Frankenstein-esque creation turns head with the rear two-thirds of a 1950s Chevrolet Bel-Air. For many Americans, drag racing was synonymous with the 1950s, and the Bel-Air was a huge part of that era, selling 1.7 million units in 1953 alone. The Bel-Air makes for some really cool restorations or, in this case, a rat rod.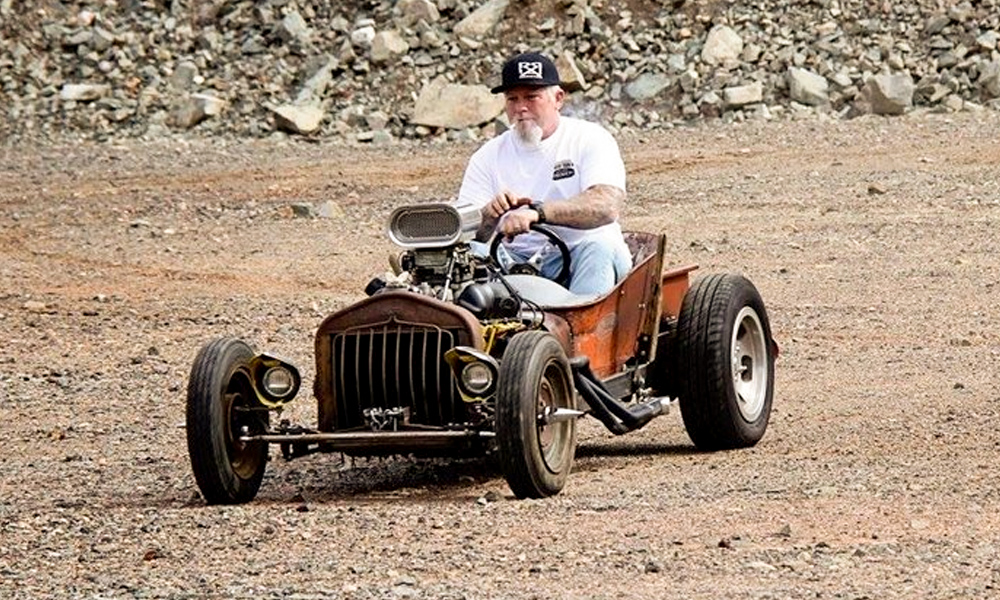 BMW Rod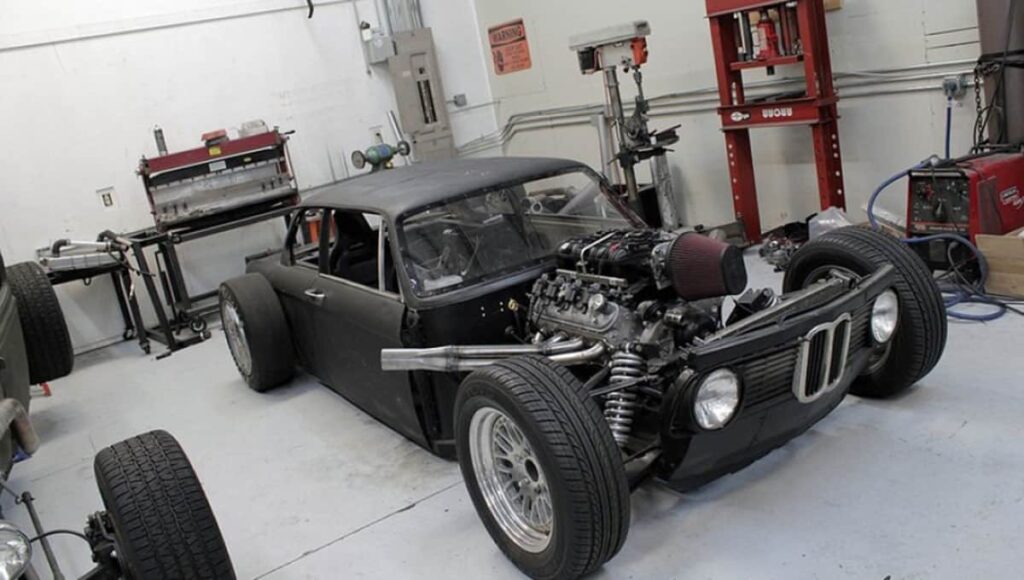 Car purists would go insane at the thought of a beloved BMW getting the rat rod treatment, but everyone would be crazy if they didn't think this innovation doesn't look absolutely sick in its form. Forget the hood, there's no room to contain this massive block engine. The engine seems to be pushing the signature front plate of the Beamer forward along with the wheels to match. Intimidating and brutal in all black, this BMW rod looks like it might be more at home chasing James Bond's Aston Martin through the Swiss Alps.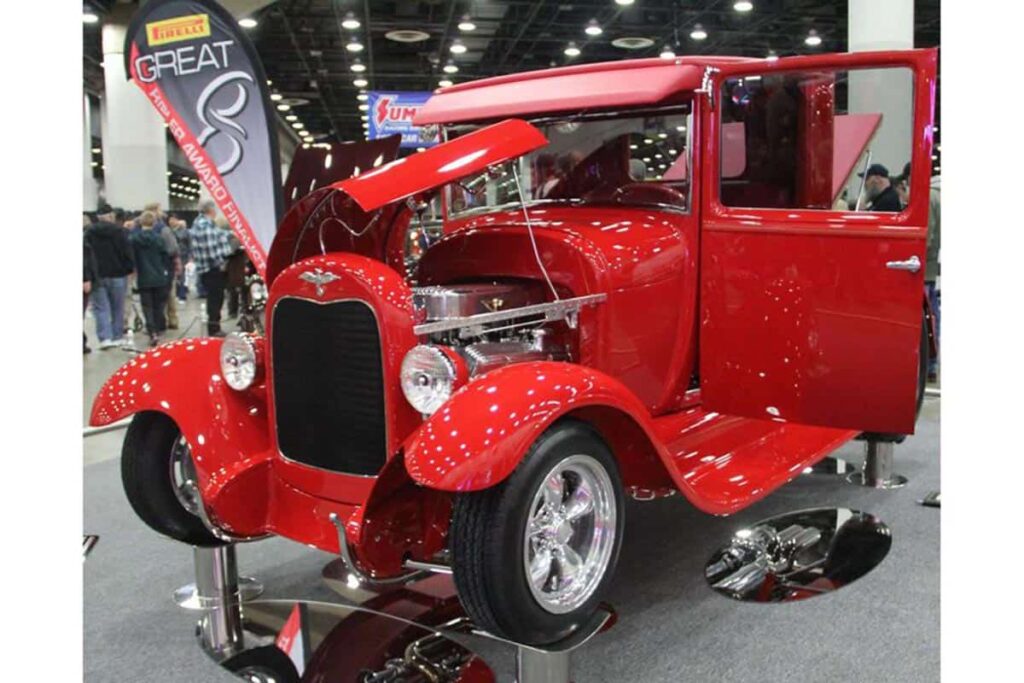 WheelBarrow Rod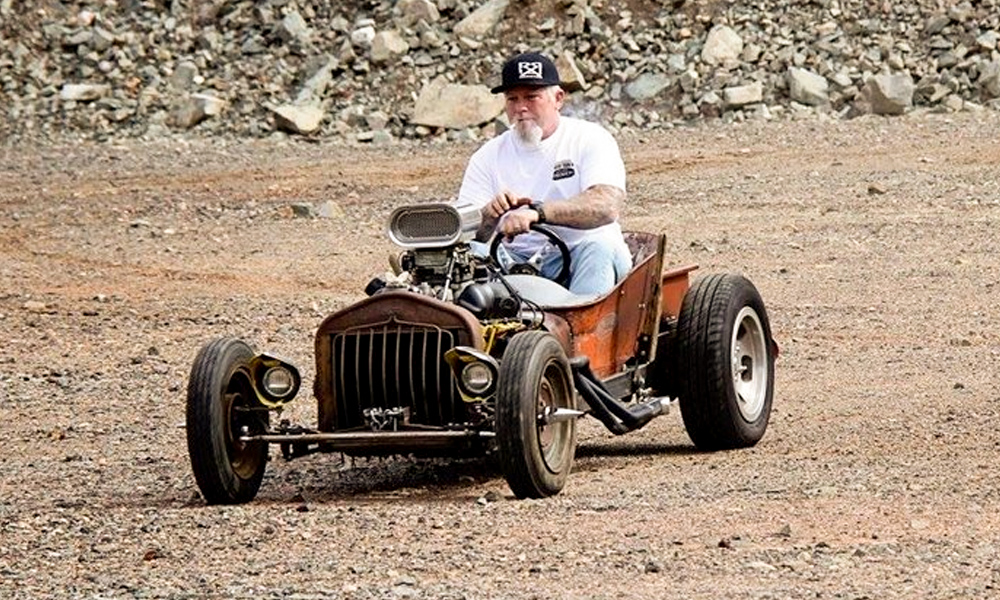 There might be more efficient ways to scare everyone, but there are few more thrilling that constructing a rat rod out of a wheelbarrow. Yes, that is right. And it's not just a wheelbarrow that enthusiasts are using to construct these mini-racers. The one featured above, built in the 1970s but still active in the 2010s, has a pitchfork grill, a snow shovel for a seat, and a post-hole digger serving as its rear bumper. If the headlights look familiar, they were swiped off a 1953 Mercury.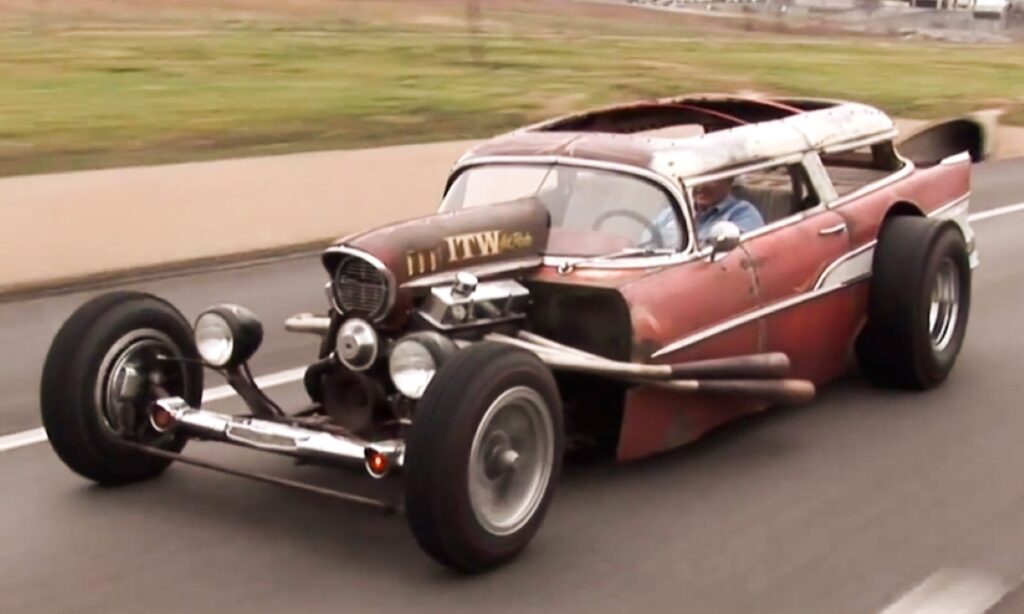 1929 Ford Pickup "Phoenix"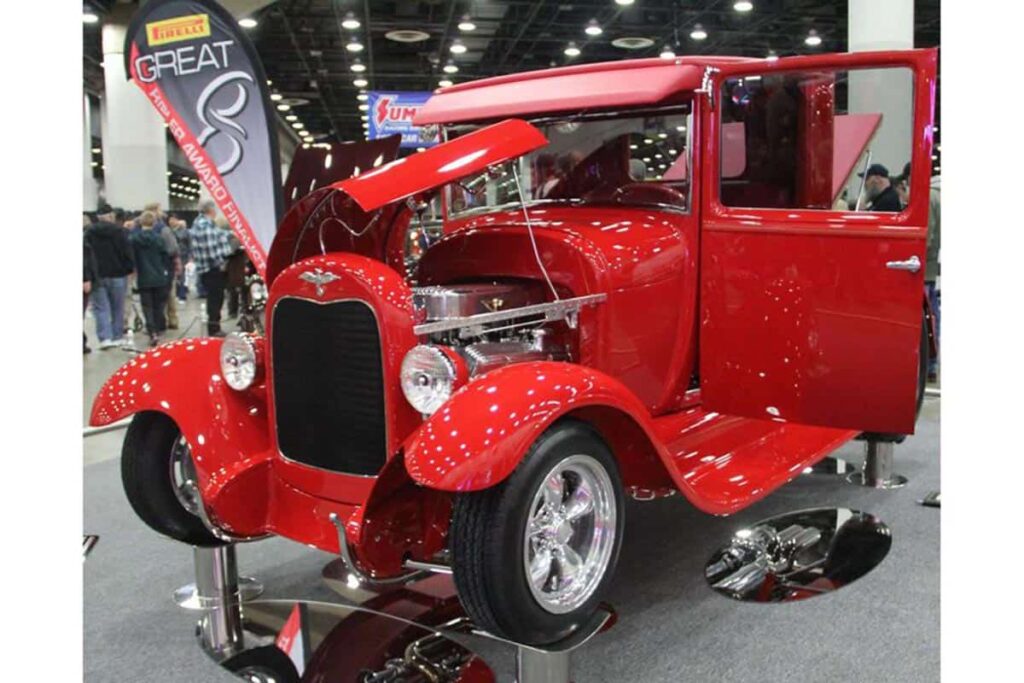 This cherry-red number just screams old-time speed. Originally it was a stock-bodied Ford Model A. Still, its custom-loving owners have modified just about every single bit of it, including 2 inches of extra legroom, a hand-carved, and a foundry-cast Phoenix emblem. To top it off, this vehicle comes equipped with a 383-cubic inch motor with fuel injection heads and Rochester Tri-power induction. The car still boasts its original Stewart Warner heater for the AC/heat. This eye candy was built entirely in a home garage over a two-decade period of labor and love.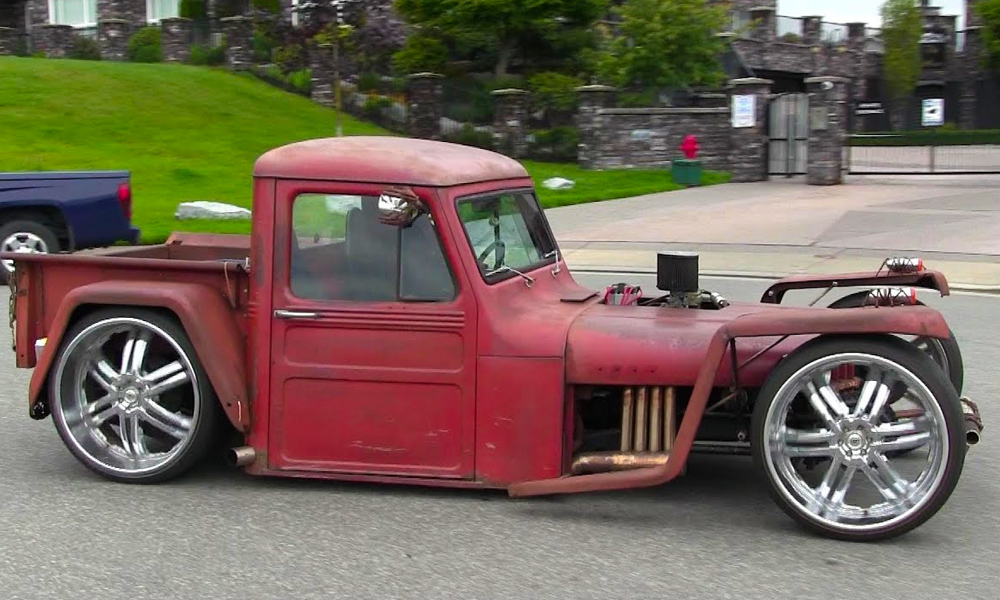 1957 Chevy Wagon Rat Rod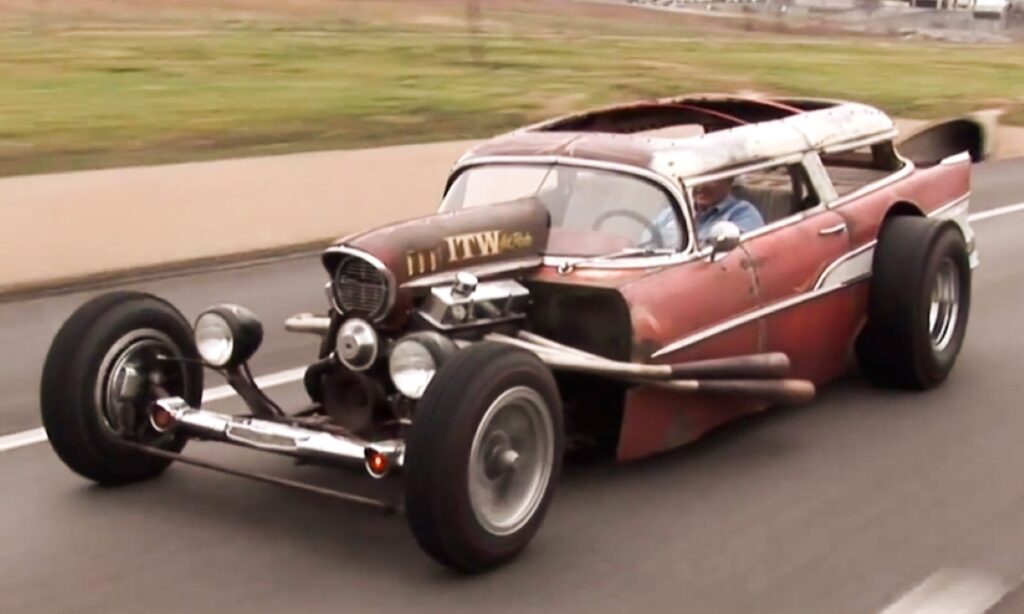 This vehicle is a 1957 Chevy Wagon Rat Rod. It won a 2013 'Rat Rod Build-Off' nationwide competition. ITW Hot Rods in Minnesota used a .57 wagon body as the base and created a new frame. They put in a 355ci Yeoman Racing Engines Small Block Chevy engine into the vehicle. Rick Newberry later purchased the car. Another cool addition is four-spoke steering wheels. Rick Newberry took this vehicle to many car shows, and it didn't turn heads. Newberry saw potential when he saw Chevy Wagon, and he bought it directly from ITW Hot Rods owner Chris Walker.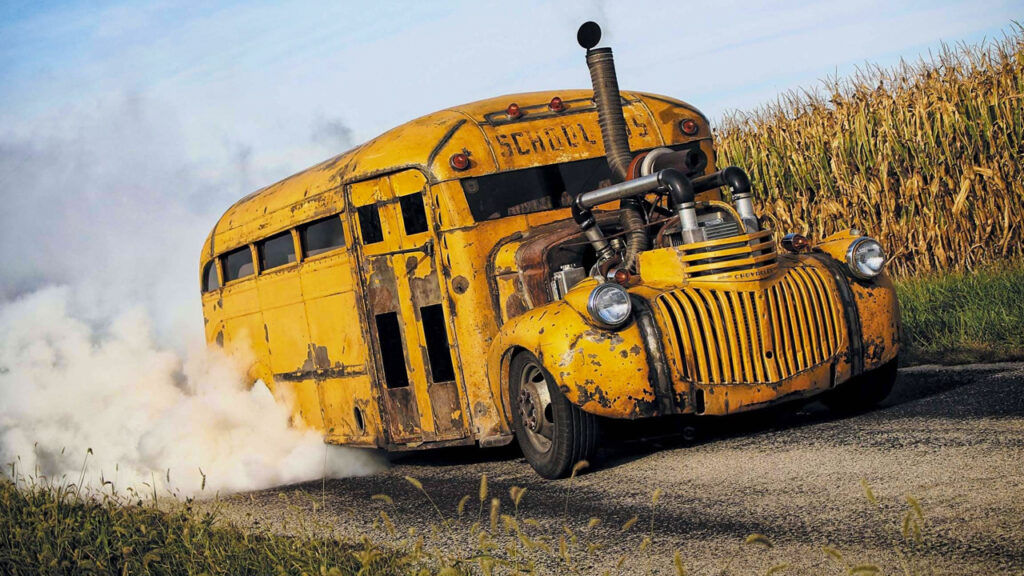 Jeepster Rad Rod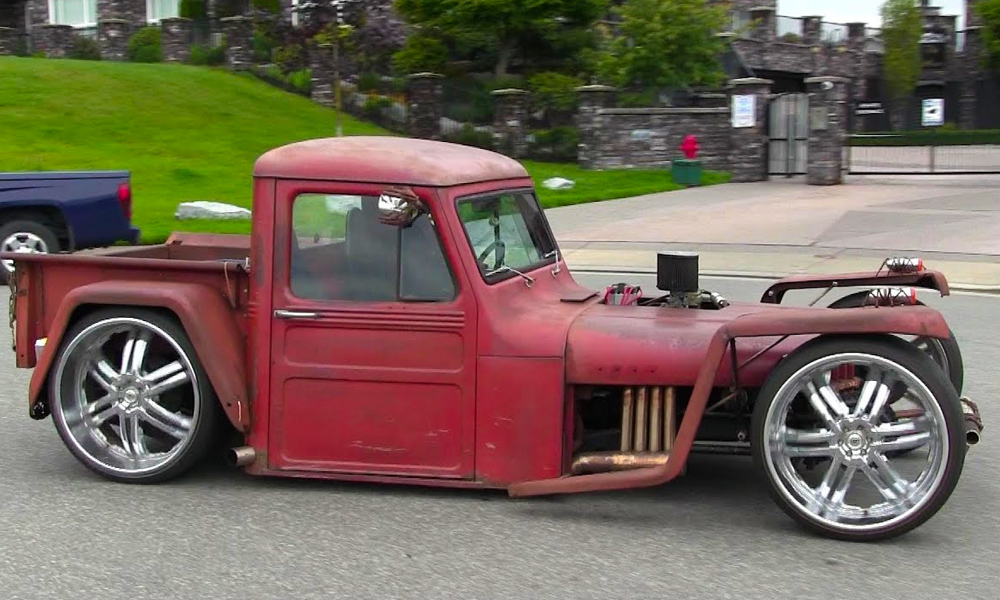 This Jeepster Rad Rod was spotted in 2016. The owner spent $13,000 on it with new parts, including a stainless steel fuel tank. In a video by the social media channel "Wheels," he notes he uses a GPS for the speed due to the vehicle's mismatched gauges. We think the only flaw is perhaps the front fenders need to be stabilized, but it still looks really cool. We mean, just check out those spider headlights and the arm like parts holding the side-view mirrors. Overall awesome, just avoid speedbumps.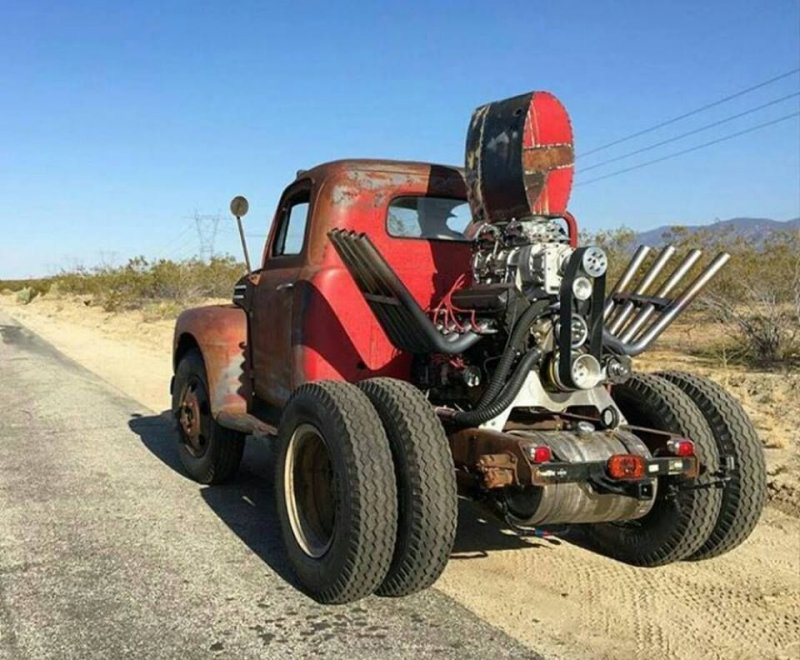 Yellow Fever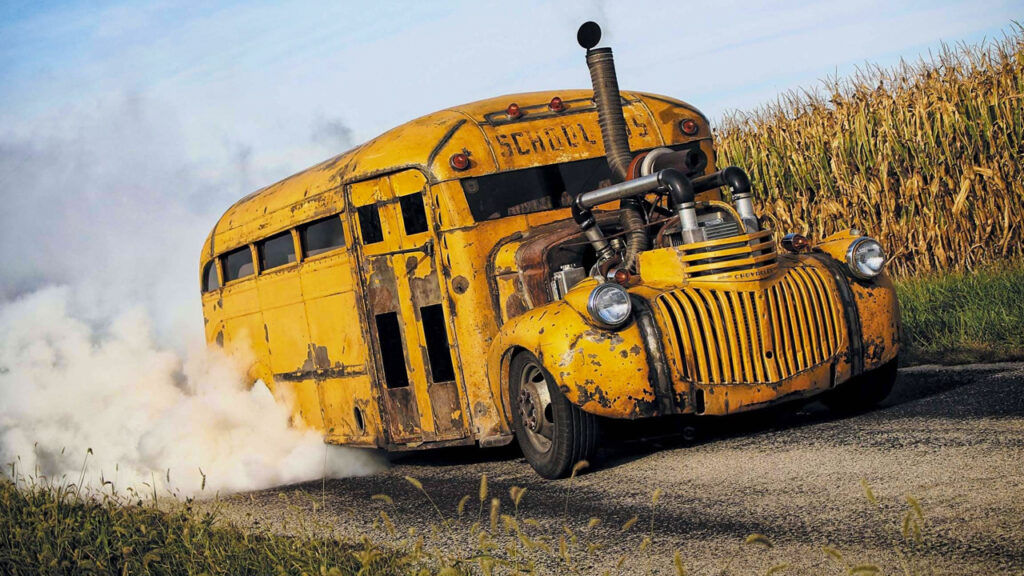 Jason Bliesner is an entrepreneur in Illinois. He owns a bar, car wash and manages rental properties. At some point, Bliesner felt motivated to build a school bus rat-rod. At an auction, he bought a 1941 Chevy bus for $2,700. Bliesner kept the bus's original look but added a 12-valve 8.9L, air-ride suspension, and compound turbos. Bliesner also updated the interiors. The bus gets 15-mpg at 80-mph. Imagine the kid's reaction if this bus picked them up in the morning.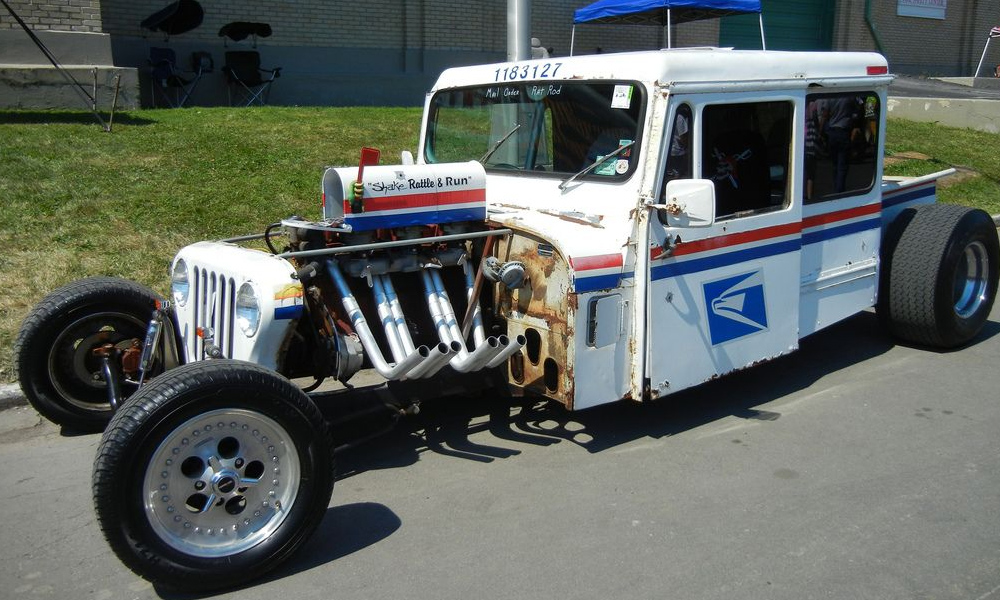 Stubby Bob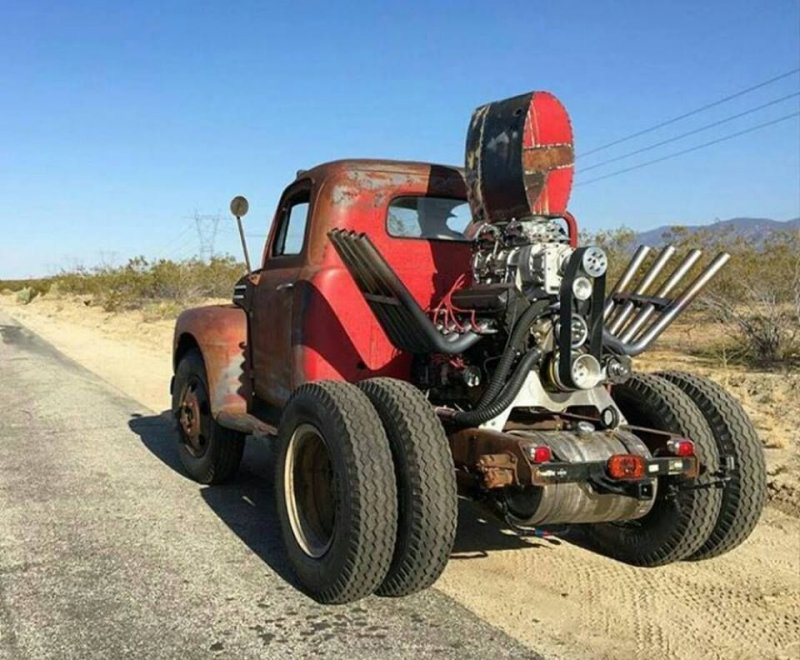 This rat rod was completed on the popular Motor Trend social media show "Roadkill." The hosts Mike Finnegan and David Freiburger took a 1950 Ford F6 2-ton dump-truck and added a 454 cubic-inch big-block Chevy engine and Weiand supercharger kit, which made the truck significantly faster. Along with these additions, they used a Hooker weld-up kit for the exhaust, shortened the wheelbase. For the engine to fit, the group had to mount the engine backward, creating the vehicle everyone sees before them.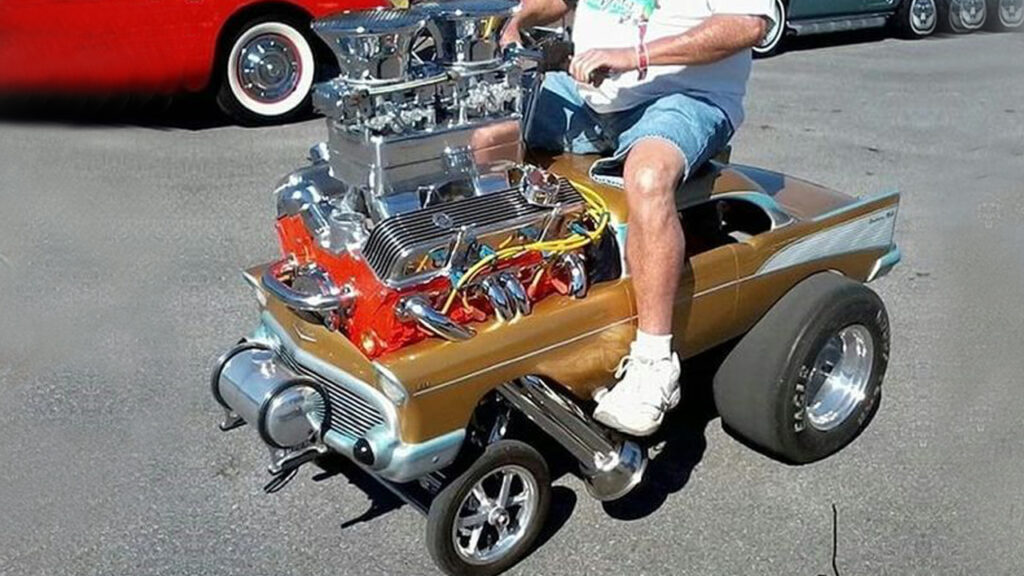 Jeep DJ-5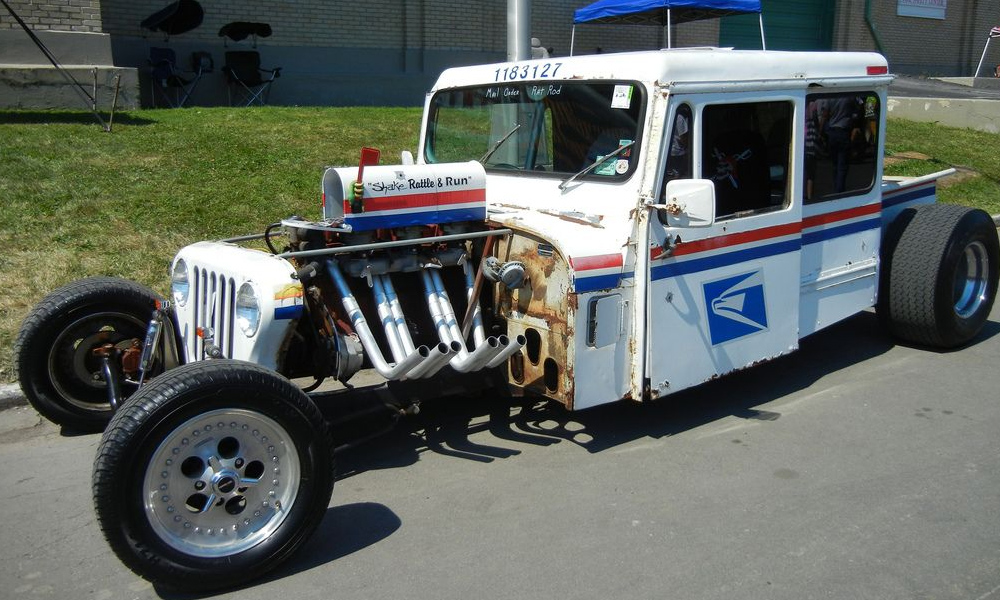 Jim Bye from Camillus, NY, purchased a Jeep DJ-5 from eBay. As a retired letter carrier, he turned his Jeep into the ultimate mail rat rod. Bye said he removed the body and welded the frame. He went on to customize the front and rear. The Jeep has an exposed 292-cubic inch, six-cylinder engine from a 1985 GMC Truck along with Mickey Thompson tires. Bye decided to use postal service paint schemes such as the USPS logo on the left and blue and red stripes on the sides. He even included a mailbox. Bail put in under $5000 to complete the vehicle. He said it is a big hit at "cruise-ins, car shows, and parades." He also welcomes people taking pictures of it or even sitting in it. Thanks to his vehicle at one auto show, Bale raised more than $4,800 in three days for a Muscular Dystrophy Association (MDA). Now that is something to write home about.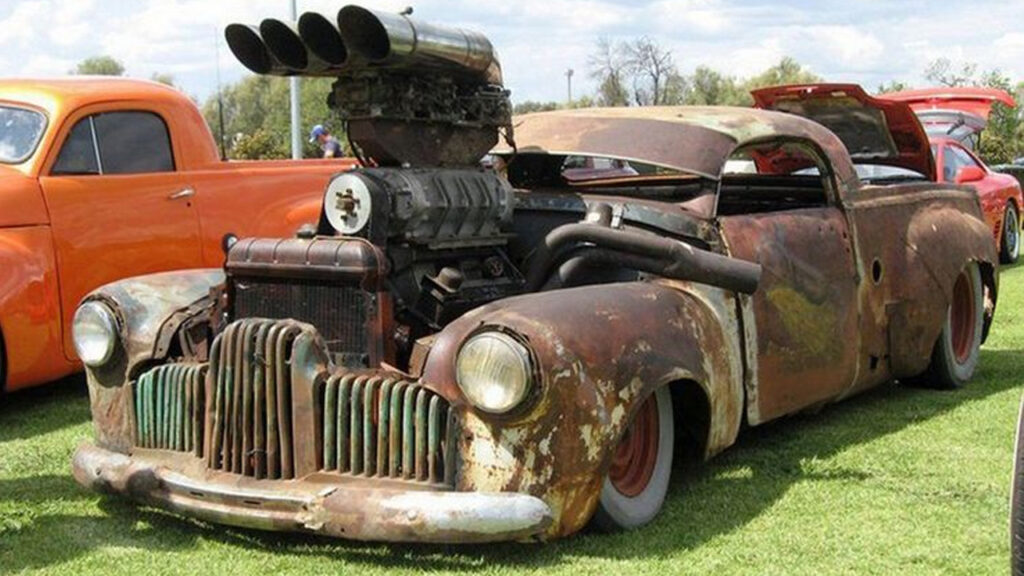 Hot Rod Scooter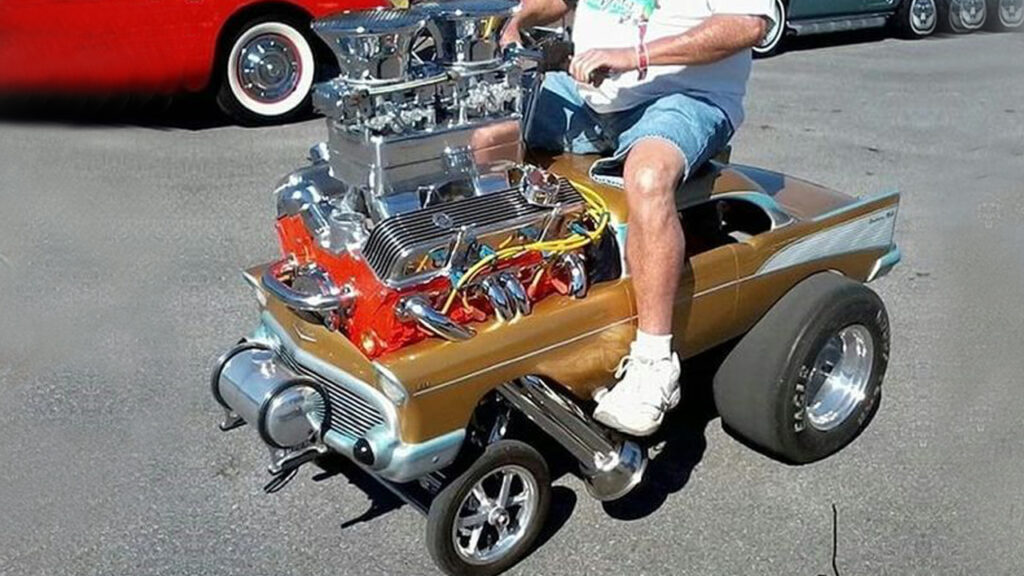 We could not find much information on this one, but it seems to be a heavily modified mobility scooter. We think it looks hilariously awesome. Who needs to walk at the grocery store when someone has this baby. They will finish their shopping ten times as fast with an engine like that. People will finish their shopping ten times as fast with an engine like that. We wish we had the ingenuity to build something like this vehicle. We bet we could win races against actually with a rat scooter like this one.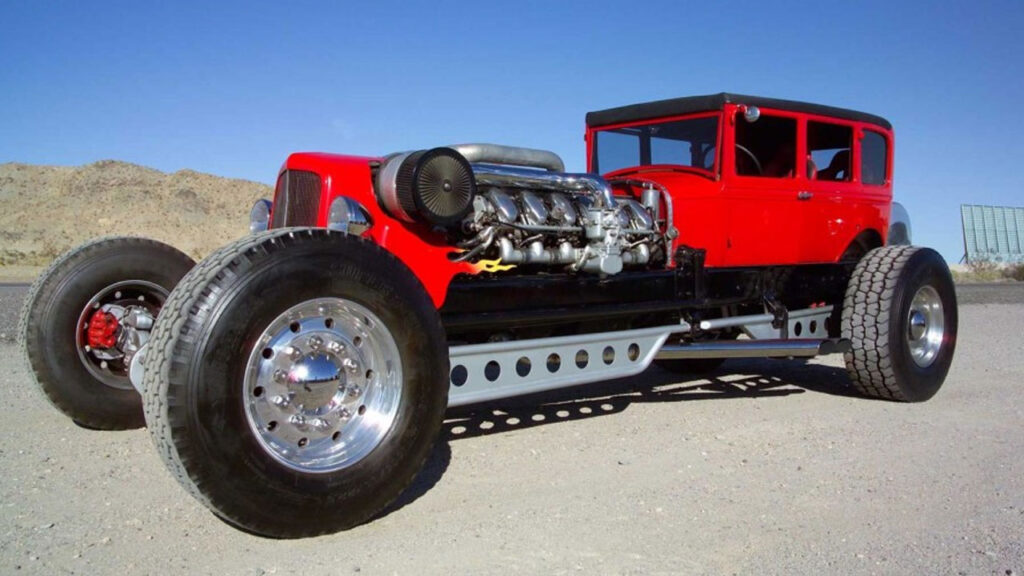 Crazy Frank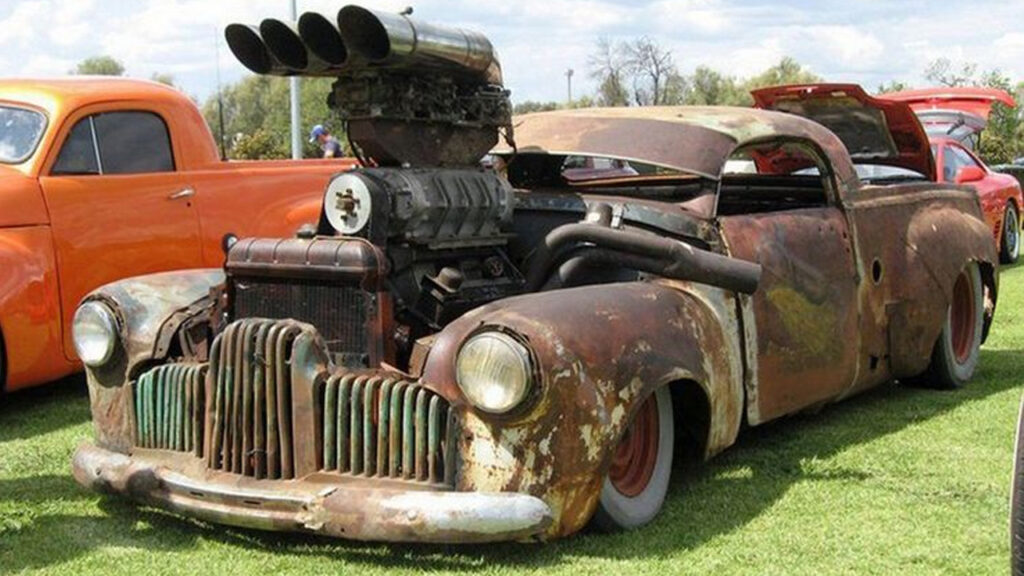 If someone has seen "Mad Max: Fury Road" (2015), they might be familiar with this one. Nicknamed Crazy Frank, the car was built off a Holden FX ute and has a four-intake supercharged Chevy V8 combined with a two-speed Powerglide transmission. Snapper also called Colin Jon Macey built the car. At a car show, some films scouts approached him about buying it. Vehicle designer James 'Johnno' Johnson said they "simply had to have it" for the movie. We don't blame them.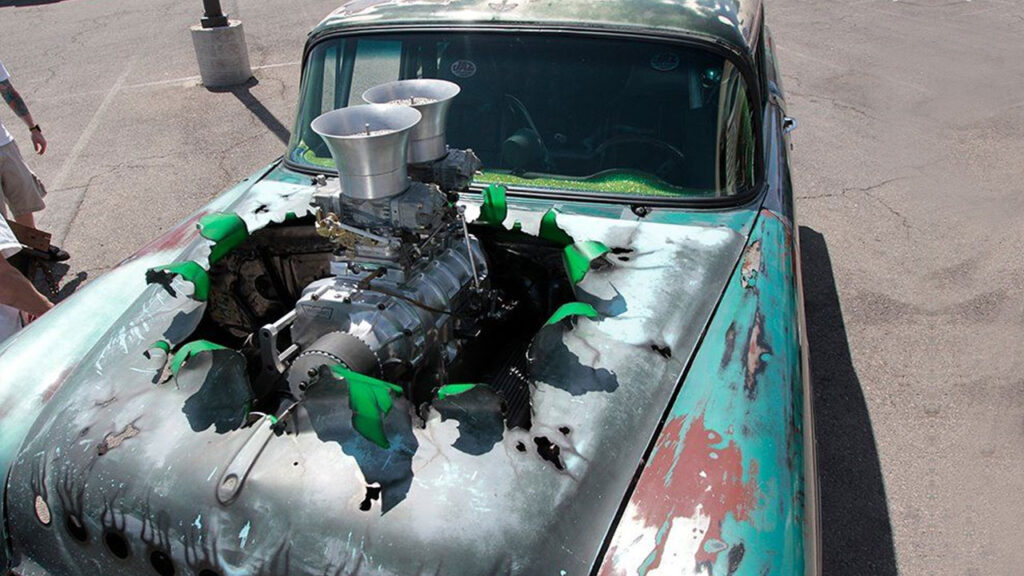 Rodzilla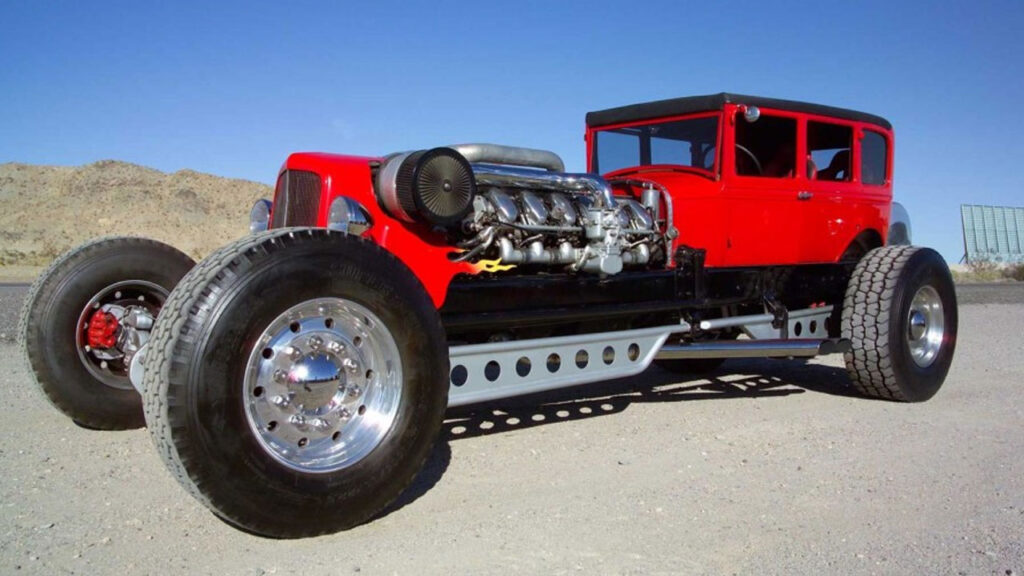 This rat rod was built off a 1928 Sudebaker and is now fitted with a turbocharged 29-liter engine from a Patton tank. The result produces 1400 horsepower. The creators of this monster, Blastolene Brothers, assert that Rodzilla can do a quarter-mile in 11 seconds. If true, wow. On top of that, the car stands over 7 feet. Also, if someone thought the "Rod" in the nickname derived from "hot rod" or "rat rod," they would be wrong. It is actually named after the car's owner Rodney Rucker.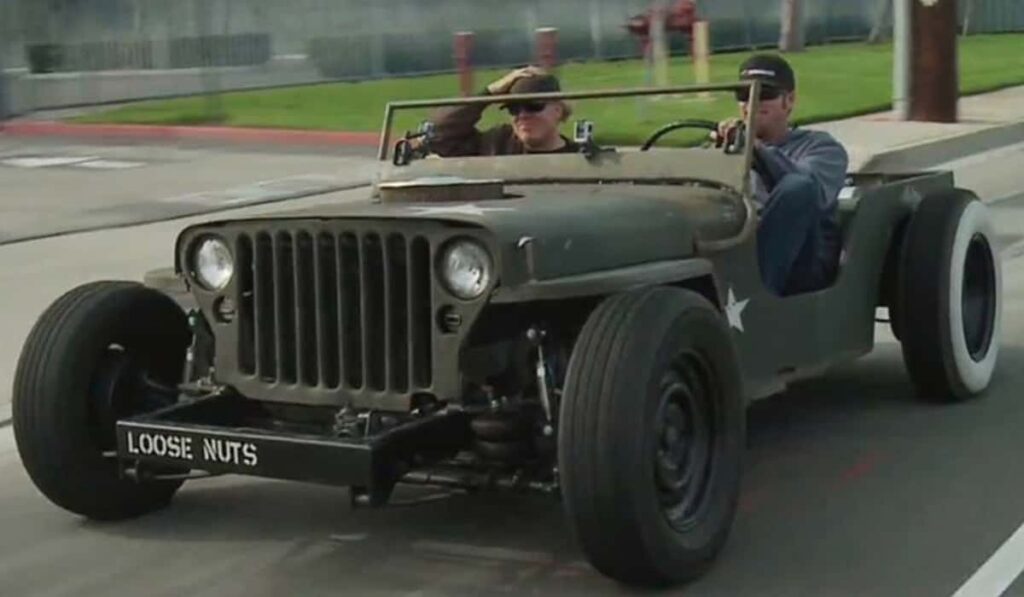 Gasser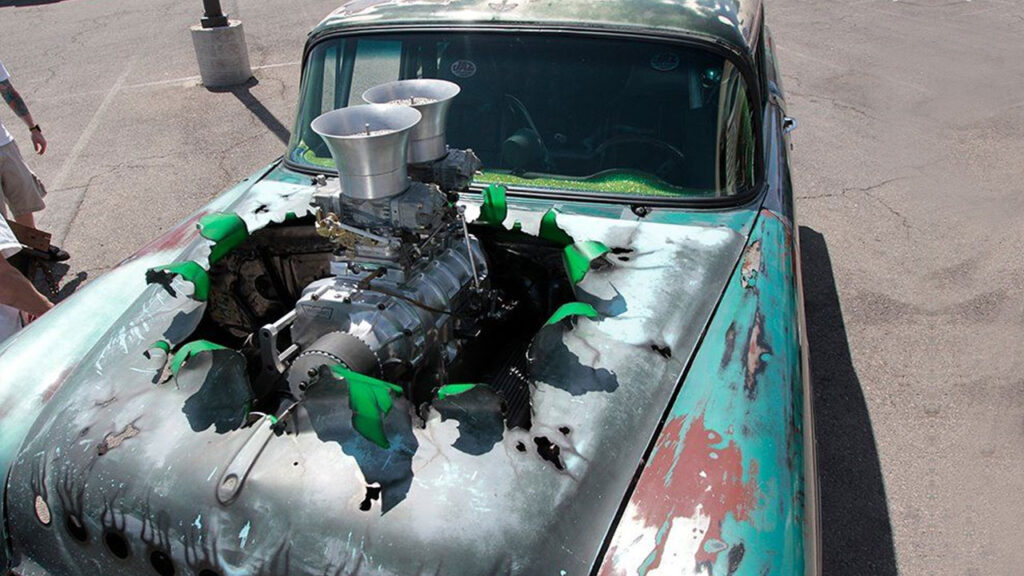 This is a 1955 Chevy Sedan 150 Gasser built by WelderUp. We love how they made the blower look like it literally ripped straight out of the vehicle's hood. It looks awesome. People will see this on the road and instantly think of power. Nuff said. Another nice attention to detail is the green lining on the inside of the hood. It adds a nice layer contrasted against the rawness of the outside, and that green continues into the interior dash as well. There are several layers to this car mod, that's for sure.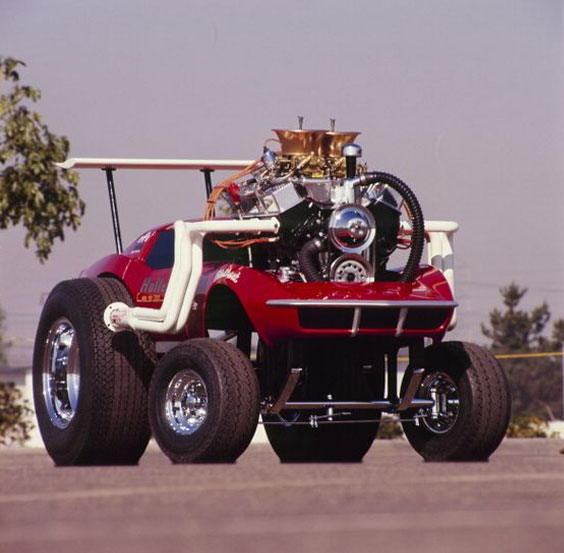 M*A*S*H* Rod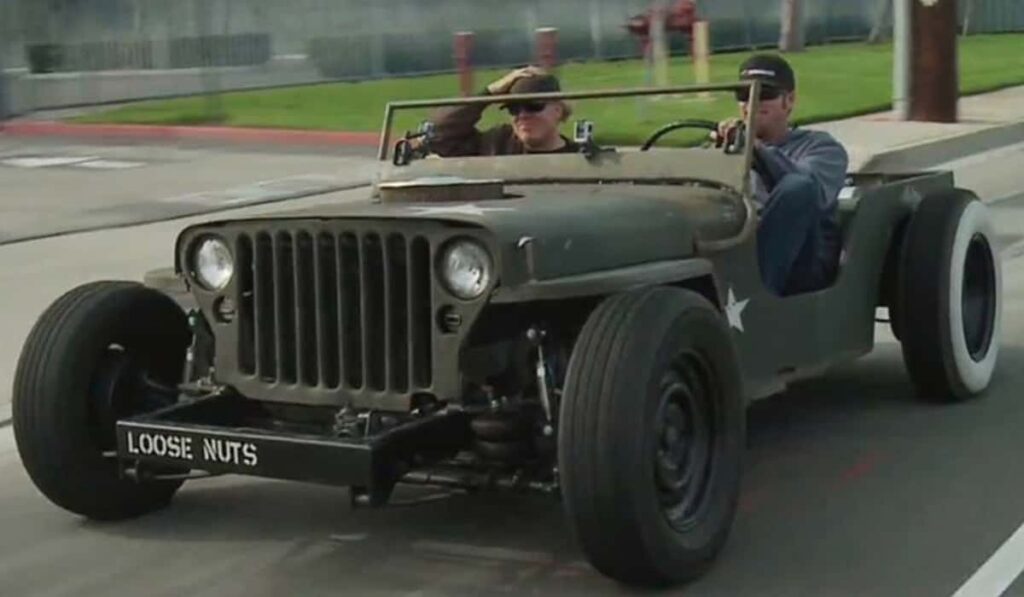 If someone is of a certain age, seeing that name has the theme song playing in their head already. For the younger bunch, we're talking about the popular CBS TV show of the 1970s and 1980s that stood for Mobile Army Surgical Hospital and followed a team of surgeons and support staff during the Korean War. As fitting, this rat rod, wonderfully named "Loose Nuts", this rat rod is a chopped down US Army Jeep with mismatched tires for aesthetic appeal. These Jeeps were known for their durability and remarkable ability to master any surface on the planet.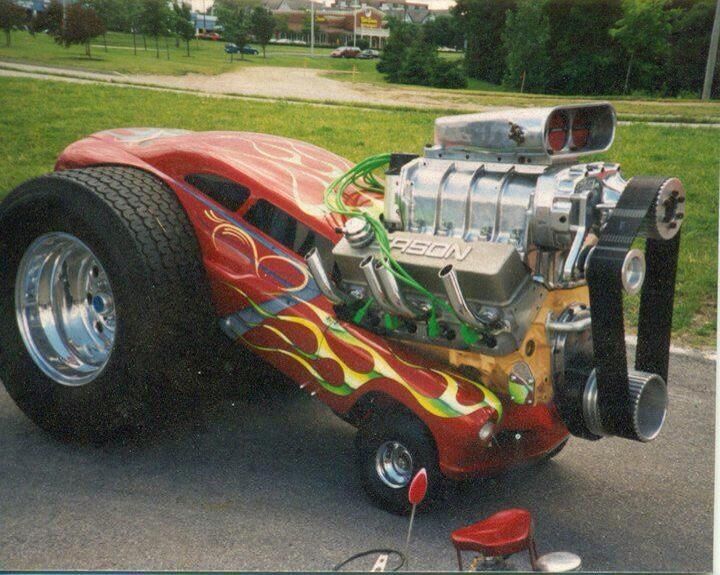 Corvette Zinger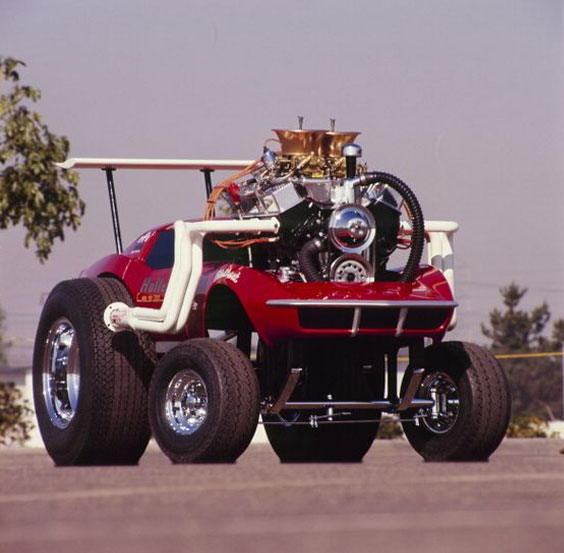 Zingers were model car kits developed at MPC Corporation, made famous by showman Bob Larivvee Sr in the 1970s. The idea was to create scale replicas of cars using almost full-size engines. Definitely a unique idea if we have ever heard one. The models were often used to promote ISCA hot rod shows. While not technically a rat rod, we thought it was a cool bit of trivia. We would not be opposed to someone creating a full-size vehicle with this style.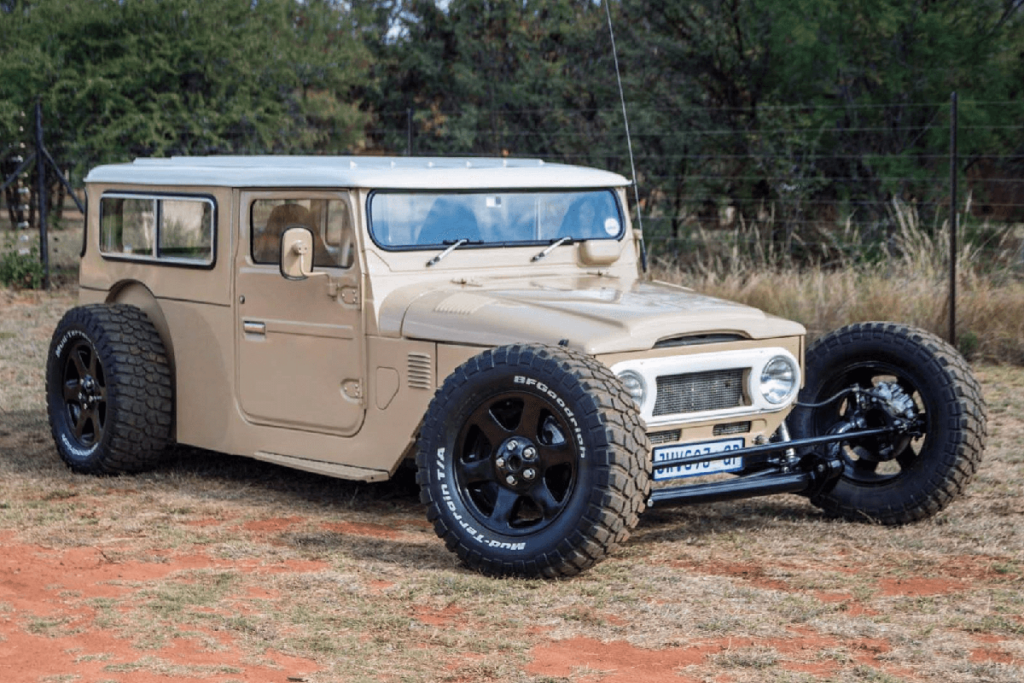 This Is Odd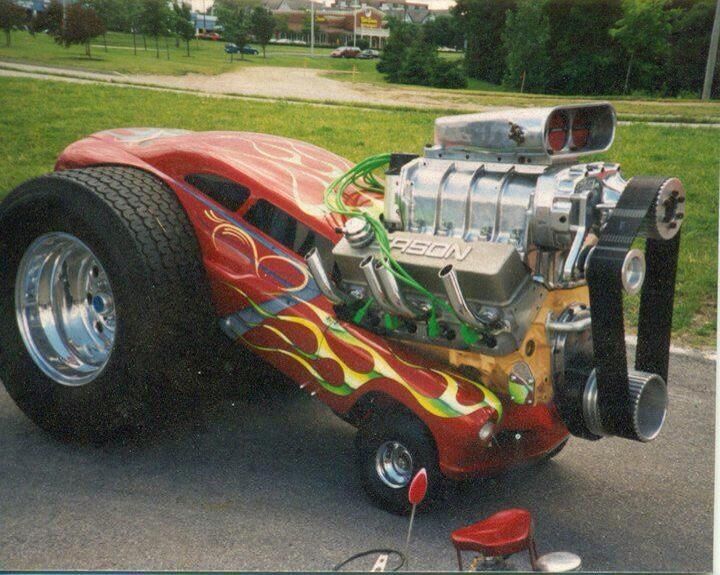 Okay, so this car defies a few things about logic and reason. It genuinely looks like one of those cars someone would find in an old Hanna Barbara cartoon (think Laugholympics). The rear wheels add to the drama and somehow serve to balance out the vehicle just enough. Yet, the fire on the sides and over-stated body styling are the real stars here… after the engine, of course. I'm not sure how often someone would drive a car like this, but I am sure they would get noticed plenty when they do. We give kudos to this guy for all of his hard work. This is one fine looking piece of eye candy. If only we could hear that engine rev to complete the picture, life would be perfect. Maybe we will just stare and make noises when no one is around. Yeah, that's it. I'm drawing my shades as we speak.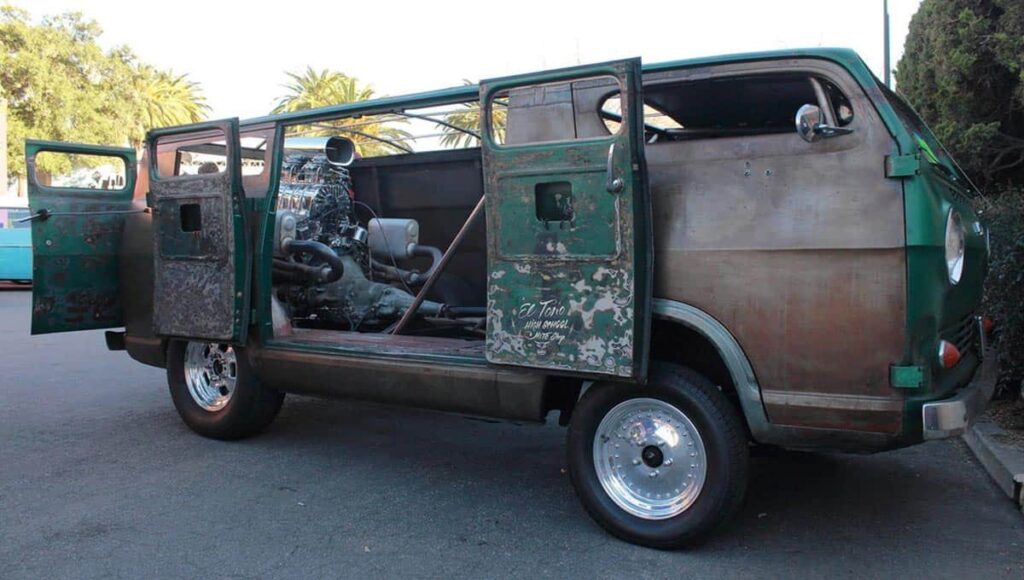 1976 Toyota Land Cruiser Fj40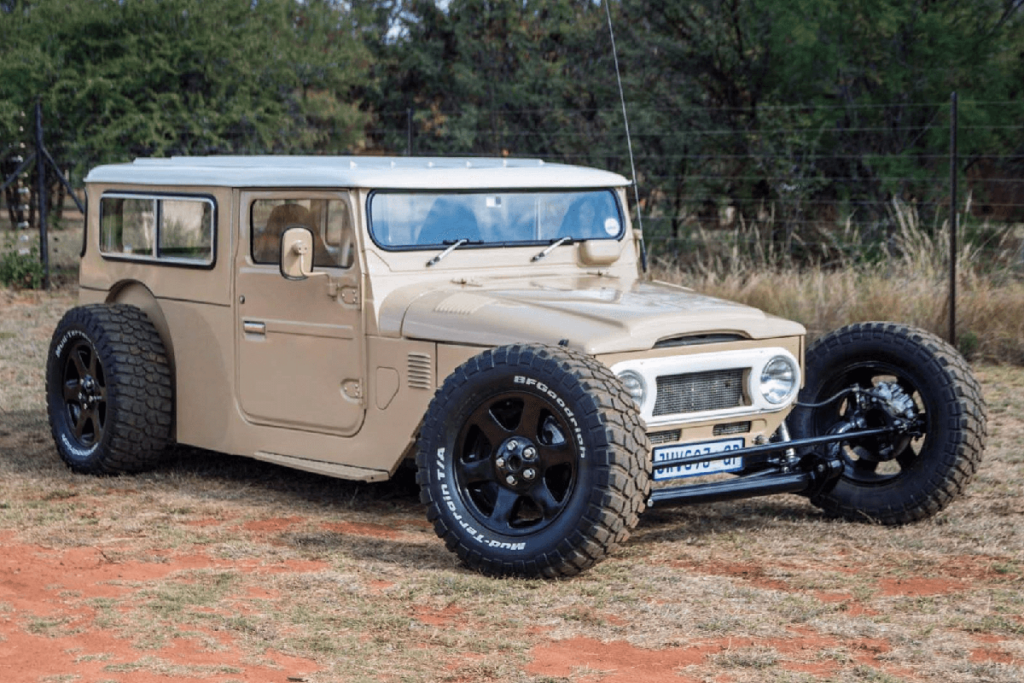 Our next vehicle is a 1976 Toyota Land Cruiser Fj40. The lowered street rod version was built by Allers Rods & Customs in a shop near Johannesburg, South Africa. The mechanics said they made this vehicle because they wanted something that represented South African culture. We guess classic land cruisers are pretty popular over there. Looking at the Fj40 itself, Allers Rods & Customs included modified front suspension, Jeep Wrangler seats, and Volkswagen Golf headlights. It also has four-pot calipers front breaks with single-pot discs and Lexus 1UZ V8. It took the team 1,200 hours to finish. We think it looks all sorts of awesome.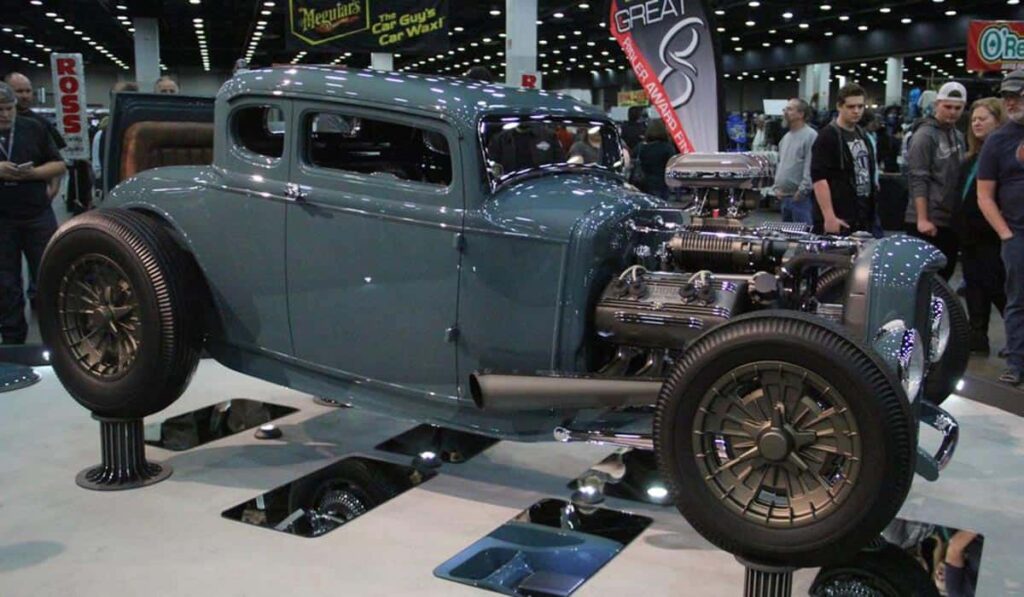 Van Rod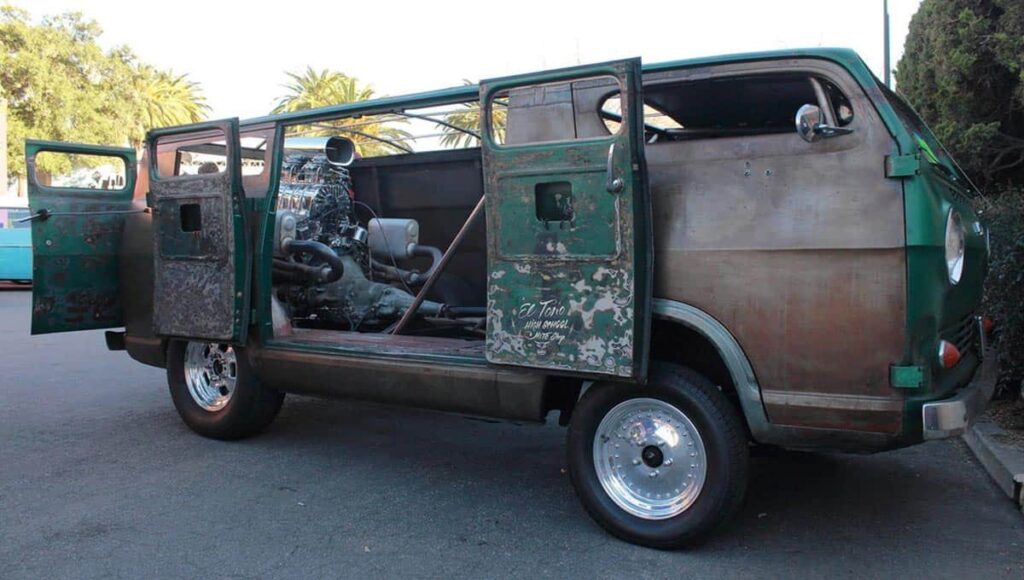 Someone is almost guaranteed to see at least one crazy concoction when they attend a rat rod rally, but they'd be hard pressed to top this Van Rod. It's an original 1964 Chevrolet G10 van that has been chopped, then rat rodded with a Chrysler engine. Now get this, the creators installed the engine backward on top of the van's rear axle. It's a far cry from the original classic flat windshield van that came standard with a 90-horsepower, 153-cubic inch engine, complete with a three-speed manual transmission, optional heater, and front passenger-side seat.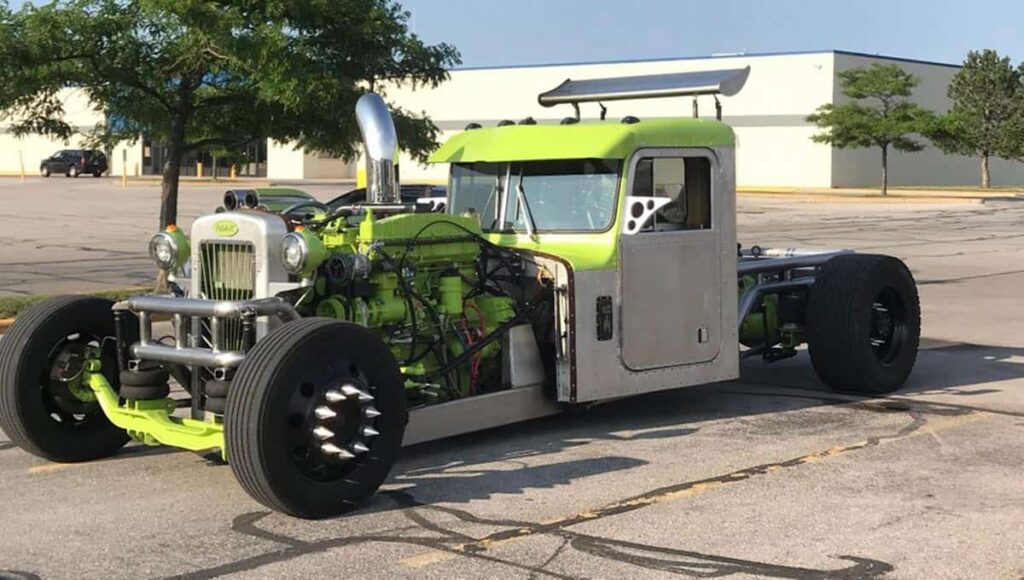 1930 Ford Coupe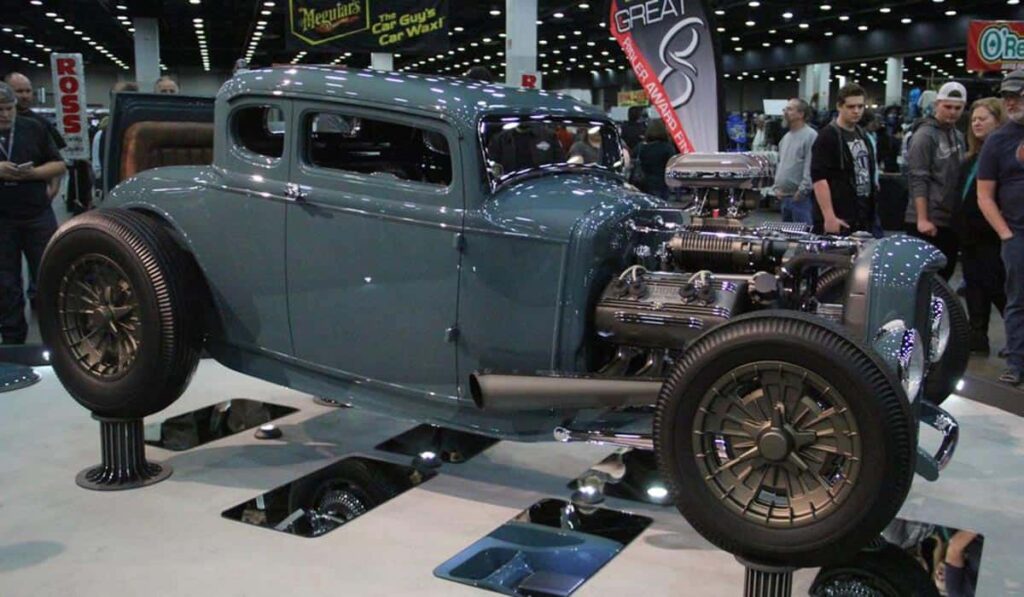 With its exposed engine, it just screams muscle and speed. The detachable hood is the first way to intimidate an opponent. The top speed of the original was just 65 miles per hour and the roadsters cost $385. We imagine they made this vehicle quicker. The 1930 Ford Coupe has become a popular choice for souped-up rat rods that pack a powerful punch. The classic look has extended to popular culture, where Georgia Tech University uses a 1930 Coupe "The Ramblin' Wreck" as the official mascot of its student body.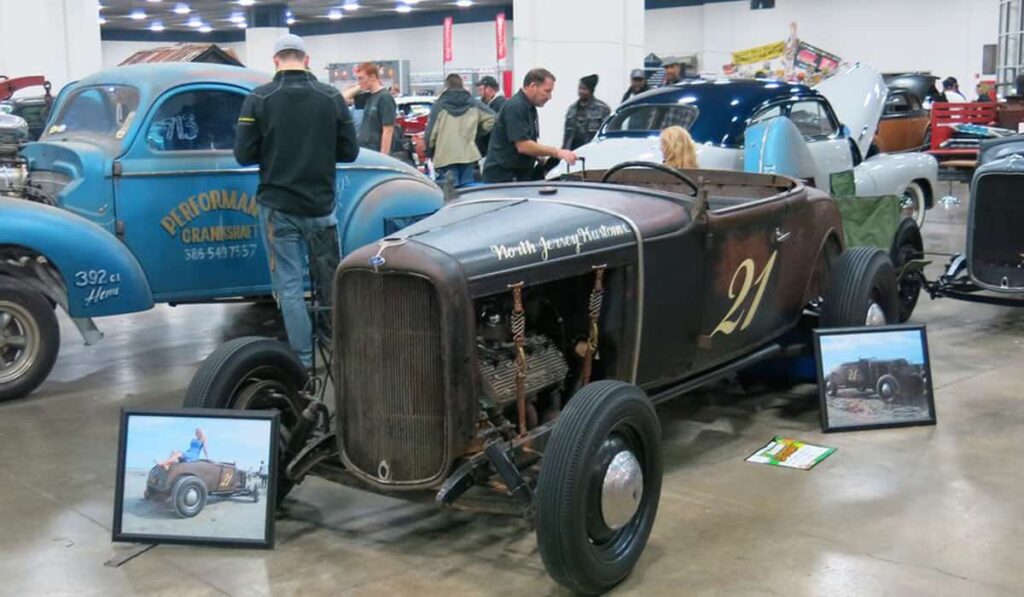 Truck Rod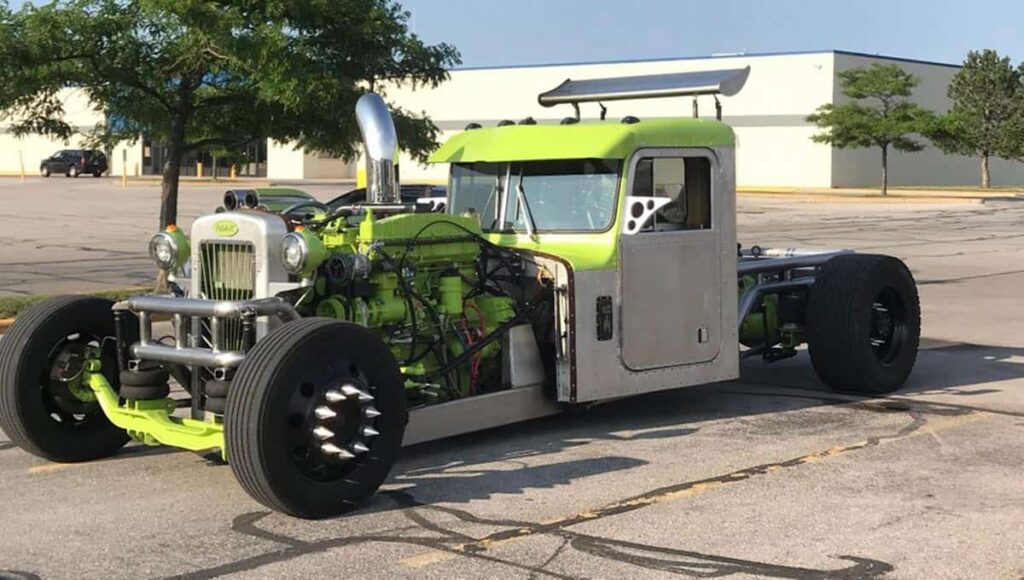 Hey, if someone made a rat rod out of a 1960s van and a wheelbarrow, we think a semi is another great option. This 1984 Peterbilt 359 Hod Rod. The entire truck has been handcrafted or modified to blend these two worlds of short-track speed and long-term hauling into one vehicle. The motor is a standard issue Cummings, no surprise given how much one of these big boys is lugging around. Drop the trailer off the back and suddenly it feels light as a feather as someone fires it up. Enjoy.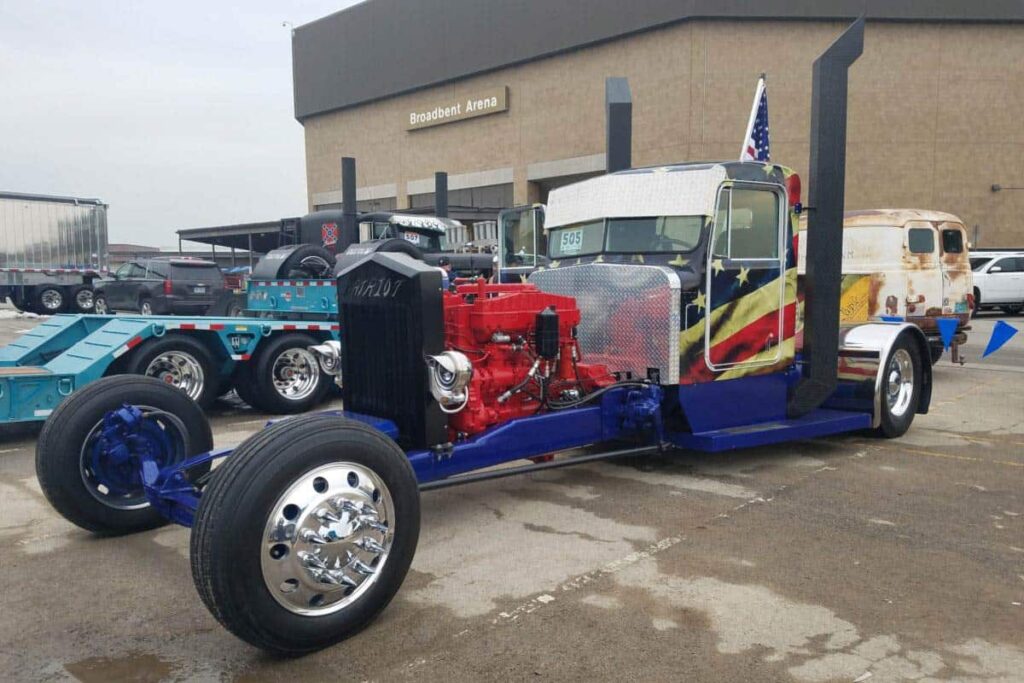 1930 Ford Model A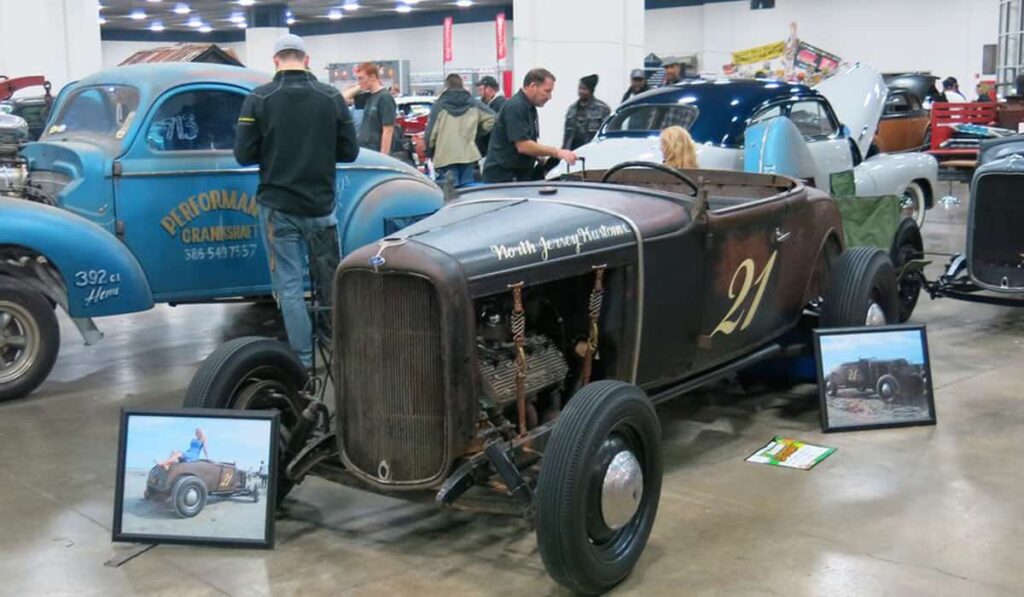 With a body shaped like a bullet, there's not much doubt as to the vision this rat rod's owners saw when they began building their vision. Henry Ford and family would have trouble recognizing their creation with its 4.6-liter, fuel-injected V8 and 5-speed manual transmission. The roof and supporting structures have been removed to implement more speed with less resistance, but the overall appearance of the car is in keeping very closely with how it looked 90 years ago when it was a popular car in the world.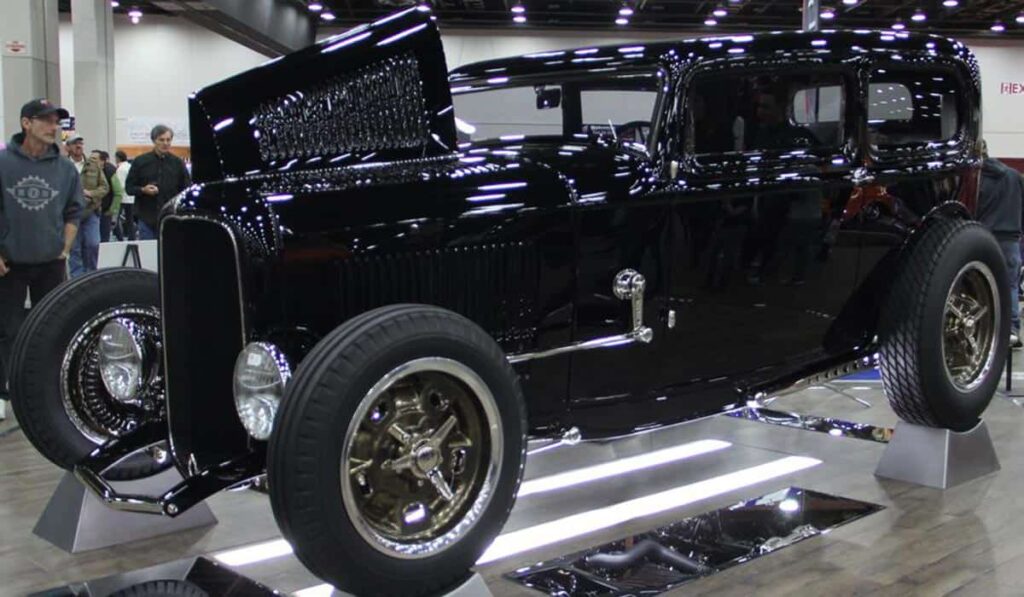 Another Truck Rod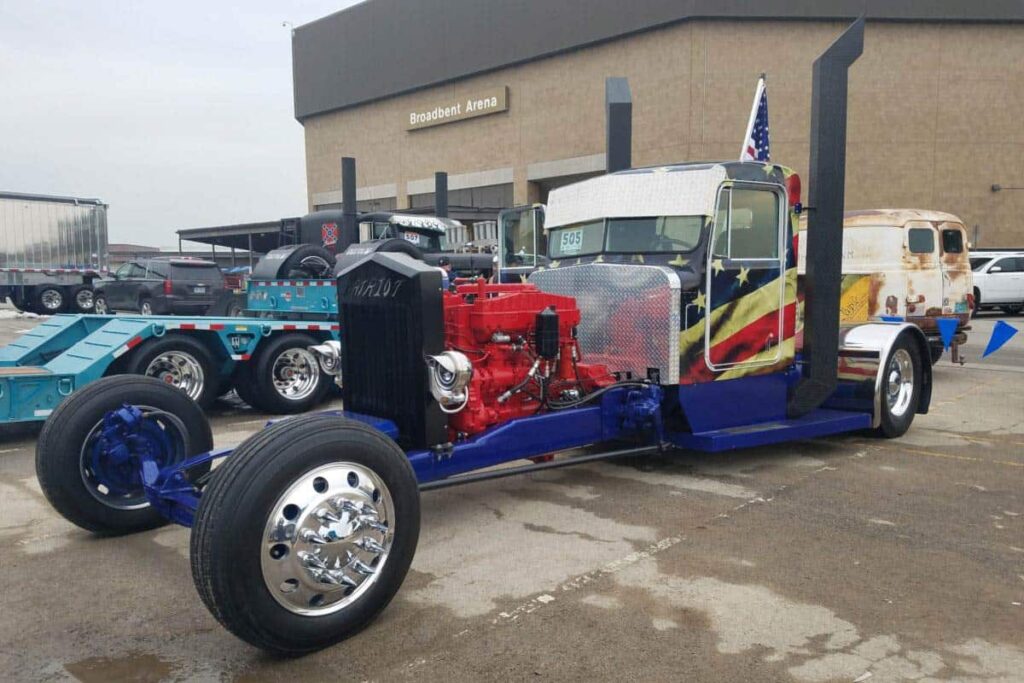 Just when someone thinks they've seen the only truck rod in the world, a second one appears before their eyes. This vehicle is done up in patriotic colors with an American-flag driver's compartment, flag stand on the back, and deep blue steel underneath. All this bad boy needs is a fireworks cannon and James Brown standing on the roof singing "Living in America" to complete the vision. The big exhaust pipe is an interesting part for us, bigger than the gutter system on a lot of people's houses.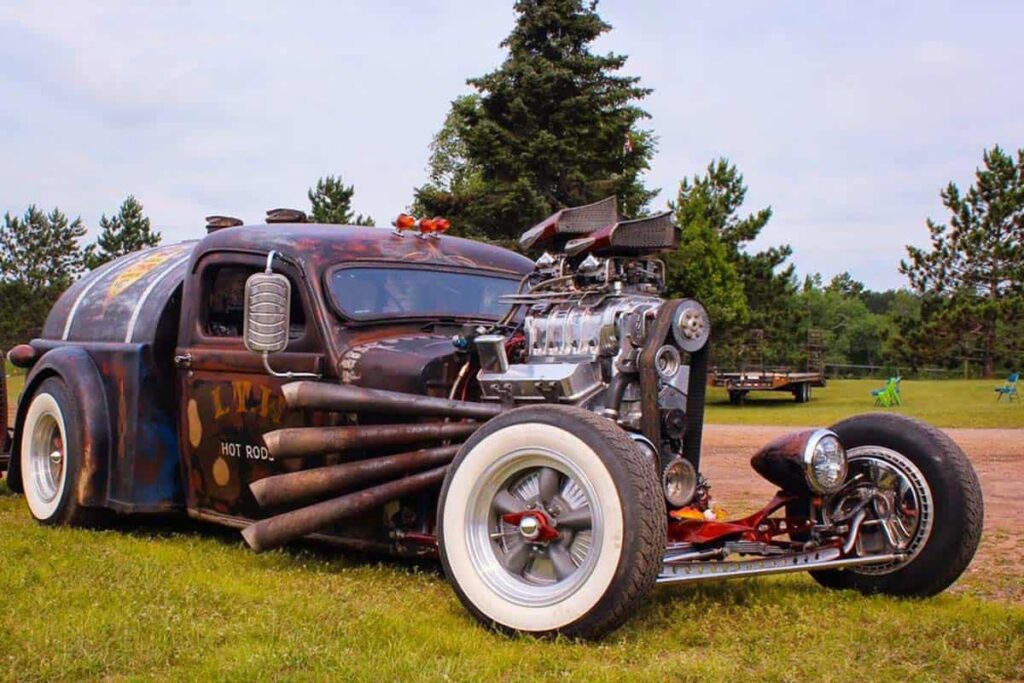 1932 Ford Tudor "GPT"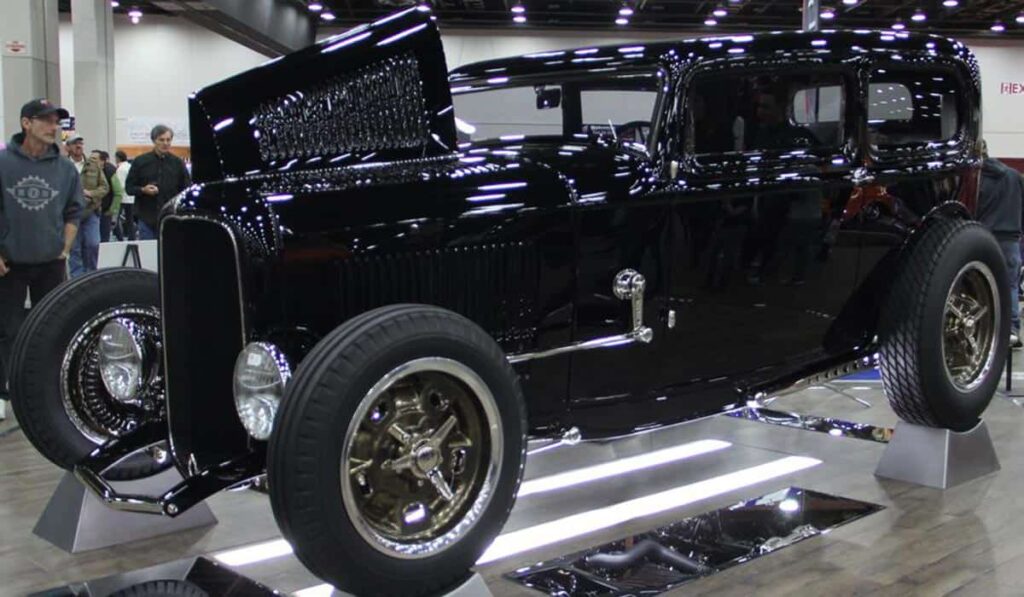 Built by Johnson's Hot Rod Shop for the Detroit Autorama in 1997, the theme here is "less is more. Powered by a 312 Ford Y block V8 with a hidden Hillborne injection unit system, this 1932 Ford Tutor combines a JHRS chassis with gold anodized Hallibrand wheels. To shorten it down to rat rod size, the quarter windows were shortened, the panels were chopped, and the cowl was moved down. The black paint gleams off every detail to look almost indigo in the certain lighting. They did great work.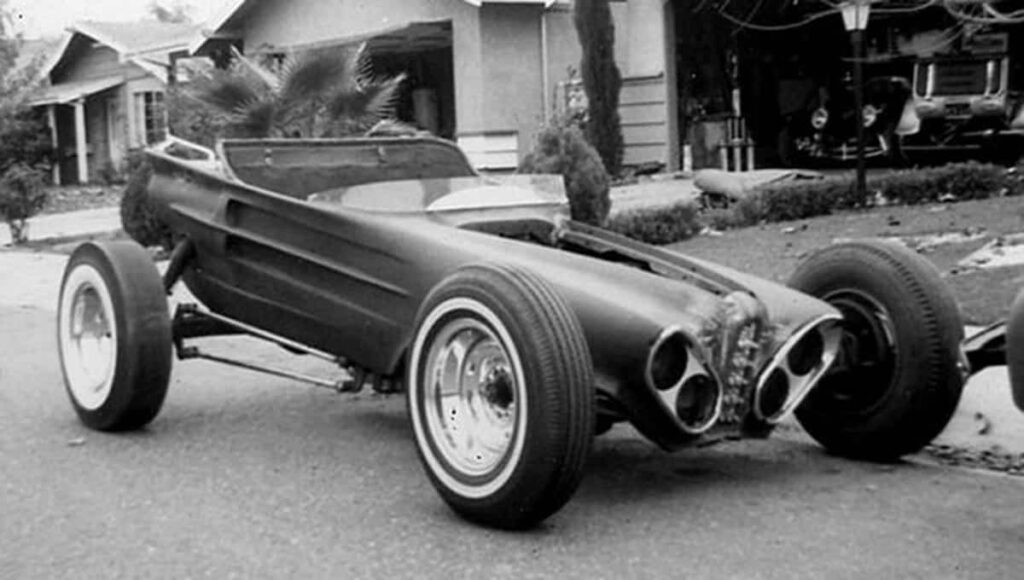 Darth Vader x Megatron Rod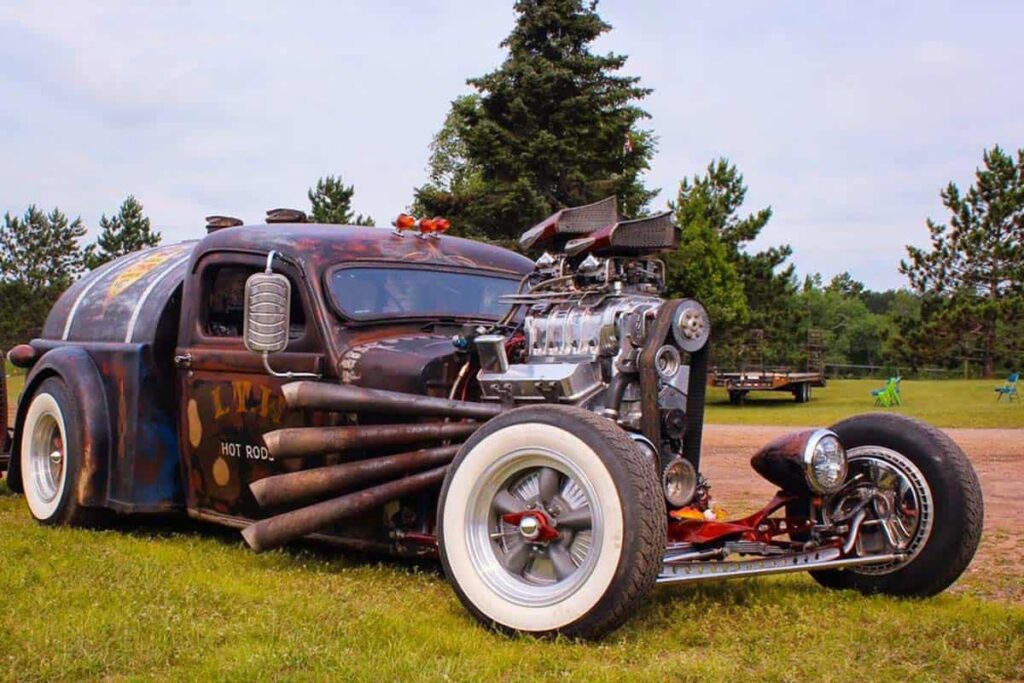 When someone take the villain from Star Wars and combines him with the villain from The Transformers franchise, you birth to the Darth Vader x Megatron Rod. We are not quite sure that's the actual name, but we are calling it that. It looks like it's going to crash into someone's ride and destroy it at any moment, with the engine set back from the front tires and two pulsing search lights waiting to expose that person's hiding spot. The spikes coming out of either side of the engine serve no purpose other than to look totally awesome. Job well done.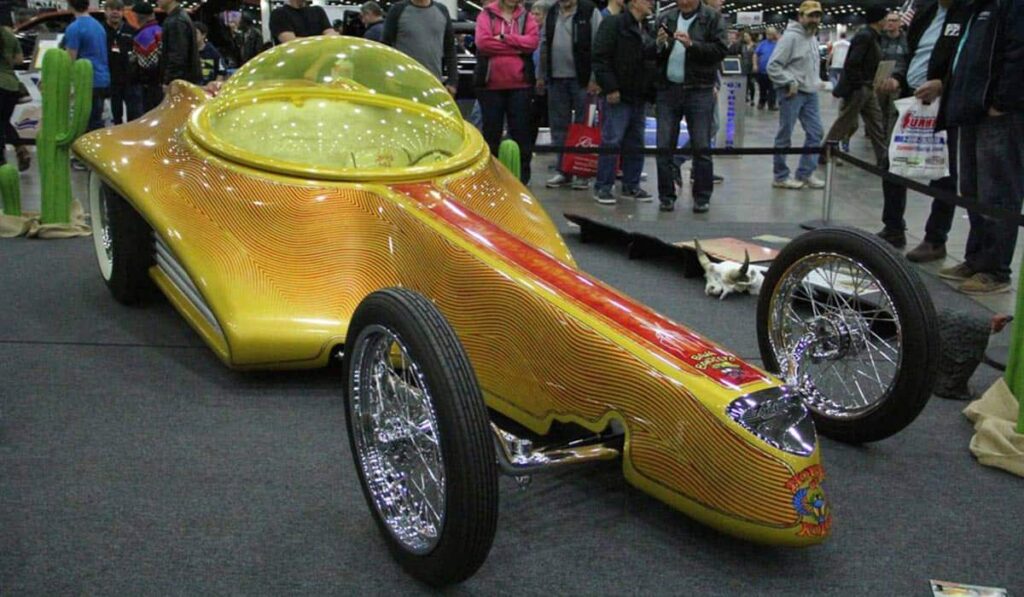 The Crucifier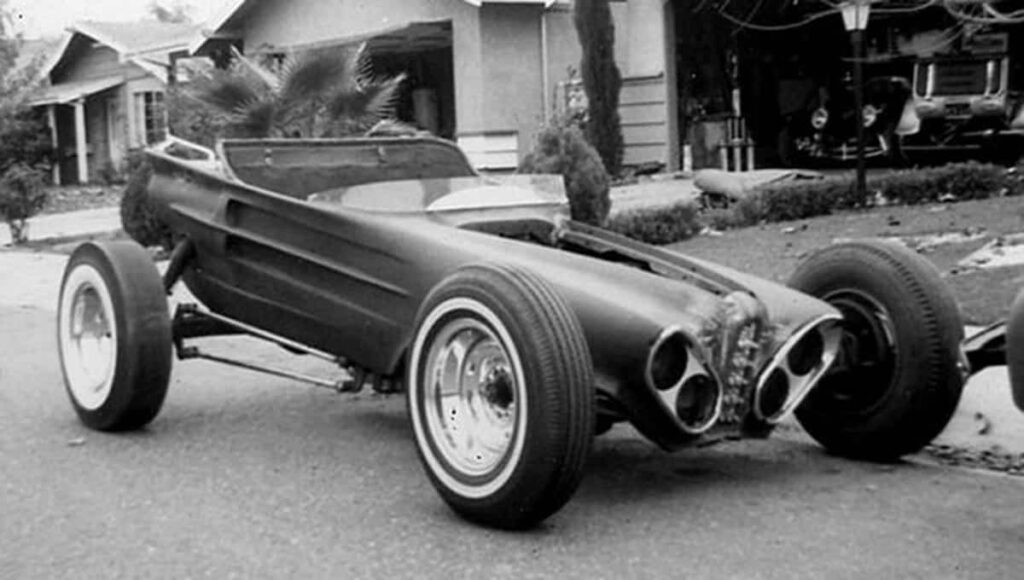 The great Joe Cruces finally retired in 2002 after decades as one of a highly praised and legendary car customizers in California, including cars such as his own Crucifier shown above. The Crucifier got him on the cover of Hot Rod magazine. He moved to Chico sometime after that – hired by a private collector to restore his massive collection in 1974, restoring everything from motorcycles to airplanes to a 1910 horse-drawn fire engine. The Crucifier looked like a piece of menacing equipment aimed straight at someone when it came roaring down the track.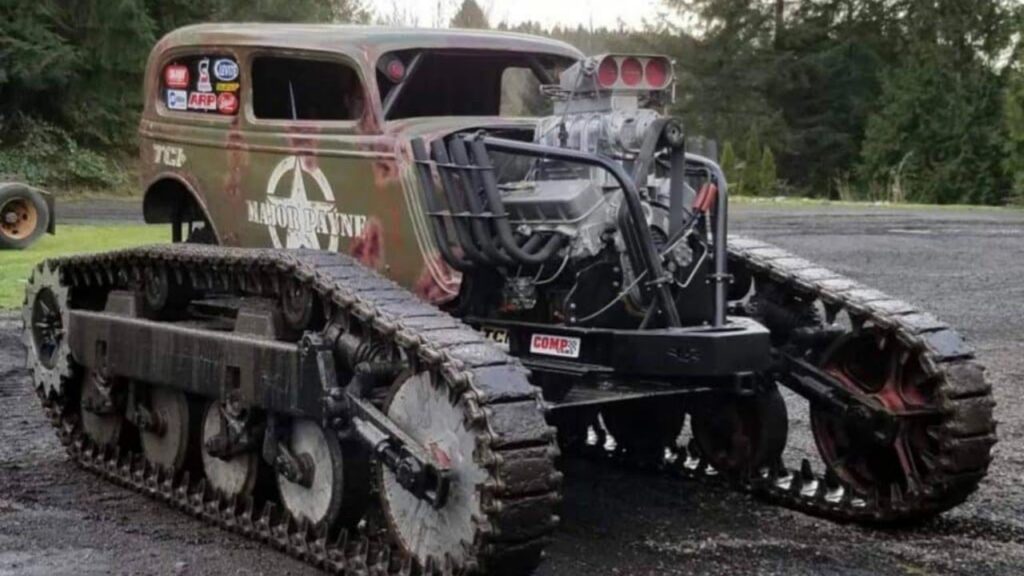 Baja Bandeeto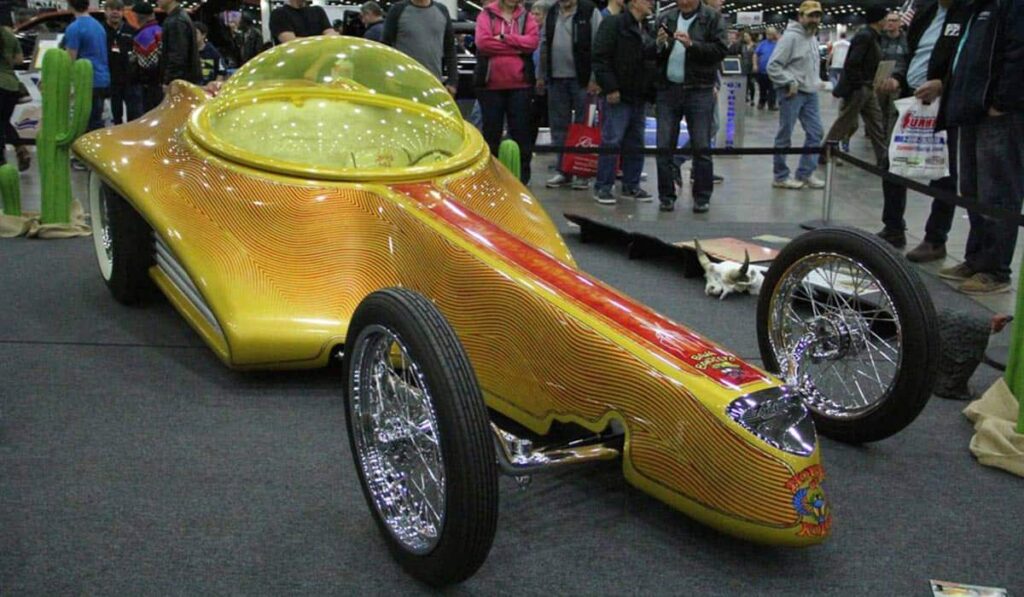 It's not a soap box derby racer, it just feels that way. Illustrator Jimmy Smith designed it and owner Fritz Schenck from Kansas City brought this to life. It's a VW Beetle powered space car with a bubble top and a fiberglass body. The engine is a vintage 1971 VW 1600cc and the front two wheels come to everyone live from a pair of Harley Davidson motorcycles/ The paint job is meant to emulate a maze so try not to get lost in there.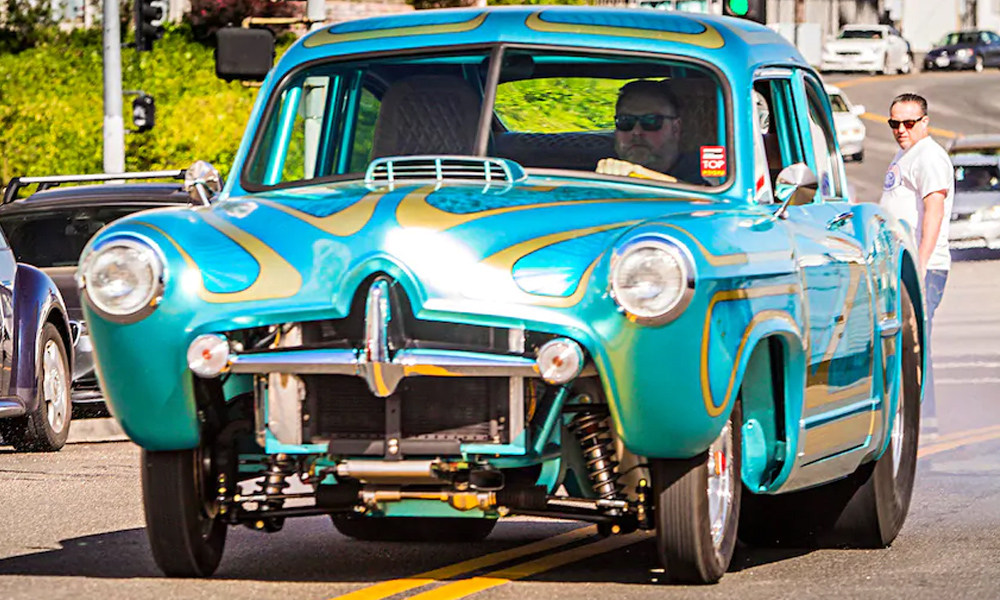 Tank Rod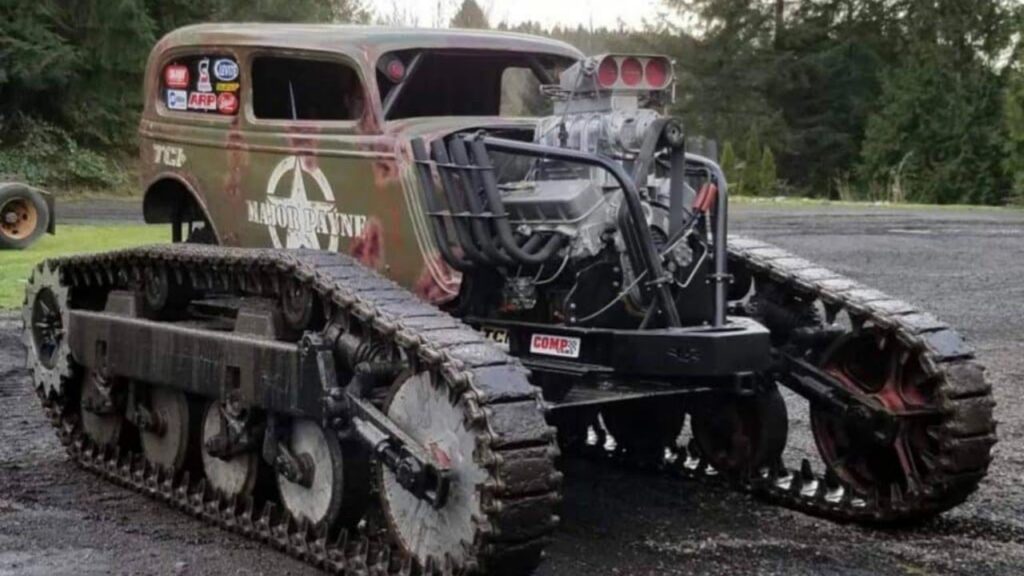 This is why someone never says that a hot rod made from a semi is only big thing they will ever see. Because when they do, someone else will build one out of a tank. This vehicle is based on an MS Personnel Carrier. The Major Payne Monster Tank had to be originally stripped down to make it anywhere close to qualifying as a rat rod. Its owner stripped 12,000 pounds of steel to make it ready. It runs on brown alcohol and its current owner estimates it's generating between 1,000 and 1,200 horsepower every time it fires up.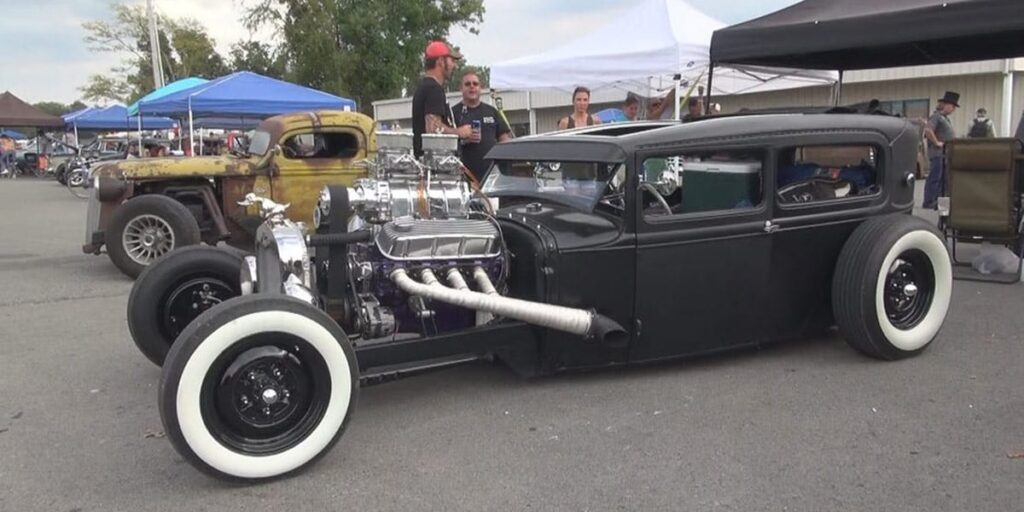 1952 Kaiser-Frazer Henry J "Henry Jaded"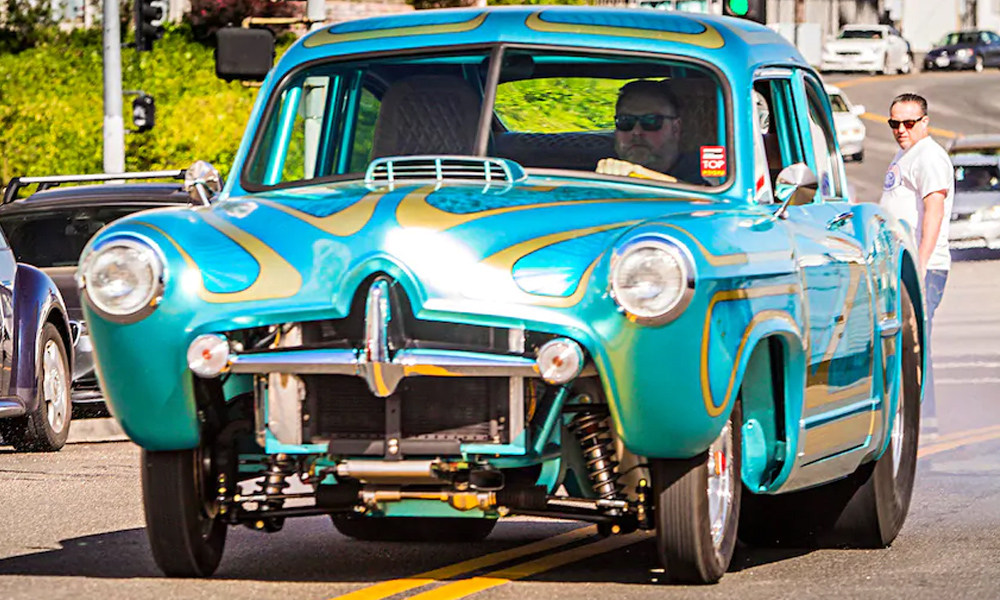 Kaiser-Frazer was the first US company to pen up a production and sales company in Japan following World War II in 1947, partnering with Sears Roebuck to sells cars in catalogs. The Henry J was named after chairman Henry J. Kaiser, although the company folded inside of five years. This Henry J has a Chevrolet Performance 572 engine dropped into it, silenced by single-chamber Flowmaster mufflers with a four-inch inlet/outlet. But that paint job is something everyone wants to talk about. Teal with a mix of Orion Silver and Kandy Koncentrate Intensifer is just as pretty as a picture.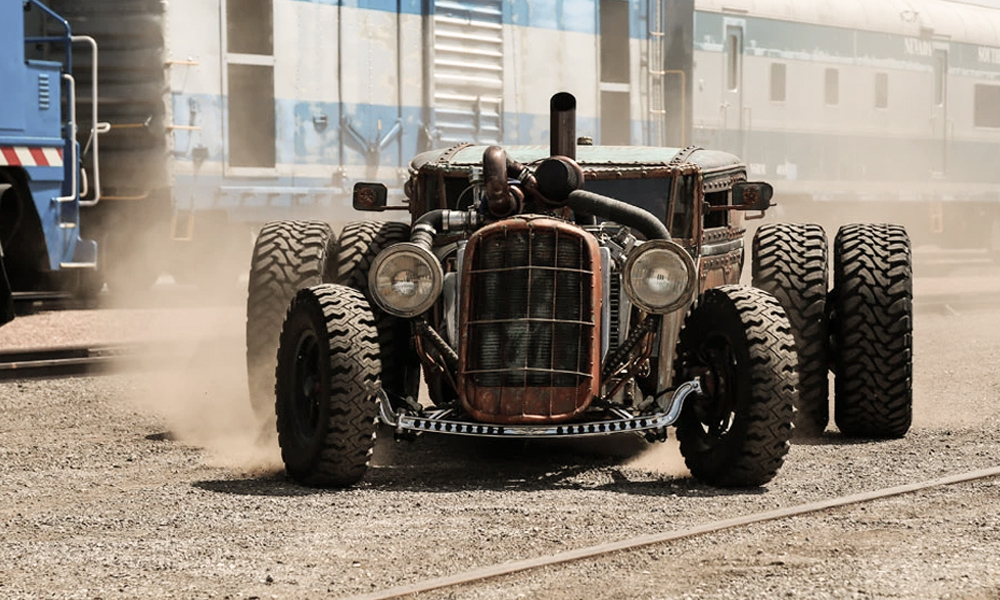 Supercharged Big Block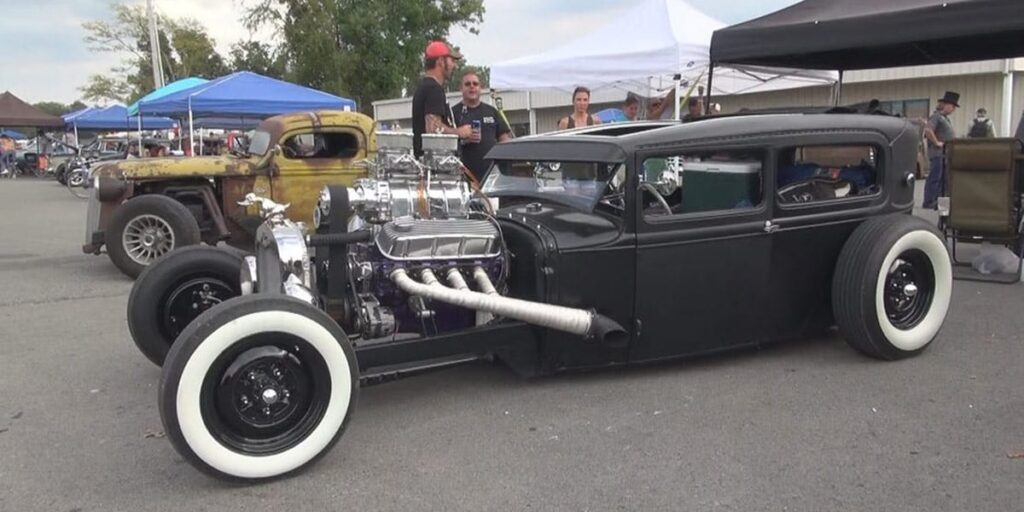 If someone is old enough to remember black and white TV shows from the 1960s, they might be wondering why the Addams' Family has turned their comfortable sedan into a street racer. At least that is the vibe this hybrid of Ford and Chevy gives off. It sports a 468 big block Chevy engine, a Dyers Supercharger, and a Mutha Thumper Cam to give the vehicle a more unique look. The 1930 Ford is one of the more popular body styles for rat racers to cobble together into unique custom jobs. When this heavy hitter starts up, people will swear there must be a dinosaur walking around.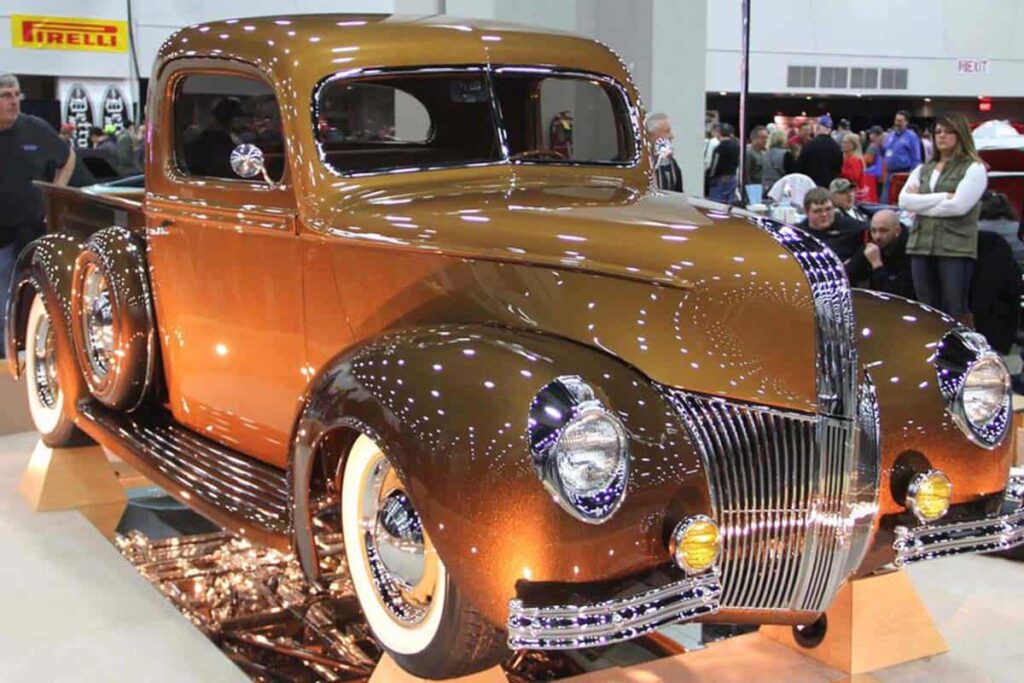 Steam Punk – Diesel Punk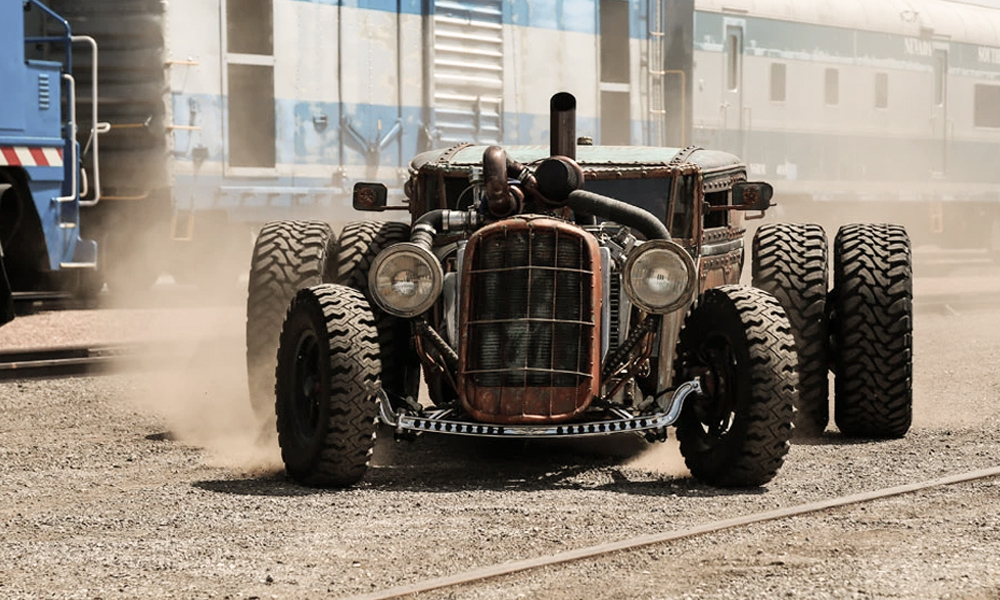 If you have not heard of steampunk, it is the cultural offshoot that imagines a world that had developed on steam-powered everything rather than coal factories that led to the electrical age. It might sound a bit convoluted, but imagine our air quality today without all the exhaust fumes given off by our car engines. Sounds a bit idyllic, but places would have steam clouds everywhere, anyway, back on topic. This rat rod is made from an old diesel Model A and can produce a whopping 1,250 horsepower on regular fuel or an even crazier 1,600 on nitrous.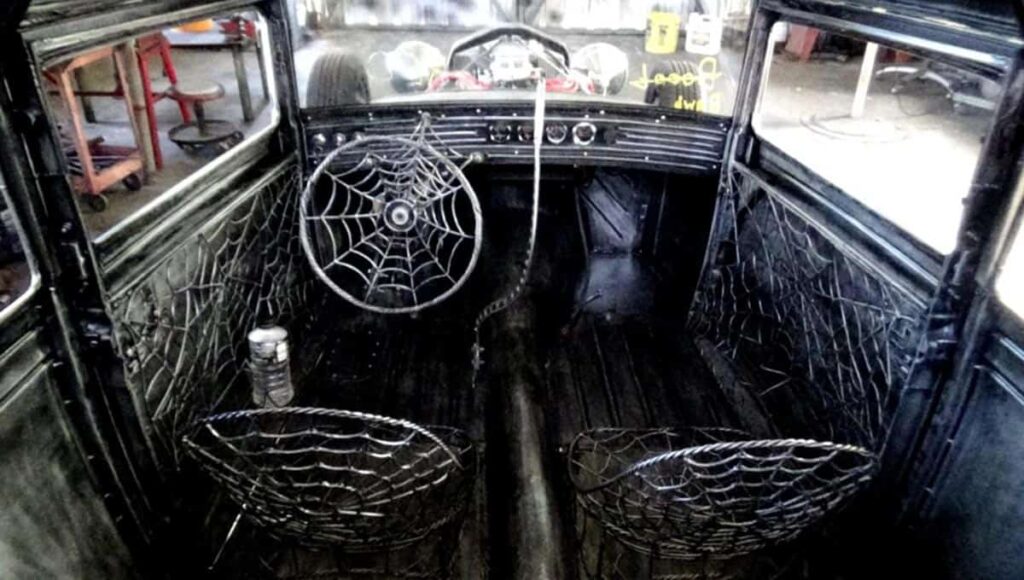 1941 Ford Pickup "Gold Standard"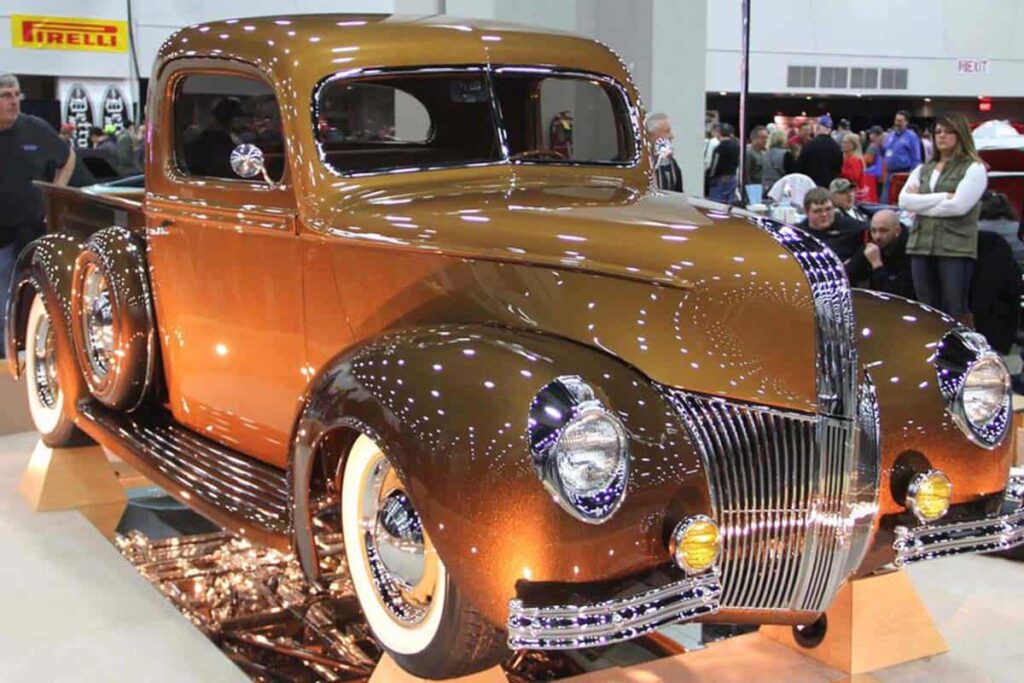 If King Midas had owned a car, it might have been this piece of work. Ed Sears of Annapolis, Maryland, built this vehicle. He got his passion for trucks from his days growing up on a farm, and we get it. He fell in love with the flowing lines of this 1941 Ford and got it fixed up by Ray Bartlett of The East Coast Hot Rod Garage. They pulled the cab, dipped it in acid, and treated it to restore it. It houses a 1953 Ford block at 284 cubic inches.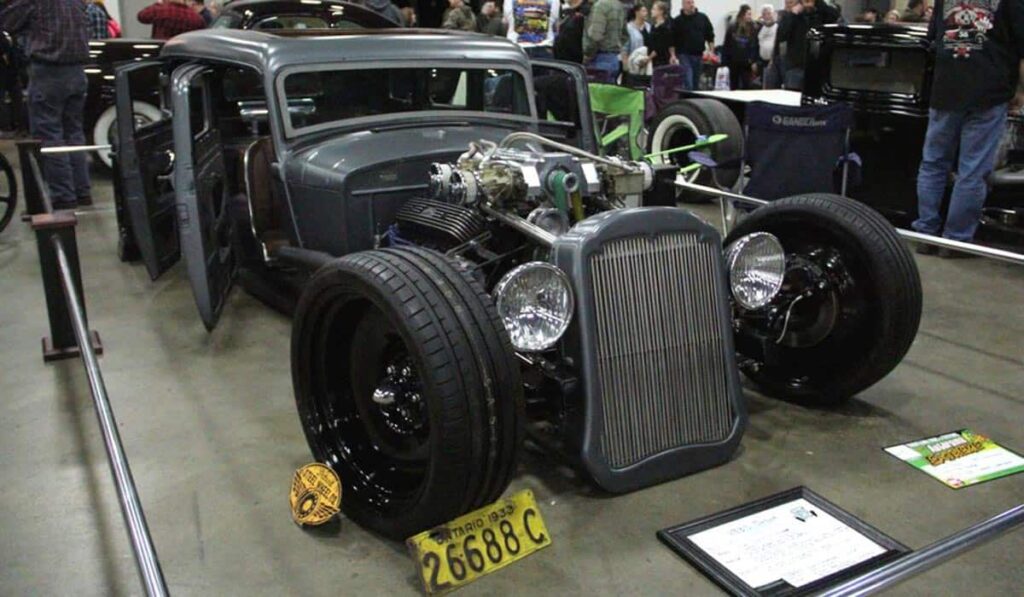 Spider Web Rod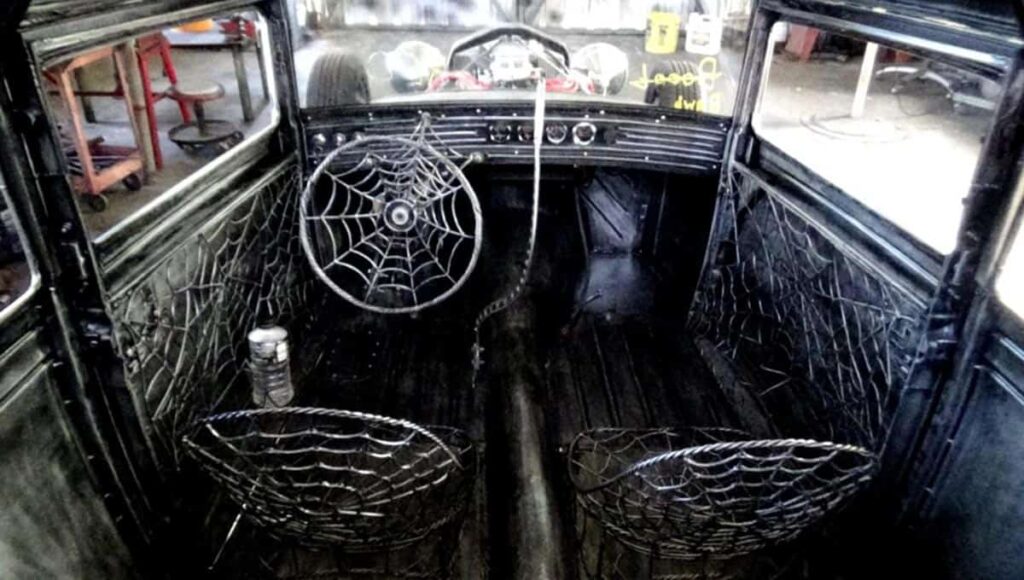 If someone has ever suffered from arachnophobia, it might be a good idea to move on to the next entry. For everyone else, this incredible creation is done up like a Halloween lover's masterpiece with spiderweb seats, steering wheel, side panels, and more. It's all crammed into a 1931 Chevy. The owner makes the understatement of the year when he calls the bucket seats the result of "a bunch of cutting and welding". 1931 is a special year for Chevy lovers. It was the last year it outsold Ford thanks to its new 6-cylinder engine.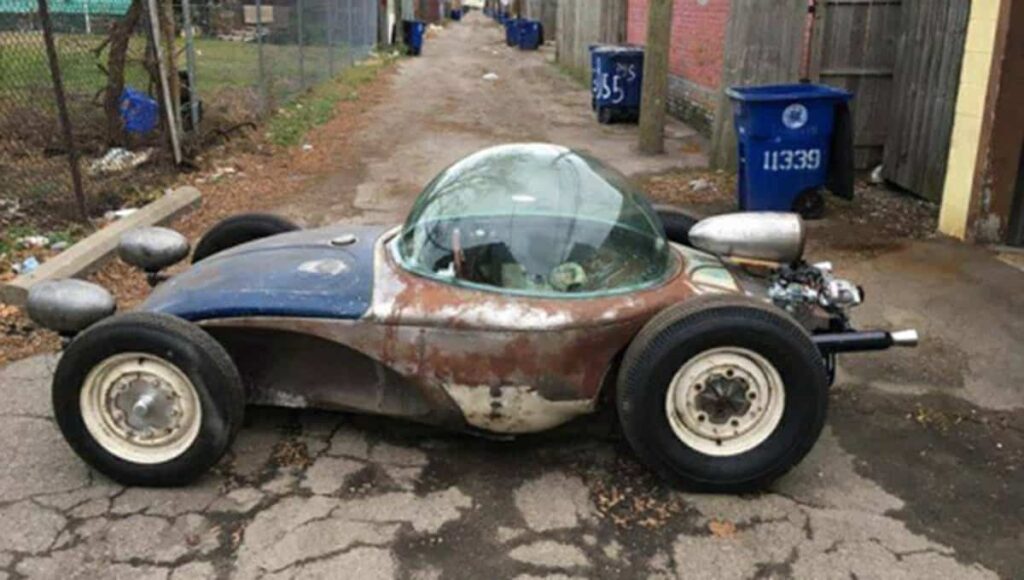 1933 Dodge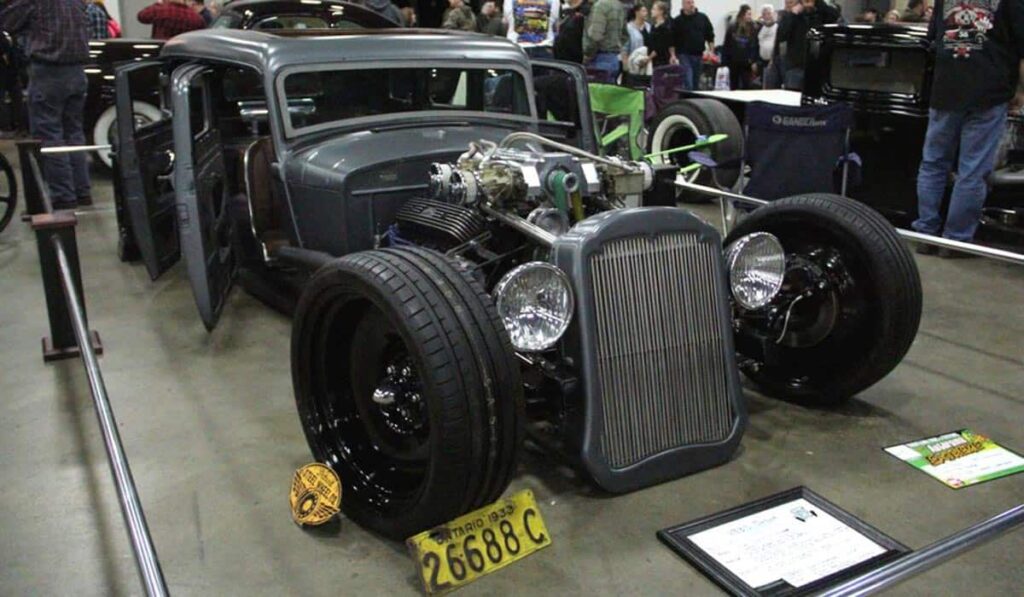 There's no denying the power when this rat rod rolls up with its hood removed for maximum effect. It boasts a Chevy 427 engine with a turbo 400 transmission and a rear mounted radiator to keep the engine completely on display whether it's driving or winning competitions. This one's not much for speed bumps, given how the grill is about half a centimeter off the ground, but there's no denying the wow factor involved when it comes rolling up. Talk about low riding, but hey, it looks fantastic.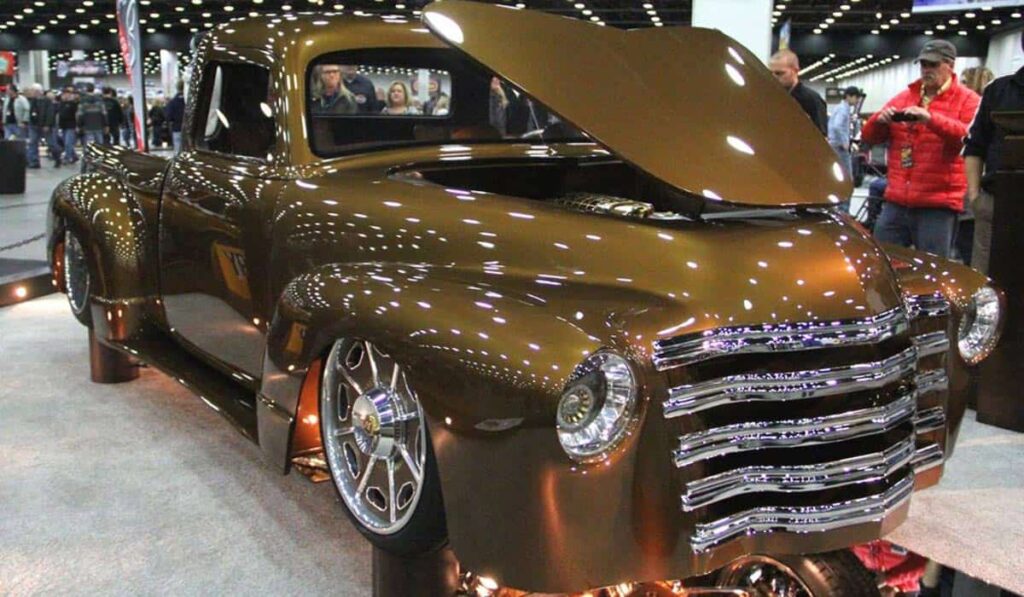 Spaceship Rod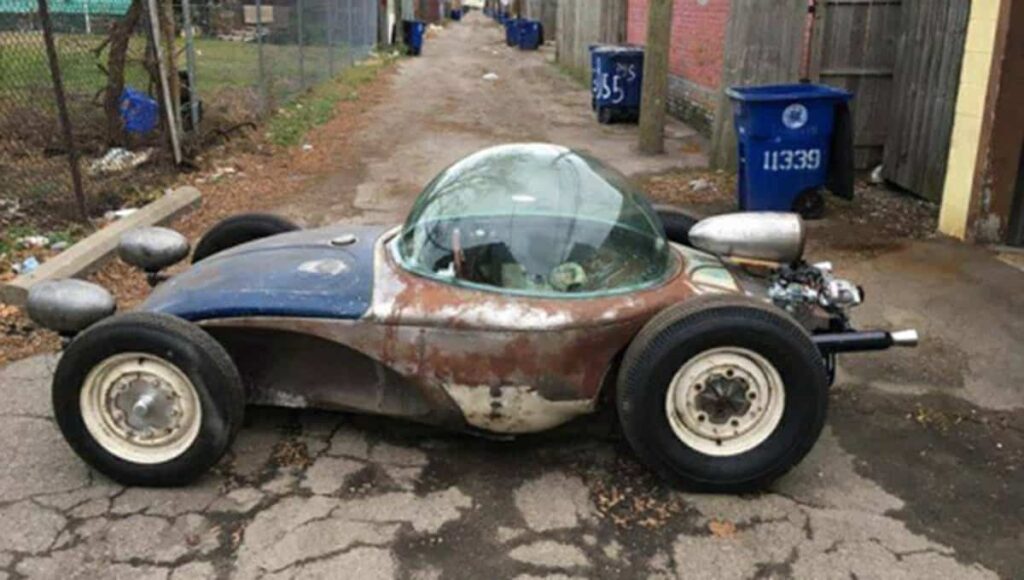 George Jetson would have loved that cockpit, and the whole package looks like the perfect way to drop Elroy and Judy off at school every morning before heading into Spacely Sprockets. But Jetsons jokes aside; this is something really odd. The bubble dome is a rarity on any car, let alone a rat rod where owners prefer the wind in their hair. Hailed as the Beetle from Outer Space, it's a mishmash of old VW Bug parts put together with a bubble top. The body's seen better days, but no one can deny the style.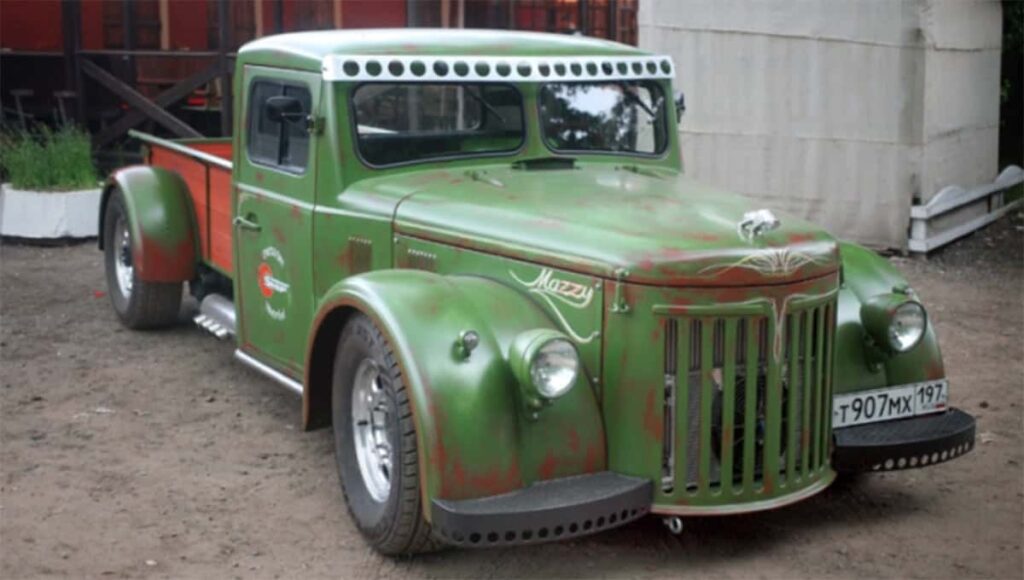 1949 Chevrolet C10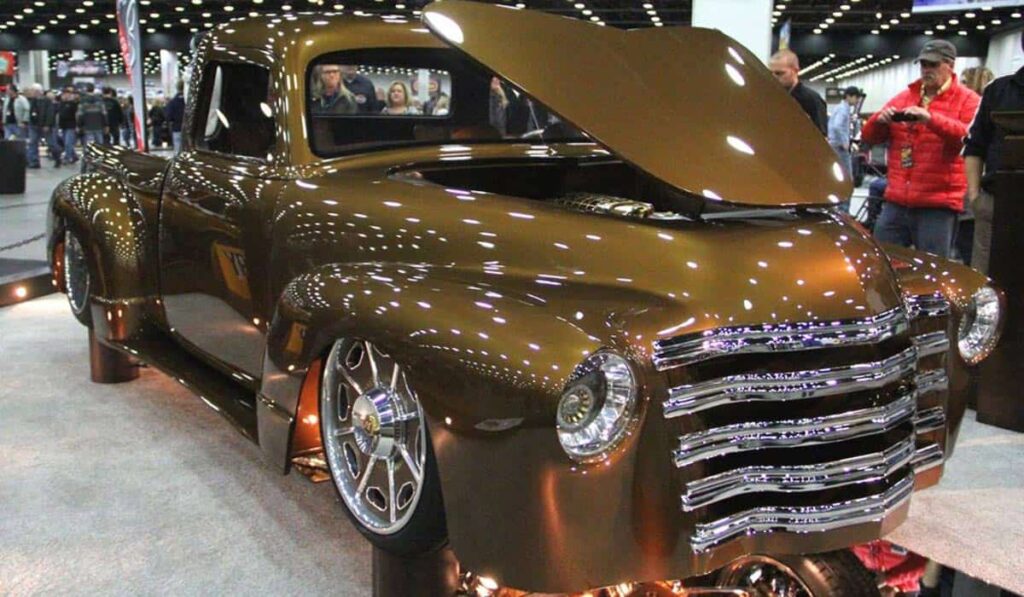 It's not hard to know who owns this gorgeously outrageous pickup when they see it rolling down the streets of Mount Vernon, Texas – population 2,650. Bobby and Hazel Collvins are the proud owners of this beauty. The car features a custom rear-hinged driver's door. It also has brown leather interior, and flashy taillights swiped from a 1949 Cadillac and affixed to the rear fenders. The original C10 was a half-ton, two-wheel drive model eventually replaced by the K series of 4x4s that entered the lineup in 1960.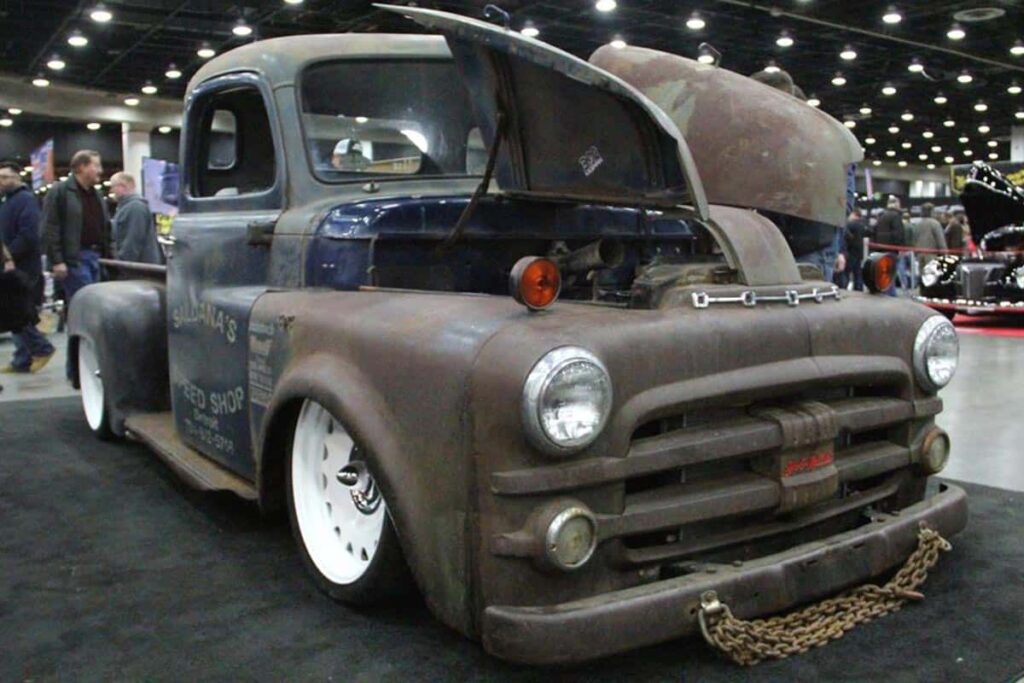 Soviet Minsk Auto Zavod Truck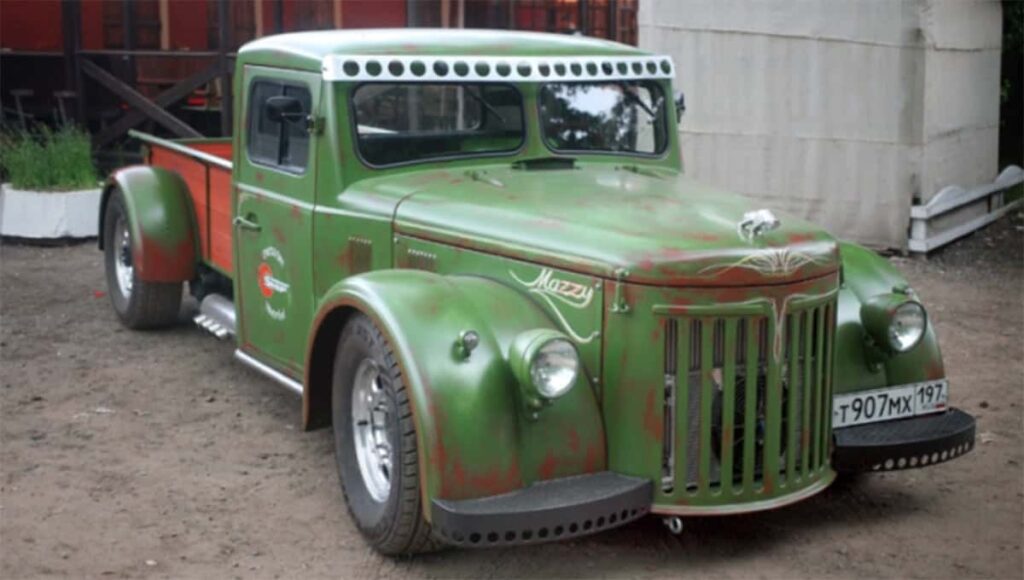 Someone has got to be a pretty deep fan of international autos to know the abbreviation MAZ – short for Minsk Auto Zavod, or Minsk Auto Factory in English. It was founded in Minsk, formerly part of the USSR in 1954. In addition to its normal production runs, it put out some crazy customs, one of which found its way across the ocean. Believe it or not, in a former life this rat rod used to carry the Soviet Union's long-range ballistic missiles during its parades to flex its military might.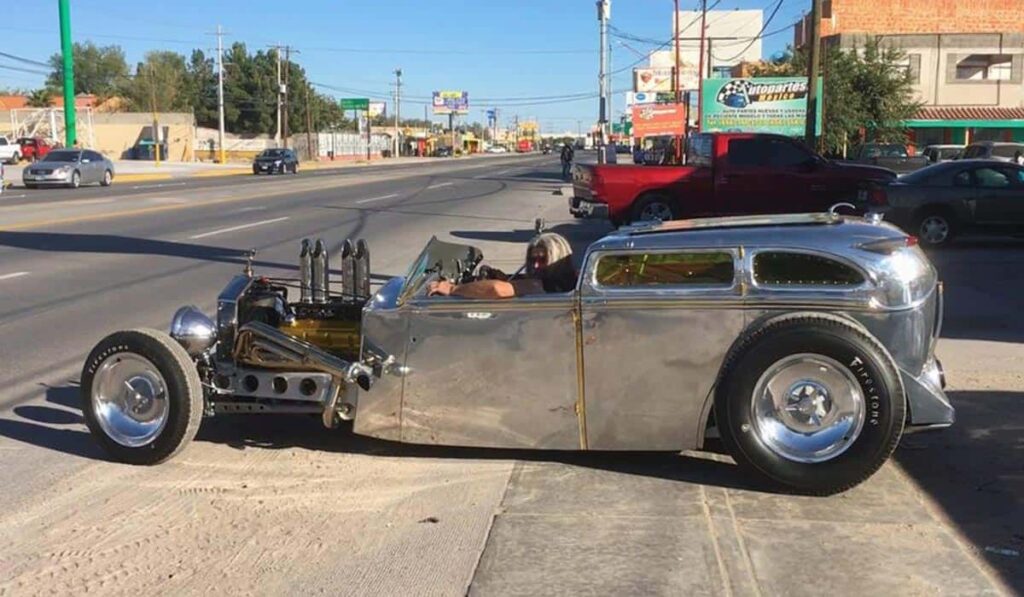 1950 Dodge D-100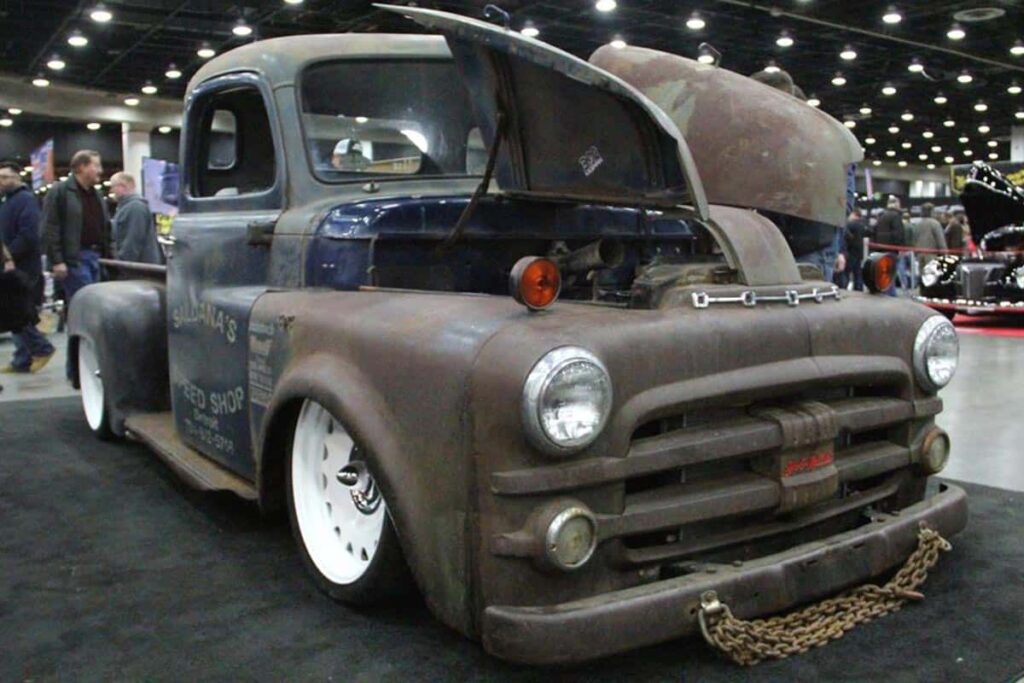 This scrappy masterpiece combines a Chrysler 392 crate engine with a Tremec six-speed manual transmission. The drive train is straight out of a Dodge Challenger and capable of revving up to 485 horsepower. It's a gorgeous mixture of old and new. It's got repurposed wood in the bed of the truck that's from 1920, while the D-100's original instrument faces have been rebuilt to work with complete functionality. About the only truly "new" features are custom headers and a similar exhaust.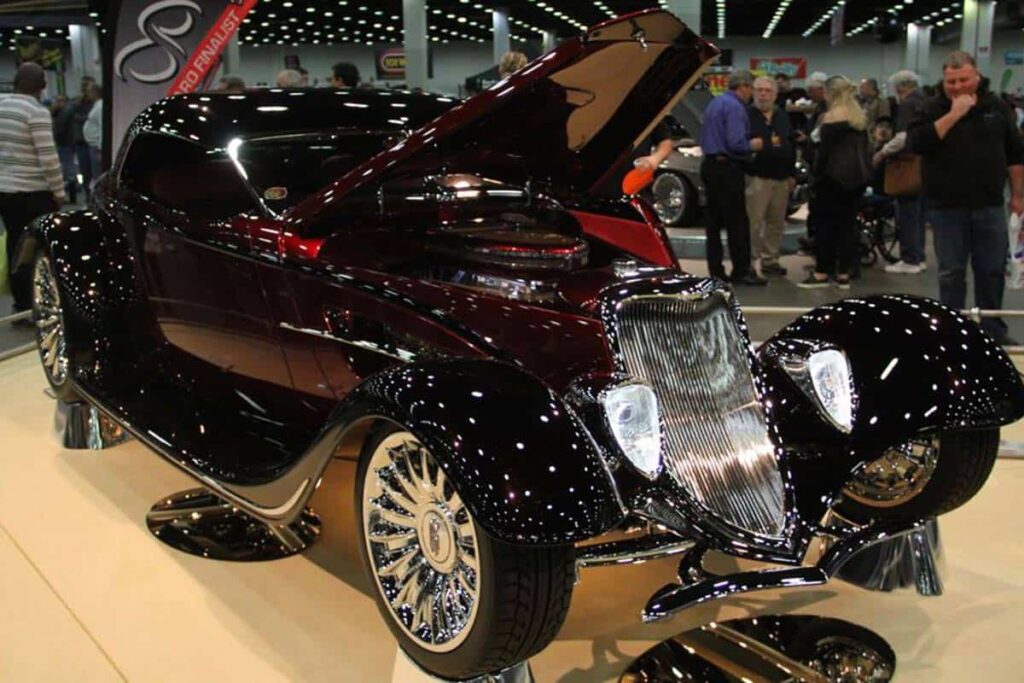 Rolls Rod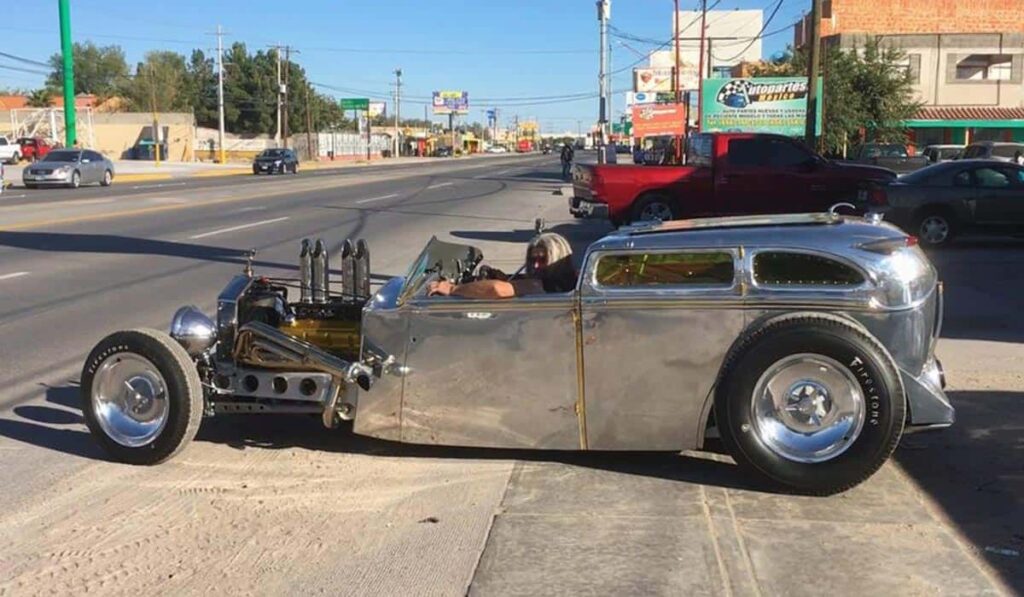 We've had a RA semi and a tank rat rod. Next up, we have a Rolls-Royce. No one will be stopping to ask for any Grey Poupon while rambling around in this bad boy, but that's sort of the point to the thing. You want a rat rod with style. This one is a 1934 Rolls Royce Phantom with the roof of an old Mercedes on the back. The front and rear ends of the chassis have been cut off to get it down to rat rod classification, as have the front spring leaves.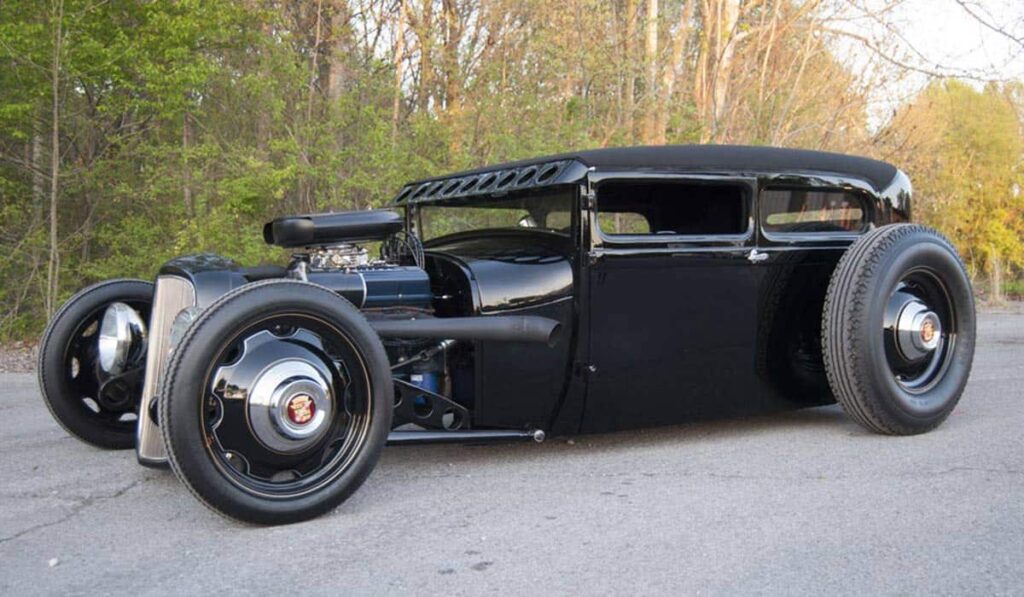 1933 Ford Renaissance Roadster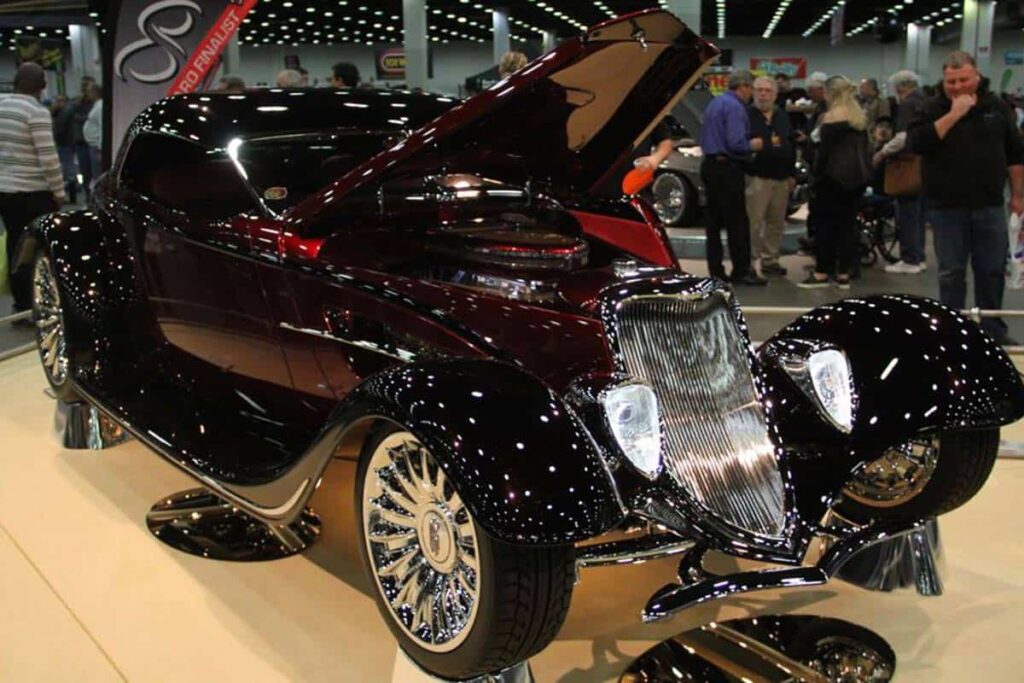 We love how much this 1933 Ford Renaissance Roadster gleams in the right light. It won the 2017 Ridler Award at the Detroit Autorama. The vehicle was designed by Chris Ito and Steve Frisbie and built at STee's Auto Restorations in Portland, OR. Its engine is a GM Performance Anniversary Edition 427 with a GM 4L60 transmission. The headlight buckets and the rear bumper are all custom formed. There is also a smoothed case, CNC pan, and a CNC machined tapered aluminum driveshaft.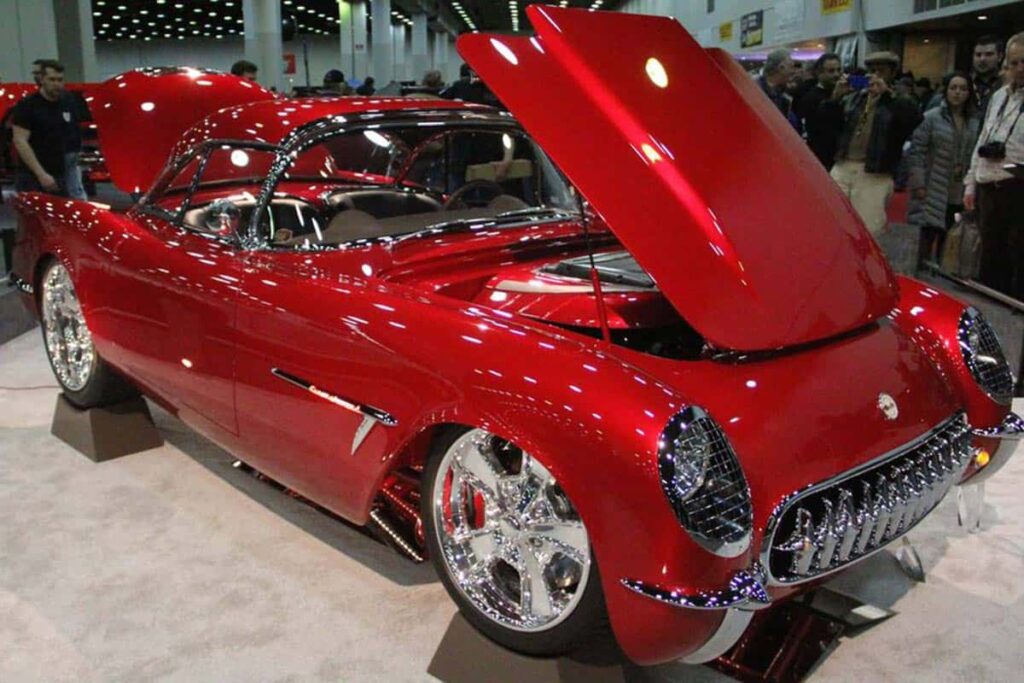 Ricky Bobby Rat Rod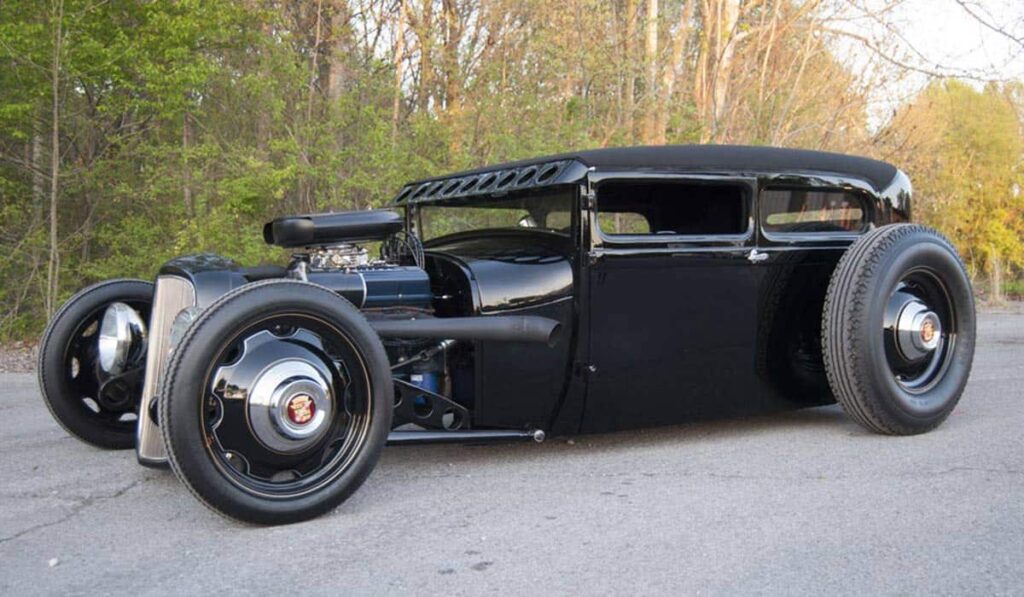 If the name Ricky Bobby does not bring a smile to someone's face or a chuckle to their lips, they might want to get off this website and head to Netflix to watch "Talladega Nights" (2006) right this very minute. This real life Ricky Bobby owns a rod shop in Manchester, Tennessee, and grew up racing a 1970 Plymouth Duster that his dad built a 340 six-pack V8 into. This rat rod has a 304 cubic inch flathead engine from a 1949 Ford. The body has been chopped nine inches, shortened three inches, and channeled four inches.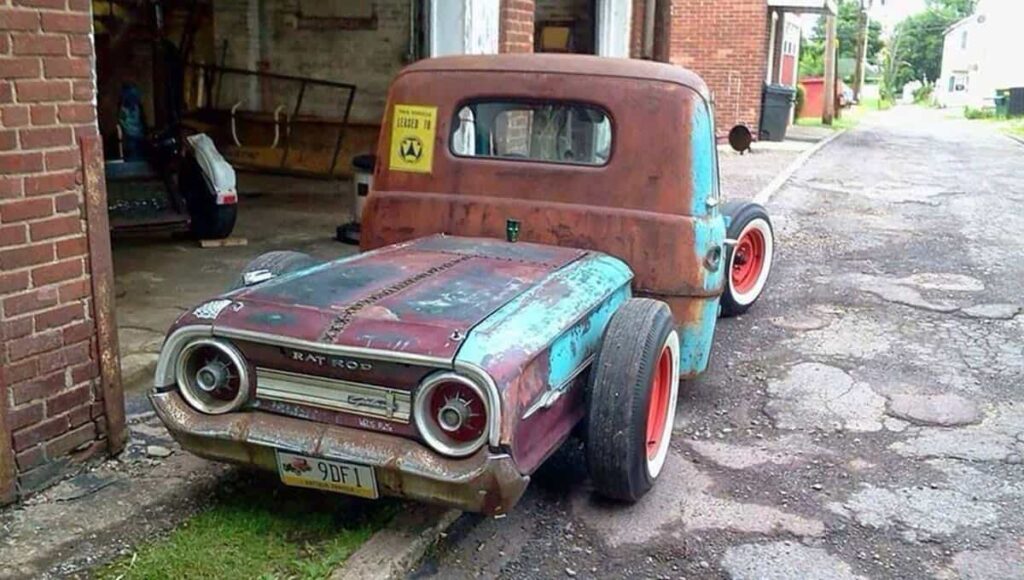 1954 Chevrolet Corvette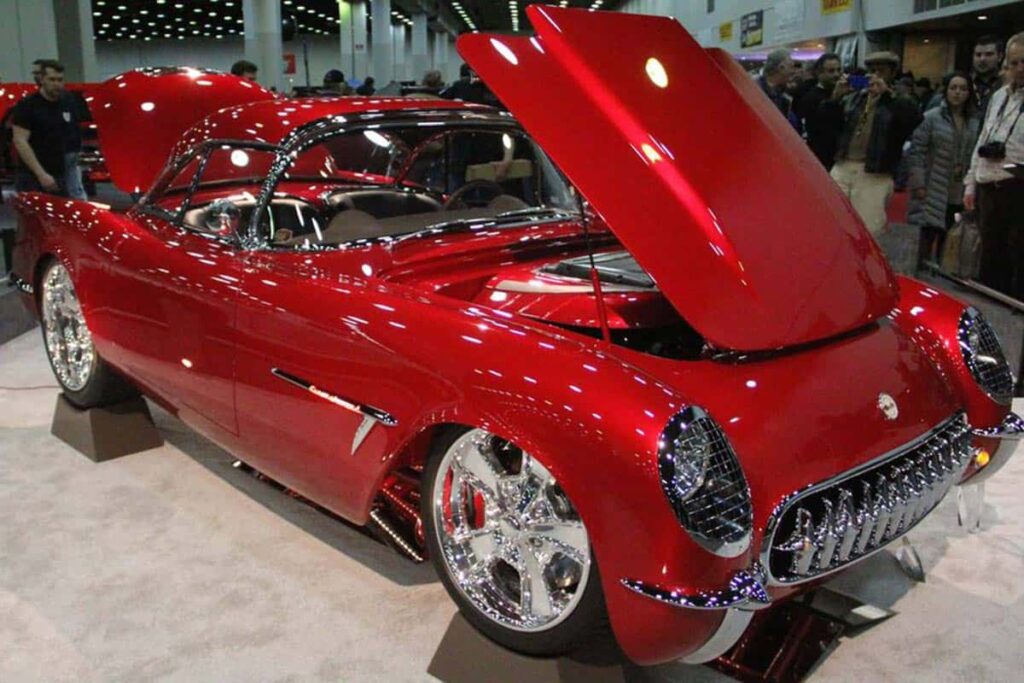 We don't think anyone has a Corvette they didn't like. We haven't, and this Custom Corvette is just another example that shows the reason this great American sports machine is so darn gorgeous. The exterior of this gleaming red speed machine has been kept the same. However, a supercharged V-8 engine now lives inside the vehicle. Slight modifications include later-model Corvette windshield and hardtops. Incredibly, the original was just a two-speed automatic with a six-cylinder engine. Sixty-five years older, there have definitely been a few upgrades.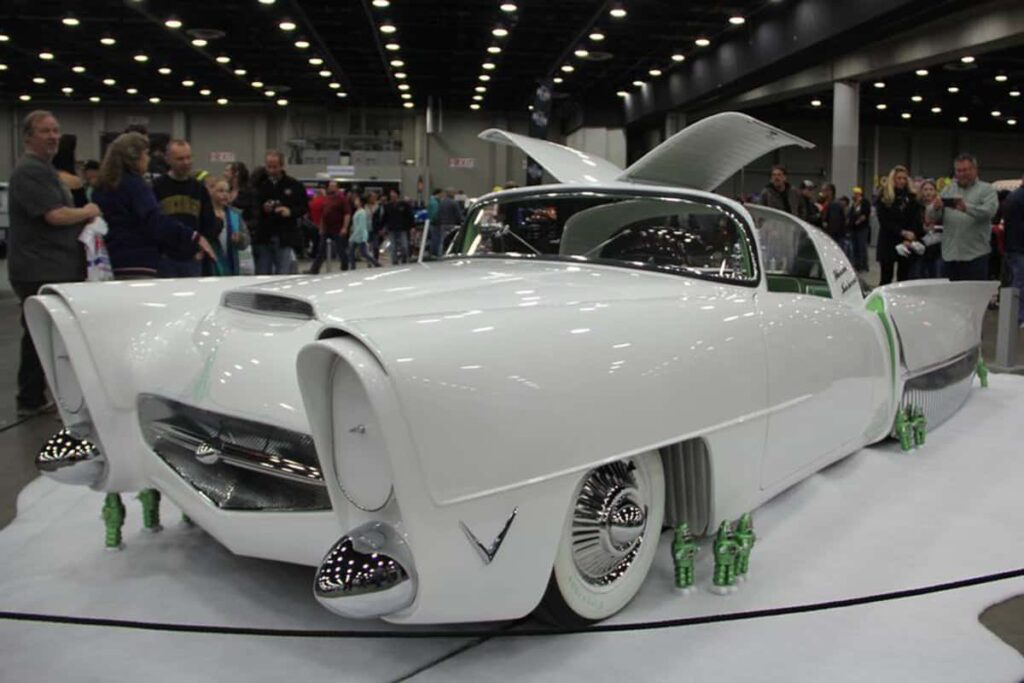 Rusted Rat Rod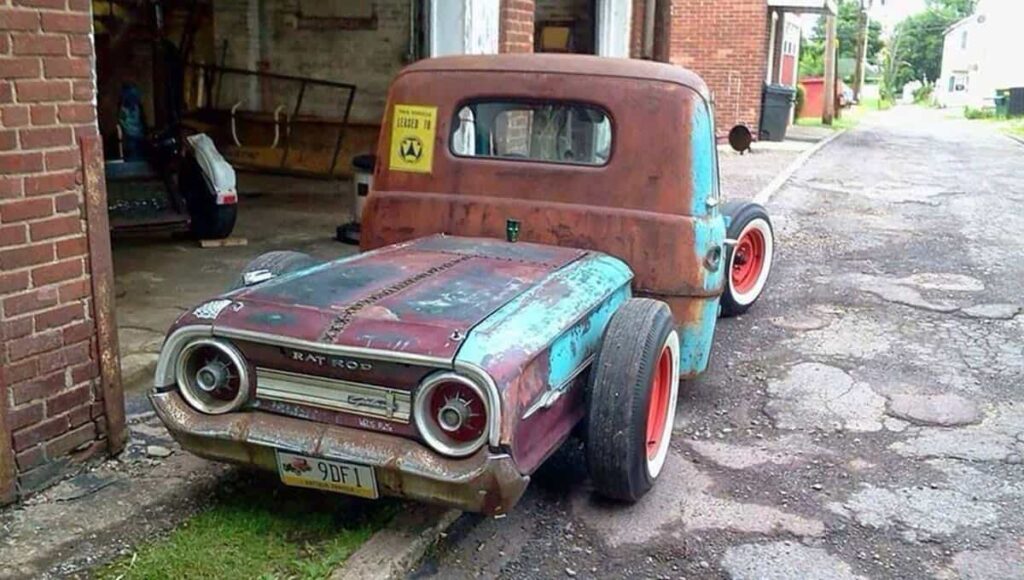 If someone's initial reaction is "this thing is incredibly odd", well we're right there with them. It's one of the latest Frankenstein custom jobs put forth by Roadkill Customs. This is the quintessential rat rod, checking all the boxes: unfinished appearance, check. Showing rust, check. Lacking paint, you got it. We sure hope the creators deliberately made this rod appear worn down, and it didn't happen by accident. Non-automotive items repurposed, good Lord, yes. We're not sure how fast it goes; heck, we're not even sure it runs, but if you plug Rat Rod into the dictionary, this might be the picture that comes up.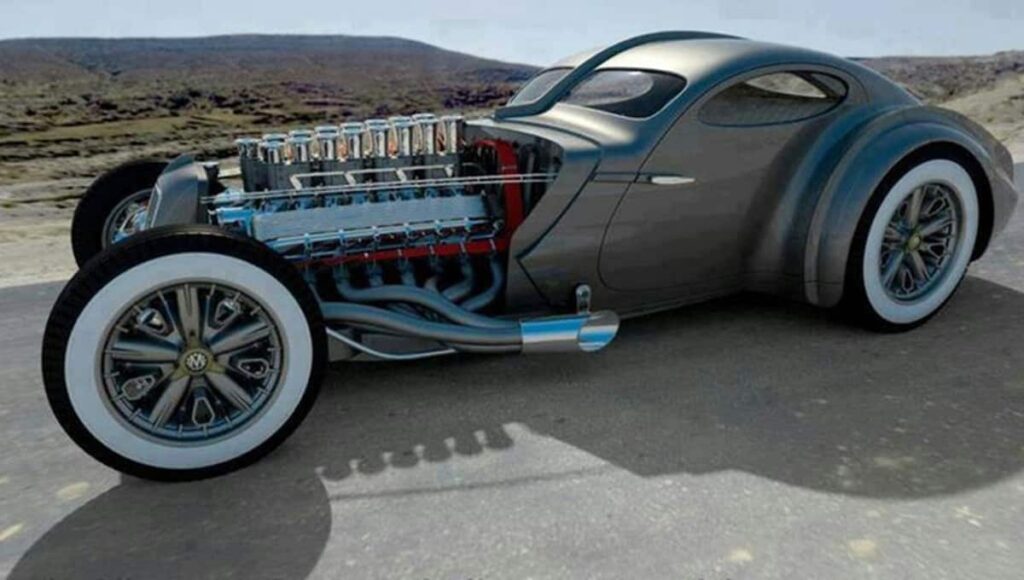 1954 Kaiser Manhattan "Voodoo Sahara"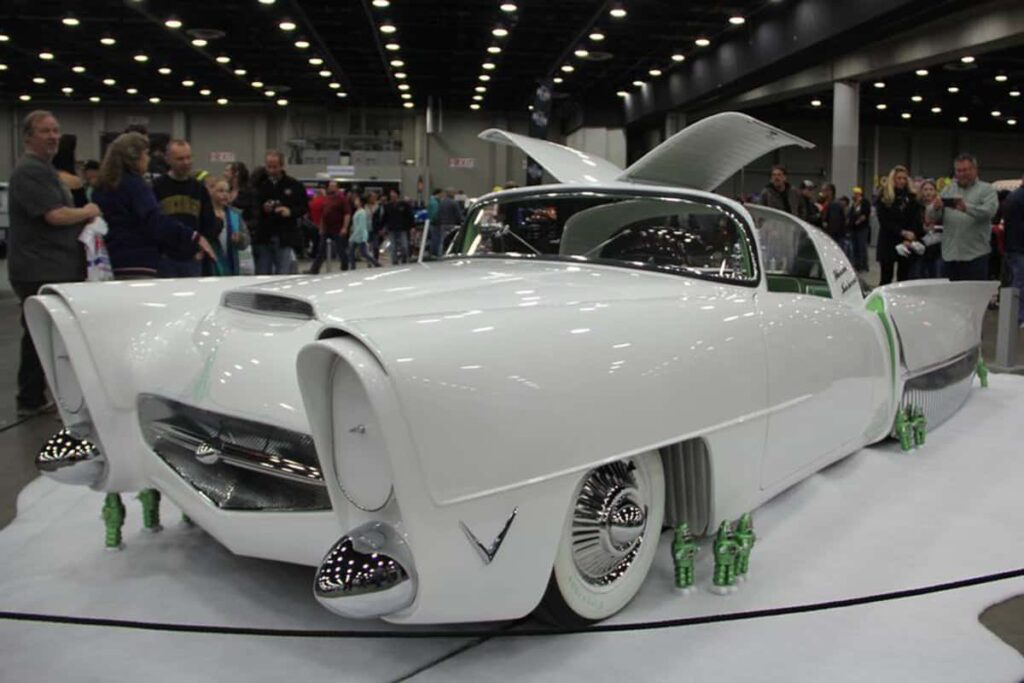 If someone saw this vision zooming down the highway late at night, they might think they'd seen a ghost, or possibly someone visiting from another planet. This is a full custom rod with 1960 Corvair headlights in buckets from a 1935 Ford. It also has a windshield from a 1955 Chevy; a 1977 Nova rear end; and 1958 Mercury taillights. The engine is pure Chevy, a 1969 small block V-8 with a Hydra-Matic Turbo 350 automatic transmission. A look inside shows 1950s-era telephone, microphone and a television to boot.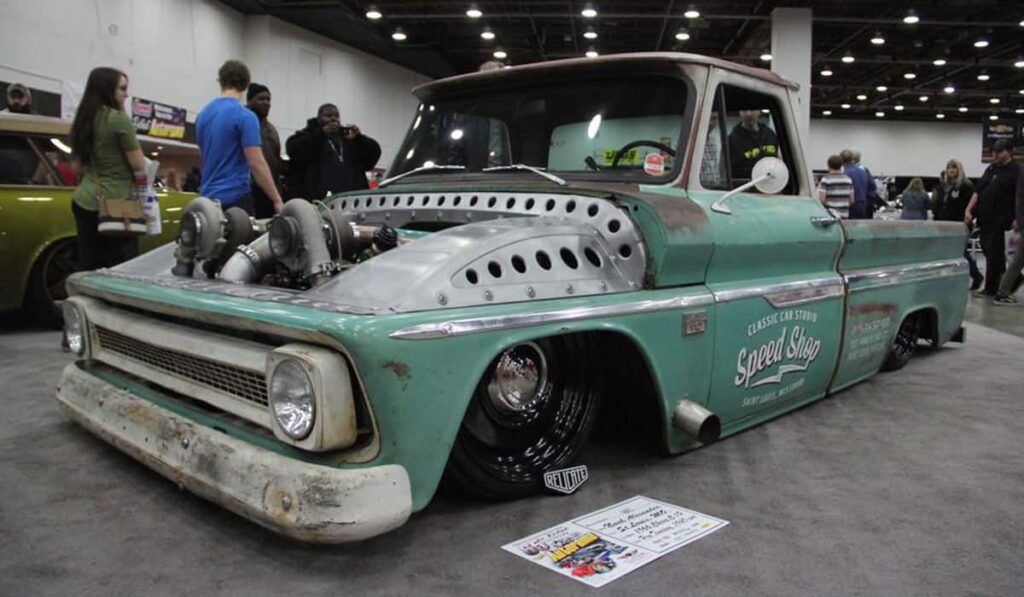 Modern Rat Rod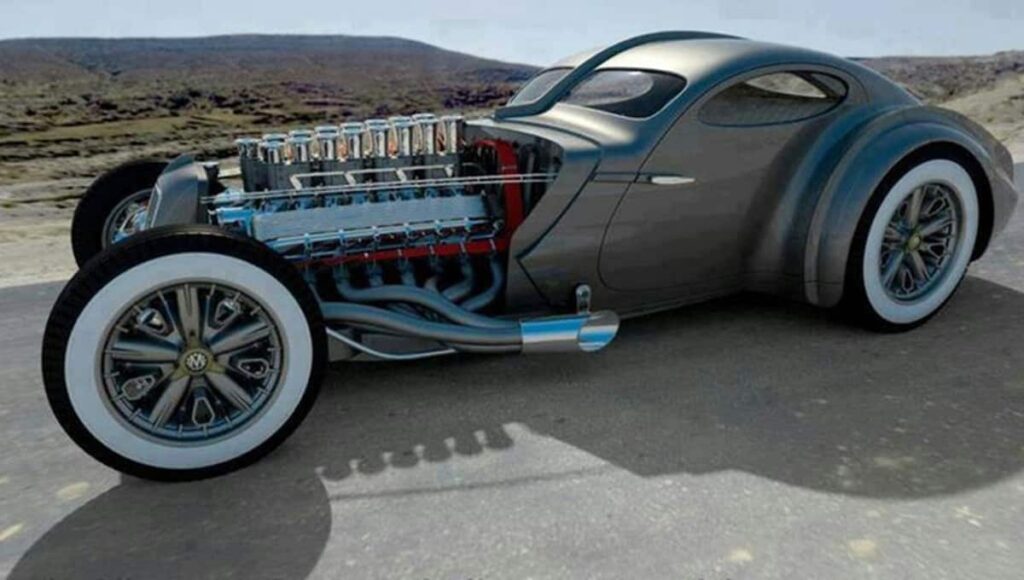 We hate to break it to someone if they saw this thing and immediately broke open their piggy bank to start saving up: It is not real. This image is just a mockup rendering of a modern-day rat rod concept. This method is something that is becoming more and more en vogue as the custom crew of the industry starts getting younger and younger. Of course, having newer vehicles sort of defeats the purpose of the scrapped, rusted, broken down appeal of the rat rod, but they've got to change with the times.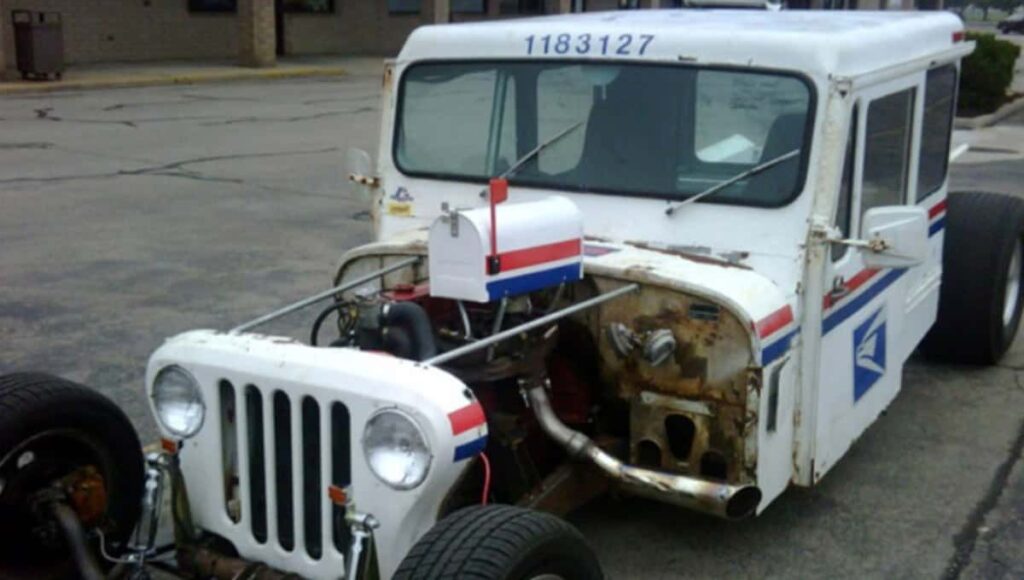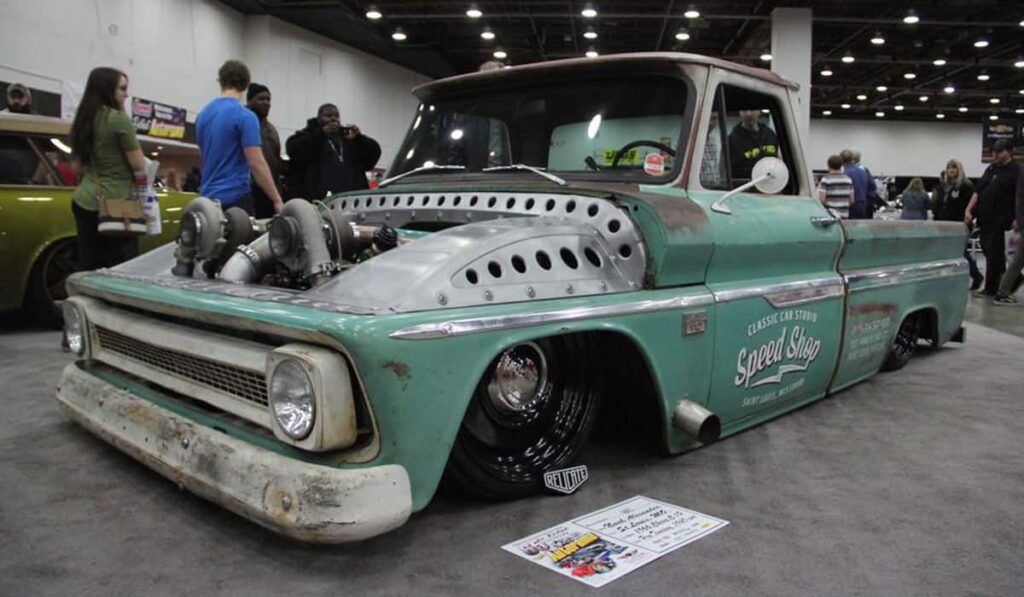 1966 Chevrolet C10 "Tiffany"
A sneaky combination of time and effort combined with the derelict look of a rat rod defines Ms. Tiffany, built by Classic Car Studio and owned by Saint Louis's Noah Alexander. Busting out of the front is a turbocharged 346-cubic inch LS1 V-8 engine. No hood can hold this big boy, and it has two giant exhaust pipes pushing out of the front. If they are wondering where the wheels are, look again. There are 22 inch wheels and air springs tucked in under the fenders.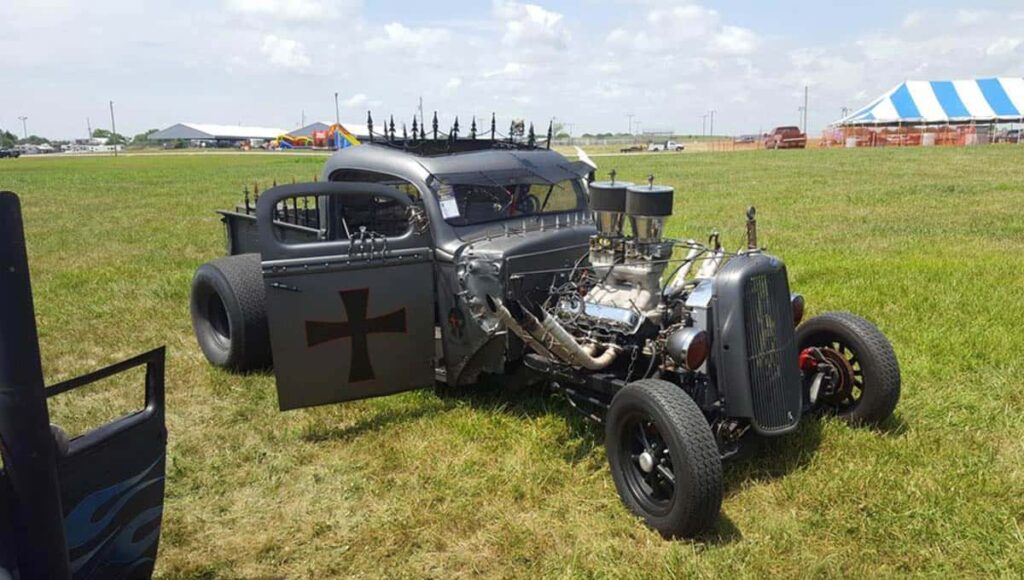 Mail Rod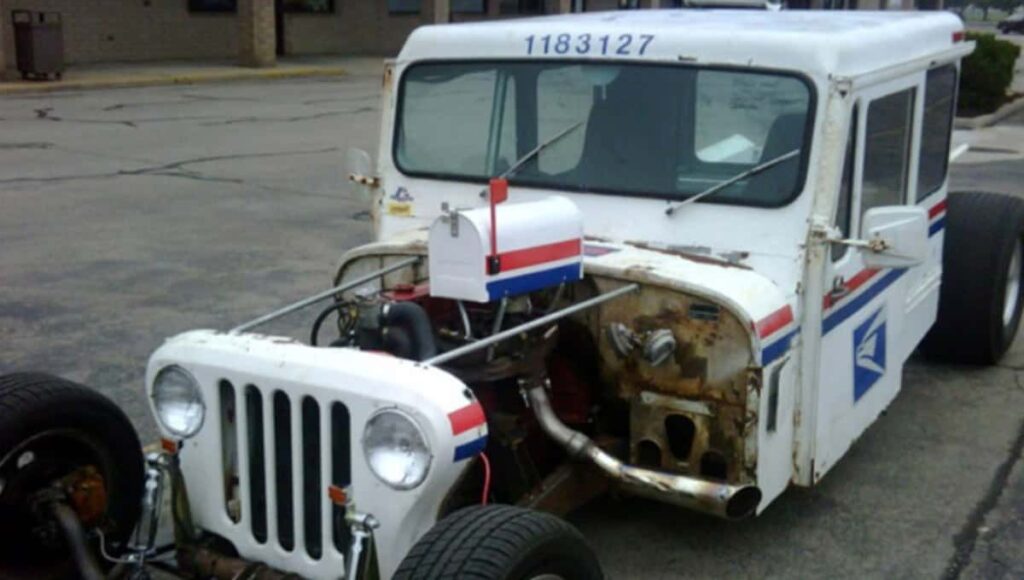 There are a lot of jokes here. Maybe someone would say, "That it is a great looking rat rod, but it will never get someone anywhere on time." They might also remark, "That car looks good, but it always goes to the wrong house." Or perhaps they'd say," That vehicle they are driving around in a dinosaur." Still as rat rods go, it definitely makes a statement, especially with the exhaust pipe made from a mailbox – custom painted with upturned flag no less. The cab is intact, a rarity on rat rods, but definitely good for when someone needs to go though rain, sleet, snow, or dead of night.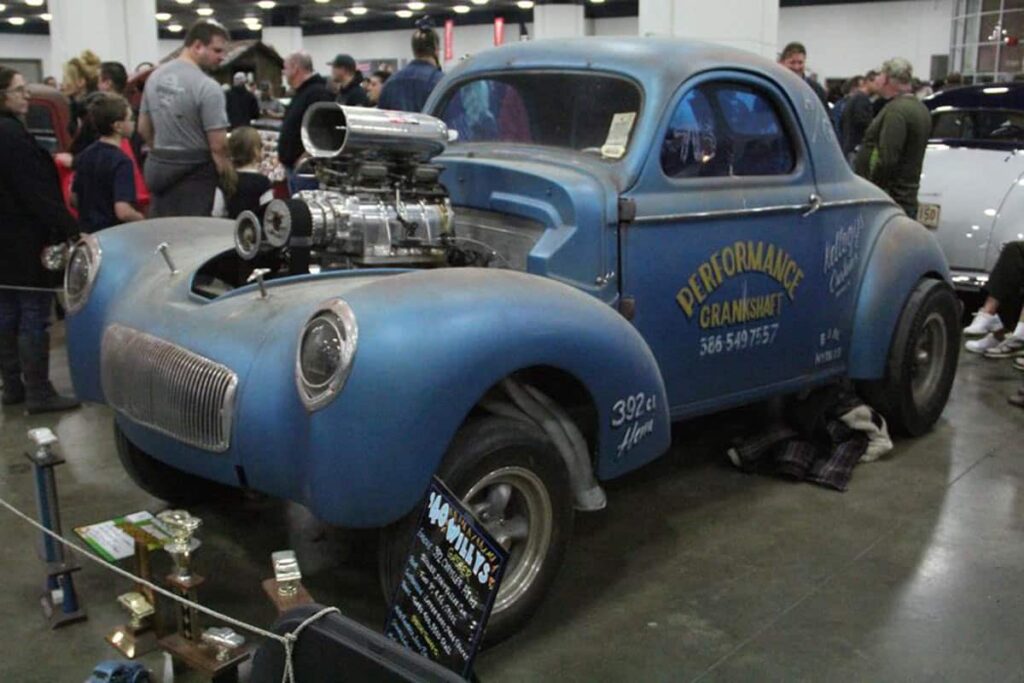 Cross Hot Rod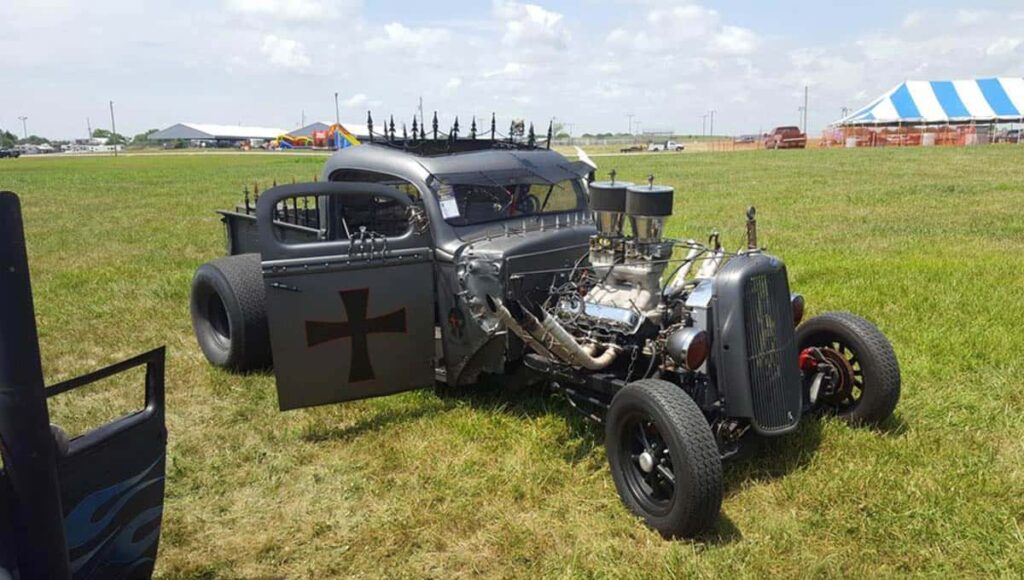 If anyone from Thunderdome in the Mad Max movies lost their car, we're pretty sure we've found it. With the Iron Cross on the side, spikes on the roof and the back quarter, and an outlandish engine poking up in the front, makes this rat rod has a very striking design. It is hard for everyone to not just shake their heads in wonder at this magnificent monstrosity. The front tires are extended out to support that massive engine bloc and the whole thing is painted a gritty, gruesome dull grey.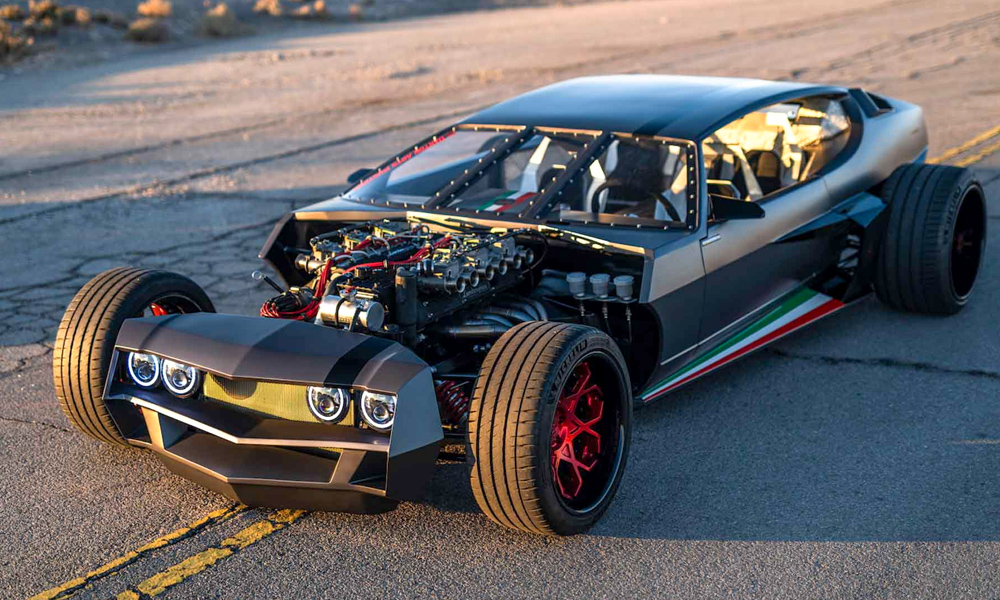 1940 Willys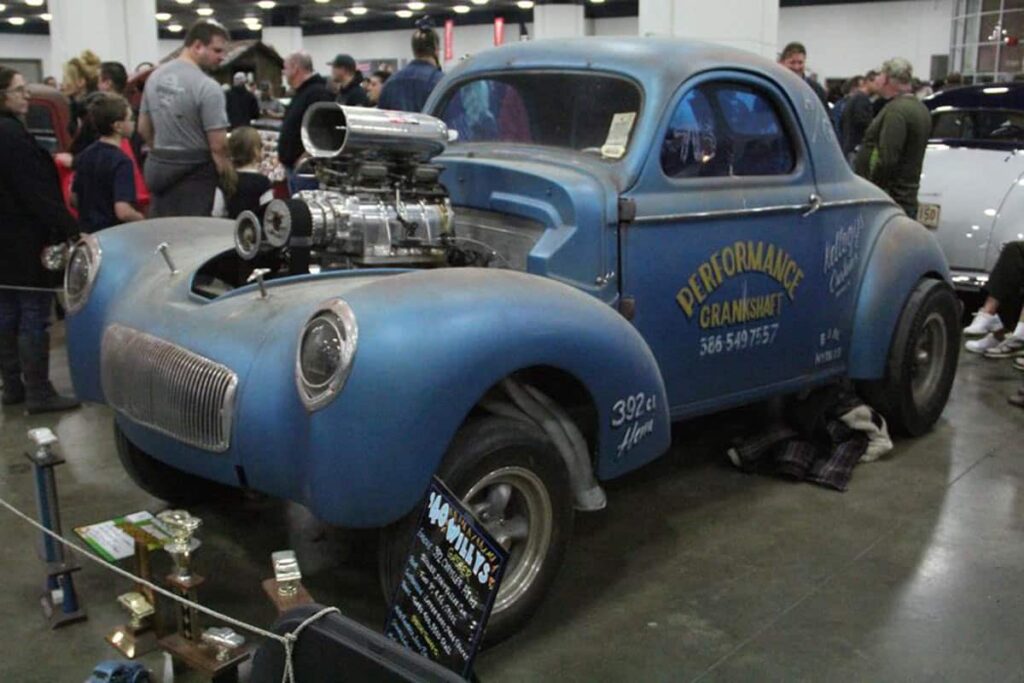 Looking at this 1940s-era Wily reminds us of the quote Han Solo lays on Luke Skywalker when the latter first lays eyes on the Millennium Falcon in 1977's Star Wars. "She's not much to look at kid, but she's got it where it counts." Where it counts is the monstrous engine block that threatens to cut off the driver's field of vision. These cars were built in all steel and this one can generate up to 502 horsepower thanks to its 350 motor with a Holly 4-barrel carburetor.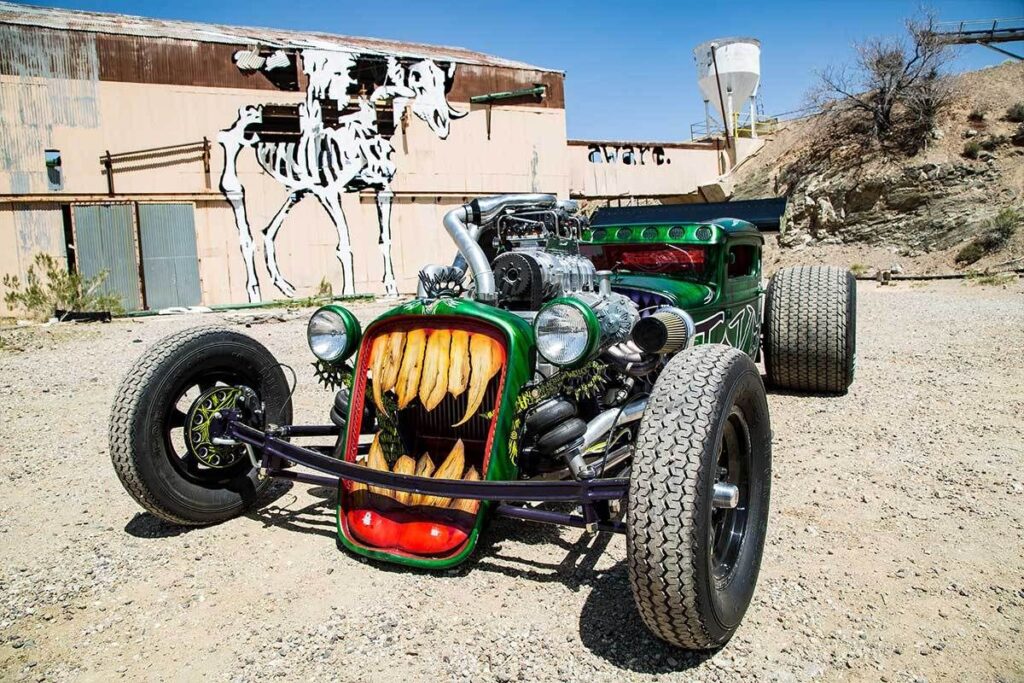 1968 Lamborghini Espada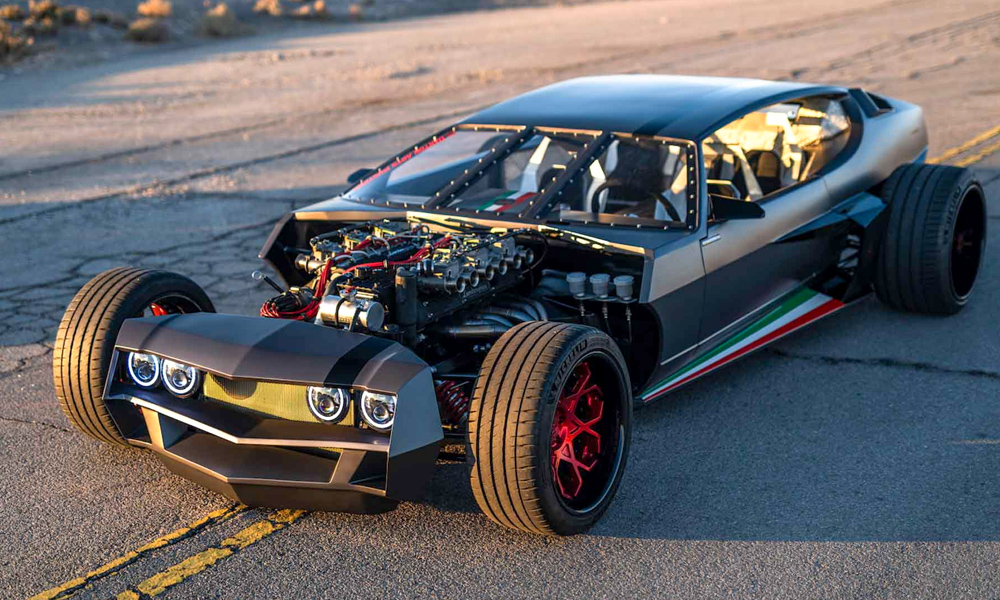 We have conflicting feelings on this one. This car is a 1968 Lamborghini Espada that received the rad rod treatment in 2018. We do think it looks cool, but we have reservations for someone altering this classic. The ones responsible are Danton Art Kustoms, a French tuning house, who decided to implement these "modifications" to celebrate the car's 50th birthday. They customized about every part of the vehicle, from the seats to the wheels. This Espada is about 8.2 feet wide, showing off an exposed 3.9-liter V12 engine, which goes around 350bhp. The car became available for purchase at Kissimme auction in Florida.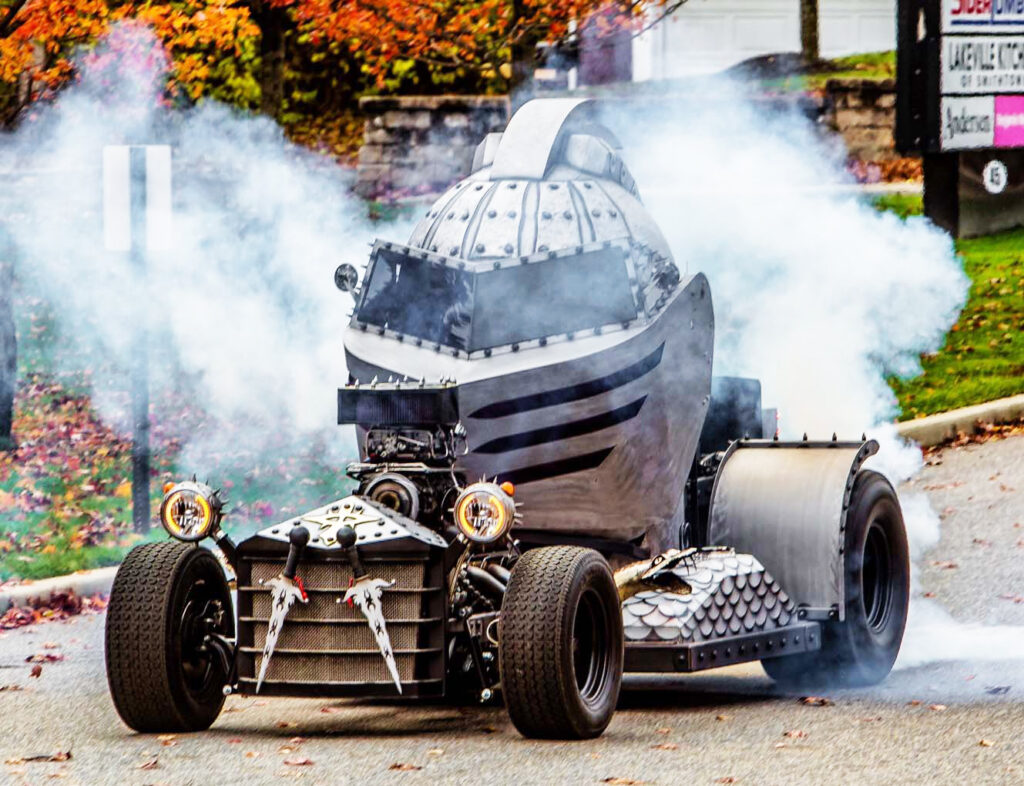 Jokers Wild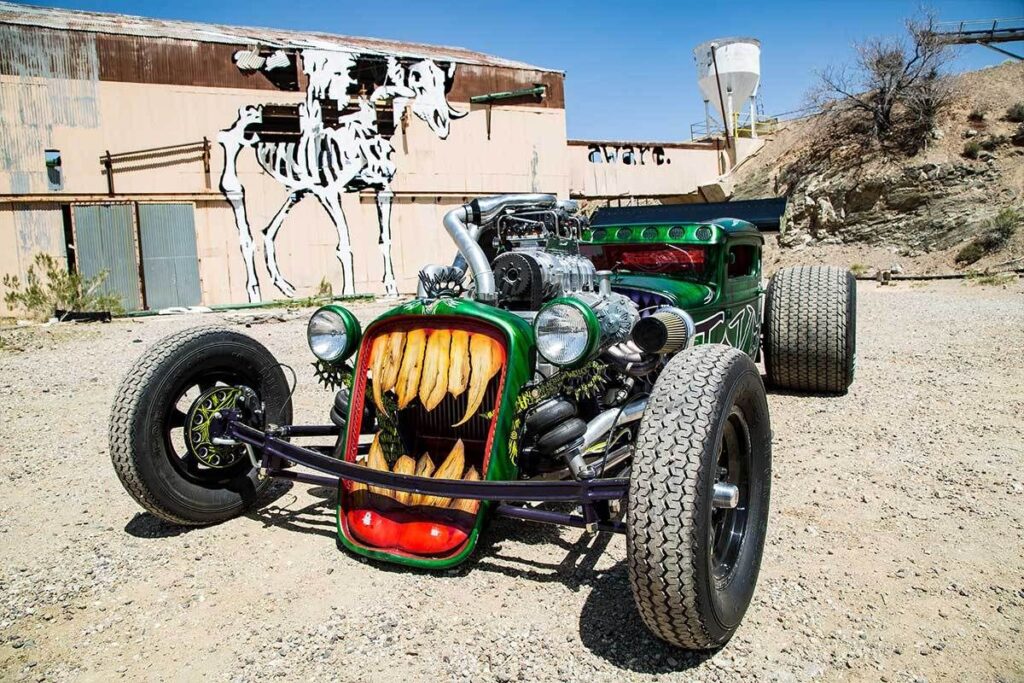 This wild rat rod came from the crew at the Welder Up Shop in Las Vegas. It was also featured on the TV show Street Custom Las Vegas, where they have a limited time to build this masterpiece and almost run out of time to meet their deadline.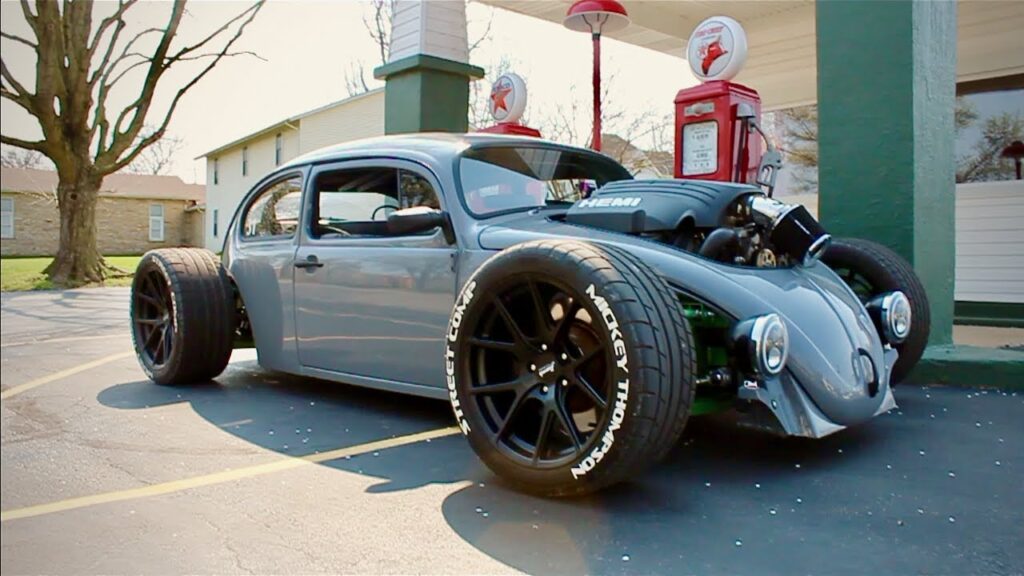 Medieval One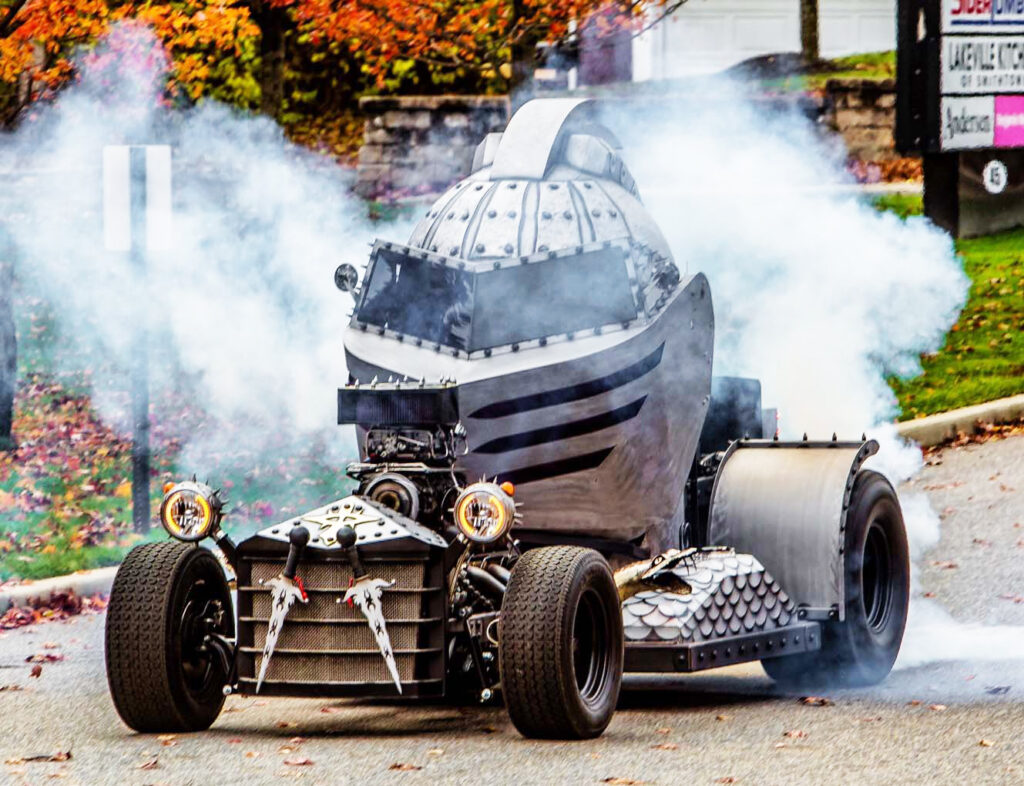 This amazing rat rot build was designed and built by Bohata Designs Inc. This bizarre looking build is powered by a supercharged small block Chevy that produces nearly 1,000 horsepower. As with most custom vehicle builds this one cost nearly $200,000.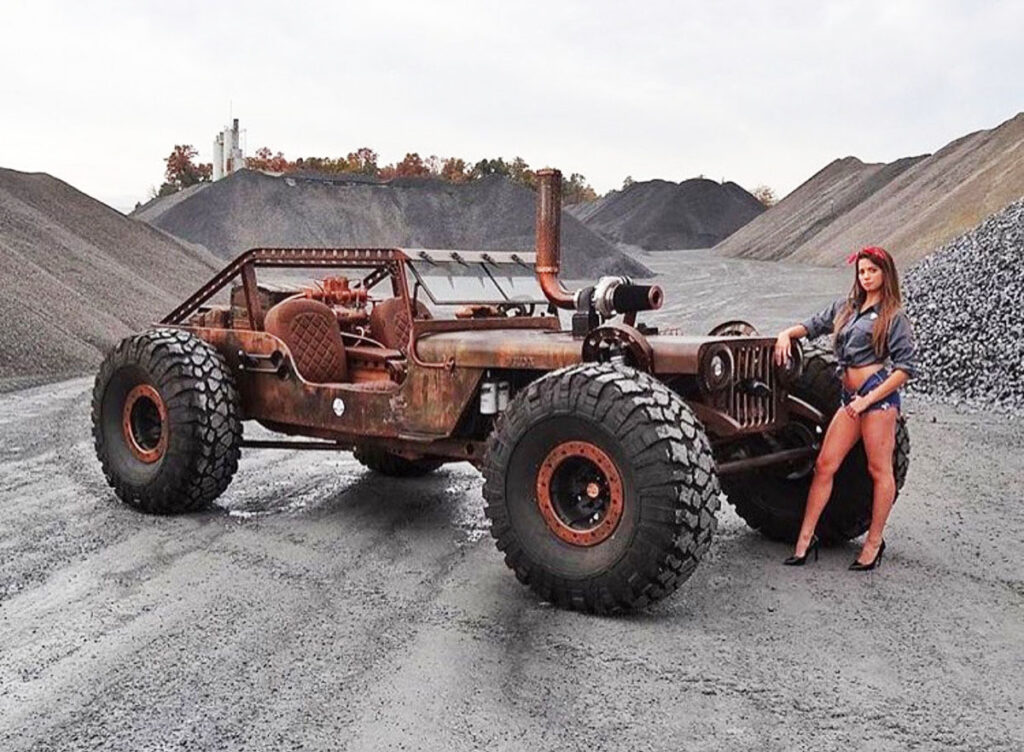 Beetle Juiced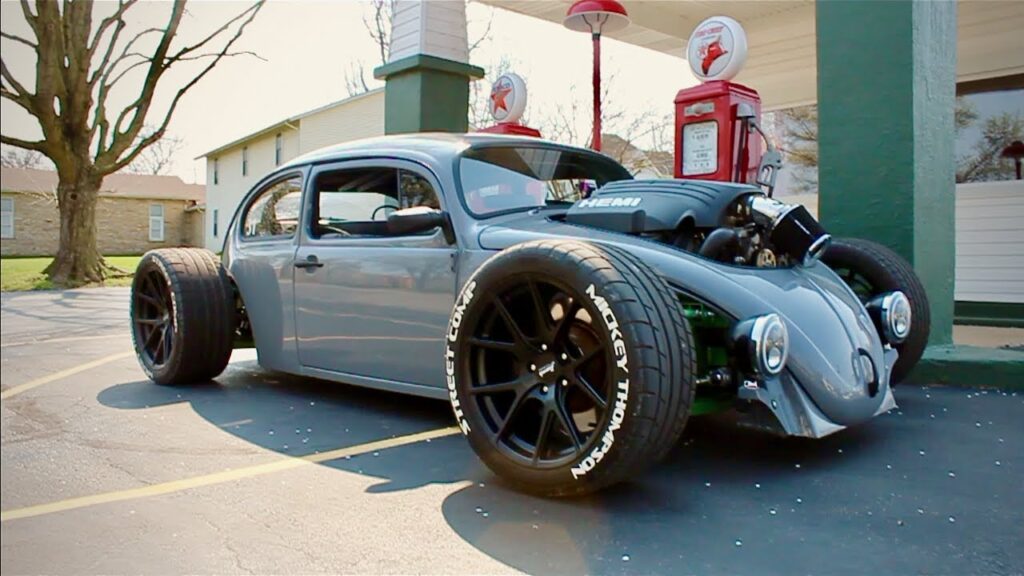 This 1976 VW beetle is not your ordinary Volkswagen. When the Lucky gunner team got a hold of this project, they took it to a new level of custom. This Beetle has a massive Hemi-Powered 5.7-liter V8 that helps this Volkswagen beetle tear up the streets.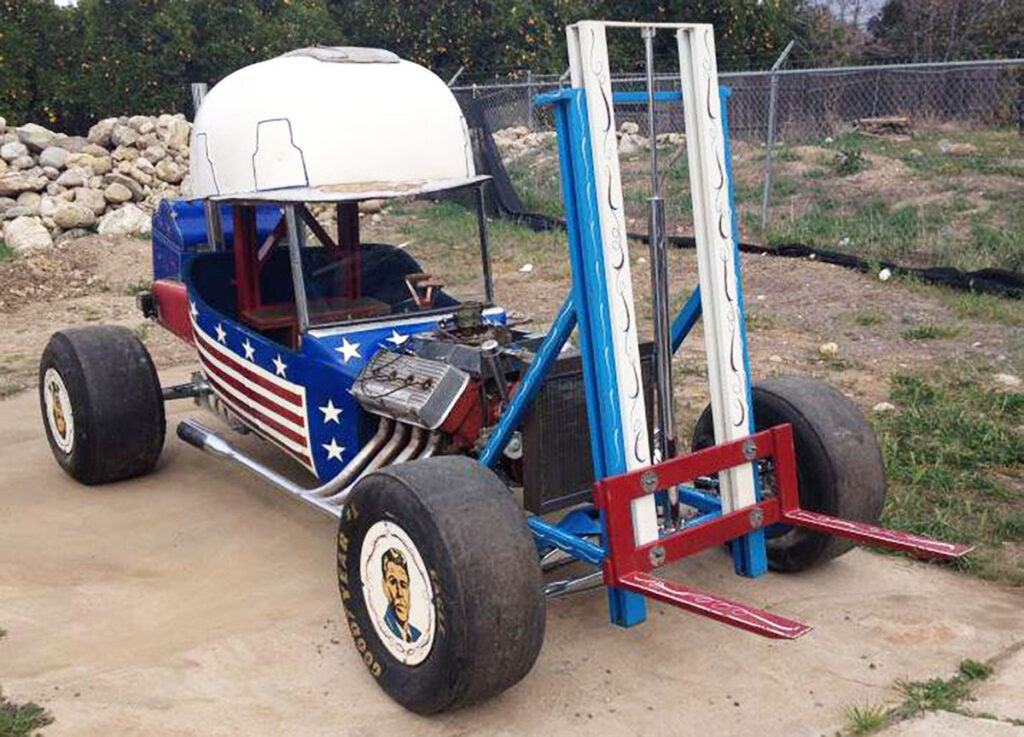 Jeep Rock Rat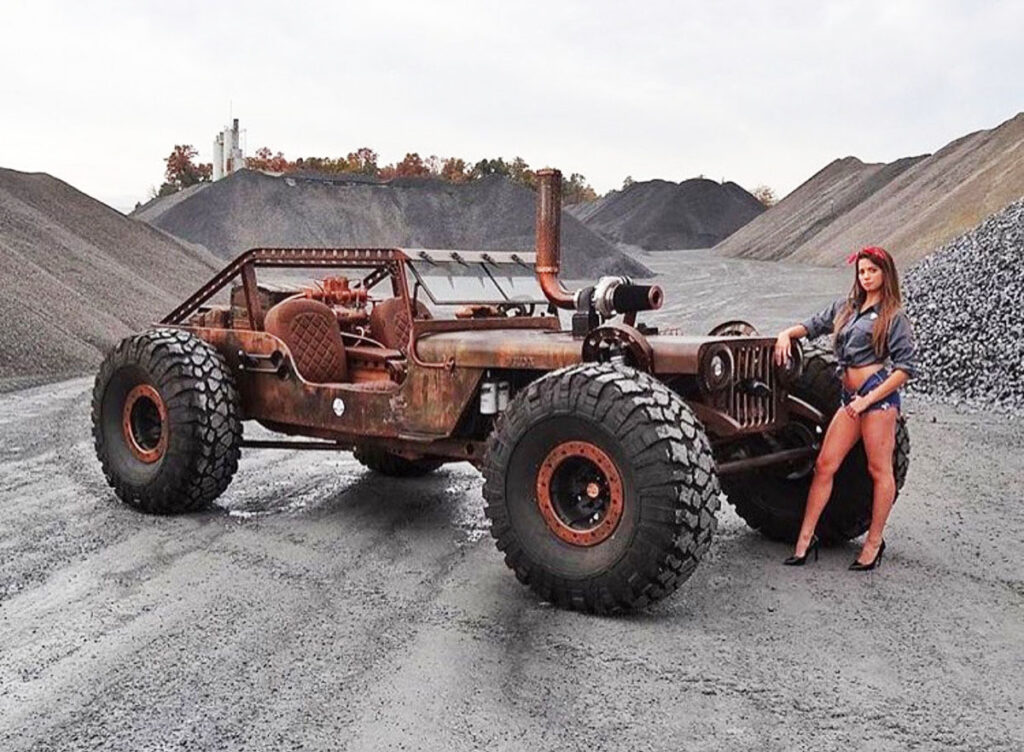 This build is based off of a 1947 Willy's CJ2A body that has been heavily modified. Kenny didn't leave anything original with this one as he even got with the team at Industrial Injections and Turbonetics to install and tune a 12V school bus engine that now makes 700hp and 1,200 ft.-lb. of torque.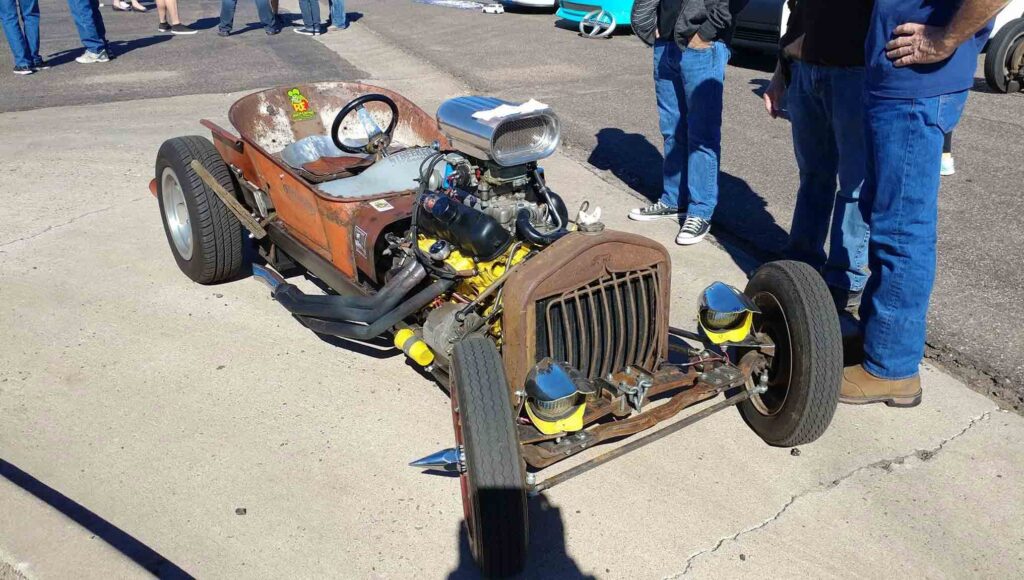 Hard Hat Hauler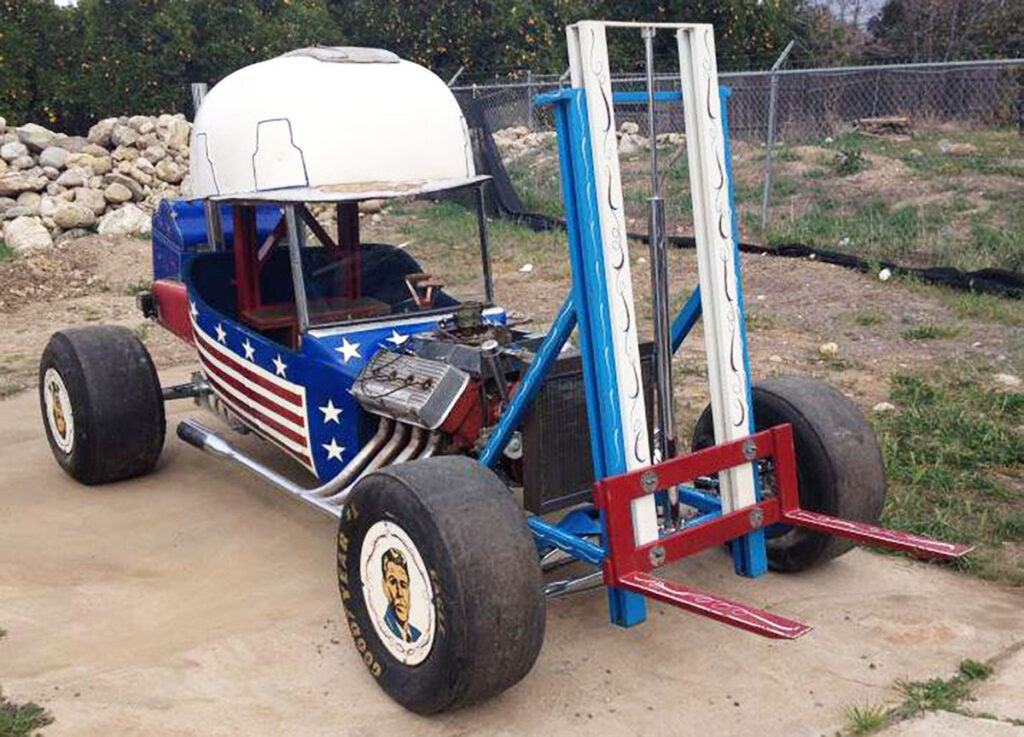 This creation came to life in the early 70s with a triple blown Hemi-Powered Chrysler engine that produced around 500hp. It also has a fully functioning fork lift on the front. Since the build this vehicle was discarded and started falling apart, until Jeff Dunham purchased it and had Galpin Auto Sports retore it for him.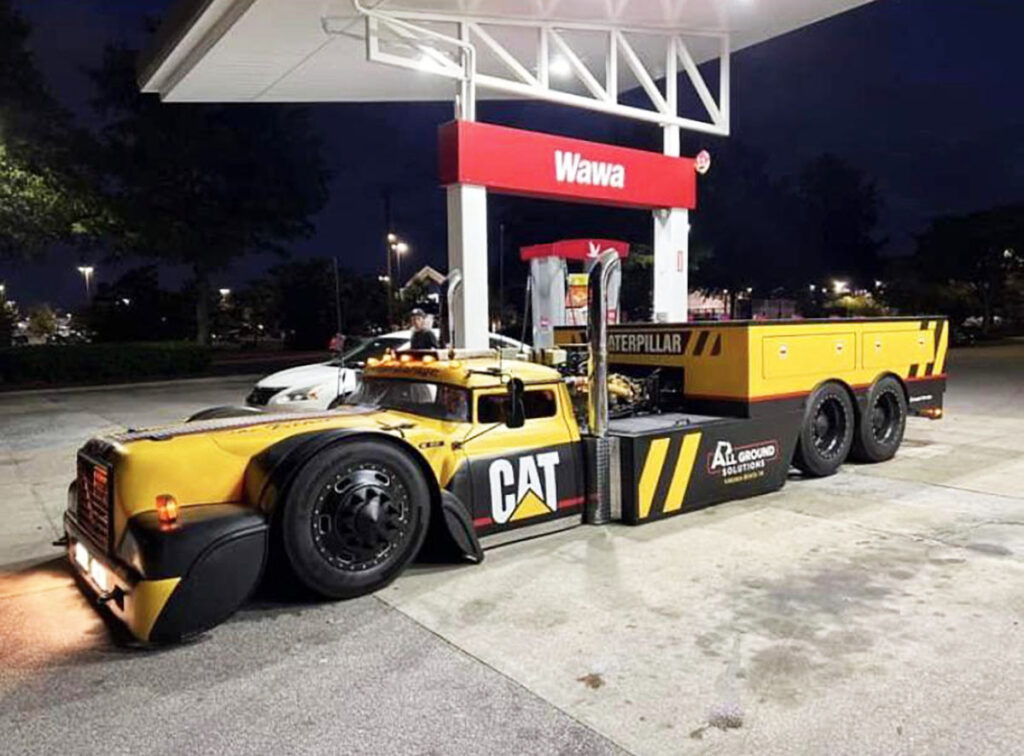 Wheel Barrow Mania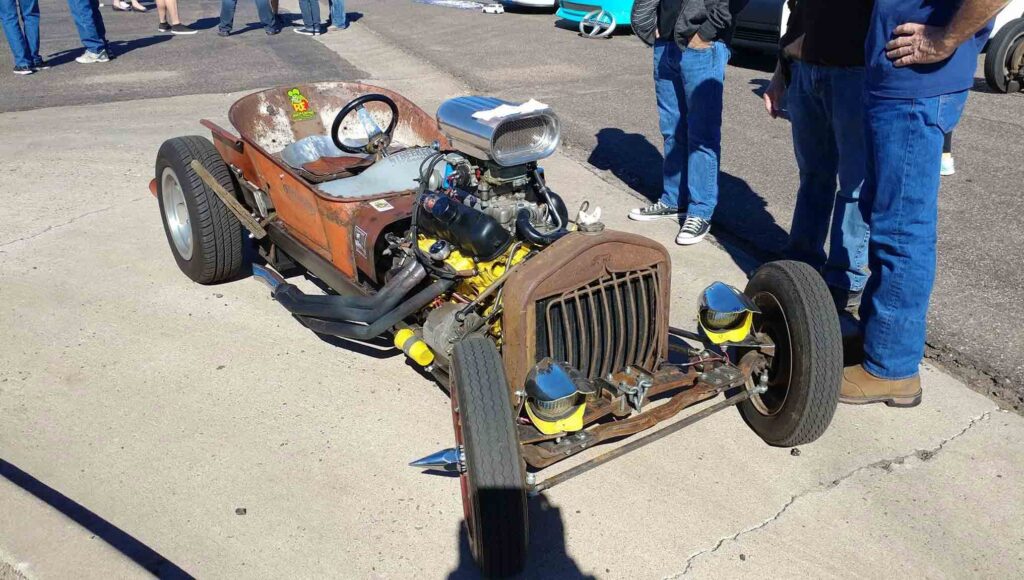 This wild and crazy rat rod, was built out of your local yard tools. If you look close enough, you will see the seat is made from a wheel barrow, while the grill is made from a pitch fork. If that isn't impressive than we don't know what is. This one was built in the 1970's but was still active as recent as 2010's.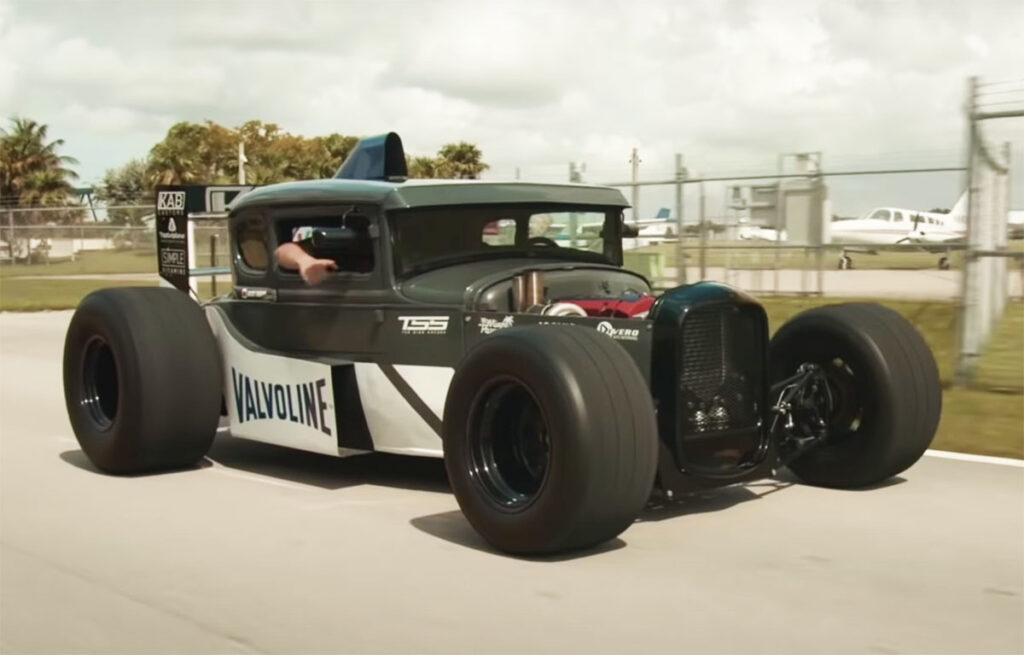 Caterpillar Rat Rod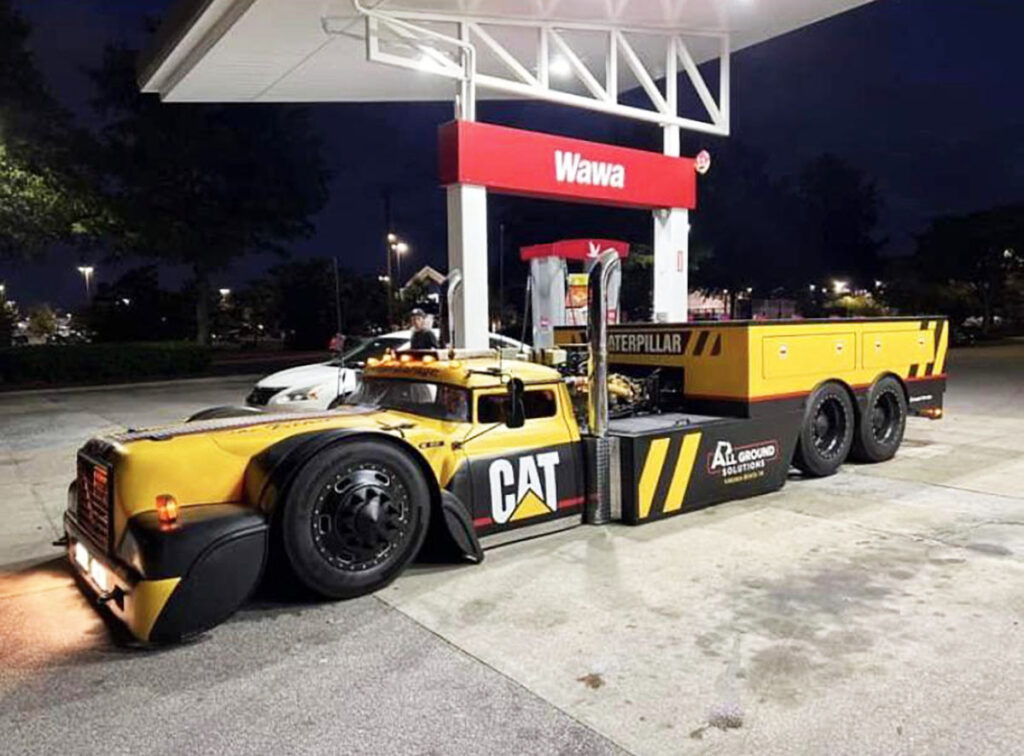 Would you even still call this a Caterpillar? We are not sure if the original engine would still fit in this dropped and chopped version of this cool and unusual Caterpillar semi truck. Not all rat rods are lowered and chopped, but this one takes the cake on lowering the bar, or should we say truck.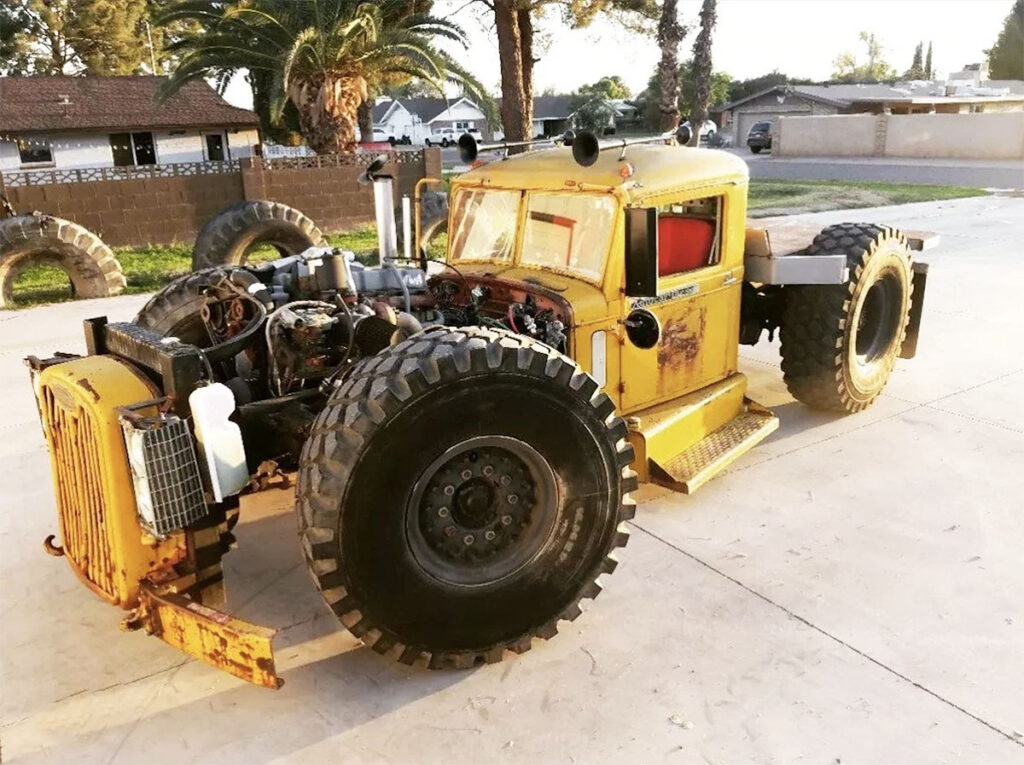 F1 Ford Model A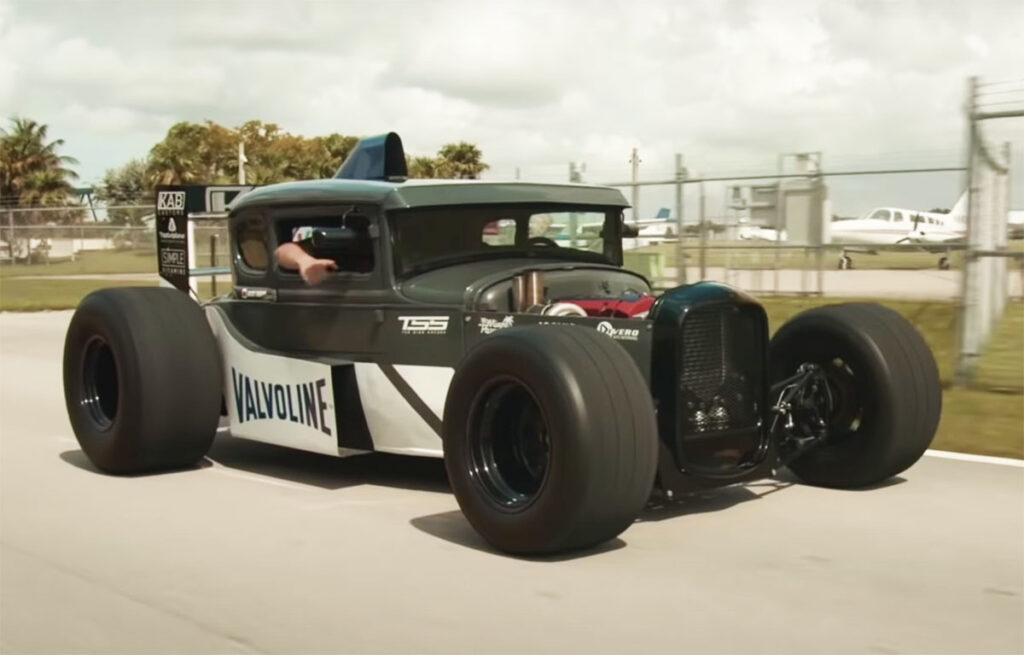 This is one of the fastest rat rods on the road these days. It doesn't look like it can move too fast, but this rat rod is based around the Formula 1 series set up which means this rat rod will move faster than your average street racer.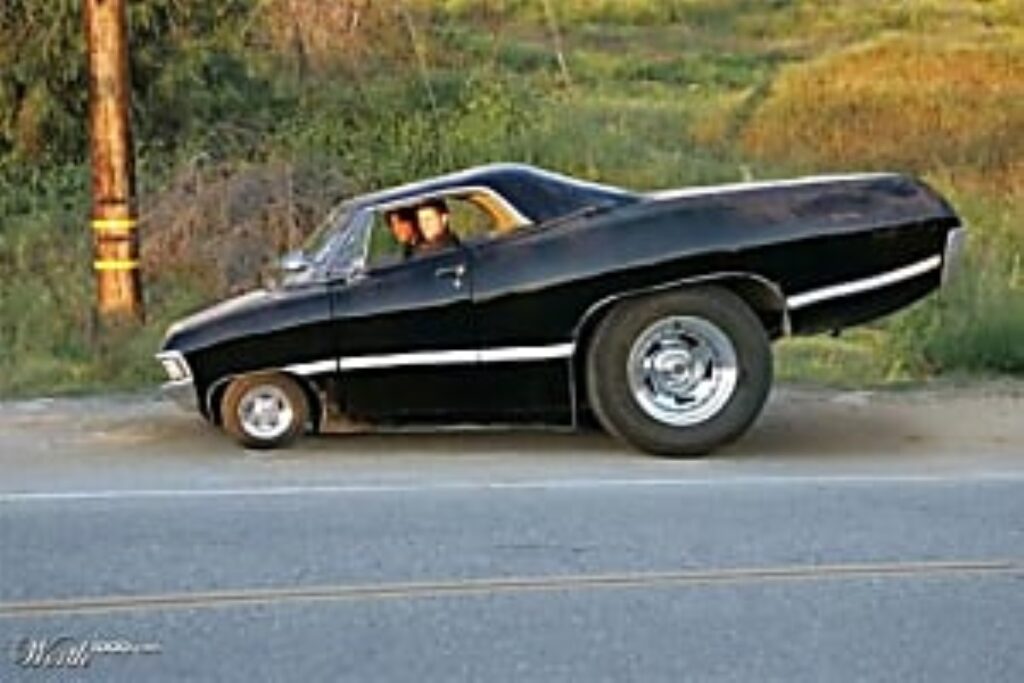 5 Ton Frankenstein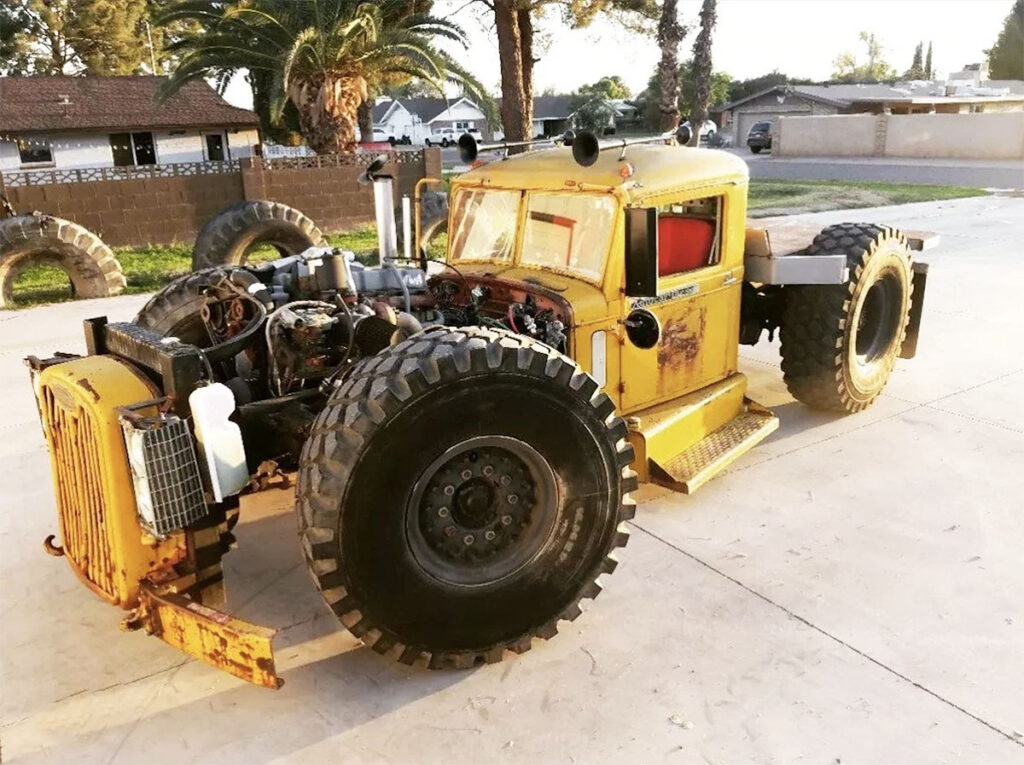 Check out those massive 53″ military grade tires. There are not too many vehicles that can handle tires of that size, especially trucks this low. Those tires are so heavy that it takes a massive 7.8L turbo diesel mated to an Allison transmission to get this cool rat rod rolling down the road.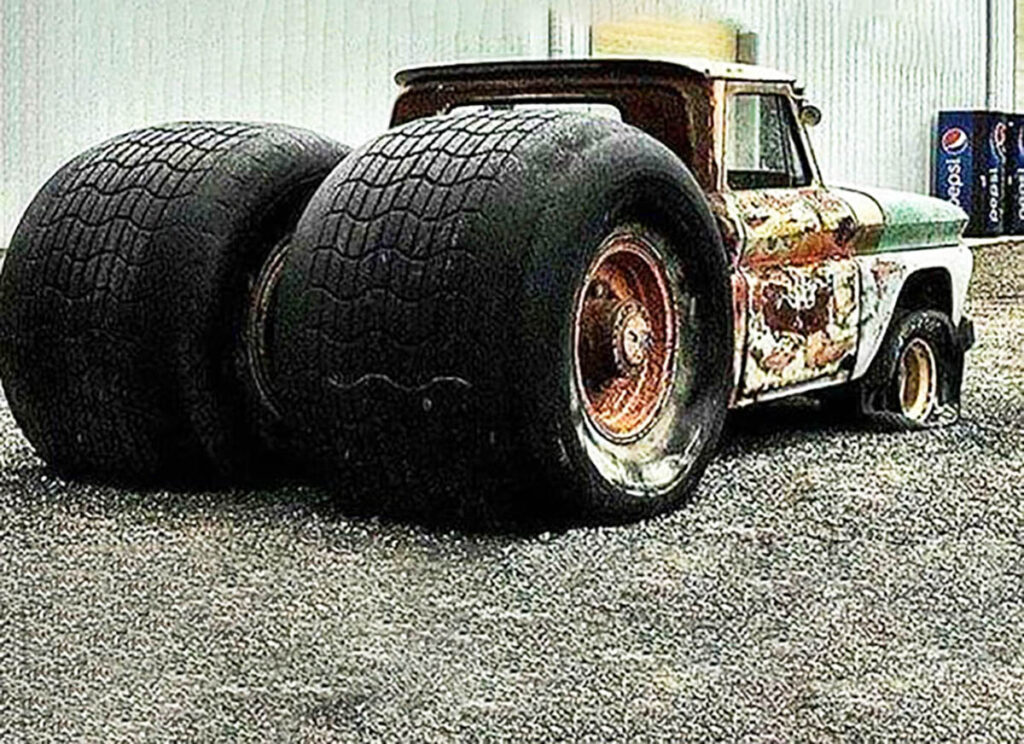 Shortened Chevy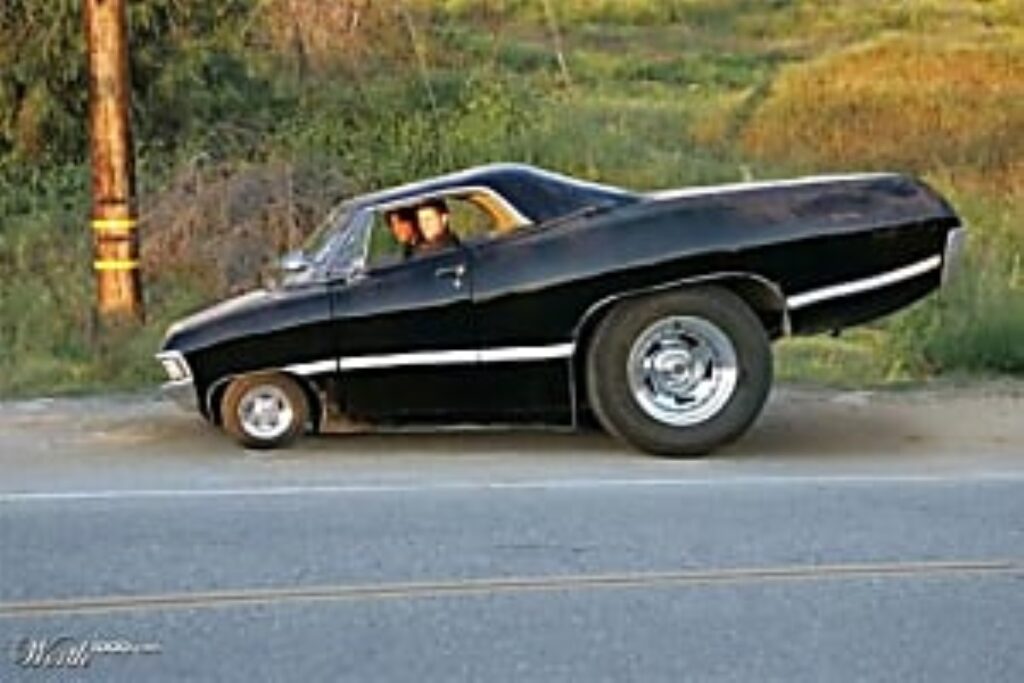 We are not really sure what is going on with this one but this rat rod is one of the coolest and most bizarre vehicles we have ever seen. If you like this rat rod or any of the previous rat rods. Keep scrolling to see some of the coolest rat rods to ever hit the streets.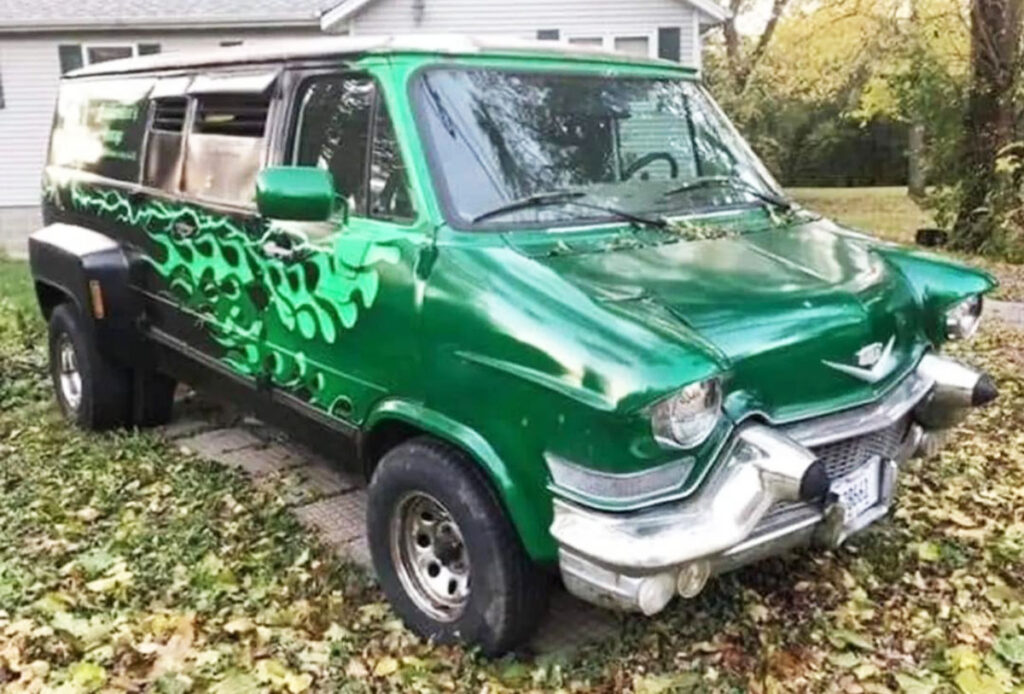 Big Wheels Keep On Rolling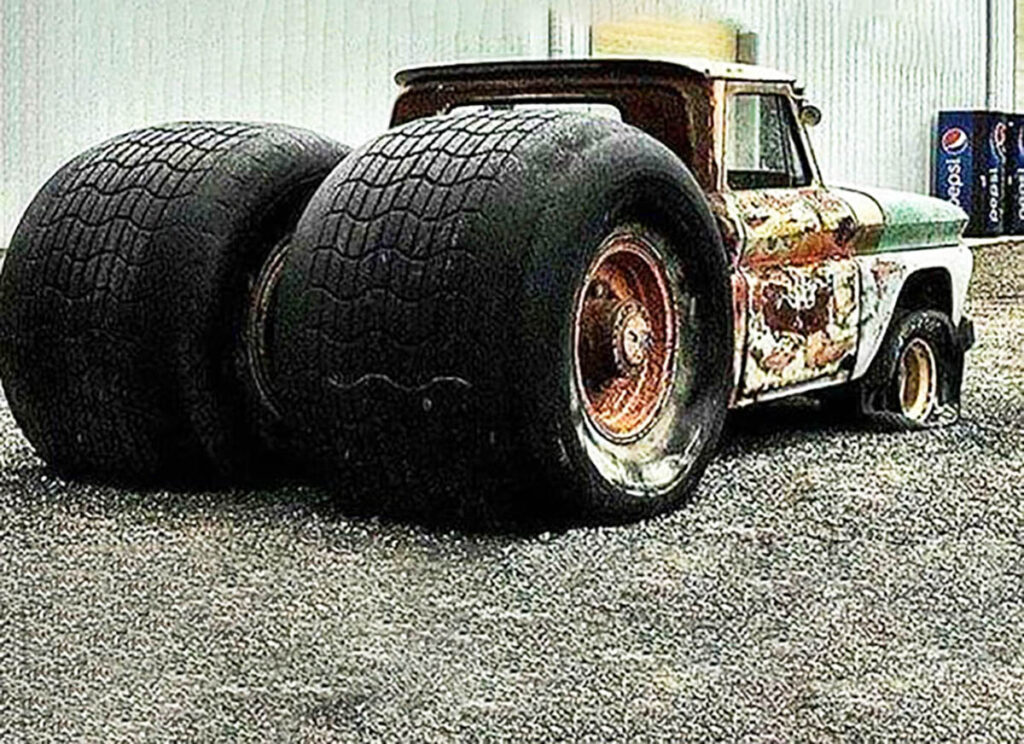 We are not really sure what is going on with this one but this rat rod is one of the coolest and most bizarre vehicles we have ever seen. If you like this rat rod or any of the previous rat rods. Keep scrolling to see some of the coolest rat rods to ever hit the streets.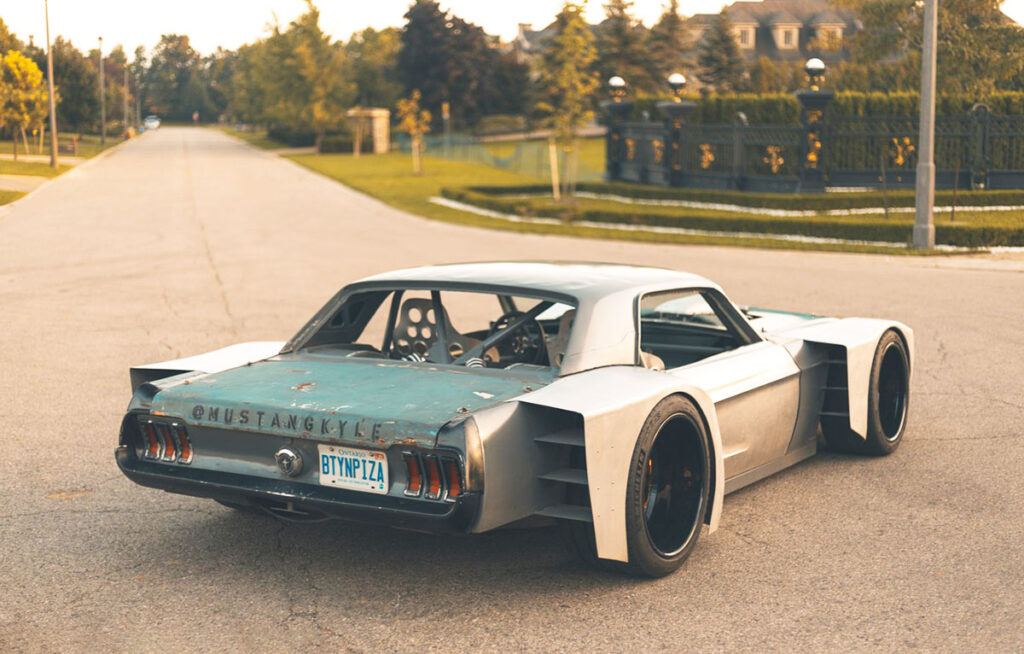 Mean Green Dually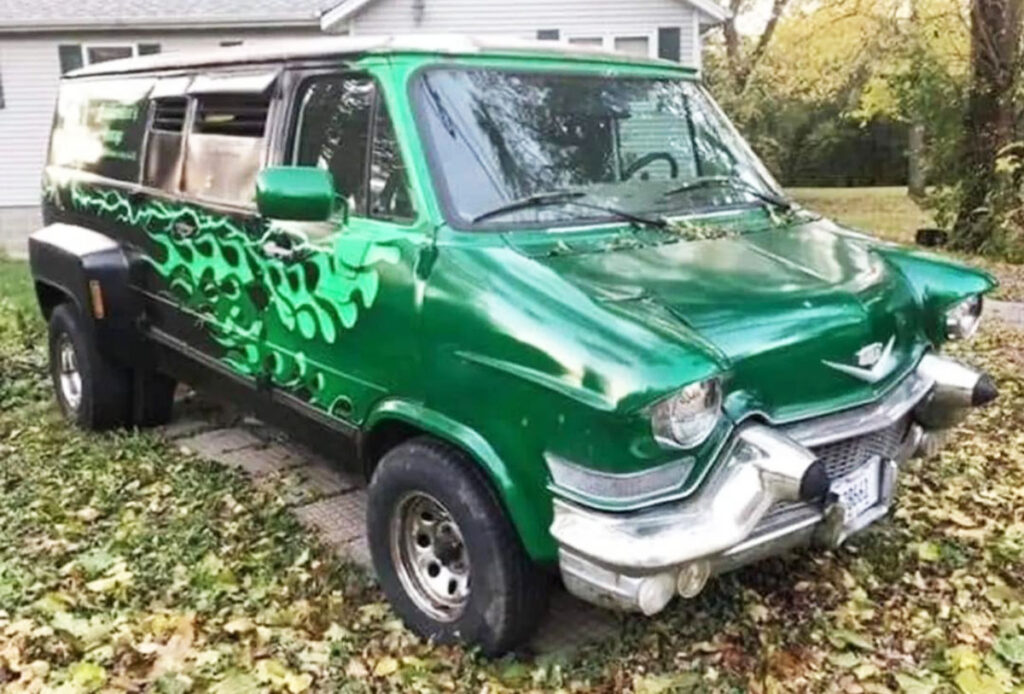 We are not really sure what is going on with this one but this rat rod is one of the coolest and most bizarre vehicles we have ever seen. If you like this rat rod or any of the previous rat rods. Keep scrolling to see some of the coolest rat rods to ever hit the streets.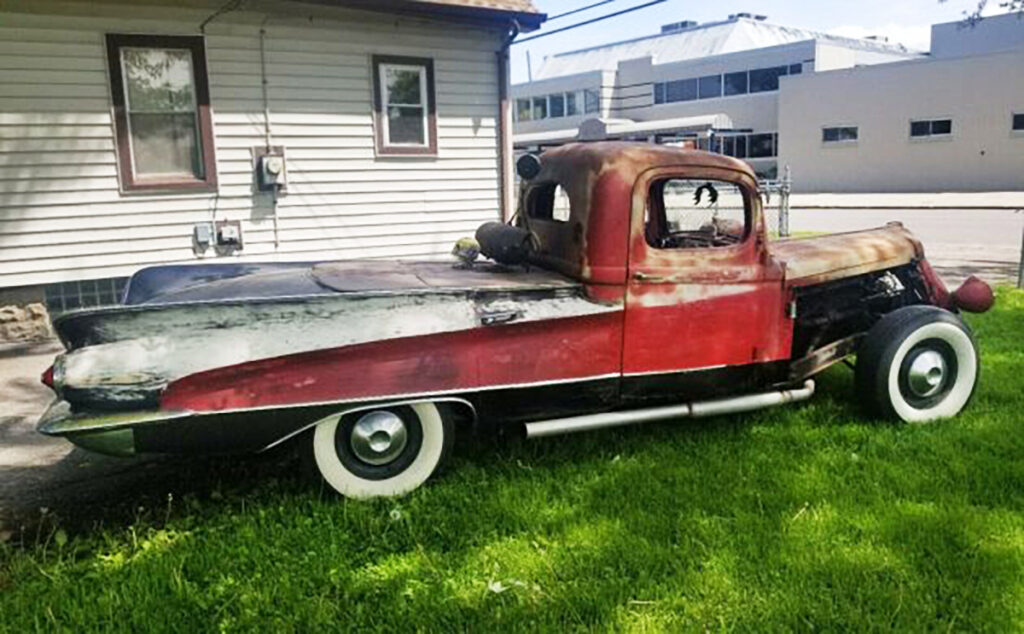 Wild Mustang Rat Rod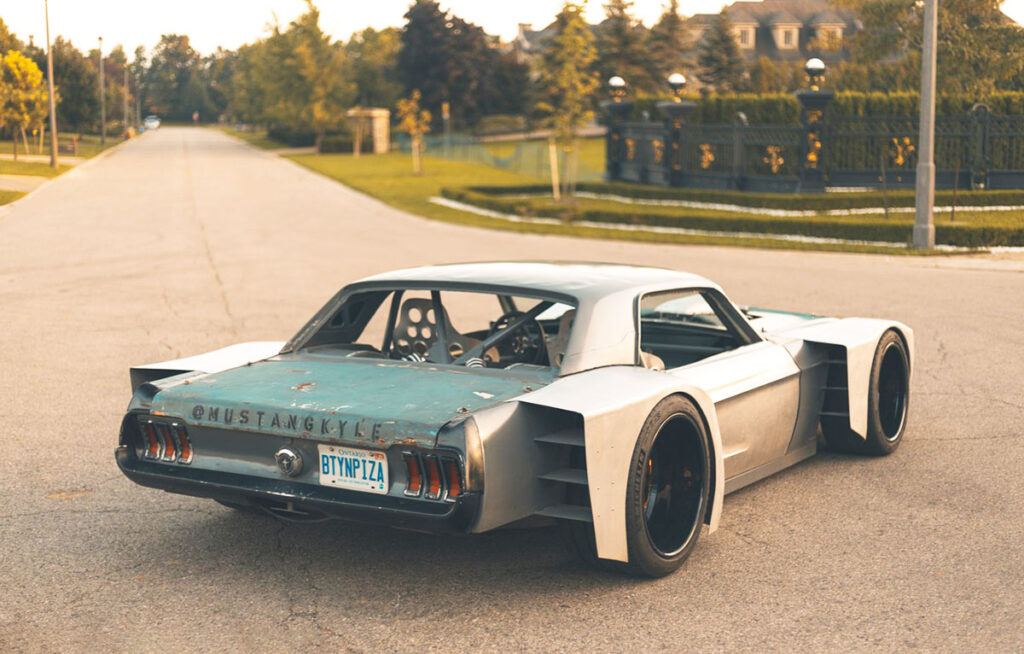 We are not really sure what is going on with this one but this rat rod is one of the coolest and most bizarre vehicles we have ever seen. If you like this rat rod or any of the previous rat rods. Keep scrolling to see some of the coolest rat rods to ever hit the streets.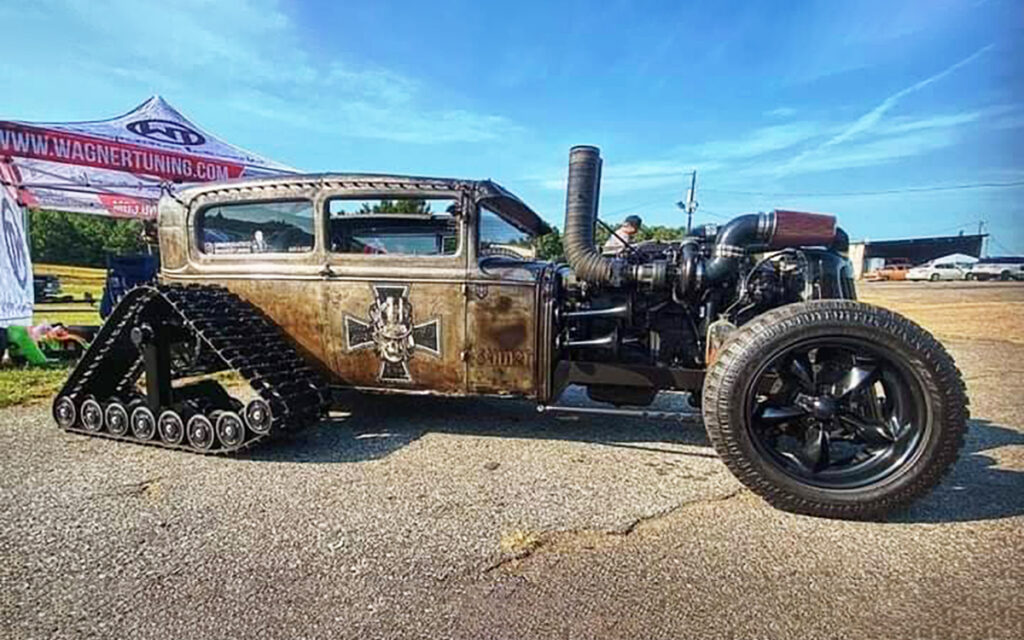 Truck Car Rat Rod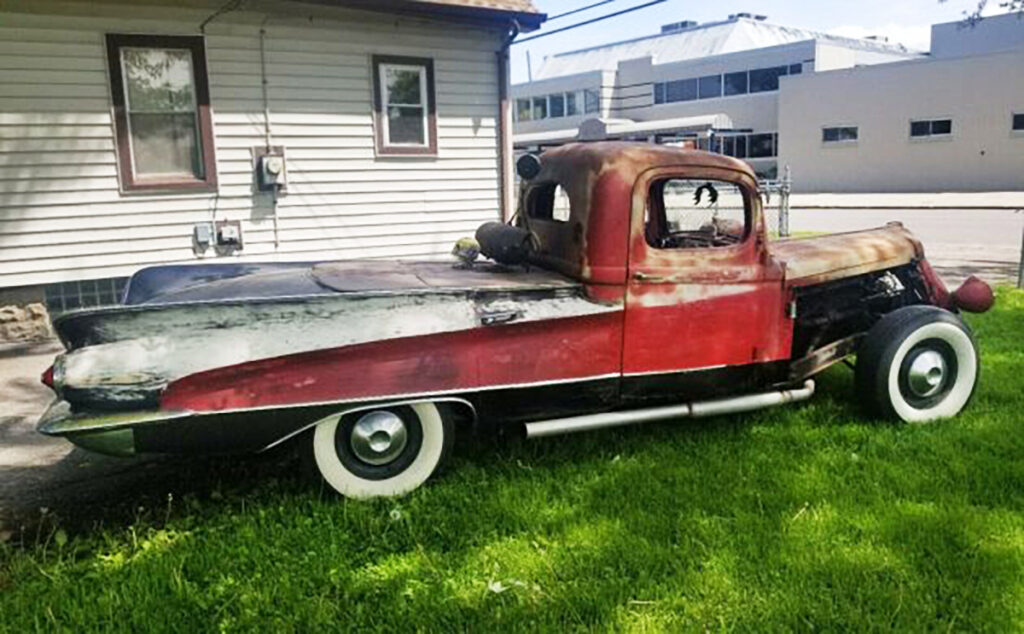 We are not really sure what is going on with this one but this rat rod is one of the coolest and most bizarre vehicles we have ever seen. If you like this rat rod or any of the previous rat rods. Keep scrolling to see some of the coolest rat rods to ever hit the streets.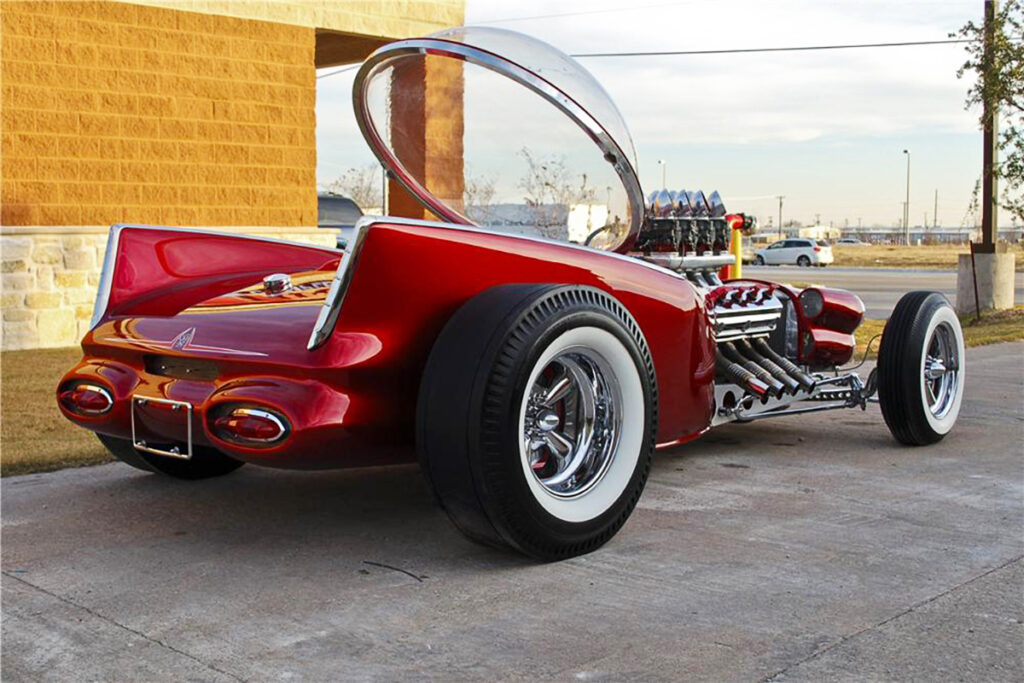 Rat Rod Trax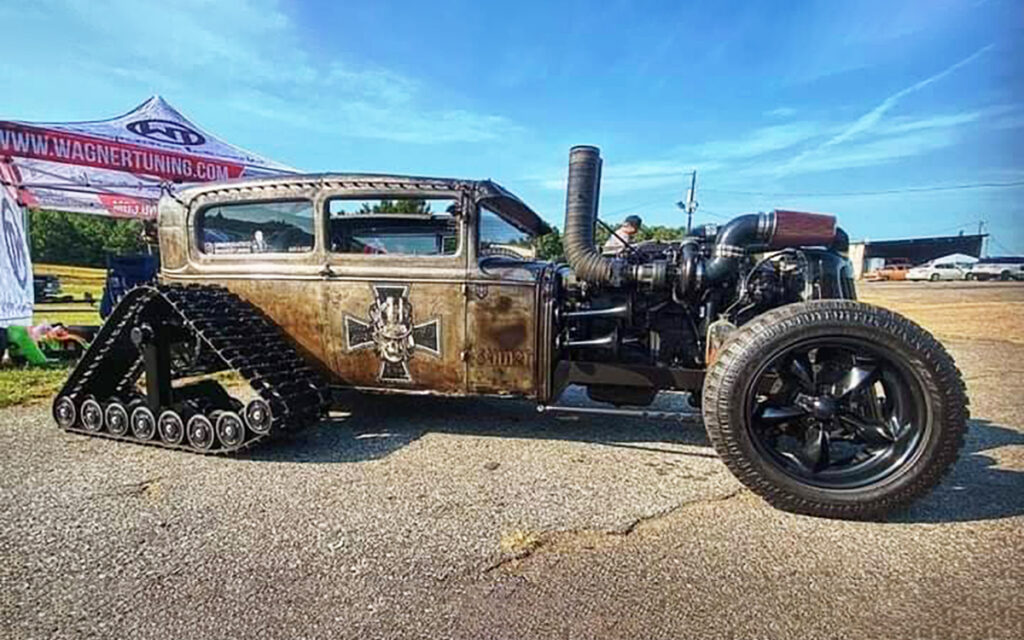 We are not really sure what is going on with this one but this rat rod is one of the coolest and most bizarre vehicles we have ever seen. If you like this rat rod or any of the previous rat rods. Keep scrolling to see some of the coolest rat rods to ever hit the streets.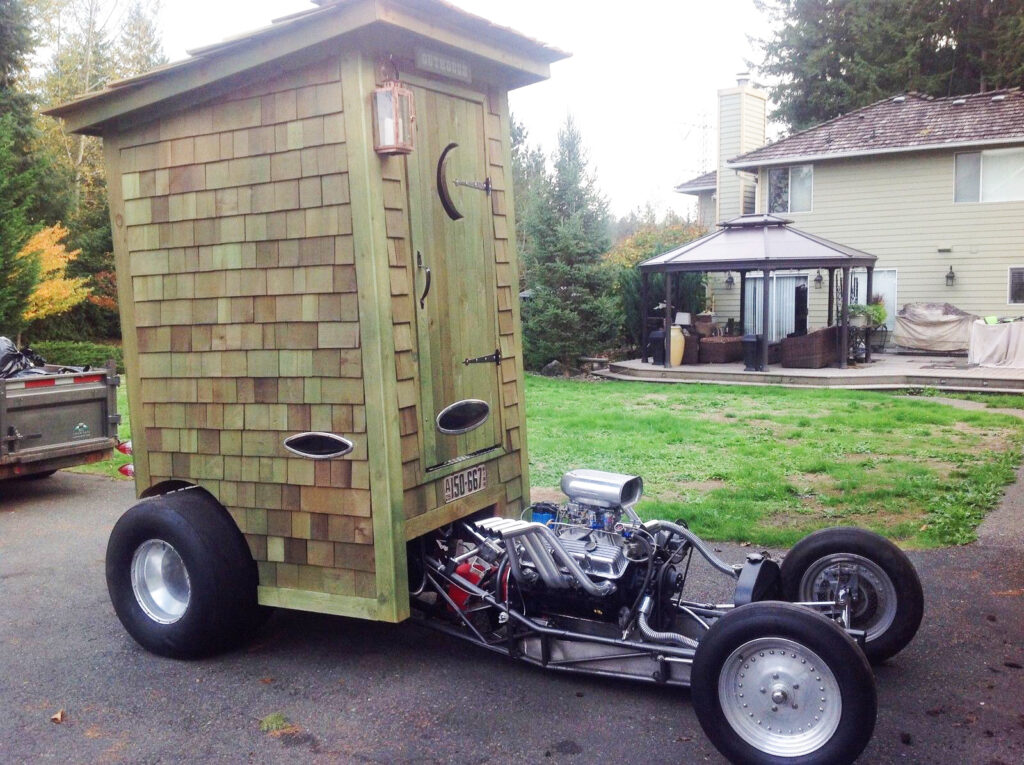 Bubble Rat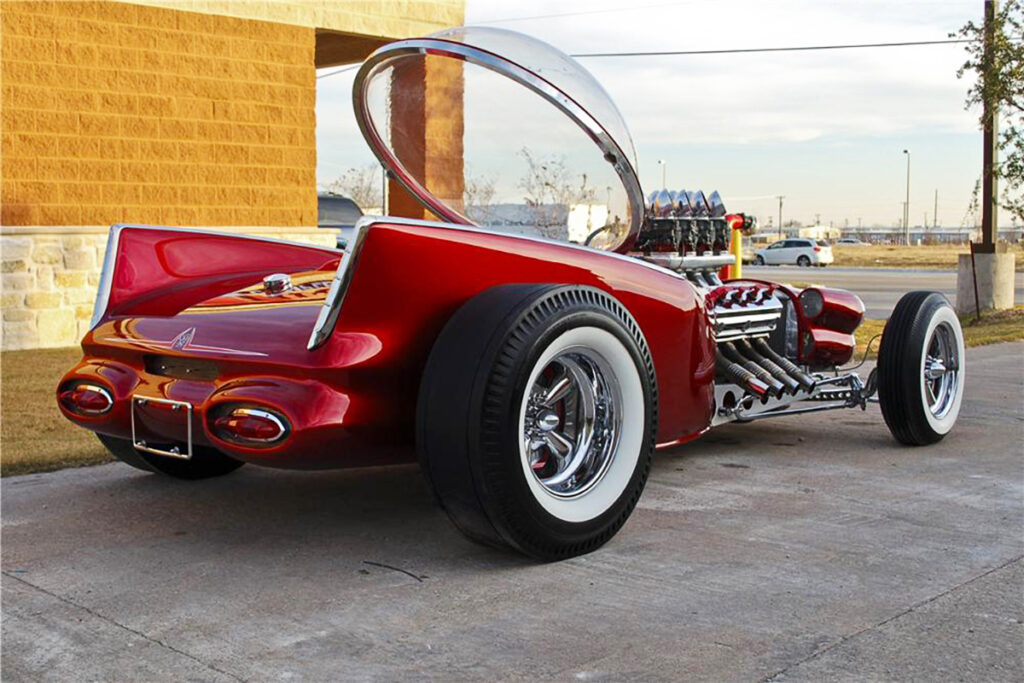 We are not really sure what is going on with this one but this rat rod is one of the coolest and most bizarre vehicles we have ever seen. If you like this rat rod or any of the previous rat rods. Keep scrolling to see some of the coolest rat rods to ever hit the streets.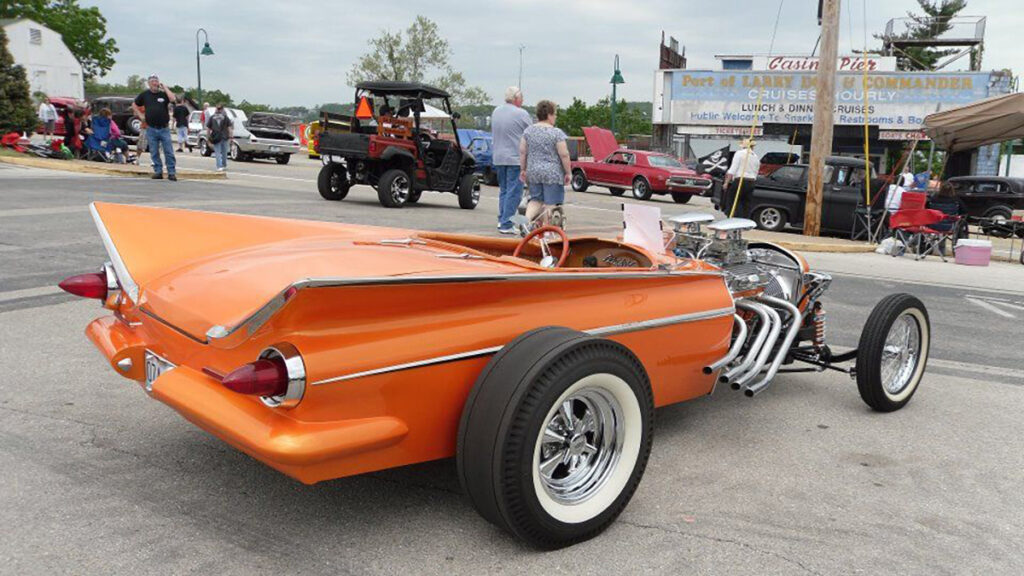 Out House Rat Rod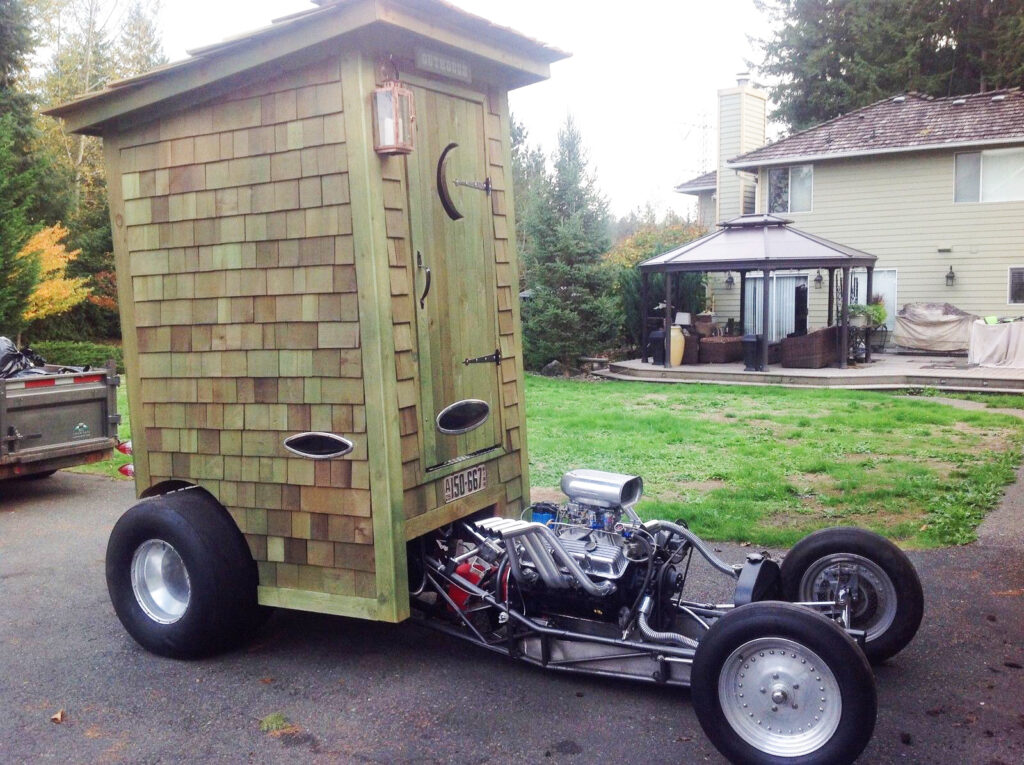 We are not really sure what is going on with this one but this rat rod is one of the coolest and most bizarre vehicles we have ever seen. If you like this rat rod or any of the previous rat rods. Keep scrolling to see some of the coolest rat rods to ever hit the streets.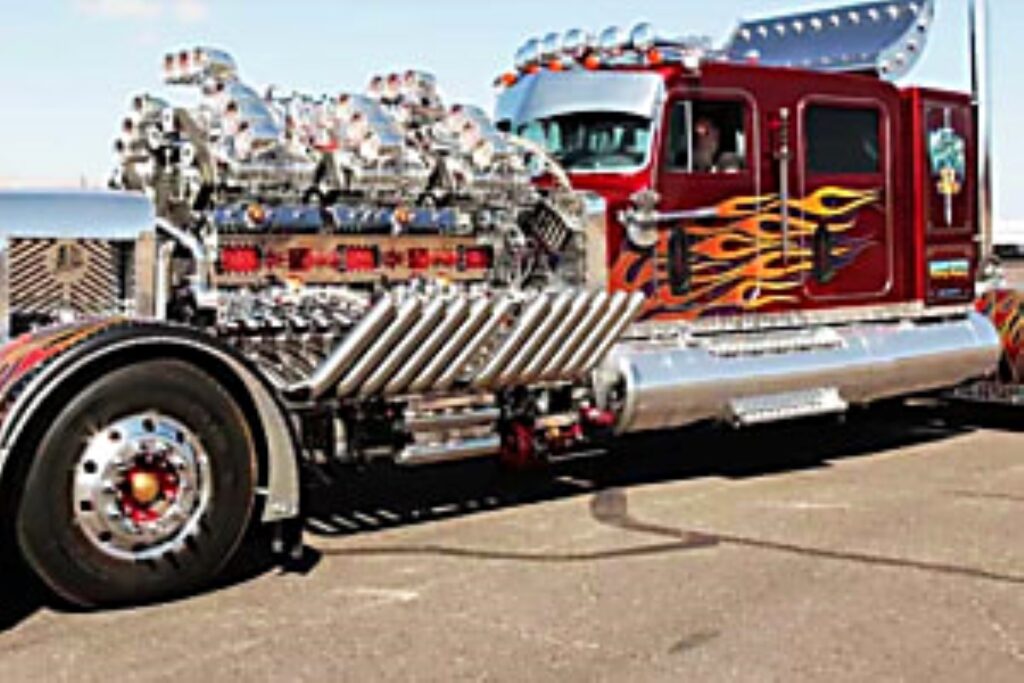 Orange Speedster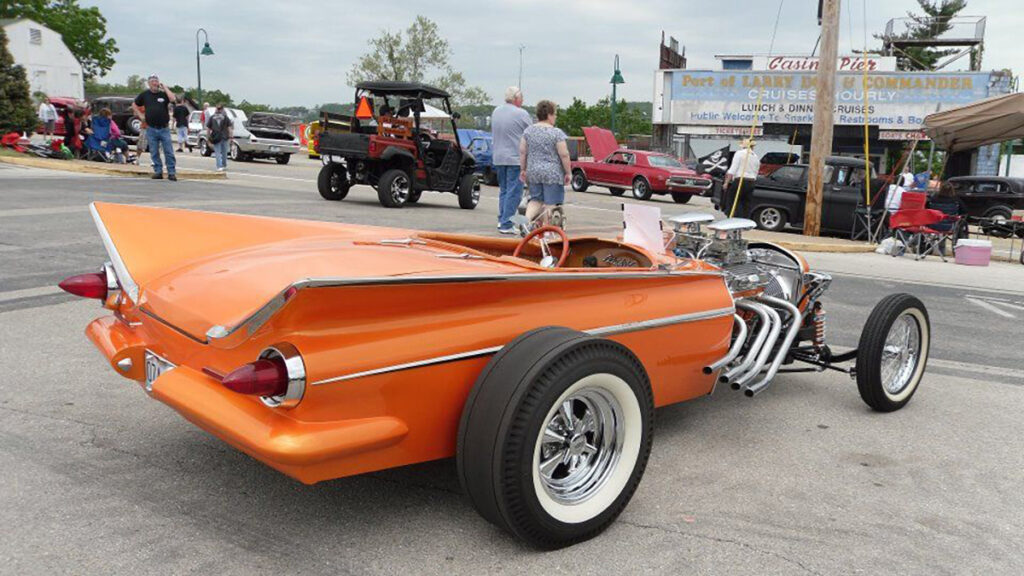 We are not really sure what is going on with this one but this rat rod is one of the coolest and most bizarre vehicles we have ever seen. If you like this rat rod or any of the previous rat rods. Keep scrolling to see some of the coolest rat rods to ever hit the streets.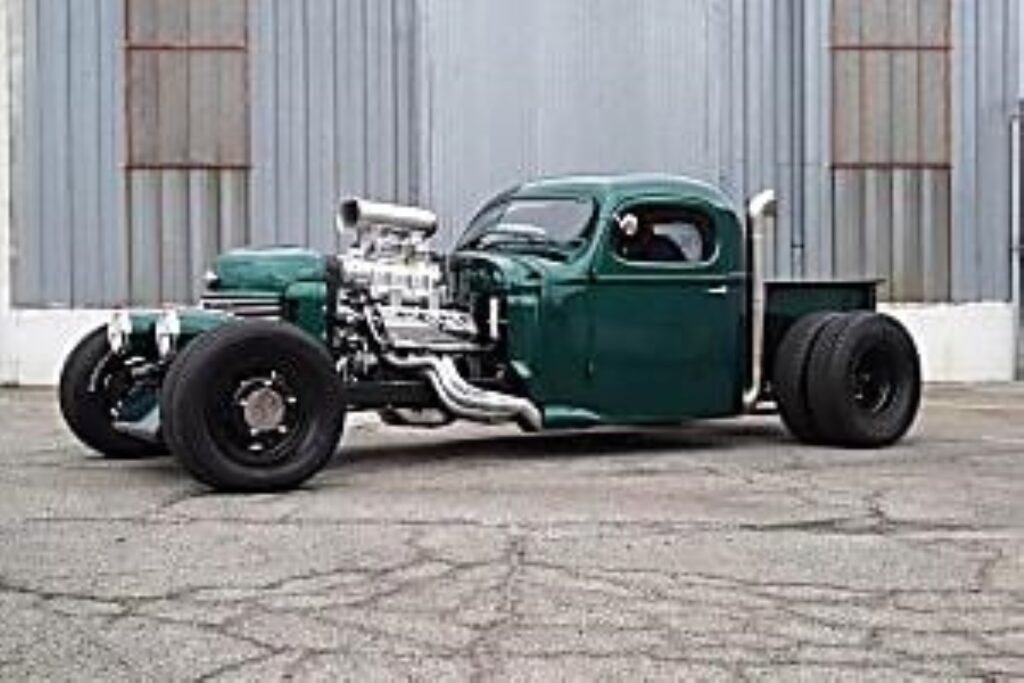 Semi Monster Rat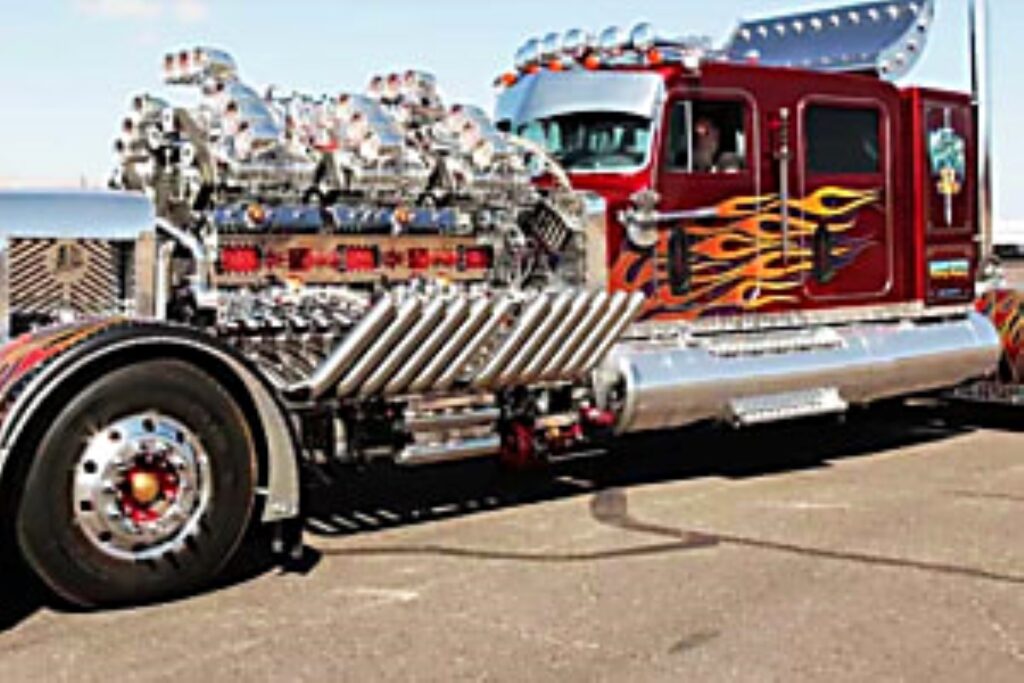 We are not really sure what is going on with this one but this rat rod is one of the coolest and most bizarre vehicles we have ever seen. If you like this rat rod or any of the previous rat rods. Keep scrolling to see some of the coolest rat rods to ever hit the streets.
Green Classic Rat Rod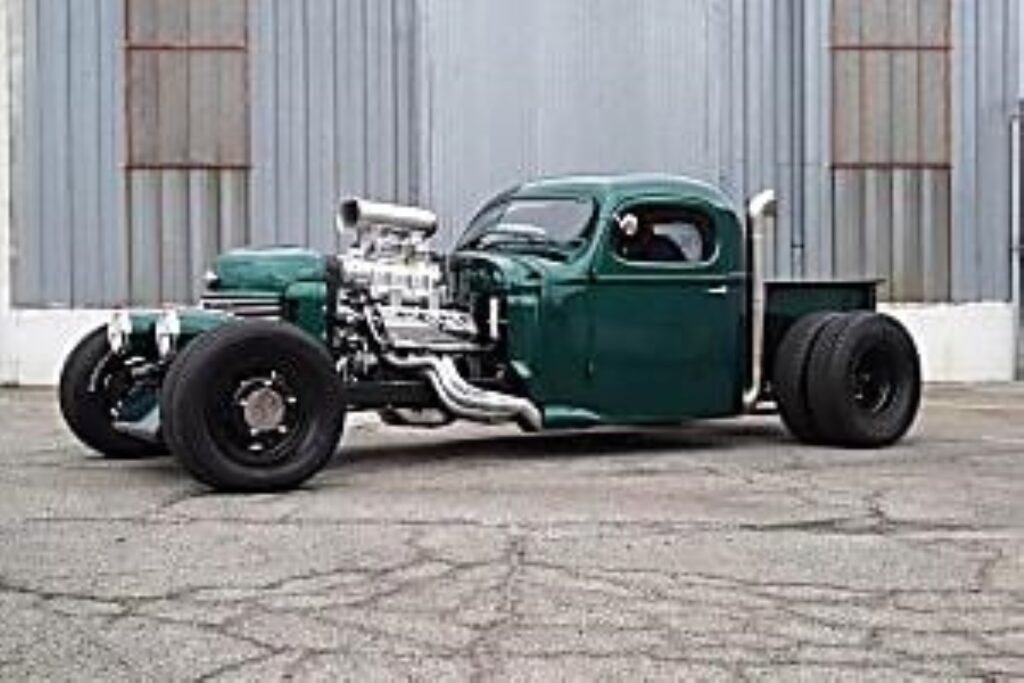 We are not really sure what is going on with this one but this rat rod is one of the coolest and most bizarre vehicles we have ever seen. If you like this rat rod or any of the previous rat rods. Keep scrolling to see some other posts that you will surely enjoy.