The 35 Most Expensive Cars Sold at Auction
Cars today have become a collector's item and the wealthy are willing to spend millions to own vintage cars, including some they may never even drive. Where do the wealthy turn to find these gems? Auctions! A car at auction is unable to hide behind seller promises…all its faults and glory is visible on the auction floor. We'll introduce you to the 35 most expensive cars sold at auction…. and our cheapest one starts as low as $8.8 million.
1951 Ferrari 340 America Barchetta – $8,873,000 – RM Sotheby's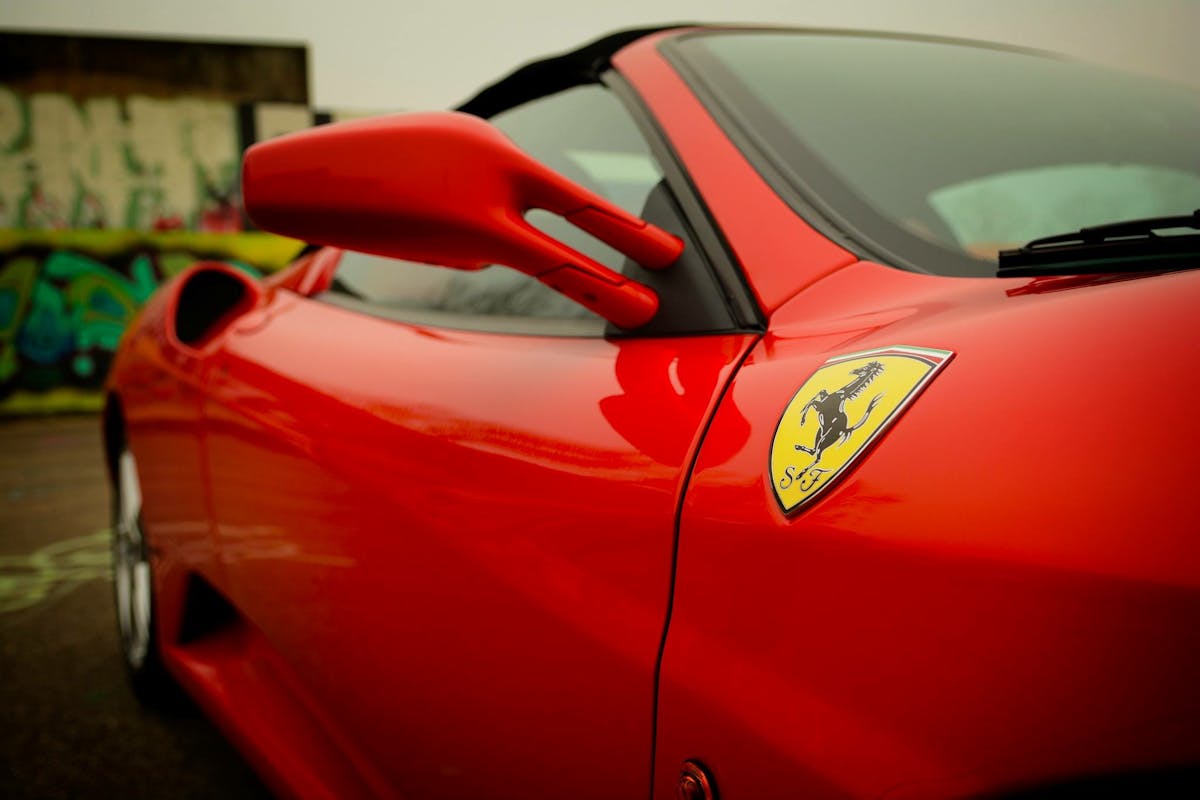 This early competition Ferrari was a part of the popular Pierre Bardino Collection Mas du Clos. The car's first owner was a war veteran in Paris who hired a driver to take care of the vehicle. The vehicle was then purchased by an Italian politician who it sold in 2016.
1955 Ferrari 410S – $9,003,000 – RM Auctions
This car at auction sold in 2012. It's considered one of the most unique and original cars and is even Ferrari Classiche certified. Only four were manufactured in 1955. Moreover, it's also remembered for being the first vehicle with the 4.9-liter Superamerica engine.
2017 LaFerrari Aperta – $10,203,000 – RM Sotheby's
Unlike most other vehicles on this list, the LaFerrari Aperta is quite new. It first appeared at the Geneva Motor Show in 2013 and received a thunderous response despite stiff competition from the likes of Lamborghini Veneno and McLaren P1. Many units have been auctioned so far but this 2017 one fetched a record price.
1982 Porsche 956 – $10,697,000 – RM Sotheby's
This is one of the rarest cars out there. It's remembered for placing 3rd overall in the Porsche 1-2-3 finish at 4 Hours of Le Mans in 1982. It's also the first Porsche model to feature the popular monocoque construction and was one of the ten factory example cars made in the year.
1954 375-Plus Spider Competizione – $19,474,000 – Bonhams
 The company built only five of these, hence, it is considered to be one of the rarest Ferraris in the world. Its former owners include some popular names including the likes of Jim Kimberly, Howard Hively, Jacques Swaters, and Karl Kleve.
1931 Duesenberg Model J Long-Wheelbase Coupe – $11,516,000 – Gooding & Company
Auctioned in 2018 by Gooding & Co at Pebble Beach Auction, this car was expected to break world records. True to form, it did! This car at auction fetched an incredible price. This is one of the rarest vehicles; as only two were made, both going to actors of that era.
1932 Bugatti Type 55 – $10,857,127 – Gooding & Company
Designed by Jean Bugatti it's still considered to be one of the most attractive Bugatti's ever. The car competed in Mille Miglia in 1932 in its debut and won acclaim from everyone who saw it on the track. Sold in restored condition, the car spent over 2 decades as a part of Nicolas Seydoux's incredible collection.
1968 Ford GT40 – $12,004,000 – RM Auctions
This beautiful car became the most expensive American car sold at auction when it fetched an earth-shattering price at the RM Auctions sale in 2012. This stunner caught the eye of viewers when Steve McQueen insisted on driving an authentic car to shoot race scenes in the super hit movie Le Mans.
1936 Mercedes-Benz 540K Special Roadster – $12,845,000 – Gooding & Company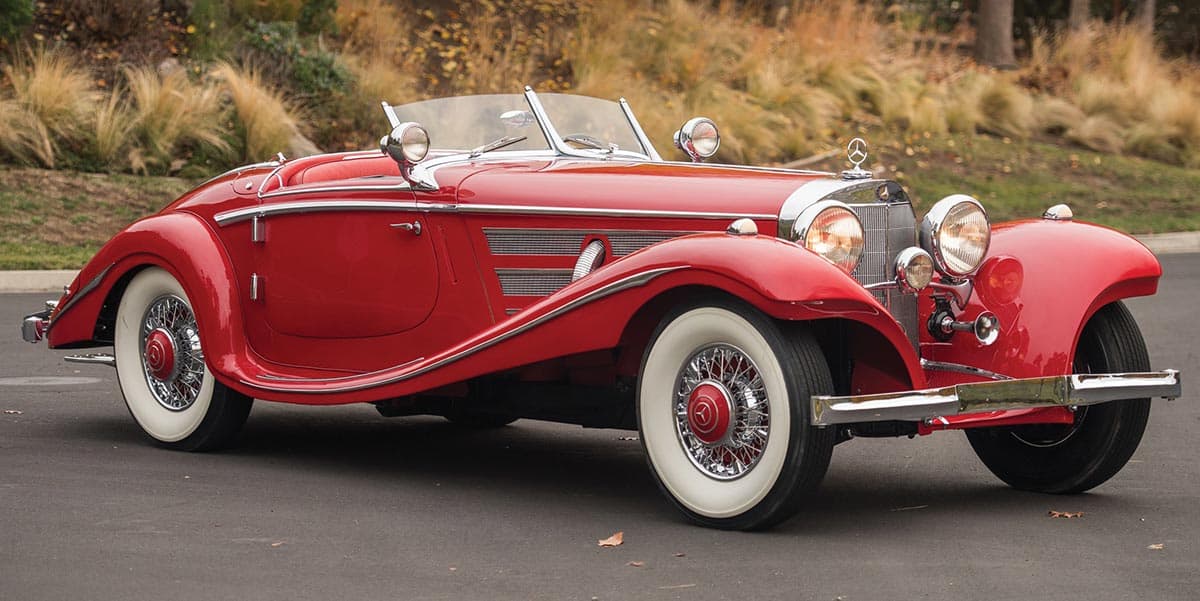 This classic vehicle became a car at auction at a Pebble Beach Gooding & Company 2012 auction. Originally owned by a German baroness, the car was shipped from Germany to New York in 1949 when the family moved to the US to avoid post-war Europe. This valuable vehicle was found in 1989 lying in a garage in Connecticut.
1961 Aston Martin DB4 GT Zagato MP209 – $12,978,000 – Bonhams
 Well maintained when it became a car at auction, this vehicle was owned by a single family for close to five decades. The huge price set a record for the most expensive British car sold at auction. Only 19 models were made and the one sold at the auction is said to be one of the most well preserved.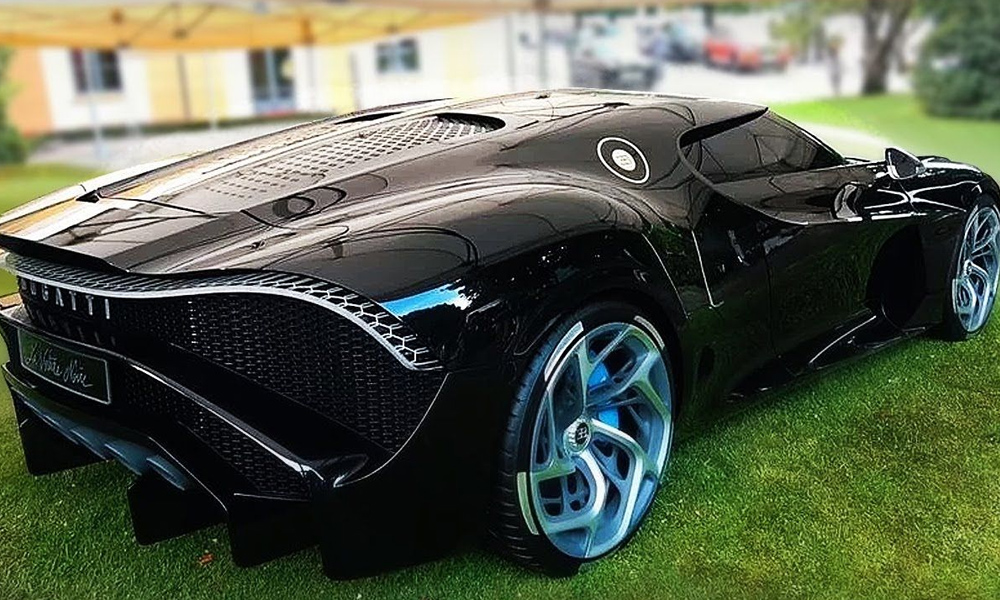 Bugatti La Voiture Noire – $19,000,000
Bonus  For Bugatti's 110th anniversary, they built the La Voiture Noire. It was an homage to the Bugatti Type 57 SC Atlantic from the 1930s. The vehicle represents its history and its dedication to bringing aesthetics, tech, luxury, and speed to the new age.
1953 Jaguar C-Type Works Lightweight – $13,952,000 – RM Auctions
This beauty was sold at a California auction in 2015. It's considered rare as it is the second of only three Works Lightweights and one of the last C-Types built. It took part in a number of competitions including the 1953 24 Hours of Le Mans event. This well-documented car at auction was much sought after as it had become available for the first time in close to two decades.
1960 Ferrari 250 GT SWB Competizione – $14,093,386 – Gooding & Company
Sold in 2016, this vehicle has a rich story to tell. Considered to be one of the most original vehicles of its time, it features a lot of genuine parts including the bodywork, gearbox, and engine. The vehicle came 7th at the 24 Hours of Le Mans in 1960 and has been driven by the likes of Augie Pabst and Ed Hugus.
1962 Shelby Cobra 260 – $14,354,375 – RM Sotheby's
The first Shelby Cobra became the most expensive American car at auction (replacing the 1968 Ford GTO) when it was picked for $13.75 million in 2016. The car was in exceptional condition when sold; it was owned by a single family for over 50 years.
1998 McLaren F1 'LM-Specification' – $14,534,000 – RM Auctions
This beauty headlined the 2019 Monterey Car Week and sold for a record-breaking sum of $14. 35 million. Only two McLaren F1s have received the popular 'LM-Specification' making it an extremely rare pick. Designed by Gordon Murray, this model was limited to only 106 examples with only about half being road-legal.
1969 Porsche 917K – $14,391,572 – Gooding & Company
Jo Siffert was the car's first owner, however, it was later leased to Steve McQueen for use in the movie 'Le Mans'. The machine was originally set to be a car at auction in 2014 but the company sent it for restoration work which got finished in 2017, leading to the beauty fetching a high price in a 2017 auction.
1955 Jaguar D-Type – $22,737,329 – RM Sotheby's
This unique model came into the limelight when it won the Le Mans consecutively in 1955, 1956, and 1957. Believed to be one of the most powerful race cars ever built, this D-Type vehicle introduced monocoque chassis design. The vehicle hits a maximum of 156 mph.
1995 McLaren F1 – $15,966,000 – Bonhams
The first McLaren F1 imported to the US sold for over $15.9 million at Bonhams auction. The car was offered by its original owner who had kept a record of all the documents including service records. The original owner of the car purchase it from the factory in 1996 and drove for 9,600 miles.
1962 Ferrari 250 GT SWB Berlinetta Speciale – $17,440,000 – Gooding & Company
This one of a kind car was originally designed by Giorgetto Giugiaro to be used by Nuccio Bertone, making it one of the few vehicles to bring the two legendary names together. The car's unique design was inspired by Ferrari's Sharknose racing cars. The car at auction sold in 2015.
1957 Ferrari 250 Testa Rossa – $18,254,000 – Gooding & Company
One of the most expensive cars sold at auction in 2017, this is the first prototype for the vaunted Testarossa line. Its eight-year history of international racing makes it valuable to those who love racing. The car was restored by Dennison International but retains some of its original parts.
1964 Ferrari 250 LM – $18,603,000 – RM Auctions
This beauty was a part of a collection of 25 cars that together fetched a record-breaking $67 million in Monterey, California. This car headlined that sale. Ferrari produced only 32 of these models, making it one of the most in-demand classics – especially as a car at auction.
1939 Alfa Romeo 8C 2900B Touring Berlinetta – $18,938,000 – Artcurial
This pre-war car has won several awards including Concours d'Élégance and Villa d'Este. It is among the rarest cars in the world as only five of these were produced by the makers. The vehicle was first sold in Italy. From there, it reached England where the buyer kept it for over 40 years.
1959 Ferrari 250 GT LWB California Spider Competizione – $18,947,775 – Gooding & Company
This Ferrari 250GT was first restored in 1983 but also went through updates in 2010 and 2011. Only eight aluminum body California Spider models were built and few are said to be in as good condition as this one. The car was designed for competitions and took part in the 1959 Le Mans event days after being sold; ranking top 5.
1961 Ferrari 250 GT SWB California Spider – $19,554,000 – Artcurial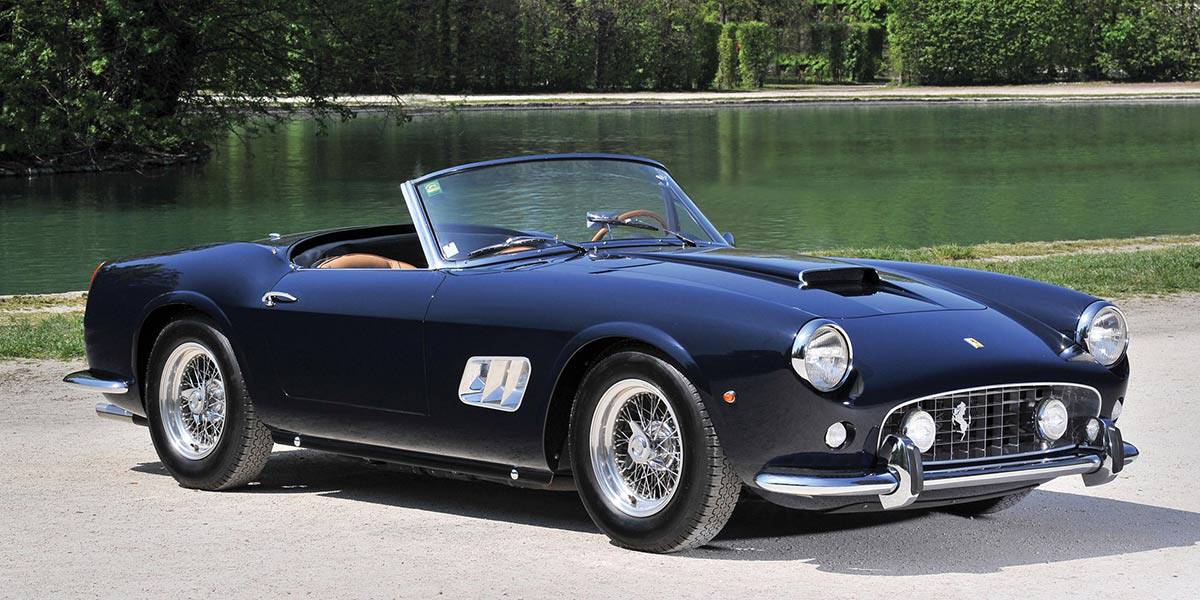 This beautiful machine was a part of the famous Baillon barn find in 2015 in France. After sitting in an enclosed barn for over 50 years, the car was sold in Paris in its original condition. At the time it was the most expensive 250GT ever sold as a car at auction.
1939 Alfa Romeo 8C 2900B Lungo Spider – $20,670,300 – RM Sotheby's
The beauty broke several records when it fetched an earth-shattering price in 2016. It was the most expensive pre-war car ever, the eighth-most expensive car sold at auction, and the most expensive car from Alfa Romeo sold at auction. Noted, most of these records were broken in recent years.
1963 Aston Martin DP215 – $21,455,000 – RM Sotheby's
As one of four 'one-off' machines originally called 'project cars' by Aston Martin – it was manufactured in the '60s under David Brown's watch and is the only model of its kind sold as a car at auction. The company held onto this machine in hopes of relaunching it later after closing its racing department in 1963. However, the prototype was sold in 1974.
1931 Bugatti Royale Kellner Coupe – $21,612,000 – Christie's
This 1931 model broke records when Nicholas Harley, a London-based car dealer, bought it for over 21 million. This classic beauty was one of the most sought-after cars. In fact, over 4,000 people attended the event to bid on this but very few could meet the asking price.
1935 Duesenberg SSJ – $22,000,000 – Gooding & Company
Originally estimated to fetch a price of $10 million, this one surprised everyone when the hammer fell. It's believed to be one of the most significant and rarest road cars out there – the makers only manufactured two such cars. This one has a short, 125-inch wheelbase and a 400 HP engine that goes up to 140 mph.
1962 Aston Martin DB4 GT Zagato – $15,115,000 – RM Auctions
Originally expected to fetch about $14 million, this car at auction sold for $15.1 million; making it to the list of the most expensive Aston Martin cars sold at an auction. This car was the result of a distinguished and long partnership between Zagato and Aston Martin. Only 19 were made.
1956 Aston Martin DBR1 – $23,049,002 – RM Sotheby's
This gorgeous vehicle went home for a record-breaking price of $23 million making it the most expensive British race car ever sold at auction. It's also incredibly rare as the manufacturers only made five units. The bidding lasted for about seven minutes.
1964 Ferrari 275 GTB/C Speciale – $27,940,000 – RM Auctions
This is one of the most exclusive cars at auction, as the company only built five of these in 1964. The car was auctioned about six years ago in 2014 and managed to go for a whopping price of $27.9 million. This hand built model features incredible aluminum bodywork.
1967 Ferrari 275 GTB/4*S NART Spider – $29,578,000 – RM Auctions
This expensive Ferrari was safely stored in a garage built specifically to house supercars and was in great condition when sold. Ferrari only produced ten such cars and very few of them have been auctioned.
1956 Ferrari 290 MM – $29,649,000 – RM Sotheby's
 This beauty was sold in an RM Sotheby auction in 2018. It's one of the most prestigious Ferraris and was designed for Formula 1 legend Juan Manual Fangio. However, it has been driven by some other popular names as well including Peter Collins, Phil Hill, Castelloti, Eugenio, Olivier Gendebien, and Wolfgang von Trips.
1954 Mercedes-Benz W196 – $31,837,000 – Bonhams
There are few cars with a history as bright as this single-seater. This powerful machine has been associated with the time Formula One winner Manuel Fangio but has been driven by some other drivers as well. It's best remembered for helping Mercedes-Benz reach the big leagues after Fangio took it to finish first and second in the French Grand Prix in 1954.
1957 Ferrari 335S – $37,281,000 – Artcurial
An Artcurial car at auction shattered world records in 2016 at the Rétromobile classic car show in Paris when this beauty sold for a groundbreaking amount of $37.2 million. The manufacturers only made four of these. The huge amount it fetched shocked many buyers as the car is designed for racing and cannot be used on the roads.
1962 Ferrari 250 GTO – $48,405,000 – RM Sotheby's
Here it is! The most expensive car ever sold at auction. It's none other than the 1962 Ferrari 250 GTO. The holy grail of cars is rare as the manufacturers built only 36 of these. This car became popular not only due to its pedigree but also because of a gathering some French collectors organized in 1982, which now happens once every five years. The only way to be a part of this exclusive club is to own this car. But with this model going for $48.4 million, we know only a handful will get access to the club.