Fifty long-forgotten time capsules; tucked into the far corner of the barn out back, surrounded by pallets, 2×4's, tarps and who knows what else. The ones that were meant to be forgotten about were, and the ones that were forgotten about naturally over the constant passage of time and thought spent elsewhere were just the same.
After resurrection, these 50 vehicles brought with them good memories, spare parts, big paydays, nostalgic sights and best of all: quality stuff for us to talk about.
The cars and trucks that make up our list of 50 Coolest Barn Finds have been relieved of their duty in storage. It's great to see the old, and sometimes rare, rides be unearthed from a family barn. It leaves us thinking about what else might be sitting around in barns and farmhouses all over the country.
Continue scrolling to keep reading.
Click the START NOW button below to view this article in quickview.
START NOW
#50
When this car was listed on eBay in Tomahawk, Wisconsin as  "stored under a tarp," you would think most people would head for the hills. However, when the car is a 1968 Mustang fastback GT, that is anything but the case. Even though the car had no motor, the bidding went up to almost $15,000. Not bad for a car that shows obvious signs of wear and tear, with no engine. It proves there is no greater power than a Pony Car!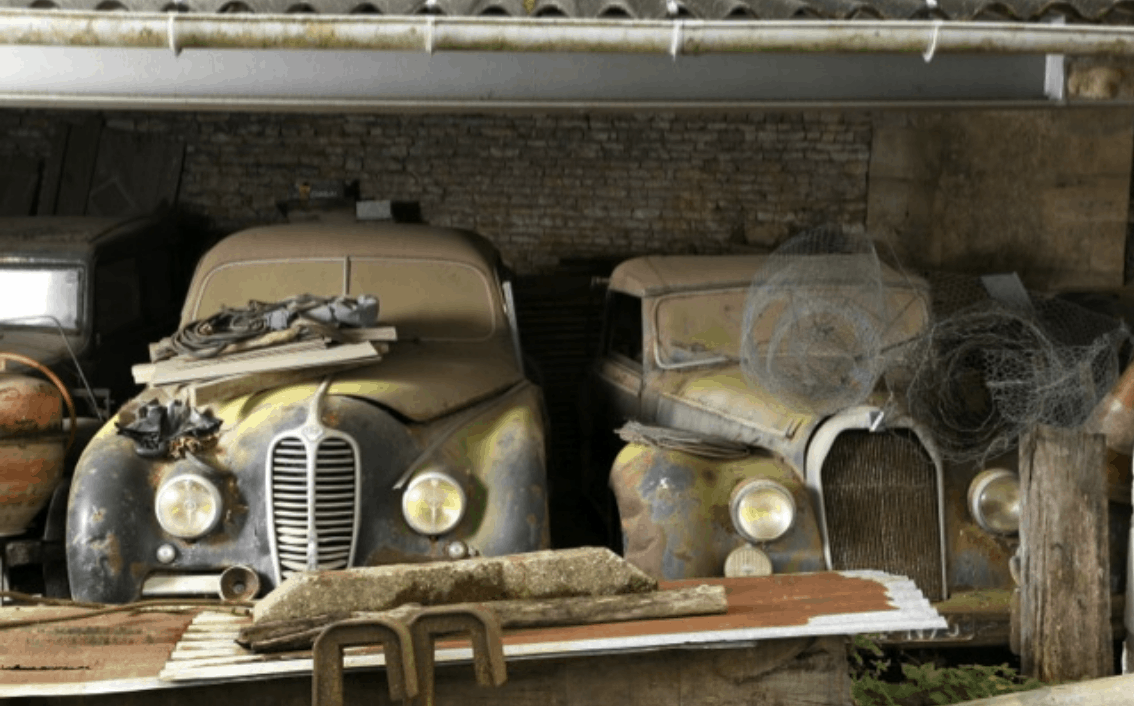 #49
What happens when you are a shipping magnate who goes under? Well, you're left with a ton of classic cars from the 1930s to 1950s. Take a look at the ones featured here. While the frames are a bit rusty, you can almost hear them speak. Had Roger Battalion not hit a rough spot in the 1970s, his dream was to open a classic car museum. Judging by this early 1930s Packard Bell duo, it would have been quite a show!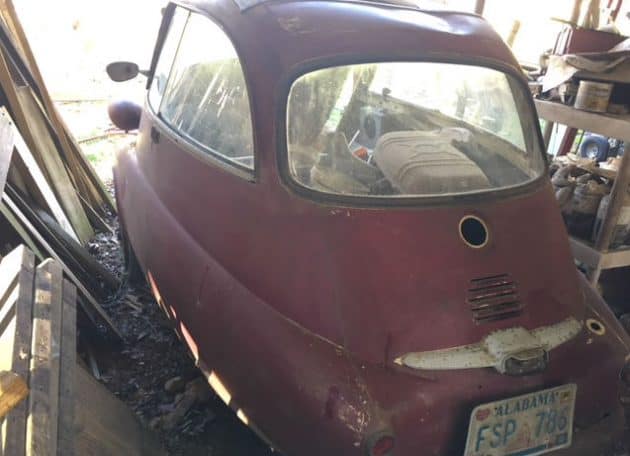 #48
This car was actually sold after it changed hands a few times. The 1959 Isetta BMW belonged to an Alabama soldier originally. And then changed hands and was brought to North Carolina where it was stored as a project car. It has since been sold again and the new owner gets the real deal.  As it turns out, this Isetta contains the original motor. A rare find for a true vintage micro car.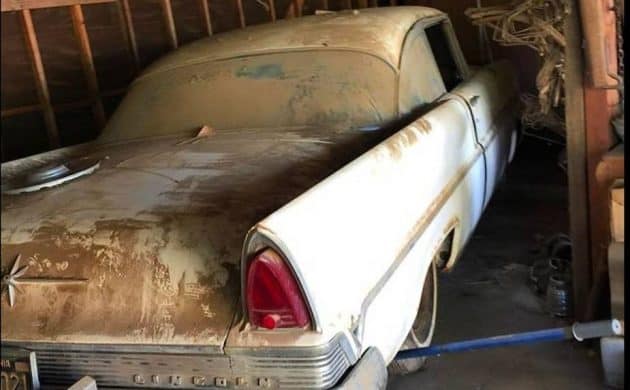 #47
It's not every day you see a classic 1957 Lincoln premier. You can probably count the times you have come across one of these on one hand and still have fingers left over. However, this two-door monster has evidently been parked in a barn for the better part of 60 years. And while the car could use a good washing, the engine would evidently need more work. The for sale ad stated that the three 68 in.³ wide block does not work. That means we don't know if it turns freely or is frozen. Either way, it would be worth purchasing just to take a look. You don't come across classics like this every day.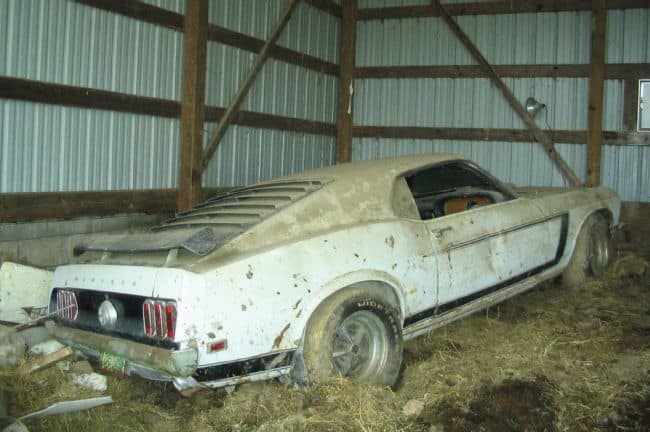 #46
As it turns out this 1969 Mustang belong to none other then Larry Shinoda. For years, people searched for this vehicle until it was discovered in 2011. Where was it? Tucked away in a barn near the town of Peoria Illinois. This was the 428 CJ Mark one Boss 302 prototype. When Shinoda was brought on to help with the graphics and name, the car you see here was used as the canvas. Ironically enough, it wasn't until years later that the owner discovered this car could be worth millions.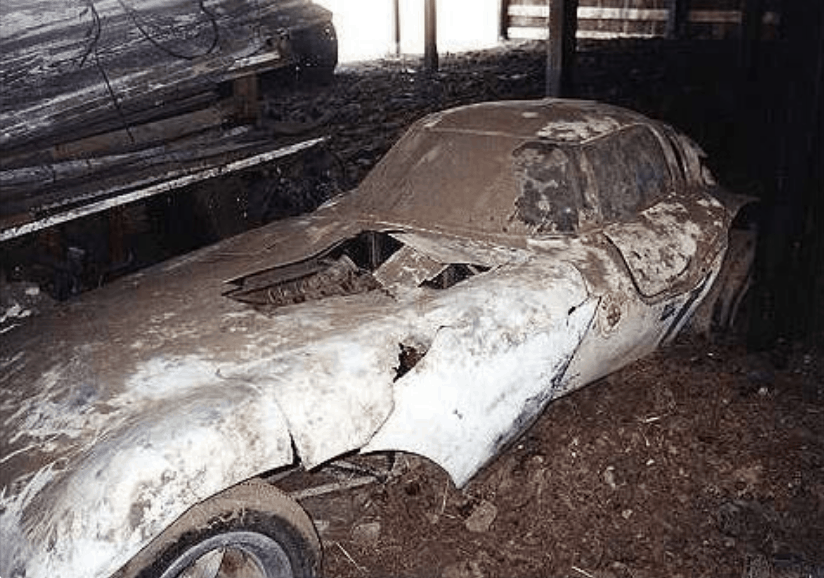 #45
Do you recognize this? it's a bit difficult, but if you are into rare muscle cars designed to beat the Ford Cobra, you can spot it right away. Yep, this is a Chevrolet Cheetah. Only 19 were built during the 1960s, but they were total BA cars. Even better, before his death in 2009, designer Bill Thomas gave a green light for 100 more to be produced. To date, somewhere around three dozen have found their way out of production.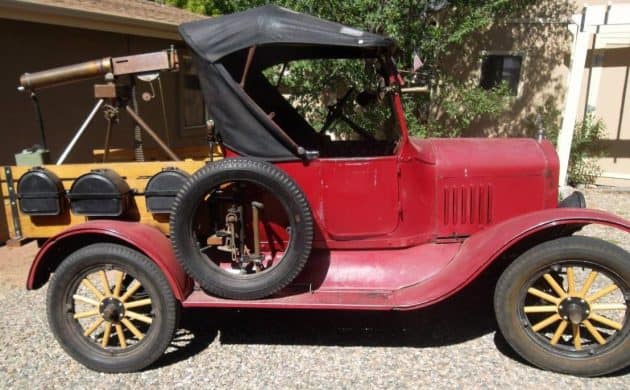 #44
They don't make Model T's like this one. In fact, they've never made one like this. With a machine gun mounted on the back, this 1921 classic Ford Model T is nothing to mess with. The gun is actually a Vickers World War One reproduction. It even comes with the ammo belt and box. So all of that to say, if you find yourself tailgating behind this roadster, you might want to back up! This is the more dangerous side of Henry Ford.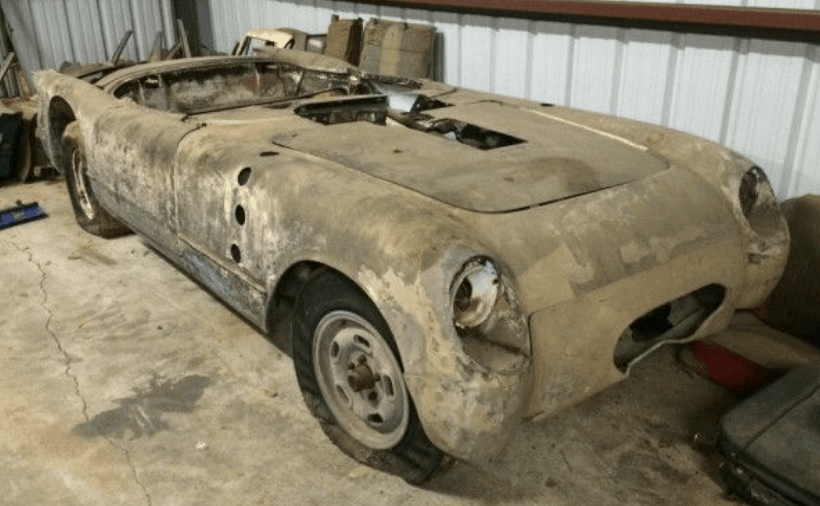 #43
So this little 1954 Corvette has been hiding away in a barn since the 1970s. And while it has plenty of holes and parts missing, there is a bit of historical evidence we find exciting. This could have been a Salt Flat racer. The clues we see right away are the holes in the hood and those around the vendors. This would push the firewall back further to aid airflow. If you could travel back in time, this would be one worth seeing.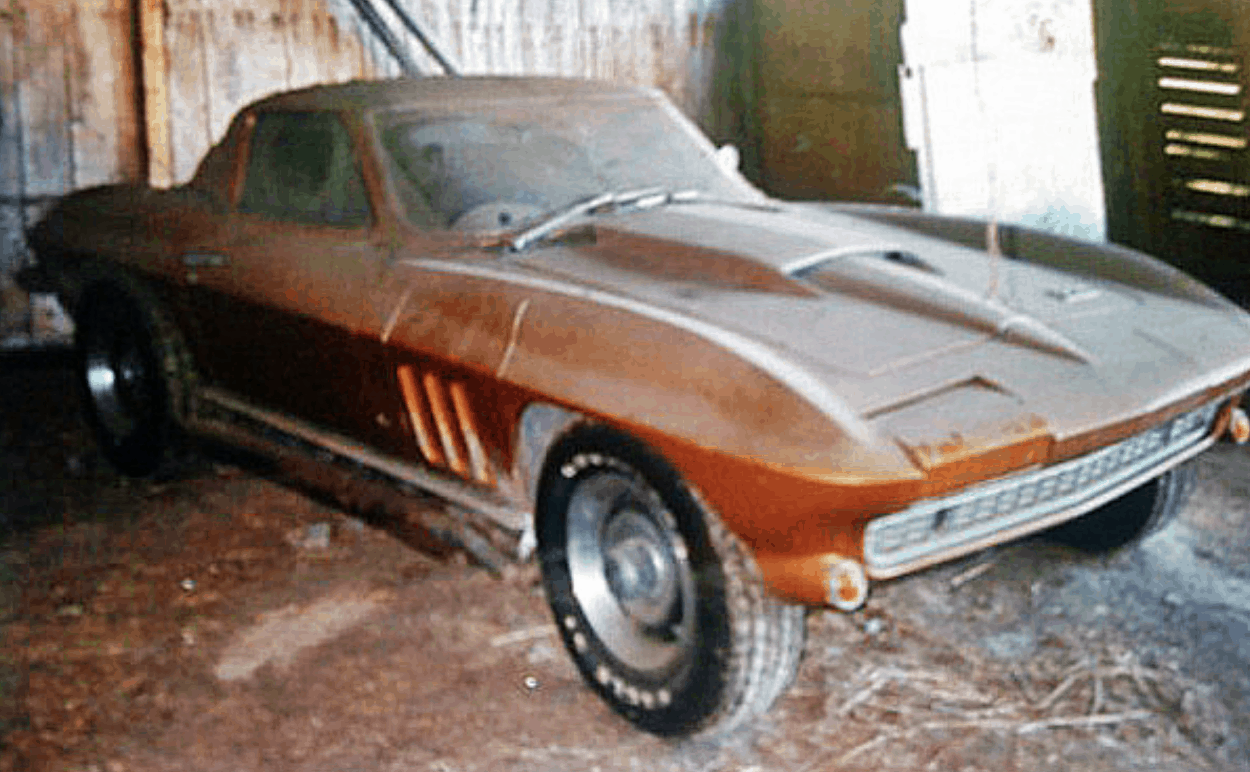 #42
This 1966 Corvette Coupe with a 427 in.³ V-8 is equipped with a four speed manual. The story behind this beauty is the owner always dreamed of having a Corvette. However, living in the UK made finding this American dream hard to come by. That is, until they were tipped off. Evidently, this beauty was tucked away in the barn, nearly 15 miles down the road from their house. Can you say score?
#41
Check out these Hemi Cuda Challengers found paired up together in a barn. The Cuda on the left is a 1970s model. The one on the right is a few years later. However, both would be beasts to contend with on the road. That's what happens when you load in a 340 and press the gas to the floor! Their tell tale nose and body style make them drool worthy despite the fact they have been wasting away in someone's barn.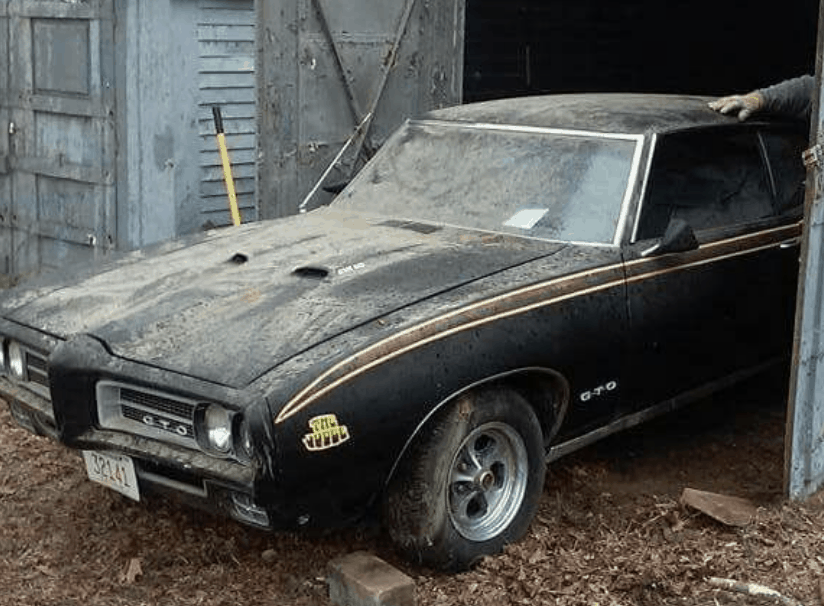 #40
The Pontiac GTO Judge was a worthy muscle car contender. This 1970s model is no exception. With a 400 V8 under the hood and a manual air intake, all you had to do was engage the knob to increase airflow and horsepower. And while many people confuse the 1969 model with the 1970, there is a fairly reliable test. Just look at the fenders on the side. If they have eyebrows, chances are it's a 1970.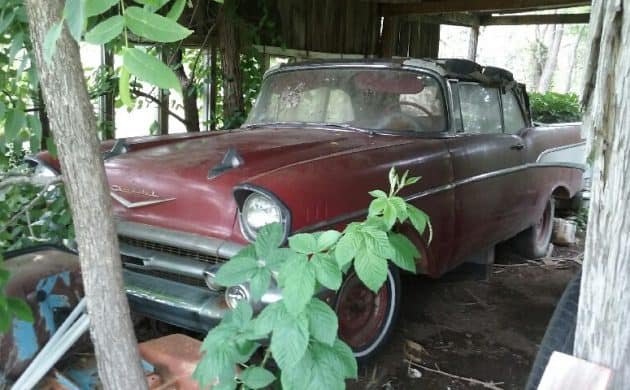 #39
Barn finds don't get much better than a 1957 Chevy Bel Air convertible. Even better, we have a little history on this car. It was painted once in the 1980s, before being stored in the barn. But who cares about that right? The best part is the odometer reading. This car only has 33,281 miles. The engine is original too, a 283 powerpack with automatic transmission. With a little bit of TLC, this car would be an impressive roadworthy specimen.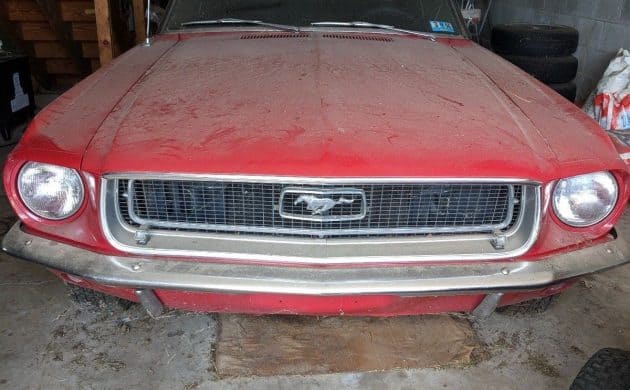 #38
So this 1968 Mustang has a few issues. For one, she is dusty. If this were a real Mustang animal control would No Doubt be involved. Also, the car has a little bit of rust. Other than that, we have a pony car who is ready to play. And it looks like a little bit of play would do the pony car good. Somebody needs to knock all of that dust off after all.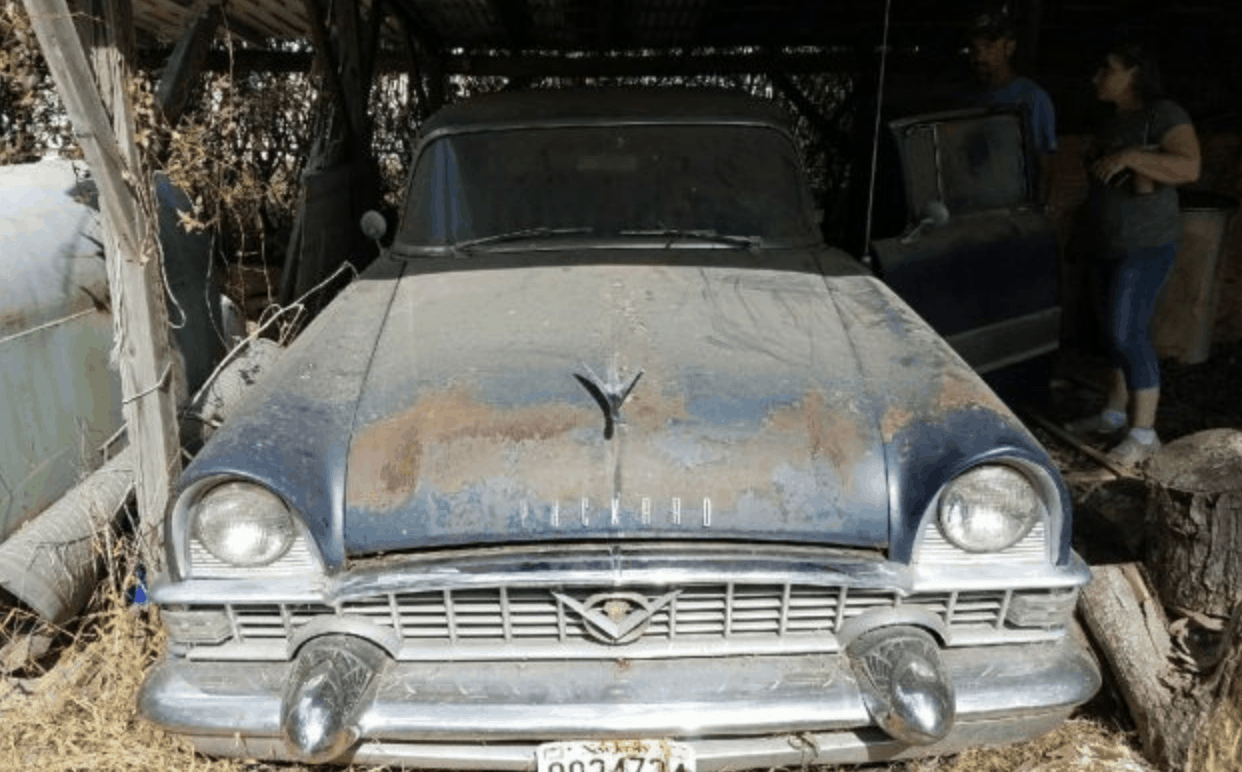 #37
In 1955, Packard rolled out a fantastic redesign of the Patrician. That's what you see in the picture above. Stately and solid, these cars were no flyweight under the hood either. The V-8 engine cranked out 260 hp along with 355 foot-pounds of torque. Not bad for a car with cathedral style tail lights incorporated into its design.
#36
Before you laugh at this grocery getter stuck in a barn, consider this. The 1971 Buick Estate Station Wagon is longer then a 2018 Chevy Suburban. How much longer? Three inches. She tops out at 227 inches long, but is still considered a classic in many respects. It probably has something to do with the fact that she came with a 350 hp 455 in.³ v8 as a standard feature. Also, good luck buying groceries because this baby gets a whopping 10 miles per gallon.
#35
Here is another Cadillac. This one is a 1941 convertible. It also happens to be in a barn crowded with several other Cadillacs ranging from the early 1940s to late 1960s. If you happen to find yourself in Riverside, California then find this barn. You won't find the 1941` convertible though. It's been sold along with 25 others. If you want one, you better get there quick!
#34
Jeeps have been American mainstays since World War I, and this 1948 Willy Jeepster is no exception. It even comes with the continental style spare tir eas one of its original components. The thing about the Jeepster though is they were part car-part jeep. The production one was low too. Just over 10,000 were produced making them a rare classic… if you can find one.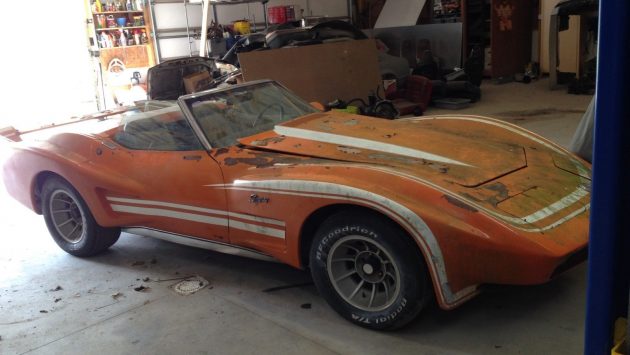 #33
Corvettes are always a thing of beauty, even when people do strange things to them. Take this one for instance. Our sweet barn find has its fair share of bondo all over the body. Yet, that's not the only strange thing. If the body looks a bit wide it's because someone switched out the original for a larger body kit, then painted everything orange. Before you judgeHowever, under the hood are aluminum headers and a Mallory distributor, so all is not lost. Corvette enthusiasts can still rejoice. Just switch out that body kit!
#32
The amazing thing about this barn find is it does not just contain one incredible classic vehicle. Nope, 13 classics can be found tucked away. You just have to be willing to go to Bath, Ontario to take a peek. Besides the 1984 Chevrolet Camaro Z28 you see here are a 1946 Cadillac 62 convertible and a 51 Lincoln Continental convertible to name a few. It might be worth a drive or flight after all. Just make sure your passport is current.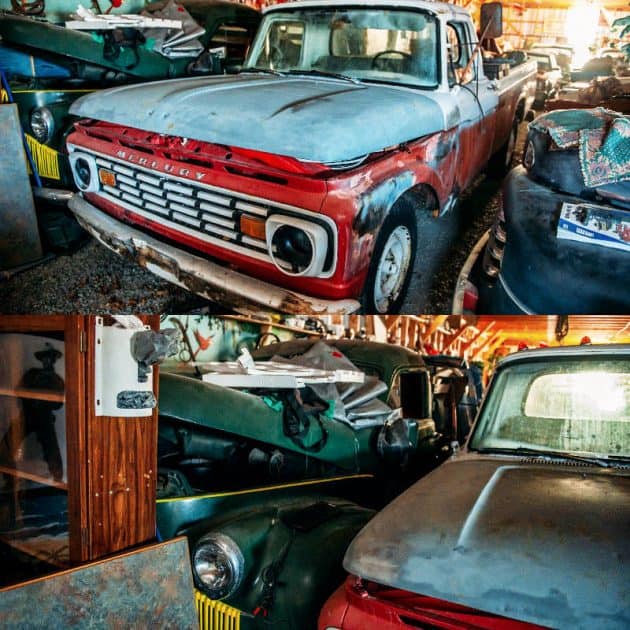 #31
Here's another vehicle in this Canadian barn full of 13 classic cars and trucks. This one is a 1963 Mercury M 100. We also know it by another name, the Ford F1oo. Looking closely, it appears like a restoration of sorts was underway at some point. Cast a glance beside it and you'll see a vintage Studebaker! What a treat! As far as we can tell, it looks fantastic. Of course, the only way to know for sure is take a visit and see for yourself… eh?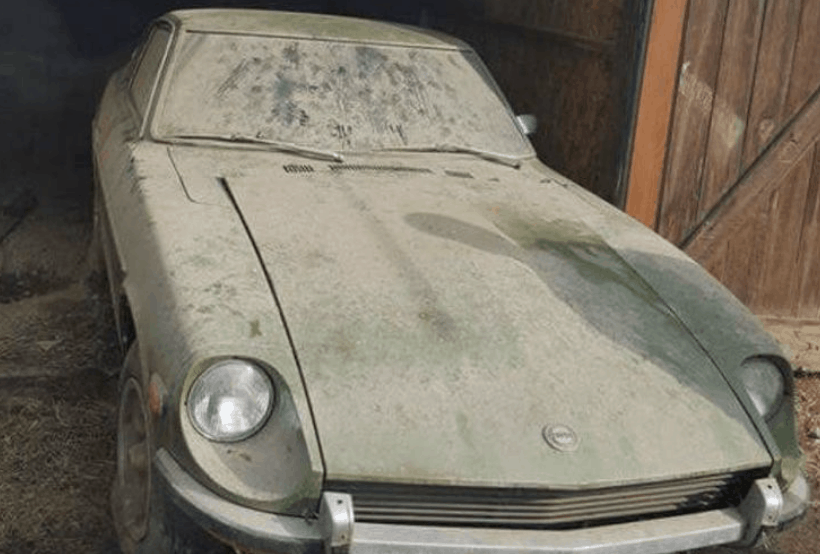 #30
Sometimes it said to see vintage vehicles right away. Such is the case with this 1972 Datsun 240 Z. The backstory is it was parked 25 years ago after a head gasket failure. For years she looked like this. However, fortunately she was sold and The new owner performed all restoration. Today, she looks as good as ever.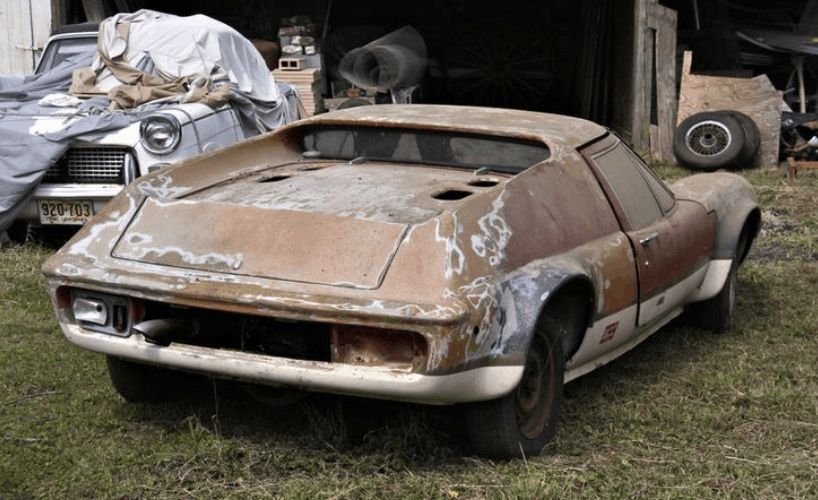 #29
Here's a rare blast from the past. That's right, you are looking at a 1970s Lotus Europa Racer (or barn racer as we see it). As far as we can tell, it looks like she was getting prepped for a paint job. However, the real challenge lies in getting things straight under the hood. To set her right again you will need a 1470 cc Renault A1K 14 engine. May the force be with you in finding one.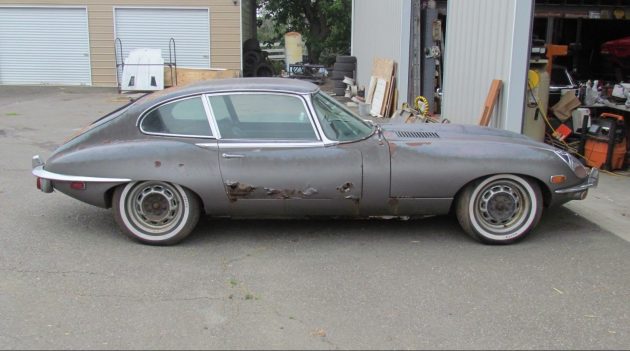 #28
Remember the 02+2 Jaguar E-type 1969 model? Well, if you have no clue what we are talking about, you will never forget it after seeing this awesome barn fine. Look at the sleek lines and Art Deco style bumpers. Many consider this to be the touring prototype to the Porsche 928. Looking at the lines and body style, it's not difficult to see why.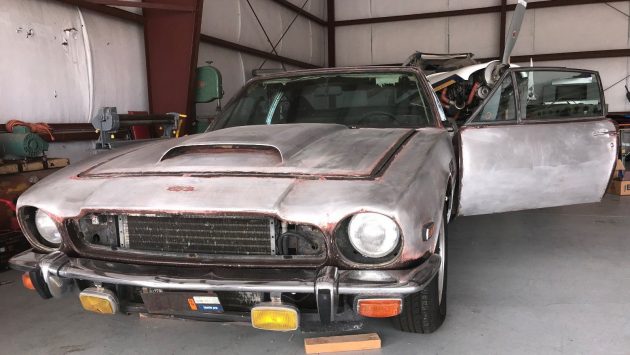 #27
This 1977 Aston Martin is a beast. It has a V-8 under the hood. That's the good news. The bad news is it hasn't turned to free for 15 years or so. It's a shame too, they were considered the supercar of their day, effectively reaching 170 mph. Oh yeah, and 77 was the first year the V-8 coupe was produced so this barn find is a true vintage collectible.
#26
Who doesn't love a good supercar? That's what we thought. Check out this 1979 Ferrari 308 GTS. Remember, the GTS came equipped with a targa top. And considering this might be your only chance at owning a Ferrari, it might be worth checking out. The owner listed it for sale for $50,000.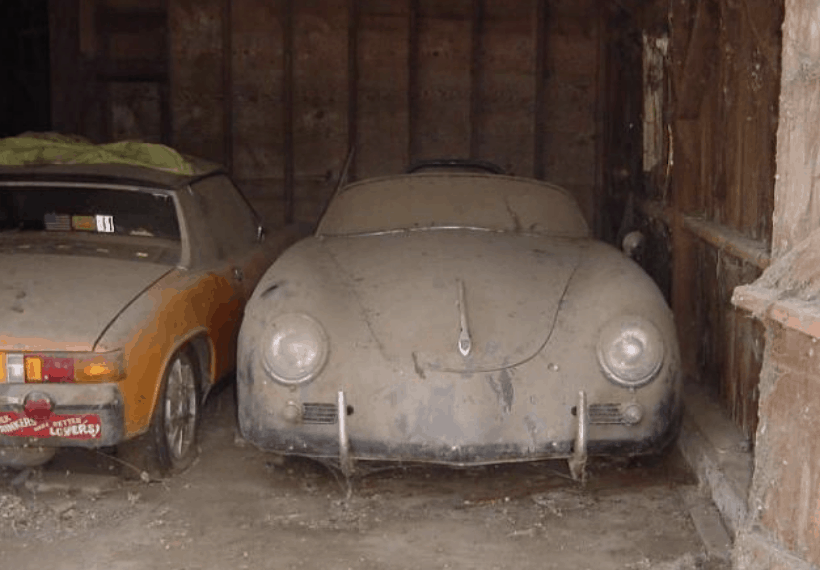 #25
Do you even recognize what you are looking at? If you go to an auto show you will no doubt find a polished version with a price tag that would make you choke. However, this isn't one of those cars. Look closely at the headlights and you find a slight giveaway. This is a 356 Porsche… who has seen better days.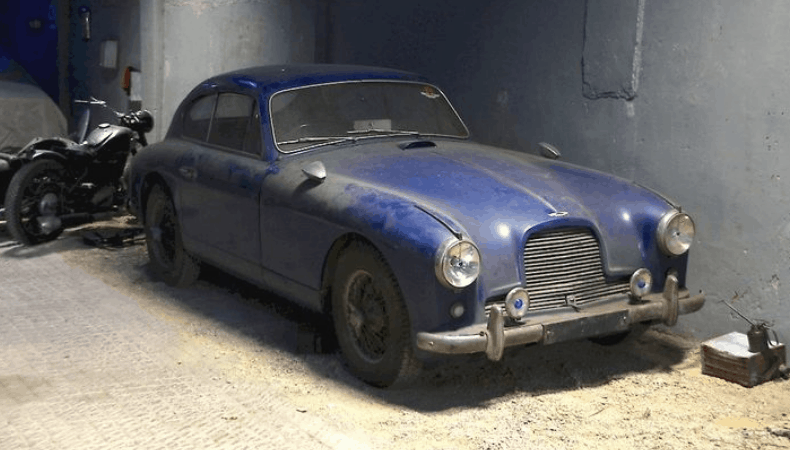 #24
This is one of those legendary barn finds. You're looking at a 1955 Aston Martin DB 2/4. The funny part? This car was in almost pristine condition when the owner found it in a barn in Gloucester, England. Rumor has it it served as an unmarked police car in the 60s. Now it is a collector's dream!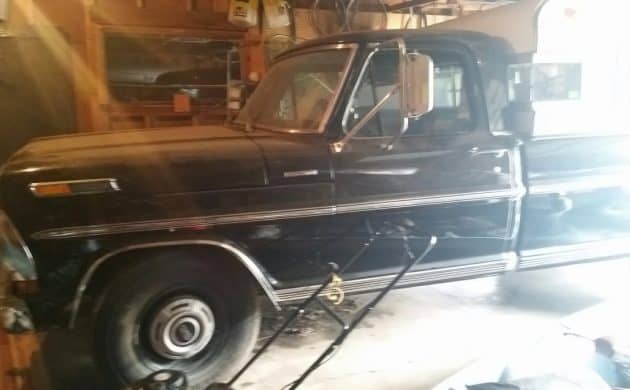 #23
Sometimes you come across a vintage vehicle that serves a more utilitarian purpose. Such is the case with this 1972 Ford F2 50 camper. It's in pristine condition, has a nice size V-8, and is ready to go to work. Not bad for a 2 Wheel drive vehicle that's been stored for the better part of 30 years. Oh yeah, we forgot to mention, original paint and body!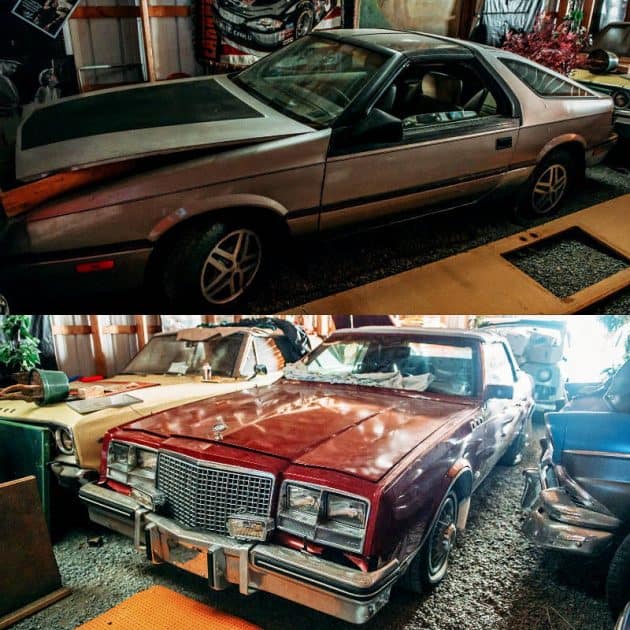 #22
So we aren't exactly sure why a 1983 Buick Riviera and Chrysler Daytona made it into the mix, but they did. As for the Riviera, Buick didn't make too many of them, especially the diesel and turbo powered models. And the Daytona just seems like the Camaro version of a sedan. At least it would be a better daily driver than one if given the option. However, if you want to feel the wind in your hair, go with the 83 Riviera. It has a drop top. You can blast your 80s hari band of choice through the stock stereo.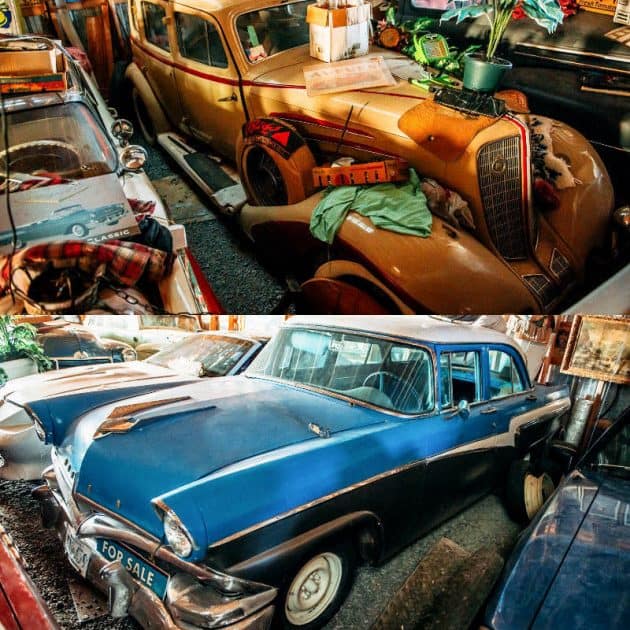 #21
Produce from 1900 to 1937, the Auburn you see here is a 1934 version. Taking their name from the Eckardt carriage company founded in Auburn Indiana, these stately sedans were known for beingthe consummate American touring sedan. Just check out the hood ornament and you'll see what I mean. As for the blue car in the picture, many of us are not familiar with its name, Meteor Rideau. However, if you look close you will notice the shape for sure. Yep, that's a Ford Fairlane dressed up as something else.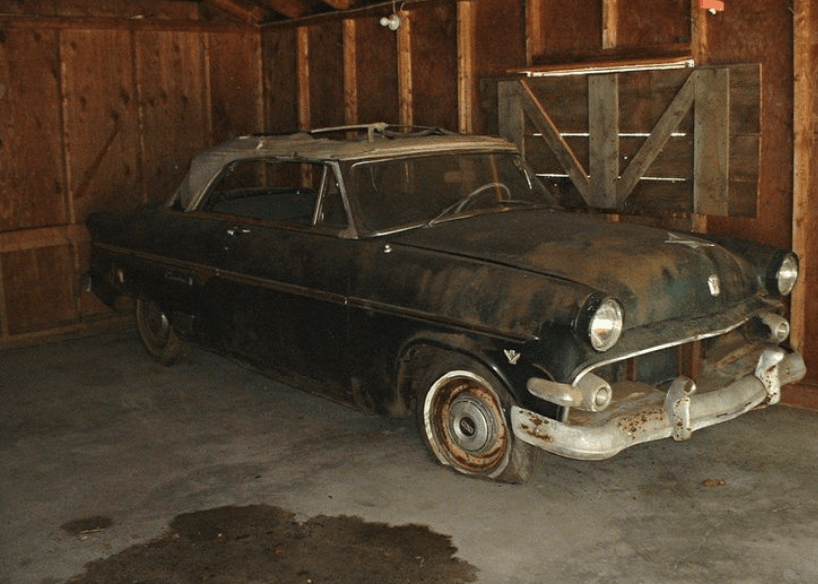 #20
Packed with a 239 Y block V8, this 1954 Ford Sunliner is actually in decent shape. According to the owner, the interior has aged incredibly well. The only issues for getting it up and running are crusty wires. Fix that and this barn find is as good as new! Not bad for a classic thought to have been stored since 1968. Oh yeah, a vintage Crestliner is part of the deal too!
#19
This barn find 1958 Berkeley Racer has a few special things going for it. For starters, only 4,000 were made. Second, the engines sizes were quite varied. You could get anything from an 18 – 50 bhp motor. The cars were lightweight, making extensive use of fiberglass. Hence, they were considered to be racers for the cash strapped poor. We wouldn't mind, would you?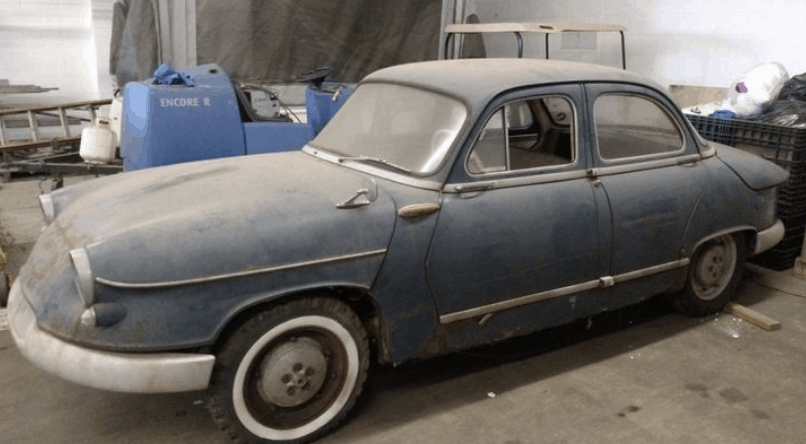 #18
What a fun little barn find this one is. Straight from France, this 1960 Panhard PL17 had a production run of only 7 year (1959-1965). The body style was meant to be aerodynamic, because the entire thing was powered by an 850cc twin cylinder, air cooled boxer engine. This means you get a whopping 42 horsepower. Shelby fast backs beware!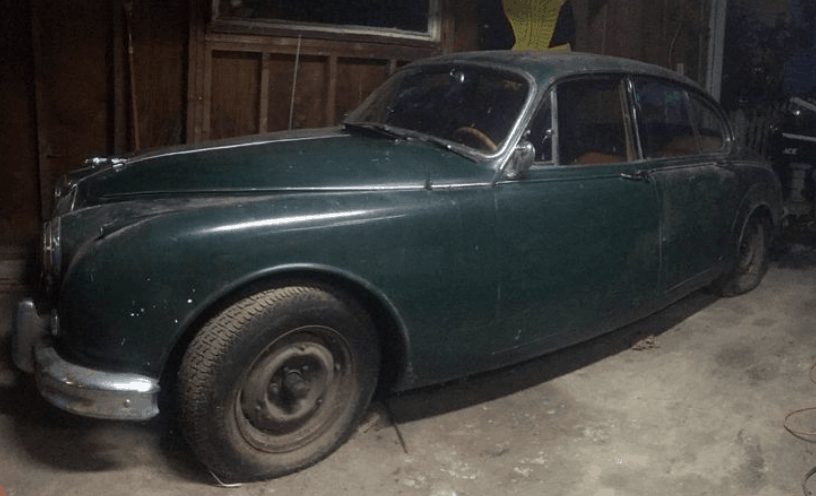 #17
Does anyone else have a 1962 Jaguar Mark 2 laying around their barn or just this guy? That's what we thought. The good news is this car would not take too much TLC to get up and running. Imagine driving around in a vintage Jaguar when they were real vehicles (yes we said that). They were squared off in the 80s and pawned out in the 90s and 2000s. And newer models? They just don't compare.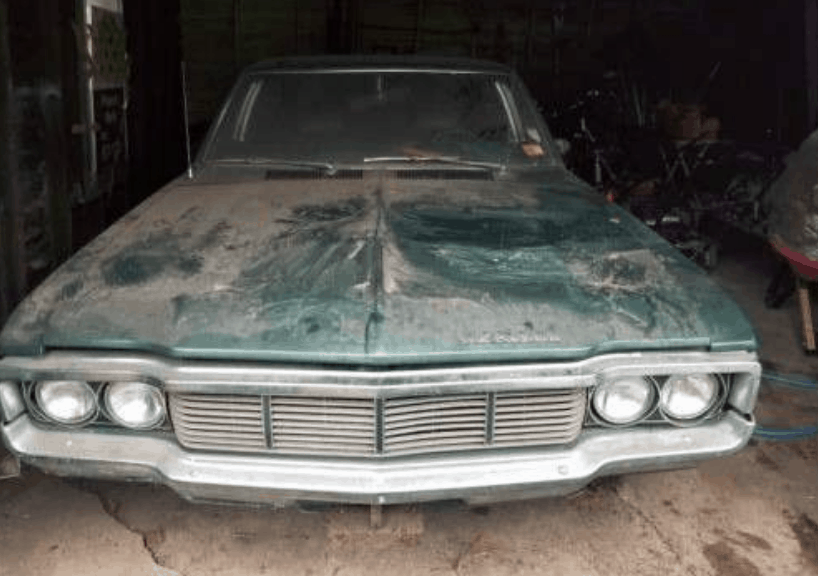 #16
Do you remember the marketing schtick for the old 1972 Matador you see featured here? AMC said the is classic car provided "most of the things you'd want in a family house." We don't care as long as the original 232cui six cylinder inline is part of the deal. And while it only provides 100 horsepower total, its one of our favorite classic car engines. And yes, we would want that in our family house.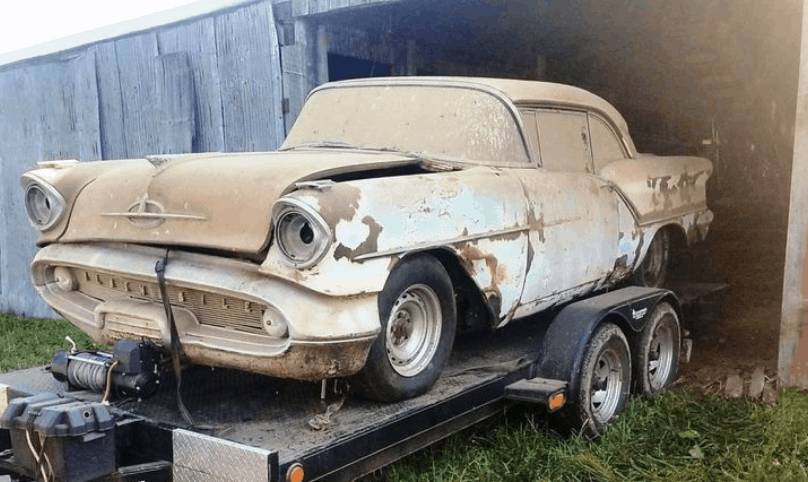 #15
The 1957 Golden Rocket 88 was quite a sight to behold. Loaded with chrome, a fat V8 and 4,400 lbs of metal turn this two door beauty into quite a beast. The sales brochure claimed to put the accent on YOU! Even so, they haven't been street legal since 1969, so be mindful on the road if you get behind the wheel.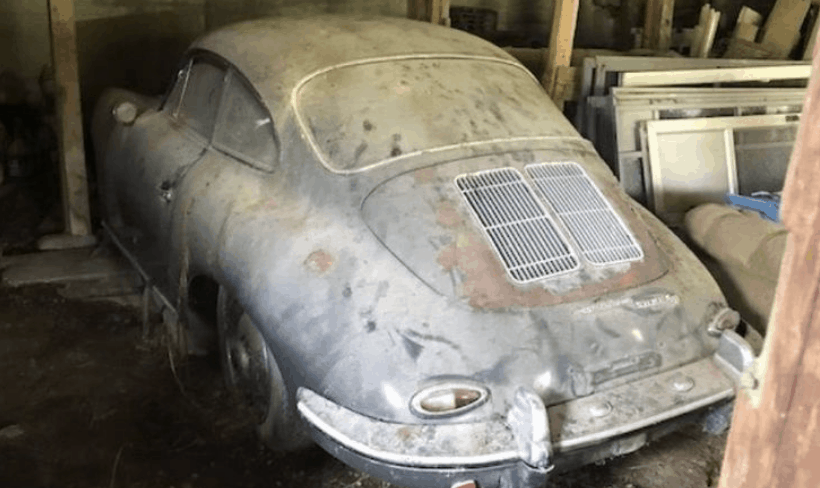 #14
Hidden in our next barn is a 1962 Porsche 356. We saw one of these earlier, if you could call it that. This one is more recognizable, and it comes with the Super 90 engine upgrade. This one was sold to a German priest who later moved to the states. The Porsche features the original gray color and is in surprisingly good condition for its age. Just say a few hail Marys before you hop behind the wheel for good measure.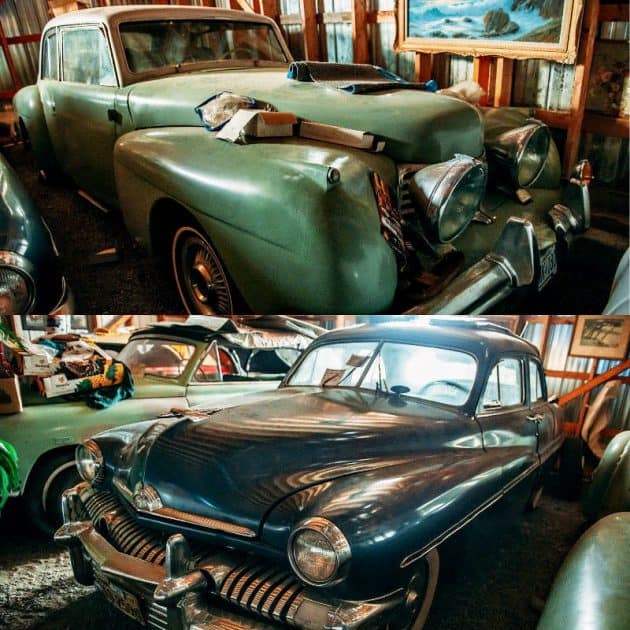 13.
These two barn finds are in pretty good shape. The 1951 Lincoln convertible is a little droopy, but the paint is decent and looks as if it was in the midst of a restore. However, the next picture has a bit more panache. That's a 1946 Lincoln with a Rolls-Royce as its front end. The Lincoln looks to be in class all its own. Especially when you consider the fenders and headlights. They give it a decidedly unique look.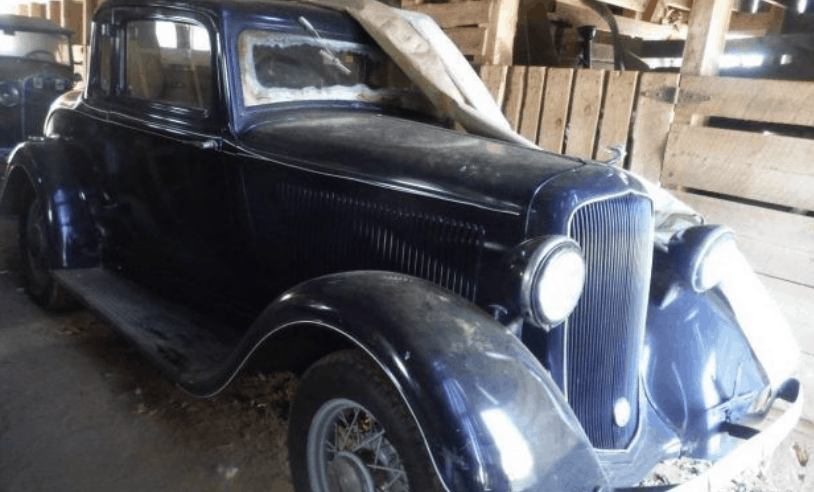 #12
What an epic barn find! This was an all new Plymouth designed for the 1933 production year. The PC featured a new 6 cylinder engine, replacing the old 4 cylinder flyweight. Interestingly enough, this would be the same engine Plymouth would use until 1960. We know it as a 190 CID, 70 horsepower flathead six. As for the 1933 model, we love it. This one is all original by the way.
#11
Many of our barn finds have been stored for years, but few look as good as this 1966 Austin Healey 3000. Originally, this car was British racing green, but has since been updated to yellow and black. Good luck driving it away too,. The clutch is stuck to the flywheel. However, get it loose, and rework the brakes and this car is ready to go!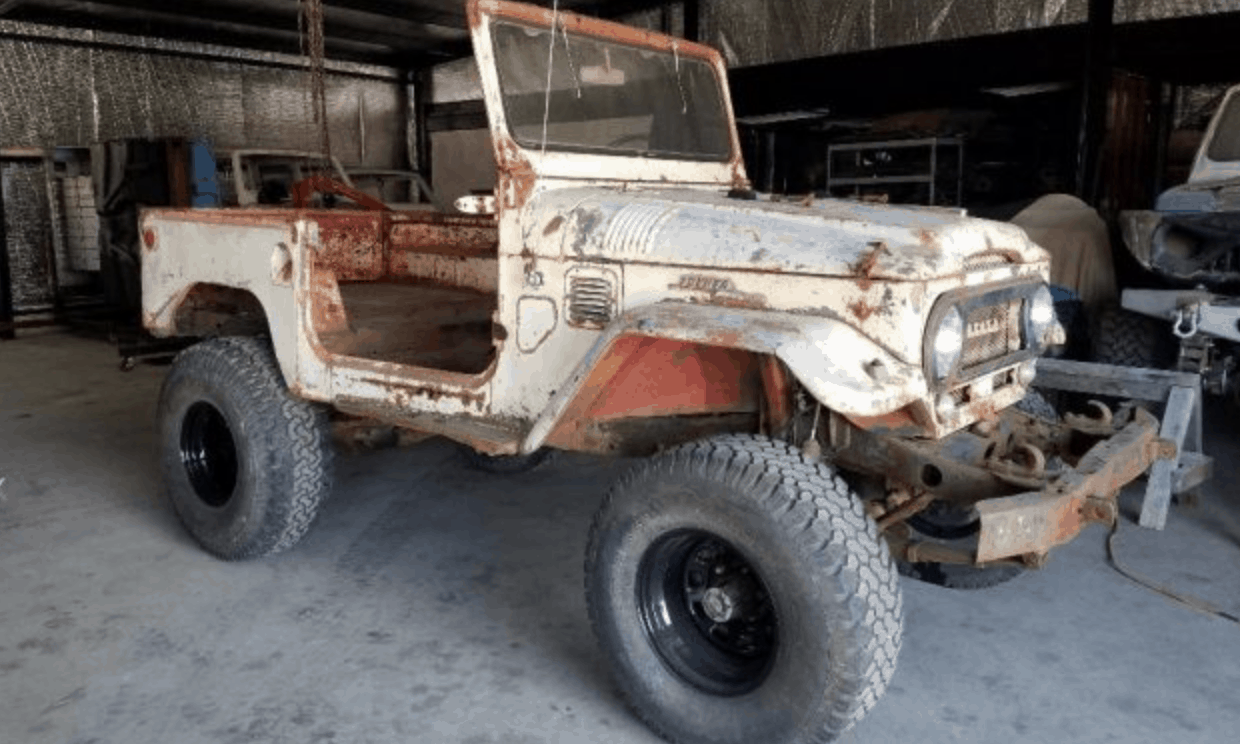 #10
What's better than a Jeep? A 1948 Toyota FJ40 4×4. Though they are not quite is popular as they once were. They are still highly desirable. And this one features the original inline 6 cylinder engine. However, don't get too excited. Many of these puppies have rust on them throughout. Such is the case with this barn find.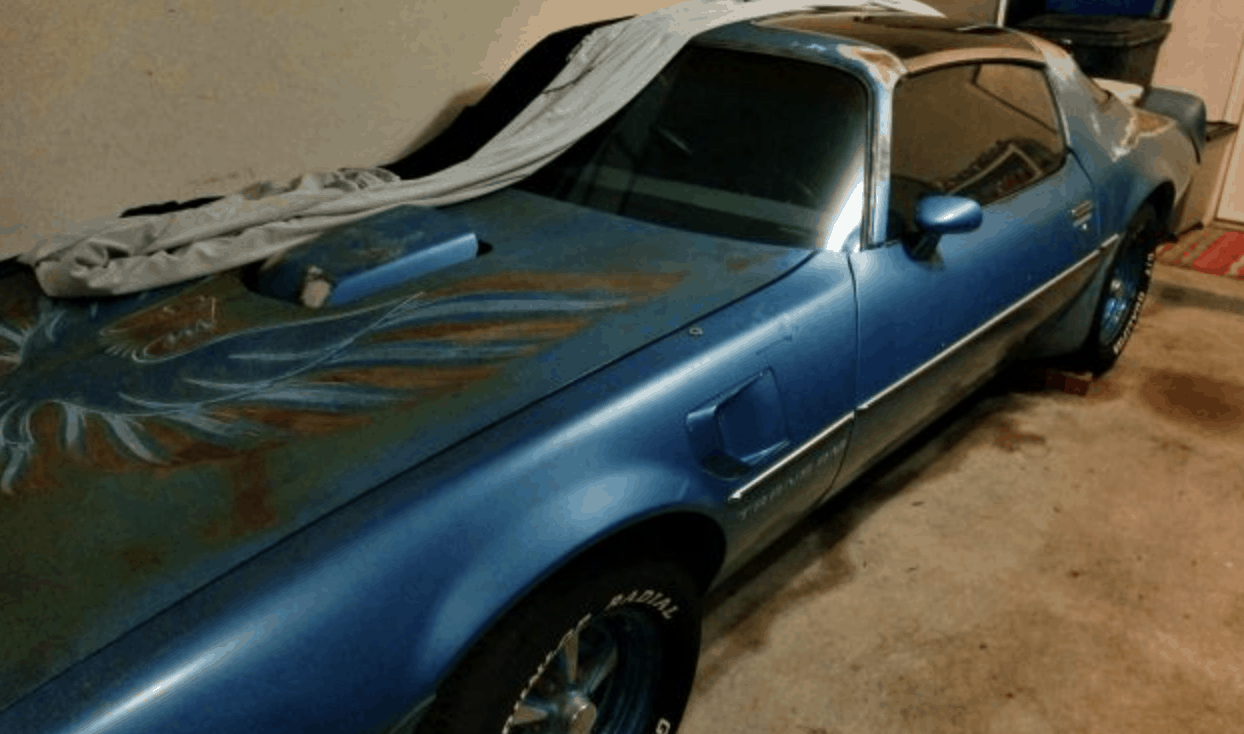 #9
If you want a fund muscle car like throwback, try this barn find out. Pontiac did well with its 1979 Firebird Trans Am. Featuring a 4.9 liter V8, the Trans Am could get up and go. This one even features a shaker hood and 4 speed manual transmission. You almost expect to see the cast of Weird Science show up at any moment.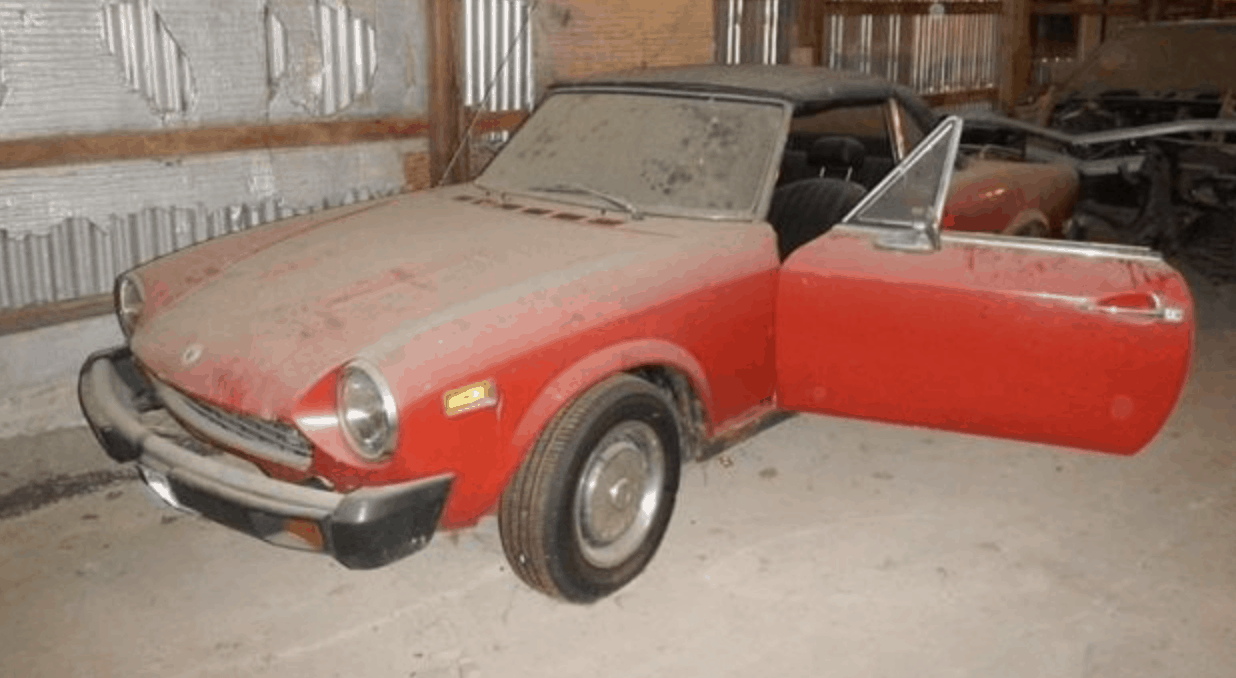 #8
Looking for a classic car that's all bark and no bite? Try the 1977 Fiat 124 Spider on for size. This beauty cranks 115 bhp from its DOHC four cylinder engine. And while it may not be powerful, it is gorgeous. For that we can thank the Ferrari engineer who was involved in the development. Maybe they had something to do with the Weber carbs and aluminum crossflow design. Whatever the case, the Fiat 124 Spider is a true vintage classic.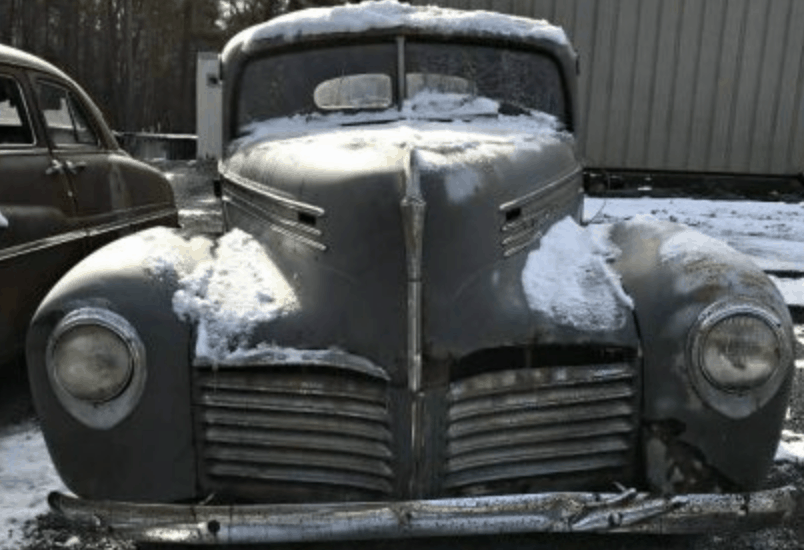 #7
Business coupes are always a kick in the head, right? They have two doors, incredible sleek design, a huge trunk and that rare designation that separates them from the main production line. Such is the case with the 1940 Hudson Business Coupe. This one has all of the original parts according to the owner. And while it would take a small fortune to get it show worthy, we would say that's money well spent!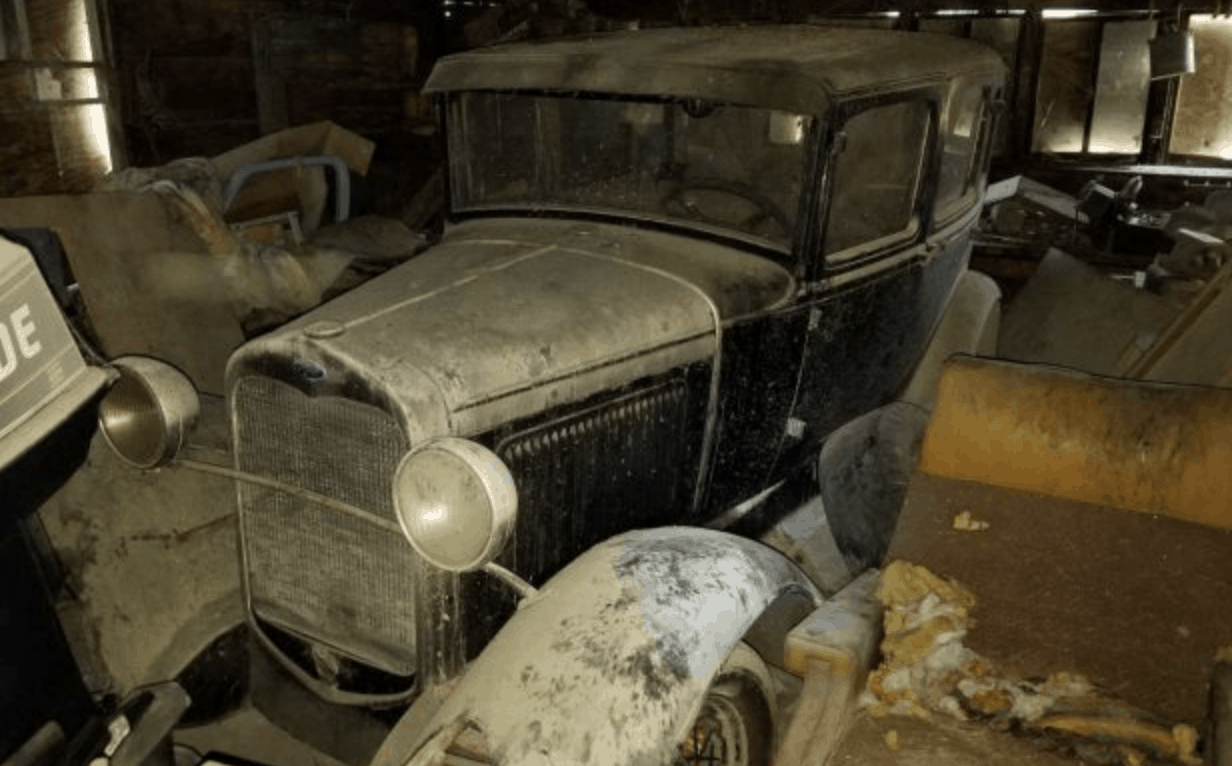 #6
Barn finds don't get any better than a 1930 Ford Model A. For a vehcile that's 88 years old, this one looks amazing. Even better, this Model A contains the original four cylinder flathead. How's that for vintage value? Of course, it probably doesn't start up, but with maintenance it should be ready to go in no time. They don't make them like this anymore.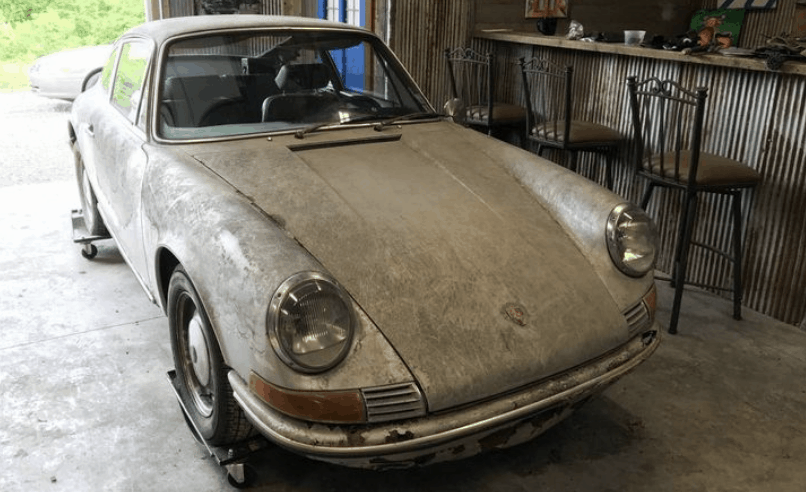 #5
Next up, a 1969 Porsche 912. This one doesn't look too shabby either. It may have spent several years in a barn, but looks absolutely amazing. Don't get too excited though. The engine is not original, but still true in type. This Porsche comes equipped with same 2.0 liter 6 cylinder boxer engine we are accustomed to seeing. That's what made these so appealing. You could do an engine swap in a weekend.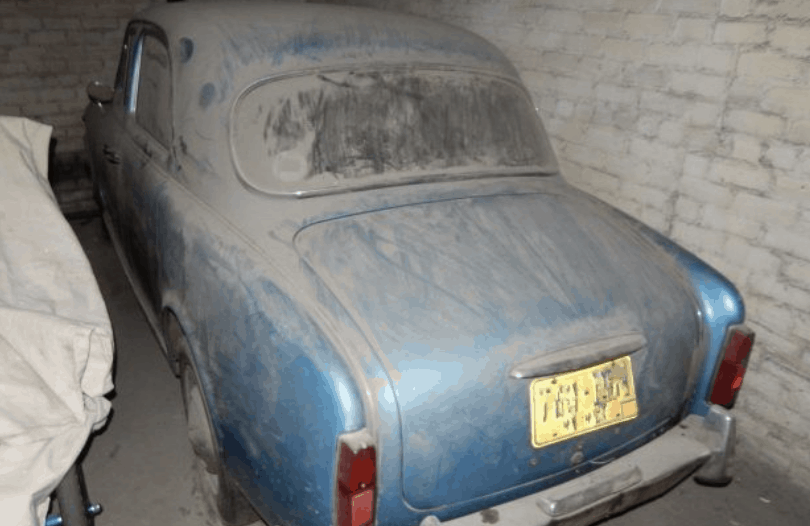 #4
The year 1961 gave us many good things, one of them being this 1961 Lancia Appia Berlina. Interesting things about the Lancia are its pillarless design, among other engineering feats. The engine wasn't too shabby either. It was a four cylinder and could get you a top speed of 82mph. Not bad for an Alfa series vehicle. It's a collection worthy piece for sure.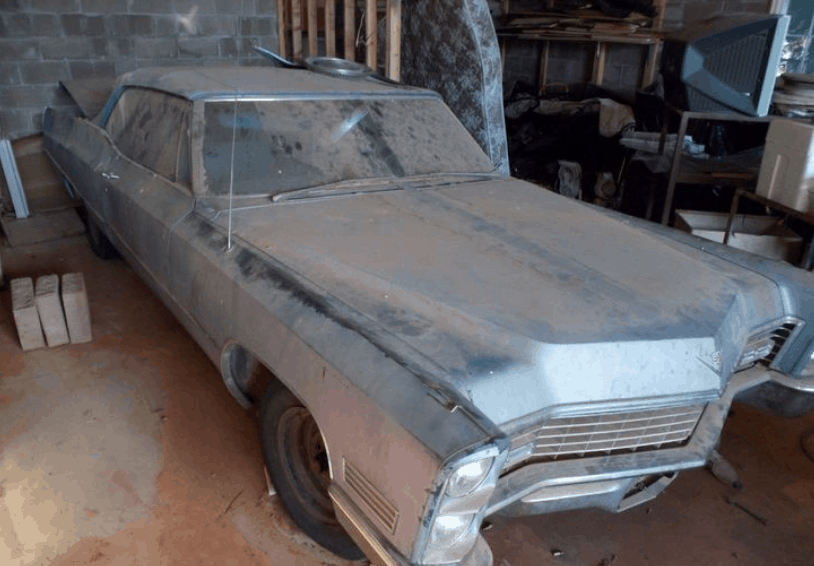 #3
What do you do with a 1967 Cadillac Deville Convertible that's been sitting in a barn for the better part of two decades? Whatever you want is the short answer. True, you may have to perform major surgery on the 429 cu V8 engine. However, when you do, get ready to unleash the 340 horse under the hood. Bonus points for making it work smooth with the Turbo Hydramatic transmission. Once you do, you will have a show stopper on your hands!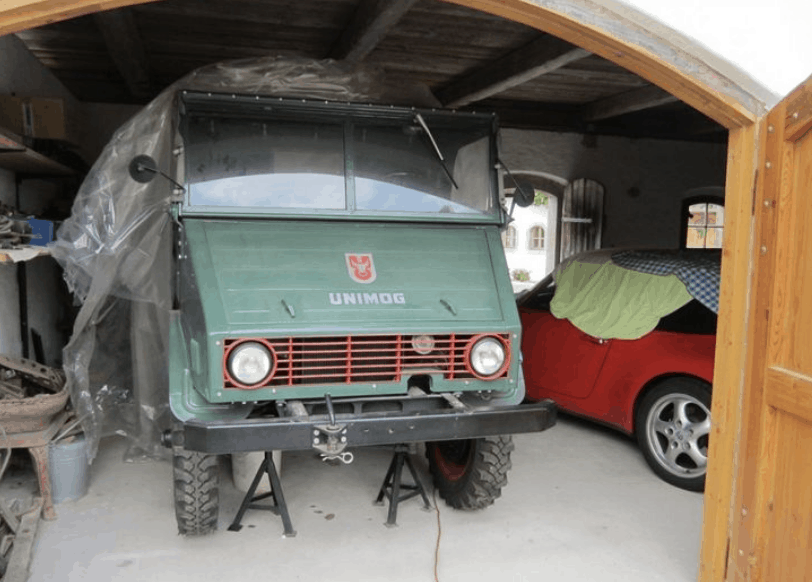 #2
Finding a late-model you Unimog is typically rare. However, seeing an early model 411 is almost unheard of. This Unimog is actually a rebuild of the 401/402 model years. What it lacks for in power it makes up for in utility. Of course, as with all Unimogs, it has off-road capabilities that are anything short of legendary. And in our opinion, for a barn find, this one is in incredible shape!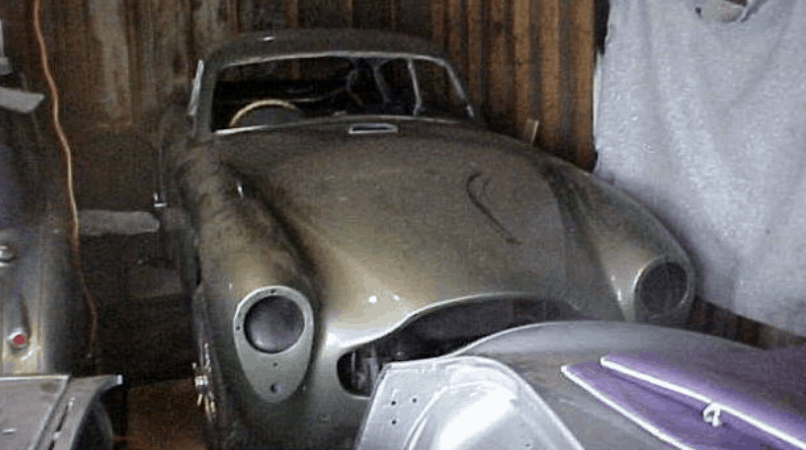 #1
How do you make a 1958 Aston Martin DB 2/4 better? Simple. Find one owned by former Formula One Race Car driver Sir Stirling Moss. Of course, if you are a movie buff you will recall this vehicle played a somewhat dominant role in the Alfred Hitchcock movie The Birds. As for life after Stirling Moss? Well, this vehicle has been with the current owner for the past 43 years, and they have no plans of letting it go anytime soon.