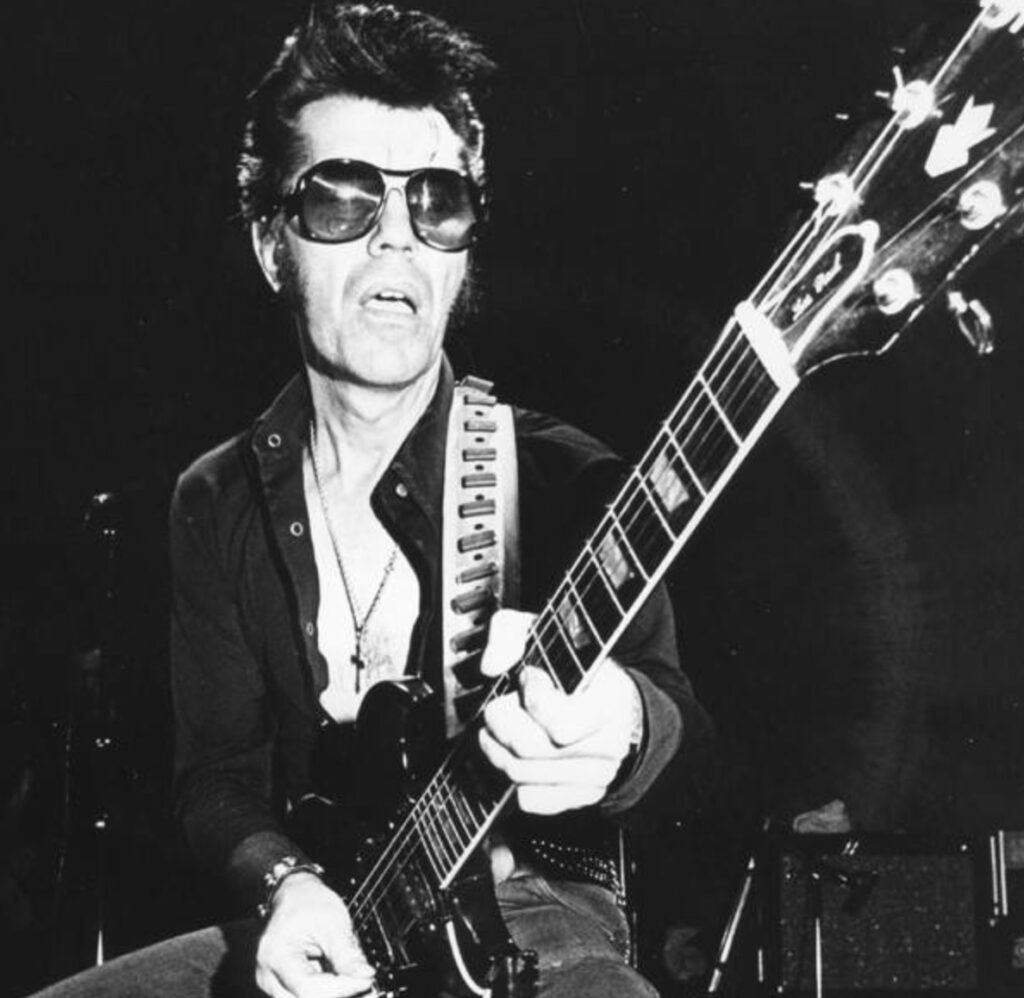 You're about to embark on the definitive list (at least as far as we're concerned) of the greatest guitarists of all time. The 50 best guitarists ever is not an easy list to curate because of how many gnarly musicians there are, but we think this is a pretty solid list. Every rock fan, let alone guitar players around the world, have the argument over which guitarists are the best in the world. The problem is everybody has preferences and different definitions as to which skills are the best to have. Some people like shredding while others like slower and more melodic playing. Some want to see the fundamentals mastered while others others think if you aren't using jazz music theory you aren't even in the same playing field as the greats. What matters is all of this in the right context, which signals maturity. Do you agree with the top 3?
Kirk Hammett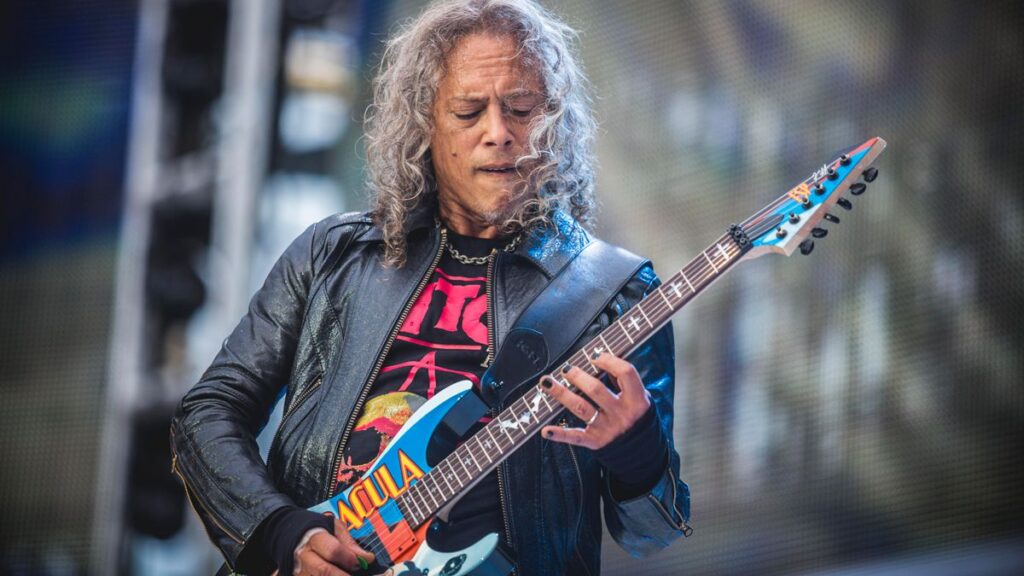 No other heavy rock band has had commercial and mainstream success quite like Metallica. Kirt Hammett is partially to thank for this. He heavily uses pentatonic scales to create a heavy, slow, and powerful sound. With repetitive and intense patterns, his music still keeps a blues rock style that creates a more familiar sound to a non-metal fan.
The Master of Puppets album especially showcases his pentatonic scale that is both demonic and somewhat bluesy.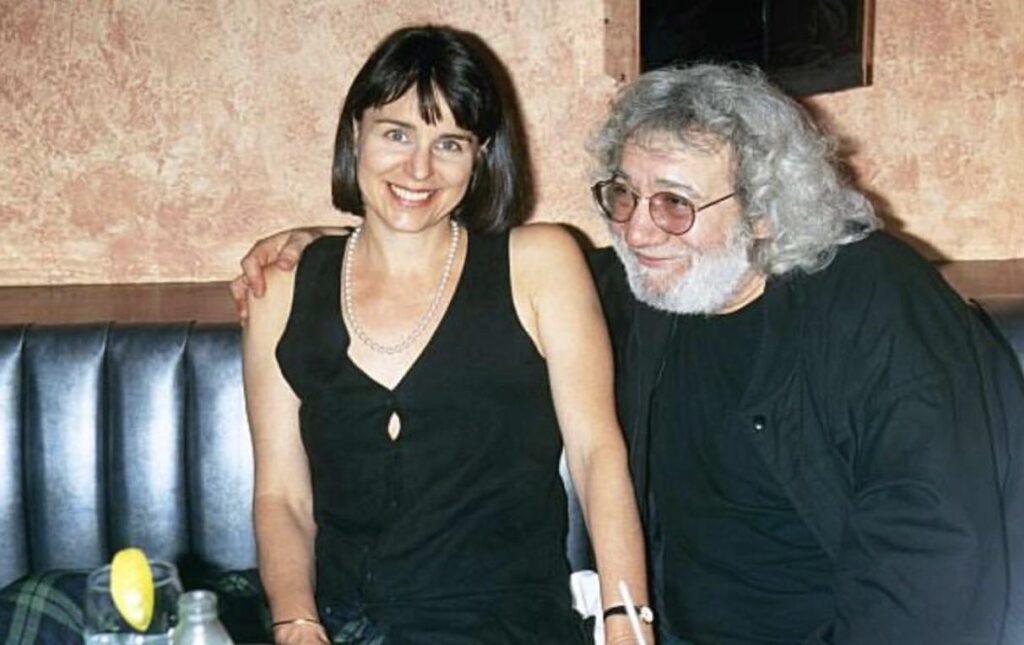 Link Wray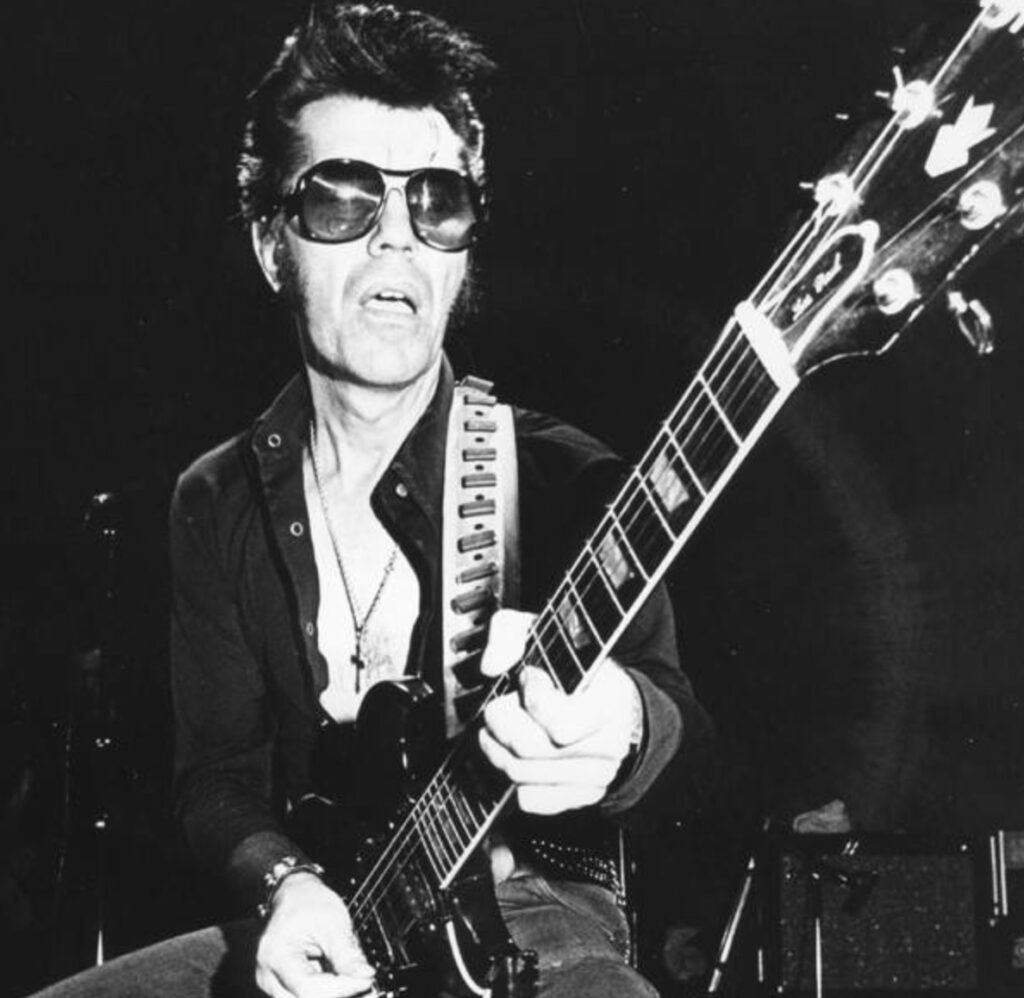 Link Wray has such an ominous and distinct sound that his song "rumble" is the only instrumental song that has been banned from the radio. (They feared it would incite gang violence.) His sound is distorted and overdriven, allowing it to seep into a variety of rock genres. His force is so strong that the guitar sounds like it's screaming and crying for help as he plays.
Of his songs, "Rumble" is by far the most ominous and thrilling. "Slinky" and "Some Kind of Nut" are also forceful and evocative.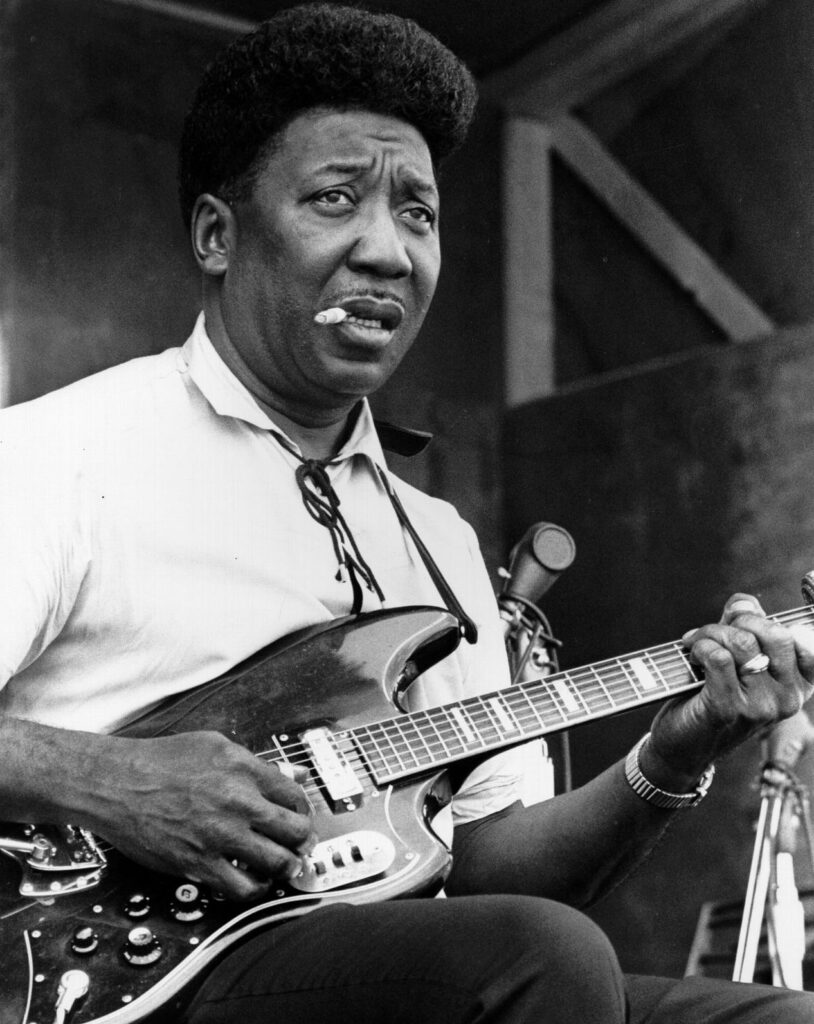 Jerry Garcia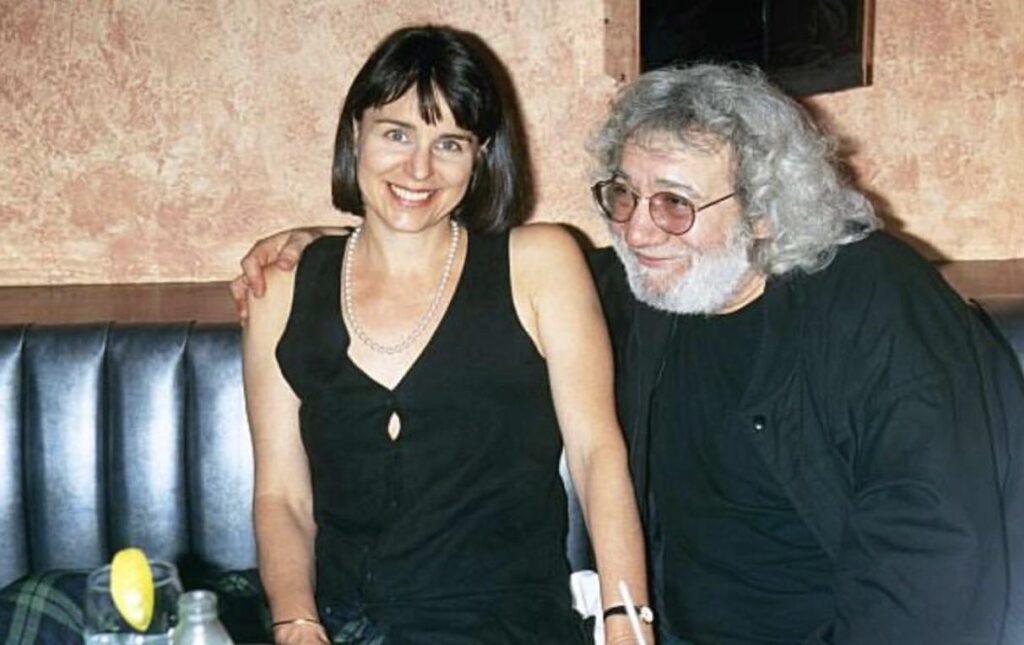 Blues playing is often conservative and remains the same. Jerry Garcia, however, goes against the grain. He somehow mixes blues with bluegrass and Spanish, making him similar to a Latin Chet Atkins. With a strong sense of purpose in his playing, Garcia allowed the music to orbit around him with strong themes that are easy to detect.
As the leader of the Grateful Dead, "Dark Star" and "Cassie Jones" showcase the distinct voice and themes that accommodate Jerry Garcia's playing.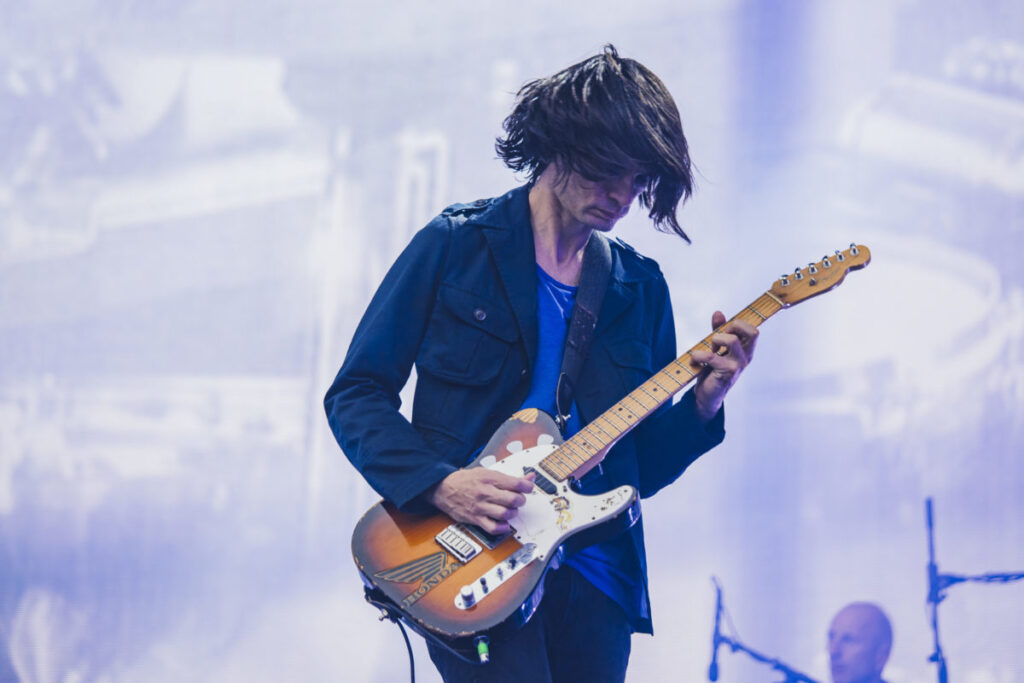 Muddy Waters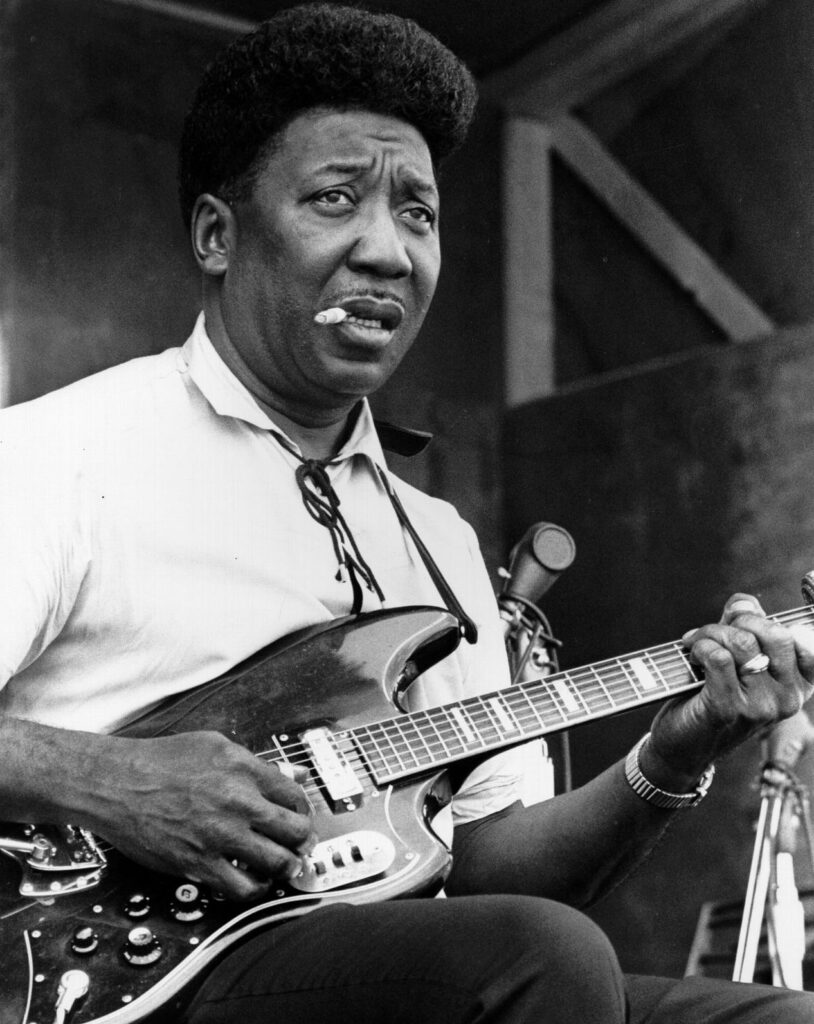 Muddy Waters is one of the most crucial guitar heroes, dating back to the early 40s. He played with a physicality that had only been seen in drummers before. His slide plays are often lower and more guttural, so much to the point that it sounds like the strings are going to rip off. His riffs are so iconic that they are often called "Muddy Licks." "Rolling Stone" and "Mannish Boy" went on to inspire Hendricks and Buddy Guy. You can't mention the greatest guitarists without Muddy Waters.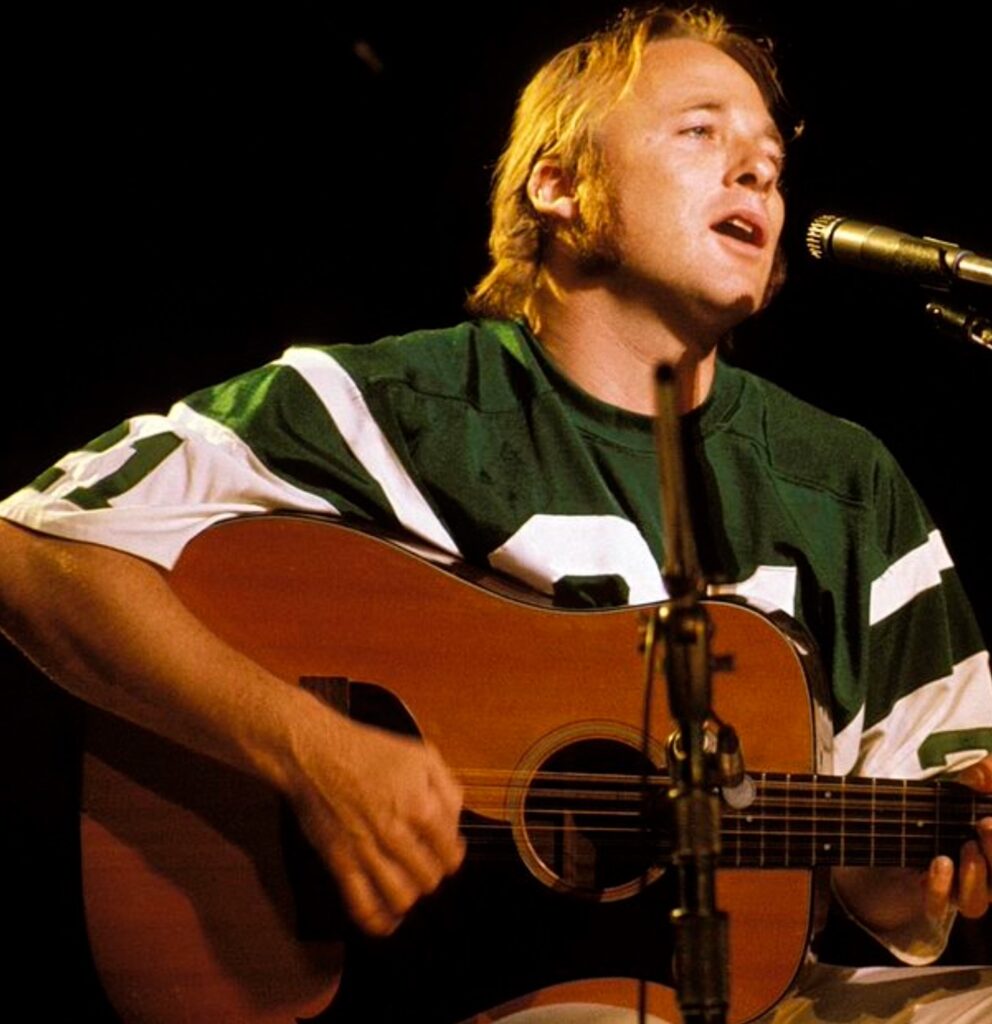 Jonny Greenwood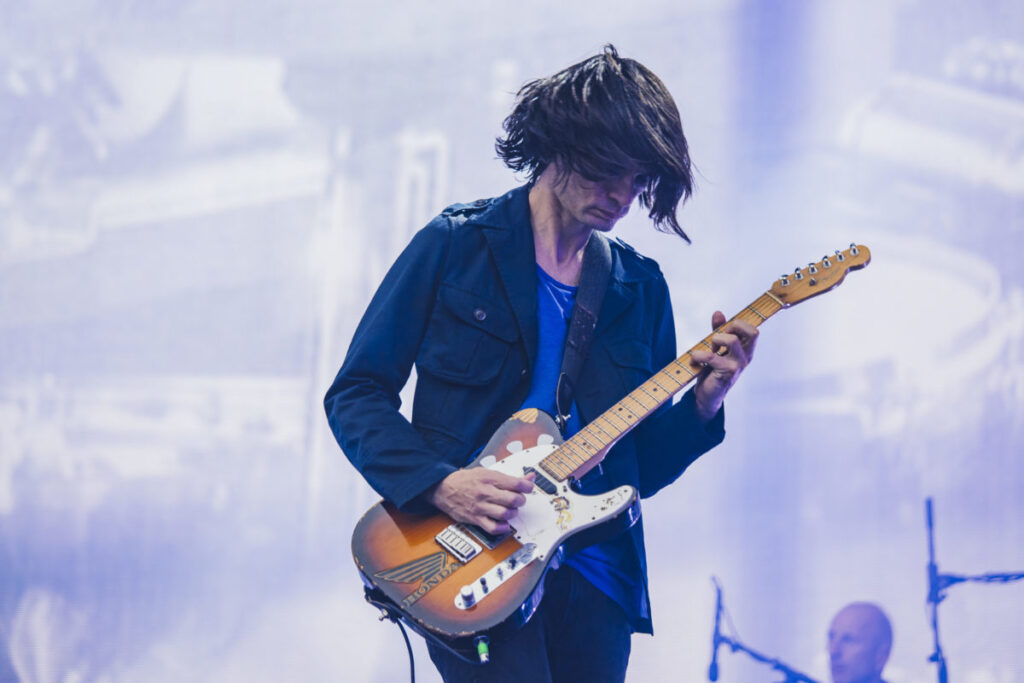 No other band define 21st century rock quite like Radiohead. Johnny Greenwood, often compared to The Edge, uses effects to create a mutable style that changes with the band's sound. With no obvious desire for solos, Greenwood manically plays to the point that he sometimes must wear a brace on his arm. The frenzy with which he plays separates him from other late 20th and early 21st century bands.
"Creep" is easily the best indicator of his chaotic playing, though "Paranoid Android" and "My Iron Lung" showcase his melodic frenzy.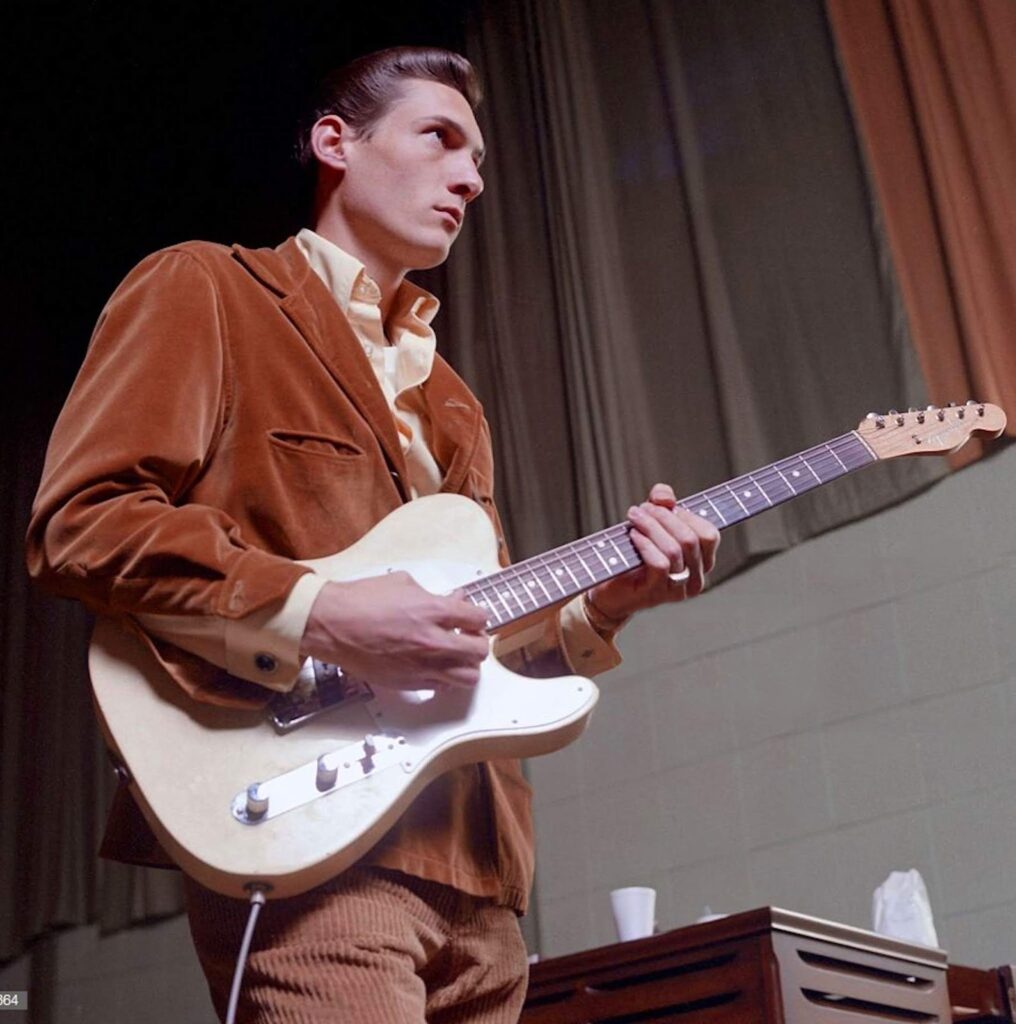 Stephen Stills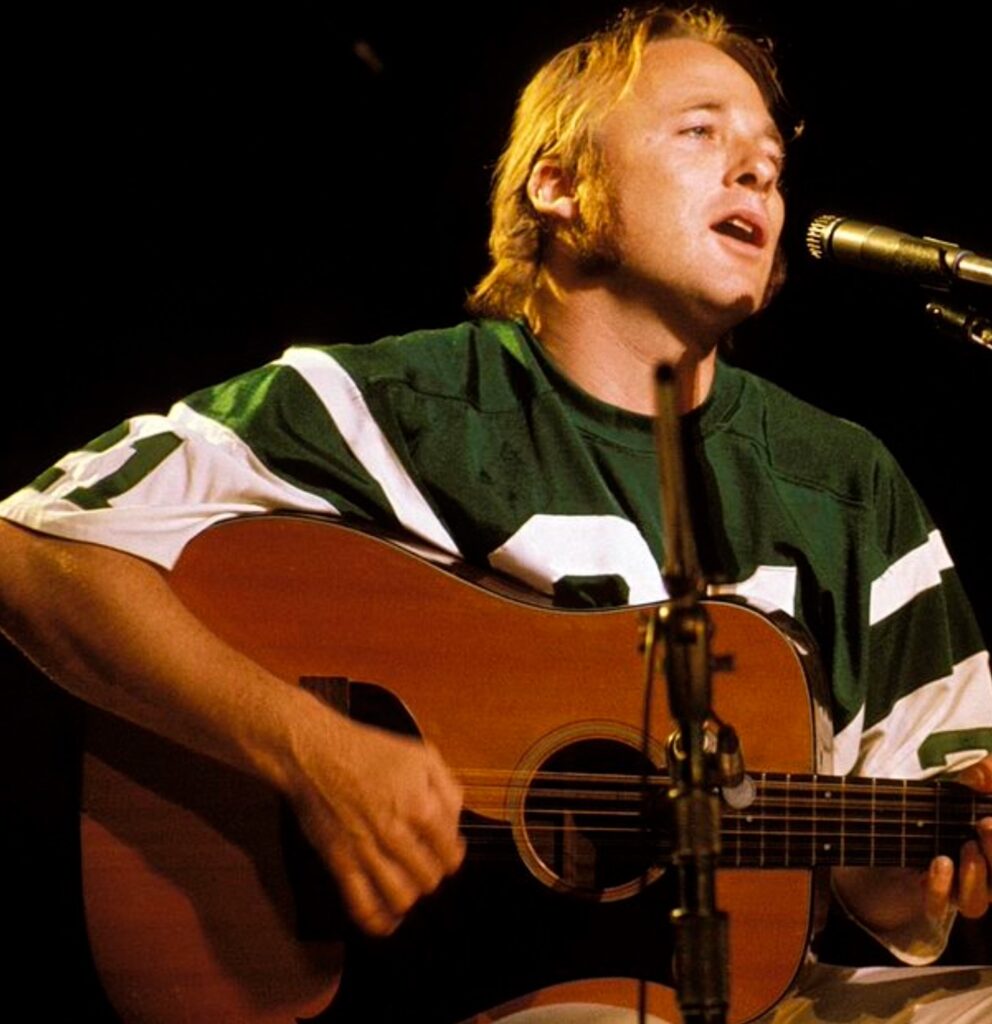 Often referred to as a musical genius, Stephen Stills was a co-lead guitarist with Neil Young in Buffalo Springfield and Crosby, Nash, Young, and Stills. Though often underrated by the general public, he often challenges Young's playing with a Latin country sound that creates fervor and excitement. No doubt he's one of the best guitarists ever.
Stills was so powerful as a guitarist that he was able to convince Clapton and Hendrix to play together in his first solo album. This is the only time they played together. "Bluebird" and "Carry On" are his most popular songs.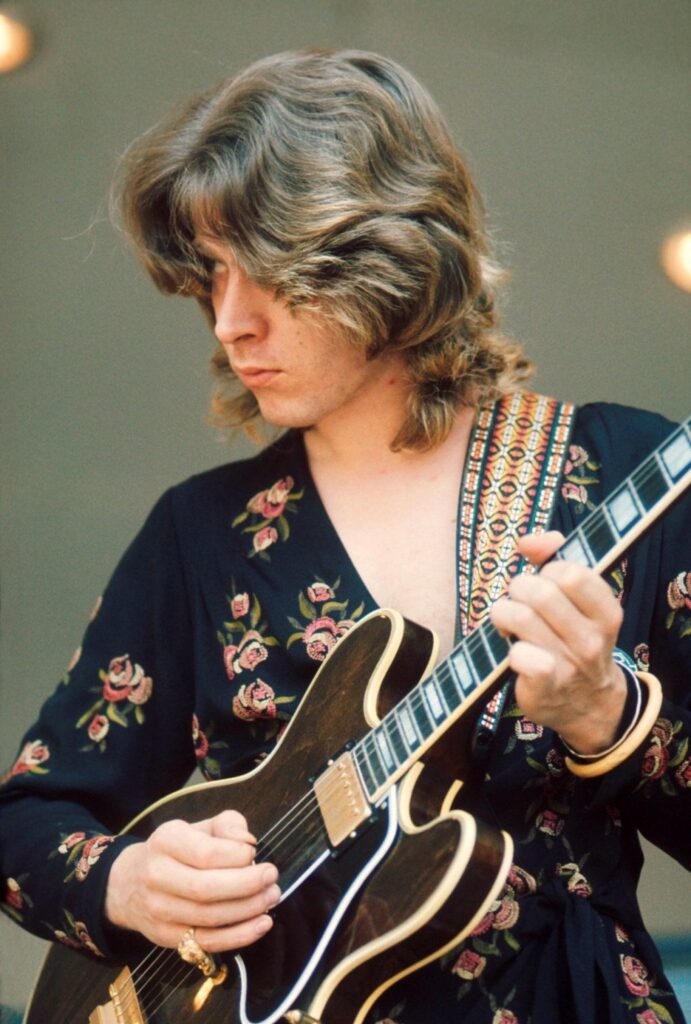 Steve Cropper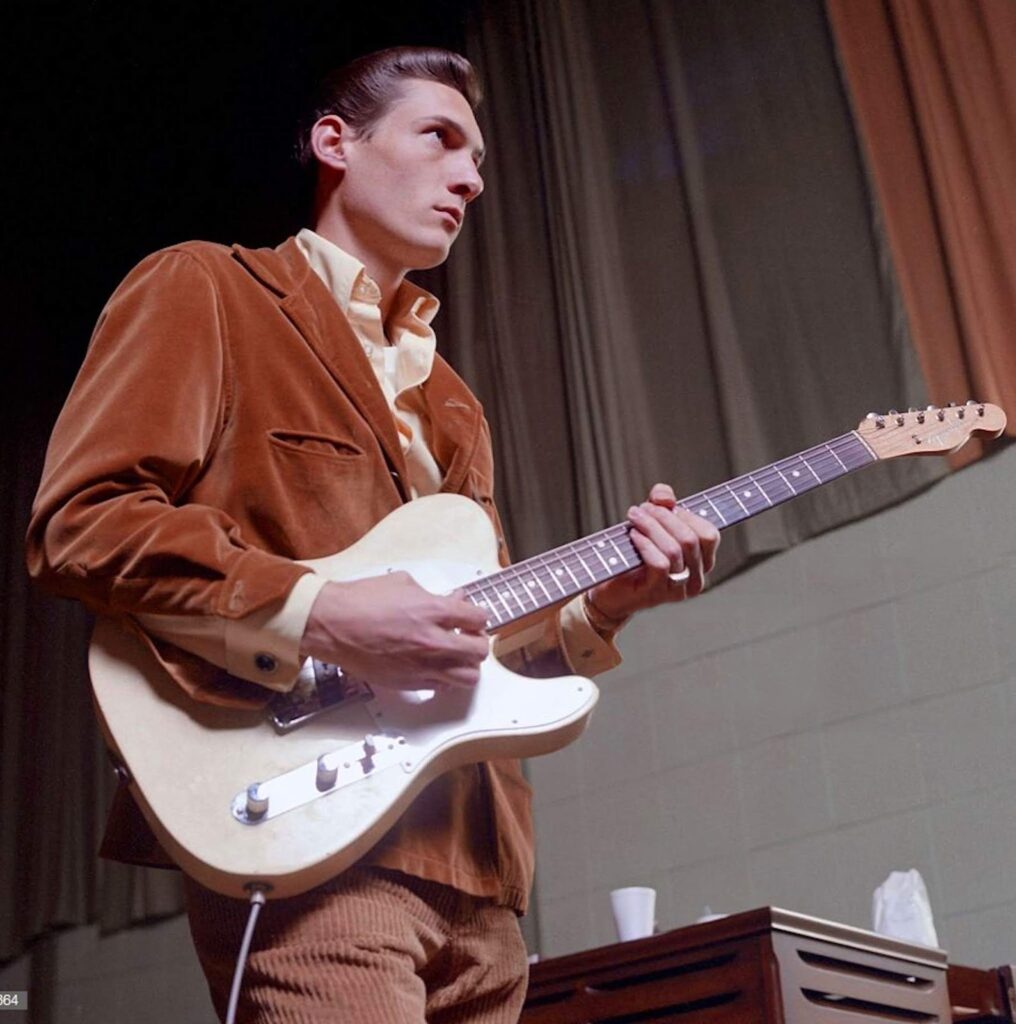 Steve Cropper is the perfect example of a talented guitarist that doesn't necessarily show off with riffs or solos. His playing incorporates rock and soul so that his playing was precisely perfect. Still, Cropper's playing was powerful and passionate, making him a guitarist for many leading blues bands and musicians.
Steve Cropper's playing can be seen on "(Sitting On) the Dock of the Bay" and "Soul Man." In these songs, he beautifully matches with the rest of the band while still showcasing his talent.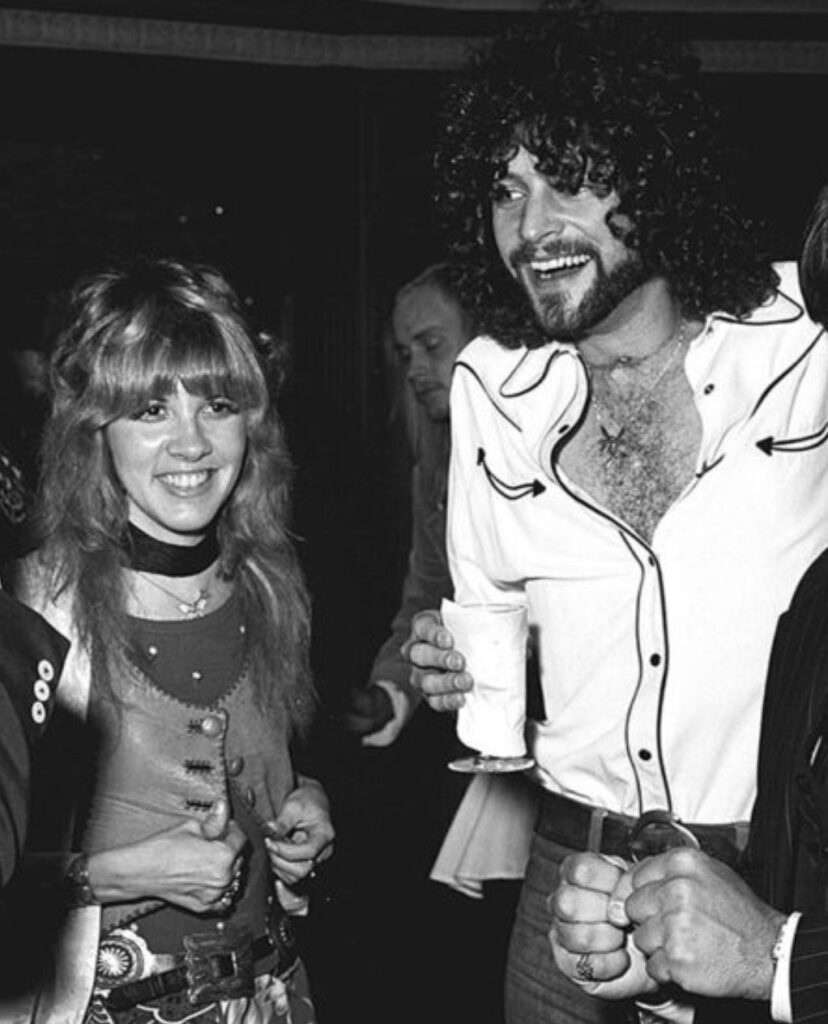 Mick Taylor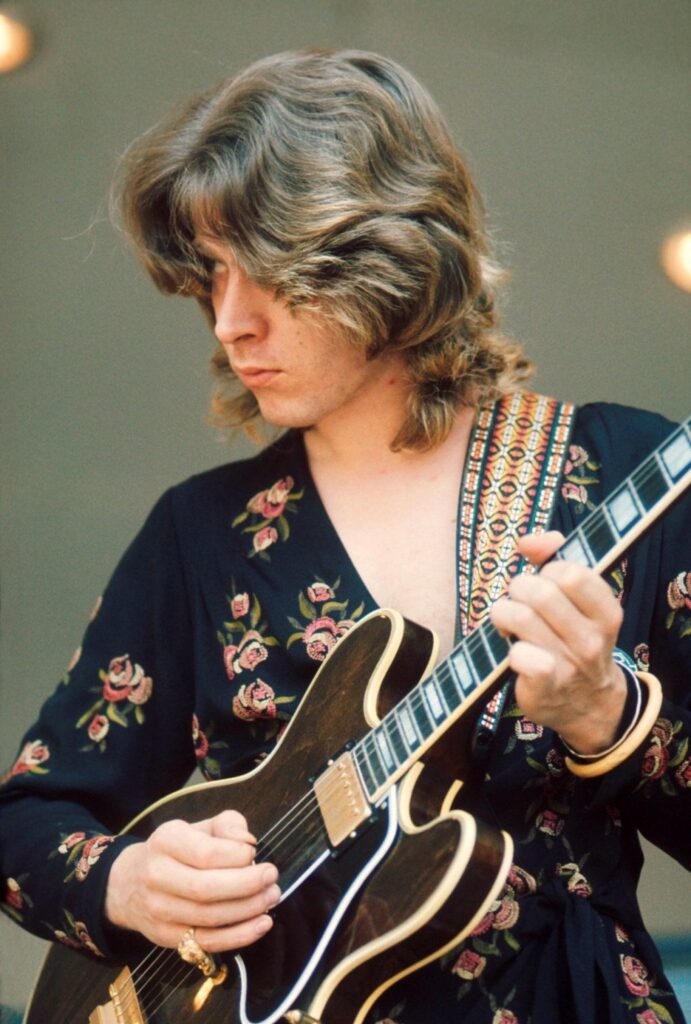 Even Keith Richards saw Mick Taylor as one of the most influential guitarists in history. As Brian Jones' replacement in The Rolling Stones, he added a melodic touch to the band that immediately impacted their masterworks. He sometimes used a Latin jazz inflection that created a fluent sound people responded to. Hence, the band's explosive success after his joining.
His guitar playing in "All down the Line" mimics a harmonica sound that requires explicit precision. Only the masters can handle this extreme precision.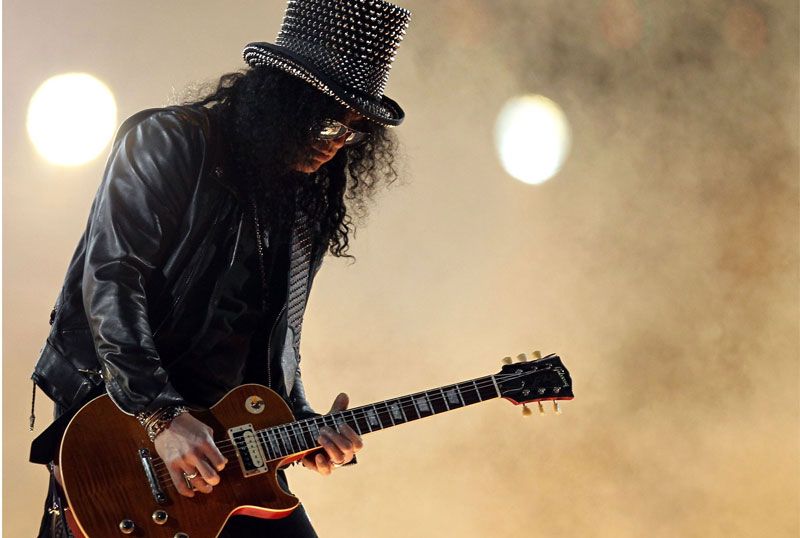 Lindsey Buckingham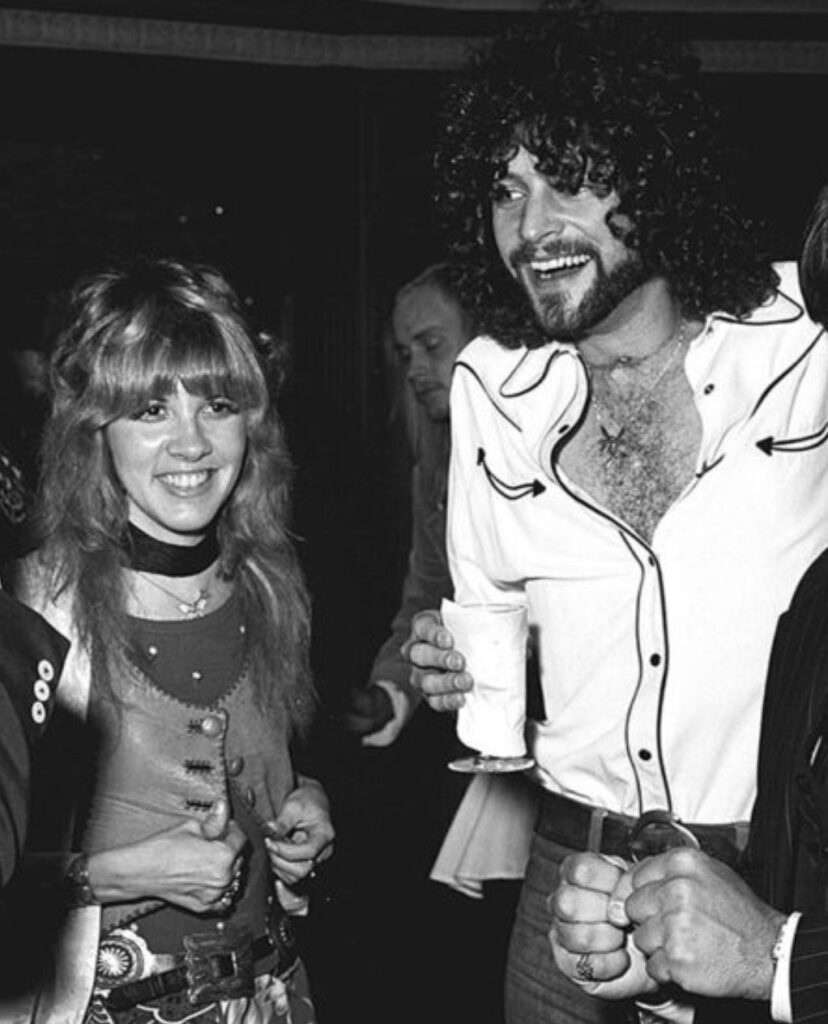 Lindsey Buckingham is wildly responsible for Fleetwood Mac's broad musical success and range, allowing them to move from rock and pop to folk and avant garde. He used a finger style of playing, which created sounds that reverberate and echo with the music. His playing beautifully transformed Fleetwood Mac into a multiplatinum band. The entirety of Rumours showcases Buckingham's Chet Atkins like style of playing that has dominated the globe since its release in 1977. "The Chain" and "Second Hand News" are wildly haunting.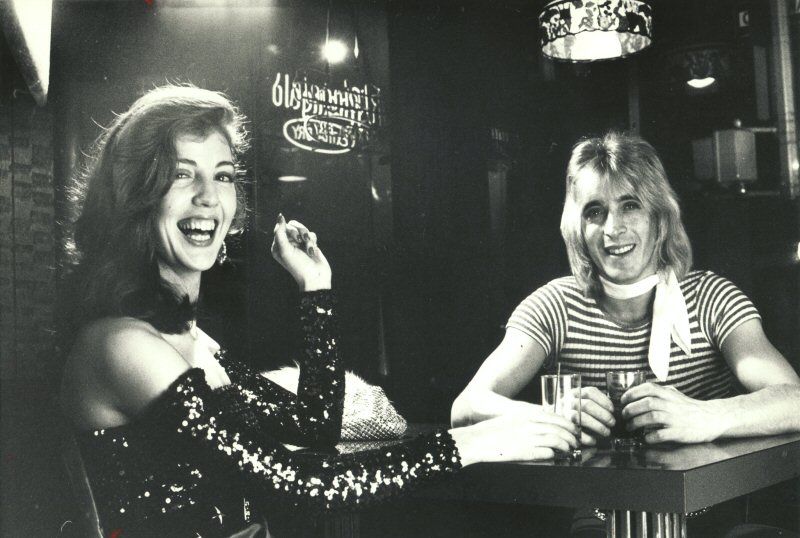 Slash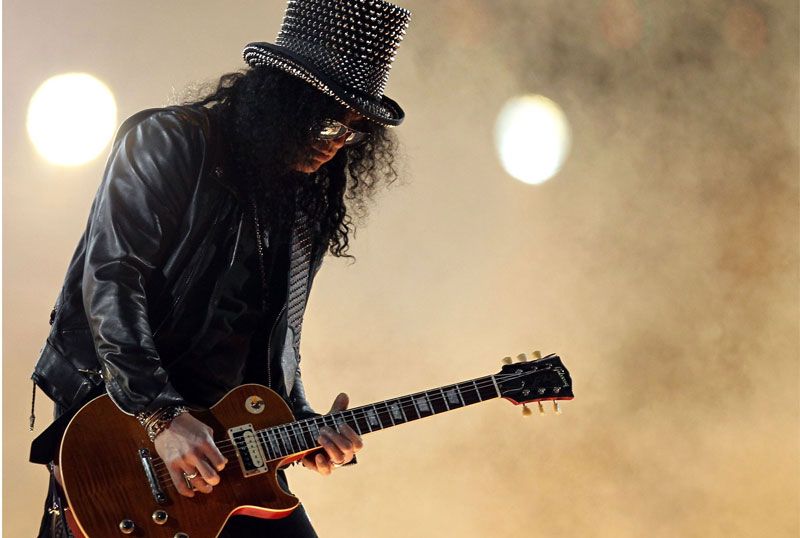 Slash is a guitarist that reverberates among culture today. His greasy, slithery style combines classical techniques with unique variations that burst and electrify the audience. By playing adventurous melodies, Slash seems to be a sponge who absorbed the skills and talent of the likes of Richards, Clapton, and more.
Slash's performance on Live at the Ritz has gone down a timeless masterpiece of guitarist, half man, and half beast. "Estranged" is easily Slash's most impressive song.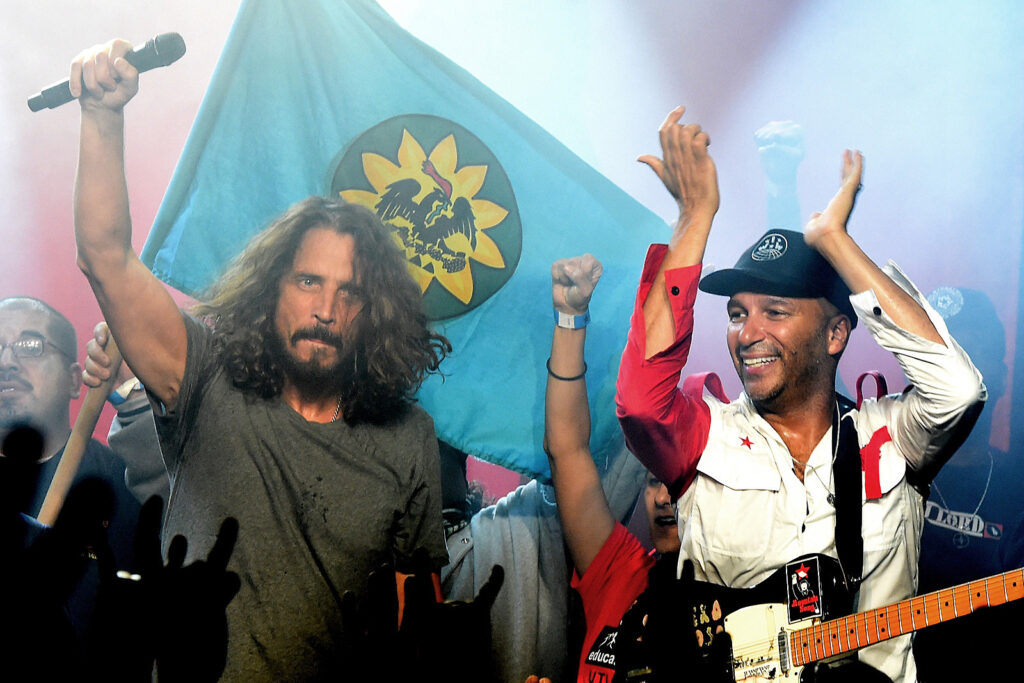 Mick Ronson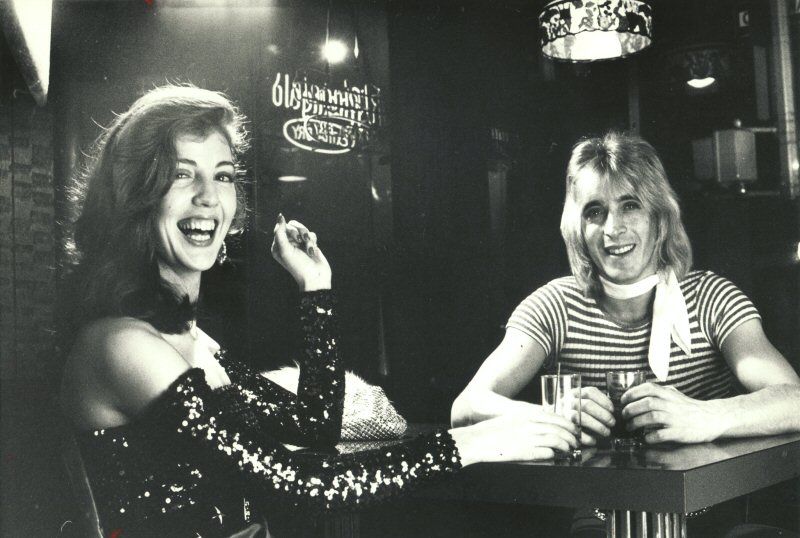 David Bowie and Mick Ronson created a team that ignited sexual confrontation that dominated 70s rock. Ronson's pairing with Bowie showcase the duality of rock, making them an unstoppable force. He added blues and flair to their music, which foiled Bowie's style. His guitar playing was also crucial for other musicians like Lou Reed and John Mellencamp.
Ronson's most notable work is in his partnership with Ziggy Stardust, though him and Bowie's work dates back to "The Width of the Circle."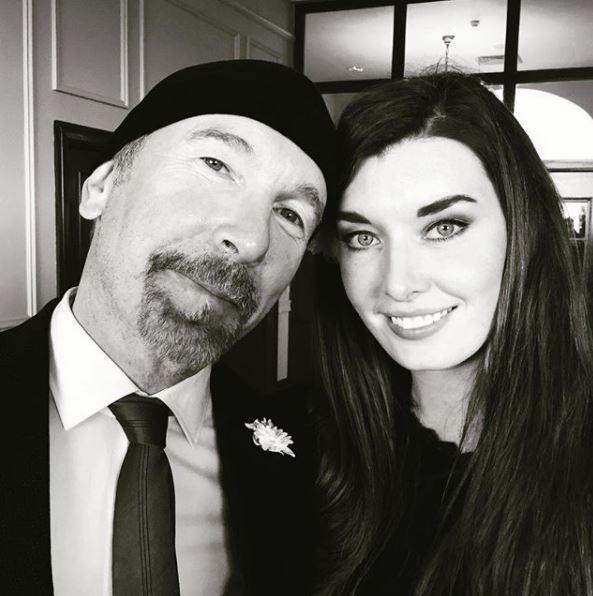 Tom Morello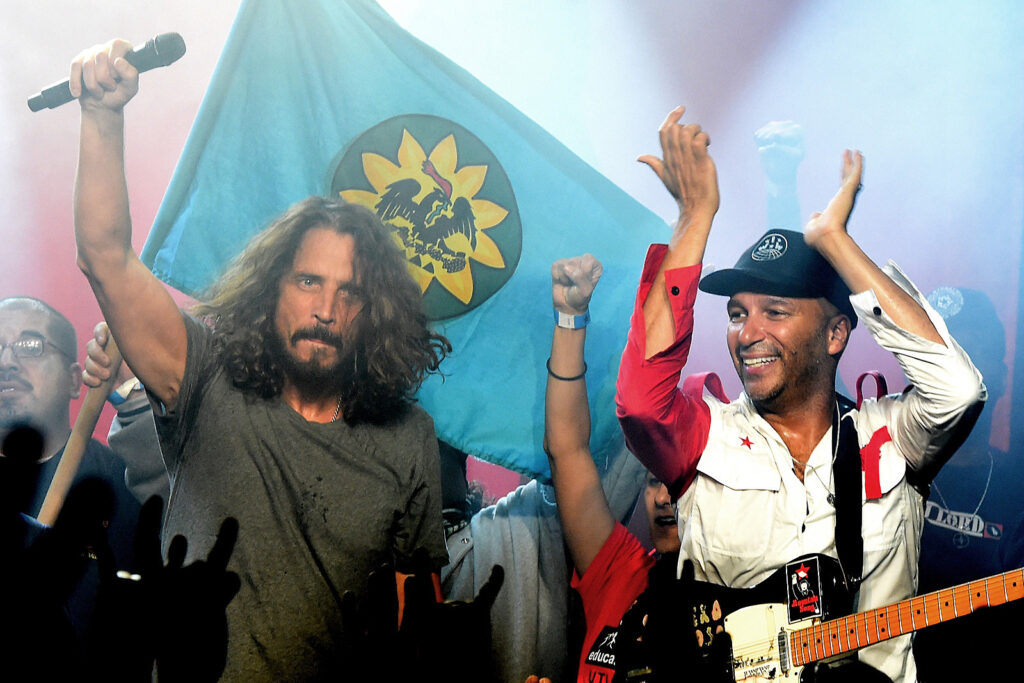 Rage Against the Machine reimagined rock after the explosion of hip hop in the 90s. Tom Morello relied heavily on pedals, allowing his playing to create a sonic vocabulary that had never been seen before. He even blended gizmos, chords, and solos to beat hip-hop at their own game. In many ways, Morello is the DJ of rock. "Killing in the Name" and "Fistful of Steel" use funky laser blasts to mimic the sounds most seen in hip hop music, proving guitarist theatricality.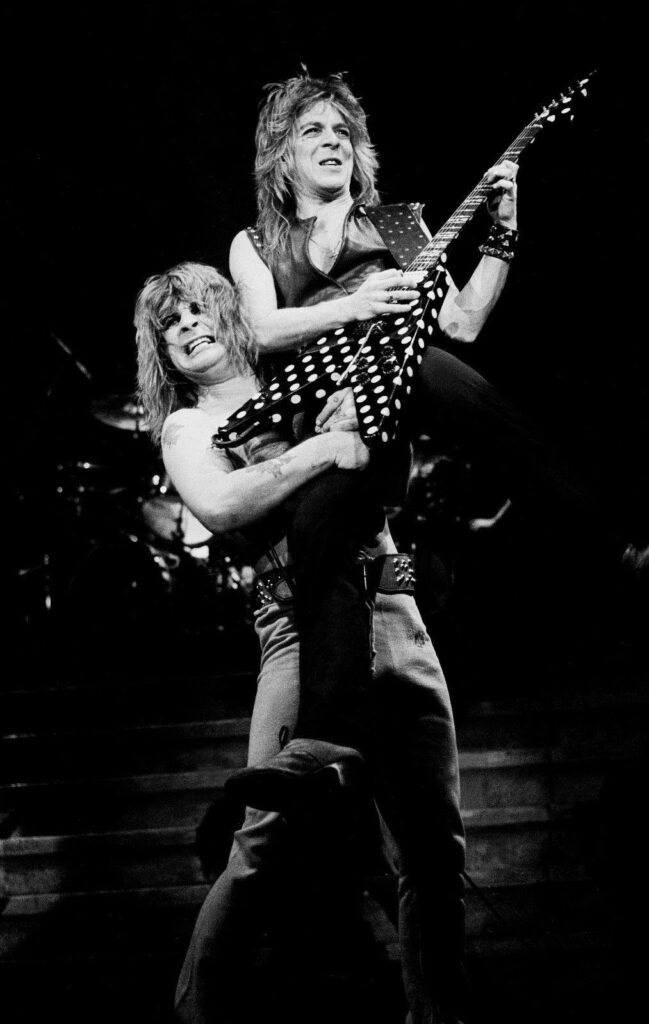 The Edge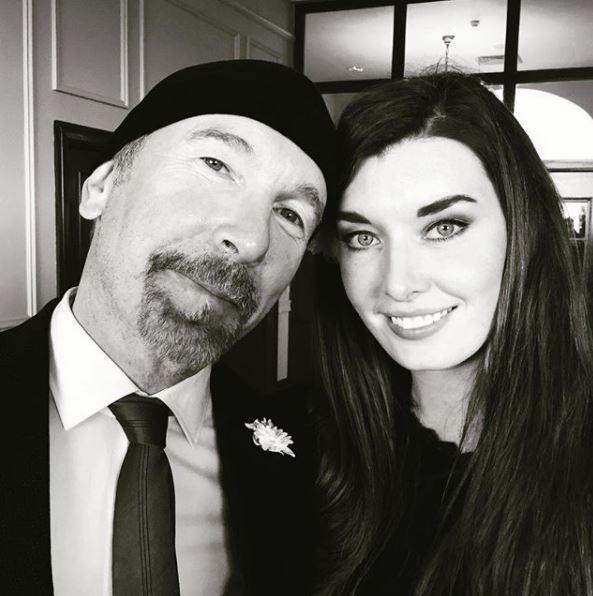 By the time The Edge came on to the scene, guitar had developed in some of its most crucial ways. Nevertheless, The Edge taught himself to play the guitar, giving him a unique sound that is melody driven. His dedication to note-taking allowed him to create sounds that were simple yet spearheads the song's direction.
"I Still Haven't Found What I'm Looking For" is a great example for this. The Edge, in many ways, is just as influential in U2 as Bono, giving Bono something to respond to.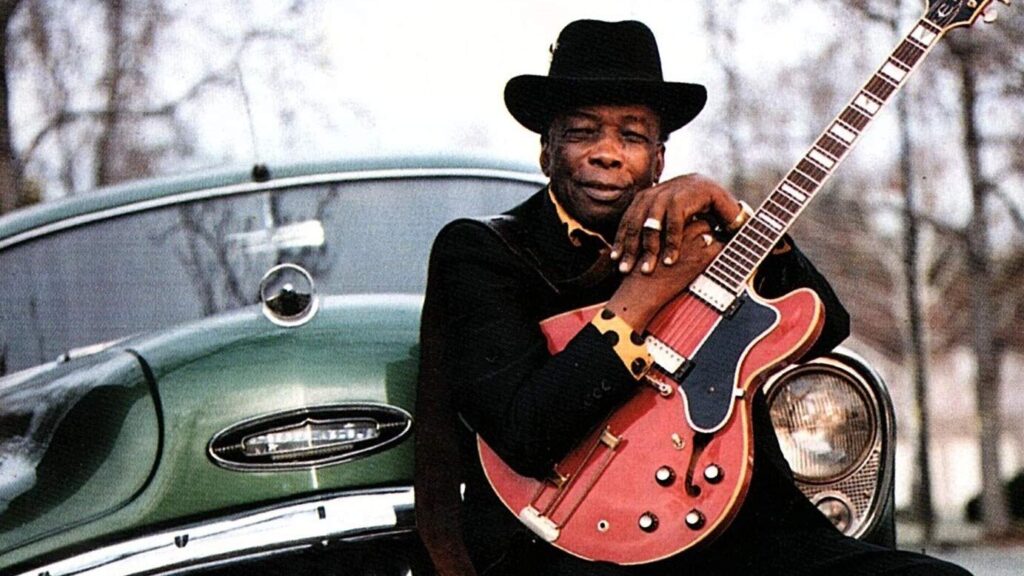 Randy Rhoads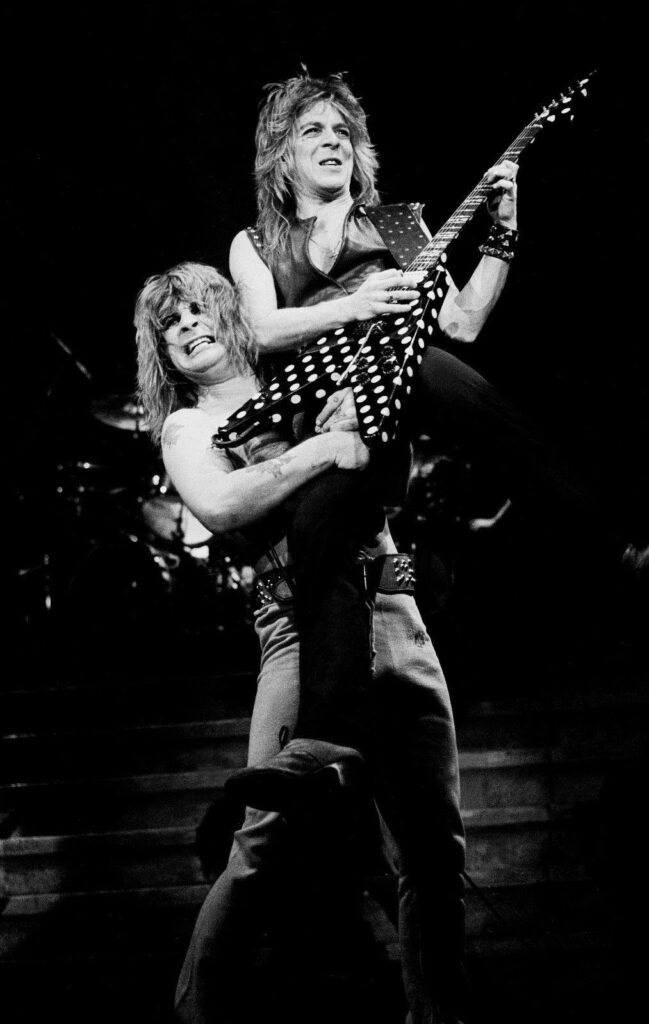 Despite having his career cut short, Randy Rhoads is easily considered one of the most impressive guitar players. He was able to incorporate a precise and hyper peed sound that was fast yet powerful. Many heavy metal players consider him to be the quintessential guitarist. Without Rhoads, its unclear where the path of rock would have gone.
His playing in "Crazy Train" and "Mr. Crowley" set the stage for metal music. He also had other influential works, such as working in classical, jazz, and cofounding Quiet Riot.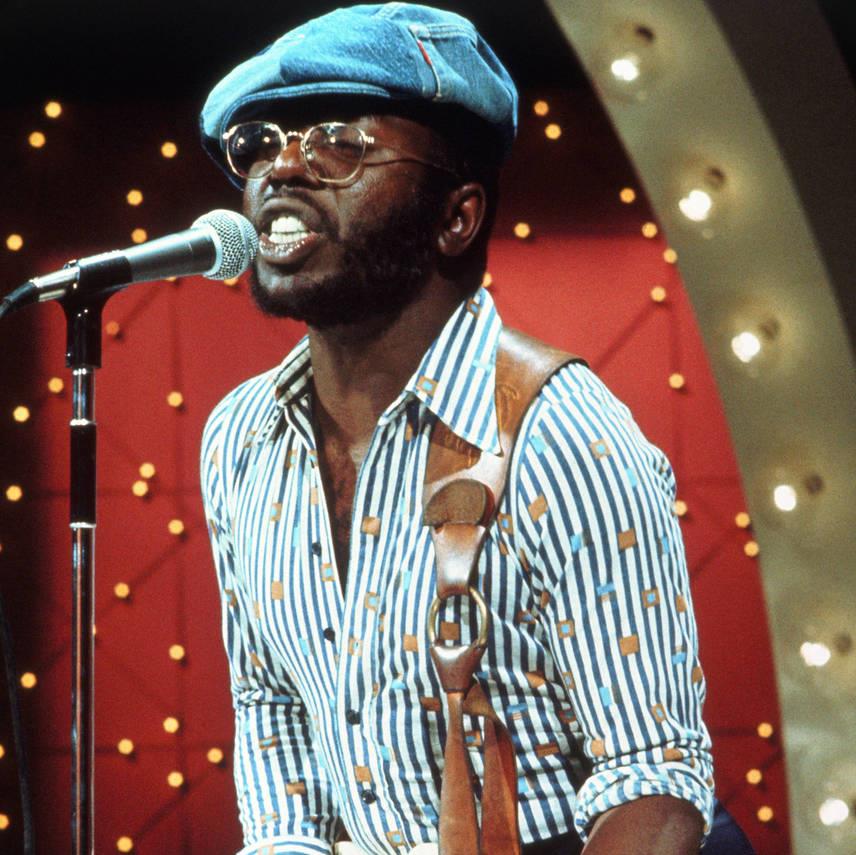 John Lee Hooker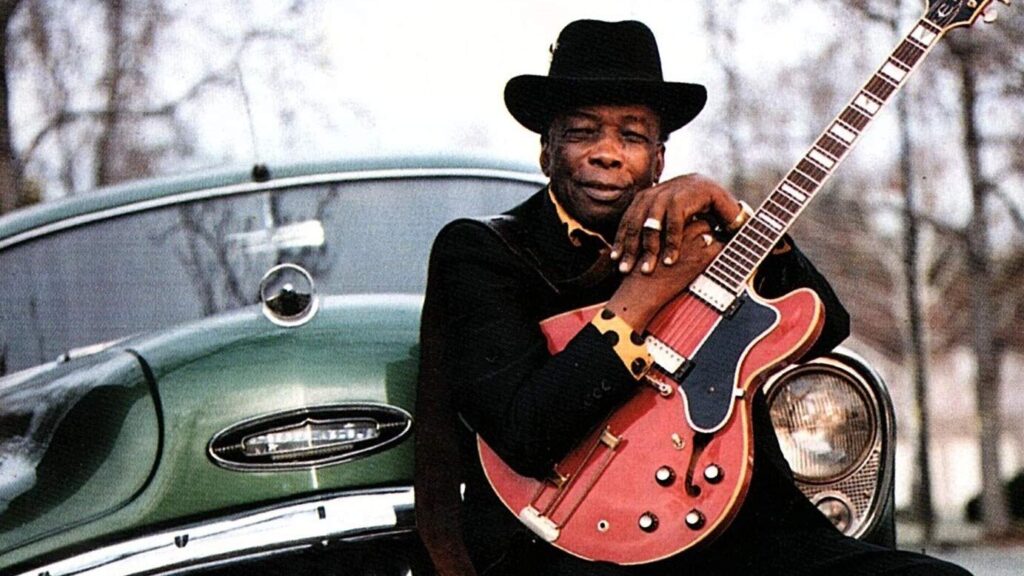 Whereas other guitar players can be described as certain genres, John Lee Hooker's playing is entirely his own. He somehow blends a mysterious, funky, and hypnotic sound, creating a style way before his time. His skill came in by perfecting a droning groove that came with idiosyncratic time signatures. This created a sound that was ageless and powerful.
Songs like "BoomBoom" and "Boogie Chillen" became crucial for players of the 60s and 70s. He even went on to win four Grammys in the 90s, proving his timeless talent.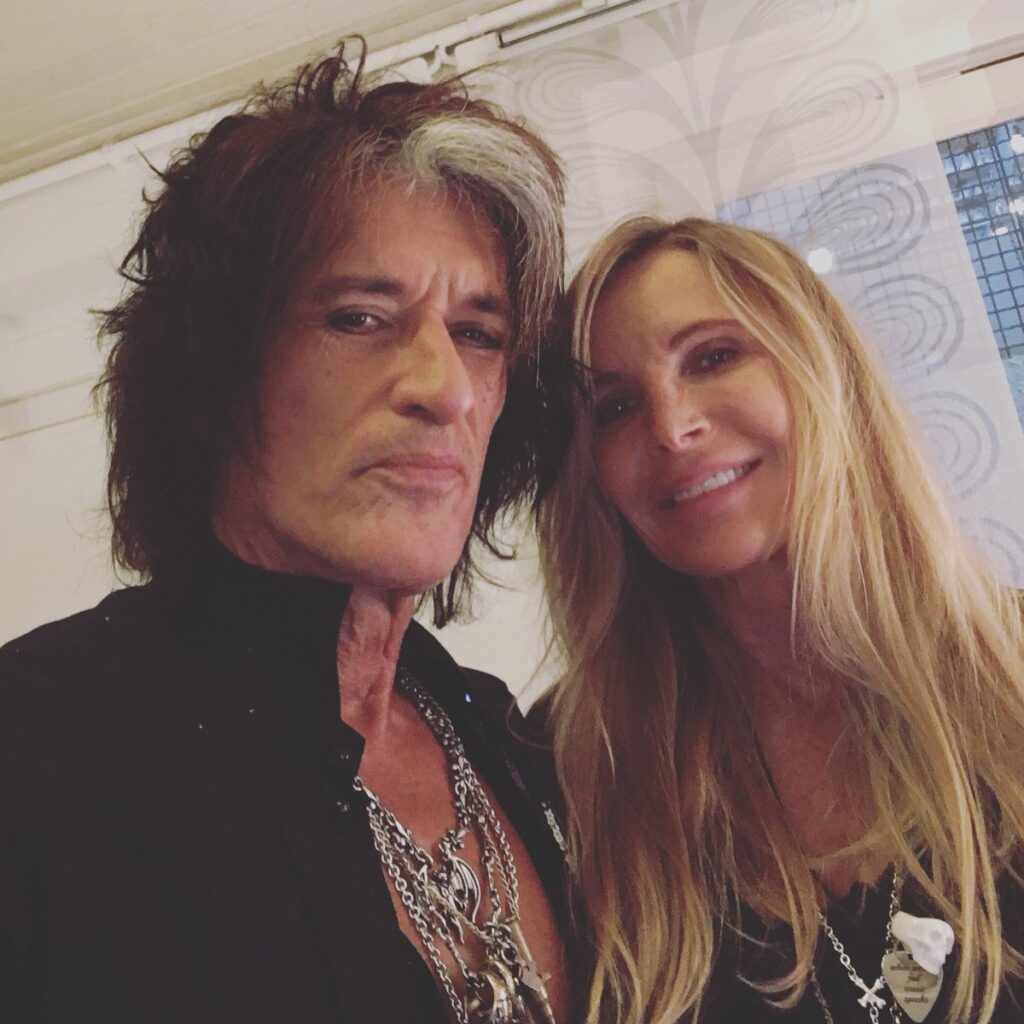 Curtis Mayfield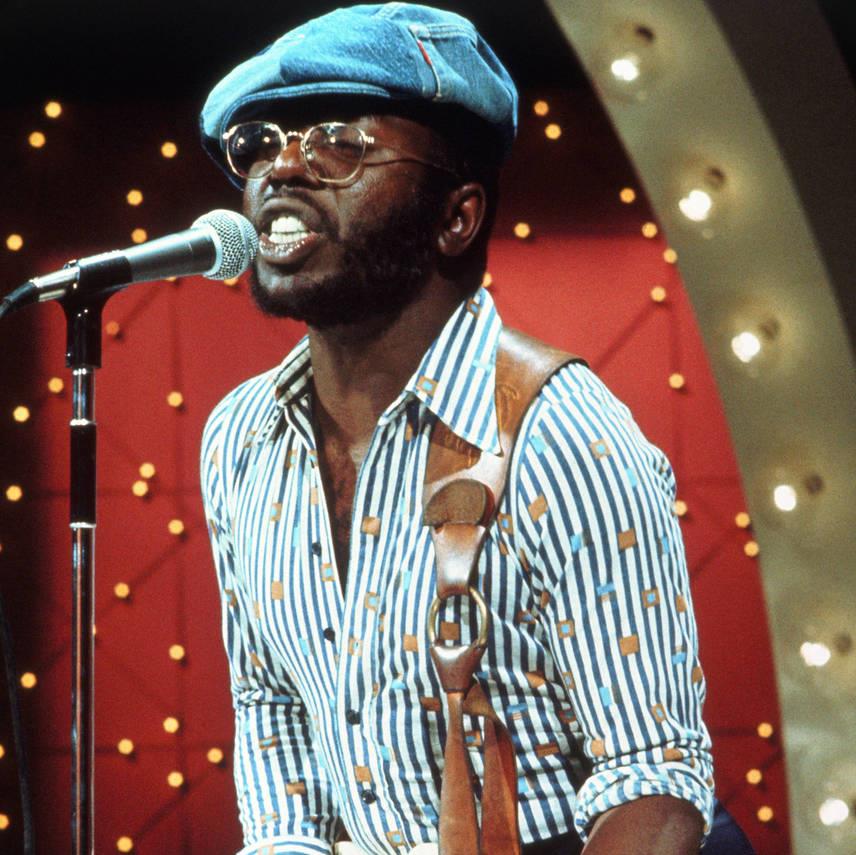 Curtis Mayfield is to this day considered one of the most impressive American soul singers, songwriters, producers, and guitarists. His guitar playing often includes psychedelic balladry that went on to impact leaders of the game, like Hendrix. Even after his initial success, he reinvented his sound in favor of more funky rhythms and inflected parts.
"Gypsy Woman" showcases impressive psychedelic balladry that is moving. Simultaneously, it puts one on an acid trip. "Moving On Up," in contrast, shows Mayfield's impressive ability to transform to a funkier sound.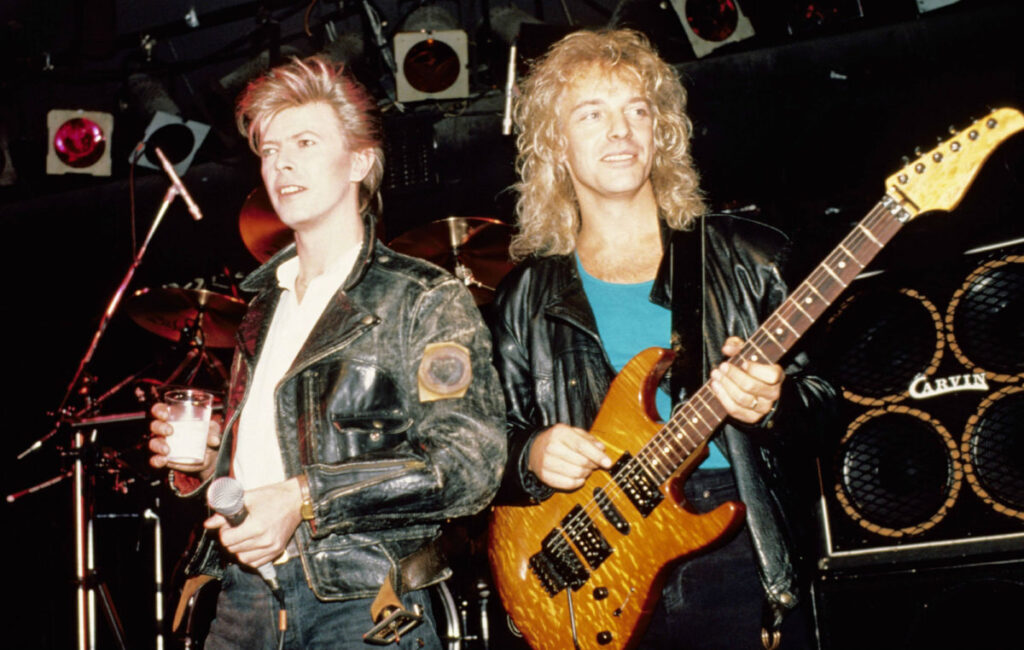 Joe Perry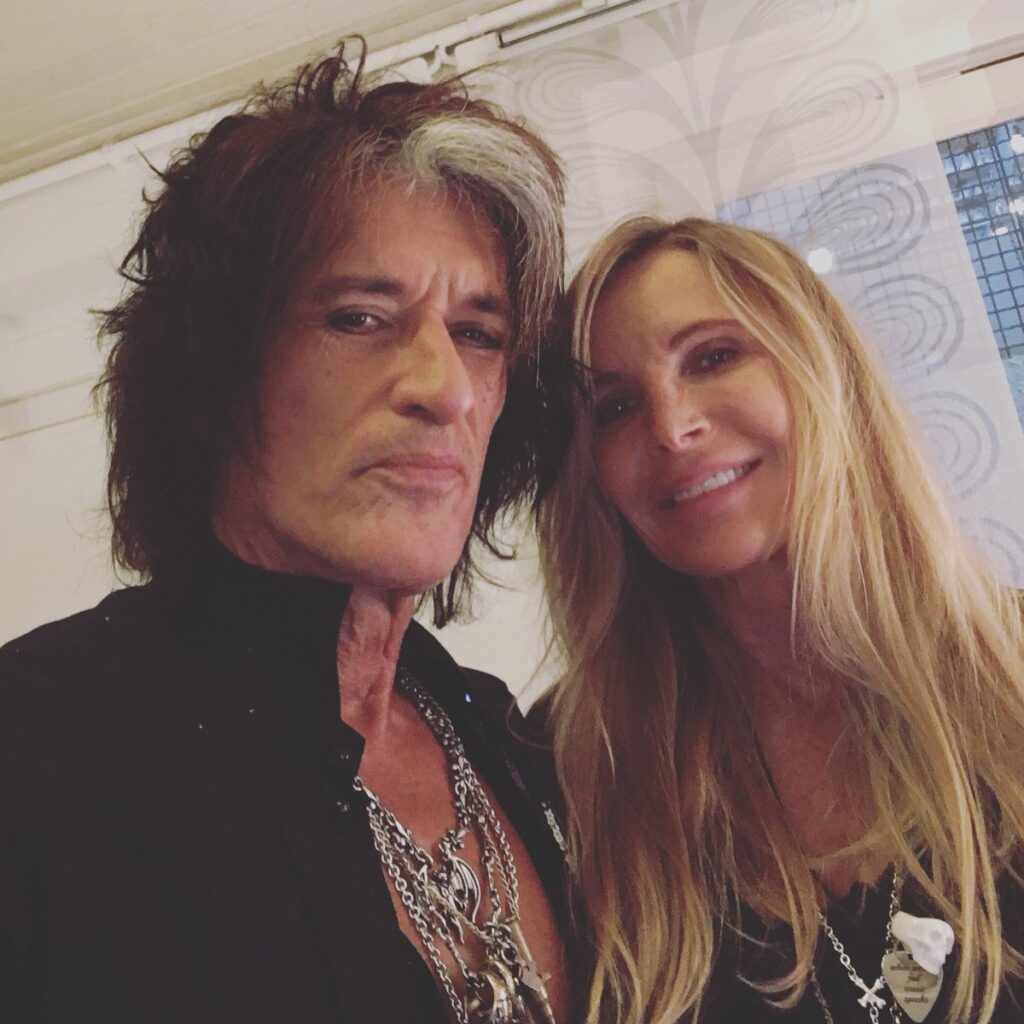 Joe Perry is often seen as the precursor to Slash. With a shirtless and leggy appearance, Joe Perry's styling and appearance has become an iconic look for rockers. As a precursor to later guitarists, he takes an old-school sound that is built upon pentatonic and mixolydian scales. These scales ring loud while still giving Steven Tyler room for vocals.
One of his most popular riffs is in "Livin' On the Edge," though "Love in an Elevator" showcases a blues scale riff that is greasy enough for anyone to love.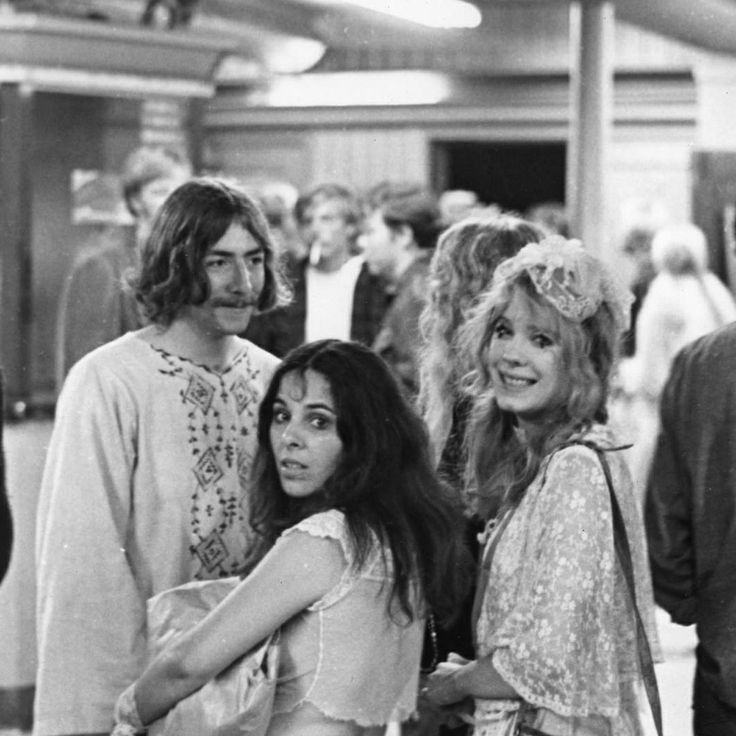 Peter Frampton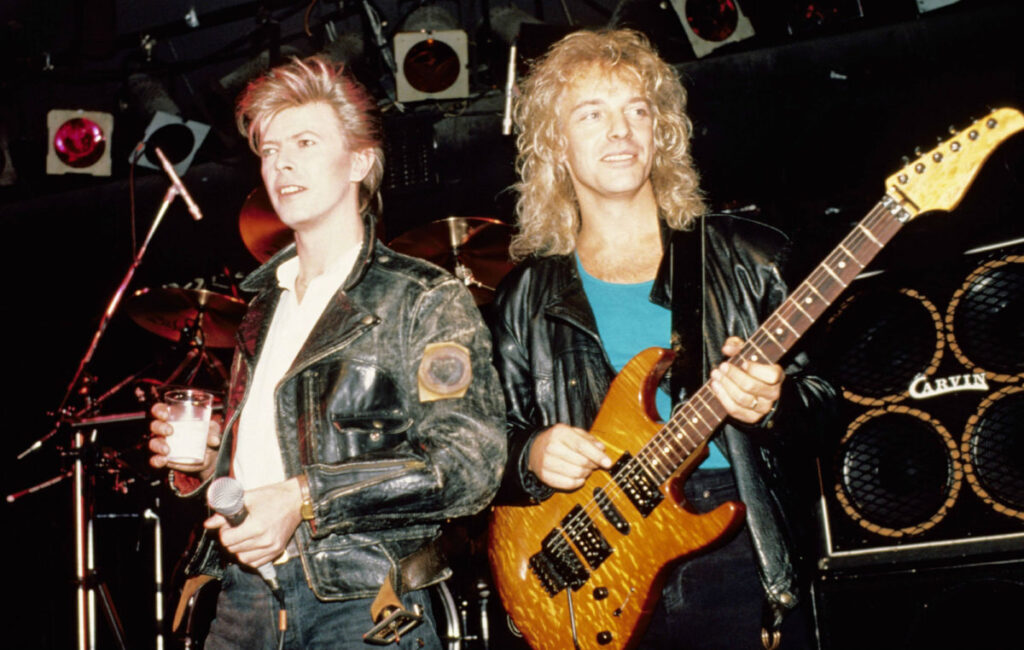 Unlike guitarists who prefer the classic sound, Peter Frampton dabbles in many genres, allowing him to create a completely unique sound. He has a blues rock style that wails on. He even uses jazz-inflected scales, separating him from many of his contemporaries. From Chet Atkins to Buddy guy, Frampton's inspirations cover the whole of music.
No other song showcases his unique jazz leanings like "Lines On My Face." Still other of his songs take from other source too. The album Fingertips proves this fact.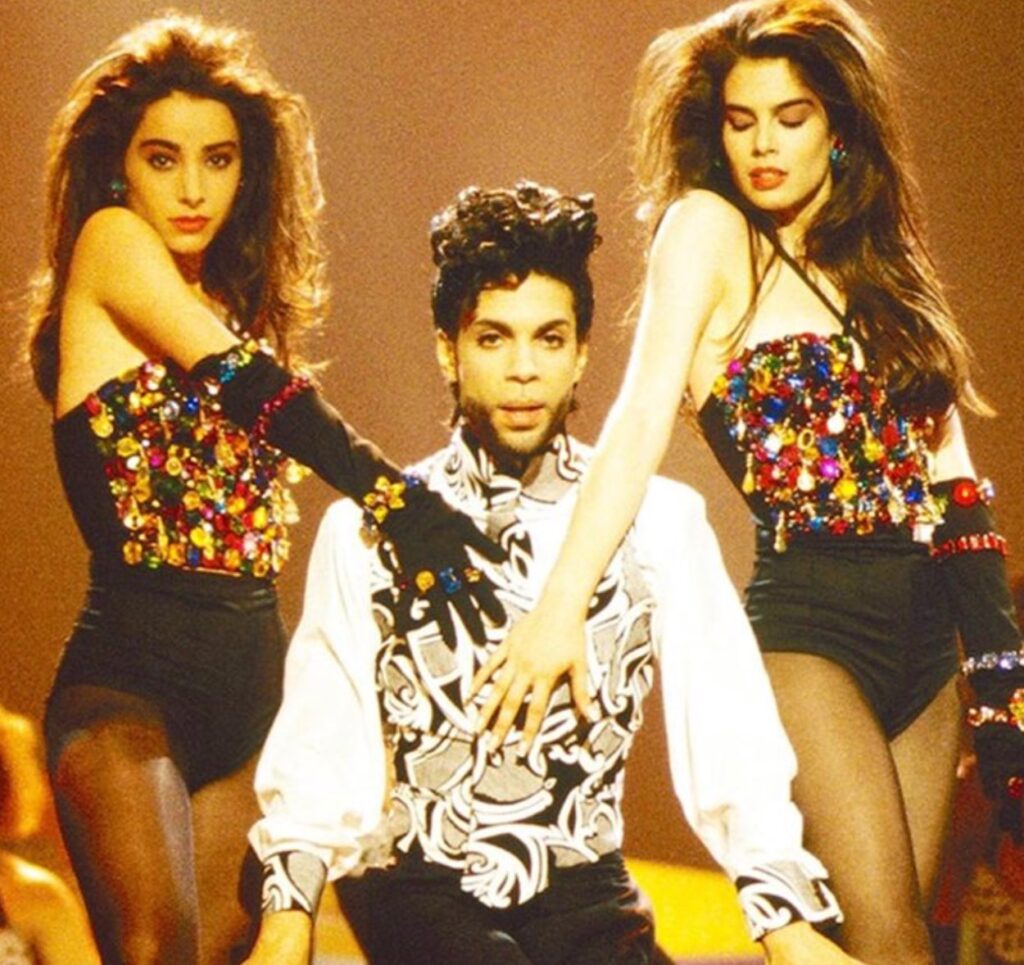 George Harrison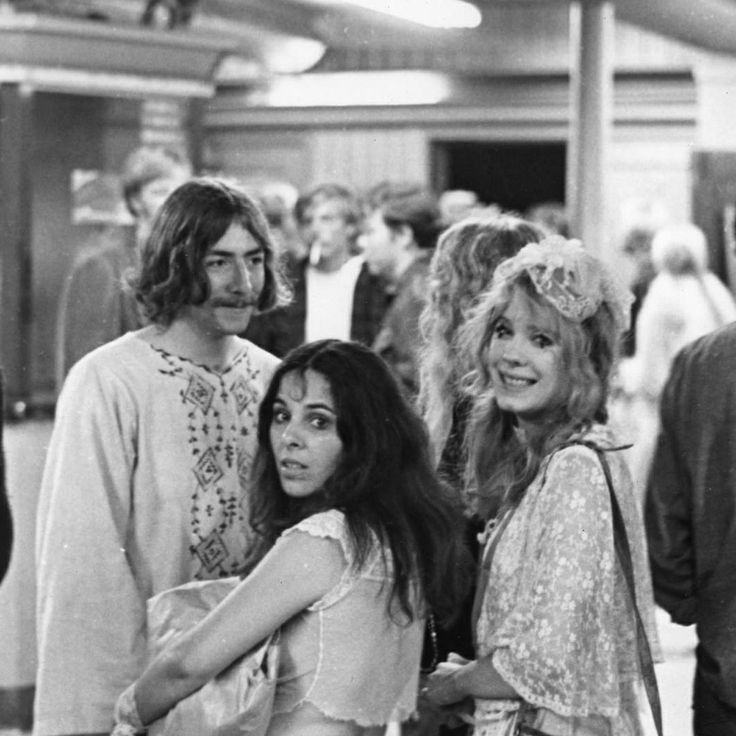 Just about everyone has heard of The Beatles, making Harrison famous for more than just his playing. George Harrison, deeply inspired by rockabilly players like Chet Atkins, somehow combined strong personality with perfect pitch. His playing almost sounded like a voice, allowing his playing to have a beautiful vibrato and precision.
"I Saw Her Standing There" and "Something" beautifully demonstrate his precision and personality, creating a sound that the world had not seen before. At the same time, they show his deep influence by rockabilly.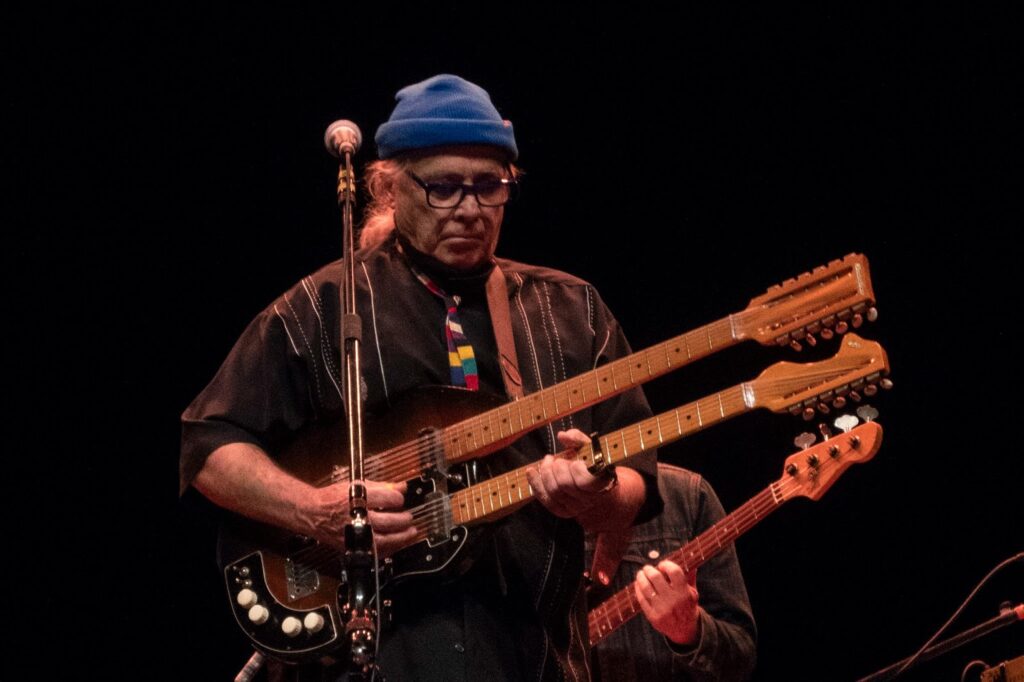 Prince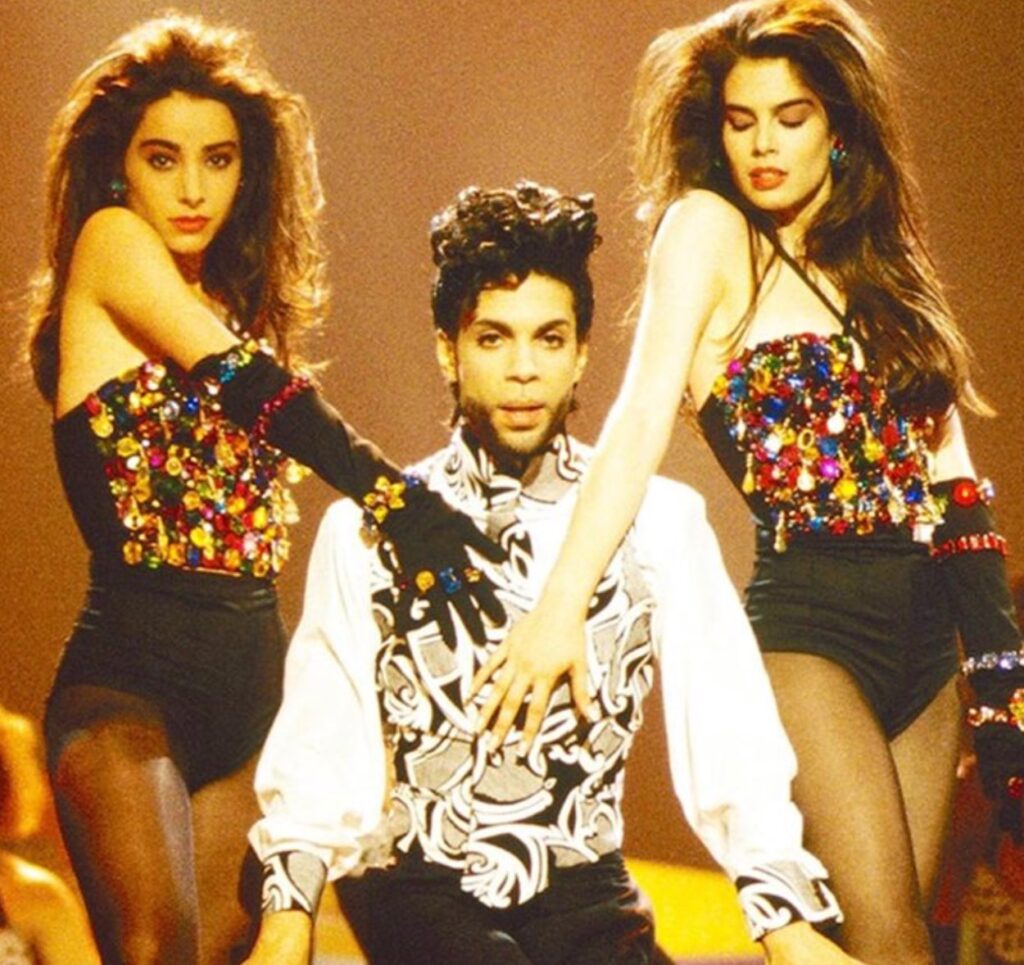 Prince is truly a musical master. He wrote and ghostwrote many award winning hits throughout his decades long career. He even is responsible for arguably the most powerful guitar solo ballad, which can be heard in "Purple Rain." Though many musicians compare him to Hendrix, Prince attests that his sound is more similar to Santana.
In addition to "Purple Rain," "Kiss" and "When Doves Cry" show Prince's hot guitar playing that are electrifyingly rock and pop at the same time: he makes you want to dance and fight.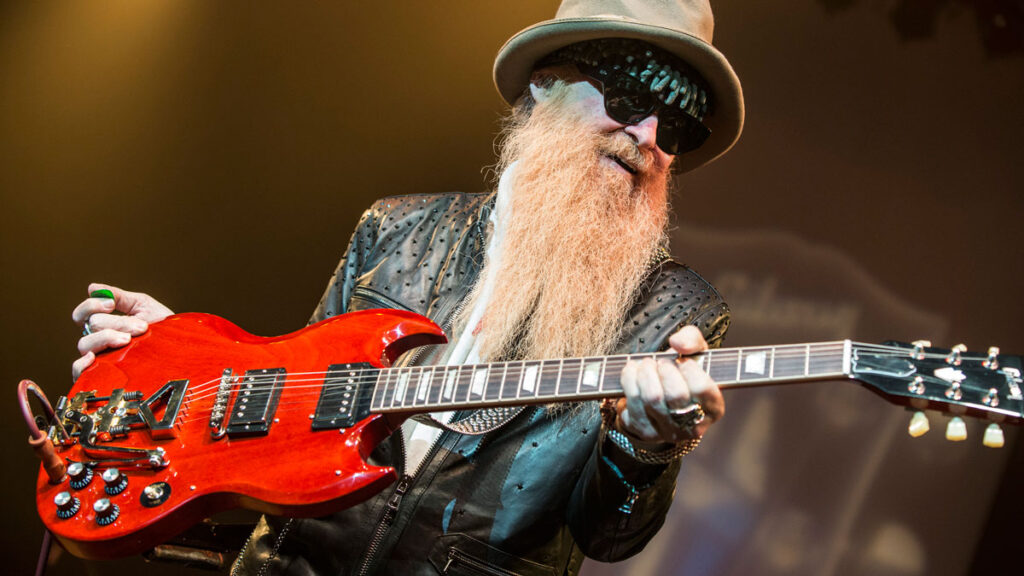 Ry Cooder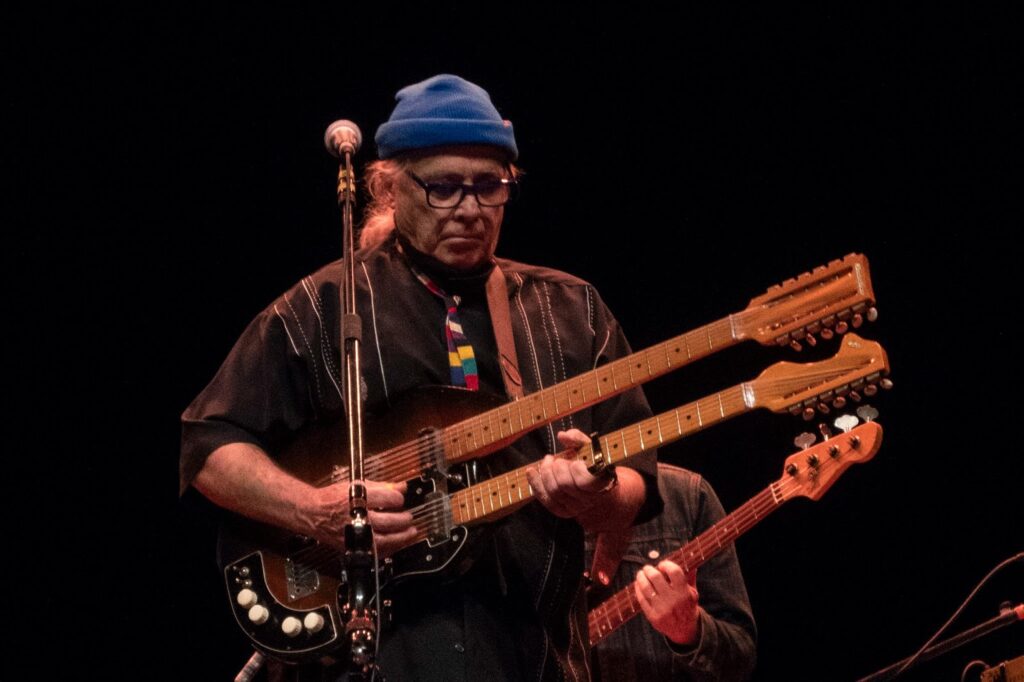 Ry Cooder somehow blended archaic basics with experimental passion which created some sort of American folk bluesy sound. Playing as a sideman to Randy Newman, The Rolling Stones, and Eric Clapton, he brought grit and emotional depth that simultaneously preserved fundamentals and made the sound fresh for the modern listener. Many modern sounds owe their caps to Cooder.
Cooder's playing was so exquisite that even musicians like Bob Dylan wanted guitar lesson from him. "Memo from Turner" and "Boomer's Story" both encapsulate Cooder's classic yet passionate playing.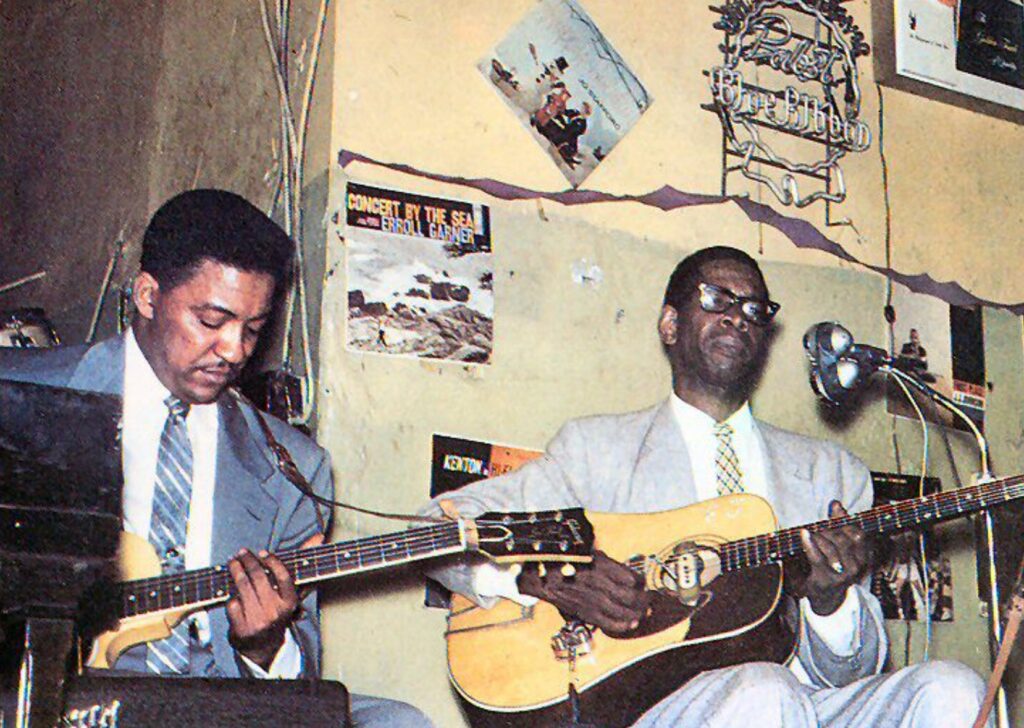 Billy Gibbons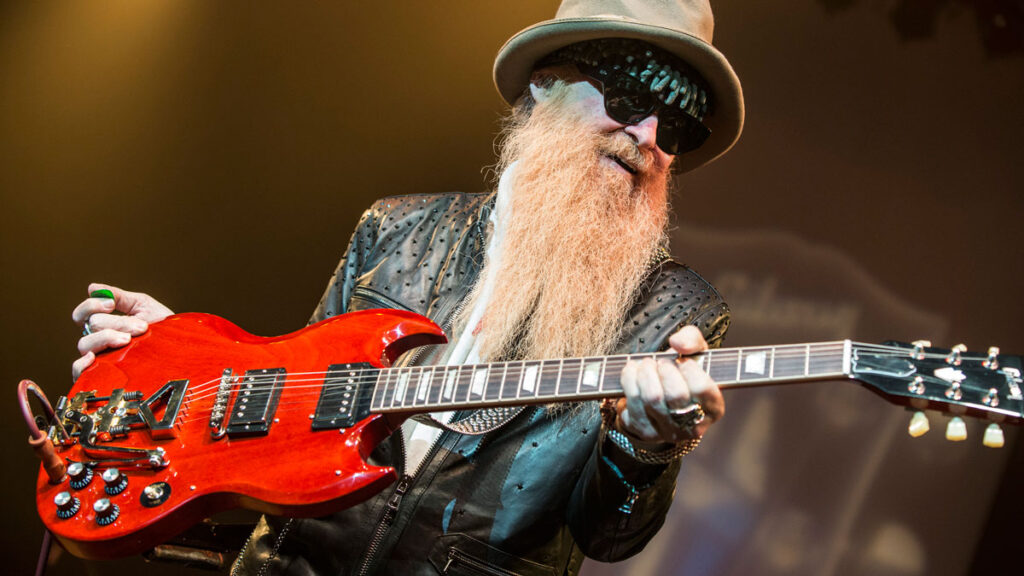 Even before growing his beard, Billy Gibbons was a powerful player that opened for the likes of Jimi Hendrix. Gibbons' sound has transformed as he grew. Beginning with the psychedelic garage band, his sound developed from off beat to synthlined glide. No matter what era of music he was playing, his sound was melodically concise and electrifying.
"Jesus Left Chicago" has an offbeat shuffle sound that is interesting to listen to in comparison to his hit of the 80s "Legs" and "Sharp Dressed Man."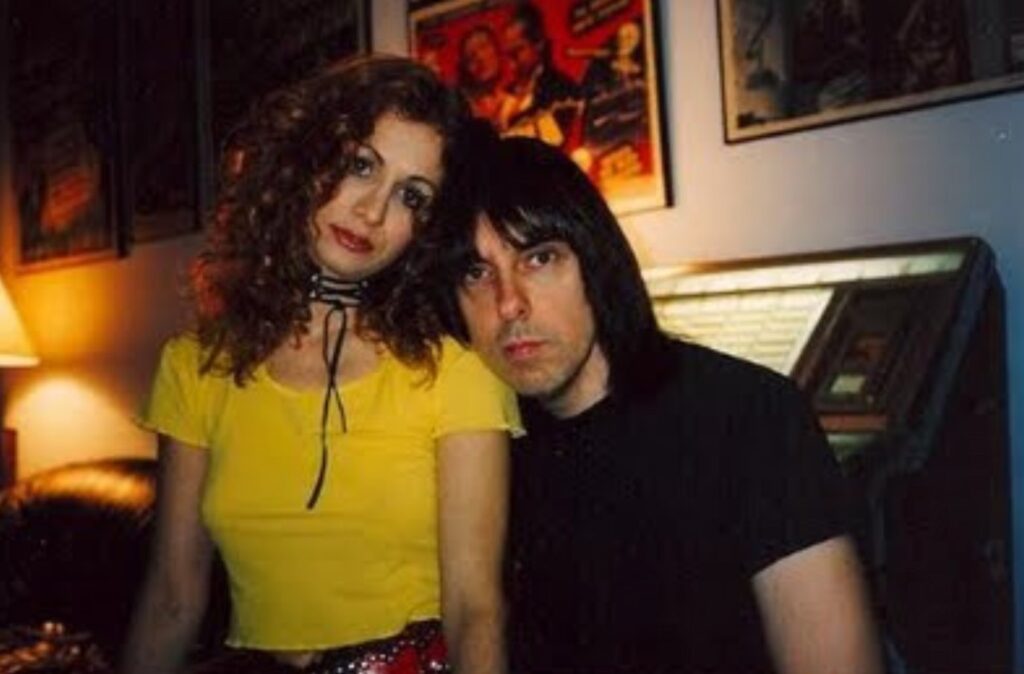 Elmore James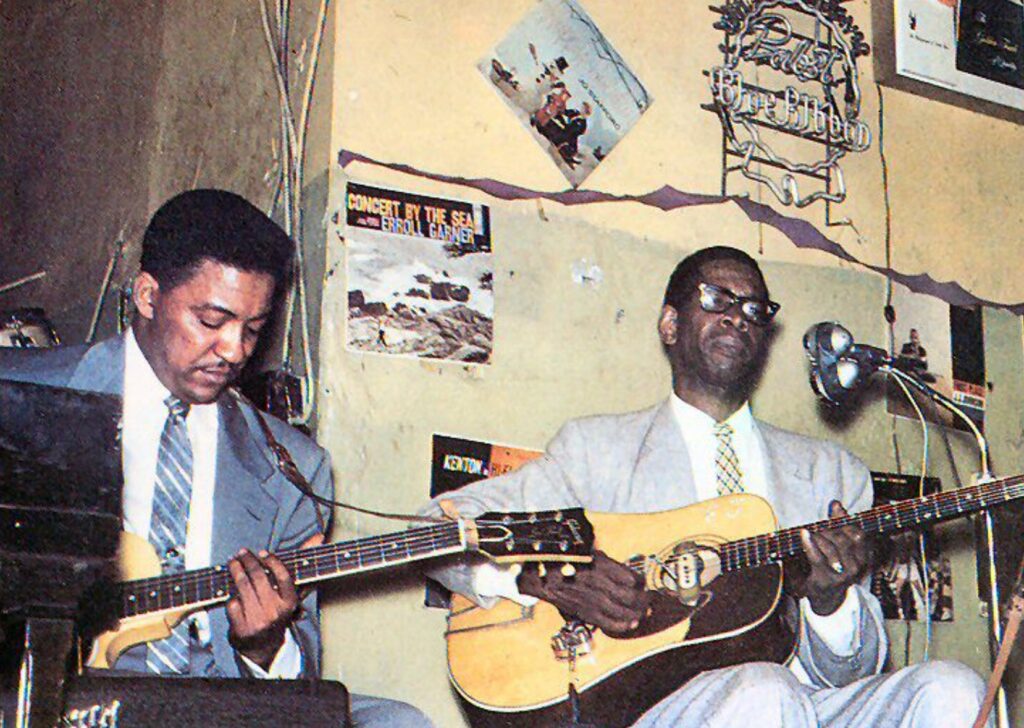 Elmore James created a lick that will never die. This staccato and downhill slide drift from "I Believe I'll Dust My Broom" is easily one of the best licks ever created. Beyond that, James continued to develop licks that reverberate all throughout rock and roll history. His licks are even known as being a blues-boom standard, even after his death.
"I Believe I'll Dust My Broom" is the best example of his licks and guitar power, but "Shake your Moneymaker" and "Stranger Blues" also include striking licks.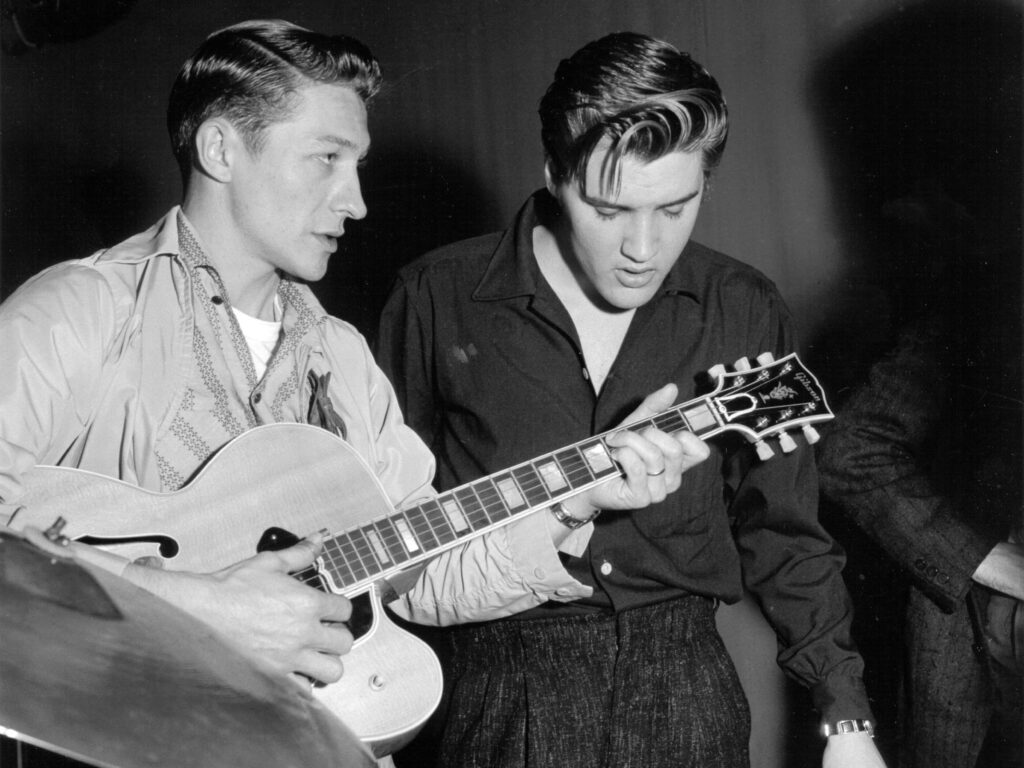 Johnny Ramone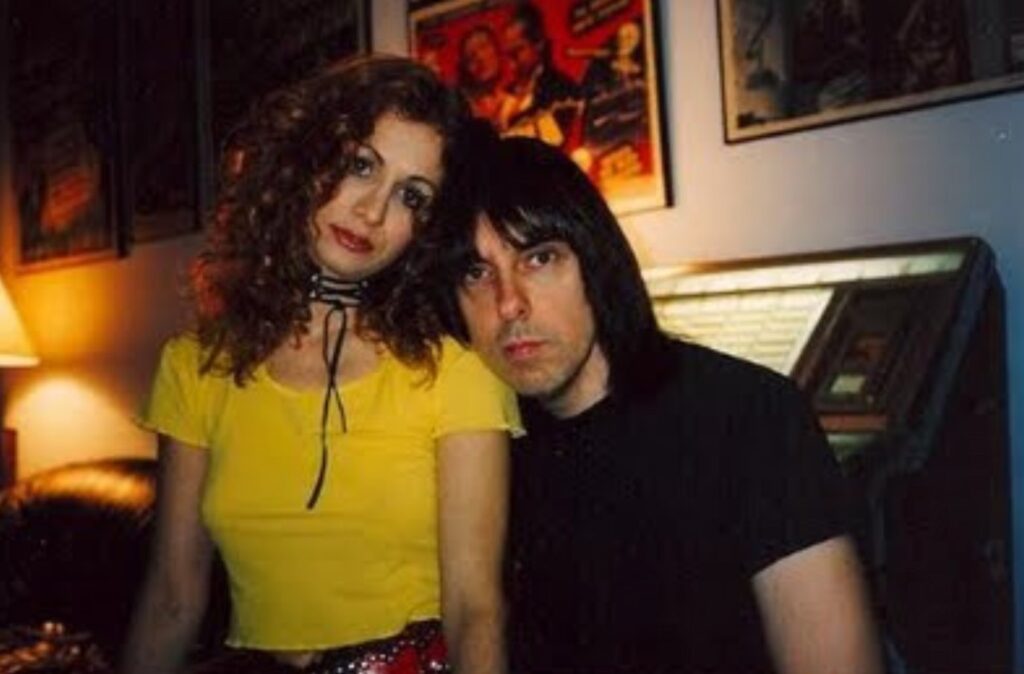 Johnny Ramone is considered the father of the punk rock guitar styling, and he even had a large influence on the riff-driven metal of the modern era. Despite using an inexpensive guitar, Ramone could hammer out sounds that were minimalistic, rhythmic, and hypnotic. This style became known as "buzzsaw," proving that powerful sounds didn't have to be slow.
Songs like "Blitzkrieg Bop" and "Judy is a Punk" changed the game for metal music. His persona and style were still full of anger and power, yet they were much quicker paced.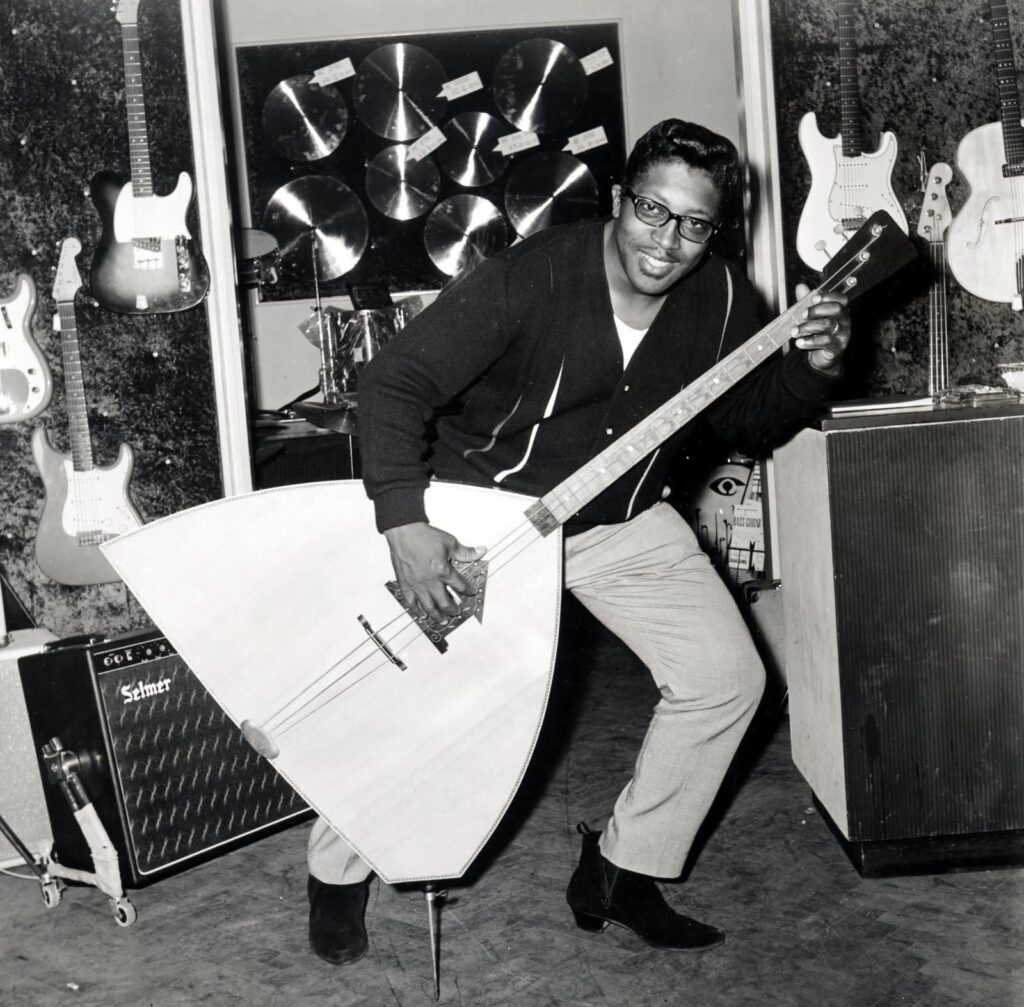 Scotty Moore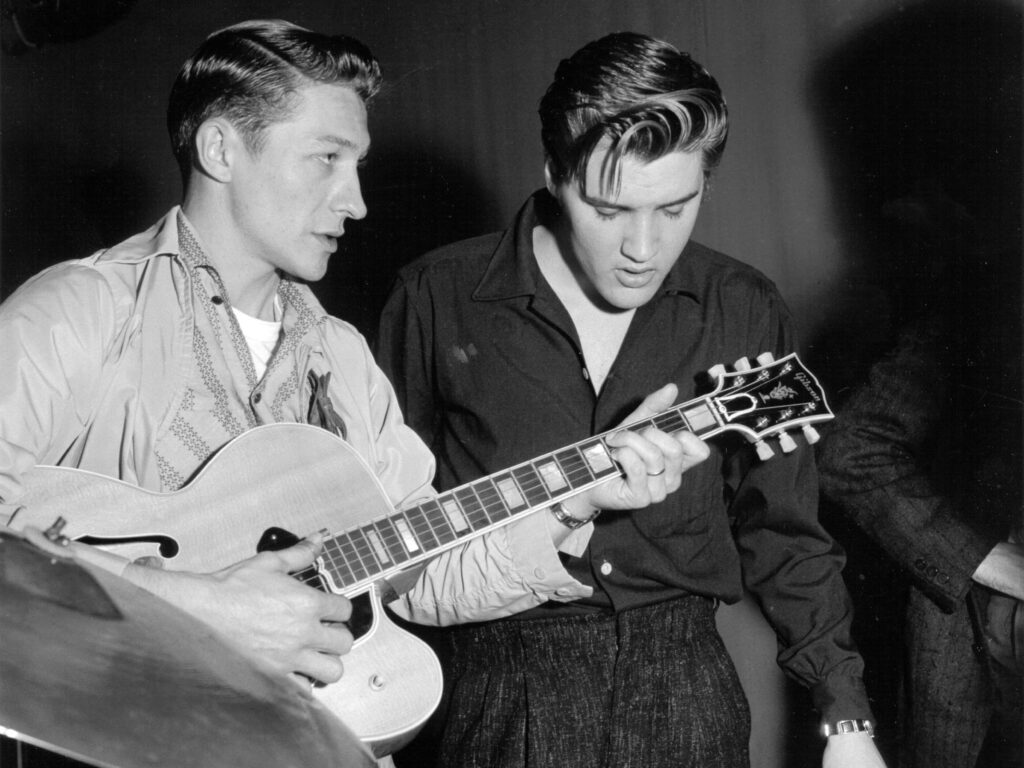 Elvis would have been nothing without Scotty Moore, his lead guitarist. Moore created a sound that was concise, aggressive, country, and blues, all at once. This created a new type of music language that broke bounds and required no drummer. He even is notably responsible for guitar making its way into pop music.
Even if Moore stopped after working with Elvis in the beginning of his career, he still would have been assured a place in music history. "Mystery Train" and "Heartbreak Hotel" showcase his wild skills and expertise.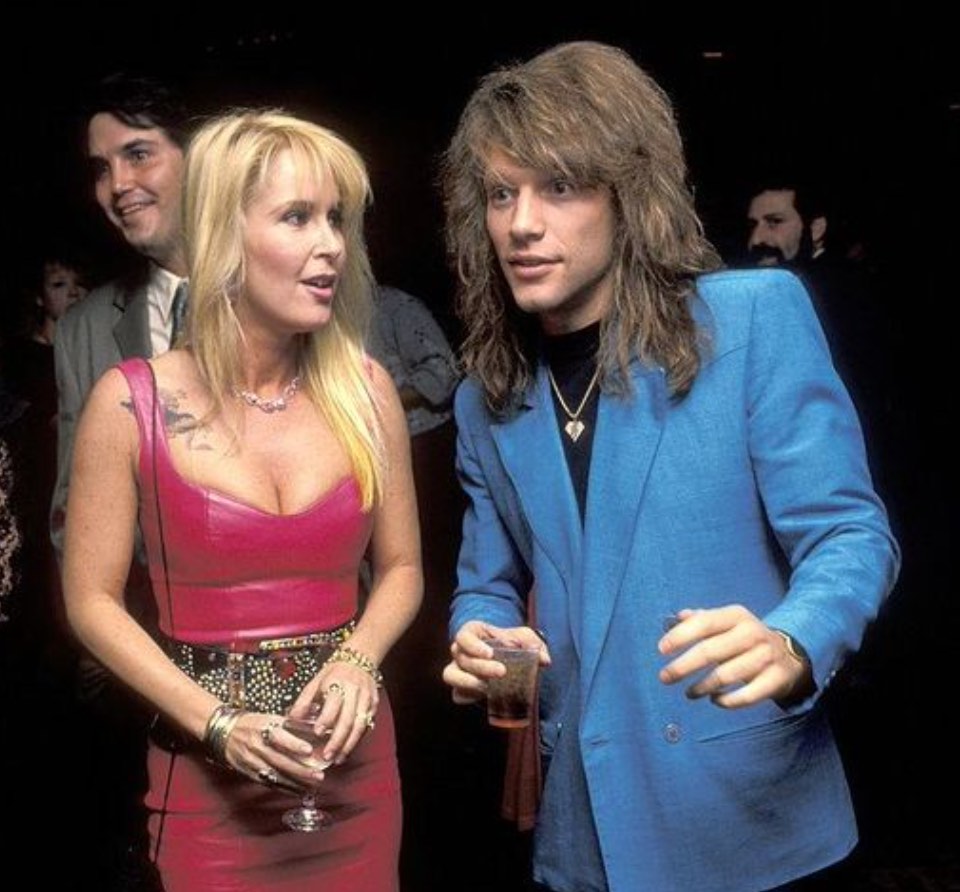 Bo Diddly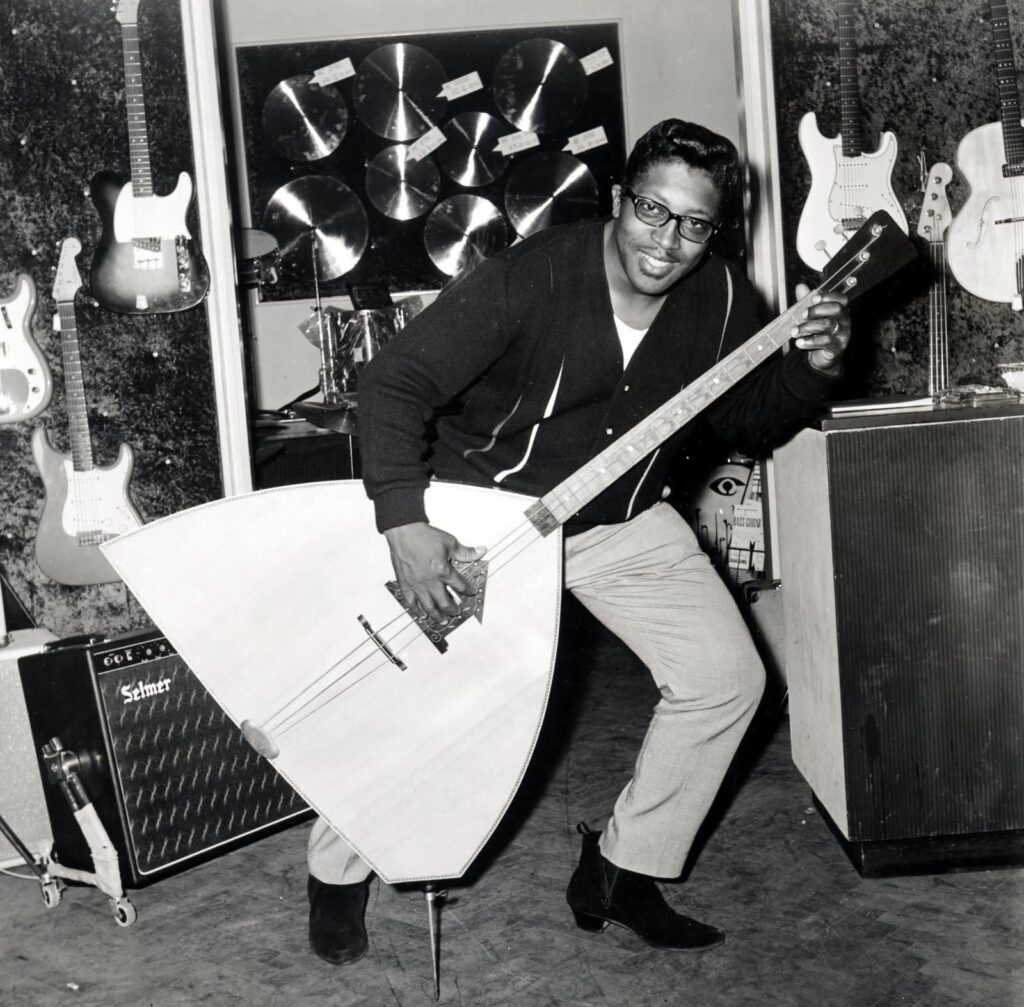 Bo Diddley is practically the father of riffs. Musicians from Buddy Holiday to The Smiths take hold of its deadly sound. Some loved Buddy for his super powerful riffs, while others like the pure simplicity of the sound. Though the playing itself was simple, his outrageous sound and style made the playing one of a kind.
"Mona" is his most powerful piece. It incorporates a West African groove and hypnotic sound. The song went on to be a leading inspiration for other popular musicians.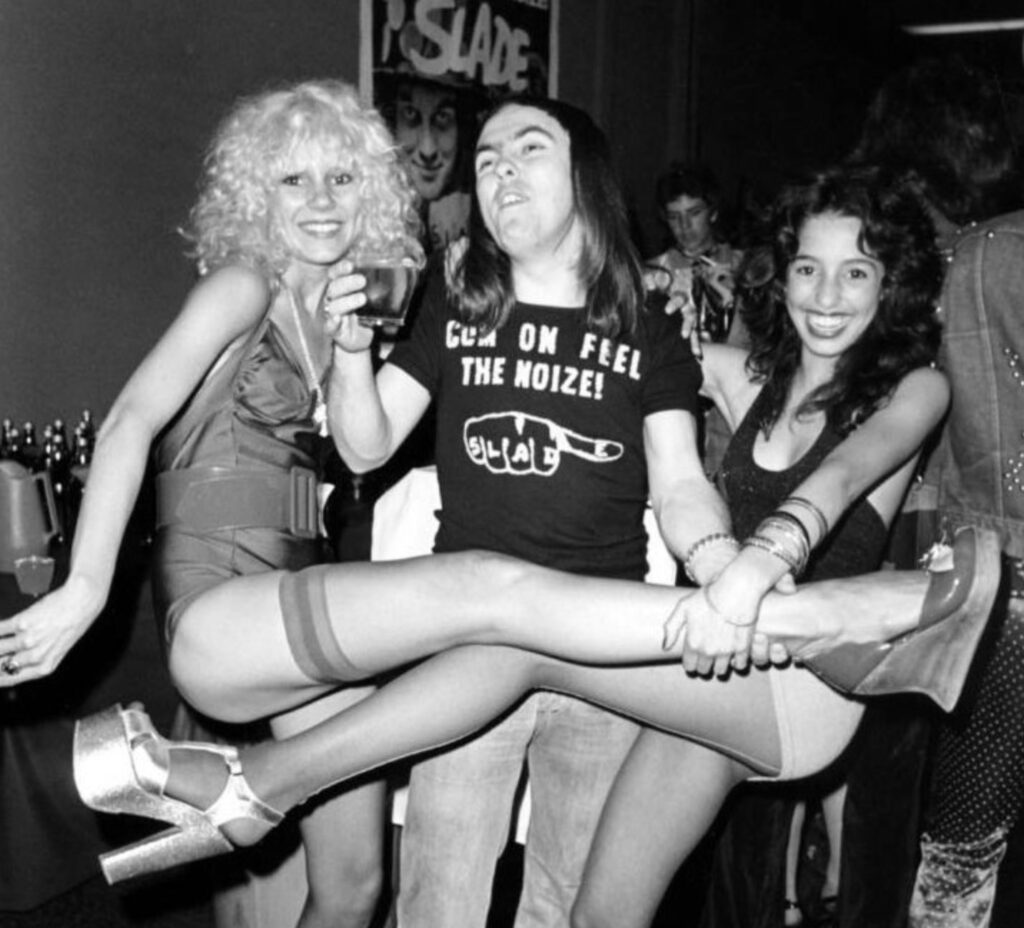 Tony Iommi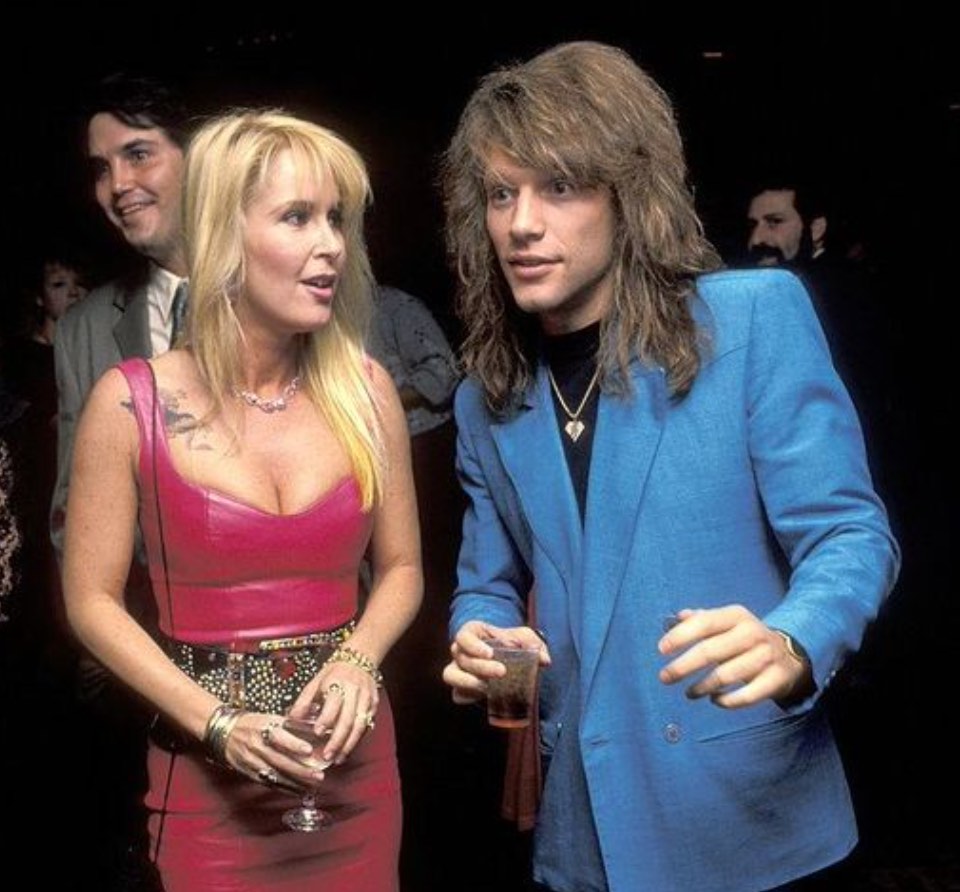 Black Sabbath, though wildly revered today, was once a taboo and feared band. Even in their infancy, Tony Iommi was revered as a metal pioneer that was able to show restraint and patience. Though not the fastest guitar playing, Tony Iommi's playing was so precise and striking that it created the backsplashes on which Black Sabbath lyrics could be placed.
"Iron Man" is easily one of the most recognized songs in metal music. Iommi's slow, yet powerful and controlled playing create the chords that we recognize today.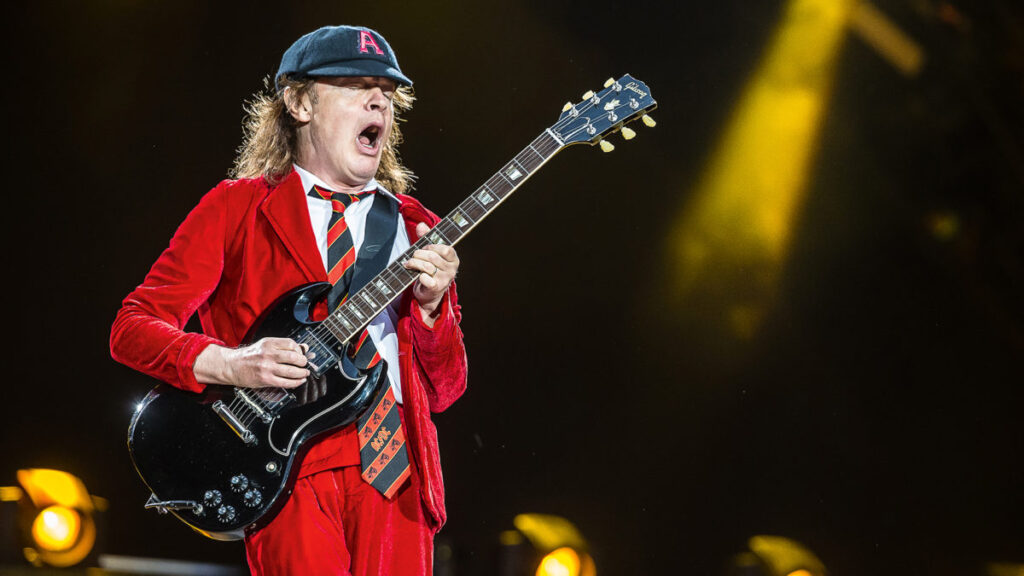 Malcolm Young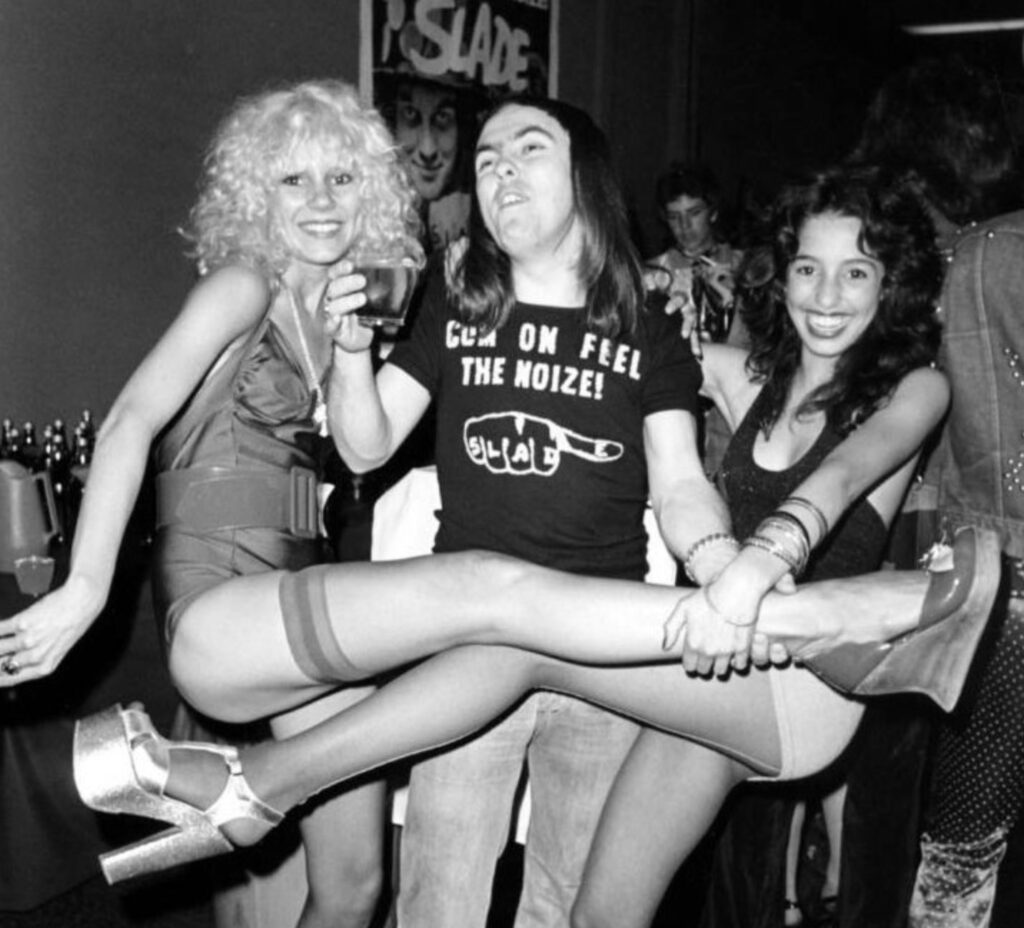 You cannot talk about Angus Young without talking about his brother Malcolm. Though looked over for his brother's more flamboyant styles, Malcolm is often viewed as the backbone of AC/DC. He was responsible for some of their most memorable rifts, as well as many of their lyrics. Without him, AC/DC would not have survived. Not to mention, he plays so passionately that he supposedly goes through one pick per song.
The opening chords for Back in Black and "Beating Around the Bush" show his blues riffs and sensible playing.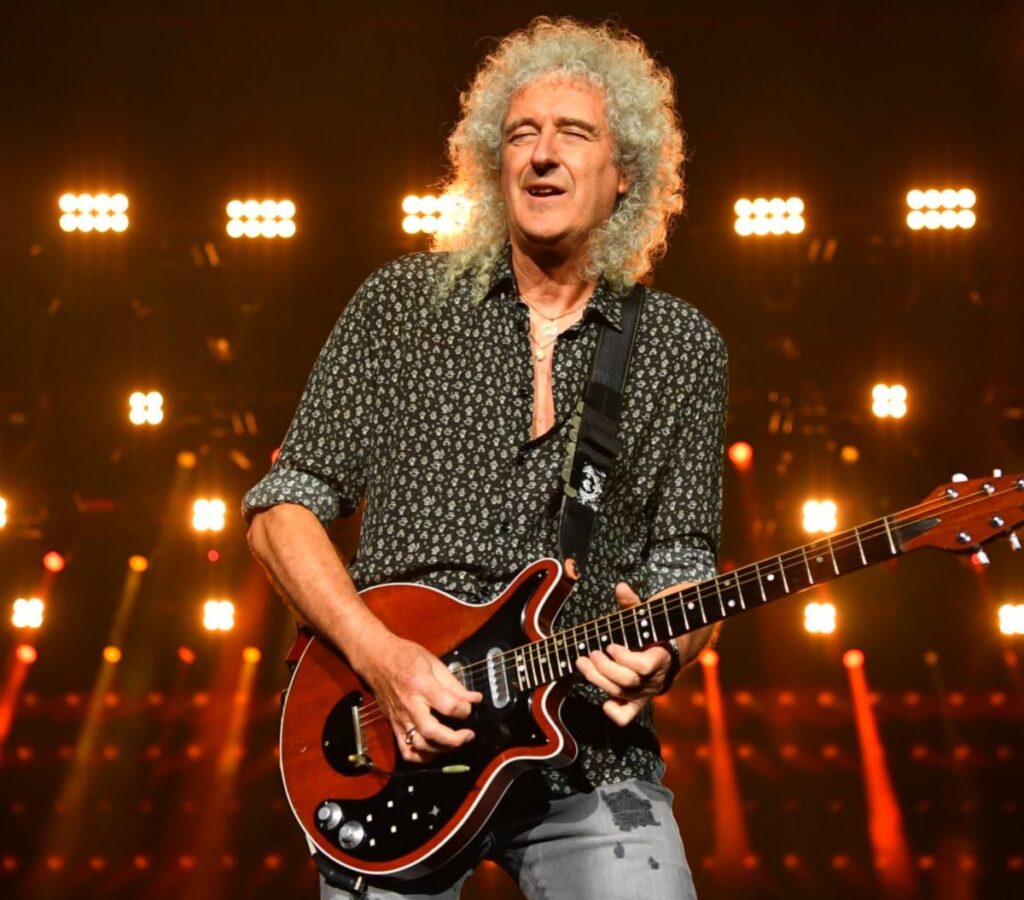 Angus Young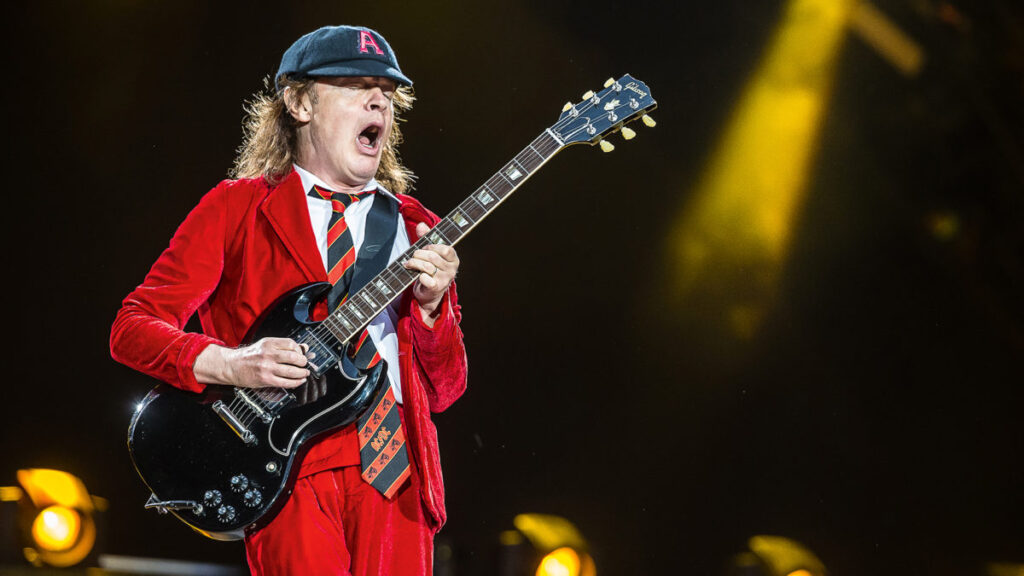 Even though Angus Young did not view himself as a soloist, his manic guitar playing created excitement that made him a leading blues-rock player. Often compared to his brother Malcolm, Angus Young created high speed runs that began to dominate rock music. His sounds in "Back in Black" and "Highway to Hell" have long since tattooed their mark on history, even for those not interested in rock. His playing was only amplified by his strong persona, creating an all over rock and roll musical experience.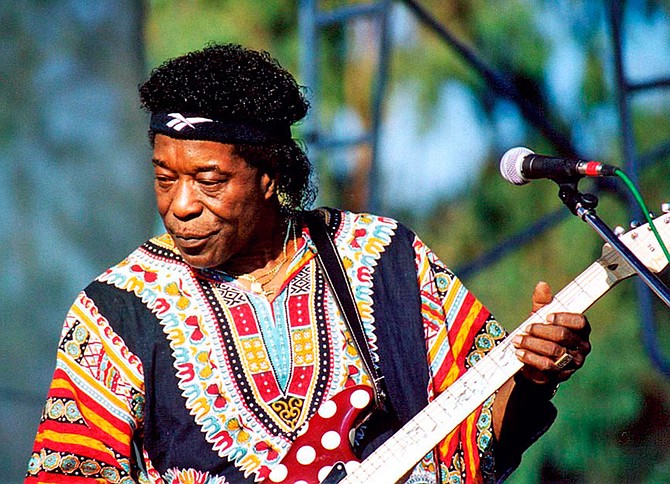 Brian May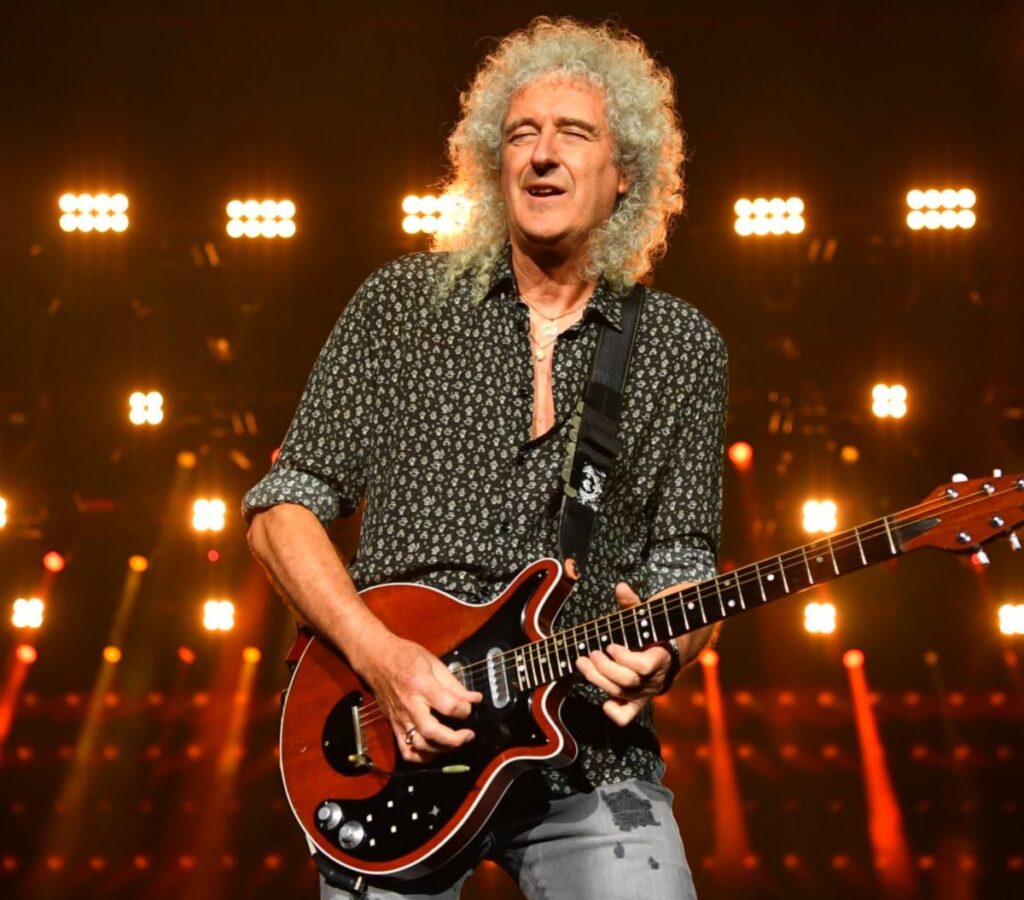 Brian May is a brainy astrophysicist who incorporated creative sounds into rock history, distinctive to that of Queen. His orchestral solos ranged from three part harmonies to proto-metal riffing to create a sound that shot through the globe. Even his own guitar incorporated his creative style, given that it was made by may and his father.
"Killer Queen" demonstrates his three part guitar harmonies, while "Bohemian Rhapsody" showcases a trebly solo that matches the orchestrated sound of the song. Other of May's styling can be seen in Queen's diverse portfolio.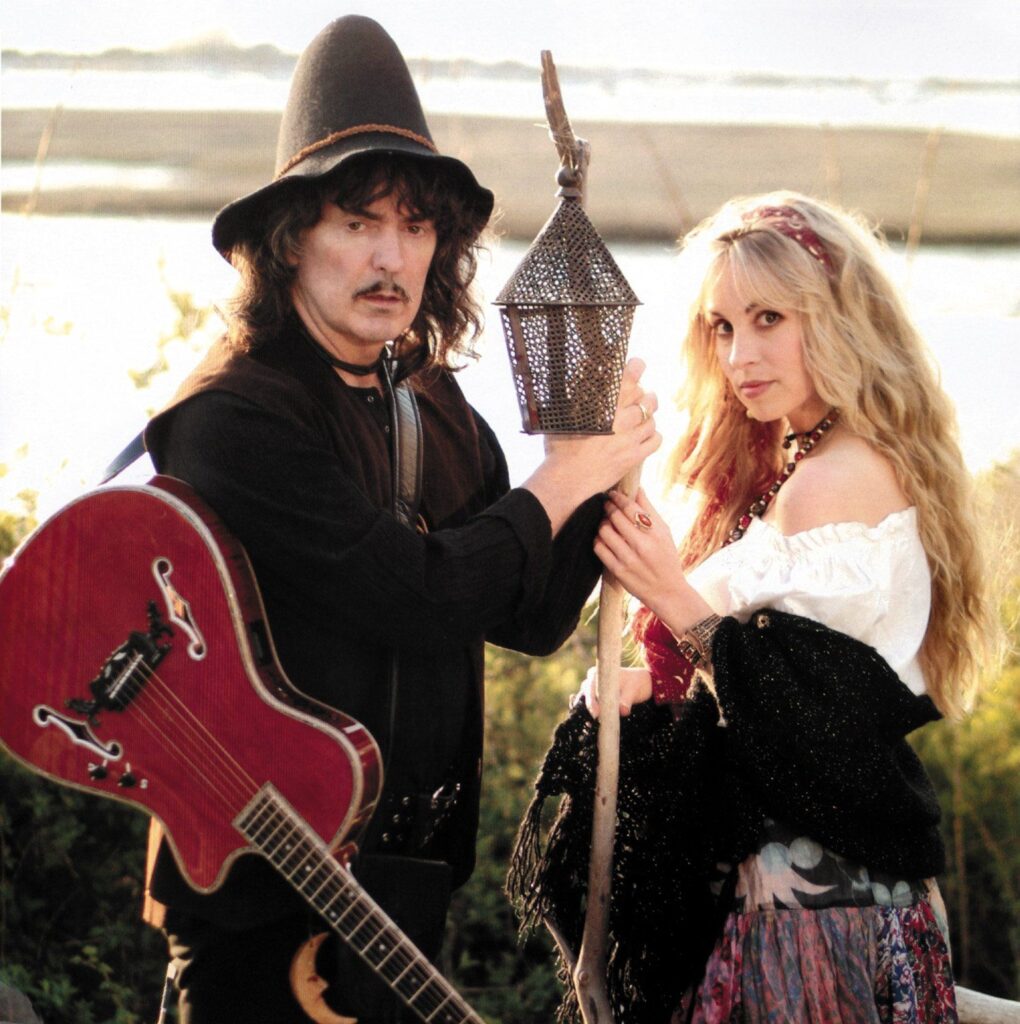 Buddy Guy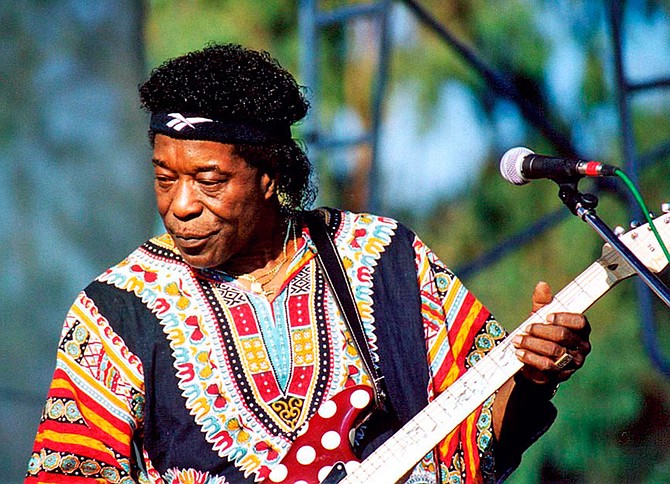 Early in the start of his career, Buddy Guy's unique sound was often described as just noise. As blues music started to become fused with rock, Guy's work became increasingly popular, even going on to inspire the likes of Hendrix and Page. His playing was noted for its flamboyant and electrifying style that has inspired rockers for generations.
"Stone Crazy" and "First Time I Met the Blues" showcase Buddy's flamboyant style, being full of bends, distortion, and licks. Even when he collaborates with harp master Junior Wells, his solos were electrifyingly stunning.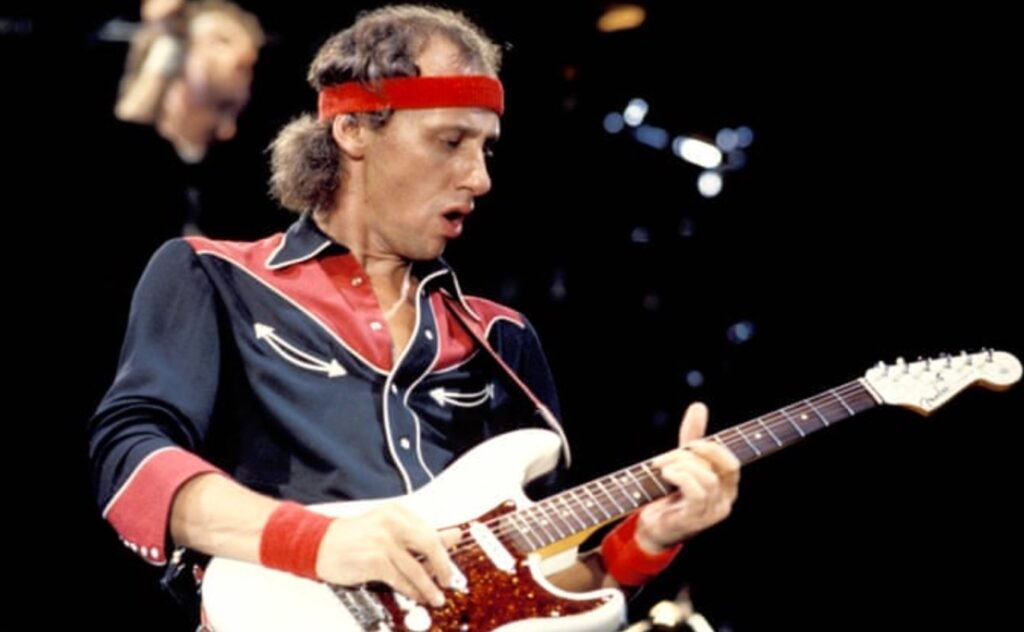 Ritchie Blackmore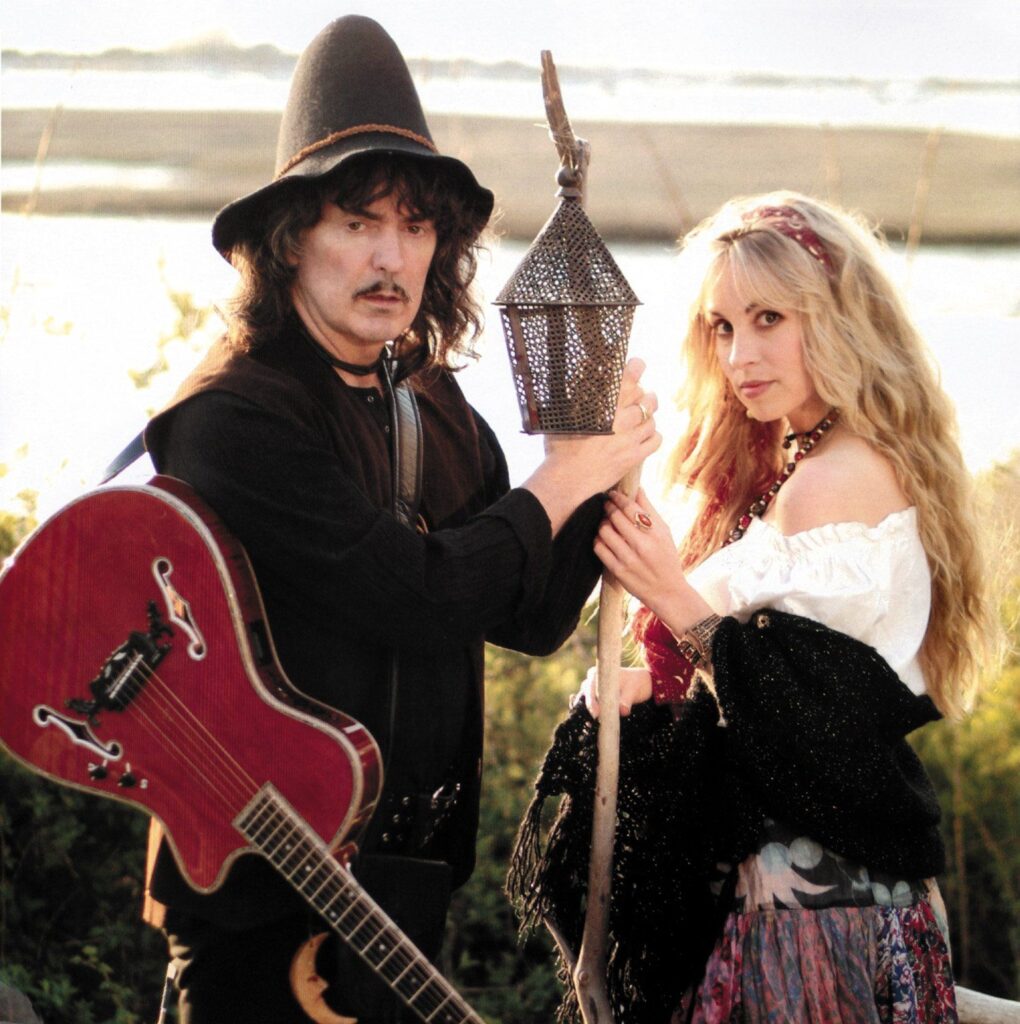 Just about every aspiring musician and guitarist knows the infamous riff of Deep Purple's Smoke on the Water." Ritchie Blackmore's role in heavy-metal guitar is solidified for that song alone. He mixes intricate and classic styles with raw blues rock to create riffs that are heavy and unforgettable. These riffs become foundations for pyrotechnics. Many metal bands today still view Blackmore a hero for this reason.
Obviously, "Smoke on the Water" is Blackmore's most known piece, but "Stargazer" is another that shows Blackmore's legacy on the genre.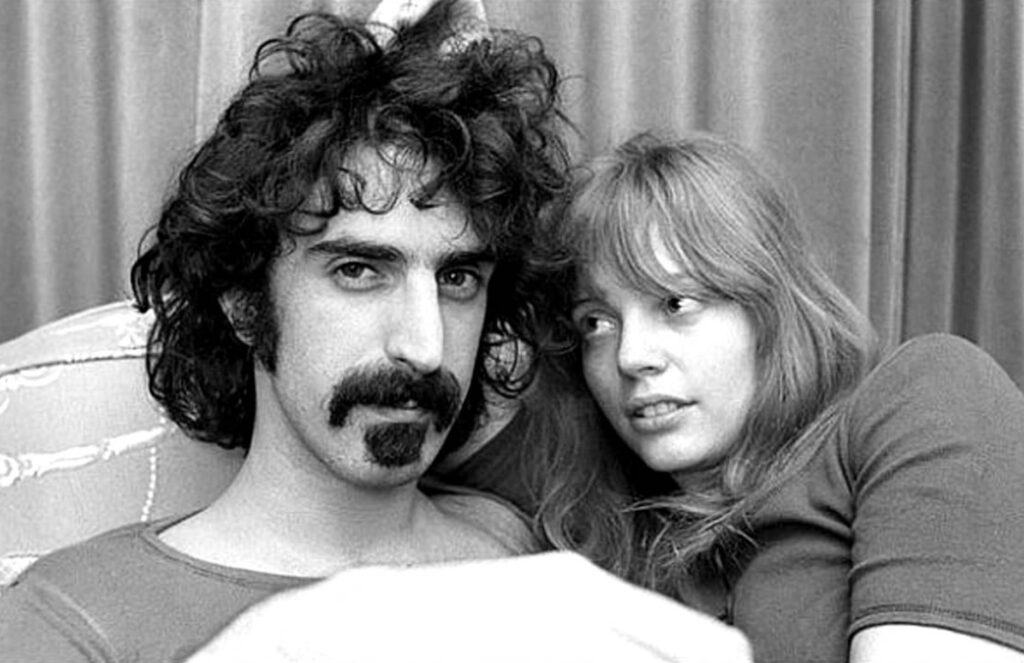 Mark Knopfler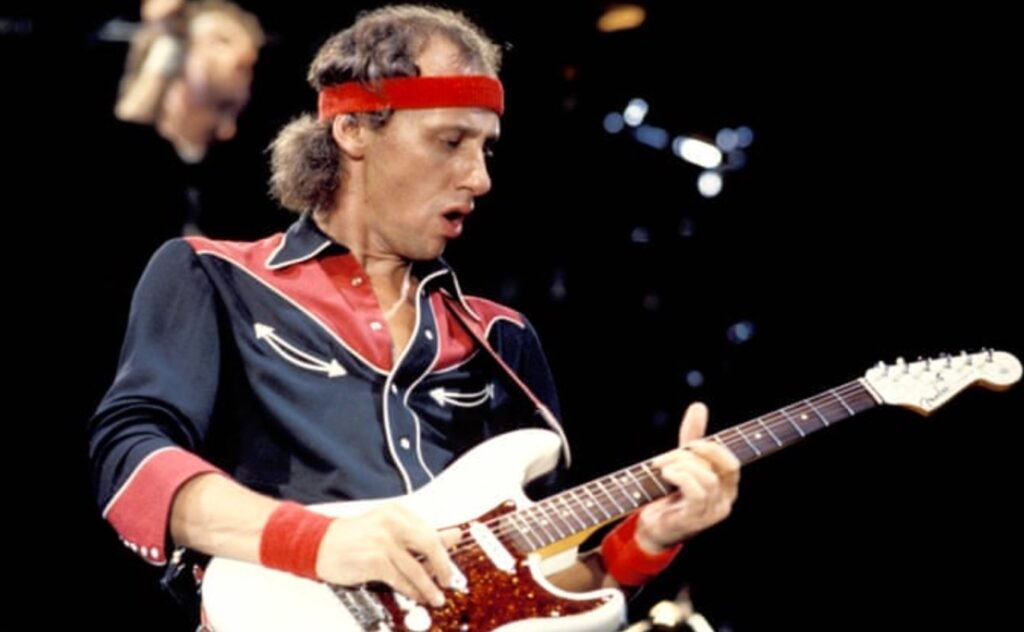 Mark Knopfler really hit the guitar scene with his melodic solo in "Sultans of Swing." His work seemed to undercut the superiority of punk, which was a leading genre at the time. He had beautiful command overtones and textures, allowing him to create songs with intense distortion. His finger playing style also allowed him to impart his soul directly into his playing.
"Tunnel of love" showcases Knopfler's precise control over the guitar despite not using a pick. "Romeo and Juliet" is another popular song due to his playing.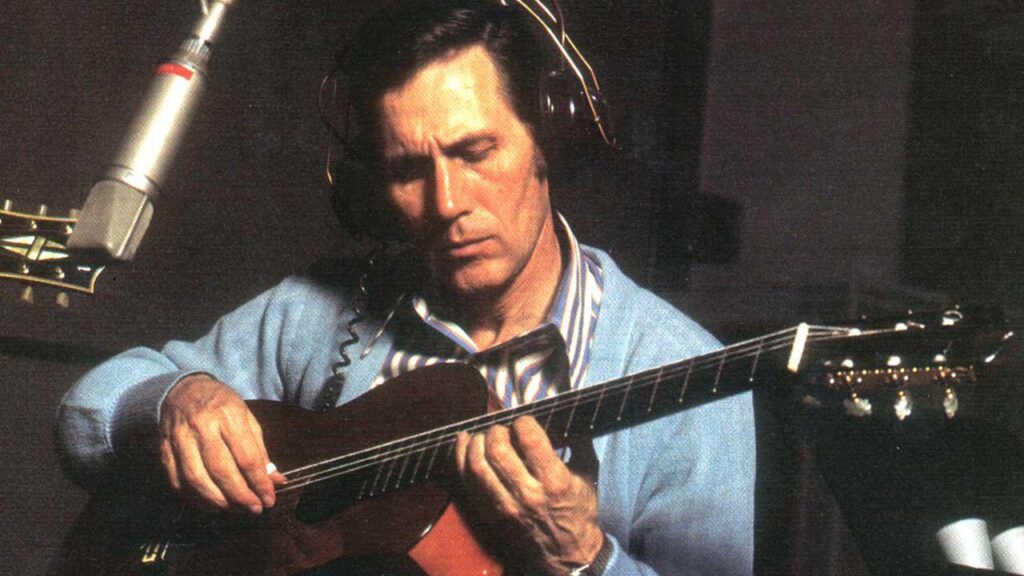 Frank Zappa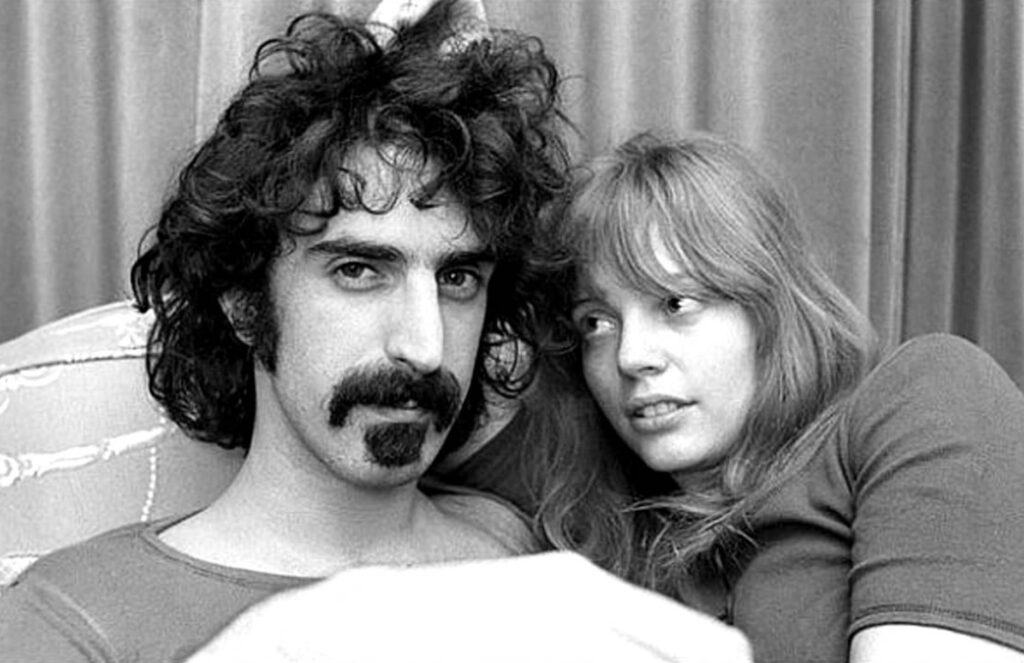 You cannot talk about famous guitarists without recognizing the talent and energy of Frank Zappa. Zappa's sounds broke nearly every boundary of guitar playing. He somehow combined a doo-wop, jazz, and modernism style that created a chaotic, greasy, an exquisite sound. His entire soul went into playing his guitar, almost as though it was his true expression.
Shut Up 'n Play Yer Guitar showcases intricate and explosive solos, demonstrating Zappa's electrifying skills and placing him as a leading guitarist.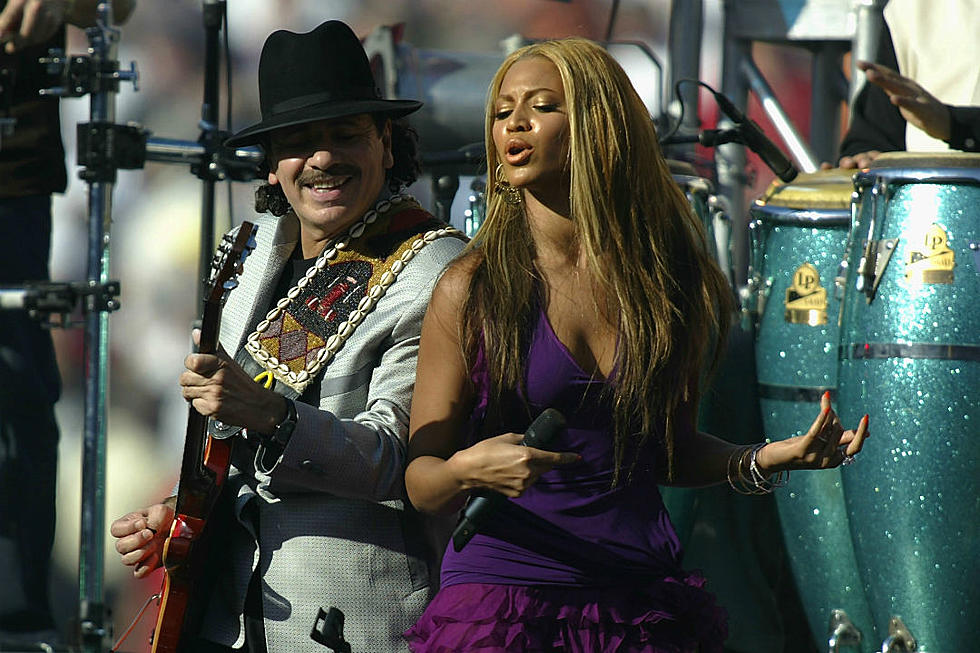 Chet Atkins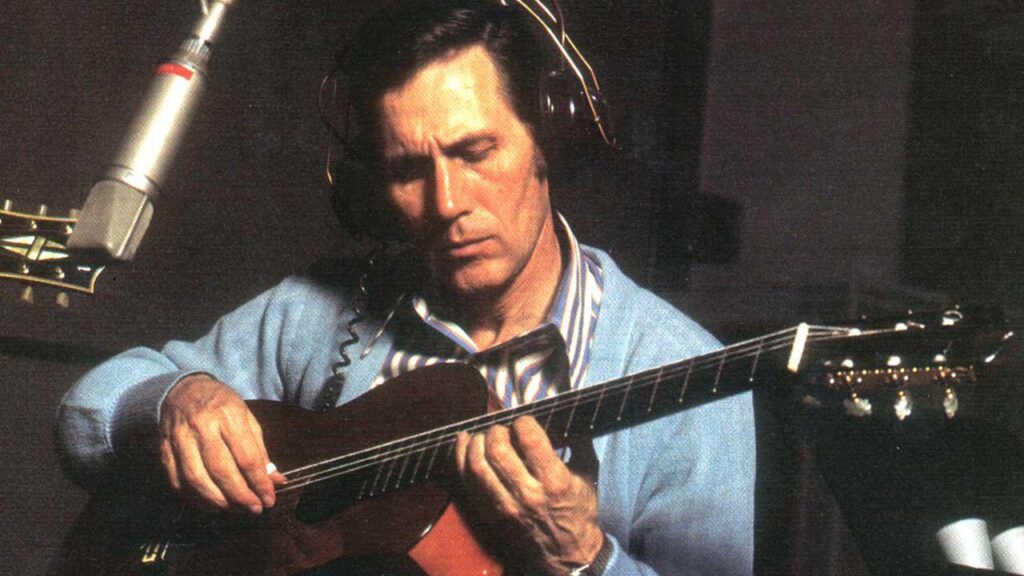 He doesn't always get as much credit as her deserves, but he's definitely one of the best guitarists of all time. Chet Atkins is responsible for the Nashville sound that brought country music back to popularity. He saved the industry, but it was his guitar playing that made him an artist. Through trial and error, he mastered a sound that combined country, jazz, and classical playing to create a thumb and three finger picking guitar style.
Atkins could play easy laid back sounds, but his instrumental solos mix harmonics and pure notes to create clear energy and sound. "Your Cheating Heart" and "Wake Up Little Susie" are some of his favorites.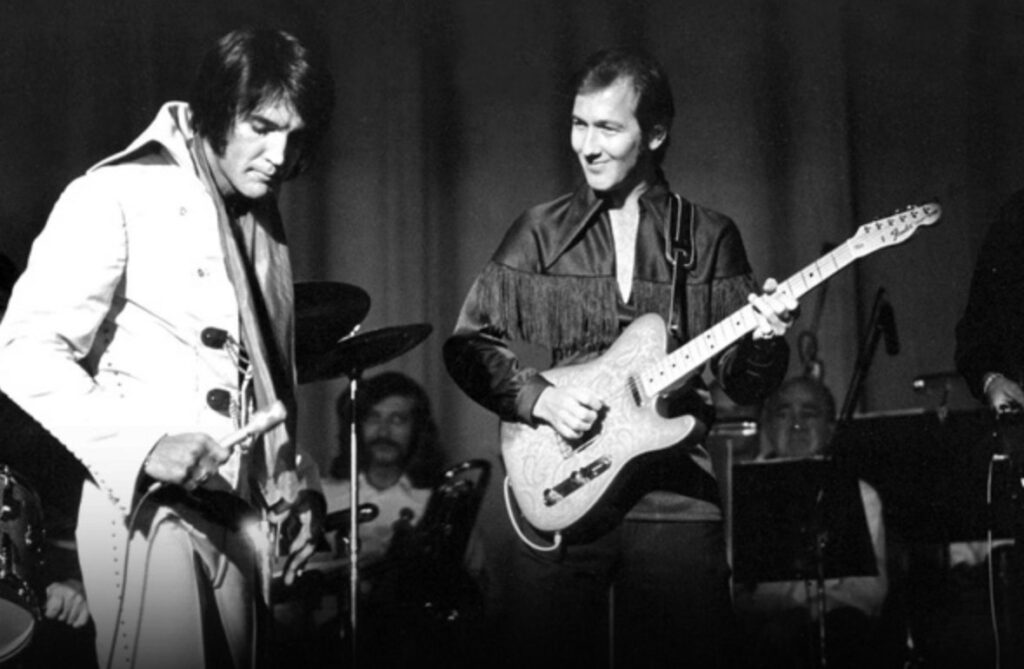 Carlos Santana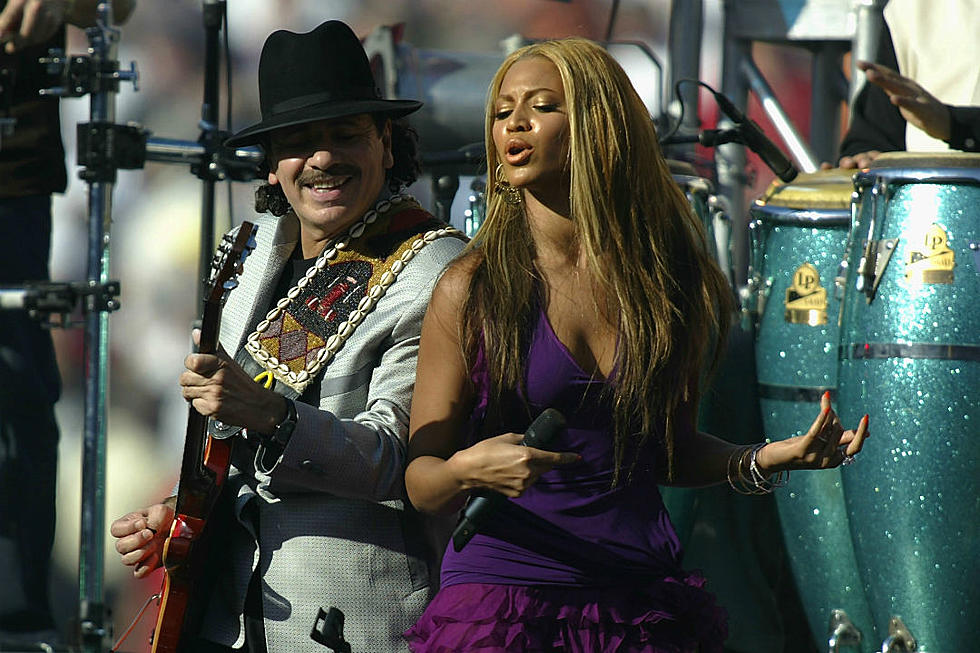 Mexican-born Carlos Santana plays Latin rhythm psychedelic music. His crystalline tone and exploratory style make him easy to identify just from one note. His unique guitar sound can almost take you on an acid trip, which can be attributed to his acid intake. His sound even includes African rhythms and modern jazz, unique in the genre.
Nevertheless, Santana's exploratory style allows him to rival the likes of Hendrix. "Black Magic Woman" is just one example of his Latin based psychedelic sound.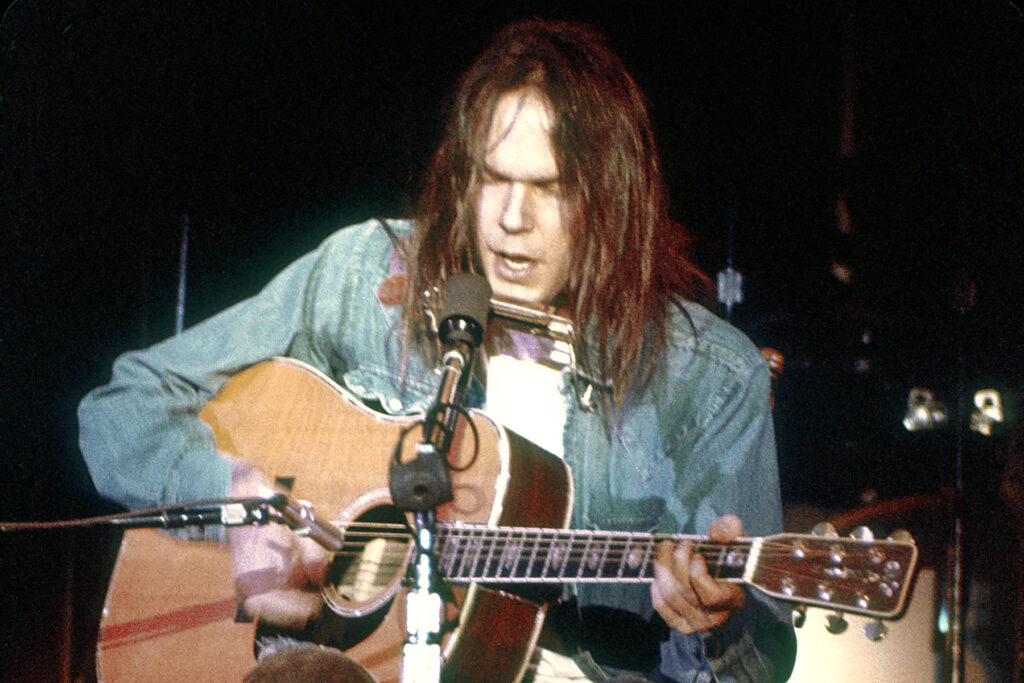 James Burton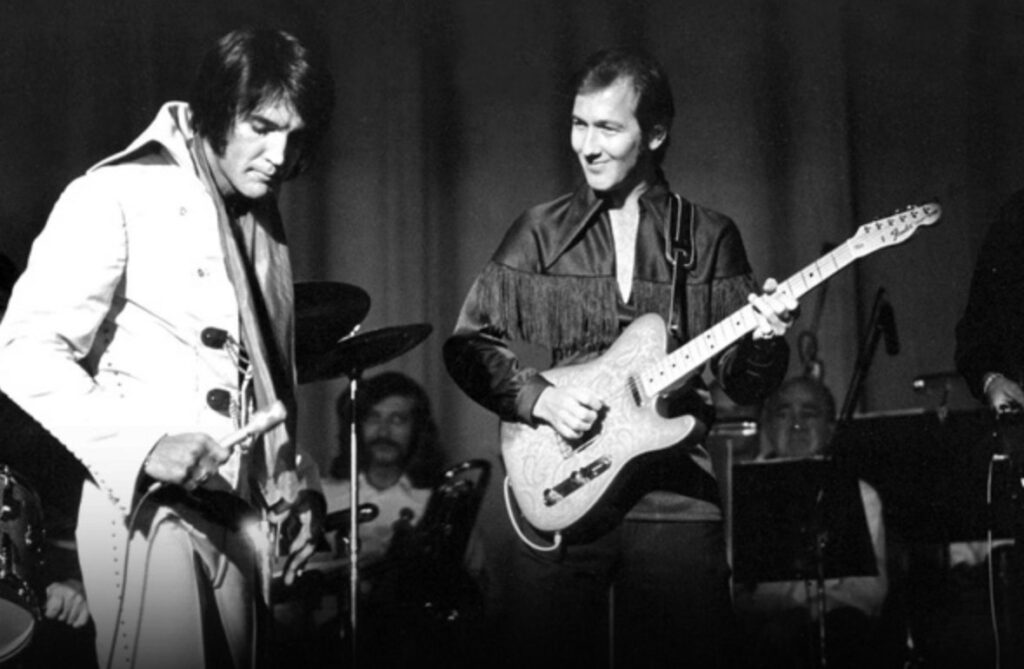 Country music is highly defined by the sound of the guitar, and James Burton is one of country's best guitarist. He uses a chicken pickin' style, making his music sound bright, concise, and crisp. Using a finger pick and flat pick, as well as replacing the top four strings with banjo strings, he created a sound that haunted musicians of many genres.
Burton started his music career by writing "Susie Q" for Dale Hawkins. "Hello Mary Lou" and Believe What You Say" are some of his most notorious songs.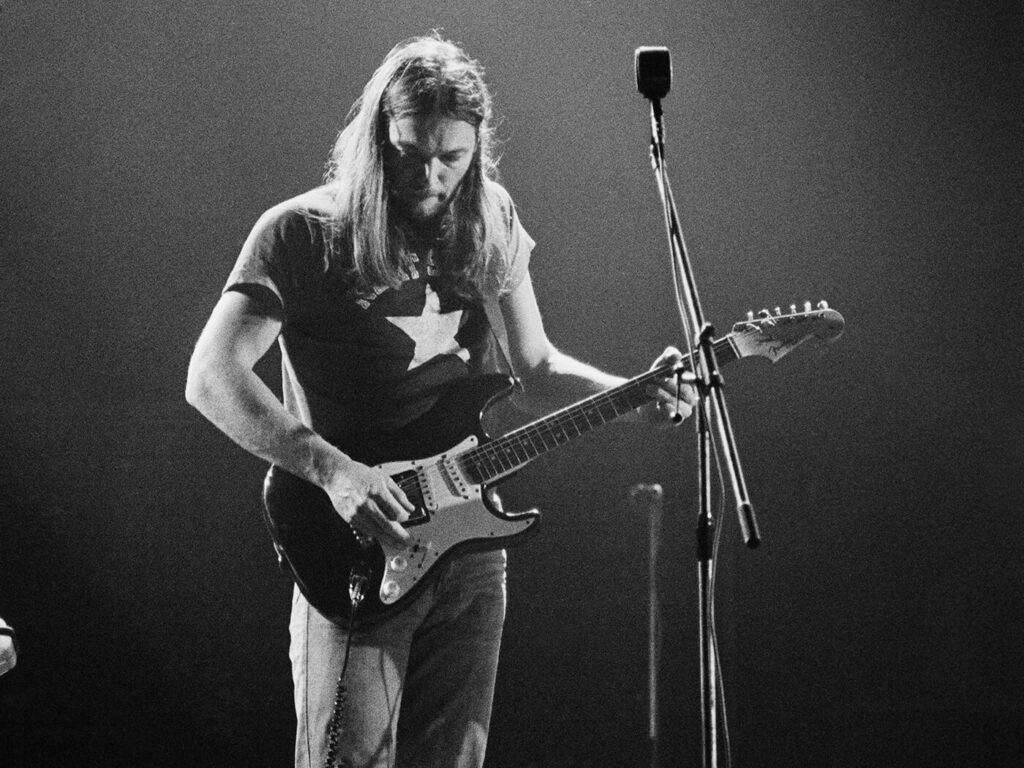 Neil Young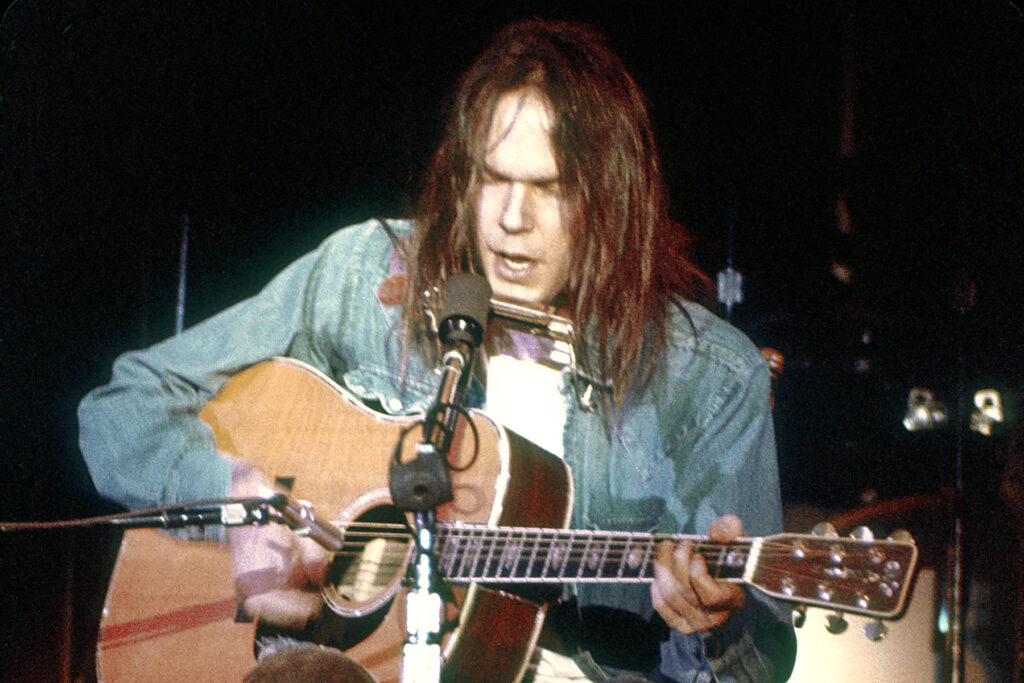 Neil Young can somehow create beautifully rhythmic and attitude-filled songs out of a single note. His guitar playing shows his deep need for connection just by its pure sound of anger and longing. Unlike other players, Neil Young knew how to incorporate his soul into his playing, allowing his sound to feel like an ocean, not a pond.
"Down by the River" explodes with attitude and anger, yet it is only one note. This one note is so melodic that it can wipe you away with one hit.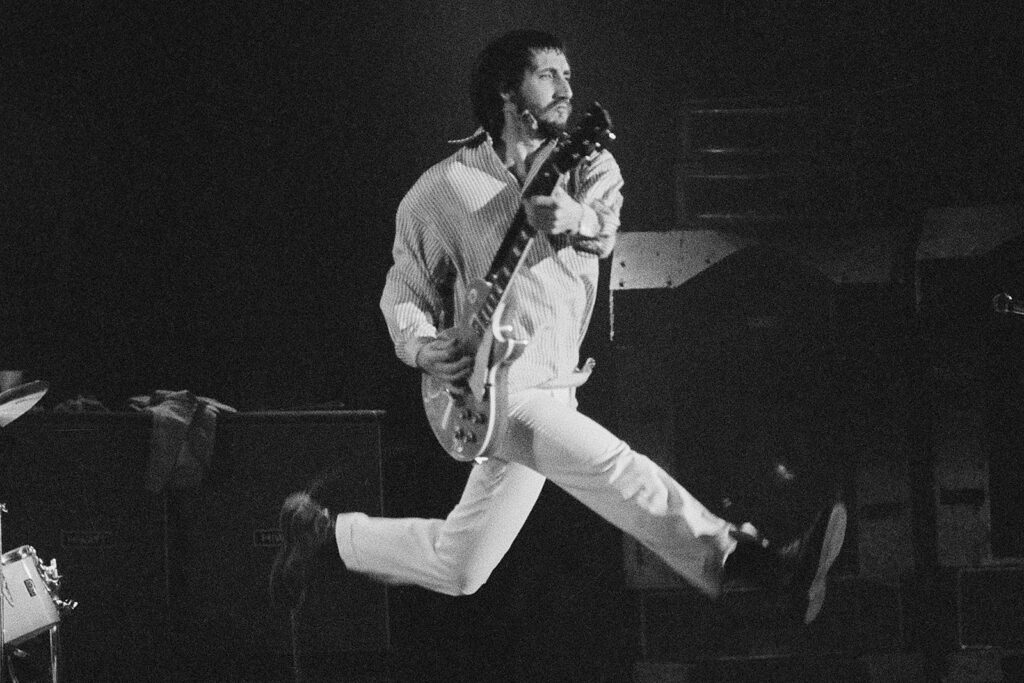 David Gilmour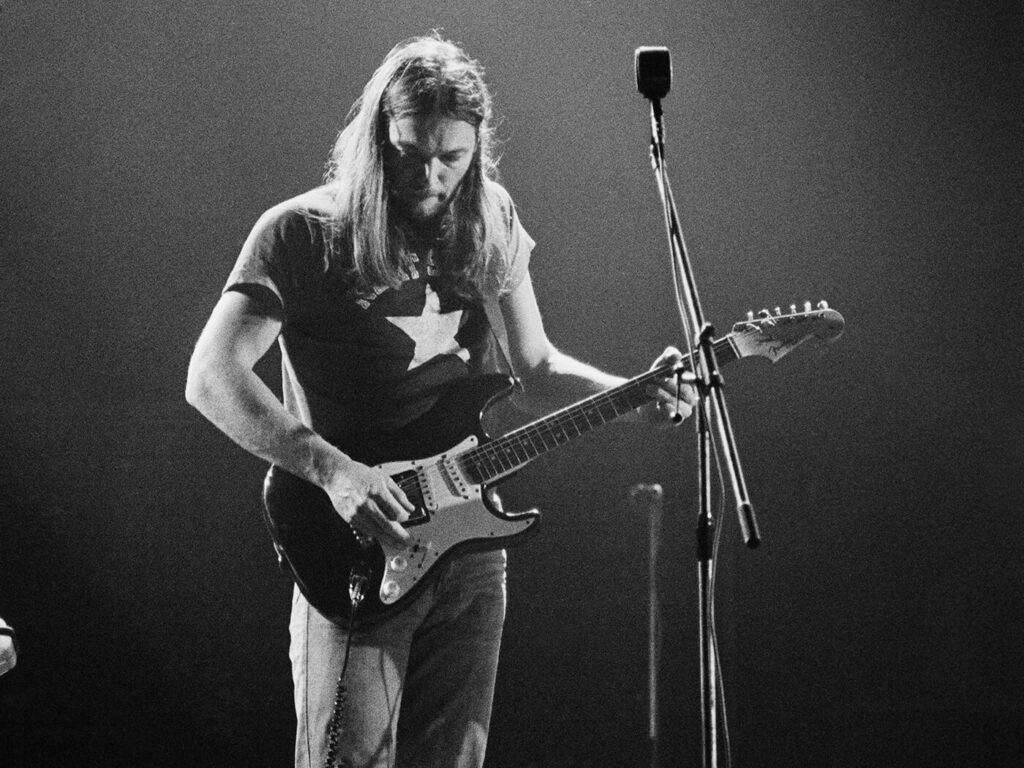 David Gilmour is easily one of the most talented musicians to live. Gilmour, also producer and songwriter, creates psychedelic textures that sound fiery and bluesy whenever he picks up the guitar. He sometimes even incorporates avant garde improv into his playing.
Given that David Gilmour's sound haunts nearly all of Pink Floyd's most known songs, it is hard to point out which one best demonstrates his sound, especially since the band's overall feel changes with the album. Nevertheless, "Shine On You Crazy Diamond" may be his best.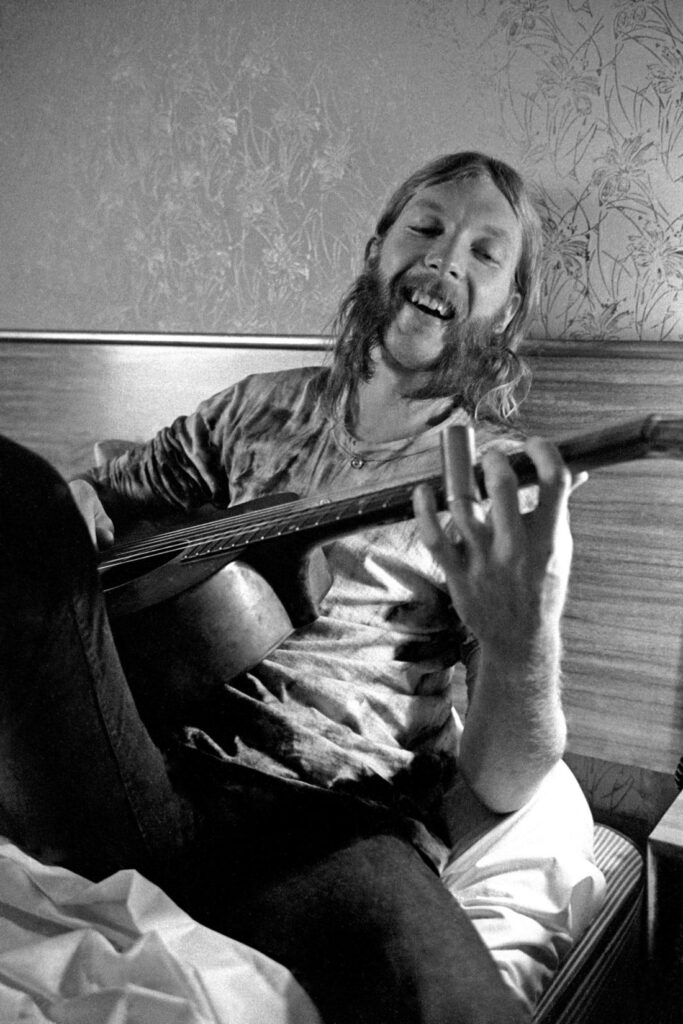 Pete Townsend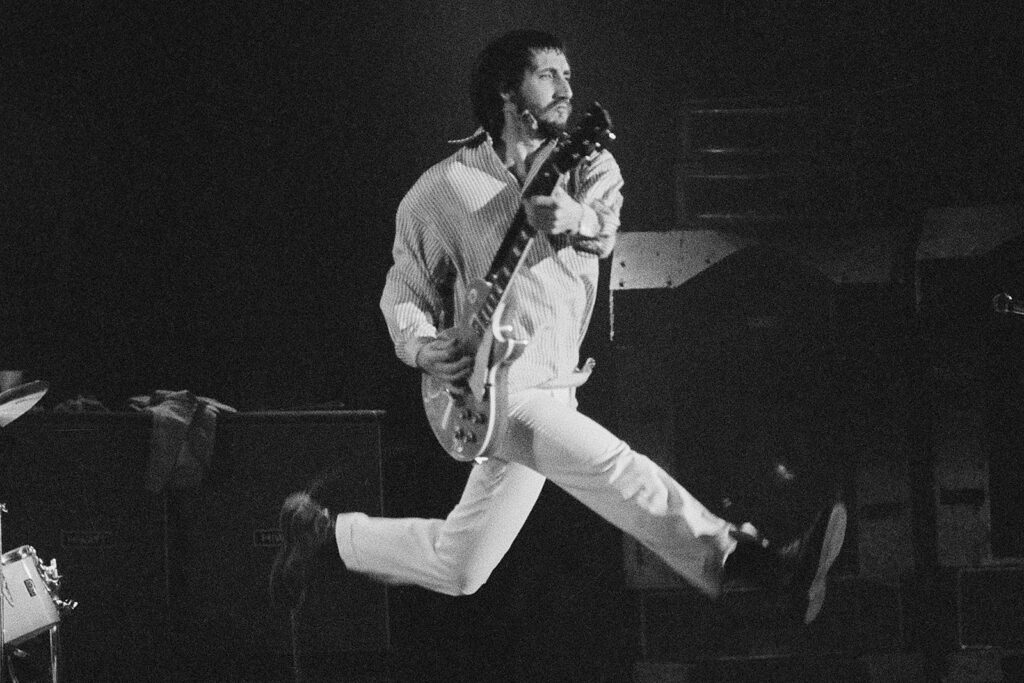 Pete Townsend is not the most known guitar player, but his role in rock and roll is undeniable. As a visionary, his guitar playing was rhythmic, exciting, and aggressive. His body movements even seem to flow in and out with the guitar, as though it were just an extension of his body. Though his solos are few in number, he practically invented the power cord.
"My Generation" and "Summertime Blues" are some of the best examples of his chaotic and precise playing. Other songs like "Substitute" show his jazz inspiration.
Are you ready for the ten best guitarists ever?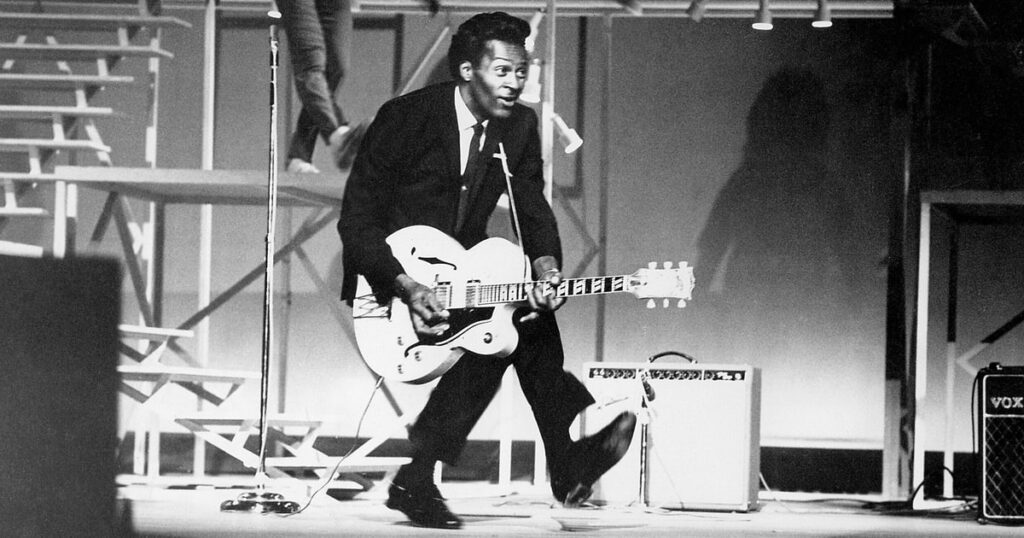 Duane Allman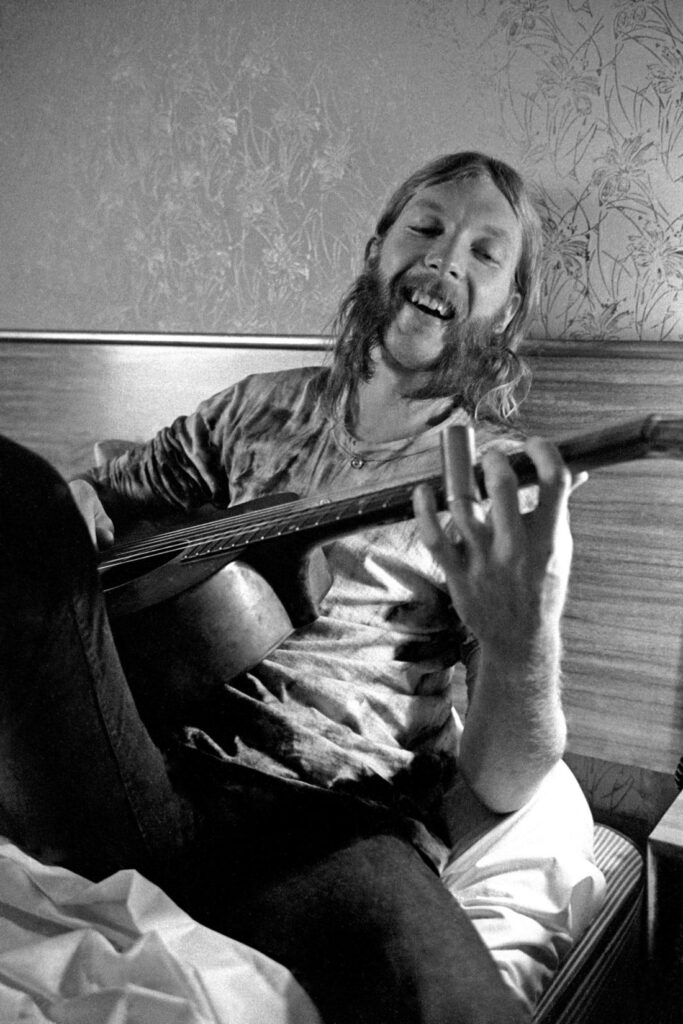 While he isn't the best guitar player in the world, he's certainly on Mount Rushmore of guitarists. Duane Allman played the guitar in a way that it almost replicated the human voice. He used vision and precision to create a sound that slides over a melody, very much reminiscent of a gospel choir. His legacy stretches so far that his style of guitar playing can even be found in church rooms today.
"Layla" is one of the most beautiful examples of his precise playing. The precision in this song shows the melodious talent of Duane Allman. "Statesboro Blues" and "Blue Sky" demonstrate these qualities too.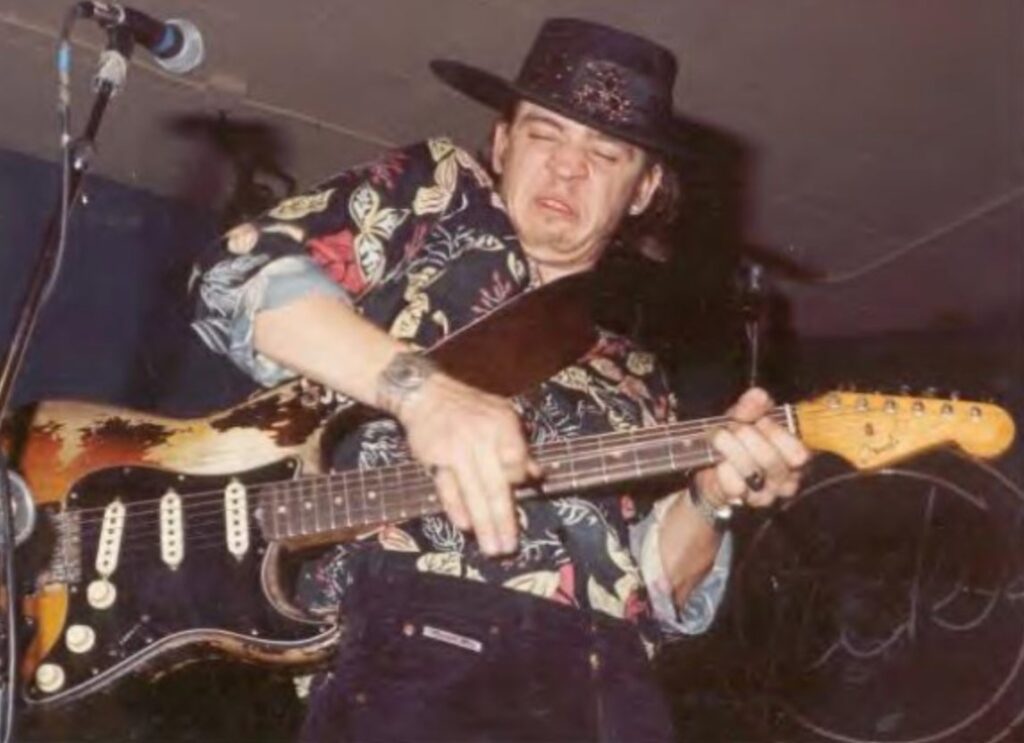 Chuck Berry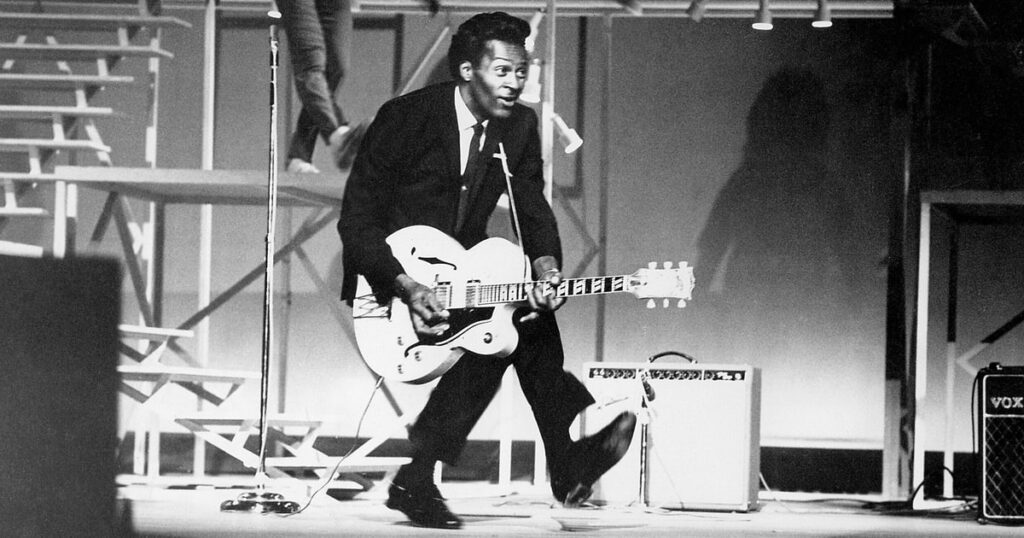 Chuck Berry is guitar royalty, compared often to T-bone Walker, Muddy Waters, and B.B. King. He incorporates a strong Chicago blues sound and guitar boogie to create a new guitar playing that revolutionized rock and roll. His guitar style often sounded against the grain with the other jazz guys, making him stand out amongst the others.
"Johnny B Goode" and "Roll Over Beethoven" showcase his humor and intelligence that have both swing and rock influences. They combine jazz attitude and rock fervor to create masterpieces.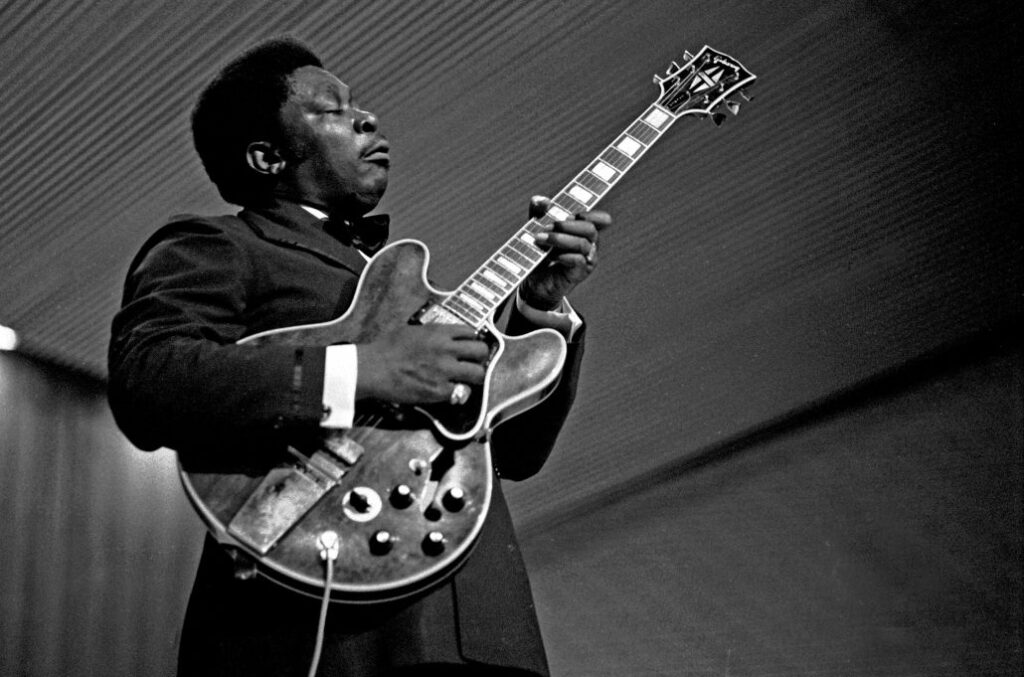 Stevie Ray Vaughan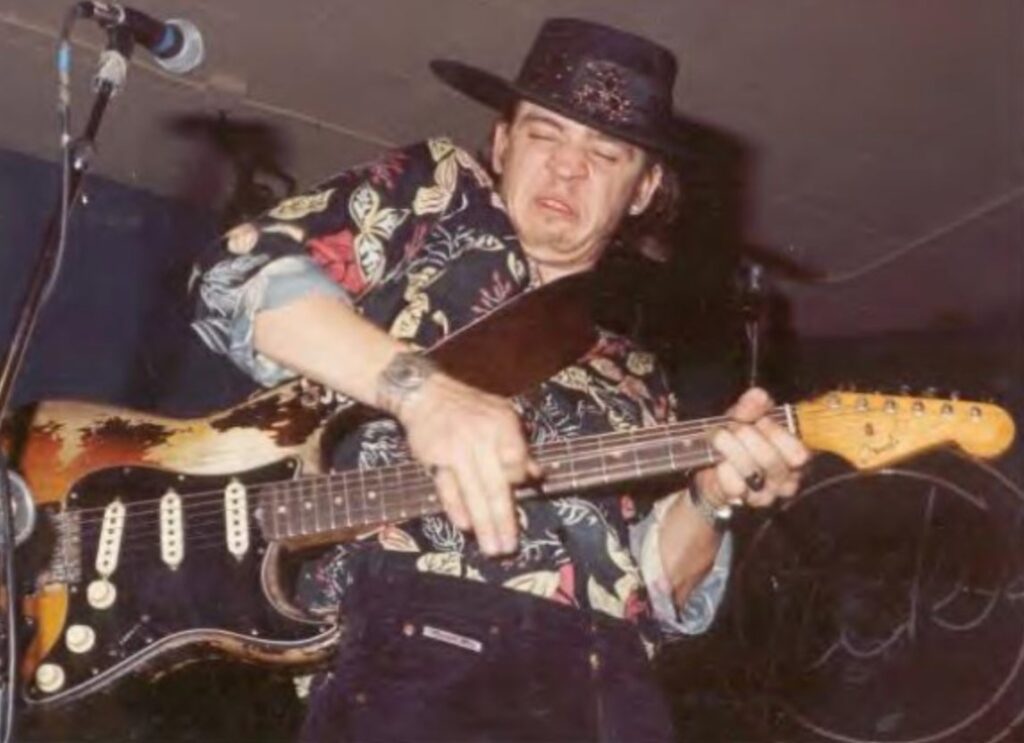 Stevie Ray Vaughan, despite coming to fame during the height of MTV, played with a blues guitar sound that fused jazz and rockabilly to create a tone unheard of before. His playing is so unique that he has gone to inspire a variety of players today, ranging from Pearl Jam to John Mayer.
Playing with complete passion, Stevie Ray Vaughan gives a sound and show that is overwhelming. "Lovestruck Baby" and "Look at Little Sister" somehow beautifully blend swing with rock, leaving an unforgettable tone.
B.B. King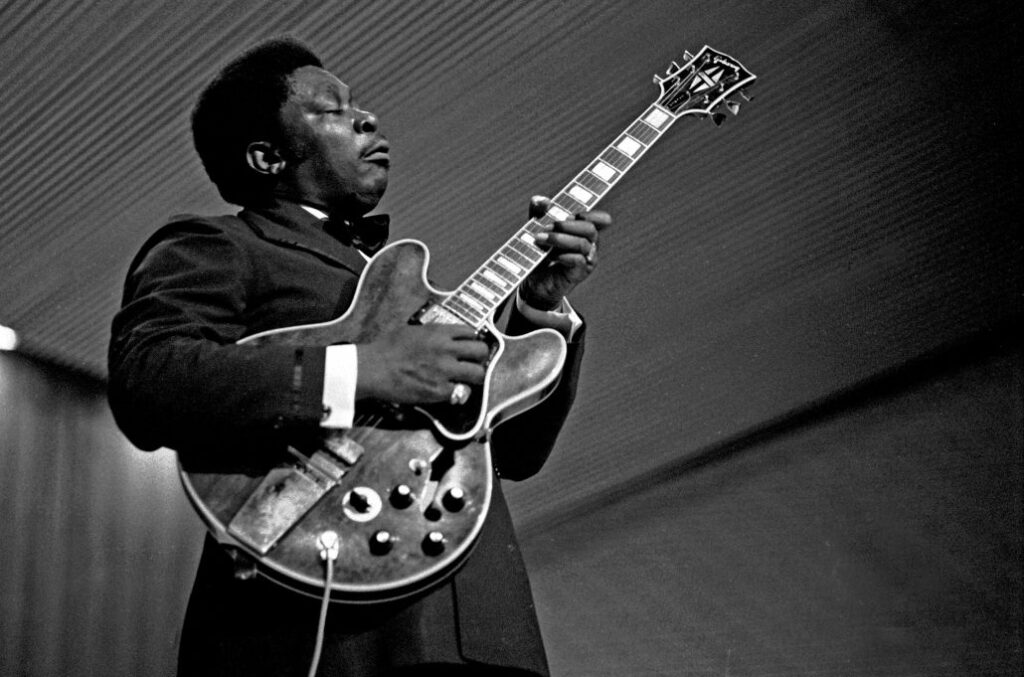 B.B. King plays guitar in a way that makes it sing instrumentally. By using short bursts, Kings playing offers a rich and robust sound that requires technical skill and sophistication. With his cut-to-the-bone phrase and three note styling, King bends notes to create a sound that gets you moving to the soloist.
Live at the Regal, which remains untampered to this day, showcases King's round tone and superb personality. Mixed with a Gibson amplifier, Live at the Regal is unmatched to most guitarists, both his contemporaries and followers.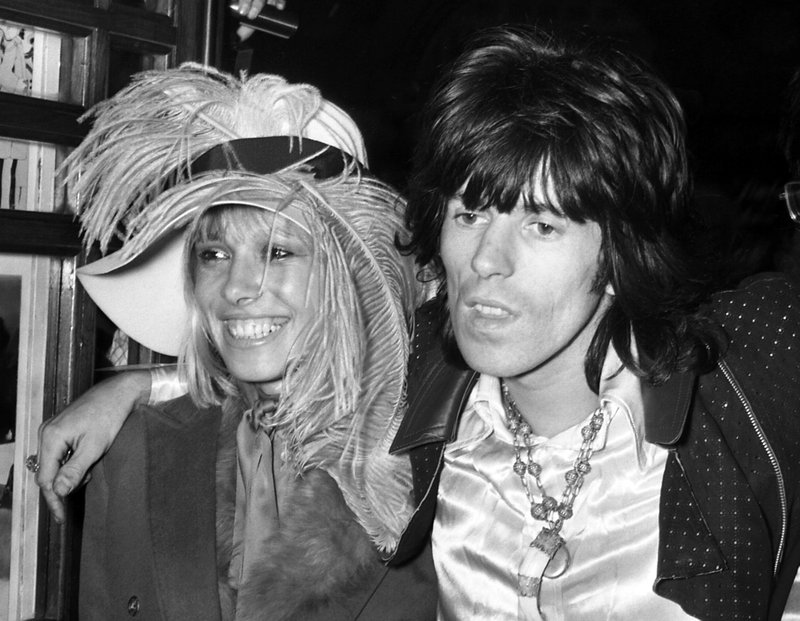 Jeff Beck
Even some of the most talented guitarists can't reproduce the sound of Jeff Beck. He combines his raw talent with technique and personality to create pure artistry that works beautifully with the vocals. Beck's unique playing allows the guitar to nearly respond to the vocalist, creating a complete experience for the listener.
In songs like "Beck's Bolero," Beck imparts howling blues notes that revolutionize the blues sounds. His cover of "I Ain't Superstitious" even incorporates a humorous flare that no other musician can master.
Keith Richards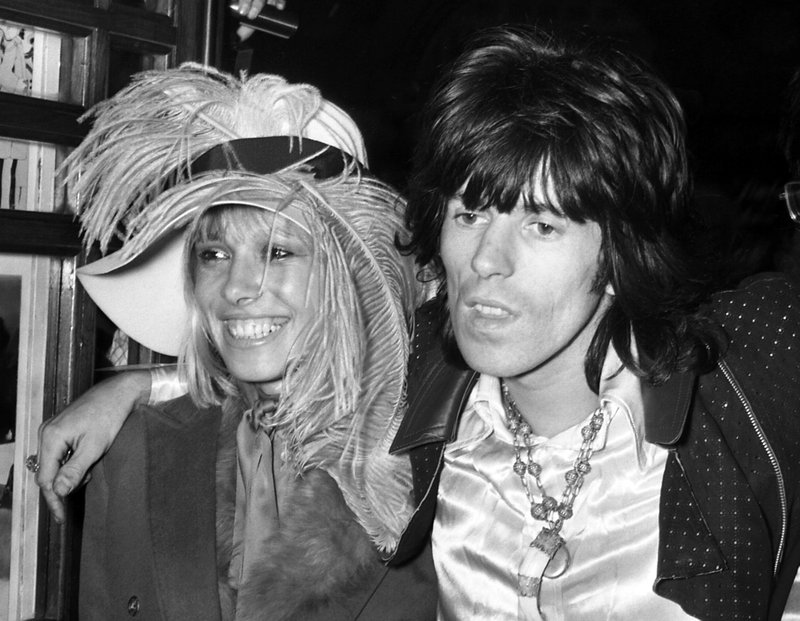 In comparison to Hendrix's and Eddie Van Halen's intricate and electrifying sounds, Keith Richard uses simple note themes to create a powerful rhythm and dark mood that is nearly impossible to replicate. Richards' ominous sound creates space for both Mick Jagger to sing and the audience to get swept away.
Songs like "Gimme Shelter" showcase Richard's ability for the vibrato rhythm and lead guitar. Richards also incorporates alternate tunings into his songs, making his playing of "Beast of Burden" completely unique and impossible to replicate.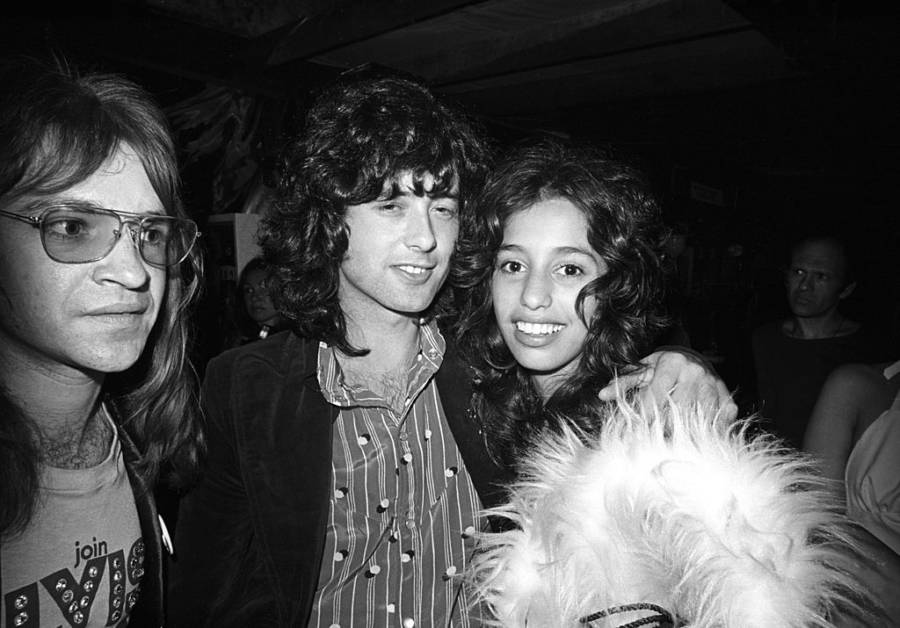 Eddie Van Halen
Even to those not as familiar with rock or guitar playing, Eddie Van Halen's electrifying guitar riffs are undeniably haunting and exhilarating. His riffs include so many harmonics and textures that other guitarists are unable to create. By holding the pick between his middle finger and thumb, Eddie creates a sound that is full of heart and electricity.
"Unchained," "Hot for Teacher," and "Ain't Talking 'Bout Love" are some of Van Halen's more popular songs. "Eruption," however, stands alone in demonstrating Eddie Van Halen's pure talent. Couldn't have a list of the best guitarists of all time without this legend!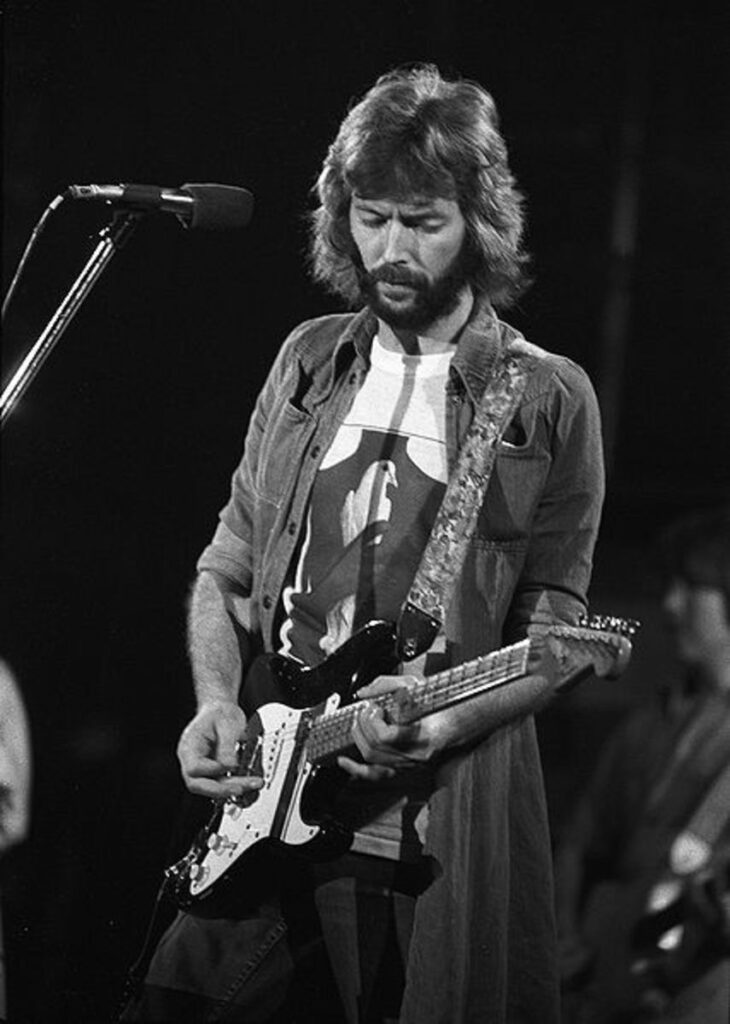 Jimmy Page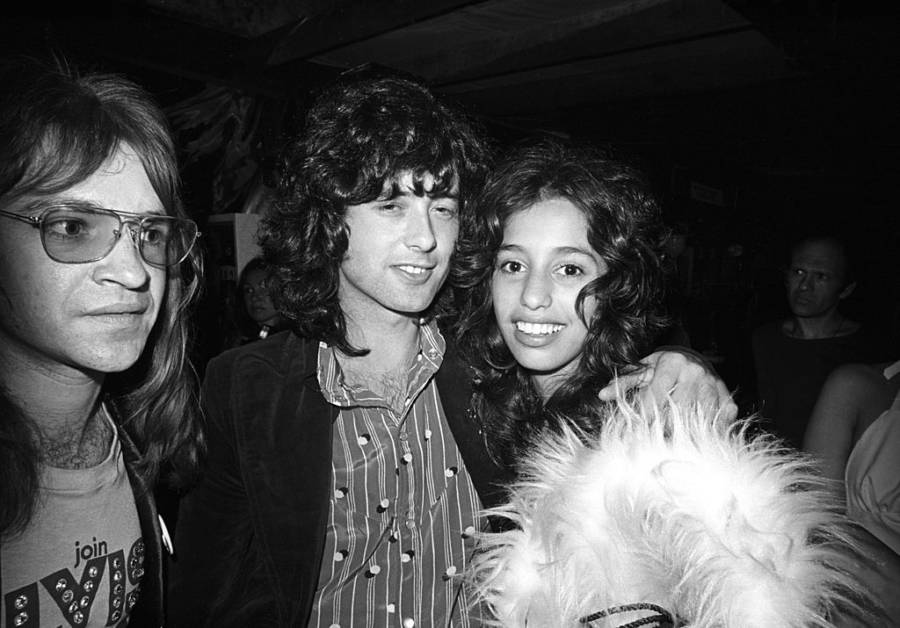 Jimmy Page's remarkable guitar playing transports you to another dimension. His sheer talent and seamless playing evolve the sound throughout a single song, creating an evocative experience that changes with the music. Not only that, but Page incorporates his guitar playing so seamlessly in the catalog as a whole that you get swept away in the music.
"The Song Remains the Same" showcases Page's ability to transition his sound, moving from quiet to loud seamlessly. He may be more known for songs like "Kashmir" or "Dazed and Confused."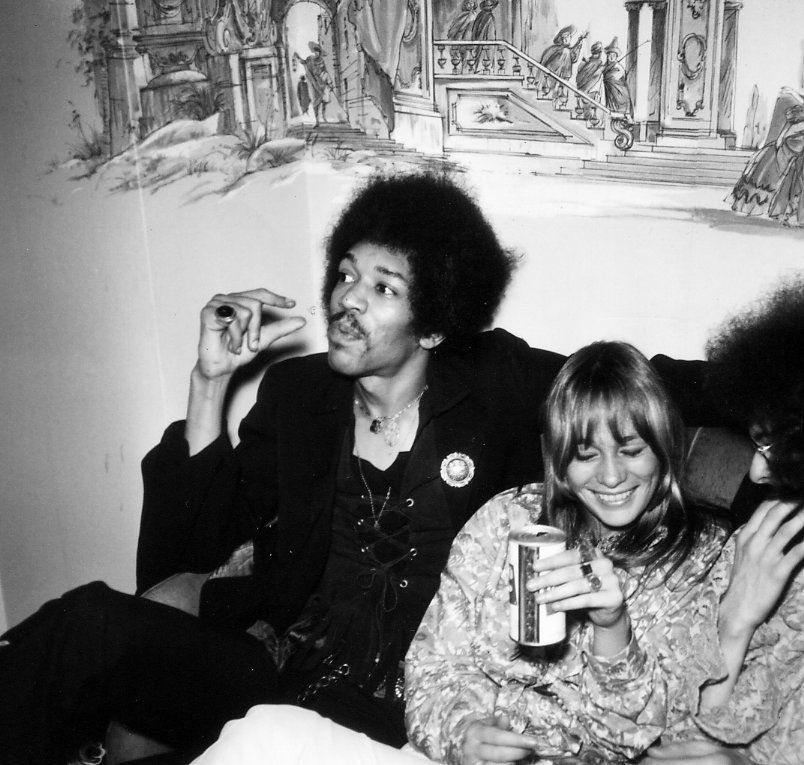 Eric Clapton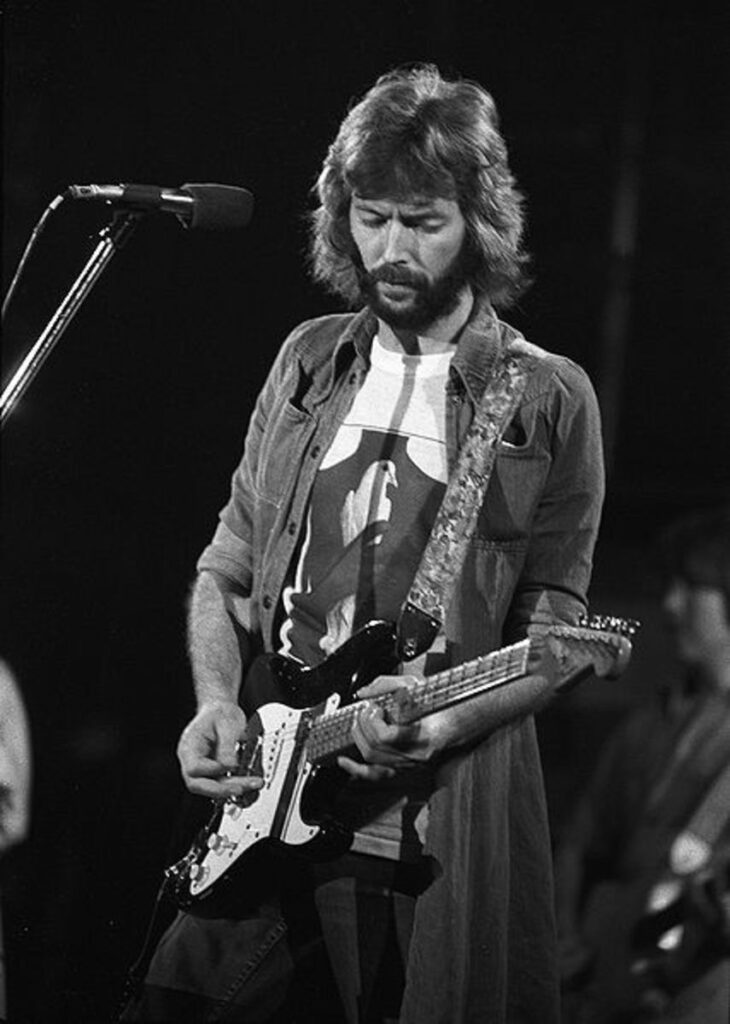 Easily one of the best guitarists of all time, Eric Clapton is a musician who is memorable for both his guitar playing and singing. By only incorporating basic styles into his blues playing, the guitar and songs were simple yet memorable. All he did was plug a Gibson guitar into a Marshall and he created guitar solos that influenced the likes of Eddie Van Halen.
Songs like "Bellbottom Blues," "White Room," and "Crossroads" showcase Clapton's simple yet exquisite guitar playing. Even as Clapton's style started to change after Cream, his blues sounds influenced rock as we know it.
Jimi Hendrix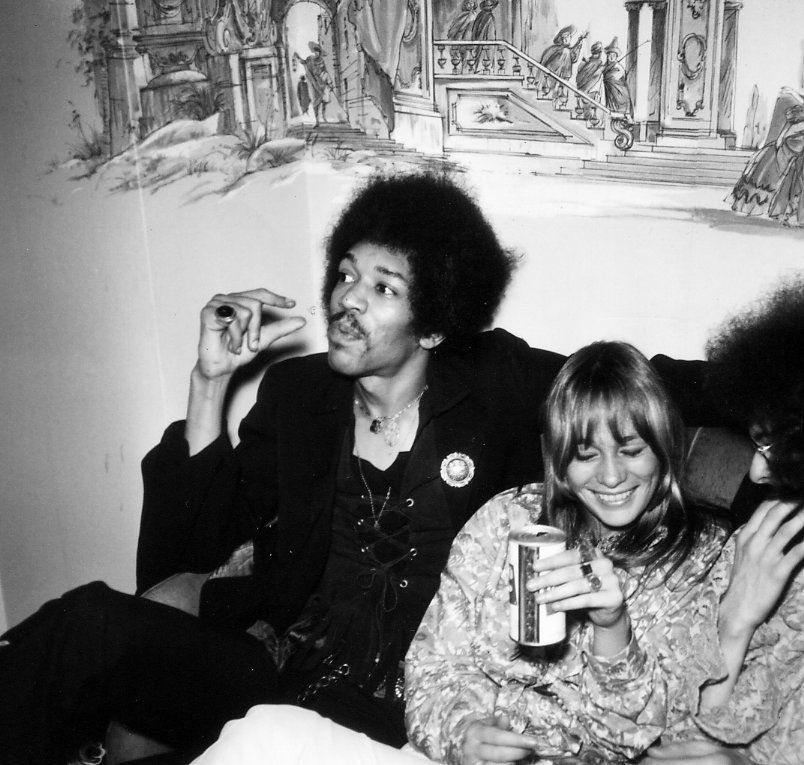 The best guitarist ever. Hands down.
Jimi Hendrix is undoubtedly considered the best guitarist of all time. He manipulates the guitar effortlessly while simultaneously changing our expectations of rock. Through his playing, you could almost hear the turbulent 60s and LSD trips being imparted on the songs.
Songs like "Voodoo Chile" and "Machine Gun" showcase Hendrix's sheer talent and artistic vision. Hendrix even incorporates the passion and fervor of the 60s in his rendition of "The Star Spangled Banner," which is almost reminiscent of bombs dropping over Vietnam.