Alexandra Anna Daddario is an American Actress. She was born on March 16, 1986, in The Big Apple, aka New York, NY. The eldest of three, her little brother Matthew Daddario is in show business as well! Daddario has been in several movies, including some blockbusters such as two "Percy Jackson" films (2010-2013), "San Andreas" (2015), and "Baywatch" (2017).
Daddario was raised on Manhattan's Upper East Side. Her father, Richard Daddario, is a prosecutor and previously head of a specific unit of the New York Police Department. Her mother, Christiania, was a lawyer. She decided to become an actress at a very early age. During an interview in 2009, she stated, "I love storytelling. It was just something I genuinely wanted to do– and I could have done anything, really. I have every opportunity on the planet."
Throughout Daddario's early childhood, she attended the Bearly School before transferring to the Professional Children's School to dial in her acting skills. The Professional Children's School boasts an extensive alumni network, including Uma Thurman, Christopher Walken, and Vera Wang, to name a few. Upon graduating high school, she briefly attended Marymount College before dropping out to pursue performing full time. Throughout her schooling, Daddario continued to focus her studies on the Meisner acting technique.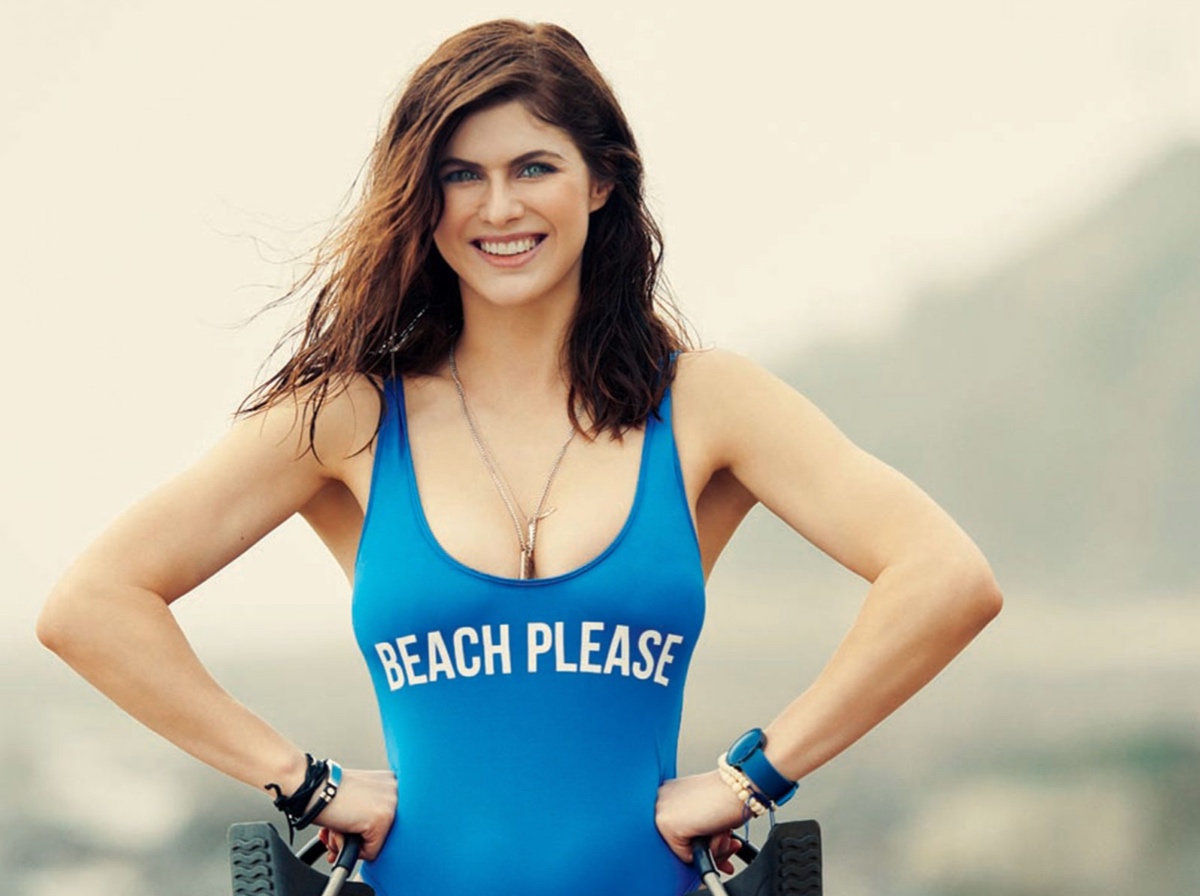 Daddario made her acting debut at 16 on the daytime soap opera "All My Children" (2002). Originally Daddaario was only in a single episode. The casting directors were so pleased with her performance that she was cast for several more episodes throughout 2002-2003. In case you do not know, the "All My Children" is a show that follows the character Erica Kane, played by Susan Lucci and her long, long list of husbands.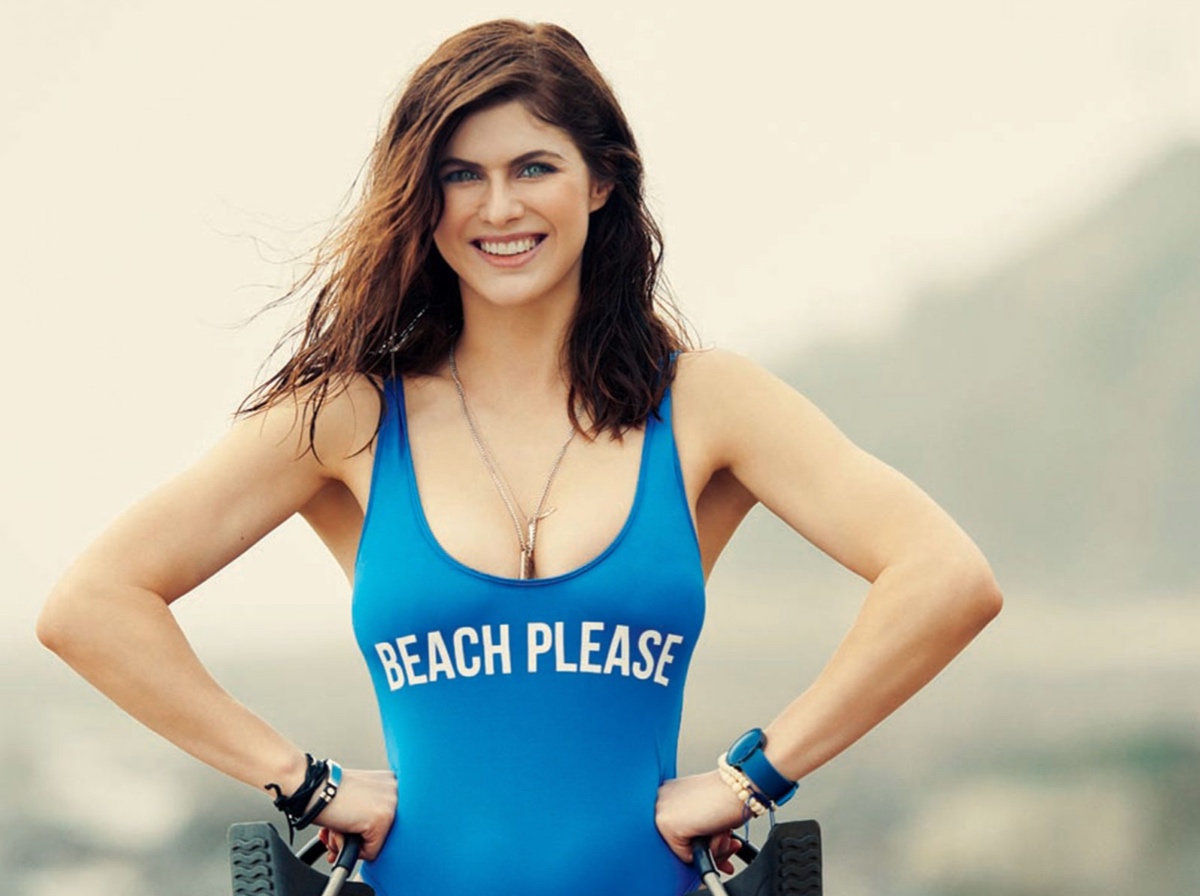 Alexandra got her first major role portraying Annabel Chase in "Percy Jackson and the Olympians: The Lightning Thief" (2010). She was hired again to reprise the role in the sequel Percy Jackson: Sea of Monsters (2013). "Texas Chainsaw 3D" (2013) was Daddario's first starring role as lead character Heather Miller. On theme, she appeared in the romantic horror comedy "Burying the Ex" (2014), which was chosen for the Venice Film Festival, but did not compete.
Alexandra has acted alongside several of Hollywood's big names. She appeared with Dwayne Johnson in "Baywatch" (2017), and Woody Harrelson in "True Detective (2013). Branching into multiple industries, Alexandra has appeared in several music videos. In 2012 she starred in the music video for Imagine Dragons hit single "Radioactive" (2012) and again in 2018 for "Wait" by Maroon 5.
Alexandra's beloved dog is named Levon. In 2017, amidst her great admiration for the actor, she joked she was changing her dog's name to Steve Martin. Daughter of Richard Daddario, a prosecutor and head of Counter Terrorism in New York, you could say that Alexandra "got into the family business". She appeared in several "Law and Order" episodes through 2005-2009.
A lesser known fact about Alexandra, she enjoys spending time participating in nautical adventures. She frequents her boat named "My Gal Sal"! Her love for animals reaches far beyond her affection for Levon. In 1996, she frequented a petting zoo in the countryside of New York, her favorite animal being a black goat. Where else could you get these kind of interesting Alexandra Daddario facts other than right here? I mean, a black goat as her favorite animal? You would have never known.
Keep your eyes peeled in 2020 and 2021 for Alexandra Daddadrio to appear in several movies back to back to back. The following movies have completed filming, and are either in post-production or are waiting to be screened/released. She will play a key role in the following: Superman: Man of Tomorrow, Lost Girls and Love Hotels, Die in a Gunfight, 1 Night in San Diego, Happy Life, and San Andreas 2. She's been a busy woman lately, and you're about to enjoy the labors of her hard work!
She's a mutt. Woah! Not in a bad way obviously, she just has a wide mix of heritage/ancestry. Daddario has Italian, Irish, Slovakian, Hungarian blood coursing through her veins. And given the fact that she was born and raised in Manhattan – she is essentially from just about everywhere in the world. Okay, obviously not really, but you know what we mean. She's got a lot mixed up, and it's turned out quite nicely for her.
Anyone remember the movie Hall Pass with Owen Wilson and Jason Sudekis? It's a hilarious movie about two men who are given a week to do whatever they wish by their wives. And Alexanda Daddario plays the babysitter. She has a very small role, but the movie was a hit and it helped her land future roles, for sure. Her character was 'Paige'. The movie came out in 2011, which was right in the thick of her string of small-roles that launched her to eventually much larger ones.
Have you ever heard "Radioactive" by the band Imagine Dragons? It was a smash single back in 2012, and Alexandra Daddario starred in the music video for it! It's an intriguing video, with a good storyline and great music, so it played a small but good part in the career and blossoming of Alexandra Daddario's career. From 2010 to 2015 she played a bunch of these types of roles, as well as much larger ones, that assisted her career greatly. She will look back on those years as crucial ones.
She was widely known in the industry in the early 2010s, but she launched into the international scene in 2017's Baywatch. The move was a satirical rework of the original TV series. The movie starred Dwayne "The Rock" Johnson, Alexandra Daddario, Priyanka Chopra and Zac Efron as lifeguards who are just as great looking as they are hilarious, yet there's a sinister underplot. It's a surprisingly hilarious movie, and if you haven't seen it then do yourselves a favor and watch it. Especially if you like these Alexandra Daddario photos.
On IMDB, they give actors and actresses a "trademark" – essentially it's something unique that makes them stand out in amongst the crowd of other performers. Daddario's trademark is her "strikingly bold, blue eyes". Well, they've certainly hit the nail on the head there. Although you can't quite see it perfectly in this image – the next photo shows you precisely what we're talking about. Click though and check them out!
Not only studying acting, Daddario practiced many disciplines in her upbringing. She's an educated vocalist, and proficient pianist! When she said, ""I love storytelling. It was just something I genuinely wanted to do– and I could have done anything, really. I have every opportunity on the planet," she meant it! She's a talented woman, and probably would make a fantastic musician if she didn't prefer acting. Must be nice to have all the tools in the toolbox.
In 2019, Alexandra participated in a soup eating contest. The contest lasted for 10 hours and was composed of an array of different soups– her favorite being chicken noodle. There's so many food eating competitions out there it's kind of ridiculous. We've probably all seen the famous hit dog eating competition on the 4th of July – but have you ever seen hot wing eating, or lettuce eating, there's even apple pie eating and BBQ rib eating competitions. After those, a lot of soup doesn't sound too bad.
Alexandra has a natural affinity for cars, working with Jaguar on their timeless and elegant XJ collection. 300 of these vehicles were brought to market, making them extremely rare. Must be nice to have a whole bunch of money at your disposal, that probably makes being a car aficionado a whole lot easier. But if you're never seen the Jaguar XJ, then do yourselves a favor when you're done with this list – go check it out. It's a real neat car.
Growing up, Alexandra idolized Elizabeth Taylor for her groundbreaking achievements in film. Today she is an ambassador for the Elizabeth Taylor Aids Foundation, and works to stop the spreading of HIV. This is a great example of the power that women, and everyone really, can have on a younger generation. Elizabeth Taylor played such a key role in Daddario's life that all these years later, Daddario is a key contributor to her campaign! The power of the people.
In an interview in 2019, Alexandra described her dog Levon as loyal, spontaneous, and a lover of long walks on the beach. She later added those were admirable qualities in a man! So essentially, fellas, if you've got dog-like qualities then you too may be the perfect candidate to court Alexandra Daddario. That is, if you ever even get close enough to say hello to her. But if you've ever described yourself as a golden retriever, then you've got a chance! (No, you probably don't.)
Showing her love for animals, Alexandra works with a non-kill rescue shelter in Laguna Hills, CA called The Little Red Dog. She recently fostered a Lab mix named Norma! Truly a woman of many talents. First, she's an actress, then she's a pianist, then she's a singer, and now she actively works to keep the animals safe and alive in Laguna Hills. Is there anything she can't or won't do? Two thumbs all the way up for her on this one.
An avid boater, Alexandra is frequently on the water. She remarked one of the most challenging things is brushing her hair after a long windy day! Ever heard of "beach hair". It's how your hair gets after a long day with the sandy wind coursing through your mane. It gets frazzled, thick and can even turn a lighter shade. It's a nice feeling, but can be problematic if you're a famous actress who relies on the quality of her hair for work. Still, though, it's a nice feeling.
A dear friend and co-star, Zac Effron and Alexandra often spend time together, platonically. The two have been friends for a number of years and enjoy workouts and playing basketball! Wait, basketball? We just got done touting her talents…and now we find out that she plays basketball, too? We'd love to see what her jump shot looks like. Maybe she's got a great three-point shot, or maybe she's more of a layup kind of baller. Either way, it's a great way to stay in shape. Do you think she could take Efron in one-on-one?
In January of 2019, Alexandra visited the Monterey Bay Aquarium and Animal Sanctuary. She enjoyed petting some rescued deep sea creatures, furthering her love for animals! Deep sea is an interesting categorization, because what we think of as 'deep sea' and what is actually deep sea are two totally different things. We humans have no concept of the actual deep sea because the pressure is too high for anyone to go down there! If we actually could see what the deep sea creatures looked like, then maybe she wouldn't love them as much.
Daddario has developed quite the personality for her dog Levon. In an interview she states, "His ideal date is tailgating, drinking beer, and hanging out in the middle of nowhere in a pick-up truck". So, essentially, her dog is just like the rest of us guys. We love nothing more than drinking beer and hanging out on a tailgate in the middle of nowhere, too! She sounds cooler and cooler y the minute.
"Goat Yoga", an activity where goats stand on you while performing yoga exercises, has become popular through social media platforms such as Instagram. A mix between her two passions, Alexandra enjoys goat yoga with a goat named "Vincent Van Goat". Goat yoga, huh? What will the rich and famous (and bored) think of next? Could you call it Goaga? Yogoat? Anyways, it probably is a relaxing and enjoyable activity, so we continue to commend her for her positive habits.
A zealous traveler, Alexandra visited Ireland in May of 2019 with friend and actress Taissa Farmiga. There they explored the vast cliffs of Moher, taking home an 'Ireland' sweatshirt for a souvenir. Ireland is a really neat, odd, thrilling place. The weather is as wet and unpredictable as a you could imagine. But the people of Ireland are a pure pleasure. If you've never been, it's worth your time and money, that's for sure. What a great country!
Though an avid music enthusiast, Alexandra typically does not attend many music festivals. That being said, she professed her love for Coachella because of it's outstanding mitigation of traffic in Los Angeles! As anyone who's spent time in L.A. knows, traffic is the worst. Everyone drives everywhere, and there's 60 million people there! But when Coachella comes around, so many people leave the area, so there's a noticeable dip in traffic. So, therefore she is a big fan.
Are you a skier? Alexandra is! She enjoys hitting the slopes, frequenting Canyons in Park City, UT, with her friend Kate Easton. If you haven't noticed the overall theme of this post, we're basically just telling you about all the stuff Alexandra Daddario are good at. So, we're now at the skiing portion of the post, where we surprise you with yet another activity that Daddario excels in. Skiing is a tough sport, and it's not something that everyone is exposed to. But it's so fun, and it's not a surprise anymore that she's good at it.
Alexandra expresses her love of coffee through witty puns, explaining, "I've been caffeinating since I was a beanager." Oh, Alexandra, you jokester! But that actually is kind of funny, don't you think? We do. Well, kinda. Anyways, her drink of choice? Cappuccino with almond milk! A cappuccino is an espresso-based coffee drink that originated in Italy, and is traditionally prepared with steamed milk foam – in this case it's steamed almond milk.
That's a pretty neat outfit right there. The business-style coat is reminiscent of working hard. And working hard is reminiscent of some stress. There's a stress relief technique utilized by many folks, including Daddario, is acupuncture. "Not only does it relieve stress, it makes me feel like Frankenstein", she jokes. Acupuncture is a form of alternative medicine and a key component of traditional Chinese medicine in which thin needles are inserted into the body.
Come February, you'll frequently see Alexandra at the gym. Her favorite sweet treat is s'mores girl scout cookies! Ahh, those Girl Scout cookies are some of the best bits of food in the world. And who can resist the cute kids selling them! They pull you right in and take all your money! Well, at least you get some fantastic cookies out of the deal. Our favorite are the Samoa's, but to each their own. Daddario seems to be more of a s'mores fan. Fair enough!
In 2018, Alexandra visited Japan, bouncing around several cities including Tokyo. Her favorite part was the immense variety of food! If you're ever been to New York City, then you can picture the energy, noise and food options as the same in Tokyo. But there's a key couple of differences. Tokyo is clean! The people are nice! It's incredible. All the exciting, energetic and hectic moments of New York, except it's housed inside a groupie of people who treat respect and niceties as paramount to a quality society. It really is an amazing city.
Things can get stressful, especially when away from home, traveling for work. She credits working out and engaging in enjoyable hobbies as a way to escape the stress of traveling and working long, hard days during a film shoot. She does yoga, she does arts and crafts, she plays with animals and she engages in multiple sports to ease her mind during the stressful times. You've got to commend her for the variety of things she's great at!
Channeling her inner Henry David Thoreau, Alexandra took a trip to the Teton Mountain Range in Wyoming, summer of 2018. A little outdoors, rest and relaxation help to get the creativity flowing! The Teton Range is a mountain range of the Rocky Mountains in North America. It extends for approximately 40 miles in a north–south direction through the U.S. state of Wyoming, east of the Idaho state line. It's some of the most beautiful landscapes in the world. If you've ever got the opportunity, you need to check it out for yourself.
Helping animals is undoubtedly one of Daddario's passions. In 2018 she partnered with Auto Trader to support and promote their launch of Dogtrader.com– a platform to help find sheltered and homeless dogs homes! The website puts it like this: "Autotrader has teamed up with Adopt-a-Pet.com to help get homeless dogs out of shelters and into loving homes." She is seeming like a better and better person every day. Tip of the 'ole cap to you, Alexandra!
Alexandra remarks that every time it rains it reminds her of animals. The reason for this, she says, is because of her fondness of the phrase, "It's raining cats and dogs". For me, rain reminds me of baseball practice getting cancelled when I was young. What a great feeling that was, knowing you could just go straight home after school instead of a 3-hour long, hot, sweaty baseball practice. To each their own.
In Summer of 2018, Daddario toured Europe, stopping in France. While there, she visited Paris, The Eiffel Tower, and attended a world cup game! She seems to be quite the world traveler all of a sudden. Ireland, Tokyo, France…she's been all kinds of places. Ah, the perks of being rich and famous. Can't blame her though, she's just taking advantage of her perks like the rest of us would if we had access to them.
Upon partnering with designer Zac Posen, they produced a bag in honor of pride month, with a portion of sales benefiting the Elizabeth Taylor AIDS foundation. That day while adventuring, she happened to come across a sundial essential for knowing when it's party time! On a sidetone: Zac Posen is the designer behind Delta Airlines new "Passport Plum" uniforms. Those were in rotation for only a year or two before flight attendants became sick and had skin problems. The maker, Land's End, has been sued for in a class action lawsuit because of the health concerns. I know that's probably more than you bargained for with this particular image/text combo. But that's your fun fact for the day!
Alexandra loves celebrating national Donut Day– her favorite is a donut topped with cinnamon sugar! Teaming up with Kleenex, she brought sanitizing wipes to the annual Governor's Ball in NYC, so everyone could enjoy donuts safely! Donuts and safety for police? She's just too good to be true, isn't she? A donut sounds pretty good right now. The person writing this post is sitting in a coffee shop in Atlanta right now, and the thought of a donut is almost too much to bear. Perhaps I'll go get one once this is over. Anyways….moving on!
Like most dogs, Daddario's dog Levon is not particularly fond of bath time! She reports that, "True love is letting me give him a bath and then he still wants to hang out with me after a couple of days." A wet dog is not a happy dog (unless it's a retriever). Those things love jumping into the water. But most other dogs are not like that, thus they dislike bath time. Levon included.
In 2017, partnering with Elizabeth Taylor AIDS foundation and Nothing But Nets Nonprofit, Daddario visited Malawi to help spread awareness for Malaria. Her efforts helped raise money and save numerous lives in East Africa. This has been an enjoyable ride. Thanks for joining us, and most of all, thank you to Alexandra Daddario for being a high-quality person, and an excellent actress!