Some are outlandish, some are the coolest thing we've ever seen; but they're all incredible. These custom car modifications are not to be missed, and we have to give the garage team a slap on the back for the outcome of these rides. Check them all out!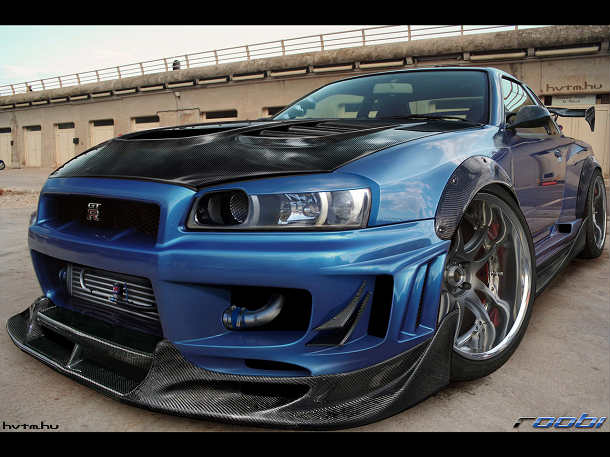 24. Nissan GTR
This custom Nissan GTR is as bad as it is boss. Check out the custom cooling system underneath the bumper. It's designed to take in as much airflow as possible so this Nissan can go screaming down the street. Nissan makes good cars anyway, so you always know you have good bones to work with. Customizing and modifying one to look like this though takes real skill. This is street racing mod taken to a whole new level. A fast, adrenaline laced level. We like the buttons on the fender and the deep scoops on the hood. Bonus points for the fan in the back.


23. Mercedes Custom Car
This is what happens when you take a convertible Mercedes limousine and make it even more convertible. Wait, that's not what is going on at all here. This is what happens when you take an M class Mercedes and chop the top off, add some killer rims and incredible leather interior. The minimal trim highlights the classic elegant lines of the vehicle and also highlights the detail features on the rims. Bonus points for the chopped windshield to complete the look. This Mercedes M class turned Mercedes limousine is one beast of a vehicle. I wonder how much it costs to rent for the evening? Im' sure it would make my wallet scream!


22. Corvette C6
Corvette has been throwing American consumers for years, and their C6 is no exception. However, taking an already superb American sports classic and turning it into a custom modified vehicle is a thing of pure beauty. Check out the TV on the back and the enlarged Corvette double flag logo. That's a thing of pure beauty right there. The fin attached to the lifted hatchback and the classic Corvette front opening hood look absolutely amazing. Oh yeah, and this thing will still scream down the road. You can redline with the best of them and blow out the competition with ease. Just watch out for the Smokies, you don't want to get yourself a ticket!


21. 68 Camaro
Camaros have earned a spot in musclecar history in their own right. However, taking a classic 68 and modifying it to be a road beast like this one takes skill. Notice the Matt black finish on the hood with its deep insets, and the orange paint job echoed in the detailing on the rims. They are enough to make you a bit misty eyed with nostalgia. Don't forget about the showstopper though, the 375 engine that came stock with most of these babies. You can always upgrade to a 450 for more horsepower if you want to. Just make sure you don't mess up that paint job!
20. Porsche
Porsche is known for making finely tuned automobiles and the Pandora is no exception. However check this one out. It has been fine-tuned for racing and is a thing of pure beauty. Of course, you get the classic Porsche lines with a head nod too nostalgic evident in the two front round headlights. Yet there are a few upgrades to. Most noticeably, the rear fan and matte black rims. The bumper has been outfitted with a ground effects package to give it a much lower profile look, as well as the entire vehicle itself. Yet, make no mistake this is still a Porsche and will still perform better than any standard vehicle on the road on its worst day.
19. Lamborghini Gallardo
Lamborghinis are known to be luxury cars by nature. They are unique and always considered to be an extravagant purchase. So when you see one that has been modified like this, it turns your head for sure. Check it out. This one has more black and white on it then an adult coloring book and would be quite therapeutic if you had time to fill in all the white spaces.
However, you would also probably be carted off to jail since that vehicle is worth right around half $1 million as is. At that price, it's better to buy an adult coloring book in the therapeutic on your own. Save the eye candy for the Lamborghini, with its custom rims and sleek aggressive look. Yup, this custom paint job is a thing of pure beauty.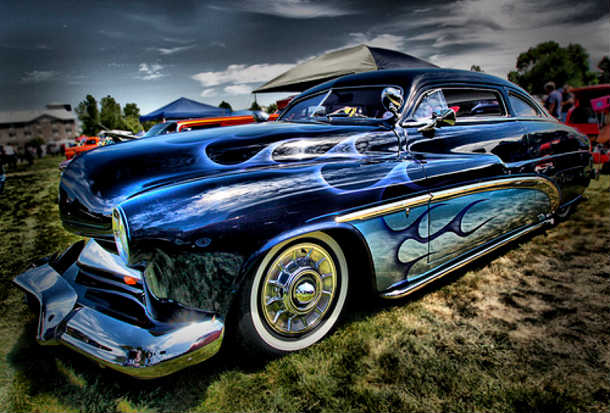 18. Bugatti Veyron
We are not sure why you would want to customize a Bugatti since they run upwards of $2 to $4 million. However, if you have that type of money to spend on a vehicle then you can probably spend about $1 million more to theme it out with this stellar royal blue paint job. The polish on this will blind you if you keep waxing it.
That's how Bugatti's are designed by nature though. They are so stunning and so exquisite that just looking at them evokes a sense of passion and brings out your inner prowess. Customizing it like this does much more, and I'm sure it's a hit with the ladies too. Now if we only had $2 million to spend wouldn't we be happy?

17. Classic Cruiser
This is what happens when you take an old car like a 1940s Packard or 50s Bel Air and customize it into the ultimate cruiser. This custom rod mod is a complete beast. It looks like it would eat normal passenger vehicles for breakfast and spit them out in a junkyard when its finished. Check out the split window in the front.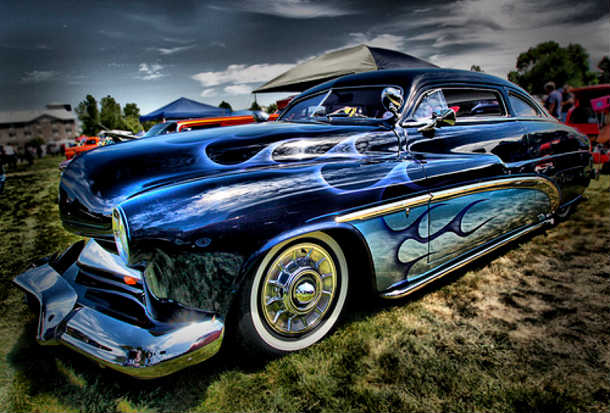 Without any of the fancy paint, I would take the vehicle just for that alone, much less the screaming engine under the hood. Flames, chrome and a nice dome, this car is one amazing custom job. We say she is a keeper for sure.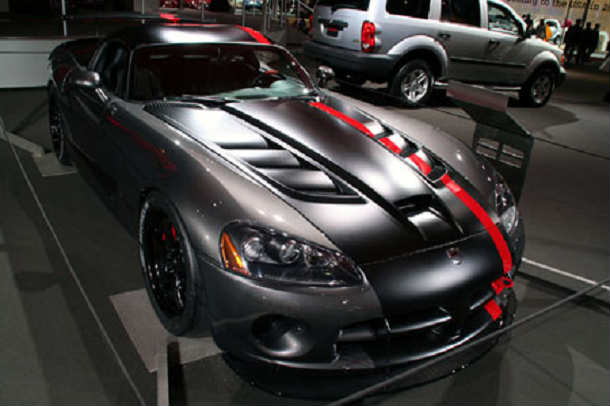 16. Cadillac
This Cadillac modification looks like an old ghetto sled on steroids. Check out the front grill. Flat, lean and wide, it smiles at every driver it sees, in a menacing way of course. The solid lines from the front that taper to the back give the vehicle and appearance of elegance.
This theme is further encouraged by the shiny chrome rims and lifted suspension. Cadillacs are known for being loved by millions, and if you had a convertible modification like this, you could see why. The question is, how does it perform on the street? That my friends is a story for another day.


15. Dodge Viper SRT 2
Dodge Viper's are known for two things. First, they are absolute beasts on the road, as this was Dodge's attempt at entering the luxury sports car market. Second, high insurance. That's right, since most modern safety upgrades are not available for the Dodge Viper, you can expect your insurance to be high. However, if you are in love with the vehicle, as this person is, then you might as well modify it.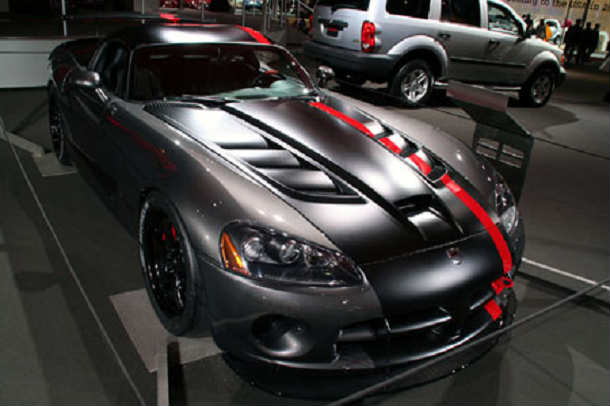 The matte black finish and red racing stripes elevate this classic luxury sports car to an entire Lee new level. Bonus points for the deep hood vents up top, as well as the center hood scoop itself. This makes sure plenty of air gets to the engine so the Dodge Viper can do what it does best, scream down the road at breakneck speed.
14. Szerszy McLaren
If you have ever driven a Szerszy McLaren then you're probably not reading this list. However, if you are like the rest of us that instantly drool or begin to salivate like one of Pavlov's dogs when you see one, then Merry Christmas to you. This custom McLaren, is a true class act. I'm not a huge fan of white vehicles, but even I would take this one in a heartbeat.
The acceleration and handling on a McLaren is sick. Modifying one and being able to drive it would be a complete dream. I can't figure out if the guy in the picture is kneeling to pray or kneeling out of respect. Both would be appropriate in this scenario. You might want to come back and look at this one a few times while clicking through the rest of our list.


13. Toyota Celica
Remember the Toyota Celica? It's a classic little coupe that was designed to essentially be the poor man's sports car. However, looking at this one let you know that you are immediately knocked out of the price range as a potential buyer. The clear hood is incredible. It allows you to see the massive beast of an engine performing up close. The custom paint job on the side with the suicide doors add a touch of class and flair to an already impressive vehicle. Bonus points for the rims. Now if only we could see this thing crank up and take off. That would be a banner day.


12. Bentley Continental
Bentley makes great vehicles, and their GT Continental is no exception. Designed to be a sportier version of their already impressive Luxury line, this two-door coupe is known for its handling and superior acceleration. However, check out this custom mod and you will quickly notice a few differences. For starters, the scoops and insets add an entirely different feel to the vehicle. It makes it appear a bit more aggressive. Second, the two-tone side mirrors are just pure boss. They contrast very nicely with the rest of the vehicle and let any driver on the road know that this baby plays for keeps.


11. Scion XB
This Scion has been completely modified in so many different ways. To begin with, the custom blue paint job as a standout feature. Throw in a lowered vehicle complete with ground effects and you have a showstopper for sure. But wait, it gets even better. Suicide doors in the back and suicide doors upfront make this Scion look like it's ready to run with the big dogs. And, it very well may be, but we don't know. We would have to look under the hood to be sure. There could be a turbo charged v8 under there after all. However as a customized, this one is really impressive.


10. Audi R8
Audi try to find their way for years with their custom R8. They finally got it down in and tuned up just in time for somebody to come along and modify one like this. Words escape you when you look at a car this beautiful. This Audi R8 has been completely refinished with a custom chrome paint job and LED lights to highlight the rims and vehicle insets. Cost on one of these is a lot more than you would be comfortable thinking about, so it's best to let all of those zeros go and simply stare at the picture in awe. That's what we do, and we have no shame in doing it. Just looking at a picture of a vehicle like this is enough to make you want to wear sunglasses. It's just that shiny and awesome.


9. Alpha Romeo
The Alpha Romeo is a classic sports car with a long story and history. However, newer models are more aggressive and lame. Yet, they still carry the same styling and performance you expect from the original. All of that said, check out this custom creation.
It's what happens when you take an already awesome sports car and give it a few modifications, like Lamborghini doors and complete custom lights and tail work. We're not sure if stamping diva on the back makes this car one that sports a tramp stamp or not, but we don't care. Look it over, she is absolutely gorgeous.


8. Subura Impreza
Subaru has long been known for making vehicles that perform well in rough terrain and weather conditions. However, they have made a mark on the racing industry too. Take this Impreza for instance. It's a far cry from the stock version. The hood scoop and custom tell fan give this car a mean look.
Plus, check out those ground effects designed to increase the car speed to make it handle better. They actually serve to push the vehicle down and give it more traction. With sponsor stickers all over the front, it's pretty obvious this one is here to race!


7. Jaguar
Though the company has changed hands a few times, Jaguar has quite an impressive history as both a passenger vehicle and racing superstar. It performs equally well in both venues. The S type seem to be the marriage of both worlds. You got four-door sedan comfort with a souped-up V8 engine if you opted for their apartheid.
Well, check this one out. The suicide doors give this S type and even more aggressive feel, and the suspension has been lowered to clean it up to. We would say they knocked it out of the park. Good job on this great custom mod.


6. Dodge Al Sema
The screen wonder will blow you away on the street. It has a little more than 400 horses under the hood, despite the exterior modifications. Let's talk about them for a moment though shall we? It would be a shame not too. The hood scoop on the front end of this Dodge Al Sema and custom racing rims peer nicely with the green and black paint job. The fact that this is a convertible simply means you can have fun fun fun, without your daddy taking the T bird away. Why, because this is not a T-bird. It's a Dodge and it means business. Enough said.


5. Chevy S-10
Remember those old Chevy S 10's that used to drive in high school? Sure you do. However, that years never looked like this. This one has a custom paint job with flames on the side, a double row of lights, and suicide doors. Also, it has been lowered a bit to give it a slightly more fierce look, and we would say they did just that. Throwing custom rims and then nice chrome package on the engine and you have one incredible, Chevy modification. Good job on this one. I wish I had it back in high school. I would have been the envy of my class!
4. Lamborghini Murcielago
This custom concept car has been tricked out and seemed in grand style. It almost looks like it could be Batman's recreational vehicle. It's all black and sleek, just the way he likes it. It might also be a policeman's dream. Notice the soft blue under lighting. That would make quite the patrol car if you could get away with it. Nobody would outrun you, that's for sure. However, I'm not sure whether or not the sheriff would let you take the Lamborghini home for the evening. Oh well, you can't have the best of both worlds all the time.
3. Nissan Silvia
This Nissan has been tricked out to the point that it's almost unrecognizable. If you look long enough you might think you're looking at an old Pontiac Firebird or Trans Am. Nope, it's just a sick modified Nissan Silvia. It has enough horsepower to get the job done, and it's exterior modifications make it a bit more aerodynamic, ensuring the competition is no problem. Get behind the wheel, buckle up, hit the gas and be surprised. This is not your grandfather's Nissan. Nope, this custom mod has been outfitted to own the streets, and it does so rather nicely we might add!


2. Beetle
So this Volkswagen beetle at first glance might look like it will not win any awards. However, look closely. See that fire shooting out the rear end. That means it will smoke you quicker then beef jerky in a smokehouse. That's right, this Beetle has been modified with its awesome tail fin and sick acceleration kit to give it the speed it needs to blow you off the track. It will make you think twice the next time you pull up to one at a red light and want to rev your engine. If you see a smiling Dragon painted on the hood, just refrain. You don't need that sort of embarrassment in your life.


1. Ford Mustang
So in the list with probably one of the most iconic American muscle cars in history. Yet, check out this 1966 Ford, Mustang fastback. It has been painted a matte black color and outfitted with LED lighting in the wheels and engine compartment to give the vehicle and nice blue clothes. Oh yeah, and the 400 or so horses under the hood will still blow you away on the streets so you don't have to worry about losing any races at all. It's what made the Mustang so popular, and why people like to modify them. However, we have never seen a modification like this. It's one for the record books, and is more than impressive. Just keep looking at it and enjoy. And go back through the list and enjoy the others again. They are all worth a second look.