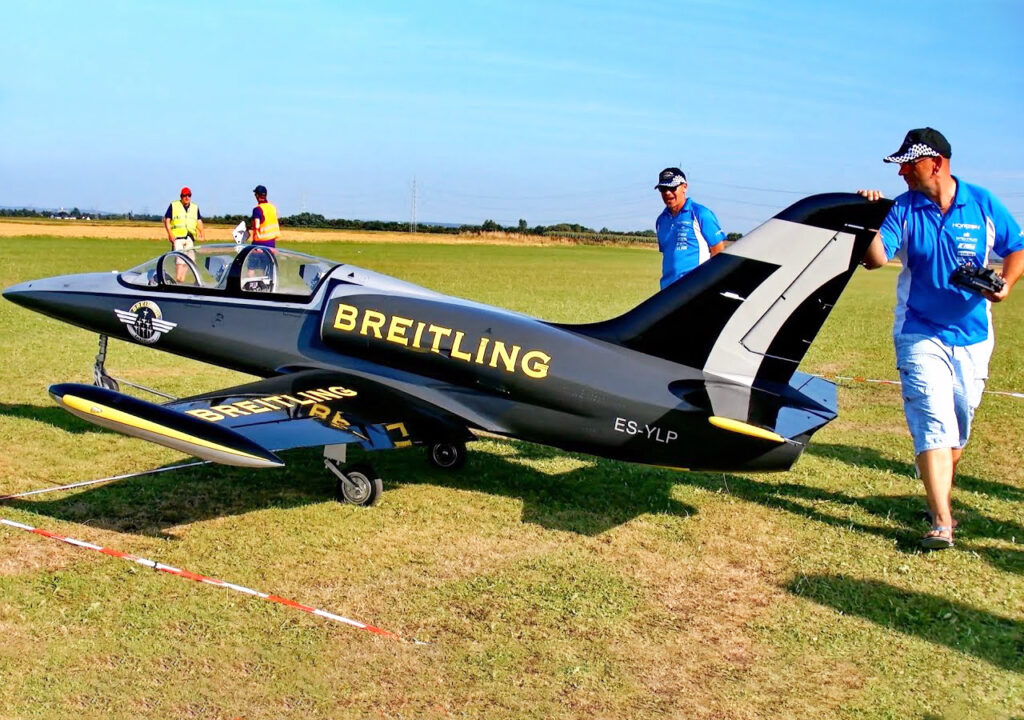 These are some of the most oversized RC vehicles around. The creators put a level of detail in these that make them look like the real thing. We have collected trucks, 4x4s, semi-trucks, excavators, jets, tanks, and more. If anyone is interested in purchasing or making one of these incredible "toys," read below and find out. It must have taken these groups hours to replicate the full-size counterparts. We would love to pilot or drive these, and it might get us closer to our illusions of actually getting into one of these incredible vehicles. It is not every day someone comes across goliath RC vehicles. We think it would be a challenging but rewarding hobby to get into, but if someone just wants to see them close up, that is where we come in. Enjoy these giant RCs.
C-130 Hercules
The Korean War proved to the United States that a new generation of heavy lifter aircraft was desperately needed in order to meet the changing mission requirements of the Cold War world. The World War II era piston engine driven aircraft were no longer cutting it, and something new was needed. In 1951, the United States Air Force issued the call for a transport aircraft with a large enough carrying capacity for 92 passengers, 72 combat troops, or 64 paratroops, depending on the mission requirement. The cargo bay and its doors were to be wide enough to allow the transport of heavy vehicles, including tanks. Enter the C-130 Hercules.
RC XXXL L-39 Albatros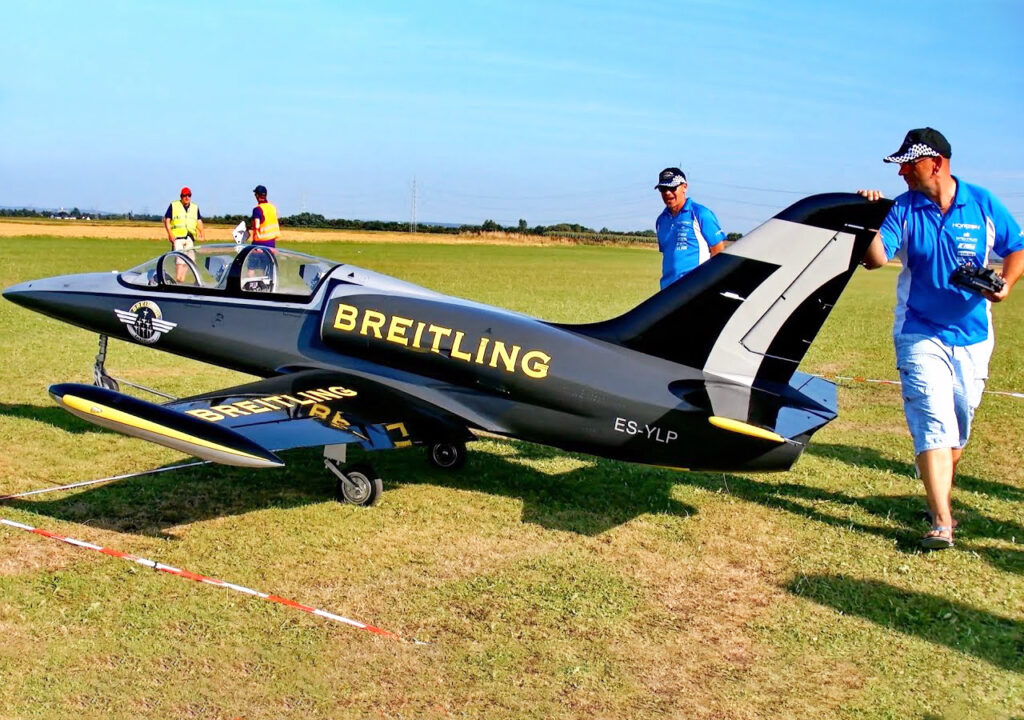 Seeing the name Breitling brings high end sky racing and expensive watches to mind. However, here we have a Breitling model RC airplane. Actually, it's an RC XXXL L-39 Albatros model aircraft to be exact. She has a wingspan of 11.25 feet which makes this beauty the largest racing RC jet on record. As for the actual Aero L-39 Albatros, the Czech aircraft company Aero Vodochody built it in the 1960s. The L-39 purpose was to serve as a military aircraft trainer, replacing the Aero L-29 Delfín, and Aero Vodochody produced these from 1971-1996.
797F Metal Haul Mining Truck RC4WD
It's not every day someone sees an RC 797F mining dump truck. Finding a regular dump minor is just as rare. These things are absolutely massive, over 23 feet tall and 30 feet wide. Open up the dump body and the height towers to almost 50 feet. So it should come as no surprise that this mining RC scale model is equally large. It's made to 1/14 scale and comes complete with hydraulics to raise and lower the dump body. As for hauling capacity, it can do the job. The owner routinely carts around his wife and toddler. How's that for stow and go seating.
Mig 25 RC Scale Twin Turbine
Check out the largest RC Mig on the planet. It's made to 1/25 scale, and yes, it has twin turbine jet powered engines. She is 4.2 meters long and weighs just over 92 pounds. During the 60s, the Mig 25 (Mikoyan-Gurevich) was considered to be the fastest military reconnaissance plane of its time. Production spanned two decades ending in 1984. Another interesting thing about this photo. The pilot is an 18 year old named Clinton. This was snapped at Tokoroa, New Zealand during the first day of the 2011 ANZAC jet rally. There is also an annual rally in Switzerland as well. Airplane RC pilots are in a class of their own.
SR-71 Blackbird
There is arguably no aircraft that has captured the imagination of the public quite like the SR-71 Blackbird. The Blackbird has been out of commission for a while, but there's not one person at an air show that wouldn't give something special to see one fly low to the ground overhead. There's a reason for this: the SR-71, in many respects, has yet to be beaten in many of the records it has broken, and it was built in a time when America was breaking barrier after barrier in terms of scientific endeavors.
Syma S109G 3.5 Channel RC Helicopter with Gyro
Featuring a brushed motor and lithium battery, this Syma S109G is perfect for beginners. Also,That's right, the mean nose and guns are just an act. It does have a tendency to drift back a little during flight so be warned, but it consistently ranked as one of the quieter model copters on the market. Also, think before people straps on a Go Pro. Do that and the Syma will drop like a stone. It's only designed to carry its own weight during flight. Take heart though. If someone has one of those Eagle RC model helipads, it will fit. Land gently and fly another day.
Peterbilt 359 RC 1:4.
Peterbilt 359 is a true custom build. The owner got the idea from watching a video he found on the internet. Seems like a Netherlander was driving one around in a park. once inspiration kicked in he started collecting images and video. The cabin required several hours of fiberglass fabrication and two iron pipes were used smoke stacks. The frame is outfitted with an attachment to withstand heavy weight for hauling like a true big rig. Peterbilt 359 features go-kart like steering and a true trucker air horn. In fact, the air horn features two trumpets, controlled independently. A little fogger under the frame pumps create wisps of smoke through each exhaust stack. We are so jealous.
DXR2 Dozer
This all metal bulldozer has some pretty amazing features. For one, the blade can both move up and down and tilt forwards or backwards to scoop up dirt. In addition, it has a sideways feature allowing the blade to tilt diagonally in the air. This is possible because each of the hydraulic controls are independent(yet the tilt only moves in one direction). The back scoop is powerful enough to lift the entire bulldozer off the ground by itself. However, the most satisfying part of this bulldozer is its function. It acts and operates just like a full-size CAT model. Of course someone can't move super huge items, but anyone can definitely dig up dirt or rocks and push them from place to place. Even better, the remote for this stellar RC DXR2 bulldozer features touch screen controls in and analog joysticks.
Peterbilt 359 RC 1:4
If this Peterbilt 359 semi looks familiar, that's because it's the brother of the one we featured earlier. Seems like the father's creativity rubbed off on his son. So, the son built a another semi to enjoy. Just as its predecessor, this Peterbilt 359 is entirely handmade and custom-built. Of course, that's pretty obvious from the driver's seat. The all metal and fiberglass construction produce a big rig that can support the weight of a full grown man and his toddler (as seen in the picture). Of course, just like the one earlier, this Peterbilt began as a wooden frame, and ended with 14-16 wheels, a powerful motor, go kart steering and a fog machine mounted underneath to blow smoke just like the real thing.
B-2 Spirit
While the focus of the B-2 Spirit's design is to fool radar, it also works to fool the human eye. The B-2 Spirit is indeed a flying optical illusion. Viewed from one angle, and the aircraft is a thin line—a 'flying wing', as the design is called. Viewed from a slightly different angle, and the whole thing becomes a bulbous flying torpedo. This makes the B-2 difficult to spot in the skies, and potentially difficult to identify. As its missions are most often classified, the ability to disappear or distort visually gives the B-2 Spirit a hefty advantage over its competition.
RC Skyblazers
Every year the RC Sky Blazers hold an air meet to showcase their skills. People bring their model jest fro mall over the world to have fun and fly. Of course, the RC Skyblazer planes are themed after the real group. In 1949, three pilots of the 22nd fighter squadron of the 36th fighter wing decided to perform maneuvers on their way back to the United States Air Force base in Furstenfeldbruk, Germany. The aerobatics works so well they decided to repeat it the following day. Sky Blazers history was born. Once they became official, the planes donned stars and stripes like the one everyone sees in the picture. This RC jet is built to resemble one of the Lockheed F-80 B shooting stars. At the sky Blazers RC meet, everyone shows off their skills complete with dips, dives loops and colored smoke trailing from the wings. If not for the size of the airplanes, people might think they were at an authentic sky blazer airshow.
Airbus a330 RC
Okay so it's one thing to be an RC jet fighter enthusiast. However, when someone decides an Airbus A330 RC plane is their style, they really have to wonder. This plane had to be moved in several pieces and put together on site before flying. The battery nests inside the fuselage just over the wings. The nose section hold firm with magnets. The Airbus looks and acts just like a real one with wing inspection lights, taxi lights and lights illuminating the landing gear. The plane features full flap capabilities with two twin 50 mm high-performance EDF 11 blade turbine engines. And just like a real Airbus, the landing gear retracts when the Airbus A330 takes to the skies. Just be mindful of the landing. The entire plane weighs just over 5 pounds. It's probably better to fly her on a windless day.
Grumman F-9 Cougar
This cougar is gorgeous. And by cougar we mean the plane, everyone needs to get their heads out of the gutter buddy. This Grumman F-9 Cougar was a carrier based jet fighter made for the United States Navy. This scale model RC Cougar costs just under $1,400 and features and 8kg turbine engine with a 5 foot plus wing span. Her length isn't too shabby either, almost 6 feet. The wings, tail section and vertical fin detach for easy transport and she comes 95% assembled as a kit. In other words, she's practically ready to fly. The fuselage has easy access for accessory or component switch outs, and fully functional flaps ensure smooth landings time and time again.
Pirotti Models Rebel Pro
This particular RC jet made it debut in 2014 at JetPower. Many are unfamiliar with JetPower. It's the annual RC jet enthusiast air meet. in Germany and this RC jet was the talk of the 2014 event. Made by Pirotti, the Rebel Pro has a nice 8.5 foot wingspan and is almost 10 feet long. Known as one of the largest sport jets, it's two piece fuselage design breaks down for easy transport and storage. The Rebel Pro weighs about 35 pounds and cost about $7,000. Also, if anyone is not sold on red there are other colors. People can opt for green, yellow, orange or blue. Each look equally stunning.
Fly Eagle Jet F18F
There are large RC scale jets and there are 1/6 scale large RC F18 fighter jets. This one is fantastic. Owner Michael Sarysz is seen here before a takeoff run in Kentucky. Large scale RC jets like these lend themselves to options like custom cockpits, paint job and landing gear. Features like opening canopies, custom lighting and operational speed break doors make these RC fighter jets really look and act authentic. Most pilots/operators are members of local air clubs and travel the US or the globe as members of Air meets and Aeroclubs. It's what people do when they have toys that cost several thousand dollars.
A-10 Thunderbolt Camo
The A-10 Warthog. The official designation for this aircraft is the A-10 Thunderbolt II, named after its illustrious WWII predecessor the P-47 Thunderbolt. However, one interesting A-10 fact is that the nickname "Warthog" is so popular and well-loved that it appears in official documents. This is a beloved airframe: a robust ground attack aircraft has proven itself in battle repeatedly. And the stories behind it are just as interesting as its combat record. The first time these aircraft saw combat, two destroyed 23 Iraqi tanks in the 1991 Gulf conflict.
RC Blazer
Look close in the Chevy Blazer RC vehicle and people might notice something odd. The driver side tire looks a bit funny. Well, there's good reason for that. Seems like the plastic C-hubs on both sides of the driver side axle broke during this fun run through a mud bog. Yet, this was by design. The owner states specifically that he uses plastic parts for the C-hubs because he would rather have those parts break and replace them rather than end up bending the entire aluminum driveshaft or mess up the transmission. However, what made the axles break is quite funny. A tiny rock lodged itself between the top of the plastic C-hub and the rim of the tire. Torque did the rest quickly snapping the plastic hubs while the motor burned up.
RC F-14
This F-14 RC jet features two K140 turbine engines. And as large as it is, it still weighs surprisingly less than similar RC aircraft. it weigh about as much as a first grader, 64 pounds. However, it has a few tricks up its sleeve. For instance, the owner, Paul McCarthy, states that he has flown it several times, a few of those sweeping the wings back. Now that is something we can get excited about. And F14 isn't and F14 without sweeping wings. Seems like this RC model has a lot to crow about. Just don't let the jet wash get everyone. That would be a shame.
L-39C Albatross
The L-39 Albatros is a conventional jet fighter trainer produced by Aero out of Czechoslovakia. Although not a war fighting aircraft, the Albatros was extensively sold to Warsaw Pact nations during the Cold War because of its excellent trainer capabilities. The L-39 Albatros is reported to be an exceptionally easy aircraft to fly. Used versions of the L-39 are commonly available on the civilian marketplace for as little as $200,000. The very design of this aircraft was for minimal maintenance required. With a maximum speed of 446 mph, it is capable of basic jet fighter maneuvers but incapable of use as an actual jet fighter. For this reason, it was able to get a broad distribution in both military and civilian flight programs.
Mitchell B-25 Bomber
There is perhaps no aircraft more famous, especially during World War II, than the B-25. Its high-rate of production, versatility, and use by several Allied countries makes it one of the most recognizable aircraft in the world. The North American B-25 Mitchell, named after Brigadier General William "Billy" Mitchell, was a twin-engine bomber. However, over time it became much more than just a bomber. The B-25 was a high-level and low-level bomber, submarine patrol and photo reconnaissance aircraft, and even a fighter. North American Aviation produced just under 10,000 B-25s in a six-year span from 1939-1945.
Boeing #307B Stratoliner
It's not everyday people see a model RC plane from the 1940s. Consider themselves lucky today friends. This Boeing #307B Stratoliner was a transcontinental aircraft built by Boeing in the 40s. They only made 15. Seeing this RC scale (about 1/7 scale) is like seeing a ghost. Featuring a 180 inch wingspan, this plane was built by Carl Bachhuber in the winter of 2006-2007. her maiden flight was golden. She only suffered minor damage upon landing due to an air leak which made the landing gear collapse on impact. This aircraft was built in the winter of 2006-07. Has 180″ wingspan, about 1/7th scale, powered with Zenoah G-26's.
Peterbilt 359 RC 1:4
Here's another Peterbilt 359 remote-controlled semi built to 1:4 scale. We see the driver actually has a trailer attached. If someone didn't know any better, they would definitely mistake this for the real thing. The father-son combo responsible for creating these semi's are known for being excruciatingly exact with detail. Look at the lug nuts on the front wheels, the front bumper and headlights. Everything is exact down to the split panel front windshield and dual trumpet air horns mounted on top of the cab. These semi trucks take months to build, but the enjoyment lasts for decades. Here, the Peterbilt is seen cruising down the road at a local RC meet up in Italy.
Tesla Truck RC
The Tesla Cybertruck made waves when it was released recently. First of all, people took note of its abnormal shape. Secondly, it is a product of Tesla and genius inventor/marketing maven Elon Musk. The truck looks like something out of a science fiction movie. And third, because it touts some of the most abnormal, excessive features that people have ever seen on a truck. The first-ever pickup truck from Tesla is here. The electric pickup truck is called the Cybertruck. It looks like this, which is awesome or awful – depending on who someone asks.
RC Tank
Leave it to the UK Tank Club to draw RC tank enthusiasts like magnets. And we can't argue. These tanks look exactly like the real thing. Take this German Tiger Tank for instance. It moves and turns like its real big brother, complete with a gunner and pilot. The best part is that most RC tanks are equipped to fire blank explosives. That's really the only reason someone needs to go buy an RC tank. And the UK Tank Club takes all RC tanks large (upwards of 60 pounds) or small. They have around 900 members and meet up occasionally to show off their tanks. This kid looks impressed for sure.
Boomerang RC Jet
Boomerang RC Jets is the answer for people looking for something fun to fly. The company has been satisfying pilots for more than 13 years. However, the best part about a Boomerang RC Jet is the aircraft itself. They are light weight, easy to maneuver and meant it be assembled in the field. In fact, Boomerangs were made with grass fields in mind. People can take off with less runway and land where other jets can't. And of course, someone can also perform aerobatic maneuvers if they choose to. When everyone is finished, they can simply break the plane down, stow in their small compact car and drive away. Boomerang says their aircraft can break down to fit in very small vehicles unlike other similar RC jets. We want one now; time to get a quote.
RC 16 Wheeler
This sixteen wheeler is ready to roll. And while it may not be suitable for true highway driving, RC enthusiasts love it. At 1/4 scale, big rig RC vehicles are built with two things in mind, detail and power. This blue semi features a sleeper cab (team driving) and six blinding fog lights mounted over top of the cab. All that's missing is a trailer. Incidentally, RC truck meets occur all over the world. The layouts are impressive too. Everything from industrial sectors to farm villages exist to tempt and test the driver's skill. Of course, since a proper rc semi truck setting is absent, one could always hook a winch to the Audi in the background for a friendly little game of tug of war. Probably not the best idea, but a fun one for sure.
RC Tractor
These RC farm equipment vehicles are ready to work. Featuring all metal construction and real working parts, they can do anything normal farm equipment can do, to scale of course. These harvesters can mow, chip and load just like real combines and tractors. Of course, to pull it off the details have to be exact. As such, these RC tractors don't disappoint. Everything from color, tire size, lights windows and decals are exact to 1/32 scale. If someone likes larger models don't fret. They make RC farm equipment in 1/14 scale models too.
RC Komatsu Excavator
Everyone wants a 1/50 scale model RC excavator. People can load, scoop and move earth with the best of them. This little guy weighs 44 pounds and comes ready to dig. And yes, there are optional parts like rock protection, decals and a 5 valve block set up should someone feel like they are in a "custom" frame of mind. However, don't get too custom minded. The base price for a Komatsu excavator is about $6,200. Yet, for that price someone can get full chain metal drive and approved Fumotec cylinders (to raise and lower the arm). The other RC rock mover in the photo is a story for another time.
RC Skymaster
While this is cheaper than a real Skymaster jet, don't get too happy just yet. People will need to pony up $3,000 to call ones self. yet, once someone gets it, the sky is theirs. This RC beauty features a 10 foot wing span and weighs just under 50 lbs. The body is all aluminum with riveted construction. Together, the twin engines provide 17-25 pounds of thrust. This is exactly what everyone wants from a 1/6.25 scale model RC aircraft. The Alaska Skymaster also contains Incidentally, people can find many RC jets just like this one at the annual RC Skyblazers meet.
1948 KR11 International Harvester
Talk about authentic, this 1948 KR11 International Harvester is spot on. The owner built the RC Harvester from a King Kong RC Ca-10 kit. However, it is a true open differential two wheel drive vehicle with a few other neat additions. For instance, the bed is made entirely of wood and both the front and rear axles feature leaf springs. Also, the Harvester features all metal bearings and gears. Both doors open and there is a working winch mounted on front to ensure the Harvester can get in and out of any situation. Seems like this 1/12 scale model rc truck is well equipped to haul anything from A to B. She even comes with her own spare tire.
RC Jeep
That is a Jeep Rubicon crawling around a muddy backwoods trail; looks awesome. Actually, this is an SCX10 RC vehicle. Sold by Axial, these Jeeps are equipped to handle all types of terrain. At 19.25 inches long and 8.9 inches wide, the SCX10 is sizable enough to tackle real world conditions. However, be careful. This Jeep only weights 4.5 pounds. So she might topple easier on a hill than her real world counterpart. No matter, at $400 the SXC10 Jeep Rubicon makes fun affordable. Now let's go find a mud bog.
RC XXXL L-39 Albatros
Seeing the name Breitling brings high end sky racing and expensive watches to mind. However, here we have a Breitling model RC airplane. Actually, it's an RC XXXL L-39 Albatros model aircraft to be exact. She has a wingspan of 11.25 feet which makes this beauty the largest racing RC jet on record. Her length is impressive too, over 14 feet. And wit ha take off weight of 108 pounds, everyone better make sure their piloting skills are top notch. Skill, precision and accuracy are required to manhandle the Albatros. This one could be see nat Euroflugtag in Cologne Germany. The Aeroclub meets annually for members to show off their planes and skills.
WACO YMF-5
This giant flyer measures 79x25x16 inches. It's a 1/3 Giant Scale WACO YMF-5 RC aircraft. The one seen here is owned by Arthur Pearce, member of a local aero club in Hartford County Connecticut. They are known as the Hartford County Radio Control Modelers and are about 6 strong. They love to bring out their aircraft on sunny days and fill the skies of above Hartford with radio controlled planes. Some of the planes even put everyone in the driver seat with cockpit mounted cameras and FPV goggles. Not bad for six guys who love RC flyers. The decal on the plane says it all; nice.
B-50 Bomber
Licensed by the Civil Aviation Authority, this Boeing B-50 Superfortress was known as the largest flying RC aircraft on record. The owner built the entire thing in his garage to scale. And while we have seen several aircraft on our list with 10 foot plus wingspans, this one is double. Yeah, everyone read that right, a 20 feet from tip to tip. There are a few downsides to owning the world's largest RC aircraft. For one, the price. Tony (the owner) says the plane cost him around $10,000 to build. Second, it only flies for 8 minutes on a full charge. that's just about enough time to get it up in the air.
RC F-35 Lightning II
After extensive negotiations, the US and Saudi Arabia finalized an arms deal worth over US$100 billion. While many aircraft were included in the agreement, the most prominent among them was the F-35 Lightning II. Currently the kingdom of Saudi Arabia has ordered 84 F-35s, and may acquire more in the near future. One of the coolest F-35 Facts is that unlike the F-22 Raptor fifth generation fighter, the F-35 is available to countries all over the world. It's currently manufactured in three locations: Fort Worth, TX, Cameri, Italy, and Nagoya, Japan. This scaled version – feels more like Colorado.
Victorian Pre-Dreadnaughts
This RC model ship is huge. She is 47 inches long… that's almost 4 feet. This is a scale model replica of the SMS Babenburg. She was an Austrian vessel made in 1899. October 4, 1902 saw her launch as the last of 3 ships in her class. The Babenburg was active in World War I and was given as a gift to Great Britain after the war. Ultimately she would be scrapped in 1921 as newer models made her obsolete. This huge scale model RC ship can almost be viewed as a tribute to well made products. the Titanic could have taken a lesson or two from the Babenburg.
6×6 Mud Truck
So this RC 6×6 vehicle has an interesting history. Owned by RC Studios (the same owner of the 1948 Harvester RC truck) this red truck had a make over. Originally it was a black Peterbilt semi dubbed "Black Peter." However, the owner stripped every piece of chrome from the body, sanded it down and painted the cab a glossy fire engine red color. Now it's a full on mud truck with beefy shocks and an attitude to match. No more Mr. nice semi. Smokestacks have been traded in for bigger tires to get down and dirty. Although we would say a new nickname is in order.
RC Volvo Dump Truck
Pony up $8,000 and people can get their own Large scale (1/14) import dump truck. Two powerful hydraulic arms control the dump body on this ready to run (RTR) model from CSMI. There are many options and add-ons including different lighting rigs, frame mods and wheel upgrades. This large scale RC dump truck was part of "Faszination Modellbau" in Friedrichshafen, Germany in October 2015. German construction fairs feature lots of dirt, gravel and rocks for RC owners to move, load or excavate. Construction RC enthusiasts from all over the world descend on the fair to swap tips and admire each other's vehicles.
RC Helicopter CH53 Heer
People might almost think they are looking at a stage set for a throwback episode of MASH. Yet this is just a large scale RC helicopter. The CH-53 Sea Stallion was part of the it is a Sikorsky S-65 line of copters. They were originally developed for the Marines, and saw war time action during the late to post Vietnam era. From 1964 to 2012 these war birds were used to transport heavy cargo from place to place as troop support. The one everyone sees here is operated by an RC helicopter legend who has since passed on. The image is part of a video clip posted by his friend to honor him.
RC Turbine Helicopter EC135 EuroCopter
This beats of an RC scale helicopter is massive. People can tell from the image that the EC135 is no fly weight. She is made to 1/3 scale and weighs over 108 pounds. Her rotor diameter is equally impressive, 10 feet. These are the kind of RC helicopters that can make someone lose an arm real quick if they aren't careful during operation. Thankfully, this is not pilot Michael Franke's first chopper rodeo. He is skilled and adept at flying his RC Turbine Helicopter EC135 Eurocopter. They are much different than flying RC jet planes. RC copters give new meaning to words like "pitch" and "roll." That's why it's best to let skilled pilots like Michael here do the work. This photo was snapped at the Damelang RC Model Air show in 2017. Numerous other large birds were present as well.
Polaris RZR XP 1000
Don't mistake this guy for one of those toy store RC cars. The Polaris RZR XP 1000 is in a class all its own. For starters, this little guy isn't so little. It is 29 inches long, 23 inches wide and stands 14 inches from ground to top. Furthermore, he weighs jut over 11 pounds and has 3.5 inches of ground clearance. He will go to. This is not one someone can buy to park on a shelf for display. The XP 1000 has a gear case ratio of 1:25 with an axle gear ratio of 1:2.5 for top speed and traction. This XP had a recent bit of surgery. The owner switched out the stock skid plate with a thicker one he fabricated. This allowed the Polaris XP 1000 to tackle more challenging terrain without fear of damaging the undercarriage. Hey, we all do what it takes to get the most out of our toys.
RC Excavator Caterpillar 375ME
Look what we have here. Oh, just another HUGE RC excavator at work. This one is a Caterpillar 375ME RC model that weighs almost 115 pounds. As such, she can "EX" and "CAVATE" with the best of them. Most of the time, operators wear a harness to support their RC controls for these types of vehicles. The controls are too cumbersome to hold and handle while trying to operate the RC model at the same time. And since the CAT 375ME is construction site beast to begin with, it makes sense that a large scale RC model would be equally cumbersome to wrangle.
RC 1/4 King Tiger Tank
People can unload a mega 1/4 scale RC King Tiger Tank from a vehicle using ramps, of course, and nerves of steel. This is a custom build, one of those unavailable for purchase type things. Yeah, it stinks, but there are numerous places online to buy large-scale tanks. Just look at the earlier RC tank pics in this post. Finding one to purchase ($8k or so) is not hard, people just can't buy this one. However, we wonder if someone would want to. Look closely at the barrel. This guy had a little tank circumcision performed. His barrel is lopped.
RC 1:8 Scale Excavator Caterpillar
We found a 1/8 scale RC excavator with 15 channel controls and a 680 degree view. This little gem is made by Toy Machine and is a beautiful RC construction vehicle. There are a few differences between it and its larger cousins. For instance, this little guy has hydraulic simulators to make operation look and feel more authentic. yet, it's perfect for rolling around someone's backyard, unearthing treasures or helping make a nice garden spot. Kids love this thing. Adults will too. As RC construction vehicles go, this one is one the wallet friendly side. Everyone can find it for anywhere between $149-$349 online.
Kawasaki Ki-45
David Andersen remembers the time the Japanese Imperial Air Force issued a mandate for a two seater twin engine jet fighter in 1937. He builds custom RC planes to spec and this is one of his more prolific and recognizable creations. The Kawasaki Ki-45 is an exact 1:5 scale RC fighter jet made by David after looking at numerous old photographs and other historical documents to ensure build accuracy. Wait, it gets better though. The Ki-45 is made to be powered by either 50cc gas engines or electric motors. Not quite an RC hybrid, but nice to know people have options.
RC CAT Excavator
Okay, so we are well aware this looks like a scene straight out of the 1980s hit movie War Games. There are enough joysticks here to make any geek's mouth water. Yet, it's just another day at the office if someone happens to be the owner of this CAT 320 RC Excavator. The joysticks ensure fluid, realistic movement and give the operator a wide range of control. This is essential when operating heavy construction equipment in real life so it comes as no surprise a measure of the same is present with their RC cousins. We just wonder if he is going to try and load more dirt in that dump truck.
RC Tank
This tank is part of the RC model building fair from 2017 in Germany. Each year, hundreds of RC tank enthusiasts gather to show off their model RC tanks. These tanks are incredibly realistic (model tank RC enthusiasts are known for their eye attention to detail.) They navigate terrain like real tanks with each tread moving independently to make sharp turns or round corners. Many of the guns move up and down while the turrets can spin a complete 360. the model building fair features various terrain types to showcase the prowess of RC tank operators. This one here appears to be a larger scale panther tank, outfitted with a gunner and driver.
RC Boeing 747
Okay so this is definitely the biggest RC airplane we have ever seen. Check out these specs. She is almost 18 feet long with a wingspan of 16 feet and weighs almost 150 pounds. Yes, this baby has spent little too much time filling up on jet fuel. She may need a diet. Yet, she flies just the same. This RC Boeing 747-400 made its debut at the Airliner Meeting in Oppingen, Germany July 2015 and was the talk of the show. It's easy to see why. Something that large is awfully hard to overlook, especially with the Virgin livery adorning the tail.
RC Arocs Truck
RC vehicles are a worldwide phenomenon. This picture features an RC dump truck from the Mini Truck Club meet in Spain. What's interesting though is the truck itself. This is a Mercedes dump truck. Typically we think of Mercedes as a luxury vehicle leader. Yet, they also make some of the finest construction equipment worldwide. The scale model here is representative of the Powershift 3 transmission and Euro VI high torque engine required for massive construction jobs. The Mini Truck Club features RC construction equipment representing every brand imaginable.
RC CAT Excavator
The next time someone finds themselves in Germany, head to one of the model fairs/expos. This CAT was one of the features at both the Model Fair Leipzig and Model Fair Friedrichshafen in 2016. And it's huge. This excavator is 1:6 scale. With fully operational hydraulics and a 680 degree rotation, this excavator can scoop anything everyone needs removed. The decals and color are exact, as well as the cab and engine (battery) compartment. Two treads and all metal construction make light work of any job, even if it's a large scale RC construction equipment model expo in Germany.
RC Dozer D10T
This CAT bulldozer is just enjoying the day, pushing top soil form point A to point B. For large scale RC construction models, that's the life. For owners, maintenance rules the day. For instance this owner had to have custom decals made for his dozer (one of only 5 known to exist). In addition, had the blade fabricated. The bulldozer RC kit only comes with the base vehicle. People are on their own for the blade. Oh yeah, and the entire thing is powered by an 11 volt LiPo battery which means people can push topsoil around for days if need be.
RC Panther
Before everyone gets jealous, stow their emotions. This RC Panther Tan is a custom build. The owner does have plans to sell it, but he may keep it for a while. After all, it did take 6-8 months to build. It's built to 1:3 scale, which is huge by any standards. And while this one is currently off the market, people can fetch an equally handsome 1/4 scale Tiger Tank if they have $16,000. If not, pony up $8k for a 1/8 scale model. As for this one, the gun doesn't make any sort of fizz bang noise like similar models. Instead, it features a water cannon. Oh yeah, and the entire thing is powered by a John Deere riding lawn mower engine (that's why the construct looks vaguely familiar).